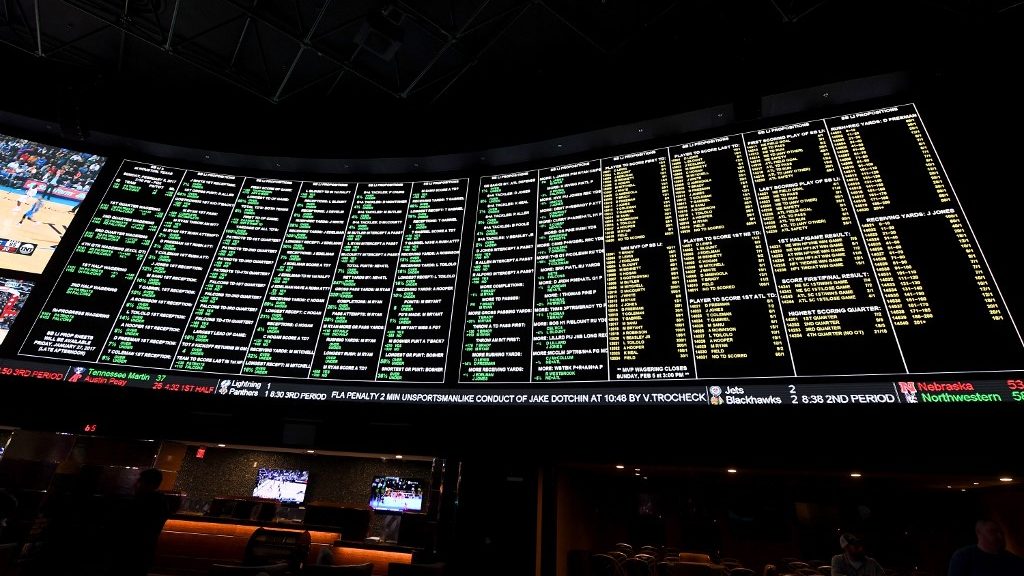 Betting lines. Ethan Miller/Getty Images/AFP
The US legal sports betting scene is prepping to welcome a new type of wagering platform to their rapidly growing scene. Sporttrade, a Philadelphia-based fintech, sports betting company which first popped up at the end of last year looks to be taking the next step in its development thanks to an announcement of a $36 million funding haul.
Bringing something new into the US markets could be viewed as a risk, but investors that include Jump Capital, Impression Ventures, Hudson River Trading, Tower Research Ventures, Jim Murren, former CEO of MGM Resorts International and Tom Wittman, former CEO of the Nasdaq Stock Exchange don't seem too concerned.
A betting platform that closely mirrors a stock exchange has been gaining some credibility since Sporttrade arrived on the scene and has had success in other countries overseas.
"Our mission is to elevate the sports betting industry by applying capital markets principles and technology and to place the customer at the forefront," said Alex Kane, Founder and CEO of Sporttrade. "Today marks a significant broadening of our coalition to achieve that mission"
The Sporttrade Angle​
For those that don't know about Sporttrade, it has simply taken a stock exchange model and applied it to legal sports betting. The platform aims to link bettors for similar events and have them sell or buy positions on the bet-on event. Once a bettor places a wager based on traditional odds, they are linked up with bettors who are willing to take on the other side of that bet.
Betting exchanges avoid the use of the "House" and never offer up their own money. That is up to bettors alone.
Essentially, clients of betting exchanges back and lay bets against each other, without the influence of a traditional sportsbooks, which take a cut of the betting action. There is a small commission, but bettors will never win or lose money to the sportsbook exchange, only the opposing bettor.
Where the Fundraised Money Will Go​
As with most companies trying to make a name for themselves in the uber-competitive US legal sports betting industry, customer acquisition and expansion is the main goal of a growing brand. That is where the bulk of the $36 million investment in Sporttrade is slated to go.
Sporttrade has done well in gaining market access in the top US betting jurisdiction, New Jersey and is hoping to go live there in the next few months. Obviously, Sporttrade has major aspirations beyond that as new markets in the broader US industry open up and existing ones look for new angles for their legal sports betting scenes.
"We are thrilled to back Alex and his amazing team at Sporttrade. They have built a retail trading solution for betting, reflecting pricing based on win probabilities and allowing users to easily trade in and out of any position," Yelena Shkolnik of Jump Capital said in the release. "To enable low-cost wagers, they've assembled a team from across capital markets and betting, locking in partnerships with
institutional market-making partners to enable a powerful and liquid exchange. The U.S. bettor will finally have a transparent, open market of sports betting wagers to trade, and we couldn't be more excited to be a partner."
Moving Forward​
The idea of sports betting exchanges has been gaining momentum in the US thanks largely to Alex Kane, CEO of Sporttrade. He has impressed in his attempt to bring a sporting exchange, similar to
Betfair
,
Smarkets
and
Matchbook
that have been operating successfully in Europe.
We need not look further than the names on the investment list for the Sporttrade brand. One such name David Frohardt-Lane, co-founder of Delavan Lake Investments went on record saying: "When we first met with Alex in 2019, he had a vision to transform the existing sports gambling model and leverage the benefits of stock market investing for the recreational sports trader. His drive to apply financial markets principles to benefit the customer was the primary reason we knew he was the right person to partner with in this revolutionary venture."
It all points to Sporttrade making a little noise in the New Jersey market when it opens up, likely in the second half of 2021. It may serve as an experiment for prospective sports betting exchange companies wishing to infiltrate the bustling US scene in the future. There will be no shortage of intrigue into the buildup, the launch and just what happens when Sporttrade finally goes live