Horse Race Betting Online in Virginia – The Best Racebooks in 2023
The horse racing industry has existed for centuries in the state of Virginia, one of the oldest states in the country. But it has only been in recent years that horse racing betting sites have gone live, and actual horse betting has been done at online sportsbooks, making it one of the most popular forms of internet gambling today.
In this guide, we show you how to get started with online horse race betting, the top sports betting sites in Virginia, what makes them the best, how horse racing odds work, and some info on upcoming races this year.
The Old Dominion State's Best Racebooks
VA's Top-Rated Online Racebooks for 2023
In going through the vast amount of online racebooks, we have compiled a top 10 list that will accept Virginia users looking to wager and win real money on horse racing. These sites are all located in territories where online gambling is legal, so feel free to join them today.
Is horse betting legal in Virginia?
Yes, horse race betting is one of the oldest legal forms of gambling in Virginia, with roots going back to 1988. Wagering on tracks has a minimum gambling age of 18 in the state and you can bet in person or using online horse race betting sites with Advance Deposit Wagering.
Comparing the Top Virginia Racebooks
We have included a review of our top five racebooks on these offshore sites that accept Virginia residents. We have listed our pros and cons for each and provided details specific to the racebook. These sites also offer an online sportsbook and plenty of table games to maximize your internet gambling options.
1. Bookmaker: Fixed Odds Racebook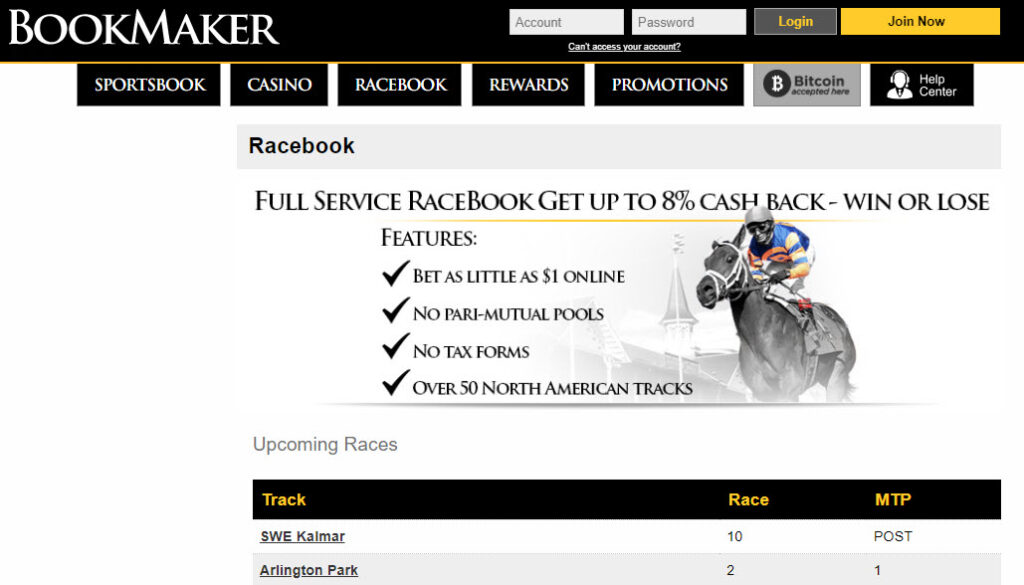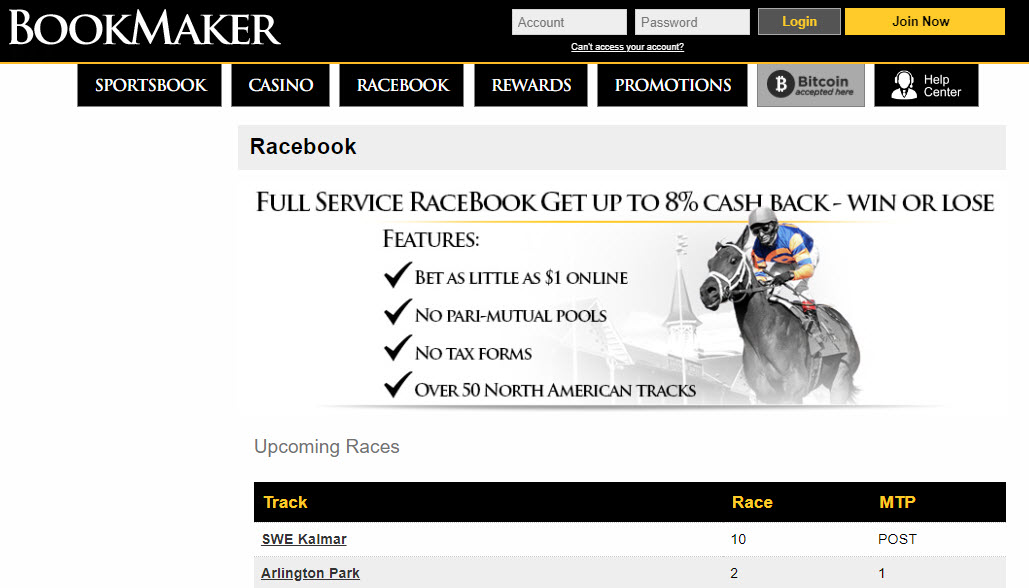 Bookmaker.eu is more than just our top-ranked sportsbook from Costa Rica. The racebook is also very respected and offers fixed-odds betting, which will make sports bettors feel right at home. Bet on a line and know exactly how much you will win if the bet is a winner. You are locked into that number no matter what happens between now and the time the race starts.
No matter if your bets win or lose on the racebook, you will get up to 8% daily rebates. There are dozens of tracks from around the world that have races on Bookmaker, and you can always bet a huge amount on the most popular events like the Triple Crown races and Breeders' Cup.
Bookmaker is best known for its sportsbook with the earliest lines on the market. You will also get high limits and a great reward program where you can get huge deposit bonuses.
Pros
All betting is fixed odds in the racebook
8% daily rebates on your horse racing bets
Over 50 tracks available
Sportsbook is perfect for sharp bettors
High limits and good reward program
Cons
Certain tracks have small limits 
Less racing info displayed than than other online sportsbooks
2. Heritage Sports: Cashback Racebook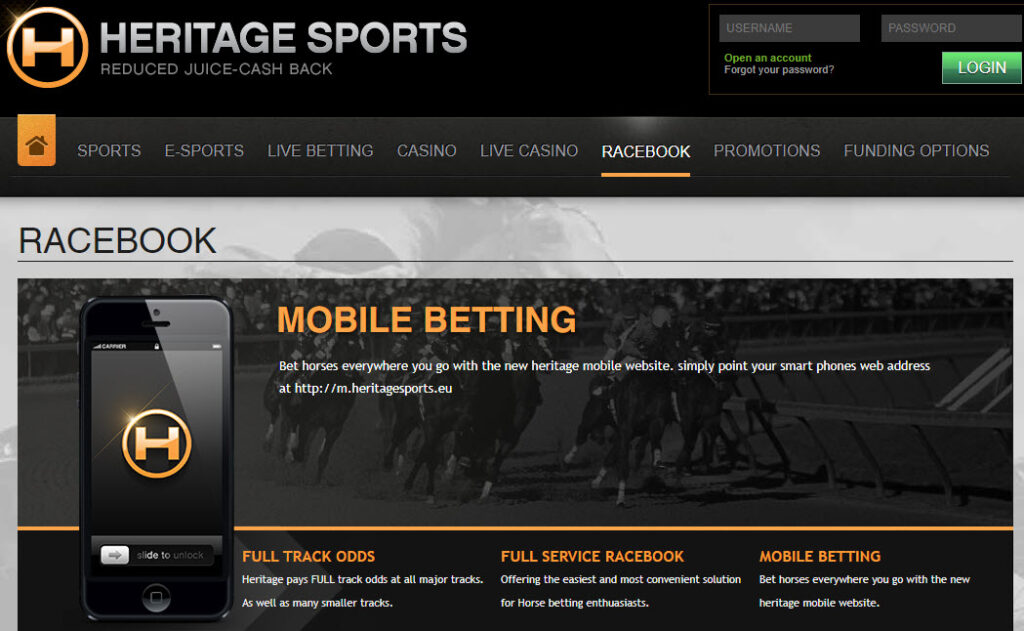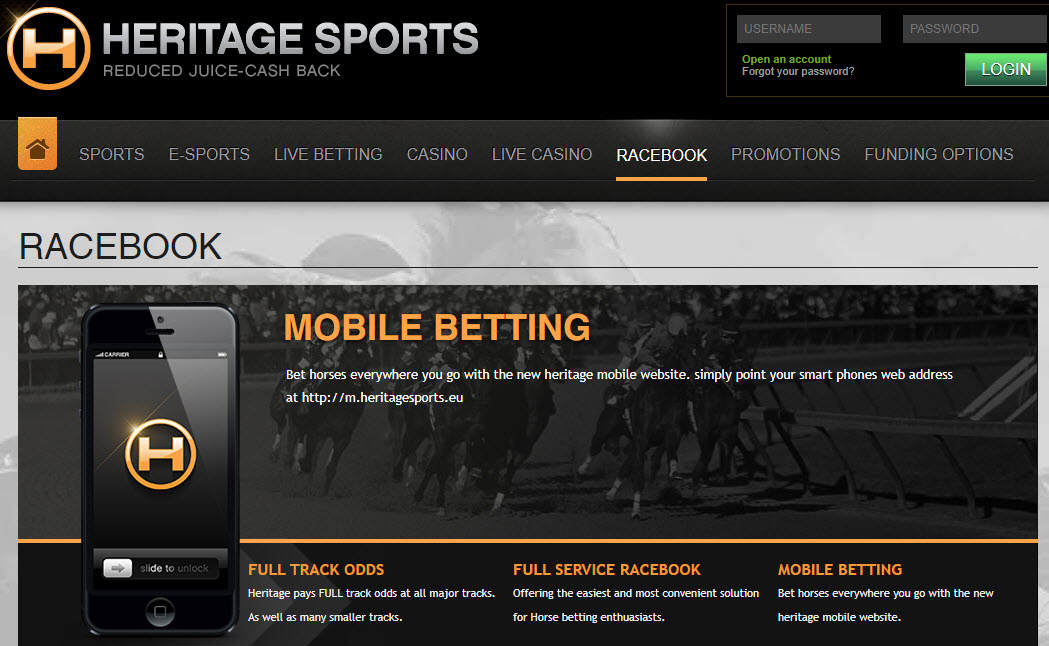 Heritage Sports features over 60 racetracks from America, Europe, Australia and others. The major tracks can pay out up to $10,000, and the Triple Crown races, the biggest in the sport each year, pay even more. Smaller tracks are limited to $5,000 per race.
You can earn up to 8% in daily rebates on the racebook. Those funds come with a 4x rollover requirement, but remember that bonus funds can be used anywhere on the site at Heritage Sports. It would be very easy to play those on the casino and be able to withdraw them for cash.
Heritage Sports has a good design for its mobile site, and the same can be said of the racebook. We like to see the exotic wagers in tabs, but the extra nice touch you get at this online horse racing site is more detailed racing information like the horse's trainer and jockey and their weight. Some jockeys win more often than others, so this extra piece of info is a good add-on for die-hard horse racing bettors.
In addition to the racebook, Heritage Sports offers a top-tier sportsbook, a solid casino section with a wide range of gaming options, and no one does esports better.
Pros
Racebook has 8% daily rebates
Very good mobile site
Better race info than Bovada and Bookmaker
Bonus funds can be used without restrictions
Best site for esports
Cons
8% rebate only for Major Tracks
No streaming for horse races
3. Bovada: Fun Virtual Racing Markets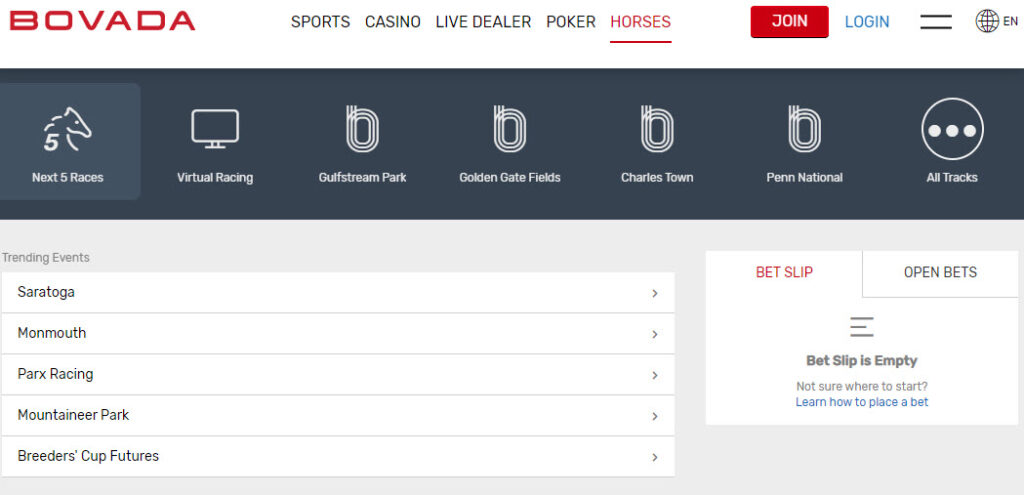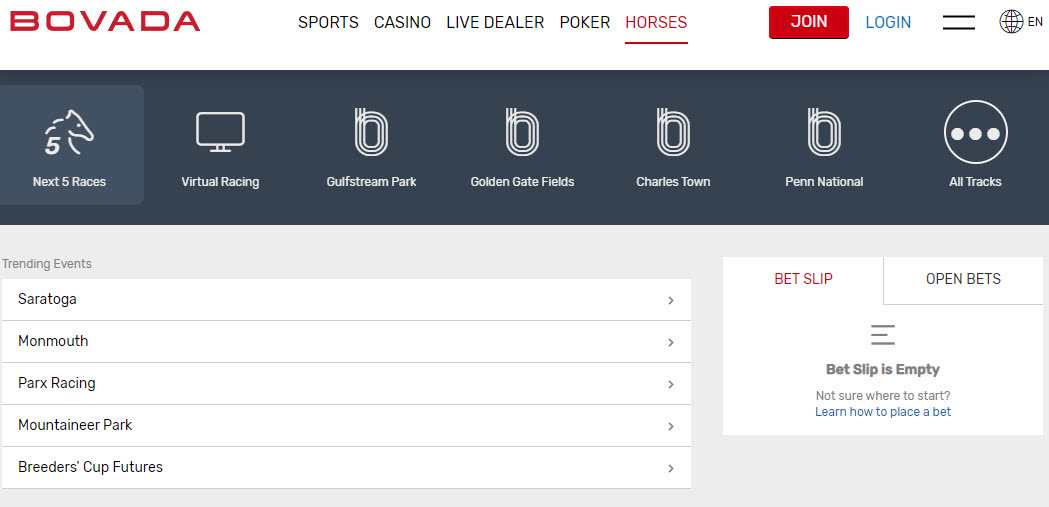 Let's get the bad news out of the way first: Bovada does not offer any daily rebates for your racebook bets. That is a bummer, but you can accumulate points with the reward program to earn bonus bets and poker entries, and your points never expire and you never lose your tier status no matter how long your account is inactive.
As for the racebook itself, the design is very sleek and well done with drop-down menus making it easy to switch between races and betting types. Bovada has a strong offering of exotic wager options on racetracks from all over the world. They also have very high limits for big events like the Triple Crown races and Breeders' Cup.
While no daily horse racing rebate is a letdown, new users can get big welcome bonuses if they deposit with crypto. The sports bonuses – 75% bonus up to $750 – can be used on the racebook.
If you have an interest in virtual racing, then Bovada is also by far the best at that. You can bet on horses, camels, greyhounds, and supercars in virtual races that play similarly to slot machine games.
Pros
Great racebook design
New users get a huge bonus with crypto deposits
Virtual racing is the best here
Good rewards program
Cons
Does not do live streaming of horse races
Does not do any rebates for racebook
4. BetOnline: Biggest Daily Rebate on Racebook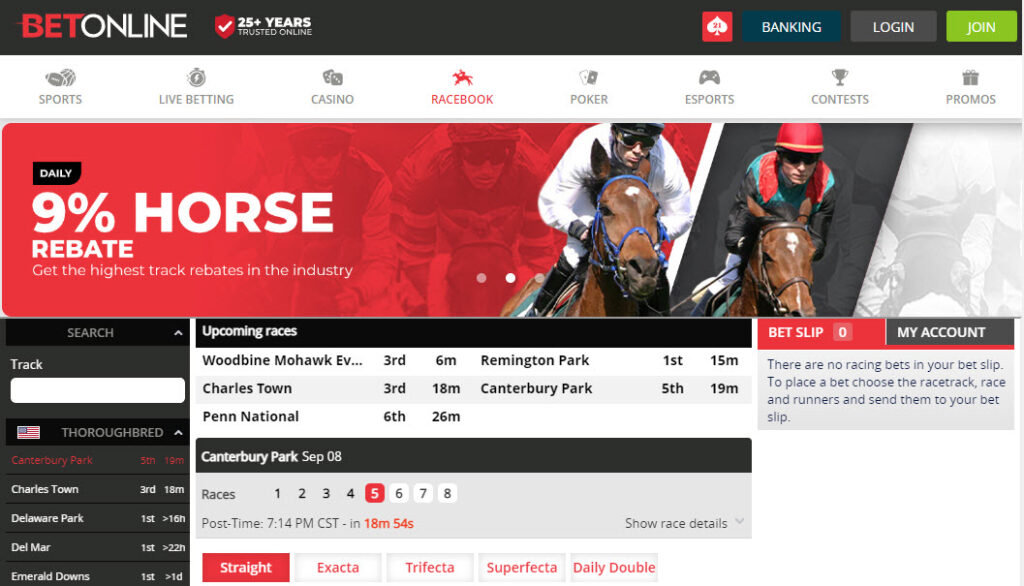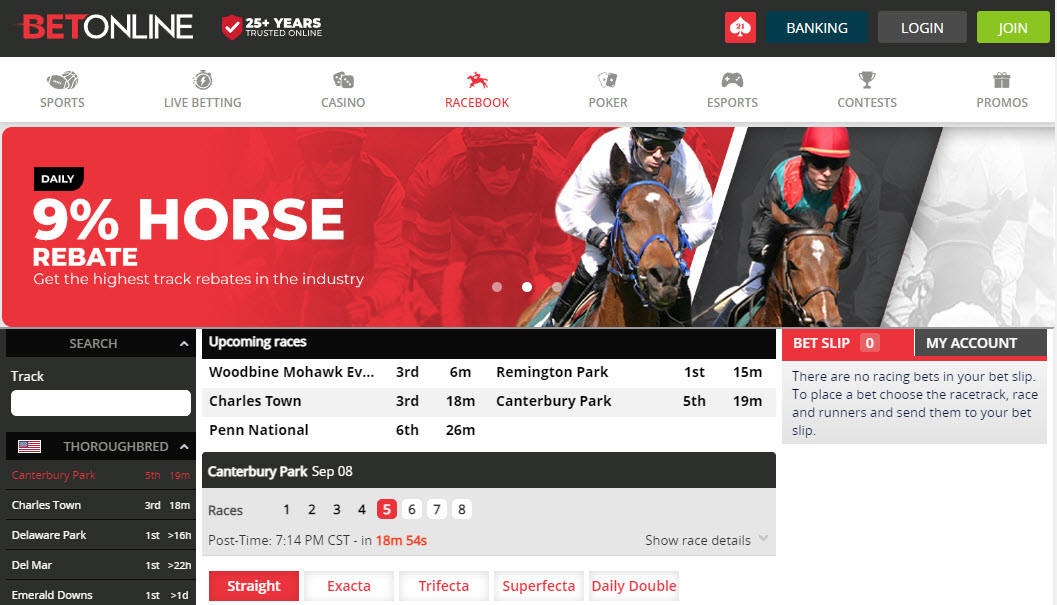 BetOnline offers dozens of racetracks from around the globe. The 9% daily rebate in the racebook is the highest in the market, and there is no limit on that rebate. The 9% is for exotic wagers (4% on win/place/show bets). But there are some restrictions on which races count towards the rebate, based on the track type and whether it was fixed odds instead of a pari-mutuel wager. Prop bets do not count either.
But BetOnline is definitely a fine spot to bet on the big horse races as you get very high limits and fast payouts. If you have never bet on horse racing before, BetOnline has a risk-free $25 bet to get you started on the racebook.
Pros
$25 risk-free bet to try the racebook
Highest daily rebate (9% on exotics) for racebook
Always fast payouts and high limits
Solid racebook design
Cons
No live streaming for races
Fixed odds bets ineligible for rebates
5. BetAnySports: Dozens of Racetracks Available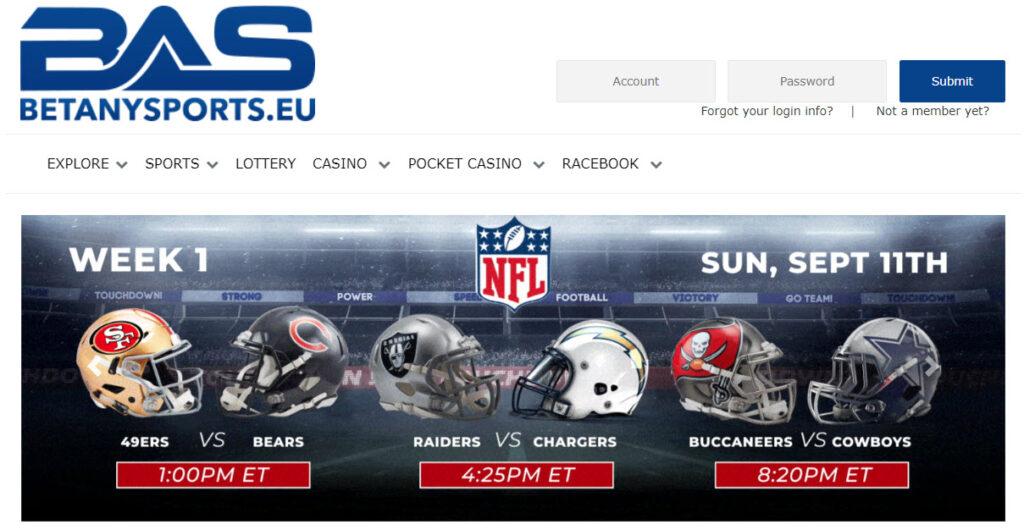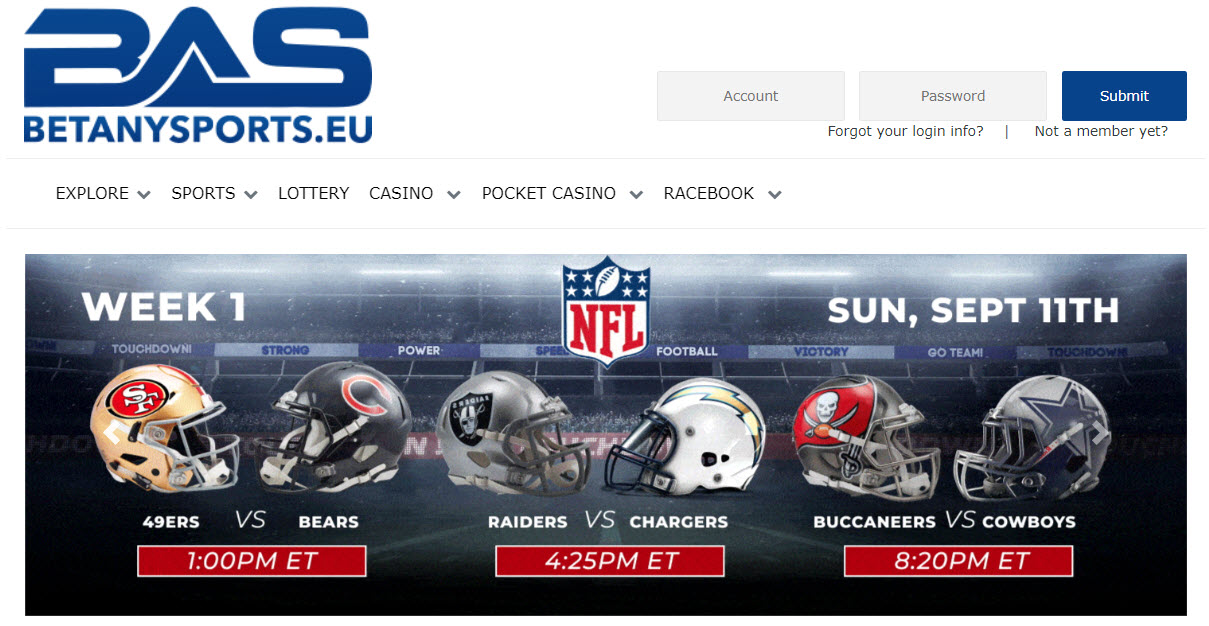 BetAnySports does not have the same high budget as some of its rivals, so you should expect smaller daily rebates and sign-up bonuses. But you do get a 6% daily rebate on the racebook, which is better than nothing. However, the most you can bet for a qualified rebate is $500 on win/place/show wagers and $200 on exotic wagers. This may turn high rollers towards other horse racing betting sites.
Remember, those limits apply to the daily rebates. There are more reasonable limits for how much you can wager on the races at BetAnySports. For the big Triple Crown or Breeders' Cup events, there is a maximum profit of $100,000 per race. Track A races, like Churchill Downs, pay up to $30,000 per race, Track B is $15,000, and Track C is limited to $10,000. The lowest limit on the site is for the Australian Tracks, where your maximum payout is $1,000.
BetAnySports does far more than just horse racing. You get a fantastic prop builder, a casino section with seven different casinos, and you can even play the state lottery – Virginia's Pick 3 and Pick 4 included – from your mobile device.
Pros
Daily racebook rebate (6%)
Sportsbook has best reduced juice (-105)
Cashback on sportsbook and casino
Wide range of racetracks offered
Play the lottery from home
Cons
Lower limits on racebook compared to other online betting sites
Rebate for racebook is smaller than most
Our Racebook Rating Methodology
The horse racing industry has made a successful transition into becoming one of the most popular forms of gaming at online gambling sites. We grade these sites all the time based on important performance metrics like customer service, promotions, banking methods, betting market variety, and mobile site design. We feel confident in our metrics finding you the best online horse race betting sites.
Virginia's History of Gambling Laws
You can say the history of horse racing goes back over 400 years in the state of Virginia. It was 1609 when British colonialists first brought horses over to the territory we now call Virginia. It was not long before people were betting on horses, though this was largely an activity for the wealthy.
There were multiple race tracks in use in Virginia in the 1700s, including a 1-mile oval track in Williamsburg. The legal status of horse racing was under scrutiny, but in 1851, the General Court of Virginia ruled horse racing to be more a sport than a game. Bets for under $20 were not prohibited under the state's anti-gambling laws.
Tracks could fix races to hurt gamblers, but it was not until 1871 that pari-mutuel wagering was introduced in the United States. But by 1894, Virginia voted to ban most horse race betting outside of exceptions for tracks owned by agriculture associates or at state fairs. The ban tightened in 1897, and for nearly a whole century, horse race betting was technically illegal in the state, even though it still occurred frequently.
In 1988, Virginia voters approved pari-mutuel wagering on horse racing with 1,086,966 votes for and 858,850 votes against. The Virginia Racing Commission would be formed a year later to oversee all horse racing activity in the state, but years would pass before there was any action.
Finally, in 1997, Colonial Downs opened and started hosting races with betting, which it would do through 2014 before closing. After years of court battles, things changed in 2018 when Virginia approved historical horse racing machines, which play like slot machines, where bettors wager on a race, and the results are formed from a historic race. These became very popular and were thought to be enough to fund the reopening of the track.
In 2019, Colonial Downs was sold to new management, and the track held its first thoroughbred race since 2013. In 2020, sports betting laws were passed in the state, leading to a January 2021 launch with retail sportsbooks providing online betting services, including horse wagering. Licensed horse racing betting sites like TVG, TwinSpires and Xpressbet are also allowed to operate in Virginia, refueling the horse race betting industry in the Old Dominion State.
Timeline of Gambling in VA
The following timeline shows the important events in the horse racing industry in the state of Virginia:
January 2021: Retail launch in the state, with many offering horse racing betting. Virginians can also join TVG, TwinSpires and Xpressbet.
2020: A sports betting bill is approved and signed by Gov. Ralph Northam, expanding Virginia's legal gambling industry.
2019: Under new management, Colonial Downs holds its first thoroughbred race since 2013.
2018: Historical horse racing machines launch in the state, becoming an unexpected hit among bettors.
2014: Colonial Downs stops hosting races and gets into legal fights to resume racing in the next few years.
1997: Colonial Downs opens as a major racetrack in Virginia with pari-mutuel wagering back on the table.
1989: The Virginia Racing Commission forms to oversee the state's on and off-track betting facilities.
1988: In a state-wide referendum, voters approve pari-mutuel betting on horse racing.
1894: Virginia bans most horse racing in the state. While not legal for the next century, horse race betting would still happen in the state at clandestine off-track betting facilities.
1871: Pari-mutuel betting on horse racing was first introduced in the United States.
1851: he General Court of Virginia rules that horse racing is more of a sport than a game of chance like other gambling games. Bets under $20 will not be prohibited.
1739: A 1-mile oval track opens at Williamsburg.
Key Features of the Top Racebooks
Horse racing is one of the most popular forms of gaming with online gambling sites. In the next section, we look at the key features of a top racebook and why this criterion is important.
Competitive Betting Odds
Most racebooks are going to offer similar odds on the same race, but some may have a better number for a longshot you have an interest in. This is why bettors like to have an account with multiple sites to make sure they are getting the best prices. The more one site does a good job of having competitive betting odds, the more likely you are to keep giving them your business.
Multiple Betting Markets Available
For a good racebook, we want to see more than just win/place/show bets. Everyone has those, but we also want to see the options for exotic wagers, including boxed bets, superfectas, daily doubles, and more.
Banking Methods
It should be easy to fund your account and just as easy to get real money payouts when you win. The name of the game with banking methods is diversity. Give us the most options possible for deposits and withdrawals as some people prefer traditional methods while others want to use crypto.
Bonuses & Promotions
The type of bonus you get when joining a site could determine if you do in fact join them. That is why the sign-up bonus is usually so big as these sites compete for your business. But a truly great racebook will continue offering promotions, including a daily rebate on your horse race betting volume. Be sure to read the terms and conditions on those rebates to see which tracks and types of race bets are not eligible for rebates.
Live Betting & Event Streaming is Available
Streaming a live horse race is a great touch at sites like TwinSpires and TVG, but it is harder for ‌offshore sites to get the necessary licensing to stream those races. Live betting is also a huge deal now too, but horse racing is so fast that it can be next to impossible to do that. But we could see live betting offered on the big Triple Crown races at more sites in the near future.
User Interface
For the racebook, we want a user interface that is simple to use and engaging to the bettor with detailed information on the horse's trainer and jockey. Some racebooks do a good job of providing that info, while others leave it out. But the use of drop-down menus or tabs to choose different bet types for the racebook is a nice touch most of the top racebooks utilize.
Mobile Site Quality
We want a mobile site that runs lag-free and looks good on a mobile device such as a smartphone or tablet. Many people place their bets on the go, so they need a site that is reliable and can handle high-traffic server times like right before a huge event like a Triple Crown race. We should be able to deposit money and place our bet in a hurry.
Customer Service Options
Sometimes we need help, so we want customer service that is available 24/7 with a diverse set of contact methods: message forms with the ability to add attachments, an email address, a phone number, and live chat preferably with an agent instead of an AI bot.
Security Features
Good security is crucial in this day of internet scams and data hacks. You always want to make sure you are dealing with a reputable site with a secure connection that will keep your data encrypted and safe since you will be sharing personal data with these sites. The online racebooks we recommend have many years of experience in the industry, so you can trust they are safe sites to use.
Major Horse Races in the United States
There are numerous prestigious horse races in each calendar year. The Triple Crown races are always among the most popular horse racing betting markets. We look at those races and some of the other major horse races in the United States.
The Kentucky Derby
The Super Bowl of horse racing, the Kentucky Derby is held each May at Churchill Downs in Louisville, Kentucky. It is the first leg of the Triple Crown circuit for Thoroughbreds, and no race draws a bigger betting handle than this Thoroughbred horse race.
On May 6, 2023, the 149th running of the Kentucky Derby will take place.
The Preakness Stakes
The second leg of the Triple Crown is the Preakness Stakes. This Thoroughbred race is held on the third Saturday in May each year at Pimlico Race Course in Baltimore, Maryland. The 148th running of the Preakness Stakes will be held on May 20, 2023.
The Belmont Stakes
The third and final leg of the Triple Crown is the Belmont Stakes. This Thoroughbred race is held on a Saturday in June each year at Belmont Park in Elmont, New York. The 155th running of the Belmont Stakes will be held on June 10, 2023.
Other Popular Horse Race Events
Beyond the Triple Crown races for Thoroughbreds, there are other popular horse racing events fans look forward to on the American circuit. Here is a list of some of those:
Breeders' Cup
Arkansas Derby
Travers Stakes
Pacific Classic Stakes
Santa Anita Handicap
Haskell Invitational Stakes
Betting on Historical Horse Races in Virginia
For a different style of horse betting, since 2019, Virginia has offered historical horse racing machines. In fact, there are over 2,000 such machines throughout the state. They work similarly to slot machines. A player places a bet using a pari-mutuel pool system just like a normal horse race, and the results are then generated at random from a historical horse race that has already happened.
Kentucky and Virginia are two states where historical horse racing machines have been thriving.
Virginia Horse Racing Betting Odds
In this section, we are going to go over the main types of horse racing betting odds. Sports bettors should already be familiar with one of them.
Fixed Odds in Virginia
If you do a lot of sports betting, you should be familiar with this type of bet. Fixed odds betting is when you place a wager on odds that the operator has set. You are locked into that number, and you know exactly how much your bet will return if it is a winner. The odds do not change after your bet was placed no matter what happens before game time.
Pari-Mutuel Betting in Virginia
With pari-mutuel betting, this type of bet is a system where all the players are betting against each other rather than the bookmaker. Their bets are all placed in a pool, the house takes their cut, and the remaining money is paid out to the winners. You do not know until the race is over how much you are going to win. If a lot of people were betting on a favorite and you put your money on a longshot who won, then you could stand to make a lot more money with pari-mutuel wagering than you would if you placed the same bet with fixed odds.
But pari-mutuel betting works best for something like horse racing, where the event is short and the ranked finish matters.
Pool Betting on Virginia Horse Races
Pool betting is essentially just another name for pari-mutuel wagering. Because the bets from all players are collected in a pool, this style of horse betting is also known as pool betting. This type of bet makes the most sense for something like horse racing where a ranked order of finishers means everything.
How to Calculate Horse Racing Betting Odds
To give you an idea of how the horse racing odds and your wager work, we have provided a reference table for what a $2 wager would payout at various odds. We have also included the implied probability of winning each wager.
| Horse Racing Odds | $2 Wager Payout | Implied Probability of Winning |
| --- | --- | --- |
| 1/5 (-500) | $2.40 | 83.33% |
| 1/4 (-400) | $2.50 | 80% |
| 1/3 (-300) | $2.60 | 75% |
| 1/2 (-200) | $3.00 | 66.67% |
| 4/6 (-150) | $3.33 | 60% |
| 1/1 (-100) | $4.00 | 50% |
| 2/1 (+200) | $6.00 | 33.33% |
| 3/1 (+300) | $8.00 | 25% |
| 5/1 (+500) | $12 | 16.67% |
| 10/1 (+1000) | $22 | 9.00% |
| 50/1 (+5000) | $102 | 1.96% |
If you wanted to know what a $10 wager payout would look like at these odds, you can just multiply the middle column by 5. A 50/1 horse at $10 would then pay out $510.
Common Types of Horse Racing Bets
There are several betting markets for ‌horse races. Typically, you can only find pari-mutuel betting in person, which is one of the things that makes online horse race betting sites great; not only can you place nearly any type of bet, you also get fixed odds. You can access multiple bet types, on single and consecutive races. 
Here are some of the most popular ways to bet on horse racing: 
Win: Pick the horse that will win the race.
Place: Pick the horse who will finish first or second in the race.
Show: Pick the horse who will finish first, second or third in the race.
Exacta: Pick the horses who finish first and second in the exact order.
Trifecta: Pick the horses who finish first, second, and third in exact order.
Superfecta: Pick the top four finishing horses in the exact order. 
Daily Double: Pick the winner in two consecutive races.
Pick 3/4/5/6: Similar to Daily Double, you have to pick the correct winner in three, four, five or six consecutive races. 
Horse Race Betting Terms
To get you comfortable with horse racing, we have included some common terms and jargon used:
Ante-Post: This is a bet on a horse race before the final runners are even confirmed.
Drifter: A horse who sees their odds continue to get higher and higher (more unlikely to win) as race time gets closer.
Dead Heat: When multiple horses finish a race at the same time (tied).
Dutch: This type of hedge betting is when you bet on multiple outcomes in the same event to minimize loss. In horse racing, you may bet a lot on a favorite to win the race, but also put a smaller amount on a longshot to win the same amount of money.
Exotic Bet: Bets that are not win/place/show bets. These are more difficult to win as you usually have to get the exact order of the top 2-to-4 horses or pick the winner of consecutive races.
Favorite: The horse with the best odds of winning the race.
Furlong: A unit of distance in horse racing tracks, one furlong is equal to one-eighth of a mile.
Longshot: A horse with poor odds to win the race.
Morning Line: These are an estimate of the final odds usually provided by a bookmaker before a race starts.
Odds: The mathematical probability of a horse winning. The odds account for how much money is bet on a particular horse to win the race.
Pari-Mutuel: A betting system where players bet against each other with all the money going into a pool with the house taking their cut and using the rest to pay out the winners.
Stake: The amount you wager on a horse race.
Creating a Racebook Account
Getting started at an online horse racing betting site or any internet gambling site is a simple process. We are going to walk you through the steps below, which should be about the same no matter which online gambling site you choose to join. 
Step 1. Sign-Up With a Racebook
Choose the racebook you want to join and visit their website. You will find a place to register and create your account. One of the first things you will have to do is create a good password for your account that you will keep to yourself and not use anywhere else.
Step 2. Verify Your Account Details
To verify your account details, be sure to enter accurate and valid info, including your name, address, email address and a mobile phone number you can be reached at.
Step 3. Fund Your Bankroll
You need to make a deposit before you can start doing any actual horse betting. Head to the deposit or cashier section to do this, but before you do, you should read about the site's welcome bonus since that will usually be based on how much you deposit the first time. Read that to make the most of your first deposit bonus. But when you are ready, make that first deposit using your preferred deposit method.
Step 4. Start Betting on Horse Races
Now that your account is live and funded with real money, you can start placing bets on ‌horse races. Head over to the racebook section and decide what type of bet or type of race you'd like to bet on.
FAQs – Horse Racing Betting in Virginia
Can you bet on horse races in Virginia?
Yes, horse race betting has been allowed in Virginia since the late 1980s. It is one of the oldest forms of legal gambling available to residents. The Virginia Racing Commission was originally formed to oversee pari-mutuel wagering in the state. 
Is online horse racing legal in Virginia?
Yes, online gambling sites can legally offer a variety of options for Virginia residents to bet on horse racing. Legal sports betting and online horse race betting are both available. 
Where can I gamble online in Virginia?
Virginia users can choose from many licensed sportsbooks like FanDuel and DraftKings, or they can join horse racing betting sites like TVG or TwinSpires. They also can play online games on the Virginia Lottery site or join one of the many offshore sites for even more gaming options.
What app lets you bet on horse racing?
You have a wide range of options for online horse race betting in Virginia. You can use a locally licensed operator like Caesars Sportsbook or an offshore site. Offshore sites offer a wide range of betting options and big events like the Preakness Stakes and Belmont Stakes. 
What is the best site to bet on horse racing?
Out of all the horse racing betting options available in Virginia, Bookmaker is our top choice. In addition to tons of great features for actual horse betting, it also offers multiple forms of gambling, like sports betting and casino gaming.