Best US Sports Betting Sites 2023
It's been almost five years since the federal ban on sports betting was repealed and the United States legal gambling industry has grown stratospherically. Since the Supreme Court legalized sports betting on May 14th, 2018, the US legal sports betting market has grown to a size of more than 45 million people.
That's the latest official number from the American Gaming Association (AGA) and, according to recent studies, this number should only increase within the next couple of years. A report from February 2022 announced on Bloomberg notes that the global sports betting market should be worth over $140bn by 2028, with a large chunk of that belonging to the US market.
As of January 2023, a total of 35 states (plus Washington D.C.) have approved a legal framework that allows U.S.-licensed sportsbooks to operate. So far, the revenue from state taxes for 2022 is over $1.4 billion, according to the official figures from 27 jurisdictions. Despite the fact that nine states haven't announced their final yearly figures, the amount is more than double the figure reported in 2021, which was approximately $562 million.
Bookmakers Review has put together this analysis with the latest information available from verified sources to help educate you about the status of the US sports betting industry.
State-by-State Betting Guides
What's the current state of the U.S. sports betting market?
Since the Supreme Court put gambling laws back into the hands of state legislatures on May 14th, 2018, the US legal market has grown to a size of more than 45 million people. That's the latest official number from the American Gaming Association (AGA). For example, in 2021, a survey from the group found an increase of 36% in the number of new bettors for the 2021-22 NFL season.
With Ohio going live on January 1, 2023, the number of jurisdictions that have approved legislation for U.S.-licensed sportsbooks to operate within has gone up to 36. Another four states (Florida, Maine, Massachusetts and Nebraska) have declared it legal but are not yet operational, according to official reports from these legislatures.
Florida is an interesting case after online sports betting was launched; it was available for just six months until a legal dispute put a halt to it.
In May 2021, the Seminole Tribe and the state of Florida agreed to a gaming compact that gave exclusive control over retail and online sports betting to the tribe. The Seminole Tribe of Native Americans are the most prolific casino operators in Florida that have in-person betting options.
Sports betting was effectively legalized in Florida and later, on November 1st, the Seminoles launched the Hard Rock mobile betting app although some groups had filed suits against the agreement.
Currently, a total of six states are considered "active" in terms of sports betting as there are legislative initiatives being discussed:
Hawaii
Kentucky
Missouri
Oklahoma
South Carolina
Texas
Another eight (Alabama, Alaska, California, Georgia, Idaho, Minnesota, Utah and Vermont) seem to have no hope of changing their stance on sports betting.
2022 USA Sports Betting Market In Review
By the end of 2022, 34 jurisdictions had approved a legislative framework to regulate the local sportsbook industry. Out of the 33 states (plus the District of Columbia) with an approved set of rules for state-regulated sports betting operators, three had not yet launched (Ohio, Massachusetts and Florida).
However, this didn't stop Americans from setting a new record for the amount of money gambled annually in the United States which, in turn, resulted in a historic revenue of $54.9 billion. That figure is only taking into account the first 11 months of sports wagering activities in 2022, according to the American Gaming Association.
With a month to spare, that number represents an increase of 13.5%, compared to 2021. State officials in 30 of the 33 jurisdictions reported annual growth in revenue, compared to the previous year.
In 2021, nearly 1 out of every 5 Americans (18%) who responded to a survey conducted by Morning Consultant, a specialized market-data company, confirmed that they wager on sports at least once a month. The number rose about 80% from the previous year which helps explain the $53bn in revenue reported by gaming mobile apps and casinos in the US.
While that number takes into consideration the amount of revenue from both gambling in those casinos and sports betting, almost 10% of that revenue ($4.29bn) comes directly from legal sports betting. This represents an increase of 165% compared to 2020, according to the AGA.
Despite being the 11th most populated state, New Jersey was the biggest legal sports betting market in the US. The Garden State amassed a total of $815 million in revenue from legal sports betting.
As of February 2023, over 100 million Americans can participate in legal sports gambling.
According to the report from Morning Consultant, Americans in legal betting states are not more likely to say that they bet on sports, compared to fellow Americans in states that have yet to legalize sports betting. At BMR we'll be keeping up with all the gambling laws to offer the latest information for bettors in these states.
U.S. Sports Betting Market Size Projections
Projections show that the global market will grow up to 106bn by 2025 according to the data company, Market Insight. Said number should increase to 140bn by 2028 according to the analysis from Grand View Research.
While the projections for the US might have changed within the last year, after the launch of sports betting in 11 new states, the projection of sports betting revenue in the US should increase to about $10.1bn according to Gabelli Asset Management Company and data from the US Census Bureau.
Digging into the weeds, the BMR team found room for extra growth after comparing the forecast of this report for 2021 with the official numbers reported by the AGA, and the result was more than double. While that rate might not be maintainable within the next 5 years, the projection for 2028 of $10.1bn in revenue could be, at least, $15bn.
Sports Betting Industry: Onshore vs. Offshore
While the total numbers for offshore sportsbooks are still unknown, the AGA did estimate that a total of 6.7 million Americans with local, legal sports betting options would prefer to play on an offshore sportsbook. This is for a wide variety of reasons, like what the betting rules and limits are in a state, or whether or not there is a specific type of wagering permitted.
In a letter to the U.S. Department of Justice, dated April 13th, 2022, the AGA reported that "nationwide internet searches for offshore sportsbook brands increased 38 percent last year." The interest from US bettors was such that "searches for offshore brands represented a majority of all sportsbook searches," added the group.
In the letter, the AGA estimates that 52% of Americans who gamble (45 million people) continue to use offshore sites.
According to Morning Consultant, the different operators in the US spent over $1.2bn in national marketing which explains the increase in participation in both onshore and offshore sports betting markets.
Regardless of what the actual numbers for the offshore gambling industry may be, Bookmakers Review has come across studies that indicate that operators located outside the US continue to handle the majority of the handle in the online sports betting industry.
This was evident recently during two of the biggest sporting events in the United States, including the most important one on the sports calendar: the Super Bowl.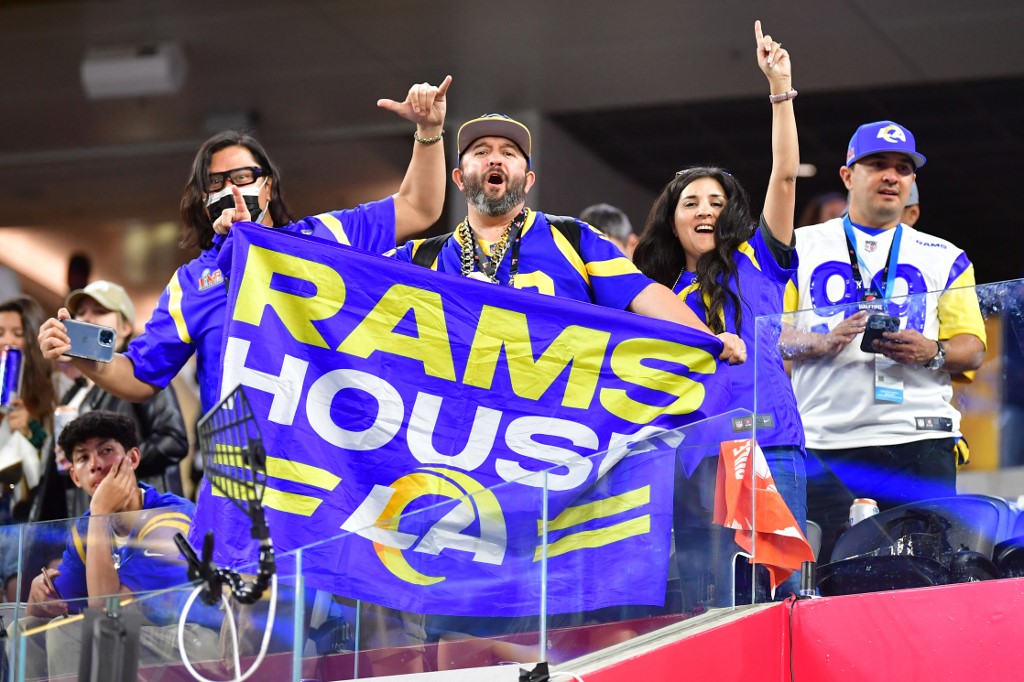 NFL the King of Sports Betting: How much is the NFL sports betting market worth?
According to recent figures published by the market-data company, H2 Gambling Capital, about 73% of the Super Bowl handle was staked with offshore sportsbooks. The data uploaded on H2's website indicates that out of an estimated $7bn wagered on Super Bowl LVI, US operators only saw $1.9bn in legal sports bets (27.1%).
During the 2021 NFL season, around 6.7 million Americans said they would be placing wagers with a bookie or on offshore sites which marks an increase of 13% in comparison to 2020, according to AGA. Meanwhile, almost 22 million residents stated that they would be casually wagering with friends. After adding the 52% that bets with offshore platforms, BMR's team has estimated the offshore sports betting market size at around 27.5 million Americans.
That number isn't very distant from the early results obtained for March Madness, during which the 45 million person market from the Super Bowl stayed the same for the NCAA Basketball Tournament.
During the two weeks of play, 20.9 million Americans wagered on the tournament outside of brackets and the total amount was estimated at $3.1bn.
While the specific numbers for other sports are still being investigated, during the 2022 World Series, Texan bettor Mattress Mack won a record $75 million after the Houston Astros beat the Philadelphia Phillies.
Sports Betting in Swing States
While the number of states reporting astonishing figures has increased consistently in the last couple of months, key states like California, Florida and Texas have yet to figure things outs when it comes to the legalization within their territories.
For example, California will have at least one proposal for the legalization of sports betting on the ballots for November 2022. The only initiative approved so far is backed by the local tribal governments, who've had more than two decades of experience regarding the manner.
According to an op-ed article by tribal representatives published in the Capitol Weekly, "tribal casinos generate $23 billion of economic activity in California, including nearly 200,000 jobs for Californians and $80 million per year to infrastructure and local communities."
"Opportunists are flocking to the Golden State to serve their self-interests with a proposal that requires abandoning the honored relationship between tribal governments and the state that has worked so well for more than two decades. We Californians must consider how we would implement legalized sports betting responsibly," added the article.
Sports Betting Outlook in Unregulated States
Currently, a proposal backed by several commercial operators is trying to gather enough signatures to make it to the ballots.
A poll published in late February 2022 by the Institute of Governmental Studies from UC Berkeley found that 45% of residents in California are in favor of legalizing sports betting but 1 out of every 5 voters is still undecided (22%), which could tip the scale the other way.
In Texas, the subject is not expected to be discussed by state authorities until the second semester of next year. Meanwhile, in Florida, the matter is in the middle of a legal dispute which should take a couple more months to get sorted out.
Given these circumstances, these three states are not expected to legalize sports betting within the next couple of years, according to pundits with knowledge of the situation. California is the most populous state, with over 38 million residents, followed by Texas and Florida with over 20 million people each.
Going with the data from the AGA, Bookmakers Review has been able to determine that these three states could represent a market of at least 25 million bettors.
FAQs — Sports Wagering in the United States
Is sports betting legal in the US?
The legalization of sports betting is now a matter that is completely in the hands of the states. Retail sports betting is legal and live in 30 states and Washington D.C..
Is online sports betting legal in the US?
Online sportsbooks are less common than in-person sportsbooks; however, there are 24 states that have legal online wagering, as well as Washington D.C..
Can you use a VPN to gamble in the US?
It is not recommended that you use a VPN to access any online sportsbooks. If you do not have access to locally-regulated online sportsbooks, offshore sites accept customers from the United States.
Does America have betting apps?
In states where mobile sports betting is allowed, popular sports betting apps like Caesars Sportsbook and DraftKings Sportsbook are available for download.
Which is the best betting site in the USA?
There is a wide variety of sports betting sites available; however, even in states with locally-regulated sportsbooks available, Bookmaker is our favorite place for online betting.
In what can only be described as a seminal pact between adversaries, Governor Newsom has signed a bill into law that both the California Native American tribes, as well as cardroom operators, support – no additional cardrooms in the state for two more decades. In turn, this collaboration between Native American tribes and gambling hall

---