The Best Live Betting Strategies in 2023
Live Betting – What You Need to Know in 2023
by Bookmakers Review | Updated June 21, 2023
This Bookmakers Review (BMR) guide explains the best live betting strategies and discusses the pros and cons of in-play sports wagering. We will also unpack the best sportsbooks for live betting.
The world's best sportsbooks provide customers with a wealth of exciting live bet options on the following:
NFL Football
NBA Basketball
MLB Baseball
NHL Hockey
And various other sports.
Getting Started with Live Betting
This tyope of betting allows eagle-eyed handicappers to soak up the opening stages of a sporting event and then make informed wagering decisions while the action is underway.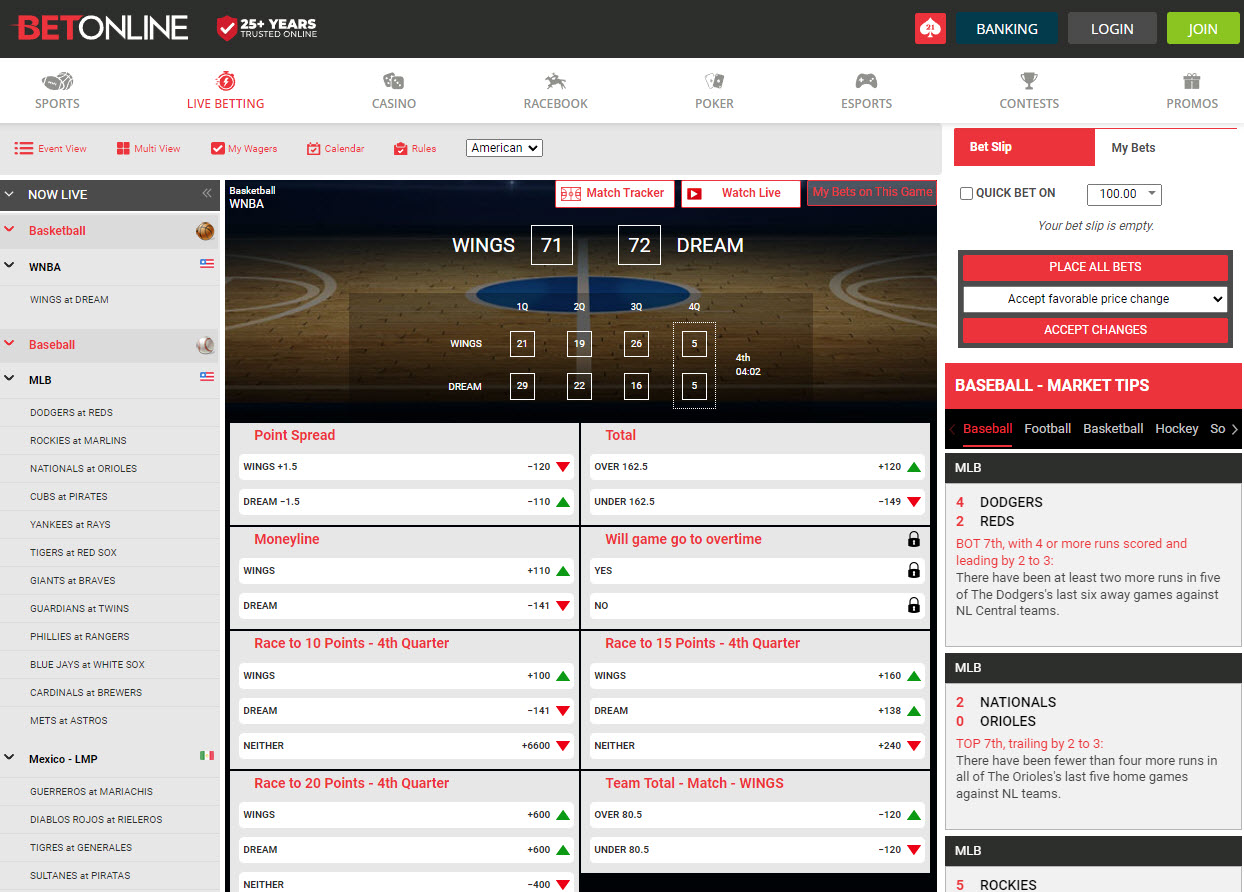 A screenshot of A+ rated BetOnline's platform.

Betting odds will be constantly updated throughout the game, allowing you to bet on moneylines, spreads, totals, as well as prop bets until close to the final whistle.
The History of Live Betting
For many years, sports fans could only place bets on events before they began. That all changed in the late 1990s, when sportsbooks started taking bets over the phone on games that were in progress.
Live betting gained momentum in the 21st century, as technology improved and large teams of odds compilers were able to rapidly update their lines on hundreds of games each day. Bet365 was the first site to specialize in live betting, and it also pioneered features such as live streaming and early cash out. In 2015, it revealed that 80% of its revenue came from in-play bets.
Live wagering has continued to soar in popularity since then, and it is now ubiquitous at the world's best sportsbooks. In Europe, in-play betting accounts for more than 70% of the sports wagering handle. Pre-game betting still represents more than half of the total handle in the United States, but industry leaders expect live betting's market share to be north of 70% within the next couple of years.
What are the Best Live Betting Strategies?
There are five key live betting strategies to consider. Below we break down each approach.
#1. Focus on One Game
It is tempting to place dozens of in-play wagers on several different games in a scattergun fashion. However, that sort of approach can leave you on the road to ruin. Pick one game, watch it intently, see if you can spot trends that a sportsbook's algorithm may miss and place select in-play bets from a position of strength.
#2. Predict Momentum Changes
The key to successful live betting is to predict the momentum changes. If you see that one team is starting to grow tired, or you spot a particular weakness, pounce on the live betting odds before they change.
#3. Look for Weak Lines
Before a game begins, the oddsmakers have all the time in the world to come up with a perfect number. That gives them a distinct advantage over the average bettor. When the game is underway, they are reacting just as quickly as you are. They have help from algorithms, but you will still find weak in-play lines that you can seize.
#4. Back a Pre-Game Favorite to Turn Things Around
If a pre-game favorite falls behind in the early stages, the in-play odds on that team will suddenly become a lot more attractive. It provides you with a golden opportunity to bet on strong teams at inflated terms. You can conduct pre-game research – figure out how well each team generally fares in the second, third and fourth quarters, for instance – as that may help you out.
#5. Seek Hedging Opportunities
You can often find excellent hedging opportunities at live betting sportsbooks. If you bet on a team to win a game before it starts and that team takes the lead, you are likely to find very attractive odds on the opposing team. At that point, you can bet the optimal amount on the opposing team and lock in a guaranteed profit, regardless of who wins.
Pros of Live Betting
There are lots of distinct advantages:
You can see how each team or player is shaping up and check if anyone is fatigued, lacking motivation or carrying an injury before parting with your money.
Live betting means you will not be caught out by a late injury to an important player in the warm-up.
You are reacting just as quickly to developments as the sportsbook, whereas before a game begins they have more time to devise the perfect lines.
Some sportsbooks publish weak live betting lines, which you can exploit.
It provides you with lots more opportunities to earn profits and to heighten the excitement of watching a live event. For example, you can bet on the outcome of every point in a tennis match.
Cons of Live Betting
There are also some downsides to live wagering:
You need to be quick, as the lines change rapidly, and it can be frustrating to miss out on the odds you liked.
Some sportsbooks freeze and crash at inopportune moments, so you need to select a powerful, reliable sports betting site.
It is difficult to shop around for the best lines and odds in-play, so you need to find a book that routinely provides above average odds.
You will not have much time to devise strategies, and you may end up straying away from your general betting strategy.
What are the Best Sportsbooks for Live Betting?
We have reviewed every site that offers live betting. There is a vast gulf in quality between the elite sportsbooks for in-play betting and the rest of the pace. We ultimately decided that these are the best betting sites for live betting:
They offer better odds than most rivals, and sites like BetOnline and Bovada provide a broad choice of live betting options too. Even more importantly, they are fast and reliable sites, which means you will never miss an opportunity to place a live wager you like. You can rely on them to pay you out on time too.
You might also like to check out Bet365. It is not widely available in the United States, but if you are in Canada, Europe or South America, it is a great option.
Live Streaming
Live streaming allows you to watch sporting events on a sports betting website or mobile app. You can place live bets on the action while you watch it unravel, creating a holistic experience. Sites with live streaming include Bet365. You can also live stream esports at BetOnline and Bovada via a Twitch plugin.
Live Betting FAQs
Can you bet on live games?
You can bet on live football, basketball, baseball, hockey and soccer games at elite online sportsbooks such as BetOnline, Bovada and Heritage Sports. They also offer live betting on golf and tennis tournaments, boxing bouts, UFC matches and all sorts of additional sporting events.
What is a live bet?
The advent of live betting allows you to place wagers on sporting events after they have started. It means you can watch the opening stages of a ball game, get a feel for the action and then place a bet from a strong position. The odds will be continually updated as the game progresses, reflecting the score and the momentum of the game.
Is it worth placing live bets?
There are several advantages to placing live bets. You can check how each team is shaping up in the early stages of the game before parting with your money, and you will not be caught out by a late injury to a key player. The odds compilers also struggle to keep up with every play, so you may be able to exploit some weak lines.
Where can you bet live on sports?
You can enjoy live sports betting at world-class betting sites such as BetOnline, Heritage Sports and Bovada. It is also worth checking out Bet365 if it is available in your country or state, as it was the original live betting pioneer and its in-play product is outstanding, replete with live streaming and cash out options. BMR has reviewed the world's best live betting sites to help you find your perfect match.
What are the best live betting sites?
We rate Heritage Sports, Bovada, Bookmaker.eu and BetOnline as the best sites for live sports betting. They offer appealing in-play odds on a variety of markets, and they also have user-friendly interfaces, which make it easy to place bets quickly as a game progresses.
How do I win a live bet?
You simply need to make an astute prediction about a sporting event while it is unfolding. The best betting sites will provide you with lots of live betting options on sports such as football, baseball, basketball, hockey, tennis, soccer and golf. Just choose a market that appeals, place your bet quickly before the line changes, and you will be paid out after the game if you guess correctly.
How does cash out work in sports betting?
Cash out is a sports betting feature that allows you to end a live bet before the event that you wagered on has finished. If your bet is on course to win, you can claim a guaranteed profit, although it will be smaller than the profit you would earn by hanging on for the end of the game. If the bet looks on course to lose, you may be able to recoup some of your bet amount by using the cash out feature.