Rhode Island Horse Race Betting – The Best Sites for Betting on Horse Races
Rhode Islanders have a long history with horse racing, though you won't find a single race track in the state. But if online horse racing betting is what you crave, then you have plenty of options in the Ocean State.
We look at the best online sportsbooks in Rhode Island for horse racing, what makes them the best, and we provide explanations of how horse racing works for beginners. We also dig into Rhode Island's long and complicated history with horse racing, a good intersection point for sports gambling and American history.
Our Top-Rated Horse Race Betting Sites
Rhode Island's Best Online Horse Racing Betting Sites
The top online horse racing betting sites are ones that operate offshore, so they're not regulated by Rhode Island's gambling commission; however, they are fully legal and regulated in their own jurisdictions.
Is betting on horse races legal in Rhode Island?
Rhode Islanders have been legally betting real money on horse races since 1934, making it one of the oldest states for pari-mutuel betting. Things have only been made easier in recent years with the advancements in Rhode Island's gambling laws, including the bill that made sports betting legal.
Rhode Island is lacking in retail locations to go bet on live horse racing, but you can find plenty of online gambling options, including offshore sportsbooks, that have racebooks with races from all around the world and a variety of betting markets available.
The Best Horse Race Gambling Sites in Rhode Island
We wanted to share more details on our top 10 list of the best racebooks for Rhode Island players. We have included reviews of our top five racebooks, which also offer other forms of gambling. At the best operators, you'll find online casino games, table games, online sports gambling and a wide variety of betting contests and tournaments.
1. Bookmaker: Respected Racebook and Sportsbook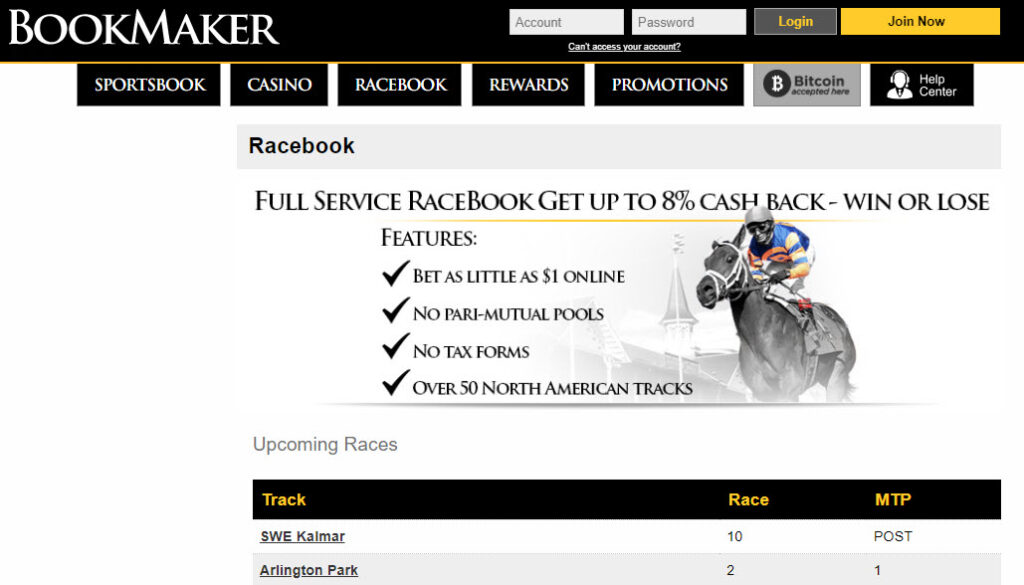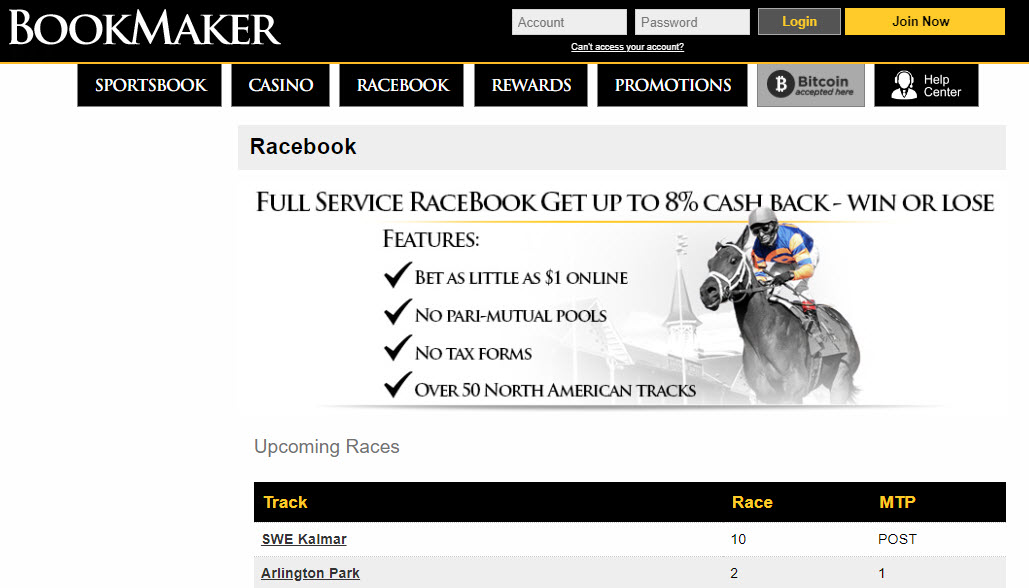 Bookmaker.eu has made its reputation on its sportsbook for offering the earliest lines, but it also has a respected racebook platform. You can only do fixed odds betting on horses at Bookmaker, but that is fine for most. This way you will know exactly how much you stand to win based on your wager and the odds that you are locked into when you placed it.
Regardless of the outcome of your horse race wager, users can get up to 8% daily cashback. Bookmaker offers dozens of tracks from around the world, and they offer very high limits on the biggest races. You can also join the three-tier loyalty program to get great reload bonuses if you are a frequent bettor. The third tier (Diamond Level) gets a 20% cash bonus for deposits (up to $2,500).
Bookmaker also has great online sports gambling with those early lines in addition to many props and live bets. You can use a wide variety of withdrawal methods, including free crypto payouts.
Pros
No pari-mutuel pool betting
Win or lose, get up to 8% daily rebates on horses
50+ tracks available
Sportsbook gets the earliest lines
Cons
Small limits on certain tracks
Does not have as much racing info as other rivals
2. Heritage Sports: Cash Back Racebook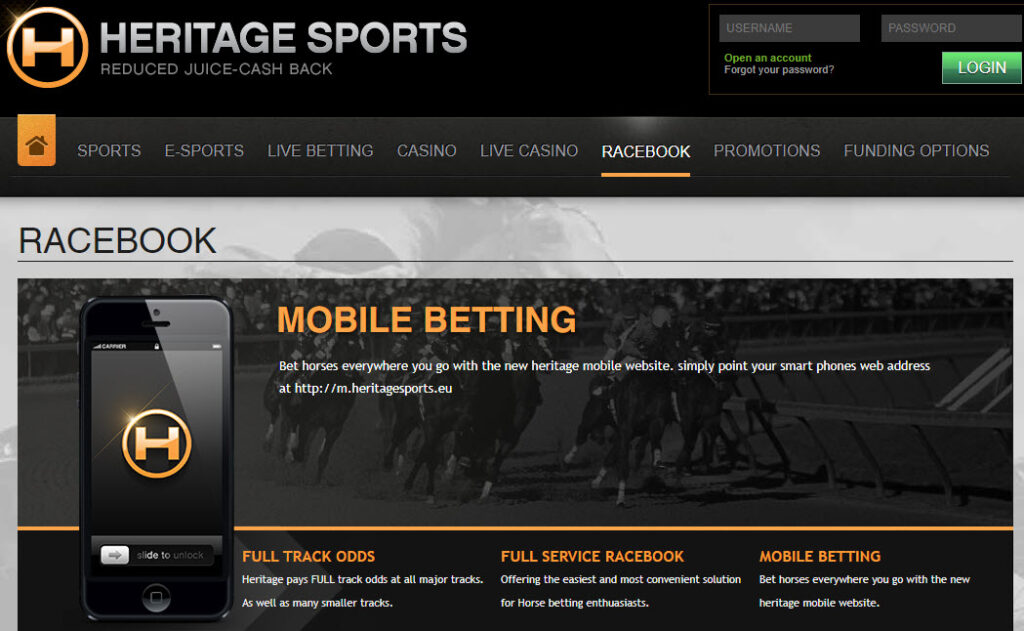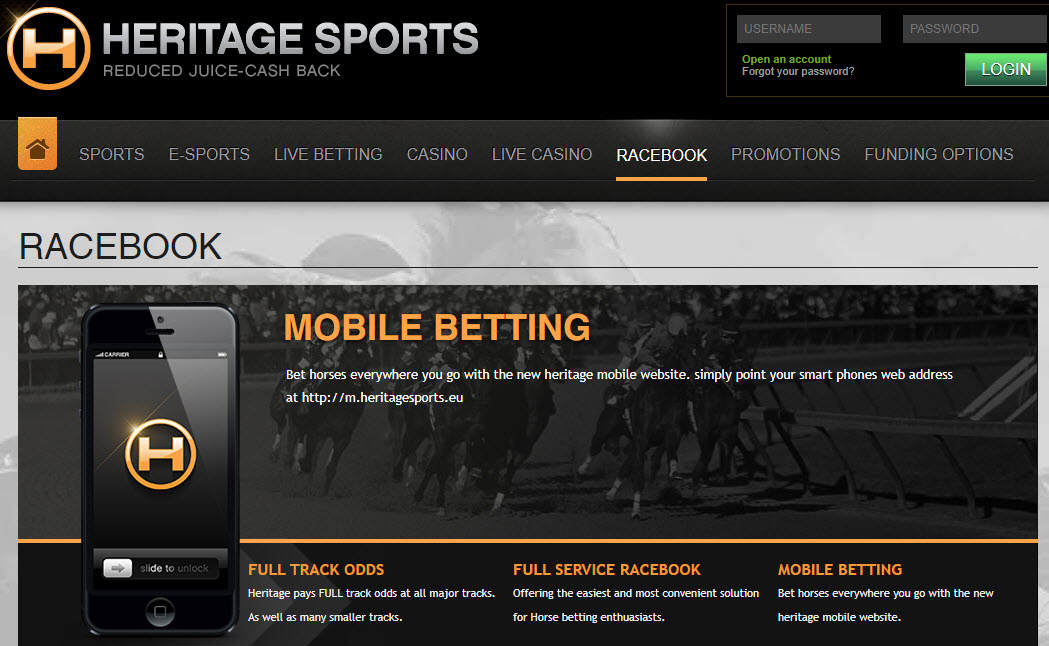 You will find over 60 racetracks from the Americas, Europe, Australia and more at Heritage Sports. Major tracks offer payouts up to $10,000, and that can be even higher for Triple Crown races. The smaller tracks are limited to $5,000 per race.
Win or lose, your daily horse race betting volume can earn up to 8% in daily rebates on the racebook. There is a 4x rollover requirement that applies to these funds, but Heritage Sports is great in that the bonus funds can be used anywhere on the site. That means you could quickly satisfy that rollover playing a casino game.
Heritage Sports' racebook has a good design. Not only can you get the odds and a variety of betting markets (exotic and win/place/show), but you can get info on each horse's trainer and jockey. This is good for die-hard horse racing fans who want as much info as possible.
Beyond horse racing, you get a top-tier sportsbook with Heritage Sports, and it is the best site on our list for esports events.
Pros
Get 8% daily rebates on racebook
One of our favorite mobile betting sites
More detailed race info than Bovada and Bookmaker
Use bonus funds with no restrictions
Cons
Only major tracks offer the 8% rebate
No streaming of live horse races
3. Bovada: Excellent Racebook Design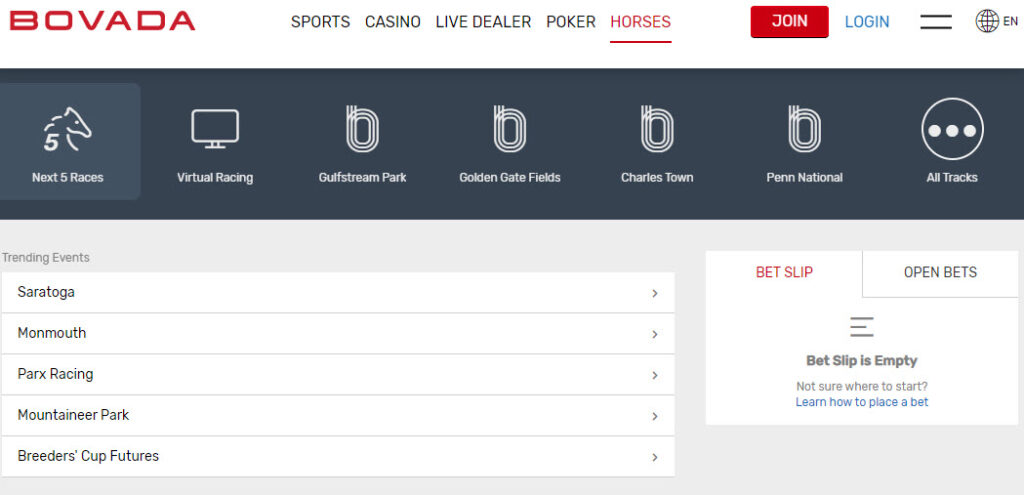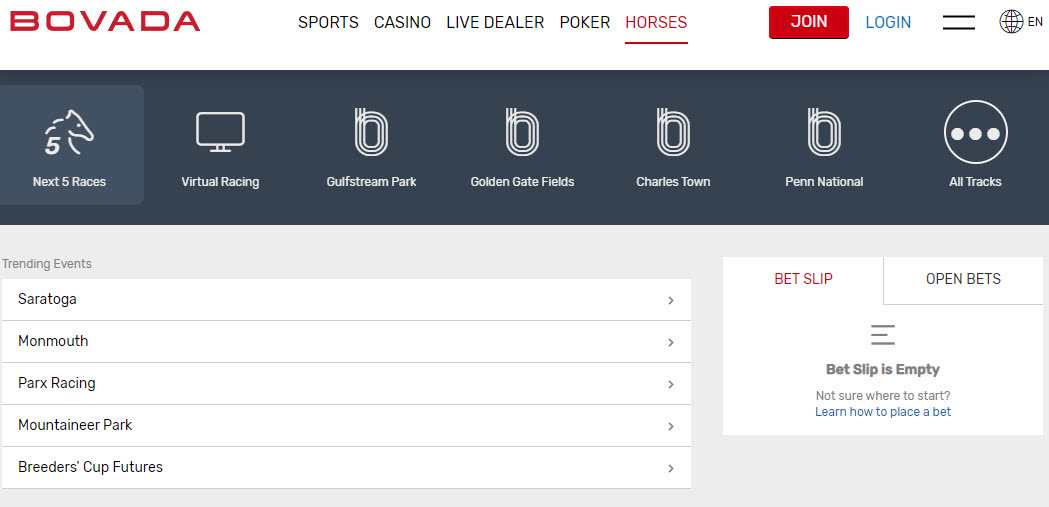 Bovada can be a little hit or miss with the racebook section. The design of it is great with drop-down menus making it easy to navigate through races and make your appropriate picks. But we would like to see a little more info on the jockey and trainers.
But a glaring omission is Bovada does not have any daily rebates on the racebook like you see at all the competitors. This is in line with Bovada just not offering as many ongoing promotions for returning users. But for new users, you can get big welcome bonuses if you deposit with crypto. Those sports bonuses – 75% bonus up to $750 – can be used on the racebook too.
Also, if you have any interest in virtual racing games, then Bovada is the king of that. They have virtual races for horses, camels, greyhounds, and supercars. You bet on them just like you would any race, then you can watch streaming video of the digital race to see the outcome. If you are a fan of video slots, this might be an exciting betting market for you to enjoy at Bovada as a racing fan.
Pros
Excellent design at racebook
Crypto users get great bonuses
Best site for virtual racing
Cons
No live streaming of horse races
No rebates for racebook
4. BetOnline: Highest Daily Rebates on Racebook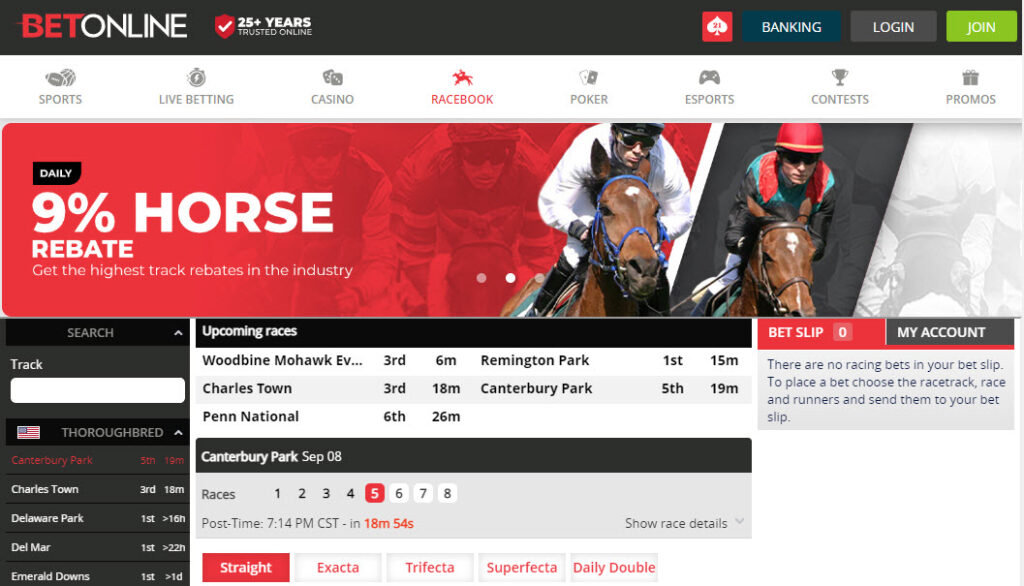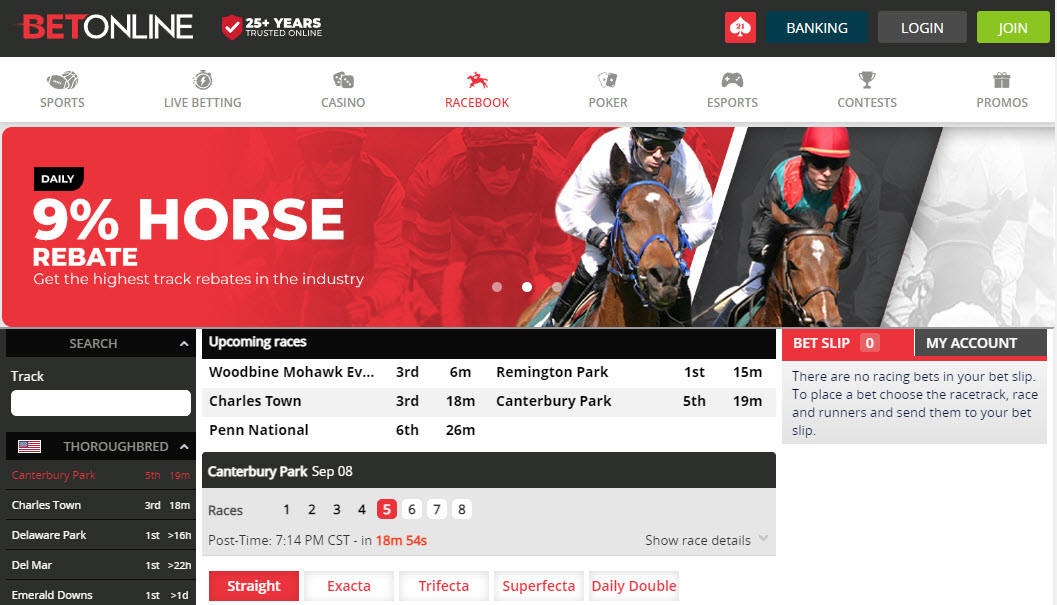 BetOnline may not be our favorite racebook, favorite sportsbook, favorite casino, or even our favorite online poker room. But the fact is they do all of these things very well, so that is what makes them one of the best overall online gambling sites.
For the racebook, you will find dozens of tracks to bet on. BetOnline's 9% daily rebate is the highest in the market, and there is no limit on how much you can receive. However, there are restrictions on what races count towards the rebate at specific tracks. Also, anything with fixed odds or prop bets does not qualify.
But with BetOnline, you can always count on high limits and fast payouts. The same can be said if you are using the sportsbook and casino. For those new to horse racing, try your first bet risk-free for $25 on the racebook.
Pros
$25 risk-free bet for first racebook wager
Highest daily rebate (9%) for racebook
High limits and fast payouts
Good racebook interface
Cons
No live streaming of races
Fixed odds bets not eligible for daily rebates
5. BetAnySports: Cashback Racebook and Reduced Juice Sportsbook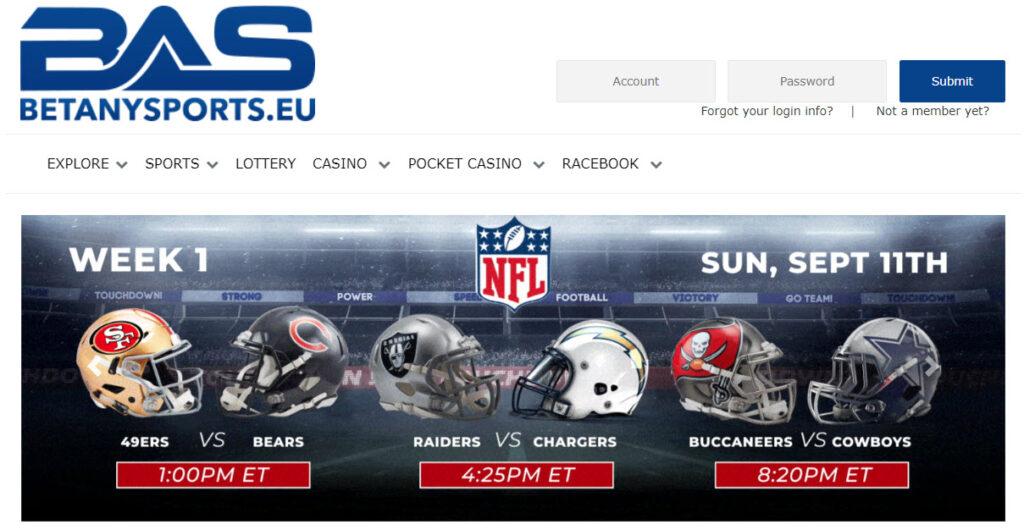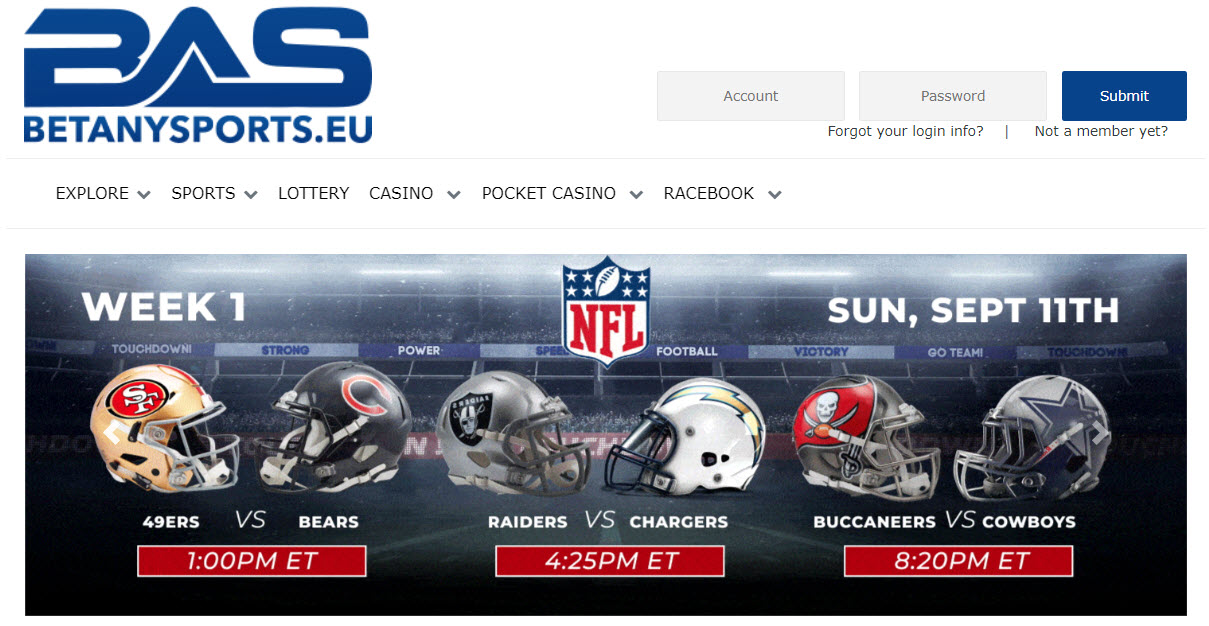 BetAnySports runs on a smaller budget than some of its rivals, so you cannot expect the highest daily rebates or welcome bonuses. But at least you get a 6% daily rebate on the racebook. The most you can wager for a qualified rebate is $500 on win/place/show wagers and $200 on exotic wagers. High rollers may find more interest elsewhere for this reason.
Keep in mind those limits apply to just the daily rebates. There are reasonable limits for what you can bet on races at BetAnySports. If you are playing a very popular Triple Crown or Breeders' Cup event, then there is a max profit of $100,000 per race. Track A races – think Churchill Downs – pay up to $30,000 per race, Track B is $15,000, and Track C is capped to $10,000. The lowest limit available belongs to the Australian Tracks where your highest possible payout is $1,000.
BetAnySports offers far more than just horse racing though. You get a great prop builder, a varied casino selection, and you can even play the state lottery – Rhode Island's Pick 4 drawing included – from home.
Pros
Offers daily racebook rebate of 6%
Great prop builder on sportsbook
Cash back casino available
Good number of racetracks offered
Cons
Racebook has small limits
Smaller racebook rebate than most
How We Rated the Top Horse Racing Betting Sites
Our experts grade each racebook by looking at important criteria, including but not limited to bonuses, ongoing promotions, customer reviews, quality of customer service, banking methods, betting options, and other gambling options available.
The State's Gambling History
Horse racing is one of the oldest forms of gambling in Rhode Island. Over 80 years before the passing of a sports betting law that would make legal online sports betting a thing, Rhode Island legalized pari-mutuel betting on horse racing in 1934 by nearly a 3-to-1 voting margin.
This was highlighted by the opening of Narragansett Park just two months after construction was greenlit as the Narragansett Racing Association secured the state's first horse racing permit. In 1935, famed horse Seabiscuit won his first race at Narragansett Park, where he would set a track record.
The 1937 race season was a controversial one at Narragansett, as track president Walter E. O'Hara was in a feud with the state's racing steward. The track had its license revoked for the fall racing season, and track records were eventually seized for an audit. O'Hara eventually resigned from the track, which reopened in 1938.
But as time went on, interest in horse racing waned. A couple of tragic fire incidents led to the deaths of many horses at the track. Narragansett Park closed in 1978. A suspicious fire burned down the clubhouse in 1981, closing a long chapter on the racetrack of note in Rhode Island.
Finally, it was in 2018 after PASPA was overturned, that sports betting was allowed to be written into law again by state rights. Rhode Island wasted little time in getting that underway, and now you can do in-person sports betting and online sports betting in the state. That includes horse racing betting, which can be done online now at a variety of sites, including offshore sportsbooks.
Rhode Island's Legal Gambling Timeline
The following timeline shows important events in horse racing in the state of Rhode Island:
2019: Mobile sports betting is passed into law in Rhode Island, including the launch of Sportsbook Rhode Island, a joint venture between IGT and William Hill.
2018: After the Supreme Court overturns PASPA, legal sports betting is passed in the state of Rhode Island, allowing for in-person wagers at the two land-based casinos.
1978: Narragansett Park closes for good.
1938: Narragansett Park reopens to great fanfare before the eventual decline of horse racing interest in the 1950s and 1960s, and some unfortunate fire incidents at the track that killed dozens of horses.
1937: Narragansett Park's license is suspended for the season after a dispute between track president Walter E. O'Hara and the state racing steward.
1935: Famous horse Seabiscuit wins his first race at Narragansett Park.
1934: A prohibition on wagering is lifted as Rhode Island passes pari-mutuel betting on horse racing by nearly a 3-to-1 margin.
Key Features of the Top Horse Betting Sites
Competitive Betting Odds
For a racebook, we expect similar odds across the board, though some sites may do a better job than others at posting longshot odds. This is why it is important to have an account with different racebooks to shop around and make sure you are getting the best price for the horse you want to bet on.
Variety of Betting Markets & Options
With horse racing, you can expect win/place/show bets for which horse finishes in the top three positions. But we also want to see a great mixture of exotic wagers, including the trifecta, superfecta, daily double and Pick 2-6. The more options offered at one racebook will make it less likely we bet with another site on that race.
Accepted Banking Methods
This is very important; we need the most diverse methods possible to keep up with the times as there are multiple methods of depositing and withdrawing money. You have your old-school methods like credit cards and debit cards. You have newer options like PayPal and other eWallets. Then there is crypto like Bitcoin and Bitcoin Cash. We know crypto payouts are usually the fastest and free, but a good site will have several options for both deposits and withdrawals.
Availability of Bonuses & Promos
A great racebook is going to have interesting bonuses and promo codes available frequently. The welcome bonus is usually a big deposit match of your initial deposit. But some of the best promos come later, like reload bonuses, risk-free bets, enhanced odds, parlay boosts, and more to get bonus money in your account.
Live Betting
Live betting is a growing market for sure in sports betting, but it can be very difficult to pull off with how quickly horse races end after starting. But you may be able to catch some live betting options during big horse races like the Kentucky Derby if you use a popular horse betting site like TwinSpires or TVG. But ‌offshore sportsbooks will have to build towards offering any live betting for horse races.
Desktop User Experience
The company's website should be easily accessible via desktop to place bets on the racebook, deposit money into your account, withdraw any winnings, and do all the other things at these sites like play casino games and wager on other sports.
Mobile Betting Experience
Mobile apps have made mobile sports wagering that much easier and convenient. Just pick up your phone and within a minute you could be betting on a horse to finish first in a race. This is why it is crucial for the mobile site to have a good user interface, and the racebook especially needs to make use of tabs or a drop-down menu to seamlessly jump between win/place/show and exotic wagers to build our horse racing bet slips.
Customer Service
Sometimes we need help, and that is where customer service comes in handy. We prefer 24/7 live chat with a real human agent instead of an A.I. bot, but we will take what we can get. There should also always be a phone number to contact in addition to usual methods of contact like emails, messages, and that live chat.
User Safety & Security Features
We have to share personal info such as our number and possibly bank account with these sites, so it is crucial for them to provide safe and secure sessions. Fortunately, we only choose the sites that have a history of providing customers with safe and quality gambling experiences. We assume they are using the latest innovations to protect our personal data from hackers.
Rhode Island Horse Racing Betting
In the next sections, we are going to provide very helpful information to those new to horse racing. You will discover where to bet on it beyond just retail locations; how to bet on it by understanding the odds, and to prepare you best we can for success on race day. Before you know it, you will be placing exotic wagers and trying to predict winners of consecutive races.
How To Bet On Horse Racing in Rhode Island
In many states, horse racing fans are treated to three primary resources for betting on horse racing: Horse racing tracks, off-track betting establishments, and online racebooks. We are going to go over each and their availability (or lack thereof) for Rhode Islanders.
Horse Racing Tracks
States famous for horse racing like Kentucky and New York will have tracks where you can visit and place bets in person. Unfortunately, Rhode Island does not have any active tracks with races as the last major one, Narragansett Park, closed in 1978. So, short of a road trip to New York or Massachusetts, you will not be going to the track itself to place your horse racing bets.
Off-Track Betting
It is legal to have off-track betting (OTB) sites in the state of Rhode Island, but currently, none exist. It became popular in the late 1980s and early 1990s for states to introduce OTB establishments to drive up revenue from horse race wagering as many racetracks were losing money around the country. This way you could bet on a race in another state and it would be legal.
But in 2023, you do not have any OTB sites to visit in the state of Rhode Island.
Online Betting
This is where you will be doing your horse racing wagering in Rhode Island. Online sportsbooks often have their own racebook section. You can also use very popular sites like TVG and TwinSpires to bet on horse racing as they accept Rhode Island users.
But some of your best bets are to join offshore sportsbooks that have dedicated racebooks with horse racing available at dozens of tracks from around the world. You can also bet big on the Triple Crown races and Breeders' Cup.
Rhode Island Horse Racing Betting Odds
With horse racing, the odds will look different to you than typical sportsbook odds for other sports. We go over the main types of race betting odds in the next sections.
Fixed Odds for Horse Racing Betting in Rhode Island
If you bet on sports, you already know what fixed odds look like. You place a wager on certain odds offered by the sportsbook operator, like -110, and you know exactly how much money you will win back if your wager is a success. That number is fixed (or locked) and will not change between the time you place the bet and the time the event gets started.
A racebook like Bookmaker is known to only offer fixed-odds betting for horse racing.
Pari-Mutuel Betting in Rhode Island
With pari-mutuel wagering, you are betting against other bettors instead of the operator. Your bet goes into a pool with all the other bets on that race, the house takes its cut (the "vig"), and the remaining funds are paid out to the winners.
You will not know what your winnings are going to be until after the race is over with pari-mutuel betting. This format works best for something like horse racing where the event is quick, and the ranked order of finishers matters.
Pool Betting on Rhode Island Horse Races
Pool betting is really just another way of saying pari-mutuel betting, as your bets are put in a pool with all other bets. The larger the pool, the more money there will be to pay out winners. This could be a very good thing if you bet on a long shot and the horse wins in a large pool and you get to collect all that money.
Calculating Horse Race Betting Odds in RI
The following chart shows what a $2 wager would payout for a variety of horse racing odds along with the implied probability of winning each bet.
| Horse Racing Odds | $2 Wager Payout | Implied Probability of Winning |
| --- | --- | --- |
| 1/5 (-500) | $2.40 | 83.33% |
| 1/4 (-400) | $2.50 | 80% |
| 1/3 (-300) | $2.60 | 75% |
| 1/2 (-200) | $3.00 | 66.67% |
| 4/6 (-150) | $3.33 | 60% |
| 1/1 (-100) | $4.00 | 50% |
| 2/1 (+200) | $6.00 | 33.33% |
| 3/1 (+300) | $8.00 | 25% |
| 5/1 (+500) | $12 | 16.67% |
| 10/1 (+1000) | $22 | 9.00% |
| 50/1 (+5000) | $102 | 1.96% |
The higher the odds, the bigger the payout, but the lower the chances of a successful bet.
Signing Up at Horse Racing Sites
Creating an account to start betting on horse racing in Rhode Island is simple. We walk through the process in the following four steps:
Step 1. Create Your Betting Account
Choose which site you want to join and go to the website. Locate the link to create or register a new account. One of the first steps and important pieces of information is to create a strong password that you are not using anywhere else.
Step 2. Complete the Verification Process
Accounts need to be verified before they are officially created, so be sure your information is accurate. Provide your full name and address, and make sure you use an email and mobile phone number that you can be reached at.
Step 3. Fund Your Account
With your account verified, you can now log in and deposit money. Choose from a variety of deposit methods and fund your account with money. Before you make that deposit, you should read about any welcome bonus to determine how much money you want to make back in bonus funds for that initial deposit bonus. That is usually how the sign-up bonuses work, so do read the terms and conditions for that offer.
Step 4. Start Wagering on Horse Races
With money and your account, and hopefully some bonus funds to boot, now you are ready to head to the racebook section and start placing bets on horse racing.
FAQs – Rhode Island Horse Racing Betting
Is betting legal in Rhode Island?
Yes, betting on sports, horses, and daily fantasy sports (DFS) is legal for Rhode Islanders at least 18 years of age. They are the most popular forms of online gambling activities in the state as online casino games and poker are still not legalized.
How do I place a bet in Rhode Island?
Sports fans in Rhode Island can head to a retail casino to place bets, or they can place them on Sportsbook RI. For more gambling options, players will be better off checking out one of the best offshore sites.
What bet wins the most in horse racing?
The exotic wagers win more than the win/place/show bets do, but that is why they are much harder to win too. The Superfecta bet will certainly pay a ton if you can predict the top four finishers in a race. The Pick 6 will also be among the most profitable out there if you can pick the winner of six consecutive races.
Can you bet on the Kentucky Derby in Rhode Island?
Yes, the Kentucky Derby is the biggest race of the year and often draws the most bets at online sportsbooks. You can expect to be able to bet on it in a variety of ways and with some of the highest limits of any race on the calendar.
Does Rhode Island tax gambling winnings?
Yes, any win over $600 is going to lead to that bettor receiving a W-2G tax form. When you have a bigger win like $5,000 or more, Rhode Island will withhold 24% in federal taxes and 5.99% in state taxes.