Wendover Casinos: How to Gamble Online in Wendover, UT
Shawn West has been involved with college basketball, NFL and college football and MLB since he left his job as bank vice president two decades ago. He lives in North Carolina with his wife, children, two dachshunds and a variety of turtles.
Utah and Nevada are neighbors that couldn't be more different. With Las Vegas as its unofficial tourism capital, Nevada is an adult playground where it seems that just about everything is permitted. Settled by followers of the Mormon religion in its earliest days, Utah is known for its conservative dress and lifestyle.
Nowhere is the difference between the states more evident than in their treatment of gambling. Nevada's economy seems to be built on the casinos, slots, poker rooms and sports books that dot the landscape, while Utah has some of the strictest laws in the nation against it, outlawing all forms of gambling.
That creates a clash of cultures where the two states come together, particularly in the city of Wendover, which straddles the state line. A large number of casinos sit within shouting distance of the state line, allowing Utah residents to cross over to indulge in gambling.
In addition to the in-person casinos on the Nevada side, residents of Wendover can get a full casino experience right on their computer, phone, or tablet at an online betting site. Online casinos offer dozens of games and variations, including slot machines, video poker, table games and even live dealer casino play. And just like at the brick-and-mortar casinos up the street, online casinos pay out real money to winners. While state law prevents Utah companies from offering online casinos, it is still possible to play casino games for cash using offshore sportsbooks.
You'll need to find an offshore casino site you can trust, however, out of the hundreds out there, some are less reputable than others. We can help with that. We asked our expert panel to evaluate the best betting sites in Utah and recommend the ones that are safe and offer a fun, challenging casino play environment.
The Best Utah Sportsbooks in 2023
Utah Betting Guides
We have a dedicated page that provides more information on Utah's top betting sites in addition to other in-depth guides to the Beehive State's other online betting markets for bettors that want to learn more.
List of the Best Online Casinos in Wendover
After looking at more than 100 different online casino sites available in Wendover, our experts came up with the following ranking of the top 10 best online casinos.
Reviews of the Best Online Casinos in Wendover
Our expert panel evaluated each of the top sites on several different characteristics, then came up with an overall ranking based on their weighting. Your own personal preferences and priorities may put different weights on the various factors, however. So, in addition to the top 10 list, our experts also provided an in-depth analysis of the five absolute best sites, listing the pros and cons, to help you decide which one would work best for you.
1. Bookmaker: Best Online Casino for Sharp Bettors in Wendover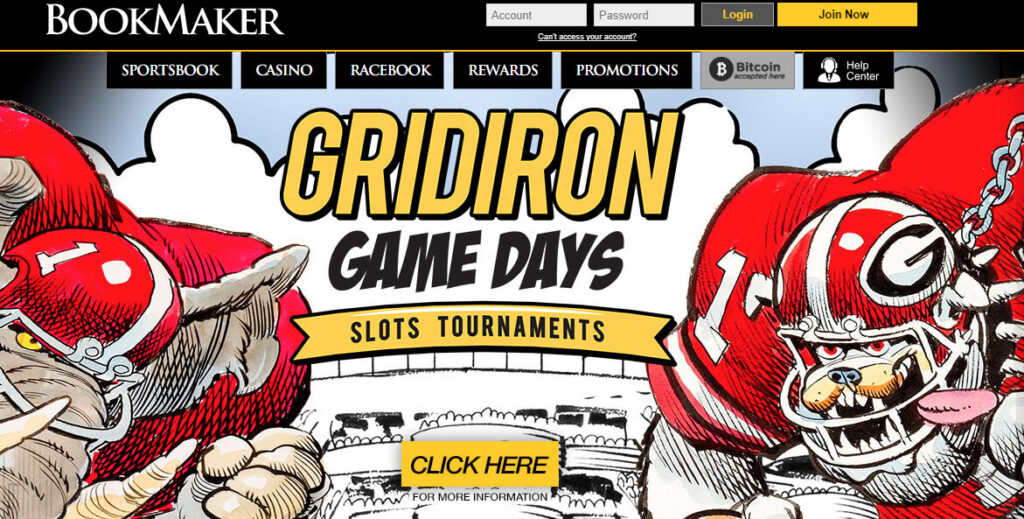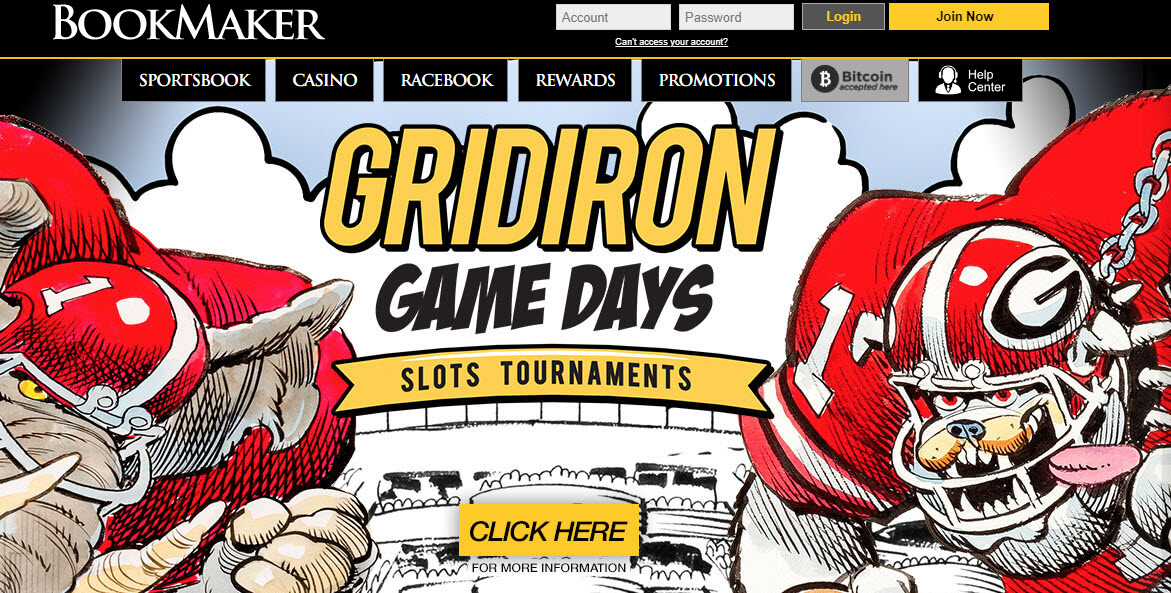 Bookmaker.eu was our expert panel's choice as the best all-around casino site available in Wendover. It offers a large number of different RTP (return to player) slot and table games, including online slot machines with RTPs as high as 97%. The casino also has all the table games you'd expect, like roulette, blackjack and craps, as well as games like bingo and keno.
Bookmaker also has a free casino section to let new players practice and learn the ropes of games before they begin betting money on their play.
Bookmaker gives new users their choice from a flexible set of welcome bonus offers. It also has a loyalty program to reward loyal customers for continuing to play on the site. Bookmaker's software is user-friendly and runs smoothly on mobile devices, in addition to computers.
Pros:
Highest RTP in the city on slot games, up to 97%
Easy-to-navigate user interface
Outstanding loyalty program and flexible welcome bonuses
Free casino helps newcomers get up to speed
Cons:
Not as many live dealer games as other sites
No live online poker room
2. BetOnline: Wendover's Go-To For Online Slots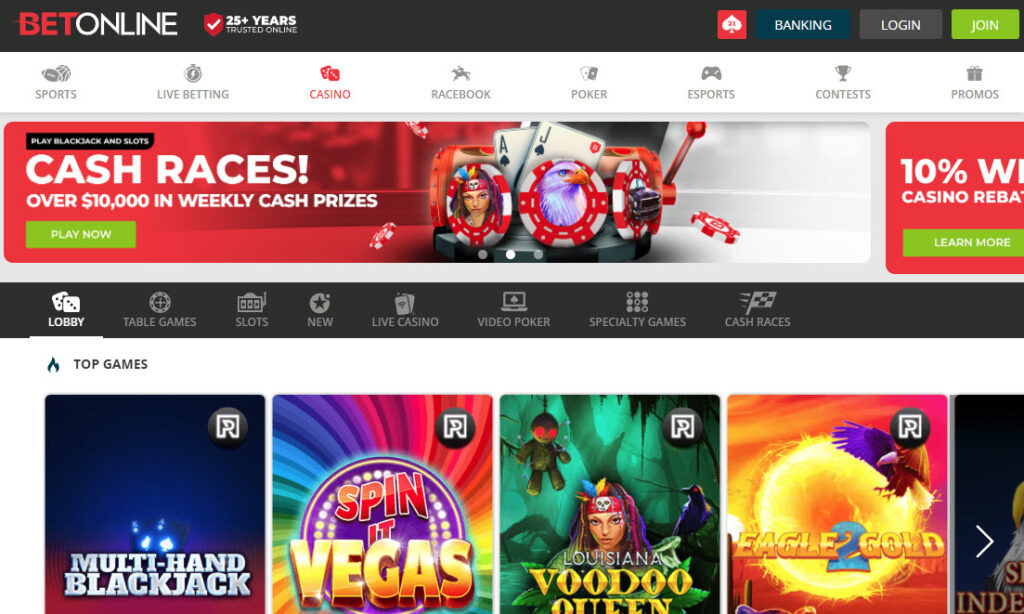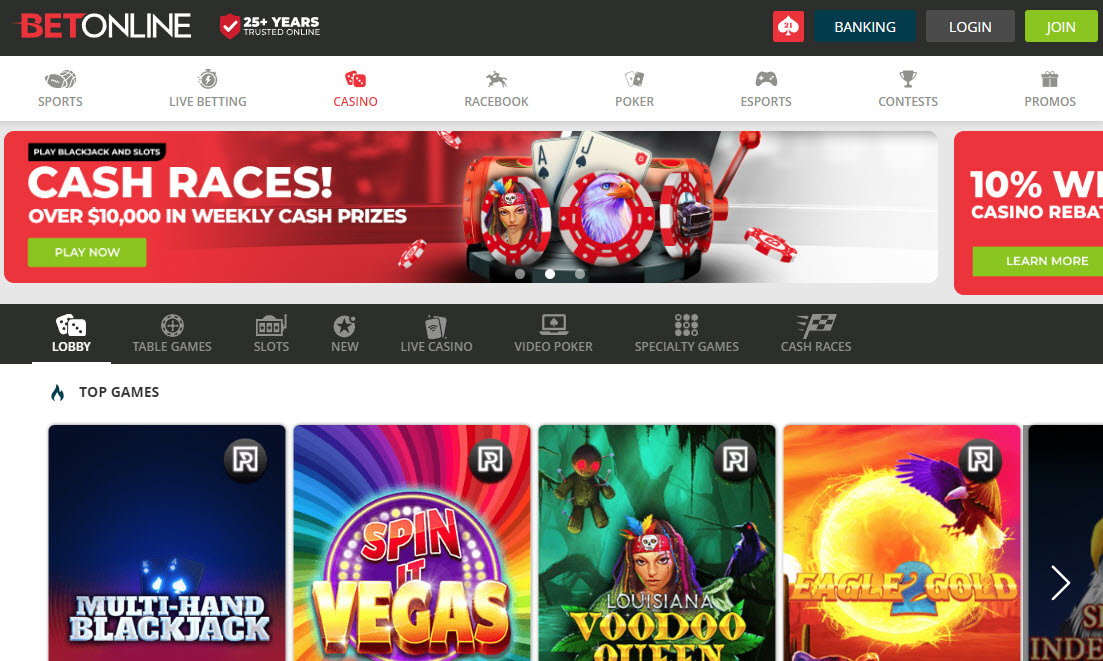 If you want to play slots, BetOnline is the place to go. Our experts declared the No. 2 overall casino site to be the top choice for video slots. Their library includes more different slot titles and variations than anyone else, with more than 350 available. They also offer games from a diverse set of software manufacturers.
BetOnline also has plenty of table games, including 20 different versions of blackjack. There are high-limit table games, ranging down to low-stakes tables, so you'll be able to find a game that meets your risk appetite.
There are also two different live dealer casinos: The Red and Black casinos, each with its collection of games. BetOnline also has one of the busiest poker rooms in the country, with tournaments that have up to half a million dollars up for grabs in prize money.
Outside of the casino, BetOnline also offers a racebook and sportsbook. They also have 24/7 customer service and a great selection of welcome bonuses for new customers.
Pros:
Most diverse menu of different online slot games in Wendover
High betting limits on table games
Two separate casinos in the live dealer section
Wide range of table games, including 20 versions of blackjack
Cons:
Charges fees for some transactions
Poker room has had complaints from some users
3. Bovada: Wendover's Top Poker Site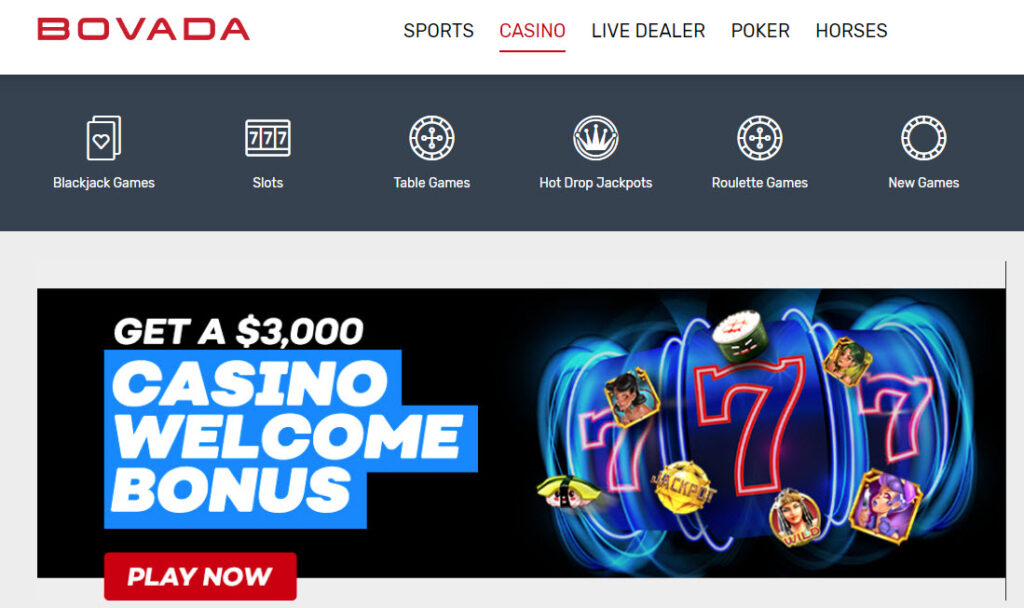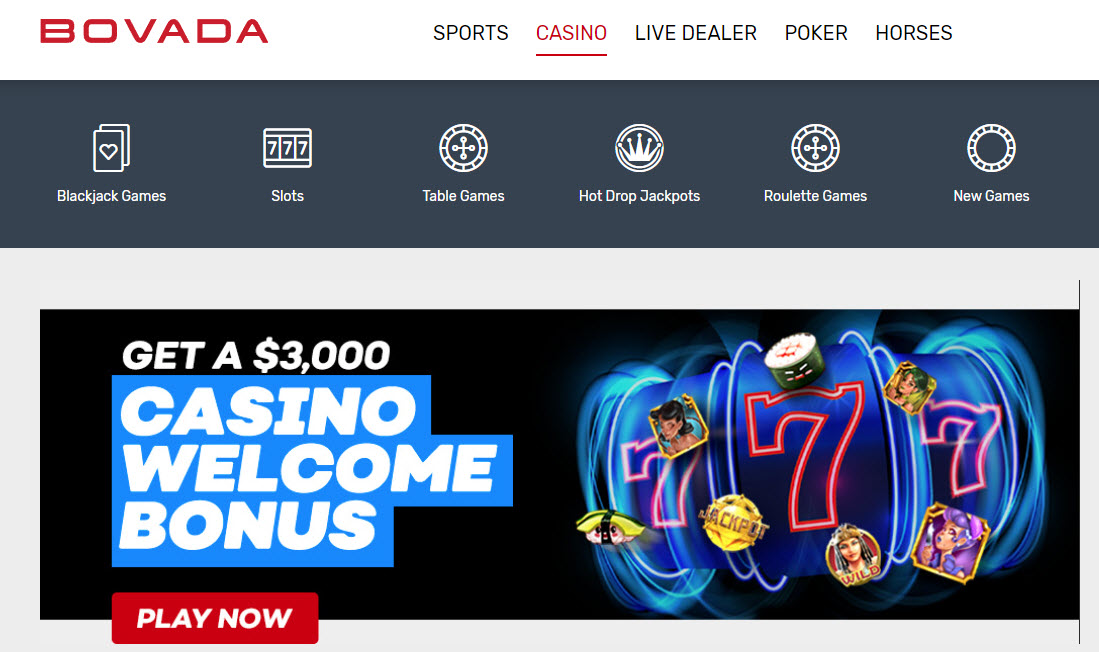 Most in-person casinos feature an area where you can play poker, but online, the poker room is generally separate from the online casino area. Still, offshore sites that offer a full casino experience include a busy poker room. And Bovada's poker room is the busiest in the United States. The sportsbook is also not part of the casino, but Bovada has one of the best in that category as well, with more betting options than any other offshore sportsbook.
Neither of those went into our experts' rankings of the top online casinos available in Wendover. Bovada's casino earned the No. 3 spot in the rankings on its own merits, but the full range of betting options offered at Bovada makes it a popular choice.
Bovada's online casino has more than 200 table game titles available, as well as 120 different variations of slots. They have brand new modern slot games, like 3D and five-reel slots, as well as hard-to-find table games you won't find in many other places.
Their live-dealer section of the casino is just as good as every other area that Bovada offers. There are nearly three dozen different playing options and limits that range from as low as $5 to as much as $2,500.
Bovada also offers an outstanding loyalty program, and bitcoin users can get a 125% match on their first deposit as a welcome bonus.
Pros:
America's busiest poker room and a highly rated sportsbook
Large bonuses for casino players
Live dealer casino with a wide range of betting limits and game options
One of the best loyalty programs
Cons:
Not as many slot game titles as some competitors
Limits and ongoing promotions aren't as high as elsewhere
4. Heritage Sports: Offers the Best Customer Service in Wendover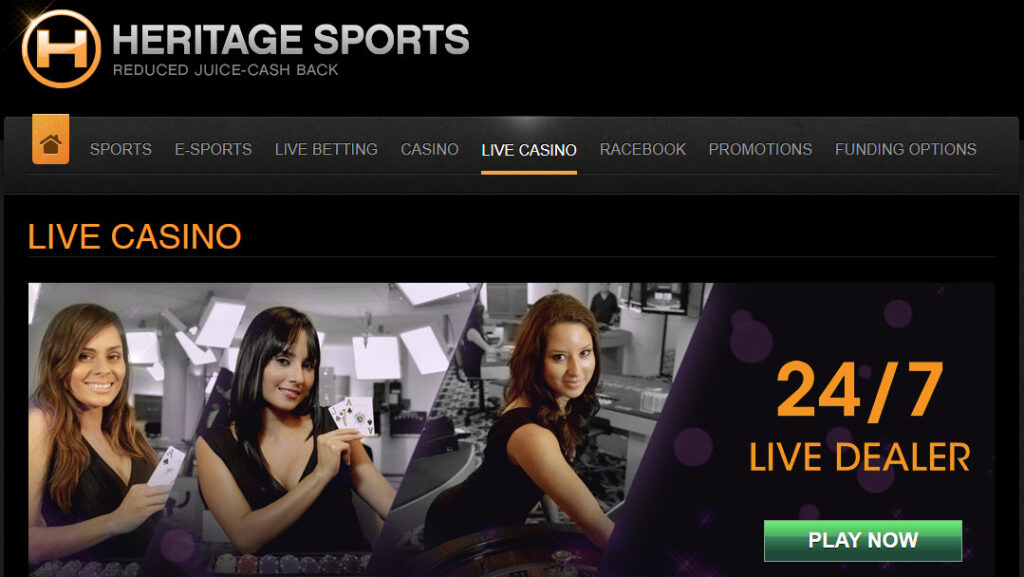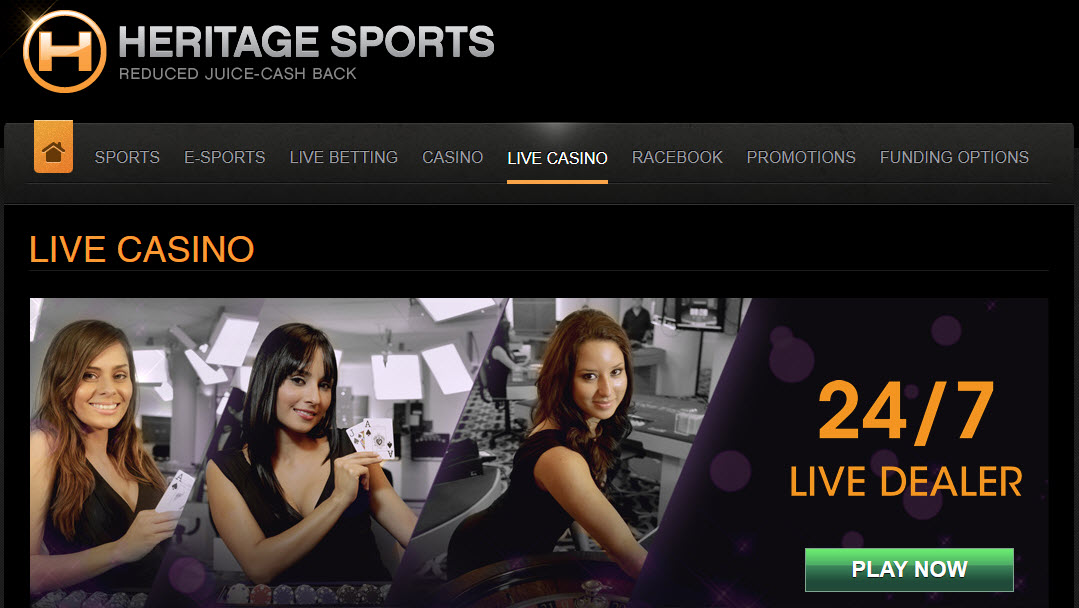 Back in the day, you wouldn't have been able to get onto the Heritage Sports site without an invitation. It was a prestigious site reserved for high rollers and VIPs. Over time, it opened its doors to all comers, but it didn't forget how its first customers needed to be treated. When you go to Heritage, you'll find that every customer still gets treated like a VIP. Our expert panel recognized Heritage as providing the best service of all online casinos operating for Wendover customers. That includes red carpet treatment, as well as its customer service department, which is available 24/7 to handle any complaints or issues that might come up.
Heritage Sports continues treating customers well with a cashback rebate promo that returns 8% on your net casino losses.
The live casino at Heritage operates 24/7, so there's always a game you can join. Their live video casino has a wide variety of games including several modern 3D slot machine games. The table game area also has plenty of gaming options, with 27 versions of video poker and several roulette games, among other titles. Heritage also offers a free casino to help you practice before risking any money.
Pros:
Best VIP treatment and customer service in Wendover
Live dealer section is available 24/7
Monthly cashback rebate returns 8% of net losses
Free casino to help new users practice
Cons:
No welcome bonus applied directly to casino play
Variety of games isn't as wide as other competing casinos
5. BetAnySports: The Largest Menu of Casino Games in Wendover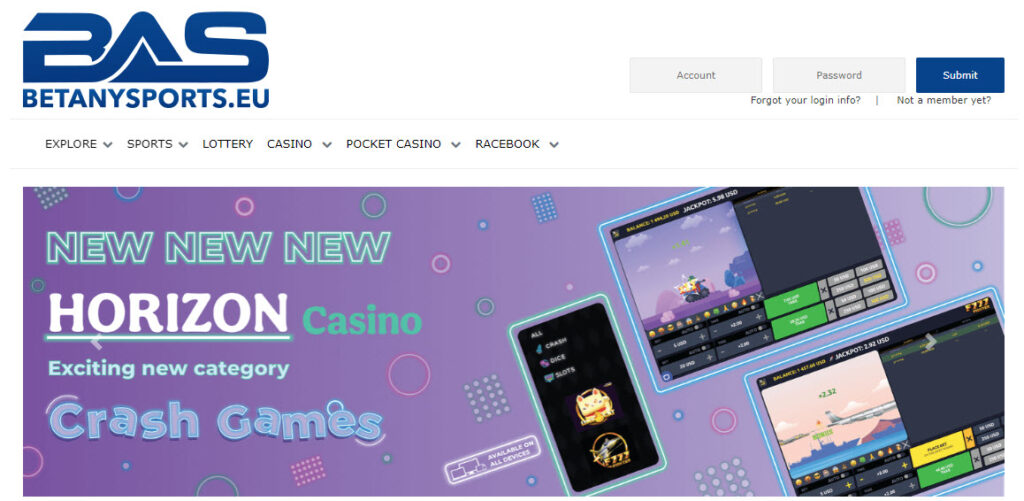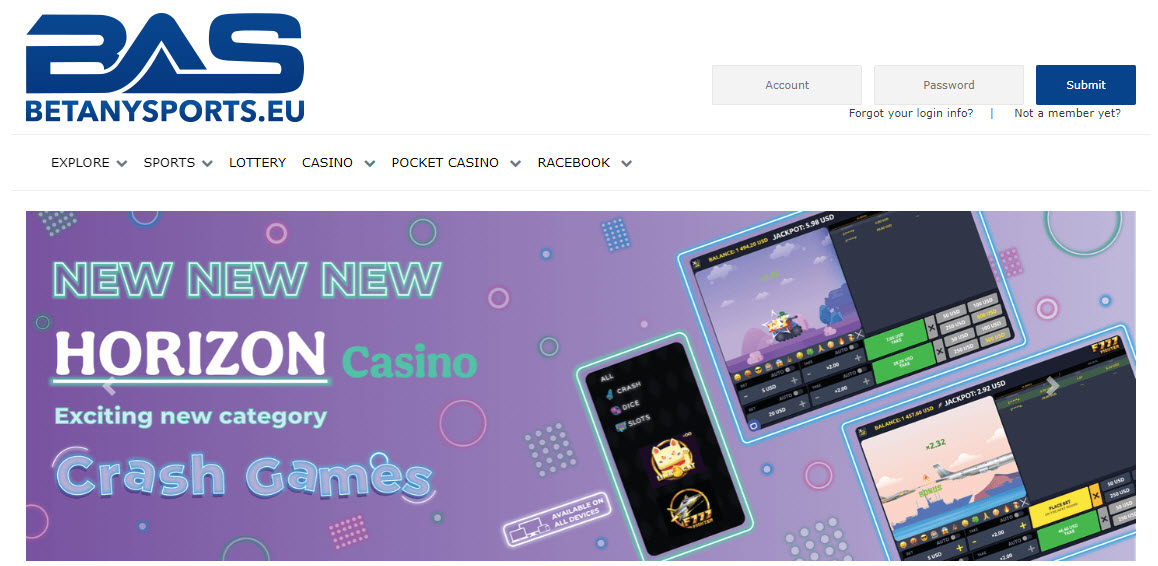 BetAnySports is the most recent online gambling site to receive a grade of A+—the highest possible grade—from our panel of experts. It didn't have far to go, as the grade was an increase from its previous A grade. The casino is certainly worthy of the high grade.
BetAnySports has the largest variety of casino games of any online gambling site operating offshore. There are more than a half dozen different casino platforms available, all under one umbrella. That offers a huge number of different games, variations and styles, with a large number of manufacturers represented, including BetSoft, Real Time Gaming and Visionary iGaming.
The live casino also combines three different platforms: The Vegas Live Casino, Lucky Dealer Live and Euro Live. There are live dealers based in North America, Europe and Asia, which means that around the clock, someone has a game ready to start. In the video casino area, players can select Diamond, Star, 3D, Fortune, Horizon and Classic Casinos, among others.
Outside of the casino area, BetAnySports also has the sportsbook with the lowest house edge around, offering reduced juice and favorable lines. There's also a cash-back racebook.
A large number of different casino gaming areas can make it tough if you're searching for a specific game title, and the bonuses and promotions aren't as high as some other sites, but BetAnySports makes up for it with value and variety in the playing experience it offers
Pros:
The most casino games offered at any online casino
Extensive live dealer section
Rebate program that also includes casino activity
Also has outstanding sportsbook
Cons:
Can be tough to find a specific game with so many casino networks
Bonuses are smaller than elsewhere
Payment Methods for the Top Wendover Online Casinos
Wendover's top online casinos have several different ways to handle financial transactions. Whether you're depositing more money you're your account or withdrawing your winnings, you can use classic banking methods, like credit cards, debit cards or bank transfers. Those are the easiest, since you likely don't need to sign up for anything new, but there may be fees and delays associated with the transactions since your money is going from one country to another. Many online casino sites encourage customers to use crypto, like Bitcoin, or e-wallets, by offering bonuses for using these newer payment methods.
| Sportsbook | Rating | Online Since | Payment Methods | Read Review |
| --- | --- | --- | --- | --- |
| Bookmaker.eu | A+ | 1996 | Credit Card, Bitcoin, P2P, Crypto | Bookmaker.eu Review |
| BetOnline | A+ | 2001 | Credit Card, Bitcoin, Crypto, Cashiers Check, Bank Transfer P2P, | BetOnline Review |
| Bovada | A+ | 2011 | Credit Card, Bitcoin | Bovada Review |
| Heritage Sports | A+ | 2001 | Credit Card, Bitcoin, Cashiers Check, Bank Transfer, P2P | Heritage Sports Review |
| BetAnySports | A+ | 2002 | Credit Card, Bitcoin, Electronic Check | BetAnySports Review |
| BetUS | A | 2000 | Credit Card, Bitcoin, Bank Transfer, P2P | BetUS Review |
| WagerWeb | A | 1994 | Credit Card, Bitcoin, Cashiers Check, Bank Transfer, P2P | WagerWeb Review |
| JustBet | A | 2000 | Credit Card, Bitcoin, P2P, Crypto | JustBet Review |
| Everygame | A | 1996 | Credit Card, Bitcoin, Skrill, Neteller, Bank Transfer, P2P | Everygame Review |
| SportsBetting | A | 2002 | Credit Card, Bitcoin, Crypto, Cashiers Check, Bank Transfer P2P, | Sportsbetting Review |
As you can see, our industry experts have given Bookmaker.eu, BetOnline, Bovada, Heritage Sports and BetAnySports each an A+ rating, and all of these offshore sites accept a variety of payment methods.
How to Play at Wendover Casinos
Opening an account at an online casino site is fast and easy. You're just a couple of minutes away from playing your first game. Here's a step-by-step guide to the process
Step 1: Register a Gaming Profile
After you've picked the casino site you want to use, click the "Join" or "Register" button on its home page
Step 2: Provide Your Details
Fill out the requested personal information and click the "Create Account" button. Some sites require two-step verification, where you need to respond with a code they send to your phone.
Step 3: Fund Your Account
After creating your account, you'll need to deposit money. Since most welcome bonuses involve matching your first deposit, you should not attempt this step until you're ready to make a sizeable deposit. Once you're ready, go to the cashier page and select the payment method you're going to use. Enter the amount of your deposit and your account information. Some welcome bonuses require a promotional code, so be sure to enter that.
Step 4: Begin Playing Your Favorite Games
That's it. Now that you've got an account, go to the casino and find a game you want to play.
Is gambling legal in Wendover in 2023?
It depends on where specifically you are. The state line between Utah and Nevada runs between east and west Wendover, and gambling is very much illegal on one side of the line and very much legal on the other.
Starting literally at the state line, Nevada's half of the city, known as West Wendover, offers plenty of casinos where you can gamble, while Utah, which has the strictest gambling laws in the U.S., has none.
If you're on the Utah side of the city, you can either go across town to bet, or you can use an offshore sportsbook, which is outside the jurisdiction of state and local law, as well as U.S. federal legislation.
Utah also has state laws — some 10 years old — prohibiting internet gambling, but online betting sites are bound by the laws of their home countries, not by Utah state law. So the state has no control over their activities.
Land-Based Wendover Casinos
Casinos are prohibited in Utah, meaning that there are none on the east side of Wendover. Just over the border to the west, however, is Nevada and that state's section of the city has plenty of options.
1. Wendover Nugget Hotel & Casino
Originally called the Stateline Casino, Wendover Nugget opened in 1931, as soon as Nevada legalized gambling. It is literally located on the state line that cuts through east and west Wendover; since the early days, guests could stay in a room located in Utah and then walk through the building to the Nevada section to play in the Wendover Nugget Casino.
2. Red Garter
Since it was built in 1983, this casino in West Wendover has gone through several owners and several periods when it was closed. It suffered greatly during the pandemic but is back and open for business, offering slots, blackjack, roulette, poker and craps.
3. Rainbow Wendover Casino
Originally built in the early 1980s, it was known as the Nevada Crossing Casino. It was sold and rebranded as the Rainbow Casino Hotel in 1996 and went through a remodel and expansion.
4. Peppermill Casino
It has been around since 1976, first known as the Hideaway Casino and then the Gold Rush before it was sold and renamed to Peppermill Casino in 1985.
5. Montego Bay Casino Resort
Also located right on the state line in West Wendover, the Montego Bay Casino Resort has been around since 1948 and gone through a number of owners. It has been known as the A-1 Club, Jim's Casino and the Silver Smith. Its current owners have operated it since 2002.
Online Casinos in Wendover in 2023 and Beyond
Wendover will continue to coexist between two different worlds, with live gambling taking place in West Wendover and, across the border, in Utah, gambling remains strictly forbidden. Neither state seems like it will be changing its extreme regulations (or lack thereof) on gambling anytime soon. Regardless of what side of town you're on, you will be able to take advantage of offshore casino sites, which are not subject to either state laws or U.S. law.
FAQs – Online Casinos in Wendover in 2023
Is Wendover in both Utah and Nevada?
Wendover is located in both states. The part of the town that is located in Nevada is known as West Wendover. The fact that it is located in both states is interesting, as there are no legalized forms of gambling in Utah, whereas Nevada is a known gambling state. This means residents of the Utah section of Wendover can simply travel a few minutes to West Wendover to enjoy in-person gambling or in-person betting. Or they can choose to gamble online with an offshore casino.
Are there gambling casinos in Utah?
There are no gambling casinos or sportsbooks operating in Utah. This means the most convenient option for most bettors in the state is to gamble online with an offshore site. We recommend using one of the online casinos in our casino review above for this.
Are online casinos legal in Wendover?
Online casinos of all types are legal in Nevada. In Utah, there is a state law prohibiting online gambling, so you'd need to use a site outside of the jurisdiction of Utah law, like one of the offshore sites in our Top 5.
Why are there no casinos in Utah?
This is due to the state's large Mormon population. Mormons view gambling as immoral, so the state has no casinos (not even tribal casinos), no sportsbooks, no horse race betting and there is not even a state lottery.
What gambling is legal in Utah?
There are no legal forms of gambling in Utah from a state-regulated operator. Bettors in the state will either need to travel out-of-state or use an online offshore website to get in on any betting action.
 
Are there casinos in West Wendover with slot machines?
There are five casinos in West Wendover, which all feature slot machines, as well as other games such as video poker machines and various gaming tables. There are none on Utah's side of the border due to the state's anti-gambling policies. Utah has taken as many measures as possible to make gambling in the state illegal, but offshore sites can still be legally used in the state.
What is Wendover, Utah known for?
Wendover, Utah is well-known for the fact that part of the town is located in Utah — where there are no legal gambling options — and the other part of the town is located in Nevada which has plenty of gambling options to choose from, both in-person and online. Some bettors in the town prefer to travel a few minutes so they can enjoy in-person gambling at West Wendover casinos, while others prefer gambling online from the comfort of their home with an offshore casino site.