South Dakota Online Horse Race Betting – The Best Racebooks in South Dakota 2023 Compared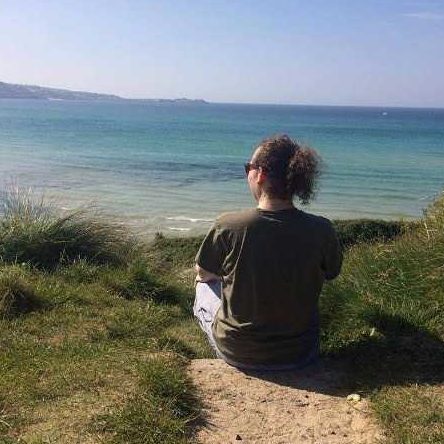 David is a freelance sports journalist who comes from West Midlands. He specializes in sports content, both written and visual. With an impressive record in pre-fight predictions, David is quickly becoming recognized in his field for his in-depth fight analysis and impressive contender & fight history knowledge.
It has been years since South Dakota has had an active horse racing season; in fact, there is only one race track throughout the entire state. The Mount Rushmore State hosts only a handful of thoroughbred and quarter horse racing events per year. There are also a few off-track betting locations that allow wagering on horse races throughout the state.
Even though South Dakota's options for horse racing bets don't offer much, all is not lost. Some of the top offshore sportsbooks take horse racing bets not only on horse racing events in North America, but these sites also offer online action on international races.
Continue reading to discover the top offshore sportsbooks that offer South Dakota online horse race betting.
The Best South Dakota Sportsbooks in 2023
South Dakota Betting Guides
If you're looking to learn more about sports betting and gambling as a South Dakotan, don't forget to check out one of our many guides to sports betting in South Dakota.
Top 10 Horse Racing Betting Sites in South Dakota Ranked
Reviewing the Best South Dakota Online Horse Race Betting Sites
To provide South Dakotans with the most valuable information regarding horse racing betting sites, our team of devoted experts has highlighted the top five sites accessible by South Dakota's horse bettors. A brief explanation accompanies our top five selections as to why they're the most reputable and trustworthy horse betting operators in SD.
1. Bovada: The Best Horse Racing Betting Site in South Dakota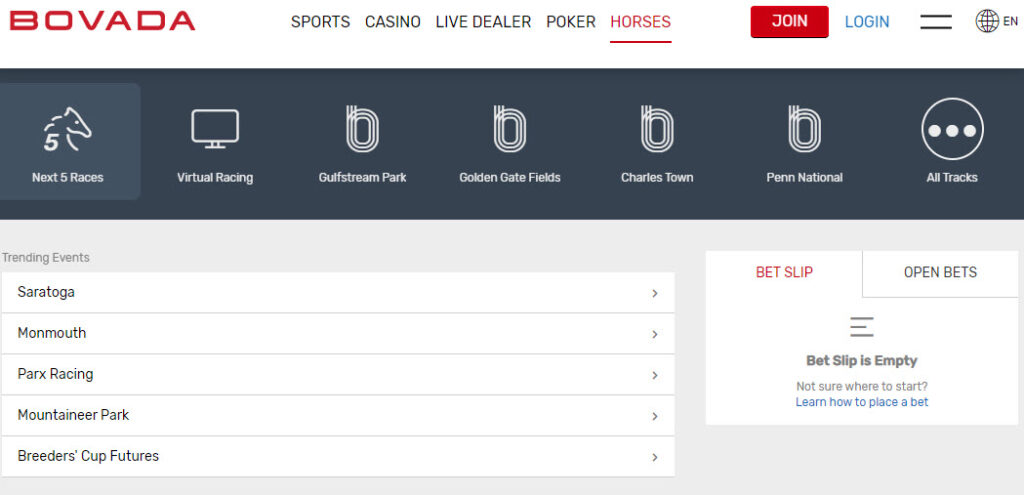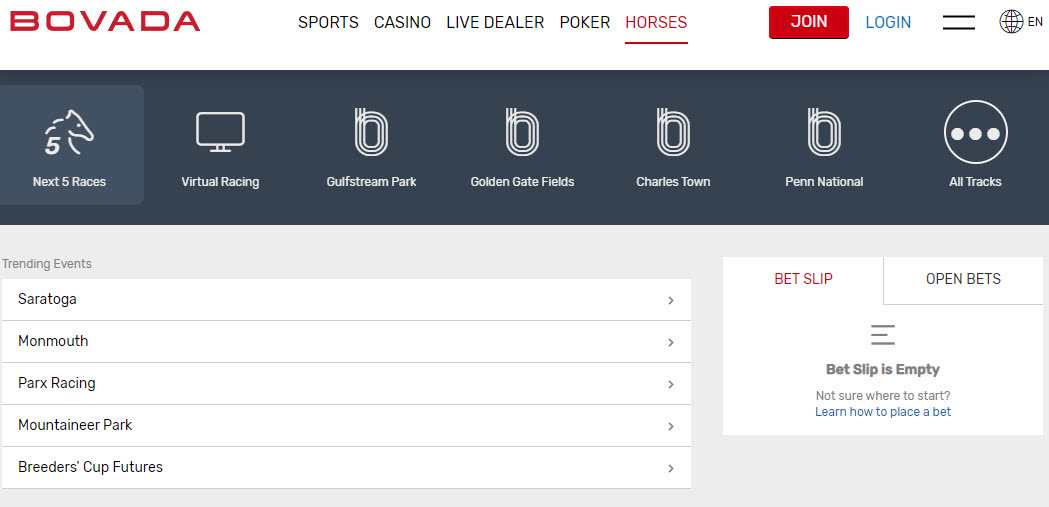 The Bovada brand is renowned within the gambling space and has dedicated a section of its site to horse racing. Our reviewers have determined this is one of their most enjoyable horse racing betting experiences, thus positioning it as the best of the offshore gambling sites that offer wagering on horse races in South Dakota.
Regarding betting lines, Bovada is often unmatched, and the same can be said for their horse racing odds. With such a heavy user base, you can sometimes stumble across juiced favorites. However, any horses that fall into an underdog price range are exceptionally priced, attracting many professional bettors looking for the best available odds on outsiders.
Bovada presents horse racing-specific bonuses and promotions such as rebates and enhanced odds.
Banking options aren't limited either; they have it all if you want to use credit/debit or cryptocurrency. What's more, deposits can be as small as $10, withdrawals go up to $5,000, and withdrawals take 24 hours or less.
Pros:
Vast choice of U.S. horse events
Early released betting lines
Excellent odds on underdog horses
100% welcome bonus of up to $1,000
Cons:
Could have more horse-related services
Low betting limits compared to other horse racing betting sites
2. BetOnline: A Well-Established Racebook with Dedicated Horse Betting Features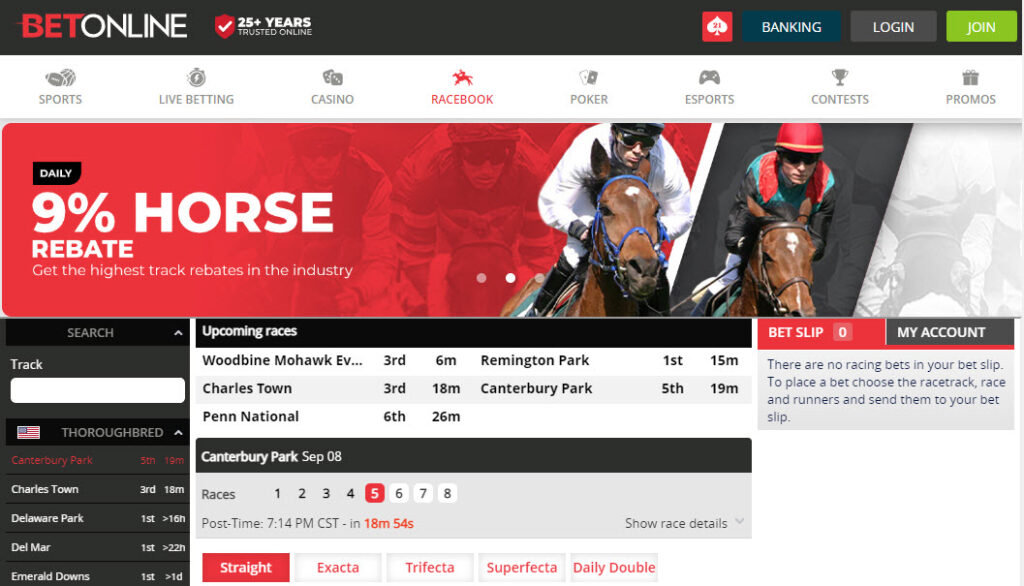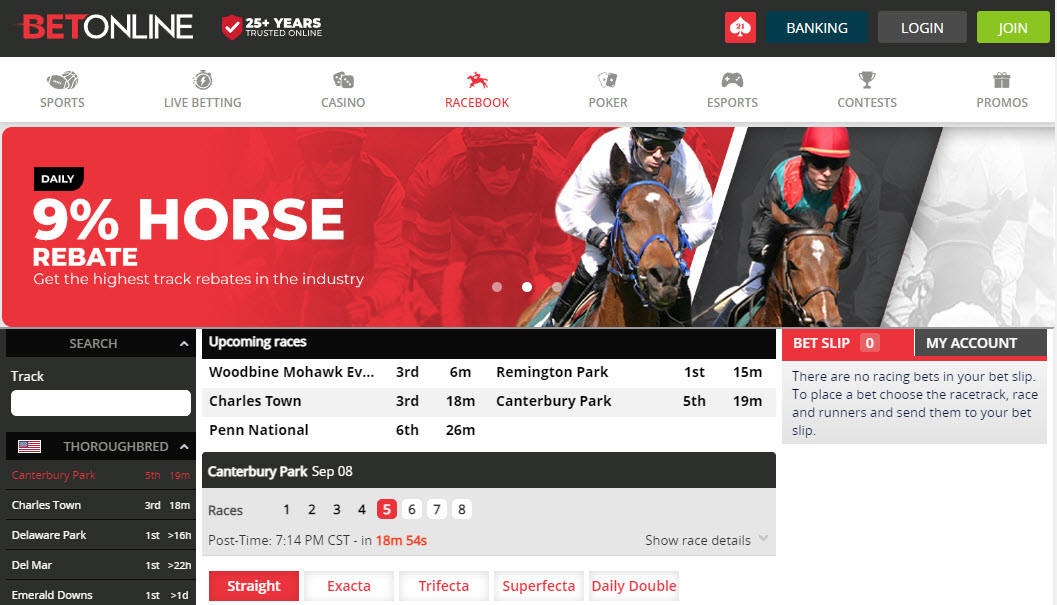 BetOnline is one of the industry elites in sports betting and casino services, so you should be prepared for an excellent horse racing betting experience.
With such extensive time spent as a top gambling operator, BetOnline knows precisely how to appease a horse betting crowd, as they have a wide choice of betting tools and features. For example, you can select a classic feature allowing players to track five races simultaneously. In addition, you'll find the express tool where you can place wagers fast by accessing the small tab that opens a track so you can wager instantly. And, of course, the TV feature at BetOnline gives users access to its live-streaming channel.
Their conditional wagering option is perfect for bettors wanting to engage with specific odds only, as it allows you to set a price you want, and if these odds aren't reached, your bet won't be placed. Last but not least, bet cancellation allows players to cancel any bet before a race starts.
With the aforementioned factors, more than 600 race tracks to choose from, and a plethora of banking options alongside excellent customer service, BetOnline is a no-brainer choice when looking for the best horse racing betting sites in South Dakota.
Pros:
Great variety of racetracks, both national and international
Horse-specific features and tools
Excellent horse racing betting lines
Horse racing promo offers
Cons:
Fees for credit card deposits
Welcome bonus restricted to online sports betting
3. Bookmaker: Professional Horse Racing Bettors Welcome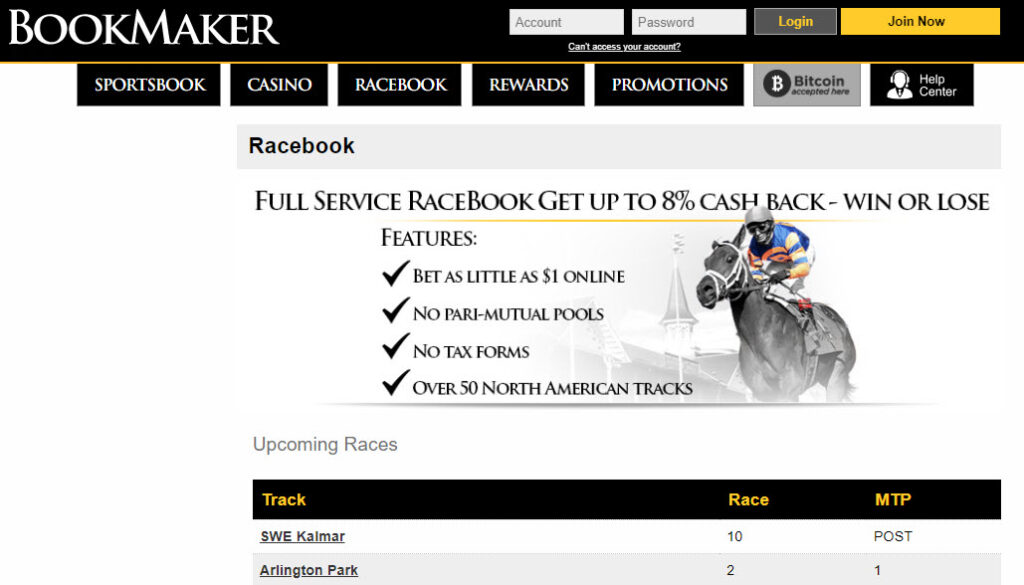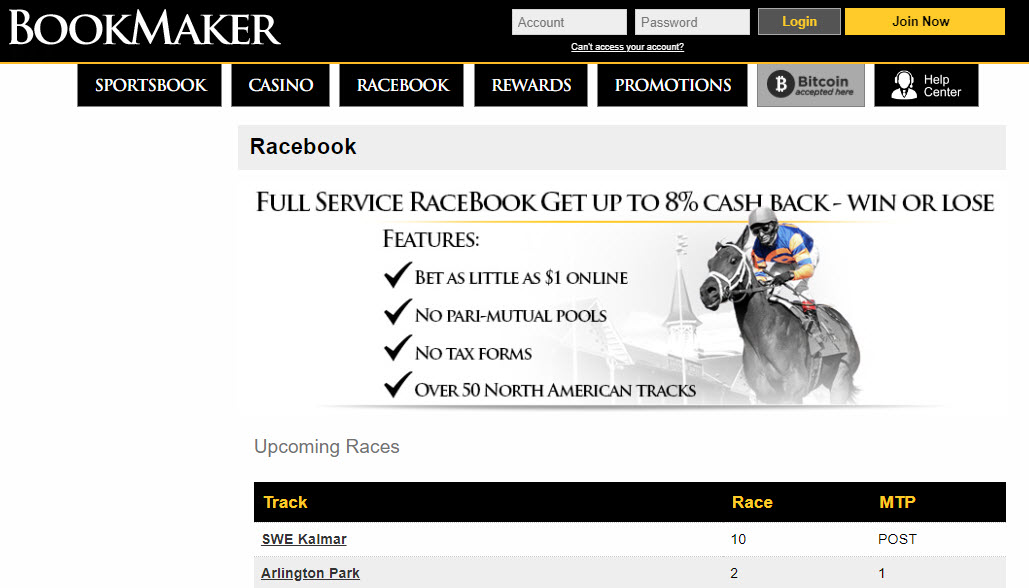 As it approaches its 30th year of delivering a reputable horse racing betting service for its customers, Bookmaker.eu remains an excellent choice for South Dakotan horse wagering enthusiasts for a plethora of reasons.
This site has an extensive horse racing section with abundant support and betting tools. It's a well-organized layout that's simple to use and easy to navigate. Of course, if you want to take a break from wagering on horse races, customers also have a choice to utilize one of the most respected sportsbooks in the industry when becoming an account holder at Bookmaker.
The racebook, in particular, delivers more than 100 racetracks to bet on at a national and international level throughout the racing season. Not forgetting the incredibly high betting limits they're known for, as this operator houses some of the sharpest professional gamblers in North America. These high limits are also assisted with early released betting lines, allowing bettors to get in on the action earlier than what's available at rival offshore gambling sites.
Winning bettors never have to worry about having their account suspended or banned at Bookmaker. Your typical racebook delivers between 50-80 racetrack offerings; the 100+ options give punters more than enough opportunity to build their bankroll.
Pros:
Early released odds
High wagering limits
Rebates on horse wagers
More racebook experience than most offshore betting sites
Cons:
Loyalty program is limited for professional players
3. Heritage Sports: Great for Rebates and Betting Limits on Horse Racing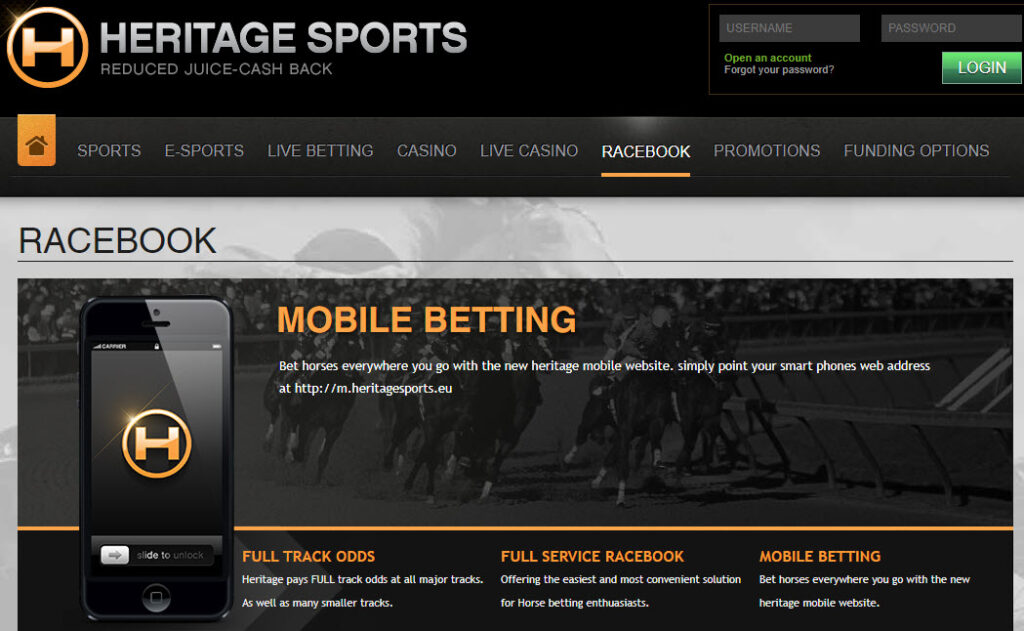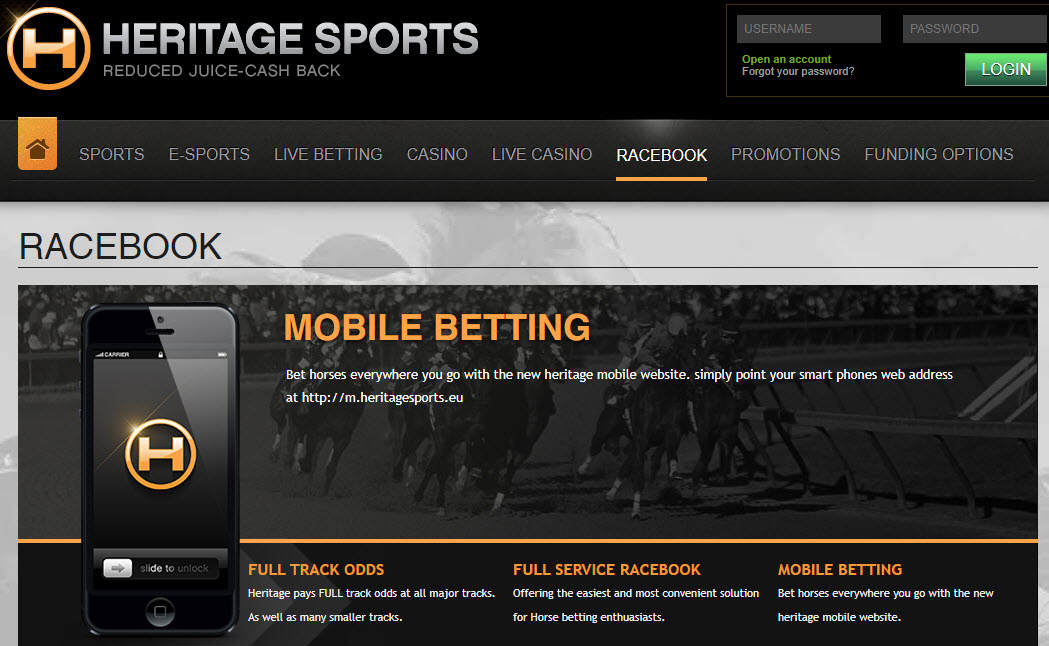 With over 60 thoroughbred and harness racetrack markets available, Heritage Sports presents a wide selection of events and, combined with its established reputation in the betting business, makes for a perfect option for wagering on horse races in South Dakota online.
Exotic wagers at Heritage Sports can have limits as high as $200, higher than many other offshore gambling sites. But they don't just cater with high limits for exotics, as win, place, and show betting limits can be as high as $1,000 – an unmatched offering from much of the competition.
Behind highly competitive odds, horse betting rebates, a wide range of gambling options, and years of experience providing online sports betting, racebook, and casino gaming services, our experts didn't struggle to position Heritage Sports in their top five rankings.
Pros:
Horse betting rebates
An excellent live betting service
Simple-to-navigate horse betting section
High betting limits on win, place, show, and exotic bets
Cons:
User location is restricted to U.S. and Canada only
No racebook-specific bonuses
4. BetAnySports: Excellent Horse Racing Betting Rebates and Reduced Juice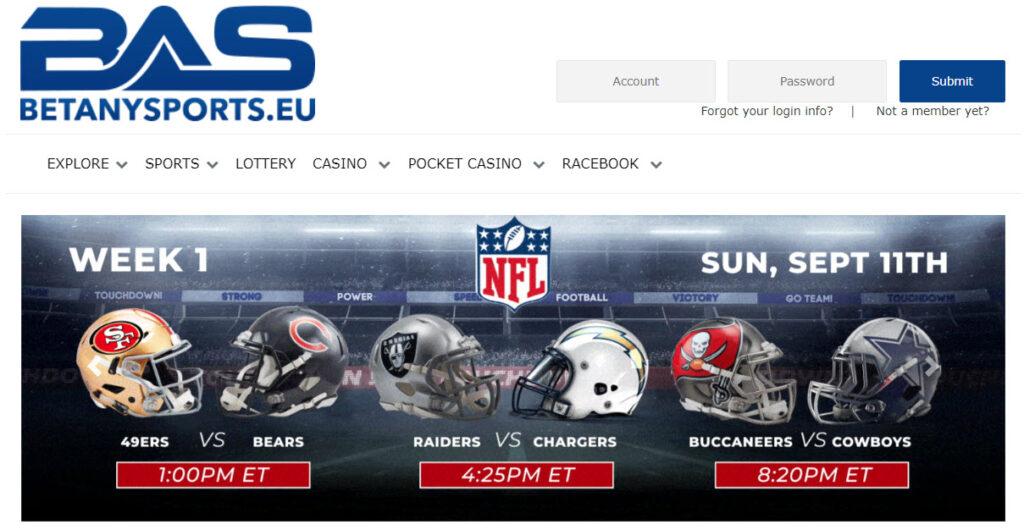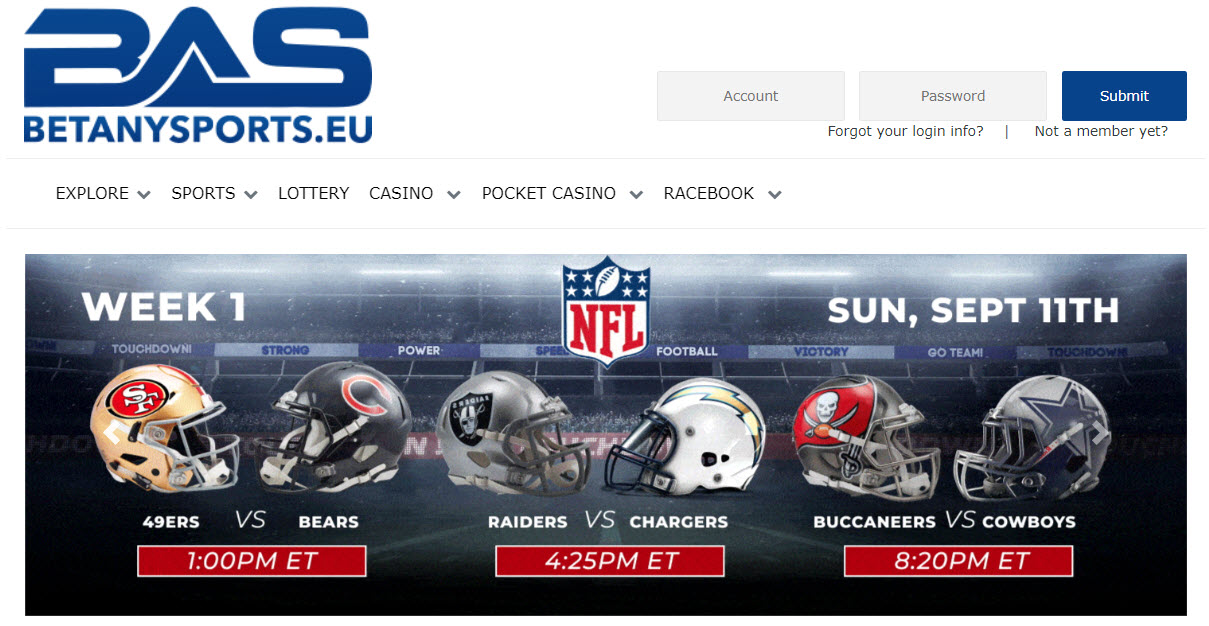 BetAnySports has paid due care and attention to its comprehensive online gambling options, from its sportsbook to casino, and of course, it boasts a notable racebook. It's easy to see why this is one of the best options for South Dakotans to bet on horses.
Setting themselves apart from the bookmaking competition, BetAnySports delivers a one-of-a-kind rebate service that positions them as a top contender for horse racing betting in South Dakota. You'll also find incredibly competitive odds, excellent customer service, decades of experience, and a website that works flawlessly on desktop and mobile versions.
Racetracks in the U.S. and abroad can be found at BetAnySports, as this operator doesn't want to restrict their customer's horse racing betting options in SD. And again, we can't stress how good their 9% rebate program is, awarded to players whether they win or lose! In addition, specific tracks will give a 10% rebate. A pair of rebate offers you won't find anywhere else.
Pros:
Up to 9% horse racing rebates on wins or loses
Decades of experience in the business
Great selection of racetracks for U.S. and international meets
Cons:
Smaller bonuses than other online gambling sites
Best South Dakota Online Horse Race Betting Sites Compared
When our experts analyzed the top horse racing betting sites in South Dakota, they also compared how each of these offshore betting sites performs against the others. This task is performed by looking at the crucial features of each site and testing how they work. The site features below are what make the best South Dakota horse racing sites.
Horse Racing Odds
One of the prominent features of our expert's review is a horse racing betting site's available odds, as each racebook presents different priced odds, it's imperative to find those with the best betting value. Some top-rated online gambling sites, like BetOnline, provide price match guarantees, thus delivering some of the best odds at the racetrack.
Betting Markets in Horse Racing
Horse racing market selection is another crucial aspect. All of our top-rated horse racing betting sites give their customers a vast choice of markets for each event and cover a broad range of horse racing tracks from all over the world.
The most common horse racing betting markets are win, place, show, exacta, quinella, trifecta and superfecta.
The best available horse racing betting markets should also give users some added markets for betting on consecutive races, such as daily doubles and Pick 3,4,5 and 6.
Horse Racing Betting Promotions
One advantage to becoming a customer at offshore gambling sites that have a sportsbook, casino, and racebook is that they present a wide selection of bonuses and promotions. Some of the best horse racing betting sites highlighted in our extensive guide offer horse-specific promos, such as rebates linked to qualified horse racing tracks.
Other Key Features of a Top Horse Racing Betting Site
Aside from horse racing odds, market diversity, and horse betting promotions, its also crucial for a top-rated operator to have the following:
A user-friendly design
Live streaming capability
Horse racing-specific features/tools
Live horse racing betting
Choosing the Best South Dakota Online Horse Racing Betting Sites
With such a profoundly saturated market in modern-day betting, difficulties can arise when deciding which online betting site is best for you. Below we've included a selection of features you should consider before choosing a gambling site in South Dakota.
Brand Reputation
With positive brand recognition, horse racing betting sites under this category are usually reputable, credible, and trustworthy. As customers are using real money and risking it, ensuring you're wagering with a brand you can trust is crucial.
All the sites we recommend have been rigorously tested with years of experience and are licensed operators, so there's no need to worry when picking one of our top-ten-ranked horse racing betting sites in SD.
Deposits and Withdrawals
Before signing with an offshore horse racing betting site, it's essential to review the banking options and make sure they suit your choice of payment. It would be best if you also scouted for additional fees for specific payment methods. We regularly avoid payment methods that charge additional fees for making deposits.
Safety & Security
Perhaps the most important factor when judging offshore gambling sites is their adherence to security protocols. The top-rated operators from our guide are licensed and have site security, such as SSL certificates.
Online Interface
The online betting experience garnered by our devoted experts instantly gives them a keen eye for spotting a well-organized site that can deliver a stress-free wagering experience. Avoid sites that lag and steer towards visually pleasing landing pages, which heavily assist in a site's overall speed and design.
Customer Support
As you're wagering online with hard-earned money, you want to ensure a horse racing betting operator has your best interests at heart. So, our expert reviewers have tested the customer support services at each of these offshore gambling sites to ensure they're responsive and have a high standard when dealing with customer issues.
Overall Value on Offer
The previously mentioned factors are all considered when our expert team gives each horse racing betting site in South Dakota an overall rating. As multiple top-rated sites meet these standards, you may want to know some specific weak points that can assist you in picking one site over another.
Is horse racing betting legal in South Dakota?
Yes, horse racing betting is legal in South Dakota. The horse racing industry isn't large by any means, and its complete history isn't as significant as neighboring states. The most significant shift in the laws began in 1950, and between this date and 2019, racetracks such as Fort Pierre and Aberdeen provided limited events, which have since slowed down.
Triple Crown Casino in North Sioux City is South Dakota's most popular choice for off-track betting locations, as customers can wager on events throughout America. However, offline and online wagering on a horse is legal in South Dakota. On- and off-track betting locations in the state are limited to offering only pari-mutuel wagering.
The horse racing betting scene in South Dakota is overseen by the Department of Revenue, a five-person commission that the State Governor hires. The commission regulated limited in-person betting in Deadwood, South Dakota as well as live horse racing and simulcast racing.
How to Bet on Horse Races in South Dakota
Residents of South Dakota state have multiple options regarding horse racing betting. They can attend the local tracks and wager directly, but the most popular method is to utilize one of the online gambling sites in South Dakota.
South Dakota locals will not only receive a much broader selection of horse racing to choose from, nationally and internationally, but you'll also receive perks that can't be found at a local racetrack, such as competitive odds, rebates, bonuses, and promotions.
South Dakota Horse Racing Odds Chart
Most tracks have a minimum wager of $2. The chart below shows how much you would get from different $2 bets at different fixed odds, which we have split between American and fractional odds. American odds are in parentheses because fractional odds are the more commonly used of the two.
We have also included the implied odds, which is the winning percentage associated with the price of the odds being offered.
| Horse Racing Odds | Payout from a $2 Wager | Implied Probability of Winning |
| --- | --- | --- |
| 1/5 (-500) | $2.40 | 83.33% |
| 1/4 (-400) | $2.50 | 80% |
| 1/3 (-300) | $2.60 | 75% |
| 1/2 (-200) | $3.00 | 66.67% |
| 4/6 (-150) | $3.33 | 60% |
| 1/1 (-100) | $4.00 | 50% |
| 2/1 (+200) | $6.00 | 33.33% |
| 3/1 (+300) | $8.00 | 25% |
| 5/1 (+500) | $12 | 16.67% |
| 10/1 (+1000) | $22 | 9.00% |
| 50/1 (+5000) | $102 | 1.96% |
How to Get Started Betting on Horse Races in South Dakota Online
Horse race betting in South Dakota should begin by picking one of the top-rated offshore gambling sites detailed in this guide. Once you've found a site that best suits your needs, you'll want to choose a race to wager on.
Newbies will find it simpler to pick a popular race, as these often provide the most guidance, which will give you a greater chance of winning. Of course, you'll need to conduct some research; luckily, most of the top horse racing betting sites on this page provide helpful handicapping tools to assist you in this decision.
Once you've selected an event and a horse you favor, you can choose between a range of markets to bet on, such as win, place and show. You can also pick multiple horses for a bet when selecting alternative markets like exacta, trifecta and superfecta, but these should be reserved for when you've gained a little experience.
Types of Horse Racing Bets in South Dakota
The available horse racing events will each present several markets you can wager on. We've listed the most common bets that you'll find at the top horse racing betting sites in South Dakota.
Win: A win bet is the most straightforward approach; bettors must pick which horse they believe will win the race.
Place: The place bet is when you choose a horse that must finish in first or second place to win your bet.
Show: The horse you select must place first, second, or third to win a show bet.
Exacta: Exacta wagers are won by picking two horses, and they must place in first and second place in the order you choose.
Trifecta: To win a trifecta bet, you must pick the top three placing horses in the exact order.
Superfecta: Superfecta wagers are won by picking four horses to finish in the exact top-four finishing order.
Daily Double: A Daily Double is won by picking the winner of the first two races of a meeting.
Pick 3/4/5/6: Pick bets are like Daily Doubles but extend to 3, 4, 5, and 6-race meetings. For example, if you selected a Pick 3, you'd need to pick the first three winners of the first three consecutive races on a specific meeting.
Betting at the Racetrack vs. Online Horse Racing Betting
A live horse racing event's social experience and thrill are unlike no other. However, as South Dakota residents are limited to a low number of events per year, they can take advantage of the online horse racing betting experience by registering with one of the top horse racing betting sites in South Dakota.
Online horse racing betting offers advantages such as the ability to hunt for higher valued odds, bonus money, year-round promotion offers, the ability to wager whenever and wherever, and an extensive choice of horse racing markets.
Other Types of Gambling in South Dakota
The current laws in South Dakota restrict residents to land-based casinos, state lottery, bingo and pari-mutuel wagering. The Mount Rushmore State has 45 commercial casinos with slots and blackjack games, but you won't find roulette, craps or video poker.
With that said, SD locals can find all these games plus more when using one of our top-rated offshore online betting sites, and all of the operators highlighted in this guide provide these services.
Sports betting in South Dakota is legal, but wagers can only be placed at one of the land-based casinos in Deadwood. No need to worry, the top-rated horse-racing betting sites in this guide are also reputable and trustworthy sportsbooks.
The Best Site for Betting on Horse Races in South Dakota
You can choose from the top ten horse racing betting sites in our guide, and there's a great chance you'll be pleased with the services each operator provides.
However, if we were forced to break these selections down into an elite tier, BetOnline and Bovada stand tall above the competition with competitive odds, horse-specific features, excellent bonuses, 24/7 customer service, low margins, a smooth-running platform and years of experience.
FAQ – South Dakota Horse Racing Betting
Is there horse racing in South Dakota?
Yes, South Dakota has one active horse track where events are held a few times each year.
Where can you bet on the Kentucky Derby in South Dakota?
Triple Crown Casino offers pari-mutuel wagering in person. Online gambling sites like those reviewed here allow South Dakotans to wager on horse races all year long.
Is horse racing legal in South Dakota?
Yes, it is legal to place horse racing bets in the state of South Dakota.
Can you legally bet on horses online in South Dakota?
Yes, you can wager on horse races from all over the world using the top South Dakota online gambling sites we covered in our guide, like Heritage Sports, Bookmaker and BetOnline.
Can you gamble anywhere in South Dakota?
Yes, offshore online gambling sites do not restrict users. You do not need to be on casino premises and you will find fixed-odds horse betting instead of being restricted to pari-mutuel pools.