Online Poker in Mississippi – Is it Legal?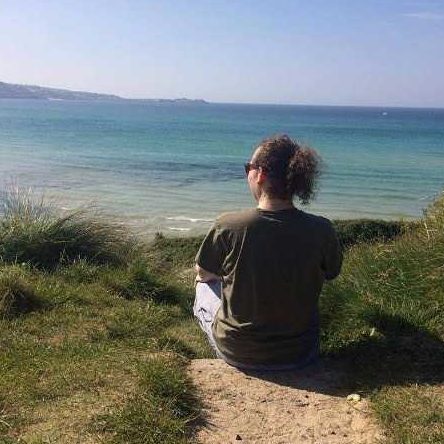 David is a freelance sports journalist who comes from West Midlands. He specializes in sports content, both written and visual. With an impressive record in pre-fight predictions, David is quickly becoming recognized in his field for his in-depth fight analysis and impressive contender & fight history knowledge.
Instead of exhausting valuable time scouring the internet for the best place to play poker online, residents of the Magnolia State can utilize our extensive guide to provide the intricate details alongside a top-ranked list of the all-time best offshore sites offering real money poker online in Mississippi.
This complete guide to the best Mississippi betting sites for online poker will help you narrow down your choices and pick the best online poker gambling site for your needs, whether you're looking for a variety of online poker tables or you simply want to wager money online with daily tournaments.
Mississippi Stud poker, the common stud poker variant, got its name from the state. Despite the fact that many modern poker variants were born on the Mississippi River in a riverboat casino, the gambling law in the state isn't very friendly to online poker players. Dedicated poker sites like PokerStars can't be used in Mississippi, but offshore sites have been a popular option for years for playing the most popular poker games and variants.
These online poker gambling sites offer online poker games and a wide range of poker variants to choose from; users can also enjoy exciting poker bonuses and join major poker tournaments. They can even click over to check out other table games or bet on sports if they'd like. However you like to enjoy the game of poker, one of these sites will be a great choice.
Our complete guide will cover the top internet gambling options in Mississippi where you can enjoy cash games. In addition to reviewing these offshore sites, we've added the latest news and information surrounding online poker and other forms of gambling in MS, commercial casinos in the state that host poker games and more.
The Best Mississippi Sportsbooks in 2023
In addition to covering the top Mississippi gambling sites for poker, we also have other expert guides covering all the other forms of gambling online, including Mississippi sports betting.
The Best Mississippi Poker Sites
With many online poker sites in Mississippi, it's hard to determine which sites are trustworthy, reputable, and provide the most outstanding services. This is why our experts have studied the market and accumulated a top-ranking list of the best online poker sites in Mississippi, thus providing you with the resources to find the best poker site that suits you.
The top three recommendations below are the best gambling sites for a complete Mississippi online poker experience:
Bovada – Best overall poker site in Mississippi
BetOnline – Notable online poker tournaments in MS
Everygame – 200% welcome bonus for online poker players
Mississippi Online Poker Sites Reviewed
Our top-3 Mississippi online poker sites provide an impeccable all-around service, but what separates them from the rest? Continue reading for extensive reviews and decide for yourself which of these offshore sites can meet your needs.
1. Bovada: The Best Overall Online Poker Site in Mississippi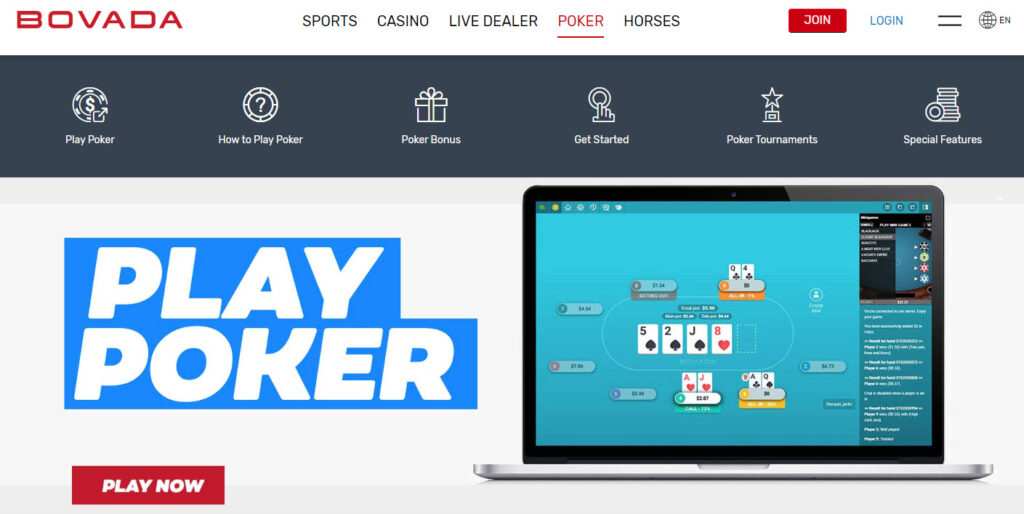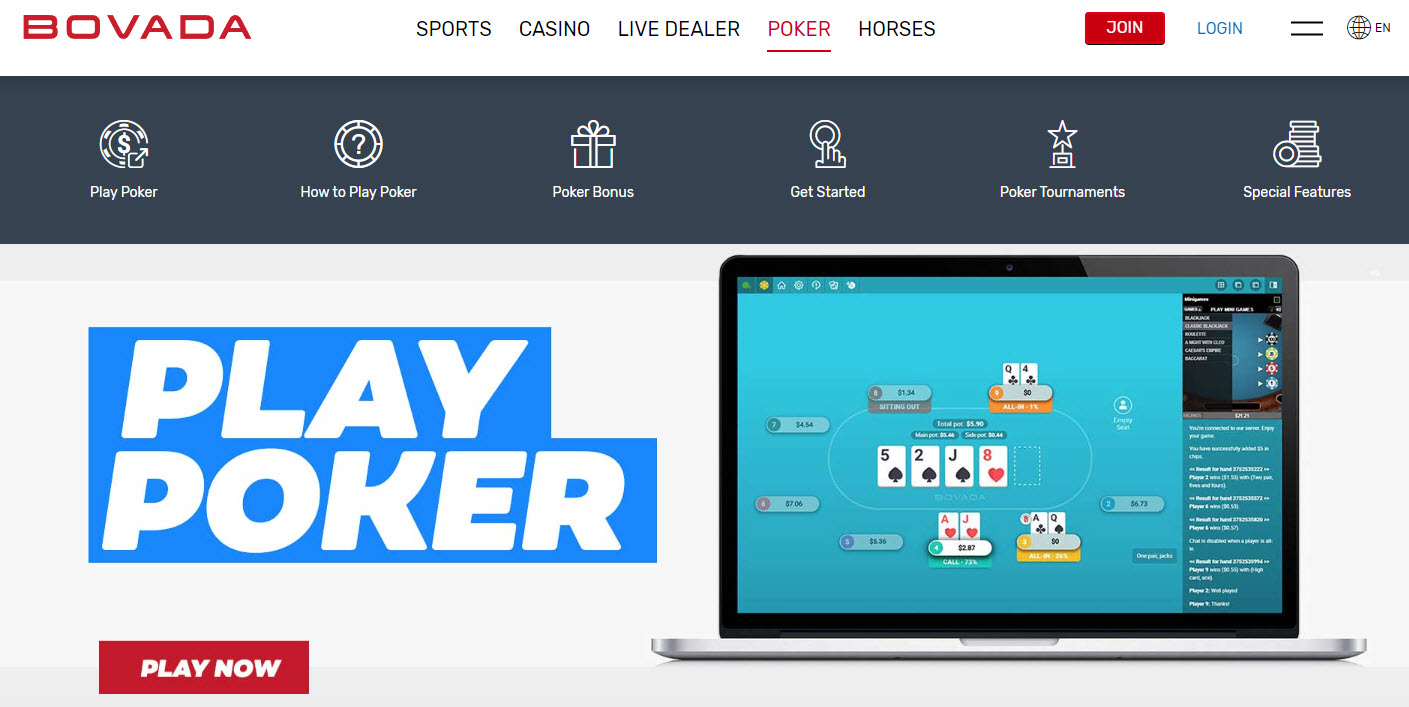 Bovada is highly respected in the sports betting stratosphere, but the team behind the screen has been working hard to deliver the best poker experience since 2004. Customers of Bovada will receive instant access to its dedicated poker room filled with loads of cash games and a plethora of famous titles such as Texas Hold'em Poker, Omaha Poker, and Caribbean Stud. Bovada also has an excellent selection of draw poker such as 3-card and 5-card.
When our experts dived into the specific details of how Bovada operates, they found no reason not to give this operator an A+ rating. Its poker room is undoubtedly one of the best in the United States. The dedicated poker room at Bovada is simple to navigate with an attractive layout, and it's often full of customers because poker enthusiasts love the popular poker titles and super-fast poker software.
Since creating its mobile poker app, Bovada has provided its customers with the smoothest operational experience possible. Users will also find an array of online poker tournaments, as several major events are available, such as the Golden Spade Poker Open and countless Sit & Go's. Those wanting to participate in a major online poker tournament have found the perfect site with Bovada.
New customers are greeted with excellent welcome bonuses while returning users will often receive special promotional offers. New users can get a 100% initial deposit bonus worth up to $500, and the minimum deposit amounts, such as $20, don't require you to break the bank to play.
Bovada understands that efficiency and time are essential in modern-day online poker playing; this is why they present an ultra-fast payment processing system. Users attempting to withdraw funds won't have to wait any longer than 24 hours with a credit/debit card, and cryptocurrencies' banking methods are even quicker.
Online poker promotions at Bovada are excellent. The weekly $10,000 Texas Hold'em poker tournaments, progressive bounties, and the $1,000,000,000 Sit & Go tournament set Bovada apart from the competition.
Loyal customers at Bovada can use the loyalty system that gifts users with Poker Points, free tickets to online events, cashback rebates, and referral bonuses that present a 200% matched bonus of up to $100 for each person you bring on board.
Pros:
The most popular poker room in the United States
Speedy payouts and a desirable interface
Excellent poker welcome bonus
Cons:
No multi-table option for mobile users
2. BetOnline: The Best Online Poker Site in Mississippi for Tournaments & Bonuses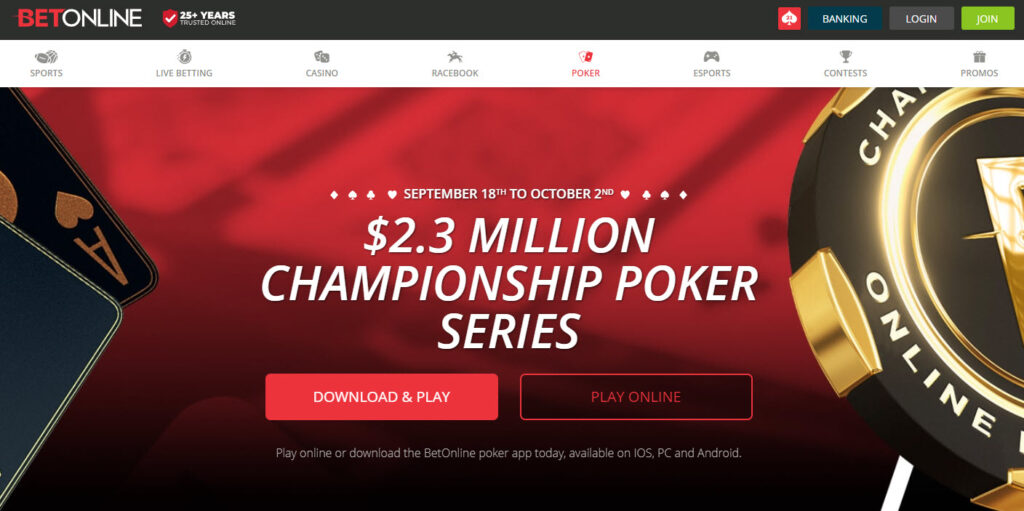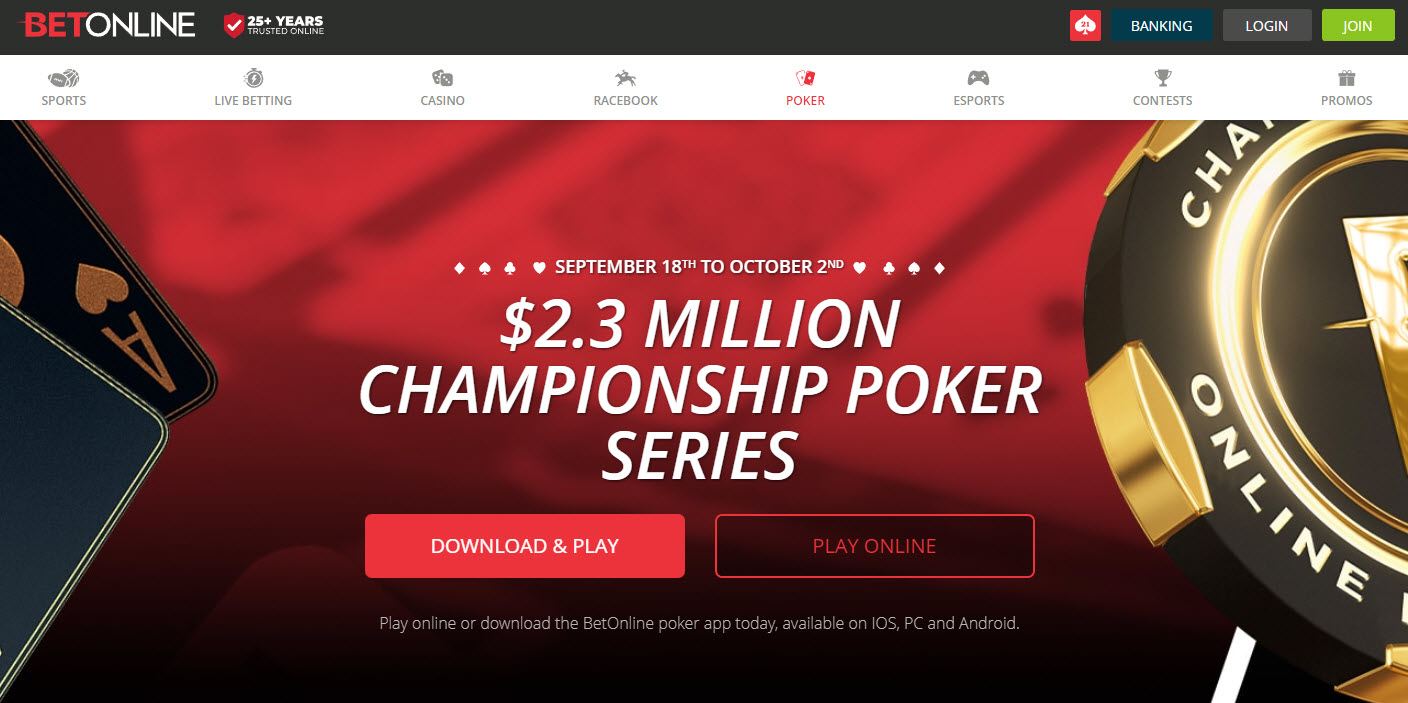 Boasting one of the most popular sportsbooks in the U.S., a respected racebook, and decades of experience in the business, you shouldn't be surprised to know that BetOnline also provides one of the best online poker sites in Mississippi.
Finding a prominent and more reputable online poker site in Mississippi than BetOnline is difficult. Behind 25 years of experience, the BetOnline crew has had no problems creating one of North America's most popular poker rooms. With a plethora of special events, tournaments, exclusives, and diverse choices, they've quickly earned an A+ rating from our experts.
Advanced poker players using BetOnline's dedicated online poker site will instantly recognize the presence of the Chico Poker Network – a well-established poker provider with a reputation for providing anonymous tables and games with low and high limits. Since moving its services to the digital realm in 2011, BetOnline has steadily surpassed the competition and is now one of the leaders in online poker services.
Online poker tournaments are BetOnline's forte. Most online casino operators in MS cannot match the depth and availability of BetOnline's tournaments. Customers will stumble on multiple tournaments that cater to small stakes and high pot limits alike, from the $1 million windfall, Sunday majors, progressive bounties, a continuous jackpot of $50k and counting, and the rebuy frenzy.
In addition to its tournament offerings, BetOnline excels in offering great poker bonuses. This online poker platform offers new customers a 100% initial deposit bonus of up to $1,000. They additionally provide loyalty bonuses for returning online poker players in Mississippi, as the poker points earnt from activity on tables can be used in premier online poker tournaments.
Let's not forget BetOnline has also designed a downloadable app specifically for its poker room. No need for a phone browser, instant access to the poker room wherever you can find an internet connection, and a smoothly operated app puts BetOnline a step ahead of its rivals.
Pros:
Online poker app for iOS and Android devices
Frequent online poker tournaments
Flawless poker software
One of the most lucrative online poker welcome bonus options in MS
Cons:
Charges fees on some deposit methods
No anonymous tables
3. Everygame: Great Tournaments With an Exceptional 36% Rakeback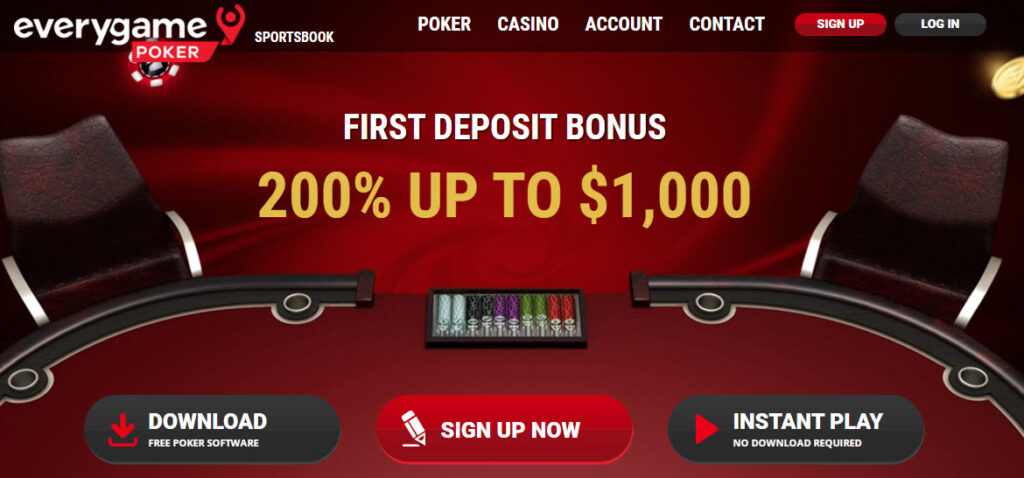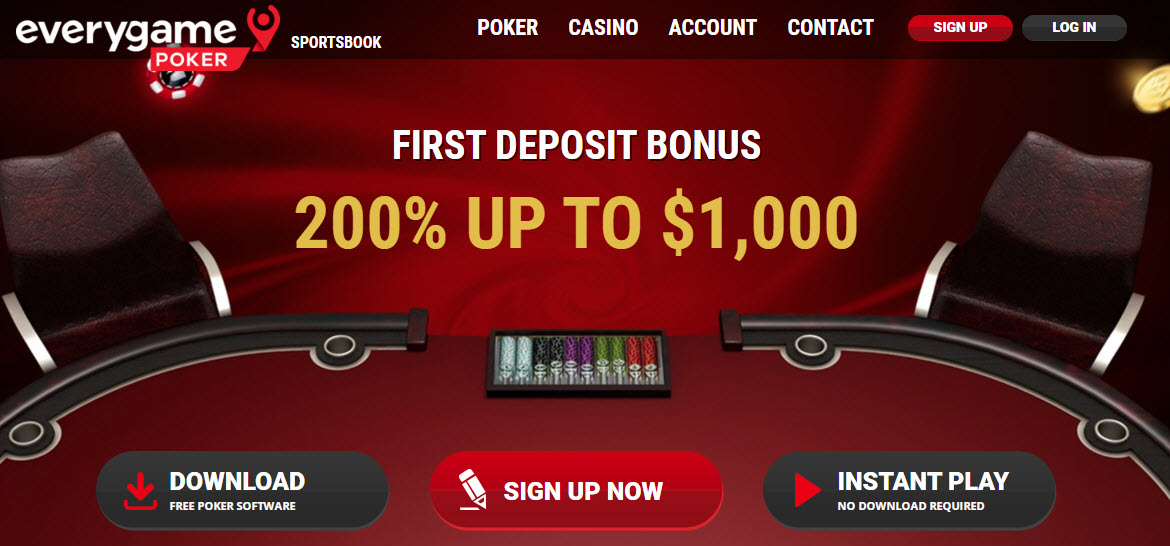 Formerly known in the online gambling world as Intertops, Everygame has excelled since rebranding its company and has evolved into an online poker site in Mississippi that we simply can't ignore. From notable online poker promotions, freerolls, low rakes, and an excellent 200% poker welcome bonus up to $1,000, Everygame meets our expert's stubborn criteria with flying colors.
We instantly noticed the excellent poker tournaments available at Everygame. Customers can participate in the $10k games or apply for the Everygame Poker Team that competes in the World Series of Poker Caribbean for a staggering $200,000 prize. Everygame caters to novice and advanced poker players alike; the former can participate in 2 cents low staked tables.
Everygame leads the industry with its 36% Rakeback offering, and these rakes are paid swiftly, almost instantly, into your betting account without any hassle. You'll also notice the dedicated Play Poker App that gives customers points from its rewards program.
Pros:
Rewards for using the Instant Play Poker App
36% Rakeback
Vast selection of online MS poker tournaments, including WSOP
Cons:
Player points are required to release bonus funds
Is online poker legal in Mississippi?
You might be wondering "Is poker legal in Mississippi?" In short, poker is legal in the state, but your options are limited. Mississippi residents can play poker at one of the various poker rooms, and specific casinos also have poker machines. However, the Mississippi gambling law isn't so kind when it comes to online poker games.
Mississippi online poker laws can be understood in detail by reading the Mississippi State Code under sections 75.76 and 97.33. Briefly, we can explain that online gambling, as a whole, is considered illegal gambling in MS, and despite giving its residents a lawful ability to play poker at land-based casinos, participating in online poker games is prohibited. The Mississippi Gaming Commission deals with gambling-related issues, but its attempts to legalize poker sites have failed to receive enough support to gain any traction.
It's illegal to play online poker games in MS; however, the offshore sportsbooks and casinos found in our extensive guide fall into a gray area of the law, and Mississippi residents are accepted. While the state's gambling laws (overseen by the Mississippi Gaming Commission) doesn't explicitly say that it's legal, it doesn't mention that using offshore online poker gambling site is illegal either. This means bettors in Mississippi are well within their rights to enjoy their favorite poker titles and other forms of online real money wagering with these offshore sites.
Video Poker
Known as "Poker Slots" or "Poker Trainers," video poker is similar to slot machines. This poker variant is a player versus computer game instead of a human opponent. Usually, online video poker is based on 5-card draw poker, and like slots, there are hundreds of versions with alternate themes and rules.
Mississippi citizens can find video poker machines at physical casinos throughout the state. However, with a limited selection and the need to travel, this isn't the most desirable method of playing video poker in MS.
Players wanting to get in on the video poker action often look for the best online poker site in Mississippi. Fortunately, all our top-ranked online betting sites offer a vast selection of online video poker titles with high and low stakes, buy-ins, and promotions.
Casual Poker
Casual poker played among friends, and family is legal in Mississippi so long as it's not for real money or anything of value. The law states that Mississippi State Code doesn't authorize any cash games or games of poker played for valuables. Therefore, placing bets or using money in a casual poker game is illegal.
Mississippi Poker Laws
Playing poker in Mississippi is legal so long as this activity is conducted at one of the authorized MS casinos and poker rooms. Players looking to partake in legal cash poker games can visit one of the 30+ casinos with gaming tables dotted around the Magnolia State and avoid the worry of any arising legal issues.
Gambling is legal for people aged 21 and over – poker, sports betting, or anything else. Mississippi legislation, however, does prohibit all forms of online gambling.
However, while the law prevents its residents from finding nationwide operators that can offer legal forms of poker, offshore sportsbooks and casinos are the gray area that Mississippi residents can take advantage of. These offshore operators are based outside of the United States, so they aren't required to adhere to Mississippi laws.
Playing Legal Online Poker Mississippi
A diverse selection of poker is available at online Mississippi betting sites, so we don't blame you for catching up in the mayhem. Don't forget that our expert reviewers have selected BetOnline, Bovada, Everygame, BetAnySports, and BetUS as the go-to operators for playing online poker in Mississippi.
Our team of experts arrived at this conclusion following an extensive review system. Still, you can read below to see the key factors that make a perfect Mississippi online poker site and why physical casinos cannot compete.
Promotions
Land-based casinos provide bright lights and social interaction, but they can't compete with online casinos that offer a wealth of bonuses and daily promotions. Our top-ranked operators provide customers with the most tempting welcome offers, rebates, loyalty programs, and cashback for being a new or loyal customer. Also, if you find multiple poker bonuses that appeal to you, you can register at multiple sites to claim the initial deposit bonus they offer.
Tournaments
Physical casinos host regular poker tournaments, but unfortunately, these games can be paused, postponed and sometimes take weeks to set up. However, Mississippi online poker sites host daily tournaments without interruption, and these tournaments are set up and hosted within a few clicks. You can enjoy real money wagering at any of these sites' multiple online poker tables and tournaments.
Convenience
Finding time to travel to the casino isn't a consistent possibility. Life can get in the way and prevent players from attending the poker tournament they've been waiting for all month. However, online poker in Mississippi removes this worry. Better yet, online poker can be played at our top-rated sites via a mobile device from anywhere with an internet connection.
Table Choice
If a land-based casino has limited table positions or is regularly filled with avid poker players, you may not get the chance to play. However, our top MS poker sites give customers table positions instantly, removing the need for floor space that a physical casino cannot generate as the digital aspect can.
Learning
The best Mississippi online poker sites can assist your poker knowledge with online guides and tips to become an expert player. At a land-based casino, factors like this are removed, so if you're a beginner at the table, you have zero resources to assist your game.
Playing Poker in Mississippi – Live
The only method to playing legal in-person poker for real money in Mississippi would be to attend a land-based casino. With more than 30 physical casinos in MS, players can find several sites with rooms strictly dedicated to poker.
Below, you will find the best land-based casinos in Mississippi with dedicated poker rooms.
Golden Nugget Biloxi
Address: 151 Beach Boulevard, Biloxi, MS 39530
IP Casino Resort & Spa
Address: 850 Bayview Avenue, Biloxi, MS 39530
Beau Rivage
Address: 875 Beach Boulevard, Biloxi, MS 39530
The aforementioned land-based casinos give poker players an exceptional in-person experience, and it's always good to get out of the house. However, regular players will struggle to attend these locations consistently, so the best Mississippi online poker sites from our list are recommended for poker players wanting a simple life while also being able to play their favorite poker titles. Bovada, BetOnline, Everygame, BetUS, and BetAnySports are excellent choices for online poker sites.
Mobile Poker in Mississippi
For poker fans that want to enjoy a quick mobile poker experience, we suggest that you use one of our top-rated mobile-optimized online poker sites in our poker site review. These sites work perfectly on mobile devices, and you can enjoy the most popular poker games with them, while also being able to take advantage of various bonuses, such as welcome bonuses, deposit match deposits and various other additional promotions. These betting sites each allow you to gamble money online on poker, in addition to various other gambling options (such as sports betting and horse race betting).
FAQs – Mississippi's Real-Money Online Poker Sites
Is there online gambling in Mississippi?
Operators located and running their businesses within the United States are prohibited from providing online gambling services to residents of Mississippi. This doesn't prevent MS citizens from registering with an offshore sportsbook and online casino, and the top-rated sites in our list are readily available for players of the Magnolia State.
How do I bet online in Mississippi?
You simply need to make an account with the offshore casino or offshore sportsbook of your choice and then fund your account. Afterwards, you're free to place any wagers that catch your eye.
Can I play poker online in Mississippi?
Yes, a wealth of online poker sites are available for Mississippi residents. However, you'll want to discover the most trustworthy and reputable MS online poker sites, be sure to utilize our extensive guide to find the most valuable and trusted sites.
Can you still play online poker for real money in the U.S.?
Residents in the U.S. can play online poker for real money by using an offshore casino or offshore gambling app.
Where can you gamble in Mississippi?
Those residing in Mississippi can participate in gambling at one of the 30 casinos throughout the Magnolia State. Biloxi, Mississippi, is the home of countless notable casinos, such as the Golden Nugget, IP Casino Resort & Spa, and Beau Rivage.

Alternatively, Mississippi citizens can utilize one of the top-rated offshore online sites from our guide. These Mississippi online poker sites can provide players with simple access to a poker table without traveling.
How many casinos in Mississippi are there?
Mississippi is the home of 30 state-regulated casinos. The gambling venues are located along the Mississippi River and on the Gulf Coast. Island View Casino is the largest casino in Mississippi.
Does Mississippi have online casinos?
Mississippi does not have any state-regulated online casinos. However, offshore casinos are available and legal for residents to enjoy.
Is Bovada available in Mississippi?
Bovada is legal and available in Mississippi. As a matter of fact, it is one of our top-picks for the best online poker sites for bettors in Mississippi State. You can read more about this online poker gambling site, in addition to our other top-picks, in our complete guide above.