Minnesota Sports Betting – Which are the Best MN Betting Sites & Sportsbooks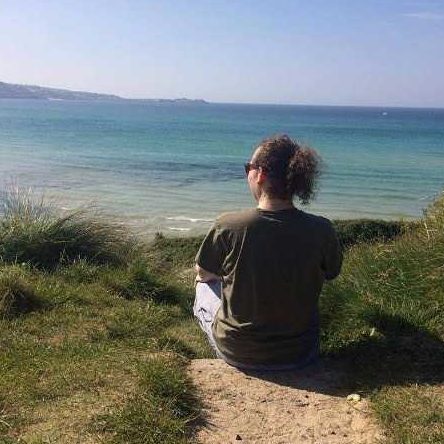 David is a freelance sports journalist who comes from West Midlands. He specializes in sports content, both written and visual. With an impressive record in pre-fight predictions, David is quickly becoming recognized in his field for his in-depth fight analysis and impressive contender & fight history knowledge.
The world's leading sports betting sites in Minnesota provide their consumers with speedy payouts, the highest-priced odds, excellent promotions and tempting bonuses. Our experts have tested hundreds of legal sports betting options in order to provide insightful knowledge on the top for the Gopher State.
Our team has decades of experience reviewing sports betting websites and is here to share that information with you. Including the aforementioned factors that result in the best sportsbooks, you'll find the latest laws and regulations for sports betting in MN.
Offshore sportsbooks have become imperative for Minnesota locals, so sit back, relax, and read on for the latest and most pivotal details of betting on sports in Minnesota.
Minnesota Betting Guides
The Top Sports Betting Sites for Minnesota in 2022
As most sports bettors know, looking for the most reputable betting operators in Minnesota can be time-consuming. However, our team of experts has already taken care of the hard work.
Below you will stumble across the ten best online betting sites in Minnesota. You can guarantee that every sportsbook rated is reliable and trustworthy when it comes to payouts and customer experience.
Minnesota has no bills, regulations, or licensing for online gambling. However, the reputable sportsbooks we're covering are known as offshore bookmakers. This means they aren't regulated in Minnesota and the laws currently in position by the U.S. federal government have no control over their operations.
The sports betting sites we recommend are accessible to the citizens of Minnesota and the United States lawfully, as they only answer to the organizations that oversee sports betting where they are located. That is why offshore sportsbooks are entirely legal and our experts will only suggest the most respected and reputable operators that are renowned for supplying services to a high standard.
The Best Minnesota Sportsbook Reviews
Below you can find a top-10 list compiled by our experts, who've studied the sports gambling industry and know precisely what it takes to become a highly-ranked sportsbook in Minnesota.
1. BetOnline: Fast Payouts & Decades of Experience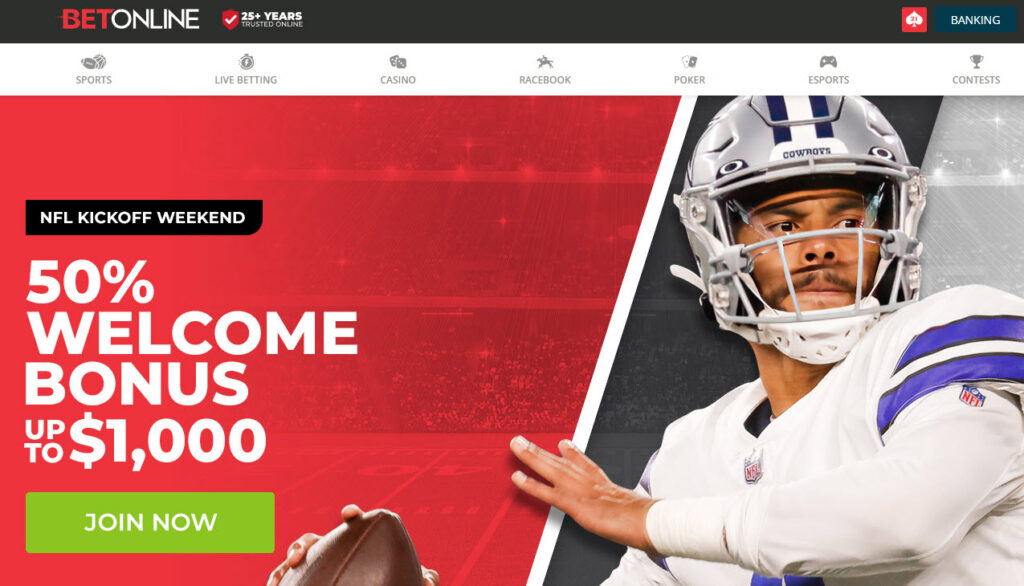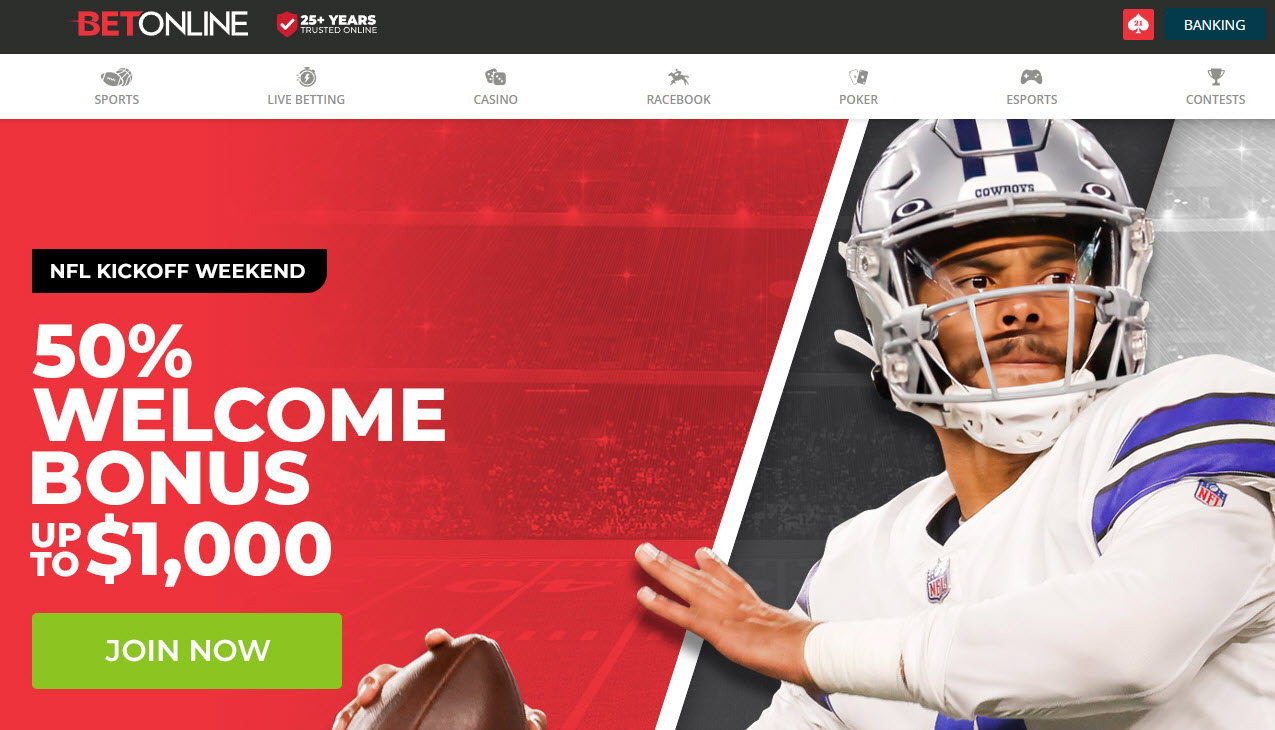 Without hesitation, BetOnline is the king of offshore online sportsbooks in Minnesota. This operator delivers some of the fastest payouts in the business. When you factor in a wide selection of sports and some of the most lucratively-priced betting odds on the market, you can't go wrong in taking your wagering needs to BetOnline.
Due to their 25 years of experience in the sports betting world, BetOnline has excelled when it comes to opinionated lines. With opinionated lines, seasoned bettors can thrive with BetOnline's positive expected value (EV).
BetOnline has multiple positives for all sports betting enthusiasts and bettors, both new and veteran. Super-fast payouts, notable betting limits, and the ability to live stream the events you wager on.
On top of that, you can enjoy a modern online casino with live dealer offerings as well as one of the busiest poker rooms in the United States.
Current BetOnline users rave about the impressive welcome bonuses. Deposit bonuses are matched at 100% up to $1,000 for first-time cryptocurrency depositors, and those utilizing credit/debit cards can receive a 50% free play bonus up to $1,000.
Pros:
Fast payouts
Professional interface & attractive, easy-to-use layout
Opinionated lines & large betting limits
Cons:
Can lack in proposition bets compared to rivals
$50 fee on check withdrawals
Some complaints about the poker software
2. Bookmaker: The Home of Sharp Bettors & High Betting Limits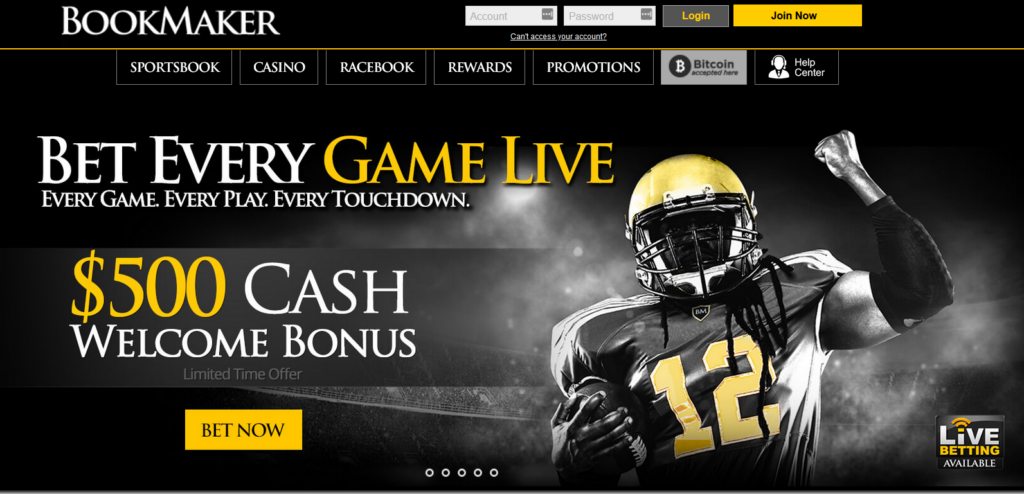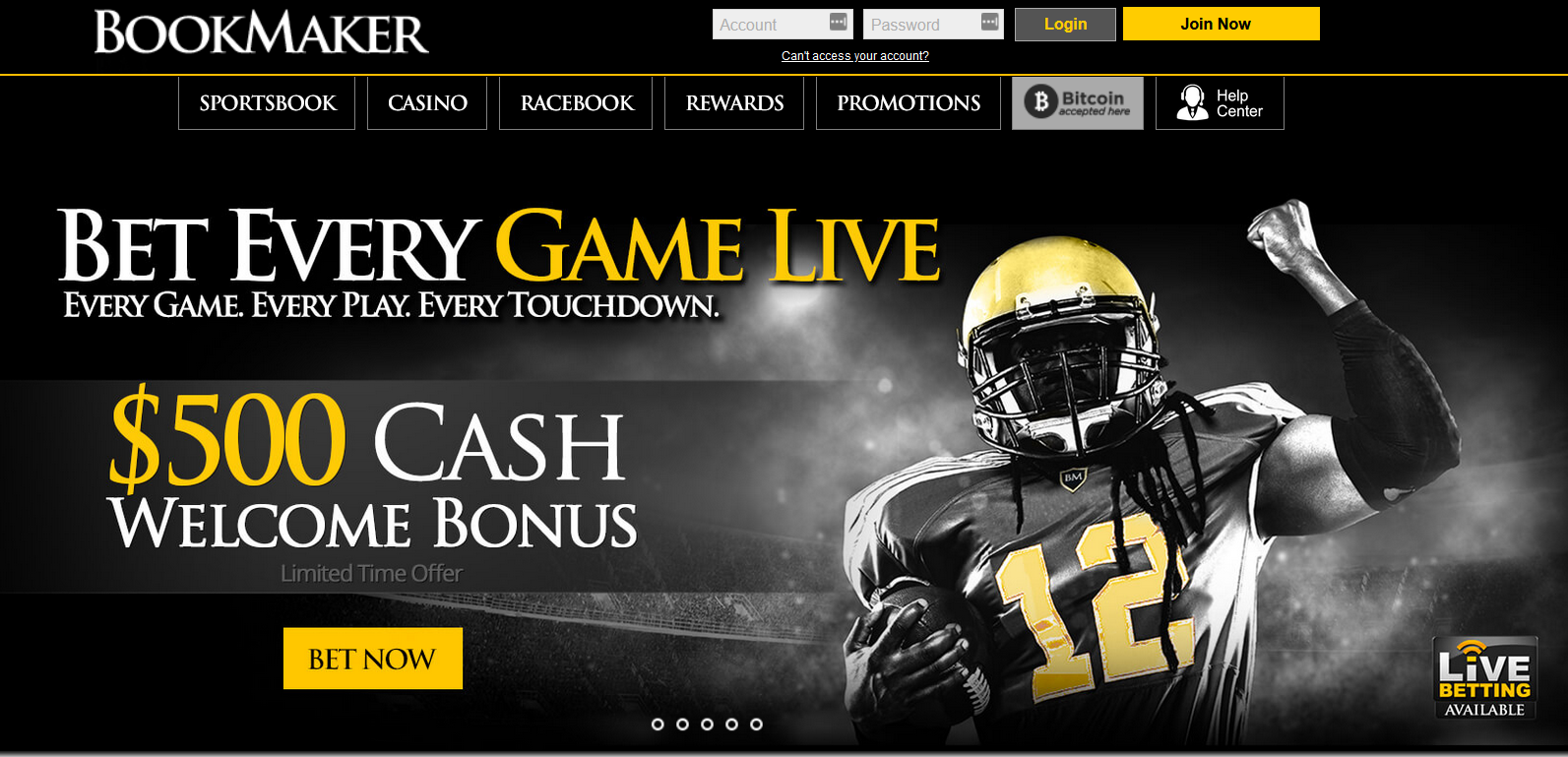 Informed, high-stake, experienced and successful sports bettors are known as sharp bettors. In the last 25 years, Bookmaker.eu has become the home of professional bettors because of its sharp lines and high betting limits. However, they aren't just a one-trick pony; Bookmaker also presents a simple-to-navigate interface, low minimum wagering limits and a tempting choice of welcome bonuses for new customers.
Users loyal to Bookmaker will reap the rewards, as they've created a unique loyalty program that gifts customers with BetPoints. These BetPoints can be cashed in for prizes and bonuses and can also be used for more wagering.
If the industry's professional sports bettors found a trustworthy home for their wagers using Bookmaker's services, you shouldn't need to question the integrity of this operator. And if you're a winning bettor, fear not, as Bookmaker never suspends or limits winners' accounts.
Pros:
Decades of experience
Football betting lines are released before their competitors
Betting limits as high as $50,000 on NFL
Cons:
Sharp bettors lose their right to participate in the loyalty program
A lackluster casino without any poker rooms
No reduced lines
3. Heritage Sports: Market-Leading Odds & Excellent Live Betting Service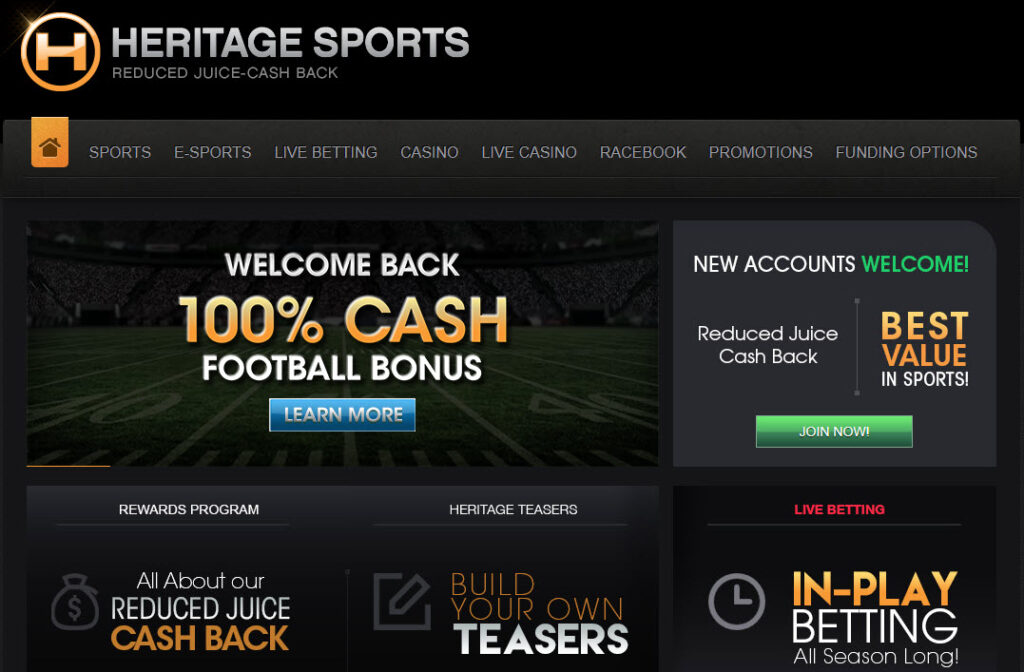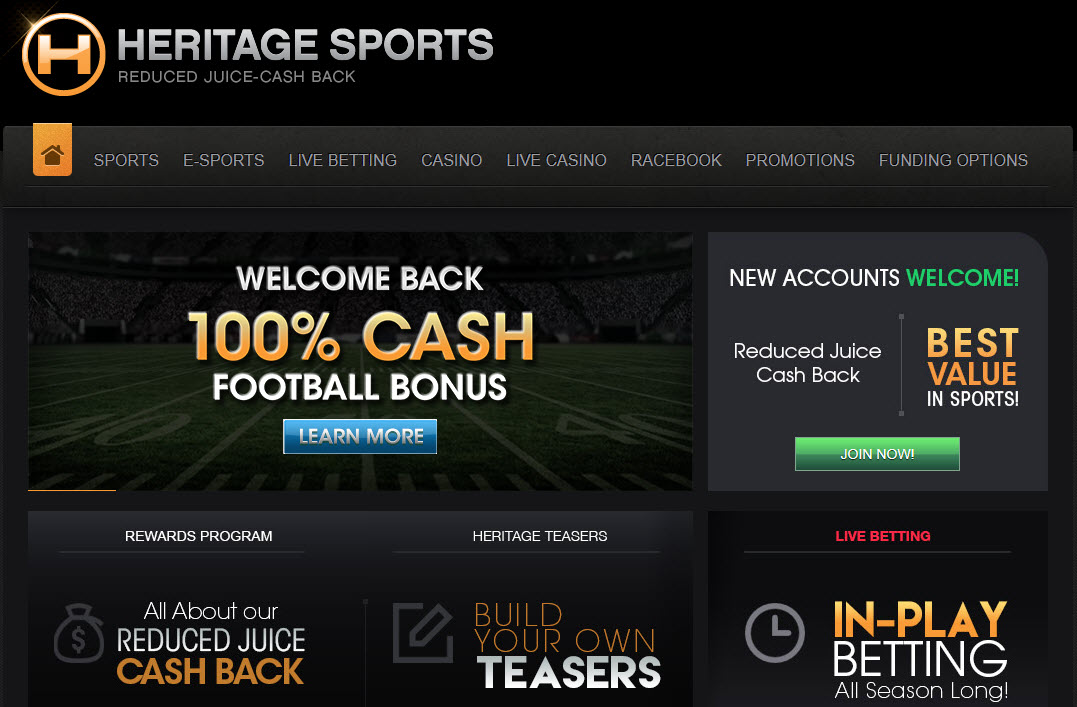 Many sportsbooks can delay the withdrawal process when customers want to receive their winnings, but you won't find that issue at Heritage Sports, which pays its customers in full and on time. In addition, those using Bitcoin as their payment method can receive their funds without fees and on the same day.
With an abundance of promotional offers, cash-back rebates and a simple-to-use site accessible on desktop or mobile, it's no surprise that Heritage Sports is one of the most popular Minnesota sports betting platforms. And when it comes to customer service, Heritage has become accustomed to putting a customer's needs first.
Heritage Sports excels in live betting, as well as its online casino. They are also known for providing some of the best-priced odds in the industry and a wealth of proposition betting markets. Those looking for one of the market leaders in offshore sports betting needn't look any further. Heritage Sports gives bettors countless reasons to become a customer.
Pros:
Easy to operate sports betting interface
Reduced juice on betting lines
Excellent promotional offers
Great live betting options
Cons:
No online poker room
Smaller sign-up bonuses than other sites
4. Bovada: More Sports Betting Markets Than Most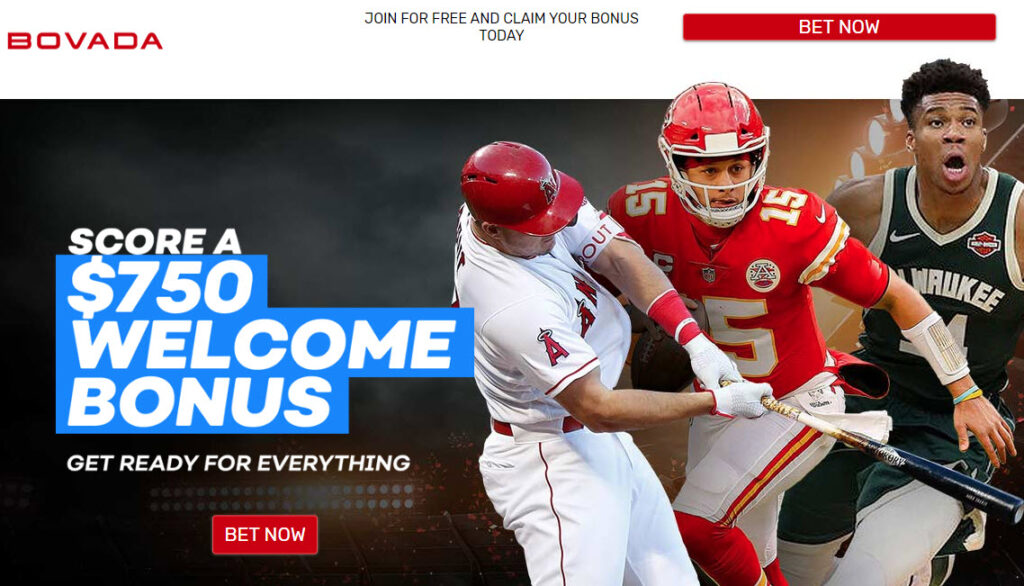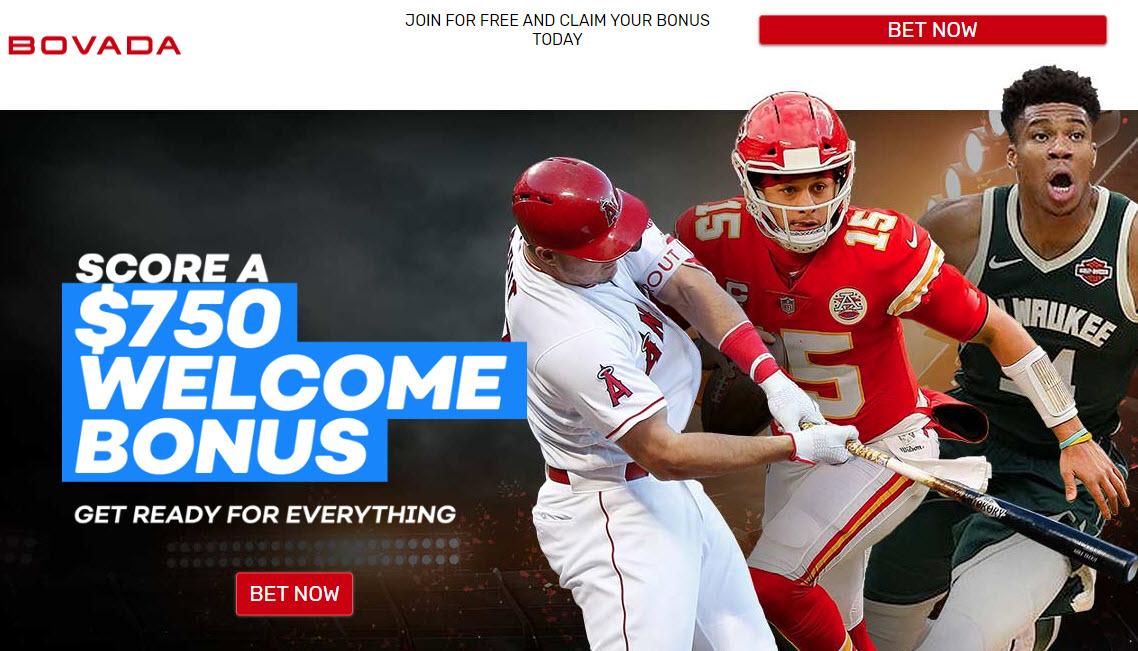 Bovada has long been a cut above the rest due to its wide variety of sports betting markets. In addition, its substantial online casino and racebook make it one of the most complete Minnesota online bookmakers.
With the most popular online poker room in the United States and more sports betting markets than most competitors, Bovada is the perfect sportsbook if you're a fan of variety.
Known for its extensive selection of prop bets and sportsbook options, Bovada has also established itself as a bookmaker that provides rare betting markets in entertainment and politics that notably provide lucrative odds.
While the betting limits might not be as high as with other competitors, Bovada does offer some of the best promos in the industry, including a specific casino bonus.
Pros:
Bigger selection of betting markets than most competitors
The most popular poker room in the United States
Mobile-friendly with excellent optimization
Small rollover requirements for bonuses
Cons:
Betting limits can be lower than competitors
Betting lines arrive slightly slower than other sites
5. Everygame: The Most Experience in Online Betting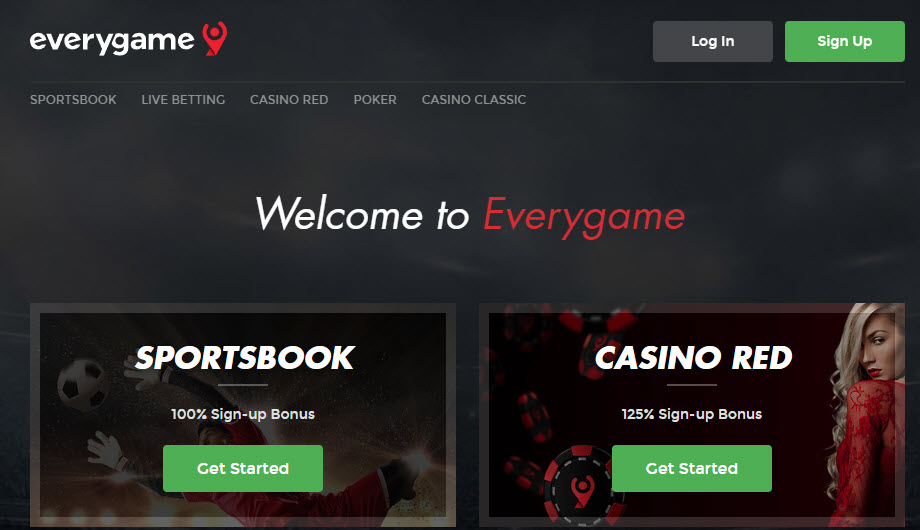 If you didn't get the memo, Intertops rebranded their platform to Everygame in 2021, having made awe-inspiring advancements ever since. Outside of the apparent company name modification, their experience in the business has shined with their recent upgrade, as the world's oldest online sportsbook is keeping up with the times to challenge the competitive market.
Everygame covers almost every sports league/promotion in existence. Finding a market competitor to challenge is practically impossible, as they pride themselves on delivering a vast selection of sporting events to wager on.
While they excel for Minnesota sports bettors, customers will also notice the excellent online casino. With professional and amateur poker rooms supplying services to all skill levels, users can hit the casino tables while waiting for their Minnesota Vikings game to begin.
Pros:
Betting lines for worldwide sporting events
Simple-to-use mobile interface
More sports leagues than most competitors
Cons:
Small bonuses
Customer verification can be prolonged
6. BetAnySports: The Best Reduced Betting Lines for Great Price Discounts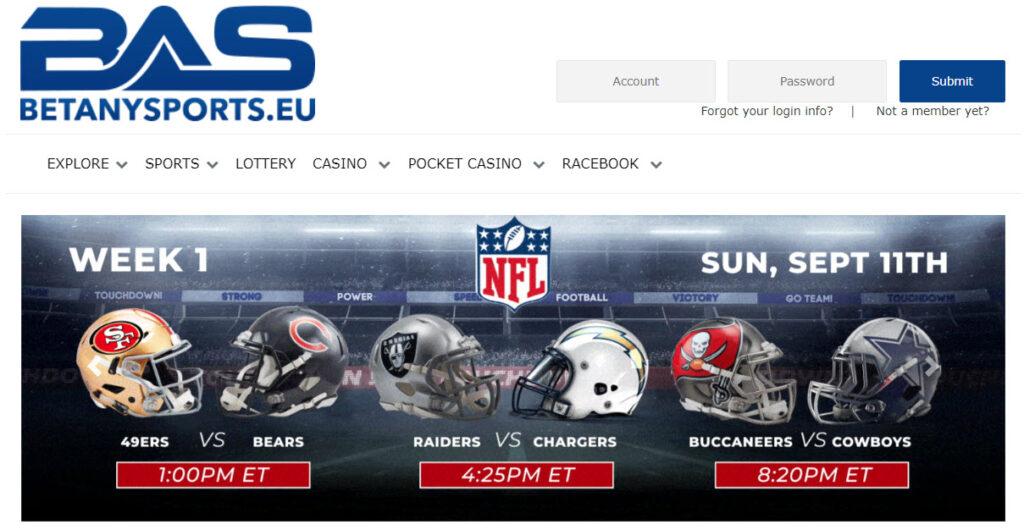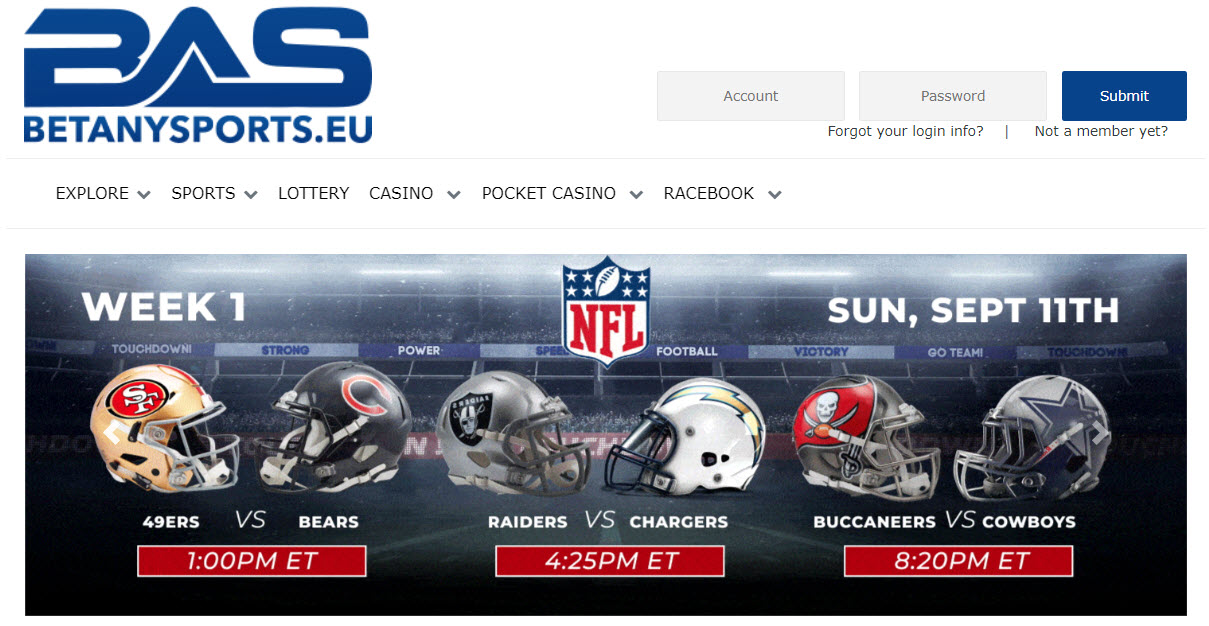 The potential for finding valuable odds is almost unmatchable when using BetAnySports. A reduced juice approach does force the operator to operate with low margins, but they deliver some of the best odds in the business.
With a lower house edge than most online betting sites in Minnesota, customers searching for the best price don't have to look any further. In addition to great-priced moneyline wagers, their selection of prop bets is vast, and this incredible betting value becomes even more lucrative when placed in a parlay.
Long-term online sports bettors in Minnesota will thrive with an account at BetAnySports. This Minnesota online sportsbook has designed a flawless reduced juice betting line system. Most bookmakers typically give bettors a -110 price on NFL or NBA spread or total wagers, but BetAnySports will regularly provide a significant -105 price tag on the same markets.
BetAnySports is the perfect Minnesota sports betting site for secure and trustworthy withdrawals and, more importantly, outstanding odds. They do offer but they are not as enticing as those on other sites but that's the price you pay when you get 50% reduced juice.
Pros:
Reduced juice for sides and total wagers (-105)
Some of the best-priced moneyline, prop, and future betting odds
Fast payouts and a trustworthy reputation
Cons:
Smaller bonuses than competitors
Interface could be improved
7. WagerWeb: High-Quality Sports Betting & Decades of Experience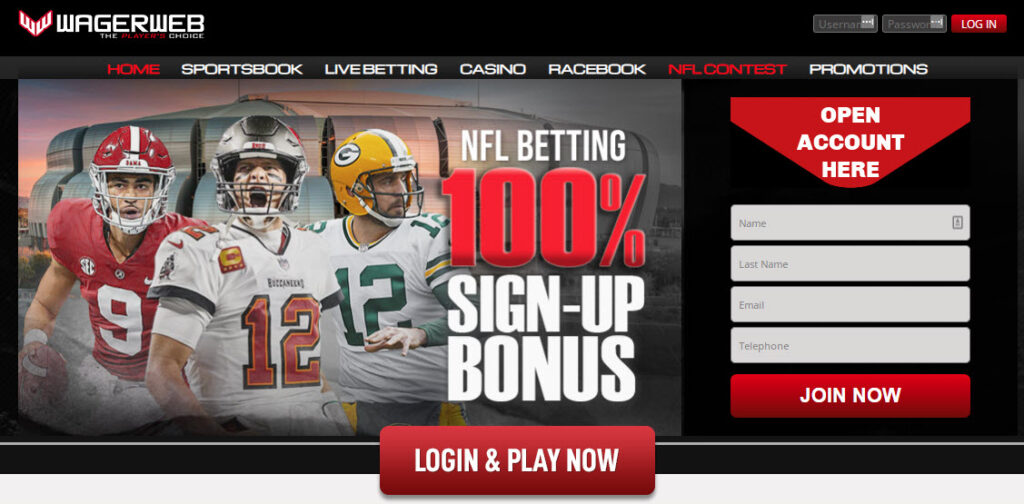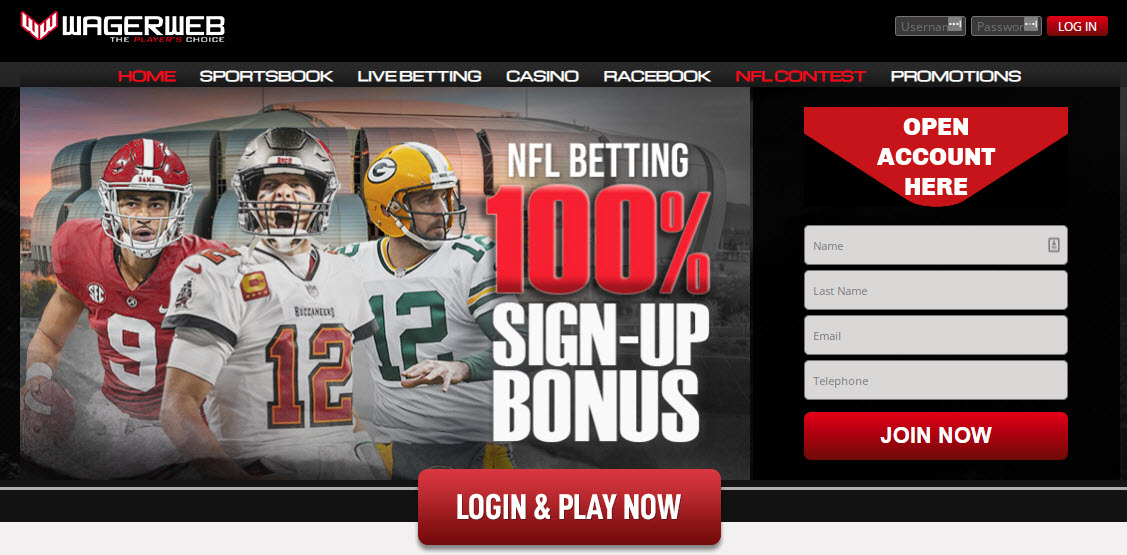 With reduced lines and unique bonus offers, WagerWeb shines as a sportsbook, casino and racebook. With excellent racebook and casino rebates, Bitcoin depositors additionally receive speedy payouts with this top Minnesota online sportsbook.
As the sister site of Heritage Sports, WagerWeb was always going to have an advantage in the online sports betting world. Bettors from Minnesota registering an account with WagerWeb will be in the hands of a company that boasts 28 years of experience in the business. This bookmaker is the perfect choice for bettors wanting a top-quality experience with a well-established enterprise offering online sports betting in Minnesota.
Pros:
Reduced betting lines
Great bonus options
Fast approving payouts
Cons:
Low betting limits
Limited fee-less fiat-based withdrawals
8. BetUS: Offers Great Bonuses and Promotions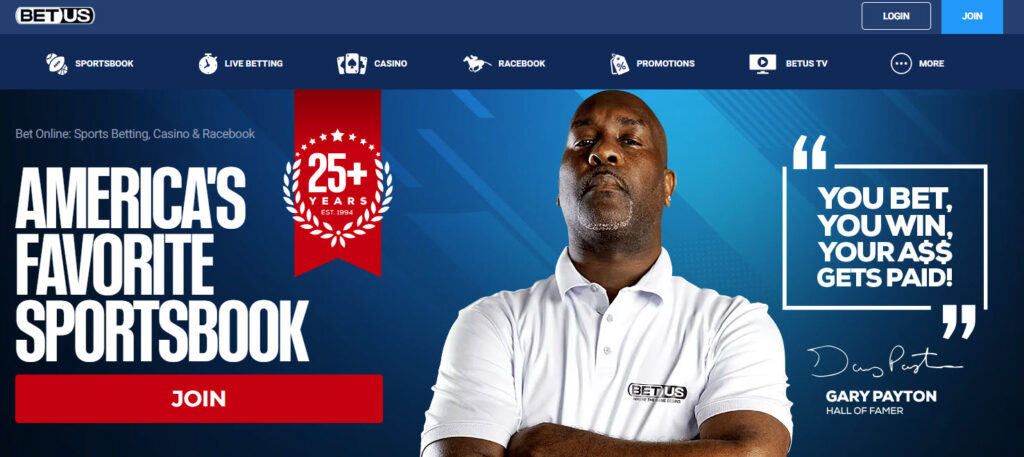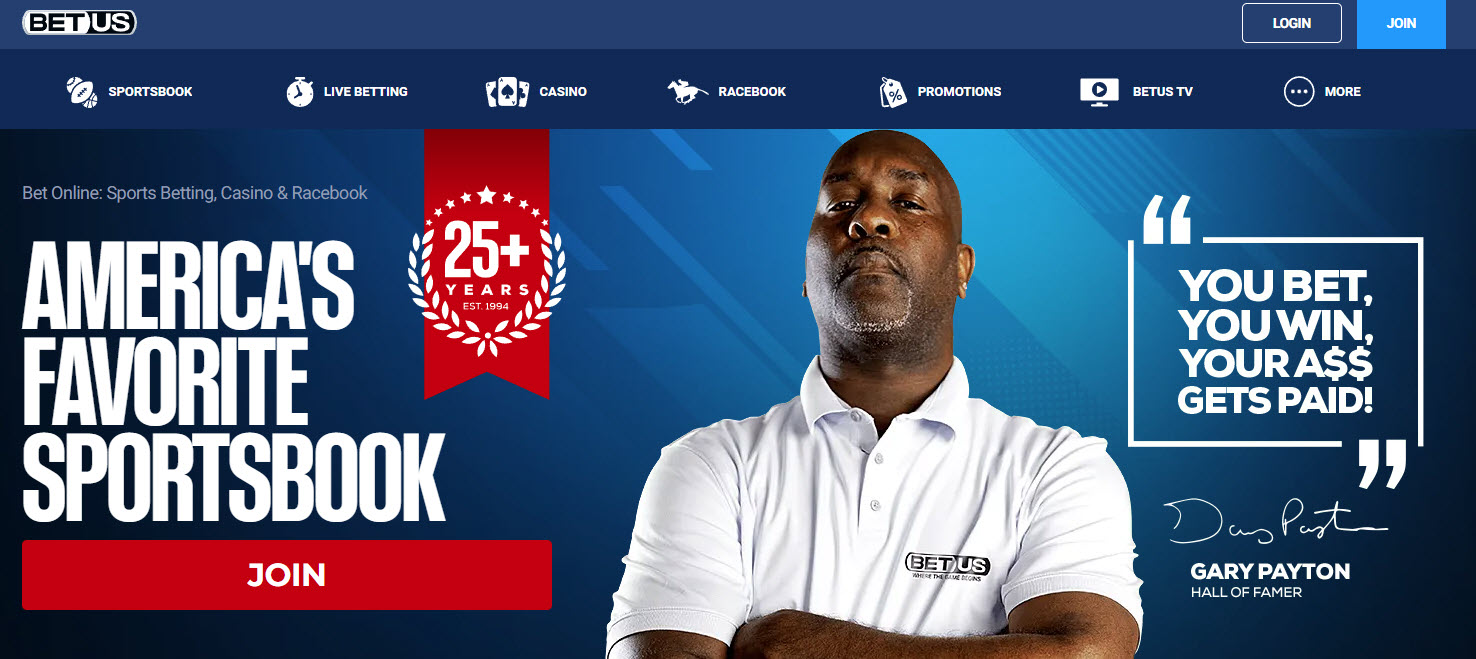 BetUS didn't rebrand, but since its staff overhaul, the company has excelled to become one of the best Minnesota online sports betting options. Customer payouts are prompt and their promotional offers are impossible to neglect, making them one of Minnesota's most trusted sportsbooks for online sports betting.
If you're in the business of lucrative bonus offerings, BetUS has built a reputation as one of the best bonus providers on the market. The initial welcome bonus is 125%, gifting new customers with the opportunity to receive up to $2,500 in sports betting credit and $625 in casino credits.
BetUS doesn't just cater to new customers, reload bonuses and year-long promotions are often available to loyal customers. With a willingness to make their consumer base happy, the overall user experience is also a pleasure when navigating the platform and they provide great odds.
Pros:
Exceptional bonuses and promotions for new and old customers
A vast esports betting hub with live betting options
A wide variety of betting options
Cons:
Slower released betting lines than competitors
High rollover requirements on bonuses
9. JustBet: Live Betting Experts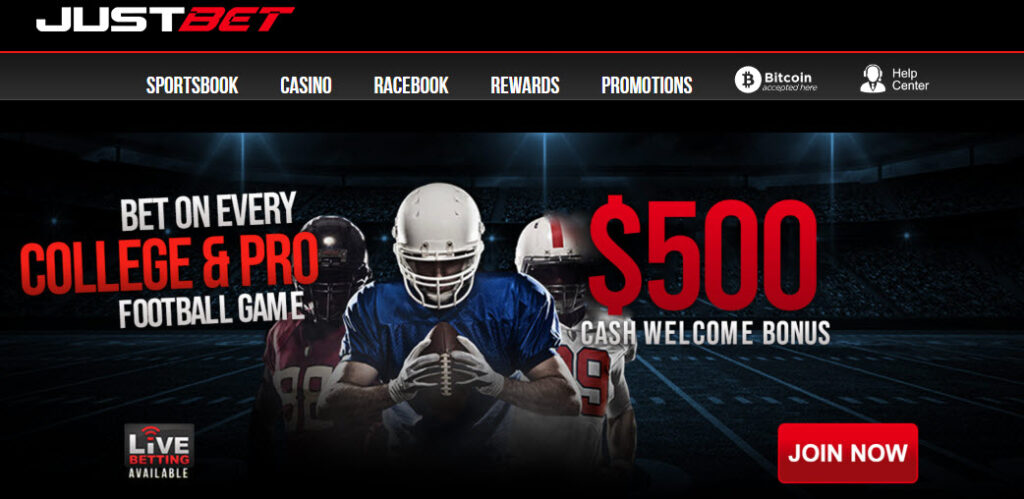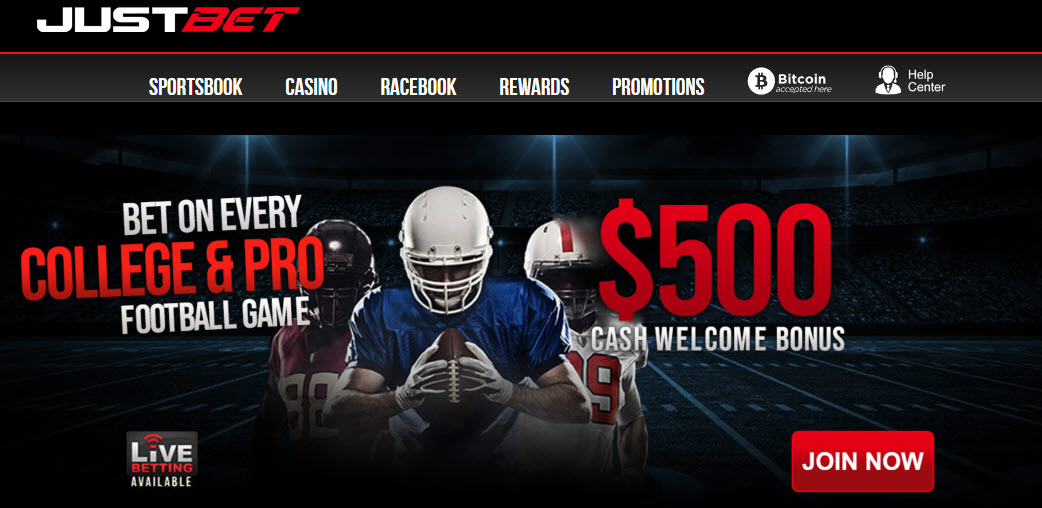 Under the tutelage of Bookmaker, JustBet hasn't struggled to become one of the best Minnesota sports betting operators. In unison with its sister site (Bookmaker), its interface is simple-to-use, provides early betting lines, and notably high betting limits.
Again, following in the footsteps of Bookmaker.eu, JustBet delivers a loyalty service for its long-term customers. And despite living in the shadow of its sister site, JustBet has reached a top-10 ranking on our list of the best sports betting sites in Minnesota for its impressive live betting options, early released odds, and tempting welcome bonus.
Pros:
Notable live betting options
Betting lines are released early
A great welcome bonus of up to $500
Cons:
No reduced juice lines
No poker room
10. GTbets: The Best Security & Customer Service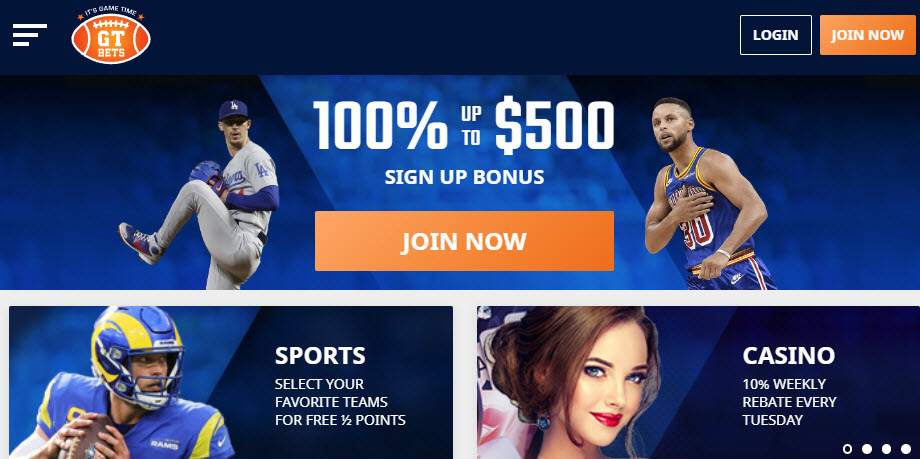 Presenting great odds, notable promotions, an incredible sign-up bonus, and reduced juice football lines, GTbets is evolving into a top Minnesota sports betting site. Formerly, Game Time, since its rebranding to GTbets, the sports betting provider has flourished with its easy-to-use site, competitive odds, and attention to detail in security procedures.
GTbets is safe and secure, with exceptional customer service and a reputation for strong user security. And for football fans in Minnesota, you will instantly notice the reduced site juice on NFL and College football sides and totals. Further tempting football enthusiasts, promotional offers can provide NFL spread bets with a reduced spread of half a point.
Pros:
Reduced juice on football sides and totals
24/7 customer service
Great security record
Cons:
Occurring charges on withdrawal fees
Large rollovers on bonus points
How to Bet Online in Minnesota: Is sports betting legal in Minnesota?
Simply put, no, sports betting isn't legal in Minnesota. Lawmakers have shown an interest in the legalization of Minnesota sports betting for three consecutive years but, as of October 2022, wagering isn't legal. Legislators attempted to push the sports betting debate in 2022, but a fightback from various administrators has forced Minnesotans to wait.
Legalized sports betting in Minnesota has received support, but the primary gaming stakeholders in MN are made up of 11 Indian tribes that currently run 19 casinos. The tribes have shown concern about Minnesota offering more sports betting licenses as they believe it could be detrimental to the state's gaming industry.
The sentiment of the Minnesota Indian Gaming Association changed ahead of the 2022 session that worked closely with government members to legalize sports betting.
A sports betting bill was presented to tribes in which tribal casinos would retain sole rights to the sports betting industry in the state; however, an amended bill saw the addition of two horse racing tracks, and the tribes backed out.
The bill was postponed, and sports fans will have to wait until 2023 for the Gopher state to have another chance at legalizing sports betting.
Despite this, Minnesota citizens don't need to wait for their government to approve a social and entertaining activity that's enjoyed by millions across the planet. Bettors in Minnesota or anywhere in the United States can legally use the services of offshore sportsbooks.
The current laws prevent in-state sports betting operations, but they can't stop you from registering with an offshore bookmaker. Offshore online sportsbooks don't violate federal law either.
That said, be sure to find a reputable and trustworthy operator by following the guidance provided by our experts, that have delivered the best online sports Minnesota sports betting sites on a platter.
To ensure your satisfaction and safety, our reviews and best sportsbooks guide will highlight the best user experiences and areas that provide fast payouts and present the operators with excellent customer service.
Latest Minnesota Sports Betting News and Developments – A 2022 Timeline of Sports Betting in Minnesota
October 17, 2022 – As sports betting in Minnesota remains illegal, locals have traveled to Iowa, where wagering on sports has flourished with the return of the NFL. $200 million wagers were disclosed in September's report, a vast 61% upswing from August.
October 3, 2022 – With Minnesota locals traveling to neighboring states to place legal wagers, the MAPG (Minnesota Alliance on Problem Gambling) cautioned locals to keep problem gambling in mind. This is also a reminder that the legalization of sports betting is on legislators' minds.
September 19, 2022 – A poll held by the Star Tribune, MPR New, and Kare 11 revealed that close to 50% of Minnesota locals want sports betting legalized in the state.
September 2, 2022 – Although legislators highlighted a one-off session on sports betting that could take place in the summer, nothing of the sort came to fruition. The future of Minnesota sports betting is still unknown, however, sources believe that 2023 could provide different results.
August 9, 2022 – Media outlet MinnPost discussed what's needed for Minnesota to legalize sports betting. A resounding answer pointed towards the tribes and horse racing tracks, both of which need to compromise on the situation for anything positive to surface.
Minnesota Sports Betting Teams
Minnesota has numerous professional and semi-professional sports teams in various sports and leagues. Most teams are based in Minneapolis, but every major league team is named under the state.
The most notable athletic teams in Minnesota are:
Minnesota Twins – MLB (Baseball)
Minnesota Vikings – NFL (Football)
Minnesota United FC – MLS (Soccer)
Minnesota Wild – NHL (Hockey)
Minnesota Timberwolves – NBA (Basketball)
Minnesota Lynx – WNBA (Basketball)
Minnesota Golden Gophers – Big Ten (College Football)
Minnesota Golden Gophers – Division I (College Basketball)
How to Bet on Sports in Minnesota?
While the North Star State hasn't officially legalized sports betting, this doesn't prevent Minnesota bettors from wagering on their favorite teams. Minnesotans can register with an offshore sportsbook to wager on sports in Minnesota. Offshore bookmakers aren't required to comply with Minnesota laws, thus making it entirely legal for Minnesotans to place online sports bets with one of our reputable sportsbooks.
Bookmakers Review aims to make sports betting in Minnesota simple, and our experts have meticulously examined every offshore betting site to create a top-rated guide.
We compile information and give each offshore sportsbook a rating; you will find the most reputable and trustworthy operators with an A+ rating. You can guarantee these providers have delivered Minnesota sports bettors with exceptional service, making them the best choice for sports fans in Minnesota who're looking for the best online sports wagering experience.
Signing up for an offshore sportsbook only takes a couple of minutes. You can then make a deposit, claim your welcome bonus and place your first wager.
Compare the Best Minnesota Betting Sites & Sportsbooks
| Sportsbook | Rating | Online Since | Payment Methods | Read Review |
| --- | --- | --- | --- | --- |
| BetOnline | A+ | 2001 | Credit Card, Bitcoin, Crypto, Cashiers Check, Bank Transfer P2P | BetOnline Review |
| Bookmaker | A+ | 1996 | Credit Card, Bitcoin, P2P, Crypto | Bookmaker Review |
| Heritage Sports | A+ | 2001 | Credit Card, Bitcoin, Cashiers Check, Bank Transfer, P2P | Heritage Sports Review |
| Bovada | A+ | 2011 | Credit Card, Bitcoin | Bovada Review |
| Everygame | A | 1996 | Credit Card, Bitcoin, Skrill, Neteller, Bank Transfer, P2P | Everygame Review |
| BetAnySports | A | 2002 | Credit Card, Bitcoin, Electronic Check | BetAnySports Review |
| WagerWeb | A | 1994 | Credit Card, Bitcoin, Cashiers Check, Bank Transfer, P2P | WagerWeb Review |
| BetUS | A | 2000 | Credit Card, Bitcoin, Bank Transfer, P2P | BetUS Review |
| JustBet | A | 2000 | Credit Card, Bitcoin, P2P, Crypto | JustBet Review |
| GTbets | A | 2011 | Credit Card, Bitcoin, Crypto | GTbets Review |
FAQs – Minnesota Sports Betting
Is sports betting legal in Minnesota? 
Sports betting in Minnesota hasn't been legalized. Minnesota legislature attempted to bring legal sports betting to the state in 2022, but the disagreements between Indian tribes and racing tracks caused the bills to fail. However, the Minnesota legislature is optimistic for the 2023 session, and legal analysts expect more positivity towards sports betting from the parties involved. 
When will sports betting be legal in Minnesota?
Sports betting in Minnesota won't arrive in front of the government again until 2023. This, however, doesn't solidify its legality. Indian tribes that operate 11 casinos in Minnesota have caused the prevention of legal sports betting in MN, so their position in front of the legislature will be imperative at the next session.
What are the best sportsbooks in Minnesota?
If you're a Minnesota resident wanting to wager on sports, you must sign up with an online offshore sportsbook. In reality, our Bookmakers Review list of best sportsbooks provides equally impressive services to the legal sportsbooks that operate throughout America. The only difference between nationally operated sportsbooks and offshore sportsbooks is their location. If you're looking for an extensive breakdown of the best available offshore sportsbooks in Minnesota, look no further. We will continue to evaluate and track the progress of each offshore sportsbook brand to deliver the most recommendable advice.  

You can read our offshore sportsbook reviews and compare your favorites to decide which brand suits you best, but our top ten offshore sportsbooks for Minnesota are as follows: 

• BetOnline
• Bookmaker
• Heritage Sports
• Bovada
• Everygame
• BetAnySports
• WagerWeb
• BetUS
• JustBet
• GTbets
Is it safe to play with sportsbooks in Minnesota?
Once our experts begin their reviewing process, security and customer service are two crucial aspects that dictate how we rate our favorite offshore sportsbooks. 

BetOnline, Bookmaker, Heritage Sports, and Bovada are perfect representations of elite-level offshore online sportsbooks in Minnesota that provide flawless security measures for their customers.
What's the difference between regulated and offshore sportsbooks?
Regulated sportsbooks will be forbidden in the state of Minnesota until laws and regulations have given sports betting the green light in court. The next legislative session where this could happen is in 2023.

The federal government cannot regulate offshore sportsbooks. This gives United States citizens a completely legal and safe avenue for sports gambling if located in a state that doesn't offer regulated sportsbooks.
What is the legal gambling age in Minnesota?
Although the state doesn't currently offer betting on sports online, there is a state lottery and there are several tribal casinos that offer card rooms, slots, and more. The legal gambling age to participate in those activities is 18 years old.

Some tribal casinos may want players to be 21 years old to enter if it is a place where alcohol is sold.

However, Minnesota residents can visit offshore online sportsbooks. These online operators offer betting on popular sports, college athletics, politics, esports, and more. You can use these sites as long as you are old enough to gamble in your state.