Online Poker in New York – Is it Legal?
Online poker is becoming increasingly popular among residents of New York. Some of the most popular online poker sites available offer various attractive features such as welcome bonuses for new customers, same-day payouts, and even advance options like anonymous playing.
If you are a resident of New York and are interested in playing online poker from your state, then the guide we present below will be immensely helpful for you. After carefully researching numerous online betting sites available, we have constructed a list of our top choices, before going into further detail on the pros and cons of each site.
Furthermore, following this, we guide you through all of the important information that you should be aware of when engaging in online poker from the state of New York and why offshore sportsbooks are the best choice.
New York Betting Guides
Finding the best New York betting sites and knowing where to start with a new betting market can be difficult, which is why we suggest giving one of our other online betting guides a read.
The Best New York Online Poker Sites
Our team has rated dozens of online betting sites available to New York residents to come up with a comprehensive list of the top four most impressive online poker sites.
All of the sites on our list are not only completely safe, reliable, and trustworthy, but they also offer poker enthusiasts the chance to play both cash games and tournaments. We found that the top four most appealing online poker sites are:
New York Online Poker Sites Reviewed
When it comes to online poker sites available to New York residents, there are several top-notch offshore poker sites available, all of which offer different qualities and features.
Explore our reviews of the best sportsbooks for online poker on our list and you are guaranteed to find the perfect online poker experience for you.
1. Bovada: Poker Room With Highest Traffic in the U.S.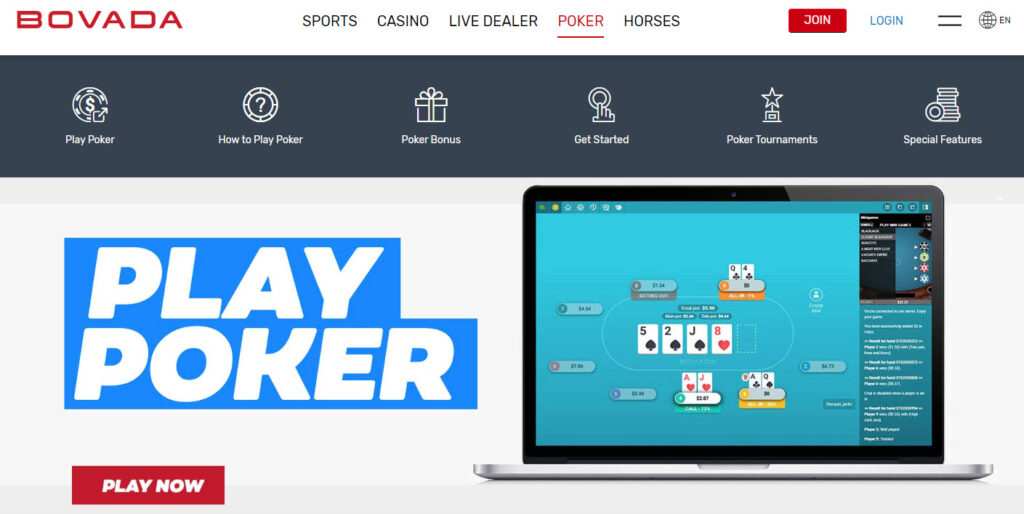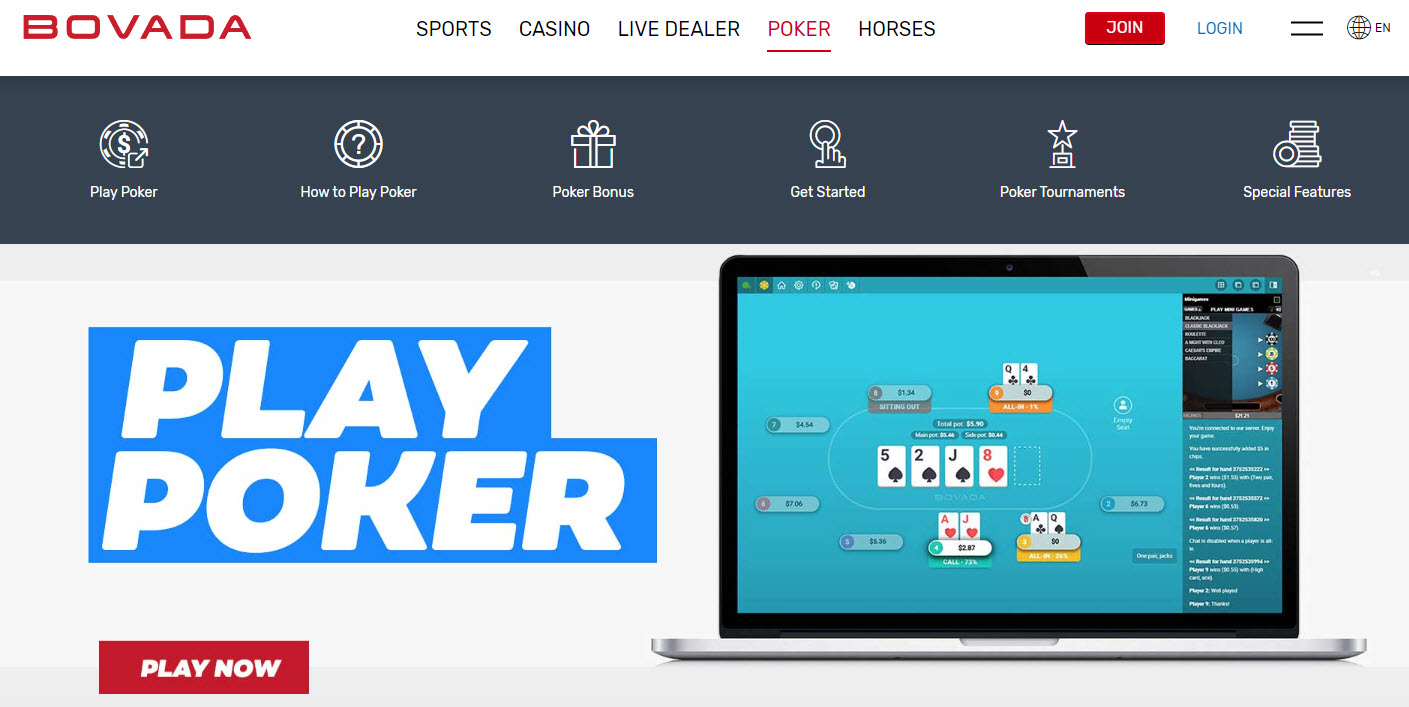 Bovada is the number one site on our list, and this is no surprise considering it prides itself in being the host of the busiest online poker room in the United States. Bovada runs on the PaiWangLuo network, a fast and efficient provider that allows the site to offer customers the chance to play in live poker tournaments, so customers can engage in real time and bet against other players from all around the world.
The superb network the site runs on guarantees that customers will never face issues such as slow site speed or too much traffic. Additionally, Bovada allows customers to avail of guaranteed weekly prizes that can add up to more than $2 million. Not only this, but Bovada also holds the best MTT schedule in the United States.
Customers can play games such as Texas Hold'em, draw poker, Omaha, Omaha Hi-Lo, and many more, while also being able to engage in exciting events such as knockout tournaments, SNG tournaments, turbo tournaments, and fast fold events.
Bovada also offers generous bonuses and promotions to both its new and existing customers, one of which is a 100% welcome bonus for new customers worth up to $500. Not only this, but the site gives customers their $500 welcome bonus in $5 daily increments, meaning you will be given a gift from Bovada every time you play on the site.
Customers who regularly play online poker with Bovada can also get site credits and points for being loyal customers, which they can trade in for certain prizes and offers.
Pros:
Most popular online poker room in the U.S.
Wide variety of players and skill levels
No HUDs allowed
Cons:
Mobile version not optimized for multi-table play
Rake percentage is higher
2. BetOnline: Third Busiest Poker Network in United States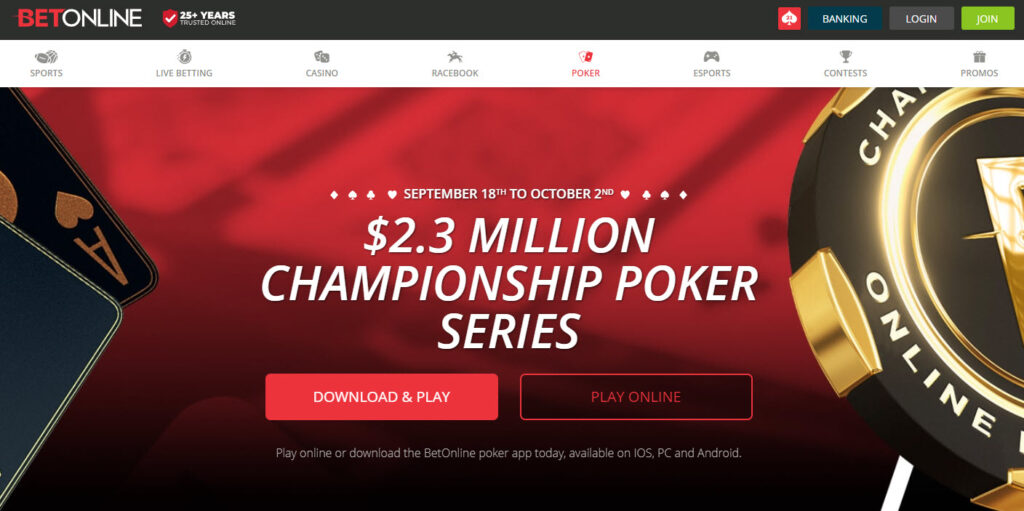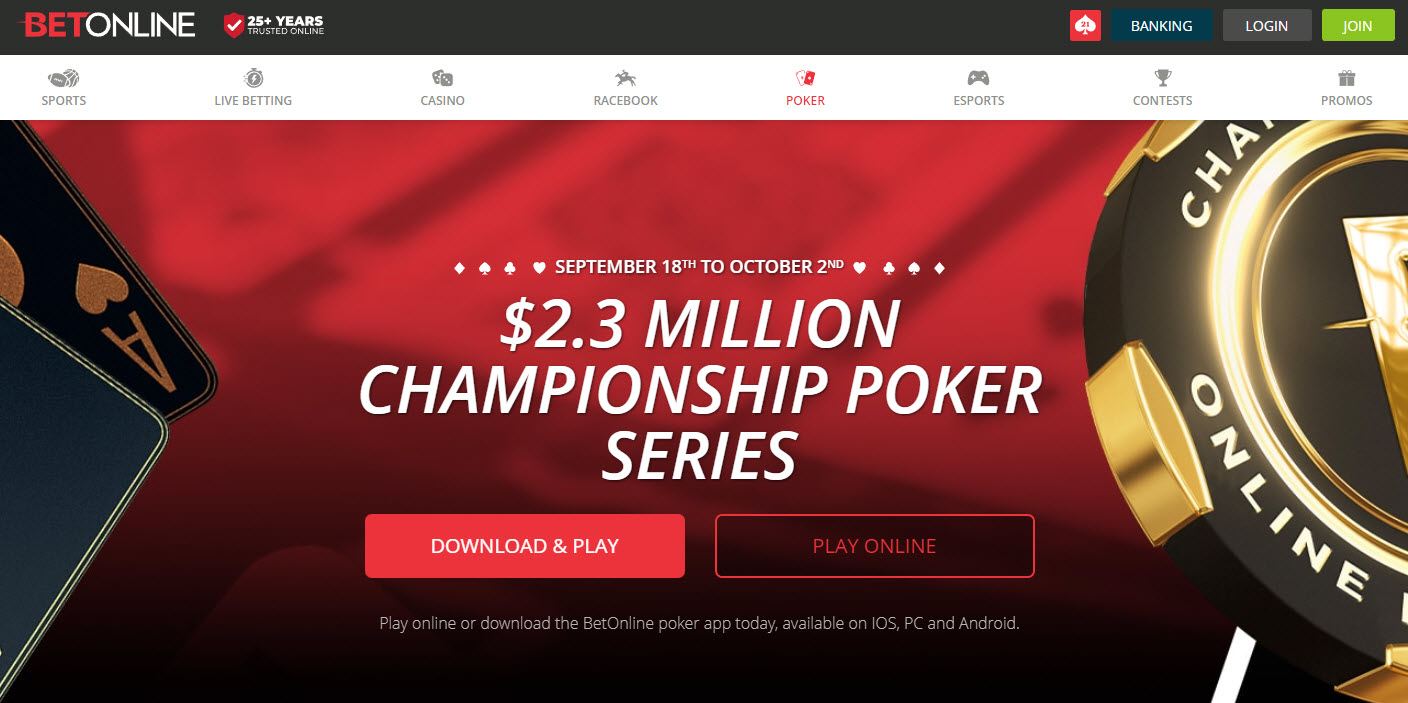 BetOnline is another excellent online poker room and is a perfect option for any New York poker player interested in tournaments. This site is accepting of all types of players and runs on the Chico Poker Network, a highly efficient provider and the third busiest poker network that accepts American players.
Due to its attraction of both American players and those from various other parts of the world, BetOnline welcomes a range of players to its poker rooms, meaning no customer will ever feel uncomfortable or out of place, regardless of their skill level or experience in the online poker world. Some of the tournaments offered by BetOnline include:
$1 Million Windfall
Sunday Majors
Nightly Monsters
The site also offers various bounty events such as Omaha tournaments, SNGs, and rebuy frenzy tournaments.
Customers of BetOnline can avail of the generous bonuses it offers, such as the 100% sign-up bonus of up to $1,000 for new customers joining the site. Additionally, customers can also avail of the bad beat jackpot feature, which has paid out six-figure sums in the last few years.
Pros:
Best variety of tournaments
Same-day crypto withdrawals
Excellent user experience
Cons:
Allows use of HUDs
Fees on CC deposits
3. Everygame: Excellent Rakeback for Online Poker Players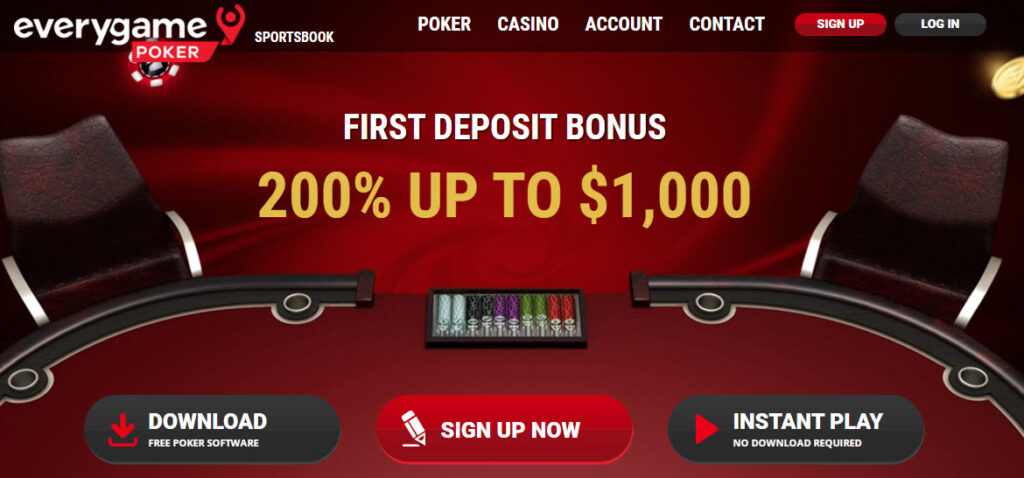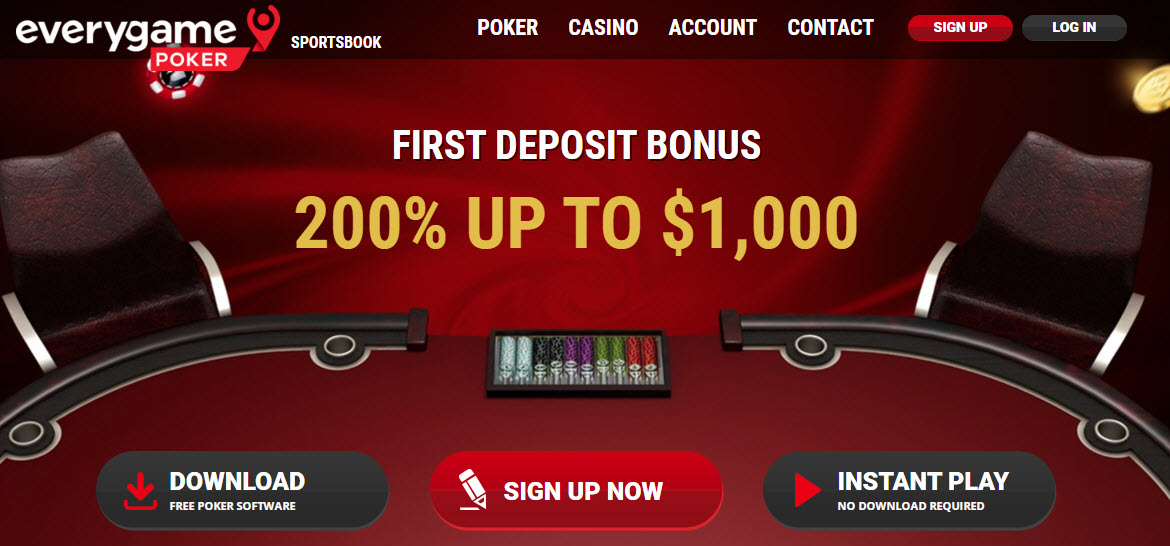 Everygame is another available option for New Yorkers looking to play poker on a high-quality online poker site. This site prides itself in offering a better rakeback rate than any other site available to New York residents, with customers being able to have up to 36% of their rake placed back into their account.
Everygame also offers impressive bonuses and promotions to its customers, with new customers of the site being able to avail of a generous 200% welcome bonus of up to $1,000. The site operates on the Horizon Poker Network and allows customers to engage in a variety of video poker games. Not only this, but these customers can also play tournaments, freerolls, ring games, SNG events, as well as traditional poker games like Texas Hold'em and Omaha.
Pros:
36% rakeback promo
200% sign-up bonus
Offers a loyalty program
Cons:
Not as popular as competitors
4. SportsBetting: High Betting Limits and Great Bonuses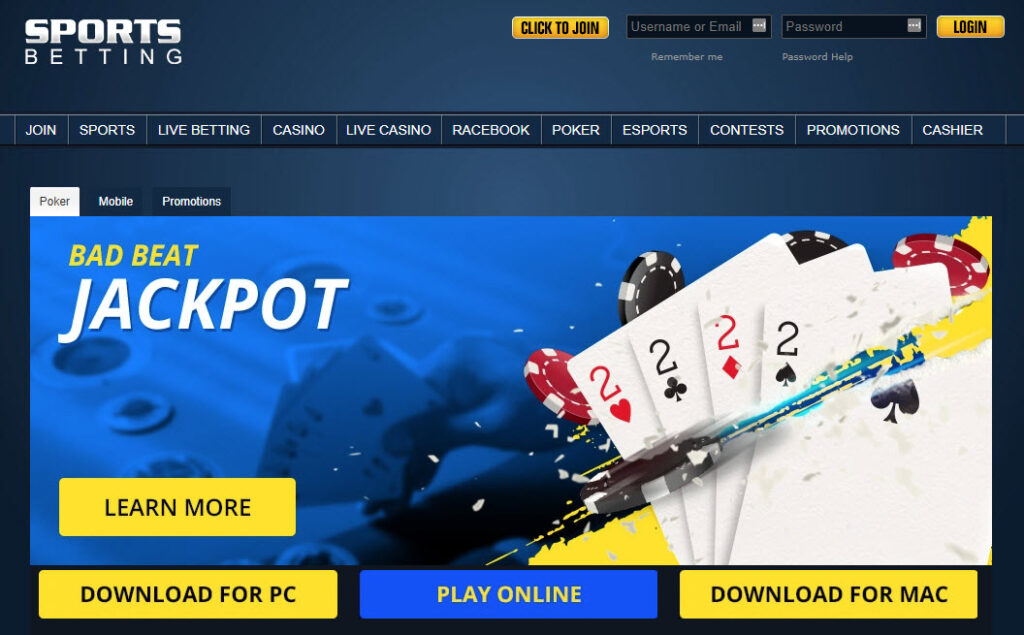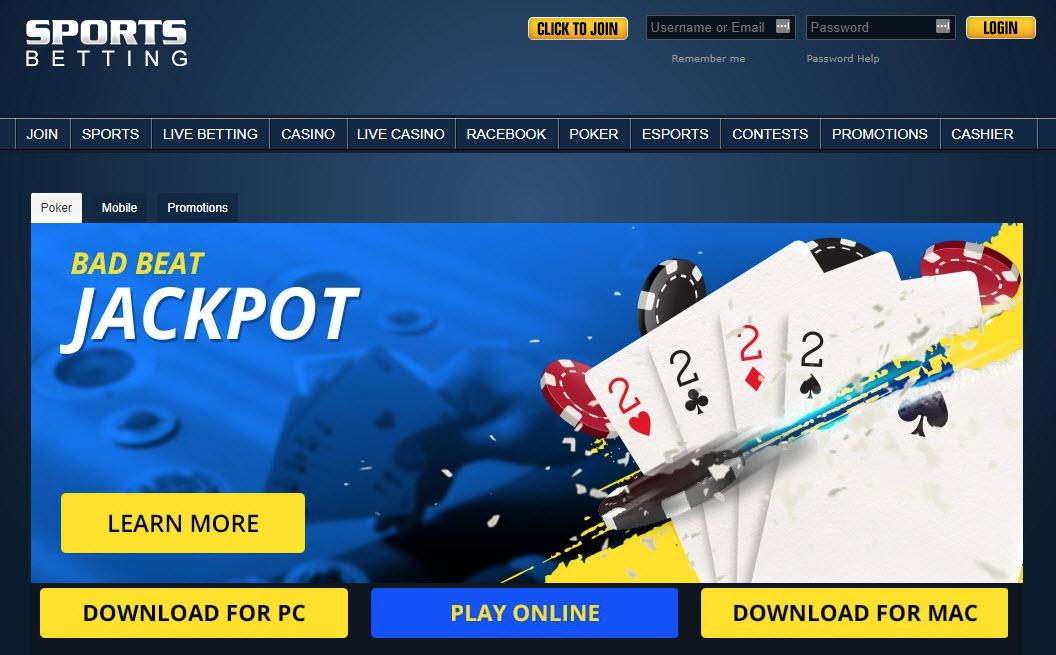 SportsBetting.ag is another excellent option and one of the best online poker sites regarding quality and reliability. SportsBetting is the sister site to BetOnline, and while it may not boast the same impressive software, SportsBetting matches BetOnline with its high-quality customer service, generous bonuses, various banking methods accepted and extensive betting options.
Not only does SportsBetting provide online poker players with generous promos, but it also allows them to play exciting cash games and take part in numerous poker tournaments. In addition to its attractive online poker section, SportsBetting also showcases strong sportsbook, casino, racebook, and esports sections. 
Pros:
Rakeback offer is second only to Everygame
Quick and easy payouts
High emphasis on customer safety and security
Cons:
No anonymous tables
Not as polished as sister site BetOnline
Is online poker legal in New York?
The only legal land-based poker option in New York is the poker tables you'll find at the state's tribal casinos. Currently, there is no locally-regulated option to play real-money poker games online.
That being said, it is perfectly legal for residents of New York to play poker using offshore sites. These sites are legislated by foreign licensing bodies, so they are not under the regulation of the state of New York.
While you should always ensure that your choice is safe and secure, all of the offshore poker platforms on our list have been carefully reviewed and analyzed to guarantee they are reliable and trustworthy sites.
Video Poker
If you want to play video poker, you will need to use an offshore site such as Bovada or BetOnline. These sites offer excellent online casino sections featuring a huge range of popular video poker options, while sites like Bookmaker and Heritage Sports allow customers to engage in video poker.
Casual Poker
While it is not legal to play real-money poker games outside of tribal casinos in New York, it is acceptable for residents to play casual games of poker with friends and family. When playing at home, it has to be a social game. You are not allowed to profit from the games, like requiring payment for entry or playing poker for money.
New York Poker Laws
The gambling laws in New York currently limit poker enthusiasts to the poker tables at tribal casinos.
New York has legalized online sports betting, but they have not made it as far as online casino gaming just yet. Since there are no locally-regulated online poker platforms, the best option is to play on an offshore sportsbook.
How to Play Online Poker in New York
If you are considering playing online poker in New York, then you can do so in a few easy steps. Simply sign up with your favorite online poker site from our list, register your account, and make your first deposit.
From here, you can begin to play the most popular poker games online from your laptop, desktop, or even from anywhere in the world at a mobile site.
Banking Methods at Online Poker Sites in New York
All of our highly-rated offshore sites accept numerous deposit methods and withdrawal methods, including debit cards, credit cards (Mastercard, Visa, American Express), bank wire transfers and even crypto (such as Bitcoin, Bitcoin Cash or Litecoin).
Keep in mind that bank transfers will take the longest period of time for the funds to be available in your account. You should also keep an eye out for any offered deposit bonuses, as deposit bonuses can really provide more bang for your buck.
Tips for Playing Online Poker for Money in New York
Whether you are a complete beginner or a more experienced poker player, we feel the tips we outline below could be very helpful to anyone with an interest in playing real-money poker games online:
Only play online poker on the safe and reliable offshore sites recommended by our experts, as we have researched these sites and are certain that they are safe and trustworthy 
Consider playing with a tight-aggressive strategy, which will allow you to be successful without risking the loss of a lot of money. 
Be selective with your starting hands. Refrain from playing on every single hand or on hands with little chance of winning. 
Try to avoid frustration and anger in yourself, while if you spot it in an opponent, try to use this to your advantage. 
Master the art of bluffing, and then use it selectively. 
Gamble responsibly and always practice sensible bankroll management. 
Playing Poker in New York – The Best Online Poker Site
If you are a New York resident and you are interested in playing poker, we strongly encourage you to check out any of the sites we have listed and discussed above.
Our number one choice is Bovada, as this site offers a poker room that is not only highly efficient but also allows customers to play a variety of online poker games and tournaments whenever they want.
FAQ – New York Online Poker
Is online poker legal in New York?
There are no laws in New York that allow residents to play real-money poker games online; because of that, there are no locally-regulated options.

However, residents of New York are free to play online poker on any of the offshore sites we have previously listed and discussed, as these offshore sites are regulated by foreign licensing bodies, and not under the jurisdiction of the state of New York.
Additionally, you can play poker at a land-based casino that is operated on tribal land.
What online poker sites can I play in New York?
You can play with any offshore online sportsbooks as a resident of New York. These aren't your only legal options for online poker, as you can also enjoy other online casino games and other types of gambling with mobile betting apps or poker apps on your mobile devices.
Where can I play poker in New York State?
New York offers in-person gambling and legal poker tournaments at a number of tribal casinos operating on Native American tribal land if you are of the legal gambling age (18). You can additionally play and bet on poker online. Poker is just one of many card dealer games and table games that are available for playing and betting.
Can you really make money online gambling?
Anyone can make real money on online gambling sites. You simply need to play intelligently and only play and bet when you have a high chance of winning.

Of course, there is always a certain amount of luck involved when playing a game of skill, like in online poker or casino games, but if you play your cards right there is always a chance you will win big.
What online gambling sites are legal in NY?
New York bettors can gamble with any offshore gambling sites. These offshore gambling sites offer other forms of gambling as well, including sports betting, slot machines and other popular games of chance. You simply need to be of the legal gambling age to legally enjoy these types of games and betting markets (which is 18).
Can you live bet in New York?
You can place live bets as a resident of New York. The best site for placing live bets on your favorite poker titles is Bovada.