New Jersey Sports Betting – Which are the best NJ betting sites & sportsbooks?
New Jersey has become known as a pioneer for legal sportsbooks in America. The Garden State was at the forefront of the landmark 2018 ruling by the Supreme Court to overturn PASPA and give states the power to legalize sports betting.
New Jersey has been the total revenue leader in the country for sports betting in the last few years, taking in $815 million in 2021 alone.
If you are 21 years old and live in New Jersey, you have every right to start betting on sports legally today. With this guide, we have prepared a list of the best offshore sportsbooks for you to join and bet on sports to win real money today. We also explain what goes into making a quality online betting site.
The Best New Jersey Sportsbooks in 2023
New Jersey Betting Guides
If you'd like to learn about the wide range of gambling options available, rather than just online sports betting sites in New Jersey, check out the rest of our guides for Garden State gambling below.
Best New Jersey Sports Betting Sites 2023
If you want to bet on the New Jersey Devils' next game, who will win this year's Super Bowl, or dip into some international action from a variety of leagues, these online betting sites will have it all and more for you. We checked to make sure they are all eligible for New Jersey users to join as some offshore sites are restricted to users in the Garden State.
Here is our top seven list of offshore sportsbooks for New Jersey users:
The Best New Jersey Sportsbooks Reviews
We have included a more detailed review of our top seven online sportsbooks for New Jersey users. These online betting sites are all located in Costa Rica or Antigua where online gambling is legal, and all sites are operating within the regulations of their local jurisdictions. They are not regulated by the state of New Jersey, but there is no law that says you will be punished for joining any of these legitimate sites that are a one-stop shop for all your gambling needs.
These sportsbook operators offer you the opportunity to wager on the top major sports leagues from all over the world. The broader range of betting options, including the ability to bet on college events, is part of what makes these sites popular options even in a state with a legal online sports betting market and licensed operators of its own.
1. Heritage Sports: Finest Live Betting Platform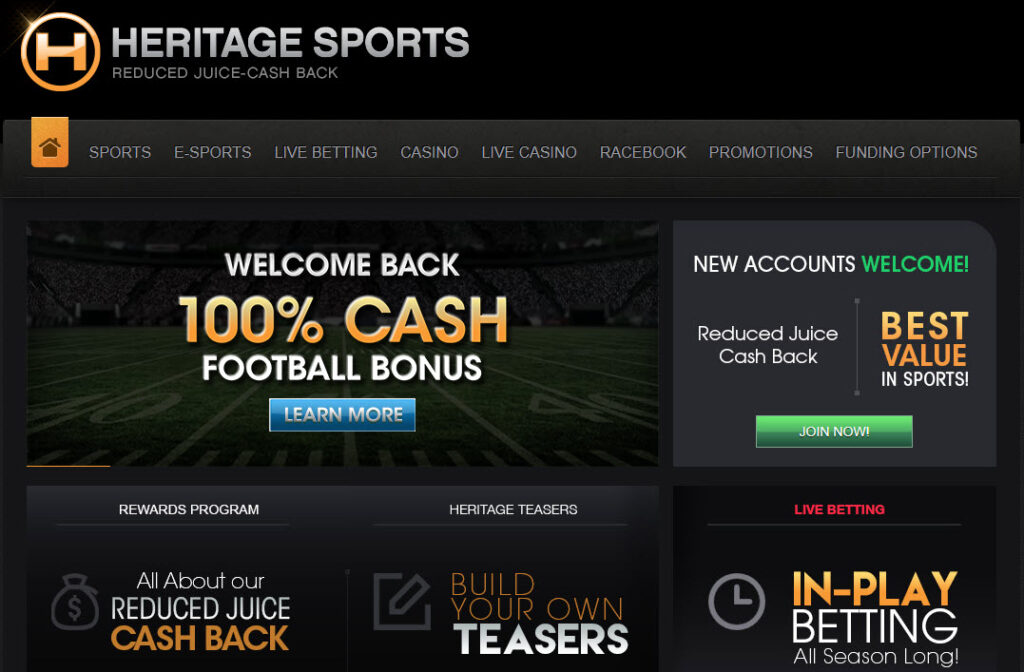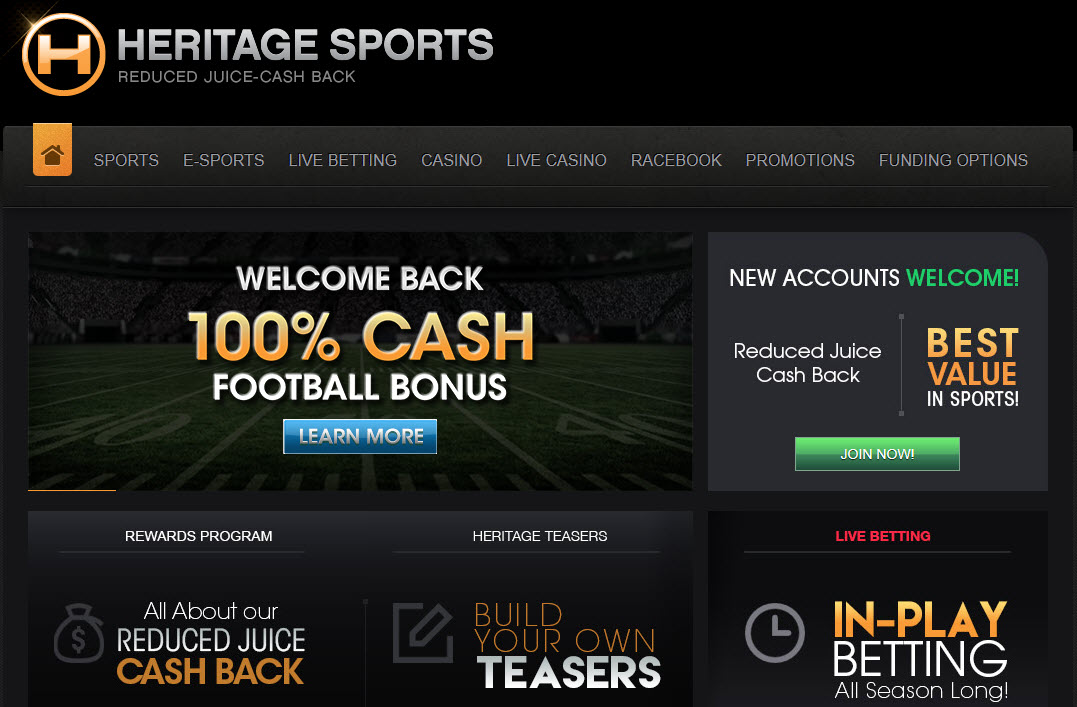 Since 2001, Heritage Sports has built a reputation for delivering a great online sportsbook out of Costa Rica. It is our No. 1 graded offshore sportsbook available to New Jersey residents due to its great mobile site, depth of global sports markets, ease of placing live bets, and the competitive odds you get using the cash-back reduced juice promo.
Heritage Sports users do not have to pick between reduced juice or cash back. You'll get both, and you also can get rebates on daily racebook bets and on your net online casino losses each month. Heritage Sports also offers an exclusive selection of promotions for loyal customers like a free parlay on your birthday (worth up to $500) or getting your every eighth deposit for free based on the average of the previous seven deposits.
Heritage Sports is a must-try sportsbook for anyone new to the game, or for those looking to consistently bet on sports from all around the world.
Pros:
Competitive odds (-108) on all markets
Does live betting better than most
Top-tier mobile sports betting site
Perks like free birthday parlays and every eighth deposit is free
Cons:
Some of the smallest bonuses in the industry
Doesn't do online poker
2. BetAnySports: Best Reduced Juice Model in Industry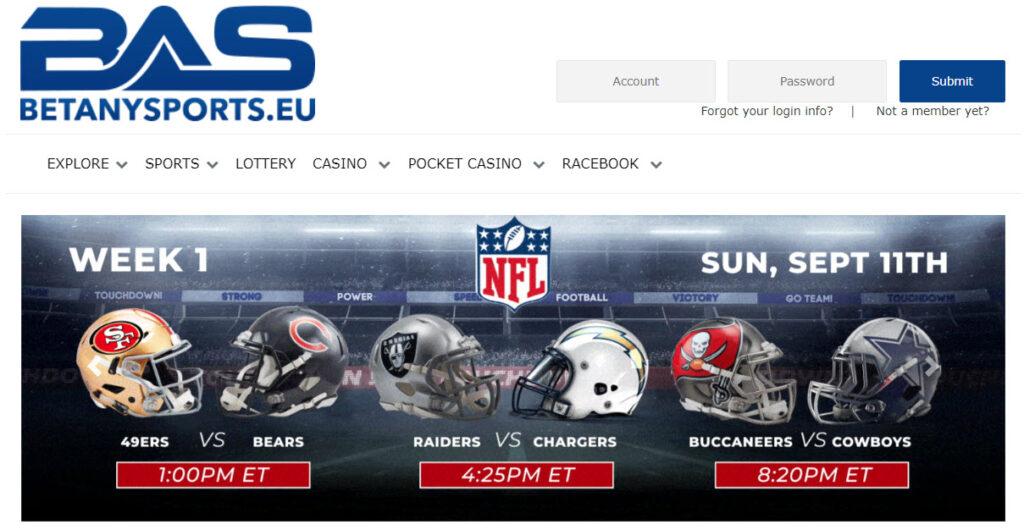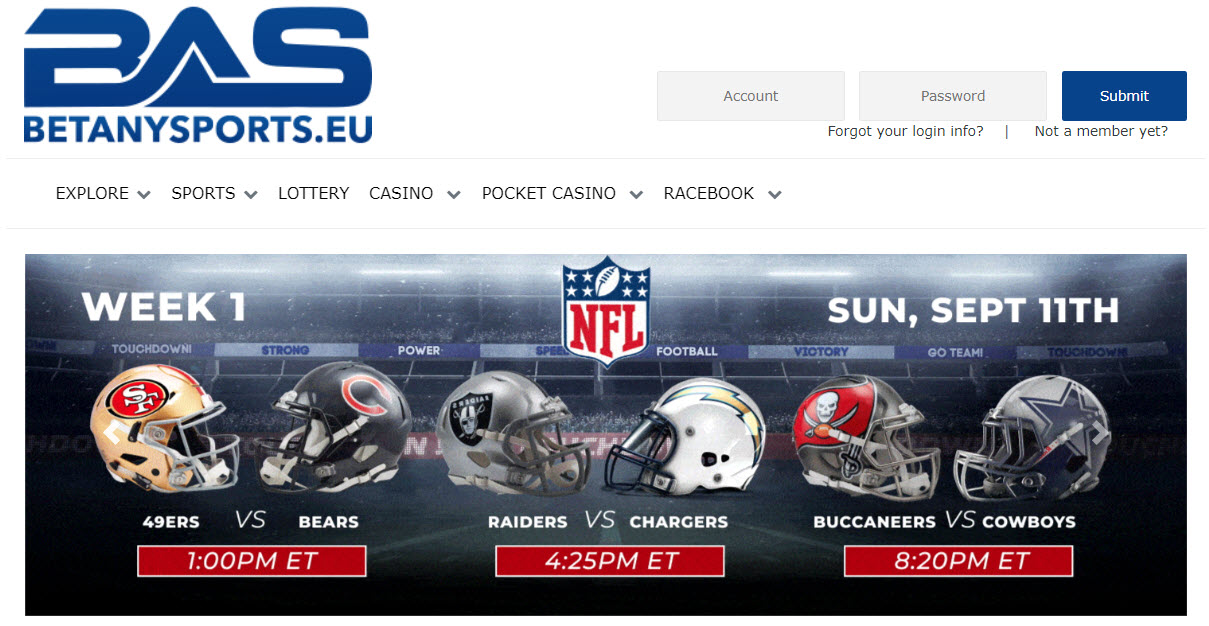 You may be surprised to learn just how many A+ graded online sportsbooks come from Costa Rica, but the great thing about BetAnySports is that it will accept New Jersey users. Not all of the popular sites out there do, but you can get in on the action from New Jersey at BetAnySports.
The site may not look like much, but it is easy to use, offers the most competitive lines and best reduced juice, and it is great for props and building parlays. You can also get a wide variety of sportsbook bonuses to choose from, including daily promotions.
The casino is also a nice touch with seven choices, each coming with its unique library of games. They do live dealer games as well and have a dedicated racebook section. This is the only site offering plays on lottery drawings, and winners will get 80% better payouts than if they bought a ticket from a local retailer.
Pros:
The gold standard for reduced juice with -105 lines
One of the best prop builders out there
Exclusive access to lottery games
Great customer service
Cons:
Not the best limits for high rollers
Site could use a makeover
3. SportsBetting: Outstanding Sports Betting Promos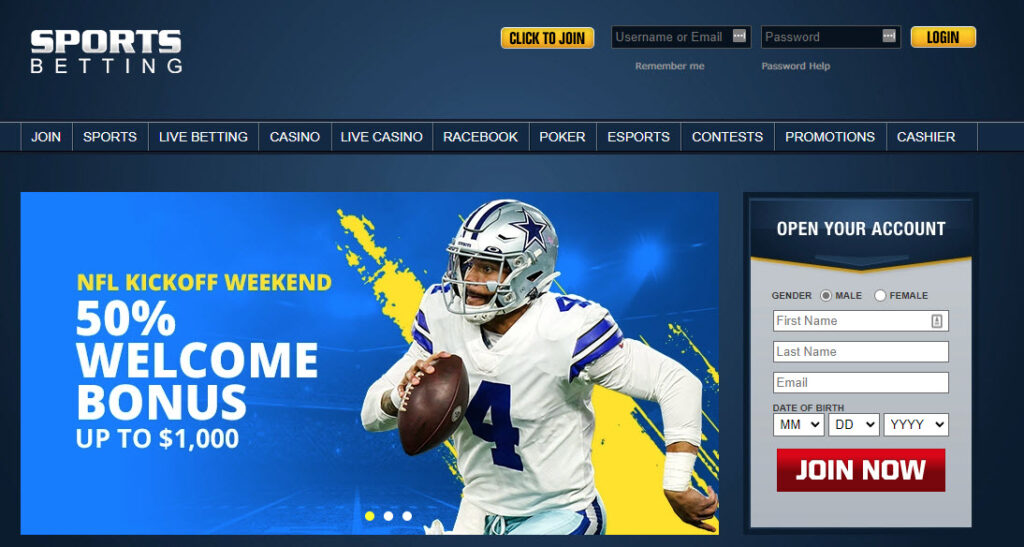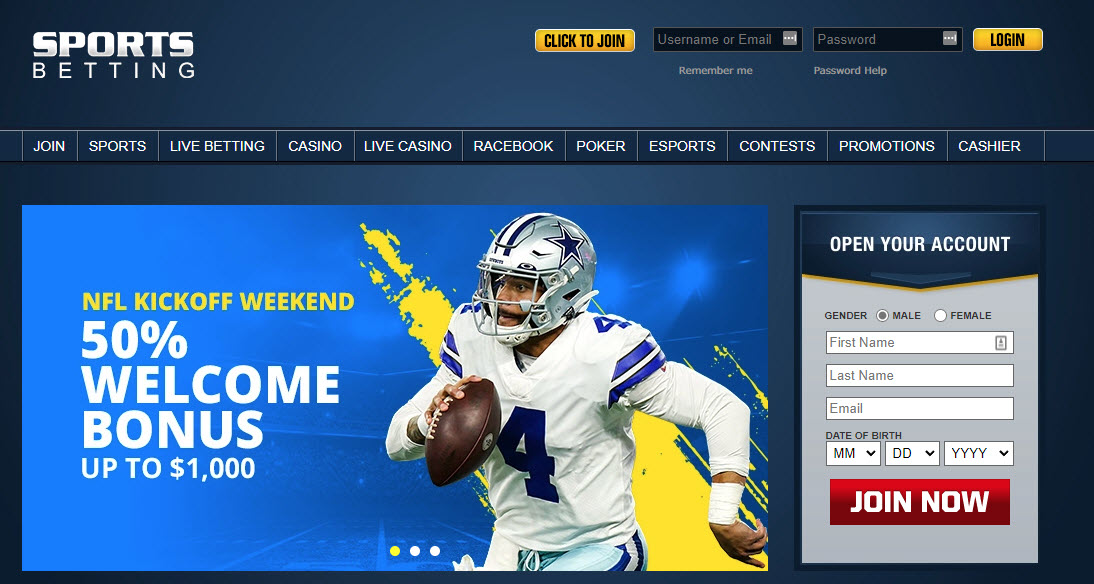 The main difference between SportsBetting and BetOnline is that New Jersey players are not banned from using SportsBetting. Otherwise, they really do offer the same range of betting options, including sports contests, bad-beat promotions, live betting, high limits, poker tournaments, and some of the fastest payments out there.
You also get reduced juice on NHL lines, which is great for hockey fans. If you bet on an NFL team and they score zero points, you can get that bet refunded up to $50, an example of the cool sports promos only found at SportsBetting.
Pros:
Unlike BetOnline, it will accept NJ users
Plenty of options for sports contests
Great poker tournaments
Cool sports promos for bad-beat losses
Cons:
BetOnline has a better interface
4. BetUS: Expert Predictions Give Added Value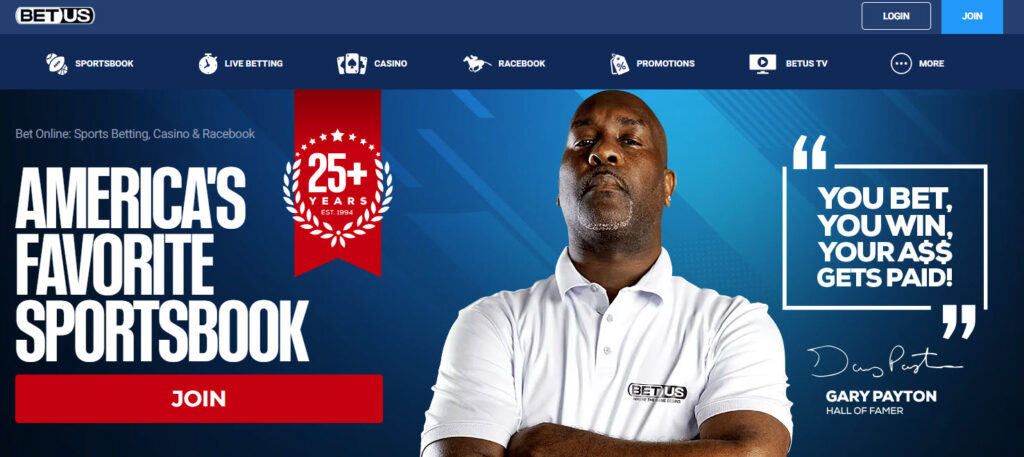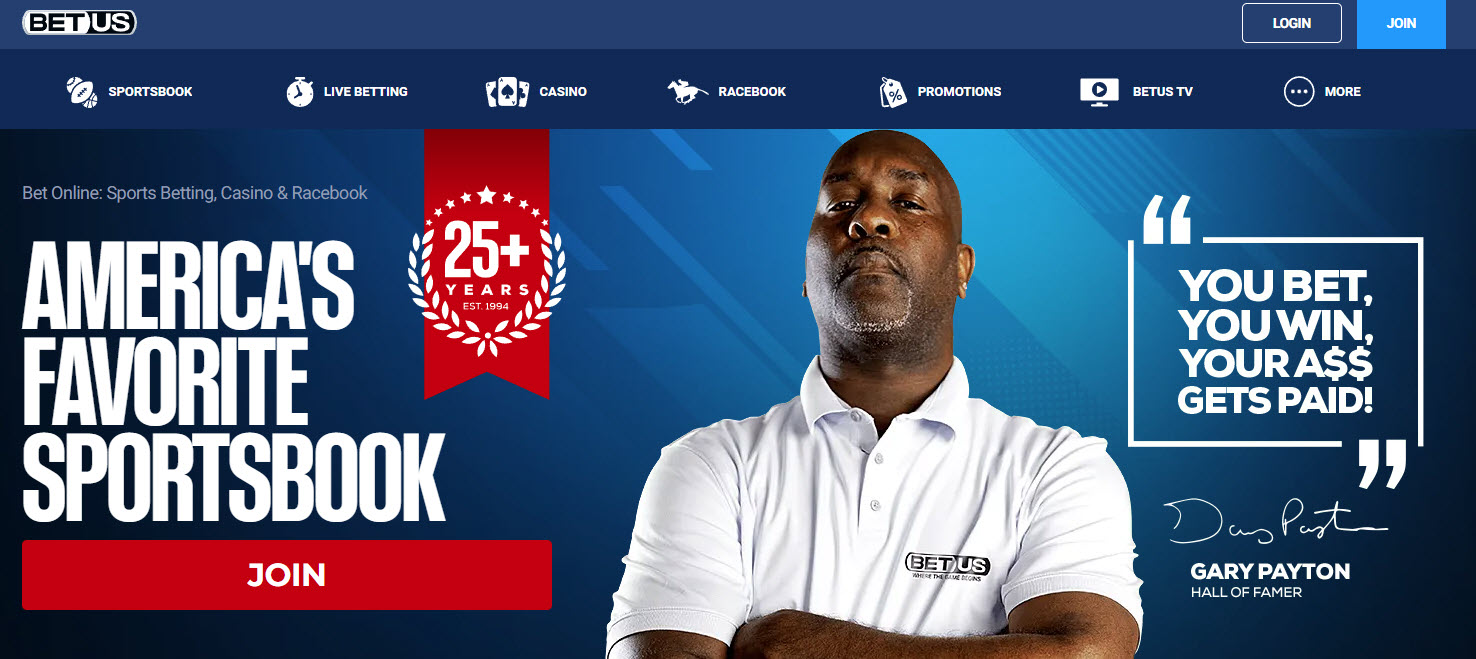 With nearly three decades in the industry, BetUS likely is considered America's favorite sportsbook by many of its long-time fans. We ranked it No. 4 because we do think the rollover requirements on the bonus money could be lower, and the design of this online sports betting site leaves something to be desired.
But you are going to get a quality gambling experience with the sportsbook and wide array of markets available at BetUS. They also do live betting well.
An area where BetUS sprints past the competition is in providing original content through their YouTube channel to give users expert analysis and picks for just about every sport out there.
Pros:
Read informative guides on various gambling markets
Check out unique content with expert picks
Bonuses will get you ready for casino and sports
Great casino game selection
Cons:
Props are not as well done as other online sports betting sites
Needs to lower those rollover requirements
5. WagerWeb: Great Promos for Crypto Users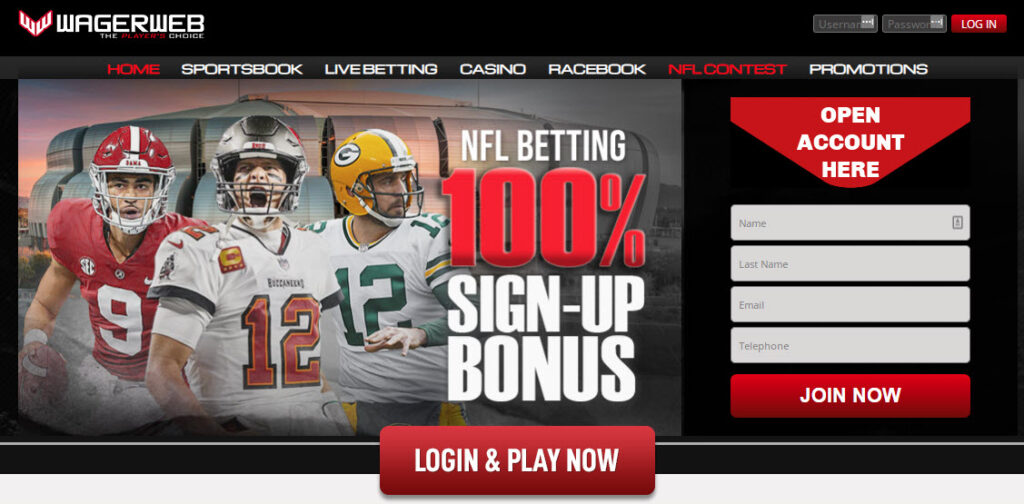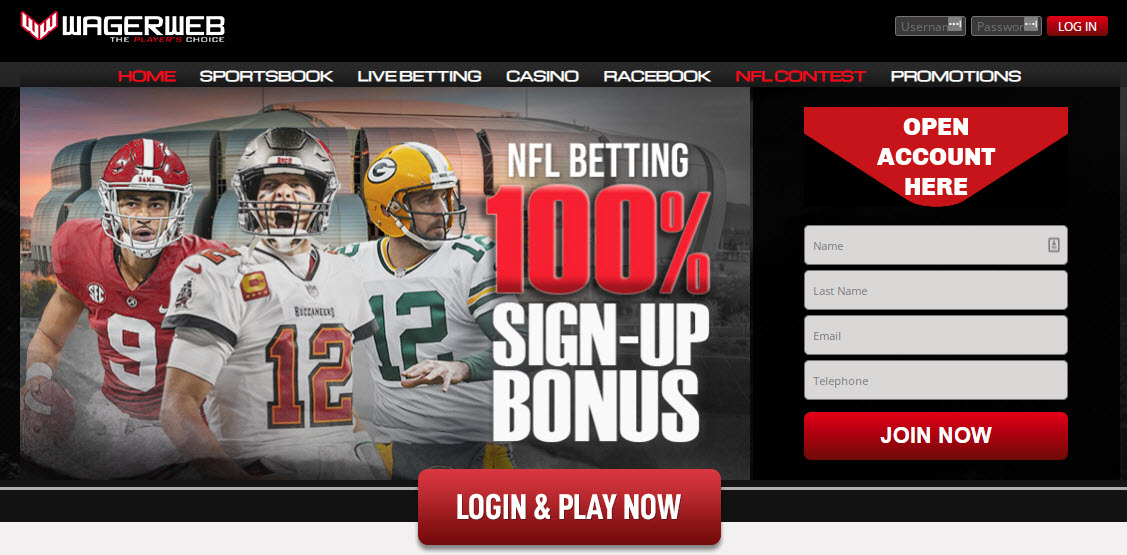 If Heritage Sports is your type of online sportsbook, then chances are you will enjoy WagerWeb as well, especially if you are a crypto user since their best promotions are geared towards crypto users.
Like Heritage Sports, you can expect reduced juice in the -108 range, a well-designed live betting setup, some attention to esports, and you can always count on those crypto payouts to be the fastest available method and always without any fee. They also do weekly NFL contests at WagerWeb.
On Mondays, you can get 1% cash back on your sports bets regardless of volume or if you won or lost. There is no rollover requirement associated with this bonus.
Pros:
Great alternative for fans of Heritage Sports
You will find live betting easy here
Plenty of contests for sports fans to enter
Cons:
Platform is not as modern as Heritage Sports
6. Everygame: Great Online Casino Experience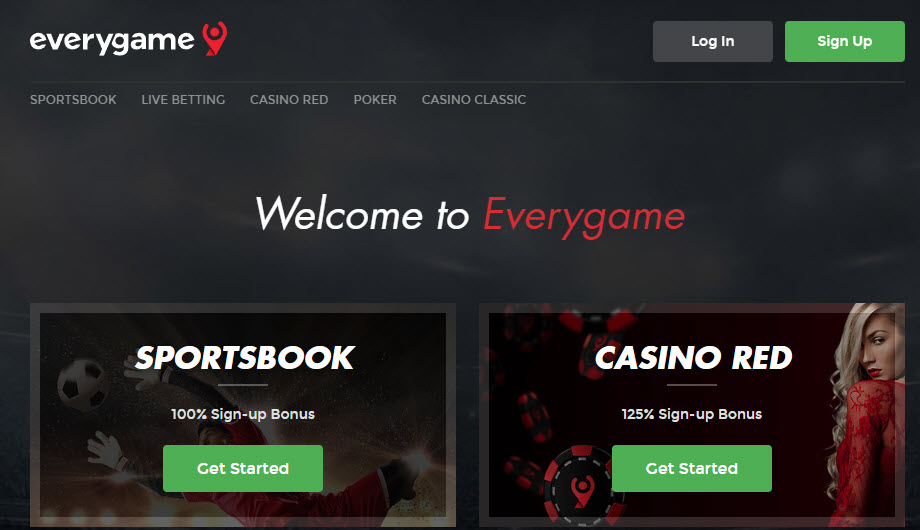 The Antigua-based Everygame, formerly Intertops, is more a choice for the casual sports bettor who won't mind that not every NFL game has props available or that there is no dedicated horse racing section.
But Everygame does contend it features horse racing in the sportsbook section, and the site is the best-looking one on our list. You also will love it for the poker software to play tournaments and cash games, and the casino is also where the site's graphics shine.
If you are not a hardcore sports bettor, you may really enjoy the all-around experience you get from Everygame. But for those looking to bet often on a wide array of sports, you'll want to stick with a site like Heritage Sports or BetAnySports.
Pros:
They basically have every game like the name says
Arguably the best-looking site
Good choice for poker tournament lovers
Cons:
No separate racebook section?
Doesn't offer NFL props for every game
7. JustBet: New Jersey's Alternative for High Rollers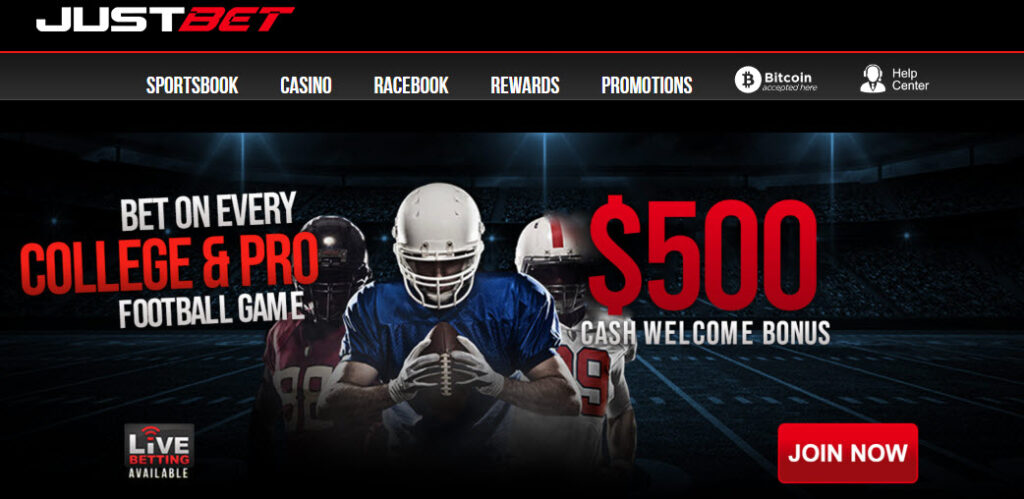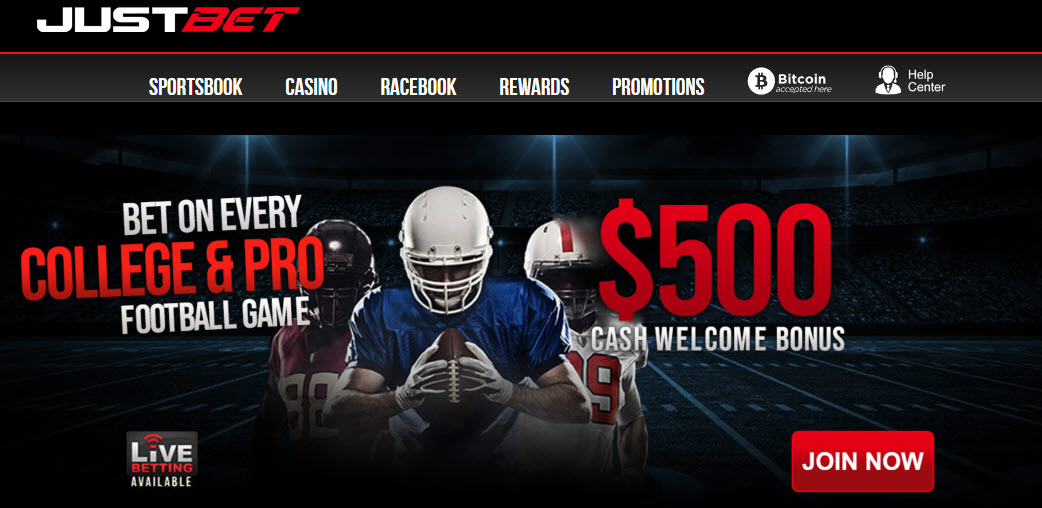 Since Bookmaker.eu has been off-limits for New Jersey users since 2019, you can work around it by using JustBet, its sister site. Like with Bookmaker, you can get access to some of the earliest betting lines in the game, which is great for sharp betting or just getting the best number early in the week before public money sways it a different way.
Also like Bookmaker, you get a casino section that is not as well developed as some of the peers, but JustBet is a serious online sportsbook for those looking to bet on sports often, including major league sports, international sports, college athletic events and more. Enjoy the high limits and rewards program with great reload bonuses.
Pros:
Bookmaker is a sister site
Great reload bonuses if you reach third tier of reward program
Some of the highest limits
Cons:
Interface not as polished as Bookmaker
No poker room
Is sports betting legal in New Jersey?
Yes, New Jersey was one of the first states to allow legal operators after PASPA was overturned in 2018. New Jersey was the state that challenged the nation's sports betting laws and brought them to the attention of the Supreme Court in the first place. Because of Atlantic City's rich gambling history, New Jersey's sports betting industry was at the ready with sports betting licenses being issued right as PASPA was repealed.
The first wager at a land-based casino took place in June of 2018, with online sports betting following shortly after in July.
One of the only restrictions on sports gambling in New Jersey is that you cannot bet on in-state college sports teams nor can you bet on college events physically taking place in New Jersey even if those college teams are based elsewhere.
Otherwise, New Jersey sports bettors are legally able to place bets in person at casinos and bet online using popular apps and websites for sports betting. The state is now home to the nation's largest sports betting industry.
In September 2022, sports betting revenue in New Jersey totaled nearly $100 million for just that month. Through the first nine months of 2022, sports betting revenue stands at $516.9 million.
How did New Jersey become such a haven for sports gamblers? Keep reading to learn about the state's journey to legal sports betting below.
Recent Developments for Sports Betting in New Jersey
As we approach 2023, many states are working towards the legalization of sports betting including retail sportsbooks and online betting platforms. But New Jersey deserves a lot of credit for helping to make this happen.
It goes back to 2011 when a November vote found that 91% of voters were in favor of legal sports gambling. The Sports Wagering Act was created, and Governor Chris Christie signed it. But Christie was quickly sued by sports leagues that were in favor of the Professional and Amateur Sports Protection Act (PASPA), which effectively banned sports betting at a federal level in 1992.
Appeals were filed, Phil Murphy replaced Christie as Governor and continued the good fight, and finally, in 2018, the Supreme Court ruled in New Jersey's favor and struck down the PASPA ruling.
This gave the power back to the states to decide if they wanted sports betting or not. Obviously, New Jersey was one of the first states to legalize sports gambling. By the summer, residents were able to place legal sports bets in person or using online apps.
Today, there is no shortage of popular, licensed sportsbooks operating in New Jersey, including DraftKings, Caesars Sportsbook, FanDuel, BetMGM, Bet365, and more. BetMGM has a partnership with the Jets while the Giants are linked up with DraftKings. Sports betting has become extremely popular and profitable for the Garden State.
Now we wait for other states to follow suit, but just remember it was New Jersey leading the way to overturn PASPA.
New Jersey Sports Betting Teams
When you think of New Jersey sports teams, you probably think of the New Jersey Devils right away. They won three Stanley Cups in the Martin Brodeur era.
The New Jersey Nets were an NBA team from 1977-2012 before moving to Brooklyn. Therefore, the Devils are the only major professional sports team left to bear the New Jersey name, but they are technically not the only major pro team in the state.
There are teams donning the New York moniker that actually play their games in the Garden State, and there are also some notable women's professional sports teams and colleges that are well-known for football and basketball.
National Football League (NFL): New York Giants, New York Jets
National Hockey League (NHL): New Jersey Devils
Major League Soccer (MLS): New York Red Bulls
Premier Hockey Federation (PHF): Metropolitan Riveters
National Women's Soccer League (NWSL): NJ/NY Gotham FC
College (NCAA): Rutgers Scarlet Knights, Seton Hall Pirates, Princeton Tigers, Monmouth University Hawks, New Jersey Institute of Technology Highlanders, Rider University Broncos, and Saint Peter's University Peacocks
Comparing the Best New Jersey Betting Sites & Sportsbooks
| Sportsbook | Rating | Online Since | Payment Methods | Read Review |
| --- | --- | --- | --- | --- |
| Heritage Sports | A+ | 2001 | Credit Card, Bitcoin, Cashiers Check, Bank Transfer, P2P | Heritage Sports Review |
| BetAnySports | A+ | 2002 | Credit Card, Bitcoin, Electronic Check | BetAnySports Review |
| SportsBetting | A | 2002 | Credit Card, Bitcoin, Crypto, Cashiers Check, Bank Transfer P2P, | SportsBetting Review |
| BetUS | A | 2000 | Credit Card, Bitcoin, Bank Transfer, P2P | BetUS Review |
| WagerWeb | A | 1994 | Credit Card, Bitcoin, Cashiers Check, Bank Transfer, P2P | WagerWeb Review |
| Everygame | A | 1996 | Credit Card, Bitcoin, Skrill, Neteller, Bank Transfer, P2P | Everygame Review |
| JustBet | A | 2000 | Credit Card, Bitcoin, P2P, Crypto | JustBet Review |
Key Qualities of the Best New Jersey Sportsbooks
For the sake of full transparency, we are revealing some of the grading criteria we use to rank our top sportsbook operators for New Jersey users.
Wide Range of Betting Options
Sports gambling has come a long way from the days of just betting on the winner or a spread or total. Instead of betting over or under 50 points in an NFL game, you can bet on the total in each quarter, who scores the first touchdown, which team gets to 20 points first, if both teams will get to 20 points, who will have the most passing yards, who will score the last touchdown, if there will be overtime, etc.
Player prop picks have added a ton of possibilities to parlays and what you can do as a sports bettor. Same Game Parlays are also increasingly popular with the ability to put things we just mentioned all on one slip for the same game or combined with multiple games for a huge payout.
Sites that are very flexible with parlay building and a strong selection of props will grade well.
Competitive Betting Odds
It is generally a good idea to have accounts with multiple online sportsbooks. This way you can find the best price or number for something you want to bet on as there will be slight differences at times.
You also can get reduced juice at certain online sportsbooks. Instead of standard -110 and -115 lines, you might see a lot of -105 or -108 lines for the same bet, allowing you to profit a little more.
Bonuses and Promotions
These online sportsbooks are competitive when it comes to their sign-up bonuses, which are a good way to draw new customers in with the promise of a big bonus right off the bat. But do make sure to read the terms of these offers before accepting them, because there usually is going to be a limit on how long the funds last, which parts of the site you can spend them on, and how you must satisfy the rollover requirement before any of that money can be withdrawn.
That is why a selection of promotions for existing customers can be just as important as the welcome bonus when you're a new user. The following list shows some of those ongoing promotions that you can expect to see at an online sportsbook if you use it often enough:
Reload bonuses (works like a deposit match)
Risk-free bets (receive free bets credit)
Rebates/cash back program
Reduced juice lines
Rewards program
Refer-a-friend deals
Enhanced or boosted odds for select markets (almost daily)
Sports contests
Free deposits if certain conditions met
Mobile-Friendly Interface to Make Bets
So many sports bettors are accessing these sites on their phones or handheld device, making it very important to have a site that is designed well for a smaller screen.
Live betting also makes it more likely to use a phone to place bets, so we want to see clear designs where it is easy to quickly navigate the page and bet on our desired leagues.
A mobile sportsbook filled with ads or one that lags would not be a good user experience, so we do give a good grade to having a quality web design.
Trustworthy Reputation
Experience matters to us, so it is no coincidence that many of our top-rated offshore sportsbooks have existed for 20 or 30 years in the business. If a company has that sort of track record of satisfying customers, then that adds to its reputation of being trustworthy.
It is essential that American users trust these sites since they are offshore, and some sites will automatically paint them as being shady for that reason alone when all it really means is they are operated in a different country than the U.S. Any site we recommend has been vetted, is legitimate, and you should trust making your bets there.
Quick and Secure Sportsbook Payouts
A good sportsbook should be flexible in the methods it has for paying out winners. There are many options today including crypto, checks, P2P, wire transfers, and even the ability to negotiate a cash payout. The more options we see available at a site, the better their grade will be when it comes to this important metric. If we detect stories of a poor job of paying out winners, then we are unlikely to recommend that online betting site.
Helpful Customer Service
Good customer service is a must-have in the sports betting industry. Sports bettors may be the most prone to having a dispute over a bet should there be an issue with a player not entering a game or leaving almost immediately with injury. When you need to get in touch with a company, it is best to have 24/7 support with multiple methods of contact ranging from phone calls to emails to live chat to take care of your needs in a timely fashion.
FAQ – Sports Betting in New Jersey in 2023
Is BetMGM legal in New Jersey?
BetMGM is completely legal in New Jersey. However, locally licensed operators are subject to certain restrictions. Offshore sports betting sites include horse racing, international sports and more.
Can you not bet on Rutgers in New Jersey?
New Jersey was eager to issue sports betting licenses after the legalization of sports gambling; however, there is no legal wagering on college events. Offshore sports betting sites can legally offer college betting.
Can you do online sports betting in New Jersey?
Yes, major sports betting apps like Caesars Sportsbook and other sportsbook apps are available. Offshore sports betting sites are also available, offering a larger variety of betting options and a better overall experience with fewer restrictions.
How old do I need to be to bet on sports online in New Jersey?
Most regulated online sportsbooks in New Jersey will require you to be at least 21 years of age to legally place bets. Many of the offshore sportsbooks will require you to be at least 18 years old to join and bet.