Best Real Money Utah Online Casinos 2023
Shawn West has been involved with college basketball, NFL and college football and MLB since he left his job as bank vice president two decades ago. He lives in North Carolina with his wife, children, two dachshunds and a variety of turtles.
Utah takes the hardest stance against gambling of any state in the continental United States. They outlaw all forms of gambling, from sports betting to the state lottery despite legal gambling being allowed at the Federal level. The state does not have any brick-and-mortar casinos or online casinos, including tribal casinos on Native American land inside Utah's borders. This causes many bettors to seek entertainment at casinos in neighboring states.
However, that doesn't mean you have to miss out on the drama and action of casino games or travel out of state just because of Utah's strict gambling laws. You can play roulette, blackjack, baccarat or any number of your other favorite casino games from your own phone, tablet or computer by using offshore sportsbooks. Most sites offer video casino games and live games featuring actual dealers.
While the state also has laws preventing providers in the state from offering online gambling services, offshore online betting sites are located outside of the United States, meaning they don't have to follow state or federal law pertaining to gambling.
Our expert panel has looked at dozens and dozens of offshore Utah betting sites to help assemble this guide to the best online casino gambling available to Utah residents.
After weighing several important factors, our experts came up with this ranking of the top 10 real money online casinos in Utah for 2022. They also went into detail on the pros and cons of each member of their top 10, to help you decide which site will be the best fit for you. We also look at the history of gambling in Utah leading up to its current status, and we look at what, if anything, might change going forward.
The Best Utah Sportsbooks in 2023
Best Utah Online Casino Betting Sites 2023
After reviewing over 100 online casinos available to Utah bettors, these were the ones our blue ribbon panel put at the top of the heap. Here are the 10 best online casino betting sites in Utah.
The Best Utah Online Casino Reviews
Here's an in-depth review of each of our choices for the top 10, including pro and con lists for each one.
1. Bookmaker: Top Overall Online Casino in UT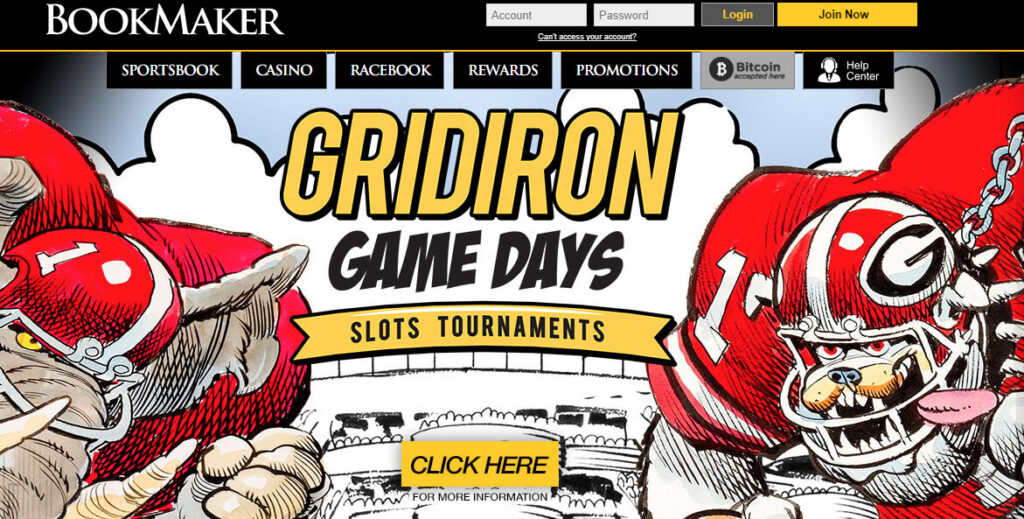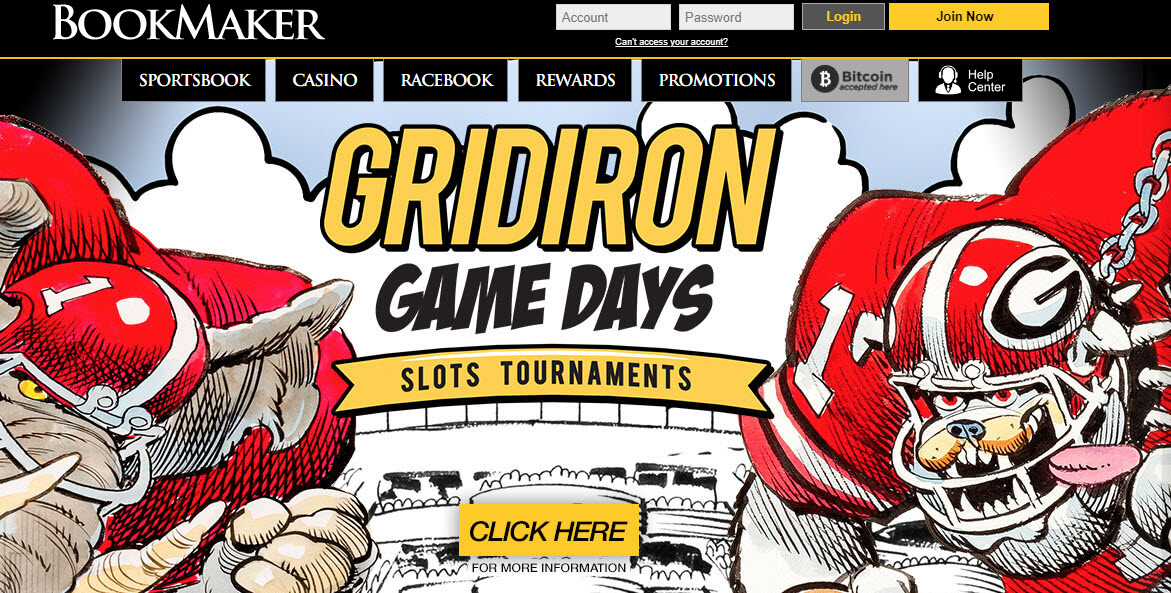 Bookmaker.eu took the top spot in our ranking as the best all-around online casino. Unless you're looking for a deep-cut game title, you'll find everything you would want to play at Bookmaker. They offer RTP slots and a selection of table games that includes blackjack, three-card poker, craps, roulette and Pai Gow. There's also a section for casino-adjacent games like bingo and keno. Bookmaker also gives a nod to first-time gamblers and offers a free casino so rookies can practice the games before they start betting their money.
Bookmaker also has a user-friendly interface that makes it easy for inexperienced gamblers to navigate, and their low minimum bets — some as low as $1 — also appeal to people new to the game.
But, while Bookmaker takes steps to make newcomers feel welcome, it also accommodates its bigger spending and more experienced customers. Their casino has some of the highest limits you'll find, as do the sportsbook and racebook. And the site has the reputation of never shutting down a gambler on a roll, which happens at other places more often than you might think.
Bookmaker's sign-up bonuses match deposits to a maximum of $500, and they allow you to use the money in their casino. They also offer reload bonuses as high as $2,500.
Bookmaker also offers a loyalty program, and all customers are automatically enrolled. It's designed for all customers, and you can earn rewards even if you're not spending a ton of money. And points program bonus money doesn't have any rollover requirements attached.
Pros:
Site accommodates gamblers at all risk and experience levels
Offers high limits and low minimum bets
$500 welcome bonus that can be used in casino
Loyalty program bonus payouts don't have rollovers
Cons:
Other sites have larger libraries of table games
No live online poker room
2. Heritage Sports: Most Hospitable to New Bettors in UT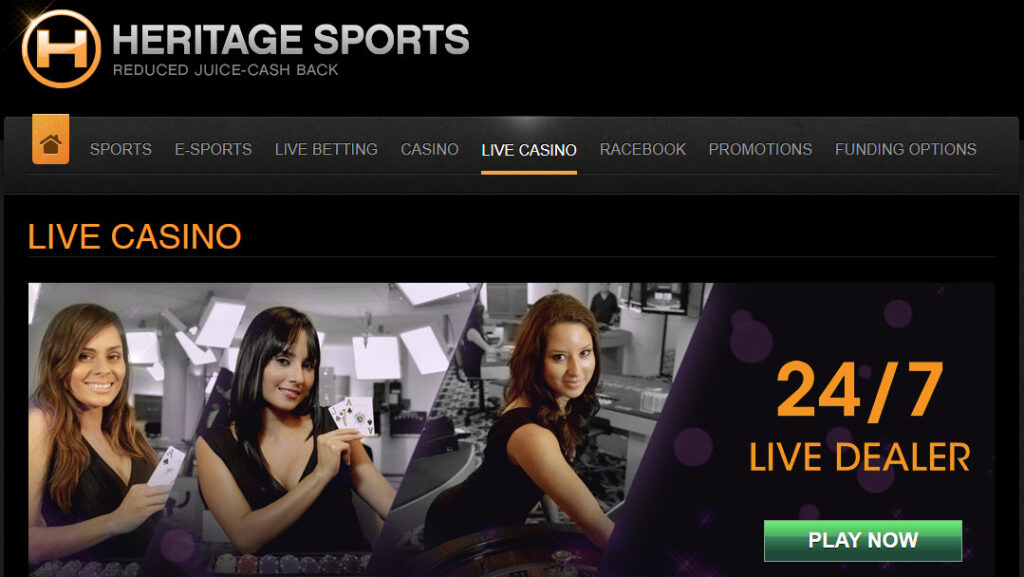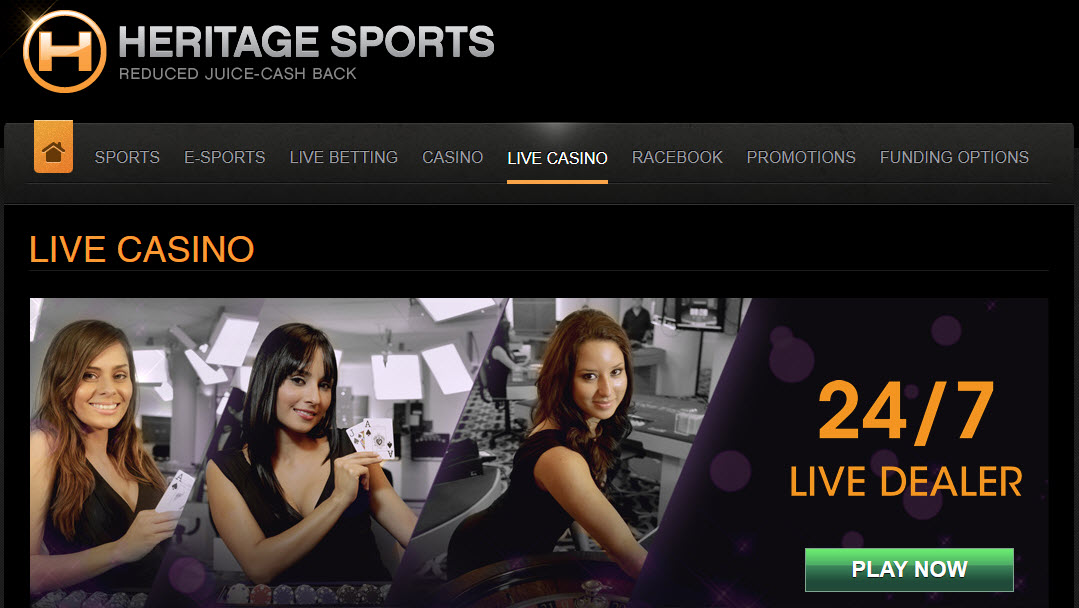 Heritage Sports earned the No. 2 position in our top 10 by making every customer feel like they are number one. The folks at Heritage Sports know how to pamper a customer. They originally were an invite-only gambling site for the elites, and their VIP treatment still reflects those roots.
Heritage Sports was also recognized by our expert panel as the best site for people new to casino gambling. Their user interface is clean and uncluttered, making it easy to find your way around. Other sites are overloaded with bells and whistles, which can be intimidating to someone who isn't sure what to do. Heritage Sports' menu options are organized and make common sense, allowing users to find the games they want to play quickly. They're also as easy to use on a phone or tablet as on the main site.
In addition to the casino, Heritage has a reduced juice sportsbook that's one of the best in Utah and an extensive racebook.
The casino is known for its variety of slot games. Heritage Sports offers classic 3-reel, 1-line slots, as well as more modern 5-reel, 9-line games and even 3D games. There are also 27 different versions of online video poker. Bettors can also play blackjack, roulette and baccarat, and there's a separate live dealer casino.
Heritage Sports has a site-wide cash rebate program that includes rewards for casino activity. And the cash-back you earn doesn't have any rollover requirements attached.
Pros:
Cash back rebate with no rollover requirements
User-friendly software is the easiest for newcomers to use
Wide variety of slots and video poker titles, as well as live dealer games
Outstanding reduced juice sportsbook
Cons:
Welcome bonuses are lower than competitors
No live online poker room
3. Bovada: Best for Online Casino Experience in UT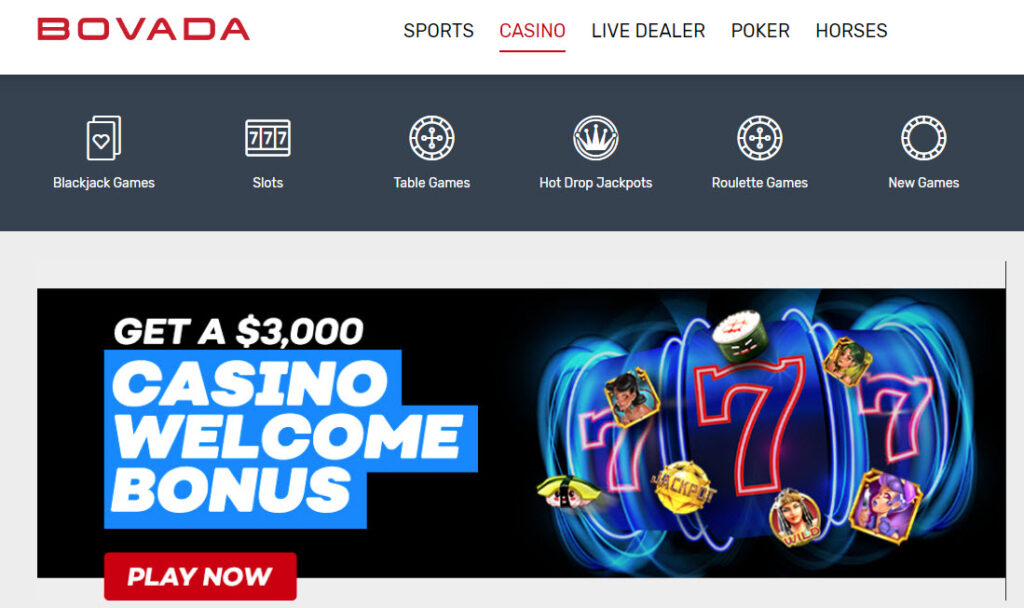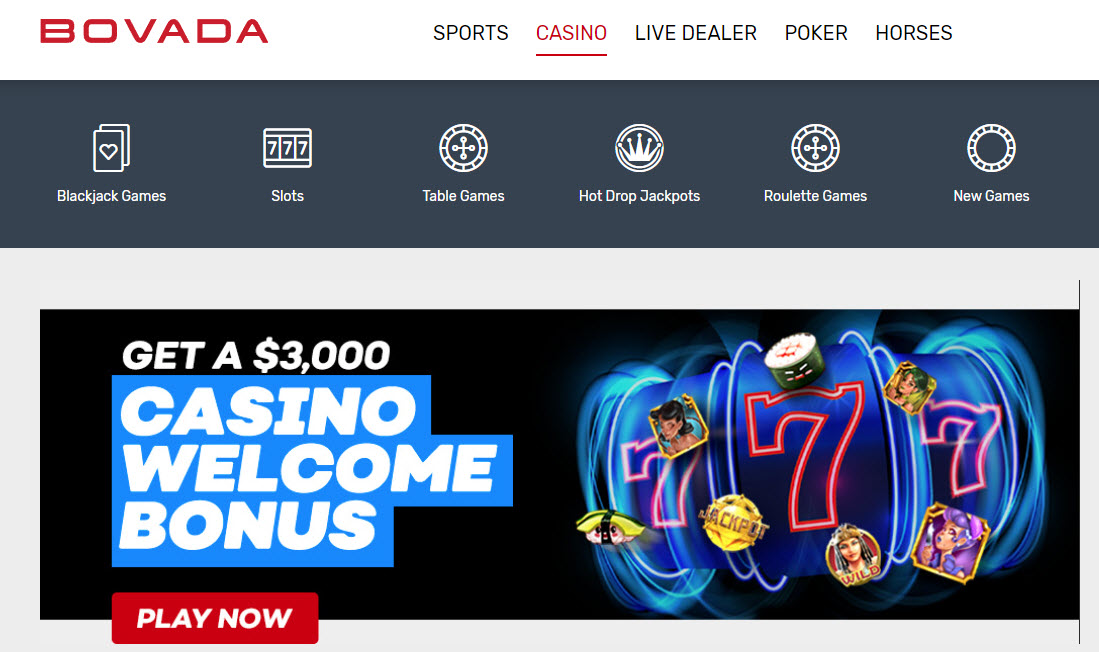 Many offshore gambling sites offer a mobile site that is little more than a boiled-down, less functional version of their main site. Others have a mobile version that is just the main site, shrunk down to nearly unreadable form, in an attempt to crowd everything on the smaller screen.
With more and more gamblers using phones and tablets to play online, it would seem worth the investment to create a mobile betting platform that is efficient and functional, and that's just what Bovada has done. Our panel of experts crowned Bovada as the best mobile platform in Utah. Their mobile interface has the same look, feel and gambling experience as the main site. It's easy to use and organized. So within a few clicks, you'll be able to to put your money down and select a game. Plus the whole thing looks good, with a slick, stylish appearance.
As for the games themselves, Bovada believes in the importance of variety. Its sportsbook has more prop betting options and other markets than any other site, and the casino also emphasizes variety, with a huge library of casino titles. There are 100 different versions of slots and over 200 table games. They have video slots, 3D slots, progressive slot games, three-reel and five-reel games, as well as a poker room and plenty of other options, each separated into organized categories, making it easy to pick what you want to play.
Their selection of table games includes blackjack, several versions of roulette, baccarat and less common games like Andar Bahar, Teen Patti Rapid and Roll the Dice. There's also a nice live dealer casino with 30 different games and bet limits ranging from $5 to $2,500.
Pros:
Best mobile interface in Utah
Offers 100 slots, 200 table games and a variety of options
Home to America's busiest poker room
Biggest live dealer casino in Utah
Cons:
Betting limits aren't as high as competition
Large percentage of the games are from the same manufacturer
4. BetOnline: Biggest Selection of Casino Gaming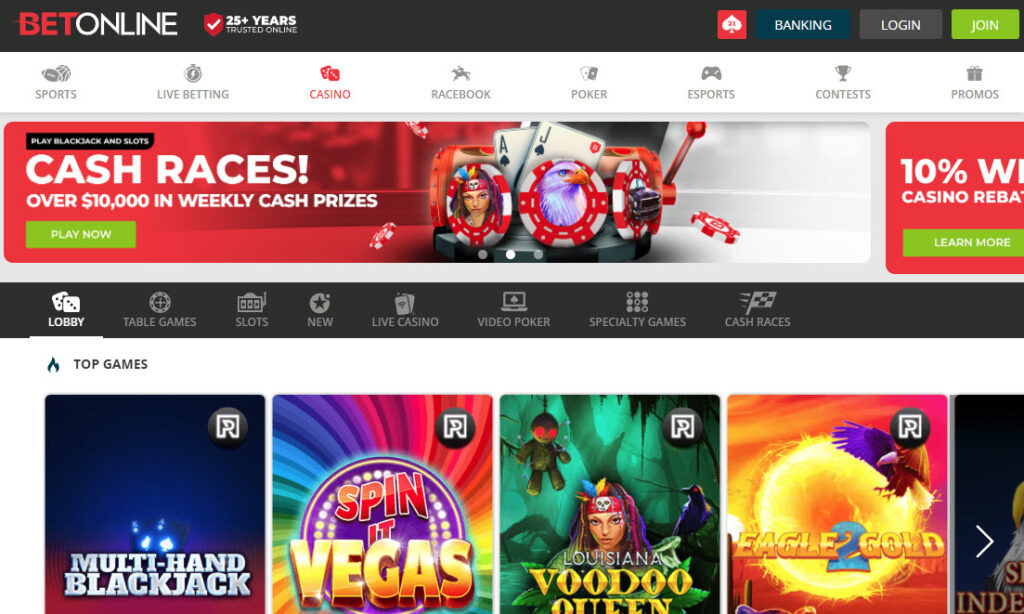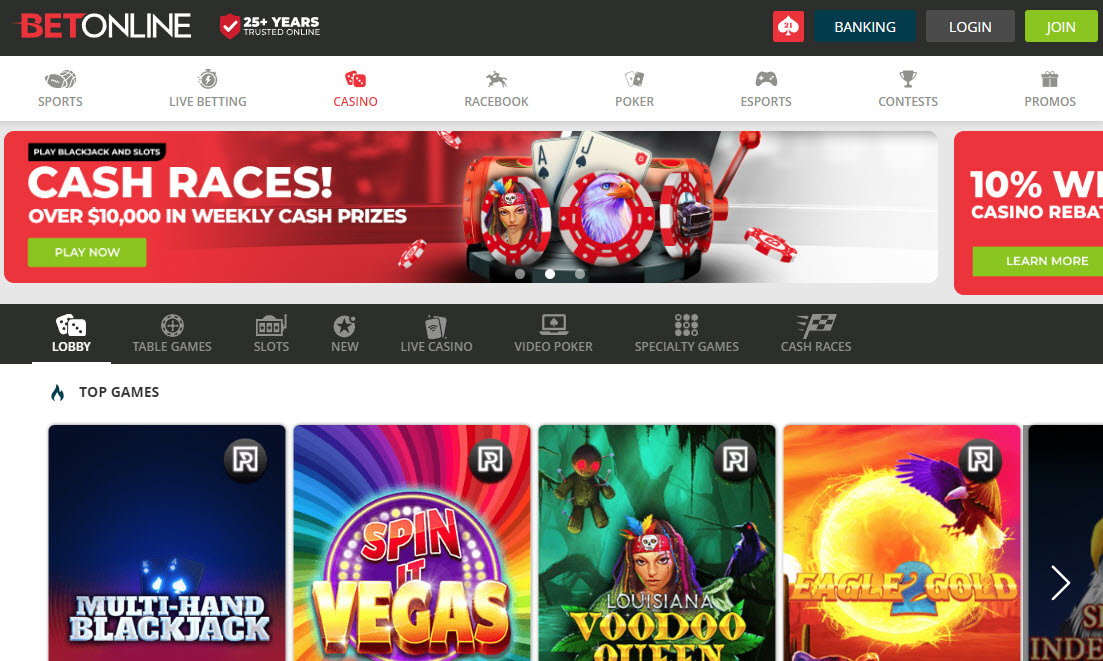 When it comes to online casino games, if BetOnline doesn't have it, it's unlikely anyone will. As the No. 4 ranked online casino in Utah, BetOnline has more games than anyone else. They have 380 different video slot machine games alone, including games from each of the top seven software companies. The games are organized, so users aren't overwhelmed with all the titles. The most popular games are kept in their own section, and there's another section for the newest titles to join BetOnline's library. They have progressive slots and high RTP games, as well as a video slot game exclusive to them—Buffalo Bounty.
Outside of the slot area, there's still plenty to do. BetOnline has more than 50 different table games, including 18 variations of blackjack. Limits at the blackjack tables go as high as $10,000 per hand. There's also table poker, craps, baccarat and less common games like 3-card rummy and multi-hand casino war.
BetOnline has two live dealer casinos, called the Red and Black casinos. At Red, you'll find blackjack, roulette, baccarat and Super 6. Table limits range from 50 cents up to $12,500. The Black features baccarat, roulette, blackjack and Hold'em.
In addition to the casino, BetOnline has the third-busiest poker room in the country and an outstanding sportsbook.
Their welcome bonuses match deposits up to $1,000 and the reload bonuses match up to $250. For loyal customers, they have a 10% weekly rebate program for casino activity and a casino game of the week that pays $500 in bonuses.
Pros:
The most casino games in Utah
Variety in game manufacturers, not just titles
Two separate live dealer casinos
10% rebate program for casino activity
Cons:
Poker room has a mixed reputation
Charges fees for some transactions
5. BetAnySports: Hundreds of Casino Games Available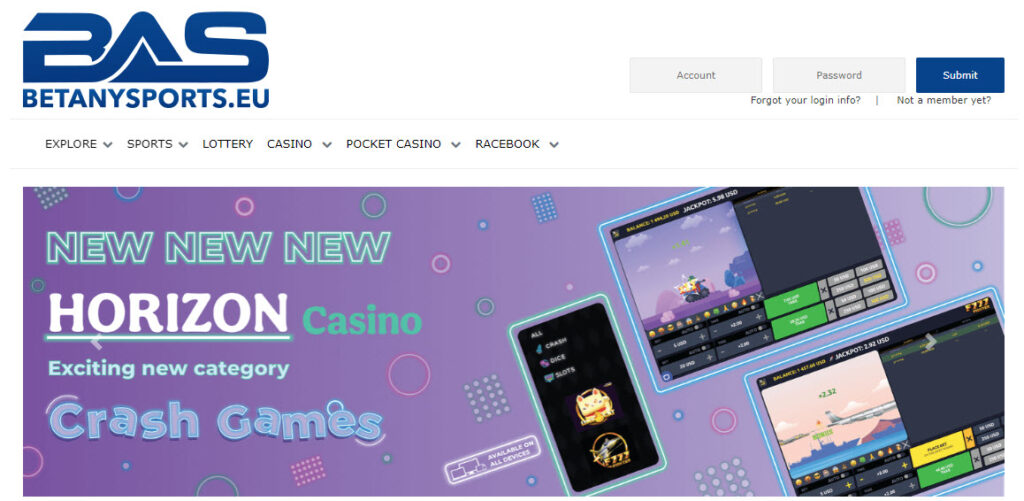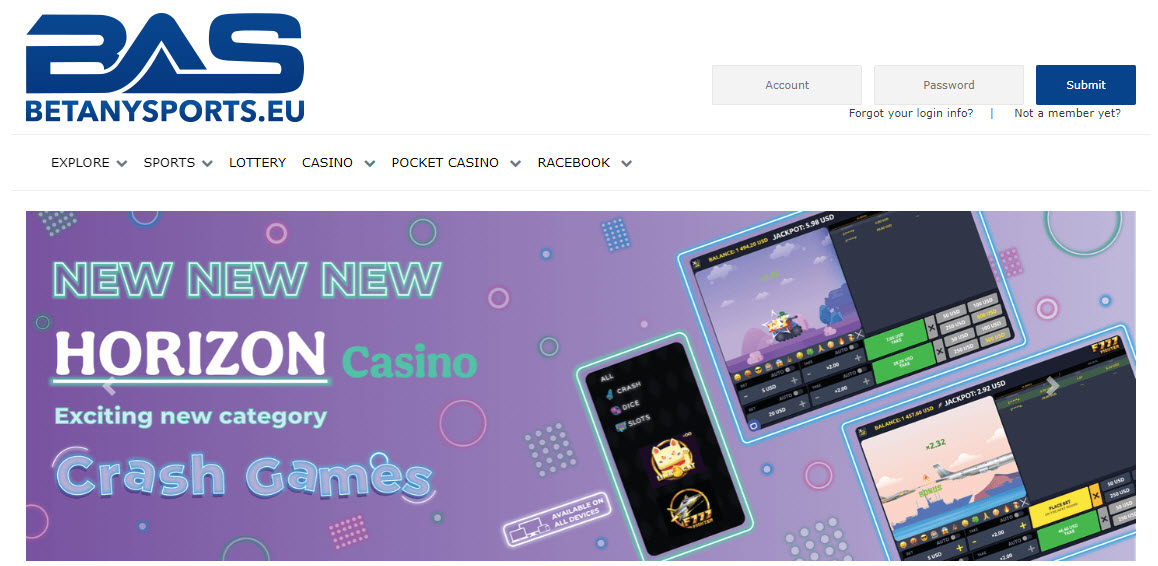 BetAnySports is in fifth place in our rankings, and it is trending upward. After putting them in the top five, our experts decided to bump up their overall grade. BetAnySports already had an A, but it now receives an A+, making them one of the elite few to get our highest possible rating.
As the name implies, BetAnySports offers a top-flight sportsbook that is known for its reduced juice lines and odds that are extremely favorable to gamblers. It takes a low house edge, making it the best value in offshore betting sites available to Utah bettors.
But our rankings are based on the casino, not the sportsbook, and BetAnySports has one of the best.
It actually has several of the best. BetAnySports offers more than a half dozen separate casinos, all under one online roof. You can visit their 3D Casino, Classic Casino, Diamond Casino, Fortune Casino, Horizon Casino and Star Casino, among others.
Each one has its own separate set of games, giving you hundreds to choose from. If you want live dealer games, they have another three live dealer casinos: Lucky Dealer Live, Euro Live and Vegas Live.
The mobile site allows you to do everything you can on the full site.
Pros:
Has a half dozen different casinos under one umbrella
Three separate live dealer casinos
Reduced juice sportsbook offers lowest house edge in Utah
Fast, easy payouts
Cons:
Interface isn't as glitzy and stylish as some other sites
Bonuses are lower than competitors
6. BetUs: Pays Out the Biggest Bonuses in Utah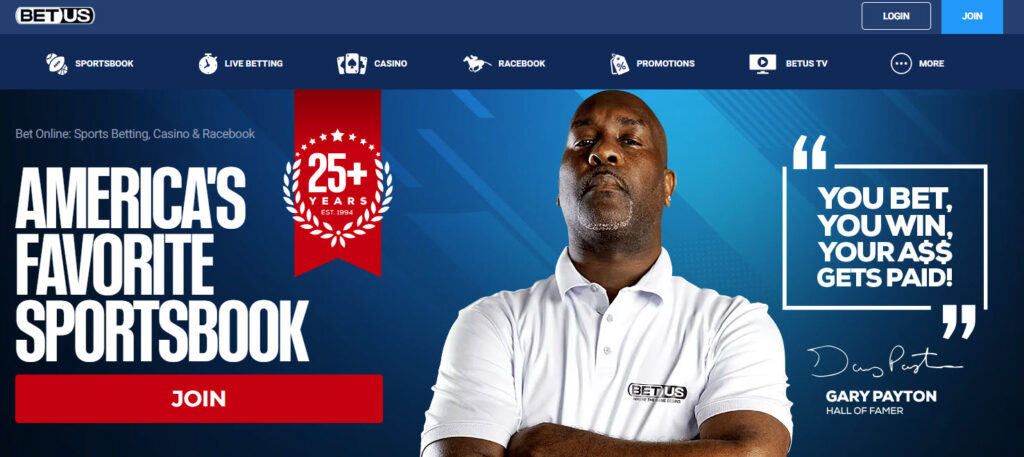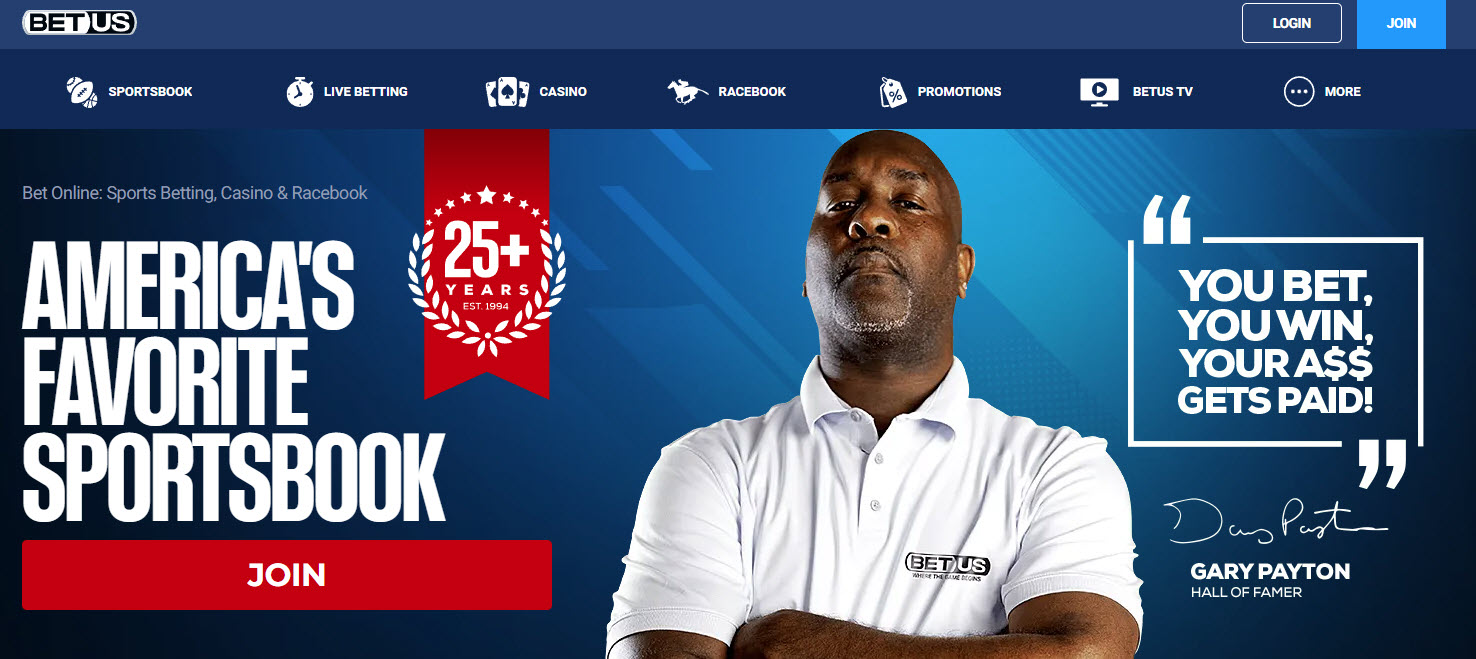 How does tripling your money sound? What if we told you it was guaranteed?
You'd probably be anxious to find out what game offered such favorable odds and payouts, but it's not a game at all. All you need to do to hit that jackpot is make a deposit at BetUS, home of the largest welcome bonuses in Utah. BetUS matches a new customer's first deposit at 250%, up to $5,000.
That means if you put in $2,000 of your own money, they'll give you another $5,000. So before you've played your first game, you've already jumped your balance up to $7,000! The bonus does have a hefty rollover requirement of 30x —They're giving it to you to play on the site, not to withdraw and spend somewhere else.
BetUS also has generous loyalty programs after you've become a customer. They have one of the best VIP services in the state, and the online casino at BetUS has its own casino-specific bonuses, on top of what the site has already given you.
The casino offers 16 different variations of blackjack. There are other table games, video poker, keno and bingo, as well as a live dealer section.
Pros:
Largest welcome bonuses, matching at 250% up to $5,000
VIP loyalty program is also one of the best
16 variations of blackjack, bingo, video poker and keno
Several casino-specific bonuses
Cons:
High rollover requirements attached to bonuses
Total number of game titles isn't as large as other sites
7. WagerWeb: The Player's Choice for Casino Rebates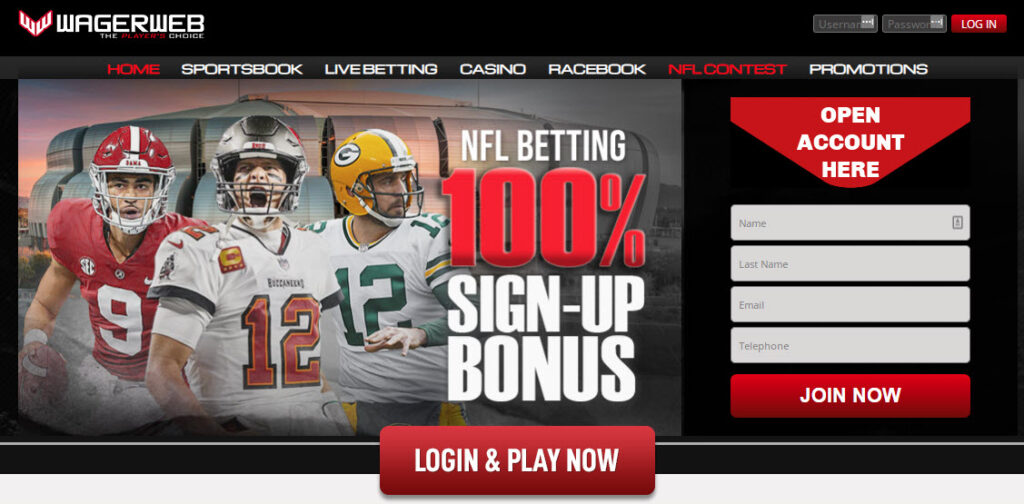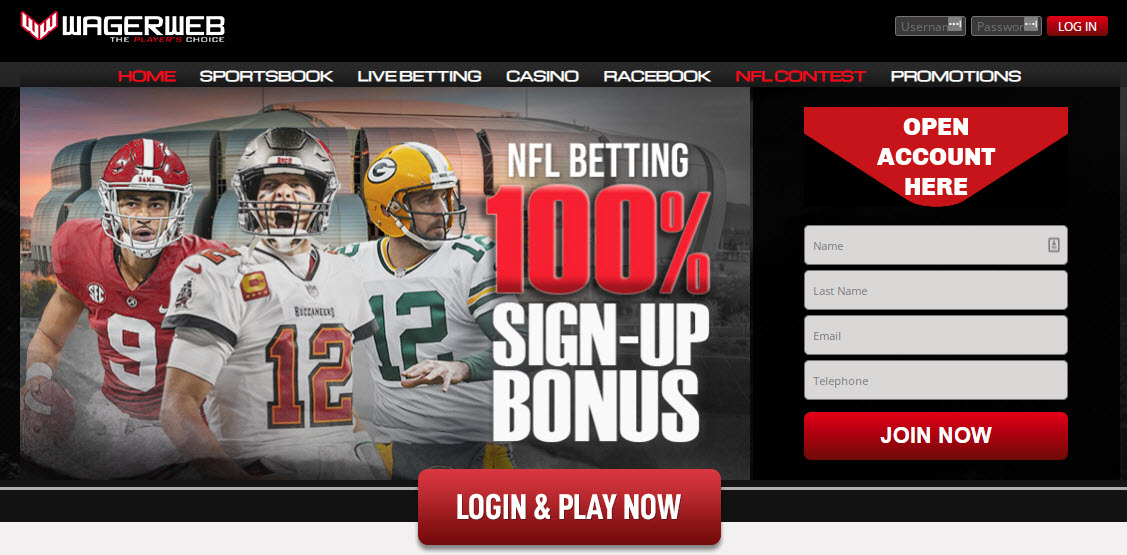 WagerWeb calls itself "The player's choice," and when you've been around for nearly three full decades, you've earned the right to give yourself a nickname.
Its 28 years of trustworthy, dependable operation have also earned it something else —a flawless reputation as one of the most reliable offshore sportsbooks in an industry where trust is one of the most valuable commodities a book can have.
WagerWeb's casino impressed our experts with its rebate program, which gives bettors back 5% of everything they lose in the casino.
And when you win at the casino, you don't need to worry about collecting your money. That's what nearly 30 years of goodwill means, as WagerWeb can be fully trusted to pay out in full and on time when you want your money withdrawn. Again, it sounds simple, but it's something that can't always be counted on from every operator out there.
The table games area of their casino has a nice selection, including blackjack, roulette, craps, Hold 'em and Stud. They also have some deeper cuts, like Sic Bo, Pontoon and Casino War. There are also several different takes on video poker, including Deuces Wild, Tens or Better and Aces or Faces.
Other sites may have more slot titles, but WagerWeb isn't lacking. It offers 80 different video slot options. Not all game manufacturing companies are represented, however. There's also no live dealer section or poker room.
Pros:
Cashback rebate program for casino play
Long history of quick and easy payouts
Offers a racebook and reduced juice sportsbook
Cons:
Smaller selection of titles and software companies than competitors
No live dealer section or poker room
8. JustBet: Great for All Levels of Gamblers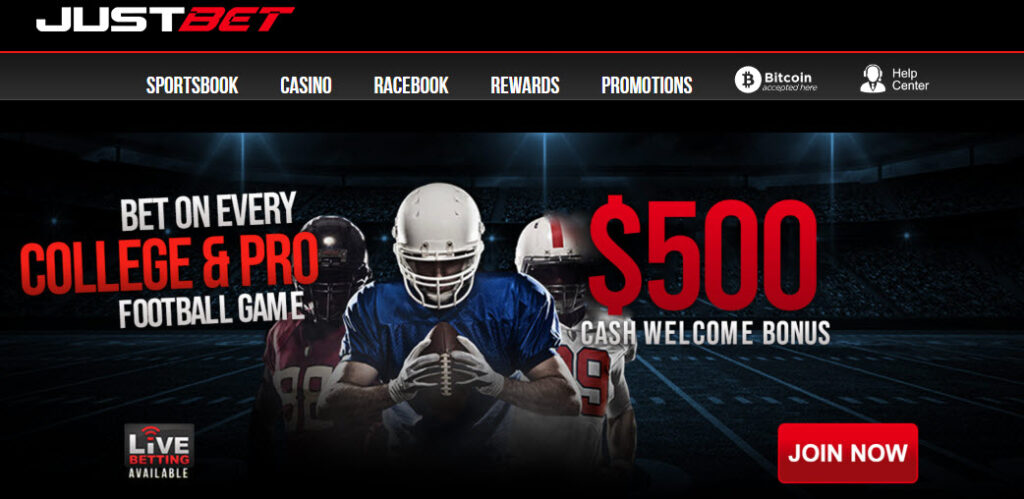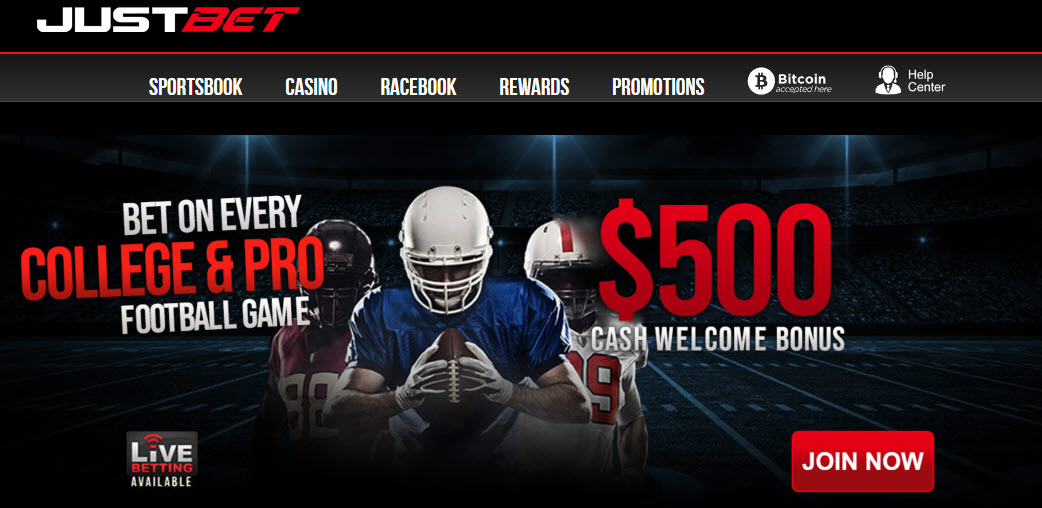 If you want a good, entertaining gambling experience and don't care about all the ancillary bells and whistles, JustBet may be the site for you. It's not as well known as some of the glitzier sites in our top 10, but they certainly earned a spot alongside them.
In fact, as a partner of our top-rated online casino site available to Utah, Bookmaker, JustBet offers a very similar experience. They share many characteristics, including generous bonuses, high limits to appeal to experienced high-rollers, and low minimums to make newcomers feel welcome as well.
Its software is also easy to use, allowing inexperienced gamblers to easily find their footing and navigate it.
JustBet has carved out a name for itself, however. It's not just riding the coattails of its better-known sister site. It features a minimalist user interface, no fancy graphics or features that most users never take advantage of. Rather than cluttering things with all that furniture, it just lays out the menus and options you're going to need to choose a game and place your bet. It's called JustBet, and that's basically their philosophy when it comes to their gambling environment. You can easily get in there and start playing without clicking around and hunting for what you need. That's true in the casino as well as the sportsbook, where you might be trying to get money down on an event before the odds change. In the casino, it means more time playing slots or cards, rather than clicking and pulling down menus to surf options.
The casino's library also leans toward uncluttered. Having 300 slot titles may sound impressive, but how many are most gamblers actually going to use? JustBet goes minimalist here as well. It gives you a good selection, but doesn't go overboard with dozens of extra unnecessary options just to look impressive. The slimmed-down library makes it easy to find a game you like and start playing.
Like Bookmaker, JustBet also has a free casino so new users can get in some practice before they start to bet.
Pros:
Caters to all experience levels
Has a free casino for practice
Interface gets you where you need to go quickly and easily
High limits and low minimums
Cons:
No online poker room or live dealer section
Limited menu of games. Has the basics but not all variations
9. Everygame: Best Mobile Casino Experience in UT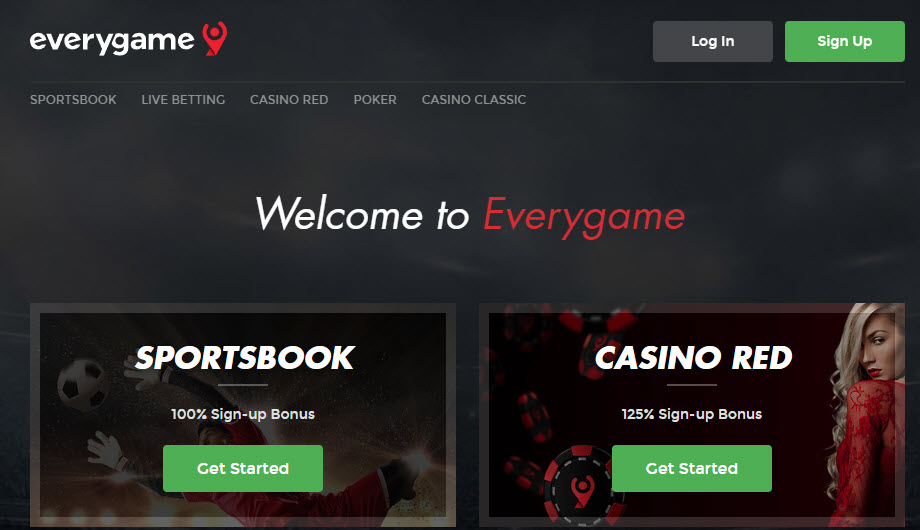 Everygame has recently gone through a bit of a midlife crisis, changing its name and revamping the site. It used to be known as Intertops, but it rebranded and gave itself an extensive software upgrade, which gives it one of the most attractive, cutting-edge user interfaces around.
Everygame is certainly old enough to have a midlife crisis. It started in the early 1990s and is the oldest online gambling site still in operation. So, in addition to using their brand new snazzy software, you also get nearly 30 years of trustworthy operation. It's the best of both worlds.
The casino has the steak to match the sizzle from their polished interface, however. Everygame Casino has more than 300 casino titles as well as hundreds of video slot variations. They pull from all the major software providers and have one of the deepest, most diverse game libraries you'll find. They have old-school slot games as well as the newest 3D slots. And they have progressive jackpot slot games with jackpots that can reach millions of dollars.
Outside of slots, they have plenty of table games, including baccarat, blackjack, Hold 'em, stud, rummy, Caribbean Stud and more. They also help you get up to speed with a free practice casino.
There have been rumblings that Everygame will be adding a live dealer casino soon, but at the moment, it's not available.
They match your first deposit at 100%, and the bonus for their live online poker room also includes 25 free plays in the casino.
Pros:
Best mobile casino interface in Utah
Hundreds of online slot titles from multiple manufactures
Has an online poker room
100% match of initial deposit
Cons:
Other sites have more table games
No live dealer section yet
10. GTbets: User-Friendly Casino Experience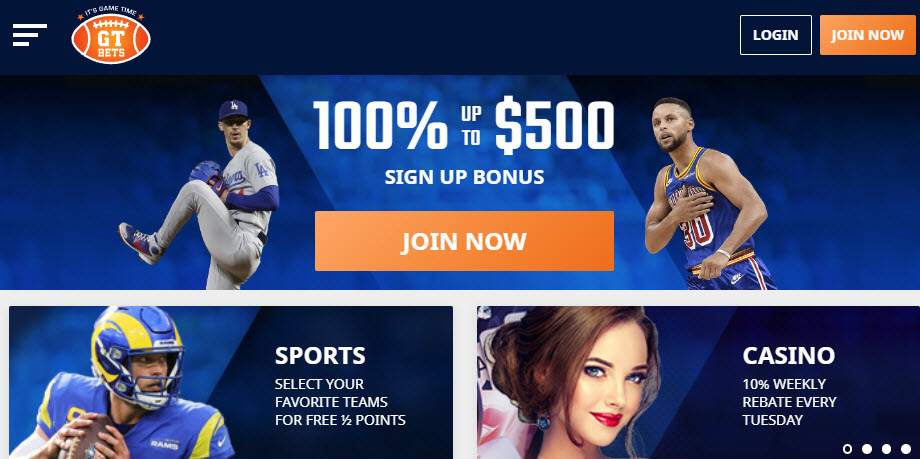 GTbets rounds out our top 10, but while they finish in the last spot in these rankings, they're still better than the vast majority of online casinos out there, which number in the hundreds.
GTbets has a flexible group of welcome bonuses for new customers to choose from. They match your first deposit at 100%, up to $500, and then they go ahead and offer a match on your next bonus as well, at 50% up to $250. And unlike other competing sites that may offer bigger dollar amounts that you'll never be able to withdraw, GTbets sets a low rollover requirement on their bonuses. The welcome bonus has a 12X rollover, which is less than half of what other sites require, and the second match has just an 8X rollover.
GTbets has all the games you'll be looking to play, including the most current 3D slots and 5-reel video slot games. Their library of titles isn't hundreds and hundreds of games long, like other sites, and they rely heavily on two manufacturers – Arrow's Edge and Betsoft – but you'll be able to find the games you want to play. They also have virtual table games with high limits.
They do have a live-dealer casino with four different play areas. The user interface in their casino is user-friendly and mobile-optimized, so you'll get the same experience when you use your phone or tablet as you do on the full site. GTbets also offers a sportsbook and racebook and sends out a weekly set of offers to keep their loyal customers engaged.
Pros:
Matches your first two deposits with low rollover requirements
Four live dealer casino areas
Modern slot games like 3-D and 5-Reel
Interface is user-friendly and mobile optimized
Cons:
Smaller library of games than some competitors
Many popular game manufacturers are not offered
Top Real Money Online Casinos in Utah: Comparison
Our team of experts evaluated the top sites in Utah on a number of important factors, including:
Menu of popular casino games available
Quality of software running the games
How easy the site was to navigate
Size of betting limits
Bonuses and other promotions
Site reputation and security
Quality of the customer service team
How to Compare the Best Utah Online Casinos
Here's a look at what our experts considered important in evaluating online casino sites
Range of Games
When you visit a casino, in person or online, you expect to see a few must-have categories of games. They should have a selection of slots, variations of poker, table games and other miscellaneous specialty games. Within each category, there are numerous different games, and most games have several different variations and playing options. Some of the most popular games are:
Online slot machines – Video slots, 3D slots, three and five-reel slots, progressive jackpots
Poker – Virtual table poker and video poker, and variations like Hold Em, Stud and Caribbean Stud
Table games – Blackjack, roulette, craps, baccarat
Live dealer games – Table games, poker
Specialty games – Keno, bingo
Virtual Sports
Software
There are a handful of software manufacturers that produce most of the casino games offered at online casinos. Each company differs in expertise level and quality of software they produce. Some gamblers can recognize a manufacturer and know their reputation just by hearing the name or seeing the game on the screen. You don't have to, but you should be aware that having a variety of different manufacturers represented gives you a better play experience and makes it more likely you'll find a game you like.
Game action should flow smoothly with no glitches, delays or crashes. Some manufacturers are known for high-quality, stylish graphics, while others focus on the game action. That's a personal preference, but it's good to have options to choose from.
Betting Limits
Most online casinos have table limits as low as a dollar, and some go even lower –to 50 cents or a quarter. Many sites also have free casinos so you can learn the ropes of a game before you start gambling on your play.
The maximum bet amount has a wider range and depends on the site and game being played. The lowest maximum you'll find is about $250, and limits can go up to $5,000 at some sites. Some high-roller tables even reach five figures. This is also a personal decision based on your risk tolerance, but highly rated online betting sites should offer a wide gamut of betting limits to help you find a table where you're comfortable.
VIP Tables
Some online casinos reserve VIP tables for their best customers. That allows big spenders to always have a seat available and lets them play at tables with other high rollers. It's a perk that many sites offer to encourage loyalty from their customers.
Utah Casinos – Bonuses
Most online casinos offer a wide variety of bonuses, both for new customers and customers already gambling there. Some popular types of bonuses include;
Sign-Up Bonus
Also called a welcome bonus. This is the most common of the online casino bonuses offered that you'll find, and it comes at just about every site. You get it when you first register, and usually, the site matches a portion of your initial deposit, which could range from 50% up to 250%.
They are usually capped at a maximum bonus amount, and many have rollover requirements, meaning you need to bet the bonus amount a certain number of times before you can withdraw it.
Free Plays
Sometimes called bet insurance or a risk-free bet. If you lose, the site gives you back the money you bet.
Reload Bonus
Deposit bonuses are similar to a sign-up bonus but for later deposits, when you're "reloading" your balance. Deposit bonuses often have a minimum deposit requirement and an upper limit on how much money offshore casinos will provide a bonus on. These bonuses are sometimes also known as "Deposit Match" bonuses.
Promotions
Can be any number of different promotions to current customers to retain them. It could include weekly bonuses, contests, profit boosts or other incentives.
Loyalty Program
Usually awards points based on your betting activity. You can redeem the points to earn bonuses or other perks.
Rebate and Cashback
The site refunds back some of what you lose gambling on their games of chance.
Mobile Experience
More and more people use smartphones and tablets to do their casino gambling instead of sitting at a computer. To accommodate that trend, online casinos now offer mobile-optimized interfaces. It could be a separate app you download to your phone, or it could be a mobile version of the site that loads automatically through your phone's internet browser when you go to the URL.
The best casinos have mobile betting sites that offer the same functionality as the main site. The screen is smaller, but the mobile platform should be easy to read and navigate despite that. Pages should load quickly and not crash. You should be able to find what you need quickly, without a large number of clicks or false starts as you hunt for the option you need.
What games can you play with real money at online casinos in Utah?
Most online casinos believe in a more-is-better approach and overwhelm you with a huge selection of different games. Some of the most popular table games are blackjack, roulette, craps and baccarat. Each game has dozens of different variations, playing rules and styles, and most sites offer both video versions of the games, as well as live dealer versions.
Slots
This is the most visible game in a live casino with large displays, flashing lights and sounds. It's a game of chance where players spin a wheel labeled with random symbols and try to match them. The old-fashioned classic slots have three wheels with identical symbols (usually pictures of fruit), and you need all three to match to win. The game has evolved and now has more wheels, 3D versions and all kinds of other twists.
Blackjack
The most popular table game in the world. You try to get as close to a point total (usually 21) as you can, either with the cards in your hand or by requesting more cards ("hitting"). There may be multiple players in a given game, but you are competing against the dealer to try to hit the best point total without going over.
Roulette
In this game of chance, you guess where a ball will land on a spinning wheel. The wheels have a large number of landing points, marked with numbers and colors. You can bet on individual numbers, number ranges, categories, like odds or even, high/low numbers or choose the color of the landing space.
Baccarat
Baccarat is a casino table game, often played by high-rollers. It's player against dealer, but there are up to 14 other players betting on the outcome of that game. The player and dealer match hands, with the cards assigned various point values, somewhat similar to blackjack. The other players bet on which hand will be better.
Live Casino
Most of the games described above are offered as virtual games, meaning they are computer-generated versions of real-world games. A live casino has an actual physical game going on, with actual human dealers and decks of cards (or slot or roulette wheels). You are connected by video and betting on actual real-world action taking place somewhere. Players can interact with each other and with the dealer at the table. Popular live dealer games include blackjack, roulette and baccarat.
Payment Methods Available at Utah Online Casinos
The top casino sites offer several different ways to pay and to get paid. Here are some ways you can deposit and withdraw money:
Crypto at Casinos
Our 10 best casino sites in Utah are all based outside the country. That means that financial transactions will involve money crossing international borders. That can create difficulty and inconvenience with some payment methods. Bank credit cards and debit cards, for instance, may be charged fees, or there may be delays in the payments clearing.
Cryptocurrency avoids most of that inconvenience. It was designed for internet transactions that span multiple countries. Some popular crypto payment methods include Bitcoin, Ethereum, and Tether. Some casinos give bonuses or special incentives for customers to use crypto, such as same-day payouts.
eWallets at Casinos
eWallets are almost as popular as crypto. Transactions are processed faster than bank cards, and fees are lower. Popular eWallets include PayPal, Neteller, and Skrill.
Traditional Payment Methods
Offshore casino sites also accept traditional payment methods like bank wire transfers or debit/credit cards like Visa, MasterCard, or American Express.
Land-Based Casinos in Utah
There are no land-based casinos or betting parlors anywhere in Utah, not even on tribal land. There are a handful of racetracks, but the state offers them for fans to watch horses race only –no gambling is permitted.
The closest land-based casinos are in other states: Nevada to the West, Idaho to the North, Colorado to the East and Arizona to the South.
How to Play at a Real Money Online Casino From Utah
It is fast and easy to get started with legal gambling at an online casino. The entire process takes about two minutes.
Step 1: Create an Account
Go to the website of the casino you've chosen and click "Sign Up". Create a username and password. Fill out the registration form with your information (they don't ask for much).
Step 2: Verify Your Identity
Some sites require new customers to verify their identity. It may involve a two-step process of responding with a code sent to your phone.
Step 3: Deposit Funds
After creating your account, you can deposit money. Choose your deposit method from the list provided at the cashier section of the site. Enter the financial information and amount of your deposit.
Be sure to include any required promo codes to get your welcome bonus. Also, since most bonuses match your initial deposit, don't begin this part of the process until you're ready to make a large deposit. Some customers may deposit a small amount just to test things out and end up squandering their deposit match.
Step 4: Start Playing
Once you've got money to bet, you can get started. Choose a game from the available gambling options and get down to business. Good luck!
FAQ – Playing at a Casino Online in Utah
What gambling is legal in Utah?
Under the Beehive State's gambling laws, there are no forms of in-person or online gambling that is legal, including sports betting, horse race betting, casino gambling or even the state lottery. The state's online gambling laws have even put in place a ban on gambling online with state-regulated operators.
Does Utah have casino gambling?
Utah prohibits companies located in the state from running online casinos. However, offshore sportsbooks and casinos are under the jurisdiction of the countries where they're located, not Utah state codes that make forms of online and in-person gambling illegal.
Why does Utah not allow gambling?
This is due to the state's large Mormon population. The Mormon faith generally views betting as an immoral activity.
Where can I gamble in Utah?
You can gamble online in the Beehive State if you use an offshore gambling site. There is no place to enjoy in-person gambling in Utah State, which means these online sportsbooks that are operated overseas are your only legal option.
How many casinos in Utah are there?
Utah is the only state in the lower 48 that has no legal land-based gambling, including buying a lottery ticket. So there are no casinos in the state. Your closest option to play casino-style games at a physical location would be one of Utah's neighboring states.
Is it illegal to gamble at home in Utah?
You can gamble on your favorite games from the comfort of your home on your computer or mobile device by using offshore sites as long as you are of the legal gambling age (18). We recommend one of our top-rated offshore casinos in our online casino review above. Each of these sites offer a wide selection of games, such as casino-style games (slots, poker, roulette), sports betting, horse race betting and even niche betting markets.
In what can only be described as a seminal pact between adversaries, Governor Newsom has signed a bill into law that both the California Native American tribes, as well as cardroom operators, support – no additional cardrooms in the state for two more decades. In turn, this collaboration between Native American tribes and gambling hall

---