Online Gambling Massachusetts – Legal at MA Gambling Sites?
As of January 31st, Massachusetts has finally started offering sports betting to its citizens. Unfortunately for anyone looking to place wagers from the comfort of their home, this will not be possible with licensed sportsbooks yet. The good news is that offshore sportsbooks still allow you to bet on your mobile device, anywhere in the U.S.
When deciding which online betting site is right for you in Massachusetts, there are quite a few decisions that need to be made. We understand that not everyone has the time to go over the nuances of each of these sportsbooks. We also understand that not everyone has a clear understanding of what exactly to look for when making this decision.
This guide has been designed to make that decision a lot more straightforward for you. We inform you of what the pros and cons are of each site as well as highlight the services that each of them excels at. We can guarantee you that one of these offshore sportsbooks that we recommend for players in Massachusetts will point you in the right direction.
Massachusetts Betting Guides
If you're looking for more betting guides that cover all aspects of a specific online betting market as a Massachusetts bettor, we recommend you check out one of our other online betting guides.
Best Massachusetts Online Gambling Sites 2023
The following offshore sportsbooks have been recommended by our experts. We will break them down even further later in the guide to help you make the right choice:
The Best Massachusetts Gambling Site Reviews
After you review our expert suggestions, we advise that you take the time to think about what type of betting experience you are looking for. If you aren't sure what that means, then write down what is most important to you when choosing an online betting site.
This might be a question you've never considered, partly because you weren't aware of the differences between sportsbooks. They aren't all the same and excel at different aspects of the betting experience. Once you know what type of player you are, finding the right match becomes that much easier.
1. Bookmaker: Welcomes All Bettors From MA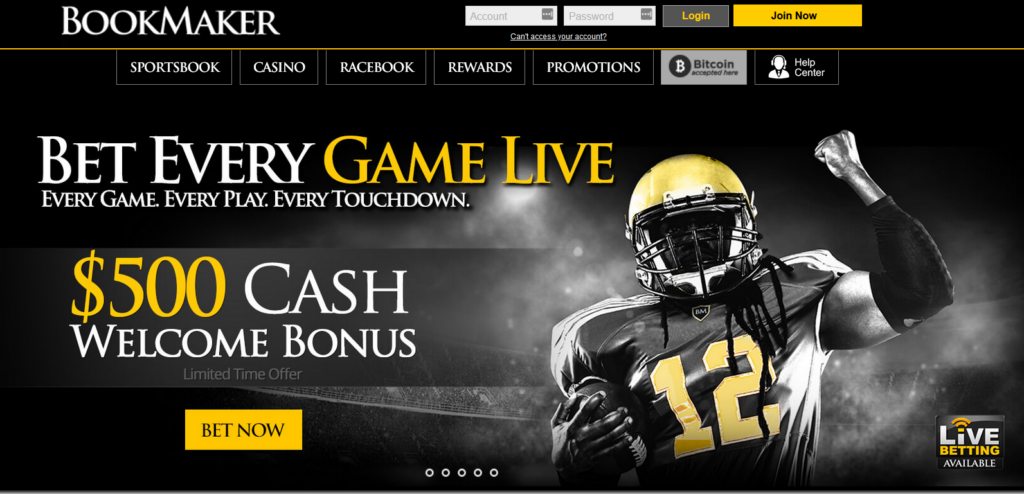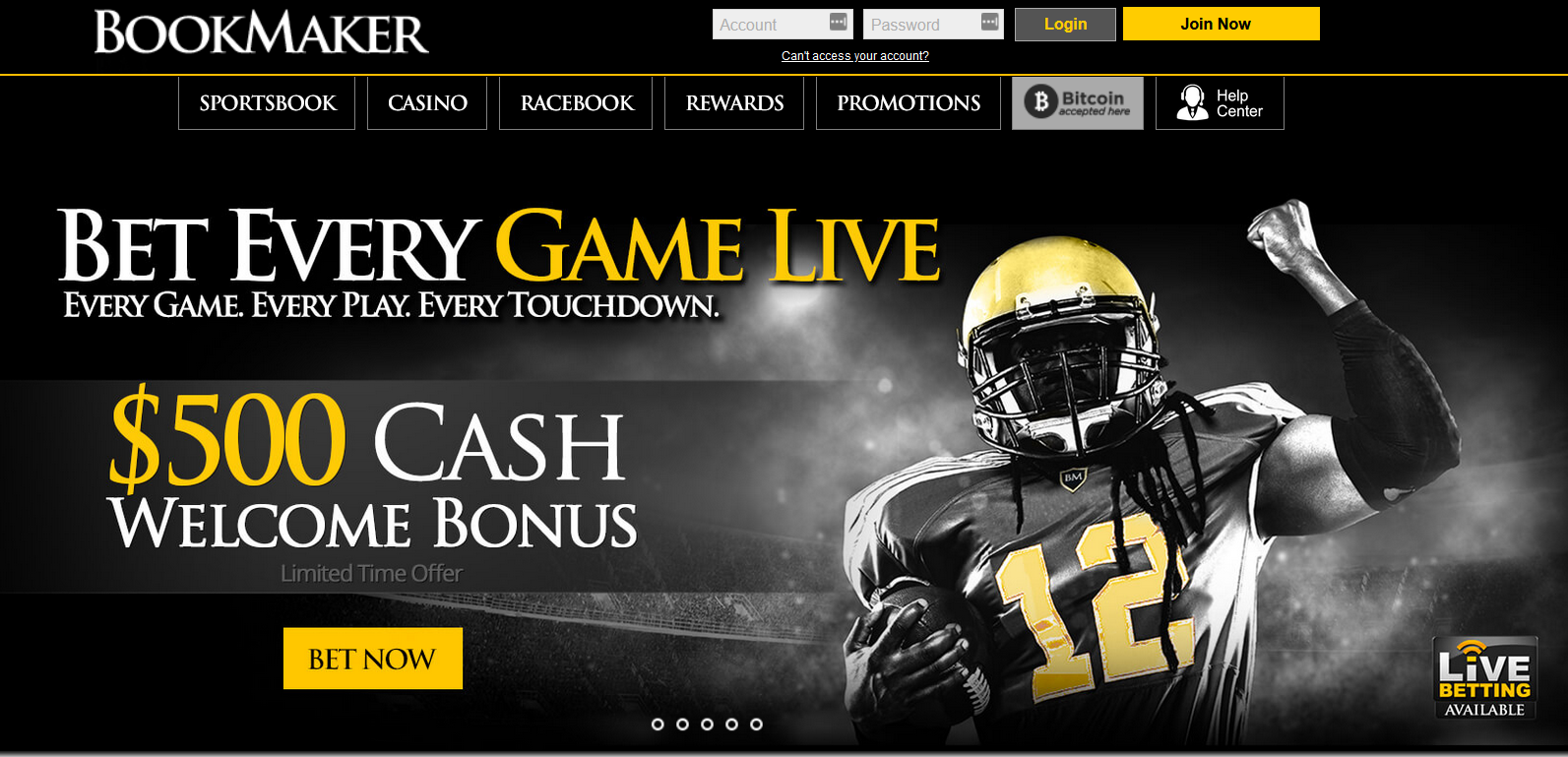 A lot of online sportsbooks make sure they stay away from sharp bettors. That's a strategy that makes sense from their point of view. Those players can win big amounts which can be a problem for their business. Sharp players have to play somewhere and a sign of a reputable sportsbook is that they take action from these players.
Bookmaker.eu welcomes sharp action which is clear for anyone looking to sign up to gamble online with them that you're in good hands. Those types of players only play at the top online gambling sites. They expect early lines and fast payouts which are both things that every customer wants.
Online gamblers in Massachusetts will love playing at Bookmaker because of the size of the betting market. Not only will you benefit from the prices available with their early odds, but you'll also have access to a wide range of leagues as well. All of this while getting action on great options like their modern live betting offering as well as a very dynamic loyalty program.
Pros:
Professional and recreational players welcome
Very big betting market with access to leagues around the world
Cons:
Sharp players may be excluded from loyalty program
2. Heritage Sports: VIP Service for All Online Gamblers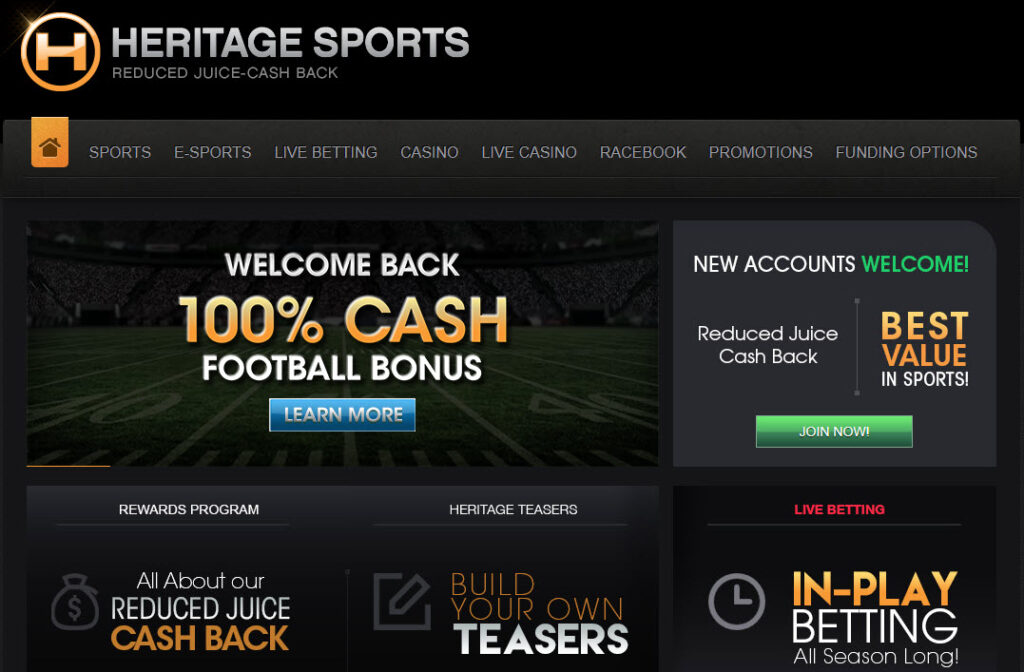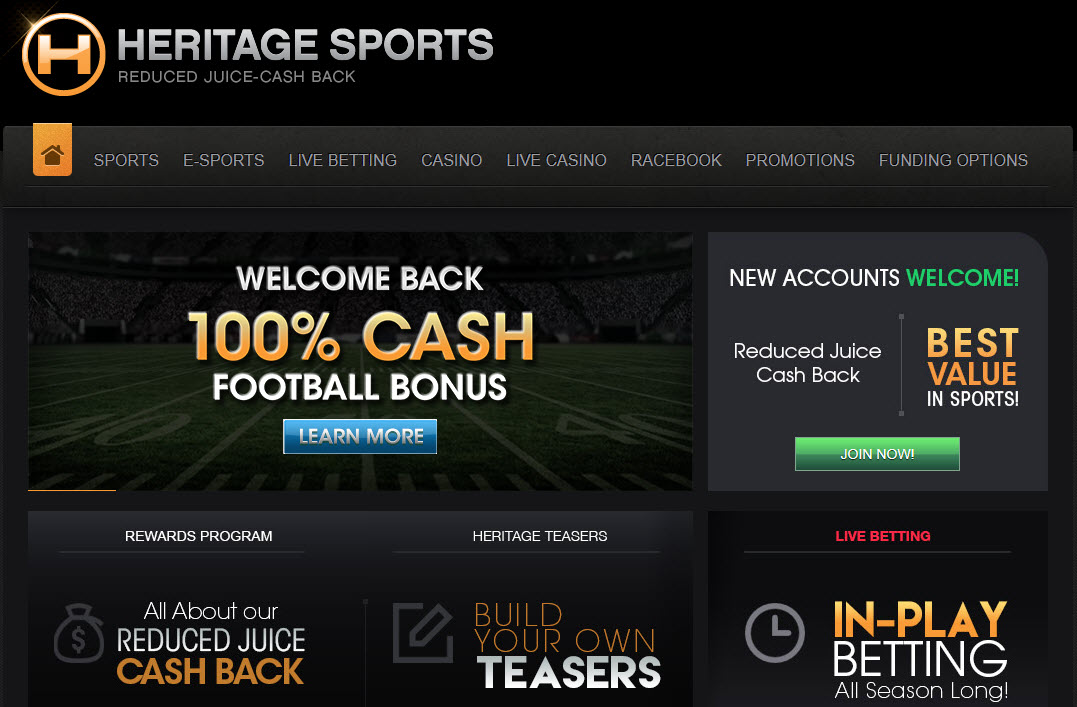 Online gambling is a service business and few sites service their customers as well as Heritage Sports. They have a toll-free number for online gambling in Massachusetts where they can be reached 24 hours a day. Their agents are well-trained to assist you in any situation from depositing money to getting paid out, wagering questions, or just general assistance.
All of the top sites for gambling in Massachusetts have competitive odds. This is where Heritage Sports has been able to excel because, for all of the perks a sportsbook can offer, it's hard to beat savings on every deposit. With their reduced juice odds, Heritage offers their customers long-term savings which means more money for you to bet with.
It isn't just the price of their odds either. Heritage Sports consistently gives its players access to some of the world's biggest and most exclusive markets. You will never be short of betting options, which is why their amazing customer service department is so crucial.
If you are new to online gambling, all of these choices can seem like a lot but their wonderful staff can walk you through every step of the way, including the requirements for their sign-up promotions.
Pros:
Odds among industry's best
VIP level customer service team
Cons:
Bonuses not as generous as some competitors
3. Bovada: Several Top-of-the-Line Offerings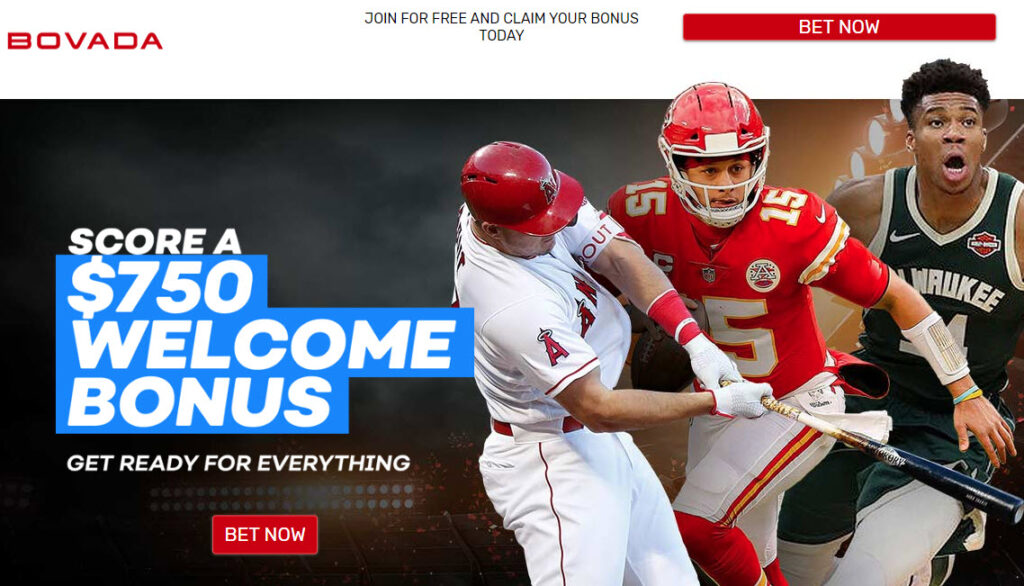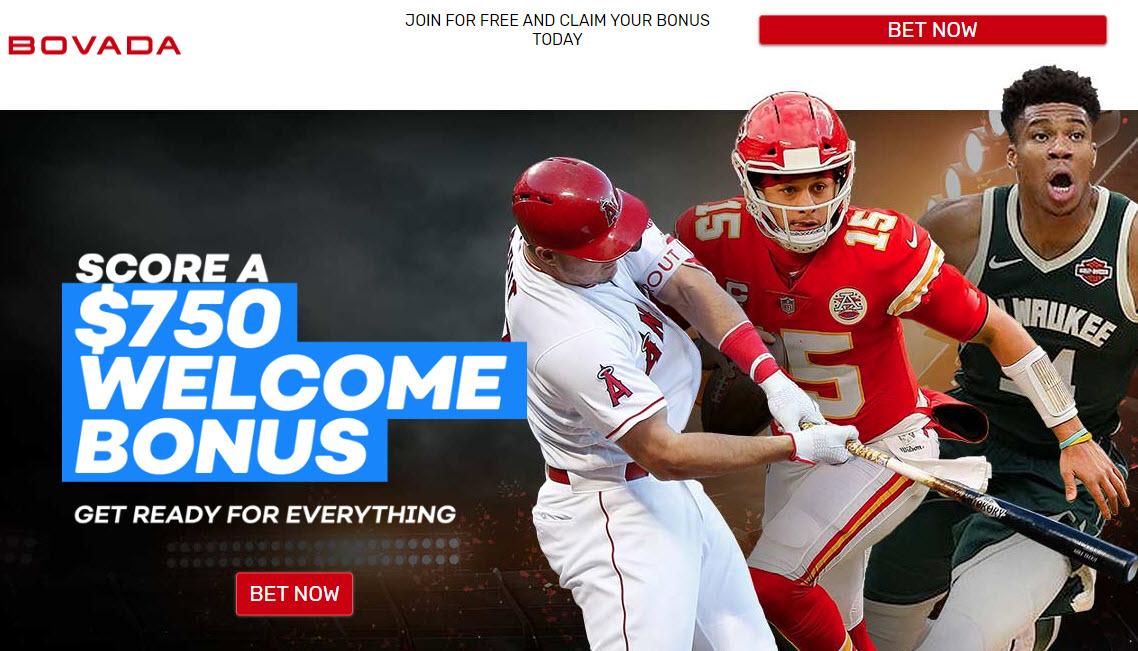 Think of Bovada as a one-stop shop for online gamblers in Massachusetts. Sports betting is their main offering but you can also play poker, bet at their online casino or even try your luck with some horse racing. Now offering all of these services is not unique to Bovada when it comes to offshore sportsbooks.
Most sites specialize in one of these offerings over others. One of the reasons our experts recommend Bovada to players in Massachusetts is the consistency of all of their offerings.
One complaint you might hear about other online sportsbooks is that their website design or their mobile offering looks a bit dated. After all, as long as the site can accept wagers and then cash players out when they're ready, most sites can't be bothered with bells and whistles. When you sign up with Bovada, it's obvious from the get-go that they understand the nuances of the player experience.
Their mobile site and desktop version are almost identical. Too many online betting sites fall short here which we assume will be fixed in the near future. There is nothing to fix on Bovada's end as it's clear that most of their peers have a long way to go before they even get to their level in this respect.
Pros:
Both desktop and mobile versions of site user-friendly
One of the biggest betting markets available
Cons:
Bonuses limited for sharp players
4. BetOnline: Exclusive Markets Available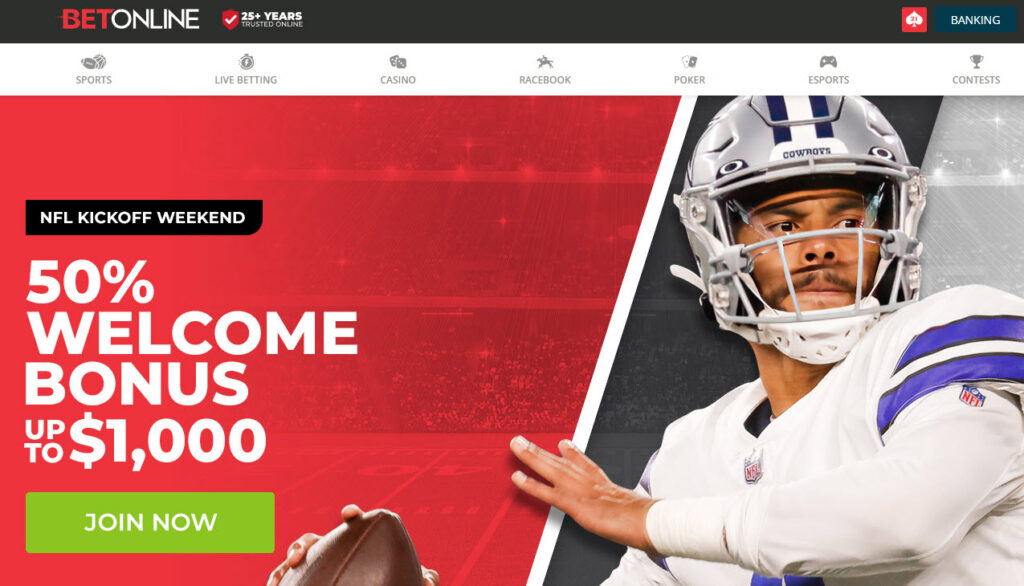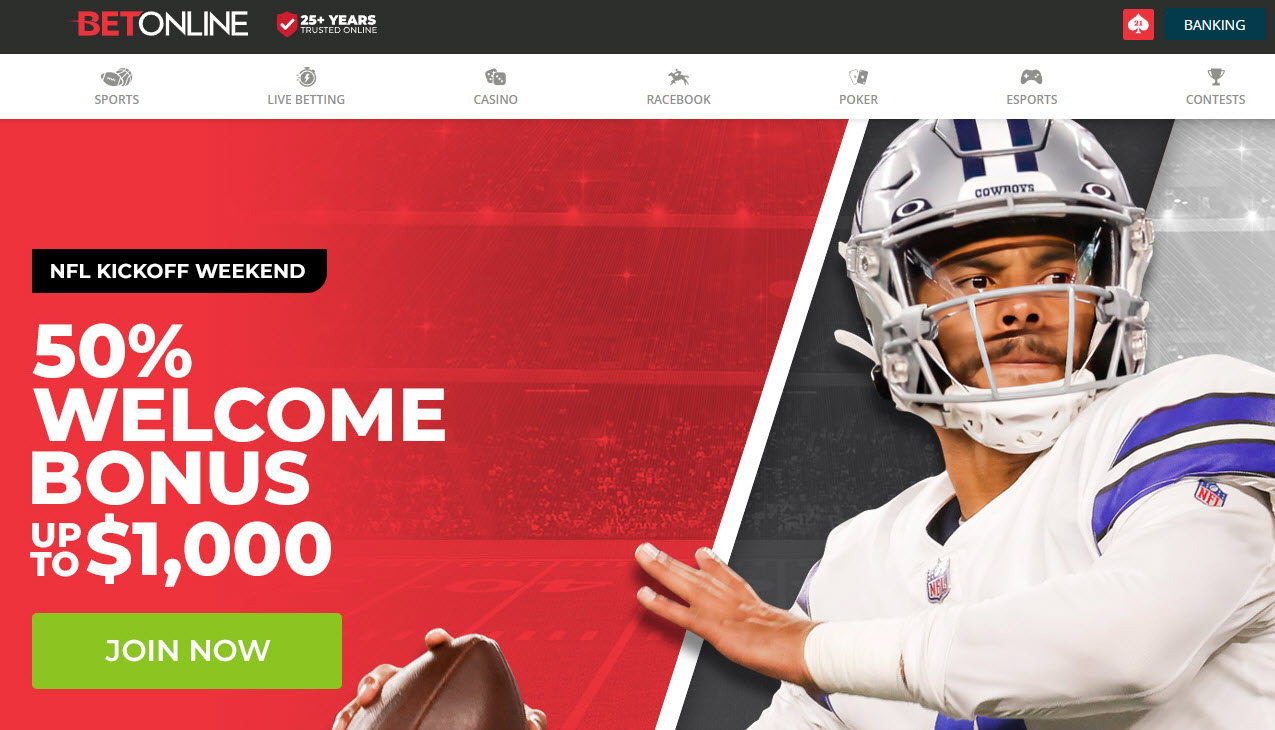 BetOnline is known in the industry as one of the market leaders for a few different reasons. They offer odds on events that just aren't available at most other sites that allow online betting in Massachusetts. An example of this is it's home to a growing number of esports fans. If you're wondering what that is, it's virtual gaming.
If you weren't aware that there are people using online sportsbooks to bet on video games, welcome to the wonderful world of BetOnline where you will have odds on things you weren't even aware you could wager on. In fact, there are BetOnline customers that strictly bet on entertainment and politics. From who's going to win Dancing With the Stars to who will win the next election, BetOnline consistently gives its customers access to some of the most exclusive markets in the industry.
Part of being an industry leader is the betting odds you have to offer. We've already gone over how exclusive their odds are, but how good are they? The first piece of evidence that you will have access to some of the best available lines is the fact that BetOnline releases their odds as early as anyone on the market.
As market setters in the NFL, most other sportsbooks end up copying the line that BetOnline puts out after they've seen where their action is. In other words, they let BetOnline take the risks they are unwilling to and then use them as a measuring stick. This is not only the ultimate sign of respect, it's a sign that you can get the best available prices by having an account at a sportsbook that helps set the market.
Pros:
Exclusive markets available
Early odds compared
Crypto friendly
Cons:
Deposit limits on new customers using credit cards
5. BetAnySports: Reduced Juice Betting Site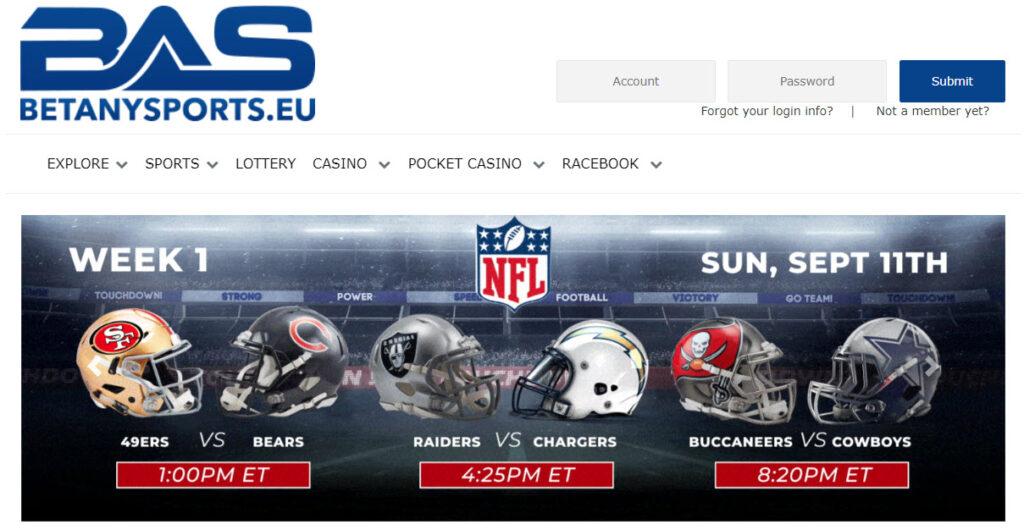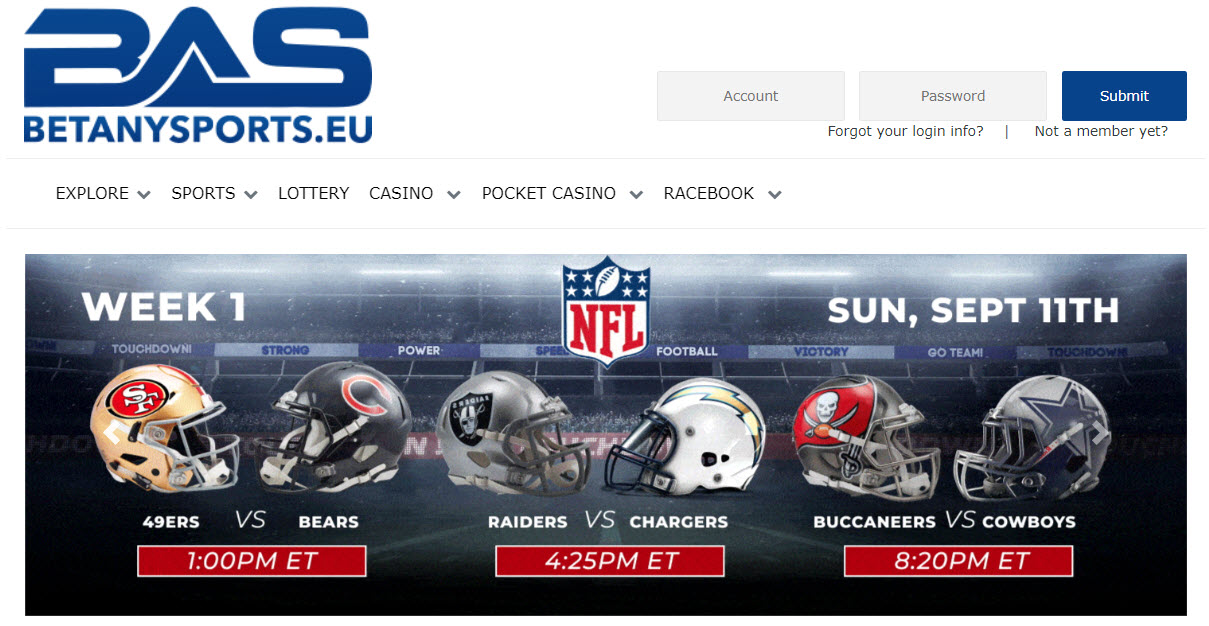 As their name suggests, you can bet on just about every sport out there if you're gambling online in Massachusetts with BetAnySports. Their business model is simple yet effective in the sense that they keep players coming back by offering some of the best odds in the industry. In fact, their odds are a full 50% better than most of their competitors.
They also offer really high betting limits compared to other sites so, in essence, you're getting more bang for your buck playing at BetAnySports. If you're spending less money on every wager then there's more money to spread around. BetAnySports consistently gets you the most amount of action for the money you deposit.
The savings you get from playing at BetAnySports is not the only reason to join. They also offer higher betting limits than most other online betting sites in Massachusetts. Most sportsbooks limit new customers in terms of the maximum amount that they can bet on a single game. The usual betting limits on the major North American sports leagues are between $2500-$5000. Most sites are closer to $2500 than $5000 and even then, that doesn't apply to all sports.
The NFL is the sport that usually has the highest betting limits on spreads and totals. After that, it's the NBA followed by MLB, the NHL, and the various soccer leagues. NCAA sports also tend to have lower max bet limits as well. BetAnySports will consistently allow players to wager well over those figures. When you add that to the reduced juice odds, it's hard to find a site where you can get more action than BetAnySports.
Pros:
Higher betting limits than most competitors
Reduced juice odds
Cons:
Bonuses less competitive than some peers
6. BetUS: Largest Bonuses in Massachusetts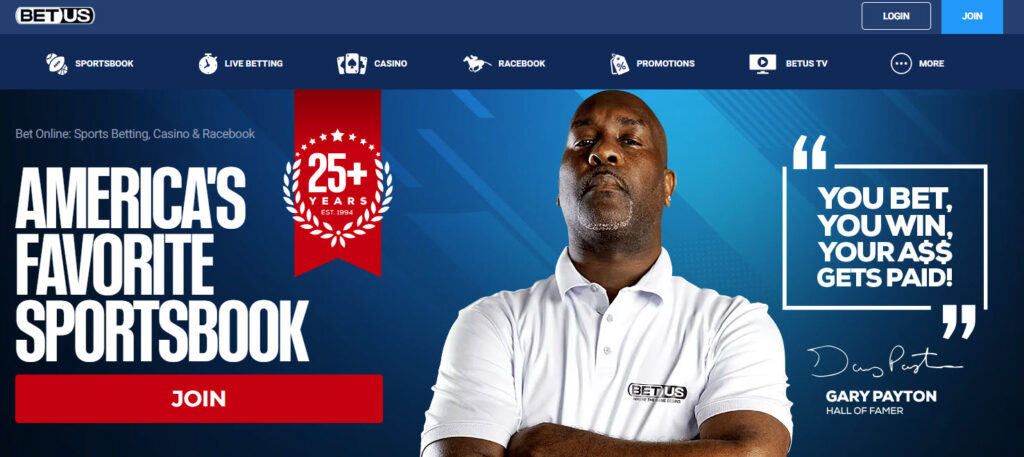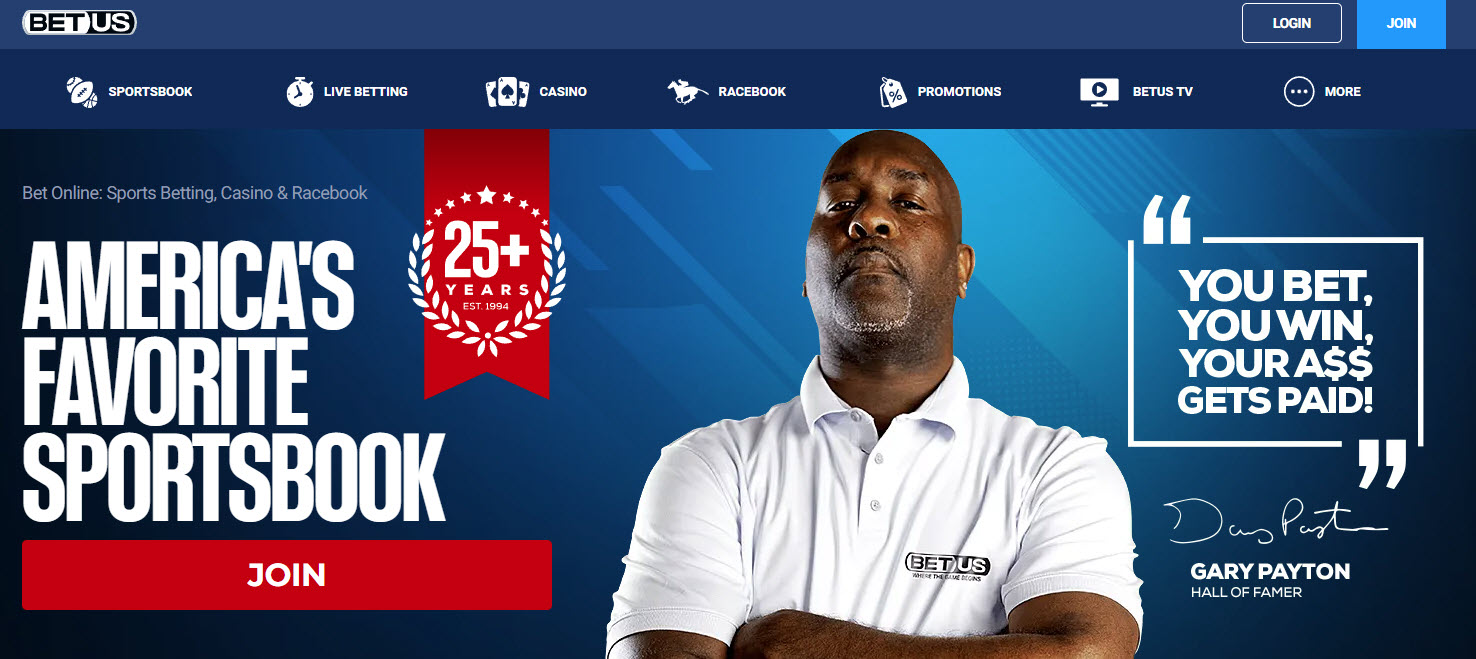 BetUS has earned its reputation on the back of its bonus model and its elite customer service. That's a great combination and one of the main reasons why online gamblers in Massachusetts have been choosing them for over 20 years. If you're looking for the most bonus money possible, this is the place for you.
BetUS has welcome and reload bonuses. If you are new to online betting, bonuses will always grab your attention because they tend to be significantly more generous than anything you would get at a brick-and-mortar casino. What most customers don't understand are the terms and conditions. Make sure that you go over them and if you still aren't sure, as previously mentioned, BetUS has an excellent customer service team that will help you out.
Once you've got a better understanding of how play-through requirements work, you'll be able to find the right bonus for you. The great thing with BetUS is that there is no pressure to take a bonus now because there's a possibility the offer might expire. There are so many bonuses available, it's more about taking the bonus that's right for you.
The emphasis on customer service is obvious at BetUS. You can reach them 24/7 over the phone, by email, or via live chat. Most sites have a customer service team capable of answering your basic wagering questions. This level of service is to be expected from any of the offshore betting sites that we have recommended in this guide.
The difference with BetUS is that their agents will offer personalized service. For example, if you find an agent that you have a rapport with, you can request for that individual to be your personal account manager. Of course, a relationship also depends on the work schedule but the option is certainly available.
What that means for you as a customer is that you have a point of reference within the company. That person can help you with any deposit issues, help you get your money out faster when you request a withdrawal, or give you access to promotions that you might not otherwise have access to. As a BetUS customer, you'll quickly realize that their customer service has very few peers.
Pros:
Bonuses are among industry's best
Exceptional customer service team
Cons:
Playthrough requirements higher than most competitors
7. WagerWeb: Same Day Crypto Payouts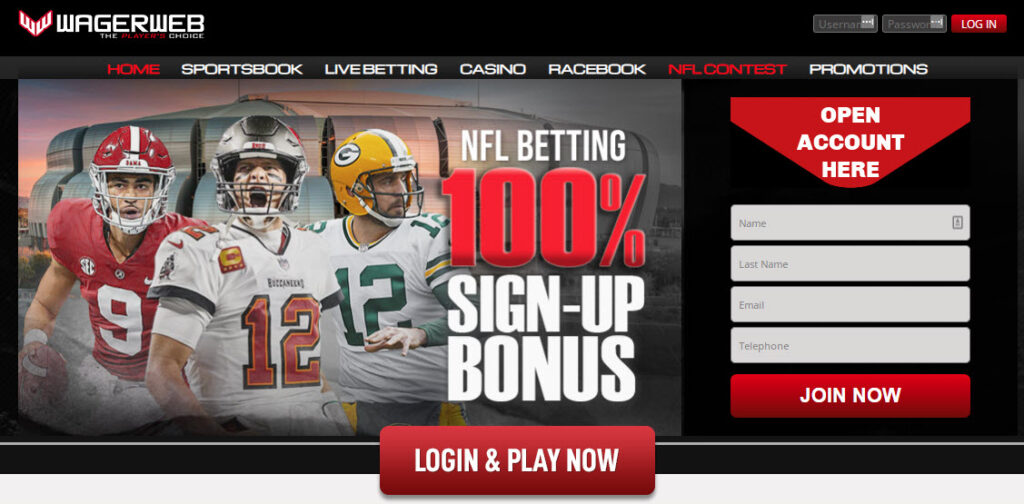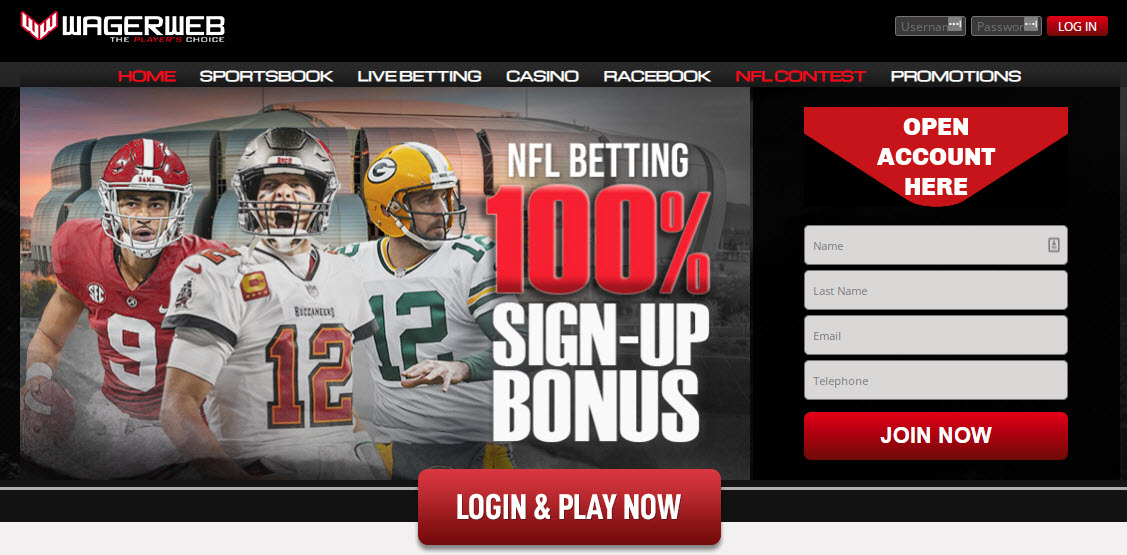 Options are what make WagerWeb a favorite of online gamblers in Massachusetts. There are plenty of deposit and withdrawal options for customers looking to get in on the action. For crypto depositors, there are some great perks available. On top of the great bonuses, if you are a crypto customer, you'll have access to same-day payouts.
While same-day payouts are a great feature, crypto as a deposit option should not be overlooked. Credit cards will always be more convenient but they aren't necessarily better due to the fact that there is a third party involved. With crypto deposits, it's you as the sender and the sportsbook as the receiver. There's no third party involved therefore the transactions are always smoother. This applies to both deposits and withdrawals. Crypto is the way of the future in this industry.
Bonus options are aplenty at WagerWeb and we strongly suggest you take the time to familiarize yourself with how they work. There is a tier system and we recommend communicating directly with them to find out how you qualify for each. What we do know is that there is an elite bonus, high roller bonus, bonus special, and of course a Bitcoin bonus special as well.
What that means for you as a customer is that you have the option of topping off your deposit with some extra bonus money but with different terms. The bonuses range in value from 10 to 75% with varying playthrough requirements. WagerWeb also offers cash bonuses which is a very unique feature as well.
Pros:
User-friendly interface
Several bonuses to choose from
Cons:
Bonus structure can be hard to understand for new players
8. JustBet: User-Friendly Online Gambling Experience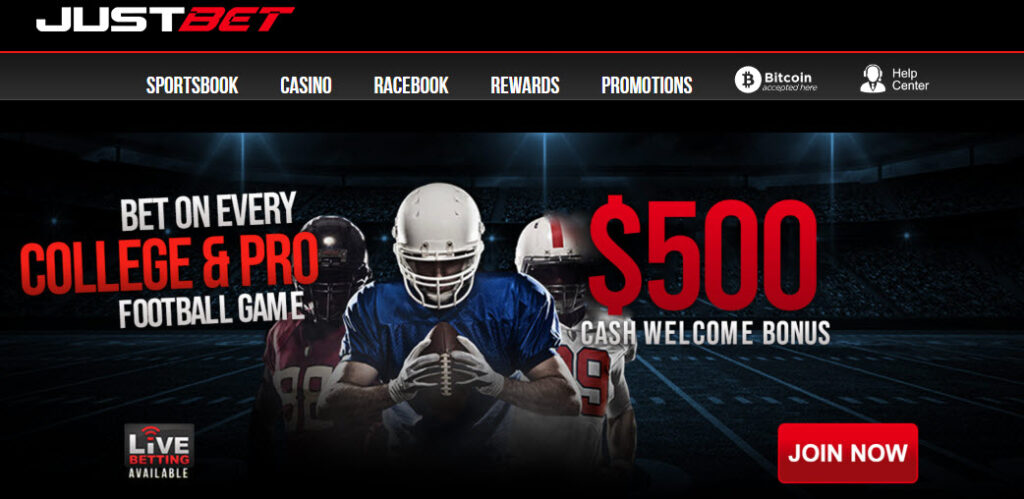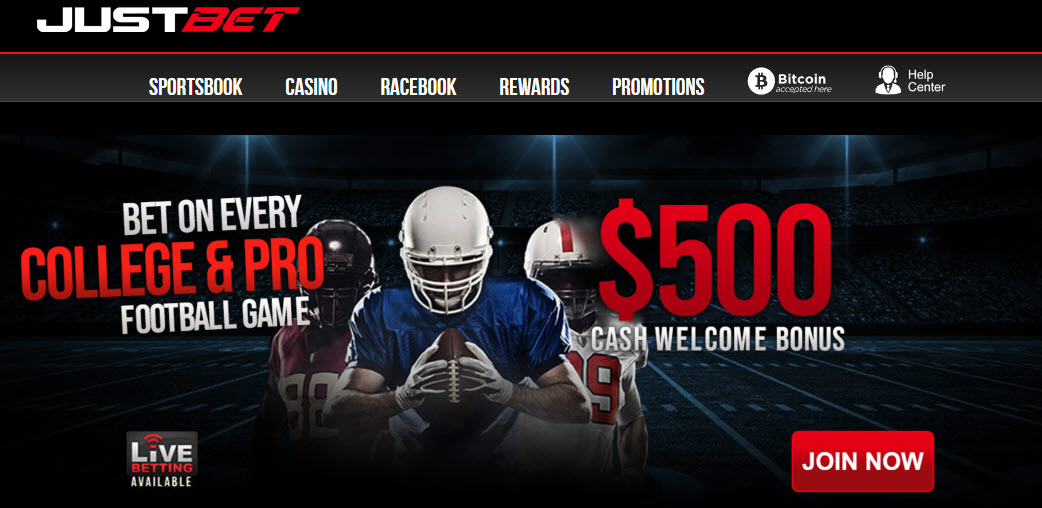 Having been around the online gambling space in Massachusetts since the 1990s, JustBet is one of the most user-friendly offshore betting sites in the industry. They understand what it takes to keep customers happy and has built one of the most customer-friendly online game gaming experiences you can find.
One of the features that customers enjoy the most while playing at JustBet is the early odds that they release. While they only offer live betting on bigger events like prime-time games, their betting market is very strong. Their customer service team is available 24/7 to assist you with any questions or concerns that you may have about your account. They can be reached via phone, email, or live chat.
As far as bonuses go, JustBet has some interesting rebate offers on exotic bets. If you aren't sure what an exotic bet is, think of props and futures. Essentially wagers that aren't available on a regular basis. We suggest speaking directly to a customer service representative to find out what wager types qualify as an exotic bet that you can get the rebate on.
There's also a rebate offer for those of you that enjoy betting on horse racing in Massachusetts. You'll have access to some of the top tracks around the globe and you can really benefit from the rebate offer on your races. In terms of signup promos, JustBet offers 100% to new customers.
Pros:
Consistent overall user experience
Rebates available on exotic wagers
Rebates available at racebook
Cons:
Interface not as modern as some competitors
9. Everygame: Trustworthy Sportsbook for Massachusetts Bettors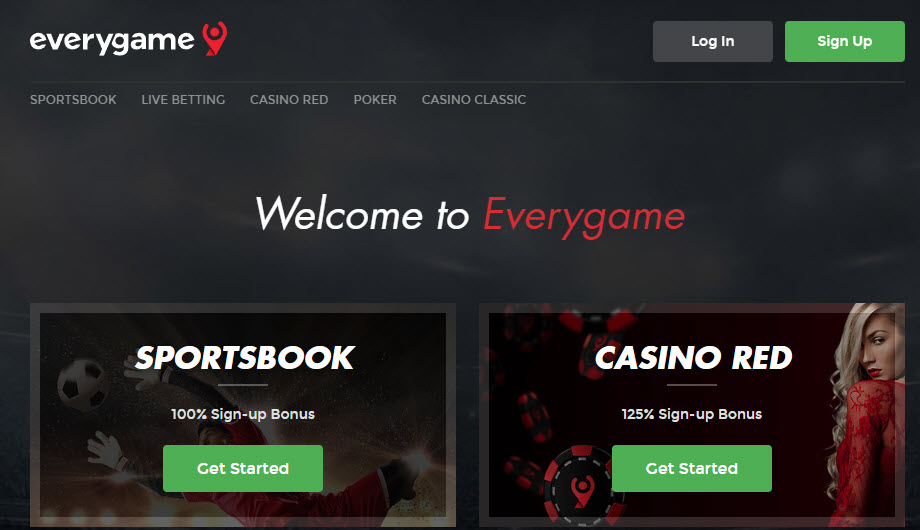 As a brand, Everygame hasn't been around as some of their competitors but that's a bit misleading as it's actually a rebrand from a company that has decades of experience providing online gambling to players in Massachusetts.
For that reason, they are seasoned when it comes to offerings that are important to serious bettors. They have a huge market that covers all of the North American sports as well as the major European leagues as well. Of course, live betting is available as you would expect and they have very high withdrawal limits as compared to a lot of competitors
They've got some interesting bonuses that are specific to certain sports. There's a tennis bonus that if your pick loses in five sets, you can receive up to $100 in free bets back. There are a few parlay-specific like the one where if your parlay loses by one point, you get entered into a draw where you can win a free $50 parlay bet.
There's another where you get rewarded for your profit from parlay action. Basically, if you have the highest net profit from a parlay for the previous month, you are eligible for a $1000 bonus.
This is the type of thing that our experts love. Most online betting sites have very basic bonuses that only really differ in percentage given and playthrough required. These bonuses from Everygame show that there is so much more potential for sites to offer unique bonuses to their players.
Pros:
Decades of industry experience
One-of-a-kind bonuses
Cons:
Mobile offering not as user-friendly as some competitors
10. SportsBetting: High Betting Limits and Live Wagers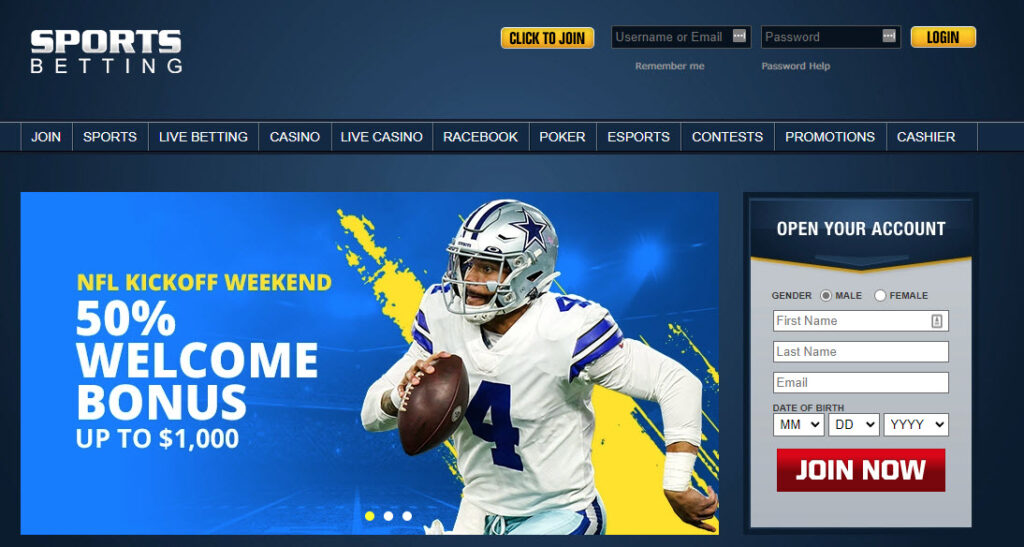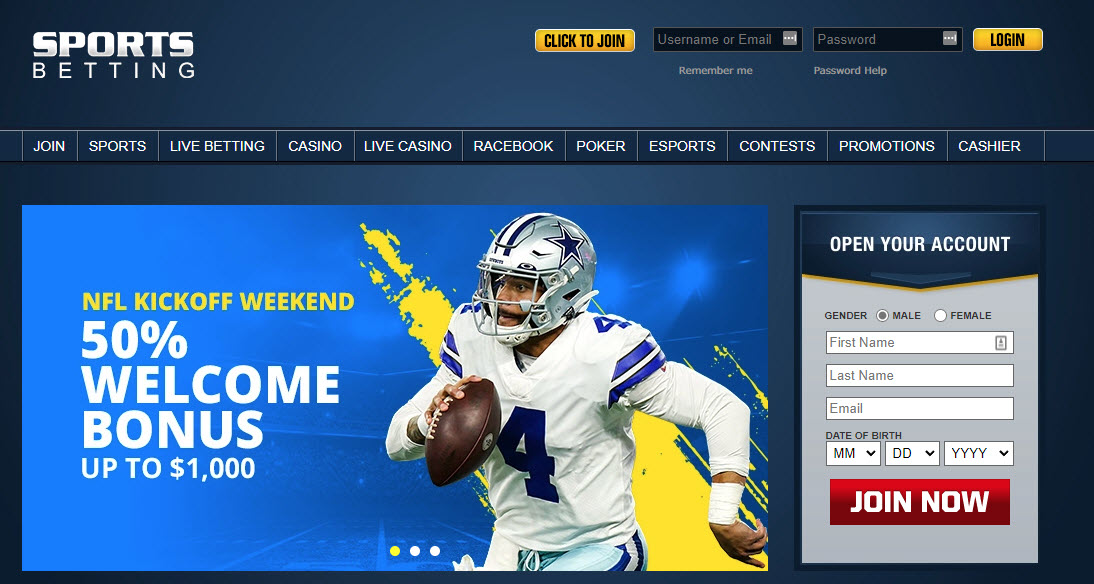 The amount of live wagers available at SportsBetting is a sign of how good their betting market is. You'll be hard-pressed to find an online betting site anywhere that has more options available. Add to that their fantastic bonuses that include a wager-back offer and it's obvious why so many online gamblers in Massachusetts have been enjoying their betting experience with SportsBetting.
There's a great offer where if you lose your first wager, you can get a certain amount refunded in the form of a free bet. The interface at SportsBetting is very sleek and has some unique features that we're sure you'll enjoy. One of those features that our betting experts absolutely loved was the multiview that allows you to bet on up to four games at the same time. Overall, SportsBetting has done a great job at providing the essential services that Massachusetts online gamblers value most.
Pros:
Interface has unique features and is user friendly
Large odds market
Tons of props and futures
Cons:
Withdrawals not available on weekends
Deposit and withdrawal fees
Massachusetts Online Gambling Site – Comparing the Top Sites
The below chart gives you a look at some of the most important features of an online betting site in order to help you make the right choice. We have in-depth reviews on over 100 offshore sportsbooks and we have included them in case you'd like to get any additional information on these brands.
| Sportsbook | Rating | Online Since | Payment Methods | Read Review |
| --- | --- | --- | --- | --- |
| Bookmaker | A+ | 1996 | Credit Card, Bitcoin, P2P, Crypto | Bookmaker.eu Review |
| Heritage Sports | A+ | 2001 | Credit Card, Bitcoin, Cashiers Check, Bank Transfer, P2P | Heritage Sports Review |
| Bovada | A+ | 2011 | Credit Card, Bitcoin | Bovada Review |
| BetOnline | A+ | 2001 | Credit Card, Bitcoin, Crypto, Cashiers Check, Bank Transfer, P2P | BetOnline Review |
| BetAnySports | A | 2002 | Credit Card, Bitcoin, Electronic Check | BetAnySports Review |
| BetUS | A | 2000 | Credit Card, Bitcoin, Bank Transfer, P2P | BetUS Review |
| WagerWeb | A | 1994 | Credit Card, Bitcoin, Cashiers Check, Bank Transfer, P2P | WagerWeb Review |
| JustBet | A | 2000 | Credit Card, Bitcoin, P2P, Crypto | JustBet Review |
| Everygame | A | 1996 | Credit Card, Bitcoin, Skrill, Neteller, Bank Transfer, P2P | Everygame Review |
| SportsBetting | A | 2002 | Credit Card, Bitcoin, Crypto, Cashiers Check, Bank Transfer, P2P | SportsBetting Review |
Is online gambling legal in Massachusetts?
Online sports gambling was legalized in Massachusetts in 2022.
The market has not launched and there is no confirmed date as of yet. The Massachusetts gaming commission is still in the process of reviewing applications for temporary licenses. That task has been complicated because of a mistake in the language of the sports betting bill.
Lawmakers haven't specified how they will fix this issue but they've been clear that until they do, the launch date will not be confirmed.
While that is being worked out, anyone looking to gamble online in Massachusetts can do so via an offshore sportsbook.
Massachusetts Sports Betting
While Massachusetts lawmakers work on the rules and regulations of the new sports betting market, the only available option in Massachusetts to gamble online is with an offshore sportsbook.
The companies are not based in the U.S and fall outside of state and federal jurisdiction.
Offshore Gambling
Players in Massachusetts have been doing their gambling activities at offshore sportsbooks for decades. There are several reasons for this, not least of which is that online sports gambling in Massachusetts was not legalized until 2022. Although it is now legal, there has been no official launch date set so the option is still currently unavailable.
Other than availability, online sports bettors enjoy playing at offshore site for the following reasons:
Better odds on local markets
Bigger overall betting markets
Better bonuses
Online casino games

Online poker rooms
Having the ability to gamble on all of these things in one place keeps online gamblers in Massachusetts coming back. A lot of regulated sportsbooks aren't allowed to offer some of these options. There are even some states where college sports betting is prohibited. Since offshore sites fall outside of U.S. jurisdiction, you will have access to more options than local sportsbooks including college sports betting and a wide variety of other betting options.
Payments at an Online Gambling Site in Massachusetts
Offshore sportsbooks are fully aware that this is one of the biggest stigmas about doing business with them. Since they do not fall under U.S. jurisdiction, many customers are afraid that they would have no recourse should they have a dispute about a payout.
That's a valid issue but also one that has a flip side. Without their reputation, offshore sportsbooks would cease to exist. From our point of view, payouts are what makes or breaks an offshore site. If we can't be sure you will get paid, we couldn't possibly recommend them to you.
There are a few suggestions we can give to help you with your user experience at an offshore site when it comes to banking options and withdrawal options:
Credit card deposits will require proof of identification
Offshore sites have to do their due diligence and this is one of the ways they can maintain their reputation intact. If you deposit via credit card as your banking option for your initial deposit, expect that before you can cash out your winnings, you will have to prove that the card being used belongs to you.
A tip from our betting experts is that you should not wait until you want to cash out to complete identity verification. They suggest you get it done as soon as possible to avoid any delays in getting paid when you get a payout from your gambling activities.
Crypto is the best way of doing business
This applies to deposits and withdrawals. For deposits, we suggest crypto because you remove third-party involvement which means a much higher chance of your deposit being successful. It's also the fastest, most secure way for you to receive a payout.
Read all terms and conditions
Most offshore sites will give you as much information as possible upfront. That said, most customers are only interested in getting money in and betting. They really tend to not pay attention to terms and conditions until they apply specifically to their situation. This is a mistake. Before taking a bonus or making a deposit with a credit card, read the terms and conditions carefully. Understanding what is required of you is your responsibility. The sportsbook is there to assist you but it's very difficult to get that done if you aren't willing to help yourself.
Online Gambling Laws in Massachusetts – What is legal?
Massachusetts lawmakers are working on correcting language in HB5164 which legalized online gambling. The issue is that the bill does not cap the amount of operators that can apply for a license. There are only 15 licenses available with 8 of them tethered to brick-and-mortar casinos. That means there are only really 7 mobile licenses available with over 30 operators having applied.
That could mean a host of problems like having to shut down over 20 operators once a launch date is confirmed. Since customers have no way of knowing who will be picked, there's a very real possibility of customers getting stuck with accounts that have a pending balance or pending bets that are all of a sudden no longer allowed to operate in Massachusetts.
This would be a logistical nightmare that can be avoided by fixing the current bill. There is no timetable on when that will happen.
Massachusetts Gaming Laws Timeline
July 2020: The Massachusetts House sports HB3974 by a 156-3 vote.
November 2020: The Massachusetts Senate kills sports betting legalization efforts for 2020 for both in-person betting and online betting.
January 2021: Massachusetts legislators introduce 5 sports betting bills. Two from the Senate and three from the House.
February 2021: Various committees begin working on the details of the 5 bills in question.
April 2021: Massachusetts House Ways and Means committee excluded sports betting revenues from their upcoming fiscal year budget draft. This a clear indication that they do not believe legalization wagers would take place in the following 18 months.
June 2021: Massachusetts House unanimously approves HB3977 which is the new sports betting bill.
January 2022: Massachusetts Senate does not approve HB3977. College wagering and budgeting seem to be the main issues.
August 2022: The Massachusetts General Court agrees to adopt the conference committee's sports betting report. At this point, HB5164 is sent to Gov. Charlie Baker. Baker has been a long-time supporter of legal sports betting when questioned on the topic in the past. Gov. Charlie Baker signs HB5164 into law.
September 2022 – 42 sportsbook operators hand in a notice of intent to apply for a sports betting license. Ultimately, only 15 will be granted.
November 2022 – Sports betting operators can now begin to apply for a license.
January 2023 – Massachusetts Gaming Commission approves the first sports betting licenses. In-person sports betting is expected to go live on January 31st.
Advantages for Bettors of Online Gambling Massachusetts Sites
There are several advantages that online gambling has over playing at a land-based casino or retail sportsbooks such as:
Access to global betting markets
Unique bonuses
Better odds on local sports
Several types of gambling under one roof
Crypto friendly
Multiple banking options, including bank wire transfers, debit cards, credit cards and even crypto
Accessibility and Convenience
Due to the fact that offshore betting sites offer many forms of betting on one site, this eliminates the need of having several betting accounts. You can play slots while you're waiting for your bet on your favorite college teams to be finished.
Wagers on horse racing tracks from all over the world are available to you right on your mobile device. Bet on the game while you're out on the road with the live betting option. Kill time by sitting down at a virtual poker table to play some hands at a cash game or even enter a tournament. You don't need to go anywhere to be able to have all of these gambling options which is only possible at an offshore sportsbook, something that can't be said for retail betting.
Lots of Gambling Options
Offshore sites do not only accept players from the U.S. which means they have to think globally. That is one of the main reasons you have more gambling options in Massachusetts when playing at an offshore site than you would at commercial casinos or retail sportsbooks. They have to appeal to a much wider audience which benefits you in terms of the number of options you have to choose from.
Access to betting markets outside the U.S
Casino games with great bonuses
A racebook with hundreds of races weekly
Poker tournaments and cash games
Esports betting for video game enthusiasts
Political and entertainment wagers available
Bonuses and Promotions
Part of having to appeal to a wider audience means making offers to attract customers. Having a wider audience also means having more competitors in that space. As a result, offshore sites tend to have more generous bonuses and promotions than regulated sportsbooks but they have no choice.
In a given state, there will be a handful of operators competing against each other. The big names in the regulated market are restricted to a handful of names that do business in most states that have already legalized. As we mentioned previously in this guide, we have reviews of over a hundred offshore sportsbook operators. Competition is fierce and you directly benefit from that by being able to take advantage of the multitude of bonuses and promotions being offered by competitors.
The Best Massachusetts Sites for Online Gambling Bettors
It's hard to say which of the many online sports betting sites is the best in Massachusetts because a lot of that comes down to personal preference. What we did do was ask our betting experts to narrow down their top ten list to the ones they liked the best.
The feedback we got is that there is a consensus top four consisting of Bookmaker, Heritage Sports, Bovada, and BetOnline.
FAQs about the Top Massachusetts Sites for Online Gambling
What is the legal gambling age in Massachusetts?
The legal age for gambling on sports when the market does launch will be 21 years old. For now, the sports betting language in the bill needs to be clarified which means that there will likely need to be another legislative session before a timeline for launch is laid out.
Can I gamble online if I live in Massachusetts?
You can gamble online in Massachusetts via offshore online sports betting sites or online casino sites.
Legal sportsbooks have not yet opened in the state and it is likely that another formal session will be required to iron out the details. Until then, Bay Staters can bet on professional sports teams, play electronic table games, and play online slot machines at an offshore sportsbook.
What kind of online gambling is legal in Massachusetts?
The following forms of gambling are legal in Massachusetts under the states sports betting law and gaming law:

• Sports betting
• Pari-mutuel wagering
• Massachusetts Lottery tickets
What apps can you bet on in Massachusetts?
You can use any offshore mobile betting app or mobile-optimized betting site as a Massachusetts resident for mobile sports betting or for gambling at online casinos. There will be the option to use state-licensed mobile betting apps as they are now legal, but they are not currently available.
Is Bovada legal in Massachusetts?
It is completely legal to bet with Bovada in the state of Massachusetts. In fact, Bovada is one of our top-picks for the best online gambling sites in the state for bettors and sports fans.