North Carolina Horse Racing Betting – The Best Racebooks in North Carolina 2023 Compared
North Carolina's gambling laws are a little bit confusing to residents. Right now, online sports betting and mobile betting are not legal with local providers. Instead, North Carolina's gamblers have to go to retail locations to place their bets.
However, North Carolina bettors have used offshore sportsbooks for decades to get around this issue as it is completely legal and safe.
North Carolina has several locations in which horse racing events occur on both a regular and annual basis, and this guide will walk you through every aspect of NC horse racing betting in the state. This includes the history of horse racing in the state, the bonuses offered at the different racebooks, the racing tracks in the state, and many others, starting with the top ten online betting sites in North Carolina for horse racing.
The Best Sportsbooks for North Carolina Residents 2023
North Carolina Betting Guides
We recommend checking out one of our other comprehensive betting guides which will cover everything that you need to know about a specific online betting market as a resident of North Carolina.
Top 10 Ranking of the North Carolina Best Horse Racing Betting Sites
Bookmaker.eu – accepts action from all players.
Heritage Sports – best for live betting, VIP service to every player
Bovada – offers an abundance of prop bets
BetOnline – releases opinionated lines
BetAnySports – offers reduced juice
BetUS – offers large bonuses
WagerWeb – offers same-day Bitcoin payouts
JustBet – releases odds earlier than most sites
Everygame – offers a variety of bonus promotions
SportsBetting – 100% cash bonus
Reviewing the Best North Carolina Horse Racing Betting Sites
From this list of our top ten, we have selected and analyzed our top 5 sites to bet on horse racing in North Carolina.
1. Bookmaker: Racebook with High Betting Limits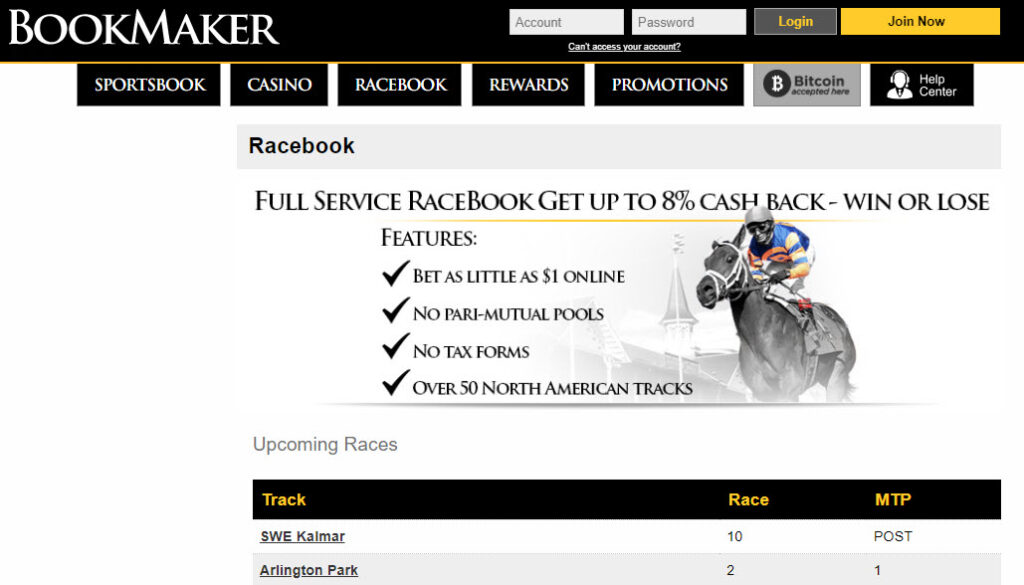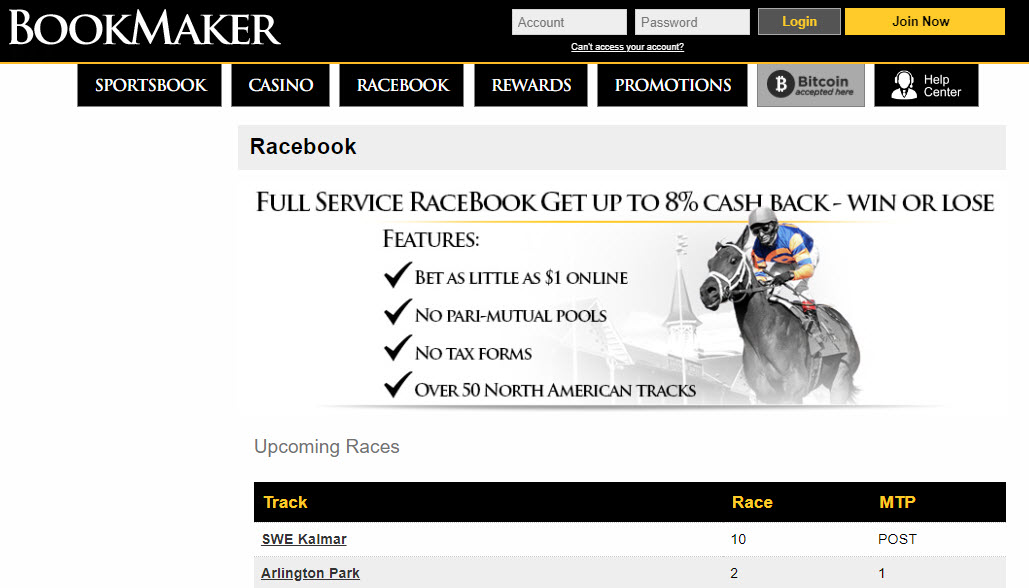 The first spot on our list is occupied by Bookmaker.eu, a high-quality, reliable, and efficient online racebook that is guaranteed to give North Carolina residents everything they want and more in their horse racing betting experience.
Users of this site can place a variety of bets and wagers on their favorite horses including win bets, place and show bets, and exotic bets at over 50 North American tracks, while the site is also accepting of all customers regardless of their skill or experience. One of the best promotions available for horse racing aficionados is the 8% rebate on losses in the racebook.
Residents of North Carolina that keep their business with Bookmaker will be able to enjoy one of the best loyalty programs in the industry.
Pros:
Generous rebates on winning and losing bets
Refunds Bitcoin fees incurred on deposits larger than $100
High level of customer service
Quick to release fixed-odds futures on horse races
Cons:
Bonuses only available for recreational accounts
Minimal information available on previous races
2. Heritage Sports: Outstanding Mobile Betting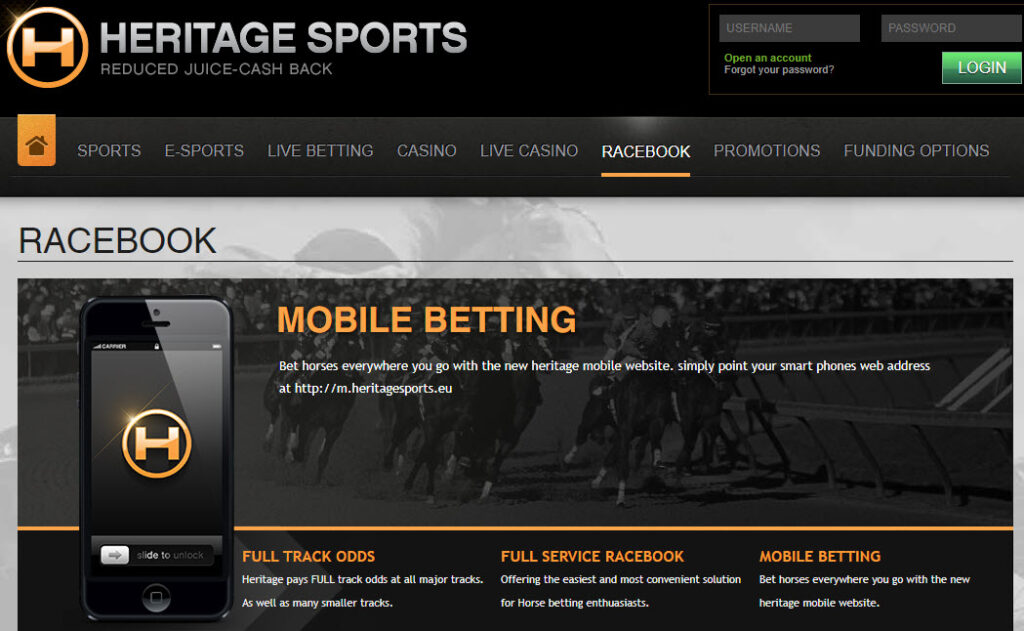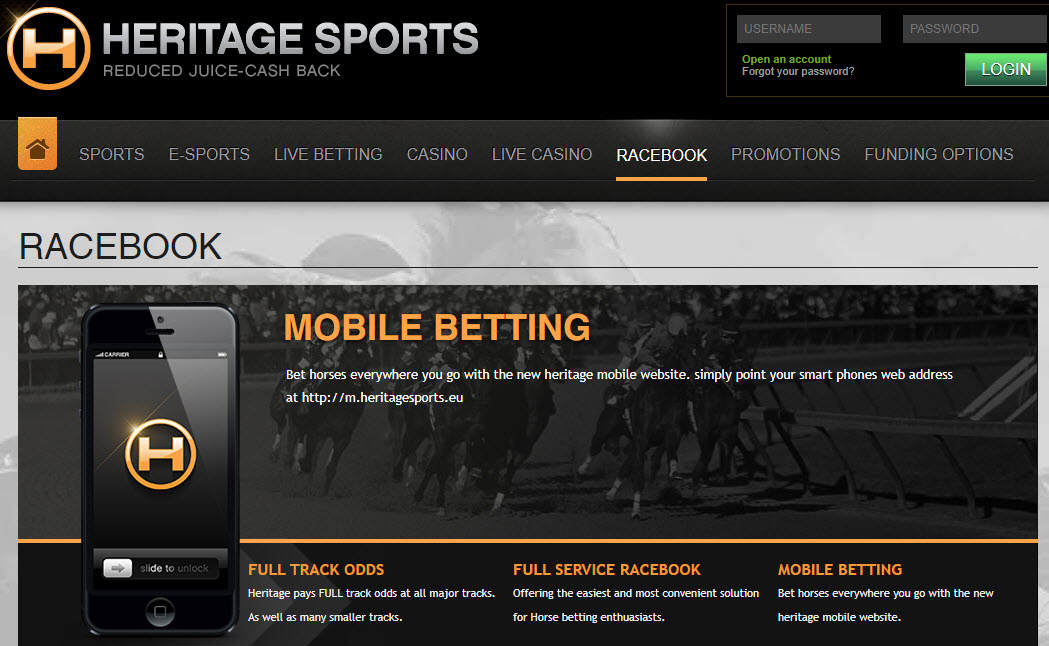 Heritage Sports is another highly reputable online betting site with a highly attractive racebook section that boasts over 60 tracks for both thoroughbred and harness. This site greatly emphasizes the importance of customer service and care, and this is reflected in the ease at which the site can be navigated, as well as the secure and efficient payouts given to winning bettors.
This site maintains its high levels of demand by providing access to reduced juice odds in combination with a great online casino and a plethora of promos that include a 50% sign-up bonus $250. However, it does have a 12x rollover requirement.
Pros:
Excellent customer care and support
Pays full track odds at major tracks and various smaller tracks
Highly efficient mobile racebook
High maximum payout of $10,000 per race
Cons:
Does not offer racebook rebates
No live streaming of races available
3. Bovada: Over 60 U.S. Tracks Available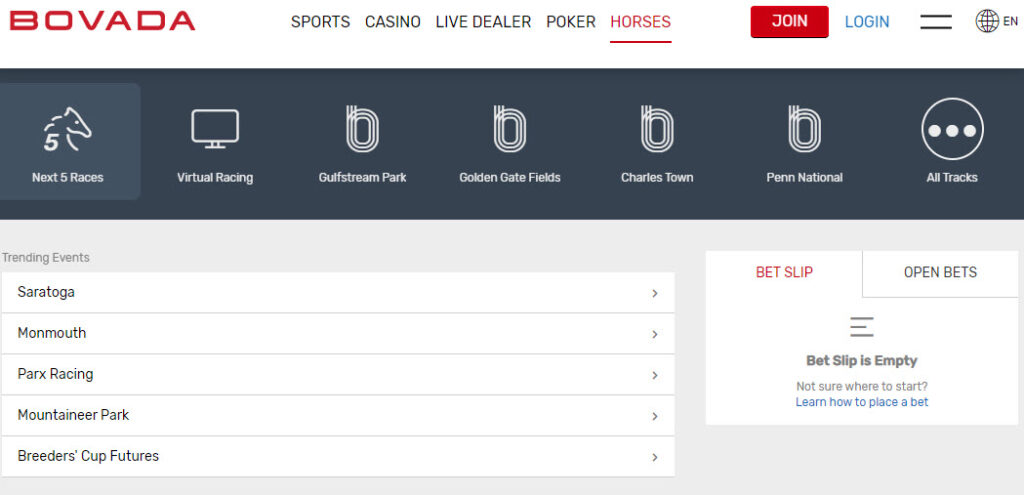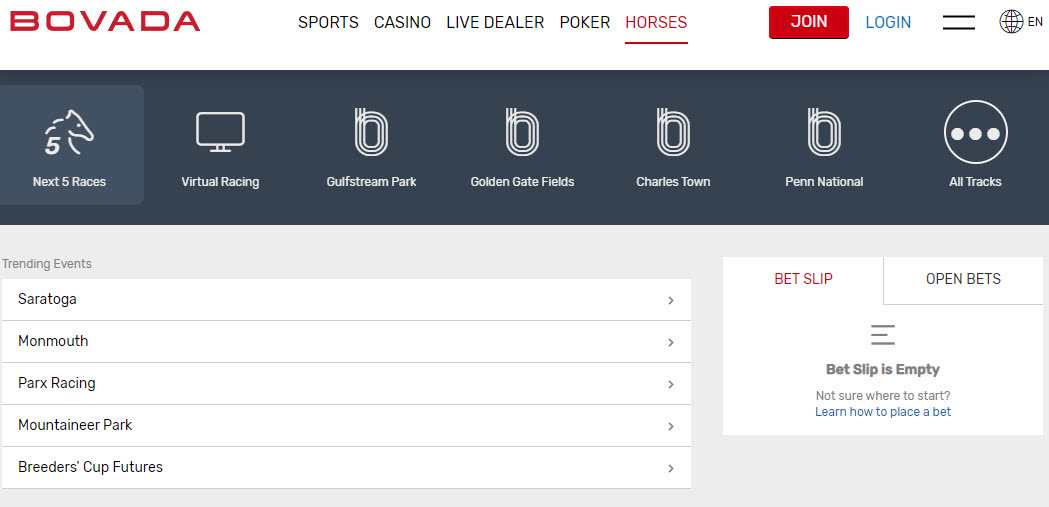 With nearly 12 years of experience in the online gaming industry, Bovada is a strong and reliable choice for anyone in North Carolina looking to bet on horse racing events in the United States as they offer over 60 North American tracks.
Bovada cares greatly about the customer experience as well so new users to the racebook can opt for 50% welcome bonus and a 5% rebate promo on exotic bets. New users can also get a 75% bonus of up to $750 and, if you use it at the racebook, it only has a 6x rollover requirement.
Pros:
Strong focus on customer service
Accepts deposits through cryptocurrency
Live betting available
Easy to access competitive odds
Cons:
Site not available worldwide
Somewhat complicated site design
4. BetOnline: Great Horse Racing Promos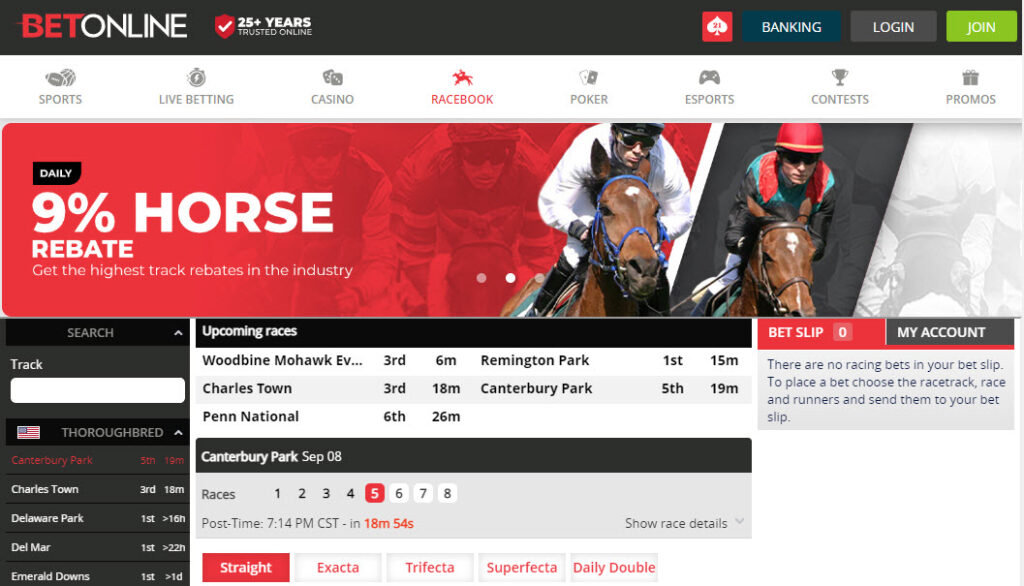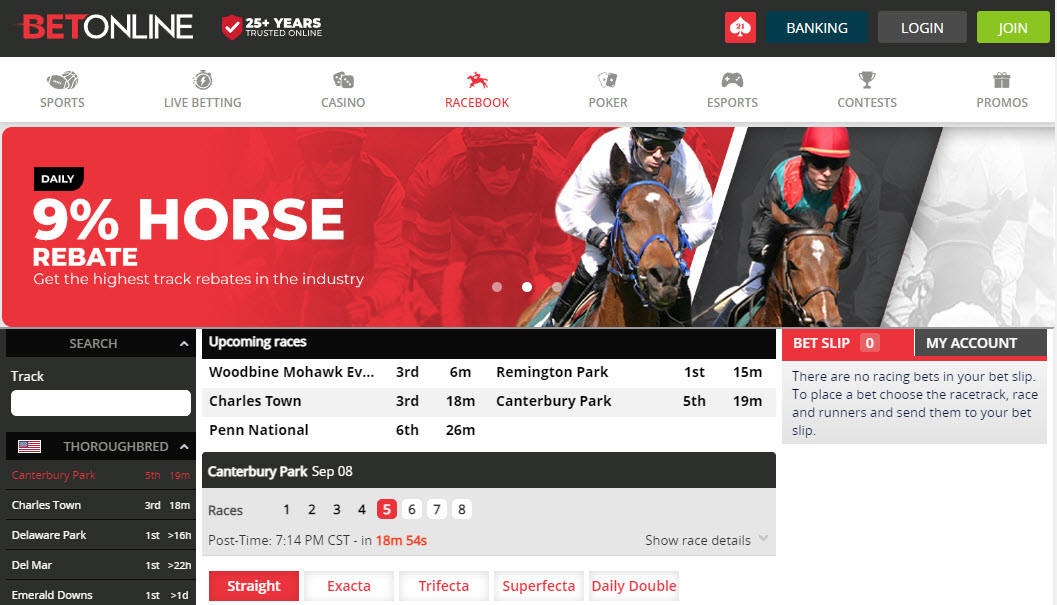 BetOnline is another excellent option for North Carolina residents who wish to engage in a fun and exciting horse racing betting experience. One majorly attractive feature of this site is the fact that it releases futures odds on the biggest races like the Breeder's Cup or the Triple Crown.
In addition to this, BetOnline also offers customers generous rebates (9% online and 5% over-the-phone bets) as well as $25 risk-free bet on a horse race of their choice for new customers. On that note, new users can enjoy a 50% bonus of up to $1000.
Pros:
Large racebook rebates
$25 risk-free racebook wager for new customers
Odds released in advance
Reliable and efficient racebook interface
Cons:
Limited bonuses for racing
Credit card deposit fees charged
5. BetAnySports: Rebates in Horse Racing Betting Available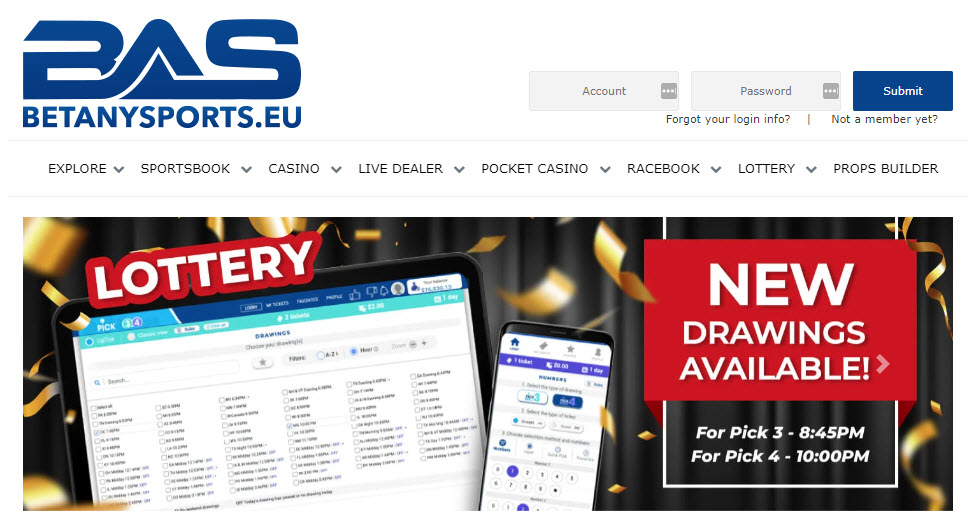 If you are a North Carolina resident looking for a thrilling horse racing betting experience, then BetAnySports is a highly beneficial option for you.
This site not only covers worldwide horse racing events, but it also offers various cash rebates, like 3% on straight bets, as well as generous promotions including a welcome cash bonus of 25% up to $500. These features combine with the excellent 24/7 customer service of BetAnySports to give customers a high-quality, efficient, and enjoyable horse racing betting experience.
Pros:
24/7 customer service
Cash rebates offered
International race coverage
Welcome bonus offered
Cons:
Website layout could be improved
Welcome bonus smaller than some competitors
Features to Look For at Horse Racing Betting Sites in North Carolina
There are many factors to consider when comparing different horse racing betting sites, including welcome bonuses, coverage of events, the competitiveness of odds, and many others, as we discuss below:
Horse Racing Odds
Horse racing odds are undoubtedly a hugely important factor when it comes to choosing a betting site. The more competitive the odds, the greater your chances for success, and therefore the more attractive the site is.
Horse Racing Betting Markets
The horse racing betting markets and types of bets available are also attractive features of any sports betting site. For example, many sites offer betters wagers including win, show, place, across the board, daily double, exacta, trifecta, superfecta, pick 3, and pick 4, as well as others.
Live Horse Racing Betting
Online betting sites that allow betters to place bets in real-time as races and events occur have a great advantage over those that do not, as customers will feel they have more freedom with their bets. This will also allow customers to feel more relaxed and at home with their chosen sports betting site as they will not feel they are under pressure to place bets before the events start.
Horse Racing Betting Promotions
Betting promotions on horse racing events are also highly attractive for potential betters as they often allow these betters to save money or make money back on their bets. For example reload bonuses, welcome bonuses, and other money-saving promotions are all popular options.
Special Features for Horse Racing
Some sports betting sites offer special features such as advice and tips on events, as well as live streaming, however, live streaming is not generally offered when it comes to horse races.
Horse Racing Welcome Bonus
Often horse racing betting sites offer welcome bonuses to new customers as a way of enticing potential betters to join the site. These bonuses can include free bets and money-back offers, among others.
User-Friendly Design
One of the most important aspects for a betting site to consider is the ease at which the site can be navigated. Betters want a site that not only looks visually pleasing but also allows them to place bets easily and without any unnecessary struggles.
Best North Carolina Horse Racing Betting Sites
While the above factors are some of the most important things to consider, the features below should also be kept in mind
Brand Recognition
It is important to choose a site that is trusted and reliable in the public eye. If more people trust a specific brand, the chances of that brand actually being trustworthy are increased.
Payment Methods
Sites that accept various payment types including credit cards (Mastercard, Visa, American Express), debit cards, bank wire transfers and even crypto (Bitcoin, Bitcoin Cash and Litecoin among others) are greatly favored.
Safety & Security
Your safety and security should always be a priority and hence it's vital that the site you choose is safe and fully licensed.
Speed & Design
The speed and efficiency of a site can truly set a betting platform above its competitors. If the site is hard to navigate or takes a long time to load, that can really impact your overall betting experience.
Customer Service
An online betting site that truly cares about its customers will gain much more attention than those that do not.
Overall Value
Value is something that can easily be overlooked, however, it is vital that your chosen site gives you a fair chance at winning bets and making money.
Is horse racing betting legal in North Carolina?
Yes, it's legal to bet on horse racing at registered gaming locations. In addition to horse betting, you can find legal sports betting at a lot of retail sportsbook locations across the state as well. However, offshore sportsbooks continue to be the best option for residents of North Carolina as they offer a variety of gambling options besides horse racing betting.
North Carolina Horse Racing Betting Guide – How to Bet on Horse Races in North Carolina
Horse race betting is allowed in person in both of the tribal casinos of the state, however, online sports betting can also be done on any of the offshore sportsbooks previously discussed sites, allowing you to bet on your favorite horses and races from home.
How Horse Racing Betting Works in North Carolina
When betting on a sports betting site, bets can be placed in several different ways. The most popular of these is the "win" option, in which you simply place a wager on your chosen horse to beat the other horses. Once you are used to this type of betting you can then move on to other options such as show, place, trifecta, exacta, and many others.
The main thing to understand about horse race betting is that rather than betting against a house or casino, you are betting against other people's bets. This essentially means the horses that a lot of people bet on may be more likely to win, but they will win you less money than the less popular horses.
North Carolina Horse Racing Betting Explained
The main thing to understand about horse race betting is that rather than betting against a house or casino, you are betting against other people's bets. This essentially means the horses that a lot of people bet on may be more likely to win, but they will win you less money than the less popular horses.
Horse Racing Betting Odds
Generally, most sports betting sites will offer similar horse racing odds. While some may offer better odds than others, these sites usually won't be able to always offer these odds.
Fixed Odds for Horse Racing Betting in North Carolina
Fixed odds simply means your bet is locked in at a certain price, and that it is unable to change. This may offer you a more secure bet, but the odds may be less favorable for you.
Pari-Mutuel Betting in North Carolina
Pari-mutuel betting essentially means all bets of a certain type are pooled together and after the house takes a certain amount, the payout is split among the winning betters.
Pool Betting on North Carolina Horse Races
Pool betting is very similar to pari-mutuel betting, however, it is used more often for trifecta and superfecta wagers.
What are the different types of horse racing bets?
Win: Simply bet on your favorite horse and hope it wins.
Place: Place allows you to bet on a horse to win or come second.
Show: Allows you to bet on a horse to come first, second or third.
Exacta: Exacta allows you to pick the top two finishers.
Trifecta: Trifecta wagers allow you to pick the top 3 finishers.
Superfecta: Superfectas allows you to choose the top 4 finishers.
Daily Double: Allows you to pick the winners of two back-to-back races.
Pick 3/4/5/6: Allows you to pick the correct winners for three, four, five, and six consecutive races.
North Carolina Horse Racing Betting Terms
If you are new to horse racing or horse race betting then it is important you become familiar with the following terms.
Dead Heat: At least two horses tie at the finish line.
Furlong: 1/8th of a mile.
Handicap Race: Races with a point spread due to differences in the weight of the horses.
Maiden Race: A horse aiming to win for the first time.
Tote Board: A board displaying information about races and bets.
North Carolina Horse Racing Betting Calculator
When betting in person it can be difficult to calculate your expected winnings from a race, especially while the race is happening. This is not an issue when betting online as the site will calculate your winnings for you.
How to Calculate Horse Racing Betting Odds
When betting on a horse racing wager, you need to consider the number of people wagering, the amount of money wagered, and the number of units you wager. For example, if there is $100 in a pool of 20 betters, each will get a dividend of $5 for every unit wagered.
North Carolina Horse Race Tracks
These are the active racetracks currently in North Carolina.
Carril Pantera Rosa, 3391 Stevens Mill Rd, Goldsboro, NC 27530
Carril Pantera is a horse training and racing facility that focuses on hosting horse racing events in the North Carolina area.
Carolina Horse Park Foundation, 2814 Montrose Rd, Raeford, NC 28376
The Carolina Horse Park Foundation was founded by equestrian enthusiasts in 1998 as a non-profit organization to hold championship-level equine competitions as well as other outdoor activities.
The History of Horse Racing in North Carolina
Since as early as the 1730's horse racing has been a hugely popular sport in North Carolina, as English breeding horses were imported to the state and gambling began to become favored among all classes of people. Jockey clubs began to form, annual events occurred, and breeding became a major business investment for many individuals.
The civil war led to many jockey clubs disappearing and the gradual decrease in popularity of the sport, however, from the 1950s onward, steeplechases began to garner attention, before harness racing was reintroduced in 1992.
Horse racing hasn't been able to kick on to the phenomenon it once was due to its association with illegal gambling in North Carolina, yet many residents are still fans of the sport.
Comparing Betting at the Racetrack with Online Horse Racing Betting
When it comes to betting on horse racing, there are many pros and cons to consider in terms of comparing betting in person at a racetrack versus online.
Betting at the Racetrack
Below you will find the pros and cons associated with in-person betting at a physical horse track:
Pros:
Live entertainment
Food and drinks
Cons:
No welcome bonuses
Wager with cash only
Required to travel to racecourse
Online Horse Betting Sites
In comparison to in-person wagering at a horse track, below are the pros and cons of betting with an online horse batting site:
Pros:
Welcome bonuses
Expert analysis on site
Additional promotions
Potential live streaming of races
Cons:
No food or drink
No in-person entertainment
Terms and Conditions at Horse Racing Betting Sites in North Carolina
When joining an online betting site to gamble on betting sites in North Carolina you will generally be required to provide the site with certain information such as your email address, name, and date of birth, while some sites may ask for your home address.
Rollover Requirements
A rollover requirement is essentially a minimum amount of money you need to wager before you can withdraw the bonus funds you are provided with by the betting site.
North Carolina Horse Racing Betting Bonuses
There are several different types of betting bonuses available from different sports betting websites, as discussed below.
Deposit Bonuses: Often betting sites will offer a bonus in which they will match whatever you deposit. Hence, if you deposit $100 with a 50% deposit bonus you will receive an additional $50.
Free Bets: A free bet simply allows you to place a bet with no risk, as if you lose, you will not have lost your own money.
Enhanced Odds: Often sites will offer enhanced odds on a certain race or horse as a means of attracting more attention to that race or horse.
Loyalty/VIP: Loyalty or VIP members of a site will generally be offered greater bonuses and promotions than regular members
Virtual Horse Racing Betting in North Carolina
Virtual horse racing essentially offers a gaming representation of a real horse race, in which you can bet on virtual horses and a computer will generate the winner of the race.
North Carolina Horse Racing Betting Apps
Most horse racing betting sites have a mobile version that can be accessed on smartphones, however, some have created apps that are compatible with iOS and Android devices.
North Carolina Horse Racing Betting Apps for iPhone:
For iOS or iPhone devices, horse racing apps can be downloaded through the apple app store.
North Carolina Horse Racing Betting Apps for Android:
On Android devices, horse racing betting apps can be downloaded from the Android play store.
How to Start Betting at Horse Racing Sites in North Carolina
The following guide will walk you through the process of registering at an online betting site so you can place your first bet on horse racing events from North Carolina.
Step 1: Visit The Home Page, Click "Join Now"
Go to the homepage of the site you would like to begin betting on and click on the join now button.
Step 2: Complete the Registration Process
You will then be brought to the account registration page where you will be asked to enter details such as your name, date of birth, and email address.
Step 3: Make Your First Deposit
Once your registration is complete you can then make your first deposit into your account.
Step 4: Choose Your Bet and Place It
Now all that's left to do is find the race you want to bet on and place your bet.
Other Types of Gambling in North Carolina
Most sports betting sites will have casino sections on their sites in which you can gamble and bet money on various games such as blackjack and slots, among many more.
What is the best site for horse racing betting in North Carolina?
We feel the most beneficial site overall for the better is Heritage Sports. This site is not only extremely focused on customer care and attention, but it also offers bettors the chance to place bets on races all over the United States.
FAQ – North Carolina's Horse Betting Industry
How do you gamble in North Carolina?
You can gamble on horse races in-person at horse tracks, or enjoy in-person casino games at one of the three tribal casinos located in the state (Harrah's Cherokee Valley River Casino & Hotel in Murphy, Harrah's Cherokee Casino Resort in Cherokee, Catawba Two Kings Casino Resort in Kings Mountain). Additionally, North Carolina has a state lottery. For online gambling, you will need to use an offshore betting site, such as one of our top picks for the best betting sites in North Carolina. These offshore sites offer many forms of gambling including sports betting, slot machines, poker and other dealer games and even niche betting markets.
What gambling is legal in North Carolina?
In-person horse betting, in-person casino gambling (table games, video poker, slots) at tribal casinos, retail sports betting and the state lottery are all legal in North Carolina. Online gambling and mobile sports betting is legal for North Carolinians with an offshore sportsbook.
What gambling sites are legal in NC?
Any gambling site that is operated offshore is legal for use in the state of North Carolina under North Carolina's gambling laws. None of the state's online sports betting bills have actually been passed as of right now, so online sports betting or gambling on online casino games with a state-regulated sportsbook is currently not legal.
Can you bet on horse racing online in North Carolina?
You can, but only with an offshore online sportsbook due to the state's current gambling laws. Otherwise, you will need to engage in some in-person betting at retail sportsbooks in the state. However, one of the major benefits of online sportsbooks is the ability to enjoy multiple betting markets, such as college sports, professional sports, poker games and all of the other most popular gambling activities.
Can I bet on the Kentucky Derby online in North Carolina?
You can bet on the Kentucky Derby — in addition to the other legs of the Triple Crown or other big horse races — with an offshore online sportsbook. Thoroughbred horse racing is popular with bettors, which means being able to bet on them online is great for horse racing fans.

What is the big horse race in North Carolina?
The biggest horse race in North Carolina is the Carolina Cup, an annual steeplechase horse race held at the Springdale Race Course in Camden. Springdale is one of the most active racetracks in North Carolina.