Betting on Horse Racing in Florida in 2023
It's easy to think of Florida's dazzling beaches and underestimate the popularity of horse racing there, but the Sunshine State actually has one of the largest horse racing industries in the country. While it may not be a destination for events like Preakness Stakes or other major horse races, there are prestigious events held in Florida such as the Florida Derby and Pegasus World Cup Invitational Stakes.
We have prepared a guide that will cover all aspects of Florida sports betting, especially horse racing betting. Topics include horse racing tracks and the history of horse racing in the state, the best betting sites, the bonuses they offer and much more to fulfill your horse racing needs in Florida. 
Ranking the Top 10 Betting Sites for Horse Racing in Florida
While there are many racetracks you can visit in Florida for legally betting on horse races, most find it more convenient these days to bet on apps from their favorite mobile devices. Those too are legal to use in Florida from American-based companies such as TVG and TwinSpires.
Another way to participate in online sports betting is through offshore betting sites. These sites offer odds for races at all the most popular horse racing tracks, as well as a broader range of online sports betting opportunities and online gambling through electronic table games.
Bookmakers Review has studied the sportsbooks market to find the most adequate ones for you. Following our set of criteria, we reviewed each side and have completed a ranking of the top 10 horse race betting sites:
Reviewing the Best Florida Horse Racing Betting Sites
Following our top 10, let's take a close look at the top five betting sites for horse racing available to Florida bettors.
1. Bovada – Variety of Props on Horse Races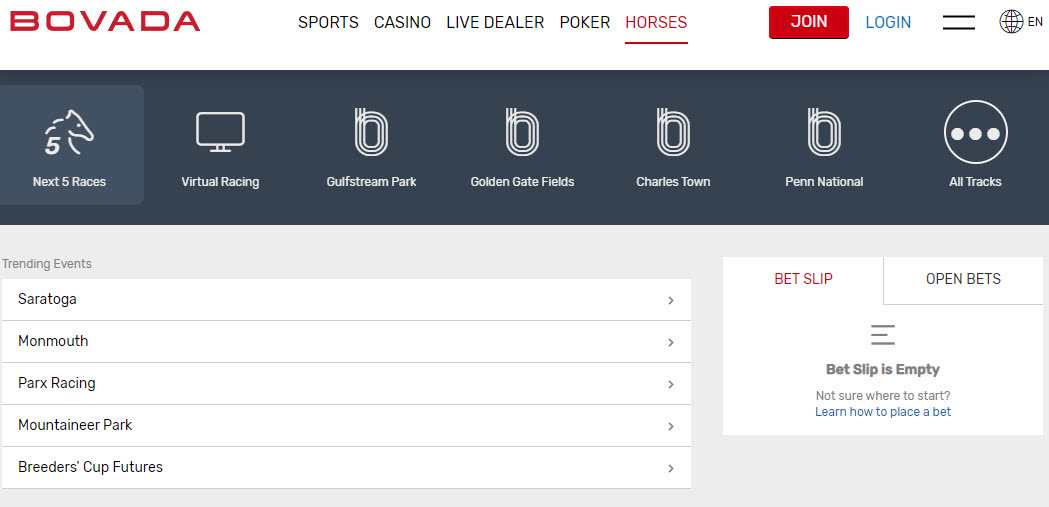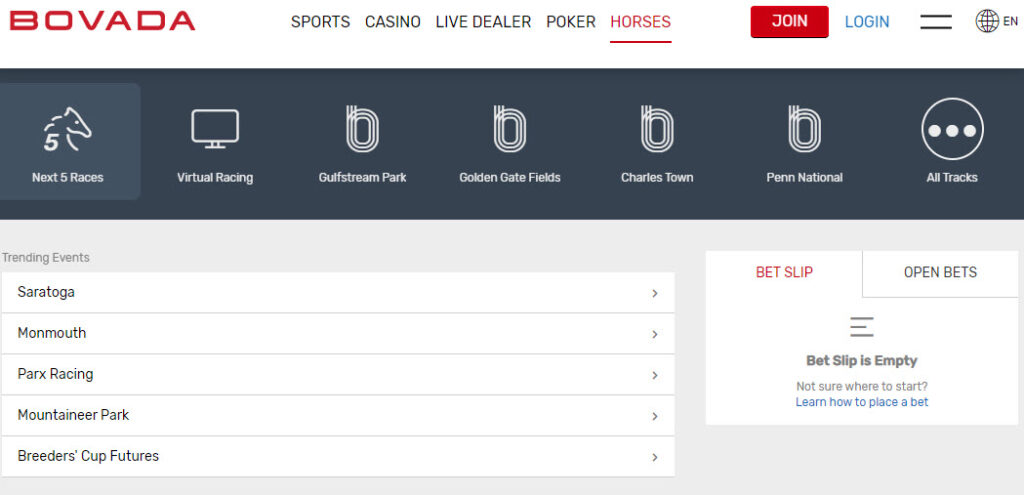 Bovada is a popular offshore site that is very newbie-friendly to U.S. players looking to bet on sports, horse racing and poker games. They have futures on the Breeders Cup as well as normal bets on plenty of smaller races from around the world. Plus, there is a selection of promo codes at Bovada which customers can take advantage of.
Pros
Easy drop-down menus to place horse racing bets
More betting options than rival sportsbooks with wide variety of leagues included
Good welcome bonus
Relatively low rollover requirements
Cons
Lower betting limits than most competitors
Lack of live streaming of races
2. Bookmaker – Safe and Reliable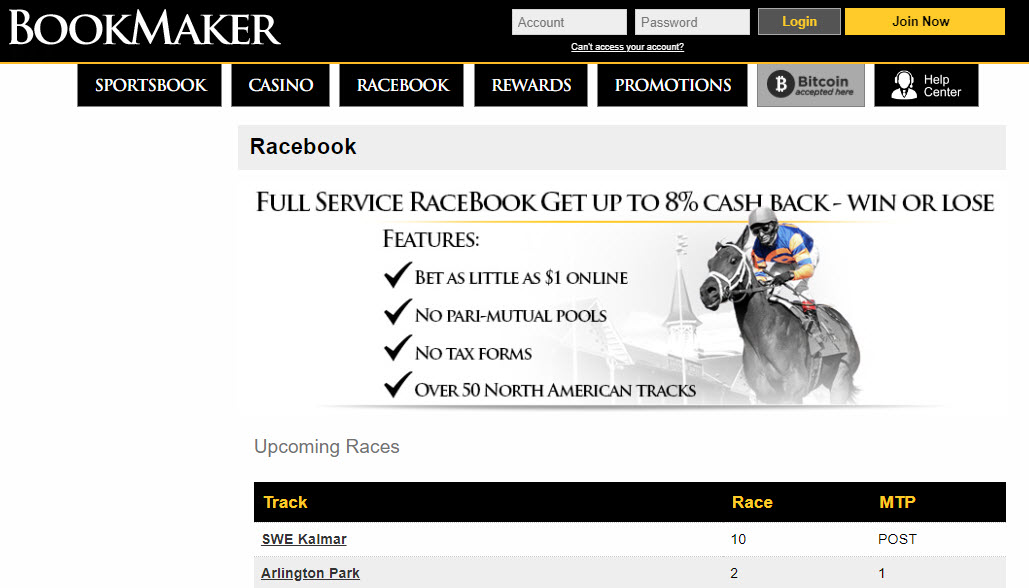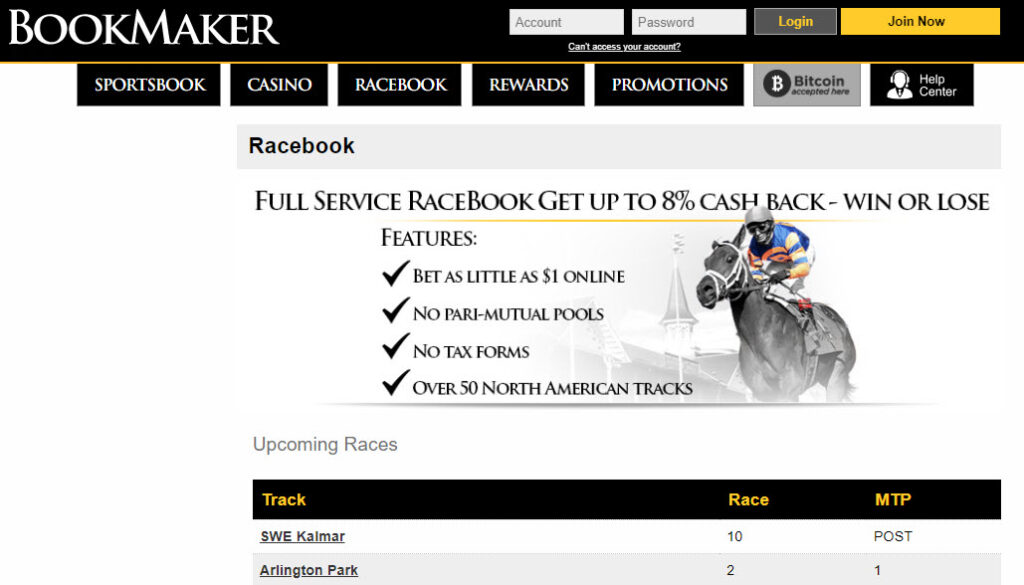 Bookmaker has the honor of being one of the oldest sportsbooks on our list as it has been satisfying customers since 1996. But this experience has led to Bookmaker's reputation as the site "where the line originates" as it tends to publish the earliest odds in the market, a good boost for sharp bettors or other Floridian bettors looking for value.
Based in Costa Rica, Bookmaker accepts all action from U.S. bettors. One concern winning players always have with these sites is getting their accounts severely limited or even closed. With Bookmaker this is not a concern as the sportsbook will take wagers from all users and has a high betting limit established.
Bookmaker allows you to bet as little as $1 on its horse races from over 50 North American tracks. There are no pari-mutuel pools as Bookmaker uses fixed odds. You can get 3% cash back on all Win, Place, and Show wagers and 8% back on exotic wagers.
Bookmaker's current welcome bonuses vary by your deposit method. If you deposit by crypto, you will receive a 20% cash bonus of up to $500. All other deposit methods get a 25% cash bonus up to $500. This generous bonus comes with a 10x rollover requirement before you can withdraw any of the winnings. Bookmaker also offers substantial reload bonuses, and you can join one of the best loyalty programs out there.  
Pros
Get 8% back on exotic horse wagers (exacta, trifecta, etc.)
Winning players will not have their accounts limited or closed
Offers same-day Bitcoin payouts free of charge
Live betting (including props) on televised games from popular markets
Cons
Cashier's checks come with $50 fee on withdrawals
Phone services for horse wagering currently unavailable
3. Heritage Sports: Best for Live Betting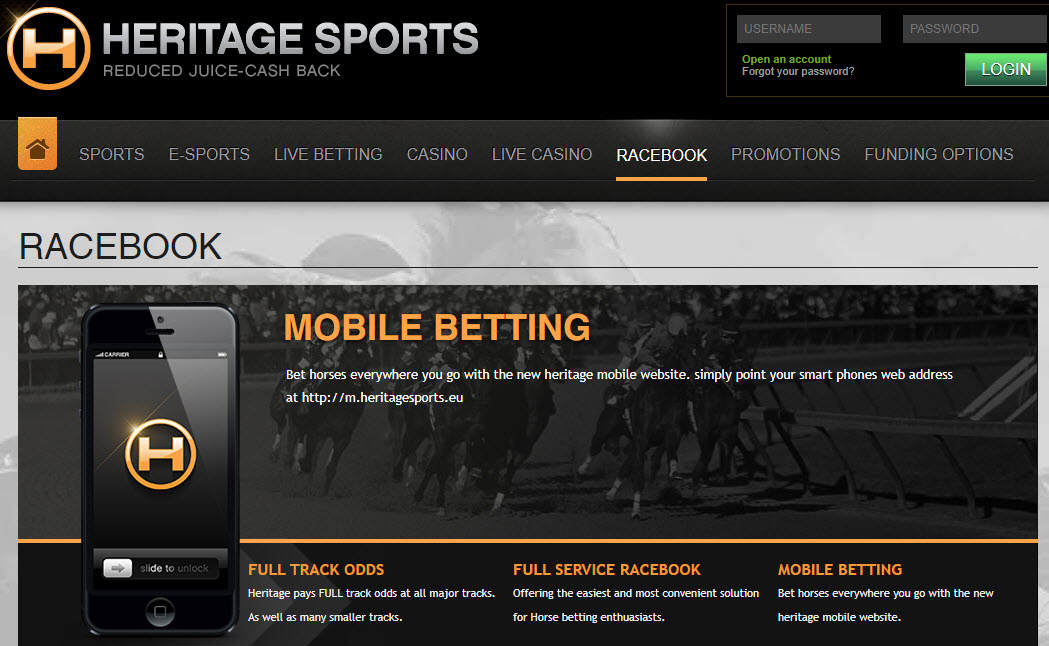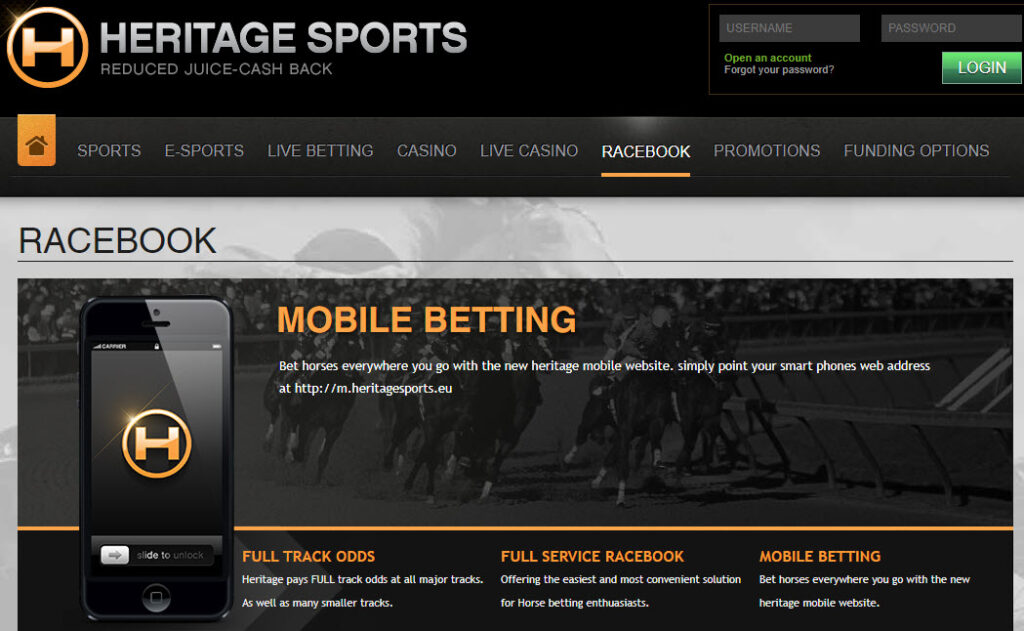 Heritage Sports is a top sportsbook based in Costa Rica that has been working for 21 years. It used to be an invite-only site, but new accounts are welcome now, including anyone from Florida.
Heritage Sports has over 60 tracks for Thoroughbred & Harness racing with wagers for Win, Place, Show, Exacts, Quinellas, Trifectas, Superfectas, Daily Doubles and Pick 3s.
You will notice reduced juice lines advertised when you join Heritage Sports. In case you don't know what this means, it basically offers -108 odds or lower on game sides and totals instead of the common betting lines of -110. Heritage Sports is one of the best options for those interested in live betting on sports. They also offer esports betting, online casino games (scratch cards included), and 24/7 live dealer games.
New users can receive a 50% sign-up bonus up to $250 that has a 12x rollover requirement. It may seem smaller when compared to others, but with its reduced juice offerings that constantly reward players, Heritage Sports still has reasons to be proud. They also offer some unique bonuses and perks, including a free parlay for your birthday (maximum value of $500) and every eighth deposit is on the house based on the average of your previous seven deposits.  
Pros
Reduced juice-cash back program
One of the leaders in live betting
Good mobile site design
Unique perks like a free birthday parlay or every eighth cash deposit is free
Cons
High deposit ($300) required for sign-up bonus
Sportsbook is lacking in depth of markets compared to rivals
4. BetOnline: Best Opinionated Lines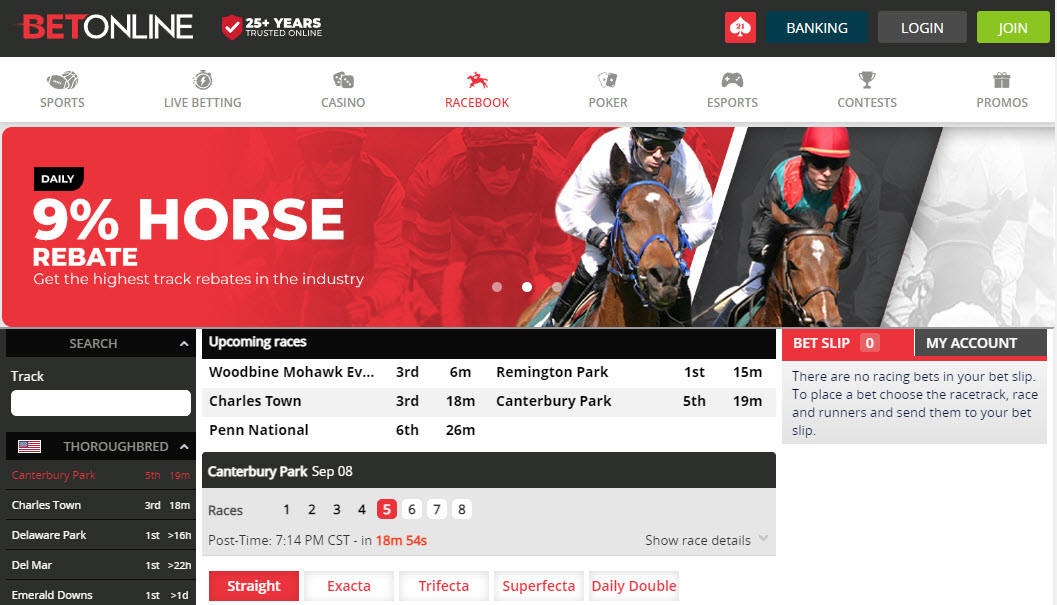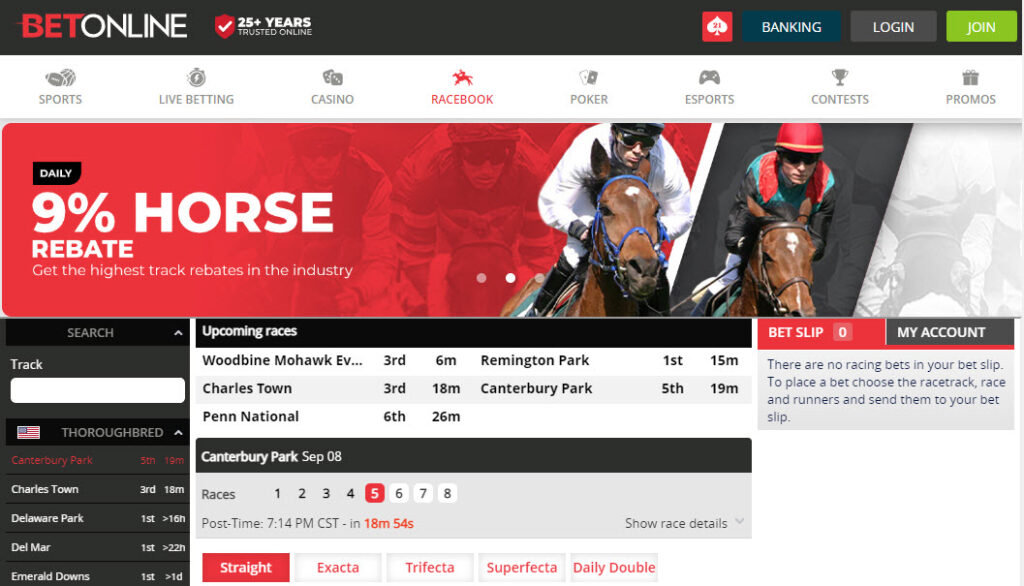 BetOnline is another top online sportsbook with years of excellent trajectory located in the beautiful land of Costa Rica. If you are wondering what separates BetOnline from its competition, it's got to be its opinionated lines on football, basketball, and baseball feature. Not only are these lines you won't see on other sites, but you can parlay together prop picks with these unique lines.
For horse racing, internet wagers will receive up to a 9% daily rebate (5% for telephone wagers). When it comes to how much a bettor may earn, there is really no limit. Also, you don't have to worry about a minimum volume of wagers to be placed. BetOnline has a risk-free first horse racing bet as well with a total value of $25.
Leaving the sportsbook and racebook aside, BetOnline also has an excellent poker room, casino games, live betting and esports betting to offer. Plus, you can register in a ton of contests with prizes in real cash. In case you want to know BetOnline's payment methods, the site accepts P2P, credit cards, bank transfers and even crypto.
The promo code BOL1000 is available for new sports bettors who want a 50% welcome bonus of up to $1,000 on their first deposit. The minimum deposit for this offer is $55, and there is a fair 10x rollover requirement. BetOnline is also offering Florida users a 100% NFL Reload Bonus of up to $1,000. 
Pros
Some of the fastest payouts
Your first horse bet is risk-free
25+ years of experience
Highest credit card acceptance in the industry
Offers opinionated lines
Cons
Certain deposit methods do not qualify for certain bonuses
6% fee on credit card deposits
5. BetUS – Top Rated 24/7 Customer Service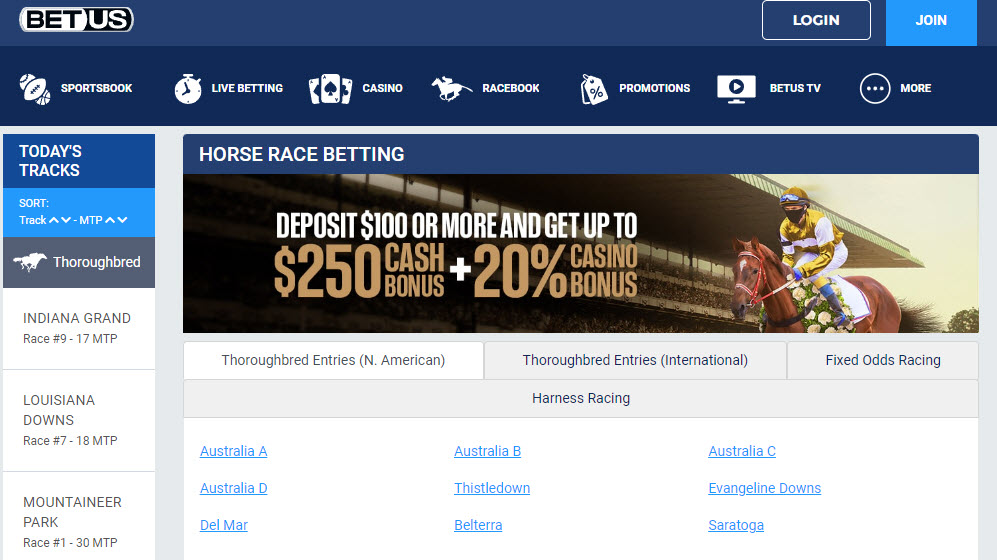 The self-proclaimed "America's Favorite Sportsbook" has been operating since 1994, making it among the oldest choices in our top 10 for Florida users. BetUS has your back covering all the major leagues that sports betting enthusiasts from America know and love such as the NFL, NBA, MLB NHL, NCAAF or NCAAB.
BetUS has a dedicated racebook with fixed odds racing and harness racing for races all over the world. They also have a ton of casino games and activities such as blackjack, online slots, tournaments and video slot machines. They have great bonuses and customer service. BetUS's web design is one of the best out there.
There are many sign-up bonuses at BetUS. New users can get a 125% sign-up bonus of up to $3,125 on their first deposit. This involves a minimum deposit of $100, a 100% sports bonus (up to $2,500 with a 10x rollover), a 25% casino bonus (up to $625 with a 30x rollover) and a max cash out for Casino Bonus at $5,000. You can also get a 200% sign-up bonus (150% sports, 50% casino) if you use crypto for your first deposit to get up to $5,000.
Pros
Huge bonuses for new and existing customers
Video previews and expert analysis
More attention paid to horse racing and esports than most rivals
Top-rated 24/7 customer service
Cons
Large rollover requirements on bonuses
High $100 minimum deposit for welcome bonus
Comparing the Best Sites for Horse Racing Florida has to Offer
While it is still ultimately up to the player's own preferences to choose the best betting site for their playing experience, we want to highlight the certain factors and criteria that we think are most important for making that choice. For example, while one site may have a great welcome bonus, you may be limited in what payment methods they accept, or they may not have a good mobile app or customer support.
Below is a list of the factors we think you should consider if you want an excellent horse race betting experience. We consider all of these when it comes to creating our top 10 list.
Horse Racing Odds
Most serious bettors do odds shopping to find the best lines available for races. Due to the competition among rival sites, most will offer similar odds across the board, but some end up doing a better job than others of offering better betting odds, including longshots with lines you can wager on.
Horse Racing Betting Markets
Some betting sites are more devoted than others to horse racing. But for many of the racebooks in our list, you can bet in multiple ways:
Win
Show
Place
Exotic
Trifecta
Superfecta
Super High Five
Double Bet
Pick 3
Pick 5
The standard bets are win, place and show, but some sites will offer these other options to broaden and enhance your betting capabilities.
Live Horse Racing Betting
Being able to wager on a live horse race makes for a thrilling experience in this age of technology. Sites such as Bovada, Bookmaker and Heritage Sports are all good at taking live bets.
Horse Racing Betting Promotions
Generous welcome bonuses such as the $3,000 at BetOnline are always nice to see, but other promotions matter too if you want to continue being a loyal customer with that site. BetUS offers a reload bonus. Some will offer referral programs as well.
Special Features for Horse Racing
Some of the features you would like to see on a horse racing site include perks such as live streaming, expert analysis, and other promotions.
Horse Racing Welcome Bonus
The fact is most betting sites are going to give you your best bonus when you first sign up and make that first deposit. The welcome bonus is their best way of attracting new customers, and sometimes the first-deposit bonus could be thousands of dollars paid out in site credit usually. You can also get a bonus for using crypto for the first time on the site. These welcome bonuses can change at different times of the year, so keep an eye out for the best deals.
User-Friendly Design
We like to see a site that is aesthetically pleasing, easy to navigate, and most importantly, it is easy to place bets on. We would not put a site in our top 10 if it did not have exceptional user design.
Live Streaming
Most sites do not carry live streaming as horse racing is more of a niche event than something with mass appeal like NFL games, but TVG and TwinSpires are big on live streaming as you would expect. Not every race is available to watch, but many are and that can make it more fun to live bet as you watch it unfold.
Brand Recognition
Some sites such as Bovada and Bookmaker have been around a lot longer, which gives you more sense of security in sharing your personal information with them to bet.
Payment Methods
Sites with a variety of methods for transactions will get a better review. Even if a site says it takes crypto, some may only take certain types, so you have to consider that too.
Safety & Security
Be careful not to fall for any scam sites. Remember to scan the website and look for our reviews that talk about a specific betting site.
Speed & Design
With the popularity of live betting on the rise, a site that has good design and speed is becoming more critical to get those wagers in quickly.
Customer Service
Sometimes you need help, so any site offering 24/7 customer service with the option for live chat service is probably going to do a great job in serving your needs. Sites that have poor communication with users have no place in the top 10.
Overall Value
In the end, you have to figure out what you value most. If you only care about great bonuses, then things like live streaming or customer support are not going to sway you towards any particular site.
Is horse racing betting legal in Florida?
Yes, horse racing betting is legal both online and in person in Florida for people at least 18 years of age. You cannot legally bet on the Super Bowl in Florida, but you can bet on a random horse race.
Florida Horse Racing Betting Guide – How to Bet on Horse Races in Florida
You can visit any track (including greyhound tracks) and place wagers on horse races in Florida. But if you want to use a site that offers more betting options across the horse racing industry, you are free to do that as well. Online betting has become a preferred method for people looking to save time and not make a trip to a track or tribal casino, most of which are located in Miami-Dade and Broward counties. Betting at sites such as Bookmaker, Bovada, and BetOnline is easy and can be done in seconds.
How does horse racing betting work in Florida?
If you visit a Florida horse racing track, the standard ways to wager are show (your horse finishes in the top three), place (horse finishes in the top two), and win (horse outright wins the race). Those are the basics. There are other wager types such as trifecta and exacta. You can always do these online too for a wide variety of races.
Florida Horse Racing Betting Explained
At most betting sites with horse race betting, you will be shown a list of horses in the featured race. There is a drop-down menu for "Win" where you can select which bet type you want to make (Win, Show, Place, Exacta, etc.). There will also be a drop-down menu for the dollar amount you wish to wager.
But understanding the betting odds on race days will be the most important part. If you bet $2 on a horse with 12/1 odds to win, then you will win 12 times every dollar you bet, meaning a return of $26 ($24 plus the $2 bet returned). Think of the odds as probability. If a horse has 3/2 odds, that means for every three failures, there are two chances of success or 40%.
Horse Racing Betting Odds
We will go over a few ways to wager on horse racing, but always remember to study the odds.
Fixed Odds for Horse Racing Betting in Florida
Fixed odds betting is essentially what you bet is what you get. You are locked into that price at the time of your bet. The odds on that horse can change after your bet was placed, but the site will not move your fixed line. Those who bet on sports are very familiar with this already.
Pari-Mutuel Betting in Florida
Pari-mutuel betting is one of the more unique forms of gambling that is often used in horse racing or short events where the participants finish in a ranked order. Instead of getting a fixed line on your odds, you will bet into a pool, and if you are one of the winning bets then you will receive a share of the pool after the house's take is deducted. You will not know exactly what that share is going to be until the race starts.
Pool Betting on Florida Horse Races
Pools are how the aforementioned pari-mutuel bets work. This is just further related to using them to wager on trifecta, exacta, and superfectas.
What are the different types of horse racing bets?
There is a huge range of different bet types for horse racing, with the most common being:
Win
As simple as it sounds: Bet on the horse you think will win the race.
Place
Your pick has to finish first or second to win your wager.
Show
Further bettering your betting odds (but limiting your payout), your horse just needs to finish in the top three to win your wager.
Exacta
To win an exacta wager, you have to pick the top two horses in the exact order.
Trifecta
You must pick the top three horses in exact order if you want to win a trifecta wager in horse racing.
Superfecta
Why not go big and take the trifecta one step further? To win a superfecta wager, you have to pick the top four horses in the exact order.
Daily Double
You have to pick the winner of two successive races to hit a daily double, also known simply as a double wager.
Pick 3/4/5/6
As with the Daily Double, you have to pick the correct winner for three, four, five, or six consecutive races.
Florida Horse Racing Betting Terms
Every expert was a novice at one point, and you all have to learn some jargon and technical terms to understand horse racing better. Here is some help with that.
Dead Heat: Two or more horses finish in a tie at the finish. The prize is then split between the horses.
Furlong: A unit used to measure distance in horse racing. One furlong is equal to an eighth of a mile.
Handicap Race: Races where horses get the equivalent of a point spread to even the competition. Some horses carry different weight.
Maiden Race: A horse that has yet to win a race.
Tote Board: A digital board showing betting information such as post time, odds, race results, and payouts.
Florida Horse Racing Betting Calculator
With some horse races, you may not know your winnings until the very end of a race. With online bets, you will know immediately. However, you can estimate your wins by hand by converting the odds and your wager into a probability.
How to Calculate Horse Racing Betting Odds
There are two things to keep in mind with every horse racing bet: The amount of money wagered on a horse and the number of people that wagered on it.
You also want to consider the number of units you wagered. So, if a pool of money is a total of $100 and there are 10 different bettors, you will each get a $10 dividend. So, if you had 10 units on it, you would win $100.
Florida Horse Racing Odds Chart
Below is a list of different odds and lines showing potential winnings and implied chances of winning. We won't go beyond $2 wagers to keep the numbers small and easier to understand.
| Odds | $ Payout | Odds | $2 Payout | Odds | $2 Payout |
| --- | --- | --- | --- | --- | --- |
| 1/9 | $2.20 | 8/5 | $5.20 | 7/1 | $16.00 |
| 1/5 | $2.40 | 9/5 | $5.60 | 8/1 | $18.00 |
| 2/5 | $2.80 | 2/1 | $6.00 | 9/1 | $20.00 |
| 1/2 | $3.00 | 5/2 | $7.00 | 10/1 | $22.00 |
| 3/5 | $3.20 | 3/1 | $8.00 | 11/1 | $24.00 |
| 4/5 | $3.60 | 7/2 | $9.00 | 12/1 | $26.00 |
| 1/1 | $4.00 | 4/1 | $10.00 | 13/1 | $28.00 |
| 6/5 | $4.40 | 9/2 | $11.00 | 14/1 | $30.00 |
| 7/5 | $4.80 | 5/1 | $12.00 | 15/1 | $32.00 |
| 3/2 | $5.00 | 6/1 | $14.00 | 16/1 | $34.00 |
Florida Horse Race Tracks
You can bet on horse races at multiple horse racing venues including:
Gulfstream Park Racing and Casino
South Florida's home for Thoroughbred horse racing and casino entertainment.
Tampa Bay Downs
Tampa Bay's No. 1 horse racing track.
Naples Fort Myers Greyhound Track
Horse track and poker in Bonita Springs.
Hialeah Racetrack
Has been a mainstay in Hialeah, Florida for over 90 years.
Grand Oaks Resort
Located in Weirsdale, you can enjoy the RV Park or horse country at your leisure.
Orange Park
Well known in northeast Florida for its poker room.
Sanford Orlando Kennel Club
Located in Longwood, the tracks have horse races and fan-favorite greyhound races.
The History of Horse Racing in Florida
Horse racing had been a popular activity in Florida when the state legislature decided to override the governor's veto and legalize pari-mutuel wagering in 1931. Hialeah Race Park emerged as one of the country's best-known tracks. It would host the annual Flamingo Stakes, an important lead-up race to the famed Kentucky Derby.
Florida's warm climate made it a perfect destination for winter racing. With an absence of major winter events in the north, Gulfstream Park and other Florida tracks hosted many major events during the middle of the 20th century.
During the 1960s, Florida was a hotspot for harness racing with Pompano Park holding regular harness meets, and Seminole Downs soon joined the trend. Calder Race Course opened in 1971 and became another popular racing venue, especially for those winter events.
Things took a downturn for the industry during the recession-plagued 1970s. Some of the smaller tracks were converted to greyhound racing facilities, including Seminole Downs. But Gulfstream Park continued to excel in spite of the declining interest in racing in Florida. Gulfstream eventually overtook Hialeah as Florida's premiere racetrack, an honor it still holds today.
Hialeah closed its doors in 2001. However, thanks to a deal between the government and the Seminole Tribe, Hialeah reopened as a racino and now offers slot machines and some horse racing.
In 2014, Churchill Downs took over operations at the Calder Race Course and renamed the track Gulfstream Park West. The track featured a popular fall schedule of races over the next several years before finally shutting down after the 2020 season. Meanwhile, Pompano Park ran its last race in 2022, closing its track and continuing as a renovated casino named Harrah's Pompano Beach.
Horse racing is now largely consolidated into a small number of pari-mutuel facilities in Florida, led by Gulfstream Park, Tampa Bay Downs and Hialeah Park Race Track.
Florida Horse Racing Schedule
On January 29, 2002, the Pegasus World Cup was held at Gulfstream Park. Life Is Good was the winning horse, claiming the $3 million purse.
On April 2, 2002, the Florida Derby and its $1 million purse were won by White Abarrio.
You can find the schedule online for the remaining races in the upcoming months offered at Gulfstream Park, Tampa Bay Downs and Hialeah Park Race Track.
Comparing Betting at the Racetrack with Online Horse Racing Betting
The type of person you are will probably determine if you prefer to go to the racetrack to bet or to do it online on a mobile device.
People who would likely prefer going to the track:
Extroverts
Outdoors people
People who enjoy crowds, buying food, and live events
People who really want to watch the horse race live
People who prefer a ticket in hand before the race starts
People who prefer cash payments over online/crypto methods
People who would likely prefer online betting:
Introverts
Homebodies
People who do not enjoy crowds
People who are not that interested in watching the race itself
People looking to make live bets quickly on their phone
Bettors wanting to take advantage of site bonuses
General Terms and Conditions at Horse Racing Betting Sites in Florida
When creating an account at online racebooks in Florida, you will need to provide certain information about yourself to get verified due to gambling laws. This is to ensure that you are of legal sports betting age before you can participate in legal horse betting with these online gambling sites. At some sites, you may need to disclose the last four digits of your social security number. Other info could include your name, address, date of birth, and email address. Be sure the site you are on is legit and not a scam or phishing scheme before you share any of this personal information.
Rollover Requirements
Rollover requirements are important to understand for new users as they are what stands between you and your ability to withdraw the bonus funds as real cash. You have to wager enough to meet this rollover requirement before you can withdraw those funds. This can range anywhere from 1x-15x.
Florida Horse Racing Betting Bonuses
As you can see from the table above, welcome bonuses can widely differ at Florida betting sites. Below are further explanations about each offer.
Deposit Bonuses
These are usually preferred as they will match a certain percentage (often 100% for new users) of your deposit with bonus money that will then be subject to rollover requirements before you can withdraw it as cash. For example, if you have a 100% deposit bonus and deposit $5, you will receive a $50 bonus. Some betting sites offer a first-time deposit bonus offer of over $1,000.
Free Bets
Horse racing free bets allow you to wager risk-free. If you win, you keep your winnings. However, if you lose, you will receive the amount of that bet back as site credit. There may be rollover requirements associated with it.
Enhanced Odds
At various times throughout the year, horse racing betting sites in Florida will offer a promotion with enhanced odds. This is an attempt to increase action on a particular horse or race.
Loyalty/VIP
If a site offers a VIP or Loyalty Program, there will often be promotions that involve receiving points to increase your standing in them. The more you spend, the more rewards and offers come your way.
Virtual Horse Racing Betting in Florida
In the age of esports and virtual reality, of course there is virtual horse racing. It may not take the place of the real thing, but if there are no races going on and you want to bet, it is a pretty good alternative. These races are simulated, meaning a computer will determine the result.
Florida Horse Racing Betting Apps
As we spend so much time on our phones and mobile devices these days, it is important for a site to have a good mobile app. Most offer a specific app that you can download to your favorite mobile device and log in to your account to place bets and view betting odds.
Florida Horse Racing Betting Apps for iPhone
Many of the betting sites in our top 10 do not have a dedicated iPhone app that you download from the Apple App Store. But you are still able to play on your iPhone through any mobile web browser such as Chrome or Firefox. This does give an edge to US-based TVG and TwinSpires as they have apps available on the App Store.
Florida Horse Racing Betting Apps for Android
Just like with the iPhone, most online betting sites do not have a native app available on the Android Play Store for you to download. You can use the mobile web browsers instead, which are optimized to run smoothly.
How to Start Betting at Horse Racing Sites in Florida
We will walk you through the general steps to start an account at a horse race betting site so you can begin wagering.
Step 1: Visit the Web Page
When you enter a site for betting, there will be a "join" or "sign up" option somewhere visible. Click that to begin creating your account.
Step 2: Complete the Registration Process
Enter your personal details to create your account with a password. Expect to enter such info as your name, date of birth, phone number, and email address.
Step 3: Make Your First Deposit
Once you complete the registration process, you can deposit money into your account to start wagering. Do read about the welcome bonuses and any other first deposit offers before you make that deposit.
Step 4: Start Betting
Now that you have your account and some money in it, browse the home page for the races you would like to bet on. Fill out your betslip and place your wager. It really is that simple.
Other Types of Gambling in Florida
Like with most of these sites, you can bet on a wide variety of sports, play online slots, table games with live dealers, poker, lottery-style numbers games, keno and more. You can even bet on esports competitions or political elections depending on the site you choose.
Florida's Timeline of Gambling Events
1931 – Due to the Great Depression and just by a single vote in the state Senate, Florida gets horse and dog racing legalized to boost tourism.
1996 – Poker is now legal, but only at pari-mutuel facilities.
2004 – Tribal lands enjoy legalized casino gambling.
2010 – The Seminole Tribe can now offer all forms of gambling, a right given by the state.
2020 – Senate Bill 392, a bill to legalize sports betting in Florida, is introduced in the State Senate.
2021 – The state allows the Seminole Tribe to offer online sports betting, and it leads to the Hard Rock Sportsbook's mobile app launching. It would last much as it then had to cease operations due to federal judge orders.
2022 – The U.S. Court of Appeals for the District of Columbia Circuit ordered a brief hearing schedule regarding the overturning of last year's federal judge order. The decision on FL sports betting is then pushed back until 2023.
What is the best site for horse racing betting in Florida?
Bovada is a trustworthy offshore betting site with a wide variety of tracks and races to bet on, as well as an excellent sportsbook with some of the best props in the market. You also can play lottery and casino games, and Bovada's poker room is the busiest one in America. If you want a site that is serious about horse racing and fulfilling all of your gambling needs, then Bovada is an excellent choice for Florida players.
FAQs — Online Horse Betting in Florida
Is horse racing betting legal in Florida? 
Yes, it is legal both in person and online if you meet the minimum gambling age. You can bet on any sites that offer advance deposit wagering. 
What app lets you bet on horse racing in Florida?
Many of the offshore betting providers listed in our review offer mobile versions of their sites, which prove to be very similar to an app. 
Can I use TVG in Florida?
Residents of Florida can certainly use TVG to place bets on horse racing. 
Can I use TwinSpires in Florida?
TwinSpires is available to Floridian bettors to wager on horse racing. 
What is the best site for horse race betting in Florida?
The best site for horse race betting in Florida, in our opinion, is Bovada due to its smooth interface, low rollover requirements and welcome bonus.
Maverick Carter, LeBron James' manager, admitted to making 20 illegal bets on the NBA with Wayne Nix, a former minor league pitcher. The extensive investigation uncovers connections between Nix and sports figures, with Carter clarifying his involvement and denying any charges. Yasiel Puig faces trial in January.

---