Las Vegas Sports Betting – The Best Retail Locations & Online Sportsbooks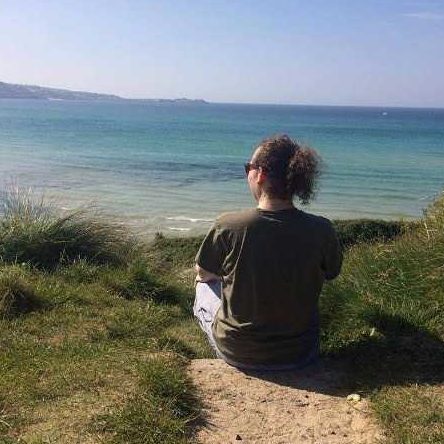 David is a freelance sports journalist who comes from West Midlands. He specializes in sports content, both written and visual. With an impressive record in pre-fight predictions, David is quickly becoming recognized in his field for his in-depth fight analysis and impressive contender & fight history knowledge.
You can bet your entire bankroll that Las Vegas will be one of the locations discussed when talking about United States gambling destinations. With its world-famous casinos dotted along the strip and premium gambling locations throughout, Las Vegas has forever been a must-visit location for gambling enthusiasts.
However, it isn't just the poker rooms, table games, slot machines and top-class casino floors that attract visitors worldwide. Las Vegas is also a hot spot for sports gambling, with physical shops and online sportsbooks readily available.
Today, we'll give you a broader view of the best available Nevada sports betting sites for Las Vegas residents and visitors, land-based sportsbooks, sports wagering legalities and everything in between.
Top-Rated Las Vegas Sports Betting Sites  
Popular Retail Sportsbooks in Las Vegas, Nevada
In conjunction with Station Casinos, STN Sports was the first to offer an online sports bet after the legalization of sports betting in Vegas. Its virtual doors opened in 2010, and since its launch, more than a dozen additional online sportsbook operators have opened for business.
Most land-based sportsbooks in Las Vegas offer their customers the opportunity to place online sports wagers. But with so many available, we've highlighted the best Las Vegas land-based sportsbooks below that provide real-money sports betting for visitors and residents of the Silver State.
Aria Resort Sportsbook
Address: 3730 Las Vegas Blvd, Las Vegas, NV 89158
Hours: Weekdays – 08:30 AM – 09:30 PM, open until 11:00 PM on the weekend
Phone: 702 590 8510
The Aria Resort is one of the most regularly visited hotels and casinos on the Las Vegas strip. Inside Vegas' largest and tallest structure is a sportsbook packed with comfortable armchairs and a plethora of flatscreen televisions to watch the games. Some screens are a whooping 220-inch wide, and the sportsbook has self-betting stations for sports bettors and horse racing handicappers.
Caesars Palace Sportsbook
Address: 3570 Las Vegas Blvd, Las Vegas, NV 89109
Hours: 09:00 AM – 09:00 PM (Until 10:00 PM on Fri & Sat)
Phone: 886 227 5938
Caesars Palace owns a historical presence within the sports world, known for hosting fights involving Muhammed Ali, Sugar Ray Leonard, Marvin Hagler, and more. The Caesars sportsbook located in this prestigious destination is one you shouldn't miss, with its wide range of sports wagering markets available for high rollers and small bettors alike that can enjoy an excellent atmosphere.
Lagasse Stadium Sportsbook
Address: 3325 Las Vegas Blvd, Las Vegas, NV 89158
Hours: Mon-Thurs (& Sun) – 09:30 AM to 10:00 PM, Fri-Sat 08:00 AM – 11:30 PM
Phone: 702 607 2665
Perhaps the most famous sportsbook in Las Vegas. The Lagasse Stadium Sportsbook has over 100 seats and world-class food delivered directly to a bettors seating area. Avid handicappers can enjoy sports events worldwide while wagering with fellow bettors in an unrepeatable atmosphere.
MGM Grand
Address: 3799 Las Vegas Blvd, Las Vegas, NV 89109
Hours: 08:00 AM – 10:00 PM (Open until 11:00 PM on weekends)
Phone: 702 891 7488
Unlike most Vegas sportsbooks, the MGM Grand delivers a unique betting experience with its skyboxes. Elevated sportsbook sections host up to 10 guests as they comfortably relax while watching the latest sports games. Alternative pre-booked skyboxes can sit up to 20 guests for larger parties. 53 channels can be viewed simultaneously at this sportsbook, so you'll never need to worry about missing the action.
Circa Sportsbook
Address: 8 Freemont Street, Las Vegas, NV 89101
Hours: 24 Hours
Phone: 702 247 2258
With three stories, a 78-million-pixel screen, and a room that accommodates up to 1000 guests per game, Circa Sportsbook is the largest sportsbook in the world.
Even the restaurant at Circa allows customers to follow along with the action while devouring a burger, and its mountain of screens requires ten people to operate.
The M Sportsbook
Address: 12300 Las Vegas Blvd, Las Vegas, NV 89044
Hours: 08:30 AM – 10:00 PM
Phone: 702 797 1000
For a unique sports betting venture in Las Vegas, visit the M Sportsbook, where customers can find a personal desk with a swivel leather armchair, lamp, and individual televisions to track whichever market they desire. It's a 15-minute drive from the strip, and with more than 90 seats, 30 main TVs – 23 crowd screens, the open and VIP areas offer an intimate or sociable experience.
The Mirage Hotel & Casino
Address: 3400 S Las Vegas Blvd, Las Vegas, NV 89109
Hours: 08:00 AM – 11:00 PM
Phone: 800 374 9000
Displaying an eye-catching water feature at the hotel entrance, this reputable establishment regularly holds shows to entertain its visitors. However, alongside the Mirage's outstanding facilities is a reputable sportsbook with endless sports betting markets and is unquestionably a diverse experience for avid sports bettors.
The Venetian
Address: 3355 S Las Vegas Blvd, Las Vegas, NV 89109
Hours: 10:00 AM – 09:00 PM
Phone: 702 414 1000
The Venetian offers a world-renowned pool area that attracts celebrities every year. But alongside its Hollywood attractions is an excellent sportsbook. It isn't as large as other sportsbooks; you'll still find 80 seats and 42 screens to keep track of your sports wagers.
Mandalay Bay
Address: 3950 S Las Vegas Blvd, Las Vegas, NV 89119
Hours: 07:30 AM – 10:00 PM
Phone: 877 632 7800
There aren't many sportsbook operators matching the prestige associated with Las Vegas than the Mandalay Hotel. Its beach-style décor and countless rooms make for a beautiful still. More importantly, its sportsbook is possibly the main feature. Sharp bettors flock to the Mandalay for its excellent odds and quickly released lines covering all the major sporting events worldwide.
Vegas' Best Online Sportsbooks
Our team of online sportsbook experts follows a process, and this process involves testing every Las Vegas sports betting site. Once the job is complete, each operator is ranked, and below, you'll find the top 10 brands for sports betting in LV:
Is sports betting legal in Las Vegas?
Undoubtedly. Las Vegas is the home of countless land-based sportsbooks and was the first in the United States to allow real-money online sports wagering. Many states have joined Las Vegas in regulating sports betting, but they have a long way to match their progression.
Reviewing Las Vegas' Highest-Rated Online Sportsbooks
You've already discovered our top 10 ranked Las Vegas online sportsbooks above, but it's time to learn what makes some of them unique and discover which one best suits your sports gambling needs. Find the top-five online LV sportsbooks below, alongside a short review detailing the most notable features.
1. BetOnline: The Best Online Sportsbook in Las Vegas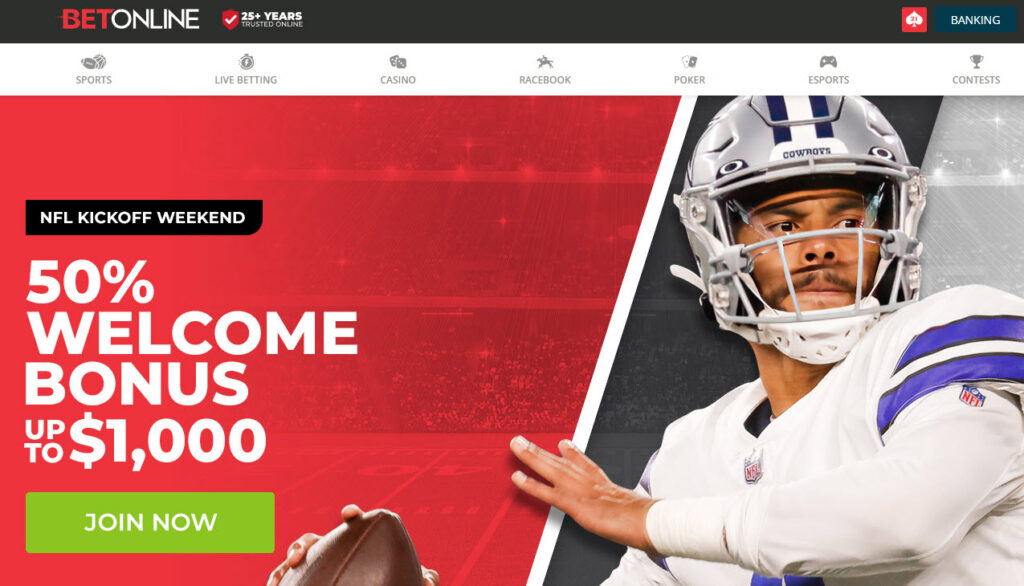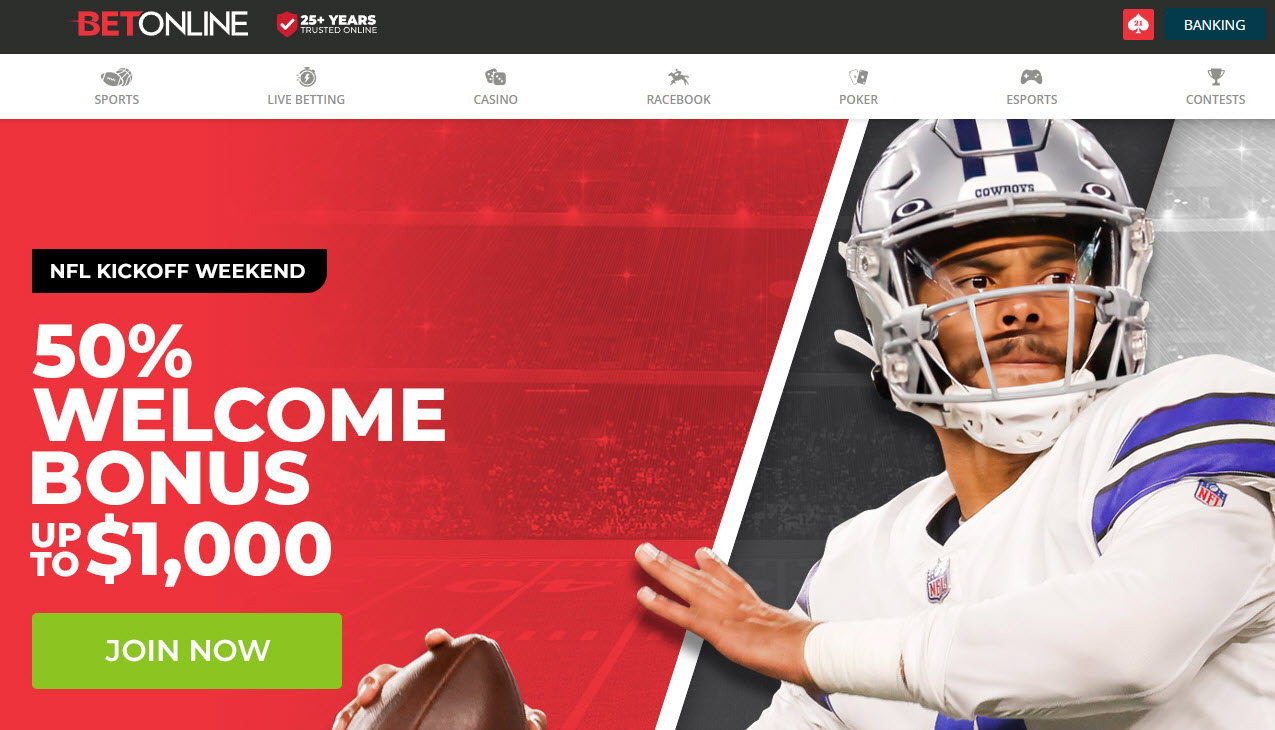 With more than two decades of history attached to its brand, BetOnline owns the experience and know-how within the industry, and this becomes transparent with its online sports betting services. The platform has been providing online sports bets for Las Vegas residents since 2001 but has added a wealth of casino and online poker games to choose from.
BetOnline is a top-50-rated online sportsbook in the United States regarding site traffic. Its extensive catalog of available sports markets ranges from football, basketball, baseball, MMA, boxing, hockey, golf and tennis leagues. It's known for providing all types of bets, including unique prop betting markets for the major sports leagues in the United States, including a unique feature where customers can request and submit prop bets, and they'll offer odds to them. And while we're on odds, BetOnline presents some of the industry's sharpest and earliest releasing lines for pre-game and live markets.
One of the key selling points of BetOnline is its sports betting mobile site. Players can access the BetOnline sportsbook from any iPhone or Android-powered mobile device. Its optimized site will adapt to your screen while emulating simple tab layouts, giving you the feeling of any mobile application.
You've got the cake, so it's time for the icing. New customers can receive a 50% matched deposit of up to $1,000. More impressively, if you use cryptocurrency as a deposit method, sports betting welcome bonuses are matched by 100%, up to $1,000.
Pros
A great welcome bonus of up to $1,000
Daily odds boosters on popular sports
An extensive selection of sports betting markets
Easy-to-navigate-site on desktop and mobile
High betting limits
A top-class casino, racebook, and poker rooms are available
Betting contests that go up to $500,000
Cons
No PayPal banking method
Some banking withdrawal options have fees
2. Bovada: Great Las Vegas Sportsbook for Live Betting & Streaming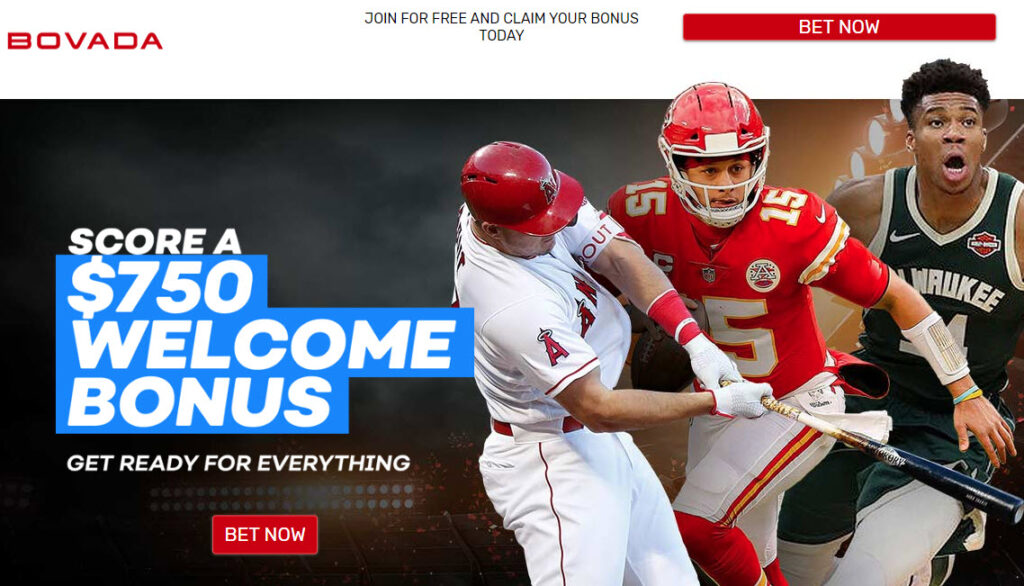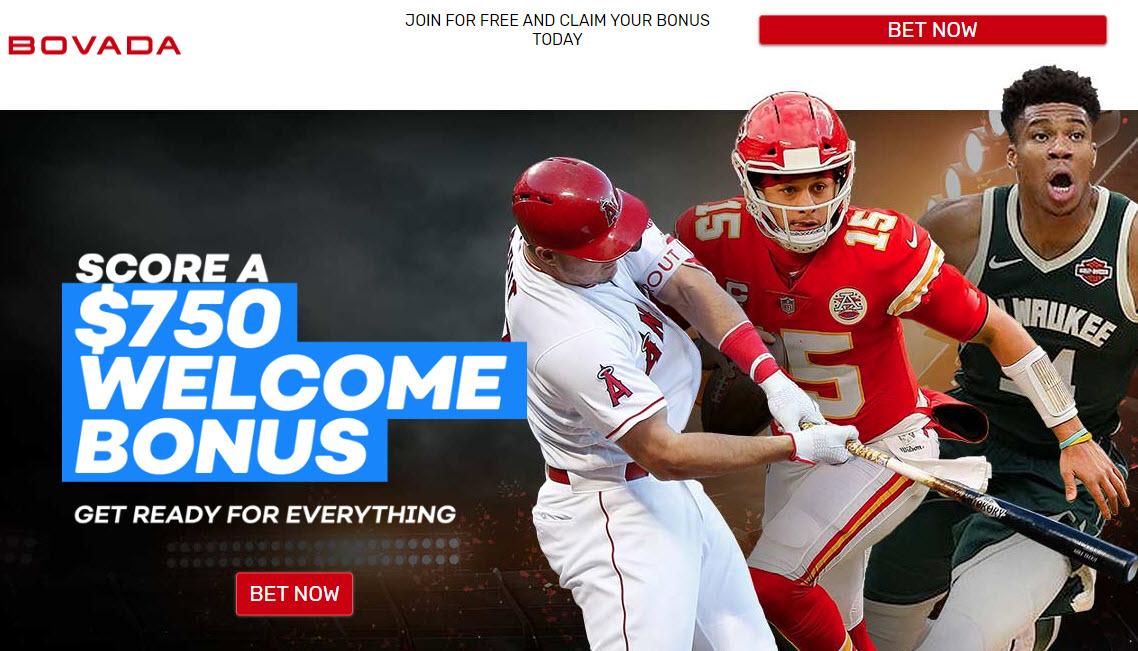 Las Vegas Raiders and Vegas Golden Knights fans will never run out of NFL and NHL sports betting action at Bovada; furthermore, bettors will find regular promotions around major North American leagues such as the NBA and MLB. With that said, Bovada doesn't limit itself to major U.S. leagues; they additionally offer a wealth of betting markets for international sports leagues and a whole page dedicated to horse racing.
Live betting is undoubtedly one of the key features of Bovada. The sheer amount of liver wagering options gives customers an endless variety of markets. The ability to live stream specific events is a bonus many Las Vegas sportsbooks can not emulate.
Like BetOnline, Bovada offers new customers a respectable matched deposit bonus. But for those banking with cryptocurrency, a 75% matched deposit of up to $750 is the most valuable option. At first glance, the Bovada welcome bonus doesn't look as high as some competitors. Still, the rollover requirement is significantly lower, thus putting Bovada's bonuses as some of the best overall.
Behind excellently priced odds, one of deepest selections of U.S. sports betting props for pre-game and live wagers, and unique tools like betting guides and its prop betting builder, Bovada deservingly sits among our rankings as one of the best online Las Vegas sportsbooks.
Pros
The best offshore sportsbook in Las Vegas for live betting and streaming
Extensive sports betting markets, pre-game and live
Betting guides
Cryptocurrency perks
Excellent horse betting platform
Cons
Credit card deposits have higher fees than other sportsbook operators
eChecks have fees
3. Bookmaker: One of the Most Experienced Sportsbooks in Las Vegas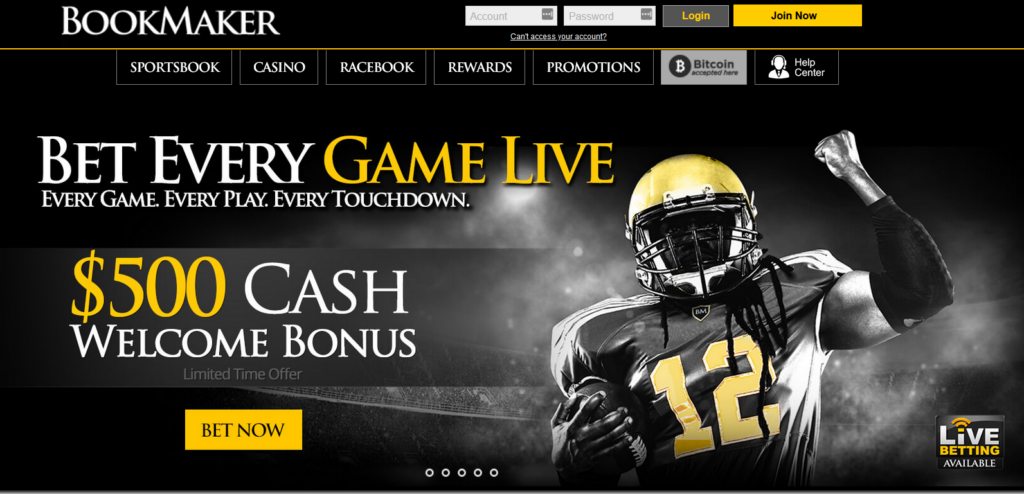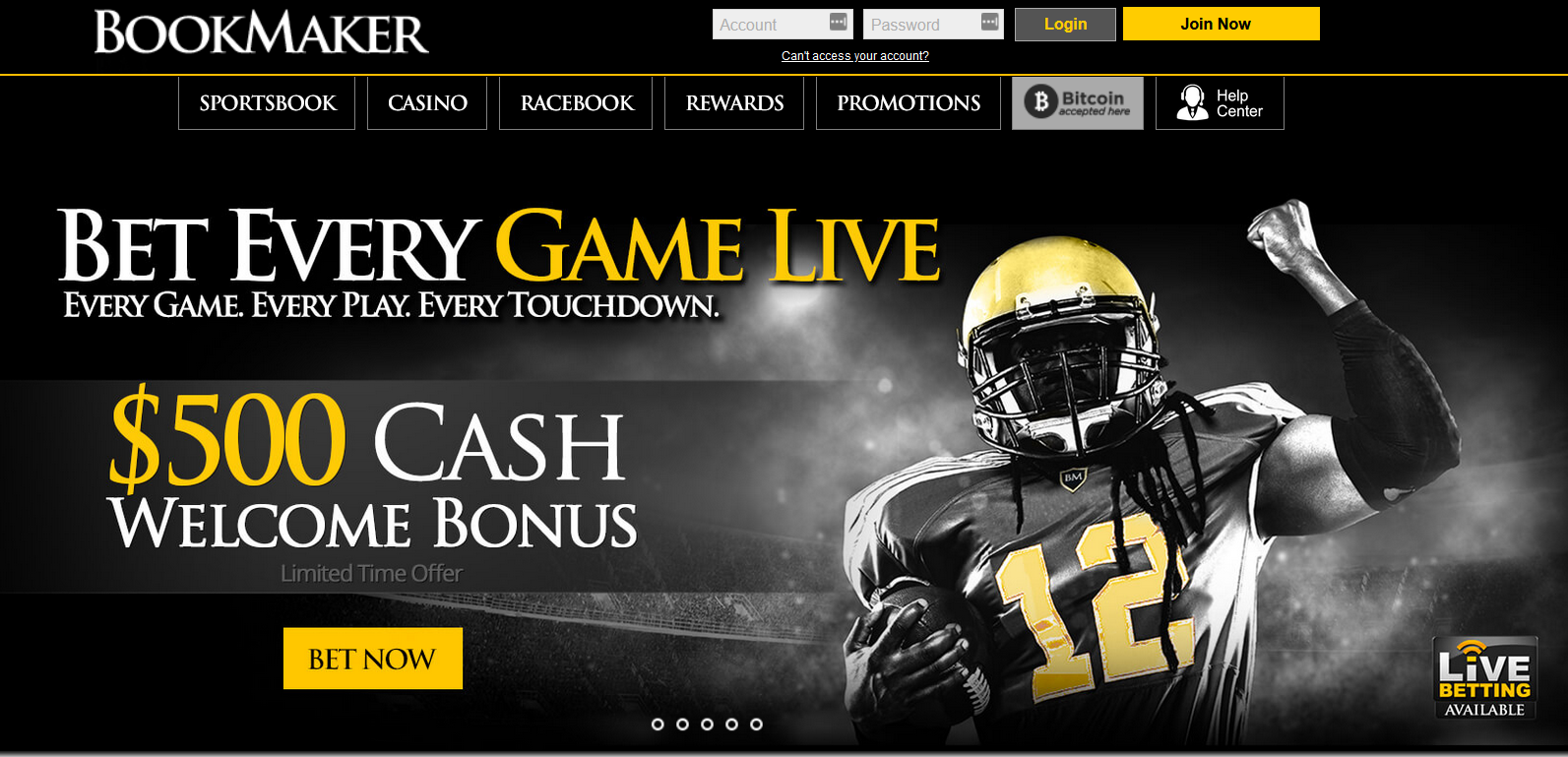 Its roots within the sports wagering industry date back to the eighties, when sports bets were taken over the phone, and with its gained knowledge, Bookmaker hasn't failed to make the most of its wisdom and still, as of 2023, is commonly revered as a top online sports betting operator in Las Vegas and the entirety of the United States.
While they present highly competitive odds within the online sports betting world, the most noteworthy aspect of Bookmaker and its services is its refusal to ban, suspend, or limit winning bettors. For this reason, it houses a lot of loyal customers, including professional/sharp bettors.
Aside from its no-ban policy, high betting limits and early released odds are additional features that attract professional bettors. However, they welcome new or amateur gamblers with low minimum stakes and a simple interface that can be navigated easily on any desktop or mobile device. So whether you're new to the game or a seasoned bettor, Bookmaker is a top-tier online sportsbook in Las Vegas for many reasons and has been throughout its storied history.
Pros
The only online sportsbook with a no-ban policy on winning bettors
High betting limits
Early released odds
A reputable brand with decades of experience
Cons
The website interface is slightly outdated
Welcome bonuses aren't as high as some competitors
4. Heritage Sports: Highly Competitive Odds Found at This Online LV Sportsbook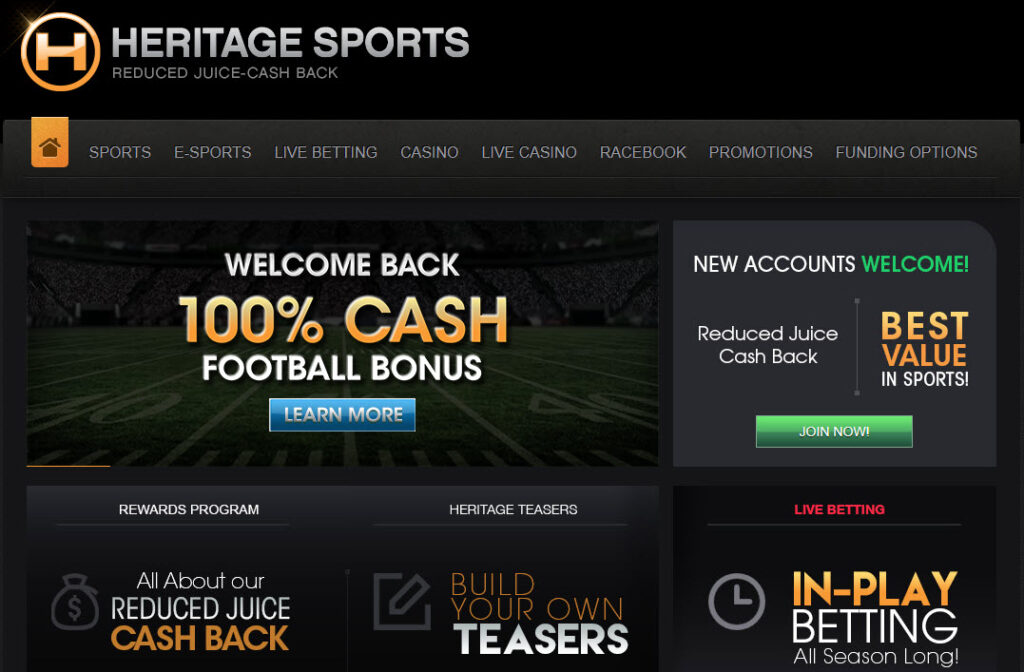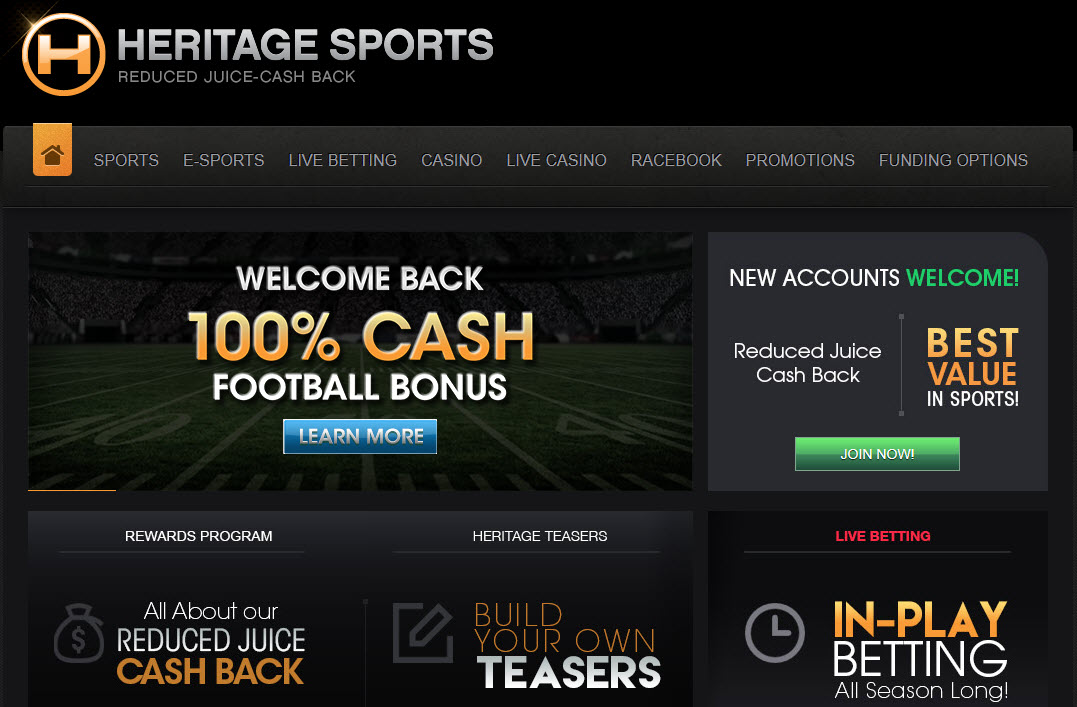 With a reputation for paying its customers in full and on time spanning over two decades, Heritage Sports can not be ignored when discussing the best online sports betting sites in Las Vegas. Those searching for excellent betting value don't need to look any further, as there aren't many rival sites competing with highly competitive odds delivered throughout an extensive range of sports.
Behind some of the best sports betting odds in Las Vegas, customers will also find rebates, 20+ years of experience, several banking methods, and an easy-to-use, completely optimized site that works flawlessly on desktop or mobile.
Value at Heritage Sports extends to its live betting markets. If you're a sports bettor who enjoys dabbling in other gambling activities, you can take the same account and visit the notable casino. A casino filled with notable table games slots can also be paired with a visit to Heritage Sports' extensive racebook that takes horse racing wagers for U.S. and international events.
Pros
Highly competitive sports betting odds
A great sportsbook, racebook, and casino
Live betting available
Loyalty rewards program
20+ years of experience
Cons
The site's appearance is outdated and could use a revamp
Welcome bonuses aren't as high as some rival sites
No PayPal banking option
5. BetAnySports: A Wide Variety of Sports Betting Leagues & Markets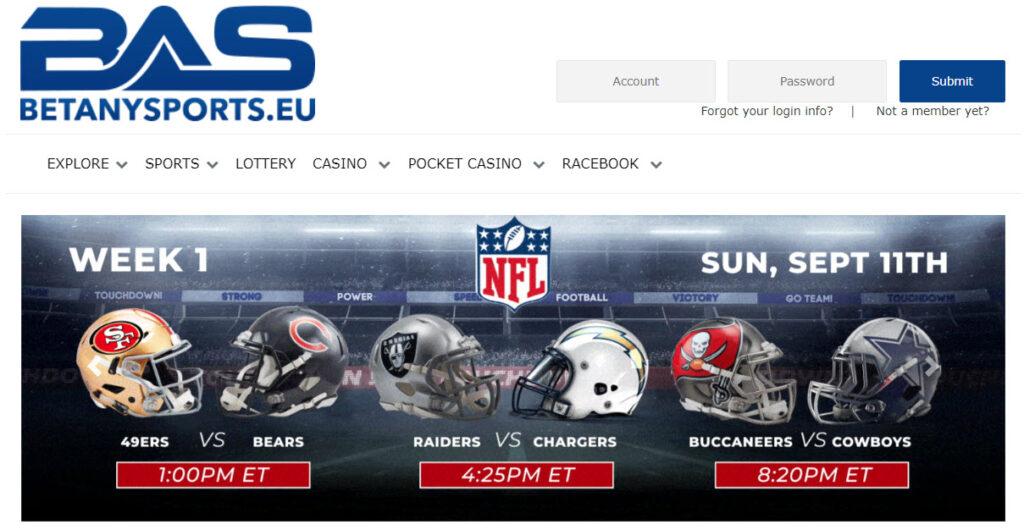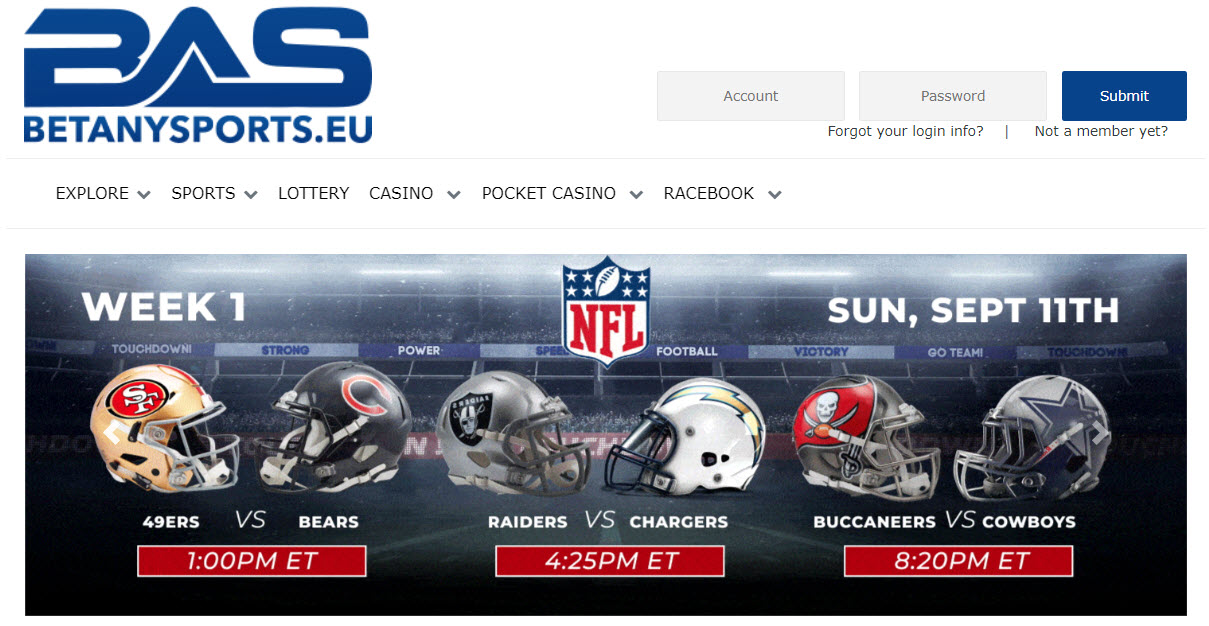 Las Vegas bettors can trust the branding of BetAnySports (BAS) because they will not struggle to find any sport they may desire to bet on. The extensive sport selection at BAS ranges from all the expected major leagues in the United States to more obscure offerings such as volleyball, competitive eating, cricket, spelling bee, and politics. In total, more than 303 games are offered, and the usual suspects like football, soccer, basketball, baseball, hockey, golf, tennis, MMA, and motor sports can be found.
The various bet types at BAS also deliver the most sought-after, whether it's pre-match moneyline wagers, totals, futures, or a wide variety of props; customers of this operator regularly enjoy a wide variety of markets for each specific event/game. The extensive choice extends to its live betting choice and can be accessed from any desktop or mobile device, thus allowing players to get in on the action at any time, no matter where they're located.
BAS follows the direction of Bovada with unique betting tools, such as its prop builder feature. Furthermore, reduced juice betting lines on specific sports are available on spreads and totals. Combined with an excellently priced odds market, long-term value is obtainable when utilizing this operator's sportsbook services in Las Vegas.
Pros
Reduced juice betting lines on spread/totals
Competitive prop bet odds
Huge selection of sports betting markets
Live betting available with great value odds
Cons
Welcome bonuses aren't as significant as some rival sites
No live streaming
Gambling Laws in Las Vegas – What state-regulated forms of gambling are available in Nevada?
Las Vegas and Nevada, present a wide selection of legalized gambling activities, including a myriad of casino games, pari-mutuel betting, sports wagering, and event betting. The gaming industry is crucial for the state's economy, as casino gambling generates around $10 billion in state tax alone.
The history of gambling and sports wagering is synonymous with Las Vegas city, and it's referred to as the world's gambling capital. In turn, its history is deep, and we've presented a timeline of Las Vegas' gambling below.
History of Gambling in Las Vegas
Here's a short timeline of the sports betting industry in Nevada:
2020: The COVID-19 pandemic heavily impacted casinos in Las Vegas. However, this didn't prevent the planning and development of future gambling establishments in Las Vegas. At the end of 2020, a two-story casino with a three-story sportsbook, five restaurants and a six-tiered swimming pool called Circa Sports opens in Las Vegas.
2008: Casinos and sports gambling are still the biggest tax earner for Las Vegas, and the city grows behind its expansion of resorts and annual visitors.
1989: The first mega-resort opens in Las Vegas, as longtime casino developer Steve Wynn debuts the Mirage. The strip is transformed following Wynn's opening. The old style of casinos is gradually replaced by huge complexes that take inspiration from ancient Rome/Egypt, Paris, Venice and New York aesthetics.
1976: The first modern Las Vegas sportsbooks opened at the Stardust. This sportsbook features giant screens and seating for 300 people and would become the inspiration for many to come.
1974: The federal government relaxes sports betting tax from 10% to 2%, making sportsbooks a more appealing option for casinos. A year later, in 1975, the first Las Vegas sportsbook in a casino (Union Plaza) opens.
1941: The El Rancho Vegas resort opens just outside the city's jurisdiction on a section of U.S. 91. This causes a ripple effect as other hotel casinos follow, and this section of the highway is referred to as "the strip."
1931: Gambling is legalized again. Casinos and showgirl venues open their doors on Fremont Street.
1910: Nevada lawmakers rule against gambling, but illegal forms of gambling continue and organized crime takes root in the city.
1906: The first hotel in Las Vegas opens at One Fremont Street. The hotel was named Hotel Nevada, now known as the Golden Gate Hotel & Casino.
Popular Type of Sports Betting in Las Vegas
The wide selection of sports betting options in Las Vegas makes it the best market for sports betting in the United States. However, land-based establishments can't compete with online sportsbooks like those mentioned in this guide.
But no matter how you decide to place sports wagers, it's imperative to understand the popular betting types.
Moneylines
The most common sports wager of them all is the moneyline. Bettors are tasked with picking a team or person they believe will win. Bookmakers set a line based on how likely each team/athlete is to win. A plus (+) symbol represents betting underdogs and returns more profit than your initial stake, while the (-) symbol represents the betting favorite, and your stake will be higher than your returns.
Parlay
A parlay is a combination of two or more straight bets. Bettors can combine multiple predictions into one bet, and the more selections added results in bigger odds and larger payouts.
Point spreads, or "the spread," are where the bookmaker adds a handicap to the favorite team to make the lines even. If the Las Vegas Raiders are displaying a -2 spread versus the NY Jets with a +2 spread, the Raiders would need to win by more than two points for your wager to win. Oppositely, Jets bettors would require them to win the game or lose by one point or less. Either way, a two-point margin would result in a push (void wager, returned stake).
Teasers are extended point spread markets where you can wager on handicaps beyond the lines set by the sportsbooks. The bettor can change the point spread for a game, making a bet easier to win, but this doesn't come without the sportsbook lowering the odds and payout. For this reason, teasers are parlayed; the most common teaser is a two-team, six-point football teaser.
Futures
Futures bets are wagers placed on events or series that won't be decided until the future. Most future bettors enjoy wagering on the Super Bowl winner before the season starts, as the betting odds are typically generous for making such bold predictions.
Proposition (Prop Bets)
Proposition bets, prop bets for short, are bets placed on game situations or team and player specifics that aren't relative to the final result. Prop betting markets are extensive and can offer hundreds of selections for each game/match/bout.
Total (Over/Under)
The most common Over/Under wagers are the total points/goals scored within a game. Bettors must bet on whether the bookmaker total for a game will go over or under. You can choose from game totals where both teams' scores count or team totals for bets on a specific team's total points/goals scored.
FAQs – Las Vegas Sports Betting
Can you bet on sports in Las Vegas? 
Yes, Las Vegas has physical sportsbooks throughout the city. Alternatively, residents can wager on sports through betting sites and mobile apps.
Can I bet on sports online in Las Vegas? 
Online sports betting was legalized in 2013. So, yes, you can bet on sports online in LV. 
What is the minimum sports bet in Vegas? 
The minimum stake at Las Vegas sportsbooks depends on the bookmaker you're using. Some casino sportsbooks have limits of $5, but online sportsbooks allow wagers as low as $1. 
What is the largest sportsbook in Vegas? 
Opening its doors in December 2020, the Circa Sportsbook became the largest sportsbook in Vegas. This 3-story sportsbook with a 78 million pixel screen is also the biggest sportsbook in the world. 
What is the easiest sport to gamble on? 
Most sports are simple to gamble on regarding the process, as learning how to use an online sportsbook is relatively easy. But there is no straight answer regarding the easiest sport to bet on and win versus the bookmakers, as handicapping skills vary from person to person. 
In what can only be described as a seminal pact between adversaries, Governor Newsom has signed a bill into law that both the California Native American tribes, as well as cardroom operators, support – no additional cardrooms in the state for two more decades. In turn, this collaboration between Native American tribes and gambling hall

---