Mississippi Sports Betting – Which Are the Best MS Betting Sites & Sportsbooks?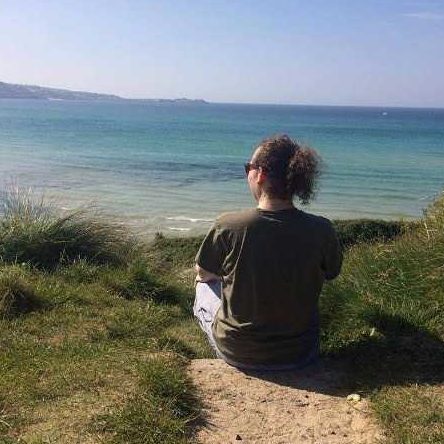 David is a freelance sports journalist who comes from West Midlands. He specializes in sports content, both written and visual. With an impressive record in pre-fight predictions, David is quickly becoming recognized in his field for his in-depth fight analysis and impressive contender & fight history knowledge.
Sports betting fans in Mississippi State have had access to licensed sportsbooks for a few years now; the Magnolia State launched legalized sports betting in 2018. It was one of the first states to do so after the Supreme Court overturned a nationwide ban on sports betting. Unfortunately, the state has only legalized land-based sportsbooks to date.
However, residents can still access real-money sports betting on all their favorite teams and even collegiate sports by using offshore betting sites, which often provide a better betting experience in comparison to retail locations.
Today, our Mississippi sports betting guide will explore what forms of gambling you can access online in Mississippi, and explain the variety of sports betting markets available at a top-rated offshore sportsbook.
The Best Sportsbooks in MS
Mississippi Betting Guides
Best Mississippi Sports Betting Sites 2023
Looking for the best sites for online sports betting in Mississippi? Our sportsbook experts have carefully crafted a list of the top 10 Mississippi online betting sites:
The Best Mississippi Sportsbook Reviews
Stop wasting your valuable time hunting for the best online sportsbooks in Mississippi and start enjoying online sports wagering faster. Let our top-rated guide assist your needs and discover the best MS sports betting sites by reading our comprehensive list of the top 10 ones below.
1. Bovada: Best Sports Betting in Mississippi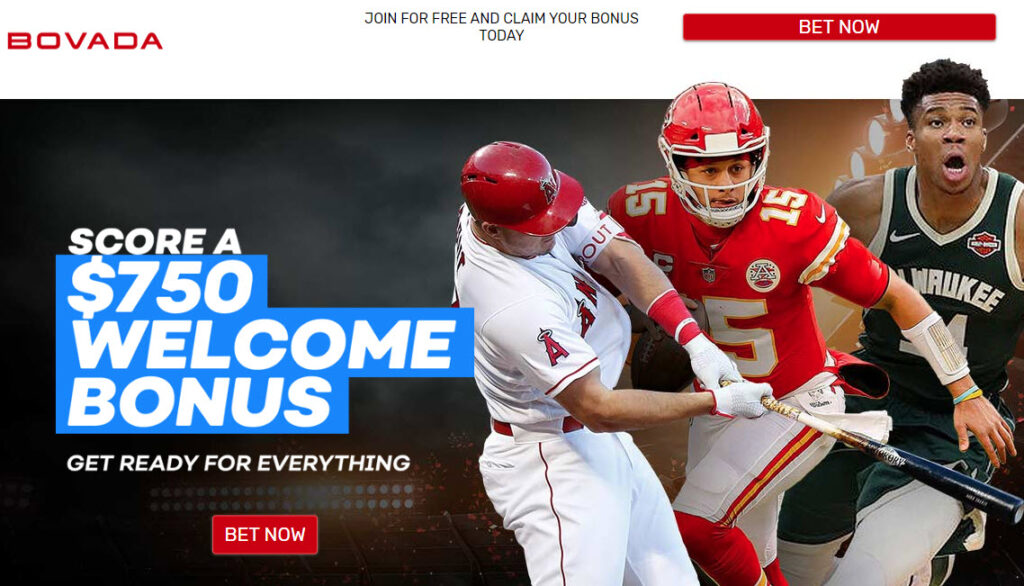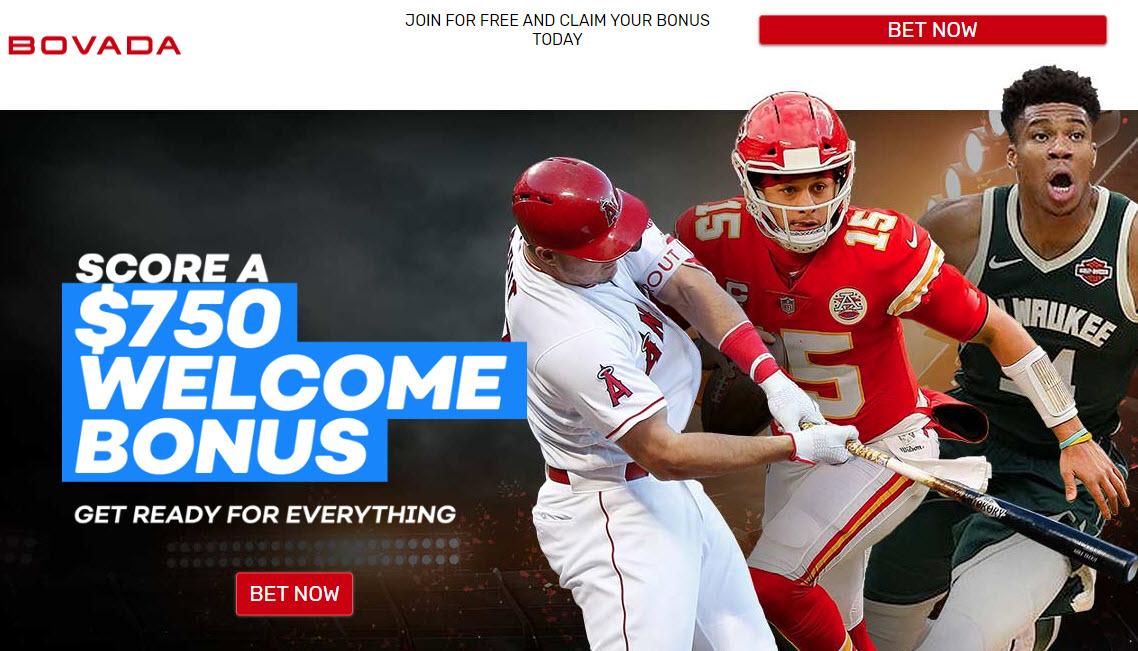 With the ability to place sports bets while you live-stream the game you've bet on, Bovada is the best online sports betting site in Mississippi for this reason and much more. The high-definition live streaming factor is significant, as you can live bet on games or simply follow the pre-game wagers you've placed at no extra cost.
At Bovada, you'll find a vast selection of sports available to bet on, as the extensive choice of betting markets are enormous. This sportsbook provides markets on all the major U.S. and European sports leagues and niche markets such as eSports, water polo, and table tennis. Parlay lovers will also enjoy Bovada's services, as they present a prop-building tool that makes life easy when attempting to create that massive payout parlay or custom bet.
Besides its notable sports betting selection, Bovada is one of the top providers in the online gambling industry when it comes to poker. As for promotions go, you can receive up to $750 in bonuses when your account is funded via Bitcoin. Credit and debit card users shouldn't worry; they also provide this banking option with slightly lower bonus offerings.
Pros:
Most popular poker room in the country
Great variety of betting markets
Prop builder for parlays or custom bets
Cons:
Lower rewards on non-crypto banking options
No live streaming
2. BetOnline: The Most Respected Mississippi Sportsbook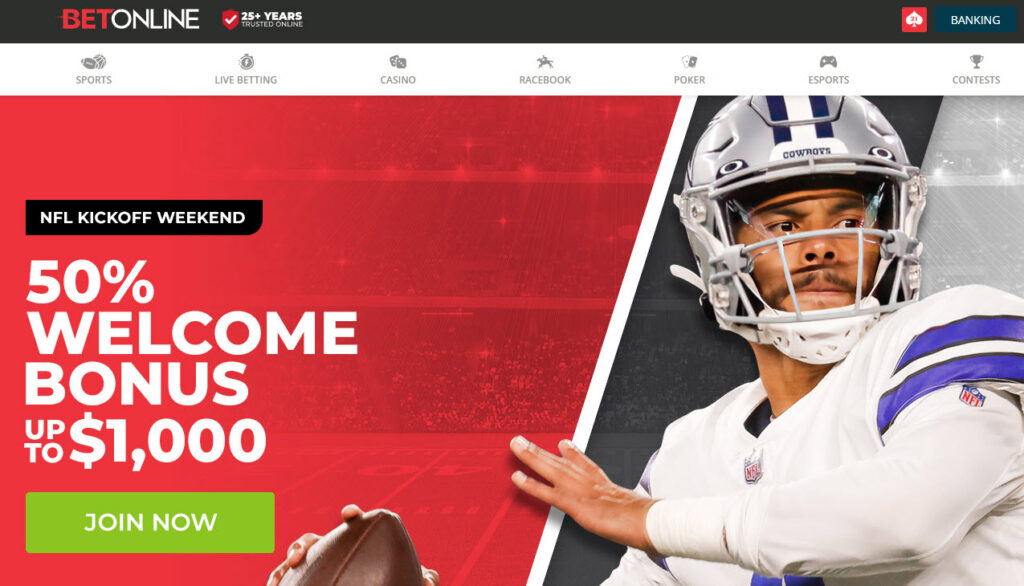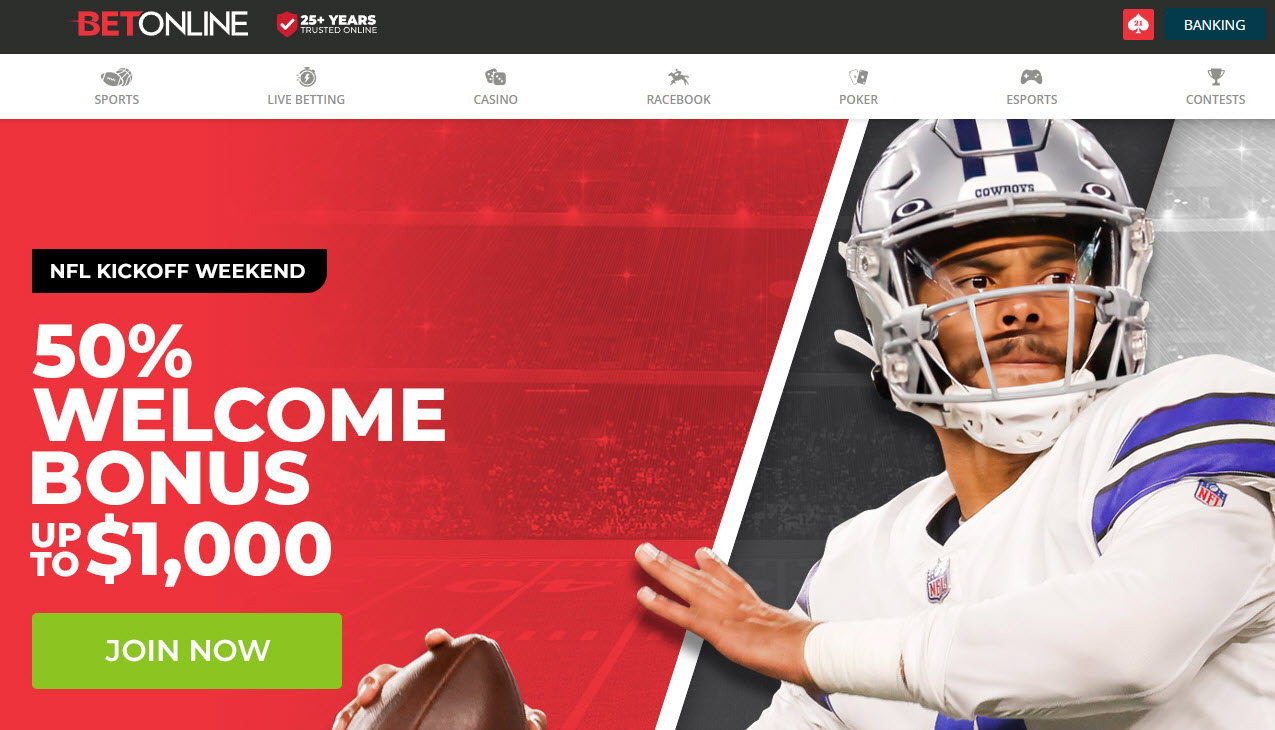 With a welcome bonus of up to $1000, it's no surprise that players are flocking to BetOnline and registering as new customers to use their services. It's also the must-have Mississippi sports betting site for fans of the NBA. Whether you're looking for NBA futures, regular season games, or NBA draft bets, BetOnline will have you covered. It also provides tons of prop bets for each NBA game and international betting markets.
With that said, BetOnline isn't just known for its NBA offerings. This top-rated Mississippi online betting site covers all major sports betting leagues. Its diverse selection of sports markets is accompanied by some of the most competitive odds in the business.
Operating in unison with its sportsbook, BetOnline provides an online casino, one of the most popular poker rooms in the U.S. and a racebook so professional horse racing fans in Mississippi can wager on horse events in the US and internationally. Uniquely, BetOnline also offers future bets on horse racing markets, allowing bettors to wager on events months in advance.
Pros:
Streaming for live games
Excellent welcome bonuses
Competitive odds and parlay boosts
Notable racebook service with specific promos
Cons:
High rollover requirements
Bonuses vary depending on deposit method
3. Bookmaker: The Best Online Mississippi Sports Betting Site for Sharp Bettors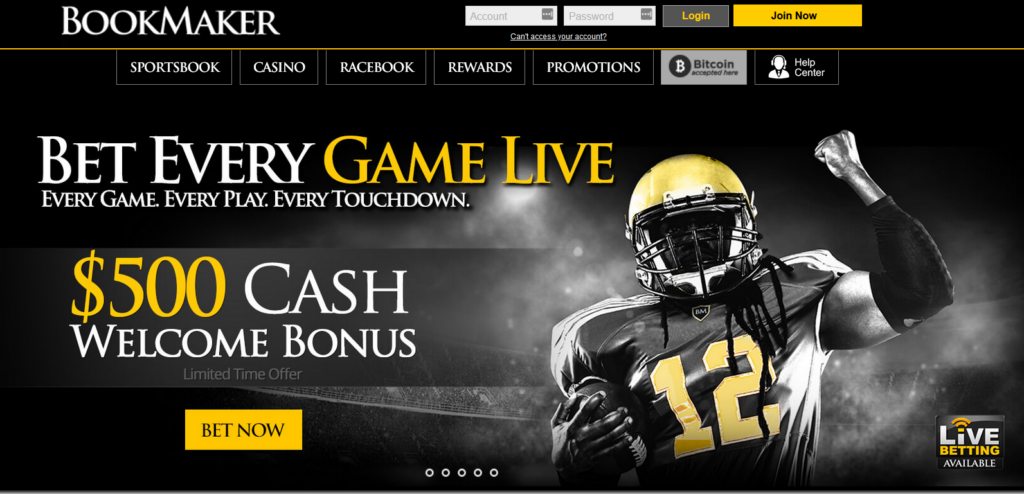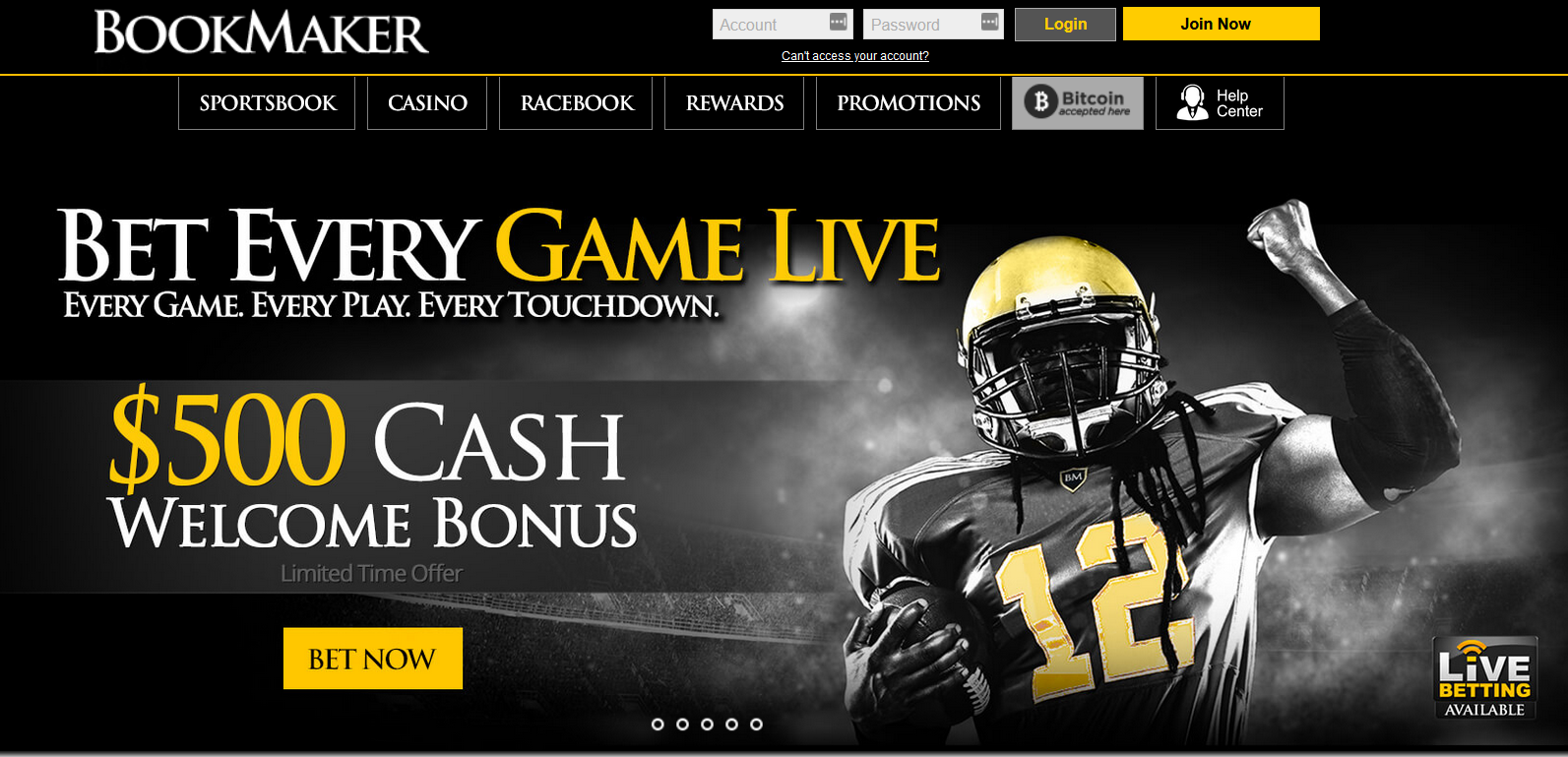 Professional sports bettors arrive in abundance at Bookmaker.eu. Why? Because this establishment prides itself on allowing winning bettors to continue using their services without limitations. This position in the industry is rare, and it's a huge factor behind the company's success.
In addition to their celebration of winning bettors, sports fans are also welcomed to a world of high betting limits that can go as high as $50,000 on NFL spreads, sides, and totals.
Bookmaker is the home of sharp bettors with large bankrolls, but this shouldn't deter the average bettor, as you'll find many other reasons to sign up. Next to this top Mississippi online sports betting site's high betting limits is low minimum wagering limits for $1, $5, or $10 bettors.
You'll receive various bonuses and promotions during your time betting with them.
Bookmaker passed all of our security tests, they don't postpone customer payouts, and valued members can join the loyalty program that will reward you with betting points to make free wagers.
Pros:
Sharp bettors are welcomed
Early released betting lines
High betting limits/Low minimum betting limits
Cons:
No Poker room
No reduced lines
4. Heritage Sports: Excellent Live Sports Betting for Mississippi Bettors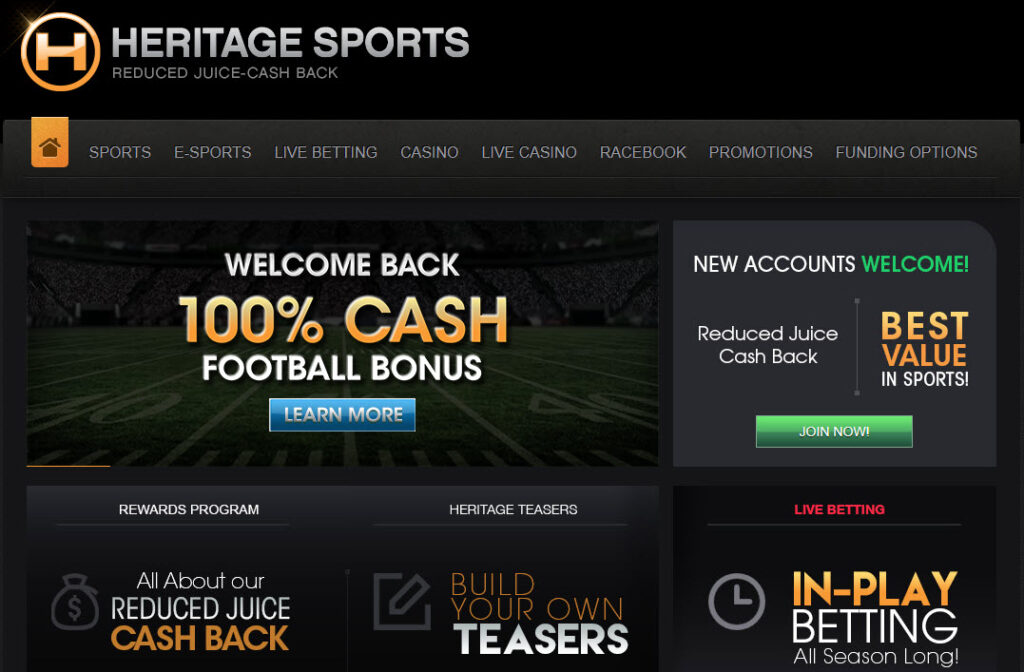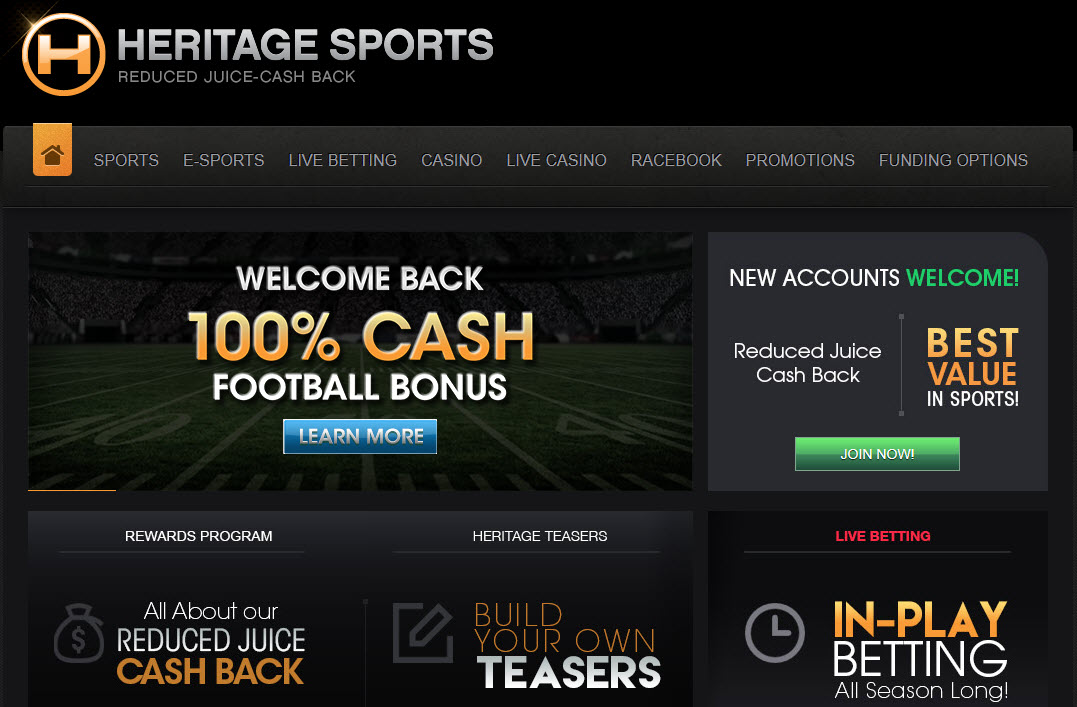 Highly competitive odds, a flawless live betting service, responsive customer service, and decades of business experience are just a few reasons why Heritage Sports is always positioned in our top 5 sportsbook rankings.
It doesn't matter if you're looking for moneyline, spread, totals, futures, or prop bets, Heritage Sports will always strive to give its customers the best available odds. And when you combine this factor with a live betting service that allows you to wager on games at any time, they're unquestionably a front-runner regarding the best Mississippi sports betting sites. This perk extends to their online casino as they also offer games with live dealers.
The icing on the cake arrives in the form of promotional offers. Heritage Sports has various bonuses and cashback rebates. The user experience also includes responsive customer service, and it's easy to notice that this MS sports betting site values its users.
Pros:
Attractive and simple to use website interface
Reduced juice betting lines
One of the best live betting platforms with highly competitive odds
5. BetAnySports: Great for Reduced Betting Lines in Mississippi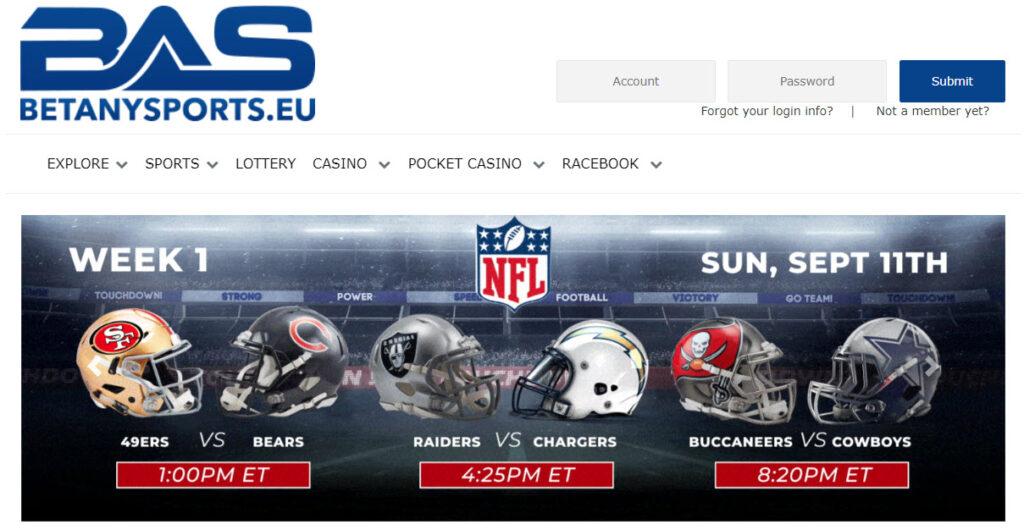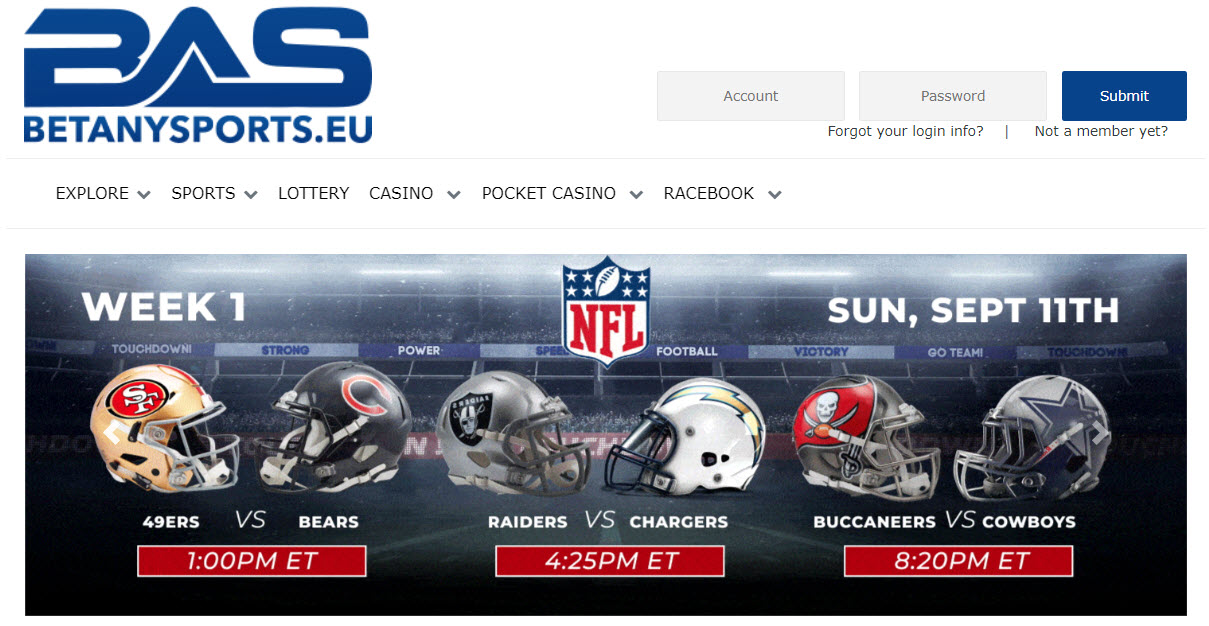 As one of our latest additions to the top 5 rated online sportsbooks in Mississippi, BetAnySports has made significant strides to provide customers with one of the best online sports betting services. The interface makes it easy for sports betting fans to place mobile wagers too.
BetAnySports separates itself from the pack by offering some of the most notable reduced juice odds. These reduced juice betting lines allow bettors to get the most bang for their buck, as a lower-than-normal house edge allows Mississippi bettors to make higher profits throughout their sports betting activities.
It doesn't matter if you're wagering on the NFL or NBA spreads, the available odds at BetAnySports will regularly steer from the typical -110 price found at most sportsbooks and provide users with the same spreads for an incredible value of -105.
Of course, with the branding BetAnySports, you'll have the chance to bet on any sport. Alongside its excellent reduced juice system, users will find a wide selection of prop bets attached to it.
Pros:
Excellent layout with an easy-to-navigate website
Best reduced juice model (-105 on spread bets)
Fast payouts and a trustworthy reputation
Cons:
Smaller bonuses than competitors
6. Everygame: Best Online Mobile Casino in MS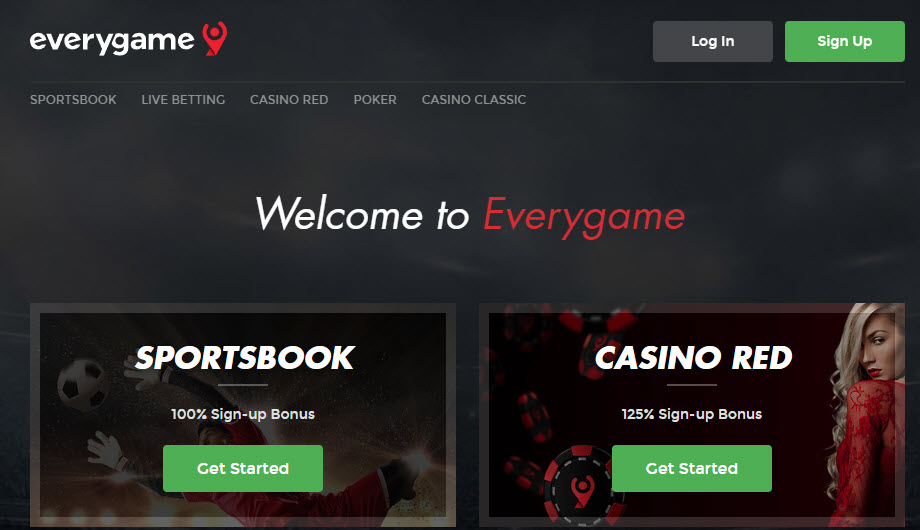 NFL, NBA, and MLB sports bettors will be spoilt for choice at Everygame, a betting site that goes above and beyond to provide customers with one of the most extensive American sports betting markets in the business.
Adding to its accomplishments as a top-rated Mississippi online sports betting site, Everygame has competitive odds to match its extensive US betting markets and a live betting service that gives customers the ability to place in-play wagers.
While alternative online sports betting sites in Mississippi can be limited on banking options, Everygame is the exact opposite. They give users a long list of payment and withdrawal methods, and new customers can choose multiple welcome bonuses upon arrival. You can receive a 100% welcome bonus of up to $750; for every deposit made, Everygame will double those funds up to $250.
They also accommodate Bitcoin or cryptocurrency depositors, so check out the latest Everygame promo codes readily available to ensure you receive the best possible bonuses and promotions.
Pros:
Excellent mobile betting site

Notable welcome bonuses
Highly competitive odds
Cons:
Live streaming isn't available
7. BetUS: Top Mississippi Sportsbook Bonuses & Promotions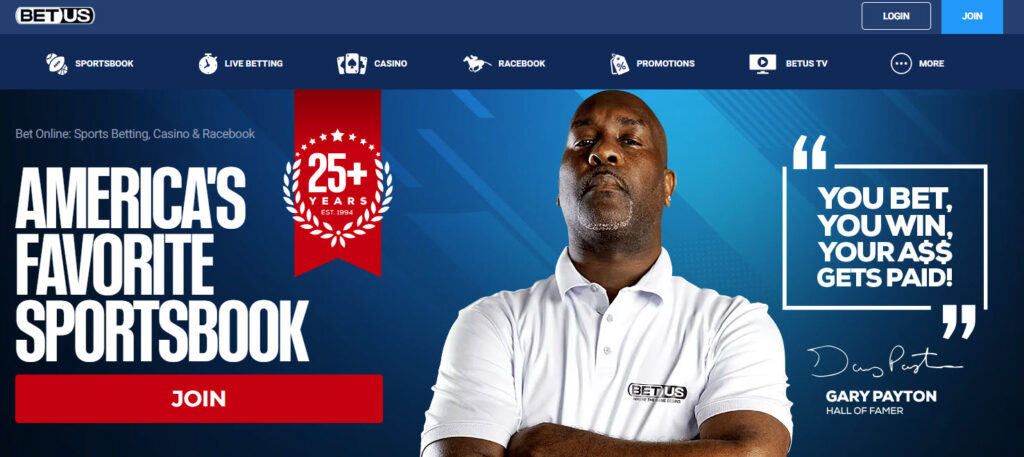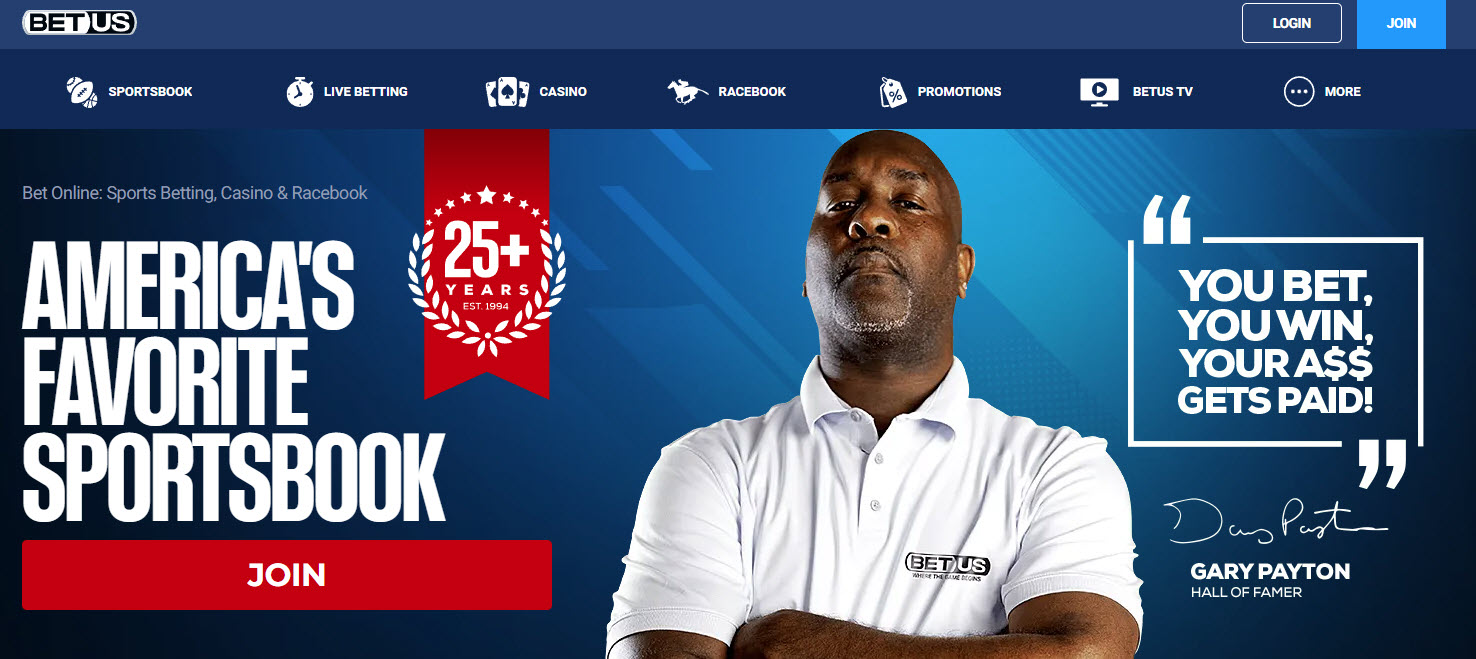 A recent overhaul of staff, software, and services has skyrocketed BetUS into becoming one of the best online betting sites in Mississippi. As customers are paid in full and on time, we should also recommend their dedicated mobile app, which is available for iOS and Android owners. If you're a bettor on the go, who wants to place wagers fast and efficiently, look no further than BetUS.
BetUS excels at giving its customers excellent bonuses and promotions. Its welcome bonus, for example, is almost untouchable by any of its competitors, as new bettors can claim up to $2,500 with a 125% deposit match. You can also claim a 100% bonus of up to $2,500 when you choose Bitcoin as your banking method.
BetUS is a complete online betting site in Mississippi with countless positives as to why you should sign up today. Alongside the aforementioned factors we've mentioned, they have a wide choice of available sports betting markets that include all the major US sports leagues, colleges, and eSports. Don't forget the ponies, as BetUS also gives care and attention to its racebook that provides betting lines on daily horse events.
Pros:
The best welcome bonus in the industry

Great odds for sports betting and horse racing events
Cons:
High rollover requirements
8. WagerWeb: Great Bonuses & Reduced Juice for Mississippi Sports Betting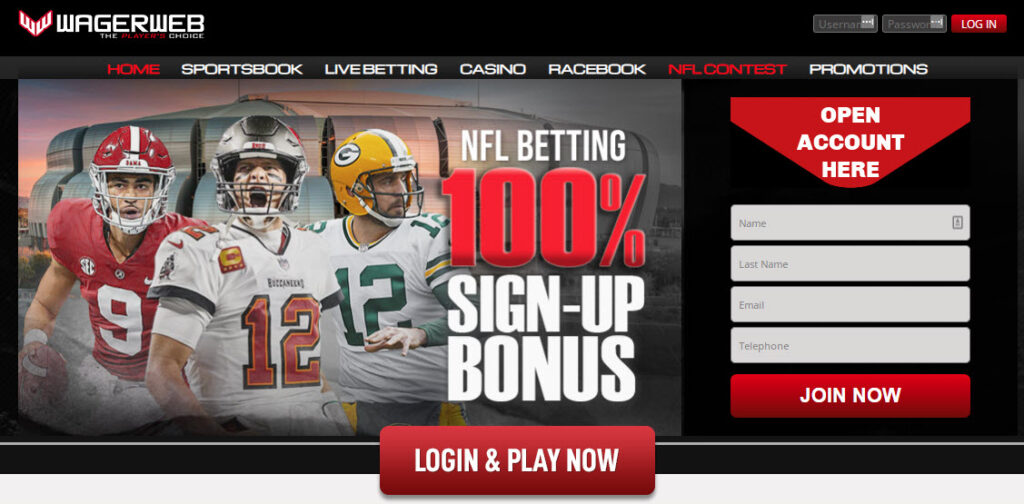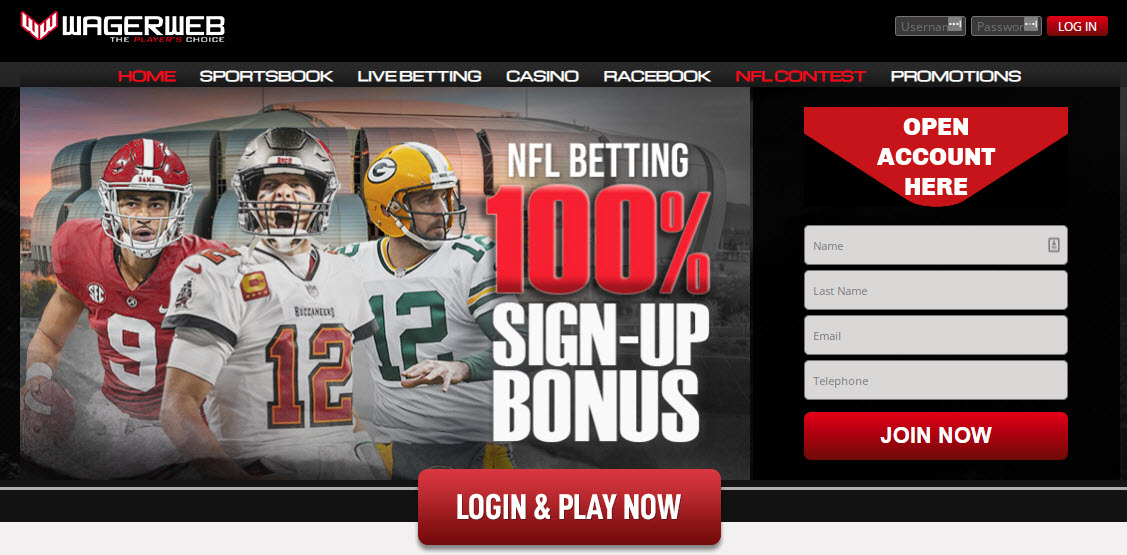 WagerWeb is an excellent Mississippi online sports betting site that the legendary Heritage Sports operate, so you already know it's a trusted location to place your sports wagers. Like its sister site, Heritage Sports, WagerWeb gives notable welcome bonuses and special promotions for its sportsbook, casino, and racebook.
You'll find cash rebates at the casino, an extensive racebook with countless events to bet on, and, most importantly, a dedicated team of operators that have crafted a sportsbook that presents a multitude of available sports markets. Standard withdrawal methods are fast, but you can also boost this process by utilizing Bitcoin as your withdrawal of choice.
Continuing with its positive traits, customers will be elated with the available bonuses, reduced juice lines, and customer service. WagerWeb is a no-brainer choice for sports bettors or casino goers looking for a top online betting provider in Mississippi.
Pros:
Ultra-quick payouts
Reduced juice betting lines on specific markets
Cash rebates at the racebook and casino
Cons:
Fiat-based withdrawals have fees
9. JustBet: One of the Best Mississippi Sports Betting Sites for Early Released Odds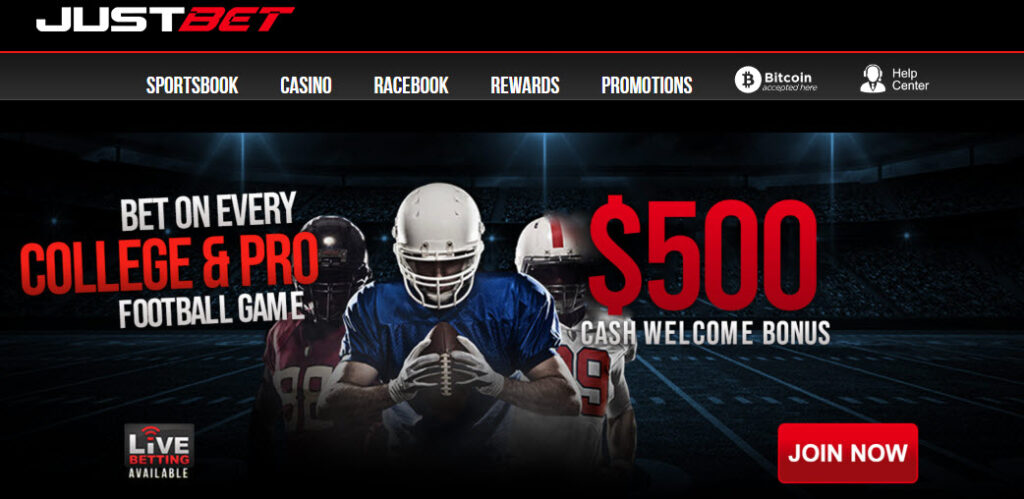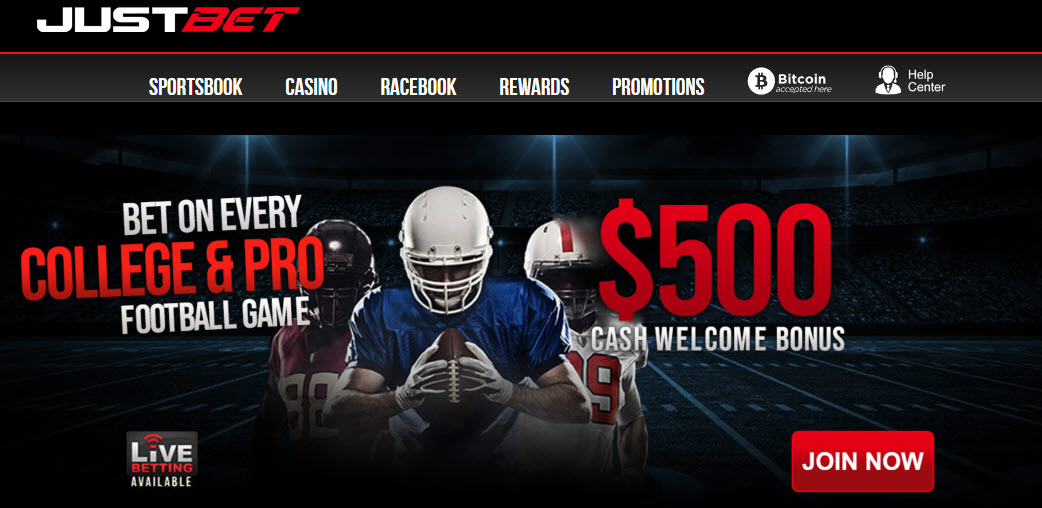 Under the tutelage of Bookmaker, JustBet has established itself as one of the most reputable Mississippi online sports betting sites. Betting lines are released early, allowing customers to get an advantage over shifting odds, and you'll be happy to know the betting limits are also high.
When presented with a modernized interface at JustBet's site, you'll find distinguishing them as a Bookmaker-owned betting site complex. With that said, the core values at Bookmaker can often transcend at JustBet, a top Mississippi sports betting that goes the extra mile for its customers.
A dedicated loyalty program will have you returning for more sports betting action, and the occasional bonus you're unaware of will be a pleasant addition to your account. You can also take advantage of JustBet's exceptional welcome bonus of up to $500, and should a problem arise during your time as a customer; a responsive customer service team will be happy to assist.
Pros:
Excellent live betting options
Early released betting lines for multiple sports
A significant welcome bonus of up to $500
Cons
No reduced juice betting lines
10. GTbets: The Most Secure Sports Betting Site in Mississippi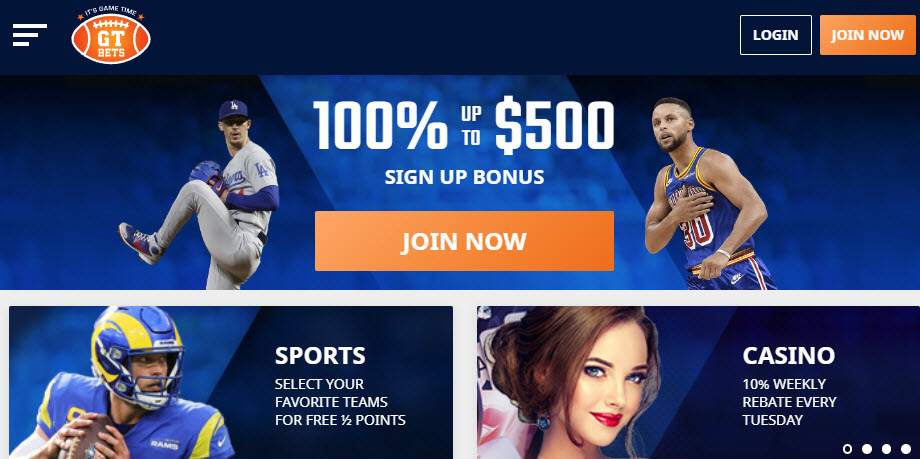 At GTbets, you can guarantee your customer experience will tick all the boxes you initially thought of when deciding what a top-rated sports betting site in Mississippi should be. An excellent customer service team prioritizes customer needs, and this site is renowned for the level of security they provide, ultimately keeping your personal details and banking information clear of any unwanted outside interference.
Football fans will be delighted to know GTbets offers reduced juice on NFL and NCAAF totals, sides, and spreads. This goes hand-in-hand with their sign-up bonuses, available promotions, and highly competitive odds.
Previously known as Game Time, when the company rebranded to GTbets, it insisted on completely overhauling its site to meet modern-day online sports betting needs. The website design is flawless without lag, you can access the sportsbook from any mobile device at any time, and the site is easy to navigate while being protected with a robust level of security.
Pros:
Reduced juice on football markets
A highly responsive customer service
Cons:
Large rollovers on specific bonuses
Is sports betting legal in Mississippi?
Yes, sports betting is legal in Mississippi and has been since 2018. However, mobile wagering is still prohibited, and bettors must attend physical retail sportsbooks to place legal sports betting wagers.
Despite remaining a state that doesn't provide online wagering, sports bettors located in Mississippi can utilize one of the offshore sportsbooks mentioned in this article. These operators are outside of the United States and do not adhere to the same rules and regulations as the providers in North America. Registering with one of our top-rated online betting sites in Mississippi is legal.
Mississippi Sports Betting News and Developments – A Timeline of Sports Betting in Mississippi
2017: Daily fantasy sports were legalized in Mississippi. HB 976 removed the prevention of sports betting prohibition language, and a state-wide ban was lifted.
2018: the Supreme Court overturns PASPA, and states can now form their sports betting laws and regulations.
2018: The Mississippi Gaming Commission released its sports betting regulations.
2018: BetMGM becomes the first sportsbook to go live in Mississippi.
2020: Mobile and online sports betting is legalized following the passing of bill HB 172.
2021: SB 2732 and HB 1042 failed in committee. These bills attempted to propose online gambling as a legal entity across the entire state of Mississippi.
2021: BetMGM launched their first mobile sportsbook in MS, allowing sports bettors to place bets via their mobile devices when visiting a BetMGM sportsbook.
2021: The Mississippi House Gaming Committee revealed its plans to present another bill allowing online wagering by the end of 2022 if approved. MGM Resorts in Biloxi launched their second BetMGM mobile app, allowing online betting at their physical store.
2022: The Mississippi Mobile Sports Pool and Race Book Wagering Act (Bill 2462) passed. This guaranteed that pari-mutuel wagering and online sports betting would be legalized in Mississippi.
2022: HB 184 joined a long list of sports betting bills that have been rejected. For this reason, mobile betting didn't arrive to Mississippi in 2022. Fubo Gaming and the Mississippi Gaming Control Board agreed that Fubo would provide mobile sports betting services when online wagering is approved. Thus far, Fubo Sportsbook operates in Arizona and Iowa and has agreements with an additional 10 states. Daily fantasy sports were legalized in Mississippi. HB 976 removed the prevention of sports betting prohibition language, and a state-wide ban was lifted.
2023: A new bill, HB 606, is proposed and backed by the head of the House Gaming Committee. This bill aims to expand the online sports betting market in the state.
Mississippi Sports Betting Teams
Mississippi has no active team competing in any of North America's major sports leagues (NFL, NBA, NHL, MLB, MLS). However, the support for college teams in MS is overwhelming, specifically for MSU (Ole Miss), a football team known to draw more fans per game than most MLB, NBA, and NFL teams.
How To Bet on Sports in Mississippi
The Magnolia State offers legalized sports betting at one of its physical sportsbooks. This requires customers to attend a brick-and-mortar sportsbook such as BetMGM and to place bets live in person. Popular mobile betting apps like FanDuel Sportsbook and Caesars Sportsbook are prohibited.
However, to find the best Mississippi online betting sites that are entirely legal and free to register, you'll want to select one of the top-rated offshore sportsbooks from our guide.
As no mobile or online wagering can take place off a Mississippi outside of retail sportsbooks or off casino property, our thoroughly researched offshore betting sites can provide MS locals with the online experience they're missing.
Compare the Best Online Options for Sports Gambling in Mississippi
You can easily compare each of our top-rated sportsbooks below:
| Sportsbook | Rating | Online Since | Payment Methods | Read Review |
| --- | --- | --- | --- | --- |
| Bovada | A+ | 2011 | Credit Card, Bitcoin | Bovada Review |
| BetOnline | A+ | 2001 | Credit Card, Bitcoin, Crypto, Cashiers Check, Bank Transfer P2P, | BetOnline Review |
| Bookmaker | A+ | 1996 | Credit Card, Bitcoin, P2P, Crypto | Bookmaker Review |
| Heritage Sports | A+ | 2001 | Credit Card, Bitcoin, Cashiers Check, Bank Transfer, P2P | Heritage Sports Review |
| BetAnySports | A+ | 2002 | Credit Card, Bitcoin, Electronic Check | BetAnySports Review |
| Everygame | A | 1996 | Credit Card, Bitcoin, Skrill, Neteller, Bank Transfer, P2P | Everygame Review |
| BetUS | A | 2000 | Credit Card, Bitcoin, Bank Transfer, P2P | BetUS Review |
| WagerWeb | A | 1994 | Credit Card, Bitcoin, Cashiers Check, Bank Transfer, P2P | WagerWeb Review |
| JustBet | A | 2000 | Credit Card, Bitcoin, P2P, Crypto | JustBet Review |
| GTbets | A | 2011 | Credit Card, Bitcoin, Crypto | GTbets Review |
As you can see in the table above, Bovada, BetOnline, Bookmaker.eu, Heritage Sports and BetAnySports each have earned an A+ rating from our industry experts.
FAQs – Legal Status of Online Sports Betting in Mississippi 2023
Can you bet on sports in Mississippi?
Yes, sports betting is legal in Mississippi if you attend one of the state's in-person sportsbooks. Online sports betting is still not illegal, but residents can register and place online sports wagers with one of the top-rated offshore sportsbooks in our article.
Can I gamble online in Mississippi?
You can not gamble online with any state-regulated gambling site. However, you can absolutely legally gamble online with an offshore sportsbook or an offshore casino. We recommend using one of the offshore websites in our review above.
How do I gamble online in Mississippi?
All you need to do is sign up with the offshore site of your choice, verify your identity, fund your account and then start placing your bets.
Does Mississippi allow mobile sports betting?
Betting with a state-regulated sports betting app is not allowed in Mississippi. You can use any offshore gambling app or offshore mobile site to place sports bets in the Magnolia State, regardless.
What betting app can I use in Mississippi?
You can use the mobile-optimized site or betting app that is operated by a company overseas, as they do not need to follow a state's gambling laws. We recommend using one of our highest-rated offshore sites for all of your gambling needs.