Chicago Casinos: How to Gamble Online in Chicago, Illinois
Shawn West has been involved with college basketball, NFL and college football and MLB since he left his job as bank vice president two decades ago. He lives in North Carolina with his wife, children, two dachshunds and a variety of turtles.
State-regulated casinos and entertainment venues are still very new in the city of Chicago, but there are plenty of options at several online betting sites. Whether you want to play slots, table games, poker, or bet on sports or races, there are plenty of options available.
But which one should you choose? Chicago gamblers should find an online casino that is safe, secure, and dependable, with a wide variety of gaming options and a high-quality user experience. Our experts have gone through the available online casino operators in the Windy City and came up with a comprehensive list of the best sportsbooks that offer online casino gaming in Chicago.
Illinois Betting Guides
If you're looking for more ways to gamble in Illinois, then we recommend that you check out one of our in-depth online betting guides which will help you to know where to start.
The Best Online Casinos in Chicago
After evaluating dozens of online casinos available to Chicago natives, and looking at a variety of different features, we've decided on the 10 best options available.
At the end of the day, offshore sportsbooks are the best option as they have a proven track record, spanning over a decade in most cases. We recommend the following when making your casino choice:
List of the Best Online Casinos in Chicago
Each platform on our top 10 has different strengths and weaknesses. In our reviews below, we discuss what put them near the top of our rankings and what kept them from scoring higher.
1. Bookmaker – Best Overall Online Casino in Chicago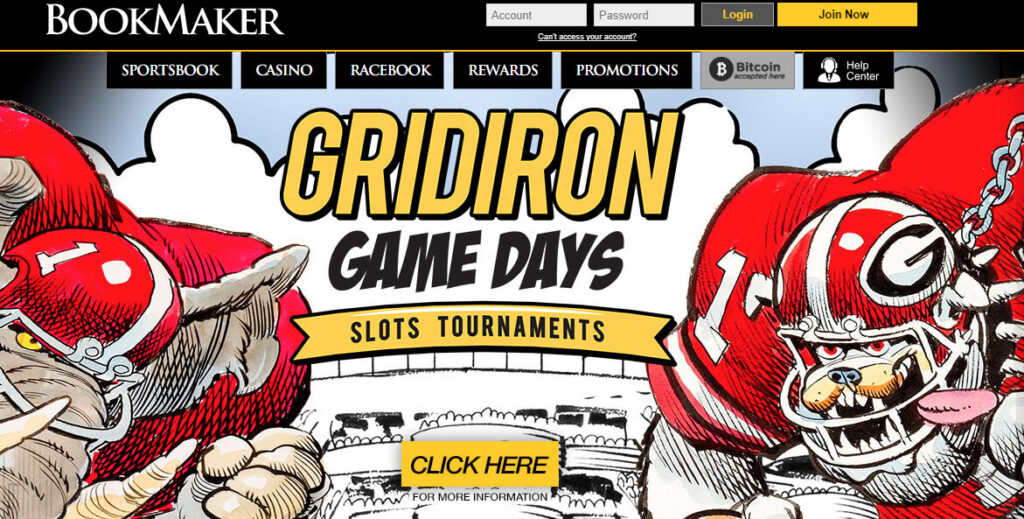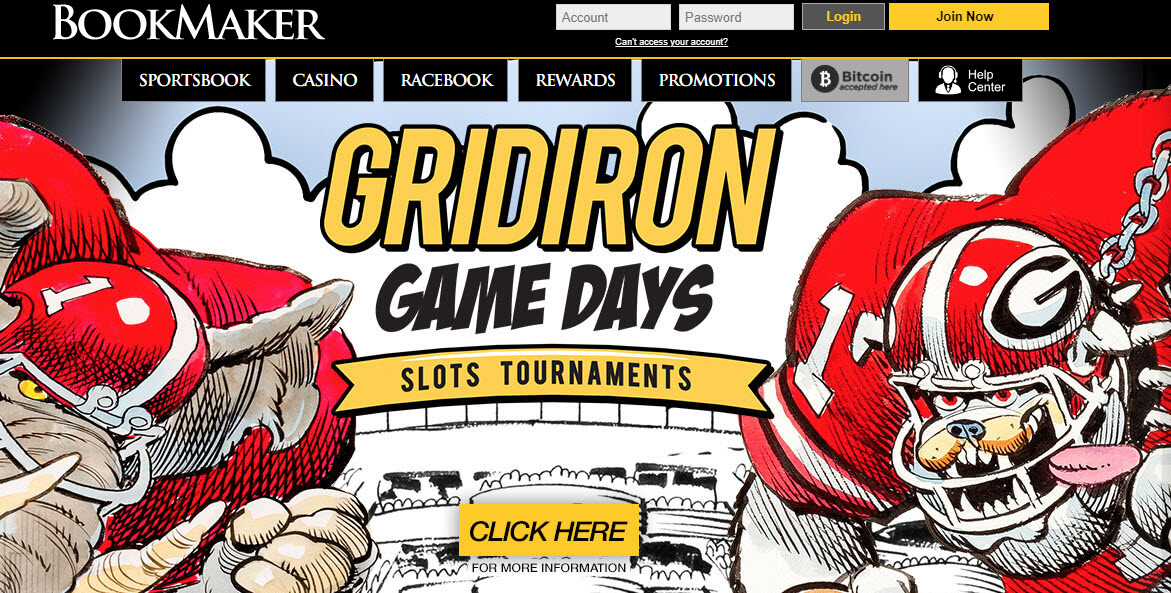 Bookmaker.eu earned the spot atop our rankings as the top casino for Chicago gamblers. The site offers a wide variety of RTP (return to player) slots and table games in its casino section. Some of the slots offer RTP of as much as 97%. You won't find a figure that high in too many other spots.
Users get to enjoy the option of live dealers but one thing that sets apart Bookmaker is their casino tutorials section which offers bettors the chance to learn the strategy and put it into place for real money.
Bookmaker also offers several different promos and has an outstanding loyalty program for existing customers. It has a long history of secure handling of transactions and will refund fees you might be charged on Bitcoin transactions.
Pros:
Highest RTP you'll find on slots
User-friendly interface
Excellent loyalty program and welcome bonuses
Also has one of the top sportsbooks
Cons:
Table game variety isn't as impressive as some competitors
Bonuses aren't the highest in Chicago
2. BetOnline –Top Chicago Casino Site for Slots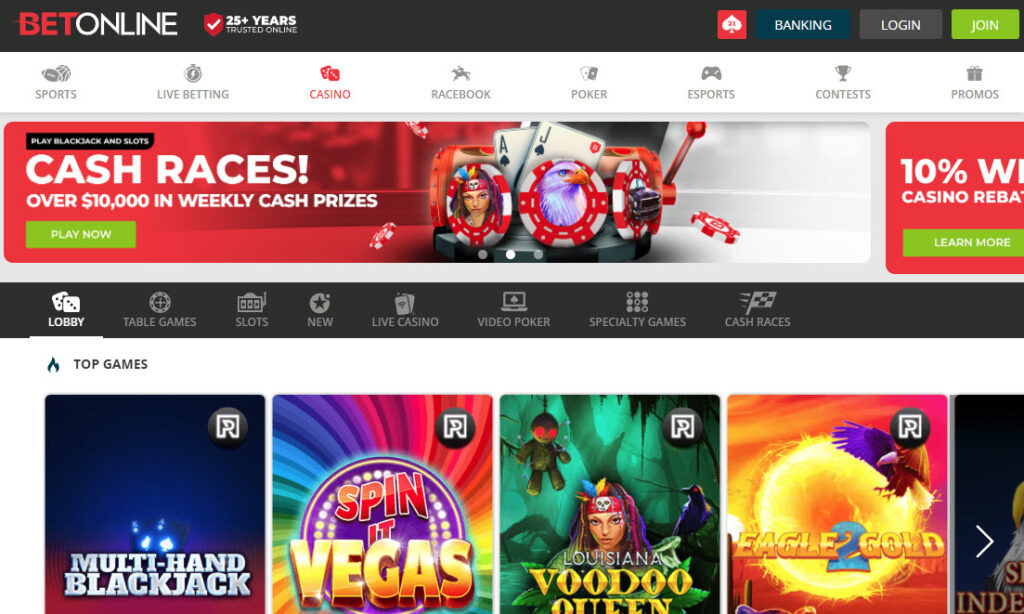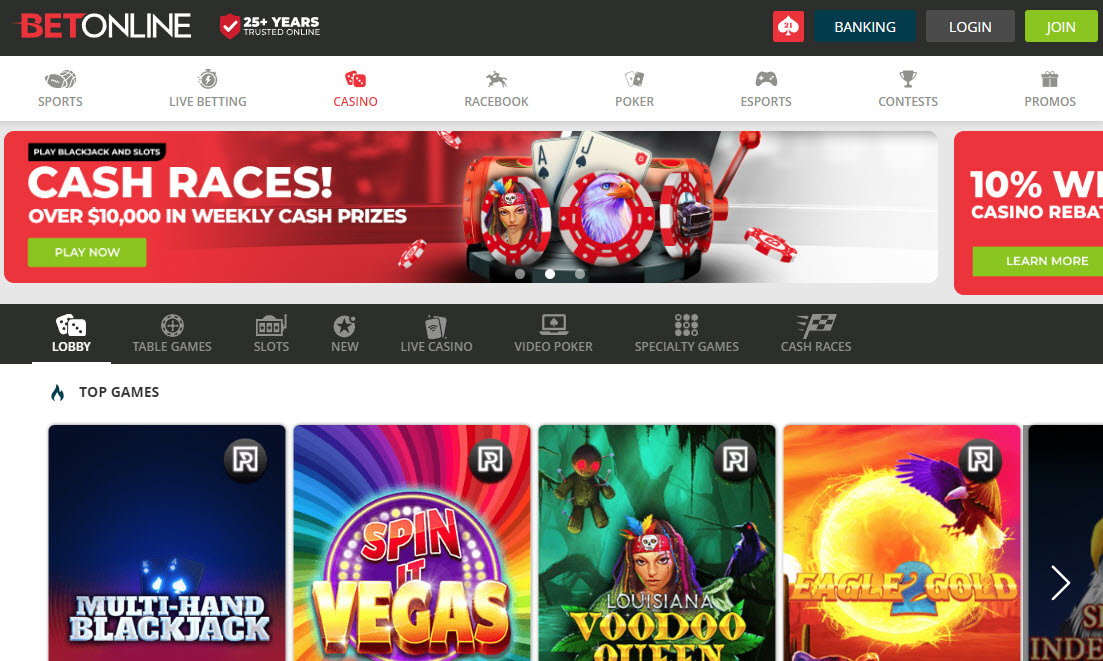 If you enjoy playing slots, BetOnline should be your first stop in Chicago's online casino scene. Their online casino offers more than 350 different variations of slot machines, including titles from different software vendors.
Another perk available at BetOnline is the live dealers' section which allows for a diverse variety of play options that should satisfy everyone. BetOnline is also part of one of the busiest poker networks in the US which allow for multiple tournaments with prizes as high as $500.000.
BetOnline also has an outstanding sports site and many options for high-limit table games. The site is also aggressive with bonuses and promotions for new and existing customers and offers a full experience, including sports, esports, and a racebook.
Pros:
Large selection of online slot games
Quick payouts
High limits, especially on table games
Competitive bonuses
Cons:
Charges fees when using credit card for deposits
Poker room is not as busy as some competitors
3. Bovada – Best Chicago Poker Room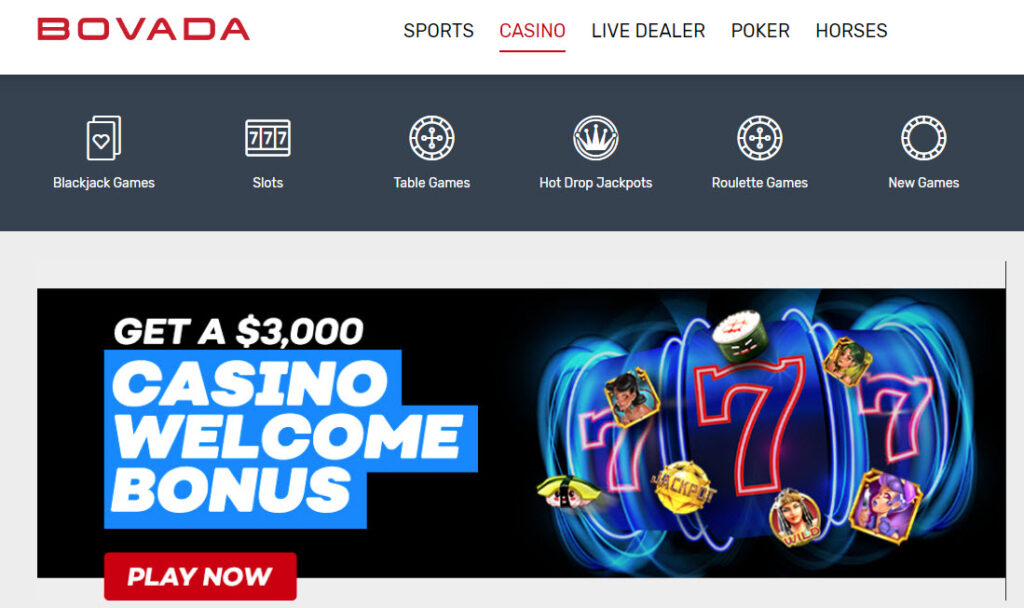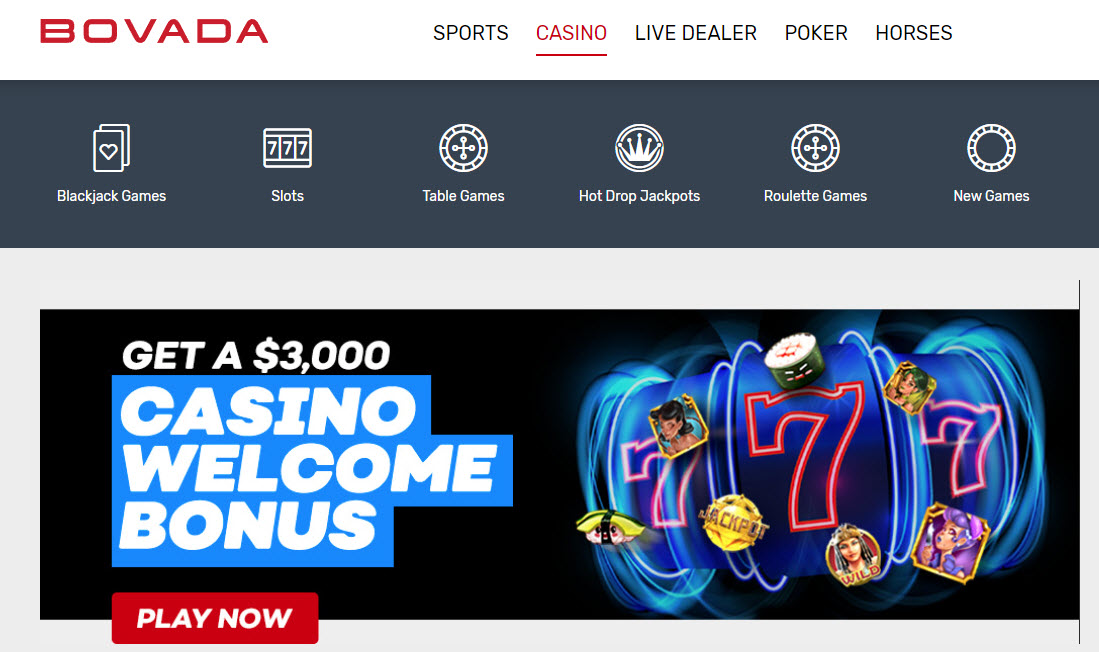 This guide focuses on online casino options in Chicago, but Bovada casino boasts the busiest poker room in all of America. It also has the full casino experience, with a sportsbook that features more prop betting options than any other. There's also a racebook and an impressive selection of table games. If you want, you can also bet on politics and entertainment at Bovada casino.
Table games and slots offer high RTP with a library of over 200 titles out of which at least 120 are slots. Another strong offering from Bovada is the live dealers' area with up to 34 different options to enjoy, making it one of the leaders in the industry in that aspect.
Bovada casino also has competitive promos and a loyalty program that is one of the best in Chicago. In fact, if you use Bitcoin (or other altcoins) you can get a 125% welcome bonus.
Pros:
America's busiest poker room
Large bonuses for Chicago players
One of the best selections of table games
Outstanding loyalty program
Cons:
Not as many online slot games as some other leading sites
Limits and promotions aren't as generous as elsewhere.
4. Heritage Sports – The Best Customer Service for Chicago Online Casinos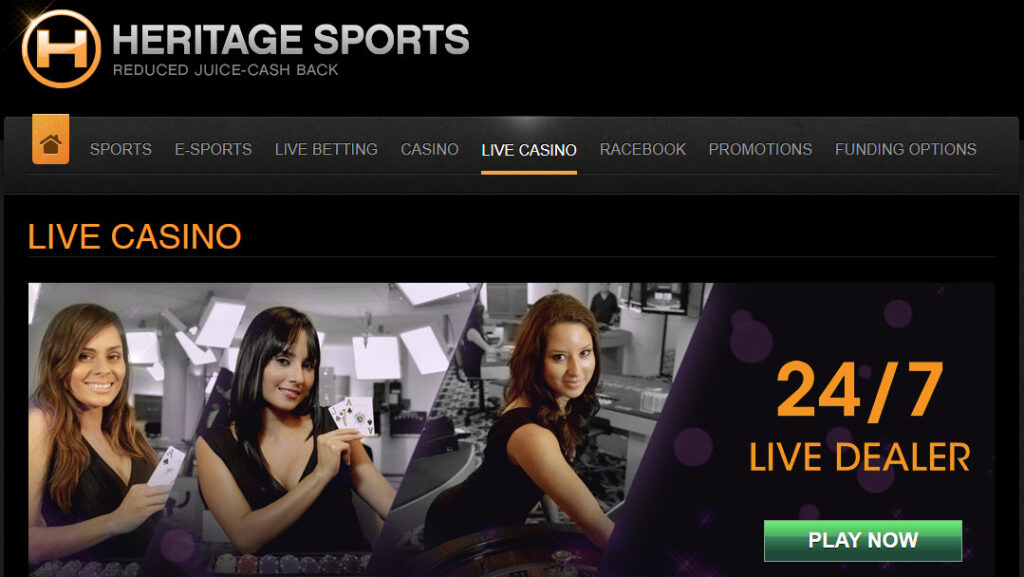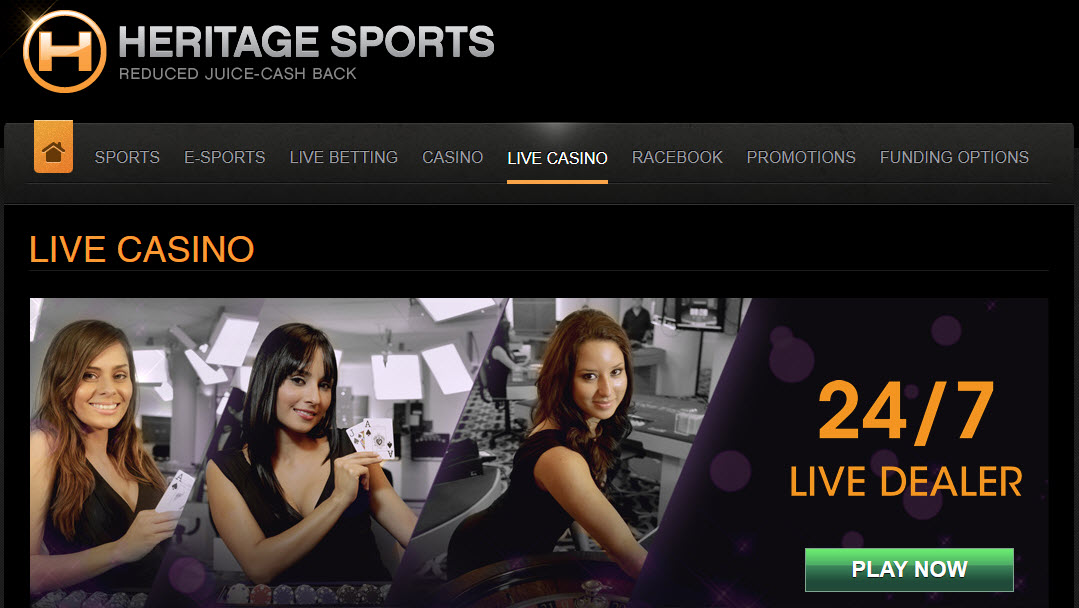 Heritage Sports is one of the top overall casinos online in Chicago, especially when it comes to taking care of its customers. It offers 24/7 customer service and, thanks to its many years when it was a boutique, invite-only gambling site, it also gives a VIP experience to its valued customers.
Heritage Sports offers some great promotions, including an 8% monthly rebate on your losses, and the live casino offers live dealers, available 24/7. When it comes to slots, Heritage Sports has specialized in 3D content to enhance the user's experience.
For roulette enthusiasts, you'll find both the American and European versions and for those new bettors looking to dabble and learn, there is a tutorial section. Another great perk is the possibility to play the games for free.
Pros:
Best customer service in Chicago
Live dealer games available 24/7
Rebate on losses up to 8%
Outstanding VIP treatment for top customers
Cons:
No welcome bonus for casino customers
Often seems to focus on sports betting over casino games
5. BetAnySports – Most Diverse Casino Experience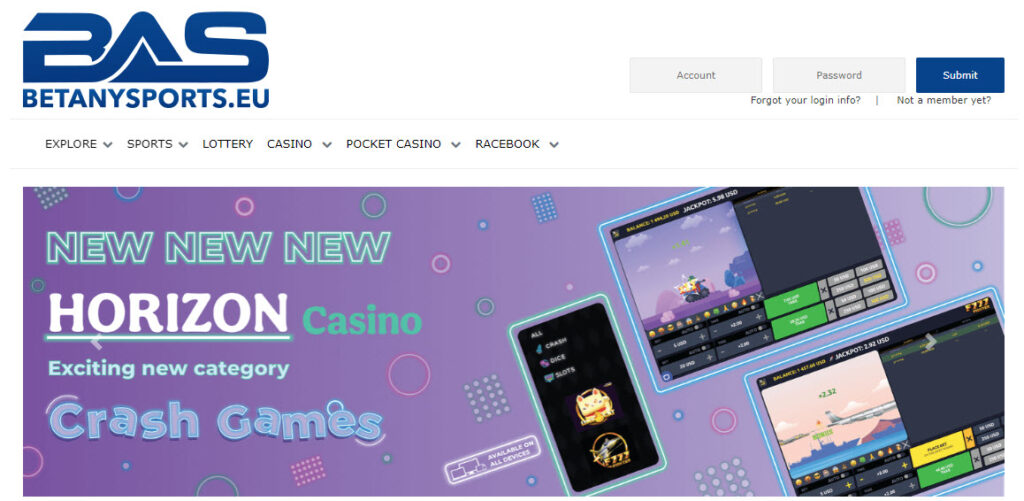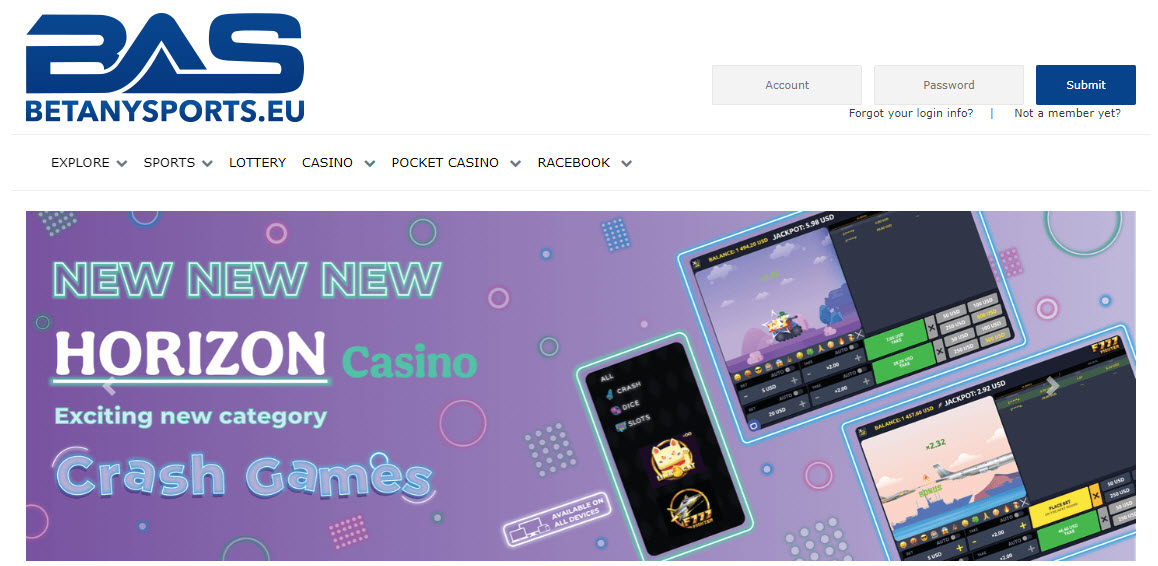 As the name suggests, BetAnySports focuses on the sportsbook side of the business and is one of the top ones in the city. Despite the name, BetAnySports is a full-service online casino where users can find all the core games offered at other offshore sportsbooks.
Their casino is divided into three different sections, each one hosting unique features. Another great perk is that BetAnySports offers both online and downloadable titles.
While other competitors might focus on quantity over quality, at BetAnySports you will find reputable software providers like BetSoft, RealTime Gaming, and Visionary iGaming.
Pros:
Reduced juice sportsbook
Variety of betting options including casino games
Offers rebates for Chicago players
Quick and easy to withdraw money
Cons:
Seven casino sites in one can make it difficult to find what you're looking for
Bonuses are relatively small
Chicago Online Casinos Banking
Online casinos in Chicago have a number of different payment methods for playing your favorite casino games. Customers can pay by credit card, debit card, or bank transfer, although with offshore sportsbooks, there are often fees associated with that. Most casinos offer bonuses for using crypto or e-wallets, which are designed to bypass national boundaries.
How to Play at Chicago Casinos
Getting started with online betting sites in Chicago is quick and easy. Here's a walkthrough of the steps involved to get an account and start gambling.
Step 1: Register a Gaming Profile
First, you have to make your casino selection and navigate to that particular site. On the home page, there should be a "Join" or "Register" button. Click on that to begin the registration.
Step 2: Provide Your Details
Fill out your personal information and click on the "Create Account" option.
Step 3: Fund Your Account
Now that your profile has been set up, you can add funds to gamble with. Go to the cashier page on the site and select your payment method. Enter the amount you want to deposit and the account information. Be sure to enter any promo codes necessary to collect your welcome bonus.
Step 4: Play Your Favorite Games
Once you are funded, you're ready to play. Find the game you wish to play. Most casinos have different tables based on experience, skill, and limit, so choose the appropriate match for you.
Is online gambling legal in Chicago?
Like the rest of Illinois, gambling is legal in Chicago according to the state's gaming laws. This is a recent development. Gambling has been on the track toward legalization for several years and just became fully legal online, without first having to register in person at a physical location, in March of 2022.
As long as the customer is 18 years old and physically in the state of Illinois, they can play their favorite casino games at any online casinos available to Chicago customers.
Most forms of gambling, including slots and table games, and poker. Sports and race betting, are legal in Chicago.
Chicago Gambling History
Chicago has a long history of gambling, both legally, and with black market locations. As early as the 1800s, there were card rooms scattered throughout the city, if you knew which door to knock on.
Now, Illinois has moved toward legalizing gambling throughout the state, passing the law in 2019. The first legal bets were placed in the state in March 2020, just before the pandemic shut everything down. It's been a slow process since, but fully legalized gambling has now been available since March 2022.
Below is an overview of the lineage of gambling in Chicago.
The 1800s: Poker is played in Chicago as an illegal black market game.
August 2018: The state begins holding hearings to discuss the feasibility of adopting legalized gambling in Illinois. Stakeholders in the state meet with members of the gaming industry to determine what legal gambling would look like in the state.
June 2019: Law legalizing sports betting in Illinois is passed on June 3 as part of a 900-page capital improvement bill. Governor J.B. Pritzker, who spurred the legislature on adopting legalized gambling by including gaming revenue in the state's budget, signs it into law on June 28.
March 2020: The first legal wager is placed in Illinois on March 9, at Rivers Casino, four days before casinos, and virtually everything else in the state and around the world is shut down due to COVID-19.
June 2020: The first sports betting apps are authorized in the state on June 18, although any online gambling required a person to first register at a gaming location in person, a process made more difficult by the pandemic.
April 2021: After a brief period where the governor rescinded the in-person portion of the law, due to COVID, the requirement is instituted again. It is impossible to register for a gambling site in Illinois online without first going to a brick-and-mortar location in person.
December 2021: The governor announced that he would allow the in-person requirement to expire in March 2022.
March 2022: On March 5, the in-person requirement expires, and Illinois residents can now register for an account online and begin using it immediately.
July 2022: The state hits the 10-figure milestone as more than a billion dollars have now been bet on sports legally in the state of Illinois.
September 2022: Ten casinos, three tracks, and seven sports arenas are looking to be approved as in-person gambling sites, joining the dozen or so tracks and casinos currently approved.
Land-Based Chicago Casinos
There are several casinos and entertainment venues physically located in the Chicago area for people wishing to gamble in person.
1. Rivers Casino, Des Plaines
A short distance from O'Hare Airport, Rivers Casino Des Plaines offers a variety of table games, and card games, as well as a steakhouse and regular shows. While not technically a Chicago casino, it is the closest, and biggest casino in the area. It's about 30 miles from downtown.
2. Horseshoe Casino, Hammond Indiana
It's across the border in a neighboring state, but Horseshoe is worth the trip with 350,000 square feet on the casino floor. It's one of the closest casinos to Chicago, also just a half-hour drive from downtown.
3. Isle of Capri Casino, Bettendorf
Hit the water with this floating casino, which has cheap rooms, entertainment, and dining for adults.
4. Harrah's Casino, Joliet
A high-class establishment with a luxury hotel, shopping center, and top-quality dining.
Other Illinois Casinos Near Chicago
Grand Victoria Casino, Elgin
Par-A-Dice Casino, East Peoria
Other Indiana Casinos Near Chicago
Blue Chip Casino Hotel, Michigan City
Majestic Star Casino, Gary
Online Casinos in Chicago in 2023 & Beyond
Now that gambling is fully legal in Illinois, the rush is on. About a dozen establishments allow gambling in the state—mostly casinos and racetracks. At least that many are in some stage of applying to be approved to offer gambling as well, with casinos, tracks, and sports arenas all joining the fray.
While Illinois now has several in-state options, many gamblers opt to stick with the offshore sportsbooks as their casino choice, due to them having a long history of safe, secure operation and having built a dependable reputation while also offering your favorite casino games such as video poker, hundreds of crowd-favorite slots and other gaming tables.
Chicago Online Sports Betting
As part of the approval of gambling in Illinois, betting on sports is also now legal in the state, with some exceptions. Local colleges were carved out of the original bill, so gamblers couldn't bet on college basketball or football games involving Illinois schools, including the University of Illinois, Northwestern, Loyola, and others. That law has been amended so that you can now bet on local schools in person, although it's still banned online.
FAQ – Using Casino Sites in Chicago
Is Chicago a gambling city?
Chicago has a long history of gambling, and with the recent changes in state law, Chicago is busier than ever with gambling.
Does Chicago have slot machines?
Most online casinos offer some version of slot play, with some offering more than 300 different slot games. Slots are also available in person.
What is the best online casino in Chicago?
There are a large number of online casinos available to Chicago gamblers. Our experts came up with a top 10 list based on a number of factors, and at the top of the list is Bookmaker.eu.
How do I stay safe playing casino games online in Chicago?
Use a dependable site with a long track record. Every site that we evaluated and placed in our top 10 offers safe, secure transactions and privacy.
Can I win real money at online casinos in Chicago?
You can. Casinos offer large payouts and bonuses for signing up and loyal betting. You can win a variety of different ways, such as from video poker machines, card poker and other casino favorites.