Online Gambling in Maine – Legal at ME gambling sites?
Shawn West has been involved with college basketball, NFL and college football and MLB since he left his job as bank vice president two decades ago. He lives in North Carolina with his wife, children, two dachshunds and a variety of turtles.
Maine has taken steps to become more gambling friendly over time, although there's still a way to go.
It's legal to bet on horse races, in person and online, and the state just passed a sports betting legalization bill in 2022. So all of that is good news for Maine residents looking to place a wager. It's not all a rosy picture, however.
Even though Maine has legal sports betting on paper, there are no legal sportsbooks operating just yet. The state is at the very beginning of what promises to be a long process to license companies to provide sports betting services. It's estimated that legal wagering on sports won't take place in the state until early 2024.
It's also not possible to find online casino gaming or online poker at any companies or websites based in the state.
That leaves you two options: One is to go to Connecticut or some of the other more gambling-friendly states in the New England area. The other is to use some of the online betting sites that are located offshore. That puts them outside the jurisdiction of Maine state law and the U.S. Federal code related to gambling. It means they can offer online gambling on sports, online horse betting, casino gaming and poker, among other things.
Of course, you may not feel entirely comfortable sending money to an offshore gambling site. That's an understandable and reasonable concern. That's why we've asked our panel of experts to help you out. They've evaluated more than 100 offshore gambling sites on a variety of factors. They weighed the pros and cons of each site and ranked the 10 best online gambling sites available to Maine residents.
In addition to our top 10 offshore gambling sites, we also show you our notes, with in-depth evaluations explaining what we like about each one. We'll also look at the history of gambling law in Maine—how they got to their current status, and what, if anything, might change going forward.
The Best Maine Sportsbooks in 2023
Maine Betting Guides
Residents of the Pine Tree State looking to gamble with real money online have plenty of options. Our experts have covered all forms of gambling in the state, including everything from mobile betting with sportsbook apps to online horse betting, and even the best Maine sports betting sites.
Best Maine Online Gambling Sites 2023
These are the 10 best online betting sites available in Maine, ranked by our expert panel. Each of these sites has a pristine reputation with years of safe, fair and reliable operation. They also provide an outstanding gambling experience. They offer teasers, props and live betting on sports, as well as casino games, live dealer games, poker and racebooks.
Each of the sites in our top 10 is based offshore. That means they are outside the jurisdiction of Maine state law and U.S. Federal law related to gambling, so they can offer options that providers based in Maine are unable to make available to customers, such as online casinos and poker rooms.
The Best Maine Sportsbooks Reviewed
We're confident that you can't go wrong with any of the 10 sites in our rankings. However, their places in the top 10 are based on the opinion of our panel of gambling experts. While they certainly know their stuff, what they think is important may not match your gambling preferences, so we've made available their detailed evaluations of each site in the top 10, so you can decide which one is the best match for you.
1. Bookmaker: Top Overall Online Gambling Site in ME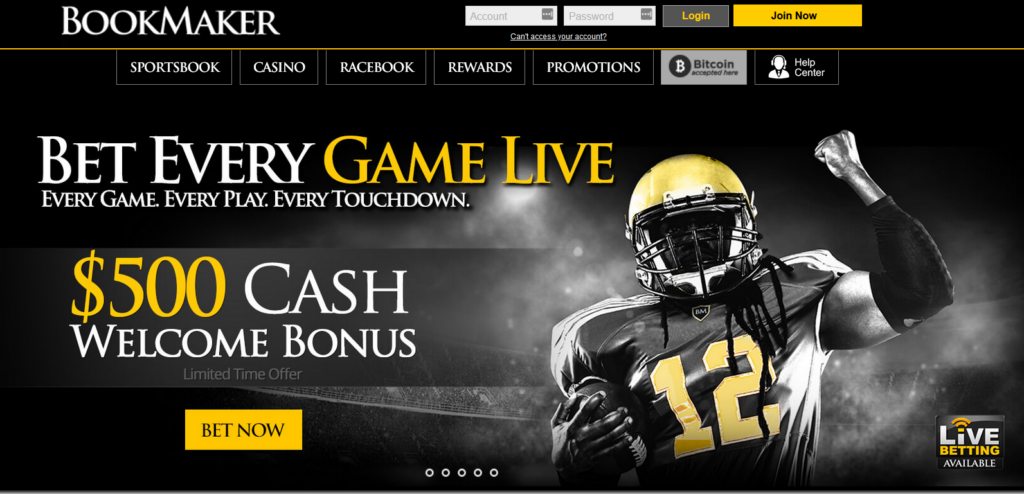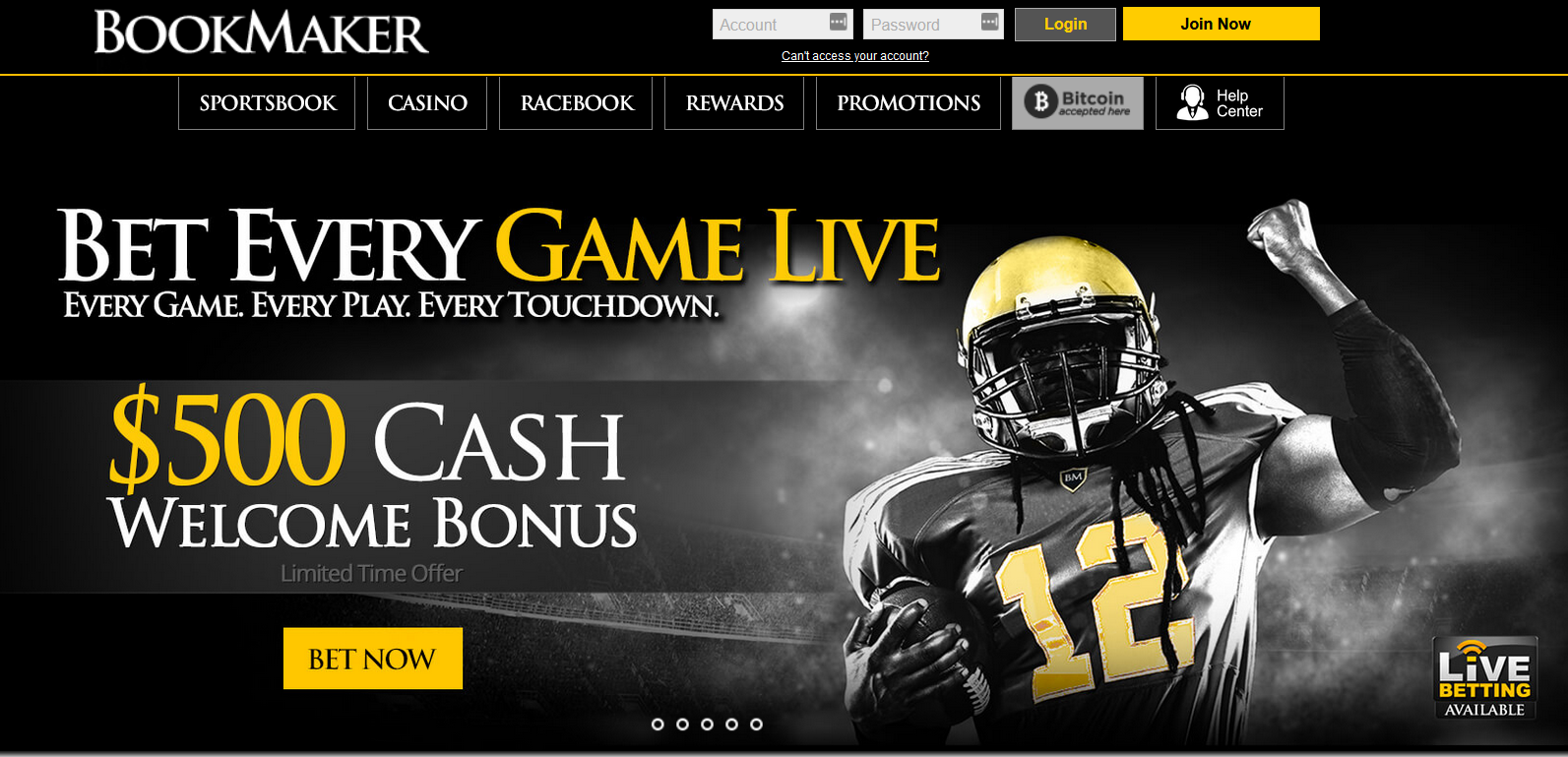 Bookmaker.eu finished at the top of our expert panel's rankings of the best all-around online gambling sites in Maine. The site has something to offer everyone and has a diverse group of customers as a result. Newcomers and professionals will both find something to like at Bookmaker, as will bankrolls and risk tolerances of all sizes.
Bookmaker is one of the first sportsbooks to post odds and lines, so professionals won't be waiting around all morning to get their money down. It also has the highest betting limits, which appeal to risk-takers and high rollers.
More inexperienced or conservative gamblers won't feel left out, however. Bookmaker has low minimum bets as well, so cautious newcomers can ease their way in. They also have a free casino to let rookies learn how to play various casino games before risking money. The site is easy to navigate and user-friendly.
Bookmaker's promos include flexible welcome bonuses and an elite loyalty program, plus, the site has a large online casino and racebook, in addition to the sportsbook.
Pros:
Something to offer all gamblers, regardless of experience and risk tolerance
Lines and odds are earliest to post
Loyalty program is one of the best in the state
High betting limits, low minimum bets
Cons:
Professional players are not allowed to use loyalty program
Doesn't have a live online poker room
2. Bovada: Biggest Variety of Betting Options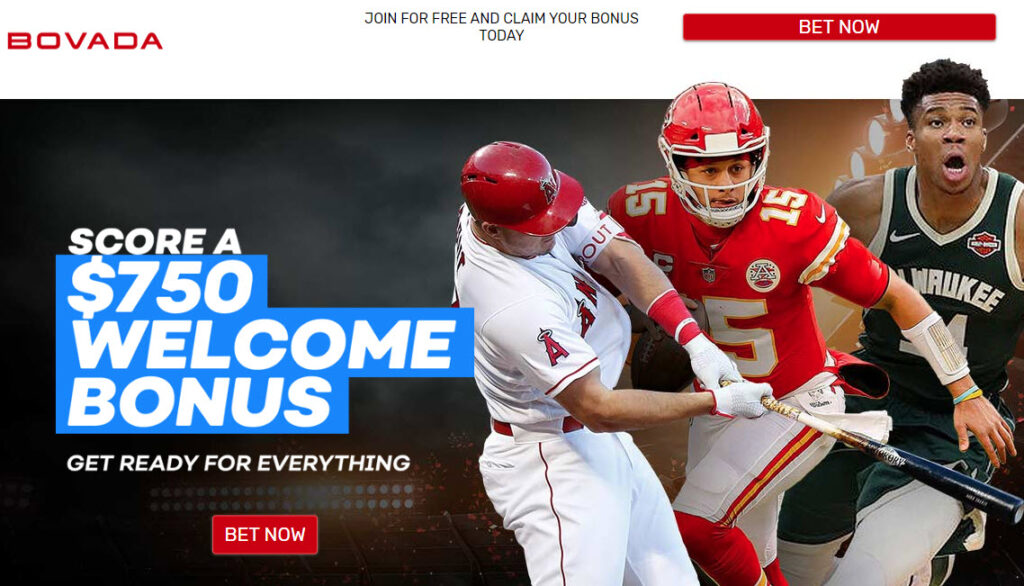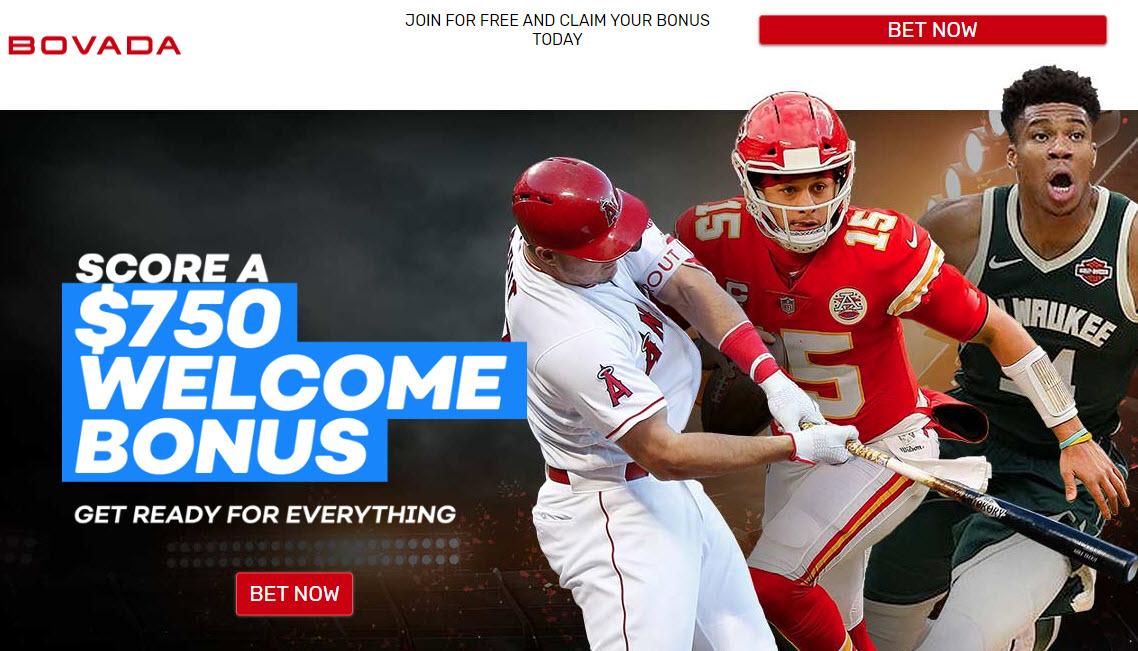 Bovada is an immensely popular gambling site that earned the No. 2 spot in our rankings. It offers a full-casino gambling experience, with a wide range of betting options and a slick, smooth user interface.
No other site offers more different ways to bet, with a wide variety of markets, and in every area, Bovada ranks among the best in the state. This includes Bovada's racebook, sportsbook, online casino games and a poker room that is the busiest one in the United States.
Bovada's sportsbook has the largest menu of prop betting options in Maine, and they also take suggestions for props if you have one you'd like to bet that isn't currently offered. Bovada also offers a variety of extremely low-risk bets to help get you started with a few easy wins. In addition to sports, you can bet several novelty betting markets, including politics, entertainment, religion and virtual racing.
Using your phone or tablet isn't a problem, since Bovada's fully optimized mobile betting platform is just as good as the main site and was the choice of our experts for the best mobile betting experience in the state.
Bovada's welcome bonuses are generous, but they do have higher rollover requirements compared to other online betting sites on this list.
Pros:
Busiest poker room in the U.S.
More prop bet markets than any other site
Mobile platform is the best in Maine
Outstanding online casino
Cons:
Betting limits aren't as high as other online gambling sites
High rollover requirements on bonuses
3. BetOnline: Quickest Payouts in Maine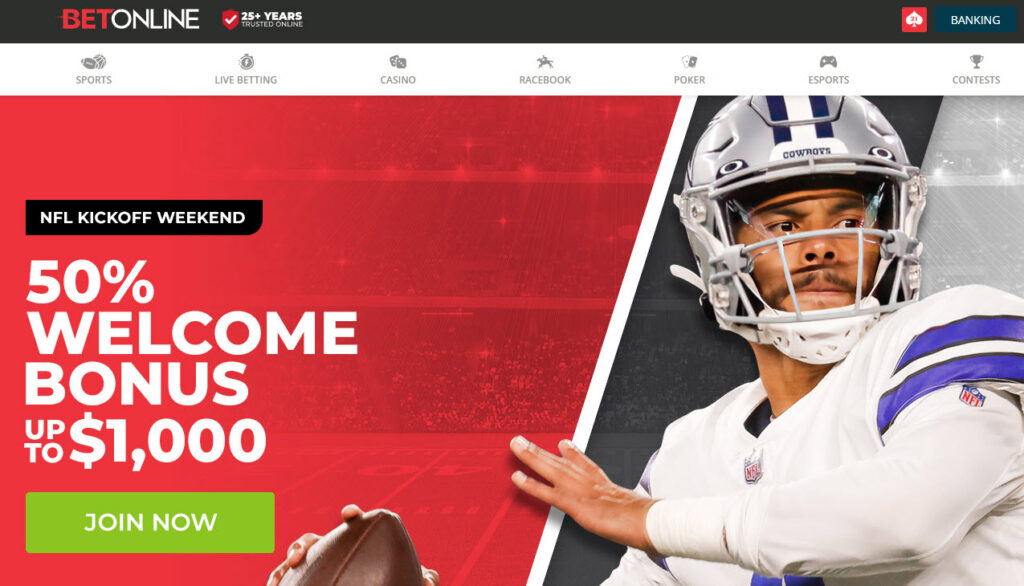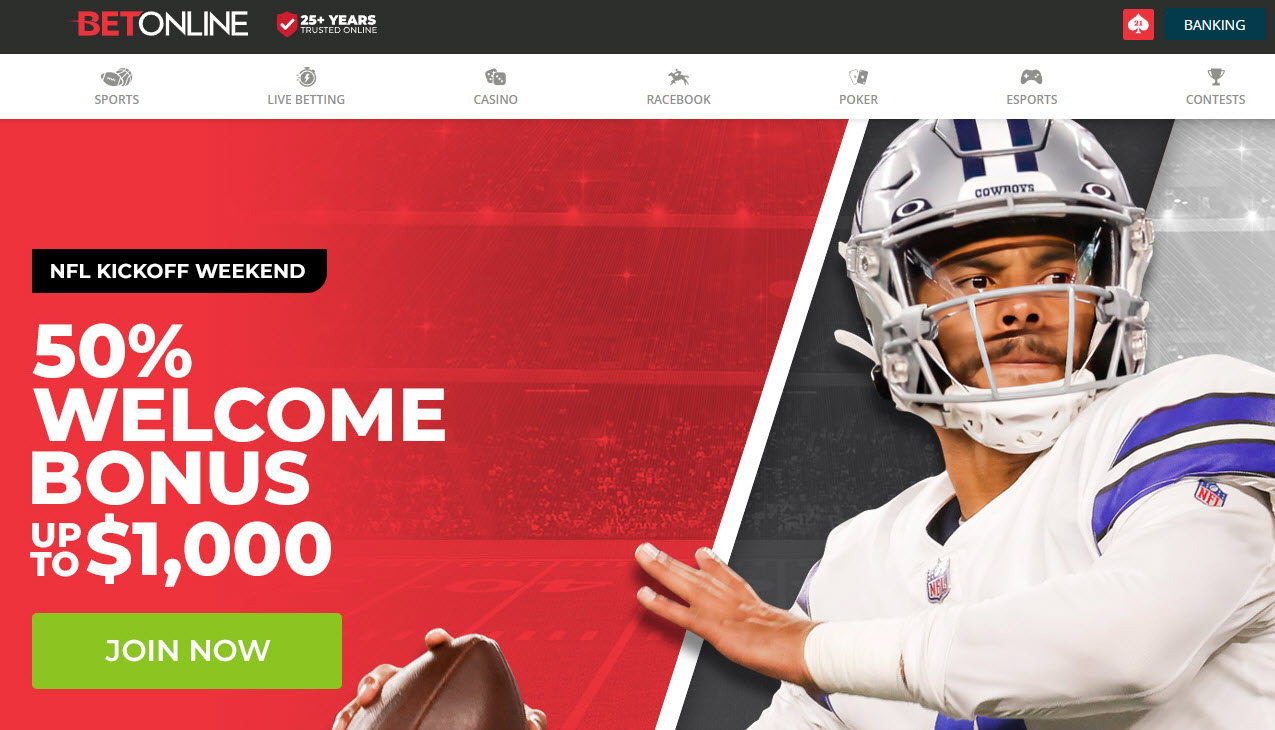 BetOnline placed third in our top 10, and, like the sites above it, it has a wide variety of strengths that appeal to all levels of gamblers. BetOnline features high limits and some of the state's most gambler-friendly betting odds. That includes opinionated lines at the sportsbook, which gives savvy bettors the chance to cash in with some extra money in their pocket. BetOnline has a friendly user interface which makes it easy for new and experienced customers to navigate.
Outside of sports, gamblers can get action on a selection of novelty betting markets, including politics, show biz award shows and more. They can also take advantage of the online casino and the third busiest poker room in America.
Our expert panel cited BetOnline for paying out faster than any other site in Maine, as there are no hoops to jump through or needless delays. It's a simple process that gets you your money, in full, without any extra fees.
BetOnline is just as easy to use on a mobile device as on a computer, thanks to a polished mobile interface with all the same functionality as the full-blown site. They also have a top-notch customer service department with short hold times.
Pros: 
Most gambler-friendly lines and odds
The state's fastest payouts
High betting limits
User-friendly interface on full-blown and mobile sites
Cons: 
Some withdrawal methods have fees
Poker room is not as polished compared to other betting sites
4. Heritage Sports: Great for Live Gambling in ME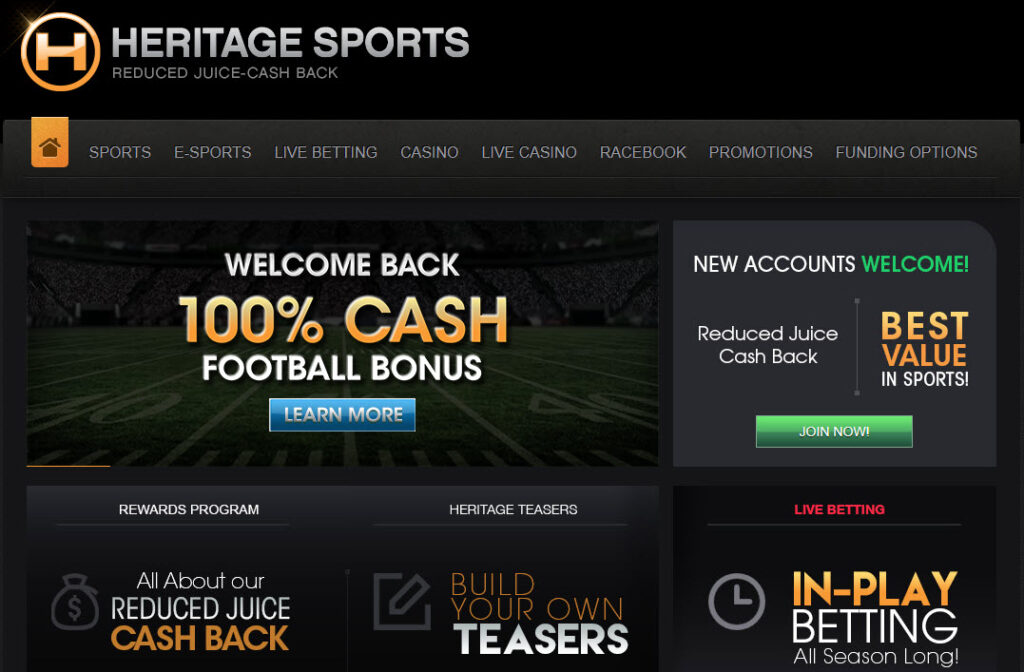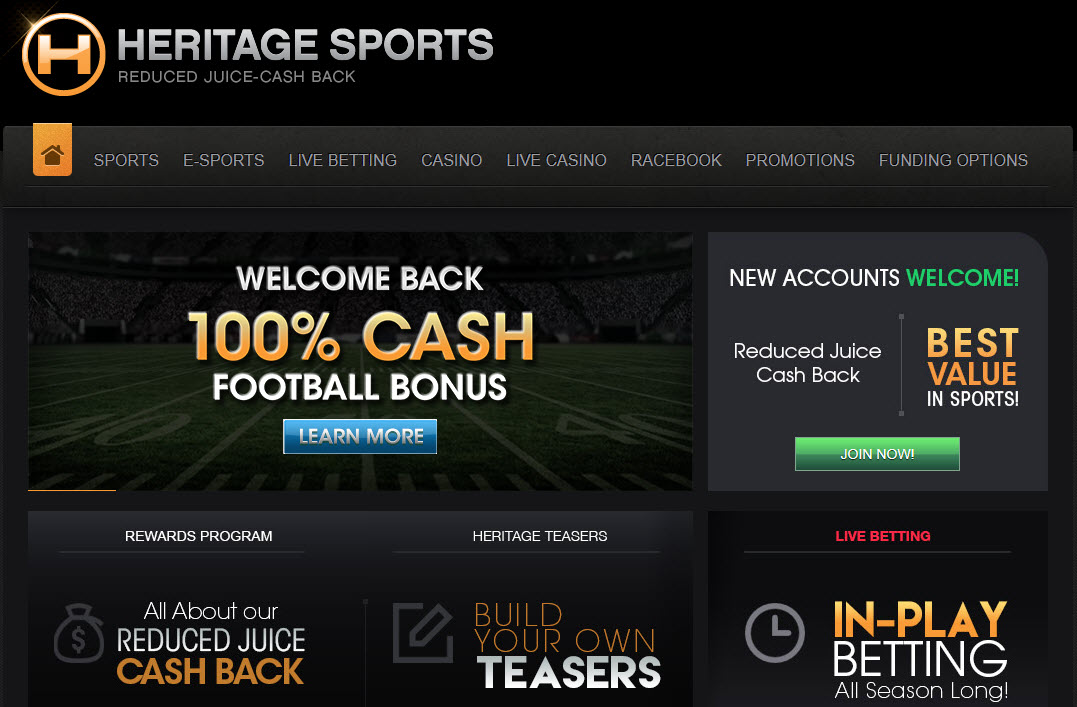 Heritage Sports was the choice of our blue ribbon panel for the best red carpet treatment of customers. All gamblers can expect VIP service from the site that began its days as an invite-only gambling location for elites. Now, anyone can join, but the site still prides itself on pampering its members. Heritage Sports offers outstanding customer service, cashback rebates and a wide variety of welcome bonuses and ongoing promotions.
Heritage has sports in its name, and its sportsbook is one of the best in Maine. But they also offer a racebook and online casino. In addition to a wide variety of games, including a huge selection of video slots, there is also a live dealer area. Heritage Sports is also one of the first sites to offer betting lines on esports. There are also novelty betting markets for entertainment and religious betting (such as odds on the next pope).
Heritage Sports was one of the first sites to offer the chance to bet on games that are in progress, and it's still our experts' choice for the top live betting interface in the state. It also has a mobile site that allows you to quickly and efficiently place bets on your mobile device.
Pros:
Best live betting site in Maine
Offers cashback rebate loyalty program
Sportsbook offers reduced juice lines
VIP treatment for all customers
Cons:
Welcome bonuses aren't as large as some competitors
No live online poker room
5. BetAnySports: Lowest House Edge in ME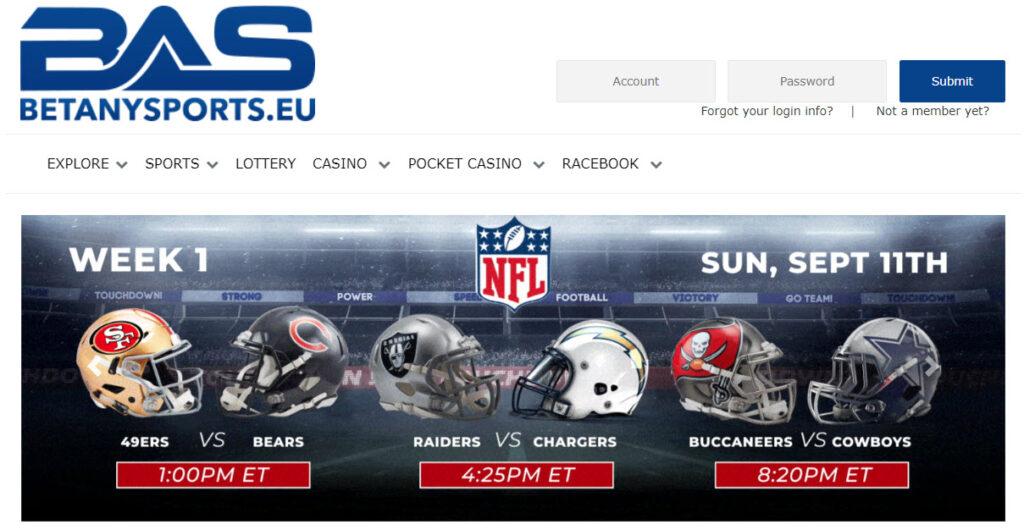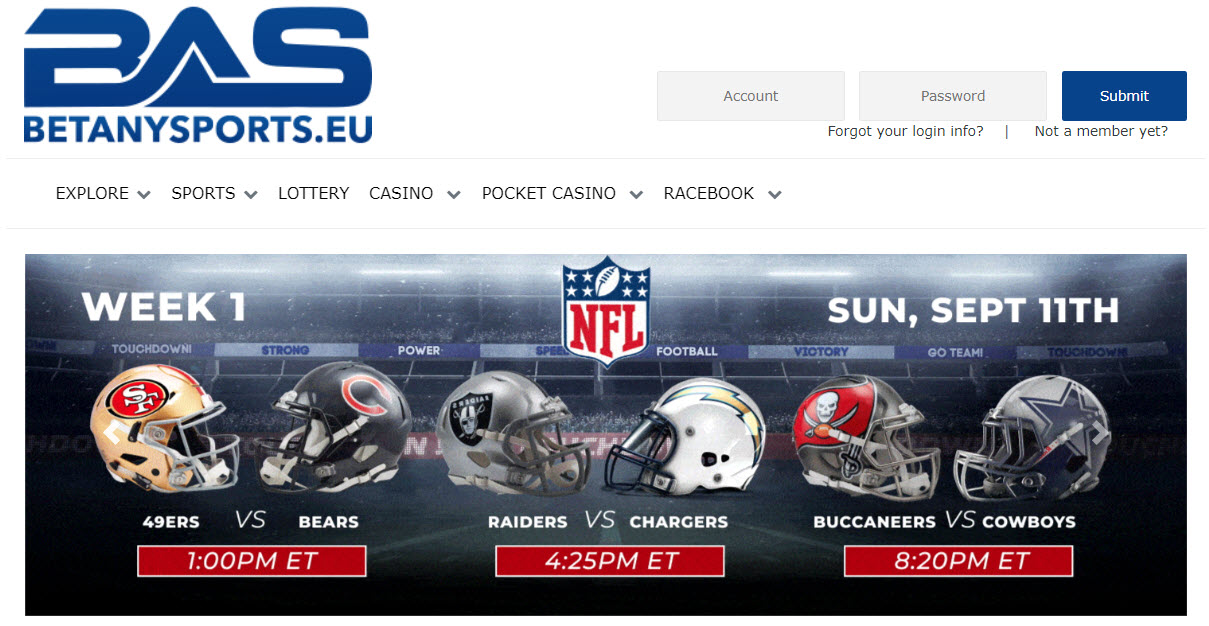 BetAnySports is the latest site to receive a grade of A+ from our team of experts. They decided to elevate it from its previous A grade to the highest level possible, thanks to the high value it offers gamblers. BetAnySports takes the lowest house edge of any other site we rated, meaning you have the best chances of turning a profit over time betting there.
The house edge is the profit margin that a gambling site or casino takes. The lower the edge, the better a gambler's odds of winning. And, since BetAnySports takes the lowest edge of any sites available in Maine, it means that it also offers the highest percentage of winning to its customers. It's the same as being a low-cost provider in other businesses and offering a discounted price to customers.
BetAnySports has lines that are more favorable to gamblers than any other sportsbook. That includes the biggest reduced juice lines available in Maine. Reduced juice refers to the odds on a point spread or over/under totals bet. Most sites set the odds on either side of a cutoff (point spread or total) at -110/-110, but BetAnySports' reduced juice puts them at -105/-105. That means that instead of risking $110 to win $100 on a bet, you only have to put up $105. That may not seem like a huge difference, but over time, it adds up. And that's good news for the gambler.
While sports is in the site name, BetAnySports is more than just a sportsbook. There's also a racebook, a lottery betting section and an online casino that has one of the widest libraries of game titles in the state.
Cutting the house edge means BetAnySports doesn't make as much money from gambling as other sites. It affords that by cutting expenses and overhead elsewhere, which means that welcome bonuses are lower than other sites, and the user interface doesn't have all the bells and whistles of other sites. It's more sparse and bare-bones, but the uncluttered layout makes it easy to use.
Pros:
Online casino has one of the biggest menus of games
Reduced juice and favorable lines make it the best-value sportsbook
Also has a racebook and lottery section
Live betting platform is fast and easy to use 
Cons:
Not as stylish or glitzy as other user interfaces
Welcome bonuses are lower than competitor betting sites
6. BetUS: Biggest Bonuses in Maine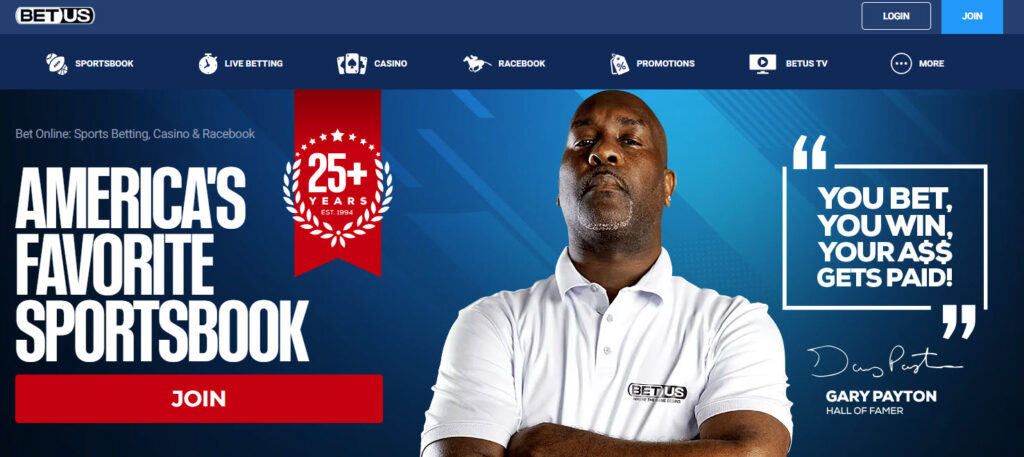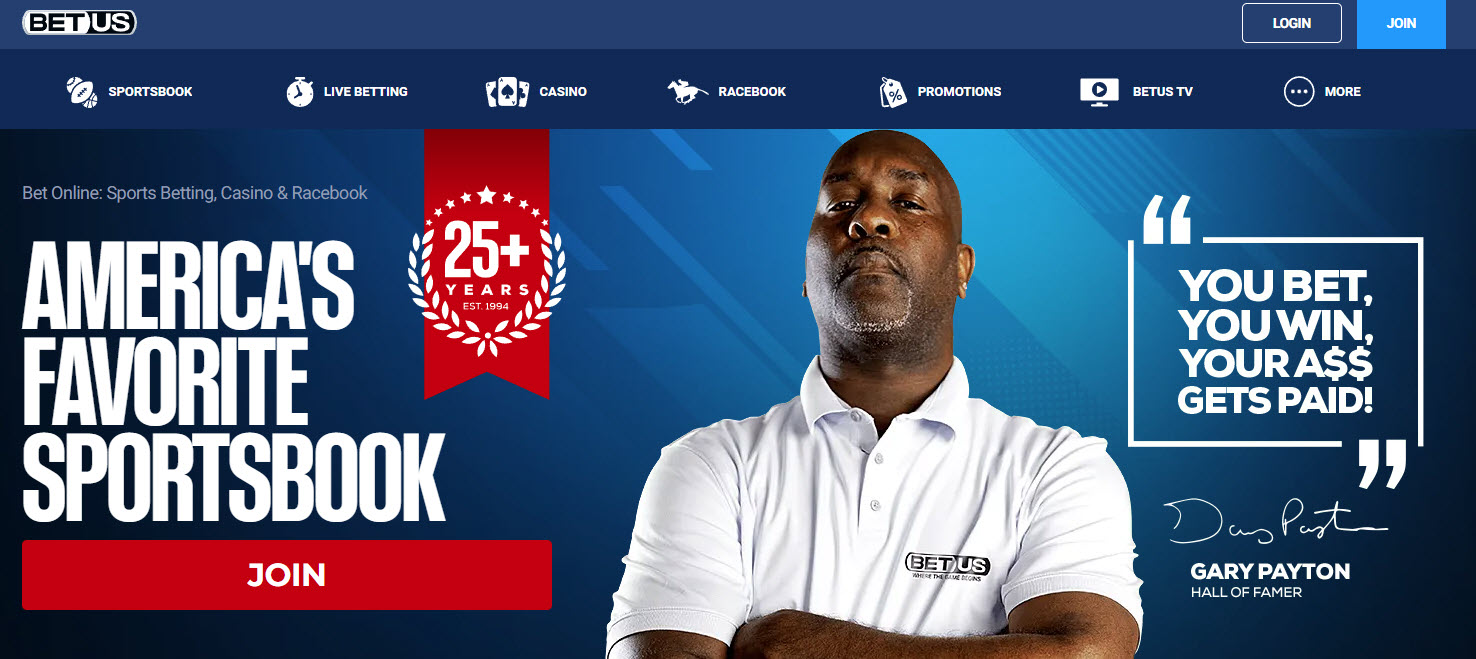 Every gambling site offers welcome bonuses to attract new customers, but BetUS has made it their specialty. They offer larger sign-up bonuses than any other site, and they don't forget the customers already on their books, either, offering some of the best ongoing loyalty promotions as well.
The welcome bonus at BetUS will guarantee that you more than double your money before you even begin making any bets. They have a 125% match on your first deposit. That means if you put in $400, they'll tack on another $500, giving you $900 just for opening your account. The maximum bonus they'll award is $2,500 at the sportsbook and another $625 to use at the casino. The sportsbook bonus has a 10x rollover requirement, while the casino money has a 30x rollover.
After signing up, you can count on BetUS's generosity to continue. They offer plenty of loyalty promotions, including reload bonuses when you add more money to your account and a VIP points program.
BetUS also has a social media presence, with weekly podcasts featuring ex-athletes and BetUS TV, which provides video breakdowns of big games and other upcoming events.
Pros:
Most generous welcome bonuses in Maine
Podcasts and videos provide entertainment and betting tips
Has a sportsbook, racebook, online casino and an esports section which includes Madden football
Live streaming for many games 
Cons:
Rollover requirements on bonuses are high, up to 30x for casino bonus
Doesn't publish betting lines and odds as early as competitors
7. WagerWeb: Most Dependable Site in Maine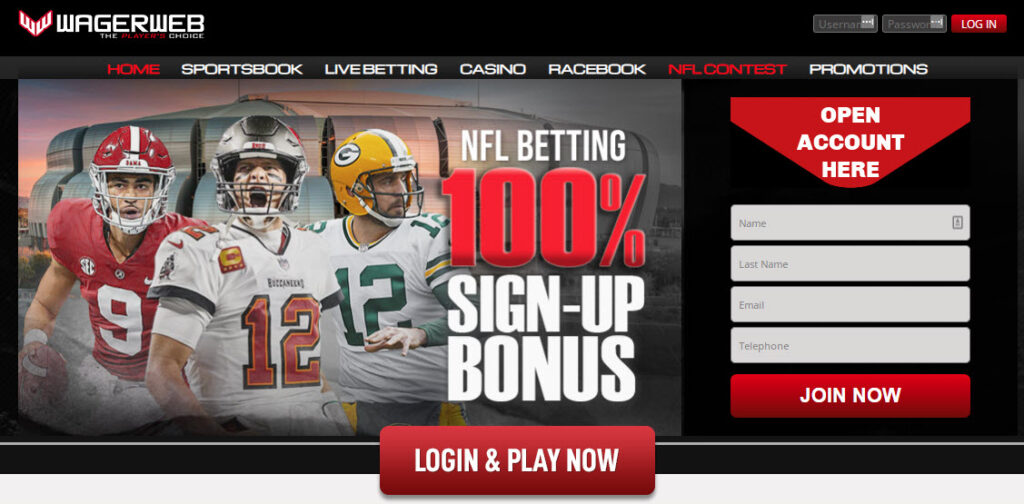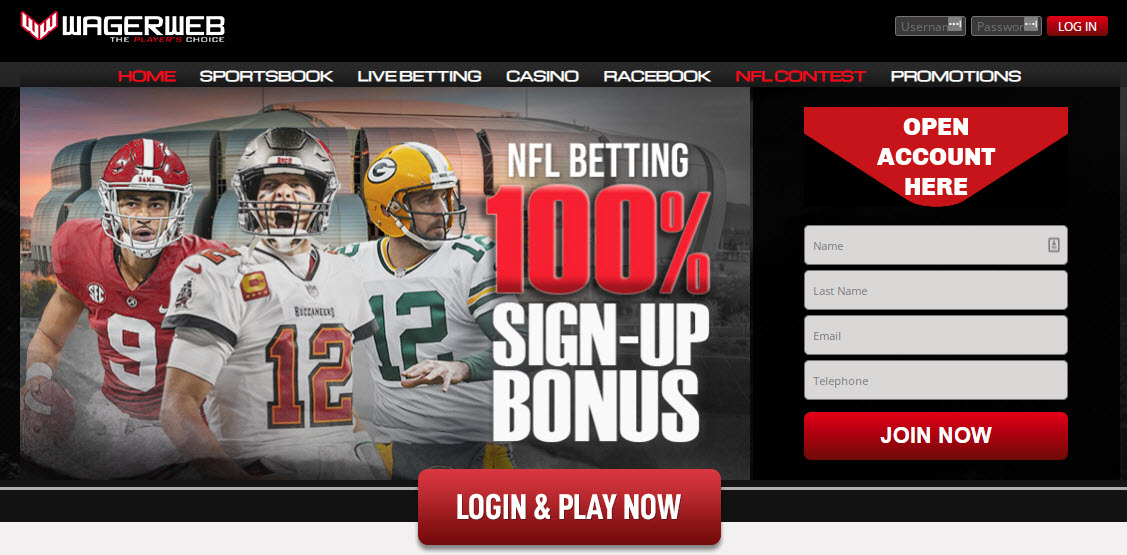 WagerWeb began operation in 1994, which were the early days of internet gambling —and the early days of the internet, for that matter. That gives the site something you can't fake, which is very valuable in the world of internet gambling: a long track record.
Sending money to an overseas gambling site can be risky. It's tough to judge who is on the level and who is running a fly-by-night operation. But WagerWeb has been treating gamblers fairly and paying out on time and in full for just shy of three decades. They have a dependable, secure betting platform that's not going to let you down.
That doesn't mean WagerWeb is old and outdated. It is a sister site of Heritage Sports, which you'll find at the No. 4 spot in our top 10. The two sites share a lot of the same characteristics, which means you can get the benefits of a top-five site and the experience of an OG online wagering spot. WagerWeb offers cash-back rebates, reduced juice lines and bonuses with low rollovers attached, just like its highly-rated partner.
WagerWeb's cashback rebate applies to the racebook and casino activity. They also have same-day payouts for crypto users.
Pros:
Shares many of the benefits of top-5 Heritage Sports
Low rollovers on bonus money
Three decades of trustworthy operation
Rebate gives up to 10% cashback
Cons:
Limited to one fee-free withdrawal a month
Betting limits aren't as high as other betting sites 
8. JustBet: Fast and Efficient for Live Betting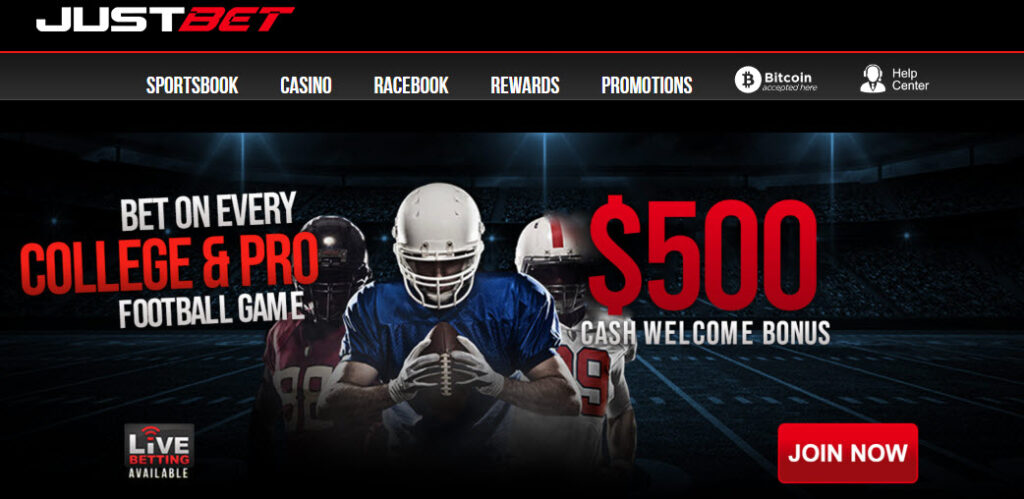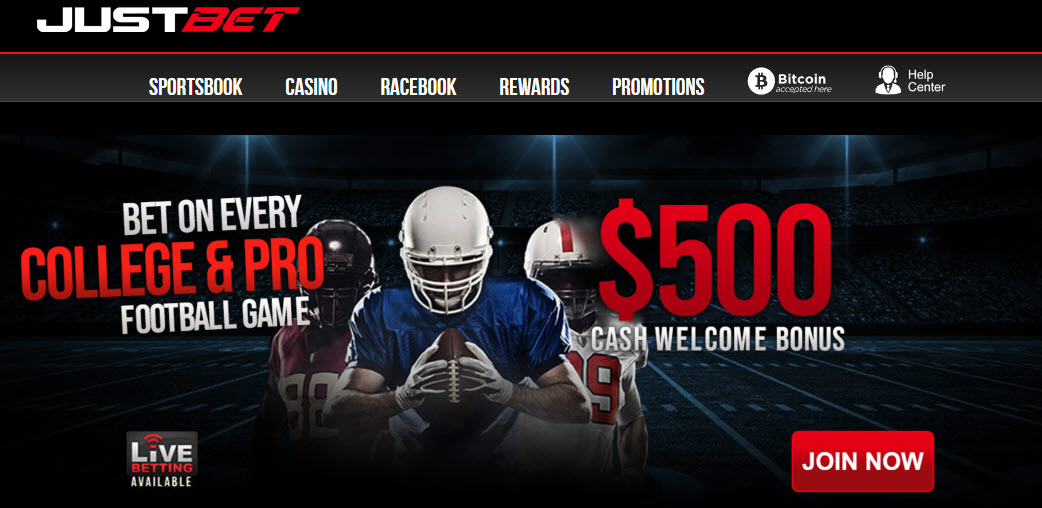 JustBet is another site that benefits from a partnership with an A+ rated site. It is a sister site of Bookmaker, which was our experts' choice as the best all-around gambling site in Maine.
The same characteristics that impressed our blue ribbon panel at Bookmaker are also present at JustBet. They have high betting limits, as well as low minimums. So high rollers and inexperienced newcomers will both find themselves catered to at the site.
JustBet is one of the first sites to publish odds and lines each day, and it offers an easy-to-use interface. Their welcome bonus matches your first deposit up to $500.
JustBet takes a minimalist approach to its user interface. There isn't a lot of extra, unnecessary furniture around, like overly done graphics or options no one uses. Instead, it is uncluttered, making it easy to find what you need. Pages load quickly, allowing you to choose your bets and get them placed. That makes JustBet one of the top choices for live betting, where speed is of the essence.
JustBet's mobile platform is a very similar betting experience to the full-blown site, and its mobile casino platform particularly impressed our expert panel.
Pros: 
User interface is fast and uncluttered, ideal for live betting
Very similar to top-rated Bookmaker 
Highest limits and earliest published lines
$500 welcome bonus
Cons: 
High rollovers on bonus funds
No live online poker room
9. Everygame: Best Mobile Casino Games in ME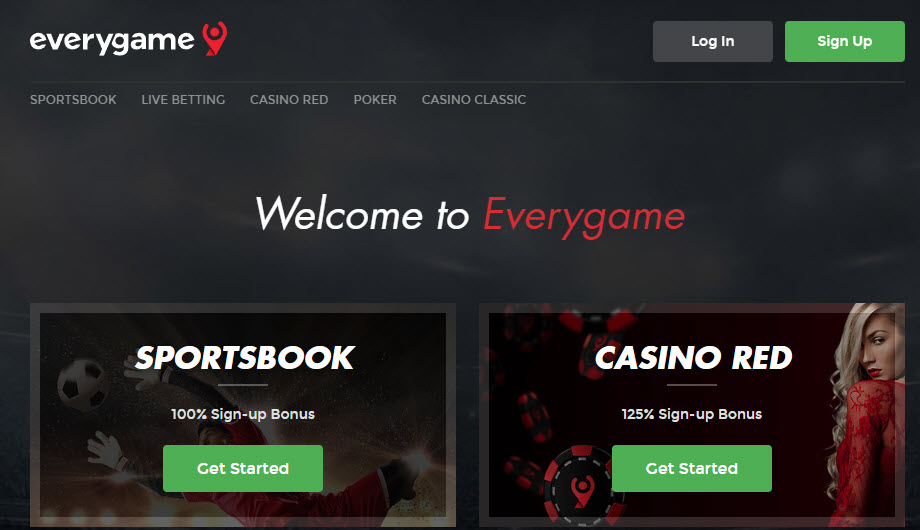 Track record is important when looking at a place to send your gambling money overseas, and Everygame has the longest track record of them all. The granddaddy of them all—Everygame is the oldest gambling site on the internet still in operation.
You may not recognize the name. That's because, for much of its life, it was known as Intertops, but it recently went through a rebranding. In addition to changing the name, it also updated the site, including a huge upgrade to its operating software.
So now, in addition to having a site with a resume of dependability 30 years long, it also has one of the slickest, state-of-the-art user interfaces you'll find.
Everygame's mobile interface is just as attractive and user-friendly as the main site, and it was our experts' choice as the best online mobile casino in the state. The casino also has one of the deepest menus of games that you'll find. Everygame is a global site, and its sportsbook has the widest range of games and leagues from around the world.
Pros:
30-year resume of trust and security
More casino games and sporting events than anyone else
Mobile casino is the best in Maine
Brand new, cutting-edge user interface
Cons:
Account verification takes longer than on other sites
Bonuses are smaller than competitors
10. GTbets: Weekly Bonuses for Loyal Customers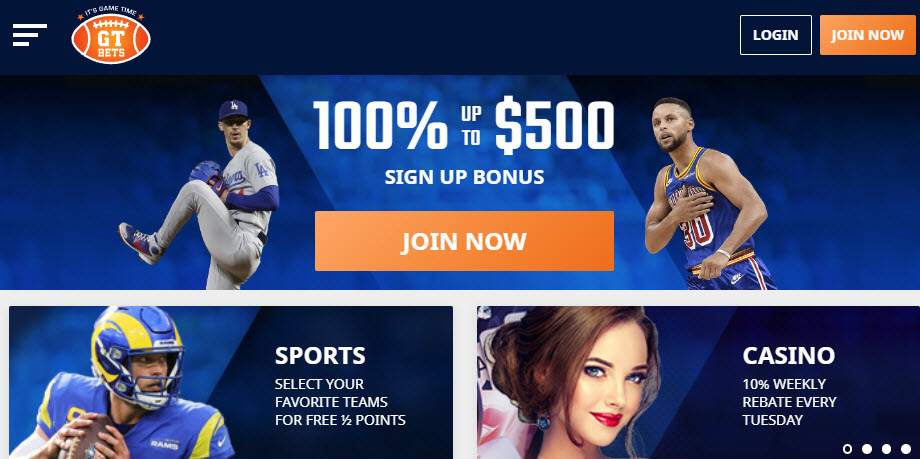 GTbets earned the final spot in our top 10 with a busy promotional team that's always coming up with creative ways to reward loyal gamblers.
GTbets offers a generous welcome bonus, but the site knows that it needs to keep its customers happy after they've already signed up, so they always have a wide variety of loyalty offers available. GTbets sends customers a weekly email listing all the different promotions and offers currently available.
The creativity doesn't stop with the promotions team, as GTbets also has some twists on betting you won't find elsewhere. One of our favorites is the "Favorite Team" feature in its sportsbook. When you bet on games involving your favorite team, they'll give you an extra half point on the point spread in that team's favor. So, if your team is giving three points in an upcoming game, you can bet them at -2.5. It's not a lot, but it helps make betting your heart a little smarter for you.
They also have reduced juice on football games, college and NFL, and GTbets has more generous moneyline odds than most competitors.
There's also an online casino, live dealer section, racebook, and a fully optimized mobile platform.
Pros: 
Weekly set of bonus offers that are always changing
Reduced juice on all football games, professional and collegiate
Favorite team feature rewards you for betting your heart
Generous moneyline odds
Cons:
Only allowed one withdrawal a week with a $5,000 cap
High rollovers on bonuses
Maine Online Gambling – The Top Sites Compared
| Sportsbook | Rating | Online Since | Payment Methods | Read Review |
| --- | --- | --- | --- | --- |
| Bookmaker | A+ | 1996 | Credit Card, Bitcoin, P2P, Crypto | Bookmaker Review |
| Bovada | A+ | 2011 | Credit Card, Bitcoin | Bovada Review |
| BetOnline | A+ | 2001 | Credit Card, Bitcoin, Crypto, Cashiers Check, Bank Transfer, P2P | BetOnline Review |
| Heritage Sports | A+ | 2001 | Credit Card, Bitcoin, Cashiers Check, Bank Transfer, P2P | Heritage Sports Review |
| BetAnySports | A+ | 2002 | Credit Card, Bitcoin, Electronic Check | BetAnySports Review |
| BetUS | A | 2000 | Credit Card, Bitcoin, Bank Transfer, P2P | BetUS Review |
| WagerWeb | A | 1994 | Credit Card, Bitcoin, Cashiers Check, Bank Transfer, P2P | WagerWeb Review |
| JustBet | A | 2000 | Credit Card, Bitcoin, P2P, Crypto | JustBet Review |
| Everygame | A | 1996 | Credit Card, Bitcoin, Skrill, Neteller, Bank Transfer, P2P | Everygame Review |
| GTbets | A | 2011 | Credit Card, Bitcoin, Crypto | GTbets Review |
Online Gambling in Maine: Legal Status
One of the most common questions we get is: "Is online gambling legal in Maine?" The short answer is "almost."
Maine has loosened its restrictions on gambling over the years, and, passed a law in 2022 legalizing sports betting, both in person and online. However, now the state is going through the lengthy process of licensing companies and setting up a process for sports gambling. It's not expected that the first legal bets on sports in Maine will be placed until early 2024 at the soonest.
Other forms of online gambling, including poker and online casino games, are also not allowed at Maine-based websites.
That means that Maine residents looking to gamble will have to go to one of the state's brick-and-mortar casinos, cross the border to another gambling-friendly neighboring state, or use offshore gambling sites, which are located outside the reach of state laws and U.S. federal regulations regarding gambling.
Payments at an Online Gambling Site in Maine
Funding your account at an online betting site only takes a few minutes and is very easy to do. Payment methods at most top-rated sites include:
Credit and debit cards (Visa, MasterCard, Discover, American Express)
Bank transfer, wire transfer, P2P transfer
Digital wallet providers like Skrill and Neteller
Bitcoin, Bitcoin Cash, Ethereum, and other cryptocurrencies
Funding accounts at offshore sportsbooks means you will have to conduct transactions that cross national borders. That could mean delays or fees associated with some methods of payment.
To make the process flow more smoothly, many bettors use cryptocurrency, which was designed for transactions involving multiple countries. Many sites encourage you to use crypto by offering additional bonuses or same-day payouts. Popular forms of crypto include Bitcoin, Litecoin, Bitcoin Cash and Ethereum.
Online Gambling Laws in Maine
Maine has legalized sports betting, which should start next year. Most other forms of online gambling are prohibited at sites based in the state.
Legal Timeline of Betting in Maine
1820: Maine becomes a state, and all forms of gambling are illegal.
1893: The first organized horse race in the state is held at Bass Park in Bangor.
1935: Pari-mutuel wagering on horse races is made legal.
1950: Scarborough Downs is opened and is the first track to offer night racing on the east coast. Pari-mutuel betting is going strong.
1973: The Maine lottery begins.
1973: The state's first tribal bingo hall is opened.
2004: The first slot machines are installed at race track "racinos" in the state with the Hollywood Casino Hotel's opening at Hollywood Raceway.
2010: Voters approve a casino in Oxford County by a margin of 0.8%.
2012: Oxford Casino opens as Maine's only casino.
1993 to 2015: 11 bills are introduced looking to approve retail casinos operated by Native American tribes. None of them pass.
2022: Maine's state legislature passes a sports betting legalization bill, and the governor signs it.
2024: Expected start date for legal sports betting to launch in Maine.
Advantages of Offshore Gambling Sites in Maine
The only way to take care of all your gambling needs in the state of Maine is at offshore sportsbooks. These online betting sites offer several benefits, including:
Vast Amount of Gambling Options
Offshore sites have the full gamut of gambling markets, giving users a full casino experience. That includes sportsbooks, racebooks and online casinos.
Many sites also have a live dealer casino section and live online poker rooms, as well as niche or novelty betting markets allowing you to bet on lotteries, esports betting, entertainment bets or virtual racing. Betting markets include point spreads, moneylines, point totals, prop bets, and live betting on sporting events.
Less Hassle and More Privacy
Offshore sites allow you to bet from anywhere. Most sites have apps or mobile-optimized platforms that allow you to use a phone or tablet just as easily as a computer. The sites also offer you complete privacy and anonymity. Every site in our top 10 also provides secure and safe environments and protects your personal information.
Online Casino Bonuses
Every online gambling site offers promotions and bonuses. Among the different types you'll see are:
Welcome bonuses
Deposit matching
Reload bonuses
Free bets
Risk-free bets
Rebates and cash back
Odds boosts, profit boosts, and parlay boosts
Reduced juice
Loyalty programs
What This All Comes Down To
The best way to gamble in Maine is to use one of our top-rated offshore sports betting sites. You can bet on horse races, sports, and other markets as well as find a range of casino games all under one online roof. And, if you're using one of our top 10 sites, you can do it all in a safe, dependable environment.
FAQ – Maine Gambling Online
What is the legal gambling age in Maine?
You need to be 21 years old to bet at a casino in Maine, and it's expected that the new sports betting law will also have an age limit of 21.

Offshore sites have their own age limits, however, some are as low as 18.
Can you gamble online in Maine?
Yes, however, Maine does not allow any commercial gambling entities to operate online in the state. For that reason, most players in Maine turn to offshore sites to access a range of casino games and bet on their professional sports teams, college sports and more.
Can you do DraftKings in Maine?
Maine has yet to roll out legal wagering on sports, so you can only use DraftKings to play daily fantasy sports; you can not use DraftKings Sportsbook or play any real money table games or online slots.
How do you gamble in Maine?
If you don't want to take a trip to one of the few land-based casinos in Maine, offshore casinos provide a great online gambling experience. They accept players from all over the United States, including the Pine Tree state.
Can you sports bet in Maine?
The sites that we have reviewed here offer a full online gambling experience including online sportsbooks with betting options on popular sports around the world, including college sports.

Yes, however, Maine does not allow any commercial gambling entities to operate online in the state. For that reason, most players in Maine turn to offshore sites to access a range of casino games and bet on their professional sports teams, college sports and more.