The Best Super Bowl 57 Betting Sites for 2023
Welcome to BMR's definitive guide to the best betting sites for Super Bowl 57. Our experts have reviewed hundreds of online sports betting sites, allowing us to uncover the best of the bunch. Our recommended sportsbooks offer appealing Super Bowl odds, loads of props and exciting promos on the championship game.
This guide will help you find the best site for your requirements. You will also learn how to read Super Bowl odds. We will break down each major market for sports betting on the Super Bowl, including the point spread, total points line and prop bets. We have highlighted the best Super Bowl bonuses too, so we will arm you with everything you need before placing a wager on the championship football game.
The Best Sites for Betting on the Super Bowl
Stand-Out Benefits of Super Bowl Betting Sites
These are the top five sites for betting on the Super Bowl:
Reviews of the Top Super Bowl Betting Sites
Each Super Bowl betting site has different strengths, including attractive lines on NFL odds throughout the regular season, so continue reading to find the best option for you:
1. Bookmaker – Best overall Super Bowl betting site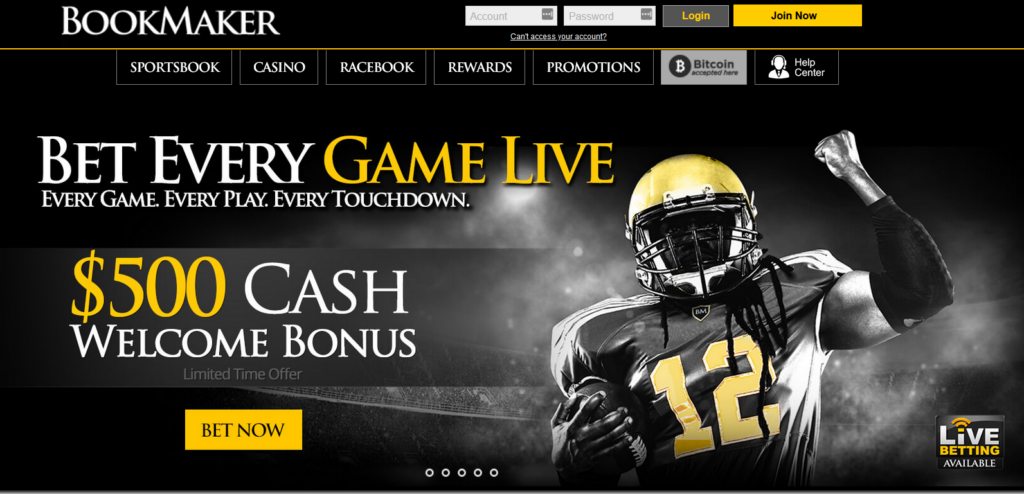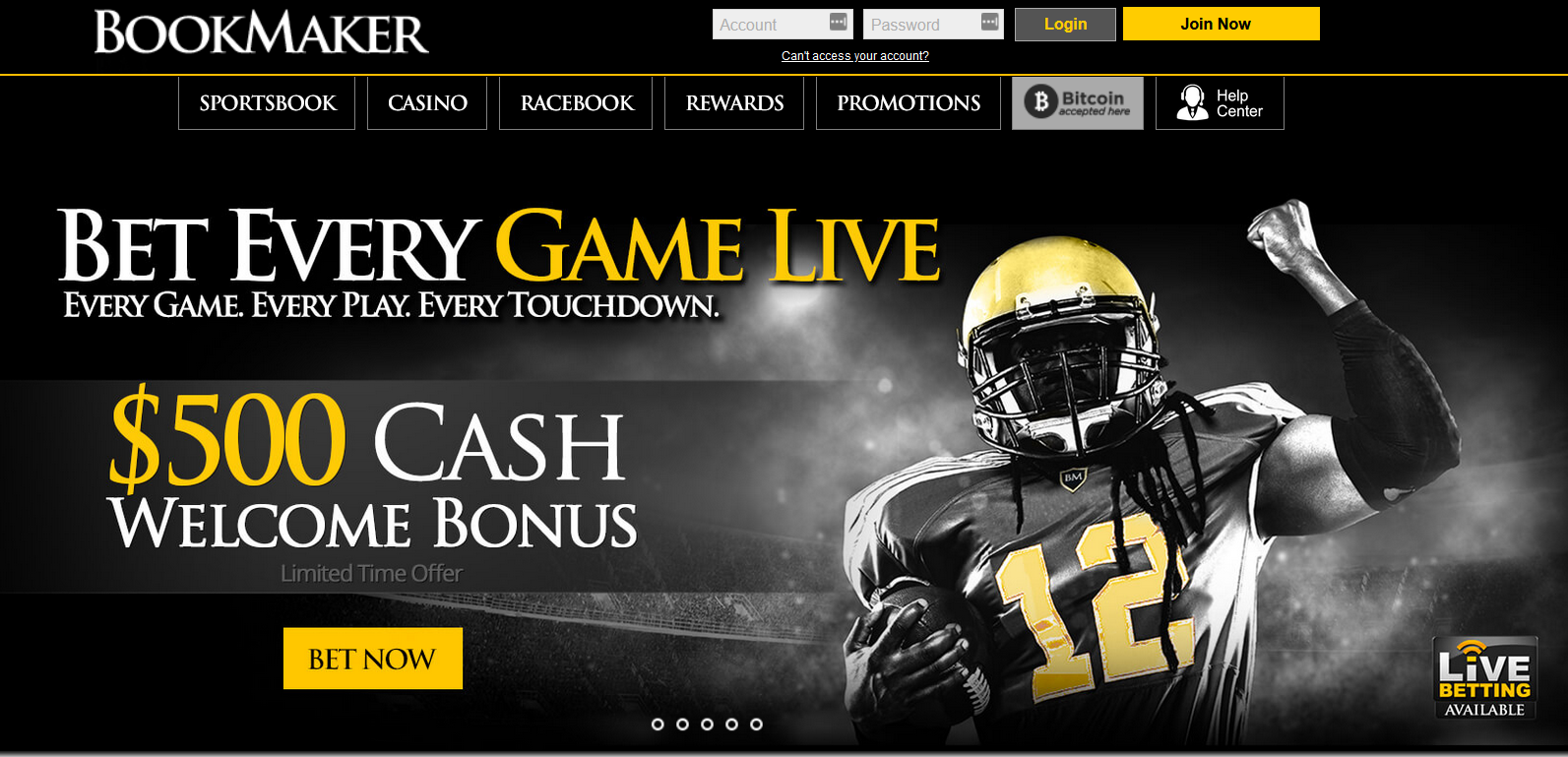 Bookmaker.eu is our top choice for Super Bowl bettors. It is renowned for booking NFL picks from professional and recreational bettors, and it is generally the first site to release Super Bowl betting lines. That makes Bookmaker popular with sharp football bettors, but everyone is welcome at this popular sportsbook.
The company has been operating since the 1990s, and it has built up a very strong reputation in the online betting community. Bookmaker always pays out, and it has an excellent security record. Its long-time slogan has been "Where the Line Originates," based on a historic tendency to publish its odds before any Vegas books, but it now frequently uses "Old School Meets New School." It has continued to roll with the times, and you can place live bets on every play of the Super Bowl and receive your winnings rapidly via crypto or a more traditional payment method.
Pros:
Top destination for sharp and professional bettors
Makes the Super Bowl betting process easy for novices
Quick, secure payouts when you win
Cons:
Some competitors offer more Super Bowl props
Larger bonuses available at rival Super Bowl betting sites
2. Heritage Sports – Provides sharp Super Bowl betting odds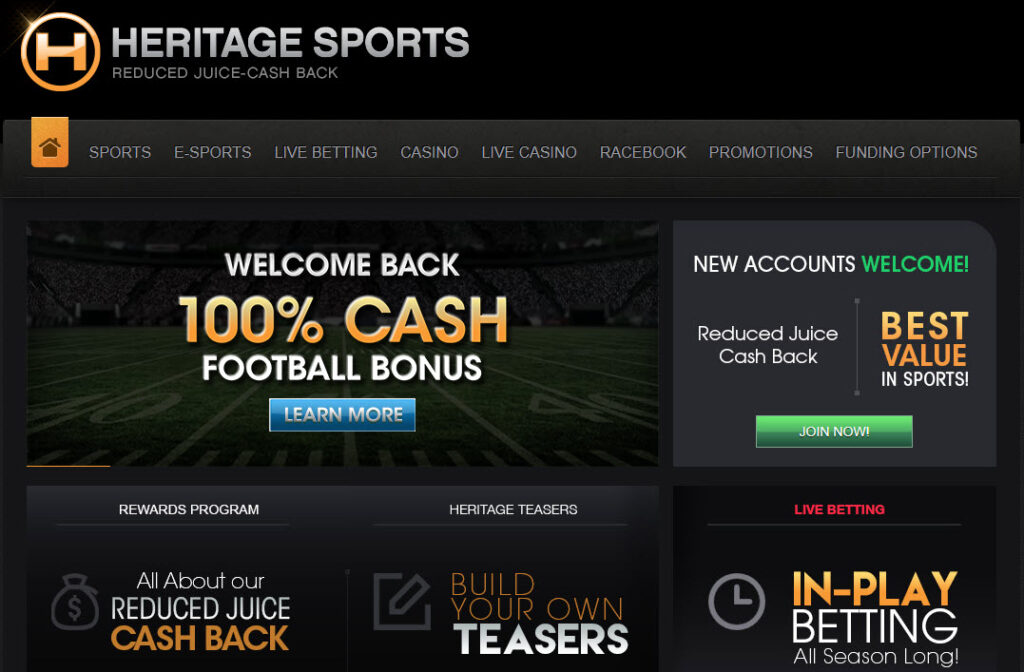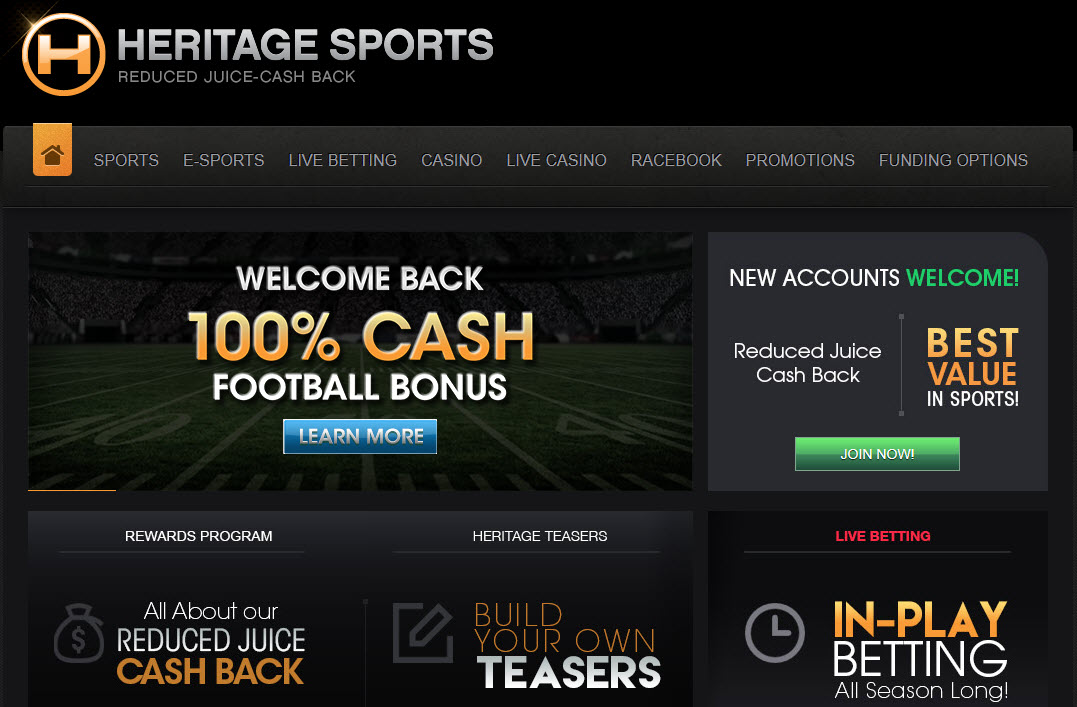 Heritage Sports is an exciting Super Bowl betting site that offers reduced juice sides and totals on the big game. Its Reduced Juice Cash Back program allows you to bet at odds -108 on either side of the bet, which is a 20% discount on the standard lines available at most other sportsbooks. You will also get quarterly cashback of up to 0.8% on betting volume, along with various other incentives.
This site had an invite-only membership model for many years, which gave it an air of exclusivity. It was renowned for superb customer service, sharp lines and quick payouts, so the waiting list continued to grow. Management eventually relented and opened the sportsbook up to any adults that would like to join, but it still manages to offer very attentive and professional service to all customers.
Pros:
Offers discounted Super Bowl betting lines
Excellent sportsbook for live betting on the Super Bowl
Very professional customer service
Cons:
Lower limits than some rivals
Smaller welcome bonus than BetOnline and Bovada
3. Bovada – Best resource for exotic Super Bowl props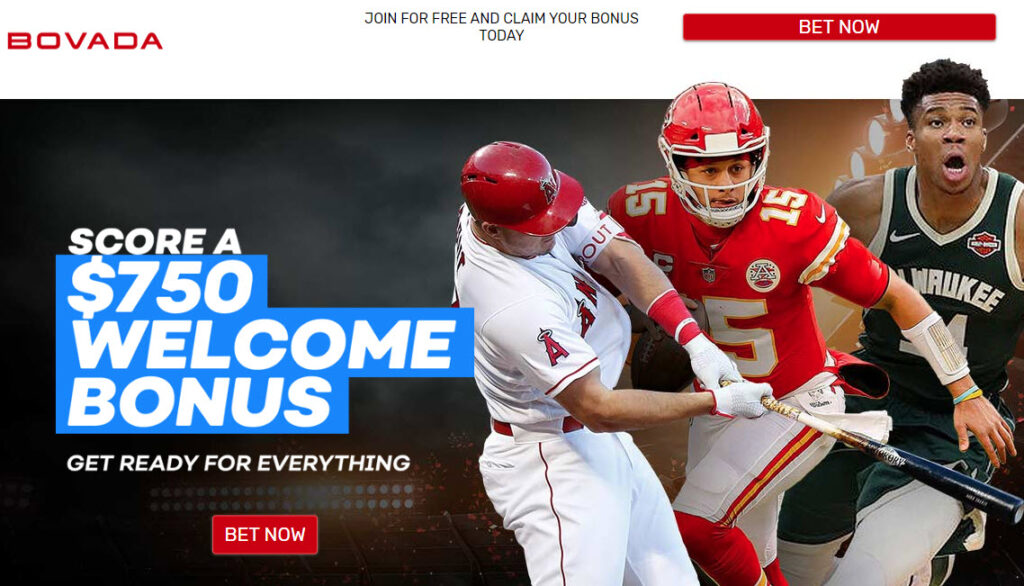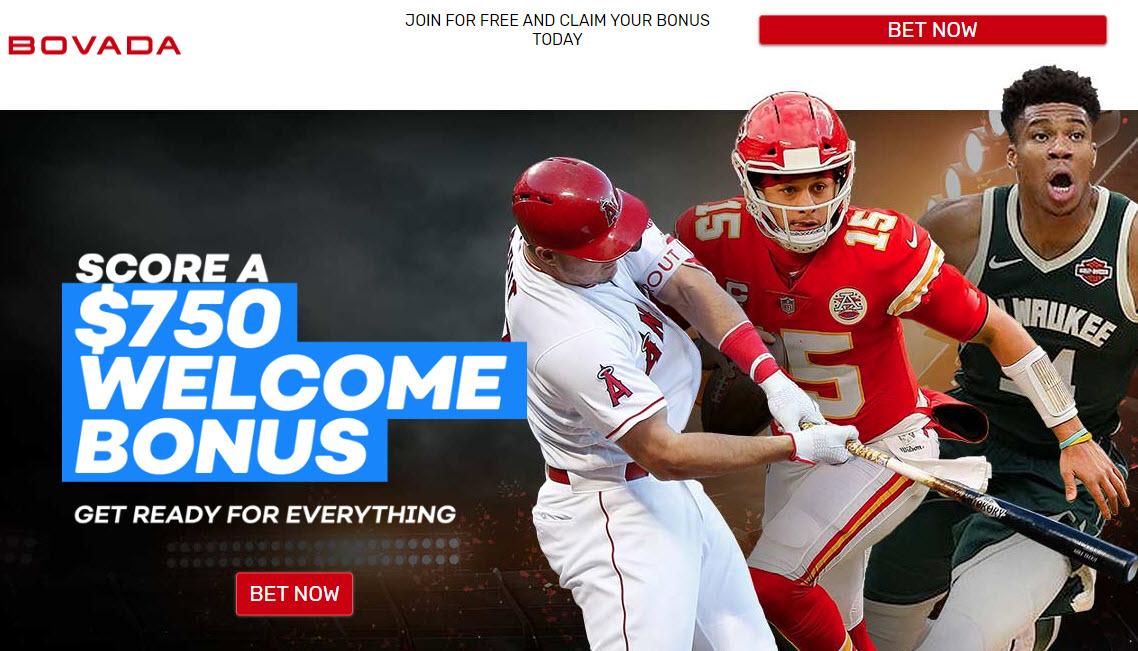 Bovada is one of the most popular Super Bowl betting sites in the United States. It was created in 2012 as a spinoff of Bodog, with a specific focus on the American market. Players in any state apart from Nevada, New Jersey, New York, Maryland and Delaware can sign up and benefit from a welcome bonus worth up to $750, along with an appealing rewards program.
This site offers a broader choice of NFL betting markets than any of its competitors, including a huge choice of NFL prop bets, alternate lines and same-game parlays. There are always loads of exotic props on the Super Bowl too. The "whatsyawager" feature also allows you to name any bet and get odds on it. It is a clean, user-friendly sports betting site, which offers same-day payouts, 24-hour customer service and strong security.
Pros:
Provides more Super Bowl betting options than rival sites
Name any bet and get odds on it
Lower rollover requirements than competitors
Cons:
Does not offer reduced juice lines
Fewer promotions than BetOnline
4. BetOnline – High limits and fun contests for Super Bowl bettors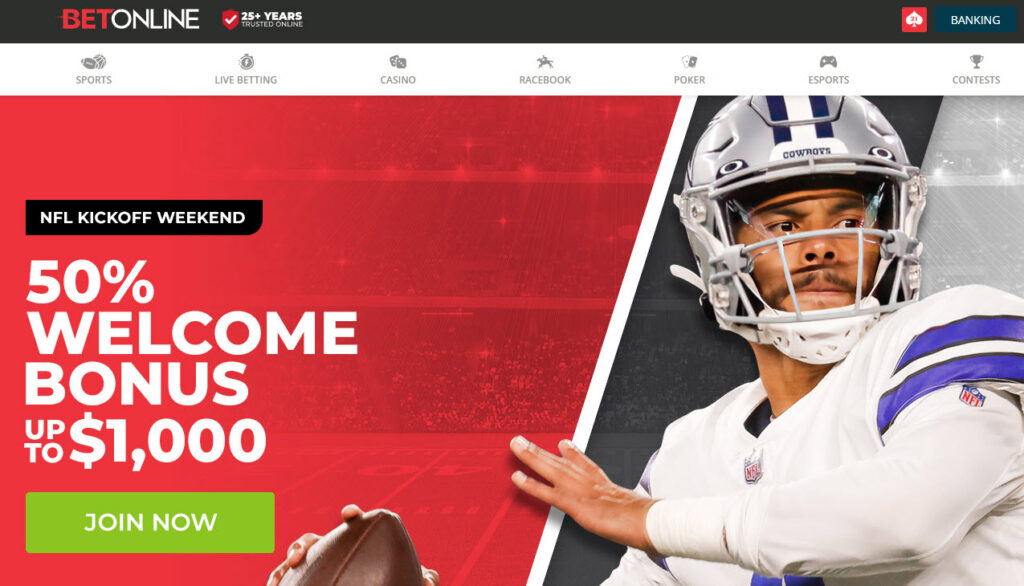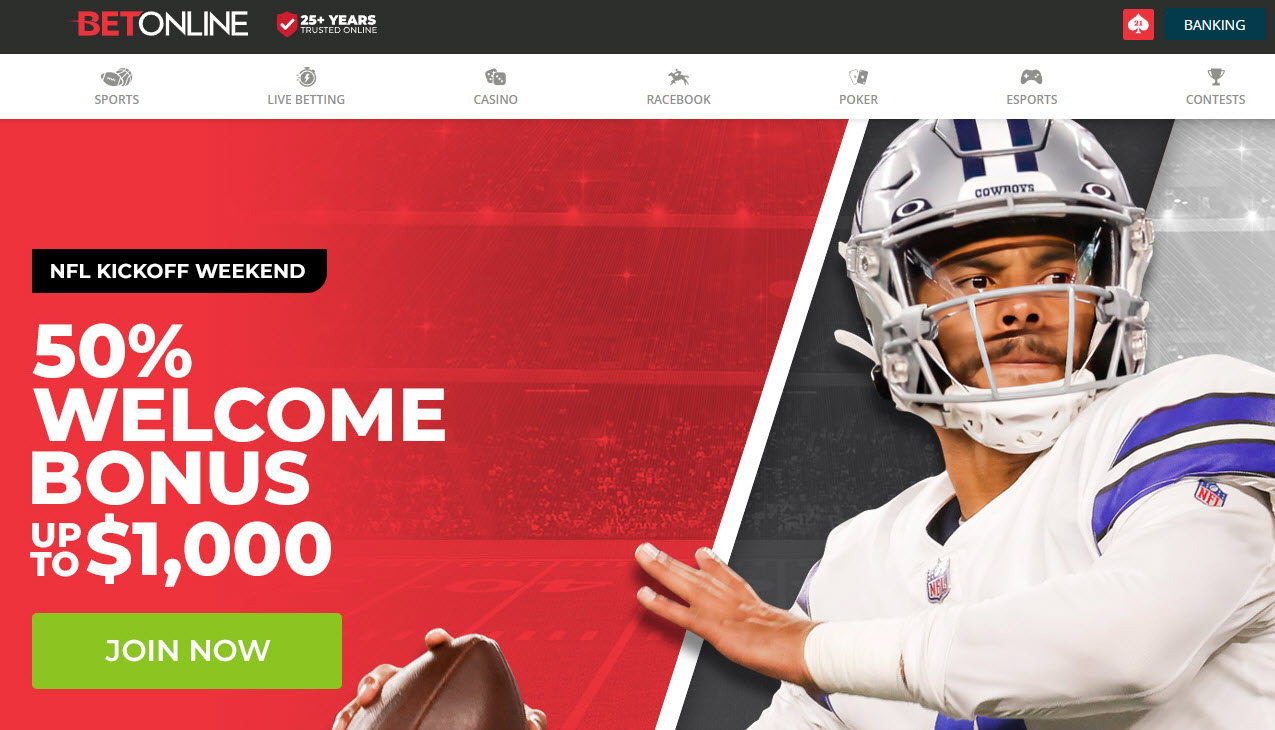 BetOnline is an excellent option for any high-rollers that want to place large wagers on the Super Bowl. It has a re-bet feature, which allows you to repeat any bet 61 seconds later. You can continue to do so until reaching your preferred bet amount. It accepts deposits of $20 to $500,000 via Bitcoin, so this is a site that welcomes bettors with large bankrolls.
There are lots of Super Bowl betting options available at BetOnline, and it really excels when it comes to live wagering. You can stream the action live within the site, and it will provide you with a wide array of in-play markets. BetOnline is quick to process payouts, so you will generally get your money on the same day, and it also offers more bonuses, promos and contests than its competitors. That includes a 100% crypto welcome bonus worth up to $1,000 and various free bets to use on the Super Bowl.
Pros:
Large Super Bowl betting limits
Live streaming of the Super Bowl
Loads of bonuses and contests on the game
Cons:
High rollover requirements on bonus funds
Does not offer reduced juice lines on NFL games
5. BetAnySports – Reduced juice Super Bowl betting site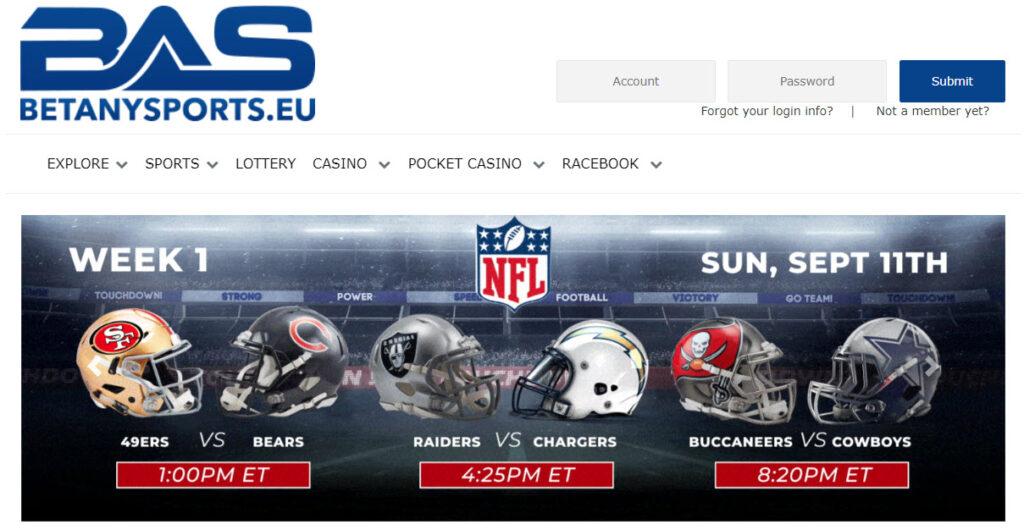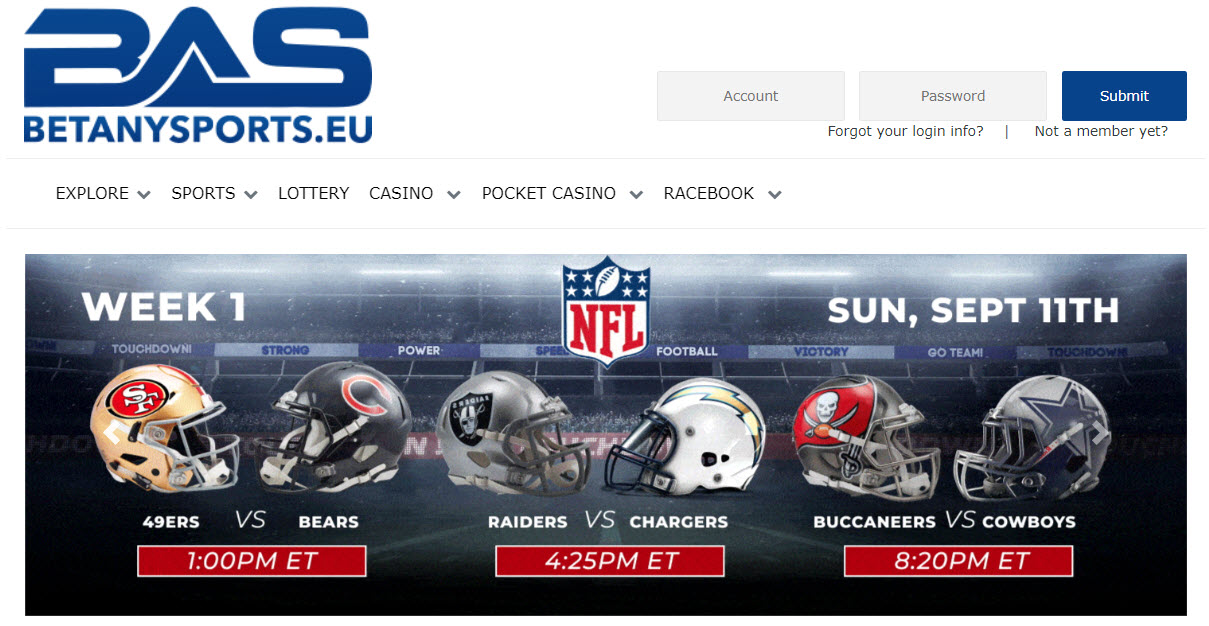 BetAnySports is a reduced juice Super Bowl betting site that offers odds of -105 on either side of the point spread and total points line. Just select the "Less Juice Package" when you create your BetAnySports account to benefit from these heavily discounted lines. It means you will earn larger profits on winning bets at this site than rival sportsbooks.
There are some alternative packages, such as a very competitive rebate offer, but NFL bettors will unlock the greatest benefits from the reduced juice lines. This is another trustworthy and reliable sportsbook, which never has any payout issues, and the site is very easy to use. It does not have as many features or markets as Bovada and BetOnline, but the odds on NFL sides and totals are very attractive.
Pros:
Heavily discounted Super Bowl betting lines
User-friendly desktop and mobile site
Quick, reliable payments
Cons:
Lower wagering limits than some competitors
You can only choose one bonus package
How We Determined Which Sites Were the Best for Super Bowl Betting
BMR follows a very rigorous process when reviewing Super Bowl betting sites. These are the key areas we focus on:
Quality of Odds | We assess the house edge that each Super Bowl betting site takes on its lines. BetAnySports and Heritage Sports stand out by offering reduced juice betting lines on sides and totals, but Bookmaker, Bovada and BetOnline sometimes have the best futures odds and prop betting odds.
Betting Options | The best Super Bowl betting sites offer hundreds of markets on the Super Bowl, from the spread and total points line to the color Gatorade that will be dumped on the winning coach. We look for sportsbooks that offer lots of appealing, sensible props alongside the fun markets.
Bonuses and Promotions | Sportsbooks roll out their best betting bonuses for the Super Bowl, including odds boosts, insurance offers and large deposit match bonuses. They also provide contests, such as squares and handicapping challenges. We seek exciting promos with practical rollover requirements.
User Experience | We test the user experience at each site, monitoring how quick and easy it is to find Super Bowl betting markets and place wagers. Top sportsbooks also offer a wide variety of features, from Bovada's prop builder to live streaming at BetOnline.
Betting Limits | The top sportsbooks offer Super Bowl betting limits to suit a broad spectrum of bettors, and many will increase their limits if you speak to an account manager.
Payout Speeds | We test the payout speeds on offer through various withdrawal methods, seeking sites that process requests quickly and efficiently.
Reputation | Our experts focus on the general reputation of each site. We only recommend established sites that have offered betting action for many years. Our chosen sportsbooks offer a wide range of security measures, they grade bets properly and they always pay out on time.
How to Sign-Up with an Online Betting Site
It is easy to sign up with one of our recommended sportsbooks. If you are in the market for sports betting on the Super Bowl, just follow these steps:
Click the blue button next to any site highlighted on this page to open it in a new tab. That will earn you the best promo code.
Click "Join Now" or "Join" and fill in the registration form with your personal details and contact information. Create a password, check any necessary boxes and submit the form.
Verify your email address by clicking the link sent.
Head into the online cashier and make a minimum deposit to fund your account. Select a method, enter the amount you would like to send and provide payment details.
When your account is funded, you will receive your sign-up bonus, and you can place your first wager. Select "Football" and then "NFL" or "NFL Futures" on the main menu followed by "Super Bowl" to see your options.
Click on an option and it will appear on the betslip. Type in your bet amount to see your possible winnings and click again to place the bet.
If you win and you would like to withdraw your money, you can head back into the cashier area of the site, select "Withdraw," choose a method and a payout amount, and click to confirm.
How to Bet on the Super Bowl
As mentioned above, it is easy to bet on the NFL Super Bowl with one of our recommended sportsbooks. Just select "Super Bowl" within the NFL section of the site, and you will be presented with a range of options for the championship football game. Click on one to add it to the betslip. Enter a bet amount and click again to place the bet.
How to Read Super Bowl Odds
Understanding odds is critical to having a solid betting perspective. Super Bowl betting odds will either begin with a plus (+) or minus (-). For example, these are the moneyline odds on Super Bowl LVI:
Los Angeles Rams (-200)
Cincinnati Bengals (+165)
When they begin with a minus, Super Bowl odds tell you how much you need to bet to win $100. A $200 bet on the Rams would have netted you a $100 profit. You can bet any amount you like – for example, a $30 bet would have netted you $15 in profit.
If the Super Bowl odds start with a plus, the subsequent numbers highlight the profit on a $100 bet. A $100 wager on the Bengals would have resulted in a $165 profit if they had won. When you type in your bet amount on a sportsbook's betslip, it will highlight your potential profit and total return.
What types of Super Bowl bets can I make?
You will be offered hundreds of pre-game and in-game betting options, including a wide variety of standard game lines, alternate game lines, props and combos. These are the main Super Bowl bet types you can make:
Moneylines
This is the easiest Super Bowl bet football fans can make. For a moneyline bet, you just need to predict who will win the game. Sportsbooks issue their moneyline odds on each team after considering their strengths and weaknesses. There is normally a favorite and an underdog.
For example, the Rams were -200 favorites at Super Bowl LVI and Cincinnati was the +165 underdog.
Point Spreads
The point spread is the most popular Super Bowl bet at most online betting sites. It arises when the sportsbooks give one team (the moneyline favorite) a handicap. That allows them to offer the same odds or similar odds on either team covering.
For example, bettors could have gone for the Rams -3.5 at odds of -110 on Super Bowl LVI or the Bengals +3.5 at -110. Anyone betting on the Rams needed them to win by 4, whereas Bengals bettors were hoping to see Cincinnati win or lose by no more than 3 points. There is always a wide range of alternative point spreads too.
Totals
You can bet over/under on the total points that will be scored in the Super Bowl. For example, you might be offered odds of -110 on over 47.5 points and -110 on under 47.5 points. You can bet on the total points in a single game, or in a particular quarter or half. There are team totals too, along with alternate totals.
Live Betting
Live betting will be available on the NFL's championship football game at the best online sportsbooks. The point spread, total points line and moneyline odds will be updated continually as the game develops, reflecting the score and the performance levels, along with various props. You can keep betting on these markets until deep into the fourth quarter.
Props
Prop bets do not focus on which team will win the game. They concentrate on smaller events during the game. Player props include the number of yards each QB will throw for, touchdown scorers and the number of sacks certain key players will record. There are also game props on markets such as the result of the first drive and the highest-scoring quarter.
The Super Bowl also sees an abundance of exotic prop bets, which are not available on any other game of the year. They include over/under on the length of time it will take the singer to finish the national anthem, the outfit worn by the half-time entertainment and the number of times the president will tweet during the game.
Futures Bets
NFL Super Bowl futures odds are released before the season begins, allowing you to speculate on who will eventually win it. These futures odds continue to change throughout the regular season and the playoffs, depending on how well each team is getting on. You can continue to bet on any team throughout the year, along with other futures markets. Additional futures markets include the winner of each conference, Coach of the Year, NFL MVP and much more.
Super Bowl Betting Bonuses and Promotions
There are lots of Super Bowl betting bonuses and promotions available, such as:
Deposit Matches | This is the most common sign-up bonus. A sportsbook matches your initial deposit with bonus funds, and you need to roll them over various times before cashing out. For example, BetOnline offers a 100% deposit bonus of up to $1,000.
Reload Bonus | The sportsbook matches a percentage of your deposit each time you top up your account balance, and the funds have a rollover requirement.
Risk-Free Bet | If your bet loses, you get the money back – typically in bonus funds, which have a rollover requirement.
Odds Boosts | You can bet on a certain Super Bowl market at enhanced odds.
Leaderboard Challenges | Win prizes such as free bets and cash by performing well in these contests.
Best Super Bowl Betting Apps
Sports betting apps are available in certain states. However, our recommended sportsbooks for football fans do not offer native apps, as they are based offshore. We chose to focus on offshore sportsbooks, as they can accept players from every state. They also generally provide the best odds too.
While they do not have Super Bowl betting apps, they do offer mobile sites, which are perfect for betting on the Super Bowl on any iPhone or Android. Just visit any of our chosen Super Bowl betting sites from your mobile browser today to sign up and place your wagers.
Super Bowl Betting Sites – Frequently Asked Questions
Is it legal to use betting apps?
It is legal for anyone in America to use mobile sportsbooks based overseas, and they also tend to offer better odds than the locally regulated native betting apps. Offshore sites typically do not offer their own sportsbook app.
When does the Super Bowl take place?
Super Bowls are always held in February. Super Bowl LVII will take place on Sunday, February 12, at State Farm Stadium in Glendale, Arizona. If you are interested in game times, it starts at 06:30 PM EST.
Can you bet on the Super Bowl at a casino?
There are legal sportsbooks located in casinos in certain states, such as Nevada, New Jersey, New York, Mississippi and Illinois. However, the most convenient betting experience for the NFL Super Bowl can be found at offshore sites.
How old do I have to be to bet on the Super Bowl?
The legal sports betting age for wagering on the NFL Super Bowl varies depending on which state you are in. At most legal sportsbooks, it will normally be either 18 or 21.
How much can you win betting on the Super Bowl through an online sportsbook?
The maximum win limits vary from one online sportsbook to the next, but it is possible to win seven-figure payouts at some offshore sites.
In what can only be described as a seminal pact between adversaries, Governor Newsom has signed a bill into law that both the California Native American tribes, as well as cardroom operators, support – no additional cardrooms in the state for two more decades. In turn, this collaboration between Native American tribes and gambling hall

---