Connecticut Sports Betting – CT's Top Online Sportsbooks for 2023
Shawn West has been involved with college basketball, NFL and college football and MLB since he left his job as bank vice president two decades ago. He lives in North Carolina with his wife, children, two dachshunds and a variety of turtles.
Other than Las Vegas and Atlantic City, there isn't a much more active betting scene in the United States than in the state of Connecticut. Betting on horses, dog racing and jai alai has been legal since the 1970s, and two of the biggest, most successful tribal casinos in the United States are located there.
Plus, Connecticut passed a law legalizing sports betting in 2021, and online betting has grown substantially ever since. There are some gambling activities not sanctioned by the state, such as online poker rooms or online casino gaming.
However, it's possible to bet on sports, pick a horse, play a hand of poker and try your luck at online casino games all in one location. Offshore sportsbooks are able to offer all your gambling needs in one convenient place, and, because they're located outside the jurisdiction of Connecticut state law, they've been serving residents of the state and paying out real money for years.
Connecticut's Best Online Sports Betting Sites
Our Top-Rated Online Sportsbooks
There are hundreds of offshore sportsbooks available online. Which is the best one to choose? That's where we come in. Our team of experts reviewed sportsbooks by the dozen and came up with the following rankings of the 10 best available to Connecticut residents:
Is sports betting legal in Connecticut?
Connecticut has been one of the states most open to gambling over the years, with retail locations offering gambling on horse racing, dog racing and jai alai for close to 50 years. The state was also one of the first to allow gambling activities on tribal lands and has two of the most successful native American casinos in the country. In 2021, Connecticut passed a law creating a legal sports betting market that allows for sports wagering online, in addition to retail sports betting at casinos and OTB parlors.
While the state has licensed several sportsbooks under the new sports betting laws, many gamblers still choose to use offshore casinos, which also offer other gambling options, such as online casino gaming and live poker rooms.
Comparing the Top Connecticut Sportsbooks
Our experts used several important categories when evaluating online sportsbooks, but no two sites are the same. Each has different strengths. Each bettor is different too, with their own preferences and priorities when using online sportsbooks. So, to help you find the site that best matches what you want in a sports betting site, our experts put together detailed reviews of each of the 10 best sites, complete with pros and cons lists.
1. Bookmaker: The Best Overall Sportsbook in Connecticut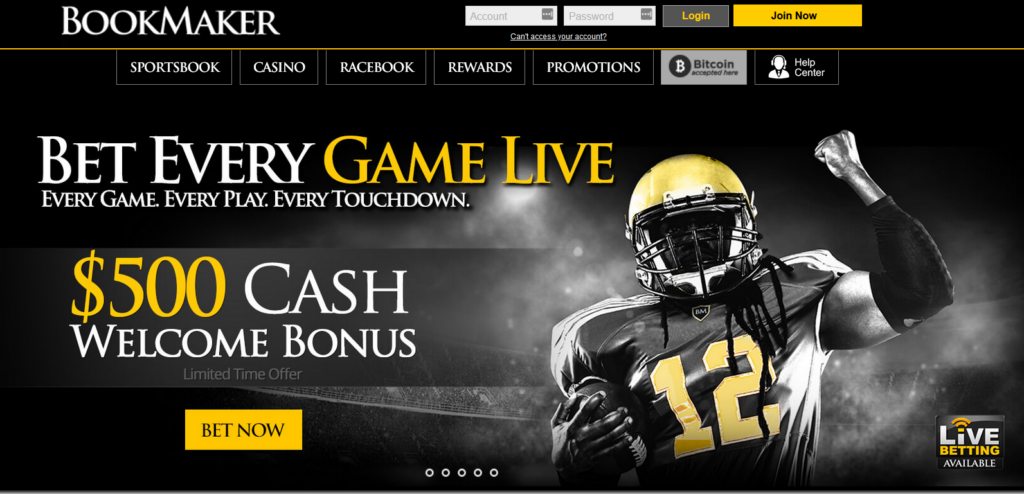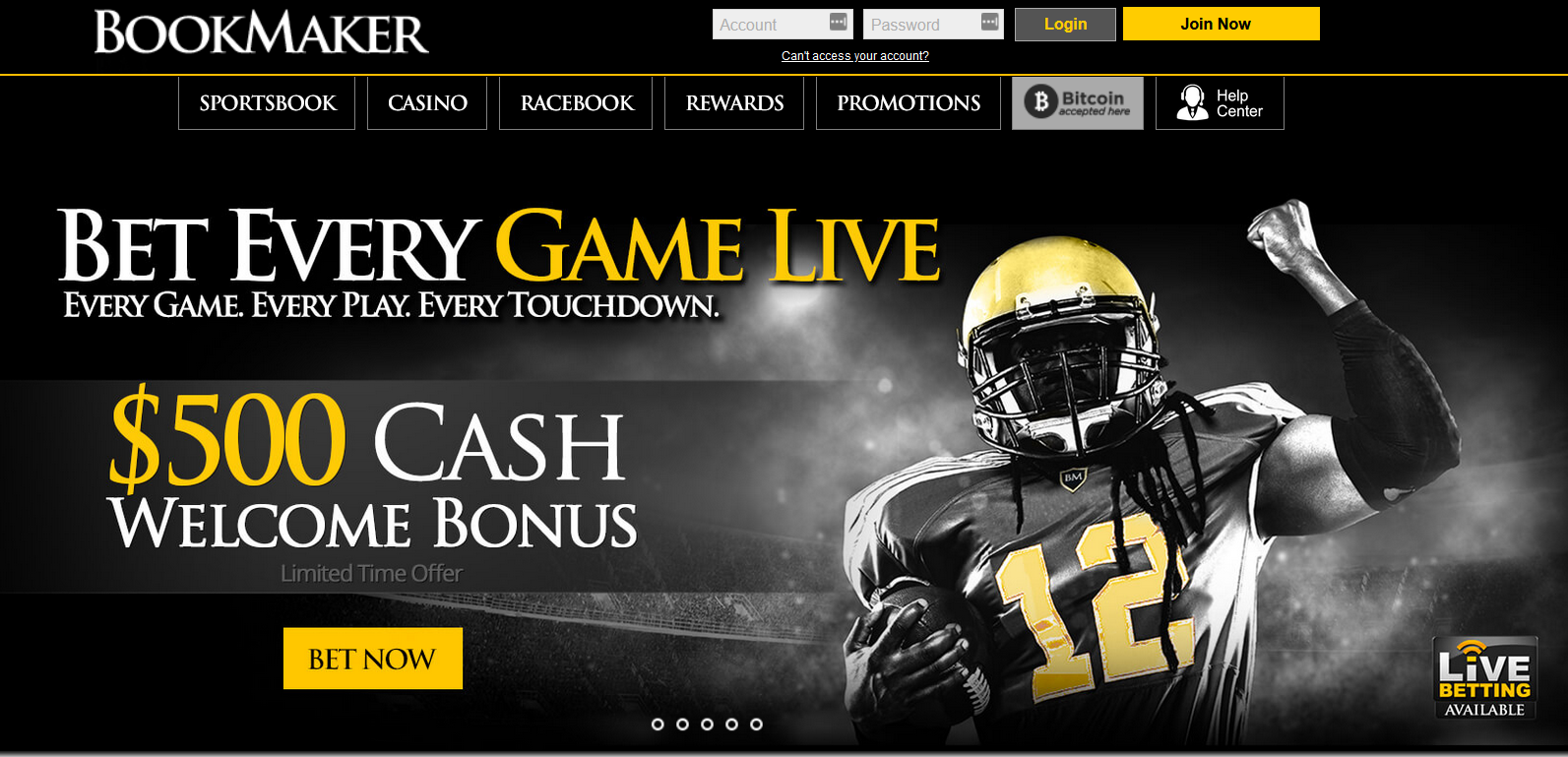 Bookmaker.eu emerged as the top overall online sportsbook for gamblers in Connecticut. Bookmaker has a reputation in the sports betting industry for being able to appeal to all levels of gamblers, regardless of the size of their bankroll, their experience level, or their tolerance for risk.
With the highest betting limits you'll find in the state, Bookmaker allows risk-takers to bet big and roll high. But the site also has low minimum bets—as low as $1, which allows far more cautious bettors to feel comfortable, and everyone in between to find a level that suits them for their online wagering.
Bookmaker also publishes its odds and lines earlier than most other sites, and it prides itself on never shutting down a gambler on a hot streak. It also features an interface that is user-friendly, allowing newcomers to find their way around and experienced bettors to find their gaming options and get their money down quickly without unnecessary clicking around.
Pros
Appeals to all gamblers, regardless of experience level, bankroll size, or risk tolerance
Offers the highest betting limits and low minimum bets
Rewards all customers with one of the best loyalty programs in Connecticut
Never shuts down a gambler on a hot streak
Cons
Doesn't offer live online poker
Welcome bonuses are not as high as other online sports betting operators
2. Bovada: The Largest Menu of Prop Betting Options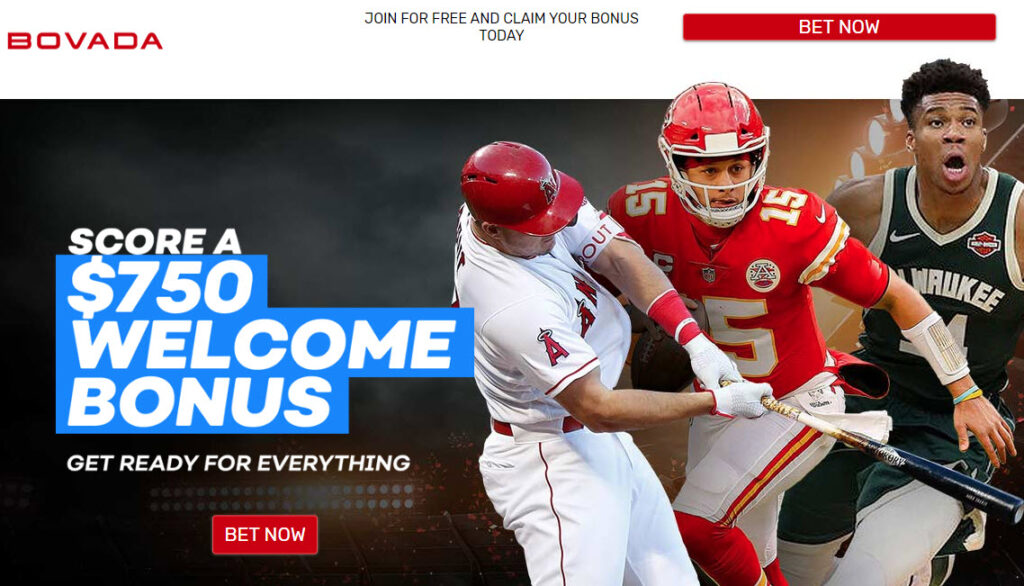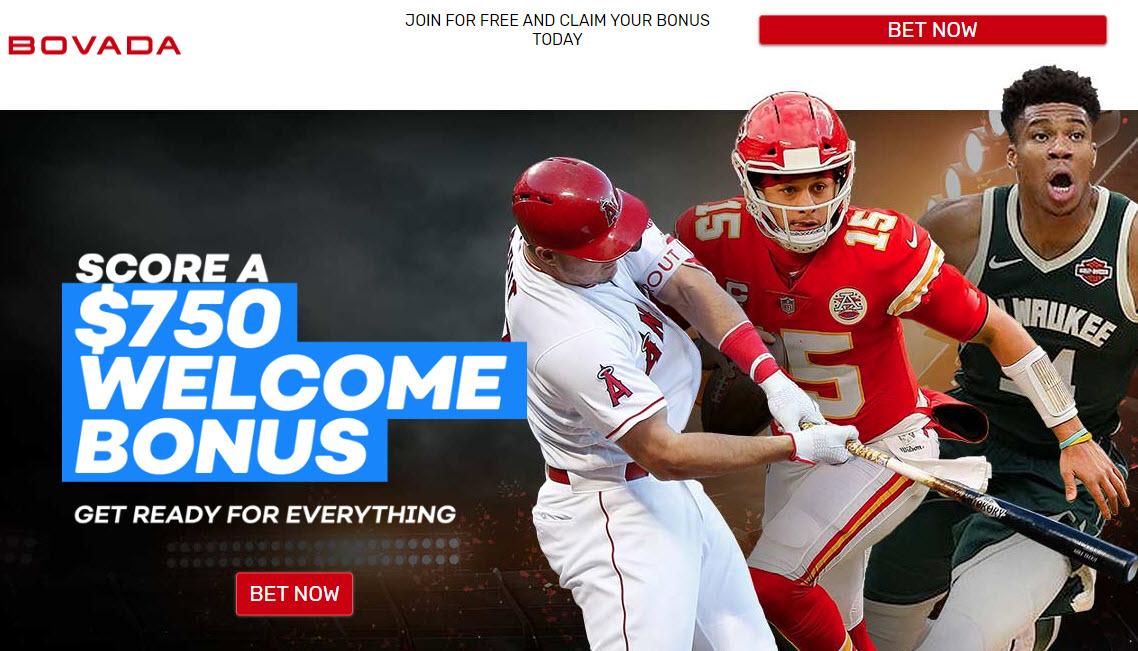 Bovada finished in second place in our rankings. It has a large army of loyal supporters thanks to the full-casino experience Bovada offers with a racebook, a large online casino and America's busiest online poker room, in addition to a world-class sportsbook.
Bovada believes in offering gamblers a wide variety of betting opportunities, going with a more-is-more approach. The sportsbook has Connecticut's largest menu of prop betting options. That includes a selection of easily winnable props with favorable odds to give gamblers the chance to record a few easy wins to build some momentum.
Bovada also earned kudos from our expert panel for its mobile interface. Unlike many sites, which treat bettors who use phones or tablets to bet as afterthoughts, Bovada has a mobile site that is as functional, efficient and attractive as the main site. Our panel declared Bovada's mobile site as the best in the state for sports wagering.
Pros
Offers the biggest selection of prop betting options
Home to America's busiest live online poker room
The top mobile sports betting option in Connecticut
Offers a full casino experience with online casino, poker room and racebook in addition to sportsbook
Cons
Betting limits are lower than other sports betting platforms
Lines and odds aren't published as early
3. Heritage Sports: Top Live Sports Betting Site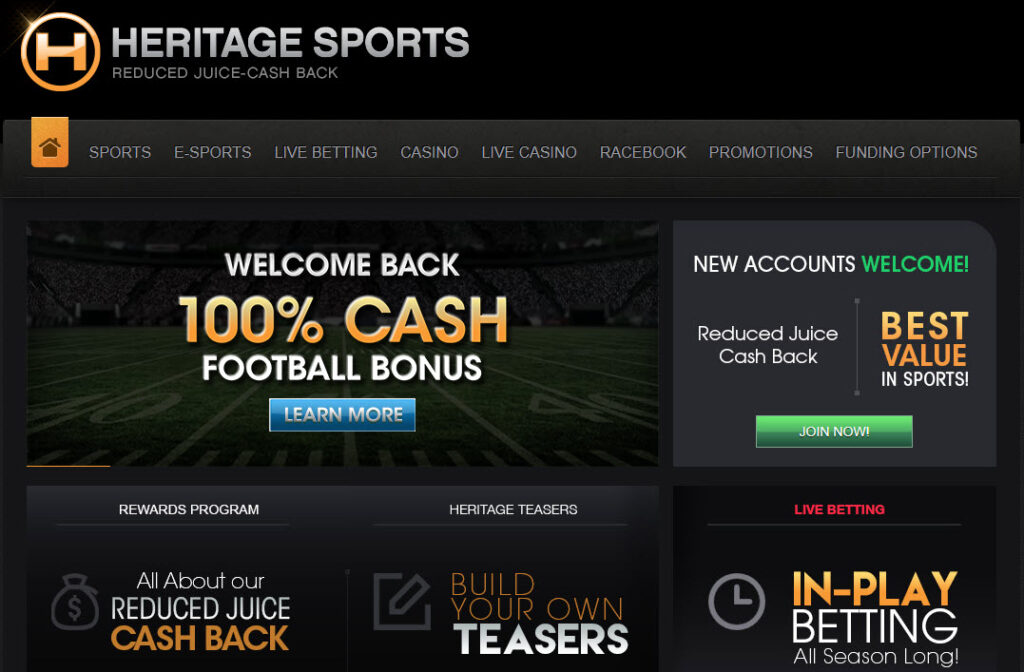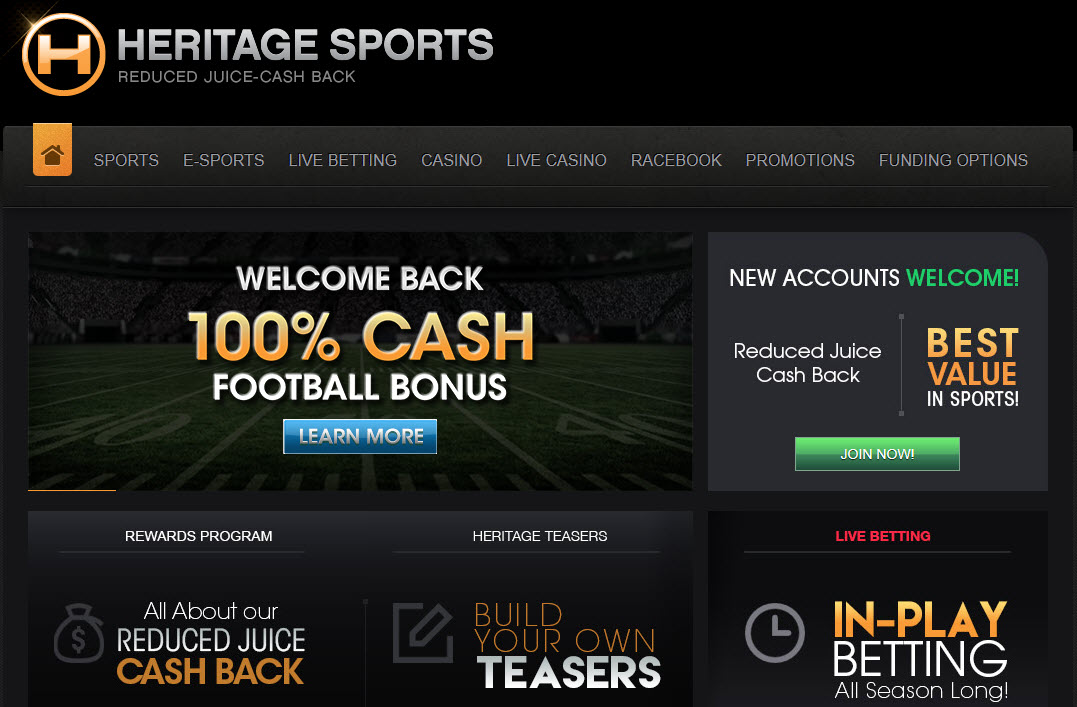 Heritage Sports took the third spot in our top 10 rankings. However, our panel of experts gave them the top spot in two different categories.
Heritage Sports started out as an elite invitation-only gambling site. Over time, it opened its doors to everyone, but they still remember how to pamper bettors. That's why our blue ribbon panel singled out Heritage Sports for having the best red carpet VIP service. They have outstanding customer service as well as a large menu of promotions.
Our experts were also impressed with Heritage Sports for its live betting interface. Their software is quick, responsive and user-friendly, allowing gamblers to get their bets placed fast—a must when betting on games in progress.
Pros
Has reduced juice lines on major sports leagues
The best site for live betting on sports
Offers the best red carpet service for customers
Cashback rebate program for loyal customers
Cons
Doesn't have a live online poker room
Welcome bonuses aren't as high as other sites
4. BetOnline: The Best Site for Opinionated Lines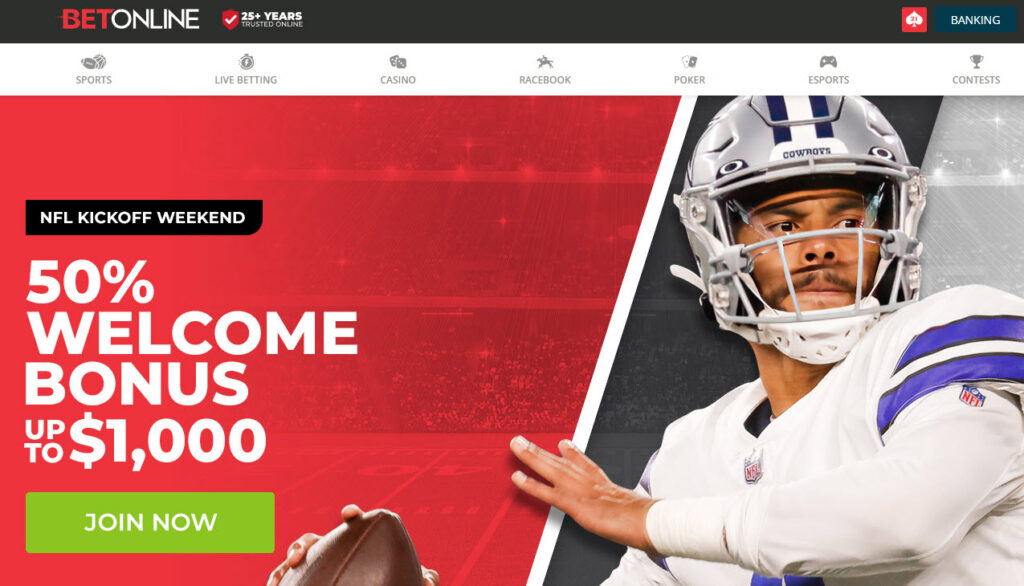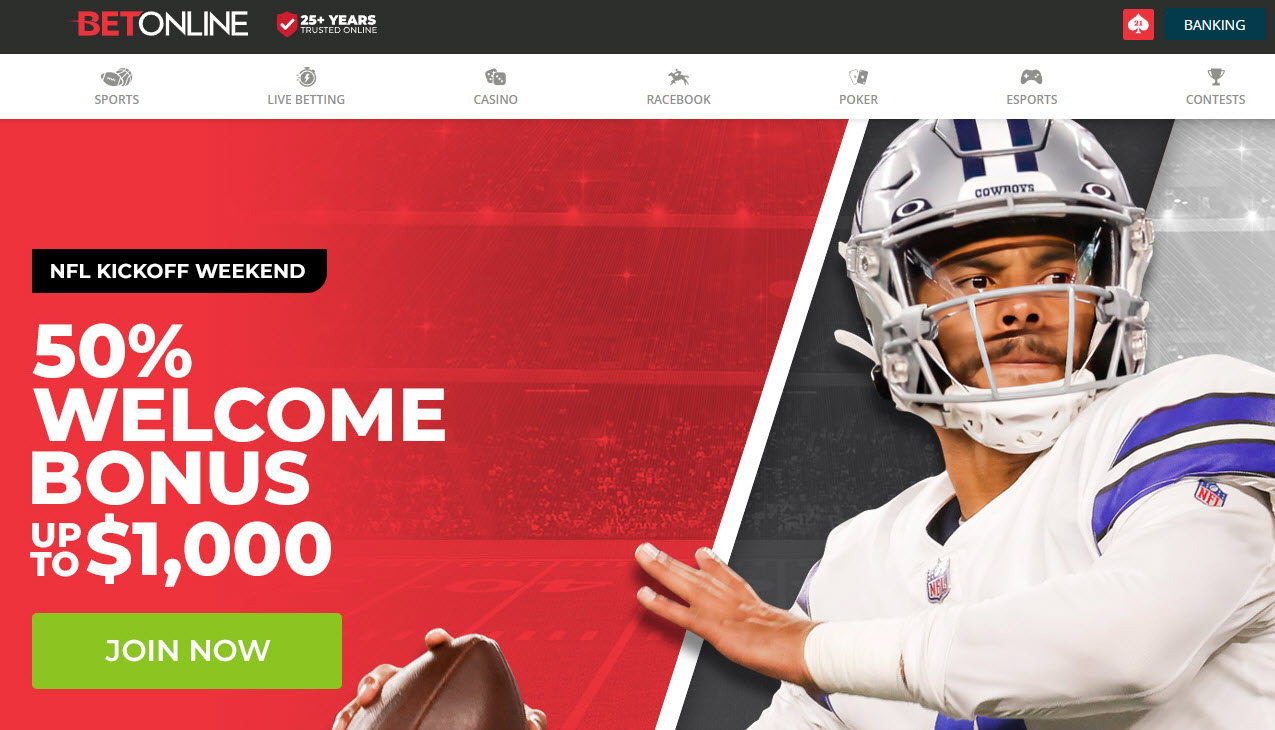 BetOnline is one of the few online gambling sites that offer opinionated lines.
What does that mean? Most sportsbooks set the lines on either side of a point spread at -110 / -110, meaning, whether you take the underdog and the points or the favorite and give the points, you're given the same odds. The odds on either side of an over/under point total work the same way.
With opinionated lines, the odds are not the same on either side of the cutoff. BetOnline may set the odds at -112 / -108, or -113 / -107 meaning you get different odds if you take the favorite than the underdog. That means you'll get different odds at BetOnline than at most other sites, giving you the opportunity to make a profit if you choose wisely.
Pros
One of the few sites to offer opinionated lines
Has some of the highest betting limits in Connecticut
Matches first deposit at 50% for welcome bonus
Crypto users get 100% deposit match, among other perks
Cons
Doesn't offer reduced juice on anything but hockey
Menu of prop bets is limited, compared to other sites
5. BetAnySports: The Most Generous Reduced Juice in CT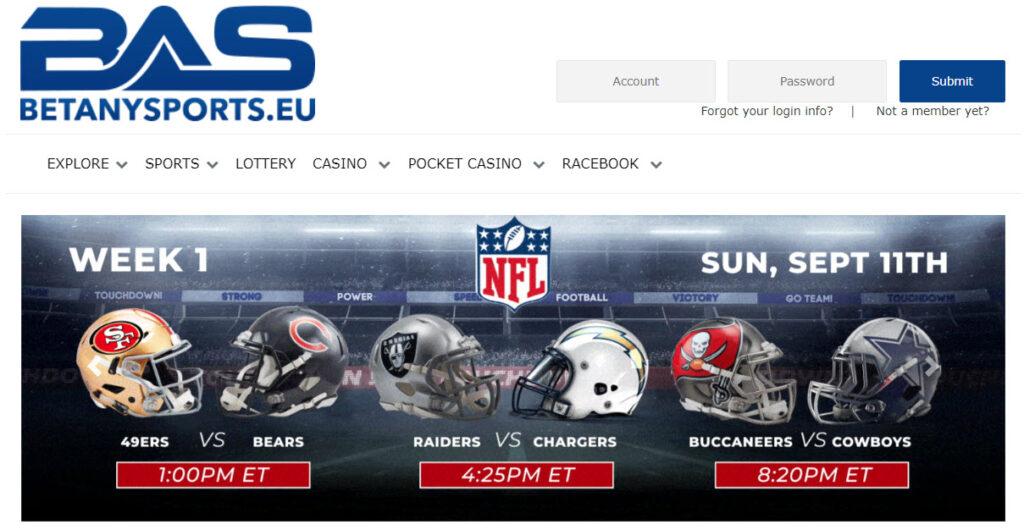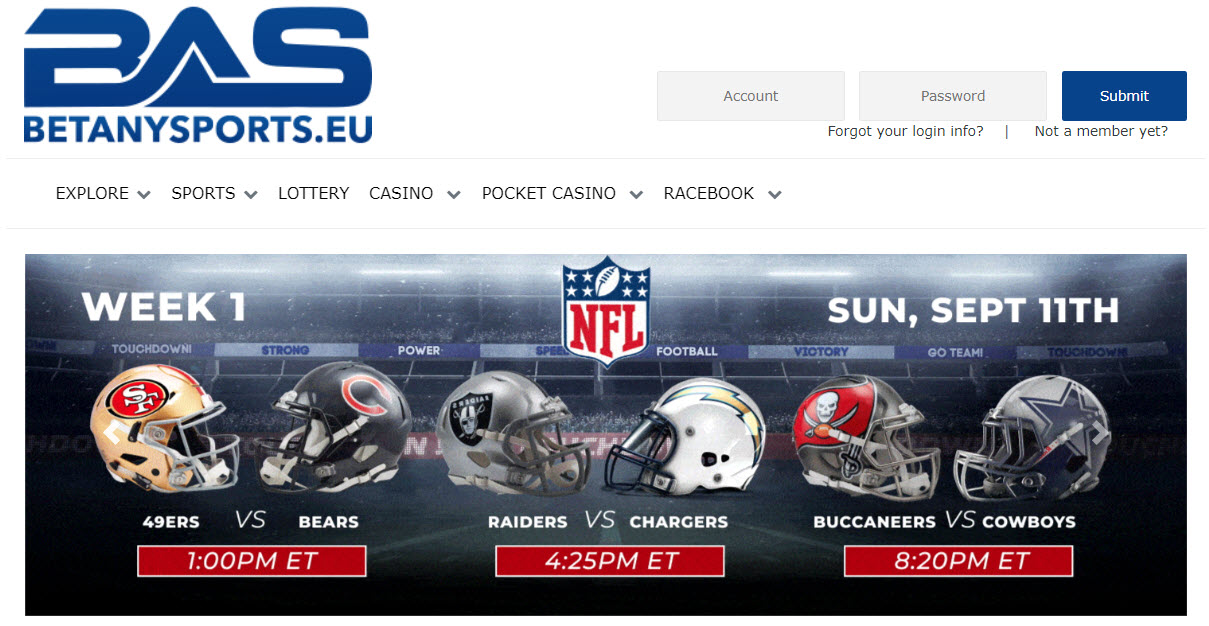 BetAnySports earned special recognition from our panel of experts for offering the best reduced juice in Connecticut, which means the most value for gamblers in the state.
The industry standard is to offer odds of -110 / -110 on either side of a point spread or totals cutoff. Bets in both directions would require gamblers to risk $110 to win $100 on what is essentially a 50/50 probability. That extra $10 is the house edge, guaranteeing the book a profit. Reduced juice cuts those odds, and the house edge, to give gamblers a discount. Many sites offer reduced juice of -108/-108. BetAny Sports goes as low as -105/-105, essentially cutting their house edge in half and making it easier for bettors to turn a profit.
Other lines and odds are also very gambler-favorable at BetAnySports, and the site has a reputation for making it easy to withdraw your winnings with fast, easy payouts in full.
Like many discount providers, the site saves money by cutting overhead elsewhere. The user interface is very bare bones, and bonuses aren't as high as many other sites.
Pros
Offers outstanding customer service
Has the most generous reduced juice in Connecticut
Other odds and moneylines are also gambler-friendly
Pays out on time and in full
Cons
User interface is plain and bare bones, not as user-friendly as others
Welcome bonuses and promotions are low
6. BetUS: The Highest Bonuses in Connecticut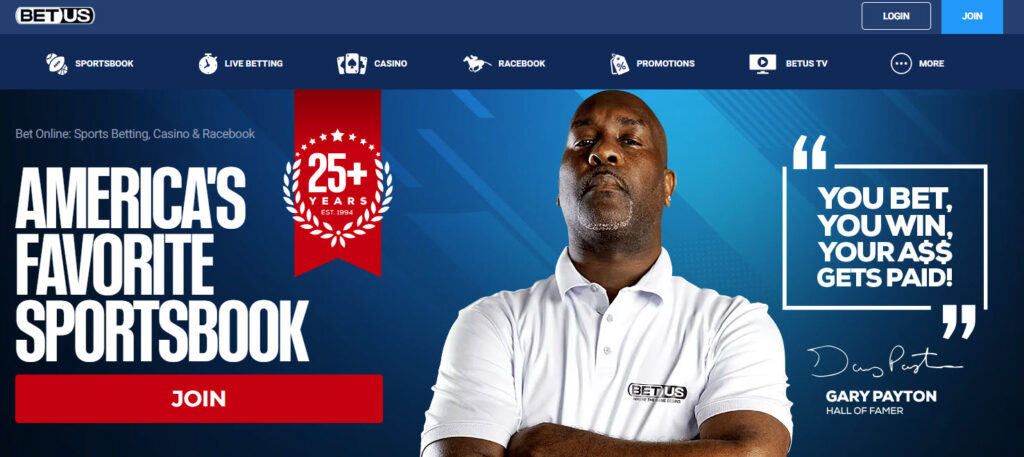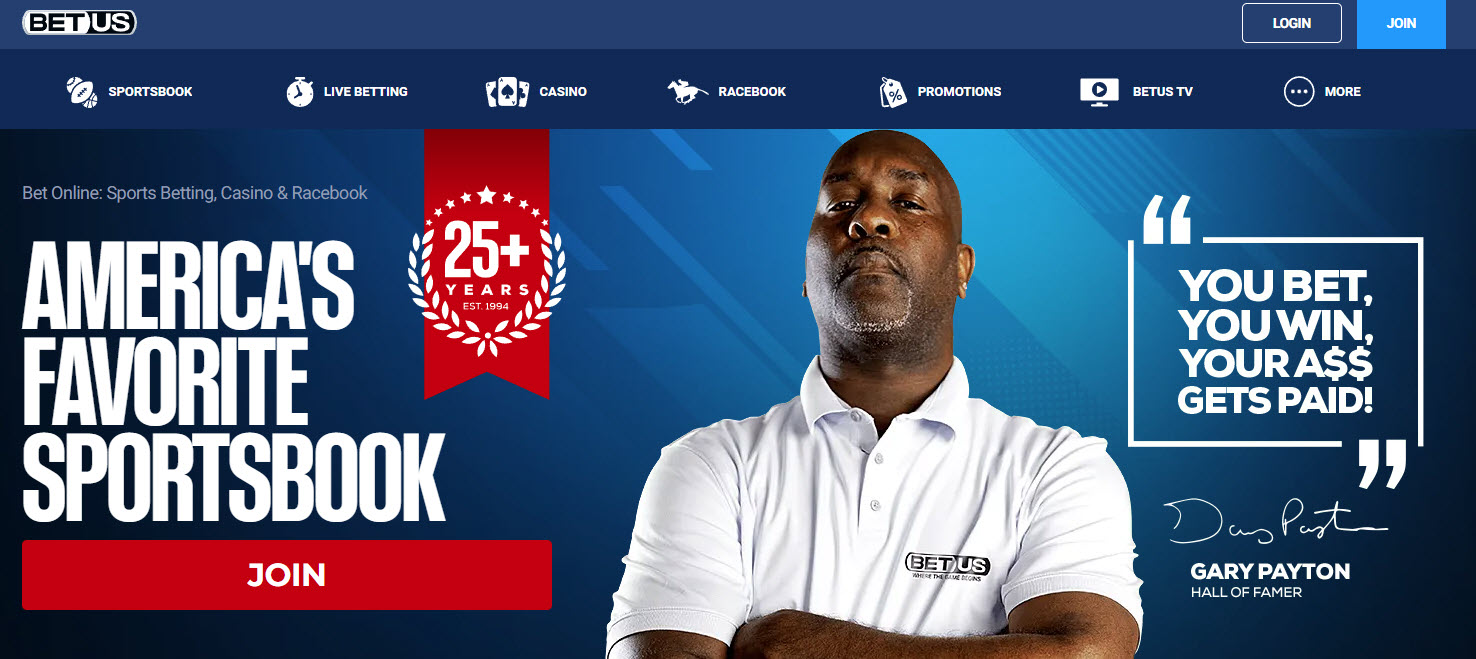 The online gaming industry is a competitive one, and sites are willing to pay dearly to attract new customers and to keep loyal customers betting with them.
BetUS is at the front of the pack in that area. Our experts declared that the site pays out the biggest bonuses to Connecticut bettors. Their welcome bonus will match your first deposit at 250%, up to a maximum of $2,500. That means you automatically triple your money just by putting it into your account. For every dollar you put in, BetUS adds another $2.50. Not a bad profit before you've even placed your first bet on one of your favorite teams.
BetUS also has an outstanding promotions department and a creative marketing team with weekly videos and podcasts breaking down individual games and other big events.
Pros
Welcome bonus is the highest in Connecticut, more than tripling your first deposit
Site upgrade gives them a fast, attractive user interface
VIP loyalty program is one of the best in the state
Weekly podcasts and videos breaking down big events
Cons
Bonus money has high play through and rollover requirements attached
Odds and lines aren't published as early as elsewhere
7. SportsBetting.ag: Offers High Betting Limits and Generous Bonuses to CT Gamblers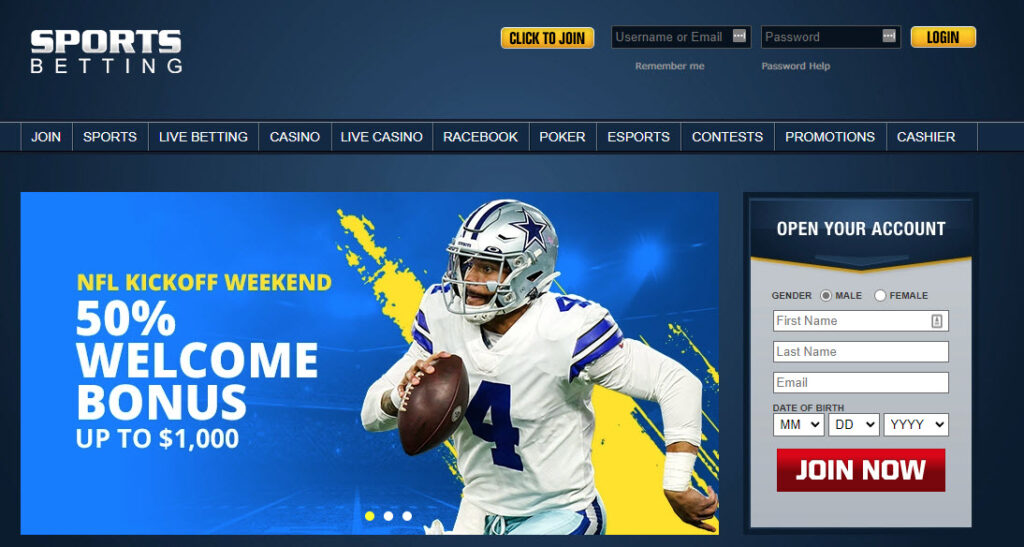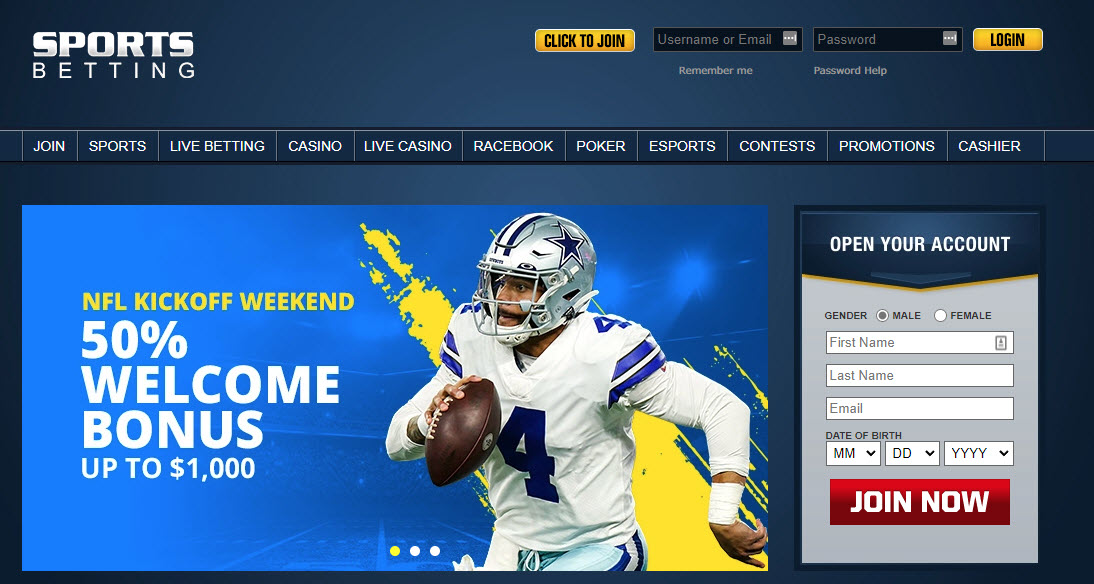 SportsBetting.ag is a sister site of BetOnline, and the site offers many of the same benefits that put its partner site in the top five of our rankings.
SportsBetting focuses on performance, making sure that customers are able to get their bets placed quickly and easily. Their interface is uncluttered, to the point that it looks plain and outdated. In fact, SportsBetting's priority to speed over appearance extends to the fact that it uses an old version of the BetOnline interface.
Despite the appearance, it is fast, responsive and dependable, allowing you to bet without delays or frustrating menu clicking. They also offer very generous welcome bonuses and have extremely high betting limits, going up to high five figures for NBA and NFL games. March Madness and college football betting also have high limits.
Pros
User interface emphasizes speed and responsiveness
Mobile site is also very fast, allowing users to bet within 10 seconds in tests
Deposit limits and welcome bonuses are high
Betting limits are five figures for NFL and NBA games, also high for college teams
Cons
Site does not look new or attractive
Online casino doesn't have as wide a selection of games as other sites
8. JustBet: Caters to All Types of Gamblers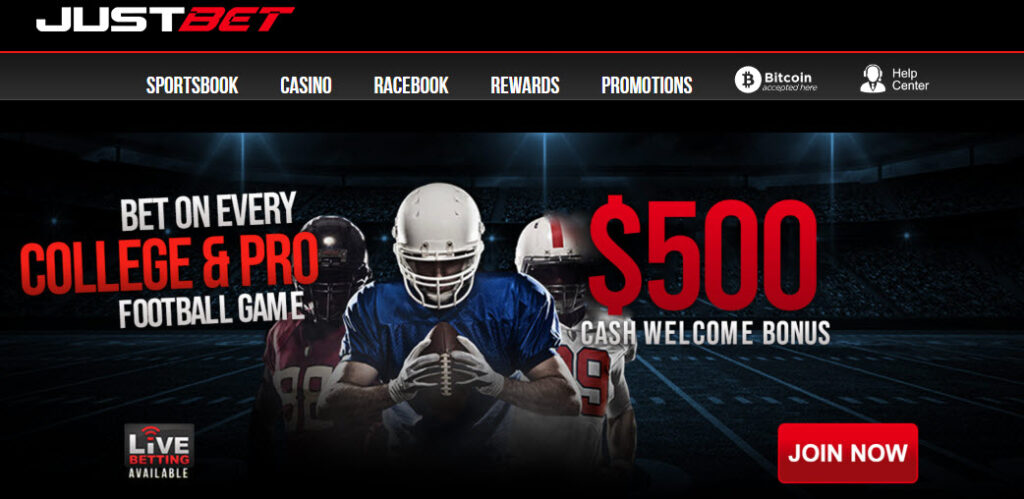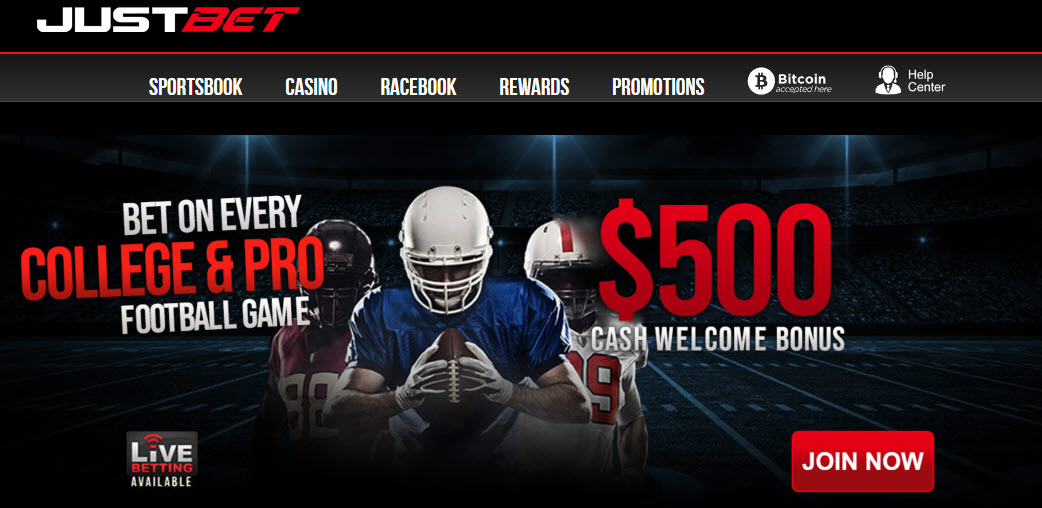 JustBet is a sister site of one of our A+ rated sites: Bookmaker.eu, which earned the No. 1 position in our top 10 rankings. It offers many of the same features that earned Bookmaker the top spot and has a similar betting experience.
JustBet caters to all experience and risk levels, just like its partner site. Betting limits are high and minimum bets are low. Its user interface is fast and efficient, making it ideal for live betting.
JustBet offers a wide range of sports, including obscure international leagues not offered by every site. Uzbekistan soccer leagues? Tournaments in Kuwait? Rugby, cricket? It's all included.
Pros
High-performing user interface makes it great for live betting
Offers very high betting limits and low minimums
One of the first sites to publish lines
Wide range of international betting options
Cons
Doesn't offer reduced juice lines
No live online poker room
9. WagerWeb: Has Same-Day Payout for Bitcoin Transactions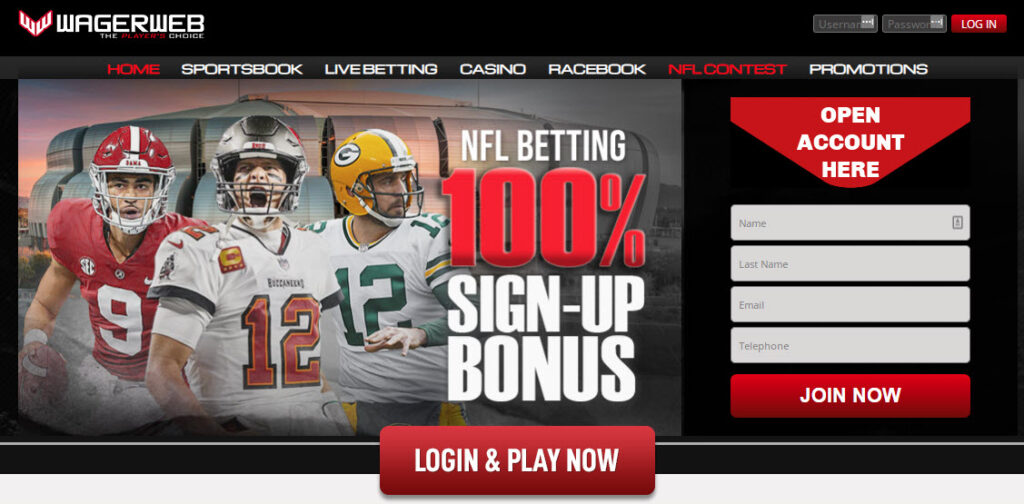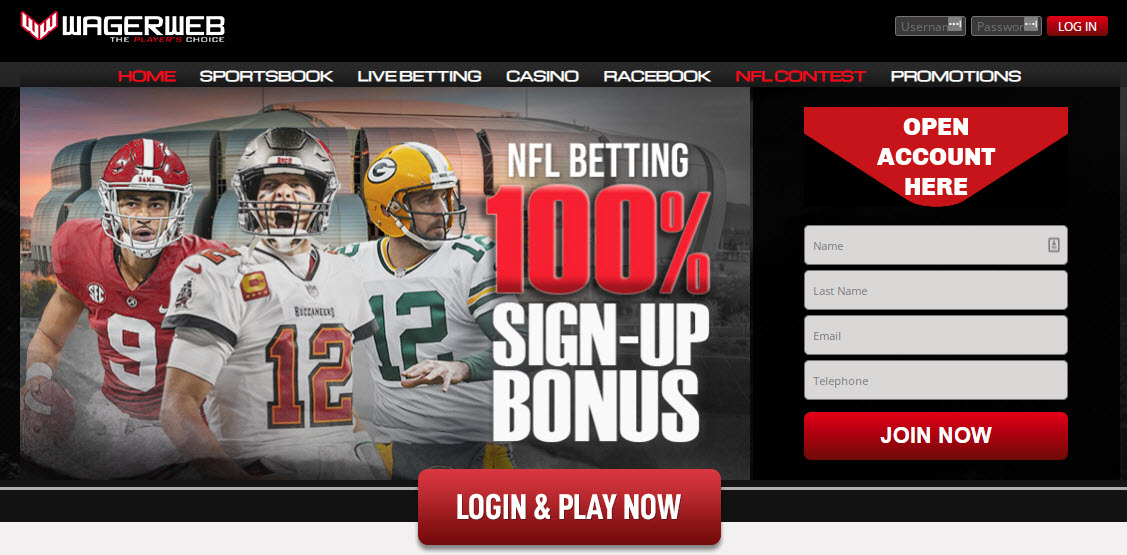 WagerWeb is one of the OGs of the online gambling world. It started operations in 1994 and has a track record of nearly 30 years long. You don't last that many years unless you treat your customers fairly and pay out in full, on time, with no headaches. You're getting three decades of reliable service when you bet at WagerWeb.
The site is far from outdated, though. Just like other sportsbook operators, they keep up with the latest technology and trends, including offering same-day payouts to users of cryptocurrency, like Bitcoin. They're also a sister site of Heritage Sports, which was one of our A+ rated top-three sites. It offers a similar experience to using that site. It also has some unique twists, like offering bettors the chance to buy or sell points on lines for individual games.
Pros
Track record of trust and security nearly three-decades-long
Offers a cashback rebate program for horse betting and online casino
Bitcoin users have same-day payouts
Offers the opportunity to buy and sell points on lines
Cons
Limited to one free withdrawal a month
Customer service isn't 24/7. Starts at 10:00 AM, goes until halftime of last game of day
10. Everygame: One of the World's Longest-Running Online Sportsbooks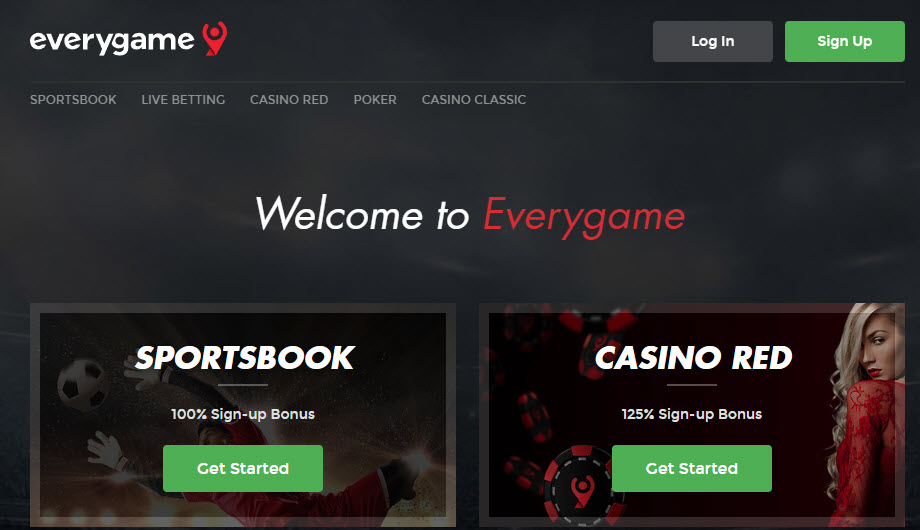 Everygame rounds out our top 10 and is one of the longest-running sportsbooks online. It opened for business in the 1990s and has almost three decades of operation, meaning it's a site that can be trusted with your money and personal information.
The site isn't living in the past, however. It has rebranded and upgraded its software and now boasts one of the smoothest running, slickest looking user interfaces in the business.
Everygame is also a global sportsbook with far-flung leagues and tournaments as well as the top major pro and college sports teams in the U.S.
Pros
Worldwide selection of games, leagues and teams
Offers the best mobile casino interface in CT
One of the longest-running online sportsbooks with three decades of operation
Brand new state-of-the-art operating software
Cons
Doesn't have a separate racebook or offer international horse racing
Bonuses are lower than some other sportsbook operators
Our Sportsbook Rating Methodology
All sports betting operators in our top 10 offer very different betting experiences, and our blue ribbon panel of experts looked at a large number of different factors to determine which were the best ones for you to use to bet on your favorite sports. Among the factors they took into consideration were the variety of sports and betting markets offered, the quality of the odds at the site, promotions and bonuses available, the quality of the customer service offered, and we even took a look at what customers thought in online reviews.
| Sportsbook | Rating | Online Since | Payment Methods | Read Review |
| --- | --- | --- | --- | --- |
| Bookmaker.eu | A+ | 1996 | Credit Card, Bitcoin, P2P, Crypto | Bookmaker.eu Review |
| Bovada | A+ | 2011 | Credit Card, Bitcoin | Bovada Review |
| Heritage Sports | A+ | 2001 | Credit Card, Bitcoin, Cashiers Check, Bank Transfer, P2P | Heritage Sports Review |
| BetOnline | A+ | 2001 | Credit Card, Bitcoin, Crypto, Cashiers Check, Bank Transfer, P2P | BetOnline Review |
| BetAnySports | A+ | 2002 | Credit Card, Bitcoin, Electronic Check | BetAnySports Review |
| BetUS | A | 2000 | Credit Card, Bitcoin, Bank Transfer, P2P | BetUS Review |
| SportsBetting.ag | A | 2002 | Credit Card, Bitcoin, Crypto, Cashiers Check, Bank Transfer, P2P | SportsBetting.ag Review |
| JustBet | A | 2000 | Credit Card, Bitcoin, P2P, Crypto | JustBet Review |
| WagerWeb | A | 1994 | Credit Card, Bitcoin, Cashiers Check, Bank Transfer, P2P | WagerWeb Review |
| Everygame | A | 1996 | Credit Card, Bitcoin, Skrill, Neteller, Bank Transfer, P2P | Everygame Review |
History of Connecticut's Gambling Laws
Connecticut has been one of the leaders in the state-by-state move toward relaxing laws related to gambling. The state has had at least some form of gambling legalized since 1939, and it allowed betting on horse racing, greyhound racing and jai alai in the 1970s.
Connecticut was also one of the first places, other than Las Vegas and Atlantic City to offer retail betting by embracing tribal casinos before most other states. It is still home to two of the largest and most successful in Foxwoods and Mohegan Sun.
In 2021, Connecticut also legalized betting on sports, both online and at retail sportsbooks located in the tribal casinos.
Timeline of Gambling in Connecticut
2023: Connecticut's online and retail sportsbooks have a total monthly sports betting handle of more than $165 million. Sports betting operators produce $14 million in revenue and nearly $2 million in additional taxes a month.
2021: The state legislature passes sports betting bills that bring online sports wagering to Connecticut sports bettors. The tribal gaming compacts are updated to allow retail sports betting at the state's native American casinos as well.
2003: The 1972 legalization of Vegas nights for charity is repealed in an effort to block additional tribal casinos from opening.
1996: The Mohegan Tribe opens Mohegan Sun Casino.
1992: The Mashantucket Pequot Tribe adds table games to the bingo parlor, opening what's now known as Foxwoods Casino.
1986: Tribal gaming begins as the Mashantucket Pequot Tribe opens a high-stakes bingo parlor.
1976: Off-track betting begins in the state. Betting on greyhound racing and jai alai are permitted as well.
1972: The Connecticut lottery begins. Non-profit casino gambling is expanded to include Casino Night or Las Vegas Night promotions.
1955: Raffles and other forms of gambling for charity are legalized.
1939: Bingo becomes the first legal form of gambling in Connecticut.
Standout Features of the Best Online Sportsbooks
Sportsbooks all have different specialties and their own twists on the betting environment they provide. However, despite their relative strengths and weaknesses, there are some characteristics that all online sportsbooks need to possess in order to be considered for our list of the top sites available to Connecticut sports bettors. Here's a look at some of the must-haves.
Betting Odds
Odds should be fair and competitive. Gamblers should feel that they have a legitimate chance to win money and that the potential payout is worth what they're risking. Odds should reflect the relative probability of success of a given bet.
Betting Markets
Top sportsbook operators should offer a wide variety of betting opportunities. All major sports should be available in the sports betting market, as well as more obscure leagues and events, including sporting events in Europe, Asia, Australia, South and Central America. A variety of betting methods should also be available, including parlays, moneylines, point spreads, props and futures markets. The top sites should also offer other types of betting, including racebooks, online casinos, live dealer casinos and even poker rooms.
Banking Methods
Top sportsbooks should offer a variety of different ways to deposit funds and withdraw winnings. Fees and delays should be kept to a minimum. Sites should offer traditional banking methods such as credit and debit cards and wire transfers. They should also offer newer methods of financial transactions, including e-wallets and cryptocurrency.
Promotions & Bonuses
Online betting sites should compete to gain and keep customers. Promo codes should be available to new users that will give a deposit match in bonus money. Rollover and play-through requirements should not be excessive. A variety of ongoing loyalty promotions should also be available.
Live Betting
One of the fastest-growing trends in online gaming is live game betting. Sites should offer this in all major sports. Interfaces should be fast and responsive as well as easy to use so that betting markets can be located and bets placed while the game is in progress.
User Interface
It should be fast and easy to navigate a sportsbook site. Menus should be logical and organized, with shortcuts to minimize the amount of hunting and clicking needed to find the sports, games and betting markets desired. The user interface should also offer an attractive, interesting gambling environment.
More people place bets using phones, tablets and other mobile devices than using computers on a full-blown website. So the mobile betting site should not be a boiled-down version of the main site. Mobile sportsbooks should have all the functionality of the full site and be easy to read and navigate. Many sites also offer sports betting apps while others have fully optimized mobile versions of their sites.
Customer Support
Customer support should be available to answer questions and resolve issues. Ideally, it would be available 24/7 and in multiple languages. Wait times should be short, and there should be a variety of ways to contact it, including email, live text and phone.
Security & Safety
You should be able to use an offshore sportsbook and have no concerns about the safety of your personal information and money. Any sites with security concerns were immediately removed from consideration by our expert panel.
Popular Sports Teams to Bet on in Connecticut
Connecticut allows for online wagering on sports, and the state is located in a hotbed of sports activity. Connecticut is close to teams in the four major sports, located in the New York City area as well as Boston. But Connecticut itself is also home to several minor league sports teams.
Professional Sports Teams
There are a number of great teams that are just a short drive from Connecticut in Major League Baseball (Red Sox, Yankees and Mets), and the NFL (Jets, Giants and Patriots); but the state also hosts several minor league teams.
Baseball's Hartford Yard Goats are the Double-A franchise for the Colorado Rockies. The WNBA's Connecticut Sun basketball team plays at Mohegan Sun. There are also two AHL hockey teams—the Bridgeport Islanders and Hartford Wolf Pack.
College Teams
Connecticut also has seven collegiate teams that are Division I in at least one major NCAA sport. The UConn Huskies are one of the most successful college sports teams in March Madness, with four national titles. They also have a women's basketball dynasty at the collegiate level. Central Connecticut, Fairfield, Hartford, Quinnipiac, Sacred Heart and Yale also have Division I basketball teams, meaning they are eligible to compete in the top event in college sports betting—March Madness.
Creating an Online Sportsbook Account
Starting an online wagering account at offshore sites is fast and easy. Here are the steps to follow.
Step 1. Signing-Up
Choose one of the top 10 sports betting sites in our rankings and click on the button to open a new account.
Step 2. Verifying Your Account Details
Fill out the registration form and respond to a code texted to your phone to verify your identity.
Step 3. Depositing Your Funds
Choose from one of the banking options listed on the site's cashier page. Enter your deposit amount, financial information and any required bonus code to collect your welcome bonus.
Step 4. Placing Your First Wagers
That's it. You're good to go. Choose a sport and place a bet. Good luck.
Connecticut Betting Guides
FAQs – Connecticut Sports Betting at Online Sportsbooks
What gambling is legal in CT?
Online wagering on sports has been legal in CT since 2021. In-person gambling is also permitted at the state's two tribal casinos. It is also possible to play online casino games and live online poker, but only at offshore sportsbooks, which are outside the jurisdiction of state law. 
Does Connecticut allow online gambling?
Online gambling is allowed at the licensed legal sportsbooks in the state. State law does not legalize online poker or online casino games. That means that the only way to engage in those activities for real money is at an offshore sportsbook, which is not subject to Connecticut state law. 
Can you sports bet in Connecticut?
There are two ways to bet on sports in Connecticut. In-person, you can use a tribal casino. Online, you can use either a licensed sportsbook or an offshore sportsbook, which does not need a state license in order to operate.
What sportsbooks can I use in CT?
DraftKings, FanDuel and SugarHouse are the three licensed sportsbooks in CT. There are also a large number of offshore books that can be used, including the 10 we listed in our recommendations for the best online sportsbooks available to Connecticut bettors. 
Can you use DraftKings in Connecticut?
DraftKings sportsbook is one of the three licensed sportsbooks in Connecticut, so it can be used to bet on sports. Its daily fantasy sports app can also be used to play daily fantasy sports. Daily fantasy sports contests are technically not considered gambling, since they are categorized as games of skill, not chance.
In what can only be described as a seminal pact between adversaries, Governor Newsom has signed a bill into law that both the California Native American tribes, as well as cardroom operators, support – no additional cardrooms in the state for two more decades. In turn, this collaboration between Native American tribes and gambling hall

---