Your one-stop shop for NCAAB coverage
Welcome to BMR's NCAAB Hub
Access everything you need from the NCAAB hub at Bookmakers Review. Find odds on upcoming games, read the latest NCAAB picks and blogs posts, and access other resources each day of the NCAAB season and during the off-season.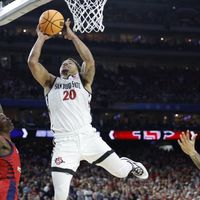 Our expert has analyzed the NCAAB odds for Monday's San Diego State vs. UConn title matchup. Here is what you need for your betting picks.
Our expert has analyzed the NCAAB odds for Monday's San Diego State vs. UConn title matchup. Here is what you need for your betting picks.
March Madness Bracket Betting
Tournament brackets are an exciting way of betting on sports and there is nothing that has the tradition of bracket betting quite like basketball tournaments. 
Bracket betting is both straightforward and complex at the same time and can be a great way for any NCAA fan to test their skills and make a great profit. 
BMR has an official March Madness Bracket Contest for our Ballers. In total, 15,000 coins will be awarded, with first place receiving 2,500. Haven't joined us yet? You can become a BMR Baller for free and get in on the action. 
Why Bettors Love Basketball Brackets
There are many reasons that brackets bring a lot of excitement to an already electrifying time in college basketball. 
Brackets Boost Profits
March Madness is one of the biggest times of year in sports. For that reason, plenty of amateurs crawl out of the woodwork to throw their money in the pot. 
With just a little bit of experience and being diligent about your research, you can blow plenty of bettors out of the water. 
Brackets Bring Weekly Excitement
Every week, college basketball teams will go head to head. Each game will bring new excitement as you wait to see how your picks perform that week. 
As the tournament moves to the later rounds, the stakes continue to grow. Even serious bettors who are seeking to profit from their bracket bets and spend hours crunching numbers will get to sit back and watch things unfold. 
Upsets are also bound to happen. With players at this skill level, the tables can turn at any second. So, even if your bets start losing steam, you could still end up making a bigger profit than you expect. 
Brackets Make Every Game Important
If you're an NCAA fan that lives in one of the host cities or attended one of the colleges that are gunning for the title game, it's easy to see how you'd be fully invested in the games that week. 
However, if two teams are going head to head that you don't care much about, your bracket puts some skin in the game for you. Even two teams you've never considered before could keep you on the edge of your seat. 



All About March Madness
The common misconception regarding March Madness is that it refers exclusively to the national college basketball tournament. But March Madness is a term for the frenzy of postseason basketball games that include the conference tournaments, where the winners of those conference championship games get an automatic invitation to the tournament of 64 known as the Big Dance.
Whether a team hails from a major basketball conference like the ACC or emerges from one of the lesser-known conferences like the MVC, all conference winners are welcome and subsequently seeded according to their record and the caliber of competition they faced. The national college basketball tournament, aka the Big Dance, has a play-in round of four teams and the winners get the final two spots in the field of 64 teams.
The 64 teams are broken into four regions with 16 teams per region where they are seeded 1-16 with the top team playing the bottom, the 2nd seed taking on the 15th seed, etc.
The four regions are:
The conference tournaments followed by the national tournament comprise what is affectionately known by college hoops fans as March Madness.
NCAA March Madness Schedule
There will be 64 college teams when the Big Dance begins but before that happens we will see how the conference tournaments pan out. The 2023 schedule is as follows:
Conference Tournaments: February 27 – March 12 (depending on the conference)
Selection Sunday: March 12. The 68 teams are announced
First Four: March 14-15. The four teams selected for the play-in round vie for the final two spots in the 64-team tournament.
First Round: March 16-17
Second Round: March 18-19
Sweet 16: March 23-24
Elite Eight (regional finals): March 25-26
Final Four: April 1
NCAA Championship Game: April 3
March Madness Past Winners
NCAA March Madness is a tournament unlike any other and the college teams that compete, showcase some of the best basketball talents in the world. Many of today's collegiate stars will be the NBA superstars of tomorrow.
And after reviewing the national championship games since 2000, we can see which colleges and universities typically shine the brightest when March Madness arrives.
2022: Kansas 72 vs. North Carolina 69
2021: Baylor 86 vs. Gonzaga 70
2020: Canceled due to Covid-19
2019: Virginia 85 vs. Texas Tech 77 (OT)
2018: Villanova 79 vs. Michigan 62
2017: North Carolina 71 vs. Gonzaga 65
2016: Villanova 77 vs. North Carolina 74
2015: Duke 68 vs. Wisconsin 63
2014: Connecticut 60 vs. Kentucky 54
2013: Louisville 82 vs. Michigan 76
2012: Kentucky 67 vs. Kansas 59
2011: Connecticut 53 vs. Butler 41
2010: Duke 61 vs. Butler 59
2009: North Carolina 89 vs. Michigan State 72
2008: Kansas 75 vs. Memphis 68 (OT)
2007: Florida 84 vs. Ohio State 75
2006: Florida 73 vs. UCLA 57
2005: North Carolina 75 vs. Illinois 70
2004: Connecticut 82 vs. Georgia Tech 73
2003: Syracuse 81 vs. Kansas 78
2002: Maryland 64 vs. Indiana 52
2001: Duke 82 vs. Arizona 72
2000: Michigan State 89 vs. Florida 76
March Madness Betting
Sports fans are always looking for a way to back their opinions up with cold, hard cash. And when it comes to predicting which college basketball team will win a national title, there is no shortage of fans looking to make a bet.
But finding the right offshore online sportsbook to place a wager is the real challenge unless you know where to look. The best offshore sportsbooks have vast betting menus where customers can bet sides, totals, prop bets, futures, margins of victory, and even in-game wagering.
Where can I place a bet on NCAA March Madness?
There is a wide variety of offshore sportsbooks across the web and a number of them will gladly take your money but are far from eager to release it when a payout request is submitted. These are predatory sportsbooks and must be avoided at all costs.
However, there are a handful of elite online sportsbooks that have stood the test of time. Not only are the top offshore sites competitive with their betting odds, but they also feature outstanding customer service, state-of-the-art mobile betting technology and betting limits that accommodate both small and large bettors. They also have a wide range of sports betting options and markets, including unique props bets on any NCAA Division I team. These sites are the best place for betting on NCAA March Madness.
College basketball fans seeking a reliable sportsbook for betting on the winner of a national title or just a regular season game need not look any further. The best of the best like Bookmaker, Heritage Sports, BetOnline, and Bovada have all been in business for decades and are among the industry's most respected sportsbooks.
FAQs – NCAA March Madness 2023
Why is it called March Madness?
The frenzy of division tournament games followed by the dozens of national contests within a span of three weeks is certainly madness. However, this term came from an Illinois high school administrator named Henry Porter who coined the term in reference to the state basketball tournaments during the 1940s.
What is the lowest-ranked NCAA team to win March Madness?
In 1985 No. 8 Villanova upset No. 1 Georgetown, 66-64, as eight-point underdogs under the legendary coach, Rollie Massimino, to win the national title. This was considered a huge upset when it happened and has stood the test of time as a truly unprecedented title game.
What is the winningest team in college basketball?
At this time, UCLA would be considered the winningest team in college basketball, having won 11 national titles.
The team that has won the most individual games hails from the University of Kansas. The Jayhawks have amassed over 2300 wins.
Has any team ever gone undefeated and won March Madness?
Seven teams went undefeated entering March Madness and ultimately won the title game.

1975-76 Indiana (32-0)
1972-73 UCLA (30-0)
1971-72 UCLA (30-0)
1966-67 UCLA (30-0)
1963-64 UCLA (30-0)
1956-57 North Carolina (32-0)
1955-56 San Francisco (29-0)
Who are the big 5 in college basketball?
As the 2022-2023 season winds down the best college basketball teams are:
Houston
Purdue
Alabama
Arizona
UCLA