Betting on Horse Racing in Texas in 2023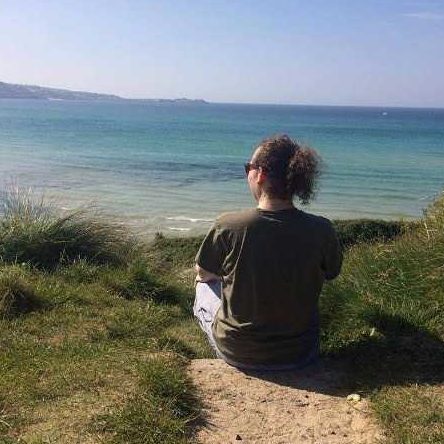 David is a freelance sports journalist who comes from West Midlands. He specializes in sports content, both written and visual. With an impressive record in pre-fight predictions, David is quickly becoming recognized in his field for his in-depth fight analysis and impressive contender & fight history knowledge.
Texas has more horses than any other U.S. state, so it should be no surprise that the Lone Star State boasts a rich history in horse racing betting. While Texas hasn't yet legalized online gambling due to its gambling laws, wagering on horse races was reinstated by the Texas Racing Commission in 1987 after being considered to be a form of illegal gambling for 50 years. It is among the most broadly legal forms of gambling in the state and takes place exclusively at horse racing venues.
All wagers on horse races have to take place in person. Of course, Texas residents can also turn to online sportsbooks for online horse race betting, legal sports betting, casino games, and more.
Our guide will touch on multiple aspects of Texas horse racing betting. We'll look at the best offshore sportsbooks that offer online horse race betting, some of the horse racing history, the horse betting laws, and various other topics. Whether you're looking for information on Lone Star Park or any other horse racing venues in Texas, check out our experts' top 10 Texas betting sites for horse racing.
Top Offshore Sportsbooks for Texas in 2023
Ranking the Top 10 Betting Sites for Horse Racing in Texas
If you are looking to indulge in some wagering on horse races, we suggest you go with one of the best sportsbooks in the gambling industry. Our reviews have determined these offshore betting sites are the top 10 for bettors in the Lone Star State.
Reviewing the Best Texas Horse Racing Betting Sites
Now that you've had the opportunity to look at our top 10 online betting sites for horse racing in Texas, we can preview our top five in a more detailed format.
The following sportsbook reviews will highlight the most positive and negative features. Still, ultimately, they will steer Texas bettors in the direction of the country's best operators to use.
1. BetOnline: Highly Respected Racebook with the Fastest Payouts in Texas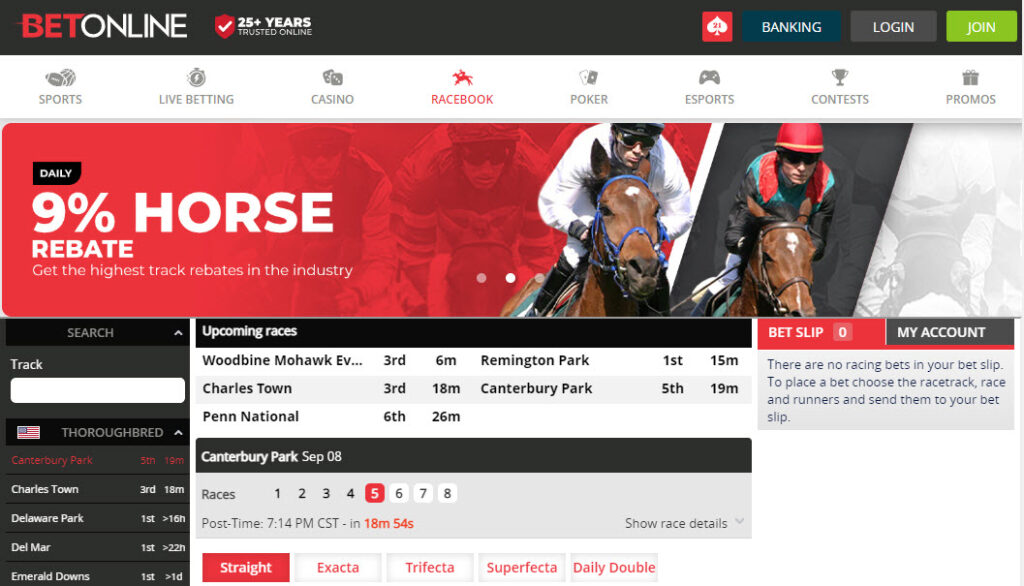 BetOnline has an exceptional reputation amongst sports bettors, and its horse racing offerings are some of the greatest in the offshore gambling space. They're also known to have some of the best sign-up promotions in the industry.
As one of the oldest online sportsbooks in the industry, BetOnline offers fixed-odds futures on major horse racing events, like the Triple Crown and the Breeder's Cup.
In addition to BetOnline's incredibly popular racebook, the site also offers an online sportsbook, casino, and poker room. The old-school bettors who like to wager on the ponies can phone in for horse racing bets if needed.
Pros:
Mobile friendly
Incredible $2,500 signup bonus
Always pays their customers promptly
Professional interface & layout
Opinionated lines & large betting limits
Cons:
Fees for credit card deposits
A lack of proposition bets compared to rivals
$50 fee on check withdrawals
Minor complaints about the poker software
2. BookMaker: Fast Payouts & Experienced Racebook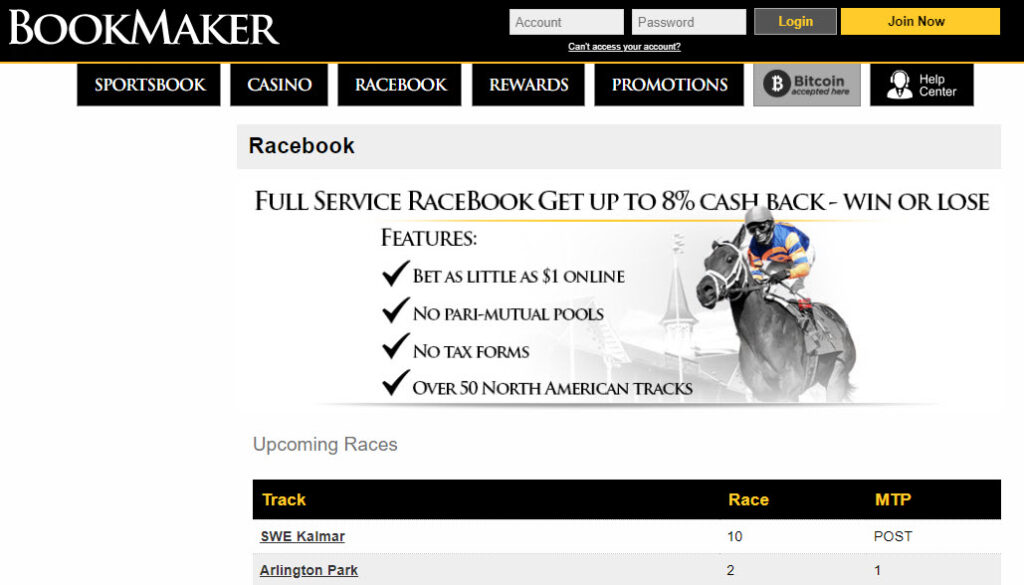 With a dedicated team that owns 29 years of experience in the business, Bookmaker.eu is unquestionably one of the most respected and experienced sportsbooks. BookMaker promises "the best-thoroughbred horse racing betting experience on the internet", with significant races such as the Kentucky Derby to the smaller events at The Meadows and Yonkers Raceway.
Vegas sportsbooks have been known to compare their lines to BookMaker, and they hold a reputation for housing some of the best professional gamblers in the business. They also have one of the best loyalty programs in the industry.
BookMaker is a great choice as a racebook, presenting excellent bonuses and speedy payouts. One of the best, if not the best, options for any Texas bettor seeking a licensed and reputable site to wager on horse racing.
Pros:
Higher withdrawal limits and betting limits
Rebate on racebook wagers up to 8%
Decades of experience in the sports betting business
Fast-released betting lines
Cons:
Professional bettors lose their rights to participate in the loyalty program
No reduced lines
3. Heritage Sports: The Best Opinionated Lines & Excellent Live Betting Services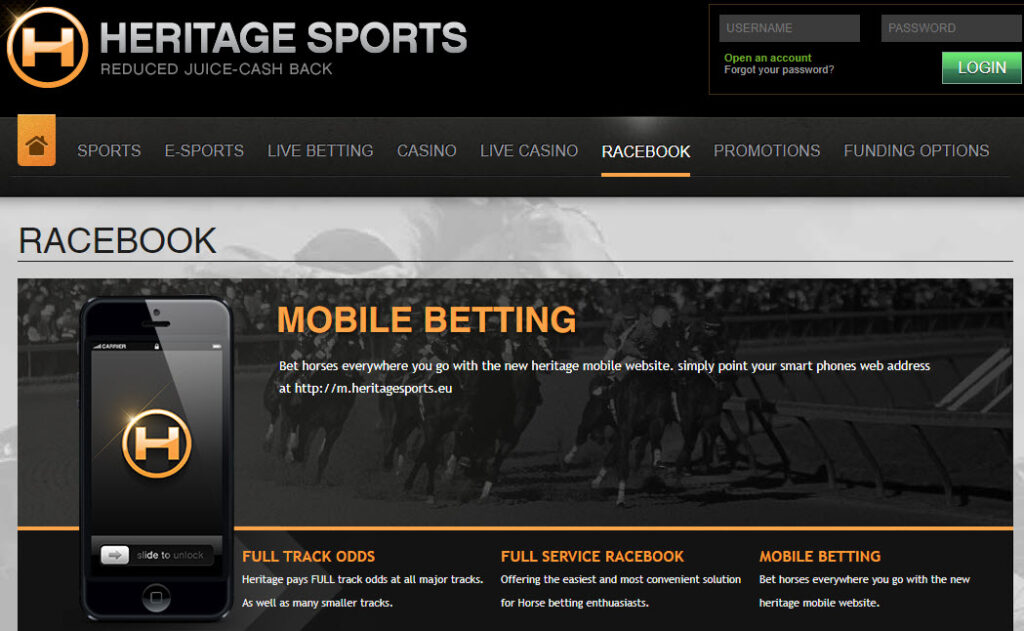 With market-leading odds and an attractive user base, Heritage Sports is undeniably one of the best sportsbooks for horse racing betting.
Heritage Sports presents more than 60 different thoroughbred and harness racetracks that customers can wager on. With at least 16 major tracks on the menu, horse racing bettors from Texas can wager up to $1,000 on win, place, and show markets, including a $200 max limit on exotic props. Additionally, the alternate 14 tracks limit straight bets at $500 and props to $100.
Overall, our experts labeled Heritage Sports with a BMR rating of A+. In addition to their extensive horse betting, they boast a reputable sportsbook, casino, and live dealer games. Plus, they also feature an excellent welcome bonus for new users.
Pros:
Best for live betting
Straightforward to navigate/operate sports betting interface
Reduced juice on multiple betting lines and unique promotional offers
Great live betting options
Cons:
US and Canada residents only
Sign-up bonuses aren't as significant as other sites
4. Bovada: Fast Payouts & Attractive Bonuses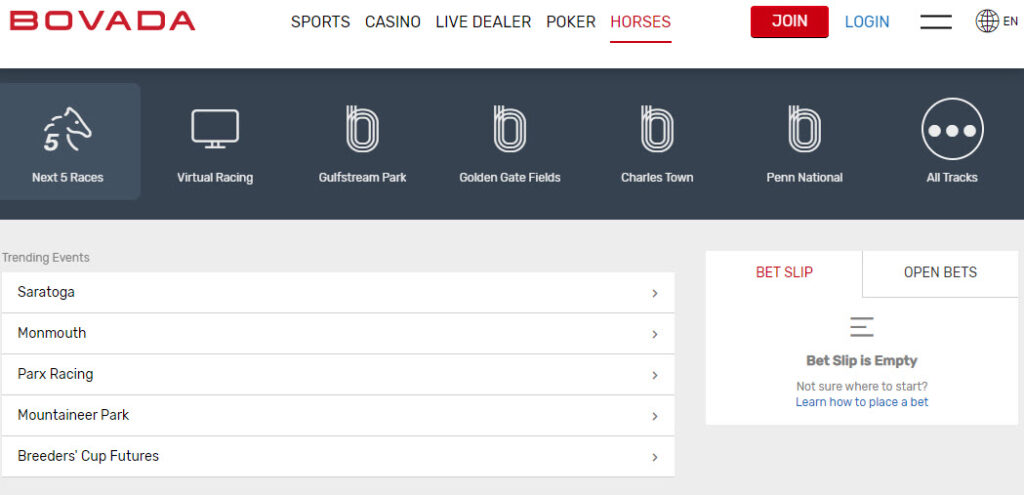 Bovada sets a high standard among offshore sportsbooks, quickly becoming a favorite for Texas horse racing enthusiasts. With a vast selection of events available to bet on, it also provides a massive online casino and a racebook. It has also become the most popular online poker room in America.
The Bovada racebook was specifically designed for US horse racing bettors. The racebook offers its customers more than 60 North American tracks within their available markets, and new Bovada racebook customers will receive a 50% welcome bonus on the head-to-heads, triple crown, and various other racing props, a 24/7 customer service line, ultra-quick payouts, and a 5% rebate on exotic bets. The promo codes at Bovada can provide users with a lot of additional value, including bonus funds and other benefits.
Pros:
Horse bettors get 3% rebates on straight bets and 5% back on exotic wagers
A more extensive selection of wagers than most competitors
Mobile-friendly with smooth optimization
Small rollover requirements for bonuses
Cons:
Betting limits can sometimes be lower than competitors
Betting lines may be a bit slower than other sites
5. BetAnySports: Fast Payouts & The Best Opinionated Lines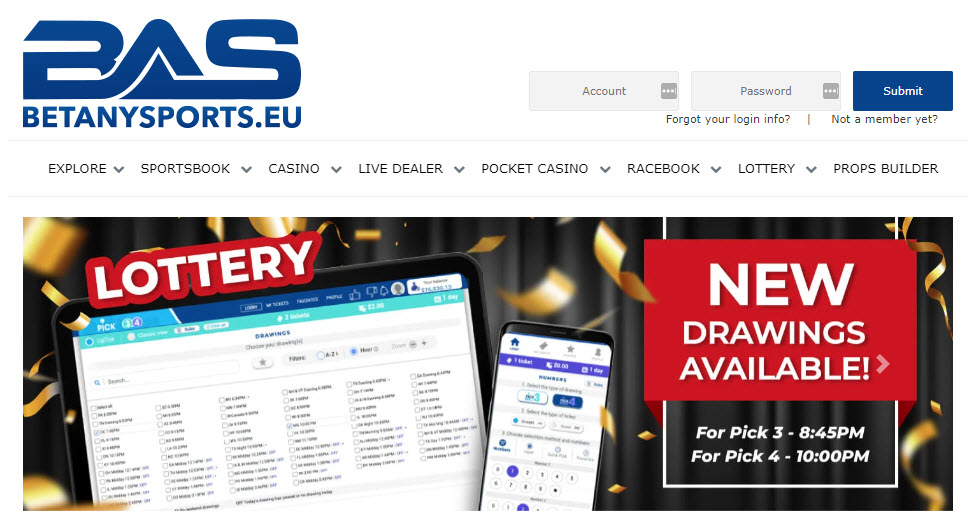 Bettors in Texas looking for reduced juice betting lines will revel in BetAnySports and its offerings. Known for its incredibly low house edge on straight bets, it's the perfect sportsbook option for bettors who value hunting.
Reduced juice does arrive with minor setbacks, such as its low margins and fewer promotions. However, it's a simple-to-use online betting site that delivers quick, secure, and trustworthy withdrawals. Plus, the ongoing promotions that they do have are solid overall. And, of course, the available odds are exceptional.
Pros
Reduced juice
Excellent customer service
Some of the best moneyline, prop, and future betting odds
Fast payouts and a trustworthy reputation
Cons
Not available in every country
Smaller bonuses in comparison to direct competitors
Less desirable interface when compared to rival sportsbooks
Comparing the Best Sites for Horse Racing Texas Has to Offer
There are many factors to consider when deciding which offshore sportsbooks enter our top-ranked list. Of course, each sports bettor will have their personal preference, so choosing the ultimate operator is difficult. However, a sportsbook must have certain qualities even to be considered one of the best.
For example, BetOnline is one of the most popular racebooks in Texas, and its payout scheme is flawless, but it still has its weaknesses.
Below you'll find a list of factors we consider when deciding which horse racing betting sites deserve a top-rated ranking and how we determined who to count among the best in the sports betting industry.
Horse Racing Odds
The key to successful wagering is finding the best odds on horses.
With an overwhelming amount of competitiveness in the betting market, supplying customers with the best available value is of the utmost importance. Many sportsbooks in Texas will provide the same odds, but bettors must shop for their odds and find the best available price.
This makes operators such as BetOnline so appealing since they're consistently looking to provide their customer base with the best available horse odds.
For long-term bettors, good horse racing odds can be the difference between a positive or negative bankroll. Naturally, most bettors should want to find the best bang for their buck.
Horse Racing Betting Markets
Horse racing betting in Texas holds a nostalgic feeling for most as the Lone Star State is the most horse-populous location in the United States.
If the online betting sites don't provide a wide variety of horse racing betting markets, they could miss some traditional wagers near and dear to local bettors.
BetOnline's advanced racebook will offer multiple markets such as:
Win
Show
Place
Exotic
Trifecta
Superfecta
Super High Five
Double Bet
Pick 3
Pick 5
Live Horse Racing Betting
The ability to wager on live horse racing in Texas can create an even more enjoyable experience for some bettors. Our experts often position a sportsbook in the top-10 list when it can provide the ability to place live wagers as well as offer simulcast racing, so you can watch the event live.
Trusted sports betting apps in Texas can do all of the above; each site recommended by Bookmakers Review has been thoroughly tested in each area.
For example, BetOnline supplies an exceptional live betting platform. You can live-bet hundreds of sports, including horse racing, and click the "Watch Live" tab to enjoy the live stream right from the race track.
Horse Racing Betting Promotions
Some of the best horse racing betting promotions and bonuses in Texas provide cashback on losing wagers, known as rebates.
Again, BetOnline is a great example of a racebook that delivers excellent bonuses. You can receive a 50% first-time deposit bonus of up to $2,500, daily rebates, and a risk-free bet.
The best sportsbooks often provide a racebook with excellent promotions for online horse betting. Other options also include the likes of industry leaders such as Bookmaker, Bovada, or Heritage Sports.
Odds Chart for Online Horse Racing Betting in Texas
| Horse Racing Odds | Payout from a $2 Wager | Implied Probability of Winning |
| --- | --- | --- |
| 1/5 (-500) | $2.40 | 83.33% |
| 1/4 (-400) | $2.50 | 80% |
| 1/3 (-300) | $2.60 | 75% |
| 1/2 (-200) | $3.00 | 66.67% |
| 4/6 (-150) | $3.33 | 60% |
| 1/1 (-100) | $4.00 | 50% |
| 2/1 (+200) | $6.00 | 33.33% |
| 3/1 (+300) | $8.00 | 25% |
| 5/1 (+500) | $12 | 16.67% |
| 10/1 (+1000) | $22 | 9.00% |
| 50/1 (+5000) | $102 | 1.96% |
Best Texas Horse Racing Betting Sites
Deciding on the best online betting site is never easy. With the aforementioned factors we listed above, let's evaluate the more general purposes of sportsbooks and why an operator providing horse racing betting will excel against its competitors.
Brand Recognition
Like most professions in life, experience is crucial, and offshore sportsbooks are no different. In addition to their wealth of knowledge, betting sites have a long-established reputation for providing multiple forms of gambling online for decades. They are trusted by a large customer base.
Payment Methods
The more deposit and withdrawal methods that are available on betting sites, the better. Some customers want to utilize their crypto wallets, whereas others want to use credit cards. So, the best sportsbooks and operators will always have multiple payment method options, including traditional payment methods, crypto options, e-wallets and others.
Safety & Security
Entangled with brand recognition, safety and security are crucial for sports bettors to trust their operators. The well-established sportsbooks have maintained their position in the market because of their secure systems. That said, it's important to look at sites that own a license to operate in their respective countries.
Speed & Design
Flawless design and simple-to-use interfaces are essential for customers to navigate and place wagers easily. All of our top-rated sportsbooks fall into this category.
Customer Service
When a customer is in need, having the ability to contact your bookmaker is usually the difference maker in receiving a good or bad reputation. Sites such as the ones mentioned above provide 24/7 customer service and excel in this area. Sportsbook operators that offer a live chat option are always going to top our list.
Overall Value
Our overall value is conjured up from everything we've spoken about. Finding a little of everything we've mentioned in an online betting site will provide you with significant value. Although some players are looking for bonuses and promotions, your opinion on value will differ in this case.
| Sportsbook | Rating | Online Since | Payment Methods | Read Review |
| --- | --- | --- | --- | --- |
| BetOnline | A+ | 2001 | Credit Card, Bitcoin, Crypto, Cashiers Check, Bank Transfer P2P, | BetOnline Review |
| Bookmaker | A+ | 1996 | Credit Card, Bitcoin, P2P, Crypto | Bovada Review |
| Heritage Sports | A+ | 2001 | Credit Card, Bitcoin, Cashiers Check, Bank Transfer, P2P | Heritage Sports Review |
| Bovada | A+ | 2011 | Credit Card, Bitcoin | Bovada Review |
| BetAnySports | A+ | 2002 | Credit Card, Bitcoin, Electronic Check | BetAnySports Review |
| Everygame | A | 1996 | Credit Card, Bitcoin, Skrill, Neteller, Bank Transfer, P2P | Everygame Review |
| WagerWeb | A | 1994 | Credit Card, Bitcoin, Cashiers Check, Bank Transfer, P2P | WagerWeb Review |
| GTBets | A | 2011 | Credit Card, Bitcoin, Crypto | GTBets Review |
| BetUS | A | 2000 | Credit Card, Bitcoin, Bank Transfer, P2P | BetUS Review |
| JustBet | A | 2000 | Credit Card, Bitcoin, P2P, Crypto | JustBet Review |
Is horse racing betting legal in Texas?
While online horse racing betting in Texas is prohibited, locals can wager on live horse racing events in-person, at any licensed track in the state. These horse tracks are also simulcast venues, allowing wagering on races held at other horse racing venues.
For this reason, online horse racing bettors in Texas often turn to offshore horse race betting sites, which are safe, legal options for online horse race betting.
In contrast to horse racing betting, most other forms of betting are illegal in Texas, with the Texas Lottery being one of the other few exceptions. In fact, due to Texas State's gambling and gaming laws, the only place Texans can partake in in-person gambling activities is a Tribal casino located in Eagle Pass, TX (about 2 hours from San Antonio). This is because Tribal casinos on Tribal land do not operate under the same state gambling laws.
Horse Racing Betting Guide for Texan Bettors – Start Betting on Horse Races in Texas
Many Texans can enjoy in-person wagering at one of the state's track betting facilities. However, online wagering at one of the best sportsbooks is the most popular method for Texas locals to place their wagers on horse races.
The ability to bet on the best horse odds from the comfort of your home at a top-rated horse race betting site is a plus. The largest sportsbooks also have mobile-optimized sites for betting on the go; not to mention, they also many other types of bets, too. You can wager on your favorite professional sports teams, college teams, and more.
This is why operators such as BetOnline, Bovada, Bookmaker, and Heritage Sports are ideal betting sites for Texas horse racing bettors to use.
Online Horse Racing Betting: Fundamentals in Texas
When navigating an online betting site, the common practice is to wager on the "place," "show," and "win" betting markets. Your betting site will provide a selection of the upcoming horse racing events, and you'll see the available bets once you click on the horse event you desire.
The most prestigious horse race events, such as the Kentucky Derby, are ideal for new players, as betting sites will highlight these races as special events.
Once you've familiarized yourself with the fundamental horse racing bets (win, show, place), you'll have fun exploring the extended markets, including trifectas, exactas, and much more.
The Different Types of Horse Racing Wagers
Win
Similar to a moneyline wager found in alternative sports, a win bet is the most simplistic of them all. Bet on the horse you believe will win.
Place
A place wager will cover a horse that finishes in first and second place.
Show
A place wager expands on a place wager in that your horse can finish first, second, or third.
Exacta
Exacta is an exotic wager that requires bettors to pick the exact top two finishers.
Trifecta
With lucrative odds for its difficulty level, trifecta wagers require bettors to pick the exact top three finishers.
Superfecta
As the difficulty level reaches its pinnacle, superfectas take it one step further and require bettors to predict the exact order of the top four finishers.
Daily Double
Often referred to as the double wager, bettors must pick the winners of back-to-back races.
Pick 3/4/5/6
Like the daily double, a pick 3/4/5/6 represents a wager where the bettor must pick the correct winners for three, four, five, or six consecutive races. Of course, a racetrack will need to host at least six races, but most courses host 10+ races at each event.
The History of Horse Racing in Texas
Horse racing in Texas boasts a long and storied history beginning in the 19th century, which has greatly influenced their approach to horse racing betting. Locations such as Epsom Downs, Alamo Downs, the State Fair of Dallas, and Arlington Downs were major attractions in the horse racing industry.
Arlington Downs opened its doors in 1929, four years before the legalization of pari-mutuel wagering became legal in Texas. While the track became a huge success and was one of the most successful racetracks in the United States, the Texas legislature repealed the pari-mutuel laws in 1937, which would setback horse racing in the Lone Star State for 50 years.
Finally, in 1987, the Texas legislature voted to legalize the return of pari-mutuel wagers, and the horse racing industry in Texas was reignited, with the status quo for horse racing looking to stay strong for many years to come.
Since then, many prominent sites have hosted horse racing events in Texas, including Bandera Downs, Gillespie County Fairgrounds, Lone Star Park at Grand Prairie, Manor Downs, Retama Park, Sam Houston Race Park, and Trinity Meadows Raceway. Many of these permanent parks are simulcast venues, offering simulcast wagering on races being held at other tracks.
Texas Sports Betting Updates
January 2023: The legislative session for 2023 opens and Senate Joint Resolution 17 (SJR-17) is proposed. This resolution proposes to create a Texas Gaming Commission to regulate gambling in the state.
August 2022: The Texas Sports Betting Alliance begins working to prepare for the 2023 legislative session, with their main focus being translating the importance of legalized sports betting in Texas.
July 2022: Opposing groups from Congress –including Texas legislators– came together to request the Department of Justice to take action against offshore sportsbooks for better regulation of online sports betting sites.
June 2022: A ruling from the U.S. Supreme Court prevented Texas from banning tribal-ran e-bingo.
May 2022: BetMGM partnered with the Houston Astros, one of the first major U.S. sportsbook deals in the Lone Star state.
Other Types of Gambling in Texas
As with all of our top-rated horse racing betting sites, the operators will also provide online casino games and bingo games, betting on all types of sports, and other markets to gamble on for the opportunity to earn a little extra cash. Specific sites will restrict customers in reference to their geolocations, but most of them will allow Texas locals to place real money wagers at their casino, sportsbook, or racebook.
Online casinos at offshore sportsbooks provide all of the classic games such as blackjack, poker, and slots, with online sportsbooks supplementing leagues throughout the world like NFL, NBA, NHL, MLB, EPL, UFC, PGA, and many more.
The Top Online Horse Race Betting Site in Texas
Everyone is entitled to their opinion, and many sports bettors will argue their favorite racebook. However, based on our extensive research and reviews, BetOnline is an impeccable racebook as they provide exceptional quality horse racing betting service.
FAQ – Legal Horse Racing Betting Online in Texas
Can you bet on horse racing in Texas?
It is legal to place wagers on horse races in Texas but only for in-person wagering. Texas online horse racing betting is not locally regulated in the Lone Star State, but residents can legally place online bets through one of our highly-rated offshore sportsbooks.
What is the big horse race in Texas?
The Lone Star Derby is the most notable horse racing event in Texas. The American flat thoroughbred horse race for three-year-olds is held annually at Lone Star Park in Grand Prairie.
Are there horse races in Texas?
Yes, horse racing events are held for twelve months of the year at one of Texas' racetracks. Lone Star Park, Retama Park, and Sam Houston Park all host horse racing events during the summer and winter months. Wagering on horse races is available in person at these horse racing venues.
How do you bet on the Kentucky Derby in Texas?
The top online horse racing betting sites in Texas all accept wagers on this prestigious horse race. Users will be able to place futures bets, as well as other types of bets on race day. Other Triple Crown races, like the Belmont Stakes, are also available. 
Can you bet on horses at Lone Star Park?
Yes, wagering on horse races is legal in Texas if done so in person. Lone Star Park hosts both quarter horse racing events and thoroughbred horse racing events. It is located in the Dallas/Fort Worth area.
Mayor Eric Adams aims to expedite NYC casino construction. Concerns arise, including the impact on sports betting. Proposed amendments might ease potential casino bidders, but reactions persist. Stay updated with Bookmakers Review.

---