Missouri Horse Racing Betting in 2023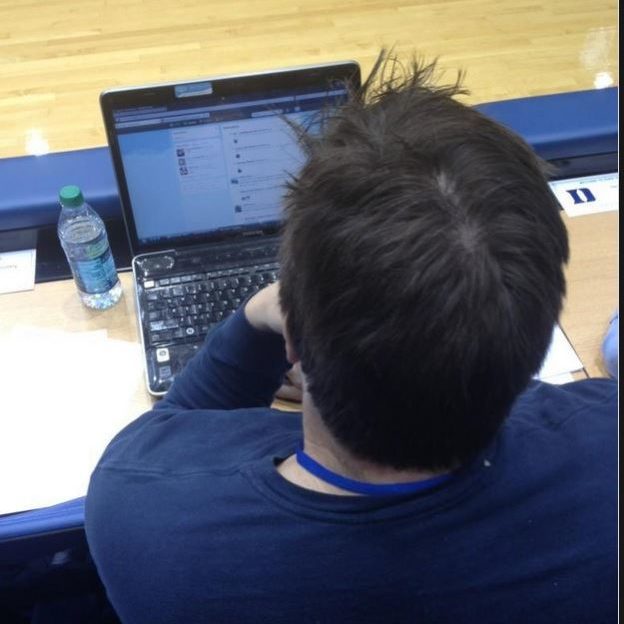 Shawn West has been involved with college basketball, NFL and college football and MLB since he left his job as bank vice president two decades ago. He lives in North Carolina with his wife, children, two dachshunds and a variety of turtles.
Missouri has a long history of horse racing, and of betting on the results of the races. However, the current situation in the state is not promising. It is legal to bet on horse races at any horse racing track located anywhere in the state, but there's one catch: There are no horse racing tracks in Missouri. So while it's legal to bet on the ponies in the state, it's not currently possible.
Horseplayers who want to place a bet still have one option, however. They can use online betting sites located offshore, as there are currently no laws preventing Missouri residents from placing bets at an offshore site or winning money at them.
But you'll need to find a safe, dependable Missouri betting site that is easy to use. You should look for a site that has a large selection of different races from around the world and a deep menu of betting options.
Top Online Racebooks in Missouri for 2023
Missouri horseplayers don't have to travel to a retail sports betting facility or racetrack in another state to wager on races today.
Whether you want to bet on matches in various major sports leagues, play casino games or poker, chances are that our online sports betting sites will have what it is that you're looking for.
Ranking the Top 10 Betting Sites for Horse Racing in Missouri
After evaluating dozens of sportsbook operators, our experts came up with the following rankings for the 10 best horse racing betting sites in Missouri:
These online sportsbooks are all located offshore, which means they are outside the jurisdiction of the state of Missouri. They are subject to their own gambling laws and do not fall under U.S. jurisdiction at all.
They all allow more than just online horse betting. Players can also find legal sports wagering on both professional sports and college sports, as well as online casinos. Some of the sites have live poker rooms, and some offer the chance to bet on politics or entertainment, as well.
While horse race betting is in legal limbo in Missouri, most other forms of online gambling are not allowed for companies based in the state. Offshore sportsbooks allow you to do all forms of online gambling in one convenient place.
All the online racing sites on our list have pristine reputations as safe, dependable gambling locations that can be trusted with your money and personal information. And they'll treat you fairly.
Is horse racing betting legal in Missouri?
Our readers frequently ask us, "Is betting on horse racing legal in Missouri?" and the answer is a complicated one. Technically, yes, horse race betting is legal in Missouri and has been since 1984, when the state approved a referendum legalizing it.
So, what's the catch? Well, there is legal betting on races at any track in Missouri. It's just that there currently are no tracks anywhere in the state. So, in other words, it's legal to bet on horse races, but it's not possible.
The state of Missouri has a long and storied history of horse racing dating back to at least 1767, more than 50 years before it became a state. It appears that the last horse race was held in Missouri in 1911.
To learn more about the forms of gambling in the Show-Me State, we recommend perusing our Missouri online betting guide. 
Reviewing the Best Missouri Horse Racing Betting Sites
Most of the sites in our top 10 use the same software to run their racebook, which means that the actual process of betting on races is similar, no matter where you go. There are other ways that these top-rated sites excel, however, including the lines and odds they offer, bonuses and promotions, fast, dependable payouts and elite customer service. We break down what makes our top picks for the best offshore sites so special with an in-depth look at them, below.
1. BookMaker: Caters to All Levels of Missouri Horse Players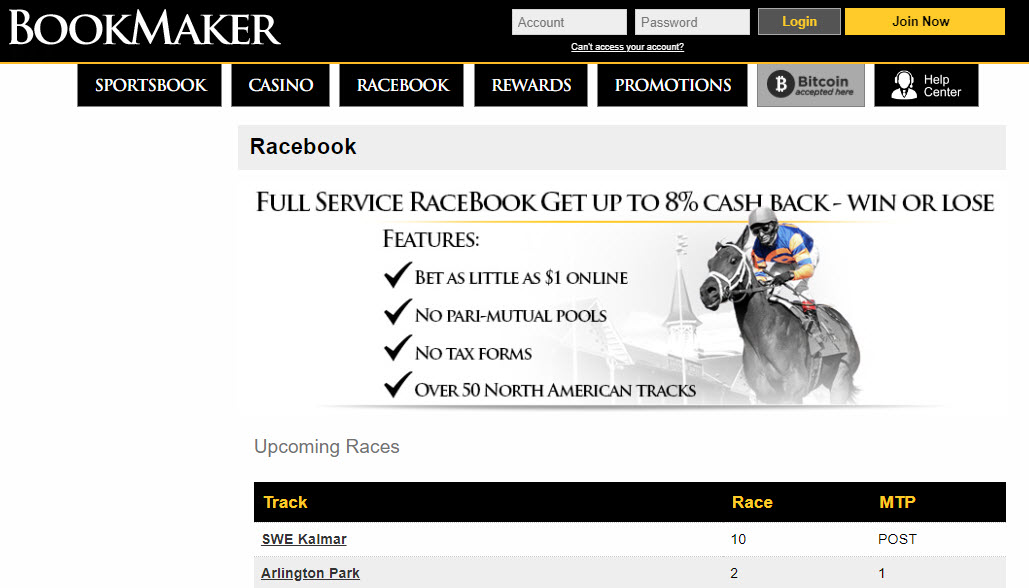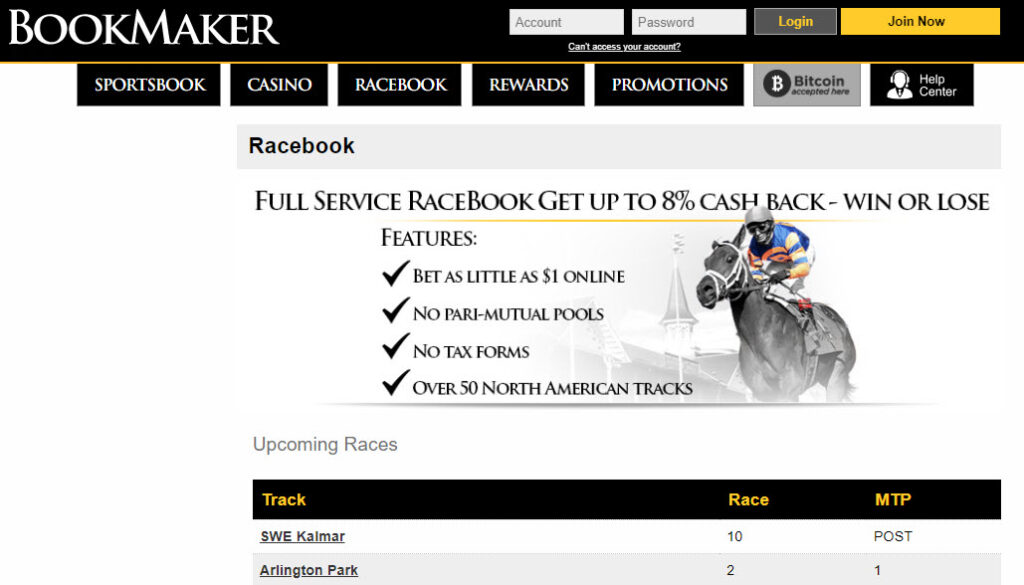 Bookmaker.eu finished in the top spot in our 10 best horse racing gambling sites in Missouri. It features racing action from more than 50 tracks across North America, as well as some overseas races.
It is one of the first racebooks to post odds, with a clean, easy-to-use site and a mobile platform that gives you the full-site experience on your phone or tablet.
BookMaker appeals to all levels of horse racing players, from experienced to newbies and from high-rollers to people just testing the water. Limits are high, but minimums are low, starting at $1. That allows everyone to find a level that suits their risk tolerance. Plus, the site is known for not shutting down a gambler who gets on a winning roll.  
Their enticing promos include an excellent rebate program that returns 3% of all of your losses on win, place and show bets on a daily basis and 8% on losses for exotic bets. There are also welcome bonuses and the best loyalty programs in the state.
Pros:
Rebates of up to 8% on your racebook losses
Fixed odds are the earliest to post
Caters to all levels of experience and risk tolerance
Does not shut down gamblers who get on a roll
Cons:
Professional gamblers can't qualify for bonus and loyalty programs
Not much performance history for horses
2. Heritage Sports: Best Mobile Racebook in Missouri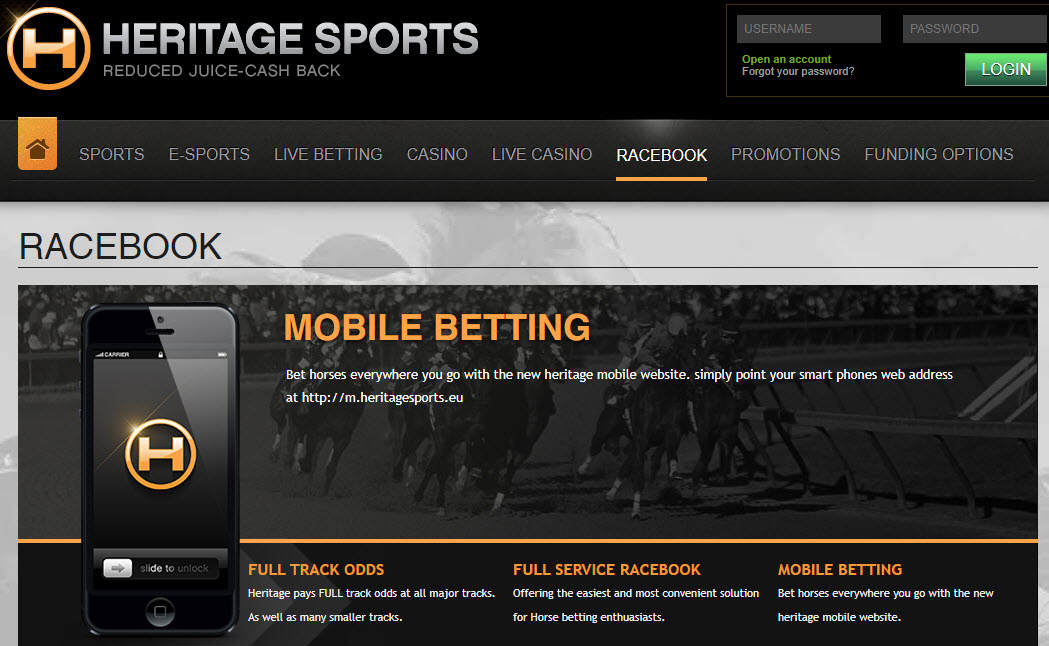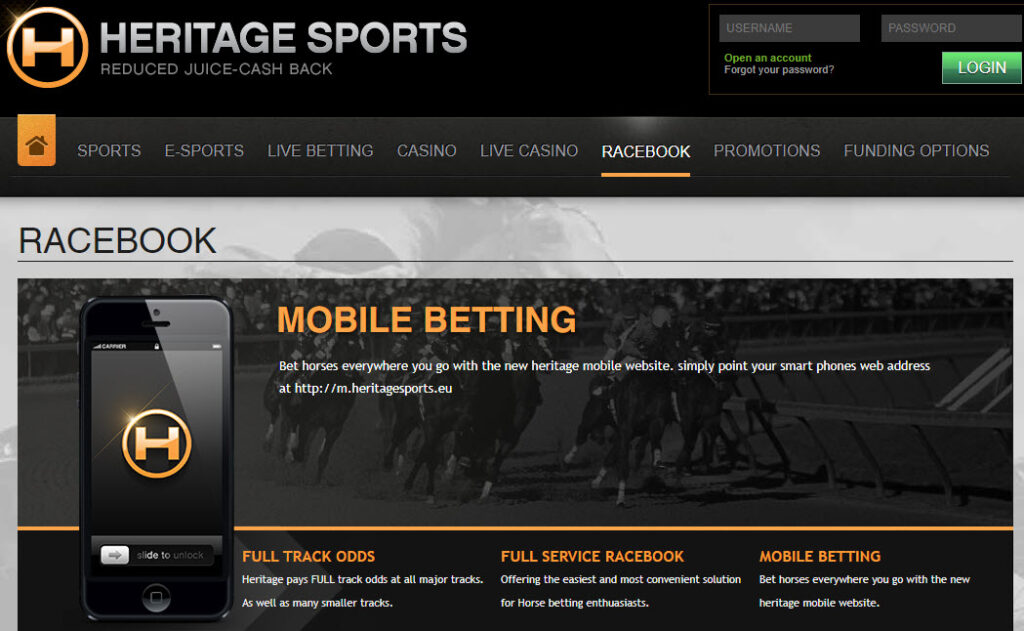 Heritage Sports places in the second spot on our top 10. It began as an invite-only gambling site, but now that anyone can join, it still treats its customers like VIPs. You'll benefit from their top-level customer service and generous bonuses.
Heritage Sports allows you to bet on races from more than 60 tracks, including races held in Ireland, the United Kingdom, Europe, Japan, Australia, Hong Kong and South Africa. There are 16 major racing tracks, where limits are as high as $1,000. Heritage allows you to bet as much as $500 at 14 other tracks.
If you're using a mobile device, the Heritage Sports platform gives you a similar betting experience, and you'll find it fast and easy to navigate.
Heritage Sports also has a large online casino and a reduced juice sportsbook, so you can place all of your bets in one spot.
Pros:
Treats all customers like VIPs
Pays full track odds for major tracks
Mobile racebook site is the best in the state
Full-service site with casino games and sportsbook
Cons:
Welcome bonuses are relatively small
Races aren't live streamed
3. Bovada: Top Notch Bonuses and Loyalty Program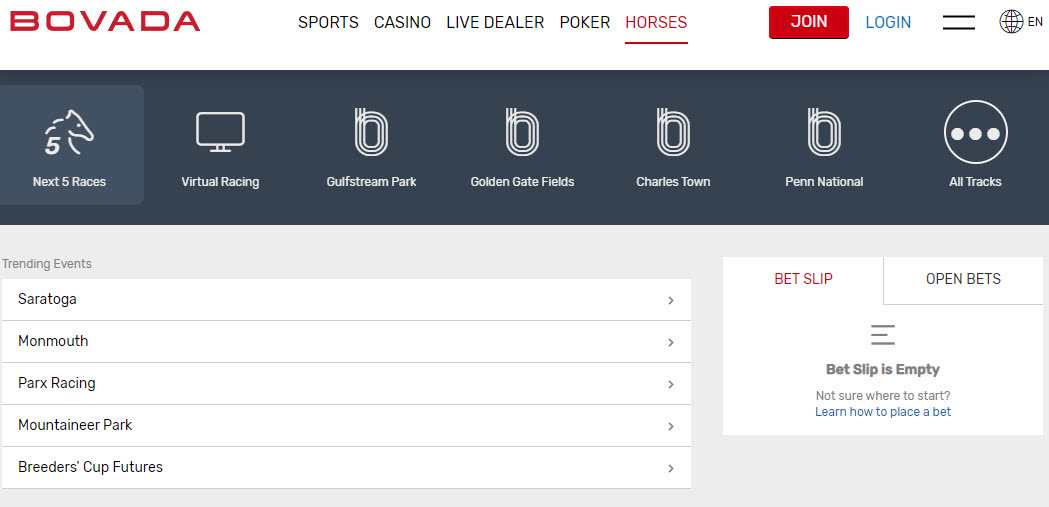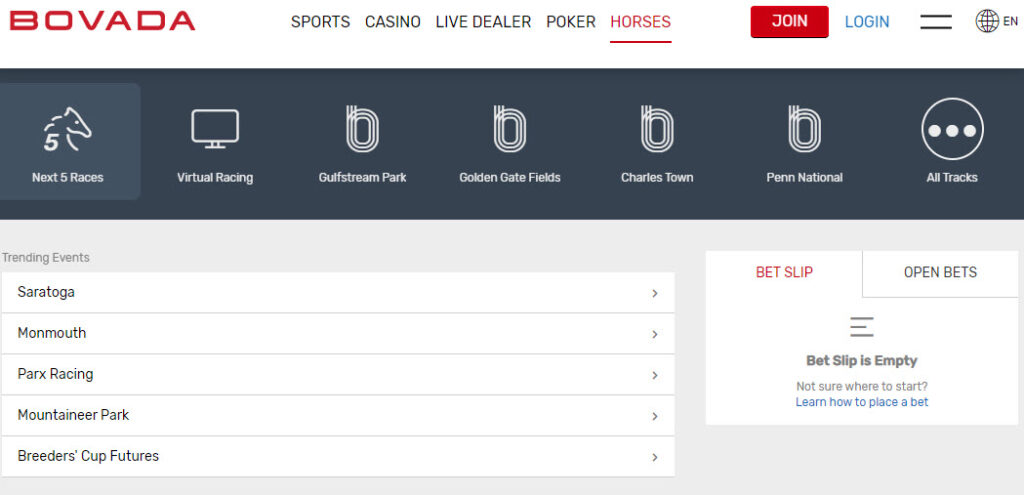 Bovada is more than just a top-rated online racebook. It offers its customers a full casino experience. Bovada's sportsbook is one of the best in Missouri, and the site is home to the busiest poker room in the United States.
Bovada covers races from America, the U.K., Ireland, South Africa and Australia. The sportsbook is known for offering the biggest selection of prop bet options in the state, and the racebook follows suit with a huge selection of futures betting options on upcoming races.
If you want to bet big on big races, Bovada will take your action. They pay up to $100,000 on Triple Crown races and up to $30,000 on other major races throughout the year. If you're looking to branch out from the ponies, Bovada offers novelty markets like virtual horse racing, which allows you to bet on greyhounds and even camels.
The bonuses and promo codes at Bovada are great for racing gamblers. They match 75% of your first deposit, up to $750, and the rollover requirement is much lower than the standard across the industry. That means it's easier for you to actually collect that money, instead of just getting an on-paper bonus. They also have a loyalty program that awards points for betting on sports and races.
Pros:
Loyalty program is one of the best in Missouri
Pays high amounts for big races
Full casino experience with outstanding casino games section and sportsbook
Cons:
No rebate program
No performance data available to help handicap races
4. BetOnline: Top Racing Rebate Program in MO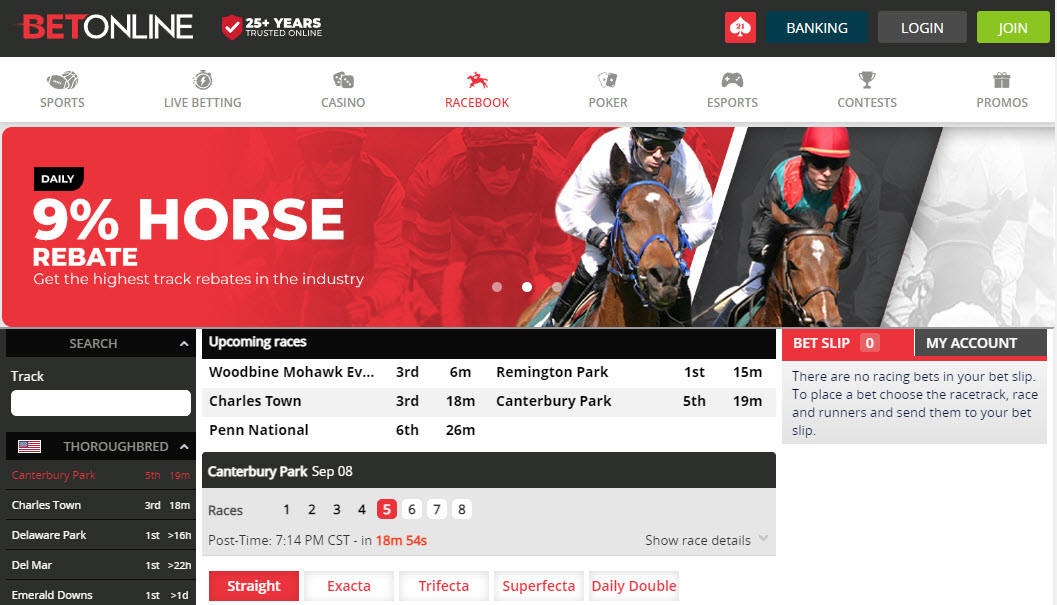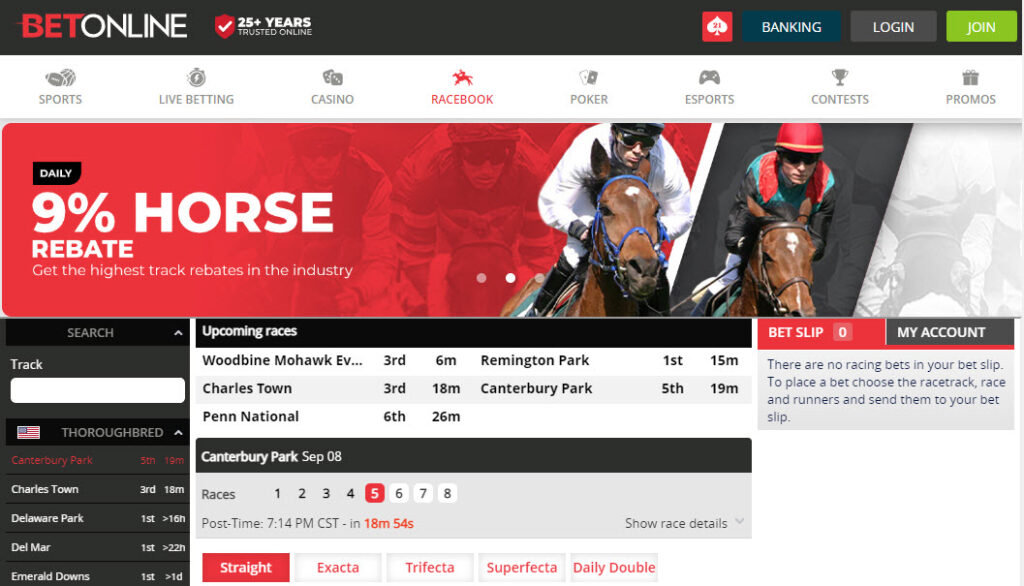 It's always good to get back a rebate to help reduce the sting of losing the occasional bet. BetOnline offers experts' choice for the best promotions and rebates in Missouri. They give you back 4% of the amount you wager on straight horse racing bets and 9% on exotic bets. That's win or lose.
The racebook offers events from the U.S., Australia, the U.K. and Ireland, France, South Africa and Japan. You can also bet on Swedish harness racing. But the big events are the Triple Crown races and the Breeders' Cup. They post their odds and futures weeks ahead of time, and the odds are usually among the best you'll find, even as race day gets closer.
BetOnline also has a sportsbook with opinionated lines and an online casino and poker room. They offer welcome bonuses up to $1,000, but you can't spend it on horse race bets. They do offer a $25 risk-free horse bet for signing up.
Pros:
Top rebate program in state
Triple Crown and Breeders odds are posted early and are the fairest around
$25 risk-free horse bet for new customers
Wide range of betting options in one place
Cons:
Welcome bonus doesn't apply to horse betting
Credit card deposits are charged fees
5. BetAnySports: Reduced Juice Sportsbook with Reliable Racebook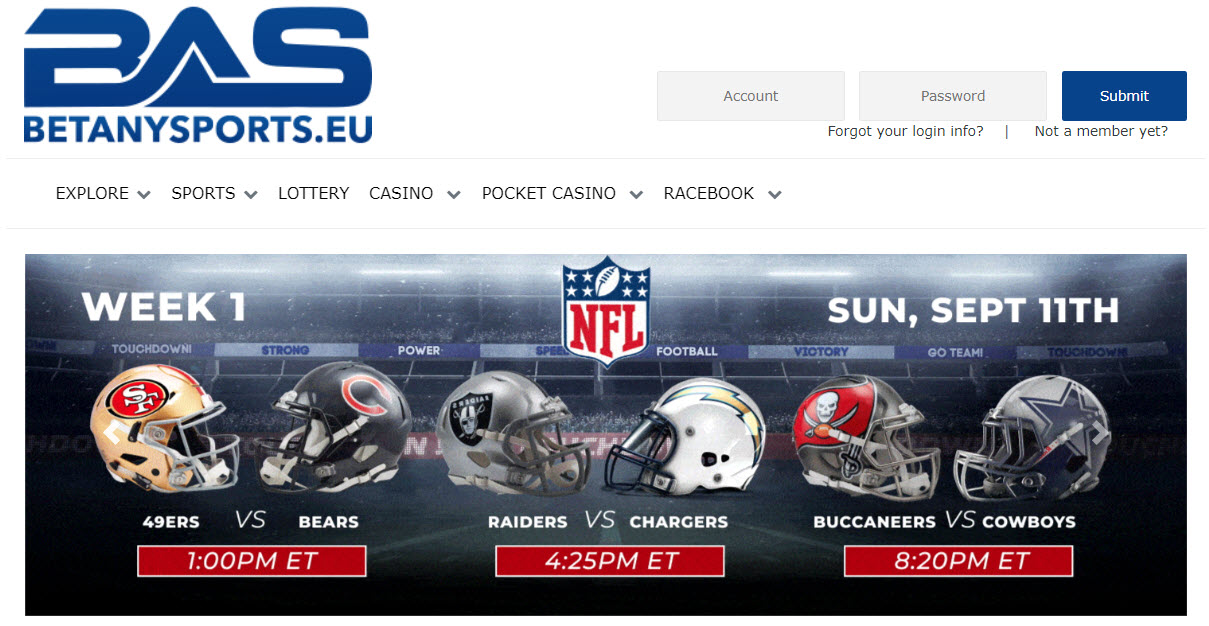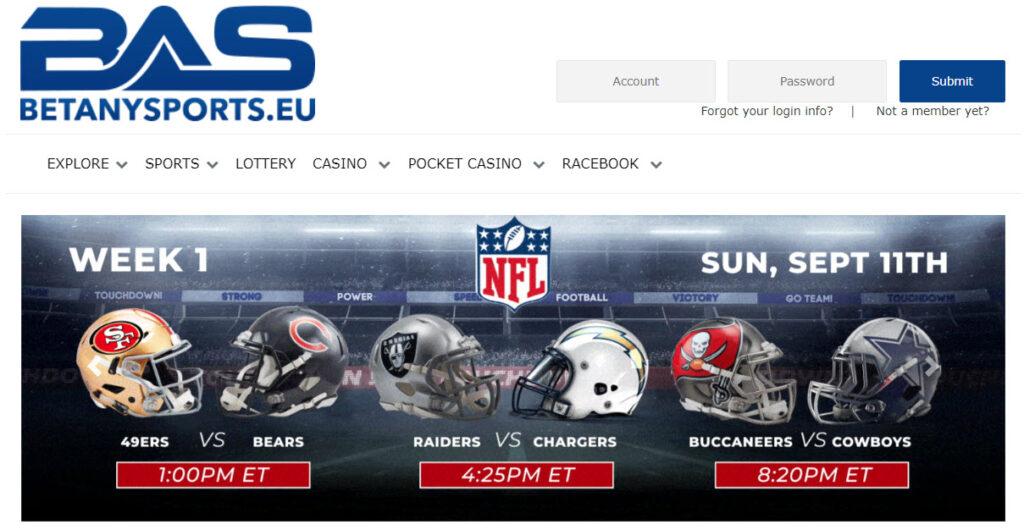 BetAnySports isn't limited to just a sportsbook. You can also bet on almost any horse race or casino game, as well.
BetAnySports has racing action from most major tracks, in the United States and elsewhere. It has very high win limits, which could mean a big payday if you're willing to take a risk. They also offer a cash rebate program that starts at 3% on straight bets and 6% on exotics for both winning and losing bets and goes as high as 9% of all of your betting volume.
They also offer a "Plus 10%" promotion at the racebook, which gives you an additional 10% on top of your expected payout, though it is available for races at certain tracks only.
BetAnySports also has a reduced juice sportsbook that is known as the best value in Missouri. Unlike other sites, which limit where you can spend your bonus money, you are allowed to spend BetAnySports' welcome bonus in the racing section. They match 25% of your initial deposit, up to $500. The rollover requirement is relatively low, too, although your deposit also has a rollover requirement.
Pros:
Extensive sportsbook known for reduced juice
Cash rebate of 3% on straight bets, 6% on exotics, win or lose, which can go as high as 9%
Plus 10% program offers a boost to your payout at some tracks
Welcome bonus can be used on racebook
Cons:
Website not as smooth and polished as others
Rollover requirement on deposited money
The Best Sites for Horse Racing That Missouri Has to Offer Compared
While we took the horse racing book into consideration when compiling our top 10 rankings, we also paid some attention to what else you could do at each of the sites. Most of the operators in our top 10 allow you to do far more than just bet on horse racing. They have legal sports betting, and online casinos and some offer a live poker room.
Being able to do all of that in one place is a benefit to gamblers, especially in a state like Missouri, where companies based in the state are prohibited from offering many of those gambling options, either live or online.
While diversity was recognized, the horse race betting experience at the various sites is what ultimately earned them a spot in the top 10. Here's a look at some of the factors we evaluated to come up with our rankings.
Horse Racing Fixed Odds
Fixed-odds betting is one of the most popular ways to wager on horse racing. We looked for sites that posted odds early, giving plenty of advance time for major races like the legs of the Triple Crown and the Breeders' Cup Classic.
We looked for sites that consistently offered better-than-average betting odds. At times, it may seem like everyone has the same odds for a big race, but it's always a good idea to shop around to see if anyone offers an opportunity to boost your profit or mitigate your risk.
Horse Racing Betting Markets
Horse race betting falls into two categories: straight bets and exotics.
A straight bet is when you pick one horse in one race. You bet on the horse to finish first (win), first or second (place) or first, second or third (show) in a race. The payout will be higher if you bet for the winning horse.
Exotics allow you to combine bets on multiple horses, either in a single race or across several races.
Some common exotics are:
Exacta: Top two finishers, in order, for a race
Trifecta: Top three finishers, in order
Superfecta: Top four finishers, in order. Super High Five is the top five
Boxed Exacta: Also known as an exacta box, you pick multiple horses to finish in the top two spots in a single race. Usually, you would pick two horses to finish in the top two in either order (straight exactas require you to also pick the order) but you can also structure your bet to include three or more horses, and if any combination of them finishes in the top two, you win. There are also trifecta boxes.
Daily Double: The winners of two races in a row. It's not two separate bets, so you only win if both horses you picked are winners. Three races would be a Pick 3, and so on. These can be harder to predict, but the payout is much higher than betting on a single race.
Live Horse Racing Betting
Some online betting sites offer simulcasts of races, so you can watch them online after placing a bet. It allows you to get the results immediately and also to root for the horse or horses you picked while the race is going on.
Horse Racing Betting Promotions
Most horse racing sites offer different promotions to their loyal customers. Among the most popular offers, you can find rebate programs, where you get back a portion of what you wager.
Usually, exotic bets earn a higher percentage rebate than straight bets. Some sites also offer risk-free bets. If you win, you keep what you earned, and if you lose, the operator returns your stake with credits for free bets in the future.
Special Features for Horse Racing
In the old days, a gambler at the track would have his trusty copy of the racing form, giving him historical performance information on the horses running that day.
When you're playing the horses online, you need to find a similar source of information to help you analyze the field, and many of the top betting sites in Missouri provide it for you, including performance and bloodline information.
Sites that are solely dedicated to online horse betting, like TVG and TwinSpires, are among the best sources of this data, but offshore sportsbooks also provide research support for their customers.
Horse Racing Welcome Bonus
Every online racebook should offer some type of welcome promotion for new customers. It could be matching some bonus amount of your initial deposit or it could be a free bet. Since the sites in our top 10 offer many services other than a racebook, it's worth checking to see where the advertised bonus can be spent. Many are limited to the sportsbook or online casino, while other sites offer a race-specific welcome bonus.
User-Friendly Design
A site should be easy to navigate, especially when you have a busy menu of races around the world on a given day. You need to be able to find the location, race and horse you want to bet on quickly and without too much hunting and clicking. It should be fast and easy to place bets, and the mobile betting experience should offer all the same functionality as the full-blown site on a computer.
Best Missouri Horse Racing Betting Sites
The list of traits we've just described are areas where the best sportsbooks can separate themselves from the pack. Below, we discuss some of the most important factors for a horse racing betting site to make it to our list.
If a site doesn't have any one of these traits, it'll be dropped from consideration for our rankings quickly. Each of the members of our top 10 performs well in the following areas
Brand Reputation
Our choices for Missouri racebook sites are ones that have been in business for a long time and have a well-developed reputation for treating customers fairly and paying out on time and in full. Some sites have been around since the first days that websites of any kind were made available to the public, meaning they have nearly 30 years in the business. All the sites in the top 10 have a reputation for fairness and trustworthiness.
Payment Options
Everyone in our top 10 list has a wide variety of banking methods available, including credit and debit card transactions and bank transfers, as well as e-wallets and cryptocurrency options. Payments are processed quickly, and fees are kept to a minimum. Similarly, payouts should be fast and easy at each of the top 10 sites, so you can collect your winnings without a headache.  
Safety & Security
Every racebook in our top 10 has a clean safety record. If a site didn't, we'd drop it from our list immediately, and it would be a long time before it was even considered for inclusion again. You can be sure your money and personal information will be safe at any of the sites we recommend.
Speed & Ease of Use
With odds and information on the field changing right down to the start of the race, you need to be able to react to changes by putting your bets down quickly. The sites in our top 10 can quickly and efficiently process your bet requests. Pages load quickly, and there are no glitches, delays or crashes.
Customer Service
If you need some help –either a question or some type of problem– the sites in our top 10 have the tools to help you take care of it quickly and easily. Most of the top sites offer 24/7 customer service in multiple languages. They all have multiple ways to reach them, including phone, email and online chat. Wait times should be short and the agents should be knowledgeable and professional.
Overall Value
Value is a personal decision based on which factors you find most important. Some customers want the site that has the best promotions and biggest bonuses. Others pay more attention to the non-racing options available at the site. You alone know what is most important to you, but we've provided the information so you can make that decision.
Missouri Horse Racing Betting Guide – Learn to Bet on Horse Races in Missouri
The best way to bet online on horse races in Missouri is through one of our top-rated A+ online betting sites. Topping our list are:
In addition to racebooks, these betting sites also offer sportsbooks and online casino games. You may also find odds on esports, entertainment and politics. Some of the sites also have online poker rooms.
Missouri Horse Racing – What Bettors Must Know
There are two primary ways that horse betting is done: fixed odds betting or using a pari-mutuel system.
Fixed odds are usually only used for major races like the three legs of the Triple Crown, the Breeders' Cup and the Santa Anita Derby.
It is similar to betting on futures in other sports. The various horses are listed with their respective odds of winning—some long shots may be grouped together as "the field" and one bet gets all of them. Bettors choose the horse they think will win, place or show and know ahead of time how much their bet will pay if they're successful.
Smaller tracks and less popular races –including just about every race you will bet on except the handful of extremely well-known ones each year–use payouts on a pari-mutuel basis.
All the money bet on each market goes into a large pool. The racing industry gets a cut off the top of the pool, and the rest is split among the winning tickets, weighted by the amount of each wager. You can estimate how much you'll win but you won't know for sure until the race is over.
Horse Racing Betting Odds
For fixed-odds races, the odds can be presented in one of two different ways: the American format and the fractional format.
Fixed Odds for Horse Racing Betting in Missouri
The American format will have a number with a plus or minus sign after each horse in the race. If the number has a plus sign, it tells you how much you would win (in profit) with a $100 bet.
A +500 means that a $100 bet would win you $500, plus you'd get back the original $100 you put down.
The higher the number after the plus sign is, the bigger your payout and the less likely it is that the horse (or team, since most American team sports use this format) will win.
If you don't bet $100, the payout is scaled based on that ratio. So if you bet $10 on a +500, you'd earn $50 in profit.
When the odds start with a minus sign, it tells you how much you'd have to bet to win $100.
A -110 means that you'd have to risk $110 on a bet in order to earn $100 in profit on a win. Minus signs are reserved for heavy favorites.
Fractional odds are the more common way of listing horse racing odds for big races. You multiply your bet amount by the fraction to calculate your potential profit.
A horse with 7/2 odds would earn $350 profit on a $100 bet. (100 x 7/2 = 350)
Pari-Mutuel Betting in Missouri
Pari-mutuel betting is common in horse race betting, but it takes some getting used to if you've only bet on other sports, where fixed odds are the common practice.
Your bet goes into a pool, and after the industry is paid a portion for its work in organizing the race, the winnings are divided up evenly (based on the wager amount) among the winners. Tracks and racebooks are generally good about estimating the potential payout prior to the start of the race, but the final amount you win may vary a bit from the predicted amount.
Pool Betting on Missouri Horse Races
You may hear the term "pool betting" for selected races. This is the same as pari-mutuel betting, where the wagers are put into one pool and then distributed.
Horse Racing Bet Types Explained
Here is a look at the different types of bets you can place in horse betting.
Win
The most common bet for the horse you think will win the race.
Place
Your bet pays off if the horse finishes first or second. The payout will be smaller than a win bet.
Show
Your bet pays off for a first, second or third-place finish. The payout is smaller than a place.
Exacta
You pick two horses to finish, exactly, in first and second. If you want the top two horses, regardless of which one finishes first, you'd need an exacta box.
Trifecta
You pick the top three horses in order. You can also do a trifecta box.
Superfecta
You need to pick the top four horses in order.
Daily Double
Essentially, a two-race parlay. You pick the winners of back-to-back races and need to win both to pay off.
Pick 3/4/5/6
Similar to a daily double but with three, four, five or six consecutive races.
Missouri Horse Racing Betting Terms
Betting on horses has its own language. Here's a quick glossary of terms
Across the board – Putting three bets on the same horse– to win, to place and to show.
At the post – The horses are lining up to start the race. At this time the betting windows are about to close.
Blinkers – Headgear to restrict a horse's vision. This can help an easily distracted horse.
Claiming Race – A race where every participating horse is for sale.
Dead Heat – Two or more horses finish in a tie.
DQ – A horse has been disqualified
Exotic bet – A bet on multiple horses that combines multiple outcomes, such as an exacta or trifecta.
Favorite – The horse with the best chance of winning –according to bookmakers– and the lowest potential payout.
Fixed Odds – Published odds stating exactly how much a bet will pay out if successful.
Furlong – A measure of distance equal to one-eighth of a mile.
Length – Refers to the full length of a horse. Usually used to describe a horse's margin of victory (i.e. he won by three lengths). Other measurements smaller than a length include a head, a neck or a nose.
Morning Line – The track handicapper's prediction on the odds each horse will have in the pari-mutuel payout.
Pari-Mutuel Wagering – The main method used to determine horse racing payouts. All money wagered goes into a pool, which is then split between winners.
Purse – The total prize money issued to the owners of the horses in a race, with the winning owner taking the largest slice.
Tote Board – A digital board that highlights the payouts for each market on the most recent race at a track.
Triple Crown – The three leading races for three-year-olds in America: the Kentucky Derby, the Preakness Stakes and the Belmont Stakes.
Missouri Horse Racing Betting Calculator
A fixed-odds bet is just like a bet in any sportsbook market, and you'll get a slip telling you exactly what the payout will be if you win. With pari-mutuel betting, however, the amount isn't known until after the race.
However, you can try to figure out your potential winnings by looking at the percentage of money wagered on your horse and converting that into a probability.
Missouri Horse Racing Odds Chart:
The following chart shows the odds (American and fractional) and payout for a $2 bet at different levels.
| Horse Racing Odds | $2 Wager Payout | Implied Probability of Winning |
| --- | --- | --- |
| 1/5 (-500) | $2.40 | 83.33% |
| 1/4 (-400) | $2.50 | 80% |
| 1/3 (-300) | $2.60 | 75% |
| 1/2 (-200) | $3.00 | 66.67% |
| 4/6 (-150) | $3.33 | 60% |
| 1/1 (-100) | $4.00 | 50% |
| 2/1 (+200) | $6.00 | 33.33% |
| 3/1 (+300) | $8.00 | 25% |
| 5/1 (+500) | $12 | 16.67% |
| 10/1 (+1000) | $22 | 9.00% |
| 50/1 (+5000) | $102 | 1.96% |
As you can see, odds of (-500) have the best chance of paying out, but the payout is very small. Whereas odds of (+5000) have the highest payout but the worst chances of winning.
Missouri Horse Race Tracks
As we've said, there are currently no race tracks open for horse racing (or gambling on horse racing) in the entire state of Missouri.
FanDuel Sportsbook and Horse Racing
Formerly known as Fairmount Park, it is located in Collinsville, Illinois, about 20 minutes from St. Louis.
Prairie Meadows
Located in Altoona, Iowa, about an hour and a half from Eagleville, Missouri.
Lincoln Race Course
Located in Lincoln, Nebraska, about three hours from Kansas City.
Ellis Park Racing & Gaming
Owned by Churchill Downs, home of the Kentucky Derby, it's located in Henderson County, Kentucky. It's about a three-hour drive from St. Louis.
The History of Horse Racing in Missouri
The history of horse racing in Missouri dates back to before the Revolutionary War, but it's been dormant for close to a century.
2022: By all accounts, the state comes its closest yet to legalizing sports betting. One of the sports betting bills finally passes the state house, but disagreement on tax rates and video lottery terminals dash hopes of Missouri sports betting from becoming a reality.
2020/2021: The legislature continues to debate various sports betting bills that would make sports betting legal.
2019: Three sports betting bills are introduced, including the first one proposed in the US that offers royalties to pro sports leagues whose games are being bet on. Again, the legislature doesn't pass any of them.
2018: In preparation for the Supreme Court allowing states to decide on whether to legalize gambling, six different bills are submitted to the state legislature. None pass.
2016: The state legalized daily fantasy sports.
2008: The state's Horse Racing Commission creates two subcommittees, to research the feasibility of opening racinos in the state and to explore bringing back horse racing at state fairs. No tangible progress has been made by either committee, however.
2002: The state legislature considers a bill that would allow for simulcast horse racing betting, which could have led to online horse race betting. It fails to pass, however.
1994: The first two riverboat casinos hit the water.
1992: Missouri becomes one of the first states to legalize riverboat gambling. Some riverboat casinos are still in operation today.
1984: Missouri legalizes a state lottery and a referendum legalizes betting on horse racing at any horse track in the state.
1925: Fairmount Park Racetrack opens across the Mississippi River, in Collinsville, Illinois.
1911: Delmar Race Track, the last track open in the state, closes.
1905: Betting on horse racing is made illegal.
1904: The St. Louis World's Fair Handicap pays a $50,000 purse. That year's Kentucky Derby paid out $4,500.
1800: More than 20 tracks are in operation in St. Louis alone. A jockey club is created in the city in the 1820s.
1767: The first known horse race was held in St. Louis, on the prairie next to the settlement.
Missouri Horse Racing Betting Bonus Codes & Promos
Here's a look at the different bonuses a sports betting site may offer players for online horse betting.
Welcome Bonuses
Just about every site has a welcome bonus offer, and many of them can be used for online horse betting. Others limit it to their casino and sportsbook only. Be sure to check the rollover requirements, which say how many times it must be wagered before you can withdraw it.
Free Bets
You may see this referred to as a risk-free bet or bet insurance depending on the online sportsbook. If you lose the bet, your money will be refunded, usually in the form of a credit for a future bet.
Loyalty/VIP
This is a program used by online sports betting sites to retain existing customers. There is usually some type of way to track your activity, like a points system, and you are rewarded based on how often you wager.
Rebates
This is another way for online sports betting sites to reward loyal customers. The site returns a portion of what you've lost as a cash rebate or site credit. Some sites offer rebates on your betting volume, meaning even your winning bets get cash back.
Bonus Terms and Conditions at Missouri Horse Racing Betting Sites
Bonuses sound like free money, but there are often strings attached. Online sports betting sites may require a minimum deposit or bet amounts in order to be eligible for them. There also will likely be an expiration date for the bonus money, as well as rollover requirements.
Rollover Requirements
This refers to how many times you need to play your bonus money before you can withdraw it. For instance, Bovada has a 6x rollover requirement, which is relatively low. It means you have to wager six times as much money as you've received as a bonus before you can cash it out.
For example, if you get a $100 bonus, you need to play at least $600. Some rollovers are 30x, meaning you'd have to bet $3,000 to withdraw your $100 bonus.
Virtual Horse Racing Betting in Missouri
If you can't find a race anywhere in the world to bet on, many sites offer simulations of horse races, based on random number generators. It's similar to video slot machines, where you are betting on computer models of something in real life.
Some virtual races feature dogs or even camels instead of horses. These machines are currently illegal in Missouri, although there is a push to legalize them next year, in conjunction with a bill that would potentially legalize sports betting.
Missouri Horse Racing Betting Apps
Most online bets are placed on mobile devices, such as phones or tablets, rather than a computer. To make it easy to bet on the go, many sites offer mobile apps you can download.
Missouri Horse Racing Betting Apps for iPhone
You can download apps for Missouri's top race betting sites at the App Store on your iPhone. You can either search the store for the site's app or most sites offer a link to their app listing you can follow. If a site doesn't offer an app, it likely has a mobile-optimized platform you can use through your internet browser.
Missouri Horse Racing Betting Apps for Android
Go to Google Play on your phone to search for the app for your favorite race betting site. Most of the popular options for online racebooks offer a link to take you right to their app's listing. If a site doesn't offer an app, you can use their mobile-optimized site from your internet browser.
Tips to Start Betting at Horse Racing Sites for Missourians
Registering for an account at a horse racing site so you can start betting is an easy process.
Go to Bookmaker.eu, our top-rated site, or any other site in our top 10
Hit the "Join Now" button and put fill out the registration form with your information
Choose a deposit method and enter your information. Be sure to put in a promo code if your welcome offer requires one.
Find "Racebook" at the top of the page and choose an upcoming race.
In order to place a straight wager, just check the win, place or show box next to a horse.
Use the separate tabs to create an exacta, trifecta or superfecta.
Type in the amount you want to risk and click "Place Bet."
Other Forms of Gambling in Missouri
We chose sites in our top 10 that offer other gambling options in Missouri, besides a racebook, so you could have an all-in-one location for anything you wanted to bet on. Most of the sites have a sportsbook and online casino games such as slots and roulette. Many also offer an online poker room.
The Best Sportsbook for Horse Race Betting in Missouri
Our team of experts recommends Bookmaker as the best online horse betting site in Missouri. However, any of the sites in our top 10 are safe, dependable and will give you a great user experience.
FAQs – Online Horse Racing Betting in Missouri
What online gambling is legal in Missouri?
Currently, there is no legal state-regulated online gambling for real money that is available in Missouri. However, you can enjoy a wide variety of different forms of gambling by using an offshore website for all of your online wagering activities.
Is horse racing legal in Missouri?
Horse racing and betting on horse racing has been legal in Missouri since 1984, but only at local tracks—and there have not been any tracks in Missouri since 1911. So, while it is legal, you cannot do it in person.
Can I bet on horse racing online in Missouri?
You can bet on horse races online with an offshore racebook. We recommend you use one of our top picks for the best online horse racing sites in Missouri due to the number of benefits that they offer to their customers.
What is the best site to bet on horse racing?
All of our top-rated sites are great for betting on horse races in Missouri, but if our experts had to narrow it down to a single site, it would have to be Bookmaker.eu.
How do I bet on horse racing online?
Simply sign up with the offshore racebook of your choice, verify your identity, fund your account and then have fun.
What is the big horse race in Missouri?
There are no tracks in the state, so the big horse race in Missouri would be located in a neighboring state. There are tracks in Illinois, Nebraska, Iowa and Kentucky. The biggest race would probably be the Kentucky Derby, which is a four-hour drive from St. Louis.
Maverick Carter, LeBron James' manager, admitted to making 20 illegal bets on the NBA with Wayne Nix, a former minor league pitcher. The extensive investigation uncovers connections between Nix and sports figures, with Carter clarifying his involvement and denying any charges. Yasiel Puig faces trial in January.

---