Vermont Online Poker – The Highest-Rated Vermont Online Poker Sites
Shawn West has been involved with college basketball, NFL and college football and MLB since he left his job as bank vice president two decades ago. He lives in North Carolina with his wife, children, two dachshunds and a variety of turtles.
Gambling enthusiasts in the state of Vermont have limited options if they want to get into real money poker online as state law bans all forms of gambling except the state-run lottery. That includes in-person and online poker rooms. Even small-stakes games among friends in a residence aren't allowed.
But poker players in the Green Mountain State aren't out of luck. They can still play and win real money at offshore betting sites for Vermont residents. State law doesn't address these online casinos located outside the U.S. So, at least until state law changes the online poker status in Vermont, offshore sites are the only option.
But which offshore site should you choose? Our team of gambling experts has reviewed all the live online poker rooms available to Vermont residents and they have recommended their top picks below. We also look at the status of gambling laws in the state and what might change. Plus we go through a primer on the game.
Our Top Picks for the Best Online Betting Sites for Vermont
Top-Rated Online Poker Sites for Vermont Bettors in 2023
Our panel of experts reviewed dozens of online poker rooms at offshore gambling sites and evaluated each of them on a number of factors. They compiled a list of the top four live poker rooms that are available to Vermont players. Each of these offshore poker sites has multiple rooms with tables that allow gamblers to find a skill, experience and betting level that suits their needs. They also all have long track records of treating gamblers right and paying out quickly, easily and on time.
Can you legally play poker online in Vermont?
Poker may be the most popular card game in the world, but options to play real money games are limited in Vermont. State law bans all forms of gambling except the lottery; the definition of gambling includes games of chance, which is what poker is categorized as, despite the clear skill successful players demonstrate. The state of Vermont has no brick-and-mortar casinos or sanctioned online gambling sites.
The only legal ways to play poker for money are for small stakes at a church or other charity event, which are legal under Vermont charitable gaming laws, or by using offshore poker sites. These sites can offer online poker games because they are outside the jurisdiction of Vermont law. The charitable games have caps on the amount that can be bet, as well as prize limitations.
Comparison of the Top Vermont Poker Sites
Everyone has different preferences and different priorities when it comes to their poker venue. So, while a top-four list is helpful, we asked our panel of experts to go one step further. Instead of just listing the offshore poker sites they liked best, we asked them to show their work and give more detailed reviews of each site —what they liked best about each and what they didn't. That way, you can match up what each site does well with your own wants and needs to find the one that's the best match for you.
1. Bovada: America's Busiest Online Poker Room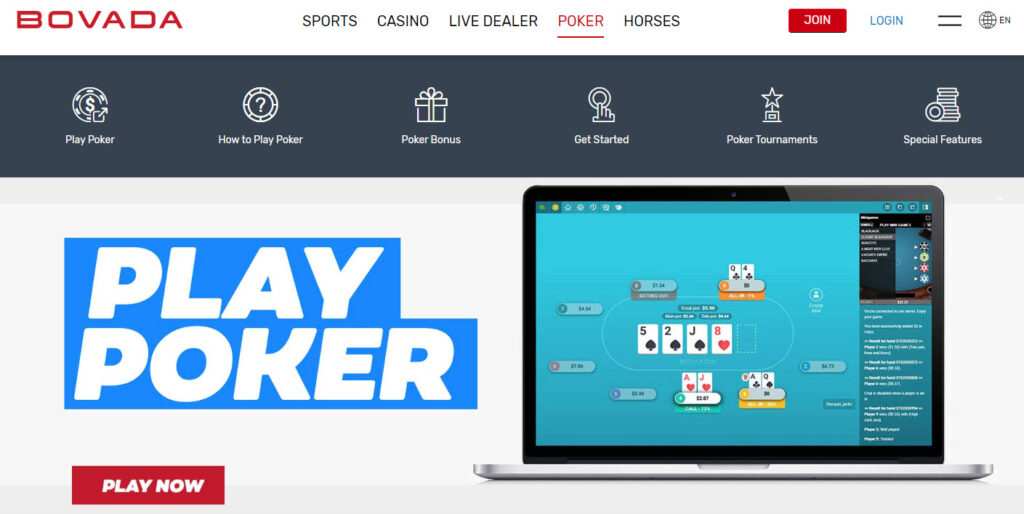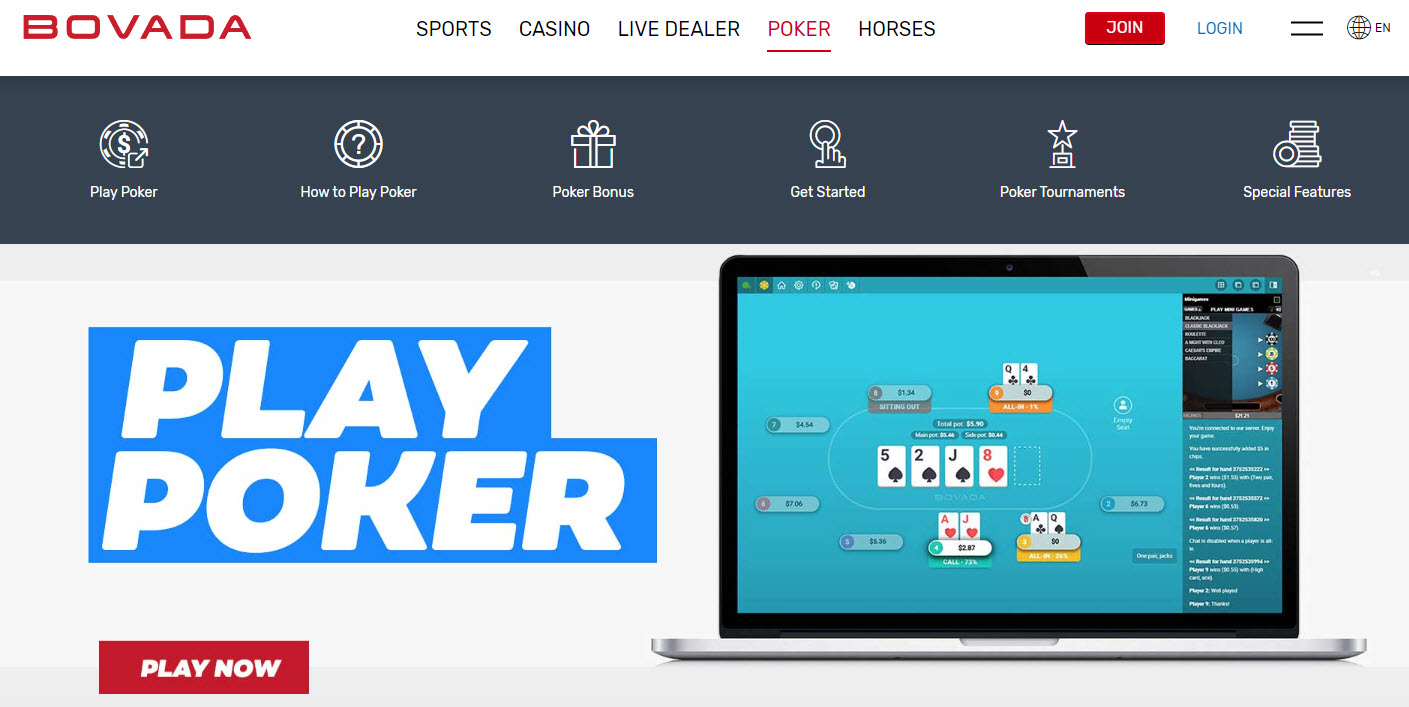 Bovada was the top choice of our blue ribbon panel of experts as the best online poker site in Vermont. With more than $2 million in guaranteed prizes every week and more than 100 online poker tournaments each week, it has the busiest multi-table tournament schedule in the country.
The site is also home to the busiest poker room in the United States. Bovada is part of the PaiWangLuo network, which is the sixth busiest poker network on earth, and none of the top five accepts American players. BoDog and Ignition Poker are also on the PaiWangLuo network. There are customers from around the world, so there's always a table getting ready to start a game, no matter what time of day or night you log on.
Bovada has all the popular variations of poker, including Texas Hold'em, draw poker, Omaha and Omaha Hi-Lo. Their tournaments also offer plenty of variety, including Sit & Go, knockout, turbo and fast fold.
Pros
The busiest poker room in America
Pays out more than $2 million in prize money each week
The busiest poker tournament schedule in the country
Bonus money has low rollover requirements
Cons
Welcome bonuses aren't as high as other sites
Higher rake than competitor poker sites
2. BetOnline: The Highest Poker Welcome Bonuses in the State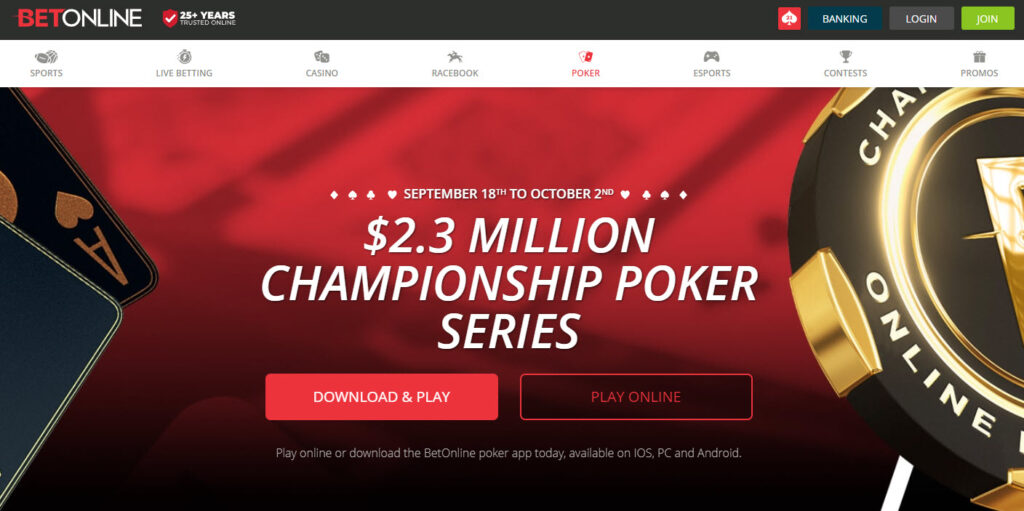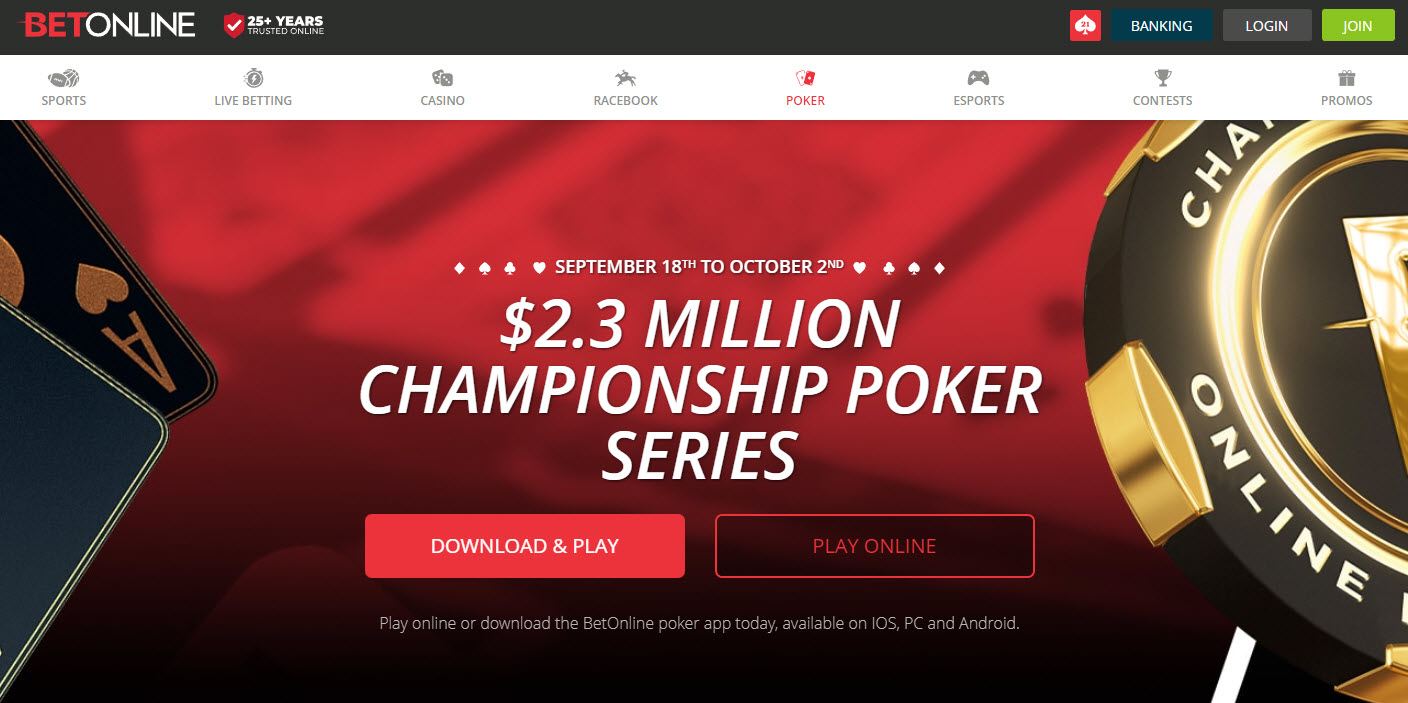 BetOnline came in at No. 2 in our rankings and is also part of a busy poker network. They are on the Chico Poker Network, which also includes SportsBetting.ag and Tiger Gaming. Chico is the third-busiest poker network that accepts players from America. About half of the network is made up of American players. Chico –and BetOnline– have more liquidity than most other poker networks, with a million dollars a day available in tournament prizes.
BetOnline has a wide variety of different poker rooms available, giving a wide range of skill levels and experience levels for players to find online poker games that suit them best. They have low tournament buy-ins and some of BetOnline's tournaments allow re-entry. They also earned attention from our experts for paying the highest poker welcome bonuses in the state, matching initial deposits up to $1,000.
Poker enthusiasts have a deep menu of tournament options to choose from, including bounty limited tourneys, shootouts, progressive bounties, rebuy frenzies, Sit & Go's and Omaha tournaments. Individual poker games include Seven Card Stud, Mississippi Stud, Texas Hold'em and more.
Pros
Highest welcome bonuses in Vermont for poker players
Has a million dollars in tournament prize money paid out each day
Wide variety of tournament options and individual game variations
Third busiest poker room and one of the highest liquidities
Cons
Some users have complained about the quality of the poker room
Does not have a VIP loyalty points program
3. Everygame: The Most Generous Rakeback in Vermont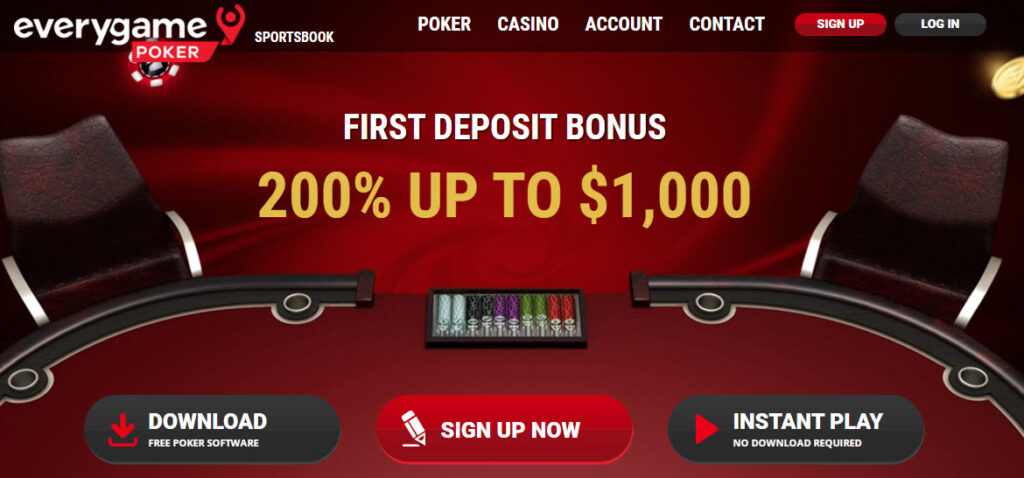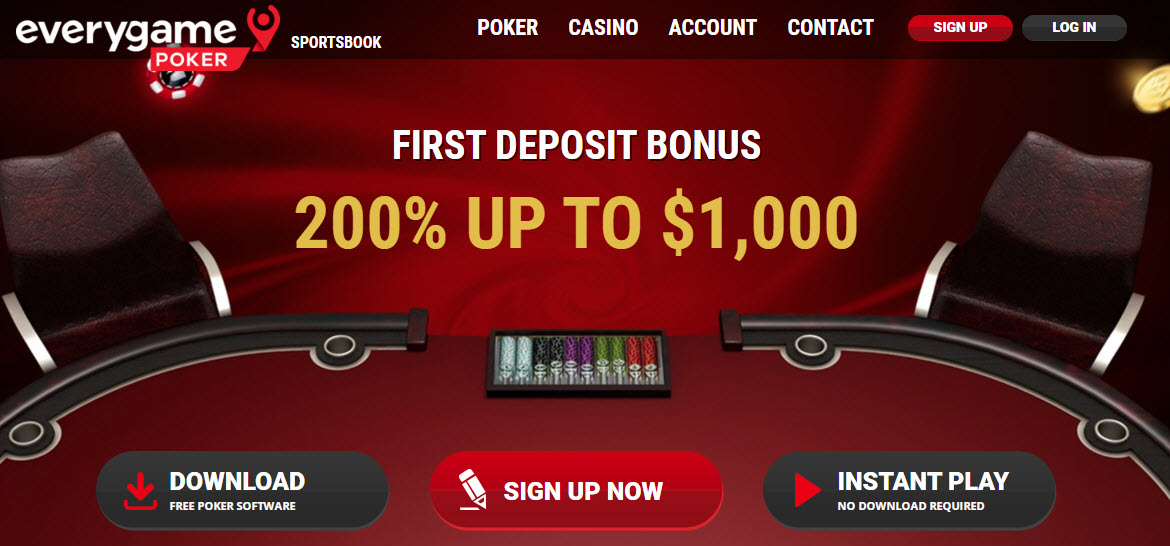 A quick lesson in poker terminology: Poker players often have to pay a fee to play in games or tournaments, kind of like a cover charge or entry fee. That fee is known as the rake. Many online poker rooms will refund some of that fee, giving a rebate to put the money back into the gambler's account. That is known as a rakeback. So gamblers want to see low rakes and high rakebacks.
That brings us to Everygame, which has the highest rakeback in Vermont. They refund up to 36% of the rake gamblers pay, which means more money to bet on poker hands. They also match your first deposit at 200%, up to $1,000. There's a cashback rebate program that refunds a percentage of your losses playing poker, as well.
Everygame is a part of the Horizon Poker Network, which features plenty of tournaments and individual games with variations including Sit & Go, freerolls and ring games. Everygame also offers a sportsbook and online casino games, including slot machines.
Pros
The highest rakeback in Vermont, returning 36% of your rake
Welcome bonus matches first deposit at 200%
Cashback rebate program refunds a percentage of poker losses
Offers 25 free casino plays as part of poker welcome bonus
Cons
Network isn't as busy as other leading poker networks
Doesn't have as many different variations of tournaments or individual games as other sites
4. SportsBetting.ag: Known for Quick Payouts and Low Rakes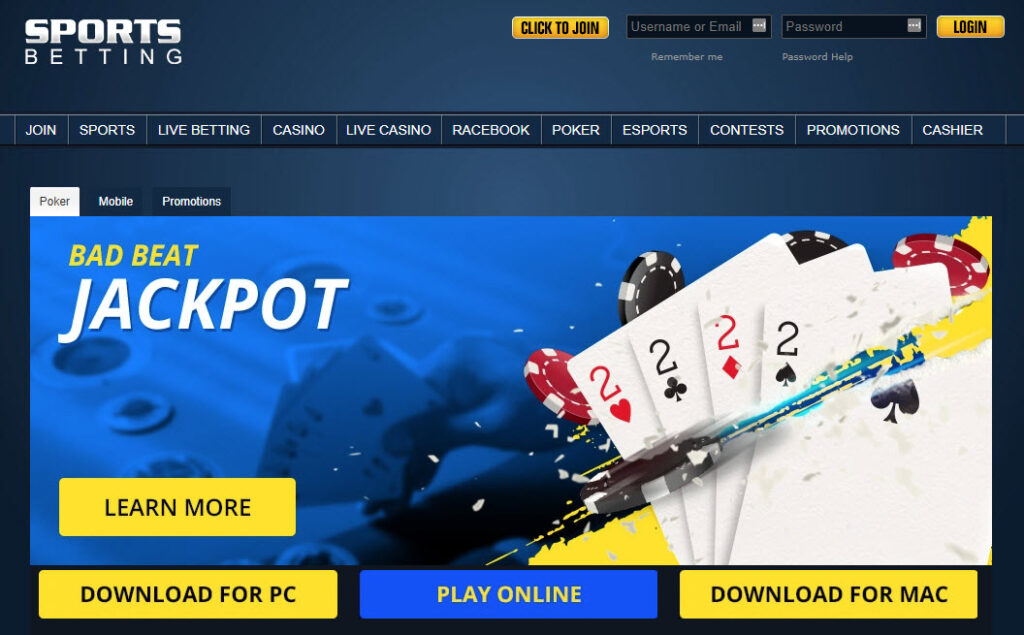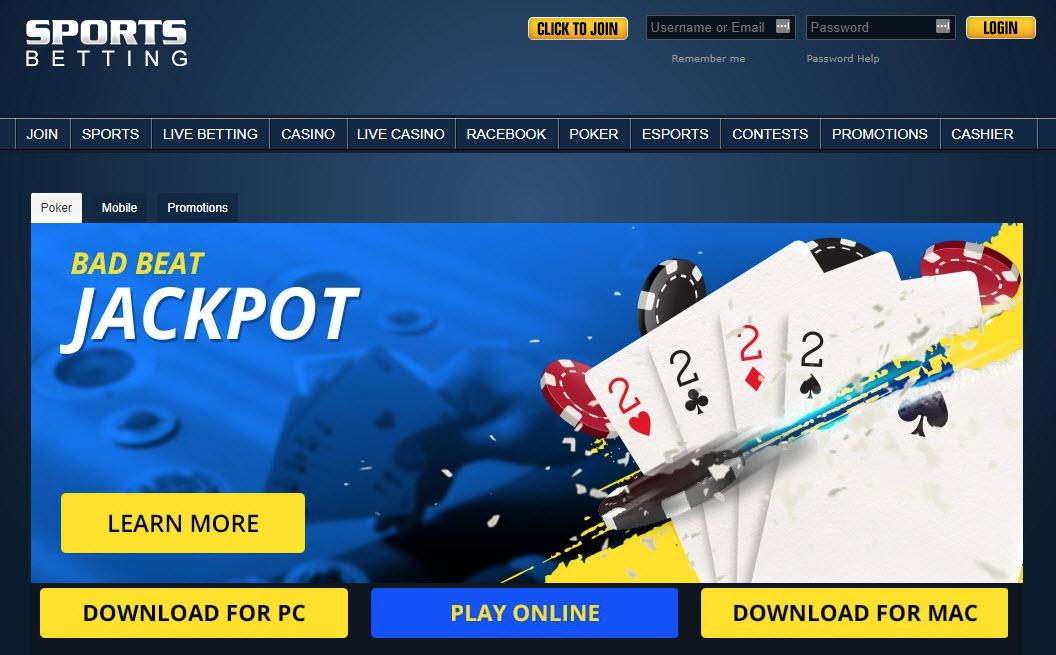 SportsBetting.ag is a sister site of BetOnline, and both sites are on the same network: the Chico Poker Network. It's the third busiest network that accepts American players and one of the most liquid. SportsBetting also offers low rakes, meaning you don't have to pay as much of a fee to enter a tournament or play at some tables.
SportsBetting has many of the same benefits as its partner, BetOnline. There's a busy schedule of tournaments with a million dollars in prize money online for grabs each day. There are also plenty of variations available for tournament play and individual games. SportsBetting also recently had a site upgrade and has new cutting-edge operating software that gives a stylish, attractive playing experience and a fast, responsive site. 
SportsBetting is also a full-service gambling site. In addition to a poker room, there's a sportsbook, a casino with online slots, as well as table games and books that let you bet on horse races and sports.
Pros
Lower rakes than most other competing poker rooms
Attractive, stylish gambling experience with fast response from site
Part of the third busiest poker network in the U.S.
Some of the highest liquidity of all American networks, with a million dollars in prize money each day
Cons
Interface isn't as user-friendly as some competitors
Some transactions have fees
Our Rating Methodology
Our experts looked at all aspects of each online poker room in order to determine which ones were worthy of making their rankings. They looked at the online poker experience of each of the offshore casinos, including the graphics and user-friendliness of the interface. They also evaluated each site's customer service, promotions and welcome bonuses. They even looked at customer reviews to see what the players who are the heart of the online poker market thought of playing at each site's tables.
Vermont's History of Gambling Laws
Vermont is one of the few areas in the Northeast United States that has taken a firm stand against gambling. While its neighboring states have seen tribal casinos built and taken steps to legalize some forms of gambling, including sports betting, everything except the state lottery is still illegal in the Green Mountain State.
That may be changing soon. The governor and members of the state legislature are pushing for a bill to legalize sports betting, as well as keno. But in the meantime, there are no entities located in the state that offer the opportunity to gamble—not for online casino gambling, online sports betting or any land-based gambling.
Timeline of Gambling in the Green Mountain State
2023: A bill asking for the legalization of sports betting is introduced. Revenue from sports betting is included in the governor's proposed budget for the state.
2022: The report was completed in December and recommends that the state take steps to create a market for sports betting.
2021: A bill proposing legalizing sports betting is introduced but does not pass. A feasibility study on sports betting begins.
2020: Two sports betting bills are introduced, but neither advances.
2019: A bill that would legalize both retail and internet sports betting is presented but never moves forward.
1978: Start of the Vermont State Lottery, the only type of legal gambling in the state to this day.
1977: Green Mountain Park hosts its last race.
1959: The first year that gambling of any type was permitted in Vermont, which was for horse racing.
Standout Features of the Best Online Poker Sites
Our experts used several factors to differentiate the four sites in the rankings, but there were certain non-negotiable factors that every site needed to have to even be considered for the list of recommended poker rooms in Vermont. Here's a rundown of some of the must-have factors that all four of the ranked sites above offer to players or real money poker games.
Competitive Gambling Odds
The game should be worth the player's time. In gambling, odds are the price that a customer has to pay. Odds should give players a reasonable chance to profit and should reflect the likelihood of whatever event the player is betting on. Odds also determine the payout, and odds and payouts of online poker rooms should be in line with what they would be at an in-person room.
Wide Variety of Betting Markets
Sites should have several different ways to bet, giving bettors plenty of variety. Within the poker room, there should be a selection of tables with different experience and skill levels as well as betting limits, so that players can find a place where they'll be comfortable. There are all kinds of ways to play the game, and tournaments and individual games should have an array of different variations available. Sites should also offer other types of markets so that customers can meet all their gambling needs in one place, including a sportsbook, online casino and racebook.
Multiple Accepted Banking Methods
There should be a number of different ways to fund your account and to withdraw your winnings. Traditional banking methods like credit card deposits and debit cards or bank transfers should be available. Keep in mind that, since offshore sites are in another country, debit and credit cards may have fees charged. To avoid them, newer payment methods such as e-wallets and cryptocurrency should be available.
Generous Promos & Bonuses
Customers are the lifeblood of a gambling site, and they should be willing to land you and keep you playing. Sites should offer a welcome bonus that matches your first deposit and many will also have a separate poker bonus, as well. Cashback rebates, rakebacks and VIP points programs are also ways that help to reward loyal customers.
Live Dealers Are Available
Just about every gambling site offers video poker. While, on paper –or screen– the game may have the same odds and payouts as the real thing, there's just something about a real poker room, with a human dealer, crosstalking players and actual cards on the table. We limited our top four to sites that offered a live online poker room in addition to video poker.
High-Quality User Interface
The user interface is your connection to the poker game. It should be attractive, interesting and responsive when you want it to take an action. Pages should load quickly, and there should be no lags, crashes or glitches.
More customers now play online poker with their phones or other mobile devices than using a computer. That means that a site's mobile betting app or optimized mobile site is actually the main site that more people use so it should be more than a bare-bones version of the computer site. It should be fast, responsive, easy to read, and have as much attention to its layout and organization as the full-blown site.
Multiple Customer Support Options
If you play long enough, some type of issue is going to come up. Whatever your problem or concern, you'll want to be able to reach someone who can help resolve it. Customer support should be available 24/7 in multiple languages and hold times should be kept to a minimum. Customers should have a wide range of ways to get help, including by phone, email or online chat.
Strong Security Features
Security is the biggest non-negotiable on the list. You are sending your money to an offshore site and trusting that they'll protect it and pay up if and when you win. Sites that don't pay out on time and in full or sites that have had security issues or breaches were immediately removed from consideration by our expert panel.
Online Poker Varieties in Vermont
On the surface, poker is a simple game, but there are different variations and twists to the game, creating a complicated list of different games. It can be confusing.
There are a few simple things you need to make when choosing a poker game. Do you want to play in a multi-table tournament or an individual game? Poker tournaments involve large numbers of players and multiple games, with winners advancing to the next round and, usually, a large pot of money available as the prize for the eventual winner. Individual games are just between the players at the table, and players can come and go after each game.
The amount of money being bet is another big decision. Social gambling usually involves friends, in person, with low bets. Larger cash games, for instance, games in VIP rooms at land-based casinos or high-rolling online tables, can have extremely high betting limits.
Then there's the type of game being played. While there are dozens of variants, the biggest division is draw vs. stud vs. community card.
In draw poker, players can improve their hand by requesting to replace a certain number of cards in their hand.
Stud involves having some of the cards in each player's hand exposed to everyone at the table, so everyone has a sense of what each player is holding.
Community card involves shared cards that are in every player's hands, along with a smaller number of hidden (to everyone else) player-only cards. Texas Hold'em is the most popular version of this game.
Regulated Online Poker Versus Offshore Gambling
Vermont makes the difference between regulated online poker and offshore gambling very clear. The state outlaws regulated online poker, as well as all other forms of gaming that fall under its jurisdiction. That means that no organization regulated by state law can offer online poker.
Offshore sites are based outside the United States, so they don't fall under Vermont state law's jurisdiction. That means that they only have to follow the laws of their home country, and they are free to accept players from Vermont and pay out real money prizes.
How to Sign-Up at an Online Poker Site in Vermont
Signing up for a new account at online casinos that offer poker is one of the easiest parts of the online poker experience. It takes just a few minutes, start to finish.
Step 1. Create Your Online Poker Account
Choose a site from our ranked list of the top online poker rooms in Vermont. Click on the "join now" or "create account" button and fill out the registration form.
Step 2. Verify Your Account Details
Most sites have a two-step verification process, meaning they'll text your phone a code that you need to enter online to confirm your identity.
Step 3. Fund Your Account
Now you need to put money in your account. Choose a deposit method from the list on the cashier page. Enter your deposit amount, your financial information and the promo code for your welcome bonus.
Step 4. Start Playing Games of Poker
You've got yourself an account and are ready to play! Find a table and accept our good luck wishes.
Tips for Winning Online Poker
Whether it's your first poker game or you're a veteran, here are some tips to help you find success and enjoy your experience a little more.
Stick to trustworthy sites – Not all offshore sportsbooks are equal when it comes to safety and dependability. We've vetted a large number of the poker rooms out there and eliminated the ones we weren't entirely comfortable with. Each of the four sites we've recommended has a long track record of safe, trustworthy operation.
Plan your strategy before you start and stick to it – Winging it is a recipe for disaster when playing poker. Make a plan and stick with it. We've found that the best strategy for new players is a tight aggressive approach. Be very selective about which hands you play, but once you've decided it's time to play, take control of the action.
Be selective – We just said it when we explained the tight aggressive approach, but it's worth repeating: Don't feel the need to play every hand you're dealt. That's a common mistake among new users. Pick and choose your time, and, when the odds seem to be in your favor, go for it.
Control your emotions – Don't make decisions based on a hot or cold streak. Don't chase losses. Don't let other players get under your skin. Stick with your plan. Remember: You're playing a game for money, not glory or revenge. Bet with your head, not your heart.
Bluff, but not too often – Bluffing is an important skill to master, but it's just one tool in your toolbox. A common mistake among new players is to bluff too often.
Don't get in over your head – Know when enough is enough. Bet responsibly.
FAQs – The Legality of Online Poker in VT
Can you online gamble in Vermont?
You can online gamble in Vermont, but you will have to use an offshore gambling site. Vermont state law does not permit any regulated online gaming. Offshore sites are located outside the U.S., meaning they do not have to follow state or federal gambling law.
Can you play poker online in Vermont?
The only way to play poker online is at an offshore site. Vermont outlaws any form of gambling other than buying lottery tickets. Lottery tickets are about the only thing not offered at offshore sites, which offer a wide range of gambling options, from poker to casino games to sportsbooks.
What sportsbooks are legal in Vermont?
According to state law, no sportsbooks are legal. That may change in the future, as the legislature is debating a bill that would legalize sports betting. Until then, the only way to use a sportsbook is to go to an offshore site, which is outside the jurisdiction of Vermont law.
Is Bovada legal in Vermont?
Yes, because Bovada is located outside the United States, online poker players in Vermont can use the site. Bovada does not have to adhere to any United States gambling laws. 
Is DraftKings legal in Vermont?
Vermont does not yet have legal sports betting, so you can only use DraftKings for daily fantasy sports.