Illinois Sports Betting – Which are the Best IL Betting Sites & Sportsbooks?
Shawn West has been involved with college basketball, NFL and college football and MLB since he left his job as bank vice president two decades ago. He lives in North Carolina with his wife, children, two dachshunds and a variety of turtles.
The best sports online sportsbooks in Illinois provide online sports bettors with fast payouts, unique bonus offers, and competitive odds on a wide variety of games. The sports betting market is still new and constantly changing, so this article will help you make sense of all the options for sports betting available to you as you try to find the best Illinois online sports betting sites available now.
We'll also give you the latest on game betting regulations in Illinois, what's new, what's changed and what might be coming. As part of that, we'll explain whether you need to take your business to offshore sportsbooks, as the sports betting legalization efforts in the state continue. Read on to get all the details on how to bet on sports in Illinois.
The Best Illinois Sportsbooks in 2022
Illinois Betting Guides
Best Sports Betting Sites for Illinois in 2022
Our experts set out to find the top 10 sites for online sports betting in the state of Illinois. In order to do that, they signed up with all of the sportsbooks, tried out all the features and eventually selected the following sites:
Bookmaker.eu – always among the earliest lines and accepts action from all players, large and small
Heritage Sports – tops for live betting and among the best odds out there
Bovada –the most diverse set of sports betting options
BetOnline – you're not going to find a faster payout
BetAnySports –reduced juice offers 50 percent discount
BetUS –bonuses for new and existing customers
WagerWeb – fast payouts, faster for Bitcoin users
JustBet – early lines and high limits for most sports
Everygame – best spot for betting on sporting events outside U.S.
GTBets – half a point bonus on line when betting your favorite team
These sportsbooks are all located offshore, which means they do not have to abide by state and federal regulations on gambling. That allows them to offer online sports betting to anyone in Illinois without violating sports betting law. There are no state or federal laws keeping you from placing bets at these sites while you are in Illinois, and we have done a thorough evaluation to make sure that these sites are on the level and will give you a fair deal.
The Best Reviews for Illinois Sportsbooks
All sites are different and our top 10 sites for Illinois sports betting each has benefits and perks that are unique to them. You can read our reviews of the best sportsbooks so that, when betting in Illinois, you can find the site that's right for you.
1. Bookmaker: Best for High-Limit Wagering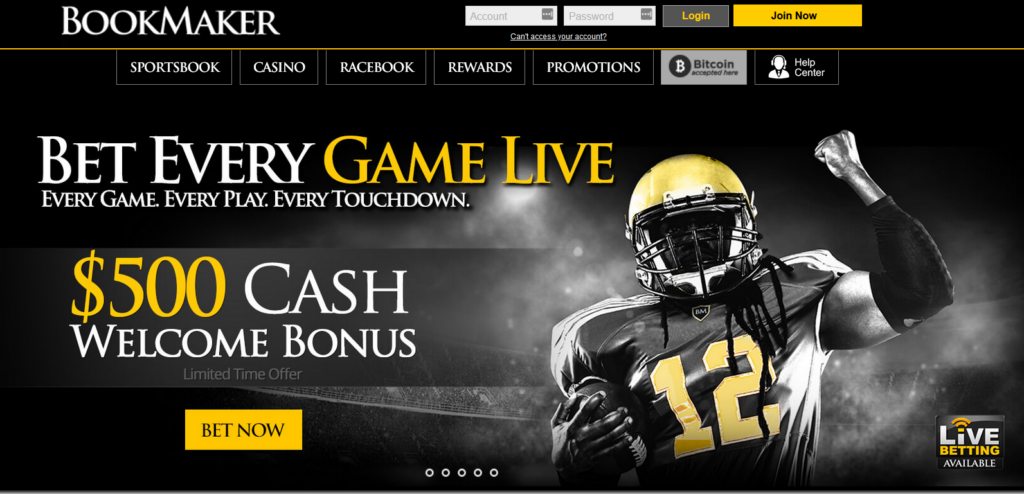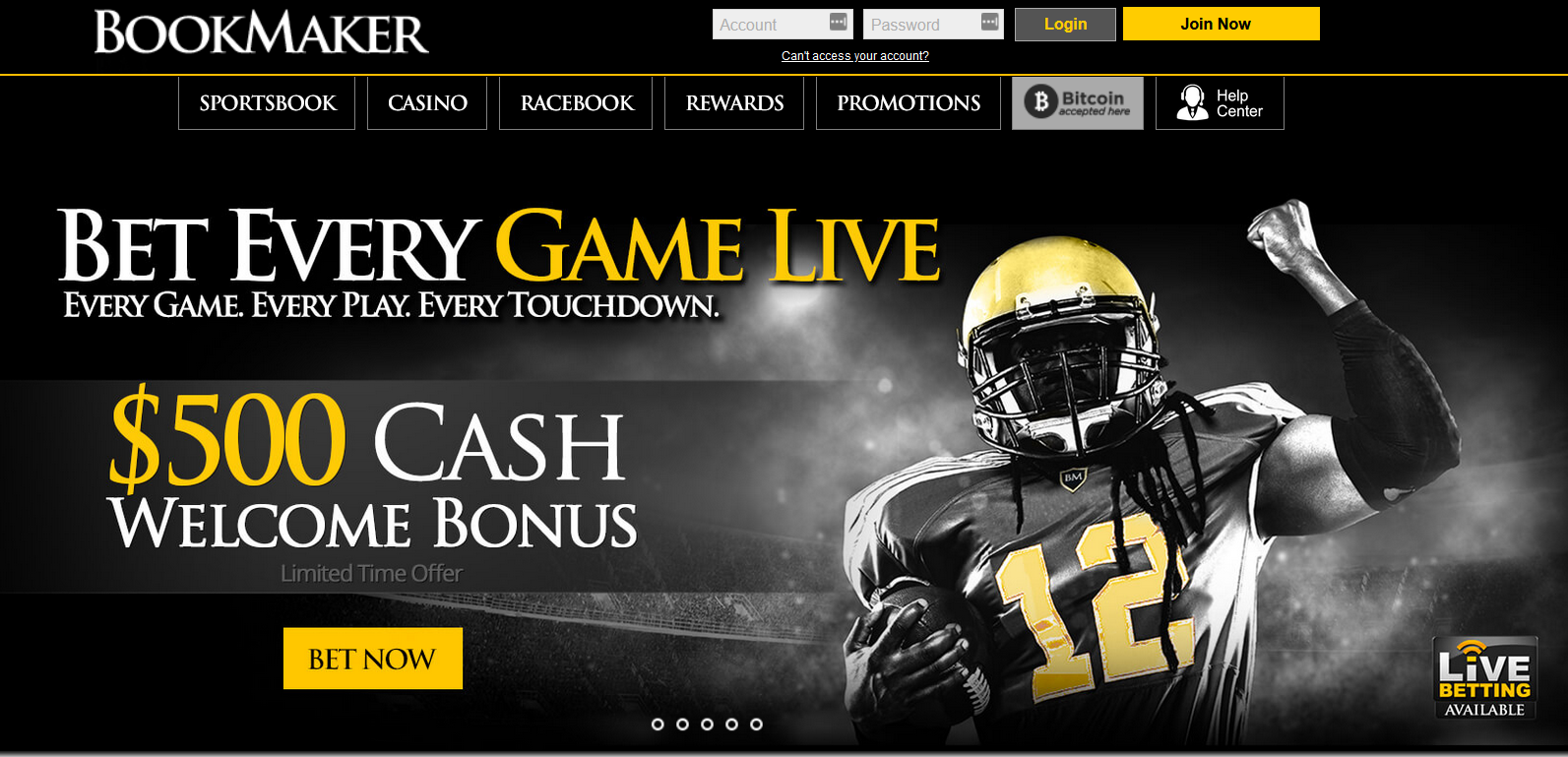 Bookmaker.eu is our choice for the best all-around sportsbook for Illinois sports betting.
Regardless of whether you are a rookie or an experienced gambler, a high roller or just dipping your toe in the water, you'll find Bookmaker.eu meets your needs.
One thing that old and new bettors alike will appreciate is the early lines. You won't have to wait all morning to see what the odds are for an upcoming game. Bookmaker.eu is among the earliest in the business to post their lines on a daily basis.
They also offer high limits, so, when you're ready to try to break the bank, they'll be happy to take your action.
They operate out of Costa Rica and are not subject to state laws in Illinois or U.S. federal laws. That allows you to gamble at Bookmaker.eu without worry, and, when you win, you'll enjoy a fast payout.
Signing up for a Bookmaker.eu account will make you eligible for a variety of welcome bonuses, and you also get special treatment if you deposit using cryptocurrency. Existing customers can take advantage of generous reload bonuses as well as one of the best loyalty programs in the industry.
Pros:
Early lines mean they'll be ready when you are
Welcomes all bettors and has high limits for high rollers
Long-running site with one of the best reputations
Competitive pricing and bonuses
Cons:
Professional bettors are not eligible for their loyalty program.
Does not have an online poker room
2. Heritage Sports: Top Option for Live Betting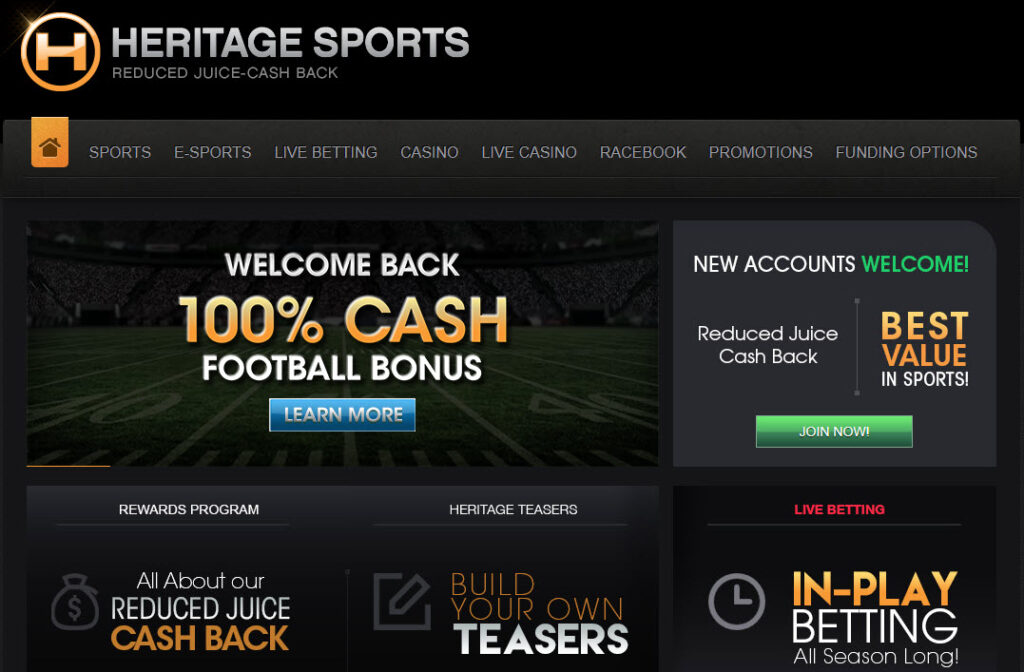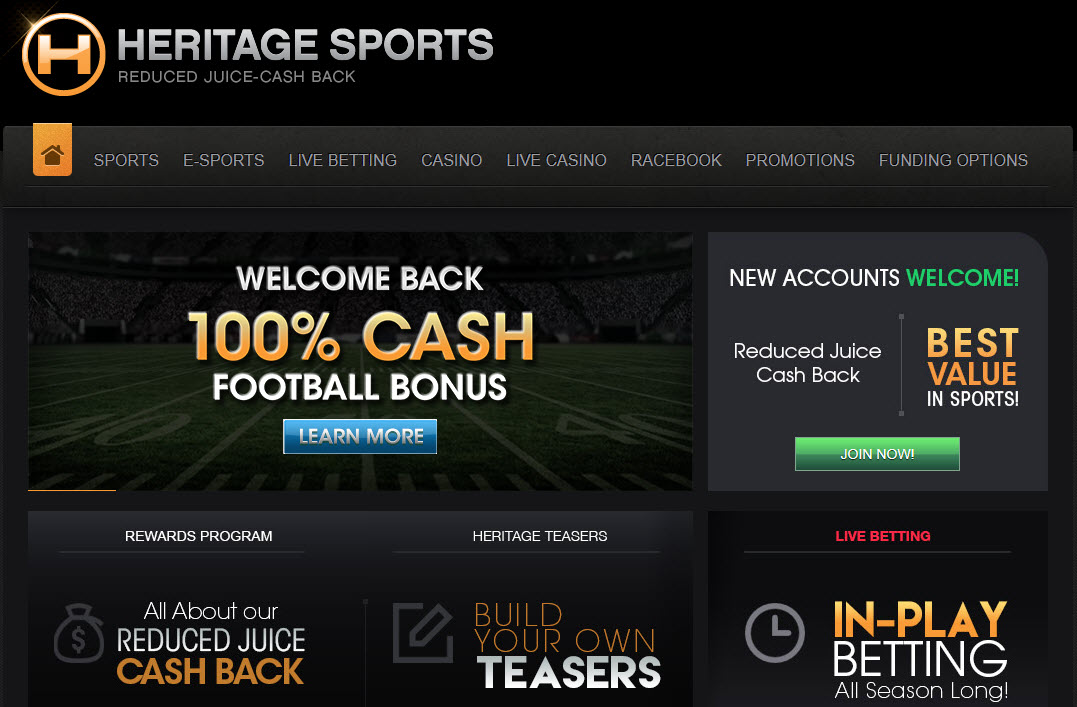 Heritage Sports places high on our Illinois rankings, and there are a number of reasons why.
While, not long ago, people were content to place a bet on a sporting event and wait until the end to see if they won, live betting is one of the most popular ways to enjoy sports wagering. Heritage Sports has one of the best in-game wagering interfaces around, allowing you to easily bet on the game or match you're watching, as it's taking place.
Heritage Sports also has competitive pricing with its reduced juice. The industry standard is to offer odds of -110 on either side of a spread or line, but Heritage Sports goes with -108.
What difference does that make? It's essentially a 20% discount. Over the long run, it will make a difference to your bottom line.
There are also bonuses to sign up as a new customer and a cash-back program for VIP members. If you're looking for more than just sports betting, you can also play at one of the best online casinos in the industry.
Pros:
Reduced juice offers a 20 percent discount
One of the top live betting sections around
Cashback and sign-up promos
User-friendly interface
Cons:
Other places have more generous sign-up bonuses
Does not have a live poker room
3. Bovada: Leading Mobile Platform In the Industry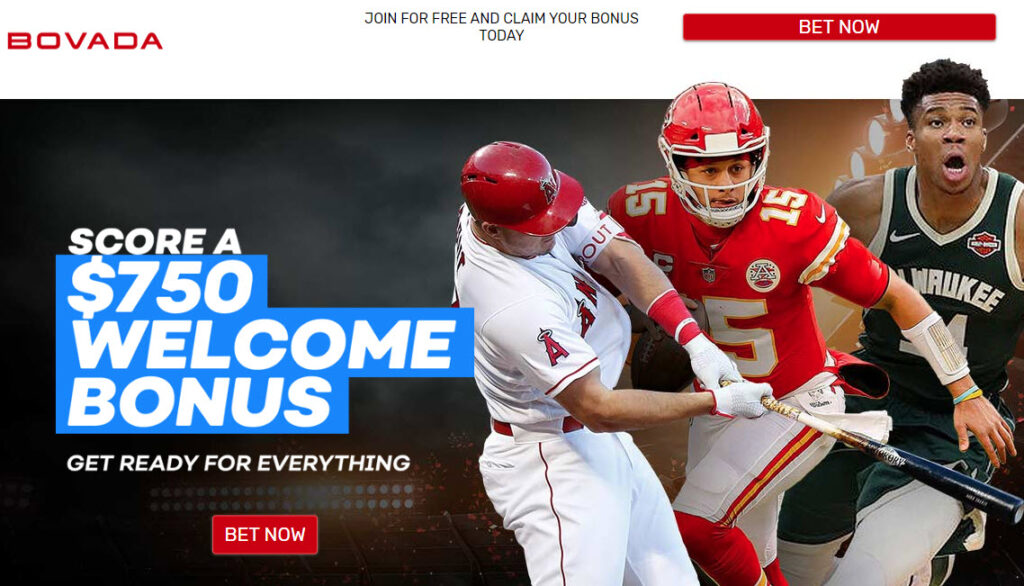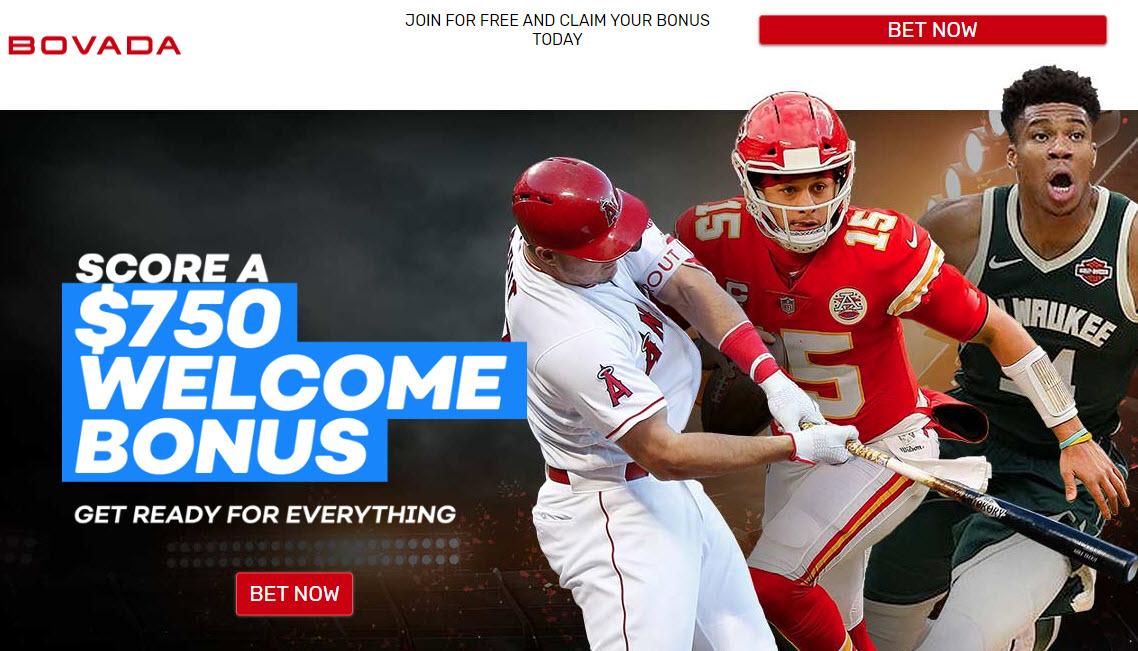 If you're looking for the full casino experience, Bovada is the place to go. Yes, we're ranking sports betting sites here, but Bovada offers a wide variety of betting options. In addition to the sportsbook, there is a comprehensive racebook section as well as the busiest online poker room in America.
Bovada's sportsbook also offers more prop betting options than most competitors, and there's a section that allows you to suggest bets not currently offered.
Bovada has one of the top mobile betting platforms in the industry, making it easy to continue the action on your phone when you step away from the computer.
Pros:
Among the most prop betting options around
America's busiest poker room and other non-sports gambling options
Mobile platform allows you to bet anywhere
Low rollover requirements allow you to collect your bonus money faster
Cons:
Limits not as high as other top-rated sites
Often a longer wait until lines are released
4. BetOnline: User-Friendly Interface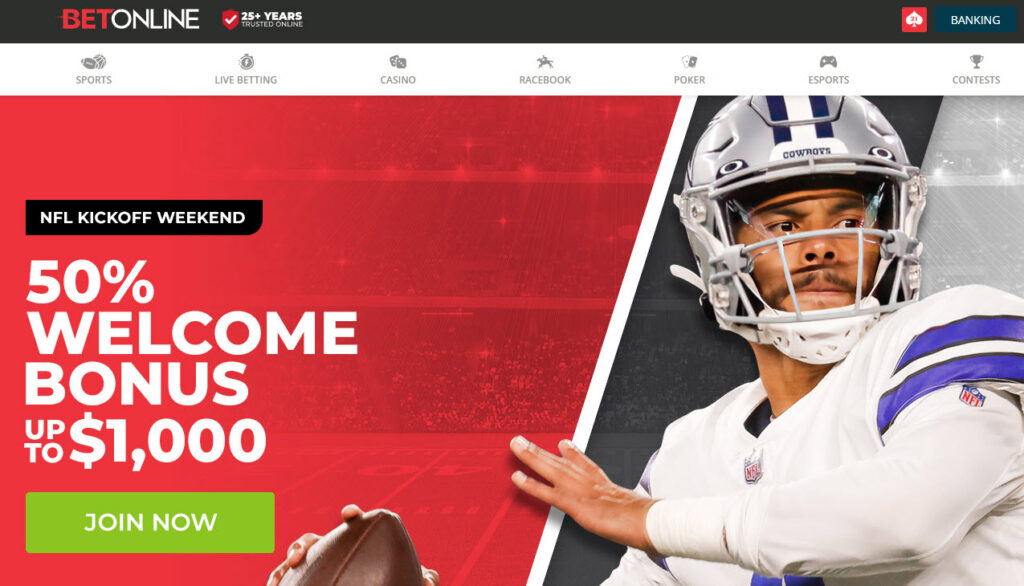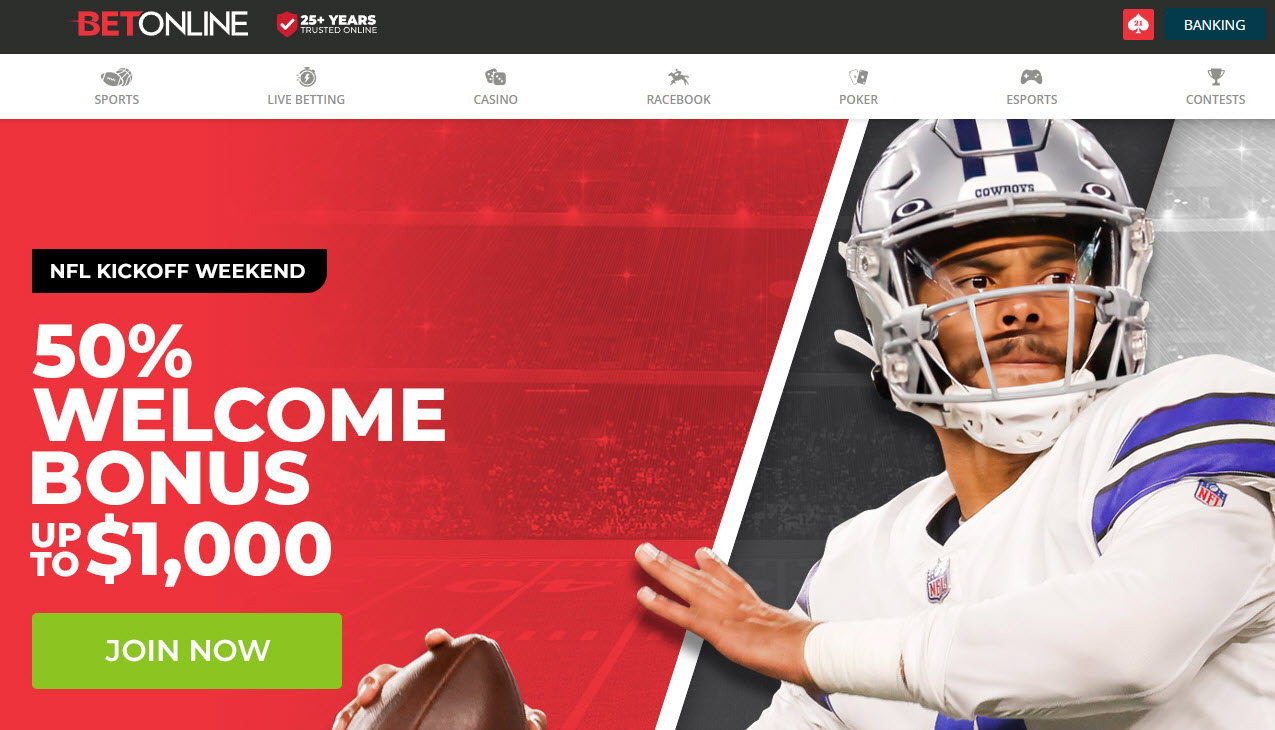 If you shop around for lines at the various online sportsbooks offered in Illinois, things can start to all look the same. There's often very little difference between lines and betting odds as you go from one site to another.
Then there's BetOnline, who tends to stray from the pack more often than other sites with its opinionated lines.
Lines on baseball, football and basketball are often significantly different than at rival sites, and often, it offers different odds on the two sides of a spread or line. i.e. instead of -110 / -110, odds might be -113 / -107, allowing you to boost your payout if you pick things correctly.
BetOnline's welcome bonus are appealing, and there is a generous reload bonus for crypto users. The site is also proud of its 24/7 customer service. Their online casino has been one of the best in the industry for the past 25 years in case you're looking for something more than just betting on sports.
Pros:
Opinionated lines stand out from the pac
One of the faster payouts
Betting limits are very high
Customer service and user interface lead the industry
Cons:
Reduced juice not available unless you bet hockey
Limited prop betting options
5. BetAnySports: Leader In Reduced Juice Offer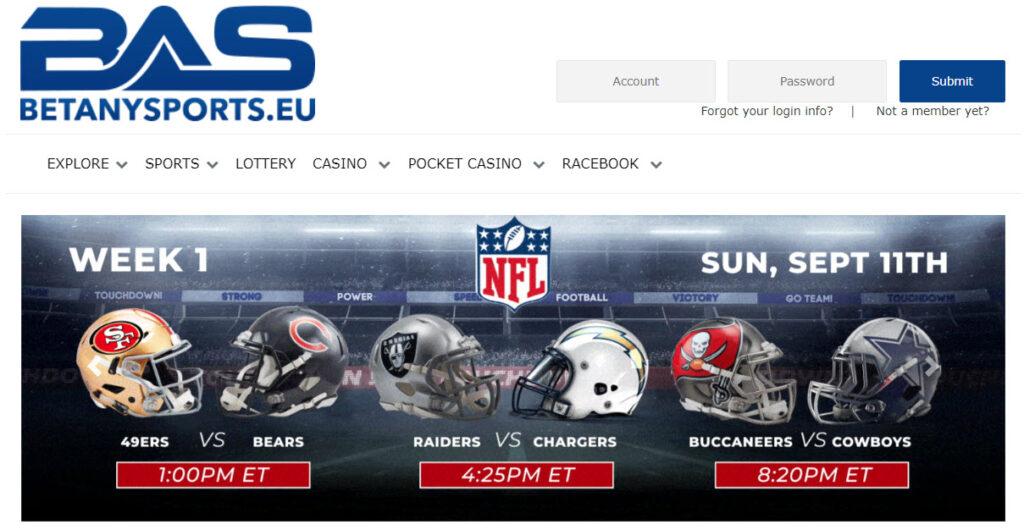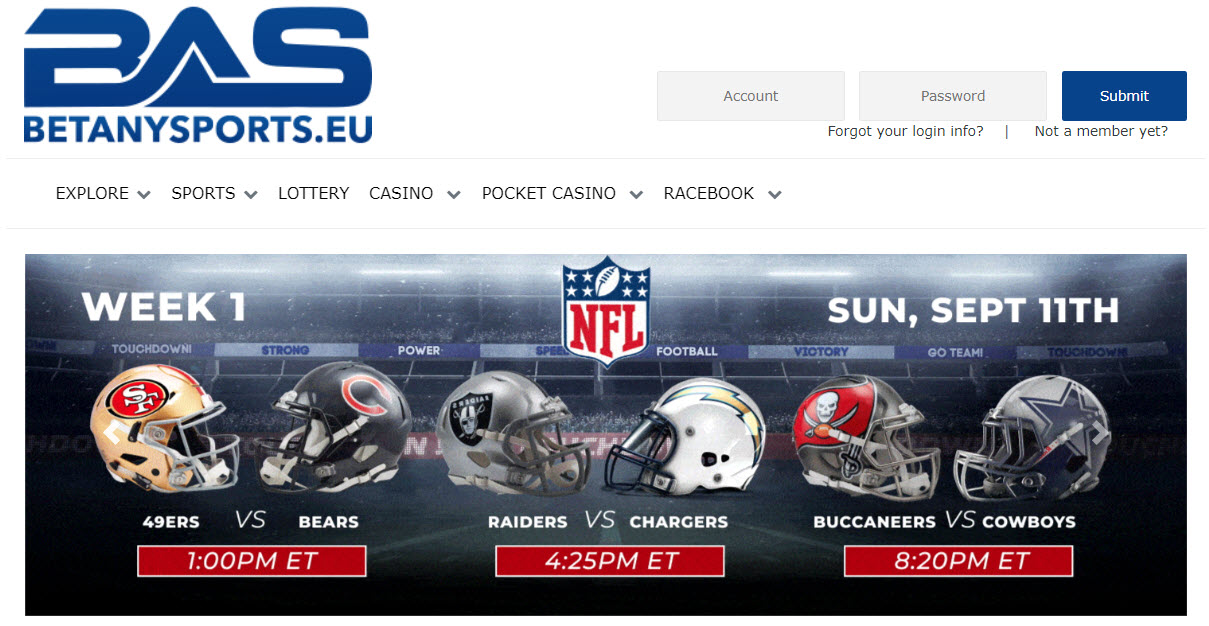 In an environment when you're either winning or losing a bet, it can be easy to ignore the concept of price. But BetAnySports offers the best value around with its reduced juice betting lines. While the industry generally offers -110 odds on either side of a spread or point total, this site goes with -105. Over the long term, that's the equivalent of a 50 percent discount compared to other sites.
With the reduced juice at BetAnySports, you only need to win 51.5% of your bets to make a profit. With -110 odds, you'd need to win 53%.
As with most sites that offer reduced juice, BetAnySports cuts costs elsewhere, particularly in having smaller bonuses than some other sites. In that sense, the software isn't as user-friendly as some of the other competitors.
Pros:
Reduced juice of -105 lines gives 50 percent discount
Odds on moneylines, props and futures are among the best
Pays out quickly
Well-developed live betting platform
Cons:
Interface isn't as user-friendly as others
Bonuses are a bit stingier than elsewhere
6. BetUS: Red Carpet Service for Loyal Customers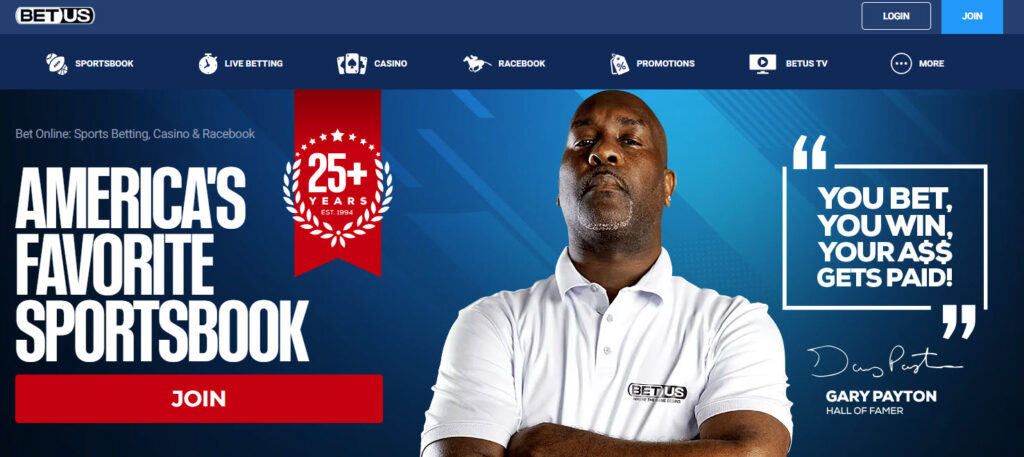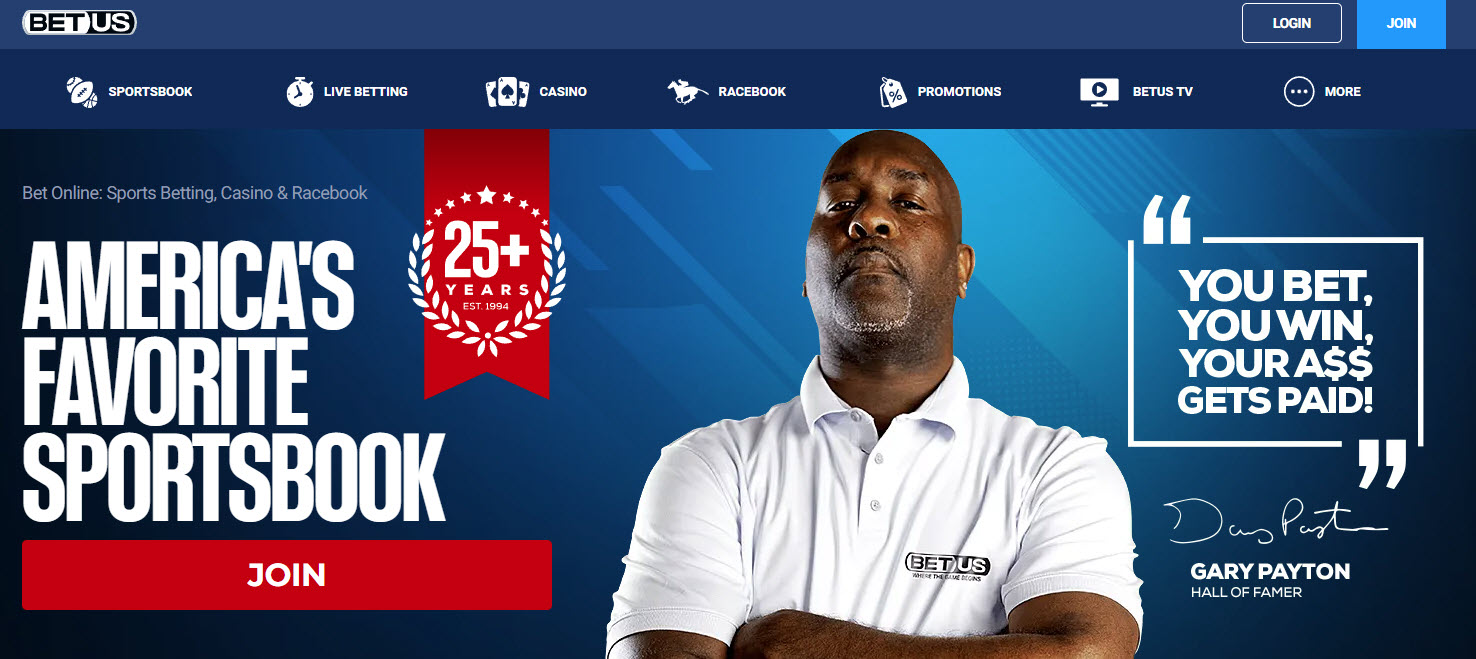 At times, it might seem like all the online gambling sites care about is landing a new Illinois user. What about those of us that have already signed up?
BetUS hasn't forgotten the customers that have gotten it where it is. The sportsbook offers the best VIP service in the state. If you are loyal, make large deposits and remain active with BetUS, they will roll out the red carpet treatment for you.
New users can also count on a nice bonus. You'll get free bets at the sportsbook as well as freebies on the casino gaming side.
BetUS also has more of a personality than some other online sites. There are video previews of big events at BetUS TV, and their creative, interactive marketing department has a creative presence on social media.
Pros:
Very large bonuses for both new customers and returning ones
Video previews and analysis at BetUS TV
VIP program rewards high rollers
Well-developed esports betting area
Cons:
Lines are among the latest to post
More "strings" attached to bonuses (like play-through requirements) than elsewhere
7. WagerWeb: Leader in Bonuses and Promotions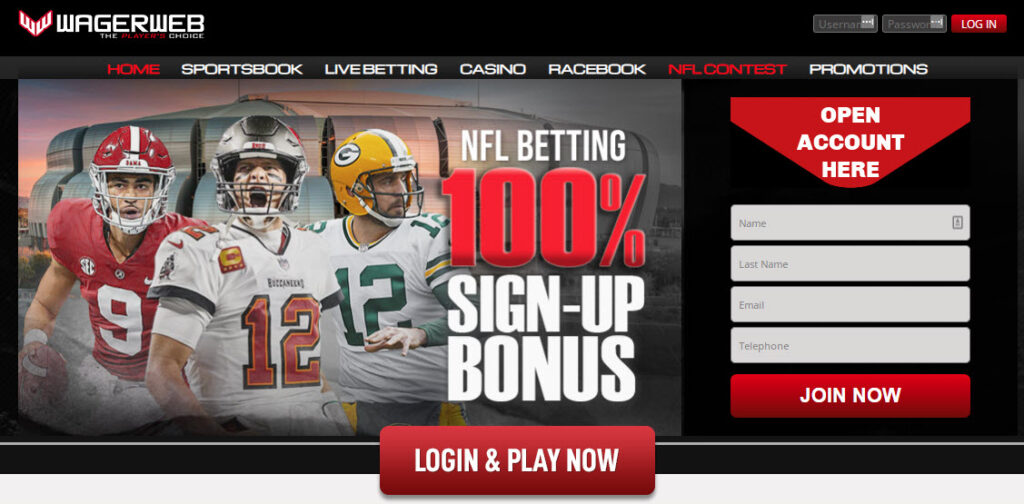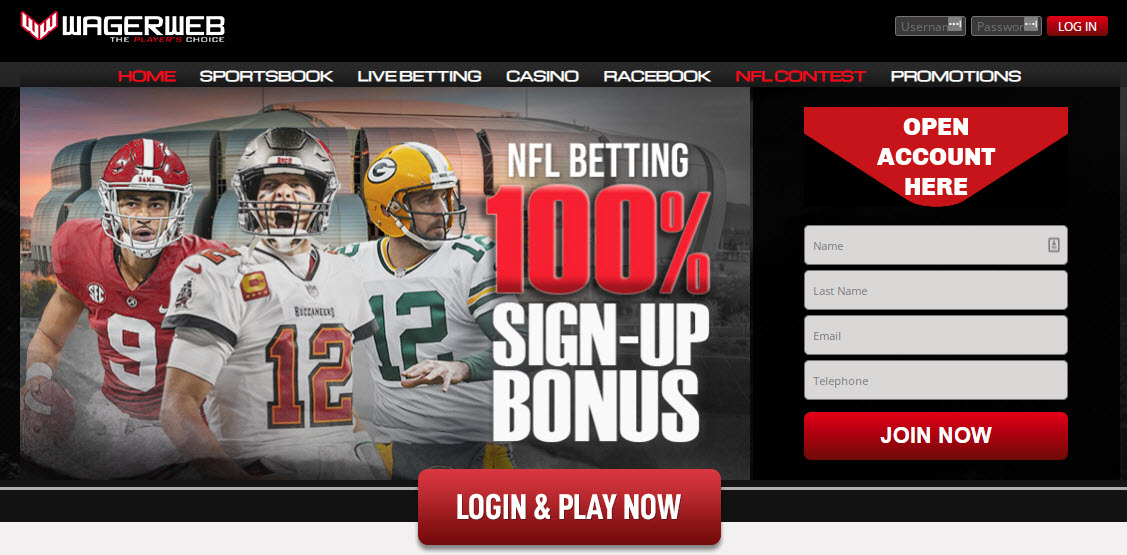 WagerWeb is approaching the end of its third decade in the online sports betting business, making it one of the oldest sportsbooksbooks around. It has a long history of dependability.
The site has some of the best top bonuses available, and they offer reduced juice with -108 lines instead of -110, giving you the equivalent of a 20 percent discount.
There are a number of other options available, in addition to sports betting. A busy and diverse online casino, as well as a racebook give you the full gambling experience, instead of just betting on sports.
Pros:
Reduced juice gives equivalent of 20% off
Some of the best top bonuses around
Long history of fast payouts
Cons:
Withdrawals are limited to one per month
Betting limits aren't as high as at many competitors
8. Everygame: Best Mobile Casino Gaming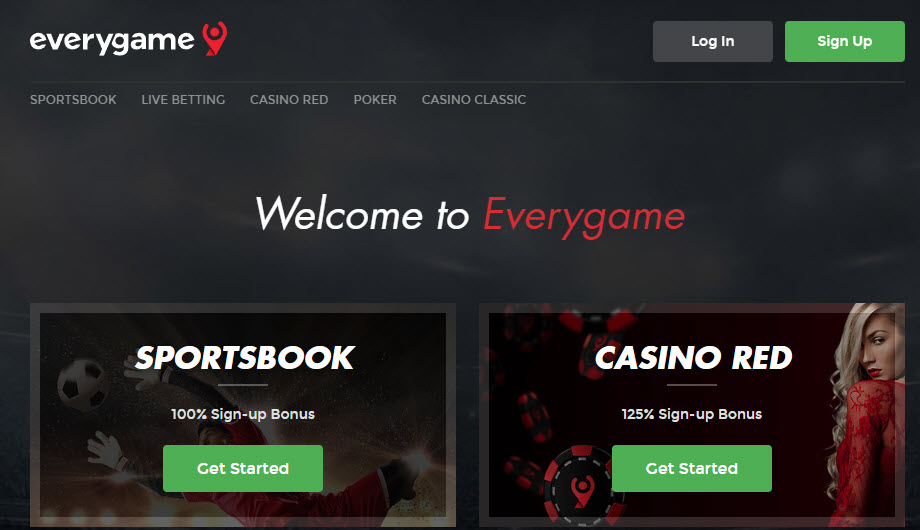 Online sports betting is still new in Illinois, and it's a fast changing industry across all states and countries. For instance, most of the established sites were created with customers on laptop or desktop computers in mind.
Nowadays, however, people are more likely to do their internet work on their phone, rather than sitting in front of a keyboard. It's a lesson that some online betting sites still haven't learned.
Everygame has one of the best mobile platforms around there and, for people interested in playing casino games, you're not going to find a better mobile interface than theirs.
Pros:
Covers more games worldwide than other sites
Mobile interface is one of the best, particularly for casino gaming
Wide variety of casino games available
Online poker room
Cons:
Account verification takes longer, meaning you won't be betting as fast as at other sites.
Bonuses aren't as high as at competing sites
9. GTBets: Great Assortment of Promos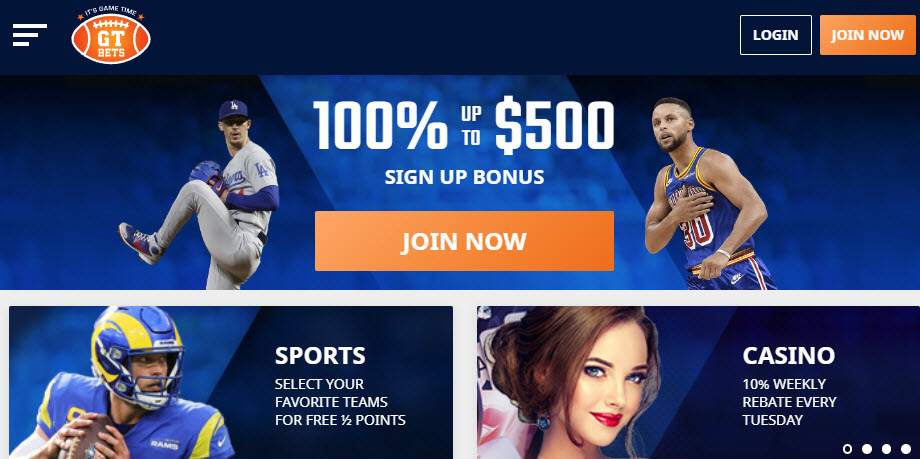 If you're the type of person who likes the freebies then GTBets is the spot for you. The site offers some of the most generous sign-up bonuses for new customers.
GTBets also gives you a bit of reduced juice on football betting, offering odds of -109 instead of -110 on NFL and NCAAF sides and totals. That's a 10 percent discount in the long run, and you'll also find some of the best moneyline odds for football.
GTBets also has a creative "favorite team" feature. You tell the site which team you root for and it rewards you with an extra half point. So, if the line is -3 in their favor, you can bet the hometown team at -2.5.
Pros:
Some of the best bonuses in Illinois
Reduced juice football lines give 10 percent discount
Get an extra half-point when betting on your favorite teams
24/7 customer service
Cons:
Withdrawal fees are higher than many other places
High rollover requirements make it tough to cash out bonuses
10. JustBet: Best at Keeping Up With New Trends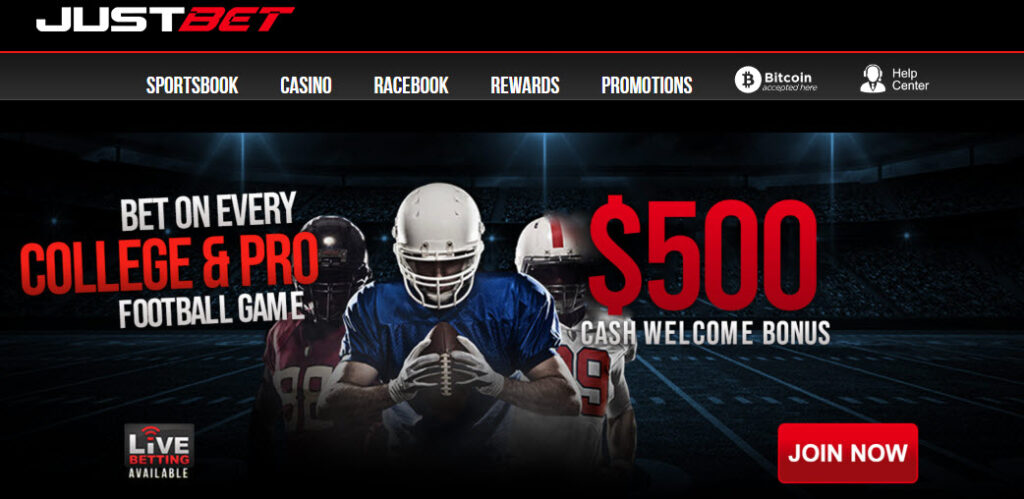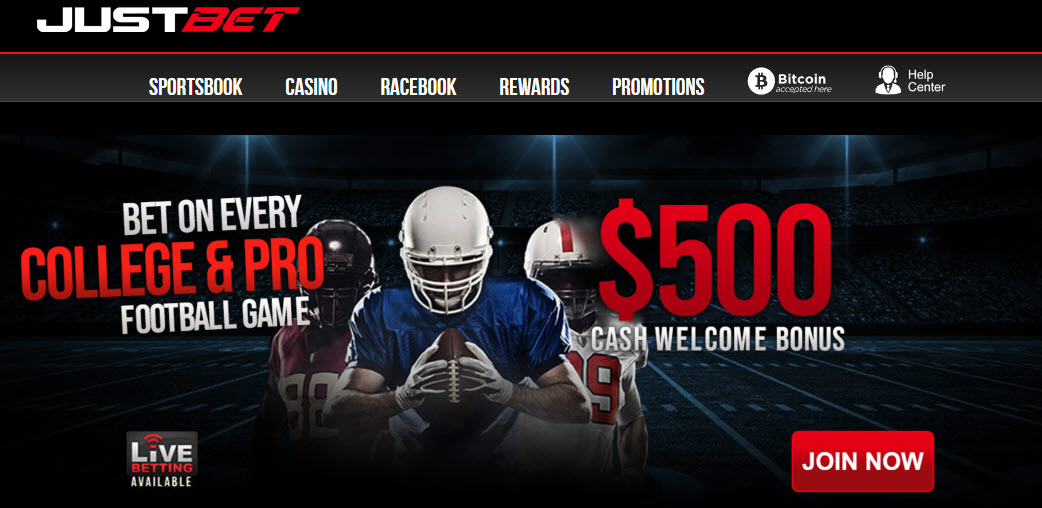 JustBet isn't as well known as its sister site, Bookmaker.eu, but being connected to our choice for the top online betting site in Illinois helps land JustBet in our top 10 as well. The user interface and overall experience is about the same, so look for it to be user friendly, to have betting odds early and enjoy high limits.
JustBet is also quick to adjust to changes in the industry. While many sites were playing catch-up on their live betting sections, JustBet was one of the first to allow bettors to wager on games already in progress, and they still have one of the top live betting sections around. When you sign up with JustBet, you'll be welcomed with four options for a bonus.
Pros:
One of the best spots for live betting on sports
Many of the benefits of our top-rated site
High limits and early lines
Generous welcome bonus
Cons:
No reduced juice lines
Does not have an online poker room
What is the Legal Status of Sports Betting in Illinois?
One of the most frequent questions we get from our Illinois readers is: can I bet on sports in Illinois? The answer is yes. As of March 5, 2022, online sports betting, at a local retail sportsbook is live and legal.
However, while the local markets are still working out all the kinks, offshore sportsbooks have a long history of dependable wagering, which is why they populate our top 10 list. Legal sports betting sites and sportsbook apps allow you to easily place wagers on your favorite professional sports team, keep up with game betting odds, and play a wide range of games right off the casino floor.
Legal History
There was a long, and at times nasty, debate over whether or not to legalize sports betting in Illinois, but the negotiations finally paid off in June 2019, when the state legislature legalized it as part of a much larger capital spending bill. It was originally its own bill, but various compromises moved it into the larger bill. The governor signed the 900-page bill into law a few weeks later sports betting was on the path to becoming a reality.
The first legal bets in Illinois were placed on March 9, 2020, just days before the world shut down due to the COVID 19 pandemic.
Sports betting is available at local casinos, tracks and OTB locations, as well as sports arenas and stadiums. The state is also offering a limited number of stand alone mobile licenses for retail sportsbook operators.
In those early days, people had to sign up for an account in person at one of the brick-and-mortar locations before they were able to participate in online betting. That requirement, combined with the pandemic, slowed the growth of local gambling even further. That in-person requirement went away this past March.
While the local sites play catch up, you can sign up with an offshore sportsbook to bet on sports in Illinois. There are no laws to prevent you from digital wagering.
Sports Betting News and Developments
The state passed the billion dollar milestone over the summer, with in-state legal gambling hitting the 10-figure mark. Illinois is just the fourth state to reach that level.
The market is still developing. As of this summer, fewer than a dozen casinos and tracks offered gambling, with another 10 casinos, three tracks and seven pro sports arenas in some step of the process to get approval eventually.
Even though local betting is legal in the state, there are a few strings attached. The biggest is the college carve out. The state's universities asked legislators not to legalize gambling on college sports, and, as a compromise, the bill prohibited gambling on in-state colleges. So you can't bet on the Illini or Loyola of Chicago or Northwestern.
Last year, the regulation was modified to allow in-person betting on local colleges at retail locations, but you still can't bet on them online which is another advantage offered by offshore sites.
Illinois Teams and Betting Market
Illinois has some of the most storied and well-known sports teams in the nation, as well as some of the most dedicated fanbases.
In the NFL, few teams bring back the early days of the leather helmet era like the Chicago Bears.
In the NBA, the Chicago Bulls dominated the 1990s with Michael Jordan, winning six titles and becoming a logo recognized around the world.
One of the NHL's original teams is also based in the state, the Chicago Blackhawks.
A pair of baseball teams also represent the state, with the Chicago Cubs and the Chicago White Sox.
The five teams have combined for 27 league titles, including 14 since 1985. Illinois also has been home to MLS, WNBA and NWSL teams.
Illinois also has more than a dozen Division I college teams, led by a pair of Big Ten programs in Northwestern and the University of Illinois. Loyola thrilled the nation with a trip to the Final Four recently, and DePaul, Bradley and Southern Illinois also have histories of success.
Bet on Sports in Illinois Review
You don't need to sign up with an offshore sportsbook to bet on sports in Illinois, but, for the time being, we recommend it. While local retail establishments work out the kinks as they respond to the new change in the law, offshore sites have a long history of dependability and stability. These sites do not fall under the jurisdiction of the state or the federal government, and you can't go visit their brick-and-mortar site. So it is important to find trustworthy, reputable sportsbooks with a history of timely payouts.
That is where BMR can help. 100+ ratings were awarded to every sports betting site listed in our Sportsbook Rating Guide.
A+ rated companies listed in the BMR Best Sportsbooks page have been serving Illinois sports fans for many years, and are recommended for the best experience.
Registering at a sportsbook normally takes a minute or two, and you can then make a deposit, redeem a sign-up bonus and place your first wager.
The Best Illinois Betting Sites & Sportsbooks Compared
Key Traits of the Top Illinois Sportsbooks
The best sportsbooks for Illinois share a variety of traits:
Prestige
Offshore sportsbooks need to have a spotless reputation if they want to build up their customer bases. The best sports betting sites have a history of grading bets fairly and paying out on time and in full.
Withdrawal Speeds
The best sportsbooks process and approve payouts rapidly. They send funds quickly and securely. If you take your payout in crypto you'll often receive the funds on the same day, as is the case with many of the best bitcoin sportsbooks.
Value With Odds
Your betting odds are the equivalent of the price tag on a retail item. The best sportsbooks provide competitive odds to their customers and offshore sites have and advantage over US-licensed sportsbooks.
Variety of Betting Markets
Classically, people have bet on point spreads, money lines and point totals. But there are far more options available. The best sportsbooks should offer:
Game props
Alternate lines
Same game parlays
Teasers
Pleasers
Progressive parlays
Reverse bets
If bets
Round robins
Sports Betting Interface for Mobile Betting
The top Illinois mobile betting sites have high-quality, powerful, dependable software. It should be easy for you to find games, browse betting options and make your selections. The sportsbook should be quick and user-friendly on smartphones and tablet devices.
Sportsbook Banking Options Available
There should be a variety of sportsbook banking options at the best Illinois sportsbooks. The best online operators accept:
Visa
MasterCard
Discover
American Express
Bitcoin and other crypto should be options as well. E-check, a P2P transfer, a wire transfer or e-wallets such as Skrill and Neteller could also be available.
Supportive Customer Service
Illinois bettors will find multilingual customer service 24 hours a day, 365 days a year, at the best sportsbooks. Support should be available by phone, live chat or email, along with a large help center.
Bonuses, Perks and Promos
You will receive a generous new account bonus at the best Illinois sports betting sites. They will also offer
Reload bonuses
Rebates
Loyalty programs
Odds boosts
Risk-free bets
Contests
FAQ – Using Online Sportsbooks in Illinois
Is sports betting legal in Illinois? 
Rest assured, there is legal sports betting in Illinois, but it's all still very new at the local, retail level. You can always use legal sports betting sites instead if there are no physical locations near you that offer retail sports betting.
Is online sports betting legal in Illinois? 
Placing wagers on sports online, whether that is through sportsbook apps or on a website, is also legal, although the options for sports betting are currently limited. For the best online experience, we recommend visiting offshore online sportsbooks.
What are the differences between regulated and offshore sportsbooks? 
Regulated sportsbooks are only available in certain states and are prohibited in many parts of the country. That could mean retail sports betting or online wagering. Offshore sportsbooks are not regulated by state or federal authorities, which allows them to accept players from across the United States.

These legal sports betting sites are not subject to the same regulations as a local site would be. Because of that, sports bettors have more online wagering options, whether that is in their favorite major sports leagues, for collegiate teams, or even on political events and esports.