Louisiana Online Gambling – The Best Gambling Sites in Louisiana Reviewed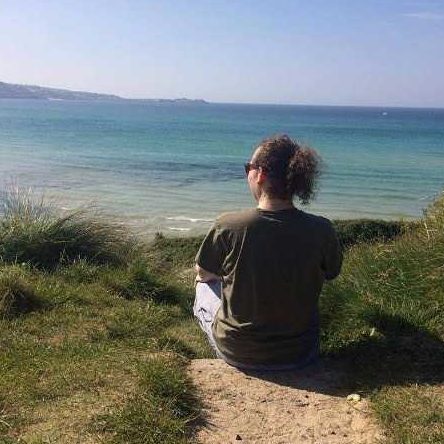 David is a freelance sports journalist who comes from West Midlands. He specializes in sports content, both written and visual. With an impressive record in pre-fight predictions, David is quickly becoming recognized in his field for his in-depth fight analysis and impressive contender & fight history knowledge.
Residents looking to understand their online gaming options in Louisiana have come to the right place. Our guide to Louisiana online gambling covers the top operators that offer your favorite casino games, generous bonuses and more.
Our industry experts have put together a detailed guide of the most valuable information regarding online gambling in Louisiana. Whether you'd like to enjoy live dealer games or find the best Louisiana sports betting sites.
The guide below is broken down into various categories, starting with the top-rated sportsbooks and casinos recommended by our team and why. We'll also dive into the most generous bonuses, the gambling legalities in LA, and everything you need to begin your online gaming activities today.
Highest-Rated Louisiana Gambling Sites Comparison
The Top Online Gambling Sites for Louisiana Players
Is online gambling legal in Louisiana?
Sports betting laws in Louisiana have evolved from their stringent past and now offer some of the most relaxed regulations for online sportsbooks and racebooks.
There are casinos in Louisiana, including riverboat casinos; however, U.S. operators have not yet been authorized to offer online casino games in the state.
The good news, however, is that the offshore gambling sites we promote in this guide are licensed outside of the United States and don't adhere to U.S. laws and regulations.
Many Louisiana residents may be wondering if online gambling will ever be legalized in their state – the legalization of sports betting in 2021 and its official launch in 2022, could mean a future for online casinos in LA is very possible. There isn't a precise timeline on when this may happen, but for now, residents can take advantage of online slots, live dealer games and more using offshore gambling sites.
Best Louisiana Online Gambling Sites Reviewed
After reading our top 10 rated online gambling sites in Louisiana list, you're already acquainted with the best services available in Louisiana. However, for a more informative read, we've selected our top five operators and listed their standout features below.
1. Bookmaker: The Best Overall Gambling Site in Louisiana 2023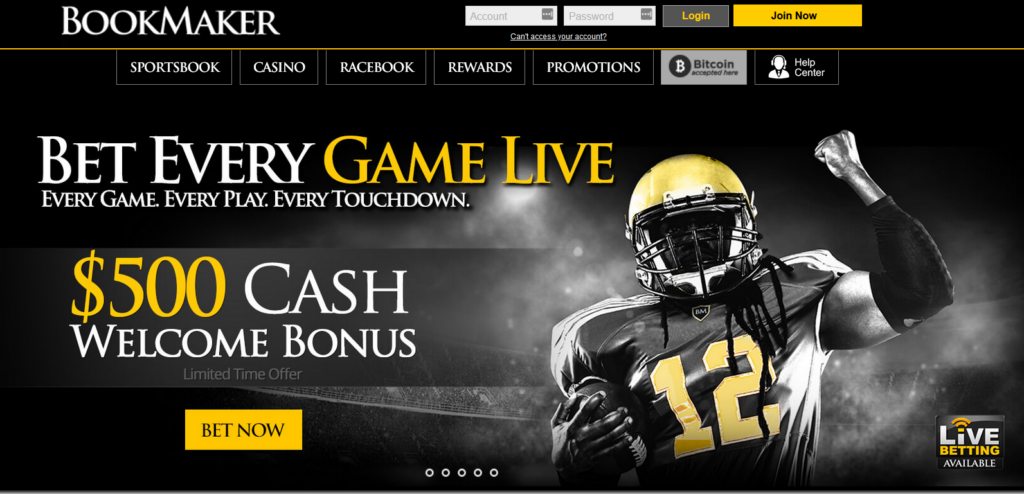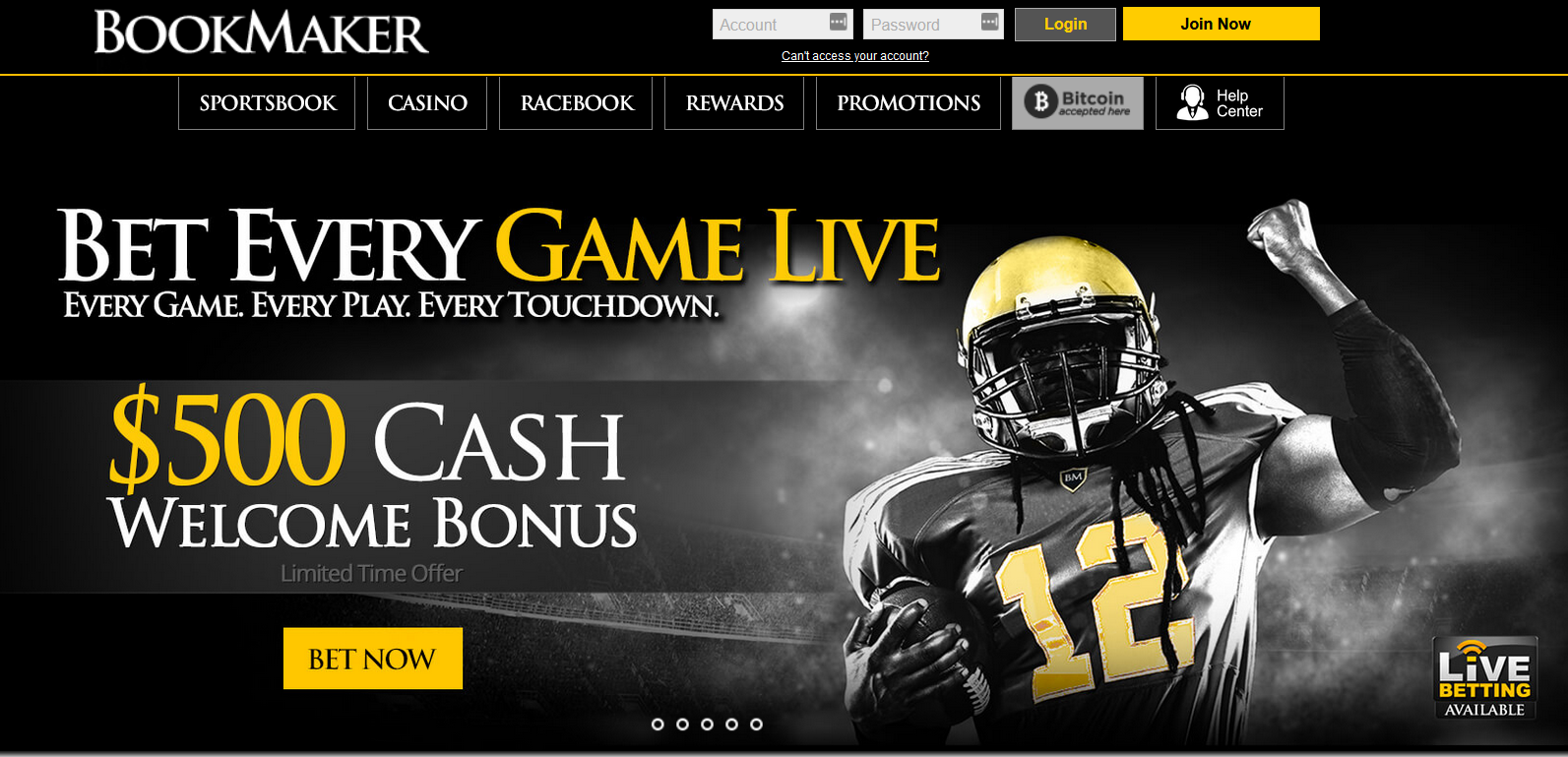 Whether you're a fan of online sports betting, casino games, or betting on the ponies, Bookmaker.eu provides all of the gambling services you need under one roof.
First establishing its online presence in the mid-nineties, Bookmaker has long served the gambling community in Louisiana and the United States. It proudly sits as one of the most experienced operators providing services in North America.
Bookmaker is ideal for sports wagering and your favorite casino games, but what's significantly unique about this online gambling site is its stance on a no-ban policy. Aside from offering some of the early released betting lines, competitive odds, and a wide variety of sports betting markets and online casino games, Bookmaker is also the lone operator that doesn't suspend or ban winning bettors' accounts.
Pros
Decades of experience
Huge variety of sports betting markets and casino games
Respected racebook
High betting limits
No-ban policy on winning gamblers
Some of the earliest released betting lines in LA
Cons
No live streaming
No poker room
Welcome bonuses could be higher
2. Heritage Sports: The Best Sportsbook/Casino Combination in Louisiana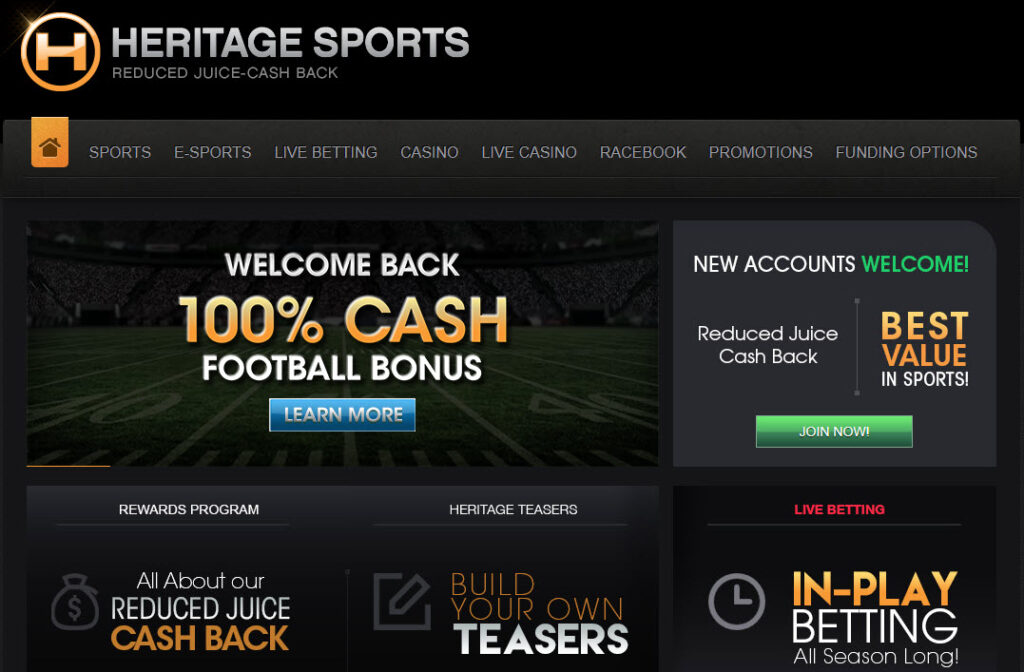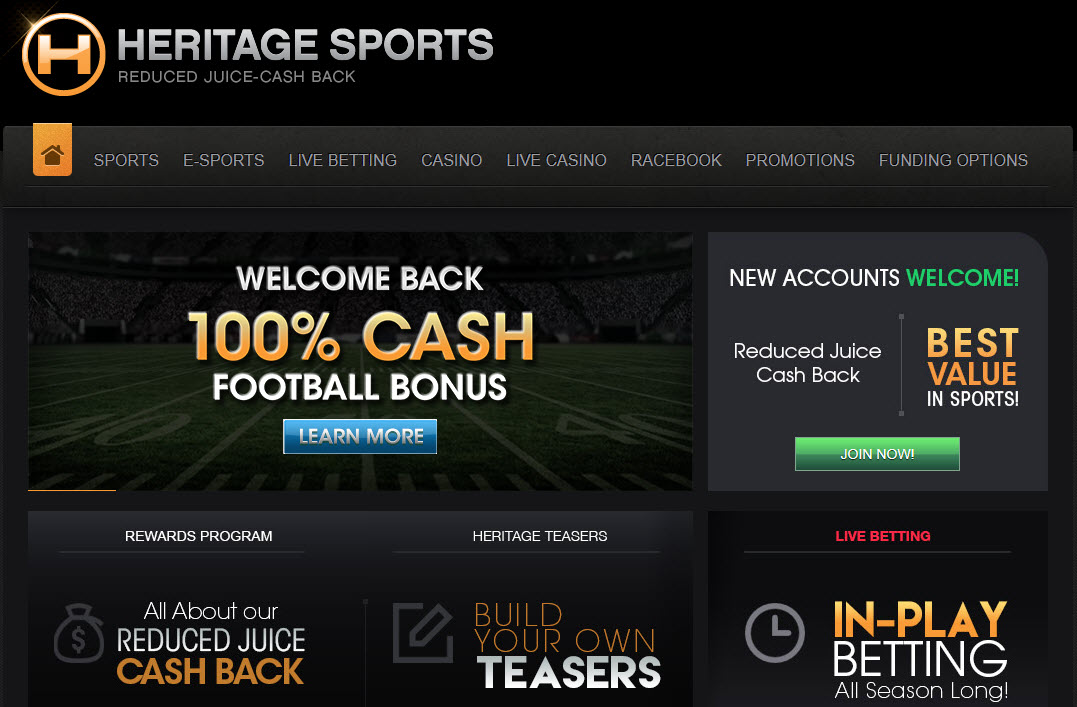 Heritage Sports has followed in the footsteps of Bookmaker in becoming one of the longest-standing online gambling sites available to US residents. Louisiana gambling site enthusiasts can find various options with this operator, from a famous sportsbook to casinos and a racebook.
The sportsbook presents more than 15 sports to wager on, including some of the biggest professional leagues such as the NFL, NBA, MLB, NHL, UFC, and more. The casino is another area of this site that excels, with an abundance of slot and table games.
There's no denying that Heritage Sports is highly recognized for its sportsbook offerings, boasting some of the most competitive odds in the business and an extensive range of markets. However, with software operators such as BetSoft assisting the casino Heritage Sports has evolved into an all-around gambling site that shouldn't be overlooked.
Pros
Highly competitive sportsbook odds
Live betting available
Reduced juice lines
Wide variety of casino games
Cons
The welcome bonus isn't as high as some rival sites
No live streaming
3. Bovada: An Excellent Louisiana Sportsbook & Gambling Site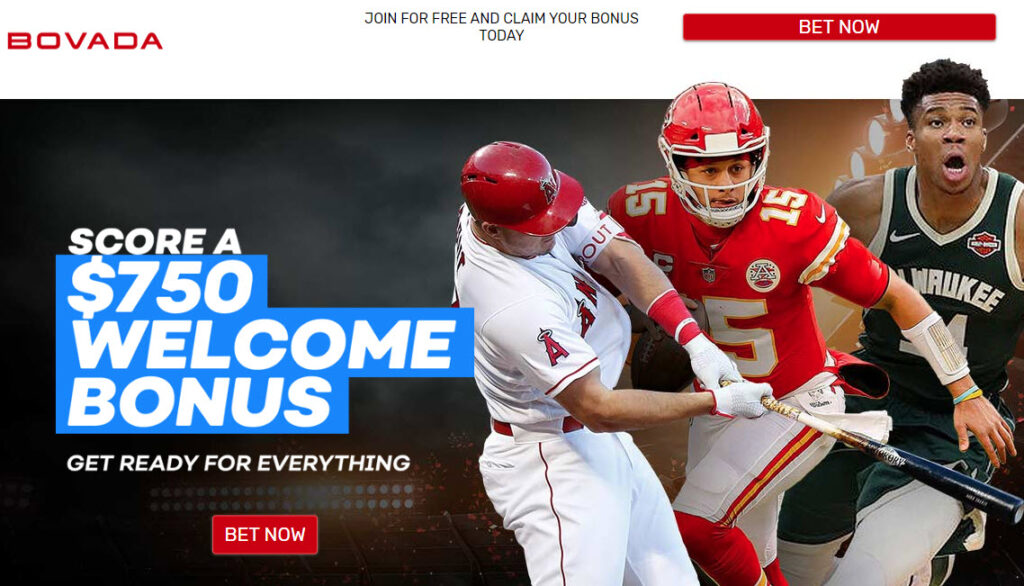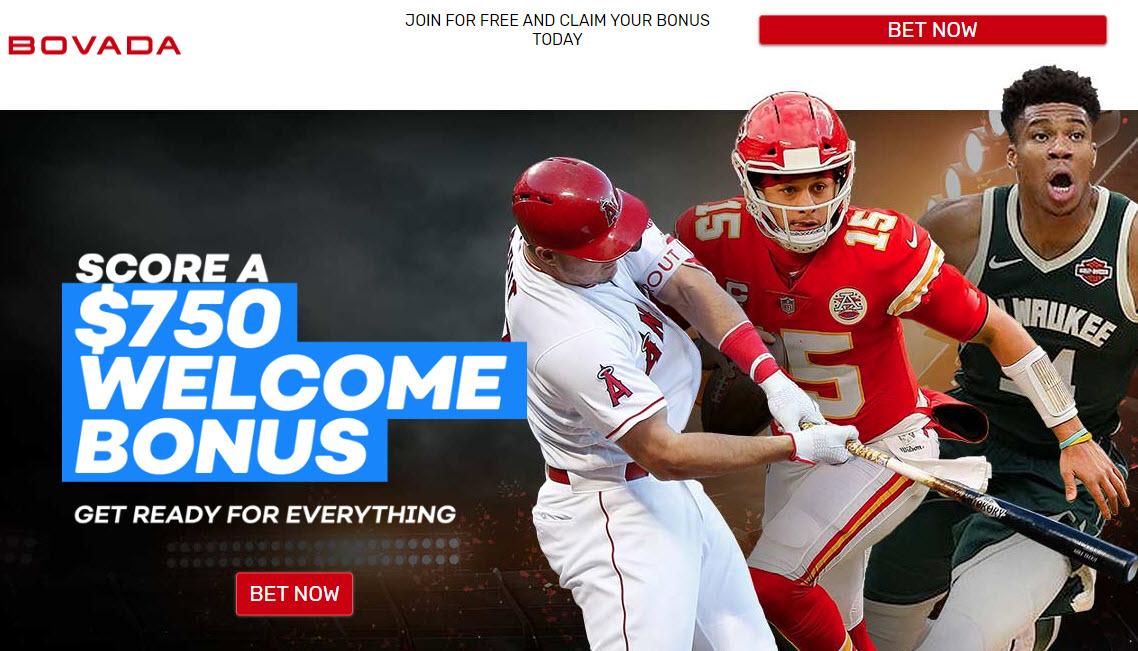 Looking for an online casino, sportsbook, or poker platform? Look no further than Bovada. With over 30,000 daily sports betting markets with available odds regularly matching or exceeding its rivals, this operator truly excels as a sportsbook. They don't just cater to major leagues such as the NFL and NBA, as Bovada has recently introduced a diverse esports betting section, which shows how this gambling site looks to the future, unlike some other operators.
While the sportsbook at Bovada is unquestionably its strong suit, the online casino gaming experience isn't too shabby. Customers of Bovada will find an extensive range of high-quality games from market-leading software developers such as Real Time Gaming. In addition, and like most of our top-ranked Louisiana gambling sites, Bovada allows Bitcoin and various cryptocurrencies as a banking option.
Putting themselves a step ahead of the competition, Bovada is one of the lone operators that provide new customers with a 100% matched deposit bonus of up to $1,000.
Pros
Unique Bitcoin bonuses
100% matched deposit bonus ($1,000)
A native poker app
Competitive odds
Cons
More slot games could be added
Fees for some card banking options
4. BetOnline: A Perfect All-Around Louisiana Gambling Site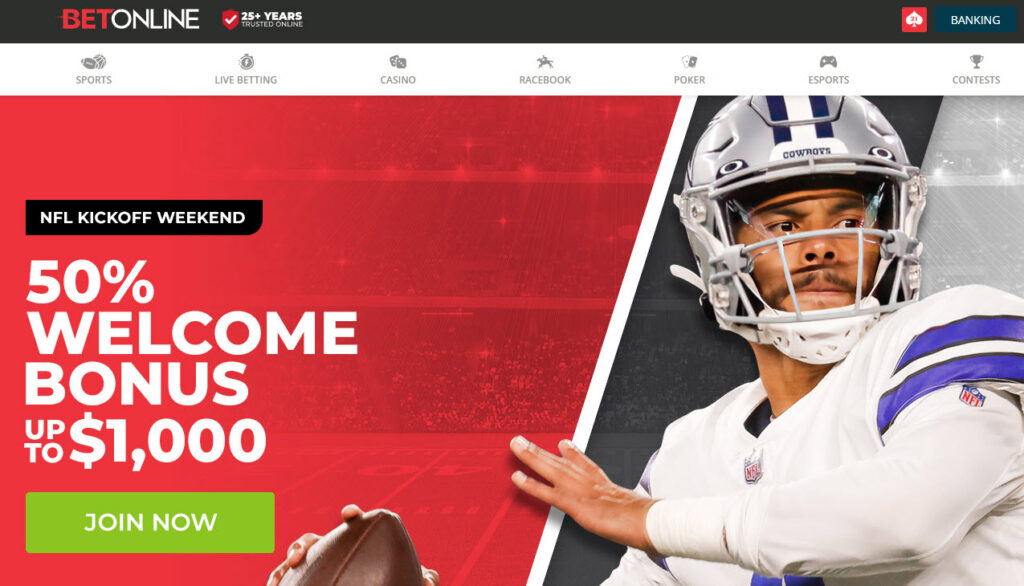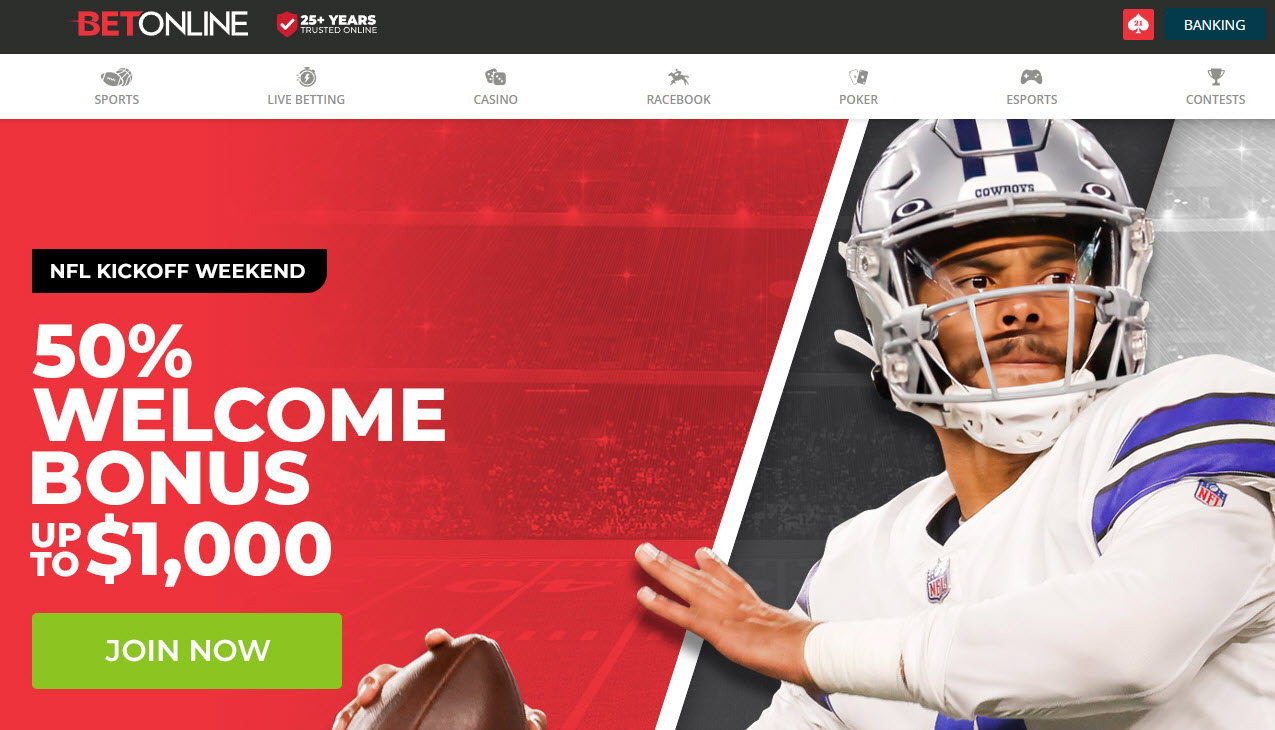 You'll rarely find a top-rated list of offshore Louisiana gambling sites without BetOnline sitting amongst the crowd. This operator is the perfect all-around gambling site for bettors in Louisiana, whether you're looking for a sportsbook or casino. With the most up-to-date and early released odds, in combination with a diverse range of betting markets, you'll never run short of NFL, NBA, or MLB action, and it's always apparent that BetOnline wants to keep its customers happy.
Bidding casino goers will be delighted with the huge variety of games, with the common popular titles and some rare features for good measure. With dedicated pages for sports, live betting, casinos, racebook, poker, esports, contests, and promotions, you can't go wrong with BetOnline as they continue spearheading the world of online gambling as one of the most reputable and trustworthy operators in Louisiana and the United States.
Similar to Bovada, BetOnline offers a 100% matched deposit of up to $1,000 for new casino customers. In addition, sportsbook players can receive a 50% matched bonus of the same value. Not forgetting the regular promotions they offer for existing and regular players.
Pros
Poker tournaments
Live dealer casino tables
Excellent welcome bonuses
More than 400 casino games
Extensive selection of sports betting markets
Cons
Rollover requirements on bonuses could be lower
Credit card deposits have fees
Live streaming on available on specific leagues
5. BetAnySports: Diverse Market Selection At This LA Sportsbook, Casino & Racebook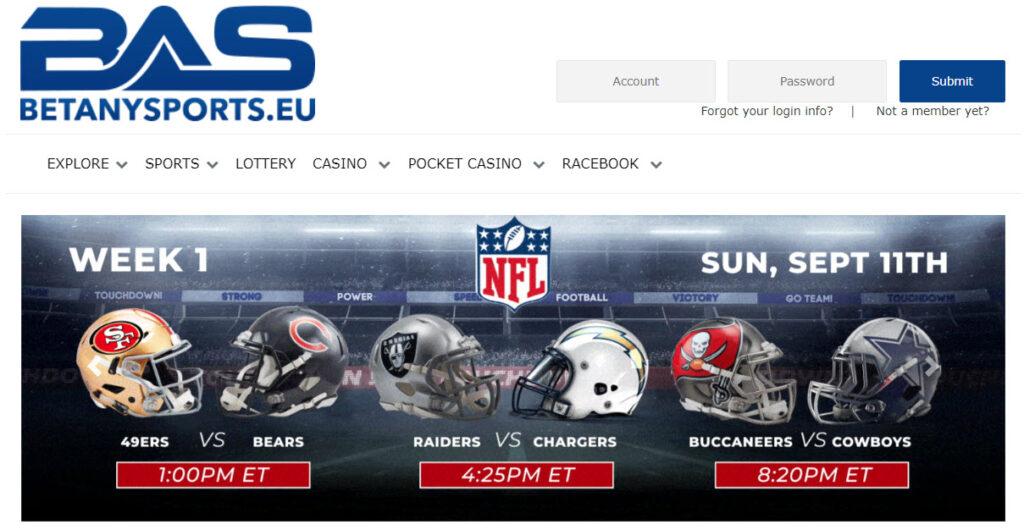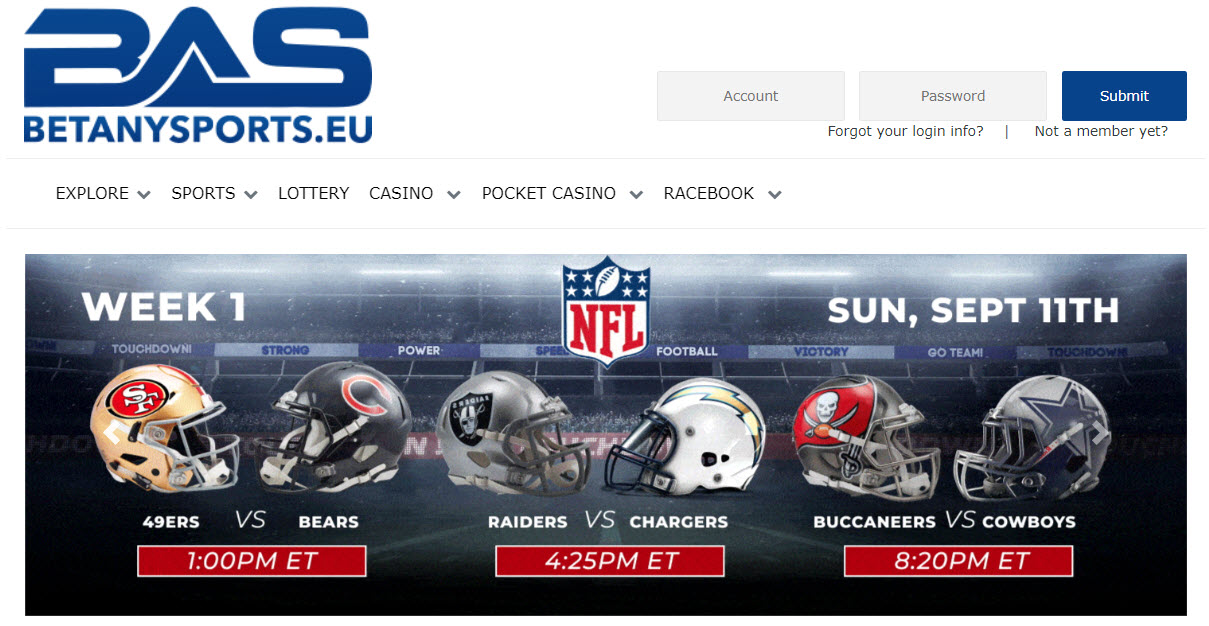 Don't let the branding fool you; BetAnySports (BAS) isn't just a top-tier sportsbook but also offers customers a noteworthy casino and racebook experience. Of course, with a name like 'BetAnySports,' you should already be prepared for a wealth of sports betting options, and these deep sports markets are also paired with excellent odds. New Orleans Pelicans and New Orleans Saints fans will have a field day sifting through the various moneyline, totals, and prop markets available. These highlight features additionally extend to countless other sports.
Those entering the casino at BAS can use a great live dealer table or test their hand with some blackjack and roulette action. Slot machines are readily available, and although their casino selection isn't as vast as some other competitors on the list, the casino at BAS is simple to navigate and a pleasure to play with.
Pros
Multiple live dealer casinos
Cash rebates
Reduced juice on sports wagers
PayPal accepted
Cons
Welcome bonuses could be higher
No poker rooms
How We Chose the Best Louisiana Gambling Sites
Our team of dedicated gambling site experts put each operator under a microscope. The sportsbook operators and offshore casinos are vetted and manually tested as we highlight each positive and negative aspect of the features available on these sites. Many elements are considered, but reputation, bonus offerings, market depth, available games, software developers, customer service, and banking options are usually at the forefront of our overall opinion.
The top 10 rated Louisiana online gambling sites that have received a position in our rankings must cover the aforementioned basics. They must be regulated and have a reputation for treating their customers well, but also provide exceptional service in sportsbook, casino, and racebook offerings.
If an operator fails to meet our criteria, they'll receive a low rating from C to F, but the most notable gambling sites can receive a B- ranking all the way up to A+.
History of Gambling in Louisiana
Louisiana is a gambling state. Shreveport and Lake Charles are two locations in LA that present an abundance of casinos and present a huge gambling appeal to locals and surrounding states such as Texas. Throughout the state, there are hundreds of hot spots for live horse racing betting, video poker, lottery, bingo, and off-track betting. And with the arrival of Daily Fantasy Sports and legalized sports betting, Louisiana is a breeding ground for avid gamblers, and it continues to evolve in 2023.
As we've already established, Louisiana and gambling go hand-in-hand, and the variety of wagering options in the Pelican State is almost limitless. However, gambling in Louisiana isn't a new activity; its history runs deep. Even if we factor out the gambling that likely played out between Native Americans, gambling predates statehood, the current law, and even the US as a country. When gambling was prohibited entirely, it never stopped and never will.
Timeline of Gambling in Louisiana
2021: Following the legalization of sports betting in the United States, three years post-PASPA, Louisiana accepts its first legal sports wager at the Paragon Casino Resort in Marksville in the winter of 2021.
1993: The state lottery is reintroduced to tackle the budget crisis in Louisiana. In addition, riverboat casinos are legalized. The law states that boats must sail to legalize gambling activities, but this rule was repealed later. We also see the arrival of legalized video poker in bars, restaurants, and gas stations. In unison, the first ever tribal and land-based casino, Cypress Pines Casino, launches in Charenton, positioning Louisiana as a fully-fledged gambling state.
1940: Legal gambling in Louisiana had been absent for over 50 years, but this drought ended when the Legislature voted to establish a Louisiana Racing Commission. The Commission takes charge of race track operations in LA and pari-mutuel wagering. Horse racing in Louisiana only existed at Fair Ground Race Course. Still, with the launch of Evangeline Downs, Delta Downs, and Louisiana Downs, the state began to offer live horse racing betting.
1866: The Louisiana state lottery is instated, as lottery tickets are available across the Bayou State. However, Louisiana Democrats would later ban the lottery in 1879. This violated the state's contract with the lottery provider and allowed lottery officials to continue operations. State officials didn't stop, and the lottery was eventually prohibited in 1895.
1838: The first-ever horse race is hosted at the Fair Grounds Race Course. Known as the Creole Race, it took place in April, and the purse was $1,000. For more than 70 years this date, legalized wagering has been banned in LA aside from pari-mutuel betting on the ponies. So, from 1838 until the early 1920s, the Fair Grounds Race Course was the only place in Louisiana to place a legal bet.
1806: Louisiana state officials ban gambling. However, due to the sheer number of operational gambling houses in New Orleans, which exceeded the total of casinos in areas such as NY, Philly, and Boston, it was undoubtedly an important business for tax revenue. In response, Crescent City was exempt, and gambling continued.
1803: A government-owned casino is opened after a 30-year campaign attempting to prevent gambling is deemed useless.
What online gambling is legal in Louisiana?
Online gambling in Louisiana is an evolution from its storied history of horse racing betting, lottery, and gambling activities of the 17 and 1800s. The Pelican State has presented multiple forms of legal gambling for many years. But as of 2023, Louisiana residents can partake in the following:
Land-based Casino Gambling – Since 1991
Pari-Mutuel Horse Racing – Since 1997
Retail Sportsbooks – Since 2021
Online Sports Betting – Since 2021
Daily Fantasy Sports – Since 2018
Lottery – Since 1991
Charitable Gambling – Since 1968
Who regulates gambling in Louisiana?
Gambling activities in Louisiana are overseen and regulated by the LGCB (Louisiana Gaming Control Board). The gaming board was established during the early nineties when Louisiana started to relax multiple gambling laws to assist with state revenue and tax rate. As of 2023, the LGCB oversees the state's tribal casinos, lottery providers and riverboat casinos. The LGCB is additionally responsible for handing out operator licenses for the new wave of sportsbook operators.
Currently, online gambling is prohibited, and online sports betting flourishes. Despite this, online casinos should be expected to arrive under Louisiana Gaming Control Board jurisdiction in the future. With the experience of online sports wagering under their belt, they can easily give the go-ahead for software provider licenses, and guarantee casinos will roll out responsible gaming rules.
It's probable that most online casino sites would need to partner with current LA land-based casinos or riverboats. However, most of the current gambling operations in Louisiana already have a foot in the regulated US market.
What is the legal gambling age in Louisiana?
Both workers and customers attempting to enter a gaming establishment in Louisiana must be at least 21 years or older. These age laws are also implemented to bet on sports at a legal Louisiana sportsbook.
Key Features of the Best Online Gambling Sites in Louisiana
While attempting to discover the best online gambling sites in Louisiana, the operator's site features must cater to the customer in multiple facets. Below we've highlighted some key elements that are a must in becoming a top-rated gambling site.
Competitive Odds
The sportsbook section of your selected gambling site will need to compete with the market leaders in betting value to be considered one of the best. There shouldn't be a large discrepancy between prices, and although one operator will likely offer the greater odds, we don't like to see these numbers too wide from one another. Overall value and generously priced odds are imperative for long-term bettors and their return-on-investment percentage (ROI%).
Market Coverage
Market coverage is a top priority when our expert team evaluates each Louisiana gambling site. A variety of games at the casino is a must, while a sportsbook should offer a wide range of leagues and sports.
Payment Options
Each customer arriving at their desired online gambling site will have a preferred payment method. How do operators tackle this issue? By offering as many banking options as possible. The best real money online casino, sportsbook, and racebook will accept a payment method stemming from cryptocurrency, debit/credit cards, and e-wallets such as Paypal or Skrill.
Bonuses & Promotions
Most online gambling sites in Louisiana will offer a deposit bonus to entice new customers. However, we don't just look for bonuses at face value; we want to see achievable rollover requirements and higher bonus payouts than competitors. It's important to inspect the terms and conditions of each bonus before blindly accepting it.
In addition, top Louisiana gambling sites will provide reoccurring promotions such as loyalty rewards, VIP programs, free bets, competition entries, and more.
Live Betting
Modern-day bettors want the ability to wager on the action while it plays out. Furthermore, casino goers enjoy the real-to-life experience of betting on blackjack, roulette, and other table games at a live dealer table. For these reasons, a gambling site must offer a live betting experience.
Desktop & Mobile UI Experience
Much like a live betting experience, modern-day gambling has evolved, and a new generation of bettors want to wager on the move. This is why a top gambling site in Louisiana must provide a seamless mobile experience almost identical to a fully functional desktop site.
Most of our top-rated LA gambling sites deliver a fully optimized mobile site accessible through your iOS or Android device browser, and some also present native apps.
Customer Support
When you're in jeopardy with your online gambling site account, there's nothing worse than being presented with a complaints form or an email that could take days to respond to. We want a live chat option with a fast and responsive customer support team and telephone numbers to contact our operator directly.
How to Wager at a Louisiana Online Gambling Site
If you're struggling to register a real money online gambling site account, fear not, the process is simple and should take no longer than 10 minutes. You can follow our step-by-step guide below for some added assistance.
Create an Account
Find a top-rated online gambling site in Louisiana and locate the 'register' or 'log-in,' which can be found on an operator's landing page. You'll be redirected to a registration form; fill out some basic details and confirm.
Verify Your Account
Most operators will send a confirmation email, select the link in your inbox, and your account will be verified.
Make Your First Deposit
Head to your new account and locate the deposit/withdraw or banking section. Choose your preferred payment method and enter the amount you wish to deposit. Before rushing through this step, ensure to factor in your matched deposit bonus or welcome offer.
Choose and Place Your First Bet
You can sail on into the online casino or sportsbook and begin wagering. Enjoy, and remember, keep your gambling activities responsible.
Land-Based Gambling in Louisiana
Louisiana is the home of various legal gambling locations, but the most common are found on the riverboat casinos due to the anti-gambling legislation of the past. There are 24 legal land-based casinos, from the riverboats, Tribal Casinos, Harrah's New Orleans, and horse racing tracks.
The state lottery is another legalized gambling venture in Louisiana and can be played from many locations throughout the state.
FAQs – Online Gambling in Louisiana
Can you gamble online in Louisiana? 
Yes, online sports betting has been legal in Louisiana as of 2021. And while online casinos remain prohibited, residents can play with one of the top offshore gambling sites highlighted in this guide. Offshore sites do not have to adhere to gambling laws in the United States. 
Can you use Bovada in Louisiana? 
Yes, Bovada is one of Louisiana's top-rated online sportsbooks, casinos, and racebooks. Bovada presents a variety of gambling options and welcomes Louisiana residents, including a wide range of online casino games. 
Where can I bet online in Louisiana? 
Louisiana has legal sports betting, so DraftKings Sportsbook and Caesars Sportsbook are available; however, many Louisiana residents still prefer offshore sites. In addition to online betting, these sites offer real-money online casino games and more. 
What gambling is legal in Louisiana? 
The current legal forms of gambling in Louisiana include charitable gaming, land-based casino gambling and horse race betting. Louisiana also has had legal sports betting for several years.
Where can I play slots in Louisiana? 
There are four tribal casino locations as well as over a dozen commercial casinos in Louisiana that offer slot games, and video poker games and have tons of choices for players who like slots. Online offshore casinos also offer online slots to Louisiana residents.