Vermont Online Horse Race Betting – Which Sites Are the Best in 2023?
Shawn West has been involved with college basketball, NFL and college football and MLB since he left his job as bank vice president two decades ago. He lives in North Carolina with his wife, children, two dachshunds and a variety of turtles.
When it comes to gambling, Vermont is one of the least hospitable states in the United States. Other than the state lottery, all forms of gambling are illegal, according to Vermont state law. While other states prohibit most forms of gambling, the majority allows for betting on horse racing, but even that is illegal under Vermont regulations. The state's last horse track ran its last race more than 40 years ago.
That doesn't mean horse racing fans in the state are out of luck, though, as it is still possible to bet on races using online sportsbooks located outside the U.S. These offshore sites offer the chance to win real money betting on races.
Our experts looked at more than 100 online betting sites in Vermont and came up with their ranking of the best ones. We'll go through each in detail and also discuss the state of Vermont's gambling law. Plus, we'll run through what you need to know to start betting on the ponies.
Vermont's Best Online Racebooks
The Highest-Rated Online Racebooks
After looking at dozens and dozens of offshore racebooks, our experts came up with the following list of the 10 best available to Vermont residents.
Is horse racing betting legal in Vermont?
The last horse track in Vermont closed four decades ago, and since then, Vermont has made it illegal to bet on racing, either in person or online. The state does not allow for any form of gambling other than lottery tickets. It's possible the attitude is loosening, however, as the legislature has debated several bills over the last few years that would create a market for legal sports betting; unfortunately for horse racing fans, it does not appear that horse race betting would be included.
That means that for the foreseeable future, the only way to legally bet on horse races while in Vermont is to use offshore sportsbooks. These online gambling sites are located outside the United States. and therefore are not under the jurisdiction of Vermont state law or U.S. federal gambling regulations.
The Top Racebooks for Vermont Bettors: A Comparison
Our experts ranked the 10 best racebooks for Vermont residents, but the factors they considered most important may not match up with your personal preferences and priorities. As a result, they also put together detailed evaluations of each site, complete with pros and cons lists, so you can find the best match for your own needs.
1. Bookmaker: Caters to Rookies and High Rollers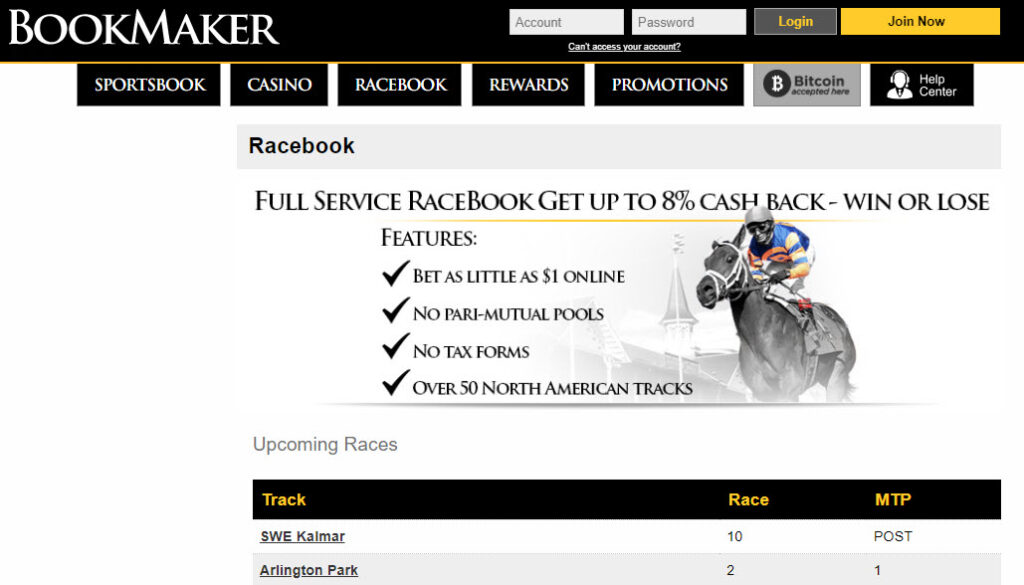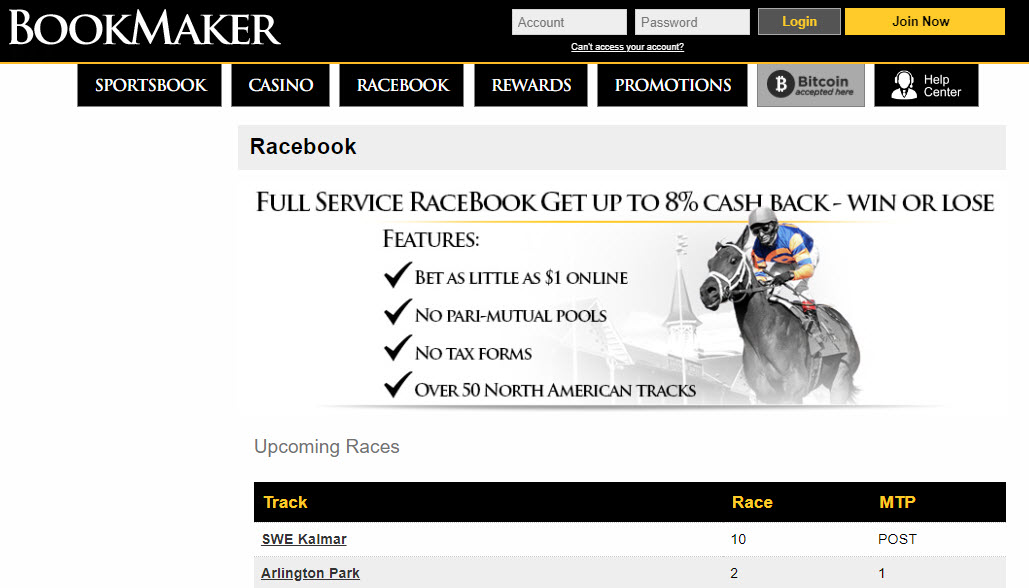 Bookmaker.eu earned the top spot in our rankings as the top all-around racebook available in Vermont. It features action from more than 50 horse racing tracks across North America, as well as some tracks from Europe. The site is known for appealing to all levels of gamblers, regardless of bankroll size, experience level or appetite for risk.
It has high betting limits and minimum bids as low as $1, so every bettor will be able to find a bet size they're comfortable with. Bookmaker is one of the first racebooks to publish odds and betting lines, and it has a fully optimized mobile site that's fast and easy to use for online wagering. 
Bookmaker's rebate program returns 3% of all racebook losses on straight bets and 8% on exotics.
Pros
Rebate program gives up to 8% cashback
Odds are among the earliest to be posted
All experience, risk and bankroll levels are catered to
Mobile interface is user-friendly and fast
Cons
Welcome bonuses aren't as high as at other racebooks
Limited performance history for horses
2. HeritageSports: Best VIP Treatment for Horse Players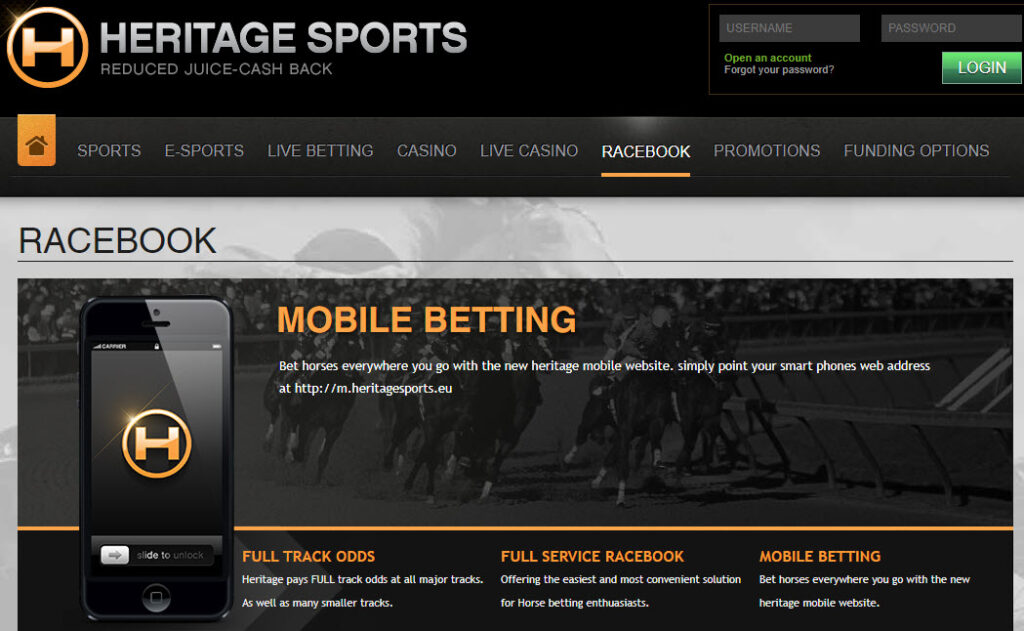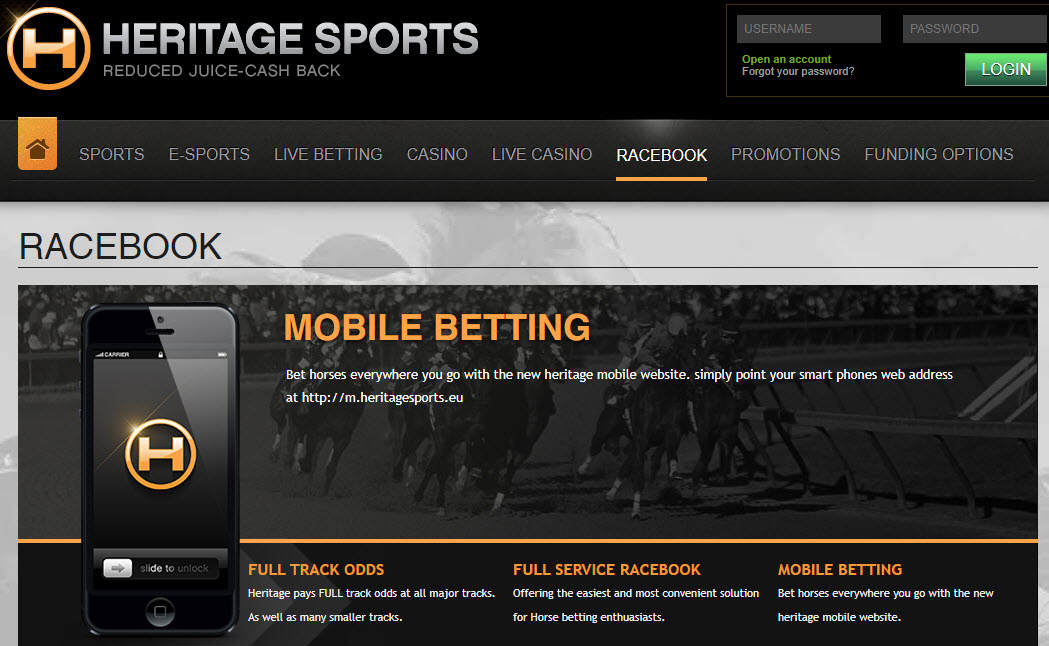 Heritage Sports got its start as an elite invitation-only gambling site. Over the years, it's opened its doors to all bettors, but it still acts like it's taking care of VIPs with red carpet treatment of all its customers. This site earned the No. 2 spot in our rankings in large part due to the elite gambling experience it provides.
The racebook provides the chance to bet on races from more than 60 different tracks around the world, including races in Ireland, the U.K., mainland Europe, Japan, Australia, Hong Kong and South Africa. The tracks featured by Heritage Sports are tiered. There are 16 tracks identified as "major tracks," and betting limits on races there go up to $1,000. Another 14 tracks are one tier lower and have limits that go up to $500.
Heritage Sports has one of the best mobile sites in Vermont and also offers a full-casino gambling experience with table games, live dealer casino games and a reduced juice sportsbook.
Pros
Top-rated VIP service for all customers
Pays full track odds for races at major tracks
The top mobile racebook site in Vermont
Limits go up to $1,000 at some tracks
Cons
Welcome bonuses are not as high as some competitors offer
Doesn't have live streaming of races
3. Bovada: Vermont's Best Racebook Loyalty Program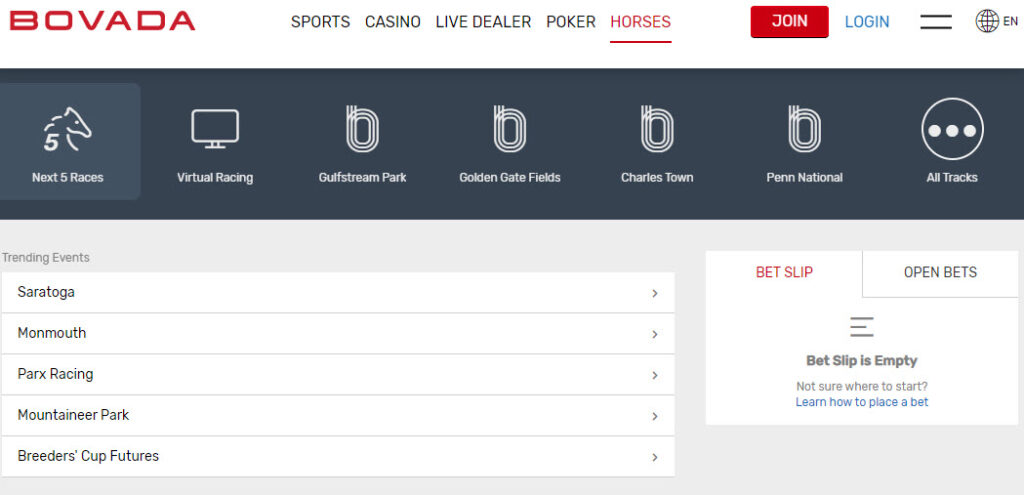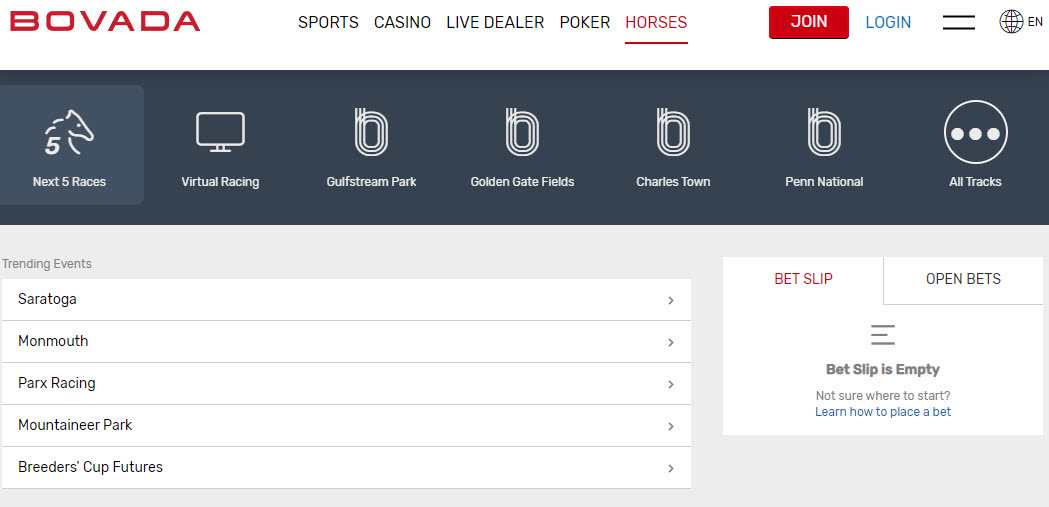 Bovada came in third in our rankings. In addition to its world-class racebook, it has one of the best sportsbooks, online casinos and poker rooms in the state, providing a huge variety of gambling options for Vermont residents with a one-stop shop for all betting needs.
The racebook includes action from the U.S., mainland Europe, the U.K. and Ireland, South Africa, Asia and Australia. Like its sportsbook, which boasts the largest menu of prop betting options, the racebook embraces the "more is more" attitude with a wide array of futures betting options on upcoming races.
Bovada also goes all out for the gem events on the racing calendar. It pays up to $100,000 on the three Triple Crown races and up to $30,000 on other major racing events. Not to mention, Bovada has the state's best loyalty program for racebook players.
Pros
Vermont's best racebook loyalty program
Pays up to $100,000 in prize money for major races
One of the biggest menus of racing futures bets available
Offers online casino gaming, an online sportsbook and America's busiest poker room
Cons
No cashback rebate on race losses
Does not provide performance data to help with handicapping
4. BetOnline: The Most Generous Cashback Rebate Program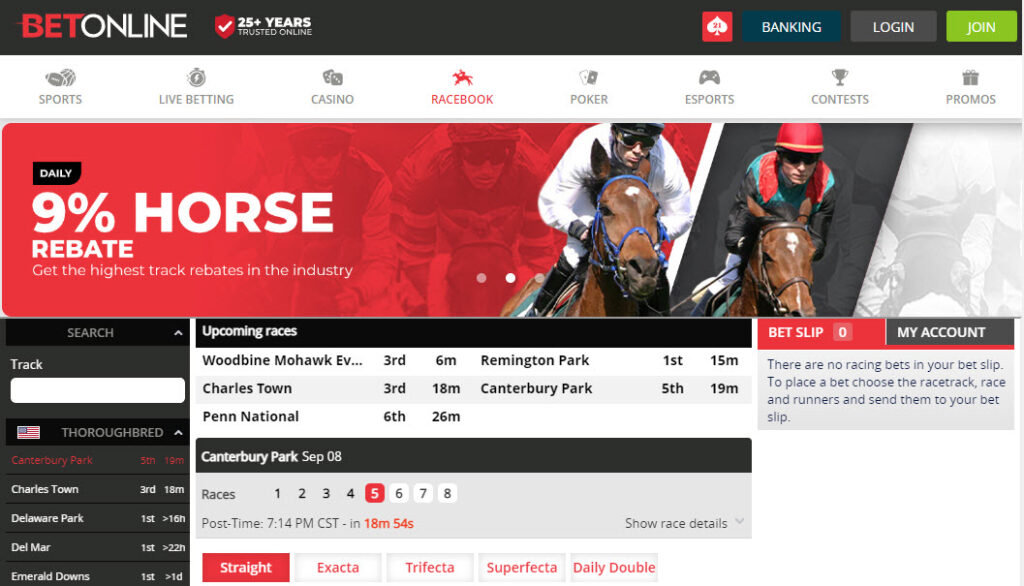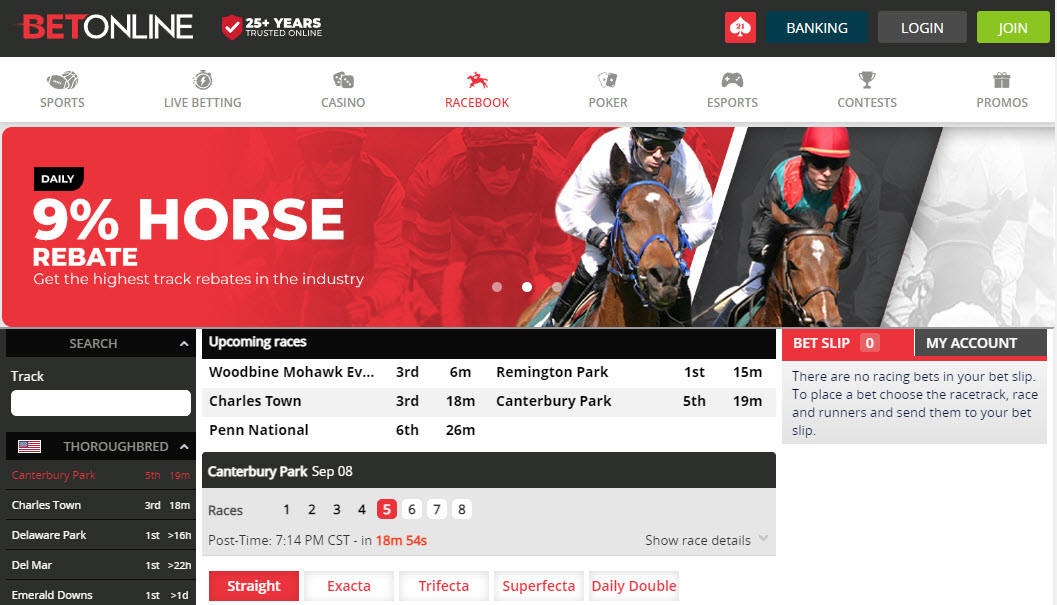 Our experts placed BetOnline fourth overall in the list of best racebooks in Vermont, but it earned special attention from the panel for its cashback rebate program, which they crowned the best in the state. BetOnline returns 4% of the amount you wager on straight (win, lose or show) bets – not the amount you lose. That 4% applies to wins and losses. That goes up to 9% cashback on exotic bets.
BetOnline features races from all across the U.S. as well as Australia, the U.K., Ireland, France, South Africa and Japan. It's also one of the few sites to feature Swedish harness racing. For big races like the Triple Crown and Breeders' Cup, it posts fixed odds several weeks ahead of time, to give bettors plenty of time to get their futures bets in and to handicap the race. The odds are also usually more favorable than those offered elsewhere.
Pros
The best rebate program for horse racing, up to 9% of all betting activity returned
Futures odds for big races are posted weeks ahead of time
New customers get a $25 risk-free bet in the racebook
Also has top-shelf sportsbook, poker room and online casino
Cons
Welcome bonus can't be spent in the racebook
Charges fees on some types of transactions
5. BetAnySports: Boost Your Race Betting Payout With Cashback Program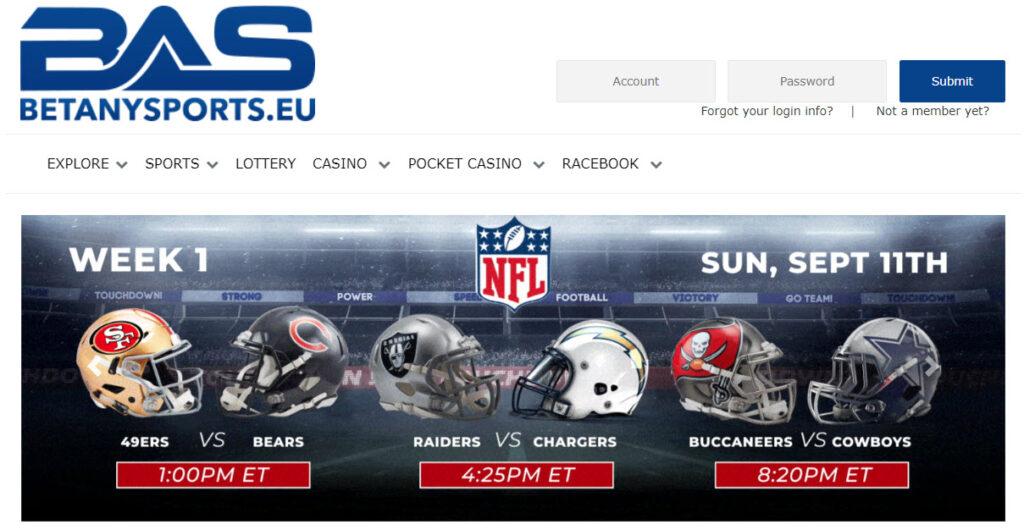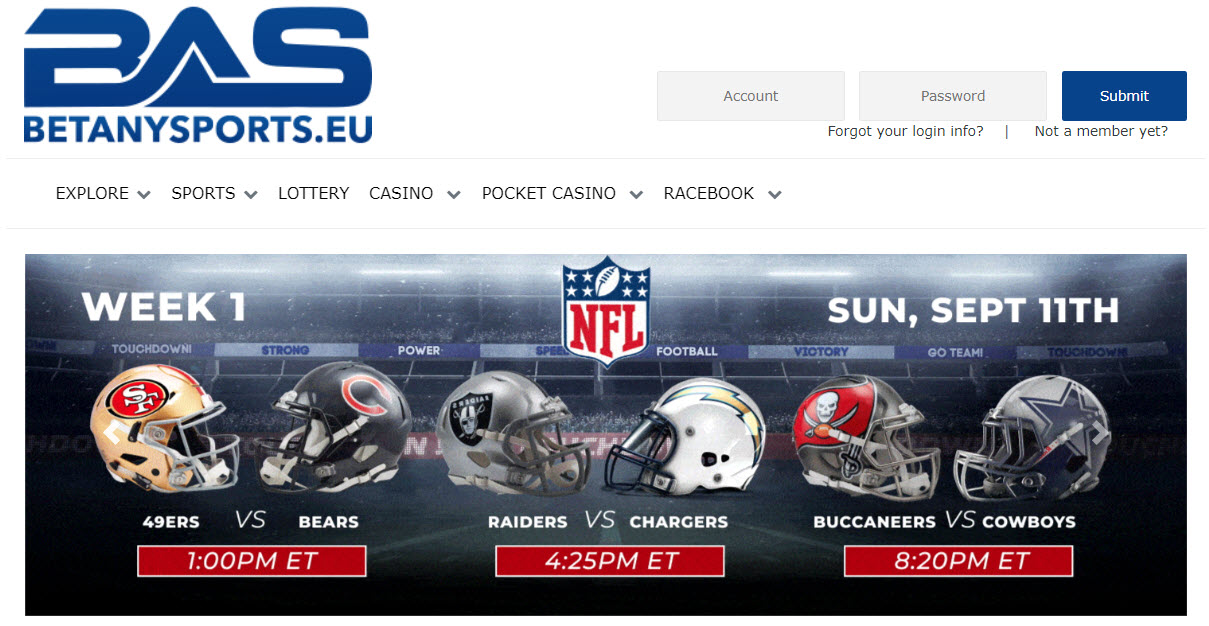 BetAnySports made its name by providing the most value to its customers by slashing its house edge. At the sportsbook, that means favorable odds and the most reduced juice of any site.
The racebook also embraces the idea of giving its customers value. It has some of the highest win limits in the state and also offers an attractive cashback rebate program. BetAnySports returns 3% on straight bets and 6% on exotics, with the percentages increasing based on volume to a maximum of 9%. And that's on all bets, win or lose, not just a rebate on losses.
Pros
Cashback rebate goes up to 9% on all bets, not just losses
Also has a 10% payout boost program on select races
Some of the highest win limits available
Welcome bonus can be used on horse race betting
Cons
Rollover requirements on bonuses and deposited money
Website is not as polished or attractive as other sites
6. BetUS: The Biggest Welcome Bonuses in VT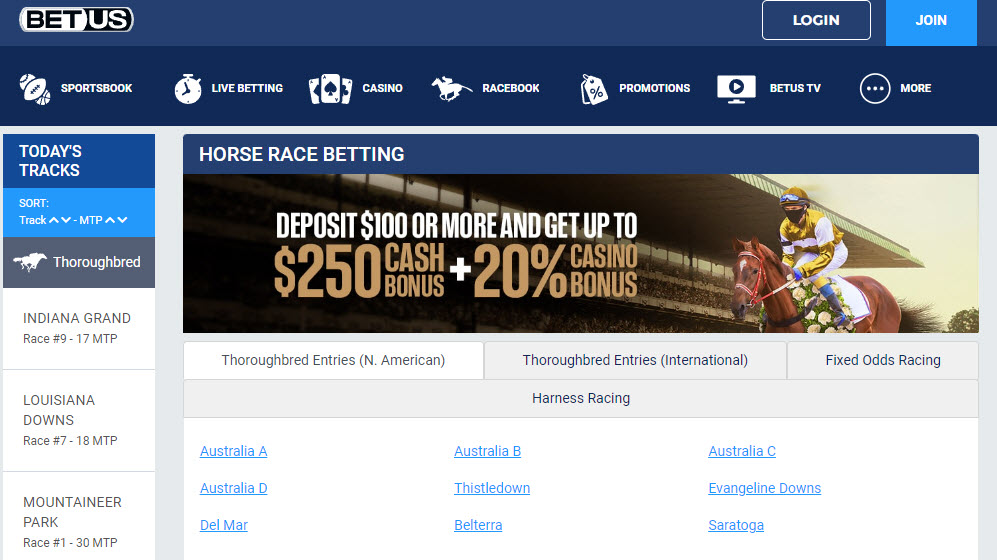 BetUS offers racing action from tracks around the United States, as well as the United Kingdom, Ireland, France, Australia and elsewhere. To get you started, it provides the most generous welcome bonuses in Vermont.
Before you place your first bet, you'll already double your money at BetUS, because they match your first deposit at 125%, up to $2,500. They also have revamped their site with new, cutting-edge software to improve the user experience.
Pros
The highest welcome bonuses, at 125% match on your first deposit
Software upgrade means user interface is fast, stylish and easy to use
Provides weekly video breakdowns of big races
Outstanding VIP program for loyal customers
Cons
Bonus money has steep rollover requirements attached
Odds and lines are published later than at other outlets
7. WagerWeb: Same-Day Payout for Bitcoin Users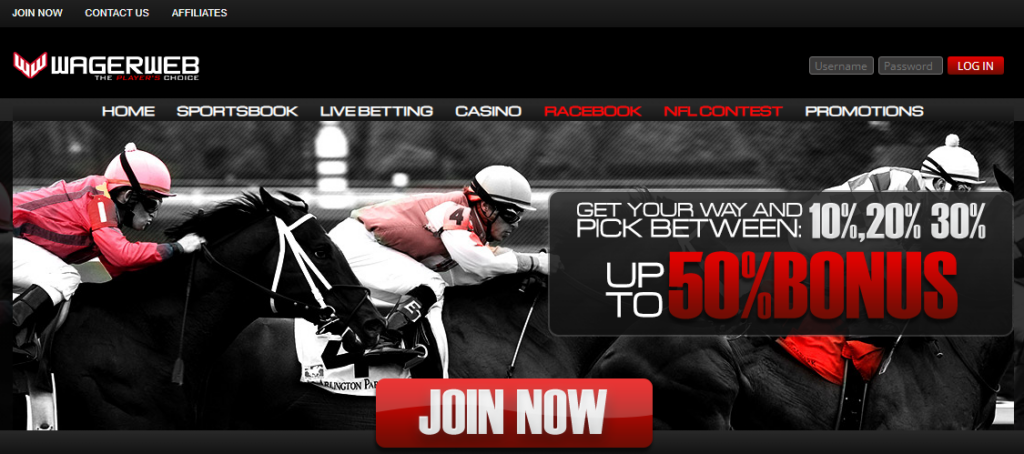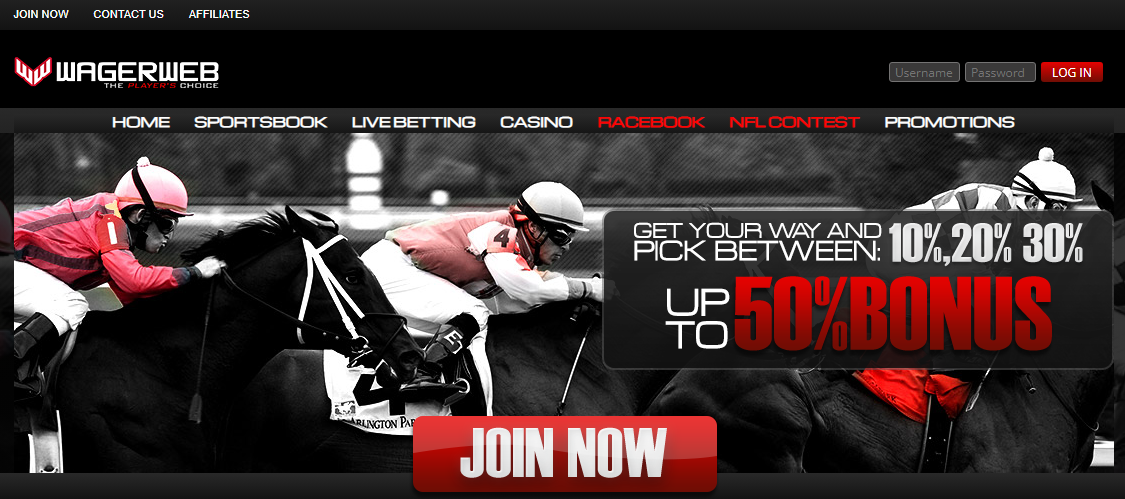 WagerWeb's racebook features all the major American tracks as well as the big tracks from around the world. It also features action from many of the smaller venues in the U.S. They also offer a weekly cashback rebate. Every Monday, WagerWeb returns 5% of whatever losses you suffered in races at major tracks over the last week.
The racebook is also well-organized and easy to navigate. You'll have no trouble finding the races and markets you want to bet, thanks to its logical design.
WagerWeb is a sister site of Heritage Sports and has many of the same characteristics, including an emphasis on red carpet treatment of customers and a strong mobile site.
Pros
Flexible selection of welcome bonuses and generous ongoing promotions for existing customers
Weekly cashback rebate on racebook losses
Pays out quickly, easily and in full
Three decades-long track record of safe, trustworthy operation
Cons
Withdrawals are limited to one a month before fees are charged
Betting limits are lower than other books
8. JustBet: User-Friendly Interface Makes Betting Fast and Easy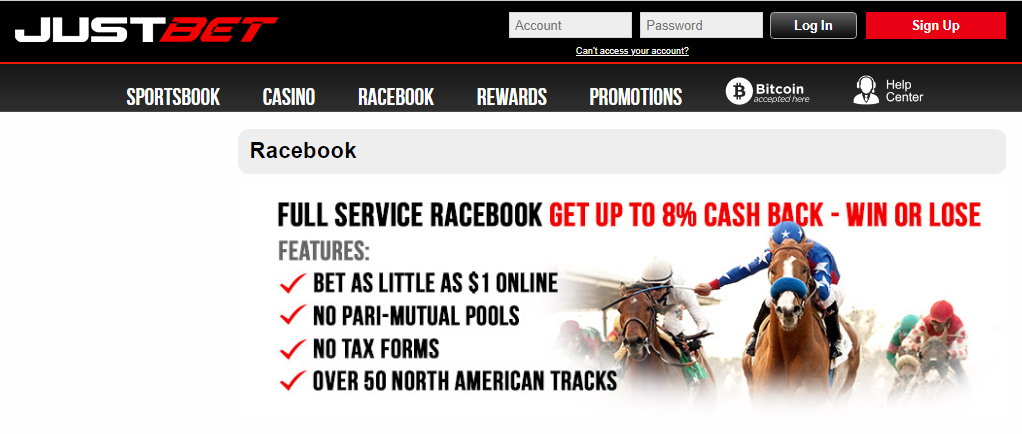 JustBet is a sister site of our top-rated site in Vermont, Bookmaker, and many of the same characteristics that put Bookmaker at the top of the list are also present at its partner site.
JustBet has an outstanding racebook that regularly features action from 40 tracks in North America as well as races from the United Kingdom, mainland Europe and Australia. The racing menu includes both thoroughbred racing and harness racing. Like Bookmaker, JustBet has high limits and very low minimums, as low as $1 a race.
They also offer a cashback rebate for racebook losses, and JustBet has a clean, uncluttered interface that makes it easy to find what you're looking for. An organized, intuitively designed racecard also makes it easy, even to place complicated exotic bets.
Pros
High betting limits and minimum bets as low as $1 a race
Interface is logical, organized and uncluttered
Has deep menu of both thoroughbred and harness races
Offers a cashback rebate program
Cons
Doesn't have the full-casino options of some other outlets
No reduced juice sports lines on sportsbook
Welcome bonuses are not as high as other sites
9. Everygame: Offers a Smooth, Stylish User Experience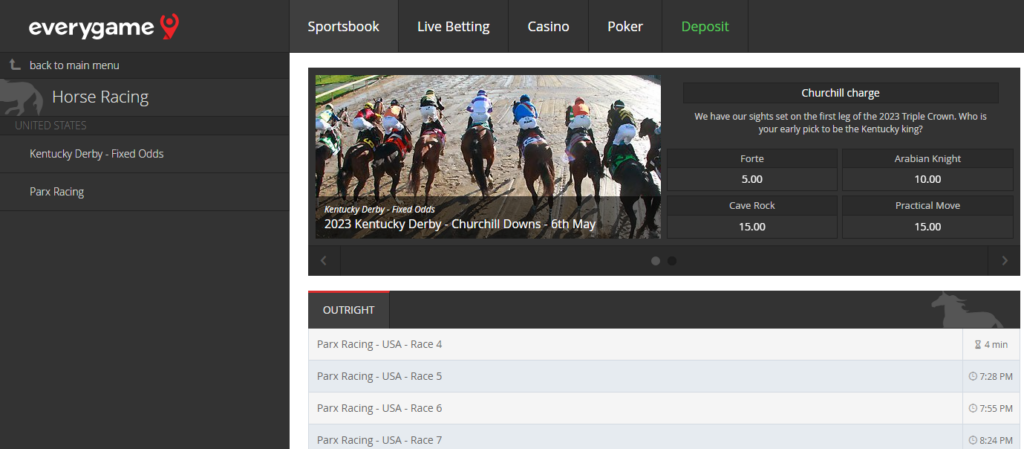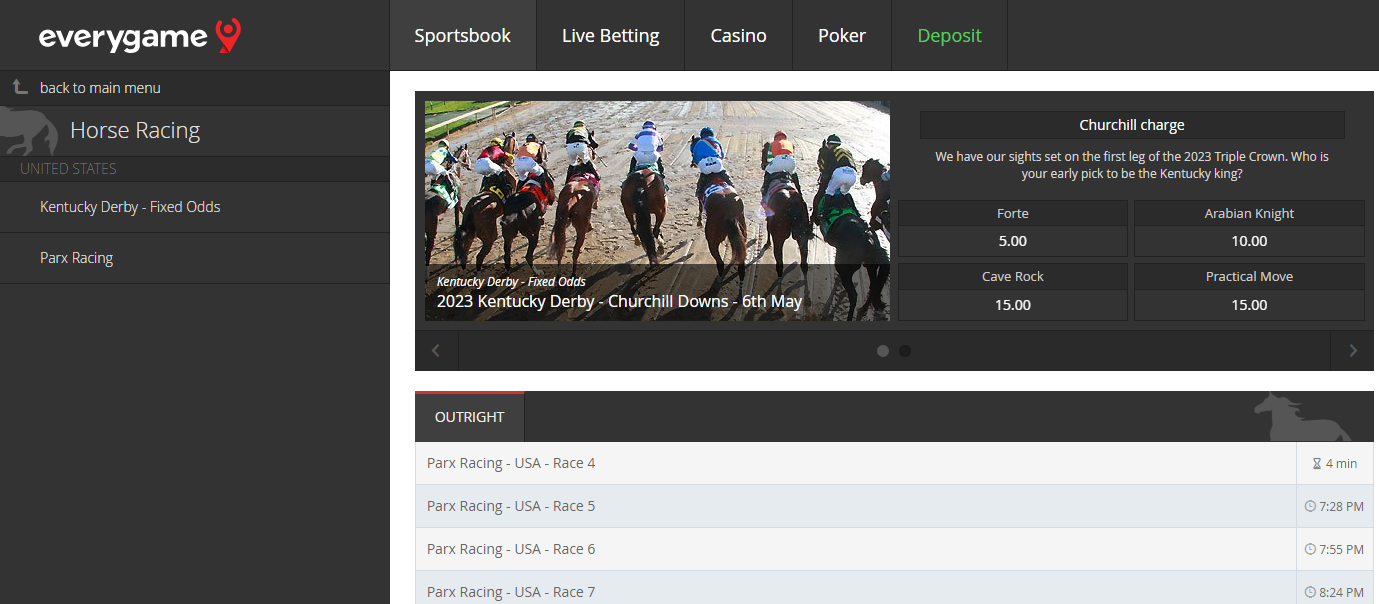 Everygame is a bit different from the other sites in the top 10. Most offshore sportsbooks have a separate stand-alone racebook, but Everygame includes horse racing as part of its sportsbook. The difference doesn't have a major impact on the betting experience. Some sites limit their welcome bonuses to the sportsbook or casino, so including the racebook in sports betting eliminates that problem.
Everygame's racing section focuses on races in American race fans. There are few, if any, international races offered. However, the site is known for its global reach and has a wider array of overseas sporting events than any other site. It also has brand-new, state-of-the-art software that creates a slick environment for mobile betting.
Pros
Oldest betting site still operating, giving it a long track record
New software upgrade provides outstanding mobile betting interface
The top mobile casino in the state and a global sportsbook
Racebook is part of sportsbook, so welcome bonuses can be used on horse betting
Cons
Limited menu of international races
Bonuses are relatively low
10. SportsBetting: Some of Vermont's Highest Betting Limits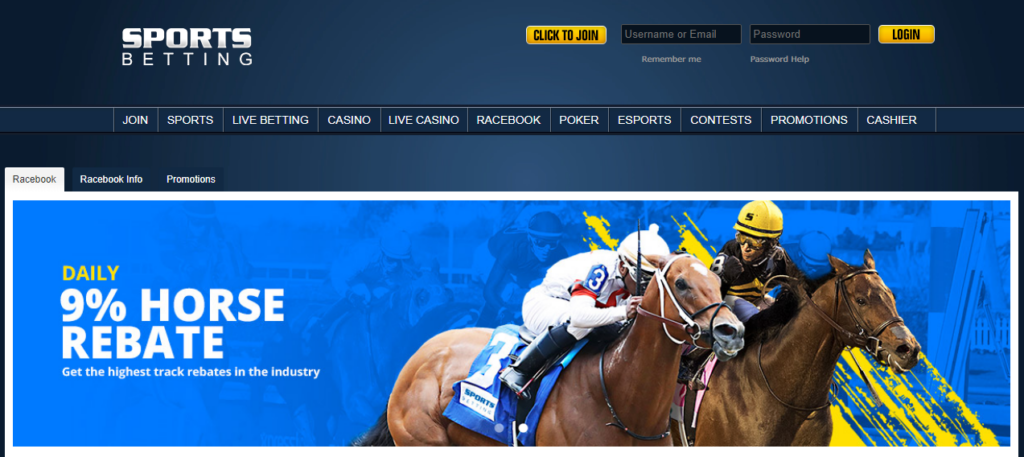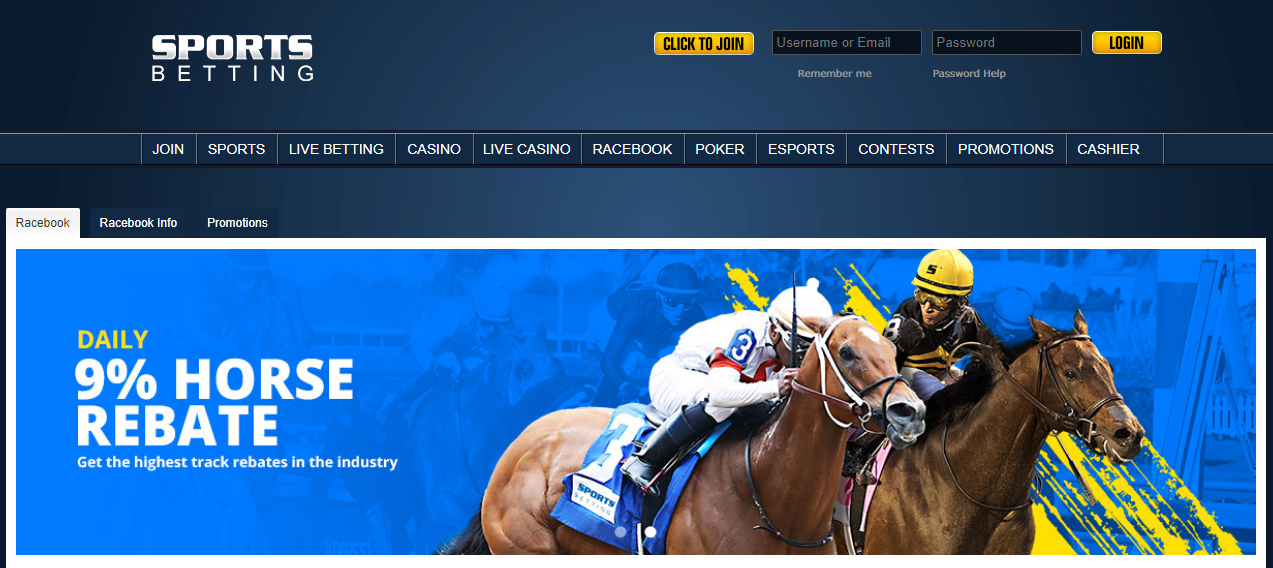 SportsBetting.ag is also a partner site of a top-four racebook. It is the sister site of BetOnline and shares many of the same factors that put BetOnline on our Mount Rushmore. SportsBetting offers racing action from across America, the U.K., Ireland, South Africa, Australia, Japan, Sweden and Canada.
New customers will get a $25 risk-free bet to use on the ponies, and SportsBetting also pays a 7% cashback rebate on daily net losses. Its interface may not look as snazzy as other sites, but it is fast and efficient, and you'll get your bets placed in a matter of seconds.
Pros
User interface is fast and efficient, with bets placed in as few as 10 seconds
Deposit limits are very high
Offers a 7% cashback rebate on daily net losses
Welcome bonus includes a $25 risk-free racing bet
Cons
Site appears plain and outdated
Limited options for online casino gambling compared to other outlets
Our Racebook Rating Methodology
Our panel of experts took several different factors into consideration when compiling the top 10. They looked at the variety of races offered at each offshore sportsbook, as well as how the biggest races on the calendar (Triple Crown, Breeders' Cup, etc.) were treated at each site. Promotions and welcome bonuses were taken into consideration, as were the overall opinion of the sites based on customer reviews.
The History of Gambling Laws in Vermont
Vermont is currently playing catch-up when it comes to gambling laws. At the moment, lottery tickets are the only legal form of gambling in the state. There are no tribal casinos, no bingo halls and, surprisingly, no horse race tracks or OTB parlors. Especially in the Northeast, where most states have taken strides toward legalizing more and more forms of gambling, Vermont stands alone.
That might be changing, though. The legislature has considered sports betting bills in recent years, and the governor is pushing hard to get them to adopt one. In the meantime, online sports betting at offshore books is the only option for the state's residents.
Vermont's Gambling Timeline
2023: There is a new bill that many people think will pass. The governor's budget includes the proceeds from sports betting.
2022: December marks the conclusion of the probe. It recommends creating a state-run sports betting business.
2021: The possibility of enabling sports betting is the focus of a feasibility study. In committee, a bill is presented, but it is rejected.
2020: Only one of the two proposed measures allowing sports betting was approved by the senate but not by the house.
2019: A bill to legalize retail and online sports betting is read in committee but never moves forward.
1978: The Vermont State Lottery, which is the only type of gambling permitted in Vermont, begins to run.
1977: The final horse race in the state is held in Green Mountain Park.
1963: Green Mountain Park, the state's sole racetrack, debuts.
1959: For the first time ever, horse racing wagering is permitted in Vermont. All wagering followed the pari-mutuel system.
Features Each of the Best Racebooks Should Have
In order to be considered as one of the top racebooks in Vermont, each of the horse racing betting sites in our top 10 had to meet minimum thresholds set by our panel of experts. Here are some of the must-haves that every site in our top 10 is guaranteed to have.
Competitive Betting Odds
Obviously, horse racing betting sites need to have betting lines that give gamblers a reasonable chance of making money and are reflective of the probability of an event occurring. Odds should be fair and give gamblers a realistic expectation of profiting if they choose wisely.
Multiple Betting Markets
Everyone likes variety, and horseplayers are no different. There should be a variety of races from a wide selection of tracks, and there should also be the opportunity to place a wide array of bet types, including straight bets and a range of exotics. For the biggest races of the year, sites should step up and have an even deeper menu of betting markets available.
Banking Methods
Since the sites in our top 10 are all located offshore, some traditional banking methods, such as debit cards, could have fees attached or delays before money is available. Sites should offer a variety of banking methods, including e-wallets and cryptocurrencies, with fees and delays kept to a minimum.
Promos & Bonuses
Sites should demonstrate that they value you as a customer with a selection of promotions and bonuses, starting from when you open your account. They should offer a deposit match bonus and reload bonuses, as well as a selection of other perks, including cashback rebates and loyalty programs.
Live Betting & Event Streaming
Live betting has become a popular way of gambling on sports. As part of that, many sites have begun to offer live streaming of events, to allow people betting on in-progress games to track their progress. While horse races may be too short to take advantage of live betting, streaming is an important option, especially for races at smaller tracks, which aren't likely to be found on other sources.
Quality User Interface
Especially in horse racing, where there are a number of complicated, multi-faceted exotic bets you can place, it's important to have a user interface that makes sense and is easy to navigate. The top sites should make it easy to find the races and markets you want to play and get your bets placed correctly.
Mobile Site Quality
More bets are placed by phone and tablet than by classic computer interfaces. So sites should pay attention to how their interface looks on mobile devices. Pages should load quickly and be glitch-free, and the site should be readable and easy to navigate, even on a small phone screen.
Customer Service Contact Options
Occasionally, issues will arise, and the top sites should make it easy for you to get the help you need. Customer service should be available 24/7 in multiple languages and by multiple contact methods, including phone, live chat and email.
Security & Safety Features
When you engage in real money betting, your financial information is at risk. Keeping it safe and secure is a non-negotiable with our panel of experts. Any site that had any issue with security was immediately removed from consideration.
Vermont Horse Race Betting Odds
There are two different ways to bet on horse races—fixed odds and pari-mutuel. The biggest races, such as the Kentucky Derby and other Triple Crown events, used fixed odds, while the vast majority of smaller tracks and lower-profile races use pari-mutuel.
Fixed Odds
Fixed odds are similar to futures odds in other sports. The field is listed and each horse is given moneyline odds, showing how much a $100 bet will win (for positive moneylines), or how much you'll have to wager to win $100 (for negative).
For example, +500 means that a $100 bet would win $500, plus you'd get the $100 you put down for a payout amount of $600. If you don't bet $100, the payout is scaled based on that ratio. So a $10 on +500, would earn $50 in profit.
A -110 moneyline means you'd have to risk $110 on a bet in order to earn $100 in profit on a win.
Pari-Mutuel Wagering
Pari-mutuel betting is used for the vast majority of horse races. Your bet goes into a pool of money, and, if it wins, the payout is divided evenly (based on the wager amount) among everyone with winning tickets. It's a little like the jackpot amount in a multi-state lottery like Powerball or Mega Millions. The payout amount can be estimated, but the exact amount you win won't be known until you cash your ticket.
Pool Betting
Pool betting is another term for Pari-Mutuel wagering. They are interchangeable.
Calculating Horse Racing Betting Odds
In addition to moneyline odds, fixed odds may be listed in a fractional format. Both are related directly to the implied probability of winning the bet. The chart below summarizes the conversions between win probability, fractional odds and moneylines, as well as listing the payout amount.
| Horse Racing Odds | $2 Wager Payout | Implied Probability of Winning |
| --- | --- | --- |
| 1/5 (-500) | $2.40 | 83.33% |
| 1/4 (-400) | $2.50 | 80% |
| 1/3 (-300) | $2.60 | 75% |
| 1/2 (-200) | $3.00 | 66.67% |
| 4/6 (-150) | $3.33 | 60% |
| 1/1 (-100) | $4.00 | 50% |
| 2/1 (+200) | $6.00 | 33.33% |
| 3/1 (+300) | $8.00 | 25% |
| 5/1 (+500) | $12 | 16.67% |
| 10/1 (+1000) | $22 | 9.00% |
| 50/1 (+5000) | $102 | 1.96% |
The payout amounts above include the amount of the initial bet you placed, which is returned to you if you win.
Commonly Placed Types of Horse Racing Bets in VT
There are a number of different ways to bet on horse races. Here are the most common types.
Win: The most common bet. You pick the horse you think will finish first.
Place: Your bet wins if your horse finishes in the top two.
Show: Your bet pays off if the horse you picked finishes in the top three. These first three bet types are known as straight wagers. The rest of the bet types are known as exotic wagers.
Exacta: You pick the horses you think will finish first and second in a given race. Order matters. If you want the top two horses in either order, you'd need to bet an exacta box.
Trifecta: Similar to an exacta except you pick the top three finishers, in order.
Superfecta: You pick the top four finishers in a race, in order.
Daily Double: A parlay on back-to-back races. You pick both winners and the bet only pays off if both bets are winners.
Pick 3/4/5/6: Similar to a daily double, but you pick winners of 3, 4, 5 or 6 consecutive races.
Types of Horse Races
There are a few different forms of horse racing, differing based on the surface or the demands placed on the horse. Here's a look at the most common types of races.
Flat Racing
Flat races are races that do not have any obstacles for the horse to avoid or clear.
Steeplechase Racing
This type of race is the opposite of a flat race. In a steeplechase, horses must jump over obstacles, such as fences and ditches. It's supposed to simulate racing across the old British countryside.
Harness Racing
Instead of riding on the horse, the jockey in this type of race is in a two-wheeled cart being pulled by the horse. Horses in these races generally trot instead of running full out.
Endurance Racing
As the name implies, this type of race is held over a long distance, to test the endurance of the horse and rider. Typically, U.S. endurance races are 50 or 100 miles.
Types of Horse Race Breeds
Horse races also differ based on the type of horse running in the race. Here's a look at the various categories.
Thoroughbred
These are the elite athletes of the horse racing world. Thoroughbreds were specifically bred to run races. They are known for their agility, speed and hot-blooded spirit.
Standardbred
Standardbred horses are usually used for harness races. They're usually longer and more muscular than thoroughbreds and generally considered to be calmer.
Arabian
This is one of the oldest horse breeds in the world and is used for endurance racing. They are most recognizable by their distinctively shaped heads.
Quarter
The quarter horse was bred to excel in short sprints. The name derives from the maximum distance they generally run—a quarter mile. Over that span, a quarter horse can easily reach a speed of 40 mph.
Horse Racing Betting Terms You Need to Know
Veteran bettors of horse racing have their own language. Here's a quick rundown of some terms you might hear when you start wagering on horse racing.
Ante-Post: A bet placed before the race day betting market has opened. Somewhat similar to futures betting in other sports. 
Drifter: A horse whose odds are getting worse as the race approaches, for instance, going from 5/1 to 8/1. It's the opposite of a "steamer" 
Dead Heat: When two or more horses finish in a tie. 
Dutch: Dutching or Dutch betting refers to betting on multiple horses in a given race to cover a number of possible outcomes.
Exotic Wagers: Bets that involve multiple horses and combine multiple outcomes, such as daily doubles and exactas. Win, place and show bets are considered straight wagers. 
Favorite: The horse that is believed to have the best chance of winning a race and has the lowest betting odds. 
Furlong: A length measurement used to report race distances. One furlong is an eighth of a mile.
Longshot: A horse not expected to do well in a race and given very long odds. Bettors will take chances on a longshot because of the potentially large payoff.
Morning Line: Odds placed by the track handicapper, prior to the start of the day's betting, which may change once the races begin.
Odds: The odds are the return you will get on a bet if it ends up winning. They are related to the expected probability of the event occurring and can change based on betting activity.
Pari-Mutuel System: The method used to determine payouts for winning bettors at most tracks. All money wagered goes into a pool and is divided among winning bettors.
Stake: The amount of money a horse owner must pay to run their horse in a race.
Vermont Horse Racing Tracks
For years, Vermont had one primary race track: Green Mountain Park. The track opened in 1963 and ran races through the mid-1970s. The track ran its last race more than 45 years ago, however. It continued as a greyhound track until the early 1990s and then closed for good. Other than that, there are no horse tracks or live horse racing in the state.
Betting on Virtual Horse Races in Vermont
There are horse races going on around the world, every day. But if that's not enough for you, you can try virtual horse betting. A virtual horse race is a simulated horse race whose results are determined by a random number generator. Some sites go a step further and use other animals in their virtual races, including dogs and camels.
How Vermont Bettors Can Create a Racebook Account
Creating a racebook account for online horse racing betting is fast and easy. Horse racing fans can have their account ready to go within a few minutes.
Step 1. Sign-Up With an Online Racebook
First, choose one of the 10 online books we recommend. Click on the "create account" button and enter personal information on their registration form.
Step 2. Verify Your Racebook Account Details
Most sites have a two-step verification process. They'll text a code to your phone that you need to enter online to prove it's really you requesting the account.
Step 3. Deposit Funds
Now that your account is created, you need to fund it. Choose a deposit method listed on the cashier page and enter the amount of the deposit and your financial information. If you need a promotional code to collect your welcome bonus, enter it now.
Step 4. Start Betting on Horse Races
That's it. You're ready to go. Find a race and place your bet.
FAQs – The Legality of Horse Race Betting in Vermont
Can I bet online in Vermont?
You can bet online in Vermont, but only at an offshore sportsbook. State law prohibits all forms of gambling, in person and online. But offshore sites are located outside the jurisdiction of state law as well as U.S. federal gambling regulations.
What sportsbooks are legal in Vermont?
Vermont does not yet have legal sports betting, so there are no local sportsbooks available to residents. State law doesn't apply to offshore books, however, which have been taking bets from Vermont residents for years and paying out in real money.
What app lets you bet on horse racing?
Because online gambling is not yet legal in Vermont, there are no native apps available to residents in the state. However, online betting and mobile betting are both available at offshore sites, which do not fall under United States jurisdiction.
How do I place a bet on a horse race?
You can bet on horse races in person at a track or off-track betting parlor, but not in Vermont, because there are none. You can also place a bet online by creating an account at one of the offshore sports books our panel of experts recommended in their top 10 list above.
Do I need an SSN to bet online?
You can bet without providing a social security number. Some online gambling sites might ask for it, but it's only needed for large bets. Offshore sportsbooks are less likely to require an SSN, since they are not subject to U.S. or state law.