Online Poker in New Jersey – Is it Legal?
Since new online poker legislation passed in 2013, online poker has been live and legal in the state of New Jersey. This is great news for poker fans and online players as the only other states who are fully operational with a legal, online poker platform are Delaware, Nevada, Pennsylvania, and Michigan. Consider yourself one of the lucky ones in the Garden State.
But which New Jersey betting sites should you join for your poker needs? We review those below as well as go over some tips for those new to online poker or to online casino gaming in general.
New Jersey Betting Guides
If you want to learn more about the best gambling sites in New Jersey or you're interested in getting started with a new gambling market, we suggest you check out our other pages on those subjects.
The Best New Jersey Online Poker Sites
The Garden State is a bit tricky in that its users will not be able to join Bovada and BetOnline, two of the best offshore sportsbooks for poker tournaments. If you read our online poker guides for other states, you know those are two we almost always recommend. Because of this, there really is not a wide variety of online gambling sites that will provide you with the best online poker experience.
Fortunately, we have found some options that are open to New Jersey users.
SportsBetting – Top choice for poker tournaments
Everygame – Best online casino design
New Jersey Online Poker Sites Reviewed
In our review of each site, we'll let you know what kind of poker options they have as well as any promotions specific to poker.
1. SportsBetting: Top Choice for Poker Tournaments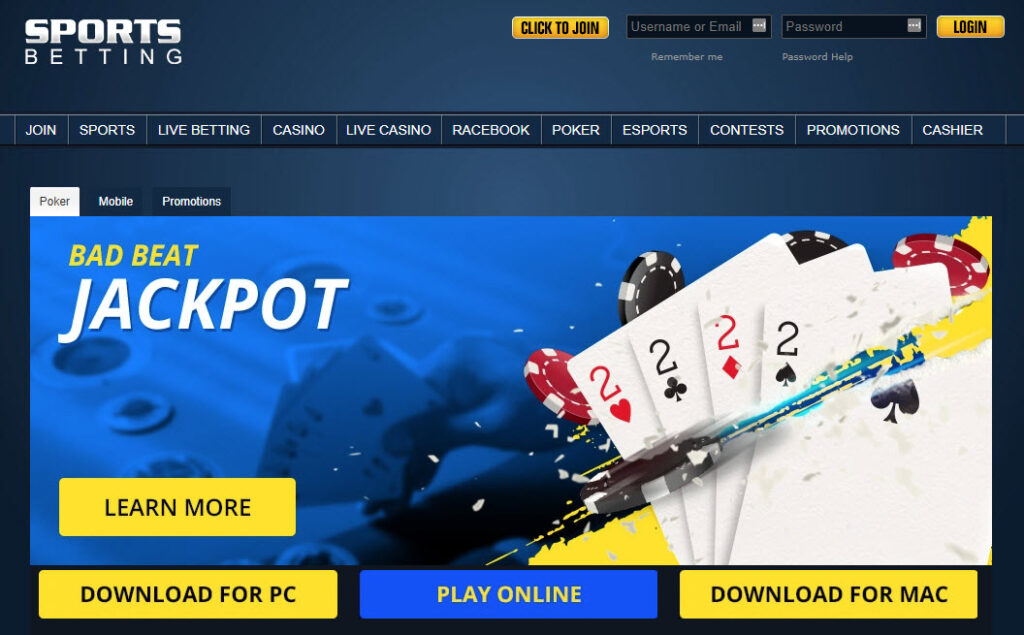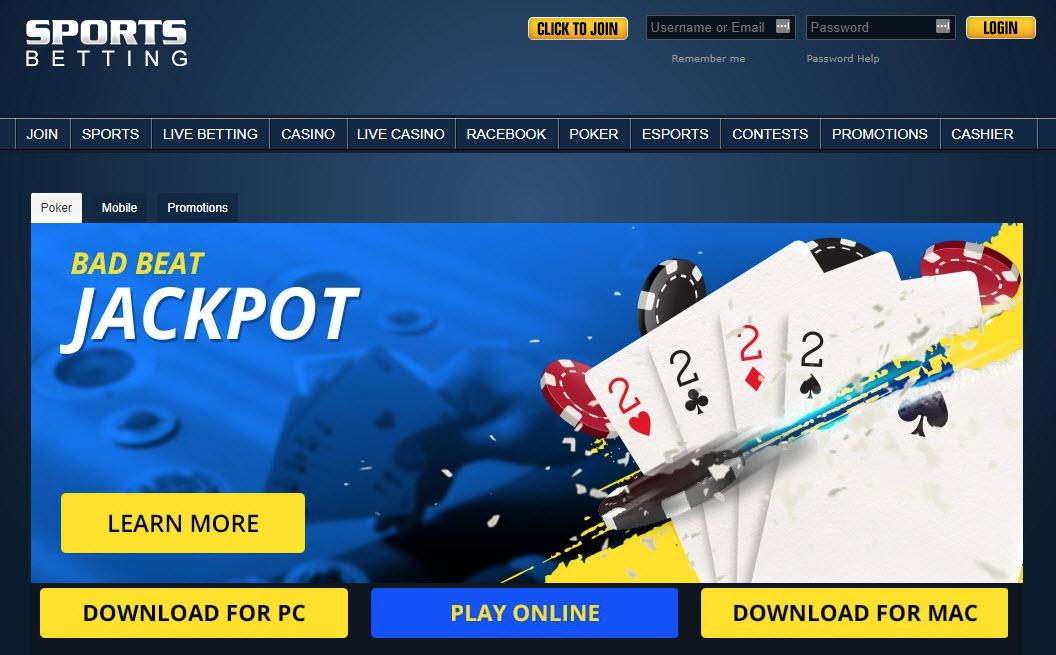 While the state of New Jersey prohibits users from joining BetOnline, the good news is you can join SportsBetting, which is BetOnline's sister site. It accepts all United States residents as well as those in Canada.
Like with BetOnline, the poker tournaments are one of the best features at SportsBetting. You can download free poker software or play right on your PC once you have made your account. They offer a variety of tournaments including one every Sunday called $150,000 Guaranteed. There is also a Sit & Go tournament with a $1 million windfall jackpot. There are also poker promotions like bad beat jackpots or getting a 100% deposit match on your first poker deposit.
There are also sports contests that you can enter for free or a small fee to win prizes. SportsBetting has a decent sportsbook with live betting, and the casino section has slots and video poker variants available.
Pros:
Quick payouts
Your best choice in New Jersey for poker tournaments
Poker software is free and easy to install
Some of the best sports promos
Cons:
Not as popular as BetOnline
No demo versions on casino games
2. Everygame: Best Online Casino Design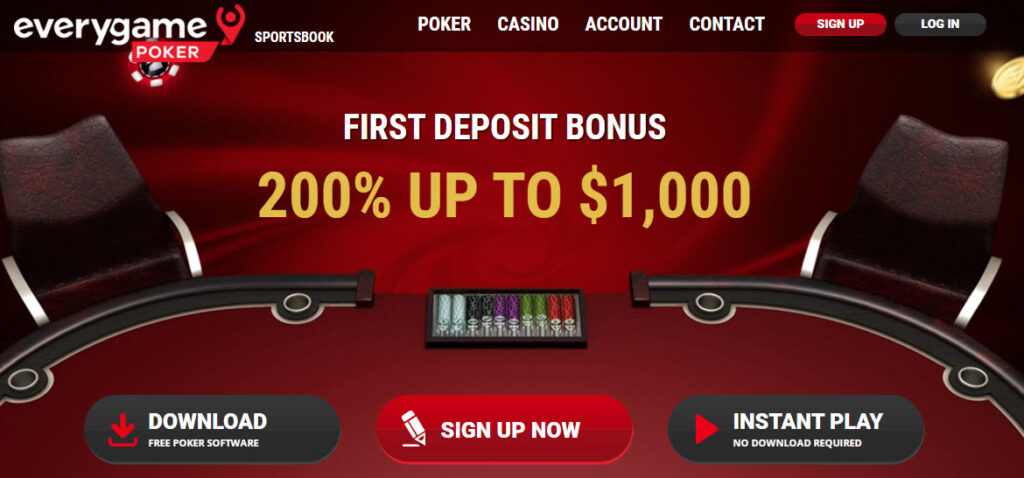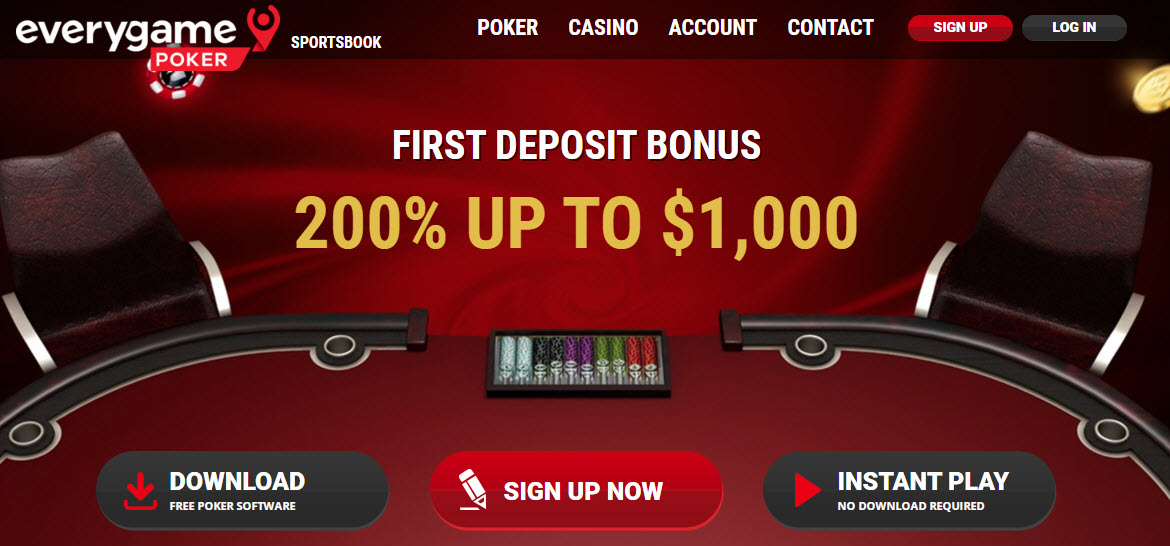 Rebranded from Intertops to Everygame in 2017, this Antigua-based company will give you access to poker tournaments and some of the best-looking casino games in the market. Their site design is very vibrant, and the casino section is where it really pops.
Everygame is one of the few choices for New Jersey players seeking poker tournaments. You may not see the huge jackpots found at more popular sites, but New Jersey users are welcome to join the site and play against other users in Sundowner tournaments or in the cash games (Omaha and Texas Hold'em in addition to a wide variety of other games).
Everygame promotes having the best rakeback rate in the industry. The poker games you enter have a fee, but the more you play, the more money you will earn back over time. The rakeback rate of 36% at Everygame is the highest we have seen advertised.
Pros:
Highest poker rakeback rate (36%)
Wide variety of methods to deposit cash
Play video poker with free demo versions
Excellent site design
Great casino selection
Cons:
Tournaments lack the huge jackpots found at online poker rivals
Is online poker legal in New Jersey?
Yes, New Jersey has been a trendsetter when it comes to online poker. While Black Friday in 2011 effectively banned online poker in the United States, New Jersey was one of the fastest to bring it back legally.
Online poker and playing poker with a mobile poker app has been legal in the Garden State since 2013 and enjoys one of the largest user bases of online poker players in the country. New Jersey was the first state to give a license to popular online poker site PokerStars and the online poker industry in the state has only grown since then.
It was also crucial for the online poker market in 2017 when New Jersey officially joined the shared liquidity act with Delaware and Nevada, two of the first states to legalize online poker and poker mobile apps. That means players in those states could play against each other, expanding the network. As we near 2023, these are some of the only states to legalize it along with Pennsylvania and Michigan. West Virginia legalized online poker in 2019 but rolling it out live is still taking years to pull off.
New Jersey Poker Laws
We know online poker is legal in New Jersey, but what about the other forms of the game?
Video Poker
Fans of slot games or fans of poker who may not want the pressure or challenge of playing against a human opponent may really enjoy video poker. These games are included in most online casinos, and they work by drawing a winner from a random number generator just like the way video slots work.
Video poker is a fast-paced alternative to regular poker. It is easy for anyone to click through a game and win some money. You can try different variations of video poker at many online casinos. Some will even have free demos to try before you spend a real penny.
Casual Poker
Some states get a bit ridiculous with the law when it comes to hosting a casual poker game amongst friends, but New Jersey is fairly logical about this. You can do it legally. You just cannot have the host charge people a fee to enter the game. But you can play together for real money as long as you aren't asking for a fee to play.
New Jersey Poker – Live and in Person
For some people, poker is always going to be at its best in person at a table with other players even though online gaming markets are more varied and flexible. You are never going to see a tense poker scene in a movie like Rounders or Molly's Game centered around two dudes in their pajamas on their smartphones while they go at it on PokerStars.
Fortunately, Atlantic City is still home to some fine poker rooms at their casinos, allowing plenty of poker options for those that want to play traditional poker in person instead of at legal poker sites:
Borgata Poker Room (largest with over 80 tables)
Bally's Casino WSOP Poker Room (over 40 tables)
Harrah's Casino Poker Room (28 tables)
Tropicana Casino Poker Room (18 tables)
Golden Nugget Casino (nine tables)
How to Play Online Poker with the Best NJ Poker Sites
Playing online poker is very simple. You just need a device with an internet connection and some form of online payment ready. Our guide will walk you through the few steps to start playing online poker in minutes.
Step 1: Register Your Account
Visit the website you wish to join to begin the sign-up process. You will usually see a "Join" or "Create account" option somewhere on the main page, or you might be hit with a pop-up to start this process.
Step 2: Type Your Information
Expect to enter your personal details (name, email, address, phone number) and pick a unique password that you are not using at any other site. There may be some additional info required down the road to verify you are who you say you are, but for now, the general info is usually good enough to get your account in the system. Do not use a fake name. This is all legal activity, so you should not feel the need to lie about anything.
Step 3: Add Money to Your Account
There may be some video poker games to play for free, but if you want to win money, you better put real money in. Head to the deposit section of your new account and fund your account using your preferred option whether it be a credit card, crypto, or other.
Step 4: Play Poker
Now your account has money, so you are ready to go play poker or any of the other popular options that the site has to offer. Some sites do have downloadable software to play poker, so you may have to download that first before hopping into a tournament or cash game. The download will be quick and easy to do as well. Remember to enjoy yourself and be a responsible bettor. Start small.
Bonus Codes & Promos at NJ Online Gambling Sites
Many sites offer bonus codes or promo codes to their customers in order to attract new customers and retain current customers. Taking advantage of these bonus codes and promos is a great way to get more bang for your buck. Some of the most common types of bonuses include:
Welcome Bonus
A welcome bonus is for new players and is a popular option with online poker operators and customers alike, as it allows new customers to try the site out for a bit and makes them more likely to stick around.
Deposit Bonus
A deposit bonus, or deposit match bonus, is another popular benefit offered by many online poker sites. This is essentially bonus money that you get by funding your account. The amount of free cash that you can get does have an upper limit.
Risk-Free Bets & Free Spins
Another popular option that is offered by many operators in the online poker industry. These bonuses allow online players to try out a new casino game or to see how the gambling process with specific online gambling sites works.
Banking Options for Online Players
Our top online poker websites both accept a wide range of banking methods, including debit cards, credit cards (Mastercard, Visa, American Express), bank transfers and even crypto.
When depositing funds into your account, be sure to include any bonus codes or promo codes that you may have and be sure to take advantage of a deposit bonus if one is being offered in order to get as much bonus money as possible so you can enjoy plenty of action.
This is one of the many ways that online poker operators excel at providing the best online experience possible. Because retail poker venues often only have cash deposit options available to players, online poker allows you to easily deposit or cash out money online through a variety of methods.
Tips for Online Poker Real Money New Jersey
They say it takes 10,000 hours to become an expert in anything, and gambling is no different. It takes a lot of trial and error to get good at this, so here are some tips for playing online poker at NJ poker sites.
Do not risk more than you are willing to lose
Create a budget for your poker habits
Prepare for variance, bad beats, and don't expect a winning streak to last forever
Get good at bluffing
Pick your spots with starting hands
It is okay to fold
Learn when to call it a night (don't chase losses)
Do the research so you understand odds of different hands hitting
Make mathematically-supported decisions
Play free demo versions to understand how video poker works before playing real money
Find your favorite style of poker and stick with that
Remember to have fun
FAQ – Online Poker in New Jersey 
Is there online gambling in New Jersey?
Yes, for nearly a decade there has been legal online gambling in the Garden State, including gambling with a mobile app. Users can participate in everything from online casino games such as video slots and various table games, wagering on sports or horse racing, Daily Fantasy Sports (DFS) and you can even buy state lottery tickets online or on your mobile device. Due to New Jersey's friendly attitude towards online casino gaming and other online gambling, the online gaming markets in the state have flourished.
What gambling sites are legal in New Jersey?
You can gamble online with any state-regulated gambling sites or offshore gambling sites as a resident of New Jersey. This includes sports wagering, online horse racing betting, real-money online poker tables and other online casino gaming. Offshore gambling sites are often the best option for players due to the numerous benefits that they provide over a land-based casino.
Can you play online poker in NJ?
Yes, online poker has been legal in New Jersey since 2013 when it joined Delaware and Nevada as the first three states to embrace it by passing online poker legislation. You can also enjoy an online poker game or online poker tournaments with the use of online poker apps or mobile sites.
What online poker sites are legal in New Jersey?
Any regulated online poker sites or offshore poker sites are legal for use in the Garden State for those that want to enjoy an exciting online poker game. However, we strongly encourage you to check out one of our top picks for the best online poker sites in New Jersey, both for online poker games and for other online casino games. You can read about these online sites in our casino review above. These sites will provide you with the best online poker experience possible.
How do I bet online in NJ?
You simply need to create an account with the online gambling site of your choice, fund your account and then pick what form of gambling you would like to enjoy. From there, you simply just place your wagers.
Where can you gamble in New Jersey?
There are many places to gamble in the Garden State. Atlantic City is still home to some fine casinos with card rooms. There are three racetracks and five off-track betting sites for horse racing. You can play the lottery from your phone or buy tickets at any local retailer. You can enjoy some sports wagering or play casino games using your mobile device or mobile site if you want the flexibility that comes with the online experience that these legal poker sites and sportsbooks provide.
How much money can you win gambling without paying taxes in NJ?
You need to keep track of any gambling winnings that you receive, as all winnings will need to be reported to the IRS and you will need to pay taxes on them. Your tax rate will depend on how much you won and your tax bracket. This includes winnings from any in-person or online gaming markets, including online casino gaming, sports betting or traditional poker games at physical poker venues.