Massachusetts Horse Racing Betting – The Best Racebooks in Massachusetts 2023 Compared
Massachusetts bettors will be glad to hear that, as of January 31, 2023, regulated sports betting is live in the Bay State. Unfortunately, online wagering is not yet regulated, so if you were planning on betting from home, your best option is to go to one of our top-rated offshore betting sites instead. 
The horse racing industry offers some of the most exciting action to its dedicated fans. If you're looking for access to over a hundred horse tracks in the United States and more from around the world, signing up with an offshore sportsbook is the best way to bet on horses in Massachusetts.
There is only one track betting location in the entire state, so online horse betting sites can offer a way for horse racing enthusiasts to get in on the action without traveling.
In this guide, we will go over the top ten online betting sites according to our experts and give you some analysis of the first five. The best site for you is a matter of preference as each site has things that they do better than others. The services that are important to you will determine which one of these recommended sites you should choose. Each of these sites allows users to place bets on horse races online.
The Best Massachusetts Sportsbooks in 2023
Massachusetts Betting Guides
For the Massachusetts bettor that is looking for more ways to gamble online, we suggest checking out one of our other comprehensive Massachusetts betting guides, each of which will cover everything that you need to know about a specific betting market.
Ranking the Top 10 Betting Sites for Horse Racing in Massachusetts
These are the top ten sites for horse racing in Massachusetts according to our betting experts:
All of the sites listed above are located offshore. These are the best options available to online horse racing bettors in Massachusetts at the moment. There are very few regulated horse racing tracks in the state for live in-person betting.
That's a great option but if you want access to tracks on a global level, then we suggest you take a look at the options in this guide where not only will you get access to these races outside of Massachusetts, but you'll also have the opportunity to claim exciting bonuses on your deposits that you can use for more action at the track. The online horse betting sites featured here are perfect for making the most of your funds.
Reviewing the Best Massachusetts Horse Racing Betting Sites
If you are looking to bet on horses online, there are a handful of offshore betting sites that can accommodate that for you. There are sites located in the U.S. where you can bet on horses but there are perks to signing up with an offshore site that you would be missing out on.
The advantage of signing up with one of these offshore sites is that you have access to hundreds of tracks from around the world, as well as other online sports betting, and casino gaming. Below we'll review each one of these sites and highlight the reasons why you would sign up with one of them for online horse racing betting in Massachusetts.
1. Bookmaker: Accepts Action from Horse Racing Bettors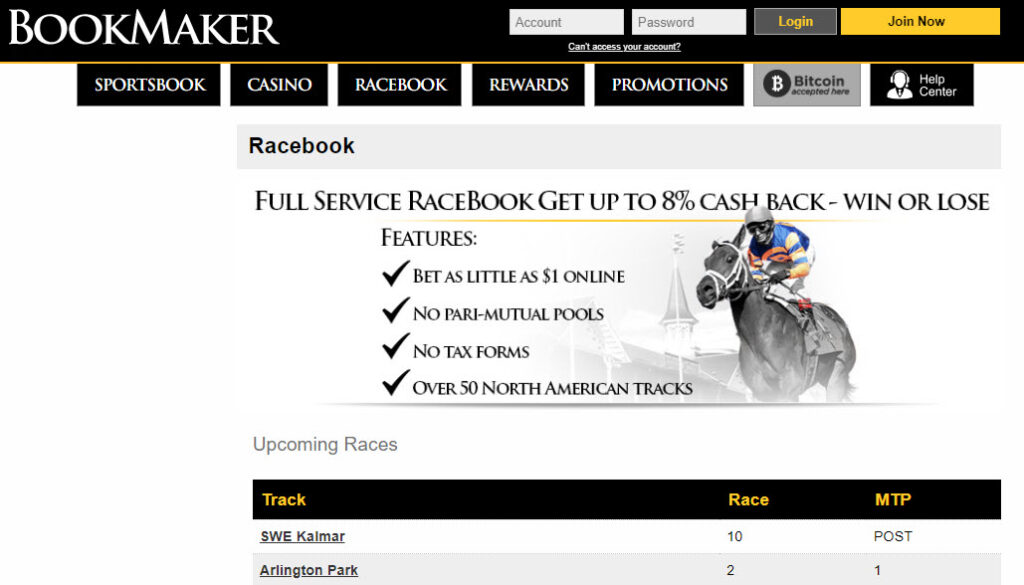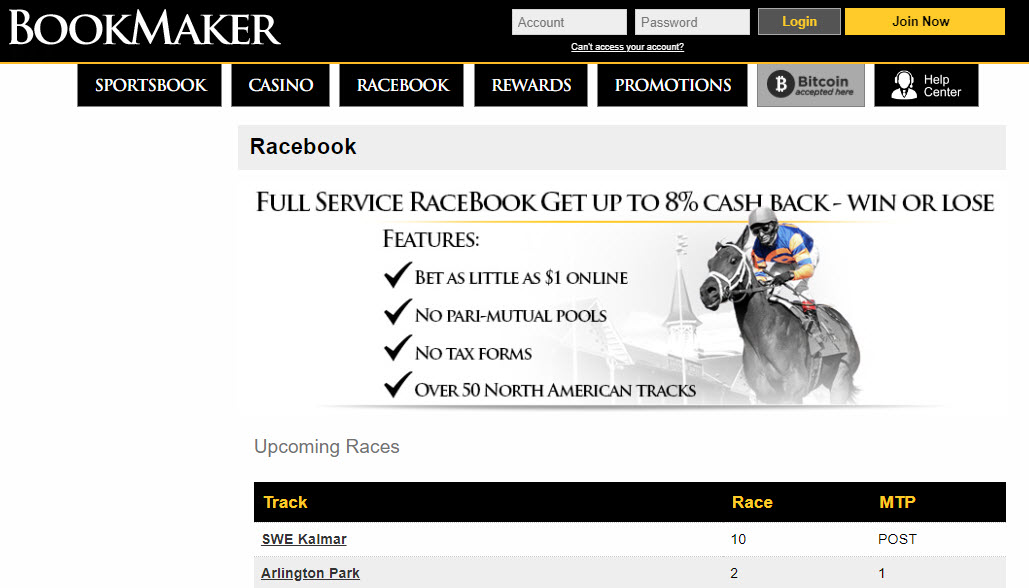 Bookmaker is a regular in terms of making lists of top offshore betting sites. Horse racing bettors in Massachusetts have been reaping the benefits of having an account at Bookmaker with access to tracks from all over the world.
They have wonderful promos for horse racing bettors where you can get a 3% discount on win, place, and show bets. Every horse racing site offers different types of wagers either in the form of a deposit bonus or some form of a rebate. Bookmaker also offers an 8% discount on exotic bets as well.
Bookmaker has a reputation for taking all action including from professionals. The reason that is important to you is that professional bettors will not settle for anything less than top-of-the-line offerings. If it's good enough for the pros, then they will have everything you need.
Pros:
Discounts available on certain wagers
Customer service team one of the best in the industry
2. Heritage Sports: Horseplayers Have Access to Several Markets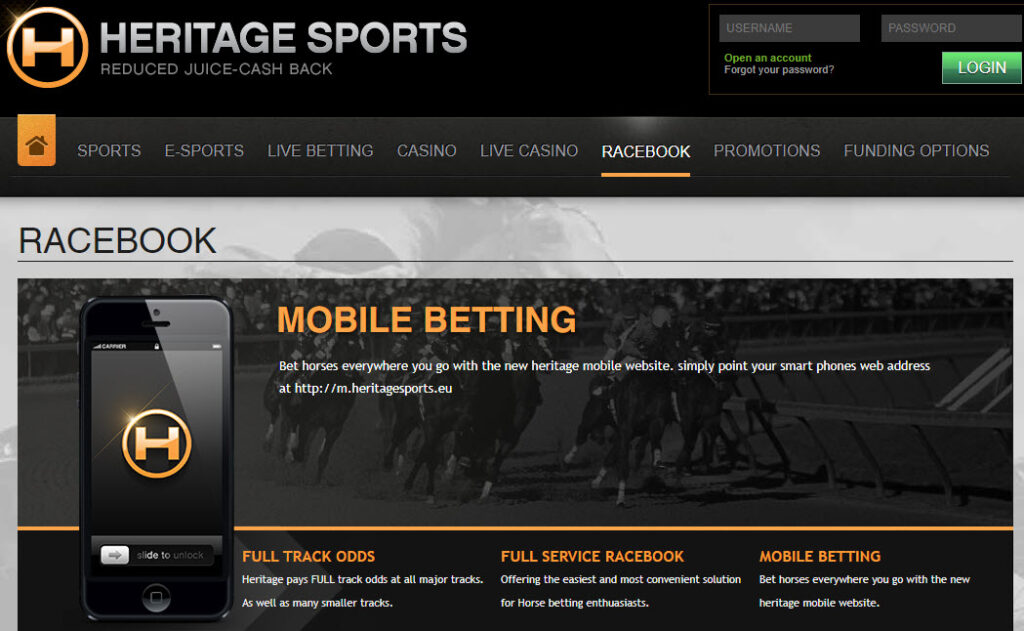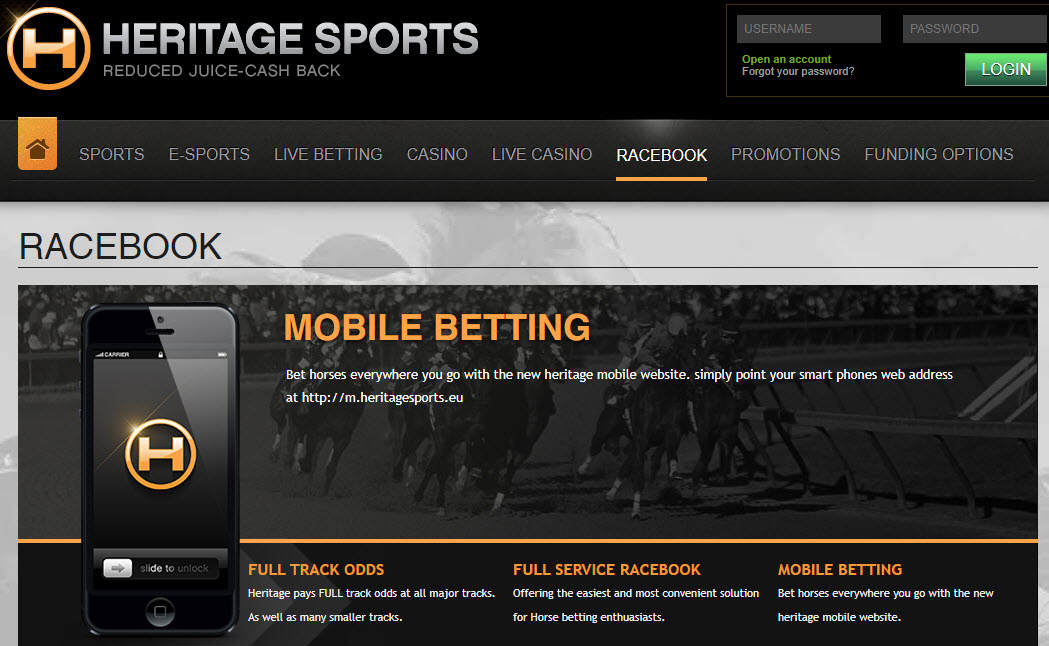 Heritage Sports has built its reputation on the back of its sportsbook as its name suggests. That hasn't stopped them from supplying fantastic services in all other aspects of online gambling. The mobile version of their racebook has made it easy for players in Massachusetts to make wagers on the go.
One of the advantages of using offshore sportsbooks for horse racing is the fact that you have access to all of their offerings. Odds are what separate Heritage from the pack and even though their sports odds, the number of betting markets they offer is top of the line as well. That means access to tons of tracks and several betting options that aren't always available with other horse racing sites.
While you make the most of your experience with Heritage, you will benefit from their reduced juice betting model on sports. They offer -108 on spreads and totals which is 20% cheaper than most of the competition.
Pros:
Get paid for full track odds
Max payout at major tracks higher than most competitors
Cons:
No racebook specific promotions
3. Bovada: Major Races Have Bigger Payouts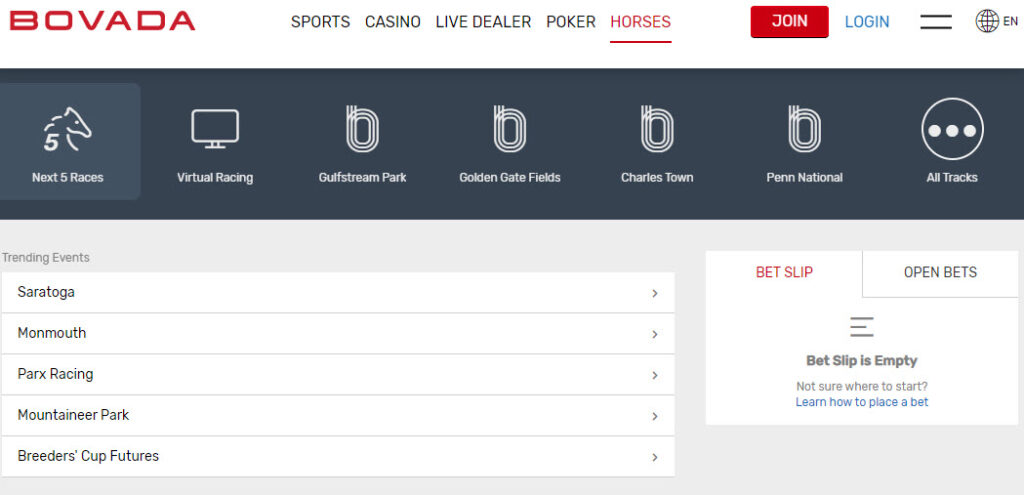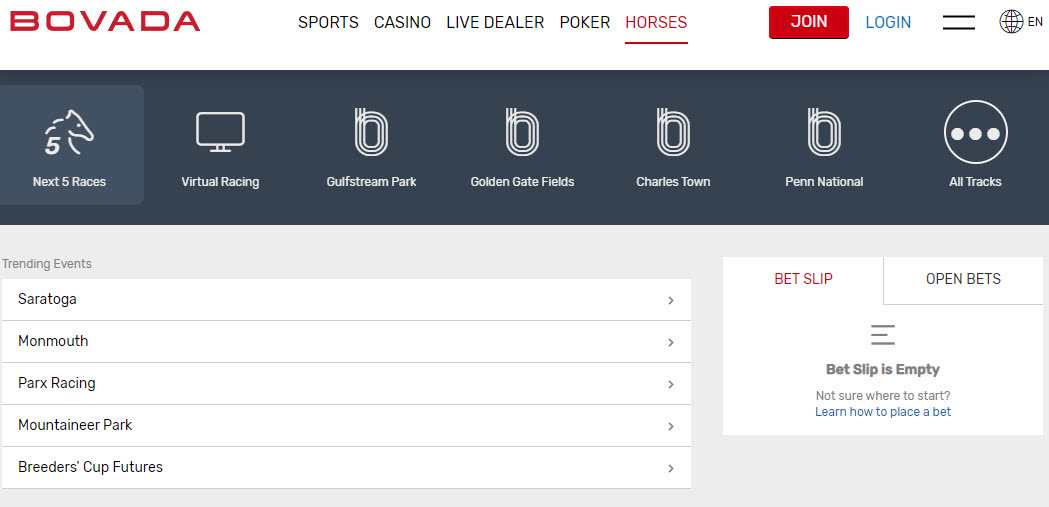 As far as brand names go, Bovada has a reputation for providing some of the best services in the online gambling industry. One of the things that horse racing bettors in Massachusetts have enjoyed the most about betting at Bovada is the really max payout on high-profile races. They are easily among the highest payout amounts in the industry.
Bonuses in the horse racing industry can vary from deposit bonuses to rebates. One isn't necessarily better than the other so the choice depends on the type of player you are. The rebates tend to favor consistent players because they give you back a percentage of the money that you've lost. Bovada has a unique bonus for horse racing bettors in the sense that they allow their welcome bonus to apply to horse racing as well.
This is another example of why Bovada is a great place to bet on horses. Most of the top offshore sportsbooks do not allow welcome bonuses to be used on horse racing. As a brand, Bovada is a leader, not a follower and you can be sure that if you sign up with them you'll benefit from that elite level of service.
Pros:
Welcome bonus valid for horse racing
Big max payouts on signature races
Cons:
Historic track information not available
4. BetOnline: Rebates for Horse Racing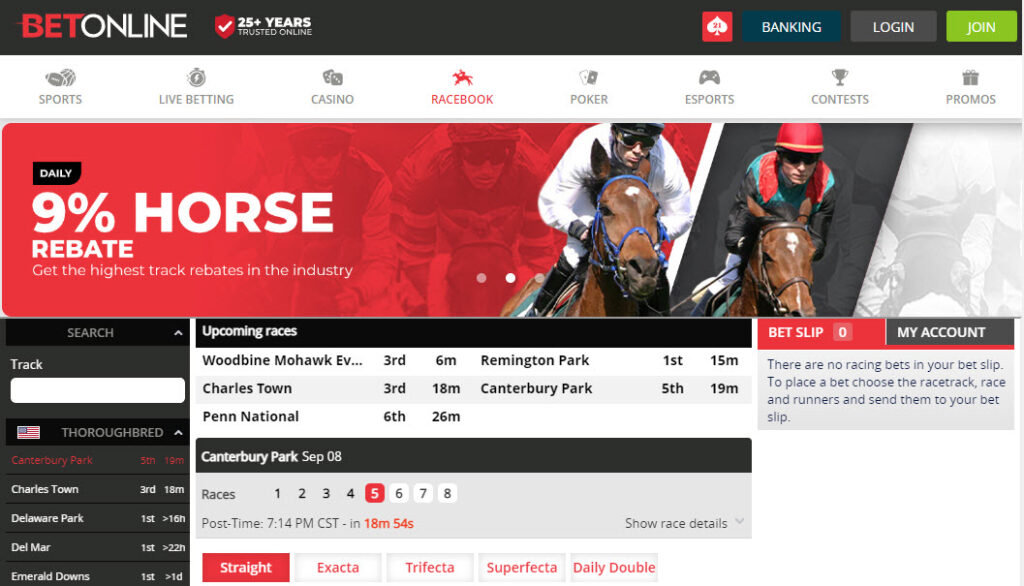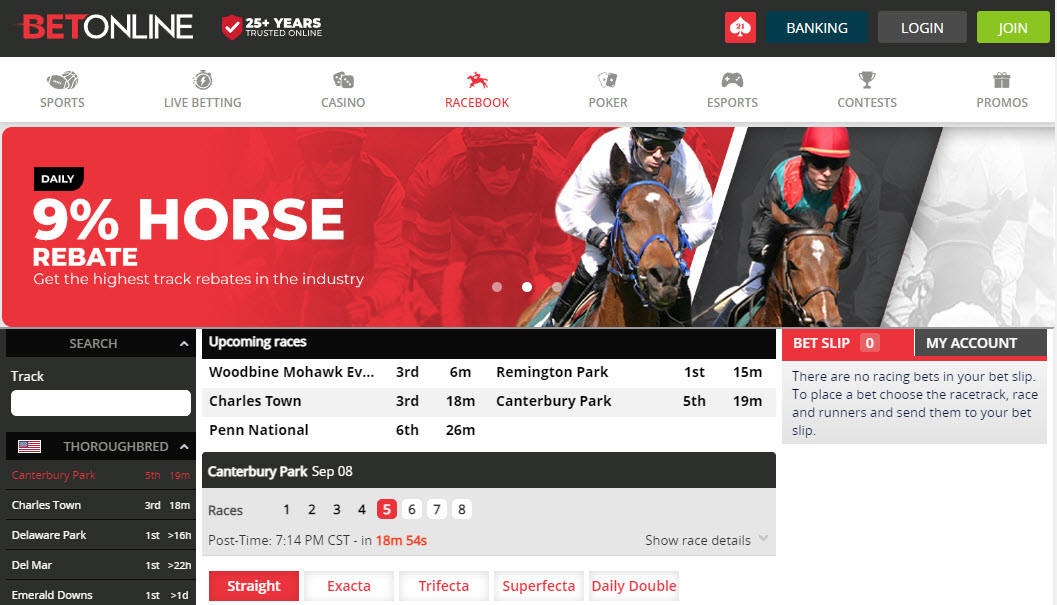 There are two different types of odds in horse racing, fixed odds and pari-mutuel odds. We will break down the differences between the two later in this guide but a quick explanation would be that fixed odds stay the same, as the name suggests. Pari-mutuel odds are calculated as a share of the total money bet on a race. The odds are only determined after all bets are placed which essentially makes it the opposite of fixed odds.
BetOnline offers fixed odds on the Triple Crown and the Breeder's Cup. They release those odds well in advance of those events which will allow you to get in on the action early. While BetOnline is known for having some of the best sports odds in the industry, that also translates to their racebook.
In terms of bonuses, BetOnline's model for their racebook offering for Massachusetts players involves a rebate. On straight bets, you can get a 4% discount. In terms of exotics, BetOnline offers a 9% discount on exotic wagers.
Pros:
Fixed odds on big events
Discounts available on certain racebook wagers
Cons:
No deposit bonuses for casino
5. BetAnySports: Enjoy Benefit of Reduced Juice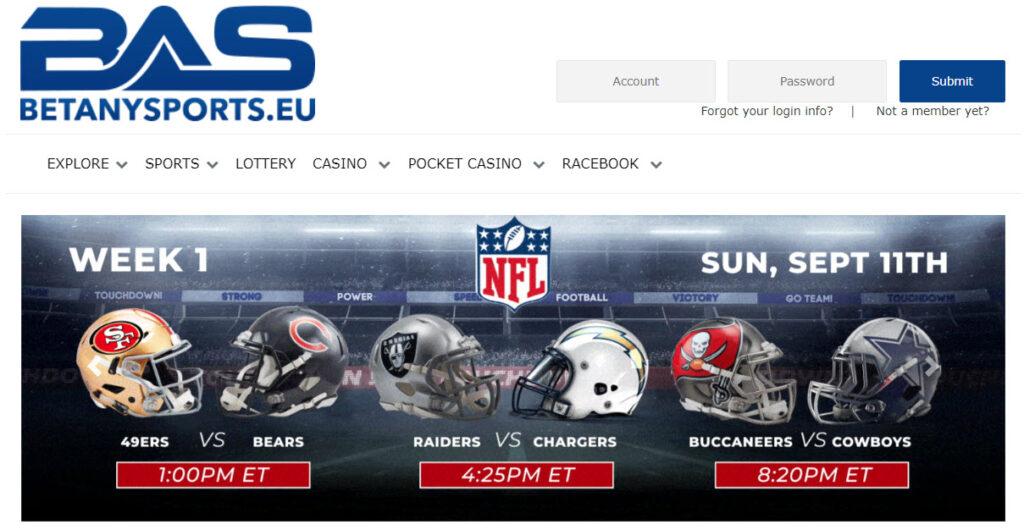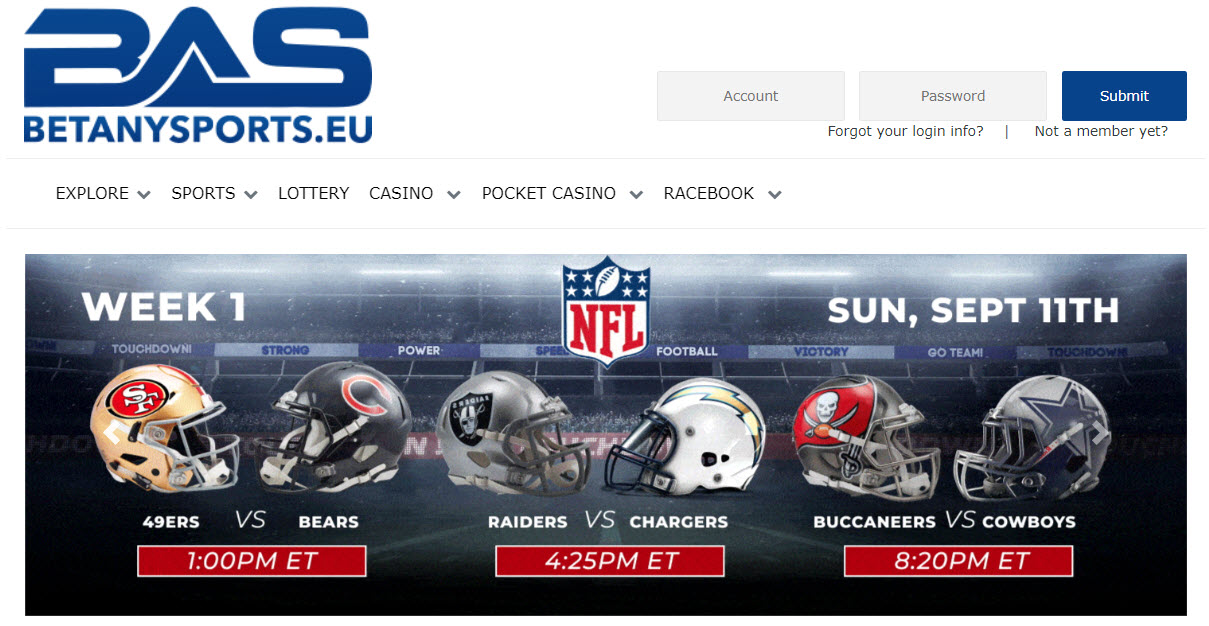 The reduced juice betting model that BetAnySports uses does not apply to their racebook offering. That said, horse racing bettors in Massachusetts have enjoyed those benefits when making sports wagers. Of course, BetAnySports does offer discounts on their racebook which is essentially a variation of their existing model.
Where they excel in this space is with their bonuses. If there is a criticism of their sportsbook, it would be that their bonuses aren't very competitive. What most customers fail to understand is that big bonuses are not possible with a reduced juice model like they use. BetAnySports is able to give racebook-specific bonuses since that reduced juice model does not apply to horse racing. BetAnySports offers a 25% bonus with a max deposit of $2000 being applicable. This bonus comes with a 6x playthrough requirement.
Pros:
Racebook specific bonus
Huge betting market
Cons:
Website not as sleek as some competitors
Comparing the Best Sites for Horse Racing in Massachusetts
All of the online horse betting sites mentioned in this guide are excellent options. One of the benefits of signing up with one of these offshore betting sites is that they serve as a one-stop shop for several forms of gambling. These sites offer online casinos and are active players in the sports betting market.
This is a crucial point because which site is best for you is a matter of personal preference. For example, if you prefer bonuses on deposits instead of rebates on your action, then there are some racebooks that won't be for you. If the odds market is your priority and you want access to specific tracks outside of the U.S., that's a completely different feature to consider.
The point here is our rating guide serves to point you in the right direction by providing you with the features that will allow you to have the best possible experience when wagering at online horse betting sites. We also remind you that our experts have given you the sites that they believe are the best but that does not limit you to just one. You may end up opening multiple accounts because there are certain features that you like at one that isn't offered at another racebook.
Horse Racing Fixed Odds
Most horse racing events are paid out via the pari-mutuel system. Fixed race odds are usually only available for big events. We can't say which sites will offer fixed odds for what specific races, however all of the sites that we've recommended for horse racing bettors in Massachusetts, have excellent customer service. We suggest you contact them to get as much information as possible about the races where they'll be offering fixed odds.
Horse Racing Betting Options
There are several betting options when wagering on horse racing. Here is a list of the most common types of bets you'll have access to:
Win
Place
Show
Across the board
Exacta
Trifecta
Boxed exacta
Boxed trifecta
Exacta wheel
Head to heads
Daily doubles
Pick 3
Pick 4
There are other types of horse betting than this but you can get that information when you speak to a customer service representative of the site you're interested in playing at or just by navigating their website.
Horse Racing Betting Promotions
Horse racing promotions on offshore sites come in two forms; deposit bonuses and rebates.
Deposit bonuses are straightforward and come in the form of a percentage of the amount you deposit. That bonus money comes with a certain amount of required action that is determined by the racebook.
Rebates are based on the action you put forth in the casino. You would be offered a percentage of those losses in the form of a bonus. These bonuses usually have a minimum and maximum amount you can claim.
Special Features for Horse Racing
This is one of the favorite features of horse racing bettors in Massachusetts. Offshore sportsbooks provide you with tools that will help you pick winners. Many of them allow you to look deeper than the initial horse racing odds. Things like past performance information, for example, mean a lot when making you make a more informed decision.
Horse Racing Welcome Bonus
As previously discussed, not all racebooks offer welcome bonuses. Some reward customers in the form of rebates on your previous action.
If welcome bonuses are a priority, you need to review each of these sites carefully before making a deposit to make sure they have what you are looking for.
User Experience
There are several types of horse races going off at all times of day at night all over the world. For that reason, the user experience in horse racing is important because time is of the essence. A sleek modern design with good odds and a customer service team that is available to assist are all part of the user experience. When trying to wager on horses on the go, a good mobile offering is important to your user experience as well.
Live Streaming
This is not available with every online racebook. BetOnline does offer this feature which allows you to watch a race you have action on. However, some sites will allow you to watch a live stream of a selection of horse races right on the site.
Best Massachusetts Horse Racing Betting Sites
Below we've listed the criteria our horse betting experts used while making this list.
Brand Reputation
All of these offshore horse racing sites are only as good as their reputation. Since they aren't located in the United States, these entities understand that their reputation is what keeps the doors open. Once that goes, there is little chance that they will last the test of time. Most of the sites that we have recommended either have decades of experience or form part of a larger group that does.
Either way, a bad reputation is a death sentence for an offshore sportsbook which is why we can confidently say that all of the horse racing sites that we recommend for players in Massachusetts have a great reputation.
Payment Options
This applies to all forms of gambling. No player is going to deposit money into an account unless they are sure they will get it back once they win. Without solid deposit and withdrawal options, a horse racing site can't get an endorsement from our betting experts. We strongly advise you to stay away from sites that don't have multiple payout options.
Safety & Security
This is part of a site's reputation and goes both ways. Most customers that play at online racebooks deposit via credit card deposits. If you choose to fund your account this way, you will be required to prove your identity as well as prove that the card in question is yours.
This is a part of the safety and security that offshore sportsbooks need in order to operate. They don't want money from you unless they know it's yours. This is one of the reasons we recommend that players deposit via crypto, for safety, security, and efficiency reasons.
These sites have no choice but to operate this way as a part of making sure that their reputation is solid.
Speed & User-Friendliness
Speed can refer to the navigation of the site or payout times. It can also refer to response time from customer service. Either way, speed, and user-friendliness are certainly deciding factors when choosing what horse racing site is right for you.
Customer Support
All of the sites that we've recommended have excellent customer service. Even the few that don't offer around-the-clock service, will give you exceptionally quick response times while also having the ability to answer all of your questions and resolve any issues that come up.
Overall Value on Offer
Here are the things to consider when trying to determine the value on offer:
Types of bonuses being offered
Size of bonuses
Customer service response times
Deposit and withdrawal options
Odds market
Selection of horse races
Is horse racing betting legal in Massachusetts?
Horse racing in Massachusetts has been legal since 1934.
This is a question that comes up a lot for players in Massachusetts since there have not been any thoroughbred live events since June 2019 at Suffolk Downs. Since then the track only operates simulcast races on-site.
The only live horse racing in Massachusetts at the moment can be found at Plainridge Park Casino, which has harness racing. These races are available from April through November. Located in Plainville, this facility opened in 1999 and offers live and simulcast racing.
The biggest races at Plainridge Park Casino are:
Bert Beckwith Memorial
The Stan Bergstein Pace
The Guy Smith Memorial Series Final
The New England Classic
Plainridge Park Casino offers off-track betting with self-serve kiosks available on-site.
Massachusetts Sports Betting Timeline
1934 – Betting on horse races is legalized by the state of Massachusetts.
1935 – The first racetrack in the state, Suffolk Downs, opens to the public.
1947 – The first Harness races are held at the Bay State Raceway.
2019 – Suffolks Downs holds its last live race on June 30th.
2020 – Efforts begin to legalize other forms of wagering in the state.
2022 – House Bill 3977, permitting sports betting in Massachusetts, is signed into law by Governor Charlie Baker. Sports betting operators can start applying for licenses to operate within the state.
2023 – In-person sports betting is expected to launch on January 31st, while mobile sports betting still has no defined date.
How to Bet on Horse Races in Massachusetts
There are several offshore betting sites that offer horse racing in Massachusetts.
The most popular for Massachusetts horse bettors are:
Bookmaker
Heritage Sports
Bovada
BetOnline
All of these sites provide you with access to some of the best tracks in the world. The added advantage to betting on horses with one of these offshore sites is that you can also bet on sports, play casino games like slots and table games, or head over to the poker room to get in on the action.
How does horse racing betting work in Massachusetts?
Most bets on horse racing events are paid out on a pari-mutuel basis which is the case in Massachusetts. In a pari-mutuel system, all of the money wagered on the race goes into a pool that is split up between the winners after the industry (or the track) takes their cut.
This is different from fixed odds which is the other type of bet. If you've ever bet on sports then you'll be familiar with fixed odds as the price of the wager is set before the event takes place. In pari-mutuel betting, you don't know how much you stand to win pre-race. You can however get an estimate which is provided by the track handicapper. This number is never exact but will at least give you some idea of the amount you stand to win.
Horse Racing Betting Odds
There are two types of odds: fixed odds and pari-mutuel.
Fixed Odds for Horse Racing Betting in Massachusetts
Fixed odds tell you how much you will be paid for a certain result before all bets have been made.
Odds with a plus sign indicate that you will win more than you risk. For example, when the odds are +120, if you bet $1 you win $1.20,
A $10 bet returns $12,
A $100 bet returns $120
Odds with a minus sign indicate that you will win less than you risk. For example, when the odds are -120, if you bet $1 you win $0.83
A $10 bet returns $8.33
A $100 bet returns
These odds also can appear in the fractional format. In this case, you would simply multiply the bet amount by the fraction. It should be noted that you do not have to be proficient in math to understand this. Every one of these recommended sites allows you to enter the amount you want to risk into their betting slip and your win amount would be calculated for you.
The main thing that should be noted with fractional odds is that if the first number in the fraction is bigger, then you win more than you risk. If the first number is smaller, you win less than you risk.
A $100 bet on 5/1 odds would return $500
A $100 bet on 4/5 odds would return $80
Pari-Mutuel Betting in Massachusetts
When placing a pari-mutuel wager, the odds are a little bit more complicated.
There is a track oddsmaker who will give a projection of what the odds will be. True odds for a pari-mutuel wager will only be available once all of the money has been in. Once the race has been completed, the industry will take its cut and the remaining funds will be paid out to individuals with winning tickets.
Pool Betting on Massachusetts Horse Races
This is a different way of describing pari-mutuel betting. This is how races in Massachusetts are paid out instead of fixed odds.
What are the different types of horse racing bets?
There are multiple bet types associated with horse racing betting and it's important to understand the differences between each of them.
Win
A straight bet on a horse to finish in first place.
Place
Wager on a horse to finish first or second.
Show
Wager on a host to finish first, second, or third.
Exacta
An exotic bet for horses that will finish in the top two spots.
You can also make a bet called an across-the-board bet which is three separate bets: win, place, and show.
Trifecta
Predicting the winner, the runner-up, and the winner in the exact order.
Superfecta
Picking the winner, second place, third, and fourth place in the exact order.
Daily Double
Predicting the winner of two consecutive races.
Pick 3/4/5/6
Picking a winner in three, four, five, or six races in a row. On the same day which earns you a bigger payout.
Massachusetts Horse Racing Betting Terms
There are a number of terms that are specific to horse racing and being more familiar with them will help you to become a sharper bettor whether it's at a retail sportsbook or with an online sports betting operator.
Across the board – Three bets – Three separate bets that you need to win, place and show accurately.
At the post – This means that the horses are lining up to get the race started. This is when betting usually ends are most racebooks. Some will offer in-play wagers.
Blinkers – This refers to the headgear that restricts the field of vision for the horses.
Claiming Race – A race where every runner is up for sale.
Dead Heat – This means that two horses finish at the same time.
DQ – Disqualified horse.
Exotic bet – A bet with multiple outcomes. For example, a trifecta or an exacta.
Favorite – The horse most likely to win according to oddsmakers. Their payout would be the lowest on the board if they win.
Fixed Odds – These odds are determined pre-race regardless of the amount of action received by the racebook. The opposite of pari mutuel wagering.
Furlong – Represents one-eighth of a mile.
Length – The length of a horse. This is used to depict the margin of victory in a close race. Specific parts of the horse can be used depending on how close the race is.
Morning Line – Estimate of the possible odds for every horse. This is provided by a track handicapper. Usually for pari-mutuel events.
Pari-Mutuel Wagering – Most horse races determine payouts with what's called the pari-mutuel system. All of the money bet on the race goes into the pari-mutuel pool. That money then gets divided between winning bettors after the track takes their cut.
Purse – Prize money given to the owners of the horses. Owner of the winning horse receives the biggest purse.
Tote Board – A digital board that shows payouts for each market for the most recent race at a track.
Triple Crown – The three premiere races in America. They consist of the Kentucky Derby, Preakness, and Belmont Stakes.
Wager – Another way of saying making a bet.
How to Calculate Horse Race Betting Odds
Fixed odds are calculated for you.
For pari-mutuel wagering, odds are calculated after the race once all of the best are in.
Massachusetts Horse Racing Odds Chart:
The below chart highlights what you would get paid based on a $2 bet on fixed odds. The reason it's based on $2 is that that is the minimum bet at most tracks. We have also included fractional odds as well since many racetracks do use them. The "implied probability" is the horse's chance of winning based on the odds you're being offered.
| Horse Racing Odds | Payout from a $2 Wager | Implied Probability of Winning |
| --- | --- | --- |
| 1/5 (-500) | $2.40 | 83.33% |
| 1/4 (-400) | $2.50 | 80% |
| 1/3 (-300) | $2.60 | 75% |
| 1/2 (-200) | $3.00 | 66.67% |
| 4/6 (-150) | $3.33 | 60% |
| 1/1 (-100) | $4.00 | 50% |
| 2/1 (+200) | $6.00 | 33.33% |
| 3/1 (+300) | $8.00 | 25% |
| 5/1 (+500) | $12 | 16.67% |
| 10/1 (+1000) | $22 | 9.00% |
| 50/1 (+5000) | $102 | 1.96% |
Massachusetts Horse Race Tracks
Plainridge Park Casino
Raynham Park (simulcast only)
The History of Horse Racing in Massachusetts
1935 – Marshfield Fair. First track opened in the state
1935 – Suffolk Downs. The first permanent Thoroughbred racecourse in Massachusetts
1999 – Plainridge Racecourse. Opened as a harness horse racing track
2005 – Northampton County Fair took place for the last time.
Massachusetts Horse Racing Betting Bonuses
Bonuses are a common feature of many online racebooks with a variety of betting bonuses and promo codes being offered to their customers. Some of the most common bonus types are:
Welcome Bonus
For new customers after making their first deposit. Not all racebooks offer welcome bonuses.
Risk-Free Bet
This is a free bet given by your racebook without a required deposit.
Loyalty/VIP Program
Speak to the racebook you sign up with to see how loyalty points are calculated regarding horse racing.
Those points can be redeemed for free chips in the future at your discretion.
Racebook Rebates
This is usually given in lieu of a deposit bonus.
These rebates are either given out weekly or monthly. It is a percentage of your net losses for a given time period given to you as a bonus. These bonuses usually come with a playthrough requirement and a maximum cashout.
Bonus Terms and Conditions at Massachusetts Horse Racing Betting Sites
Most bonuses you receive will come with terms and conditions. These terms are usually a playthrough requirement and a maximum cashout.
Rollover Requirements
An example of a playthrough requirement would be:
You receive a $100 bonus with a 5-time playthrough.
This means you have to risk $500 before you can request a cashout.
In other words, you have to make $500 worth of bets, win or lose, in order to complete the requirement.
Virtual Horse Racing Betting in Massachusetts
Offshore sportsbooks offer Massachusetts bettors the opportunity to bet on virtual races. Check with the sportsbook in question before making a deposit to see if it is being offered.
Massachusetts Horse Racing Betting Apps for Android & iPhone
There are no specific apps for wagering on horse racing in Massachusetts.
You can bet on horses using an offshore site. Once you've signed up, you can access their mobile offering in order to make your bet.
How to Start Betting at Horse Racing Sites in Massachusetts
We recommend signing up for an offshore sportsbook account.
Once you click the "Join Now" or "Register" button, it will take you to a standard sign-up sheet that you will need to fill in accurately. If you are depositing with a credit card, your transaction is less likely to be approved if the information you provide is not accurate.
Once you've done that you'll select a password and your preferred currency. At that point, you should be all set. If you are having any issues beyond this point, we recommend you reach out to a customer service representative to help you complete your registration.
Other Types of Gambling in Massachusetts
These are the only types of gambling allowed in Massachusetts:
Sports betting
Pari Mutuel horse racing
State Lottery
What is the best site for horse racing betting in Massachusetts?
This part is up to personal preferences when betting on horses. Determine the factors important to you when playing at an online betting site in order to determine which one is the best.
As far as our betting experts are concerned, they've highlighted Bookmaker as the best horse racing betting site. This was determined based on their odds market, promotions, fast payouts, and customer service.
FAQ – Horse Race Betting in Massachusetts
Is horse racing betting legal in Massachusetts?
Horse racing has been legal in Massachusetts since 1935.
You can bet on horses at an offshore betting site. They are located outside the U.S. and do not fall under state and federal law.
Where can I place a bet online in Massachusetts?
You can bet online with any offshore sportsbook. Massachusetts is currently making efforts to establish licensed online sportsbooks in the state, but there are currently some legal hurdles in regard to sports betting licenses that need to be sorted out first.
What apps can you bet on in Massachusetts?
Any offshore mobile betting app or mobile-optimized sportsbook site can be used by residents of Massachusetts.
What is the big horse race in Massachusetts?
Unfortunately, there are no Thoroughbred races held in Massachusetts at this time, but horse racing enthusiasts can place bets on horse racing that is being held at racing venues around the country by using various online betting platforms.
How many racetracks are there in Massachusetts?
There are two horse race tracks. Neither one offers Thoroughbred racing, however.