Georgia Horse Racing Betting – The Best Racebooks in Georgia 2023 Compared
Horse racing is one of the more popular forms of gambling, and Georgia horse racing betting sites offer bettors the chance to get action on their favorite tracks from across the world. Because it is one of the most popular forms of betting in the gambling industry, horse racing betting sites offer hundreds of betting options daily.
In our guide, we will teach you how to calculate your potential payouts which is a huge part of making a profit when betting on horse racing at online gambling sites. You will learn the difference between fixed odds and pari-mutuel wagering. Of course, some nice bonuses come with betting on horse races and games at racetracks so we will also take the time to cover that for you as well.
Keep reading to learn about the most trustworthy sportsbook operators for wagering on horse races and the benefits of horse racing betting over other gambling options.
Best Sportsbooks in Georgia for 2023
Georgia Betting Guides
For bettors in Georgia that are looking for more ways to get in on some online betting or sports wagering action, we have multiple comprehensive guides that cover a wide range of betting topics.
Top 10 Horse Racing Betting Sites in Georgia Ranked
Here are the top ten sites for horse racing betting according to our experts:
All of the sites are offshore sportsbooks, so if you are looking for legal horse race betting in Georgia, we recommend you try one of them when looking to get action at one of the many annual horse racing events around the world.
Reviewing the Best Georgia Horse Racing Betting Sites
There is a very consistent user experience for those of you looking to start wagering on horse races in Georgia. Most of the companies that offer betting on horse racing use the same software provider. That means that won't be much difference between the look and feel of the interface you use to place wagers.
What will be different are the promotions that each company offers as well as their customer service and banking options.
1. Bookmaker: Great Promos in Racebook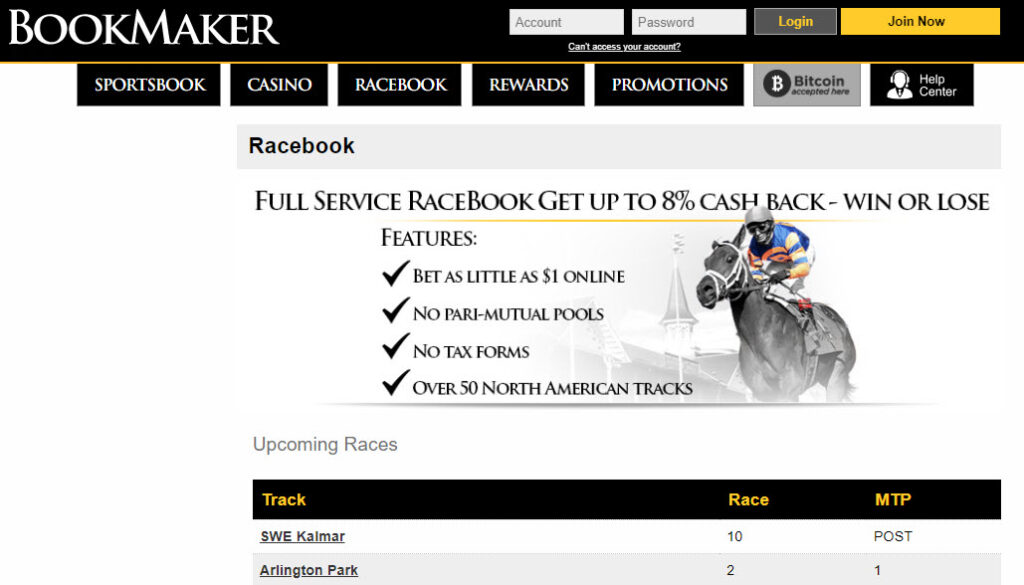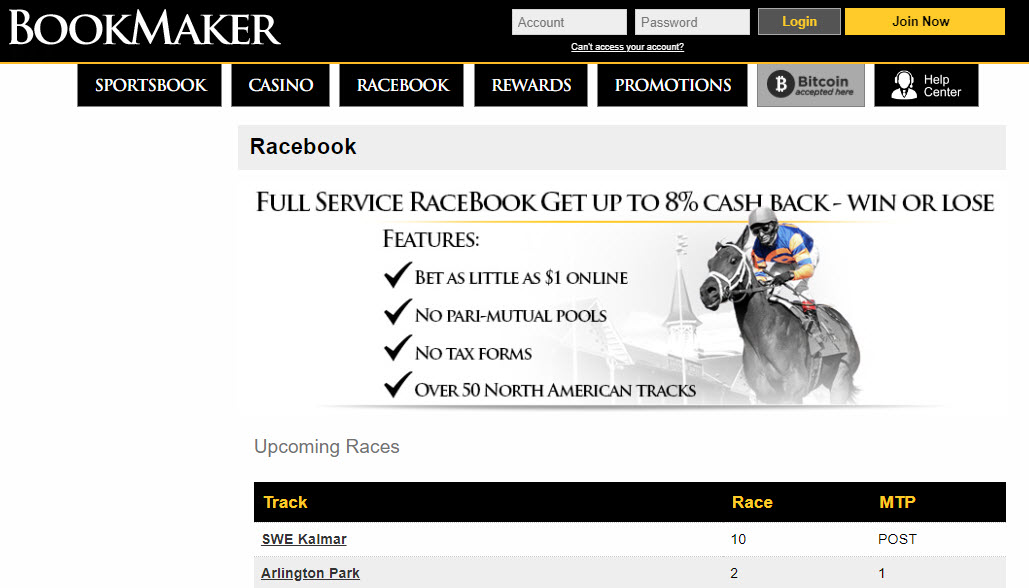 One of the top-rated betting companies in the world, it is no wonder so many Georgia horse racing fans use Bookmaker.eu. They have a ton of tracks available from all over the world for you to bet on daily.
They also have a great horse betting-specific promo where customers get a 3% discount on win, place and show wagers. They also offer an 8% discount on exotics too. Bookmaker.eu has a reputation of not shying away from sharp bettors and that applies to their racebook as well.
What that means for everyone that plays there are the best odds in the industry because if they weren't sharp players would stay away.
Pros:
Discount of racetrack bets available
Early betting odds compared to most competitors
Top-of-the-line customer service
Cons:
Bonuses limited for sharp players
Past performance information is not as available as some competitors
2. Heritage Sports: Pays Full Track Odds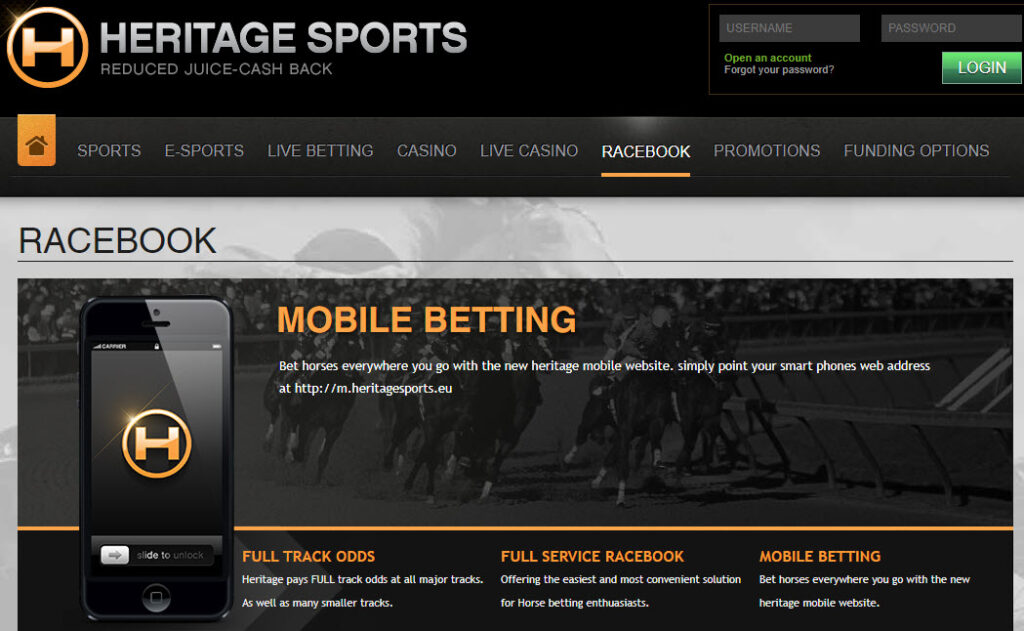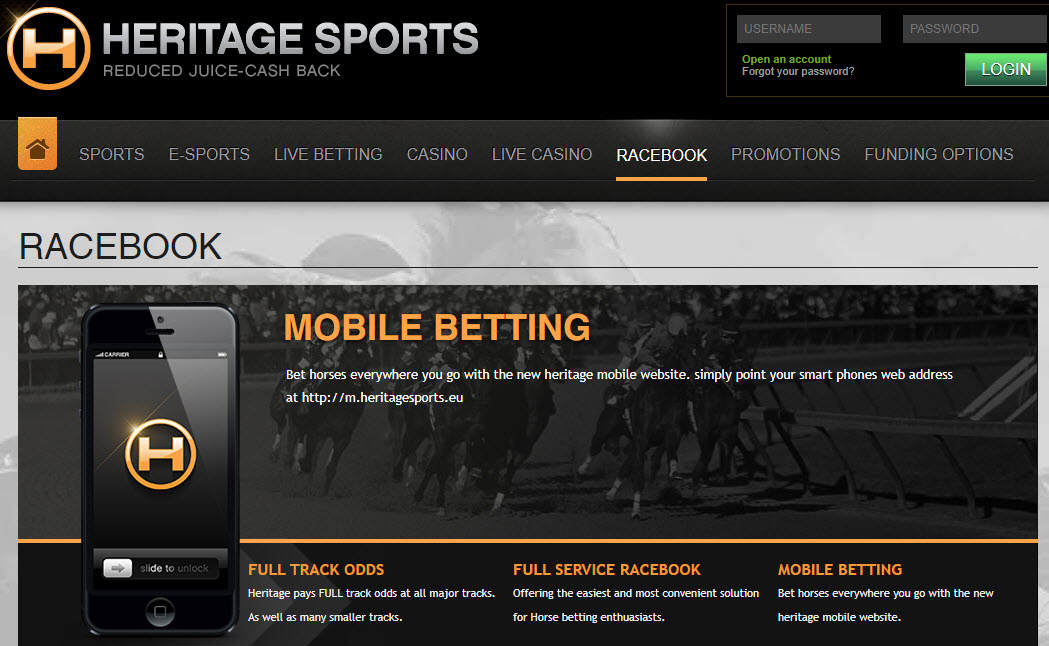 A favorite of Georgia horse racing bettors, Heritage Sports has built its reputation on top-of-the-line odds and great customer service.
Their racebook offering is no different and Heritage Sports is known for paying full track odds which is not always the case at other horse racing sites. The mobile version of their racebook is extremely user-friendly, making it one of the best in the industry to bet horses on the go.
Pros:
Pays full track odds
User-friendly customer mobile racebook
Huge max payout amount at major tracks
Cons:
No special bonuses for racebook
3. BetOnline: Fixed Odds on Big Races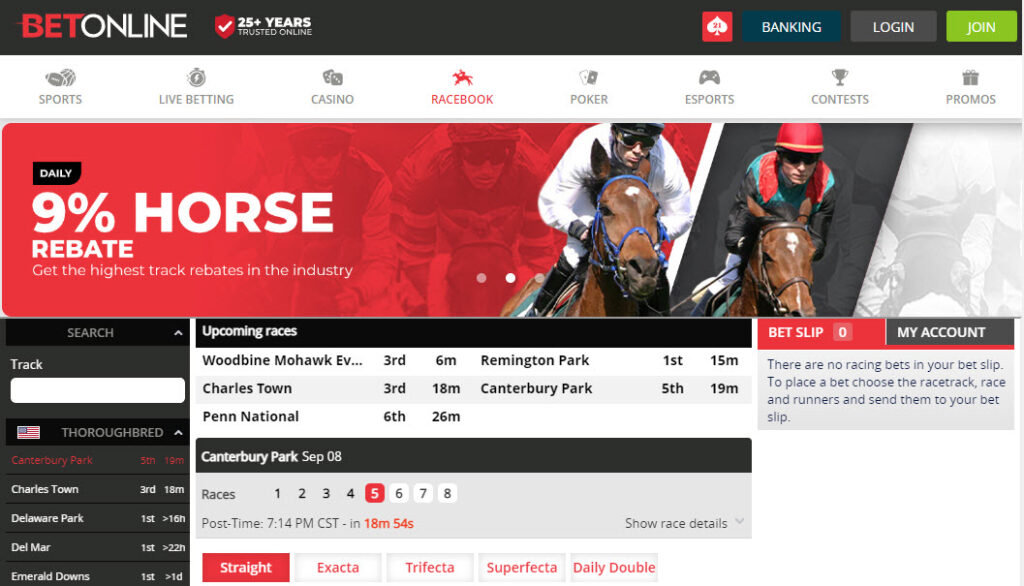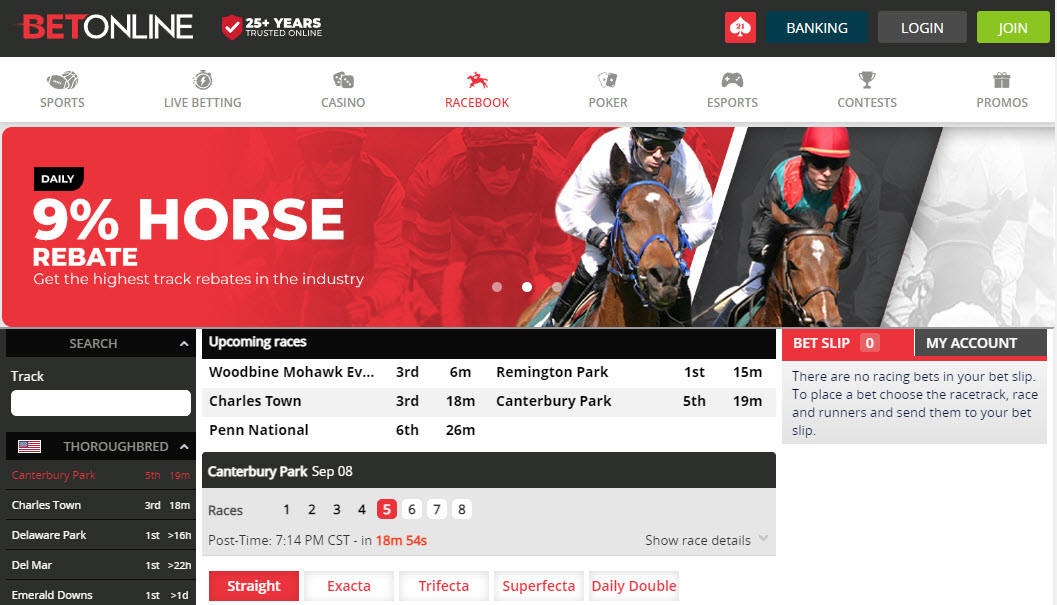 If fixed odds futures are your thing, look no further than BetOnline. They offer fixed odds on the Triple Crown and the Breeder's Cup. Their odds come out weeks in advance and are usually competitive if not outright better than their competition.
Early odds have always been a feature of the BetOnline sportsbook so the fact that it is also available at their racebook shows why they are an industry leader.
They also offer generous discounts of 4% on straight bets and 9% on exotics among some of their promotions.
Pros:
Discount on wagers in the racebook
Early odds
Fixed odds on big races
Cons:
Welcome bonus not applicable to racebook
4. Bovada: Virtual Horse Racing Available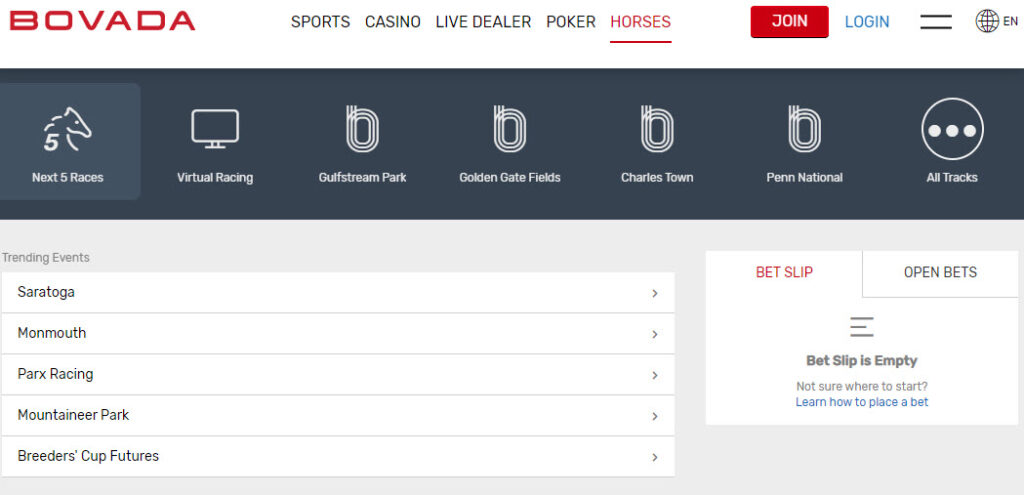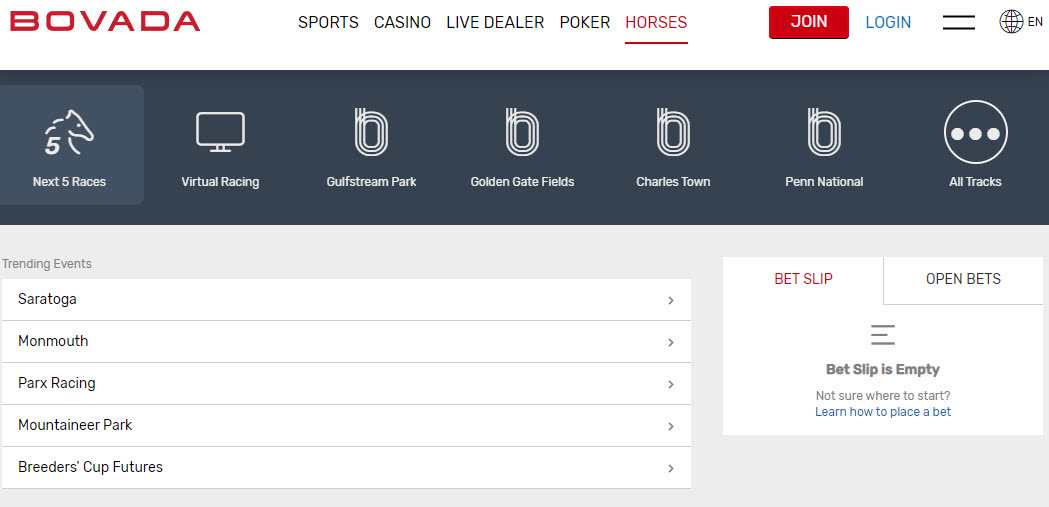 As one of the best sportsbooks in the world, it is no surprise that their racebook offering is top of the line as well. Bettors in Georgia have been using Bovada for a long time to satisfy their horse racing needs.
Let's start with their max payout on big races which is among the highest in the industry. With all of the payout options, they have available as well, you can rest assured that if you win, you will get your money promptly.
Another great perk is that their welcome bonus applies to horse racing which is not the case with most of the top online sites.
Pros:
Welcome bonus applies to horse racing
Huge max payout amounts on the big races
Virtual horse racing available as well
Cons:
Horse racing tools not as readily available as some competitors
5. BetAnySports: Racebook Section With Discounts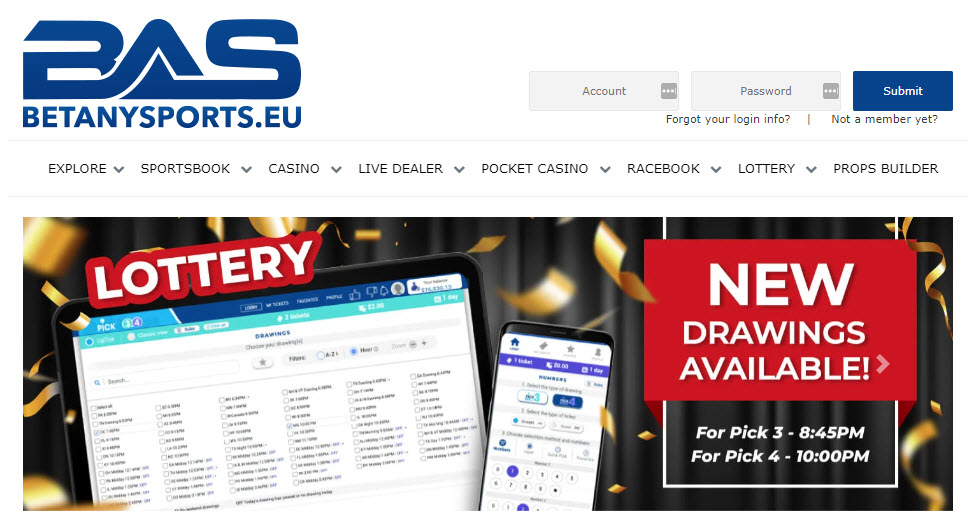 BetAnySports is one of the most popular offshore racebooks due to its reduced juice odds. Their horse racing offering is no different with discounts of 3% on straight bets and 6% on exotics.
Their 24/7 customer service is available to help Georgia horse racing bettors with all of their questions and concerns. They also have a racebook-specific welcome bonus that is a nice perk. It is a 25% bonus with a maximum deposit of $2000 that comes with a six-time playthrough requirement.
Pros:
Discount on racebook bets
One of the biggest betting markets
Welcome bonus for racebook
Cons:
Website is not as modern as some competitors
Best Horse Racing Sites for Georgia Compared
The world of online horse racing can be daunting to any newcomers. We don't specifically mean newcomers to horse racing. Even for experienced players, navigating the hundreds of websites that offer legal horse racing betting in Georgia can be a daunting task.
In this review, we've focused on companies that provide an all-in-one service. As in they have horse racing, casino games, poker and several kinds of sports betting. These offshore companies provide customers with a much more user-friendly experience as well as the best bonuses in the industry. On top of that, these companies are known for their superior customer service so that you can have any of your questions or concerns handled in a timely and professional manner.
Fixed Odds in Horse Racing
This is very important to horse racing bettors, especially when it comes to price shopping. Depending on the race you're looking to wager on, the price might vary from one horse to another at different horse racing sites in Georgia. The sites outlined by our experts provide fixed odds futures on specific, licensed racetracks.
Betting Markets in Horse Racing
From straight bets to exotics, this is one of the appeals of the horse racing market. You can make a profit without putting up huge amounts of risk. There are no shortages of the types of bets that you can make in Georgia if you sign up with one of our recommended offshore sports betting sites.
Bonuses in Horse Racing
Whether you're talking race-specific promotions or just general bonuses, because of the size of the horse racing betting market, you'll always find some kind of promotion that you will find enticing. Make sure to read the terms and conditions of any promotion before making your deposit and before you start betting at racebooks or any other betting site.
Tools for Horse Racing
The horse racing market is equipped with tools to help bettors navigate this space and make sense of the sometimes overwhelming amount of available options. Things like past performance at certain tracks and for specific horses. This type of information will help you make better decisions while looking to pick a winner.
Welcome Bonus in Horse Racing
Most online betting sites do not allow the welcome bonus to be used on horse racing in Georgia but not to worry, our betting experts have considered that when making this list. With that in mind the companies we've outlined as the best racebooks for residents in Georgia to bet with, all have good reload bonuses on future deposits.
Bovada is the exception with their horse betting-specific welcome bonus that they have available for horseplayers.
User Experience at Betting Sites
The consistency of the user experience in terms of the look and feel of the horse racing sites is hard to ignore. It is because most of them use the same service provider.
In terms of everything else, the user experience is very personal and will depend on what you prioritize when betting on horses. We suggest you go over each site carefully to pick the one that will meet your preferences.
Live Streaming of Horse Races
This is a fantastic feature that Georgia horse racing bettors have been able to enjoy. BetOnline is an example of one of the sites we recommend that allow you to watch the races as they unfold.
Best Betting Sites for Horse Racing in Georgia
All of these websites have their pros and cons, below we have outlined the criteria we have used to decide which racebook is best for online horse race betting in Georgia.
Brand Prestige
All of the companies we have recommended have over a decade of experience providing horse racing betting options to residents of Georgia. Some of the companies we've recommended have been around since the 1990's so their reputation goes without saying.
Deposits and Withdrawals
There will be no shortage of banking methods for deposits and withdrawals at the sites we've recommended for horseplayers in Georgia. None of the companies would be able to make our list unless they pay out quickly and have a lot of ways for you to fund your account.
Safety & Security
None of the companies we've recommended have had any issues with security at their racebooks. They each have top-notch security in the horse racing industry.
Online Interface
This is crucial when choosing which site is right for you to bet horses within Georgia. Races are time sensitive so you want to make sure you choose a site that is user-friendly and has a top-of-the-line staff in case you need assistance.
Customer Support
Having 24/7 customer support is important and these racebooks have you covered. With races available at tracks all over the world, the start times can be going off around the clock. If you need to adjust a bet you made or need an explanation of a result, the sites recommended by our experts have you covered.
Overall Value on Offer
When you've decided what your personal preferences are for your horse wagering experience, you can look at the different perks each company offers and weigh them up against each other to make the right decision for you.
You need to ask yourself the following questions:
Do they offer the specific tracks I like?
What is the size of their betting market?
Do they offer race-specific promos?
Do they offer general bonuses for the racebook?
How easy is it to get my money when I win?
What are their customer service hours?
These are the things to consider when signing up for an online racebook in Georgia.
Is horse racing betting legal in the state of Georgia?
The state of Georgia does not have sanctioned horse racing at present.
Georgia Sports Betting Updates
January 2021: Georgia lawmakers introduce HB 86 to the House. This bill would give the Georgia Lottery power to manage legal sports betting.
February 2021

:

Georgia lawmakers

introduced

SB 142, which would allow for a constitutional amendment. This would allow voters in Georgia to decide if they want legal sports betting.

March 2021: The Georgia Senate passes the bill, which then goes to the Georgia House. The bill wasn't voted on by the Georgia legislative session before they closed, so the bill died and the issue of legal sports betting was closed for 2021. HB 86 goes through a similar process and dies after being postponed multiple times.
March 2022: Rep. Ron Stephens amends SB 142 and SB 135. The amendment makes them eligible for passage in the last session of 2022.
April 2022: Both SB 142 and SB 135 fail to go through after local lawmakers didn't vote on the first one and replaced the second one with a different bill.
August 2022: Billy Hickman, a State Senator, expresses support for the legalization and regulation of horse racing in the state of Georgia.
January 2023: The efforts for the legalization of sports betting in the state continue, with lawmakers hoping to push for it again during the 2023 legislative session.
Betting on Horse Races in Georgia
You can bet on horse races in Georgia at an offshore sportsbook. Given the advantages of these online betting sites, they can cater as a one-stop shop for horse racing enthusiasts.
How does horse racing betting work in Georgia?
In Georgia, most horse races are paid out on a pari-mutuel basis. The money bet on the race goes into a pool and is then divided by the winners according to the bet type. Before that is done, the racebook will take their cut of the action.
This is a bit confusing to anyone new to horse racing because pari-mutuel bets don't give you the exact payout the way fixed odds do. Odds for the track are usually displayed the morning of the race but those are just predictions, they aren't true odds.
The big races like the Kentucky Derby are where you tend to find fixed odds.
Betting Odds in Horse Racing
Fixed odds on a horse race will be displayed in American odds or fractional odds. Below we give you a detailed explanation of both with examples included. We have also explained how to calculate payouts for pari-mutuel betting.
Fixed Odds for Horse Racing Betting in Georgia
If the odds are displayed in the American format, then the odds will have either a plus or minus in front:
If the odds start with a plus sign, then your profit will be higher than the risk amount

For example; if you bet $100 on odds of +200 your profit would be $200
If the odds start with a minus sign, then your profit will be less than the risk amount

For example, if you bet $100 on odds of -200 your profit would be $50
The math might seem complex at first but remember that when you enter the amount you want to risk into the best slip, it will let you know how much your profit is
How much you bet is up to you, we only use $100 as a reference. If we use the above examples with $1 bets, it would like like this:
If you bet $1 on odds of +200 your profit is $2
If you bet $1 on odds of -200 your profit is $.050
Another important thing to note when placing horse wagering bets is that when you win, you get your money back. So when calculating the return on your bet, the formula would be:
Risk + Profit = Return
Bet $1 on odds of +200 and your return would be $3
In the above example if you input the formula Risk ($1) + Profit ($2) = Return ($3)
If the odds are displayed in the fractional format, then your odds will be displayed as fractions:
A $1 bets on odds of 5/1 would win you $50
A $10 bet on odds of ¼ would win you $2.50
A $10 bet on odds of 9/2 would win you $45
If the first number in the fractional odds is smaller than the second number, your profit will be less than your risk.
If the first number in the fractional odds is bigger than the second number, your profit will be higher than your risk.
One thing to remember is that odds are changing all the time so understanding their value is important. Remember that you also have the betslip as a guide.
Pari-Mutuel Betting
Most of the horse racing betting odds available to bettors in Georgia are calculated on a pari-mutuel basis. What that means is that the money wagered on each race goes into a pool and the betting providers take a cut. This is how they make money from taking horse racing bets.
The remaining money gets distributed among the winning bettors.
When looking to find out what the payout is for a specific market, you will need to check the tote board.
At the 2022 Kentucky Derby, the tote board looked like this:
A $2 win bet on Rich Strike paid 163.60*
A $2 place on Rich Strike paid $74.20 and a $2 show paid $29.40
A $2 place on Epicenter paid $7.40 and a $2 show paid $5.20
A $2 show on Zandon paid $5.60
A $1 exacta paid $2,050.60
A $0.50 trifecta paid $7,435.35
A $1 superfecta paid $321,500.10
In the above example, $2 is used because that is the minimum bet at most tracks.
For simplicity's sake, we'll use $1 so that you can see a representation of the odds. Also, some online racebooks allow Georgia residents to play to allow bets of less than $2.
In the above example taken from the Kentucky Derby, a $1 bet on Rich Strike your profit would be $80.80. Since your return includes the risk amount, then you would receive $81.80.
*Note the above example of a $2 bet on Rich Strike that paid $163.60 including the risk amount of $2.
If you put that same example into fractional odds it would be displayed as 409/5 or in American odds could be displayed as -124.
The numbers here are just a guide for you to understand how much of a favorite or a long shot the horse(s) you bet on really is. As with any form of wagering, from casinos to sportsbooks, the bigger risk you take, the higher profit you make if you win.
Georgia Horse Races and Pool Betting
Pool betting is simply another way to say pari-mutuel betting. They mean the same thing and is the way most Georgia horse racing sites calculate payouts.
Types of Horse Racing Bets in Georgia
Win
A bet on a horse to finish in first place.
Place
A bet on a horse to finish in first or second place.
Show
A bet on a horse to finish in first, second or third place.
You also have the option to bet "an across the board" which will divide your risk into three.
The risk is divided into three equal parts between win, place and show.
It's important to note that when you bet "show" that's one bet while "an across the board" is three separate bets on win, place, and show.
Exacta
This is known as an "exotic" bet. An exacta requires the two horses you bet on to finish in the exact order you choose which is where the name comes from. In the previous examples, with "place" and "show", the order did not matter. With an exacta, the order does matter.
Trifecta
A trifecta is the same as an exacta but with three horses instead of two.
That means you need to pick the exact order of first, second and third.
Superfecta
A superfecta involves four horses and you must pick who will finish first, second, third and fourth in that order.
Daily Double
This is another exotic bet where you can try to predict the winners of two consecutive races on the same day.
Pick 3/4/5/6
Predict the winner in three, four, five or six races in a row on the card for a bigger payout.
Georgia Horse Racing Glossary
These are the key Georgia horse racing terms to acquaint yourself with:
Across the board – Three bets in total – one of them to win, one of them to place and the other to show.
At the post – It's a last-minute bet. It implies that the horses are lined up to start the race. This is when betting usually ends although some tracks offer live bets.
Blinkers – It's the equipment you see on the horse's head to restrict their field of vision.
Claiming Race – A race where every horse is up for sale
Dead Heat – A term used for a tie between two horses
DQ – The term used when a horse has been disqualified
Exotic bet – A bet that combines multiple outcomes, such as an exacta or trifecta.
Favorite – This is the horse with the lowest payout potential or worst odds.
Fixed Odds – These odds are different from pari-mutuel betting. They give you the exact price of your profits if the horse you bet on wins.
Furlong – This represents an eighth of a mile in terms of distance on the racetrack.
Length – This refers to the length of a horse and usually also describes the margin of victory. An actual body part of a horse might also be used if the race is very close like the neck, head or nose for example.
Morning Line – Each track has handicappers that predict the eventual odds each horse will have in the pari-mutuel payout.
Pari-Mutuel Wagering – This is how most horse races are paid out. The money from all of the bettors goes into a pool which is then divided among the winning bettors after the industry takes its cut.
Purse – The total prize money issued to the owners of the horses in a race, with the winning owner taking the largest slice.
Tote Board – This is where the payout dividends of each market is displayed. They are usually for the most recent race at the track.
Triple Crown – The most important races in the U.S and also some of the biggest in the world. They are the Kentucky Derby, the Preakness Stakes and the Belmont Stakes.
Wager – Another way of saying bet
Calculating Horse Racing Betting Odds
One of the things that make horse racing intimidating to a lot of people is the math involved. Everyone from the online racebooks in Georgia to the bettors knows this. For that reason, you'll never have to do any math to figure out how much your return will be.
Simply pick the type of bet you want, enter the risk amount in the bet slip and you will be given the return before you have to go through with the bet.
As far as pari-mutuel betting, the amount bet on the race determines the payout you will receive. If you want to calculate it yourself, there are tools online that can assist.
Georgia Horse Racing Odds Chart
As previously mentioned, most tracks have a minimum wager of $2. In the below chart, we have highlighted how much your payout would be from different $2 bets at a variety of fixed odds. We have split them up between American and fractional odds. The reason the American odds are in parentheses is that fractional odds are the more commonly used of the two.
We have also included the implied odds which is the winning percentage that is associated with the price of the odds being offered.
Georgia Horse Race Tracks
The state of Georgia does not have sanctioned horse racing.
Betting Bonuses for Horse Racing in Georgia
There are a variety of different bonuses and promotions that are commonly offered by different sportsbooks. Below we have listed some promos and bonuses that you can reasonably expect to find at one of our top-rated sportsbooks.
Welcome Bonus
Welcome bonuses aren't always offered for horse racing but one of our recommended sites does have a great deal on offer. At Bovada, there is an excellent sign-up bonus for racing enthusiasts. They offer a 75% bonus up to $750 that comes with a 6x play-through requirement.
Risk-Free Bet
These risk-free bets are a favorite of online horse bettors in Georgia. There is a risk-free bet of $25 that BetOnline offers. Most bonuses of any kind come with some kind of terms and conditions so this type of offer is always refreshing.
Loyalty/VIP Program
As with all of their offerings, most of the offshore betting sites that we've recommended for horse racing bettors in Georgia have a great loyalty program. The perks include bonuses that can be used on races as well as certain rebates.
Racebook Rebates
This is similar to a cashback bonus where you get back a percentage of your net losses in the form of free chips. One of the reasons we rate Bookmaker.eu so highly is because of offers like this. Bookmaker.eu offers rebates on all races for some customers.
Terms and Conditions at Georgia Horse Racing Betting Sites for Bonuses
This is something that is never to be ignored when taking a bonus. It is important to note that the majority of bonuses come with requirements also known as terms and conditions. These terms usually revolve around two main points; how much betting is required before cashing out and the maximum amount of any cashouts stemming from the bonus in question.
There are sometimes additional terms or restrictions like what races the promos can be used on and how much of your risk amount applies.
Rollover Requirements
This is where you find out what is required of you from a betting standpoint before you can cash out. The key to understanding play-through requirements is that the amount you are putting at risk is what counts, not wins and losses or remaining balance.
Virtual Horse Racing Betting in Georgia
Legal horse betting is not available at all online casinos in Georgia. The ones that are, use third-party software that is controlled by a random number generator. The horse betting site has no control over these outcomes. Most casino software uses some type of random number generator for their games.
Georgia Horse Racing Betting Apps
Considering there is no state-sanctioned horse racing in Georgia, there aren't any dedicated apps for gambling on horse racing.
The offshore sites in this guide for gambling on horse racing in Georgia have mobile offerings that you can use to make your wagers online.
Georgia Horse Racing Betting Apps for iPhone
With no horse racing betting apps in Georgia, fans can access all of the races from the most popular tracks around the world through the mobile version of one of the many offshore sportsbooks that Georgia horse racing fans enjoy.
Georgia Horse Racing Betting Apps for Android
There are no betting apps for horse racing, nor are there any horse racing tracks or retail casinos that allow wagering in person. An account at an offshore site is all you need to make a horse racing bet in Georgia.
Start Betting at Horse Racing Sites in Georgia
It's easy to get started wagering on horse racing in Georgia.
Choose the best racebook in Georgia according to your preferences.
There should be a "Join Now" button. Click that and complete the registration form.
If you take a bonus with your deposit please review the terms and conditions before completing your deposit.
Fund your account with one of the available deposit methods.
There should be a specific section for horse racing referred to as a "Racebook" or it will simply be under "Horse Racing".
Check out the latest horse racing betting odds, and find a horse with odds you like.
Pick win place or show box next to a horse if you want a straight bet.
For exotic bets, you will need to use a separate tab to create an exacta, trifecta or superfecta
Type in your risk amount and click "Place Bet".
Once you're ready, put in the risk amount and hit the button that allows you to place your wager.
Other Types of Gambling in Georgia
At the moment, previous gambling bills introduced have failed. There is a push being made to encourage gambling expansions by lawmakers in Georgia but that will not happen before 2023.
In the meantime, Georgia residents have a legal sports betting option with offshore sportsbooks that do not fall under state and federal law in the U.S.
While they do offer legal horse betting, these sports betting sites also have a lot more for customers to enjoy. Of course, sports wagering is available, so you can bet on your favorite teams like the Atlanta Hawks.
Many sports betting sites also offer a casino gambling experience with online table games, slots, and more.
What is the best site for horse racing betting in Georgia?
The best site depends on your personal preferences as a bettor. Certain individuals prioritize the size of the betting market while others are more concerned with bonuses and specific race-related promos. In addition to legal horse betting, you can also find casino gambling and online sports betting at many of these sites.
Instead of giving you the best, our experts have narrowed the field down to the following five:
Bookmaker.eu
Heritage Sports
Bovada
BetOnline
BetAnySports
FAQ – Georgia Horse Racing Betting
Is horse racing betting legal in Georgia?
The state of Georgia does not have sanctioned horse racing betting. Anyone in Georgia wanting to place horse racing bets can do so via offshore sportsbook operators.
Is there horse racing in Georgia?
The state of Georgia does not have an annual horse racing event. For horseplayers in Georgia, the biggest races are any one of the three thoroughbred racing events from the Triple Crown.
Can I use FanDuel for horse race betting in Georgia?
FanDuel is not available for Georgia residents to wager on horse races. All of the offshore betting providers listed in our review accept Georgian bettors, however.
Is there a horse betting app in Georgia?
Georgia does not have any native horse betting apps. While most of the sites in our review do not have apps, they do provide a very similar experience via their mobile versions.
What is the best site for betting on horses in Georgia?
According to our experts, the best site for betting on horses in Georgia is Bookmaker due to the discount on racetrack bets, early betting odds and excellent customer service.