Houston Casinos: How to Gamble Online in Houston, Texas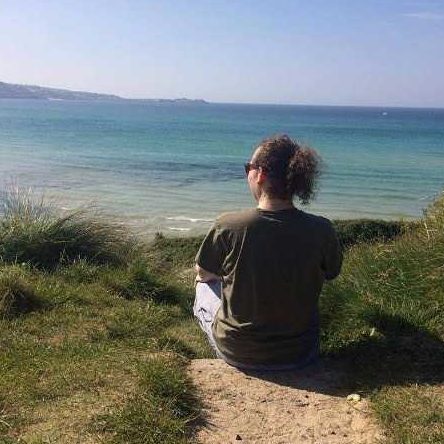 David is a freelance sports journalist who comes from West Midlands. He specializes in sports content, both written and visual. With an impressive record in pre-fight predictions, David is quickly becoming recognized in his field for his in-depth fight analysis and impressive contender & fight history knowledge.
A history of legal battles has prevented the legalization of casinos in Texas, despite the efforts of casino lobbyists (such as the Texas Sands Political Action Committee) and American Tribes both of which have put forth multiple casino proposals. Gambling or online gambling has never been legal within the borders of the Lone Star State. With the closest casino located five hours away in Eagle Pass, it's easy to see why offshore operators are the most convenient casino choice for Houston residents.
While, for the most part, online betting sites are entirely safe and legal to use in Houston, it's imperative to know which operators are of the highest quality and hold the best reputation. For this reason, our team of experts has reviewed the best online casinos available for players in Houston.
Whether you want to enjoy the game of poker or check out the hottest slots at an online casino, you've come to the right place. You'll find a complete guide to online casino gaming in Houston below, including a review of the best available operators to Houston locals.
Top Betting Sites With Online Casinos for Houston in 2023
Online Betting Guides for Gamblers in Houston
Finding the best places to gamble or place wagers on sports can be tough in Texas due to the state's gambling laws, but we have plenty of guides for Texas bettors that can show you the best places and ways to bet.
Ranking the Top 10 Offshore Sportsbooks With Online Casinos in Houston
Discovering the best online casinos in Houston can be challenging and not everybody has the time to put in the research. Don't let this factor affect your journey because our experts have covered every aspect, so you don't have to. Our team is tasked with finding the top-rated providers and here are the top 10 Houston online casinos.
Reviewing the Best Houston Online Casino Sites
We've chosen the top 5 options along with mini-reviews so players can understand why each online betting site is the best on the market.
1. Heritage Sports: Speedy Payouts & Unique Bonuses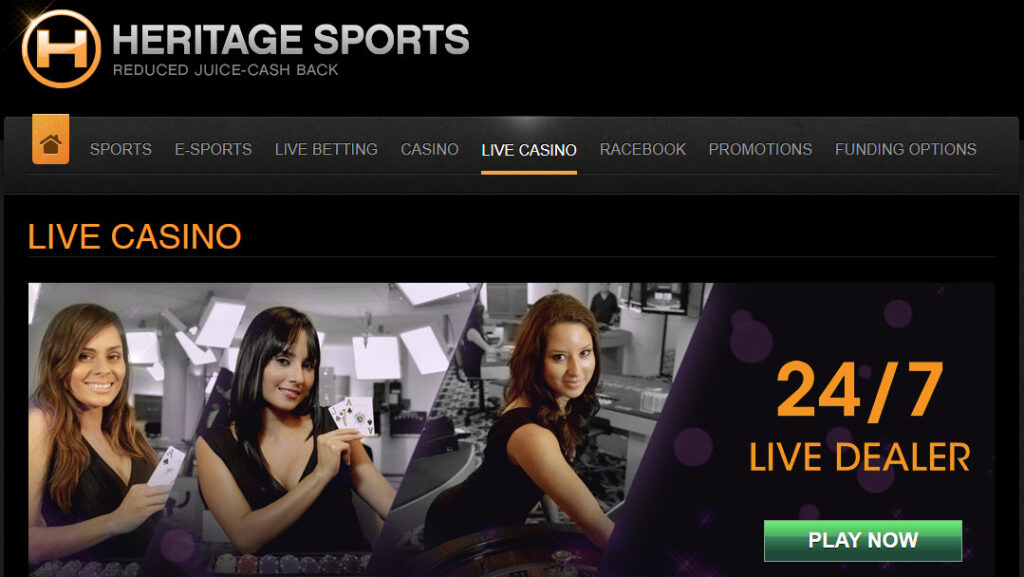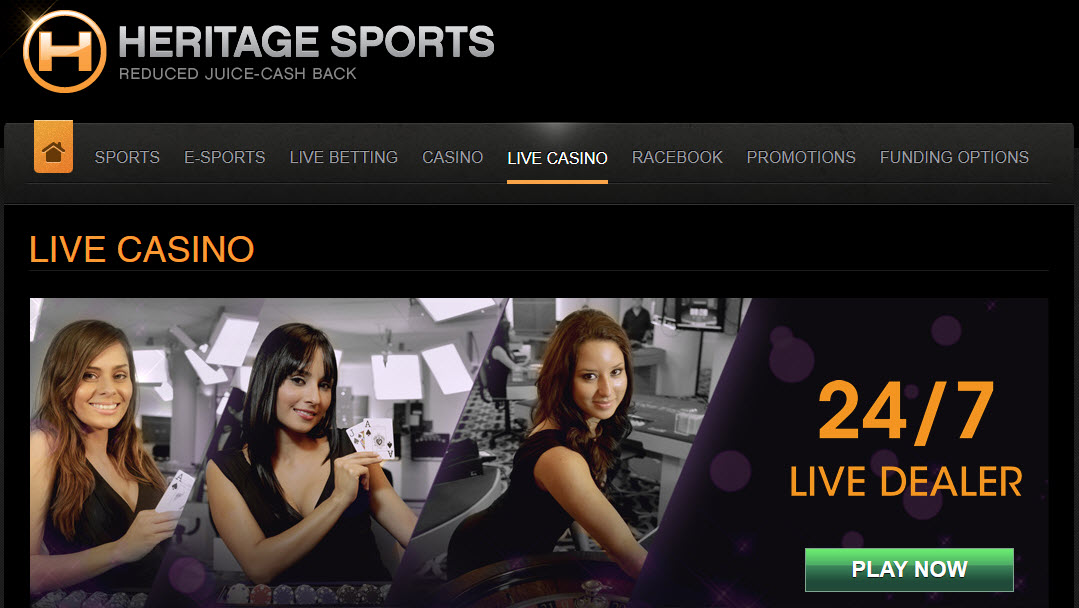 Heritage Sports runs one of the top online casinos available in Houston. Boasting years of experience as a highly reputable gambling provider, there are endless reasons why Heritage Sports is one of our A+ rated operators.
Whether you're using Heritage Sports on desktop or mobile, you'll find its attractive interface easy to use and navigate. In addition to their plethora of promotions, you can get cash rebates too. Customer service at Heritage Sports is of the highest standard, and casino gamers from Houston won't get bored with the countless available machine and casino table games.
Unlike other game providers, Heritage Sports provides users with unique opportunities, such as the option to test the games before playing with real money. This is a fun chance to find the games that suit you best before depositing.
Finally, same-day payouts for winning gamblers are always completed and done at a fast pace. Alongside the great bonuses, a wide variety of games, and excellent customer service, Heritage Sports also offers the most popular deposit methods, like cryptocurrency.
Pros:
High-quality software.
Straightforward to navigate/operate interface
Unique promotional offers
Cons:
Offers no online poker room
2. BetOnline: A Trustworthy Reputation with Decades of Experience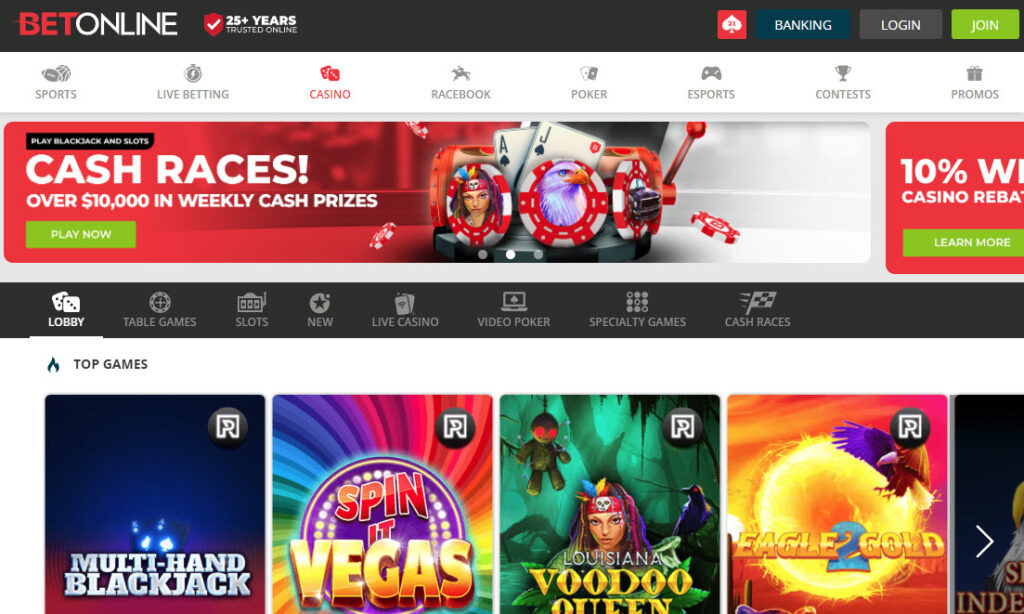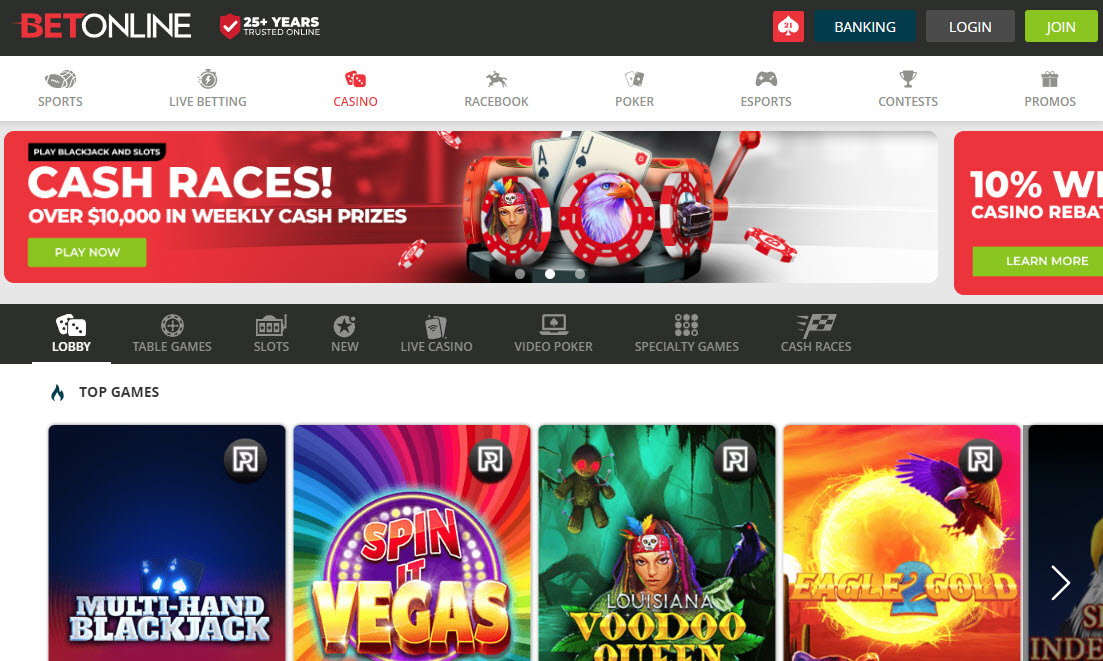 BetOnline is one of the most experienced providers in the business. With exceptional casino games and sports betting services, they are a complete gambling operator for both Houston and United States residents.
With a sleek layout on both desktop and mobile offerings, BetOnline is simple to navigate, and upon registration, you'll be gifted a great choice of bonuses. Not forgetting the existing customers who also receive great promos and bonuses. Years of experience have given BetOnline an advantage with their online casino, which offers more than 500 slots, live dealer games, poker rooms and tournaments, as well as various table games.
High-stake gamblers will enjoy the live tables with $10k limits, and their account creation process is simplistic. Provide your details, choose a payment method, deposit some cash, and you're ready to claim a welcome bonus of up to $3,000.
BetOnline is known for its wide selection of casino bonuses, and most rival companies struggle to match the same promotions. With frequent casino tournaments, over 500 casino games, and a maximum withdrawal limit of up to $500,000, it's clear to see why this is a great casino choice.
Pros:
Regular casino tournaments
Over 500 casino games
Professional interface & layout
A+ rated online sportsbook, racebook, poker room, and esports hub
Cons:
$50 fee on check withdrawals.
3. Bovada: Most Visited Online Poker Room in the United States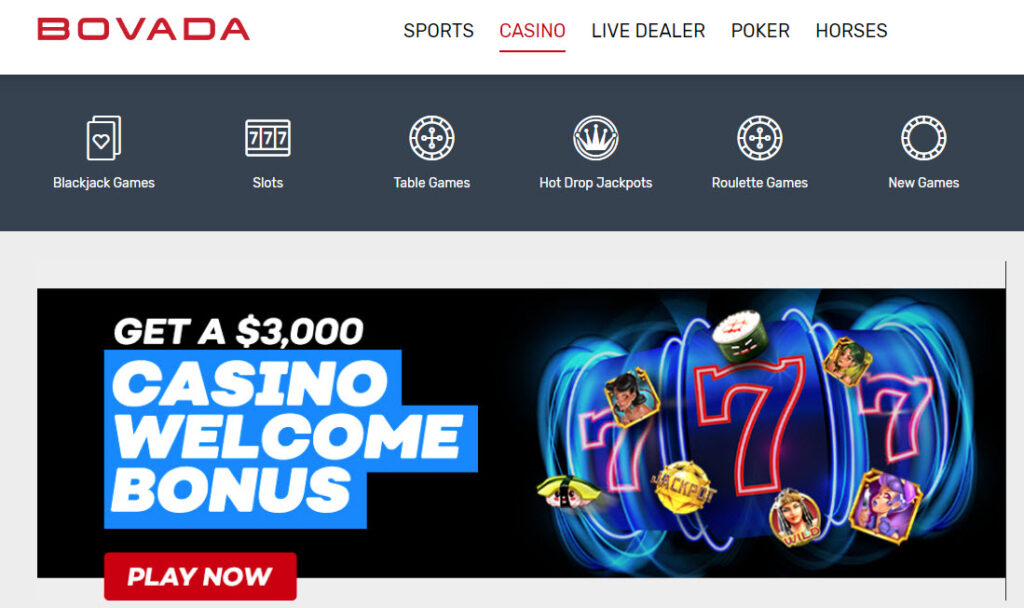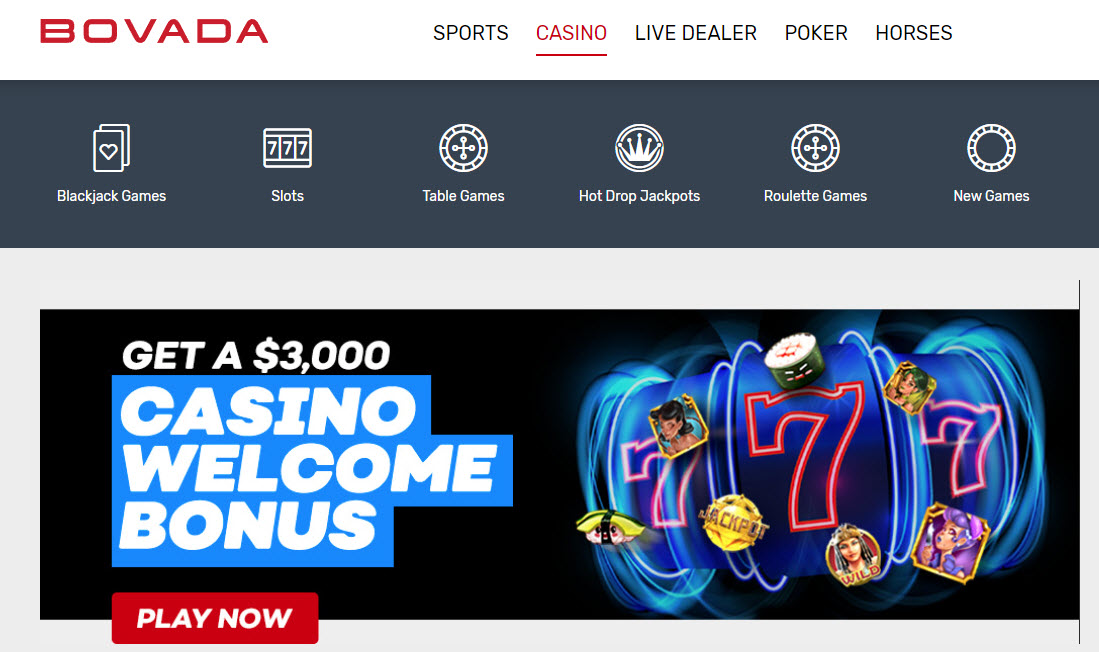 Stemming from its counterpart, Bodog, Bovada has continued to dominate the online casino industry and now owns the most popular online poker room in the United States.
Bovada Casino is excellent and they provide a respected sportsbook, a racebook, as well as various promo offers.
Excelling in multiple areas, Bovada does stick out from the crowd with its live dealer casino. With unlimited blackjack tables and an early payout feature that boasts 99.5% payout rates, they go the extra mile to keep the customers appeased.
To further expand on Bovada's online casino offerings, the live dealer casino presents American and European roulette games, baccarat, and Super 6. You'll find at least 40 live dealer tables, bringing the realism and sociability of a brick-and-mortar to your desktop or mobile device.
Pros:
An extensive live dealer casino
The most popular poker room in America
Mobile-friendly with smooth optimization
Small rollover requirements for bonuses
Cons:
Betting limits can sometimes be low
4. Bookmaker.eu: Veteran Operator, Great for High Bettors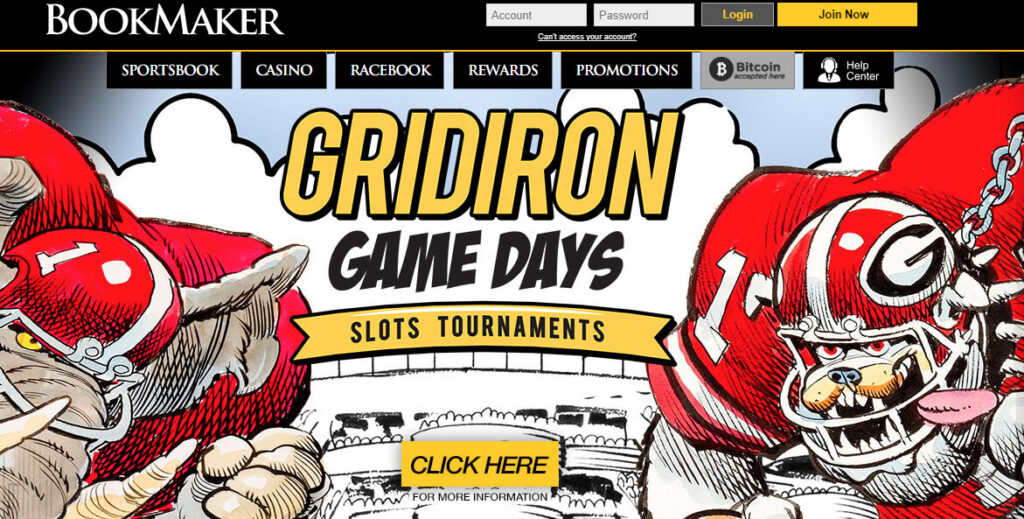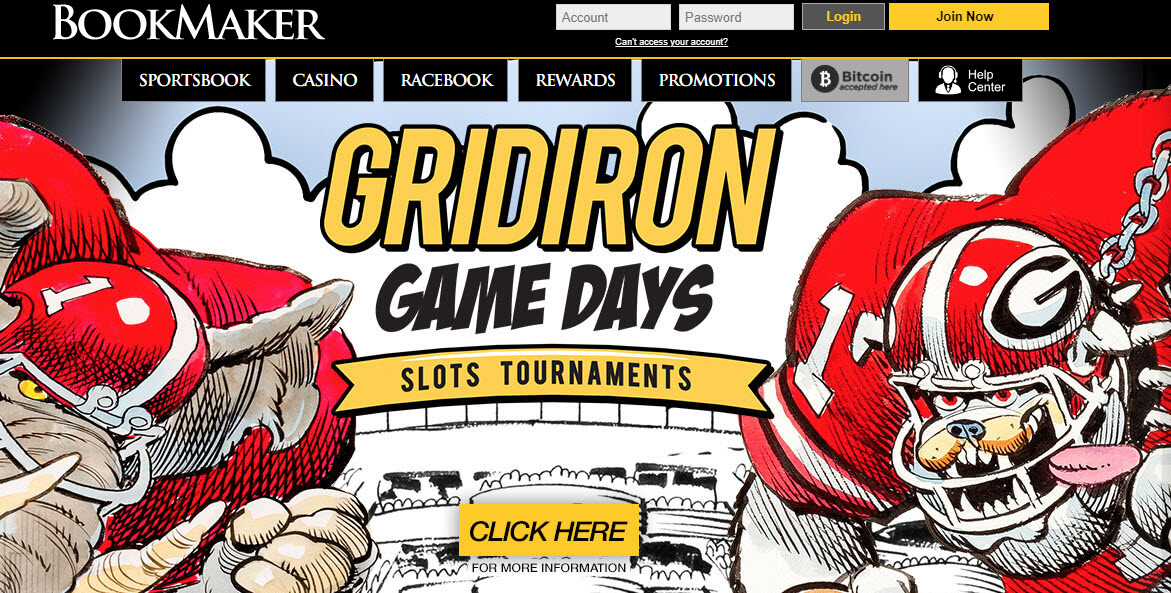 The home of professional gamblers and sharp bettors, Bookmaker.eu, is unquestionably one of the leading online casinos in Houston and the United States. The pros turn to Bookmaker.eu because of its no-ban reputation. Even the biggest winners don't have their accounts restricted or removed.
Further adding to the lure at Bookmaker.eu, casino enthusiasts will find a range of table games, live dealer games, slots, and video poker options. The sheer selection of casino games at Bookmaker.eu provides something for everyone.
The website design at Bookmaker.eu is smooth and straightforward and is accompanied by low wagering limits, multiple bonus options, and impeccable customer service. Loyal customers are awarded Betpoints and free spins when using Bookmaker.eu's loyalty program.
Bookmaker.eu has been in the game since 1996, and they always pay customers in full. Casino bonuses include a 100% slot bonus of up to $500 and a 100% blackjack and video poker bonus of up to $250.
Pros:
Experience in the industry dating back to 1996
High betting limits
Cons:
Professional bettors lose their rights to participate in the loyalty bonus rewards
No poker rooms
5. Everygame: Amazing Online Casino Selection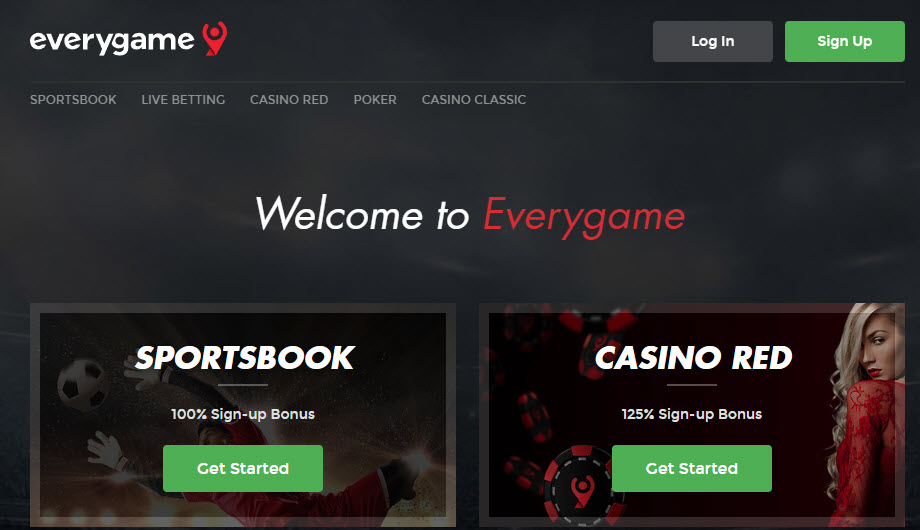 Everygame is a top competitor in the offshore sportsbook industry. It's the world's oldest sportsbook – previously known as Intertops before its rebranding. A recent software upgrade has propelled Everygame into becoming a top-tier online casino provider.
Specifically, the upgrade hasn't just leveled up the number of games; it has also taken on an excellent interface for mobile and desktop users. Slot users can get excited with the vast selection available at Everygame; you can also hit the progressive jackpot slots for those hunting those high winnings.
Slots, however, aren't the only offering. Everygame has a fantastic poker room, blackjack, Hold 'em, baccarat, and countless other table games. The software providers at Everygame are industry leaders, so don't hesitate to register and delve into more than 300 available casino games.
Pros:
Excellent online casino selection
A great web and mobile experience
Variety of promotions
Cons:
Limited in some countries
Smaller bonuses than some of its rivals
Houston Online Casinos Comparison – Payment Methods
When hunting for the best sportsbooks and casinos in Houston, payment methods can sometimes be the deciding factor. Check our table below if you want cryptocurrency or debit/credit card options. We've compiled the payment method choices from each site and provide the valuable information you need on transaction fees and fast payouts.
| Sportsbook | Rating | Online Since | Payment Methods | Read Review |
| --- | --- | --- | --- | --- |
| Heritage Sports | A+ | 2001 | Credit Card, Bitcoin, Cashiers Check, Bank Transfer, P2P | Heritage Sports Review |
| BetOnline | A+ | 2001 | Credit Card, Bitcoin, Crypto, Cashiers Check, Bank Transfer, P2P | BetOnline Review |
| Bovada | A+ | 2011 | Credit Card, Bitcoin | Bovada Review |
| Bookmaker | A+ | 1996 | Credit Card, Bitcoin, P2P, Crypto | Bookmaker.eu Review |
| Everygame | A | 1996 | Credit Card, Bitcoin, Skrill, Neteller, Bank Transfer, P2P | Everygame Review |
| GTbets | A | 2011 | Credit Card, Bitcoin, Crypto | GTbets Review |
| BetUS | A | 2000 | Credit Card, Bitcoin, Bank Transfer, P2P | BetUS Review |
| JustBet | A | 2000 | Credit Card, Bitcoin, P2P, Crypto | JustBet Review |
| WagerWeb | A | 1994 | Credit Card, Bitcoin, Cashiers Check, Bank Transfer, P2P | WagerWeb Review |
| BetAnySports | A | 2002 | Credit Card, Bitcoin, Electronic Check | BetAnySports Review |
Gambling Laws in Houston
Online gambling in Houston, by law, is forbidden despite the best efforts of the Texas Sands PAC and Native American Tribes, like the Kickapoo Tribe and the Alabama-Coushatta Tribe. You can gamble in private, so long as there isn't a cash or asset gain from playing the game. Many unsuccessful attempts at casino legalization also mean that there are no commercial casinos operating locally, either.
Because the most significant classes of gaming are illegal (classes 2 & 3), gambling machines found in general stores will only gift rewards with a low value, such as toys. Known as 8-liners, these machines can't supply winnings that exceed the cost to play by 10x, so they don't offer very exciting prizes to experience players.
There is no exception for sports wagering enthusiasts; placing bets on sporting events is also illegal in Houston. However, wagering at horse tracks and greyhound tracks is legal statewide.
That said, pari-mutuel wagering on horses or greyhounds isn't accessible online; you're required to place wagers in person at one of the racetracks located in Texas. The Gulf Greyhound Park, or the Sam Houston Race Park, are some notable tracks for Houston locals to wager on horse and greyhound races legally. For some sports bettors, commuting to Oklahoma to utilize their sportsbooks is a viable option, but that requires them to travel 500 miles from the city.
For the reasons mentioned above, the offshore sportsbooks and casinos we cover in our reviews are the perfect – and legal – option for locals to access from Houston. Thanks to them, the closest casinos can be at your fingertips rather than hundreds of miles away.
Is online gambling in Houston legal?
As previously mentioned, offshore online betting sites are the perfect solution for Houstonians to gamble and wager legally. Texas doesn't openly forbid online gambling, but since they haven't legalized it, this has created a level of confusion in the Lone Star State.
Online casinos in Houston are available through the utilization of offshore sites. The state hasn't prosecuted online gamblers from Houston for using offshore sportsbooks like Heritage Sports, Bookmaker.eu, BetOnline, Bovada, or Everygame. These overseas providers don't fall under the jurisdiction that would deem them illegal, which is why Houston online casino fans use offshore operators.
In layman's terms, owning an online casino or sportsbook in Houston is illegal, but you're entirely within your rights to wager with online casinos outside of the United States.
History of Gambling in Houston and the Rest of Texas
At the dawn of the twentieth century, Houston was a vibrant location for gambling activities. The poker scene in Houston was legendary and brimming with high-stakes poker games.
Houston was once known as a gambling hot spot with countless underground gambling scenes in operation and illegal Houston casinos. Now, one of the country's largest cities has no local options for casino gaming.
The city's thriving gambling life came crashing in the mid-twentieth century, as the government began to crack down on illegal gambling.
1903: All kinds of gambling were made illegal in Texas.
1920: Domain Privee opened its doors. Owned by Jake Freedman, this illegal casino was closed in 1951.
1933: Pari-mutuel wagering is voted in by Texas Legislature, and four racetracks began taking horse wagers.
1937: Betting on horse races becomes illegal once again.
1982: Charitable bingo and bingo halls open throughout Dallas.
1987: Horse racing betting is legalized for a second time.
1992: Lottery participation is legalized in Texas. Lottery draws and scratch tickets are sold in Houston retail stores.
Land-Based Houston Casinos
Texas law prevents any casino gaming or sports wagering; the only exception is for venues establishing themselves on Native land under federal law instead of state jurisdiction by Federally-recognized tribes. With that said, there aren't Indian casinos located in Houston. You can, however, travel to Eagle Pass, TX, where the only operating casino in Texas is based – the Kickapoo Lucky Eagle casino which is operated by the Kickapoo Tribe.
The closest location of casinos to the city are across state lines, in Oklahoma and Louisiana, which is why a majority of Texas bettors prefer to do their casino gambling online.
What's next for online casinos in Houston?
Houston residents expecting the legalization of casinos anytime soon should think again. However, we predict that Lone Star State will change its laws in due course. We're seeing ad campaigns support the legality of casinos and sports wagering which are run by casino lobbyists such as the Texas Sands PAC in addition to overall support from certain politicians.
Multiple bills are making their way through the legislature that could eventually lead the state to allow casino legalization. Unfortunately, Texas is a Republican-heavy state, and they've continuously promoted an anti-gambling opinion that could prevent the introduction of legal online casinos in Houston in the near future. Additionally, Texas' Legislative session is only held every two years, with the most recent session being in 2021 so it could be a while before we see casino legalization in Texas.
For those wanting to use Houston online casinos, you don't need the permission of the Republicans or anyone else. Look at our best sportsbooks, create an account, and begin playing a wide variety of games instantly.
Can I win real money at online casinos in Houston?
The central premise of online casinos is to win money, so yes, winning real cash from offshore casinos in Houston is possible. However, some operators will allow customers to play games in demo mode to understand and find a game they enjoy without spending money.
FAQ — Legal Casino Gambling in Houston
What casinos are closest to Houston?
The closest casino to the city of Houston is not even in the state of Texas. Instead, it is in Lake Charles, Louisiana and it is called Golden Nugget. 
How many legal casinos are in Texas?
There are no commercial casinos in Texas and only one Native American Casino which is located in Eagle Pass. Casinos operated by federally-recognized tribes are protected by the federal government.
Is it legal to gamble in Texas?
Most forms of gambling, like casino gaming and sports betting, are illegal in Texas. The state lottery, horse racing and Indian casinos are the only gambling options.
What online casinos can I play in Texas?
The state of Texas does not issue casino licenses to local operators; for that reason, residents of Texas can only use casino sites that are based offshore.
Can you gamble at home in Texas?
The top offshore casinos offer plenty of real money options for residents of Houston and all over the Lone Star State.