Best New York Mobile Betting Sites
Whether you're new to the online sports wagering scene, or you consider yourself to be professional, mobile wagering is an extremely convenient way to bet on your favorite teams.
The state of New York has several options when it comes to mobile sportsbooks.
Our experts have reviewed the different providers across the online sports betting market and tested key features like customer service, speed of payouts, and the consistency of the software in order to put together a list of the top online betting sites.
We'll also go over some of the legal aspects of sports betting in New York and why offshore sportsbooks continue to be the most flexible and reliable option for professional and collegiate betting in comparison to betting at retail sports betting locations or commercial casinos.
New York Betting Guides
If you're looking for more ways to gamble in New York, we suggest giving one of our other online betting guides a read. Each of these guides covers everything that sports gamblers and casino bettors need to know about a specific betting market.
List of the Best New York Sports Betting Mobile Sites
After evaluating the best sportsbooks available in New York, we have created a list of our top ten choices for residents.
These sites not only allow bettors to place bets on their favorite sports on a safe and secure platform, but they also offer a wide variety of bonuses and benefits including new-user promos, risk-free bet opportunities, and live betting, among many others.
Reviews of the Best New York Mobile Betting Sites
Our detailed guide below will help you to further understand the benefits of each of the online sportsbook operators in our list.
While a wide selection of sites may offer different bonuses and features, all of the sites in our top ten below are highly consumer-focused, offer competitive odds, and offer platforms fully optimized for mobile betting.
1. BetOnline – Best-Rated Mobile Sports Betting Site in New York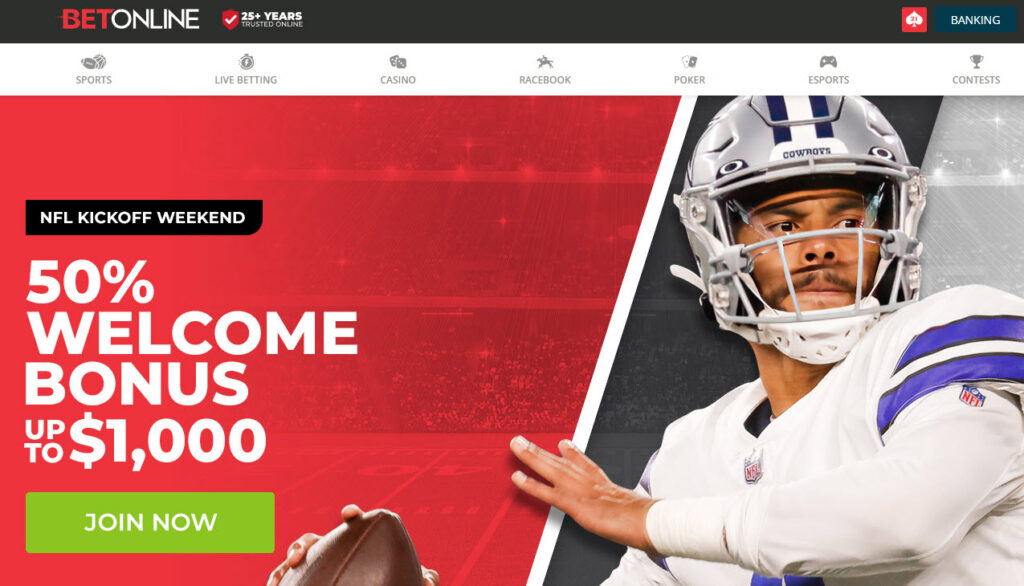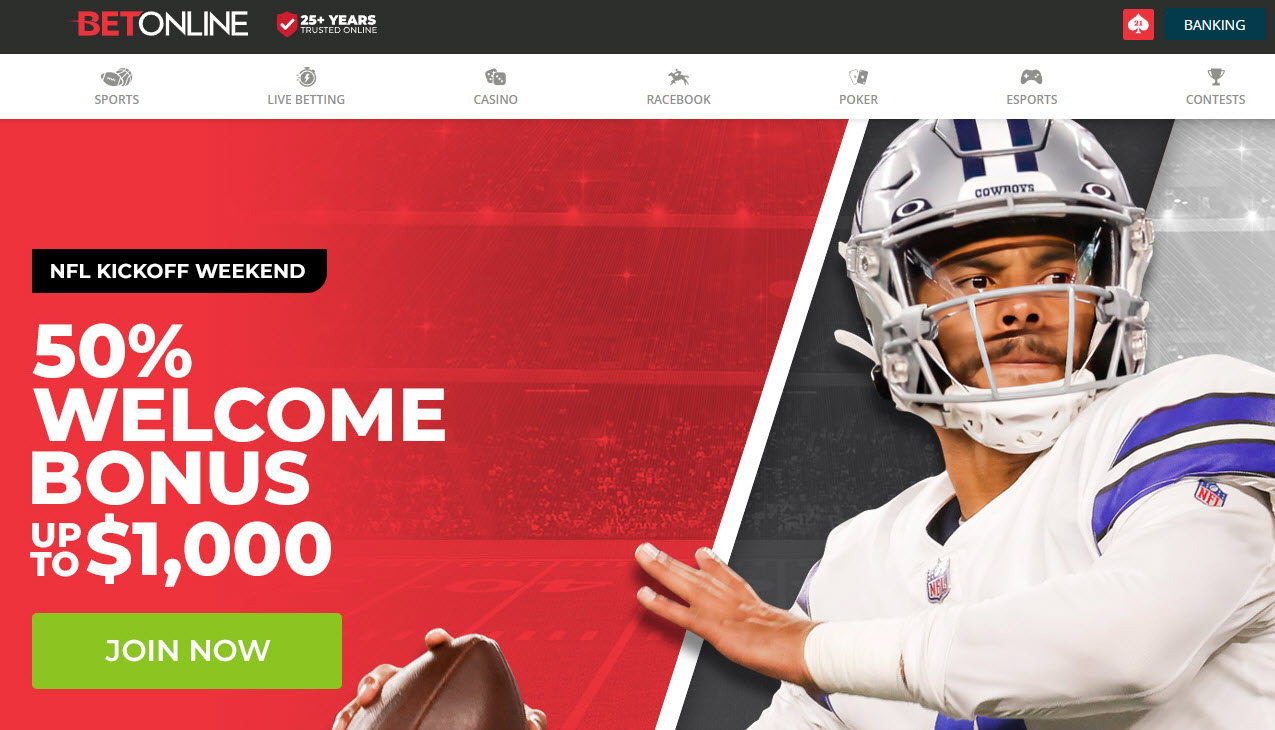 BetOnline is undoubtedly one of our top choices for online betting in New York thanks to its impressive live betting software which can be enjoyed from your mobile device. After a recent overhaul, BetOnline's platform is more user-friendly for bettors on the go.
In addition to its extensive sports betting options, the casino offers a wide variety of titles. Users can also access the third busiest poker network in the United States, all from the comfort of their phone or tablet.
The high level of customer care of BetOnline can also be seen in its acceptance of various payment methods, including several cryptocurrencies, as well as its 24/7 live chat option.
BetOnline offers its new and existing customers several generous bonuses and promotions. For example, new customers can receive a 50% sports welcome bonus of up to $1,000, while customers using crypto for the first time can receive a 100% deposit match offer of up to the same amount.
Pros:
Large selection of sporting events and live betting markets
Events available for live streaming
Modern software for mobile optimization
Cons:
Rollover requirements for bonuses can be higher than competitors
2. Heritage Sports – Top Choice for NY Bettors Looking for Value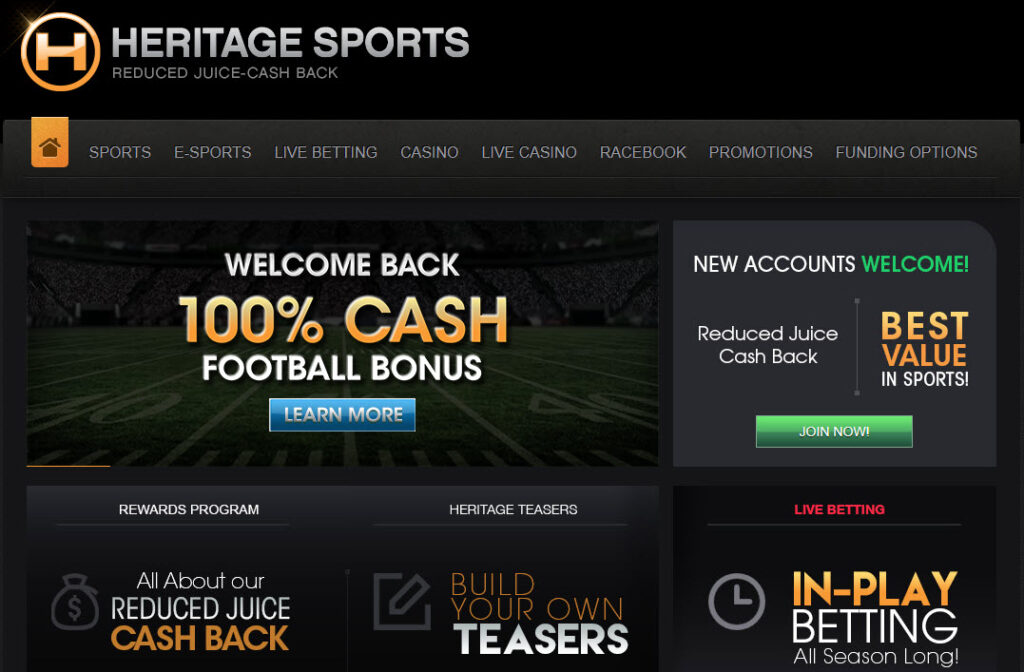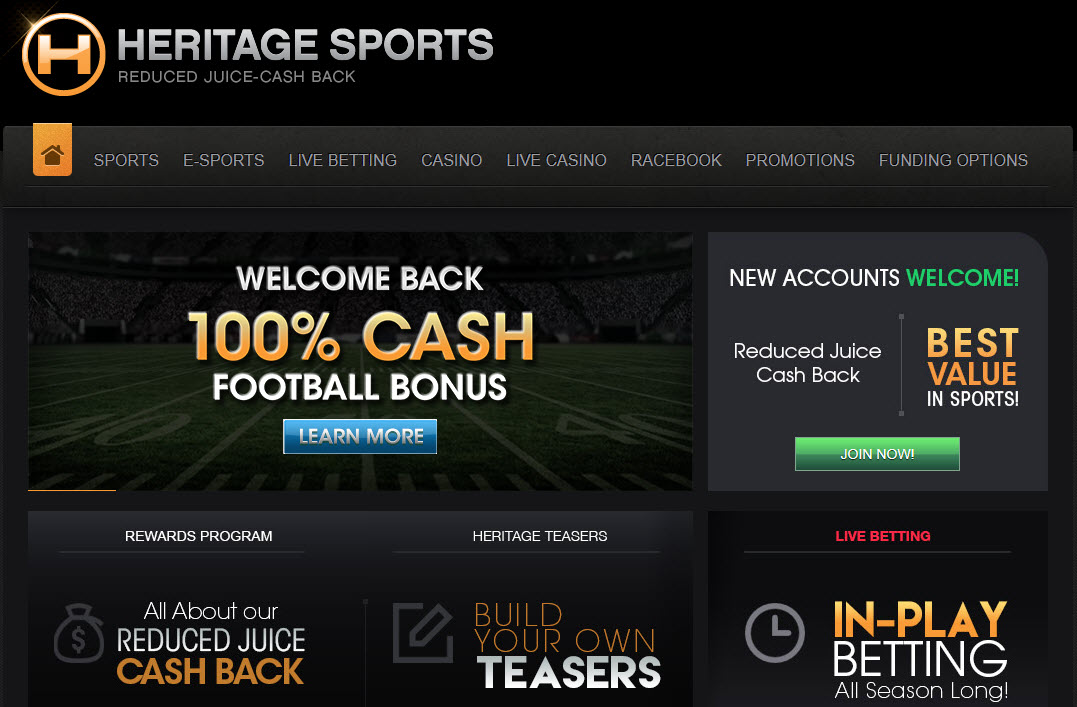 Heritage Sports is another highly reputable New York mobile betting site with a large focus on live betting. However, they are also widely known for their reduced juice lines.
Additionally, Heritage Sports offers customers the use of the casino, which features live dealers 24/7, as well as a racebook section, allowing them to place bets on their favorite horses and play various casino games in a modern-looking and easy-to-use platform.
This mobile betting site offers an incredibly generous selection of bonuses and promotions for both new and existing customers. For example, bettors can avail of a reduced juice cashback offer, as well as many other perks like lower rollover requirements.
Pros:
Outstanding live betting interface
Modern platform optimized for mobile use
Reduced juice odds available
Cons:
No online poker available
Smaller bonuses
3. Bovada – Leader in Prop Betting Markets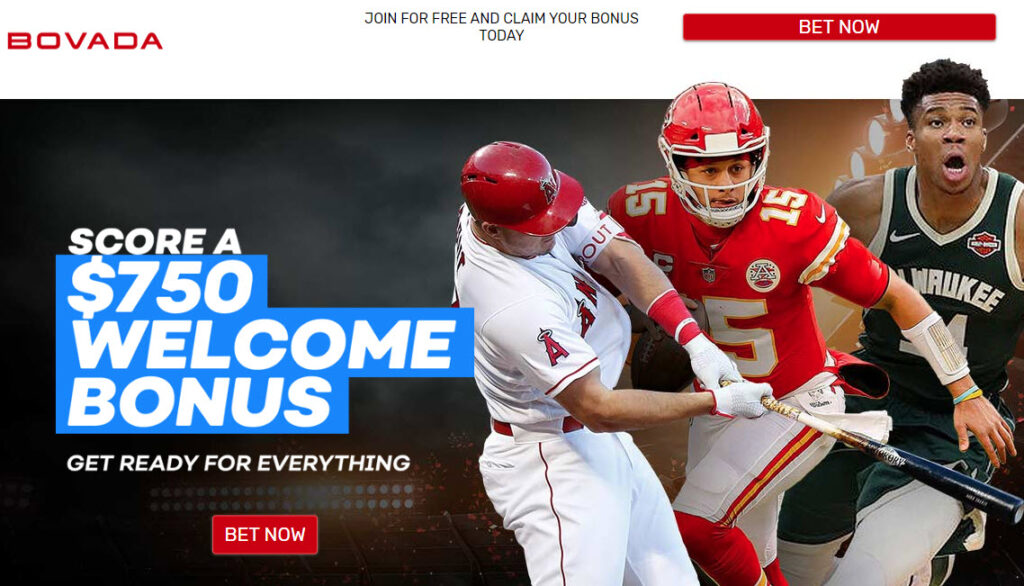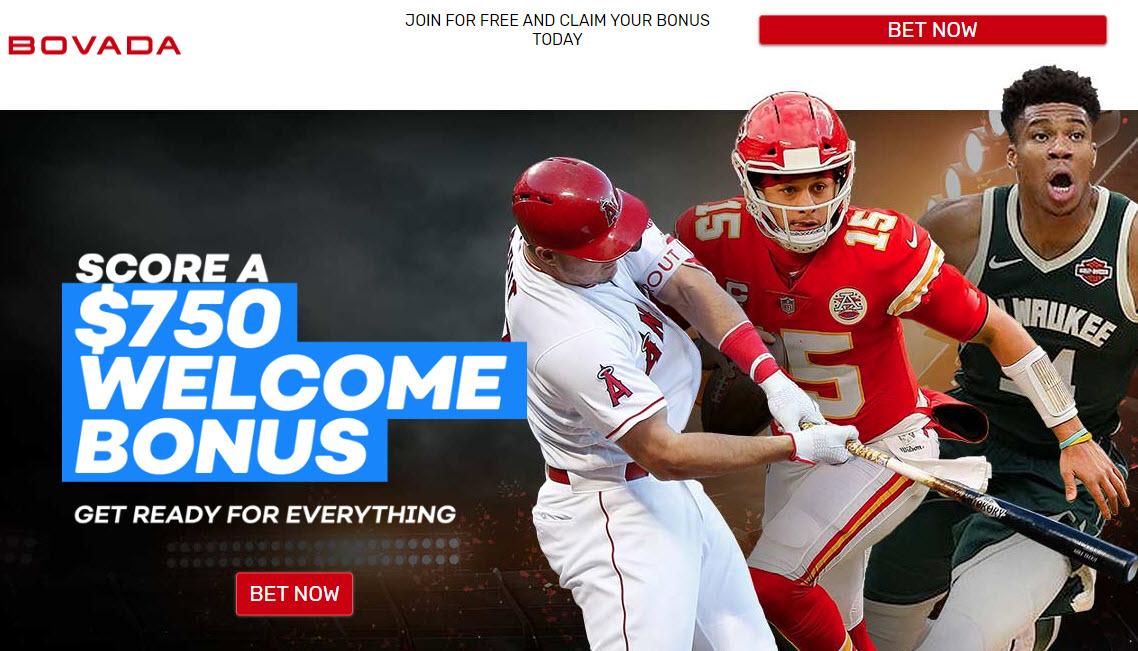 Bovada is one of the most popular mobile betting sites for residents of New York, and it is no wonder considering the extensive selection of props offered in the different betting markets that they cover.
Bovada is also home to the most popular poker room in the United States, which can also be enjoyed from your mobile device. The live betting feature of the site is also highly attractive as it allows bettors to place wagers on live sporting events as they are happening.
As well as its live betting, Bovada offers a high level of customer care, with the site dedicated to giving customers the best possible mobile betting experience in New York.
Bovada offers customers the opportunity to avail of several bonuses, as well as same-day payouts when opting to use Bitcoin or other cryptocurrencies.
Pros:
Best offer of prop betting markets
Access to the most popular poker room in the U.S.
Platform fully optimized for mobile betting
Cons:
No reload bonuses
Lower betting limits
4. Bookmaker – Accepts Action From All Players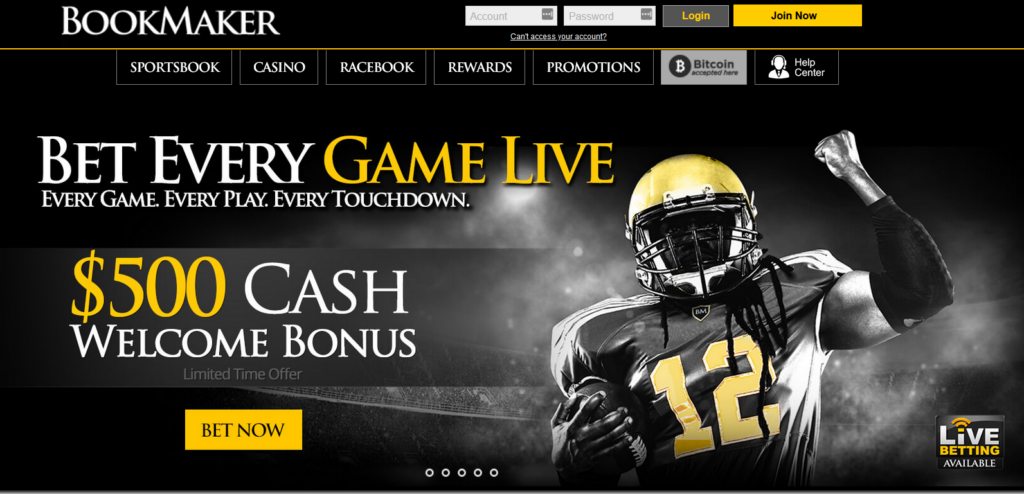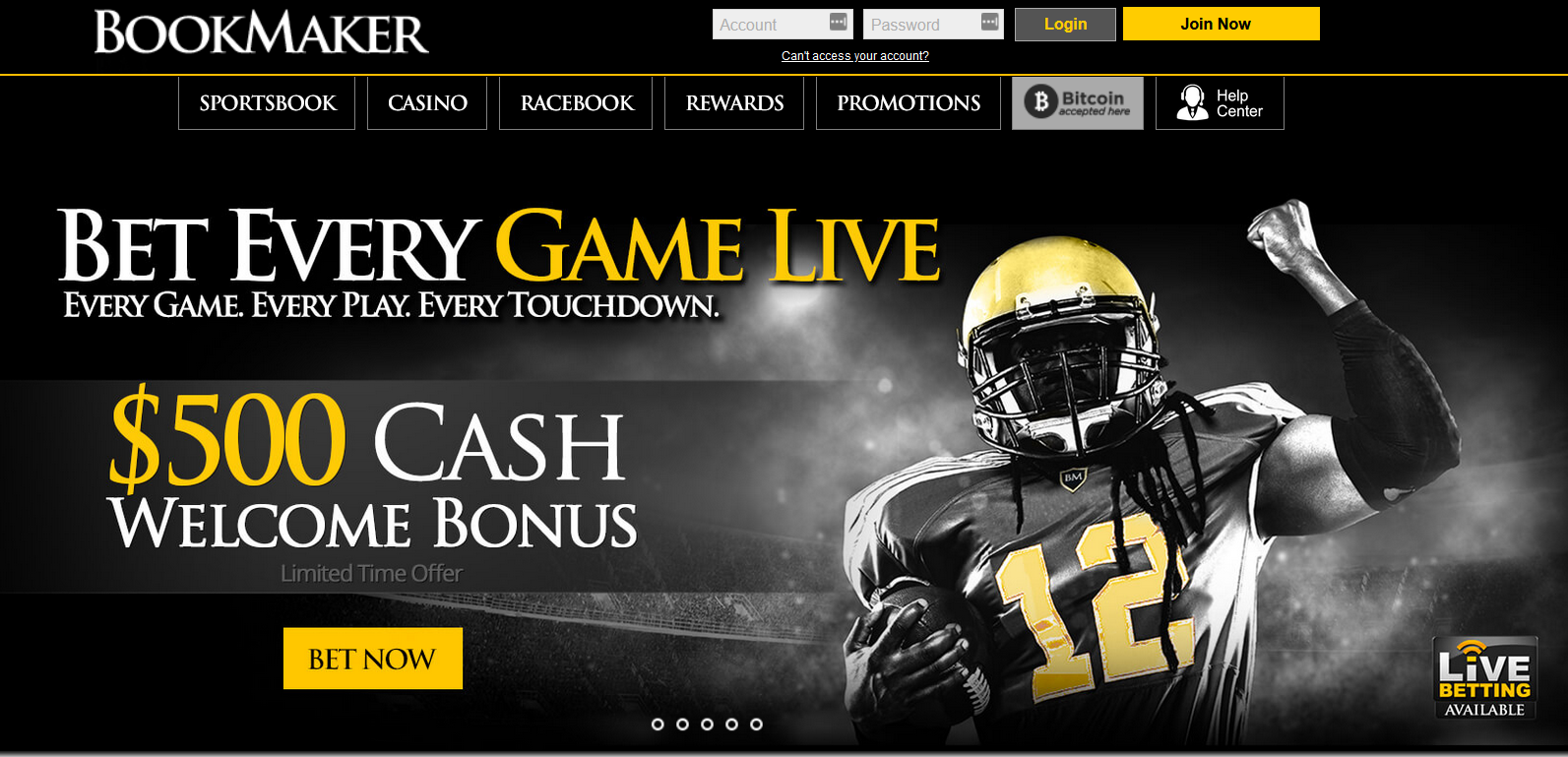 Bookmaker.eu is one of the oldest providers around and that experience has allowed them to garner one of the biggest lists of customers within the industry. When it comes to mobile betting, the attractive live betting section of the site allows customers to place bets on their favorite sports teams and players in real time with no fuss.
Additionally, Bookmakers' decades of experience allow them to be one of the first sportsbooks to post their betting odds, making it a very popular option for sharp bettors. While you're not going to find online poker here, the online casino is one of the best for mobile devices.
Pros:
Great loyalty program
Live betting available
Excellent customer service via mobile site
Cons:
Fewer markets for props
No online poker section
5. BetUS – Extensive Sports Betting Market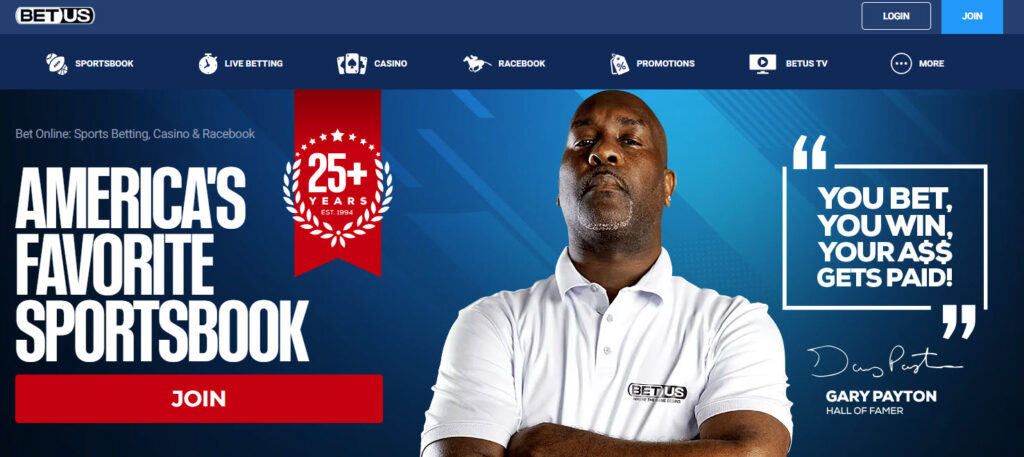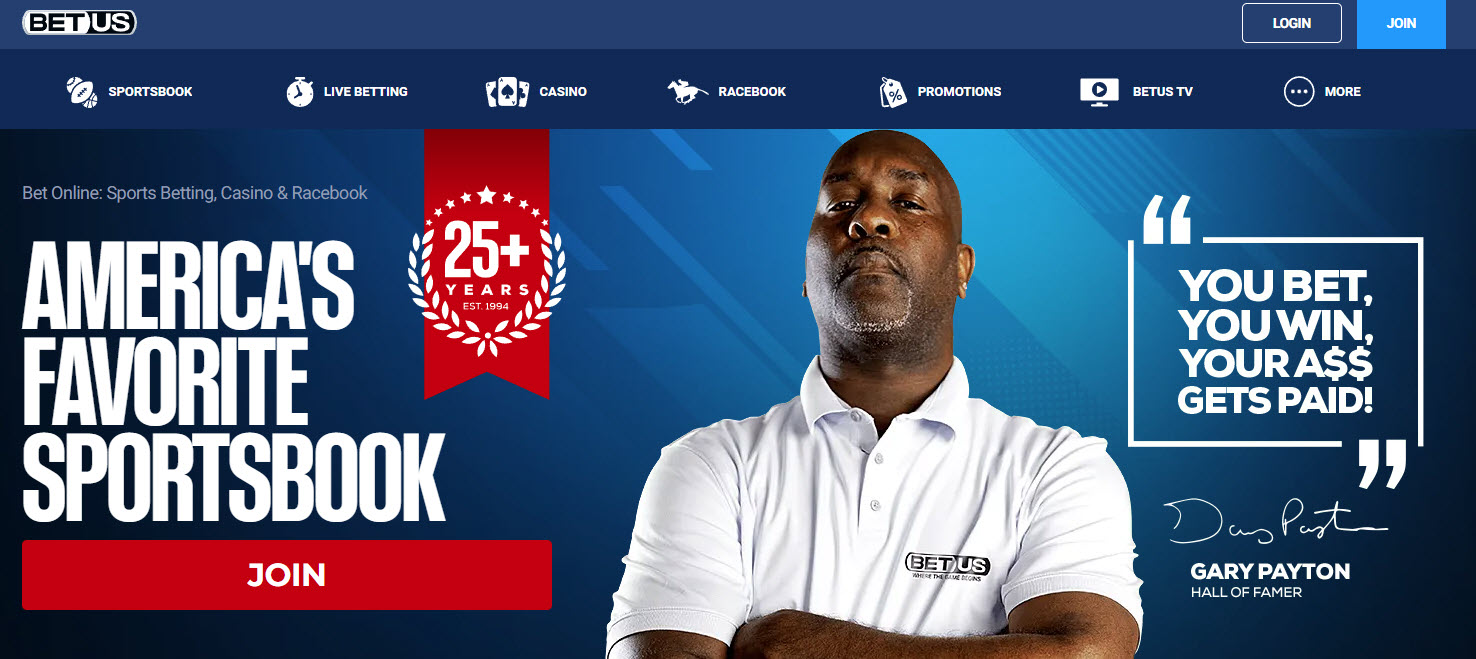 If you are a beginner or experienced bettor in the state of New York then BetUS is the perfect mobile betting site for you. With an extensive selection of sports from around the world to bet on as well as casino and racebook sections available, this site truly has something for everyone.
Another unique feature of BetUS is the TV section of the site, in which customers can view live streams of experienced bettors giving their predictions of various sporting events.
However, BetUS is widely known for its VIP service and they offer several promotions, including a 125% sign-up bonus, that tend to be bigger than those offered by competitors.
Pros:
Generous promotions and bonuses
Great customer service
Esports betting section available
Cons:
Mobile site not as sleek as competitors
High rollover requirements
6. BetAnySports – Multiple Mobile Betting Options for Major Sports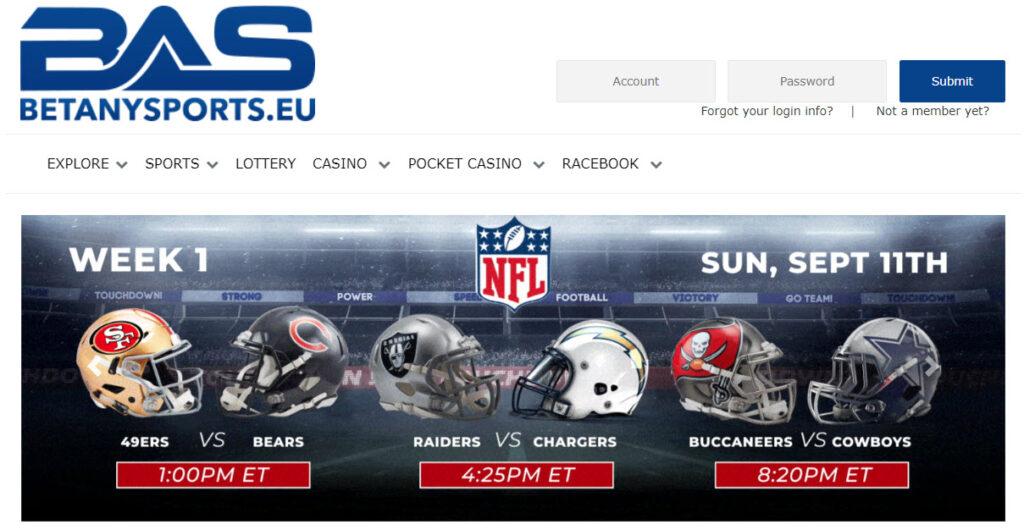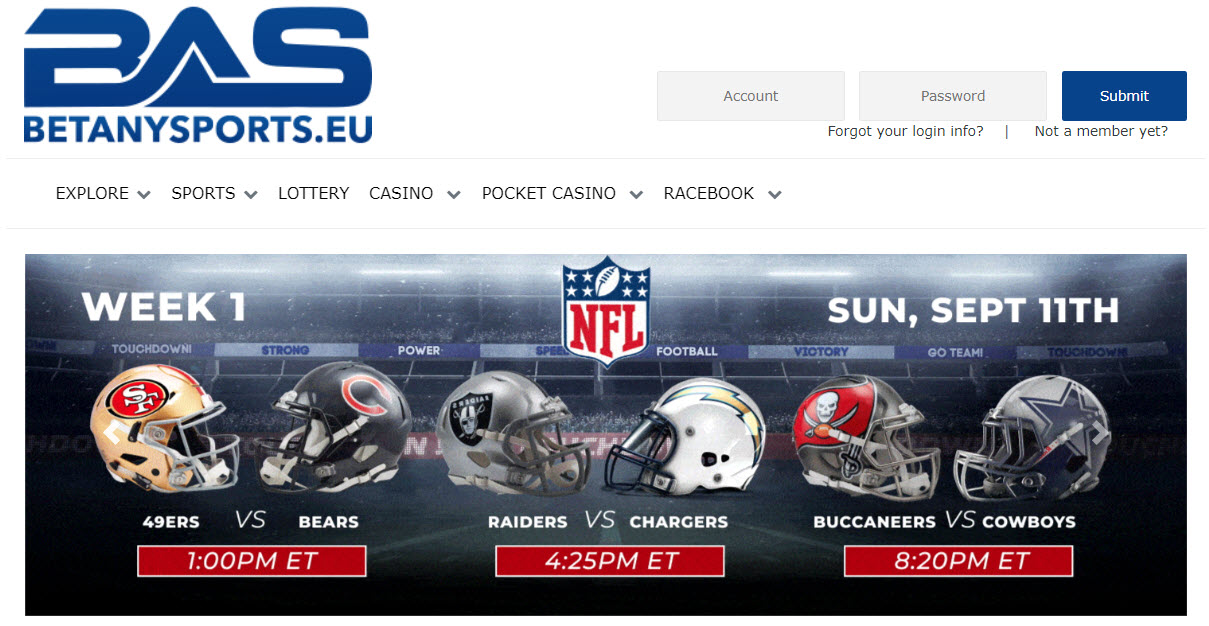 BetAnySports is an online betting site with sports, lottery, casino, and racebook sections available to customers. However, BetAnySport's main perk is their -105 reduced juice lines.
Not only does this site offer several betting options to its customers, but it also has a high focus on customer care and satisfaction. A wide selection of payment types, including Bitcoin, are accepted. There is also a live chat option available.
However, as a low-cost operator, BetAnySports is unable to offer bonuses that are as enticing as those offered by competitors. Their platform is less polished than other options on the sports betting market as well.
Pros:
Best reduced juiced odd
Simple interface
Cons:
Site design could be more attractive
Fewer betting markets available
7. WagerWeb – Offers Same-Day Bitcoin Payouts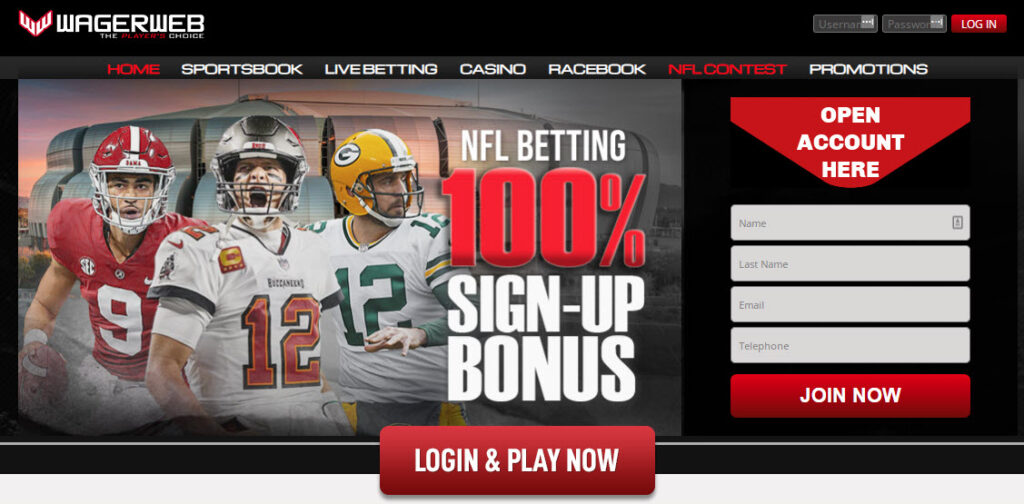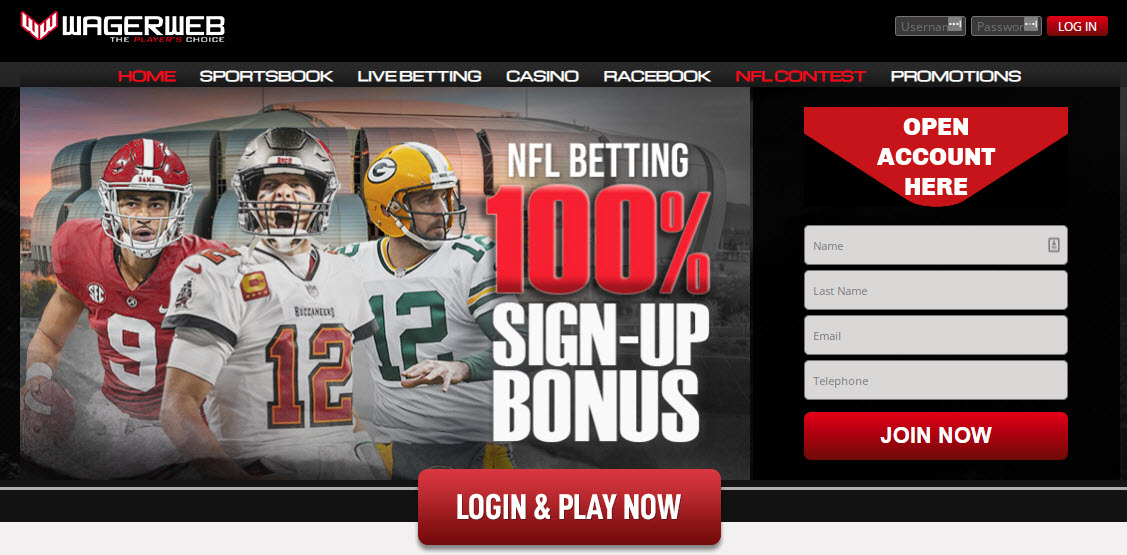 WagerWeb is known to offer a great mobile betting experience and is a perfect choice for anyone in the New York area looking for value, as you'll get access to reduced juice odds.
Customers of this site not only receive exceptional care and service, but they can also enjoy generous bonuses including a 100% cash bonus of up to $500.
Pros:
Live betting
Reduced juice odds
Generous bonuses and promotions
Cons:
No online poker available
Lower betting limits
8. JustBet – Released Odds Earlier Than Most Sites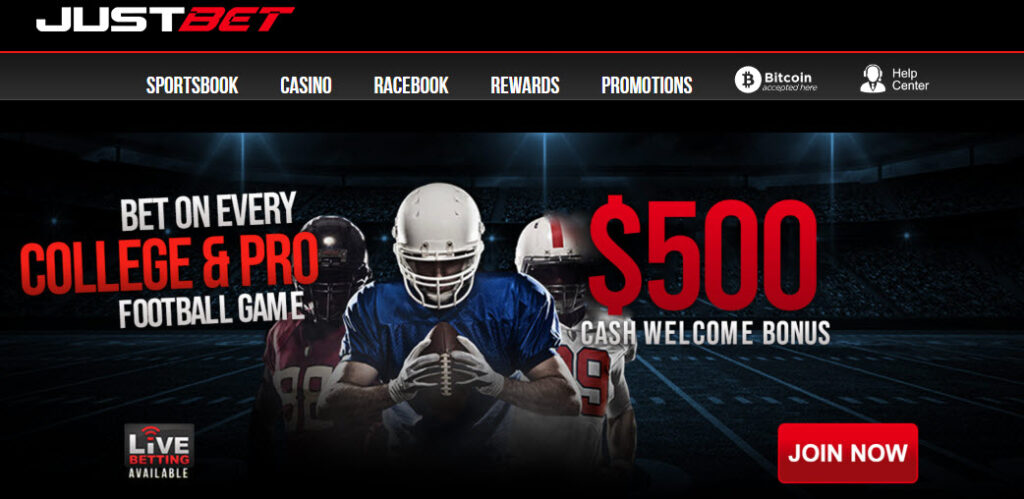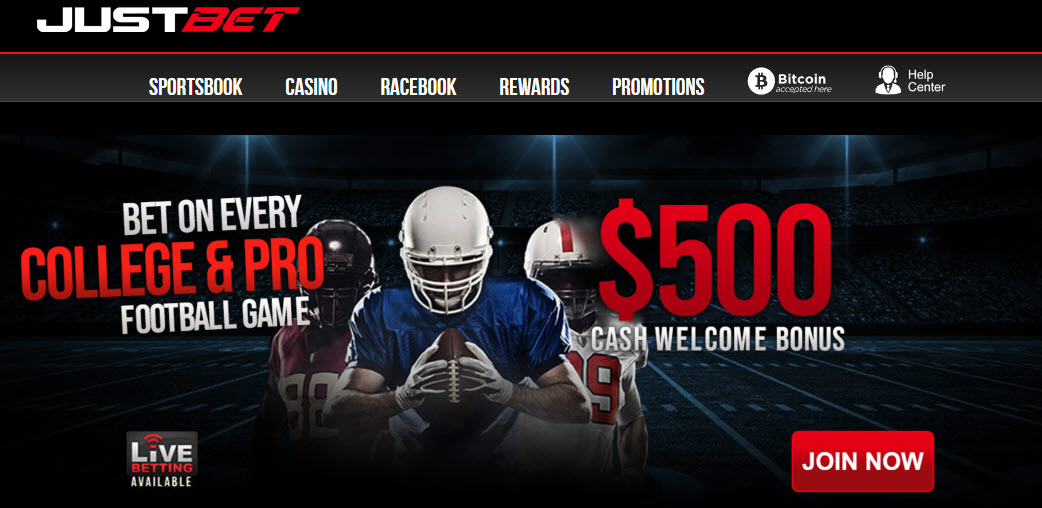 JustBet also offers numerous benefits and is another strong choice for any New York resident looking for a mobile betting site that focuses on Bitcoin as the main banking method for deposits and withdrawals as your fees will be covered and payouts happen on the same day.
JustBet belongs to the same group that owns Bookmaker.eu, so you can also find an attractive casino section. JustBet also offers similar promos like a loyalty program.
Pros:
Releases odds early
Generous bonuses
Mobile racebook available
Cons:
Online poker room not available
9. Everygame – Offers a Variety of Bonus Promotions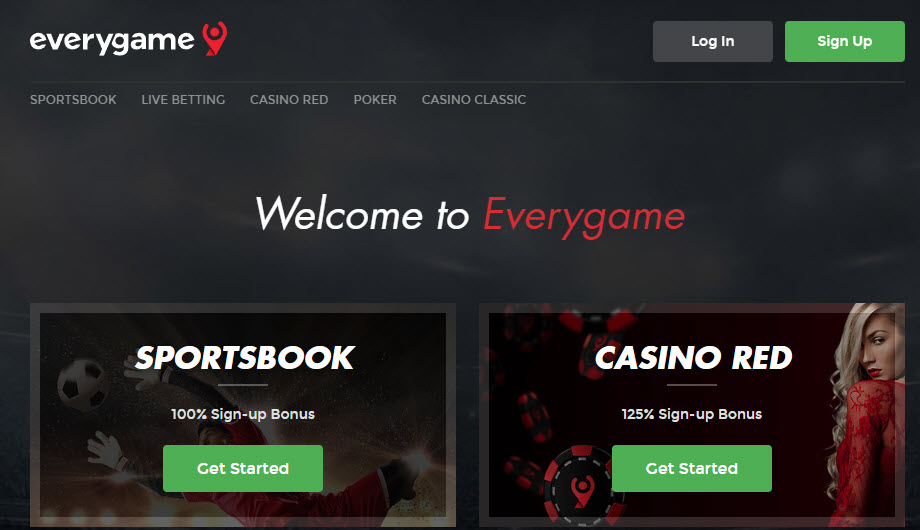 One of the major attractions of Everygame is its huge selection of global sporting events to bet on. Whether you are a fan of English soccer, American golf, or any other sporting events from around the world, this site truly has everything you need.
Furthermore, live betting is also available on Everygame, meaning players can bet on their favorite sports teams and players in real-time. After a recent overhaul, the online casino was fully optimized for mobile betting.
Pros:
Outstanding online casino
Modern live betting platform
10. SportsBetting – 100% Cash Bonus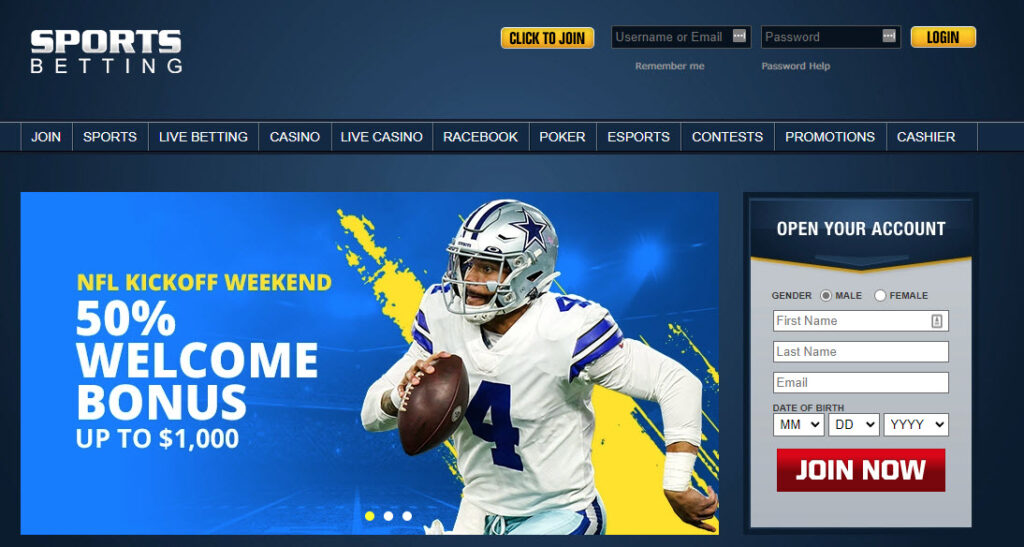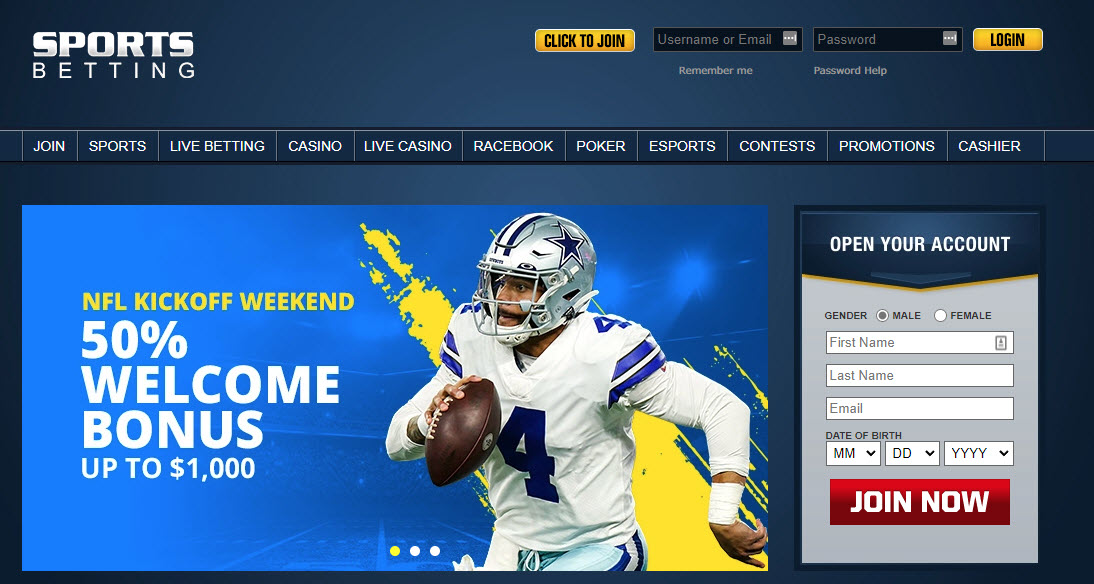 SportsBetting is another attractive mobile betting site for residents of New York thanks to its wide variety of both sports and mobile casino games to bet on. As a matter of fact, this is a sister site to BetOnline.
Furthermore, both the live betting and esports sections of the site gain a lot of attention from customers, with the latter offering something unique and different that many other sites do not have. The main problem though is that the software is not as up-to-date as other competitors, which makes for a rustic experience.
Pros:
Generous promotions
Live betting available
esports section
Cons:
Somewhat older software than other sites
Some fees may apply with CC deposits
Comparing the Best New York Mobile Betting Sites
As you near your decision on which of the top online betting sites in New York you go for, it will undoubtedly help to compare and contrast several options in order to find the one that is most suitable for your needs.
How We Rank the Best New York Mobile Betting Sites
We considered several factors and methods to find the most efficient offshore sportsbooks offering the best mobile betting experience. Some of the key elements we look for in a top site can be seen below.
Mobile Betting Experience
When betting online, the most important thing is undoubtedly the amount of enjoyment you get from the experience as a whole, and hence it is the job of every mobile betting site to ensure every bettor has the best experience possible.
Even though using online sportsbooks via mobile isn't going to perfectly emulate the experience of mobile sports betting apps, it should still be optimized for customers.
Betting Apps
Many online sportsbooks have rolled out sportsbook apps to make it easier for consumers to place a wide variety of types of bets without using their computers. It's important to us that each of the sportsbook operators we review have good mobile betting apps if they're offered.
Not all offshore sportsbooks currently operate mobile betting apps; in that case, we ensure that their sports betting sites are easy to use on a mobile device.
Mobile Betting Bonuses
Sports betting operators know that bonuses and promotions are the way to set themselves apart in the online sports betting industry.
There are a wide variety of bonuses for customers, including welcome bonuses, rebates, free bets, and others. We check out offers and promo codes for each of the sites we review.
Live Mobile Betting & Streaming
Live betting is another highly attractive feature of any online betting site as this allows customers to place bets on their favorite teams as they are playing. Additionally, the option of live streaming the event that you are betting on is also hugely beneficial for customers.
Banking Options
Most mobile sportsbooks will now accept a wide range of payment types including crypto. The more payment options that are available to customers the more attractive the site is.
Customer Service
Like on any other site, customer care and service are hugely important in the online sports betting market, and hence every site should have this as a priority. Many sites now offer 24/7 chat options in order to ensure customers can always receive the answers to any questions they may have.
Licensing & Security
All of the mobile betting sites on our list are completely safe and secure. Offshore sportsbooks have offered betting solutions to residents in New York for decades.
The ability to use debit cards, credit cards, crypto, and bank transfers to deposit funds in your account also provides a lot more security than retail sportsbooks, which typically deal only in cash.
Is Mobile Betting Legal in New York?
Yes, mobile betting is completely legal in the state of New York.
How to Sign up for a New York Mobile Betting Site
The process of signing up for mobile sportsbooks in New York has never been easier. Check out our step-by-step instructions below:
Step 1: Open a Mobile Betting Account
Simply select the site of your choice and click on the "Join" or "Sign-Up" button on the home page.
Step 2: Choose a Payment Method
Once your account is created, you simply need to select a payment method and the amount you would like to deposit.
Step 3: Select a Welcome Bonus
As a new customer, you will now be eligible for a welcome bonus, which may be highly generous depending on your chosen site. Some of these new user promos require you to deposit funds; however, sometimes you can find a no-deposit bonus on mobile sportsbooks.
Step 4: Choose a Sport to Wager on
Now all you have to do is choose the sports event that you would like to bet on and pick the wager of your choice.
Step 5: Place your Bet
Simply place your bet and wait for your winnings to come in.
Types of New York Mobile Betting Bonuses
There are several different bonuses available to new and existing customers of New York offshore sportsbooks.
Welcome Bonuses
As the name suggests, a welcome bonus is given to new customers of a site and can come in various forms such as matching up to a certain percentage the first time you deposit funds, or alternatively, a free bet may be offered.
Existing Customer Promotions
Existing customers may also be offered various promotions including reload bonuses, enhanced odds, and insurance bets. These tend to be offered on a regular basis, to keep users interested so they don't move on to other mobile sportsbooks.
No-Deposit Bonuses
A no-deposit bonus essentially allows bettors to place an online wager without having to deposit funds beforehand. This is highly beneficial for bettors and can essentially give them a kickstart in their mobile betting experience.
Free Bets
Free bets are very similar to no-deposit bonuses, however, bettors may be required to deposit funds in their account to use this perk. This type of bonus will simply allow the bettor to place a free bet on whichever sports event they'd like, however, the amount of money will generally be fixed to a relatively low amount.
New York Mobile Betting Sites for iPhone & Android
The top online betting sites in New York are all compatible with mobile platforms such as iOS and Android.
However, some sports betting operators may be more compatible than others in terms of their design and layout on a smartphone screen.
New York Mobile Sports Betting on iPhone
iOS devices are incredibly popular nowadays, and therefore it is vital for any mobile betting platform that their site is completely compatible with Apple software.
If the site has an app on the App Store, then this can simply be downloaded to the iPhone or Apple device. Sports betting apps may not be available from every site.
However, if there is no app on the App Store this is not a problem. The mobile site can simply be converted into a web app and pinned to the home screen of the phone.
New York Mobile Sports Betting on Android
While Android may not be at the same level of popularity as iOS, it still has an incredible amount of users worldwide. Sports betting apps are commonly offered on the Google Play Store for these devices.
Any sites that offer online sports betting apps, you can download them through the Play Store.
Alternatively, sites that do not have their own sportsbook app can still be accessed quickly and easily by pinning the site icon to the home screen of the phone.
Mobile Site vs. App for Betting in New York
Both online betting sites and betting apps have benefits and drawbacks, as we have outlined below.
Mobile Site
The main drawback of using sportsbook apps is the space that they can take up on your device. Using a mobile site for online wagering helps you save space on your phone, but still allows you to access everything easily.
Pros:
Instant access to mobile betting site
Saves device storage
No need for regular updates
Accessible on most devices
Cons:
Potential for site crashes
Less secure than a downloadable app
Mobile App
While a mobile betting site can be accessed immediately, online sports betting apps must be downloaded before the user can begin betting.
Pros:
App icon for quick access
More secure than website
Designed for specific platforms (iOS or Android)
Cons:
App may not be compatible with all devices
Takes up device space
How to Create a Shortcut to a New York Mobile Betting Site
While often it may be easier to download a mobile betting app, on many occasions this may not be possible, or it may be more suitable to simply access an offshore sportsbook through your device's web browser. You can find the step-by-step instructions below:
Step 1: Visit the Site from Your Mobile Device
Start by opening your Safari browser on your iPhone and go to the online sportsbook.
Step 2: Open the Web Browser Menu
Go to the web browser site of your chosen mobile betting platform and click on the menu button.
Step 3: Create a Shortcut
Tap the add to home screen option in the menu dropdown.
Step 4: Rename the App
You can choose to rename the app anything you want or leave it as it is.
Step 5: Start the App
Tap the icon and you will be brought immediately to the mobile betting site. If you do not yet have an account, you will need to go through the registration process to play.
Best New York Betting App & Mobile Site
As we conclude our guide to online betting sites in New York, we feel we have given you everything you need to pick the site which you feel will fulfill all your requirements and give you the best possible mobile betting experience.
After going through each of our selected choices and reviewing what we like and dislike about each site, your decision should be much easier than it previously was.
While the decision is entirely yours, if you want to know our number one choice for mobile betting sites in New York, we're going with BetOnline thanks to its perfect combination of competitive odds, generous promos, and next-level customer service.
FAQs – Mobile Betting Sites in New York and Legal Status
Can I bet online if I live in New York?
Online betting has been legal in New York since 2022. This includes online sports betting and online gambling on casino-style games.
What online sportsbook is legal in New York?
With the availability of both state-regulated online commercial sportsbooks and offshore sportsbooks in The Empire State, New York bettors have literally hundreds of options to choose from. However, we do recommend using one of our highest-rated sportsbooks for this as the benefits that they provide to their customers are way more generous than their competitors.
Can you mobile bet in New York?
Mobile wagering was made legal at the same time as online betting with a legal betting app in 2022 in The Empire State when the new sports betting bills were passed. Mobile sports wagers are popular with many bettors, so the availability of legal online sports betting operators and mobile betting apps is great news.
What betting app can I use in New York?
New York sports bettors can enjoy mobile wagering on major sports leagues with any of the commercial mobile betting apps or offshore mobile-optimized betting sites, such as DraftKings Sportsbook, FanDuel Sportsbook or Caesars Sportsbook. You can also enjoy Daily Fantasy Sports in addition to mobile sports wagering with these mobile apps.
What are the best mobile betting sites in New York?
There are numerous beneficial online betting sites in New York, however, some of the most popular choices include BetOnline, Heritage Sports, Bovada, and Bookmaker, among many others.
Will I need to pay taxes on my gambling winnings in New York?
Sports bettors and gamblers will need to report any gaming revenue (including sports wagers and casino winnings)  to the IRS. Your tax rate on your gambling winnings will depend on what state you reside in and your tax bracket. This is because sports betting revenue and gambling revenue counts as forms of income, despite not being steady. Currently, New York's sports betting tax rate is 51% so the state will tax a little over half of your revenue from sports betting.