Kansas Horse Racing Betting – The Top Online Racebooks in Kansas for 2023
You may not be able to attend a live race in the Sunflower State, but you still can place a bet at the best Kansas online betting sites. With the next set of Triple Crown races coming up, this is a good time for Kansas residents to learn about the best places to bet on horse racing, and we also included a beginner's guide for those just looking to place their first bets on this longstanding gambling industry.
There are plenty of offshore racebooks available to you as well, and we have reviews of the best ones below. We also have our thoughts on what makes a good racebook and how you can sign up for one today to start betting on horse racing.
Top-Rated Horse Racing Platforms
Top Sites for Horse Race Betting in Kansas
For Kansas horse racing fans, we found our top 10 offshore sites that have horse racing. Most even have a dedicated racebook section with some form of daily rebates or cashback specials.
Is horse racing betting legal in Kansas?
Yes, horse racing has been legal in Kansas for decades. Unfortunately, the local racetracks all closed their doors for good over a decade ago, so your pursuit of catching a live race will have to drive you to another state like Colorado or Oklahoma.
But there is nothing stopping you from betting on the offshore sports betting operators we are about to detail in the next section from our top 10 list above.
Horse Racing Betting Sites Reviews
From our top 10 list of the top horse racing sites for Kansas users, we have included reviews for our top five racebooks. All sites are located offshore, where it is legal to bet on horse racing.
1. Bookmaker: Respected Racebook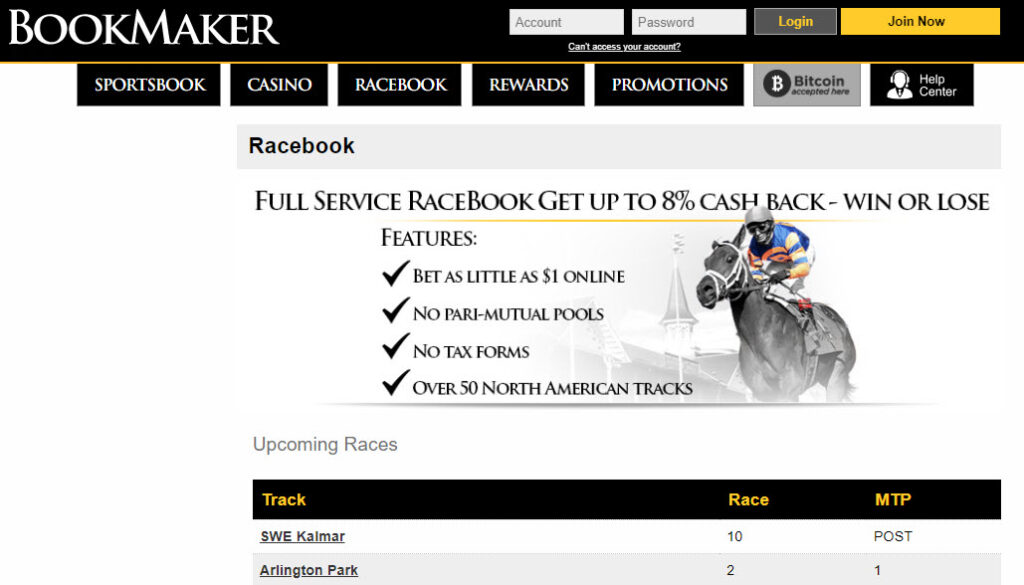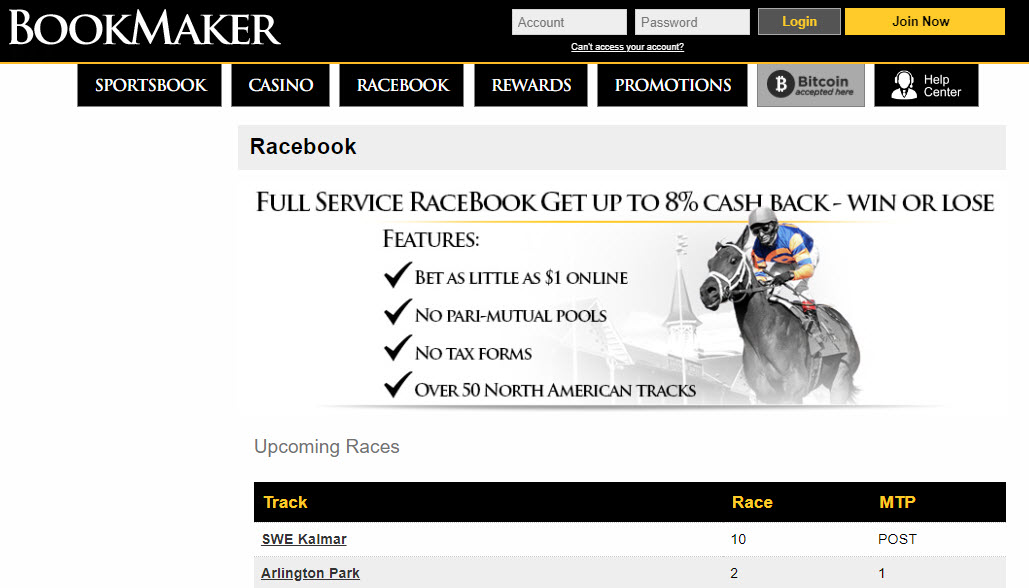 Sportsbook users will probably be familiar with Bookmaker.eu for its great early lines, but you can also get a valuable experience betting at the racebook. Bookmaker has all fixed-odds horse racing betting, they do not use any pari-mutuel pool bets. The line you bet is the line you get, so you know exactly how much you'll win if your horse wins.
Win or lose, you can get up to 8% daily cashback as a rebate on the racebook at Bookmaker, which has over 50 tracks to choose from.
With high limits, you can make Bookmaker your primary racebook and enjoy one of the best reward programs in the business for the reload bonuses you get. If you reach the third level (Diamond Level) of the reward program, you can get a 20% cash bonus of up to $2,500 on your deposit.
Pros
No pari-mutuel wagers
Up to 8% daily rebates on racebook (win or lose)
Dozens of tracks to choose from
Earliest lines in the sportsbook
Cons
Some tracks have small limits
Not as much race info as some competitors
2. Heritage Sports: Daily Racebook Cashback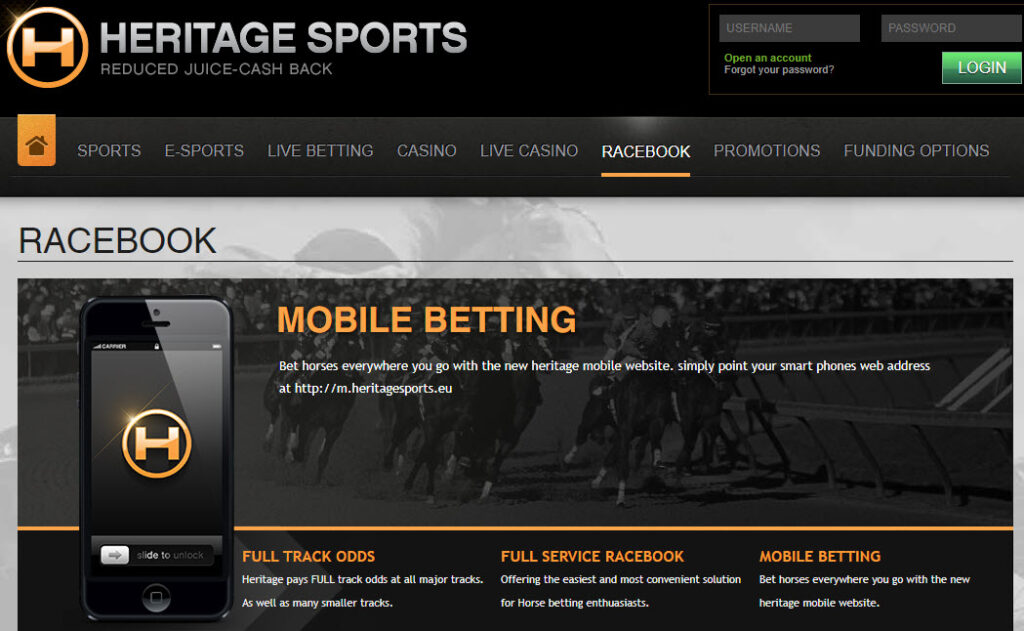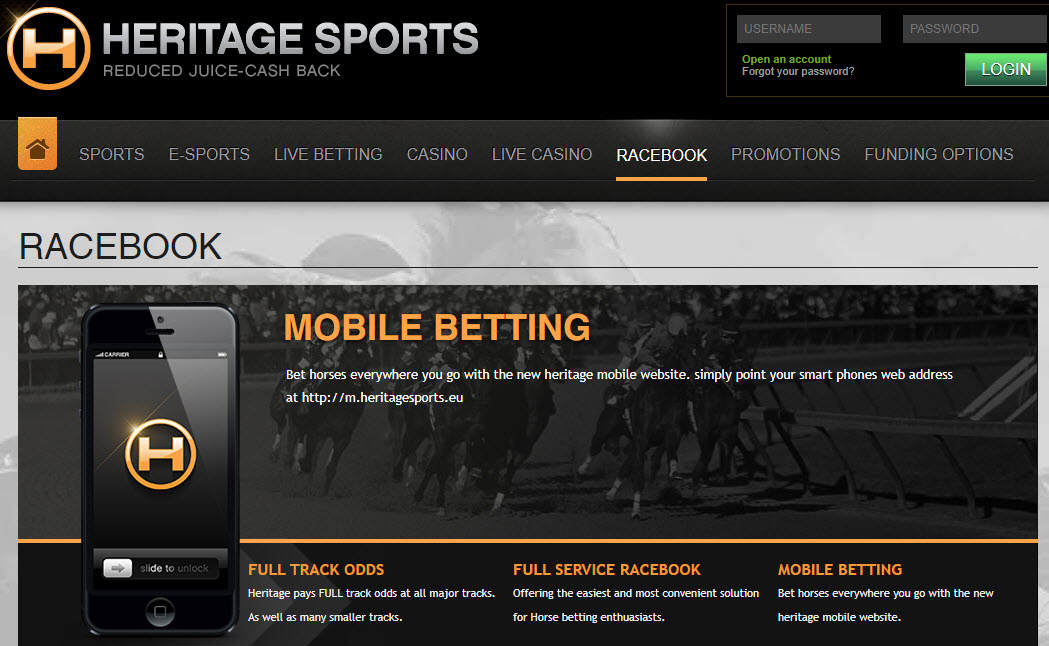 Heritage Sports offers over 60 racetracks for betting. On major tracks, you can get up to $10,000 as a payout. Smaller tracks are limited to $5,000 per race.
There is a daily rebate of 8% up to $2,000 on your horse race betting volume. A 4x rollover requirement applies to those bonus funds, but since you can use bonus funds anywhere on the site, that can easily be covered on some casino games.
But Heritage Sports has all the horse racing betting markets you would expect, with Win/Place/Show bets and more exotic wagers available. The racebook is also well designed with detailed information on the trainer and jockey for each race, something hardcore horse racing fans can appreciate.
Pros
Get 8% daily rebates on horse racing
Very good mobile site
Get more detailed race info than Bovada and Bookmaker
Deposit match bonus funds can be used anywhere on the site
Cons
8% rebate only offered at major tracks
Does not offer live streaming of horse races
3. Bovada: Great Racebook Design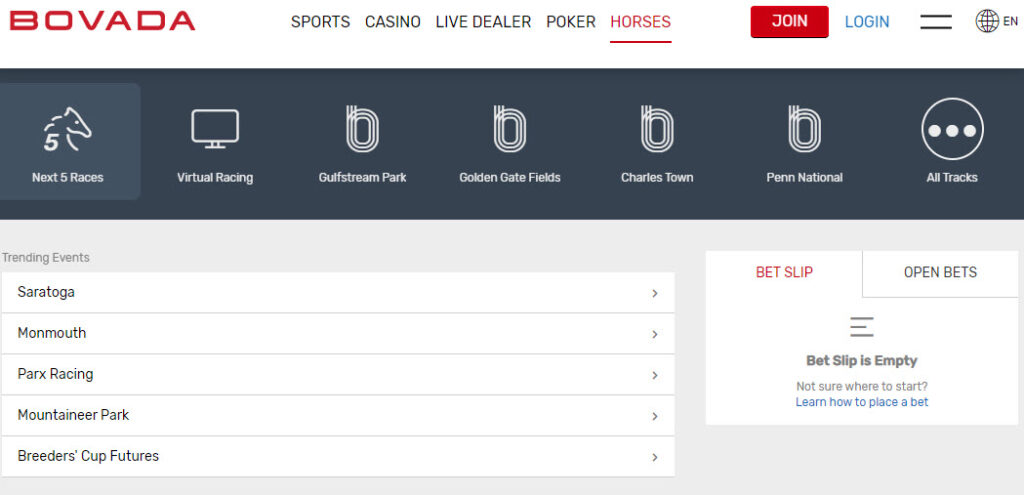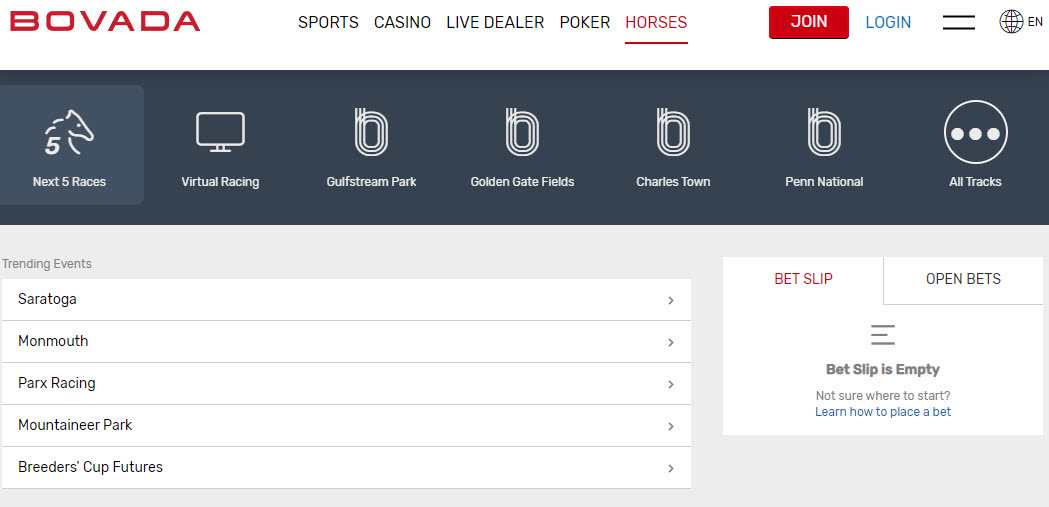 Bovada is an intriguing racebook that has many highs and lows to it. For one, we really like the design of the racebook with the drop-down menus and ease of placing your bets for each race. But the lack of jockey and trainer information is a downside to the streamlined design.
The biggest knock against Bovada would be that it does not offer daily rebates for your horse race betting volume like just about every competitor does. That usually is 8% or so, but Bovada has no such promotion.
It does, however, have a huge welcome bonus for new crypto users, who can earn up to $3,750 in bonus funds over their first three crypto deposits. But the ongoing promos for loyal users are lacking at Bovada.
Still, no one does virtual racing better, as you can bet on virtual horses, camels, greyhounds, and supercars. You can even watch the streaming video of each contest. It is a good game for fans of video slots and games like that.
Pros
Great design on racebook
Great initial deposit bonus for crypto users
Best for virtual racing fans
Cons
No live streaming of horse races
Lacks any daily rebates for the racebook
4. BetOnline: Highest Racebook Rebates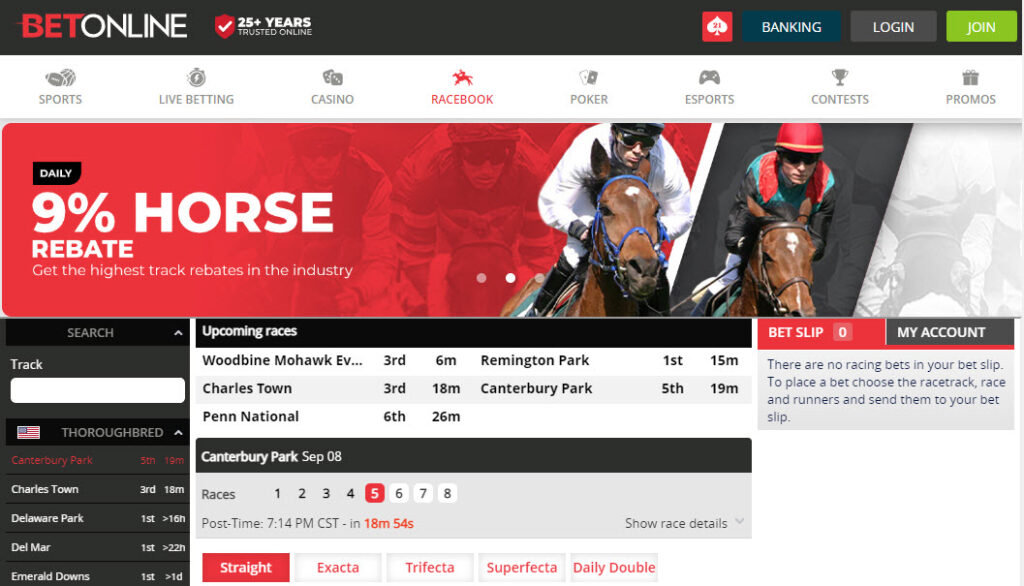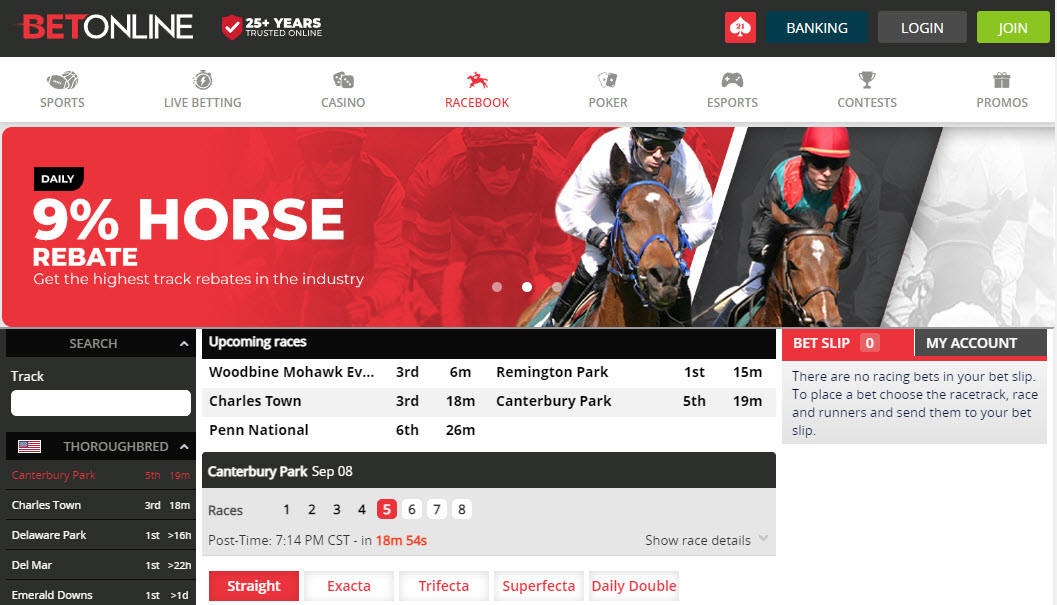 BetOnline has a good grasp on its racebook offering, with dozens of tracks available from around the world. They also offer a 9% daily rebate, the highest in the market, and with no limit on how much you can get back. But there are limits on what races count, as certain tracks and anything with fixed odds or a prop bet do not count.
But you can bet with high limits at BetOnline. You also get access to a very good sportsbook and casino. But horse racing fans are not left in the dust here. If you are new to horse racing, you can try your first $25 bet on the racebook risk-free.
Pros
$25 risk-free bet on first racebook bet
9% daily rebate is highest in industry
High limits available
Solid racebook design
Cons
Does not live stream races
Fixed odds bets not allowed for daily rebates
Welcome bonus is not eligible for use on racebook
5. BetAnySports: Cashback Racebook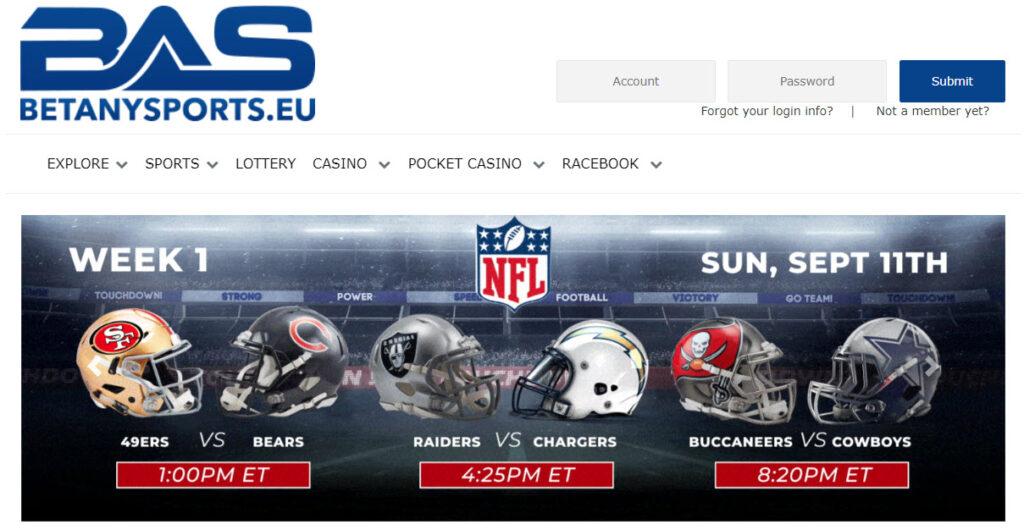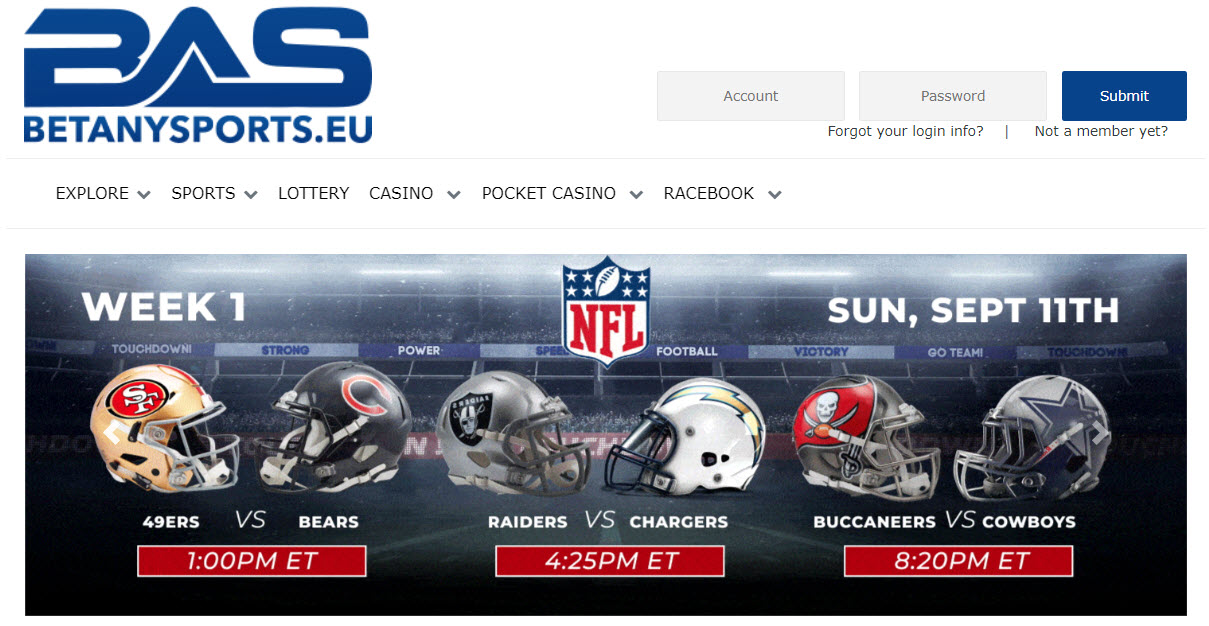 While smaller in budget, BetAnySports does offer a cashback racebook with up to 6% on your daily betting volume. But the most you can wager for a qualified rebate is $500 at a time on win/place/show bets and $200 on exotic bets, so the racebook is not as big for high rollers at BetAnySports.
Still, those are the limits on rebates. You can still bet high amounts on the races at BetAnySports. Any Triple Crown or Breeder's Cup race has a maximum net profit of $100,000 per race. Track A races, such as Churchill Downs, pay up to $30,000; Track B is $15,000, and Track C is $10,000. The lowest limit is Australian Tracks where the most you can win is $1,000.
At BetAnySports you can also enjoy an elite prop builder, solid casino selection, and the only place where you can play the lottery from multiple states from home.
Pros
Daily rebate of 6% on racebook
Great proposition bets tools
Plenty of races available
Cons
Some of the smallest limits for racebook
Smaller cashback in racebook than rivals
How We Chose the Best Horse Racing Betting Sites
Our role at Bookmakers Review is to grade each online gambling site by looking at how it performs against our set of important performance metrics to ensure a quality gambling experience for the user. Beyond just looking at their bonus offers, we look at these other things for online racebooks to find the best of the bunch:
Competitive horse racing odds
Range of horse racing markets
Accepted banking methods
Live betting availability
Bonuses and promotions
Customer support options
Special features in the racebook
The History of Horse Racing in Kansas
Horse racing is one of America's oldest attractions. Kansas had two of the most popular racetracks in the Midwest over a century ago. Eureka Downs started hosting professional horse racing in 1903 and Anthony Downs Racecourse followed shortly after in 1904. There would also be greyhound races in addition to historical horse racing.
But while these were professional racetracks, betting was not legalized on the races in Kansas. The state would not introduce legal pari-mutuel betting on horse racing until 1986. The Woodlands racetrack was soon built and began hosting races with legal betting in 1989, but after some controversy and struggles, it declared bankruptcy in 1996.
It was in 1992 when Kansas allowed simulcast betting on horse races in the state to keep up with the horse racing platforms at other states, but live racing at the tracks was on the way out. By 2011, all three of the big tracks in Kansas were closed for racing, and no races are currently held in the state. The online racebooks have taken over the industry now with the ability to place a bet on a horse race in Australia from the comfort of your couch.
Timeline of Horse Racing in Kansas
The following timeline shows the important historical events involving horse racing and betting in the state of Kansas:
2022: Sports bettors rejoiced as sports betting legalization swept through the state of Kansas, paving the way for bettors to use sites like TwinSpires to place legal bets on horse racing.
2012: Anthony Downs Racecourse was demolished.
2011: Eureka Downs closed for good after trying to survive for two years without pari-mutuel wagering at the track.
2008: The Woodlands closed for good.
1995: The Woodlands pushed for adding slot machines to the racetrack to help with struggling revenue, but the request was denied, and the racetrack soon declared bankruptcy.
1992: It became legal to place pari-mutuel wagers on simulcast races.
1989: The Woodlands Racetrack was built and opened for horse racing.
1987: The Kansas Racing and Gaming Commission (KRGC) was founded to oversee pari-mutuel betting and racing in the state.
1986: Voters approve the state to allow, regulate, and tax pari-mutuel betting for horse and dog racing in Kansas.
1904: Anthony Downs Racecourse opens and holds its first horse race, and these races did not have betting action.
1903: Eureka Downs was relocated and started holding professional horse races.
1872: Eureka Downs racetrack was first built in Kansas.
Key Features of the Top Racebooks
We always like to see a site that puts care into its online racebook just like it would for sportsbook users browsing the sportsbook. It should be easy to navigate and place bets with ease. Here are some of the key features that go into our grades for these online racebooks.
Horse Racing Odds
With horse racing odds, you either are playing fixed odds like the ones sports bettors are used to where the odds never change after placing your bet, or you are playing pari-mutuel odds where your bet goes into a pool with other bettors and the winnings are unknown until the race is completed.
A site like Bookmaker offers only fixed odds betting while most others use a lot of pari-mutuel wagering. But we will explain more of this below in our horse racing guide. It is important to understand when placing your bets that sometimes the final odds and winning amount may not be known until later.
Range of Horse Racing Betting Markets
The most popular betting options in horse racing are Win, Place, and Show. These are bets on horses who will finish in one of the top three positions, but there are plenty of other wagers deemed "exotic wagers" like getting the exact order of the top three finishers or nailing the winner in two consecutive races (Daily Double).
For a quality racebook, we expect to see many exotic wagers offered in addition to the standard Win/Place/Show bets.
Accepted Banking Methods
You should have plenty of deposit options and withdrawal methods at these racebooks. Some prefer popular deposit methods like credit/debit cards, and others may want to use crypto or an electronic bank transfer. Just keep in mind that each method is going to have its own limits, processing time and possibly a fee associated with it.
Live Horse Racing Betting Availability
Live betting is an obvious benefit to sports bettors looking to gain an edge or maybe hedge a pre-game bet. But it is a lot more difficult to do with horse racing since the events are so short. Some of the sites that say they offer live horse racing mostly just seem to allow you to place a bet up until the last possible second before the race begins.
But in the near future, we may see more live betting options for the biggest horse races like the Triple Crown races.
Horse Racing Betting Bonuses & Promos
A good racebook will offer you a strong monetary bonus upon making your initial deposit. You may also see other bonus offers such as a referral bonus for bringing friends to join the site, and risk-free first bets on certain markets.
But a great racebook will also have ongoing promotions for loyal users, such as deposit or reload bonuses, and daily rebates on the racebook based on your volume of total bets. Most of the top racebooks offer 3 to 4% cashback on Win/Place/Show wagers, and they offer 8 to 9% cashback on exotic wagers.
You could also get a promotion like at BetUS where if the horse you bet on to win finishes in second or third place, you get some money back in bonus bets on that race.
Types of Customer Support
Sometimes a player needs help, so a good customer service section is vital. We look for sites that offer several customer support options and are in service 24/7. The types of customer support commonly available are sending a message, email, phone call, and live chat.
Special Features for Horse Racing
Horse racing platforms can look a bit different, but we appreciate the racebooks that add additional information to each race like the name of the trainer and the jockey's height and weight. Hardcore horse racing fans can put their research to use, as some jockeys do win more often than others.
How Horse Race Betting Works in Kansas
In the following sections, we are going to explain how horse race betting works in Kansas. You will get an overview of how the odds work, the different types of odds involved in betting, the types of bets you can place with a racebook, and a glossary of terms and jargon used in the horse racing industry.
Kansas Horse Racing Betting Odds
First, let's understand the difference in horse race betting odds because this will differ from the odds presented at online sportsbooks that you may already be familiar with.
Fixed Odds for Horse Racing Betting in Kansas
If you bet on regular sports, you are likely already familiar with fixed odds betting. When you bet on a team's moneyline odds or the spread, those are fixed odds offered by the operator. The odds you bet on are the odds you get no matter if they change again before the start of the game.
In horse racing, odds can change at the track just before the race, but if you bet on fixed odds, then you are locked into the number you got when you placed the bet. That means you know exactly how much you will win if your bet wins and it does not matter what other people bet on for that race.
Pari-Mutuel Betting in Kansas
A pari-mutuel system is used in horse racing because it is the best system for an event that is short and the final ranked order of competitors matters.
With pari-mutuel betting, all the bets are put together in a pool, the house takes a cut (the vig), and the remaining money is shared among the winners. Unlike fixed odds, you do not know how much you will win until the race is over and the winning bets are distributed. Maybe the majority of your betting pool bet on a favorite to win the race and the horse won, so your payout may be minimal.
Pool Betting on Kansas Horse Races
Pool betting is essentially just another term for pari-mutuel betting. Instead of betting against the house with fixed odds, you are betting against the other horse racing bettors for a share of the pool collected from your bets.
Calculating Horse Racing Betting Odds
For reference on how horse racing betting odds work, here is a table showing the payout on a $2 wager at various odds and the implied probability of each bet winning:
| Horse Racing Odds | $2 Wager Payout | Implied Probability of Winning |
| --- | --- | --- |
| 1/5 (-500) | $2.40 | 83.33% |
| 1/4 (-400) | $2.50 | 80% |
| 1/3 (-300) | $2.60 | 75% |
| 1/2 (-200) | $3.00 | 66.67% |
| 4/6 (-150) | $3.33 | 60% |
| 1/1 (-100) | $4.00 | 50% |
| 2/1 (+200) | $6.00 | 33.33% |
| 3/1 (+300) | $8.00 | 25% |
| 5/1 (+500) | $12 | 16.67% |
| 10/1 (+1000) | $22 | 9.00% |
| 50/1 (+5000) | $102 | 1.96% |
As the odds increase, your payout increases, but your probability of winning also plummets.
Commonly Placed Types of Horse Racing Bets
These are the typical types of horse racing bets you can place at a Kansas racebook:
Win: Simply put, pick the winner of the race.
Place: Pick the horse that finishes first or second.
Show: Pick the horse that finishes in a top three position.
Exacta: Pick the horses that finish No. 1 and No. 2 in the right order.
Trifecta: Pick the horses that finish No. 1, No. 2, and No. 3 in the exact order.
Superfecta: Pick the top four finishes in the exact order.
Daily Double: Pick the winners in two consecutive races.
Pick 3/4/5/6: Pick the winner of x consecutive races where x is 3, 4, 5, or 6.
Common Horse Racing Betting Terms
We think it would be a huge benefit for you to know some of the common horse racing jargon and betting terms, so study this handy overview:
Ante-Post: These are bets usually made a day before a race, before the final field is determined.
Drifter: If a horse is getting very little action from bettors, its price will increase to try to draw more bets its way.
Dead Heat: Occurs when multiple horses cross the finish line at the same time.
Dutch: This is the term for betting on multiple horses in the same race and at opposing odds to minimize losses.
Exotic Bet: Name given to any wager type that is not Win, Place, or Show.
Favorite: This horse has the highest odds to win the race.
Furlong: A measurement of distance where one furlong is equivalent to 1/8th of a mile in a horse race.
Longshot: A true underdog horse with poor odds to win the race.
Morning Line: Usually a good prediction of the final odds posted before a race.
Odds: A numerical figure for how much you stand to win on a wager.
Pari-Mutuel: A betting system where all bets are placed in a pool, the house takes a cut, and the winners share the total left.
Stake: What you wagered on a bet in an attempt to win.
Kansas Horse Racing Tracks
There are no active horse racing tracks in the state of Kansas after The Woodlands (2008), Anthony Downs (2009), and Eureka Downs (2011) all closed for good over a decade ago. Online betting is the only option that residents have unless they leave the state.
Virtual Horse Racing Betting in Kansas
Some horse racing platforms may offer virtual horse racing at all times of the day. Users can stream a virtual race of horses, greyhounds, camels, or supercars and place their wagers with varying odds available, just like a real horse race. The virtual race is then run much like a video slot game where you find out if you won or not.
Bovada is really the king of this virtual racing market with plenty of options and streaming video available on the site for virtual races. If you thought we were kidding about virtual camel racing, then check out the virtual racing section on Bovada.
Creating an Account With an Online Racebook
We are going to walk you through the few simple steps to getting started with online racebooks. This should work for any site you choose to join.
Step 1. Create an Account
Visit the site of the racebook you want to join so you can start the sign-up process. Remember to pick a unique, strong password for your account.
Step 2. Verify Your Account
Verify your account by providing accurate information like your full name, a working email address, and a legitimate phone number you can be reached at.
Step 3. Make Your First Deposit
Make your initial deposit to fund your account. Before you do this, read up on any welcome bonus that might be related to the amount on your first deposit.
Step 4. Place Your Chosen Wagers
Now that your account is created and funded, you are ready to visit the racebook and start building your horse racing bets for the next available events.
Comparing Betting at a Racetrack and Online Horse Racing Betting
If you live in Kansas, then you are really out of luck for attending a local horse race at a track. But you could head over to Colorado or Oklahoma to see horse races in person, and of course, you could always travel to a place like Kentucky to see the Kentucky Derby in person.
Of course, sportsbook users sitting in their pajamas can always watch the big race on TV after placing their wagers with online sportsbooks.
But here are some pros and cons for betting at a racetrack compared to doing it online.
Pros of Going to The Track vs. Betting Online
You get the thrill of being there to experience the race
Some people prefer to do things in person and get some fresh air
Getting paid cash in hand for a win is a fun experience you do not get online
Cons of Going to The Track vs. Betting Online
There is no local racetrack operating in Kansas, so you'll have to drive to another state
Takes a lot longer to go see a race
Spending gas money
Not everyone likes being in crowds of strangers
Usually offers pari-mutuel betting only, rather than fixed odds
FAQs – Best Offshore Racebooks in Kansas
Does Kansas allow gambling?
Yes, Kansas has some restrictions on gambling like online casino games and online poker, but the state does have legal sports betting (retail sportsbooks and online sports betting), daily fantasy sports and horse racing, playing the lottery, and charitable bingo games are fine too. There are plenty of gambling options at the state's four land-based casinos.
Does Kansas allow online gambling?
Since 2022, Kansas has legalized online sports betting, though there is still no platform for legalized online casino games and poker. But there are plenty of online sportsbooks available to Kansas users. Hopefully, the change in the sports betting law will lead to further gambling laws changing.
Can you bet on horse racing in Kansas?
Yes. While there are no local races going on, you will be able to bet on historical horse racing events like the Kentucky Derby and more as a resident of Kansas this year.
Why is horse race gambling legal?
Going back to 1986, Kansas passed a bill to allow in-person betting on horse races. In 1992, wagering on simulcast races was also allowed in the state. Horse racing may remain inactive in the state of Kansas, but betting on it remains fine.
Where can I bet in Kansas?
Kansas bettors are able to bet on sports and horse racing both in person (commercial casinos) and online. You can register at online offshore sportsbooks with a great racebook like Bovada or Bookmaker.