Online Poker in Ohio – Is it Legal?
Shawn West has been involved with college basketball, NFL and college football and MLB since he left his job as bank vice president two decades ago. He lives in North Carolina with his wife, children, two dachshunds and a variety of turtles.
On January 1st, 2023, the sports betting market launched in the Buckeye state, however, local operators are still not allowed to offer online poker. Nonetheless, poker enthusiasts can still get in on the fun from the comfort of their home or mobile device.
Whether you're looking to play straight poker, Texas Hold'Em, Caribbean stud, or any number of other variations on the classic game, there are online sportsbooks that will allow you to do that, and win real money online.
Currently, Ohio law only allows for legal poker play in person at the state's four casinos. However, its possible to play the game online at a number of offshore sportsbook.
Since they're located outside of the United States, they aren't under the jurisdiction of Ohio state law or U.S. federal regulations on gambling. Ohioans have been using them for years, and they have a long history of safe, dependable operation.
Not only do offshore sportsbooks offer exciting poker tournaments, but there are also other online gambling options. These sites offer online casino gaming like slot games and table games, as well as legal wagering on professional sports teams, and more.
There are a lot of them, however, and it may be intimidating to try to figure out which one is the best option for you. But we're here to help. Our team has reviewed dozens of online betting sites available in Ohio and come up with our comprehensive rankings of the best online poker sites in Ohio.
Ohio Betting Guides
You can read more about the best Ohio gambling sites, or you can check out one of our in-depth betting guides below:
The Best Ohio Online Poker Sites
We looked at sites available to Ohio gamblers that offered an online poker room and evaluated and reviewed them based on different categories. After a thorough analysis, we've come up with the following top four sites for online poker in Ohio.
These sites all offer busy poker rooms with tables featuring players of different levels and risk tolerances, so you can find the right spot to play. They also provide a safe, private playing environment.
Ohio Online Poker Sites Reviewed
Each of our top four online poker sites in Ohio does different things well. In order to help you pick a poker home that's right for your individual needs and personal preferences, we offer in-depth reviews of each site to discuss each one's strengths and weaknesses.
1. Bovada: Most Popular Poker Room in the U.S.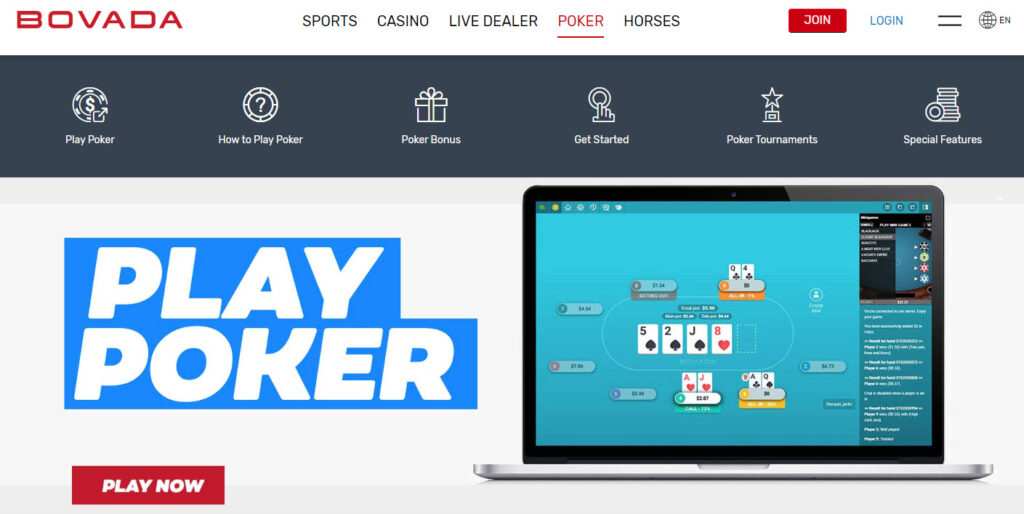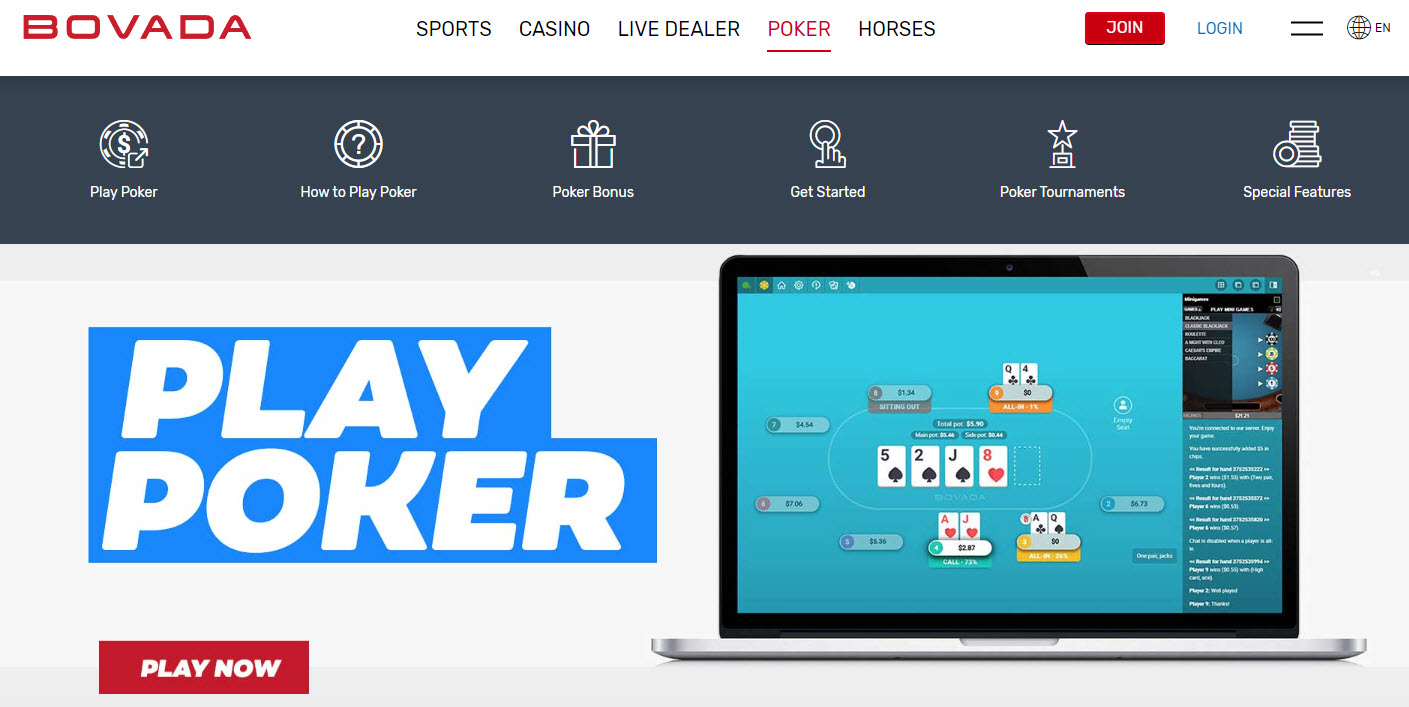 Bovada is our choice for the top overall online poker site in Ohio, as it is home to America's busiest poker room. Bovada's poker site is part of the PaiWangLuo network, which also includes BoDog and Ignition Poker. PaiWangLuo is the sixth busiest network in the world, and none of the five above it accept players from the United States.
There's a reason so many people want to play on Bovada. They provide more than $2 million a week in guaranteed prize pools. They also have the busiest multi-table tournament schedule in the country. Bovada also has a generous bonus for new customers, matching 100% of first deposits up to $500 with no rollover requirement. There's also a loyalty program that offers points for activity and works across the sportsbook, casino, racebook, and poker room.
Bovada has plenty of poker options, including Texas Hold 'em, draw poker, Omaha, and Omaha Hi-Lo. Tournament options include sit 'n' go, knockout, turbo, and fast fold.
Pros:
America's busiest poker room
$2 million in prizes each week
Busy tournament schedule
Wide variety of poker variations and tournaments
Cons:
Rake is higher than some competitors
Welcome bonuses aren't as high as other sites
2. BetOnline: Best Welcome Bonuses for Players in Ohio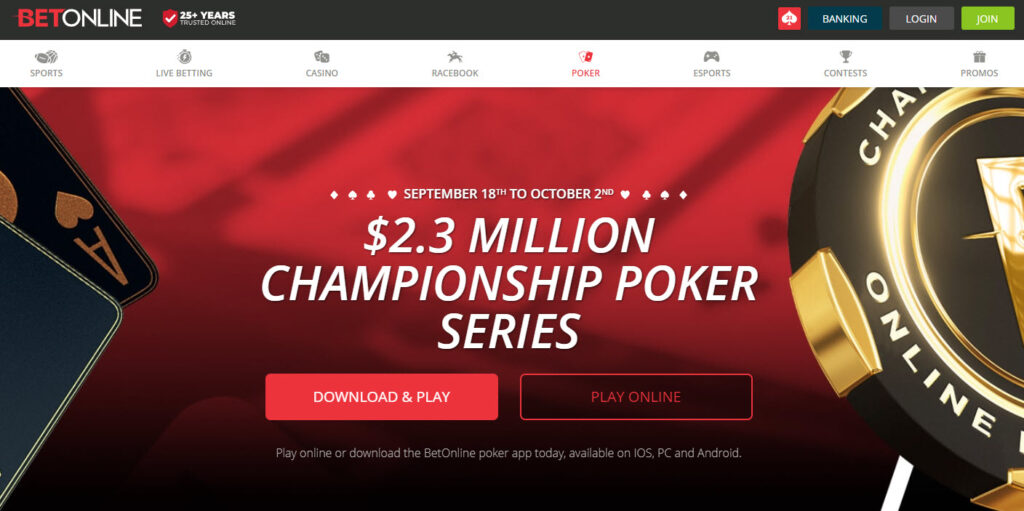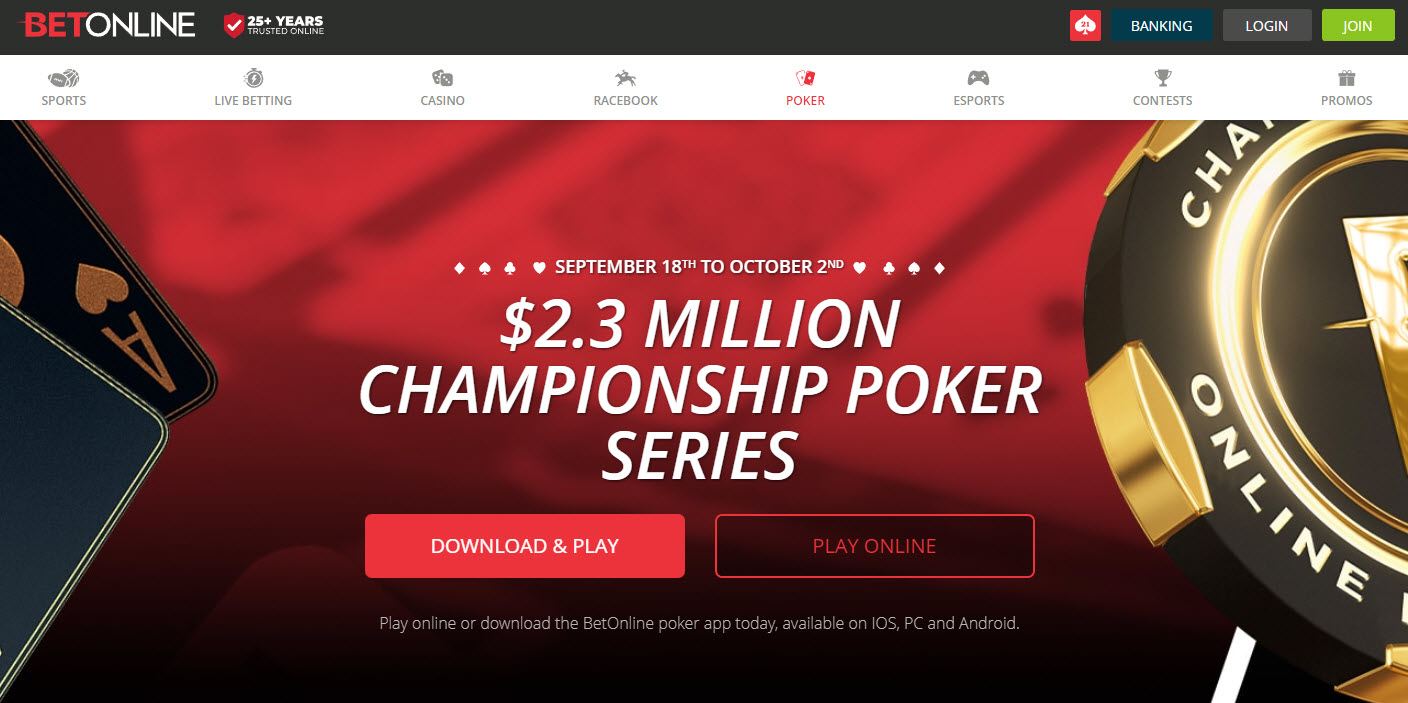 BetOnline came in at No. 2 on our rankings of the top online poker rooms in Ohio. It is a member of the Chico Poker network, which also includes SportsBetting and Tiger Gaming. Chico is the third busiest poker network in America and one of the world's 15 busiest. About half the players on the network are from the United States, with the rest from elsewhere around the world, and the network has better liquidity than most of the other online poker rooms.
BetOnline's poker rooms feature a range of skill levels from around the world, allowing you to find a table that fits your own level of experience and skill.
They also have a busy schedule of tournaments you can join, including the $1 Million Windfall, Nightly Monsters, Sunday Majors, and a steady stream of progressive bounties, rebuy frenzies, sit 'n' gos, and Omaha tournaments. There's also a wide variety of poker variations available.
BetOnline's bad beat jackpots can hit six figures, and the site offers welcome bonuses up to $1,000 for new players and $350 for reloads.
Pros:
Large welcome and reload bonuses for new players
Bad beat jackpots can top $100,000
Busy poker room with players from around the world and good liquidity
Wide variety of tournaments
Cons:
No VIP loyalty program
Some mixed reviews on the poker room from users
3. SportsBetting: Highest Limits for Online Poker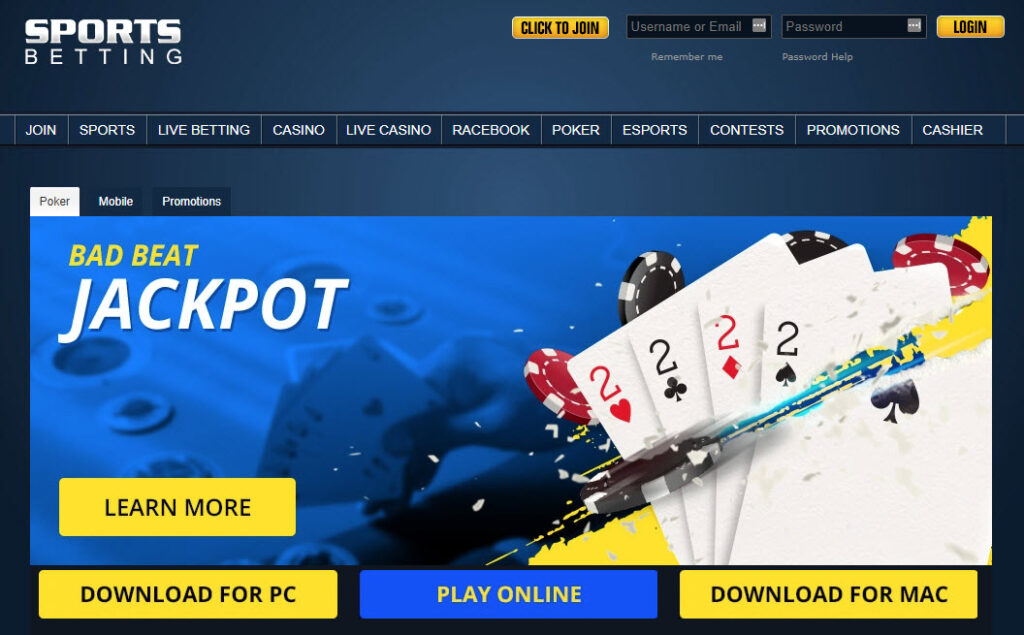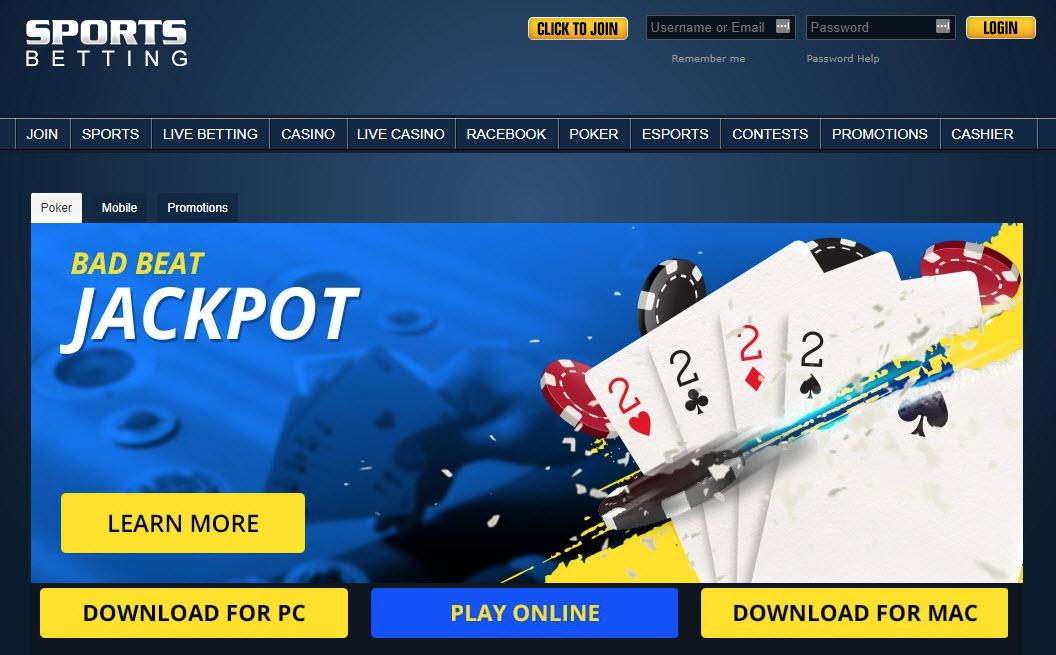 SportsBetting is on the same network as BetOnline, the No. 2 site in our rankings. The two are sister sites and are members of the Chico Poker Network—the second-busiest poker network in the United States and one of the 15 busiest worldwide.
SportsBetting shares many of the same generous welcome bonuses, tournament options, and payment methods as BetOnline, and both sites use the same upgraded software to run the poker room, meaning that you'll have a smooth, easy user experience.
SportsBetting has daily tournaments and plenty of different variations of the game to participate in. The site also has a sportsbook, racebook, esports, and casino games. Their 24/7 customer support features very short wait times and professional agents ready to help. They have quick payouts and low rakes compared to the competition.
Pros:
Similar gambling experience to No. 2 ranked BetOnline
Upgraded user interface and operating software
Diverse offerings of poker variations and tournaments
Quick payouts
Cons:
Not as many features as BetOnline's user interface
Charges fees for credit card transactions
4. Everygame: Best Rakebacks in Ohio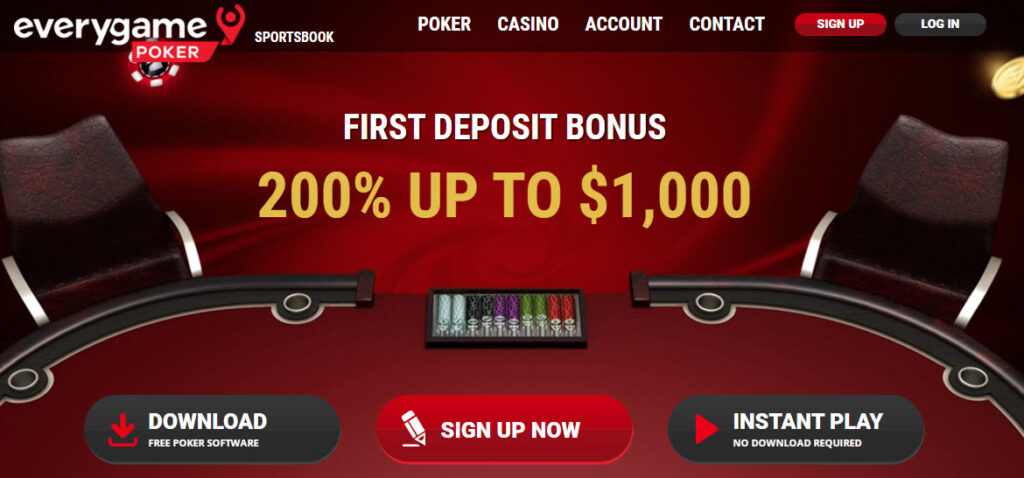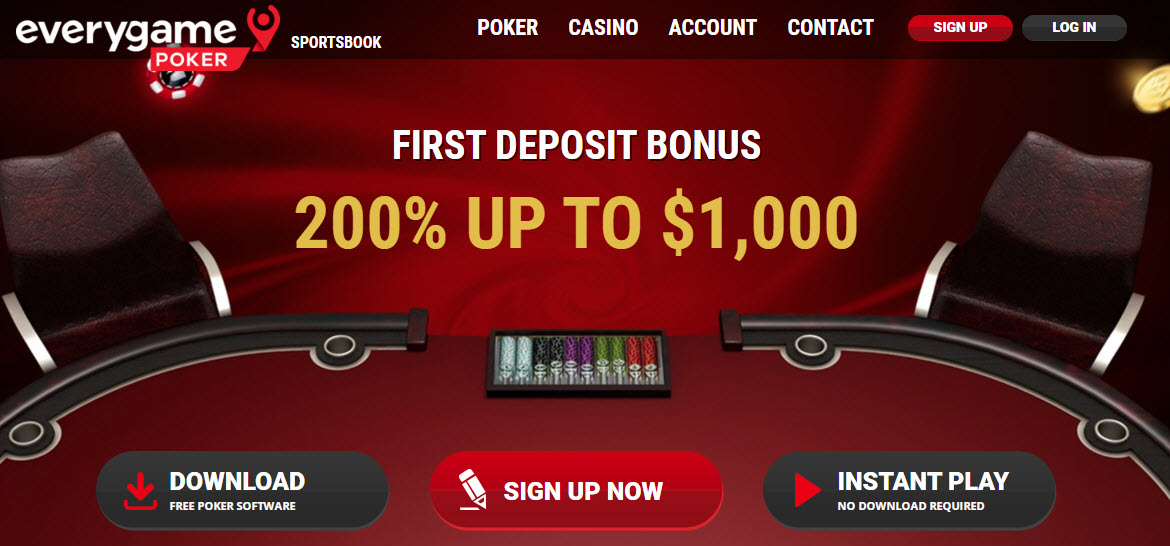 Everygame has the highest rakeback rate in Ohio. If you don't know what that is, here's a quick nutshell: In poker, the rake is the commission fee that is charged to allow you to play a particular hand, game, or tournament. Many sites refund some or all of that fee to a player, which is known as the rakeback.
Everygame refunds up to 36% of your rake, which is higher than the other poker rooms online in Ohio. Everygame is also generous with its welcome bonus, matching 200% of your deposit, up to $1,000, and throwing in 25 free plays in their casino. They also have a cashback program for loyal customers.
Everygame runs on the Horizon Poker Network and has high-quality software running the games. It offers different types of tournaments and games, including sit 'n' go events, freerolls, and ring games.
Pros:
Top rakeback in Ohio
Welcome bonuses are generous
Software running the poker room is outstanding
Variety of tournaments and games
Cons:
Poker room not always as busy as competitors
Poker room isn't as slick and stylish as other sites.
Is online poker legal in Ohio?
We get asked all the time, "Is online poker legal in Ohio?" The answer is no. Ohio State has not passed any laws legalizing online poker.
Gambling on horse racing has been legal in the state for 90 years, and online racebooks are also legal. Ohio is about to legalize sports betting at the start of 2023. And in-person poker is legal as of 2009 at various casinos around the state. But online poker rooms are prohibited, and there are no known plans to push to legalize them in the near future.
That doesn't mean you can't play online poker, however. It just means that proprietors located in the state can't offer it. The four online poker rooms in our rankings are all offshore sportsbooks, which are outside the jurisdiction of Ohio state laws and U.S. federal regulations related to gambling. Ohioans have been playing at offshore sites for years.
Video Poker
Video poker was first played from a gaming kiosk, but it's now available online at many offshore providers. This version mixes 5-card poker with slots. Basically, the video poker machine draws 5 cards randomly.
Many of the online poker rooms on our list, including Bovada and BetOnline, offer video poker as well as a live poker room. It's usually located in the casino gaming section of their site. Other highly rated offshore sites that don't have live poker rooms, like Bookmaker, Heritage Sports, and BetUS, offer several versions of video poker in their online casinos.
Casual Poker
Playing poker with friends at a table in Ohio is a fun way to spend an evening. But, technically, it's illegal throughout the state. The only legal way to play poker in person in Ohio is at one of the state's four casinos. While police may not shut down your small, informal game, they always could.
Ohio Poker Laws
Poker is only legal in the state of Ohio in casinos. All versions of online poker are illegal, although online casinos located offshore can operate and take Ohio residents as customers since they're located outside the reach of U.S. and state law.
Here's a quick look at the timeline of gambling laws in the state of Ohio.
Timeline of Ohio Gaming Laws
1933: Ohio legalizes pari-mutuel betting on horse racing
1992: PASPA (Professional and Amateur Sports Protection Act), a federal law banning commercial gambling on sports in every state except Nevada, is passed.
2009: Ohio legalizes in-person casino gambling. Four casinos open by 2012.
2018: In Murphy vs. NCAA, the U.S. Supreme Court ruled that PASPA was unconstitutional, opening the door for states to decide whether to legalize sports gambling.
2019: State Senator John Eklund proposes SB111, which would regulate sports wagering in Ohio.
2020: The state legislature closes its final session of the year without voting on SB111, essentially leaving it to die without approval.
2021: HB29 is passed after negotiations. State Senate approved one bill, which was then amended and replaced. The law was approved on December 8 and signed by the governor, Mike DeWine, on December 22.
2022: Ohio begins setting rules for sports betting, passing the first set in January, followed by one in March.
2022: The state begins accepting applications for companies wishing to offer sports betting. Officials expect to receive 3,000 applications
2022: The first proprietors' licenses are granted. Up to 50 could be approved, 25 in person and 25 mobile, although all are not expected to be ready for Jan. 1, 2023.
Land-Based Casinos & Poker Rooms in Ohio
You can play poker at the four casinos across the state of Ohio. Each of these are commercial casinos, as there are currently no tribal casinos operating in Ohio State. Here are the locations for poker players in the Buckeye State of each land-based casino where you can enjoy casino gambling:
Hard Rock Casino Cincinnati
Address: 1000 Broadway, Cincinnati, OH, 45202
Formerly Horseshoe Cincinnati and Jack's Cincinnati, the Hard Rock has a World Series of Poker room featuring 23 casino poker tables.
Hollywood Casino Columbus
Address: 200 Georgesville Rd. Columbus, OH 43228
Built on the site of a former Delphi Automotive auto parts factory, the Columbus Hollywood Casino features 34 poker tables, including Limit Hold 'Em, No Limit Hold 'Em, Omaha High/Low, and Pot Limit Omaha
Hollywood Casino Toledo
Address: 1968 Miami St., Toledo, OH 43605
Built on the site of a former glass plant, Hollywood Toledo has 20 poker tables including Hold'em, Omaha, Omaha High/Low, and 7-card Stud.
Jack's Cleveland Casino
Address: 100 Public Square, Cleveland, OH 44113
The first casino to open in the state of Ohio, Jack's, opened its new poker room in 2022, moving it to the second floor, down from the third. The new home for poker features 26 tables
Playing Legal Online Poker In Ohio
The only way to legally play online poker as a resident of Ohio is at an offshore sportsbook like the ones in our rankings.
These online gambling sites aren't controlled by Ohio state gambling law, which prohibits online poker games for money in addition to some other online cash games. You can often find a better selection of poker variants, regular poker tournaments, and even other online gaming options at these sites.
Tips for Online Poker With Real Money In Ohio
Here are a few tips on playing Ohio online poker:
Stick to reputable sites – We have vetted all of the online poker sites in our rankings, and each of them has a long history of secure, safe, dependable pay and timely payments in full.
Have a strategy before you begin playing – A tight-aggressive strategy is recommended for new players—Don't play many hands, but when you do, be sure to take control.
Be selective – Learning when to play and when not to is the key to being a successful online poker player. Don't play every hand you're dealt. Pick and choose your moments.
Don't be led by emotion – Have a system and follow it. Don't let other poker players or swings of good and bad luck allow frustration, anger, or excitement to cloud your mind.
Master bluffing – But use it sparingly. A common mistake is to bluff too much.
Be responsible – Know when to stop, and don't get in over your head.
How to Play Online Poker in Ohio
It is fast and easy to register for an account at one of the best offshore gambling sites. Within a few minutes, you'll be ready to start playing.
Step 1: Register for the Poker Site
Once you've chosen the best online poker option for you, go to the site's home page. Look for the "Join Now" or "Register" button.
Step 2: Enter Your Personal Details
The sign-up form is straightforward and is generally the same across online gambling sites. You'll need to provide basic personal information. Fill out the form and click the button to create an account. You may be required to authenticate your account with documentation or by responding to a code sent to your phone.
Step 3: Make Your Initial Deposit
Now that you've signed up for an account, you need to deposit money to play online poker. Choose your payment method from the list provided on the site and enter the information. Many welcome bonuses require a promotional code, so make sure to enter that to increase your initial gambling funds. It should be provided right there on the website.
The top online casinos will accept multiple forms of payment, including debit cards, credit cards, bank wire transfers and even crypto (Bitcoin, Litecoin, Bitcoin Cash).
Step 4: Join a Poker Ring Game or MTT
That's all there is. You're ready to play. Find a room and table that fits your experience level and the risk you're ready to take on. You can play via your browser, or many sites allow you to download an app to play on mobile devices. Good luck! Don't forget to check out other types of gambling, too, like online slots and online sports betting.
Playing Poker in Ohio
There are plenty of ways to enjoy the online poker scene in Ohio. If you choose one of our rated and recommended online gambling sites, you should have a safe and entertaining experience, win or lose.
FAQ – Legality of Online Poker in Ohio
Is online poker legal in Ohio?
No, there are no legal poker sites operating in Ohio. Companies based in Ohio currently can't offer real money internet poker games. However, poker players living in the state can play using online sites that are not under the authority of local and U.S. federal law, such as an offshore sportsbook.
Can I online gamble in Ohio?
Other forms of online gambling are legal in Ohio, unfortunately, online poker gambling is the odd one out. Most notably, horse racing is available at online racebooks. Sports betting has been legalized and the law went into effect January 1, 2023.
Can you play for real money online in Ohio?
You can play for real money online. In fact, all of our highest-rated offshore poker sites have comparable payouts to a commercial casino, if not better payout rates.
What gambling sites can you use in Ohio?
For sports betting, you can use any regulated or offshore sites to place bets on popular sports. For other forms of gambling, including slot machines and poker, you will need to use an offshore online casino site to legally gamble.
Is Bovada Poker legal in Ohio?
Bovada Poker is legal for poker fans in Ohio to enjoy. In fact, Bovada is one of our top-picks for the best online poker sites in Ohio. Because this site is operated offshore, it does not need to adhere to Ohio State law in regards to online gambling.
Where can I play live poker in Ohio?
In addition to online casinos located offshore, you can gamble at the state's four land-based casinos, located in the four biggest cities. These are:

• Hollywood Casino Columbus – Columbus, OH
• JACK Cleveland Casino – Cleveland, OH
• Hard Rock Casino Cincinnati – Cincinnati, OH
• Hollywood Casino Toledo –  Toledo, OH

There are also seven racinos at racetracks around the state which offer slots and other video kiosks, but no cash tables. The most popular choice is MGM Northfield Park.