Maine Sports Betting – Which are the best ME betting sites & sportsbooks?
Shawn West has been involved with college basketball, NFL and college football and MLB since he left his job as bank vice president two decades ago. He lives in North Carolina with his wife, children, two dachshunds and a variety of turtles.
If you're looking to bet on sports in Maine, there's some good news and some bad news.
The good news is that the state legalized sports betting in 2023. The law was passed by the state legislature in April and signed by the governor in May. The bad news is that it'll be a while before you'll be able to place any legal bets on sports in a Maine establishment.
That's because the process of licensing companies and setting up the process to regulate and tax sports gambling activity will take a while to set up –a long while. The best estimate is that the state won't begin taking legal bets until January 2024… more than a year from now.
Until then, people in Maine residents have two options: They can cross the border to Connecticut, New Hampshire and Rhode Island, all of which have legal sports betting, either in person, online or both. Or they can gamble at an offshore sportsbook. These sites offer the opportunity to bet on sports, as well as offering racebooks and online casinos, and some also have live poker rooms, allowing customers to bet in any number of ways. And, since the sites are located outside of the country, they are not under the jurisdiction of Maine state law or U.S. federal gambling regulations.
Not all offshore sportsbooks are created equal, however. You'll want to find one that is safe, secure and easy to use. That's where we can help. Our panel of gambling experts looked at hundreds of offshore gambling sites and found the best ones available to Maine residents. So here is our breakdown of the top online sportsbooks available in Maine.
The Best Maine Sportsbooks in 2023
What's Next for Maine Sports Betting?
A public hearing has been scheduled for Tuesday, January 31. Sportsbook operators may submit written comments until March 3, at which point the Attorney General's office will perform up to a 120-day review. Experts expect April would be the earliest possible date for a sports betting launch in Maine.
Maine Betting Guides
Top 10 Maine Sports Betting Sites 2023
After looking at dozens and dozens of offshore sportsbooks available in Maine, our expert panel came up with the following ranking of the top 10 sites. Every site in the top 10 is an offshore sportsbook, meaning they aren't subject to Maine state law.
Each of our 10 best sites has a long reputation, built over years, if not decades, of reliable, trustworthy operation in the gambling industry and treating customers fairly. They also are known for paying out quickly and in full. Each site offers a variety of sports gambling options, including parlays, teasers, live betting, props, spreads and moneylines, on all major pro and college sports in America, as well as top events from around the world.
All 10 sportsbooks in our rankings are based offshore. That means they abide by the betting laws of their home countries, not those of the United States or the state of Maine. That allows them to offer legal gambling options that may not be allowed yet for locally-licensed operators like Caesars Sportsbook or FanDuel Sportsbook.
The Best Maine Sportsbooks Reviews 
Any of the sites in our top 10 would give you an outstanding betting experience. So there is no wrong choice. But it's your job to figure out which site is the best match for you. We can help with our in-depth reviews of each site, to give you an idea of their strengths and weaknesses. Then you can determine which of these operators is the best match for your needs and preferences.
1. Bookmaker: Best All-Around Sports Betting Site in Maine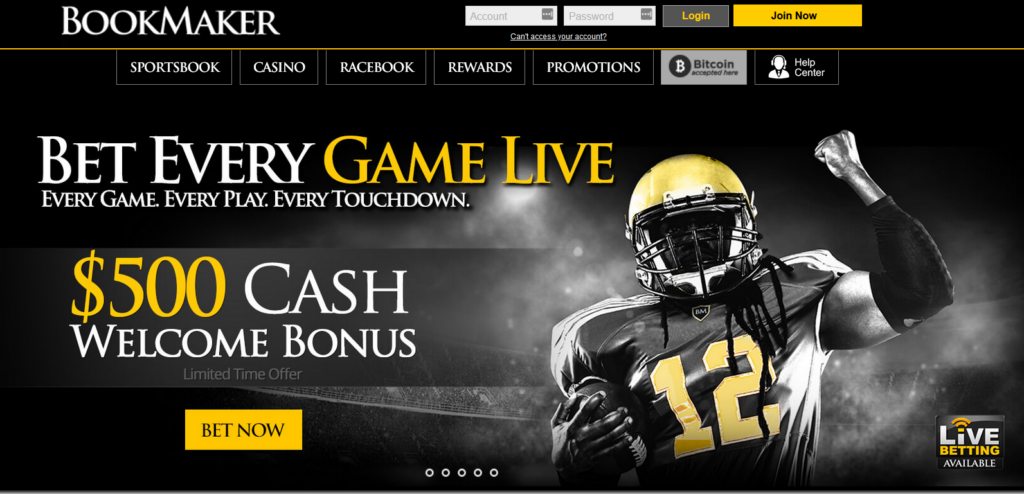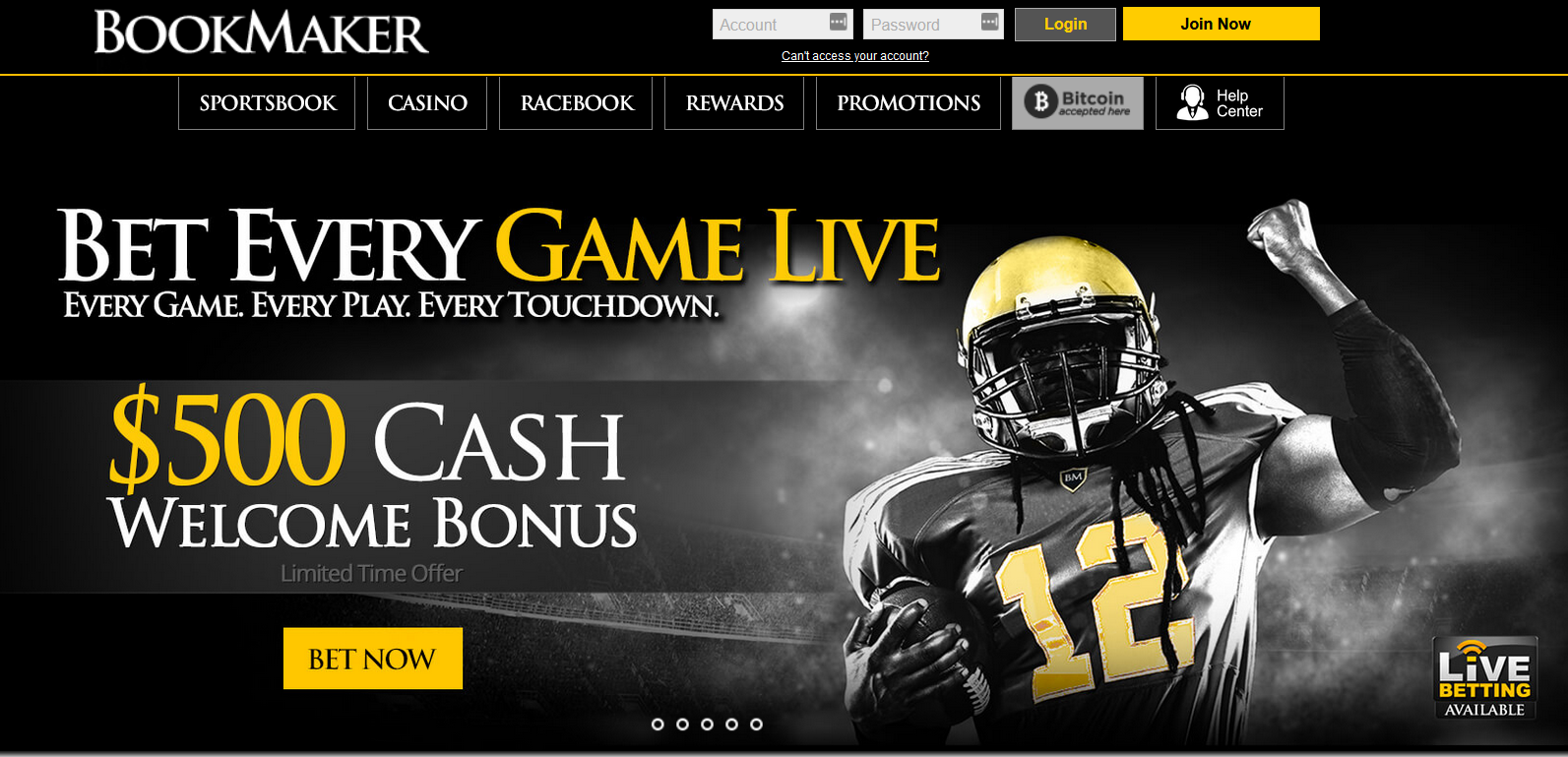 Bookmaker.eu is the top choice by our panel of experts as the best all-around online sportsbook in Maine. While some sites look to attract high-rolling, professional gamblers as their customer base and others appeal to new, inexperienced bettors, Bookmaker is able to cater to all levels. Regardless of their experience level and risk tolerance, gamblers will feel welcome at Bookmaker.
Professionals will enjoy the highest betting limits in the state, as well as lines and odds that post earlier than any other site. New bettors will appreciate that Bookmaker has some of the lowest minimum bets around, allowing them to start off their gambling cautiously. Regardless of how much they want to spend, all gamblers will find a spot to accommodate them at Bookmaker.
The user interface, which is friendly and easy to navigate, will also appeal to inexperienced customers, allowing them to learn the ropes and find their way around. Gamblers of all experience levels will appreciate Bookmaker's reputation of never shutting down a gambler who gets on a roll, allowing them to ride their hot streak.
In addition to the sportsbook, Bookmaker offers a racebook and online casino games. It also has one of the best loyalty programs you'll find, which offers rewards to all customers, regardless of the size of their bankroll.
New users have their choice of a flexible set of welcome bonuses, including a 25% deposit match bonus worth up to $500. Users of cryptocurrency get additional benefits, including higher bonuses and same-day payouts.
Pros:
Offers something to gamblers of all experience levels
Highest betting limits and lowest minimum bets
Loyalty program caters to all levels of bettor
Flexible welcome bonuses
Cons:
Professional bettors can't participate in the loyalty program
No online poker room 
2. Heritage Sports: Best for Live Betting in ME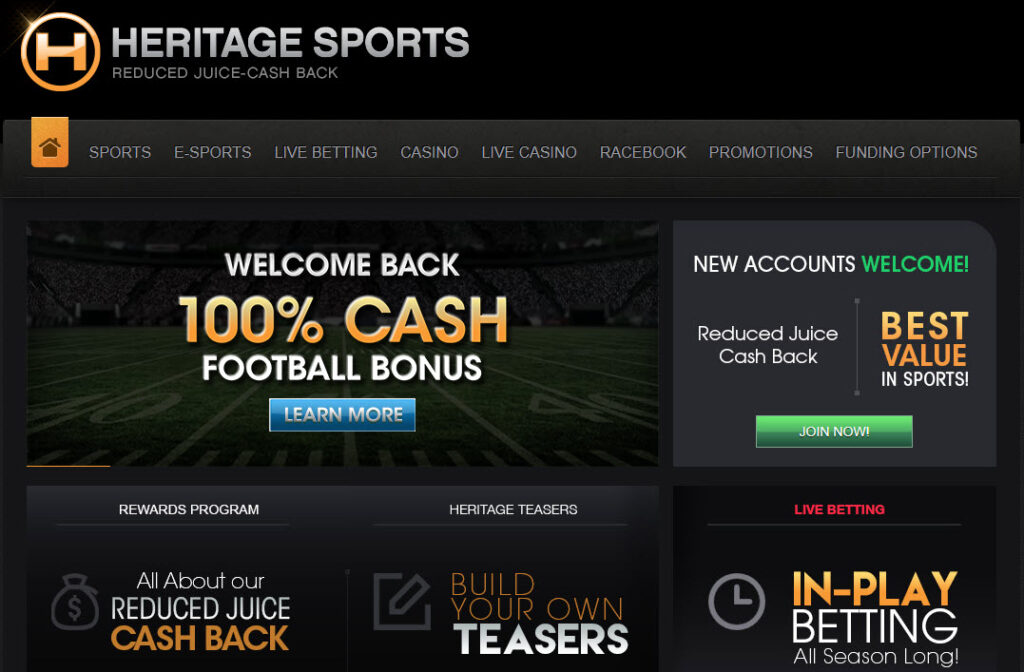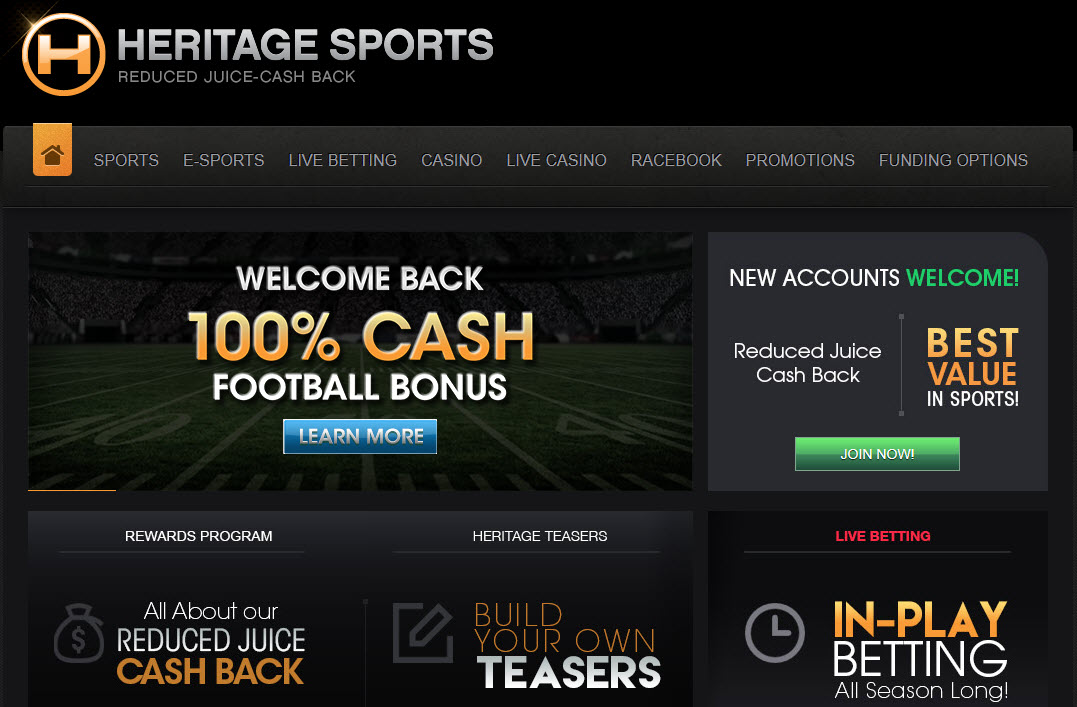 Heritage Sports finished in the second spot in our top 10, getting the silver medal for online sportsbooks in Maine. Our panel of experts was particularly impressed with two areas of Heritage Sports' operation. First, they have the best VIP service in the state. That makes sense since Heritage Sports started as an invitation-only site for high rollers. Over time, they've expanded to welcome all customers, but they still know how to roll out the red carpet and make every gambler feel special.
Second, Heritage Sports was the choice of our panel as the best site for live betting. Heritage Sports was one of the first sites to offer gambling markets for in-progress games and matches, and it's still one of the leaders in the area.
The sportsbook is also known for its reduced juice. It sets odds on either side of a point spread or over/under totals cut off at -108, instead of -110, which is the standard across the industry. That offers gamblers a little bit of a discount on every bet, which can add up substantially over time.
HeritageSports also offers welcome bonuses and a cashback rebate program. They also offer an online casino that includes video table games as well as a live dealer section.
Pros:
Reduced juice on betting lines offers discounts for bettors
Best live betting interface in Maine
Best VIP treatment for all bettors
Cash-back rebate program
Cons:
Welcome bonuses aren't as large as some other sites
No live online poker room 
3. Bovada: Best Mobile Platform in ME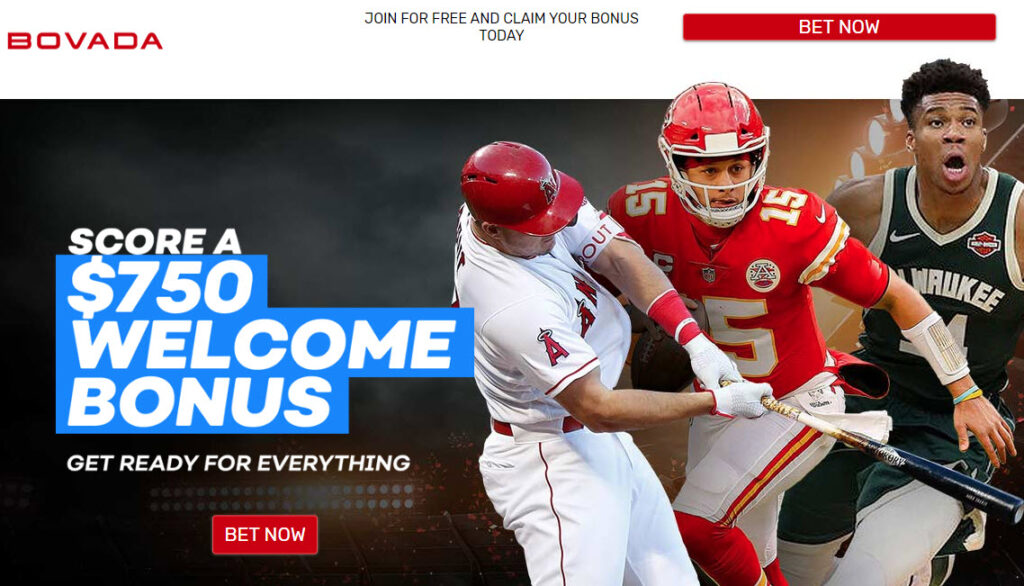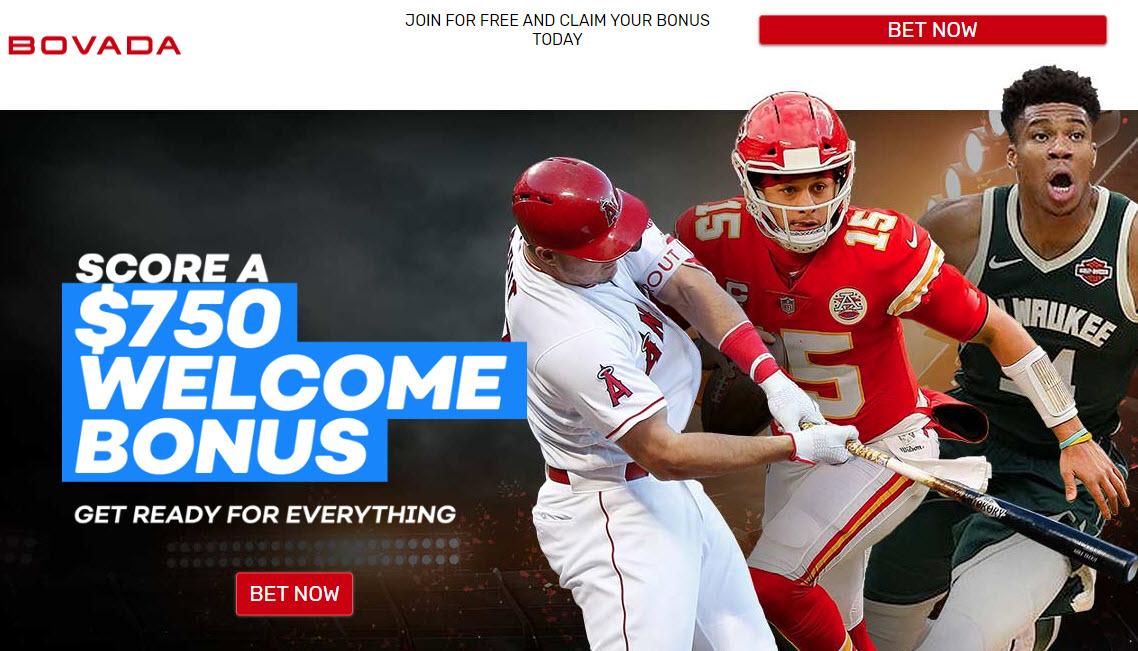 Bovada took the third spot in our rankings. Like Heritage Sports ahead of it, there were a couple of areas at Bovada that particularly impressed our team of experts.
First, it has the busiest live online poker room in the country. That doesn't affect its place in this top 10, since our rankings are based on the sportsbook, but it points out the total casino experience offered at Bovada. It also has a racebook and a large selection of casino games.
The second area our panel cited Bovada for is its mobile betting interface. More and more bets are placed on mobile devices, like phones and tablets, instead of on an actual computer, and Bovada's mobile sports betting site offers the full functionality and betting experience as the desktop version.
Regardless of the platform, Bovada's sportsbook is one of the best around. They offer a wider variety of prop bet options than anyone else, and customers can suggest prop bets for them to offer if there's not one that suits their fancy. It also has a selection of low-risk prop bets to get you a few easy wins to get started.
There's also a flexible set of welcome promotions when first-time customers register for their accounts.
Pros:
Largest selection of sports prop bets
Busiest online poker room in the United States
Best mobile betting platform in Maine
Full casino experience with sports, racebook, poker room and online casino
Cons:
Limits aren't as high as competition
Longer wait for odds and lines to be released
4. BetOnline: Best Opinionated Lines in Maine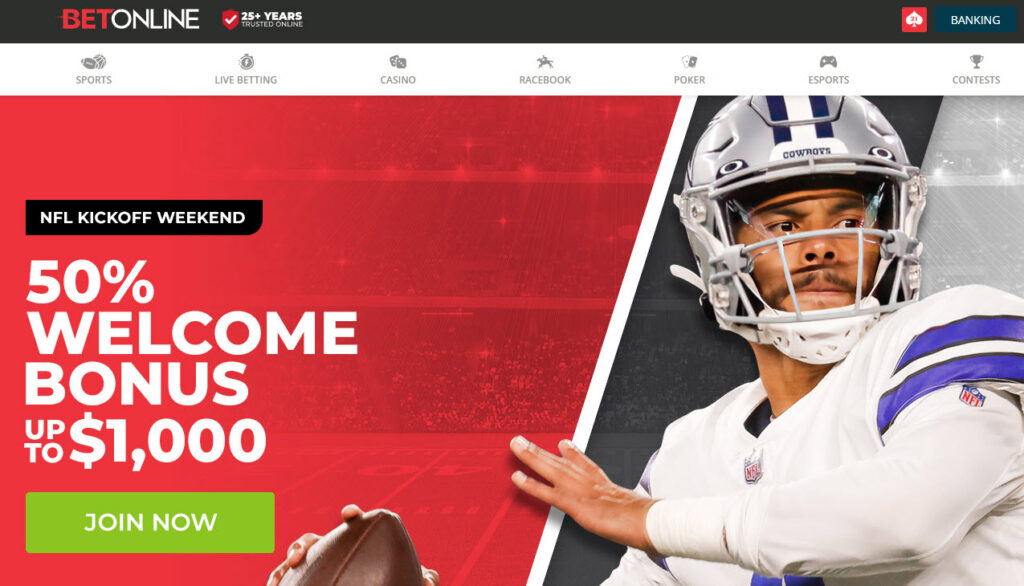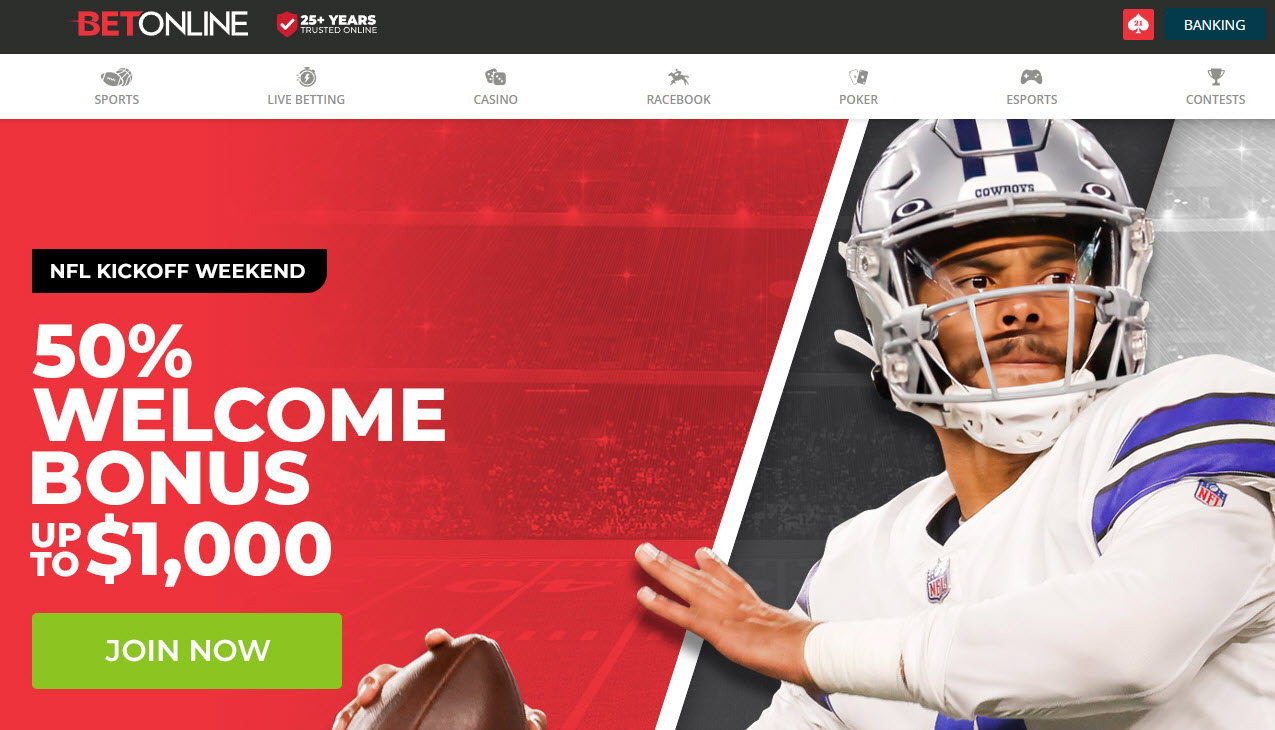 BetOnline is the No. 4 best sports betting site available in Maine. In addition to its sportsbook, it offers a full range of gambling options. It is a member of the third-busiest online poker network in the United States and also has a large online casino and racebook.
Our panelists took note of BetOnline's opinionated lines since it is one of the only sites that offer them on a consistent basis. Opinionated lines are similar to reduced juice, with an intriguing twist. Reduced juice offers gamblers a discount by setting lines on either side of a cutoff (usually point spread or over/under total) at -108 or -105, instead of the standard -110.
Usually with reduced juice, however, the line on either side of the cutoff is the same. Opinionated lines change that up. Taking the favorite at -1.5 points might offer -113 odds while taking the underdog at +1.5 is -107. Or the odds could be -112/-108, but they are not symmetrical on either side of the cutoff. That means the lines and odds you'll find at BetOnline will be different from other sites, and these differences mean opportunities for gamblers to turn a profit.
The sportsbook has more than just opinionated lines, however. BetOnline offers a fully optimized platform for mobile betting, and it has a generous welcome bonus that matches your first deposit at 50%. And, if you use crypto, the deposit bonus will match at a full 100%.
Pros:
Opinionated lines offer to boost your profits
Higher betting limits than many other sites
50% deposit bonus on initial deposit that doubles for crypto
Mobile-optimized site is attractive and user friendly
Cons:
No reduced juice except on NHL markets
Not as many prop betting options as other sites
5. BetAnySports: Best Reduced Juice in ME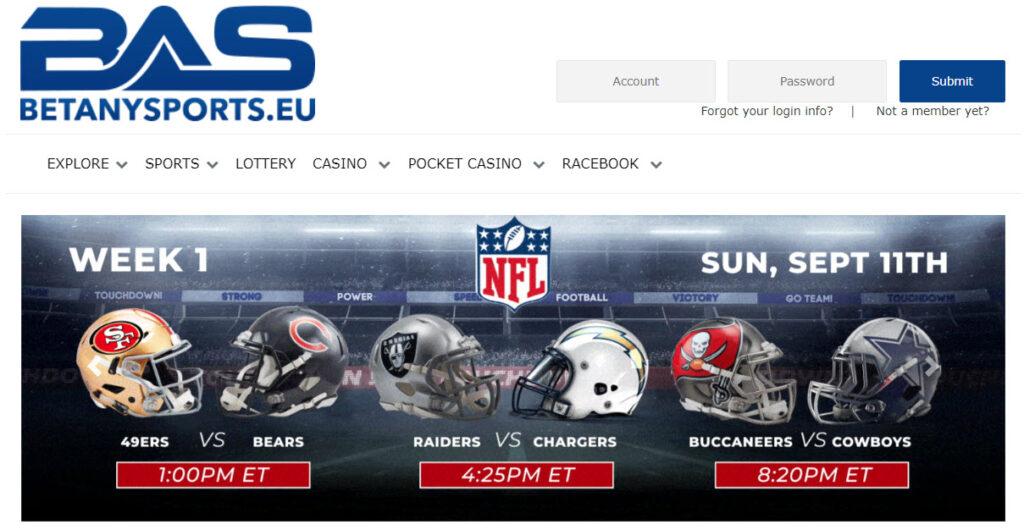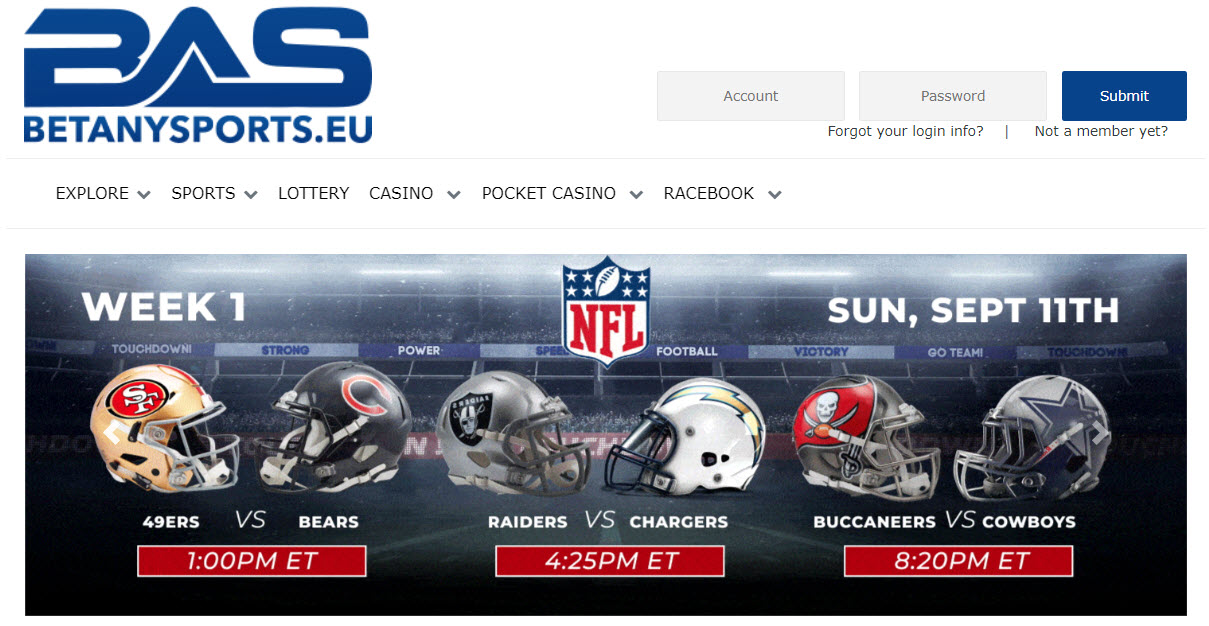 Rounding out our top five is a site that just recently got upgraded to an A+ grade – from an A – by our panel of experts. BetAnySports is the best site in Maine if you're looking to maximize value. That's because it offers the best reduced juice betting lines in the state, and, overall, BetAnySports has the most gambler-friendly lines of any site around.
While most sites set odds on either side of a cutoff at -110, and other reduced juice sites go with -108, BetAnySports offers lines of -105, which basically cuts the site's house edge in half and makes it far easier for you to turn a profit over time. This online operator essentially gives you a 50% discount on the betting premium you'd have to pay at other sites.
Because BetAnySports is giving more money to gamblers with each bet they make, it gives less upfront. That means its welcome bonuses and other promotional offers, such as reload deposit bonus offers and loyalty programs for current customers are not as high as they might be elsewhere.
BetAnySports also has a bare-bones sports betting platform, with fewer graphics and other features than other sites. However, the lack of excess furniture on the pages means it is easier for sports fans to find what they need.
Pros:
Offers the most value to gamblers, with the most reduced juice of any sportsbook in Maine
Odds on moneylines, props and futures are some of the most favorable around 
Minimalist interface ideal for live betting
Payouts are fast, easy and in full
Cons:
Online betting interface is more bare-bones, not as user-friendly
Bonuses and other promotions are relatively low
6. BetUS: Best VIP Service in ME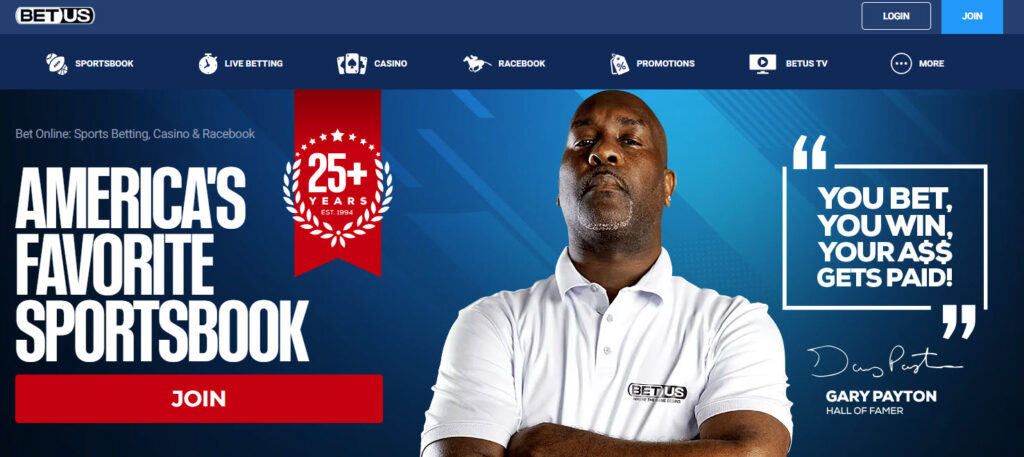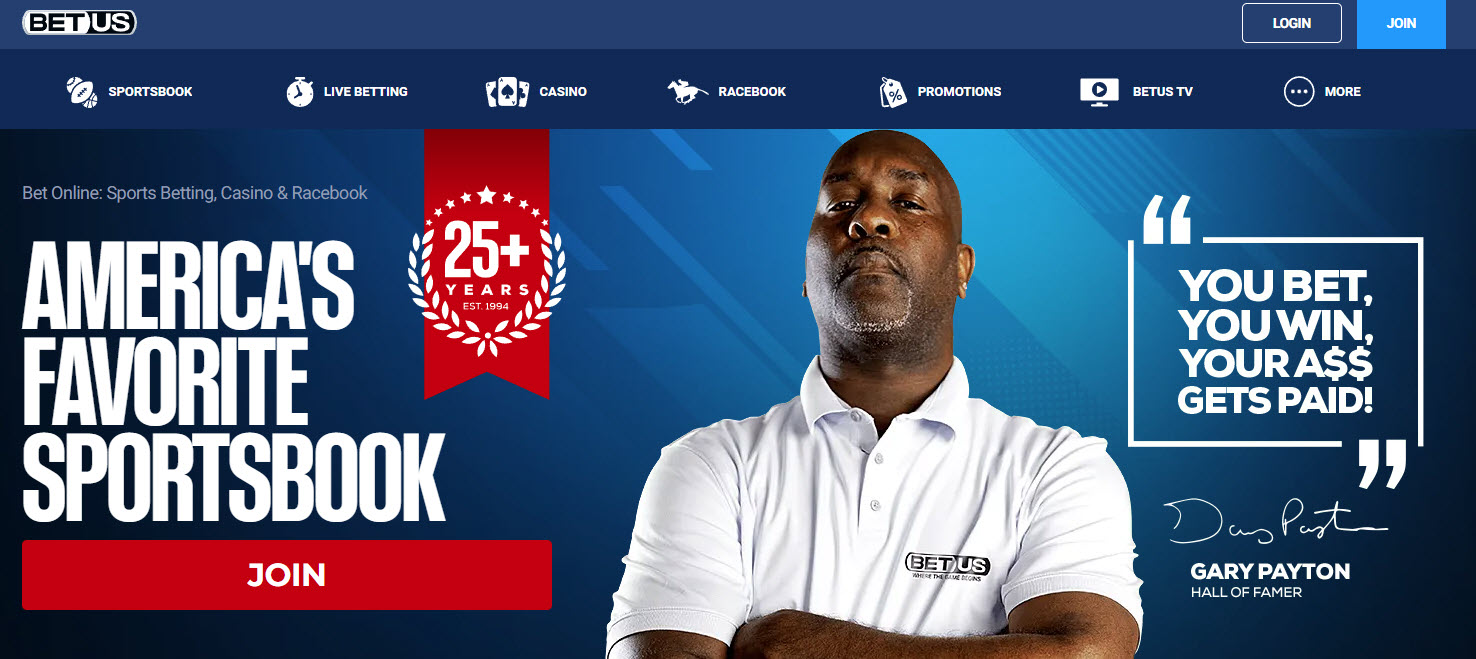 BetUS earns the title of the biggest welcome bonus in Maine. You can find many sites that will match some of your initial deposit as a sign-on bonus, and some will even match all of it, but BetUS gives you more money than you put in yourself. They match 125% of your first deposit, up to $2,500. So, if you put in $1,000, they'll give you another $1,250 to set your initial bankroll at $2,250. Just like that, you've more than doubled your money before you've even placed a bet by simply making this your sportsbook of choice. In addition to the sportsbook bonus, BetUS also has a separate first-deposit match for its online casino, up to $625.
BetUS is also generous with the customers it already has on the books. Their VIP service is one of the best around, with large reload bonuses. They also offer other perks, like free bets in the sportsbook and free plays in their casino.
The site has recently been overhauled to make sure it offers one of the most reliable, secure environments, so you can trust that they'll keep your money and information safe.
BetUS also has a fun personality online, with a creative social media team and weekly podcasts with former athletes as guest hosts. There's also BetUS TV, which offers video previews and analysis.
Pros:
Matches first deposit at 125% and has a separate casino user bonus
Video previews and weekly podcasts
One of the best VIP programs in Maine
Website is up-to-date, safe and dependable
Cons:
Odds and betting lines aren't available as early as some competitors
Playthrough and rollover requirements are high on bonus money
7. WagerWeb: Leader in Maine Bonuses and Promotions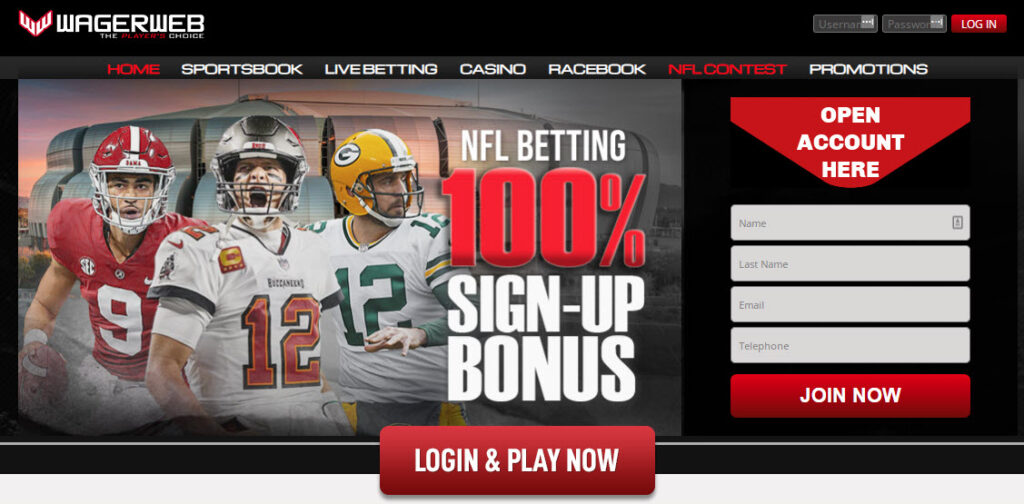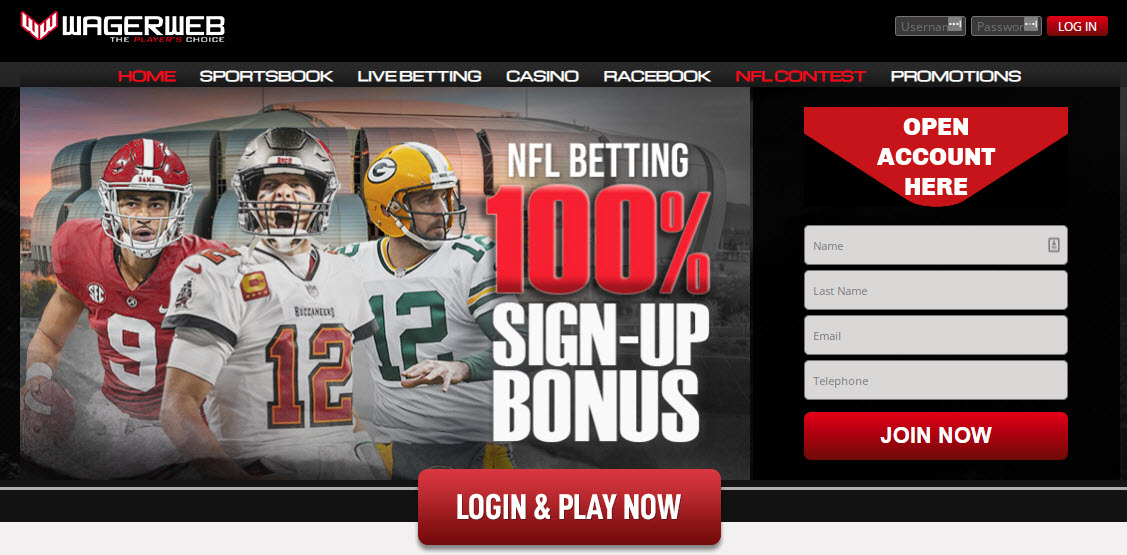 WagerWeb earned a spot in our top 10 because its track record of treating customers fairly is longer than just about anyone else in the industry. The site first opened for business in 1994, meaning it has been offering a safe, secure environment for players in the United States to bet for nearly 30 years. It's also been paying out on time and in full for all that time. With gamblers relying on reputation as they send their money to offshore betting sites, trust is a valuable commodity, and WagerWeb has earned plenty of it.
That doesn't mean the site is old and outdated. WagerWeb has an outstanding sportsbook and offers reduced juice with -108 lines. It is a sister site Heritage Sports, which was No. 2 in our top 10, and the two partners share many of the same characteristics, including a high-quality user interface, VIP red carpet treatment for all customers and generous bonuses.
WagerWeb offers promos for new and existing customers, including a 50% cash match on your first deposit. The horse racing section and online casino both have rebate programs to help you get back a portion of your losses.
Pros:
Long reputation of trustworthy operation
Bonuses are flexible and generous 
Shares many characteristics with our No. 2 site, Heritage Sports
Cashback rebate program on racebook and casino
Cons:
Free withdrawals limited to one a month
Low betting limits
8. JustBet: The Top Alternative of Maine Online SportsBooks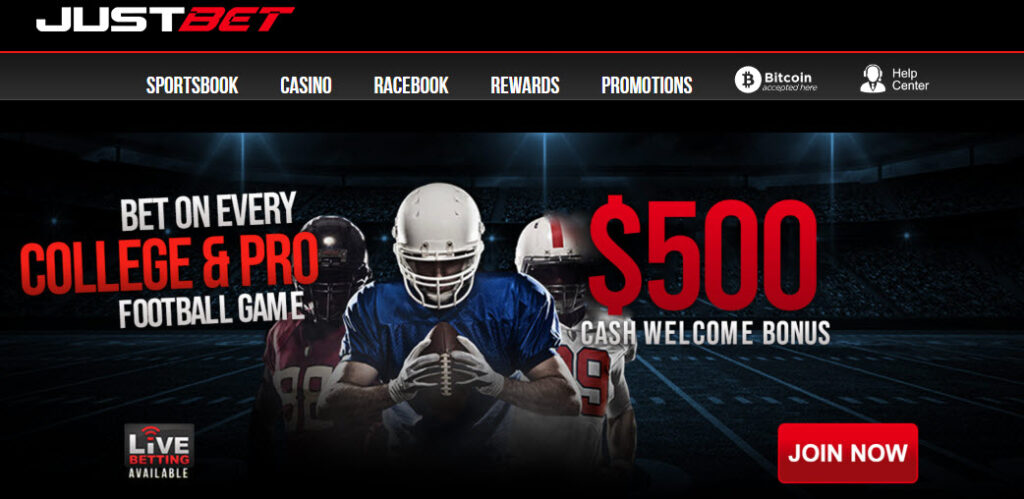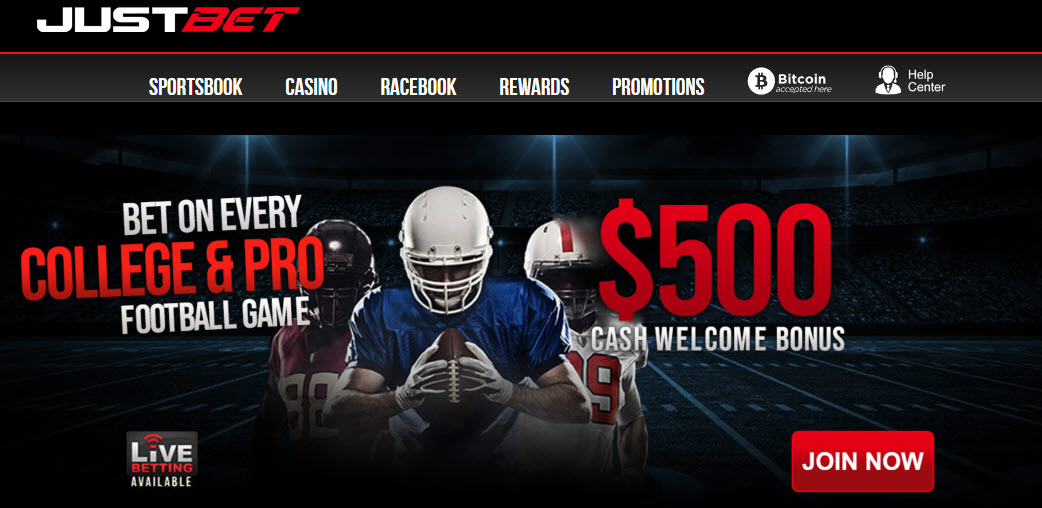 JustBet is a sister site of Bookmaker.eu, which you should recognize as our experts' choice for the No. 1 overall sportsbook in Maine. The two sites aren't exactly the same, but JustBet does have many of the same features that put its partner site at the top of our rankings. It's not as well known, but JustBet is a hidden gem that also earned its spot in the top 10.
JustBet caters to all levels of bettor, so new customers and experienced ones will both find a reason to play there. It offers high limits for players with high appetites for risk and low minimum bets for people who aren't as comfortable high rolling. It also has user-friendly software that is easy to use, even for inexperienced players.
JustBet was one of the online pioneers of live betting, and its interface is still one of the easiest to use when betting on games in progress. It's uncluttered and sparse, making it easy to find what you need to get your money down quickly, a must when you're live betting.
Pros:
Fast, efficient live betting interface
High limits and low minimum bets appeal to all levels of risk
Lines and odds posted early
Similar gambling experience to top-rated Bookmaker
Cons:
Doesn't offer reduced juice
No live online poker room 
9. Everygame: Best Mobile Casino Gaming in ME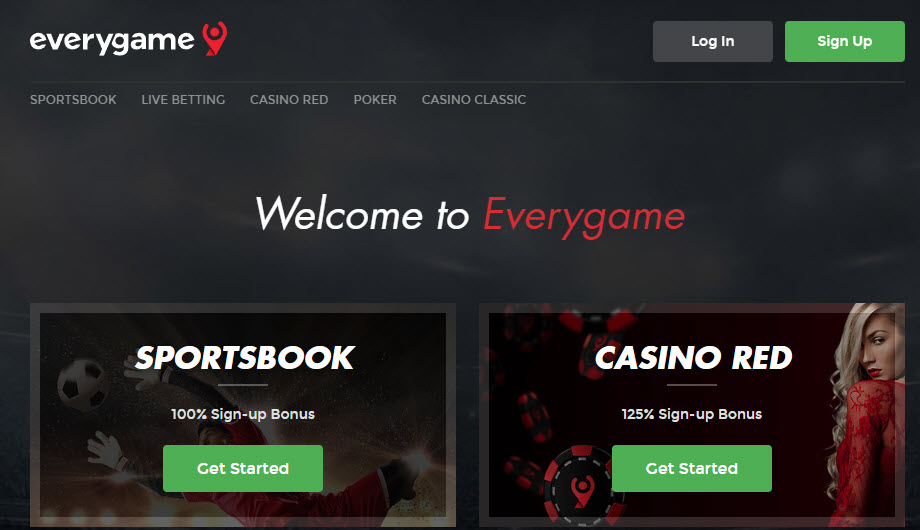 As we've said, one of the most valuable commodities an offshore sportsbook can offer is trust. Everygame has a long, well-earned reputation as the oldest and longest-tenured gambling site in the industry. In a market where sites seem to come and go every day, you know your money will be safe and available to be paid out in full and easily, at a site that has been around for nearly three decades.
That doesn't mean Everygame is outdated. It began its online life as Intertops, but it has gone through an extensive rebranding and upgrade, so it now boasts a state-of-the-art user interface that provides a glitzy, smooth user experience.
Everygame has also been serving gamblers around the world for all that time, and it offers the deepest menu of different sporting events from around the world. You'll find games, leagues and events on Everygame that other sites don't have, including obscure sports from Europe, Asia and Australia, as well as all events in the United States.
Everygame offers a full casino experience in addition to the sportsbook. It has a casino that combines six different networks under one roof, meaning you'll have access to more casino games and variations than anywhere else. Its casino gambling mobile site is also the best in the state, taking advantage of that software upgrade to offer the same experience on a mobile device as on the full site. There's also a live dealer section, a separate live online poker room and a racebook.
Pros:
The most games, leagues and events from around the globe
Best casino gaming mobile site in Maine
Casino has more game titles, from multiple networks, than anyone else
Oldest, most reliable gambling site in operation
Cons:
Account verification process is more complicated than elsewhere
Bonuses aren't as large  
 10. GTbets: Wide Variety of Promotional Offers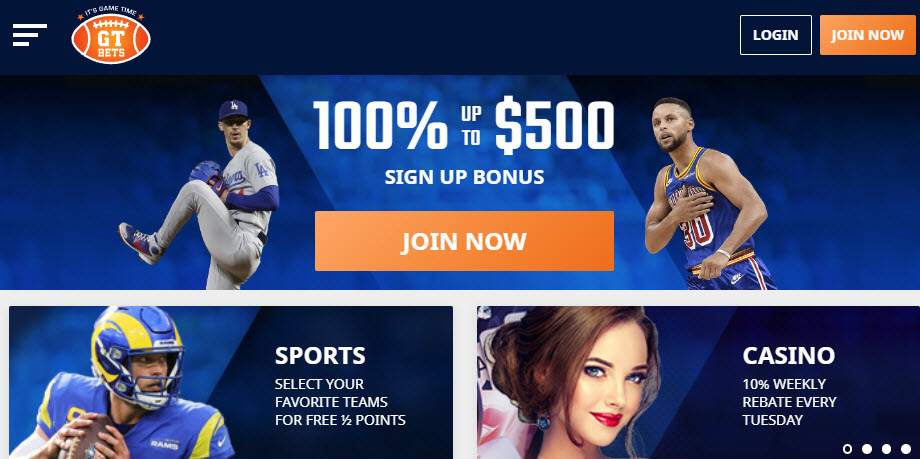 GTbets is a creative site with an aggressive marketing department, which means plenty of opportunities for you to take advantage of promotional offers. The site sends its customers a weekly email listing all the different reload bonuses, loyalty programs and other perks and opportunities currently being offered.
Like many sites, GTbets offers a welcome bonus that fully matches your first deposit at 100%. Unlike most sites, however, they also match your second deposit, at 50%.
The betting experience is also different -and fun- at GTbets, as their creative side comes out there as well. All football bets on the site, college and pro, offer reduced juice. GTbets sets its football odds at -109 on either side of a point spread or over/under cutoff. The industry standard is -110, so you're getting a bit of a bonus or discount with every bet.
They also have one of our panel's favorite betting programs, which pads the point spread line when you bet on your favorite team. You need to register a team as your favorite on the site, and GTbets will then give you an extra half point in that team's direction. So if you're a Bills fan, and they're favored by 7 points, you can get them at -6.5
GTbets also offers a stats section to help you do research when handicapping, so you can place more knowledgeable bets.
Pros:
Matches your first deposit at 100%, second deposit at 50%
Reduced juice on lines for all football bets, NFL and college
Pads the point spread line in favor of your favorite team
Has a weekly email listing promotional offers for customers
Cons:
Live betting interface not as advanced or easy to use as other sites
Rollover requirements are high on bonus money
Betting on Sports in Maine: Is sports betting legal in Maine?
Now you may be wondering, "can I bet on sports in Maine?" The answer is "It depends."
On the surface, it seems like the answer should be a straight yes. After years of debate, the state legislature passed a sports betting legalization bill in April 2022. The governor signed the legislation into law the following month. So officially, betting on sports is legal in Maine.
Now, if you want to actually place a bet, that's a different story. With legalization, the state began the process of licensing gambling providers, which is a lengthy process as it takes time to receive the applications for a license, and then there will be a selection process to determine which outlets will go on to become licensed operators in the state.
So, it will take some time before companies and providers are approved, running legal sportsbooks and taking sports bets in Maine. By one estimate, the first bets on sports won't be legally accepted in the state until about January 2024.
There are other nearby states, such as Connecticut, New Hampshire and Rhode Island, where Maine residents could go to put money down on sports. Or they can make use of offshore sportsbooks. The ones recommended in our top 10 all have spotless reputations for being safe and reliable. And they all follow the laws of the countries where they're located. They aren't under the jurisdiction of Maine state law or the U.S. federal code.
Latest Maine Sports Betting News and Developments
Maine has been loosening its restrictions on gambling over time. Currently, pari-mutuel wagering on horse races is legal, and there are tribal bingo halls and slot machine "racinos" at tracks in the state. And Maine currently has one casino in operation. The legalization of sports betting, in 2022, continued its trend of being more permissive toward gambling.
Legal Timeline of Betting in Maine
1820: Maine becomes a state, and all forms of gambling are illegal. 
1893: The first organized horse race in the state is held at Bass Park in Bangor.
1935: Pari-mutuel wagering on horse races is made legal. 
1950: Scarborough Downs is opened and is the first track to offer night racing on the east coast
1973: The state lottery begins. 
1973: The state's first tribal bingo hall is opened.
2004: The first slot machines are installed at race track "racinos" in the state, with the Hollywood Casino Hotel opening at Hollywood Raceway.
2010: Voters approve a casino in Oxford County by a margin of 0.8%
2012: Oxford Casino opens as Maine's only casino.
1993 to 2015: 11 bills are introduced looking to approve tribal casinos. None of them pass.
2022: Sports betting legalization is finally a success as Maine's state legislature passes a bill, and the governor signs it.
2023: In January, the first set of rules and regulations for sports betting is made public. A public hearing is scheduled for January 31st and operators can submit comments up until March 3rd.
Maine Sports Betting Teams
Maine has plenty of native sports teams, although they are at the minor league level. The state features minor league teams in baseball (the Portland Sea Dogs), hockey (the ECHL Maine Mariners) and basketball (the G-League Celtics).
For sports in the highest level leagues, it will require a short trip to the Boston area, where there are not only teams in all four major sports, but they are among the most storied and successful teams in each. Boston is home to the Red Sox, Celtics and Bruins, and the New England Patriots play not that far away.
Maine is also home to one Division I college program, the University of Maine Black Bears. They are one of just 35 college basketball teams to have never made an NCAA Tournament. Although their hockey team has won two national titles and the baseball team has been to multiple College World Series.
Review of Sports Betting in Maine
Maine has legalized betting on sports, passing the law early in 2022. Now the wait begins as lawmakers work out the details for how it will be implemented. That process could take more than a year and is expected to be completed in early 2024. Until then, to bet on sports, you'll need to travel to a nearby state or use a trustworthy offshore sportsbook.
Offshore sports betting sites are not subject to Maine's state law or U.S. federal code, which means that there is nothing preventing them from taking bets from Maine residents and paying out in cash. The sites in our top 10 all have long track records of treating gamblers right, paying out in full and on time, and being safe and reliable. Our experts looked at dozens of sites and have issued more than 100 ratings to the offshore betting sites listed in the BMR Sportsbook Rating Guide.
| Sportsbook | Rating | Online Since | Payment Methods | Read Review |
| --- | --- | --- | --- | --- |
| Bookmaker | A+ | 1996 | Credit Card, Bitcoin, P2P, Crypto | Bookmaker Review |
| Heritage Sports | A+ | 2001 | Credit Card, Bitcoin, Cashiers Check, Bank Transfer, P2P | Heritage Sports Review |
| Bovada | A+ | 2011 | Credit Card, Bitcoin | Bovada Review |
| BetOnline | A+ | 2001 | Credit Card, Bitcoin, Crypto, Cashiers Check, Bank Transfer P2P | BetOnline Review |
| BetAnySports | A+ | 2002 | Credit Card, Bitcoin, Electronic Check | BetAnySports Review |
| BetUS | A | 2000 | Credit Card, Bitcoin, Bank Transfer, P2P | BetUS Review |
| WagerWeb | A | 1994 | Credit Card, Bitcoin, Cashiers Check, Bank Transfer, P2P | WagerWeb Review |
| JustBet | A | 2000 | Credit Card, Bitcoin, P2P, Crypto | JustBet Review |
| Everygame | A | 1996 | Credit Card, Bitcoin, Skrill, Neteller, Bank Transfer, P2P | Everygame Review |
| GTbets | A | 2011 | Credit Card, Bitcoin, Crypto | GTbets Review |
Key Qualities of the Best Sportsbooks in Maine
To determine whether to include an offshore site in our rankings of the best sportsbooks in Maine, our experts looked at a variety of factors.
Trust
Offshore sportsbooks have to be reliable, trustworthy and treat customers fairly. That means paying out on time, in full and without problems or delays. This is a non-negotiable must-have and is a bar all the sites in our top 10 clear easily.
Fast Payouts
The best sportsbooks have a process in place to get you your money quickly and easily. Since the sportsbooks are located offshore, withdrawals require the money to pass from one country to another, which can cause delays and fees. But they should be kept to a minimum, and the process should go smoothly.
The best sites have quick, easy and safe transactions. And, if you use cryptocurrency, which is built for transactions involving multiple countries, you should get your money faster—on the same day at many offshore sportsbooks.
Competitive Betting Odds
Betting odds and lines should be available at a reasonable time in advance of the game. The betting odds should be fair, offering you a legitimate chance to profit.
Wide Menu of Betting Options
All sports betting sites offer point spreads, moneyline bets, and point totals. The best sportsbooks have a much more varied selection of markets, including: 
Game props 
Player props 
Alternate lines 
Same game parlays 
Live Betting 
Futures 
Parlays 
Teasers 
Pleasers 
Progressive parlays 
Reverse bets 
If bets 
Round robins 
Mobile Betting Interface
The top betting sites allow you to place bets from a mobile device easily and have the same experience as using the full-blown site on a computer.
The mobile interface should be easy to navigate, and available sports, games and betting options should be easy to find. Pages should load quickly and not crash. Some sportsbooks may offer a separate downloadable sports betting app.
Sportsbook Banking Methods Available
Top sites should have a variety of banking options available for deposits and withdrawals. The best sportsbooks accept: 
Visa 
MasterCard 
Discover 
American Express 
Bitcoin and other cryptocurrency methods
E-checks, P2P transfers, wire transfers, and e-wallets. 
Top-Tier Customer Service
The best sportsbooks are responsive when their customers have problems or questions. They should offer customer service in multiple languages, 24/7, 365 days a year. The people helping should be friendly and competent, and your wait time should be short. Contact methods should include phone, live chat, or email. 
Competitive Bonuses
The top sportsbooks offer a flexible selection of welcome bonuses as well as:
Reload bonuses 
Rebates 
Loyalty programs 
Odds boosts 
Risk-free bets 
Contests 
FAQ – Is online sports betting legal in Maine?
Can I bet on sports in Maine?
Maine does have legal sports betting but does not currently have any locally-regulated legal sportsbooks. Instead, sports fans can find plenty of options for online sports betting at an offshore site.
Where can I bet on sports in Maine?
Maine still has details to iron out before the state is ready for a full sports betting launch. For now, players in Maine have been using offshore sports betting sites to wager on all of their favorite sports.
Is DraftKings Sportsbook legal in Maine?
Maine has yet to settle on all of the rules and regulations that will dictate its sports betting market; major operators like DraftKings Sportsbook and FanDuel Sportsbook can not be used in the state. Players can wager on sports using offshore betting sites instead.
How do I use a sportsbook in Maine?
The registration process for an online sports betting site is very simple. Simply navigate to your top-rated offshore sportsbook of choice and click "Join Now." After you fill out a small form, you will be ready to start wagering.
Can you place college sports bets in Maine?
Residents in Maine can place bets on college sports, international sports and even niche markets like entertainment and politics using offshore sports betting sites like the ones we have reviewed here.