Michigan Horse Racing Betting – The Best Racebooks in Michigan 2023 Compared
Horse racing is one of the first types of legal gambling to appear in most of the United States. Michigan is no exception having first legalized it back in 1933. Since then there have been some revisions to the original bill but it remains legal in the state nonetheless.
If you're looking to bet horses online in Michigan, our team of experts will provide you with the best offshore sportsbooks where you can do that. There are several benefits of using these online betting sites for horse racing wagers, the first of which is the fact that they offer several services under one roof. They've been offering horse betting to Michigan players for decades and have access to all of the best tracks around the world, as well as
In this guide, we'll cover the basics of horse racing betting. You'll learn things like the difference between fixed odds and pari-mutuel wagering, how to choose the best horse race betting site, as well as some of the bonuses and promotions that the different brands have to offer.
Our horse racing experts took the time to sign up for accounts and will give you specific things that they looked out for when making this guide to help you pick the right brand for you.
Michigan Betting Guides
For Michigan bettors that are looking for more ways to gamble, we suggest checking out one of our other in-depth online betting guides that cover the various betting markets available in the state.
Top 10 Horse Racing Betting Sites in Michigan Ranked
Here are the top ten sites for horse racing betting according to our experts:
The above websites are all located offshore. They all have years of industry experience offering a variety of services. These brands understand horse racing and will provide you with access to all of the industry's biggest races at great odds. These websites are not located in the U.S and therefore fall outside of state and federal jurisdiction.
Reviewing the Best Michigan Horse Racing Betting Sites
Luckily for horse racing bettors in Michigan, there is a consistent level when it comes to the user experience for horse bettors. Our experts looked for the main differences when it comes to the things that horse racing enthusiasts come to expect. The fact is, most of the companies that offer horse racing use the same software provider.
That means the differences can really be seen in the services they offer like bonuses, banking options, and customer service. Below we will go into more detail about what the top 5 horse racing sites in Michigan have to offer.
1. Bookmaker: Racebook Has Wonderful Promos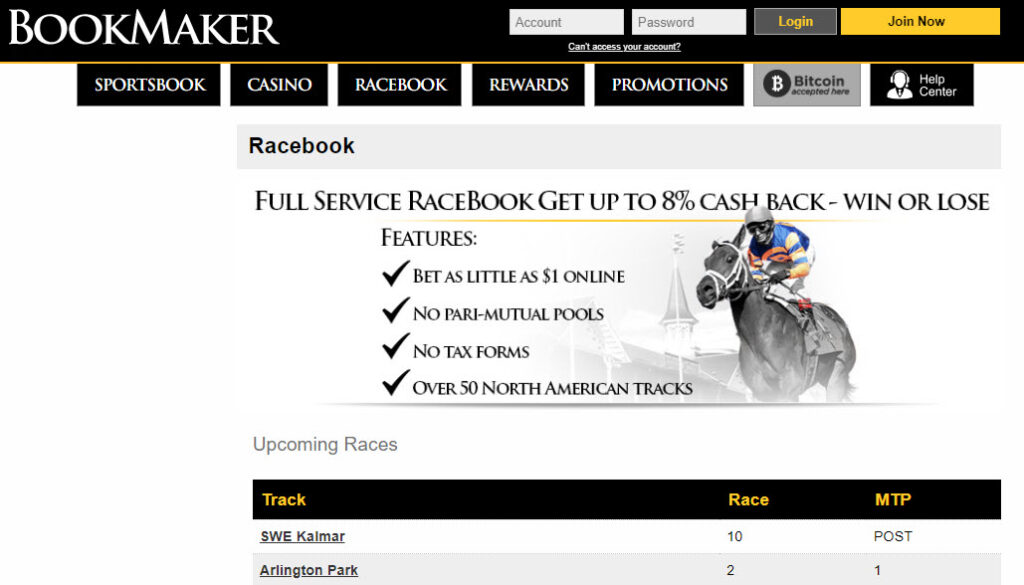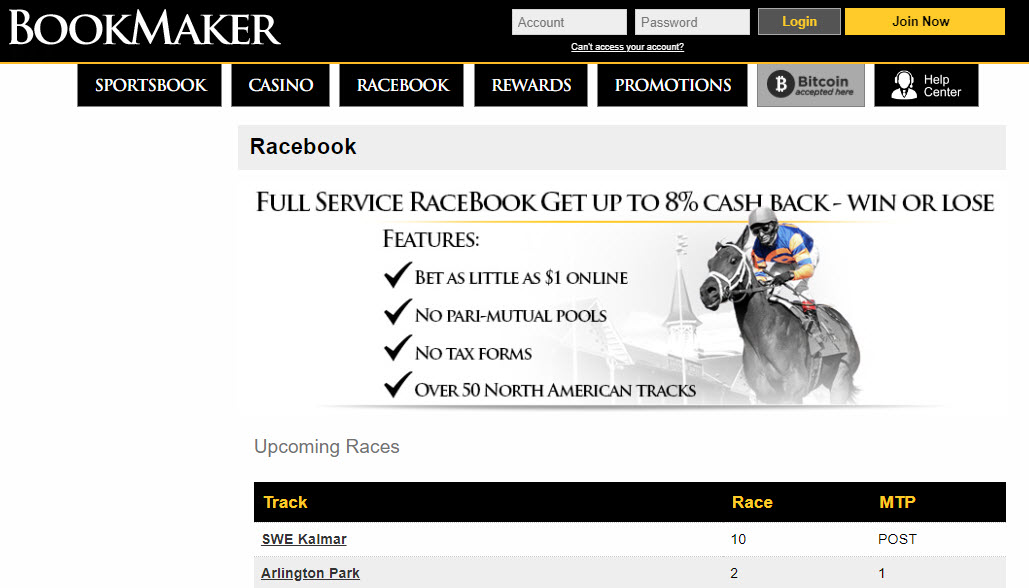 Bookmaker.eu is recognized as one of the top brands in the online gambling market. They're brand has been servicing horse racing players in Michigan for decades with great bonuses, quick payouts, and top-notch customer service.
They have promos that are specific to the racebook, like the 3% discount that players get on win, place, and show bets. That's just one of many they have that save you money on your horse bets. They have another discount of 8% on exotic bets as well. These savings are on top of the odds that you can get at Bookmaker. Sharp players who usually have trouble finding sites that will take their action have a home at Bookmaker.
What that means for recreational players with an account there is that they can be sure they have the best odds and service in the industry. That is par for the course if you are a site that welcomes short action as Bookmaker does. Professional players will not settle for anything less than the best which is why so many of them continue to play at Bookmaker.eu.
Pros:
Save money with betting discounts
High-level Customer Service
Competitive odds
Cons:
Sharp players may have limits on bonuses
Historic track information not always available
2. Heritage Sports: Full Track Odds Available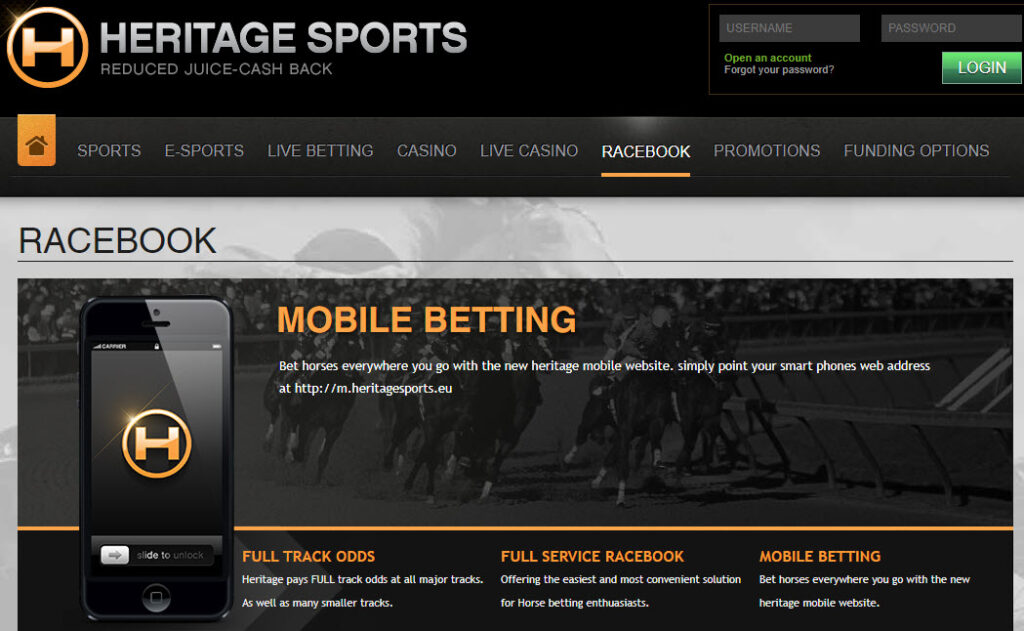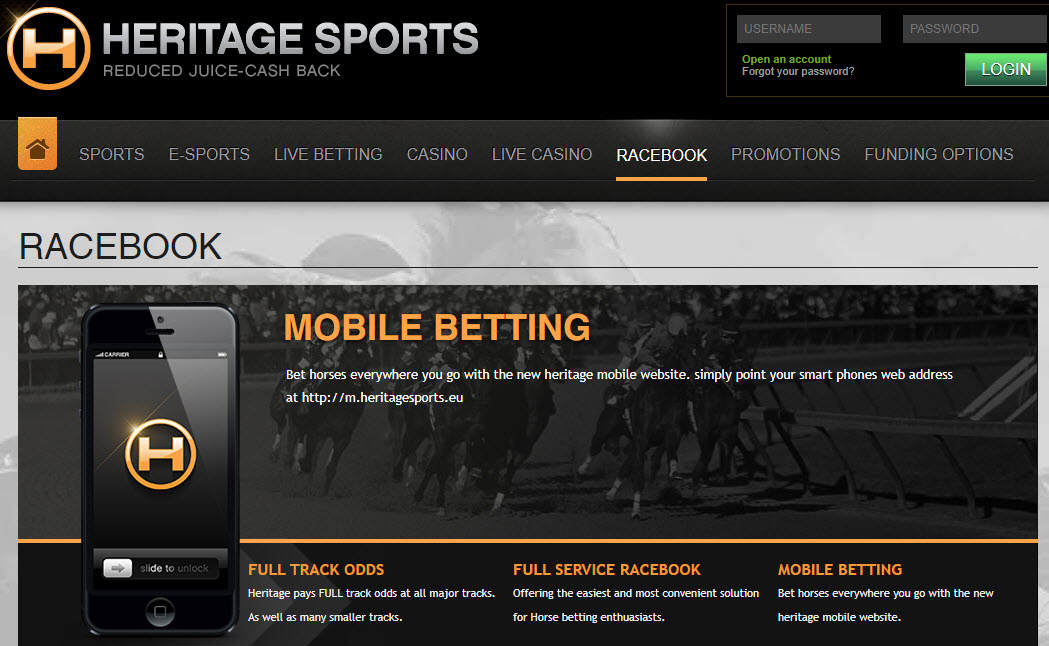 Heritage Sports is known in the industry for having some of the most competitive odds thanks to their reduced juice model. This business strategy continues to attract players for the savings they incur. Their racebook sticks to that model which is why this brand is so popular among Michigan horse racing bettors.
Heritage's racebook is known for paying full track odds which is not common in the industry. Some online betting sites have adjusted odds as track odds are usually not an accurate representation of what the final payout will be at a pari-mutuel track. Heritage keeps things simple by paying out according to track odds so that your betting experience is as authentic as possible regardless if you're playing online or in person.
Another way they've helped with the user experience is through their mobile offering. Due to the global nature of horse racing, there can be races available at tracks at any time of day or night. Betting on the go is part of horse racing and having a user-friendly mobile offering is crucial. Heritage's mobile betting offer makes it easy for you to get your wagers in on time.
Pros:
Full track odds paid
Mobile offering makes horse betting easy
Cons:
No racebook specific bonuses
3. BetOnline: Fixed Odds on Big Races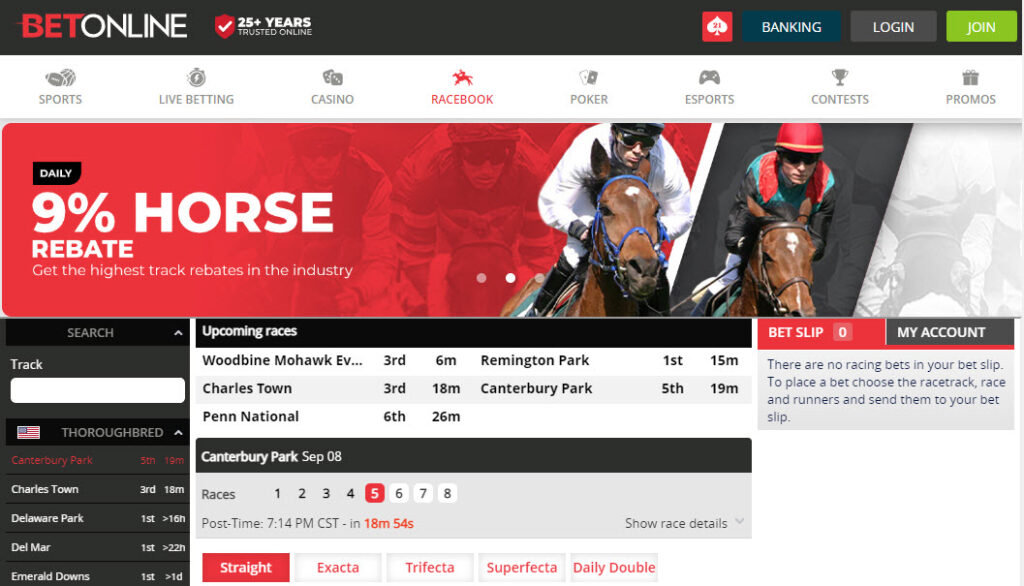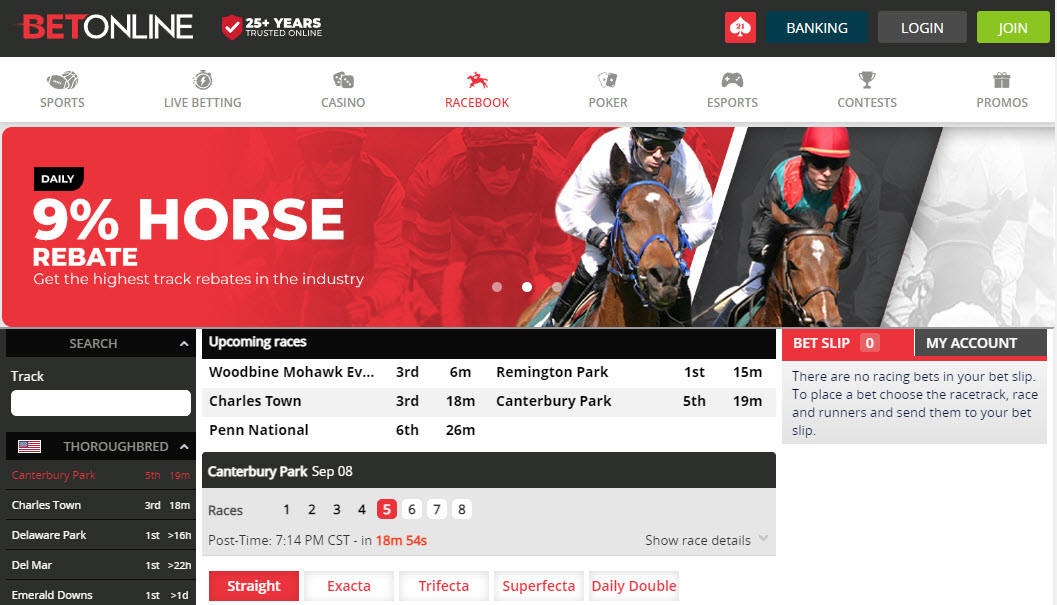 Most horse racing payouts are based on pari-mutuel odds. What that means is that the actual payout isn't determined until after the race. The reason for this is that it is decided by the amount of money in the pool after all bets on the race have been collected. Since bets can be taken right up to the last second, the odds aren't available until after the start.
Certain races do offer fixed odds which is the type of betting structure most people are used to. Think of sports betting when looking for an example of fixed odds. While sports betting odds can change, they are still fixed in the sense that the payout price (the fixed odds) is available well before the event begins.
BetOnline has been a popular site for Michigan horse bettors due to their fixed odds on big events. In fact, they offer fixed odds on both the Triple Crown and the Breeder's Cup. These are the events that attract the most horse wagers and if you sign up for an account with BetOnline, you'll have access to fixed odds on these races several weeks in advance.
Pros:
Fixed odds on industry's premier races
Discount on straight bets and exotics
Cons:
No welcome bonus for racebook
4. Bovada: Betting Options Among Industry's Best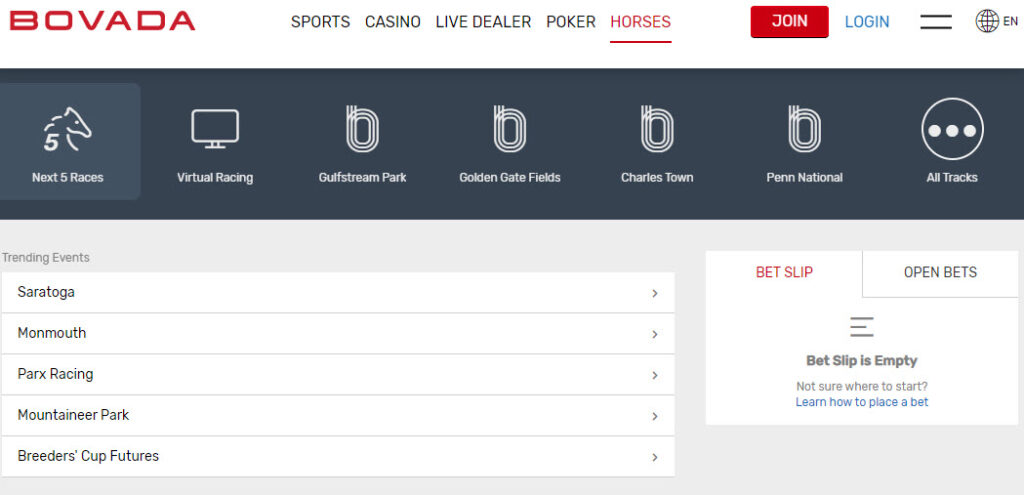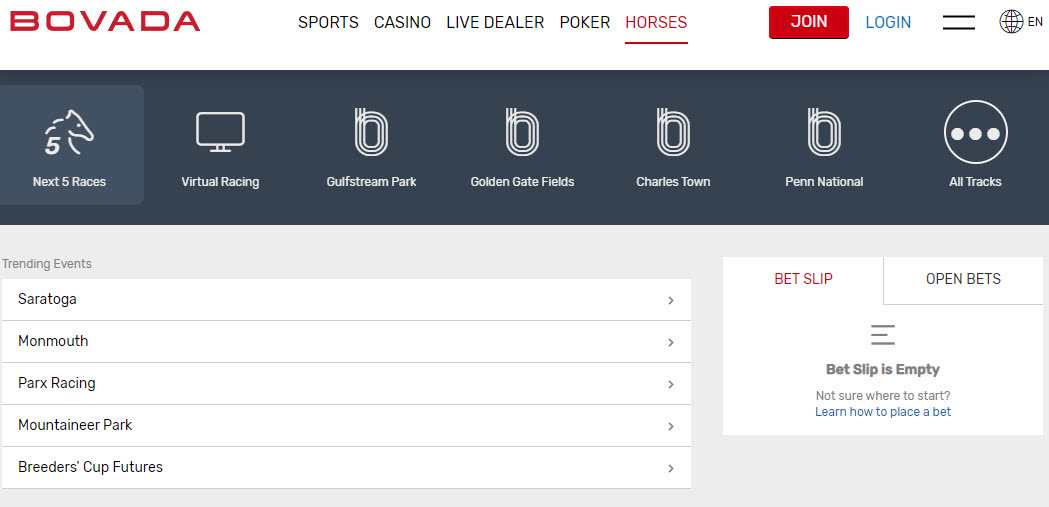 Michigan horse racing bettors trust Bovada because the brand always delivers top-of-the-line service on all of its offerings. That is one of the many reasons you should have an account at Bovada with their busy poker room and their amazing sports betting market as well.
When it comes to horse racing, you will enjoy the biggest maximum payouts in the industry. Bovada has several banking options to choose from so when it's time to get in on the action at your favorite track, you know you will be able to get your money in on time. Also, when you win and you're looking to collect, you can expect some of the industry's fastest and most secure payouts as well.
As for bonuses that they offer on the racebook, unlike most sites, Bovada's welcome bonus for new customers can be used on the racebook. Make sure to go over the terms and conditions of the welcome bonus before applying it to your horse wagers.
Pros:
Welcomes bonuses can be used in racebook as well
Big maximum payouts on big racing events
Virtual horse betting available
Cons:
Historic track info and other horse racing tools not available
5. BetAnySports: Racebook Discounts Available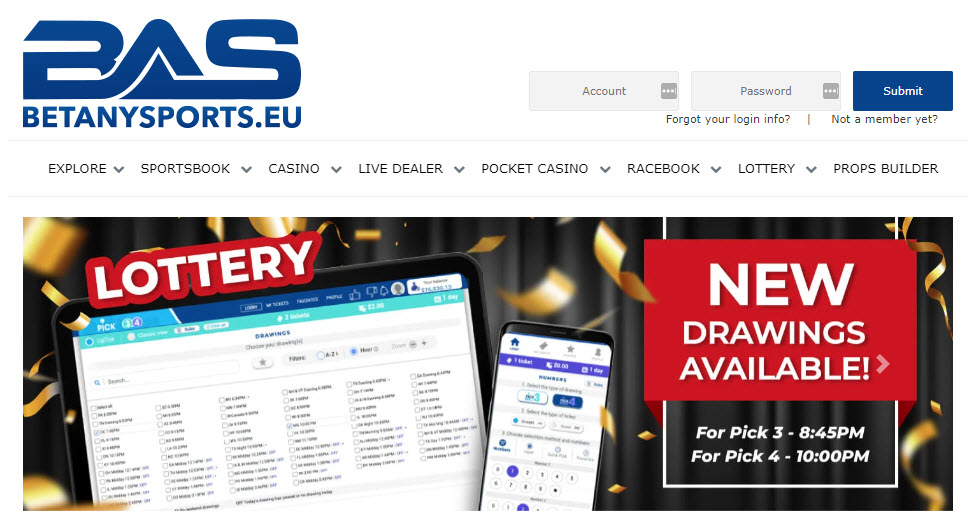 Reduced juice is where BetAnySports excels when compared to other offshore sportsbooks. It should be no surprise then that Michigan horse racing bettors have been benefitting from the savings they enjoy at BetAnySports racebook offering.
They offer a 3% discount on straight bets and a 6% on exotics. That's just the beginning as they also offer a 25% bonus with a maximum deposit of $2000. That promo comes with a six-time play-through requirement. When you add the fact that they have a customer service team that is available 24 hours a day then it should come as no surprise that BetAnySports is one of the most popular brands among Michigan horse bettors.
Pros:
Racebook specific welcome bonus
Discount on straight bets and exotics
Cons:
Website design needs updating
Best Horse Racing Sites for Michigan Compared
There are hundreds of online betting sites that offer horse racing for players in Michigan. One of the reasons we recommend that you use offshore sportsbooks is that they offer several services under one roof. If you take the time to review many of the horse racing-only sites, you'll see quickly that they aren't nearly as user-friendly as those sites located offshore.
On top of that, they only offer online horse race wagering when that is hardly the experience you get at a local track. Most local tracks have betting kiosks that offer additional gambling services. This is what you get when using offshore sportsbooks to bet on horses. You get horse racing along with access to casino games, poker rooms as well as sports wagers as well.
Another feature of using sites located in the U.S is that you will be taxed 4.5% on your winnings in Michigan. Please note that come tax season, the sum of your winning can result in you being moved into a higher tax bracket. When you wager with offshore sportsbooks, they do not fall under state and federal jurisdiction since they are located outside of the country.
Fixed Odds in Horse Racing
These types of odds aren't common in horse racing as most tracks offer pari-mutuel odds. That is why it is so important to horse racing bettors in Michigan to have access to fixed odds whenever available.You should really only expect to see fixed odds available on the industry's biggest races. Fixed odds on futures are usually available on the big races and certain licensed tracks as well.
Betting Markets in Horse Racing
Later in this guide, we'll go over specific types of horse wagers along with the terminology that comes with it. Straight bets and exotics are the two main types of wagers in the industry. One of the things that makes horse racing so popular is that you can make big profit with small amounts of risk due to the variety of betting options in the market.
Horse Racing Bonuses & Promotions
The most important thing when looking into a bonus for your horse racing news are the terms and conditions. Some sites will have bonuses that apply to multiple offerings and not just horse racing. Depending on your betting style, you might want a racebook specific bonus or no bonus at all, depending on the restrictions. We always advise reaching out to customer service to get additional details on bonuses before accepting them.
Tools for Horse Racing
There are tools in the horse racing industry that provide you with information like past performance at certain tracks for specific horses. This information is designed to help you make more informed decisions to help you pick winners.
Welcome Bonus in Horse Racing
Be certain that the welcome bonus fits into your betting needs. While welcome bonuses can be attractive, it depends on how you plan to play. For example, if you want to bet for an extended period and then cash out later on, then a bonus can be a great way to start off your betting experience with extra cash.
If you deposit to bet on a specific race so you can cash out after it's over, it's possible that a welcome bonus might not be right for you. All bonuses come with play through requirements that will likely take you more than one race to comply with. There could also be a maximum cashout amount associated with the bonus you take. Always review the terms and conditions carefully before taking a bonus.
User Experience at Betting Sites
Most sites that provide horse racing use the same provider which means the look and feel of the various racebooks available to Michigan horse bettors is relatively the same across the board.
What separates most of these sites is the service they provide. In this respect, you can't compare horse racing only to offshore sportsbooks. The level of customer service is much better at offshore sportsbooks because their reputation is what makes or breaks them. Horse racing-only sites cater to a specific clientele and they don't exactly prioritize customer service because they don't have to.
Live Streaming of Horse Races
BetOnline is one of the offshore sites where you can enjoy live streams of some of the top races in the industry. This is a great feature that Michigan players seem to love.
Best Betting Sites for Horse Racing in Michigan
We've listed the criteria used by our horse racing experts when recommending which sites are best for horse racing bettors in Michigan. These criteria will help you understand what our betting experts prioritize when looking for the best possible user experience.
Brand Prestige
All of the brands on this list have decades of experience in online gambling. This is important to note because although we are focused on horse racing in this guide, having an overall understanding of the gambling industry as whole allows these brands to provide superior service.
Deposits and Withdrawals
The ability to put money in your account and take it out without any hassle is a fundamental part of any betting experience. Not being able to get money in on time for your race or not being able to get a payout in a timely manner would automatically exclude any brand from this list.
Safety & Security
Another area where offshore brands have no choice but to excel is safety and security. This isn't optional. None of the brands that we've recommended have had any safety or security issues in the decades they've been in the business.
Online Interface
Horse racing is a time-sensitive sport and having an easy-to-navigate site is important. One of the things that our horse racing experts took into account was the user-friendliness of the mobile betting offer of the recommended sites since so much of your horse racing betting will be done on the go.
Customer Support
This is where offshore sportsbooks really stand out as compared to racebook-only brands for Michigan bettors. The customer service level at the offshore brands we recommend in this guide will enhance your user experience. The recommended sites on our list also have 24-hour customer support to assist you in real-time.
Overall Value on Offer
Below is a list of questions that will help you decide what services and perks are important to you when you make the choice to sign up at one of the sites recommended in this guide.
Do they offer races at my favorite track?
How big is the betting market?
Are there promos on specific races?
Do they have promos that are specific to the racebook?
Do they offer fast payouts?
Do they have 24-hour customer service?
Is horse racing betting legal in the state of Michigan?
Horse race betting is legal in the state under Michigan's gambling laws, but there is only one track in the state that offers live horse racing with retail sportsbooks. This track is located at Northville Downs. The track is located approximately 30 minutes northwest of Detroit. Using online sportsbooks is generally preferred by bettors in Michigan for this reason.
Betting on Horse Races in Michigan
There is only one track in the state that offers live horse racing which is located at Northville Downs. The track is located approximately 30 mins northwest of Detroit.
All other betting on horse races in Michigan can be done online at one of the recommended offshore sites in this guide.
How does horse racing betting work in Michigan?
Horse racing in Michigan is paid out on a pari-mutuel basis which is the case in most of the country. Essentially, all of the money bet on the race in question is put into a pool after the last bet has been registered. After the track takes their cut, the remaining funds are split up among the winning bettors.
This is the reason the exact payout for a race is unknown until after it starts. For those of you used to fixed odds, they are available at most tracks but are only an estimate of the final purse.
Fixed odds are usually available on big events like the Breeder's Cup and the Triple Crown for example.
Betting Odds in Horse Racing
Horse racing uses either fractional odds or traditional American odds. We've provided an explanation of both with betting examples so you can understand the risk versus reward of your bets according to how the odds are displayed.
Fixed Odds for Horse Racing Betting in Michigan
Odds displayed in the American format either have a plus sign in front of it:
Odds that start with a plus sign pay more than the risk amount:

For example; if your odds are +200, a $100 bet would pay $200

Odds that start with a negative sign pay less than the risk amount:

For example; if your odds are -200, a $100 bet would pay $50
Please note that you will not need to do a math equation every time you want to know how much you will win according to your risk amount. All online betting sites have what is called a betting slip where you can pick the wager you are interested in, enter the amount you want to risk in the betting slip and it will tell you exactly how much you will win without having to make the bet.
The above examples used $100 for the sake of simplicity but if you made the exact same wagers with $1, the results would look like this:
Odds that start with a plus sign pay more than the risk amount:

For example; if your odds are +200, a $1 bet would pay $2

Odds that start with a negative sign pay less than the risk amount:

For example; if your odds are -200, a $1 bet would pay $0.50 cents
Please remember that when you are making these wagers, the amount your risk is returned to you when you win. In other words; Risk + Profit = Return.
Sticking with the same examples used above:
Odds that start with a plus sign pay more than the risk amount:

For example; if your odds are +200, a $1 bet would pay $2

Your return in this example would be $3 ($1 risk +$2 profit)
Odds that start with a negative sign pay less than the risk amount:

For example; if your odds are -200, a $1 bet would pay $0.50 cents

Your return in this example would be $1.50 (your $1 rish + $0.50 cents profit)
Pari-Mutuel Betting
The standard payout format for horse racing in Michigan is pari-mutuel betting. All of the money bet is put into a pool where it is divided among winning bettors after the track takes a cut of the action. The payout for a specific market can be found on the tote board which can be found at every track.
Below is an example of a tote board taken from the 2022 Kentucky Derby. At the 2022 Kentucky Derby, the tote board looked like this:
A $2 win bet on Rich Strike paid $163.60
A $2 place on Rich Strike paid $74.20 and a $2 show paid $29.40
A $2 place on Epicenter paid $7.40 and a $2 show paid $5.20
A $2 show on Zandon paid $5.60
A $1 exacta paid $2,050.60
A $0.50 trifecta paid $7,435.35
A $1 superfecta paid $321,500.10
It should be noted that the above tote board has winnings based on $2 bets because that is usually the track minimum.
Michigan Horse Races and Pool Betting
This is the same concept as pari-mutuel betting. If you hear this term used, it is another way of saying pari-mutuel.
Types of Horse Racing Bets in Michigan
Below are the most common bet types for horse racing:
Win
A wager on the horse to finish first.
Place
A wager on the horse to either finish in first or second place.
Show
A wager on a horse to finish in first, second or third place.
There's also another option called "an across the board" which splits your wager into three.
The risk is then divided equally into three parts for win, place and show.
Exacta
An exact is considered an exotic bet. When betting an exacta, you need two horses to finish in the exact order you choose. When making a straight bet like "place" or "show" the order isn't important. For this reason, exactas pay more.
Trifecta
A trifecta is the same concept as an exacta except you need three horses to finish in the exact order you choose instead of just two.
Superfecta
A bet involving four horses that you pick to finish in exact order, similar to an exacta and trifecta.
Daily Double
An exotic wager that allows you to try and predict the winners of two races on the same day.
Pick 3/4/5/6
Predict the winner in 3-6 races in a row of a card on the same day.
Michigan Horse Racing Glossary
Here is some important horse racing lingo that you should familiarize yourself with:
Across the board – A total of three bets – one to win, another to place and the other to show.
At the post – A wager made at the last-minute bet. This happens when the horses are lined up to start the race. This is when betting usually ends unless the track has live betting available.
Blinkers – Headgear worn by the horse to restrict their field of vision.
Claiming Race – A race where every horse is up for sale
Dead Heat – This means that two or more horses crossed the finish line at the exact same time.
DQ – It means a horse has been disqualified
Exotic bet – Anything other than a straight bet. Exotic bets usually combine multiple outcomes. Exactas and trifectas are examples of exotic bets.
Favorite – The horse most likely to win according to oddsmakers. Also the horse with the worst payout odds.
Fixed Odds – An exact price of your profits if the horse you bet on wins. The opposite pari-mutuel odds.
Furlong – This represents an eighth of a mile in distance on the racetrack.
Length – This refers to the length of a horse and usually also describes the margin of victory. More specific body parts on the horse are used if the race is very close.
Morning Line – Odds provided by the track handicapper on the eventual payouts on an event. They are an estimate and are rarely 100% accurate.
Pari-Mutuel Wagering – Most horse races are paid out this way. The money from all of the bettors goes into a pool which is then divided among the winning bettors.
Purse – The total prize money issued to the owners of the horses in a race, with the winning owner taking the largest portion.
Tote Board – This is where the payout each market is displayed with the races for the day.
Triple Crown – A championship title of sorts, coming from winning the three major races in the United States. The Kentucky Derby, the Preakness Stakes, and the Belmont Stakes are among the most popular races in the world.
Wager – A different of saying bet.
Calculating Horse Racing Betting Odds
The math involved in horse racing can seem intimidating, especially when talking about pari-mutuel odds. The truth is you'll never have to do any calculations. There are odds provided by the oddsmaker at a specific track. Those are fixed odds so you'll be able to calculate potential winnings based on that. The same goes for future odds as well.
There is no way to know the exact payout of a pari-mutuel race until it's over. Even then, you will not be doing any math as your bet will already be in and the results will be given to you after the fact. As for fixed odds situations, you can use the betting slip to figure out risk and return on a wager.
Michigan Horse Racing Odds Chart
Below we have provided some examples of how payouts will look based on $2 bets which is the minimum at every horse racetrack. We have split them up between American and decimal odds since these are the most common. Implied odds are also included so that you can see what the break-even percentages are for the various odds offered.
| Horse Racing Odds | $2 Wager Payout | Implied Probability of Winning |
| --- | --- | --- |
| 1/5 (-500) | $2.40 | 83.33% |
| 1/4 (-400) | $2.50 | 80% |
| 1/3 (-300) | $2.60 | 75% |
| 1/2 (-200) | $3.00 | 66.67% |
| 4/6 (-150) | $3.33 | 60% |
| 1/1 (-100) | $4.00 | 50% |
| 2/1 (+200) | $6.00 | 33.33% |
| 3/1 (+300) | $8.00 | 25% |
| 5/1 (+500) | $12 | 16.67% |
| 10/1 (+1000) | $22 | 9.00% |
| 50/1 (+5000) | $102 | 1.96% |
Michigan Horse Race Tracks
The only track in Michigan that has live horse racing events is Northville Downs.
Betting Bonuses for Horse Racing in Michigan
Many online gambling sites offer various bonuses and promo codes, with some of the most commonly offered being:
Welcome Bonus
These aren't always available for horse racing and you should consider how often you would like to cash out before taking a welcome bonus. All bonuses come with a required play-through which means you have to risk a certain amount before you can request a payout.
If you are the type of player that likes to cash out often, please read the terms and conditions that come with any welcome bonus. A perfect example of a welcome bonus available to horse racing bettors in Michigan is Bovada's $75 bonus up to $750 that comes with a required playthrough of 6 times.
Risk-Free Bets
These are the least common types of wagers but they are available at some of the top racebooks for Michigan players.
Loyalty/VIP Program
This is one of the best ways to get free bets and other perks. All of the recommended sites in this guide have an excellent loyalty program where you accumulate points based on your activity. These points can be redeemed for free bets and more.
Racebook Rebates
This is the most common type of racebook bonus and is usually available on specific types of wagers like straight bets or exotics. Most of the racebooks we recommend for Michigan bettors in this guide offer some sort of racebook rebate.
Terms and Conditions at Michigan Horse Racing Betting Sites for Bonuses
As previously mentioned, promotions are one of the most attractive things to new customers when signing up for a horse racing account. The simplest way to look at bonuses when deciding whether or not they are for you is how often you play on cashing out.
If the ability to cash out whenever you want is important to you, then bonuses might not be something as appealing to someone looking to bet for an extended period. Some players like to wait until their balance reaches a certain amount before cashing out. Whatever your preference is, just know that bonuses carry terms that limit your ability to cash out until you've completed them.
Other bonuses carry maximum cashout amounts as well as restrictions on certain events. Before taking any bonus, please review the terms and conditions carefully. We also recommend asking for additional information from customer service representatives whenever possible. They will be able to give you advice as to which bonus is right depending on your gaming style.
Rollover Requirements
Rollover requirements which are also referred to as playthrough requirements are the amount of money you have to risk before you can request a cashout. Expect that every bonus you take will come through with some form of rollover requirement.
Virtual Horse Racing Betting in Michigan
Virtual horse racing is available at Northville Downs racetrack. It is also available at the offshore sportsbooks recommended in this guide.
Sites that employ this technology use a random number generator that determines the outcome of these races. The horse racing site has no control over these outcomes as the random number generator software is provided by a third-party company.
Michigan Horse Racing Betting Apps
There are no dedicated horse racing apps in Michigan. You can make your horse racing wagers via an online betting site.
Start Betting at Horse Racing Sites in Michigan
It's easy to get started wagering on horse racing in Michigan.
Choose the best racebook in Michigan according to your preferences.
There should be a "Join Now" button. Click that and complete the registration form.
If you take a bonus with your deposit please review the terms and conditions before completing your deposit.
Fund your account with one of the available banking methods.
There should be a specific section for horse racing referred to as a "Racebook" or it will simply be under "Horse Racing".
Check out the latest horse racing betting odds, and find a horse with odds you like.
Pick a win place or show box next to a horse if you want a straight bet.
For exotic bets, you will need to use a separate tab to create an exacta, trifecta or superfecta
Type in your risk amount and click "Place Bet."
Once you're ready, put in the risk amount and hit the button that allows you to place your wager.
Other Types of Gambling in Michigan
There are 26 casinos in Michigan as well as a host of poker rooms spread out across the state. Sports betting was also legalized in Michigan in 2019 so there is no shortage of in-person betting options in Michigan.
Even though the horse racing industry as a whole has seen better days in the state, there are plenty of sports betting operators that offer wagers on horse racing.
All of these options are also available at the offshore sportsbooks we recommend in this guide. The advantage of signing up with one of them is that you have access to all of these services with one account.
Online wagering is easier and more secure and you will have access to other forms of gambling, too. Internet casino gaming will let you play your favorite card games and online slots; you can also get exciting bonuses placing internet sports betting wagers. You can also access this all from your mobile devices with ease.
What is the best site for horse racing betting in Michigan?
The best site for horse racing in Michigan is a matter of personal preference. Not all bettors are the same therefore it's hard to pinpoint one site without knowing a customer's playing style. Since racebooks use the same platform providers, the differences between them are really down to preference.
These are the best horse racing sites in Michigan according to our betting experts:
Bookmaker.eu
Heritage Sports
Bovada
BetOnline
BetAnySports
What is the minimum gambling age in Michigan?
The minimum gambling age in Michigan is 18 years old. Young gambling enthusiasts can legally participate in online sports betting, online horse race betting, and internet casino gaming.
However, at 18, you may still have limited gambling options. certain commercial casinos that serve alcohol will require all players to be 21 to enter.
What is the big horse race in Michigan?
From 1950 to 1993, the biggest race in Michigan was the Michigan Mile and One-Eighth Handicap which was run annually at the Detroit Race Course. The Detroit Race Course closed in 1998.
The horse racing industry in Michigan has seen its ups and downs over the years. The only venue that is still in operation is Northville Downs. Northville Downs is a harness racing track that offers card games and other casino gambling for charity and offers simulcast wagering on major races.
For Michigan horse racing bettors, the biggest event in online horse racing betting is the Triple Crown which includes; The Kentucky Derby, Preakness Stakes, and Belmont Stakes.
Michigan Online Horse Racing Betting FAQ
Is horse racing betting legal in Michigan?
Horse racing in Michigan has been legal for almost 100 years. Online racing was legalized in 2019 and launched in January 2021. The best place for Michigan horse bettors to make their bets is at an offshore sportsbook.

What online gambling sites are legal in Michigan?
You can use any state-regulated or offshore gambling sites or mobile gambling apps as a resident of Michigan State.
When did Michigan legalize online gambling?
Michigan State legalized online gambling in 2019, with the first online bets being placed in 2020.
Do you have to be a resident of Michigan to gamble online?
There are only a handful of states that have legalized online gambling, but residents of any state can legally gamble with an offshore gambling site.
How do I bet on horse racing online?
All you need to do is sign up with a sportsbook that offers horse racing (sometimes called a racebook) and start placing wagers on any upcoming or ongoing horse races.
What is the smartest bet in horse racing?
Straight bets on horse races are the least complicated and have the best odds of winning, making them generally the smartest and safest horse racing bet type.
How many horse tracks are there in Michigan?
There is only one horse racing track in Michigan located at Northville Downs just under 30 miles outside of Detroit.