South Carolina Sports Betting – Which are the best SC betting Sites & sportsbooks? 
One of the greatest rivalries in sports has been South Carolina vs. gambling. They just do not get along as South Carolina remains one of the least-friendly gambling sites in the country.
This is a state that will frown on you for playing a game of Monopoly on a Sunday. Do you think it's legal to bet on sports from your phone? Of course not.
However, South Carolina residents do have options when it comes to placing sports bets on their desktop or favorite mobile device. You just have to join an offshore sportsbook and start placing bets today.
Which online betting site should you join, what makes them fun to use, and are they safe? We answer all these questions and more for the hungry South Carolina gamblers who do not have a fancy casino to go and place bets at like many states are starting to have these days. We promise you will not be left out of US sports betting, South Carolinians.
The Best South Carolina Sportsbooks in 2022
South Carolina Betting Guides
Best South Carolina Sports Betting Sites 2022
If you are ready to bet on a wide variety of sports markets, build parlays of player prop picks, place live bets all day or night, then you have come to the right place. Now it's just a matter of finding the best site that suits your needs. Here is our top 10 list of offshore sportsbooks based on our grades:
The Best South Carolina Sportsbooks Reviews
Since you deserve more than a list, here are our in-depth reviews of all 10 of the top online betting sites.
1. Bookmaker: Best For Getting Early Lines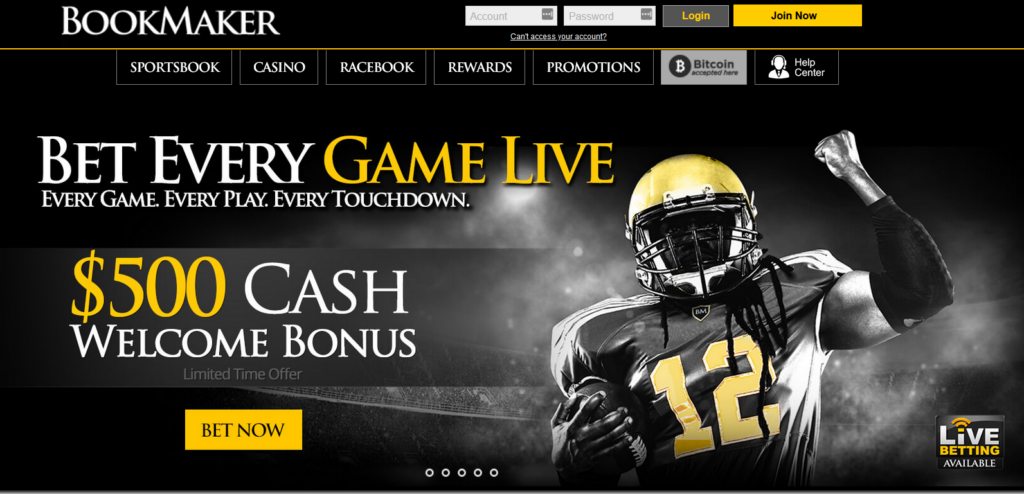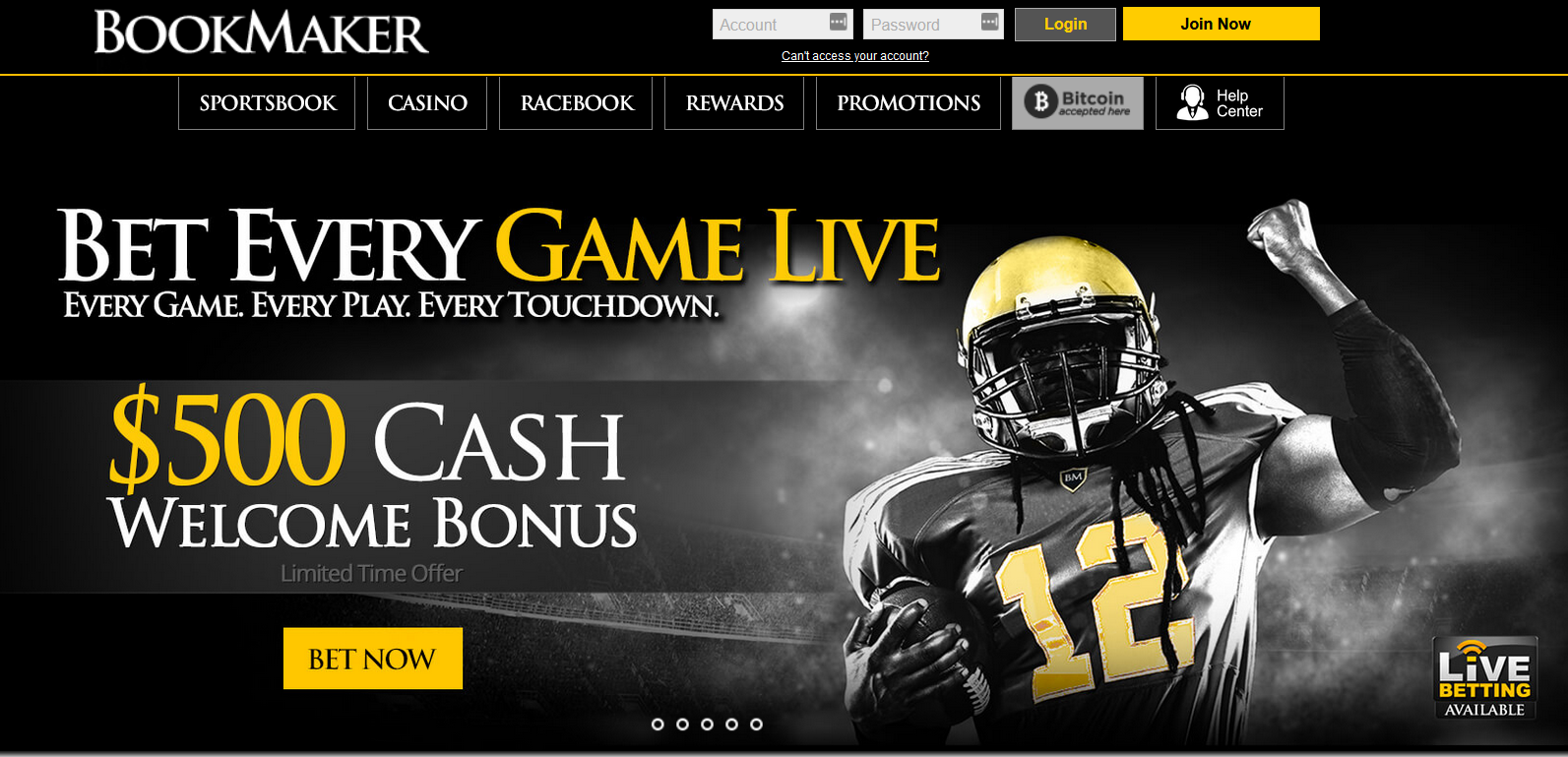 Bookmaker is Costa Rica's highly respected online sportsbook and our No. 1 choice for those in South Carolina who want to join an offshore sportsbook. You'll be joining a reputable company that is known for putting out the earliest sports betting lines in the business. So, if you want to jump on a number early in the week before the public moves the spread, Bookmaker is your ideal site with its high limits and good rewards program.
You will find plenty of different markets and leagues available to bet on, and the same can be said of Bookmaker's live betting section. You also can partake in horse race betting on one of the best racebooks on our list. Bookmaker also has a selection of live dealer and casino games, though there are no poker tournaments.
The three-tier loyalty program has a maximum perk of getting 20% reload bonuses (up to $2,500), though this is only available to recreational accounts. You will have to contact the site to see if you are eligible or not.
Pros:
Get access to the earliest lines in sports betting
Easy site to make live bets during the game
One of the best loyalty programs
Cons:
Non-sports betting options could be improved to match rivals
Not all players will be eligible for loyalty program
2. Heritage Sports: Best for Live Betting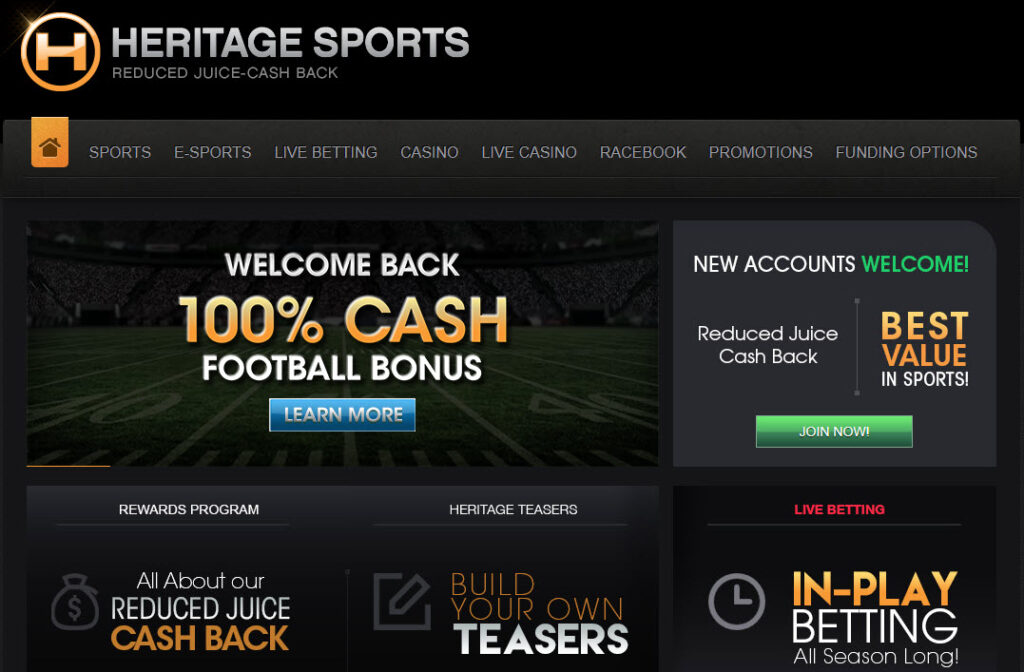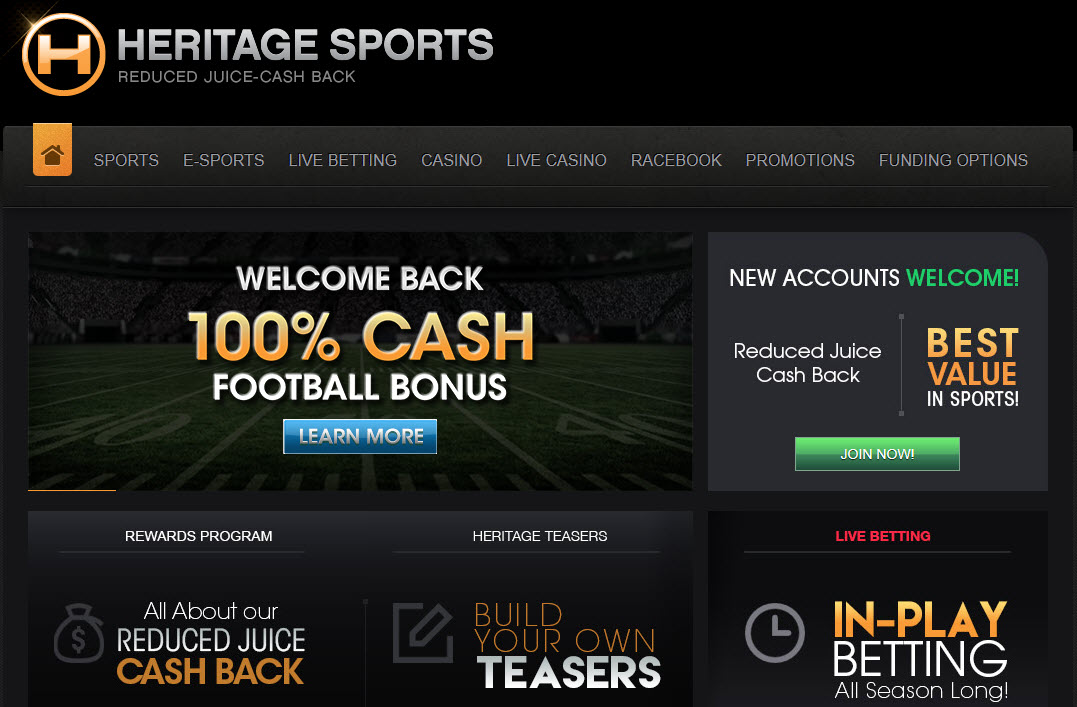 In the past, users had to be invited to join Heritage Sports, but it is now open to everyone. South Carolina bettors looking for live sports betting do not need to look any further. At Heritage Sports, you can enjoy one of the best mobile sites and place live bets on a deep variety of markets. If you want to bet on Japanese volleyball after midnight, that is an option. There is no shortage of leagues to choose from.
You can also get reduced juice at Heritage Sports with -108 odds instead of the standard -110 lines. Just another way to be a little more profitable with Heritage Sports.
Fans of e-sports and horse racing will also appreciate those sections of the site. The bonuses are not as big as other sites, but you can get nice perks like a free parlay on your birthday or your every eighth deposit is free on the house (based on the average of your previous seven deposits).
Pros:
Reduced juice-cashback program is great promotion for sports bettors
Free demo versions of casino games
E-sports gets its own devoted section
Excellent mobile site
Friendly perks like free birthday parlay
Cons:
Bonuses are tiny compared to rivals
3. Bovada: Best for Prop Picks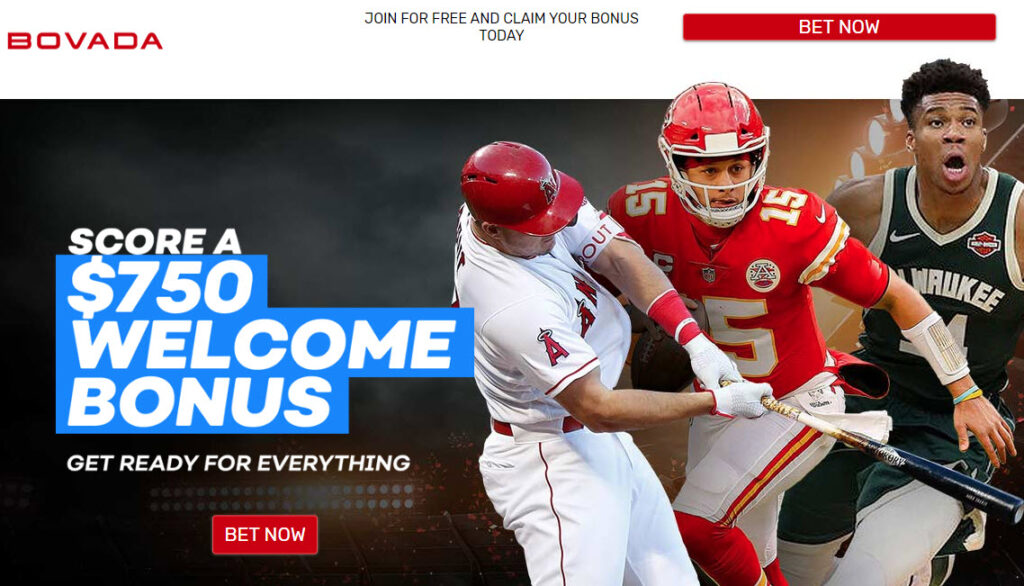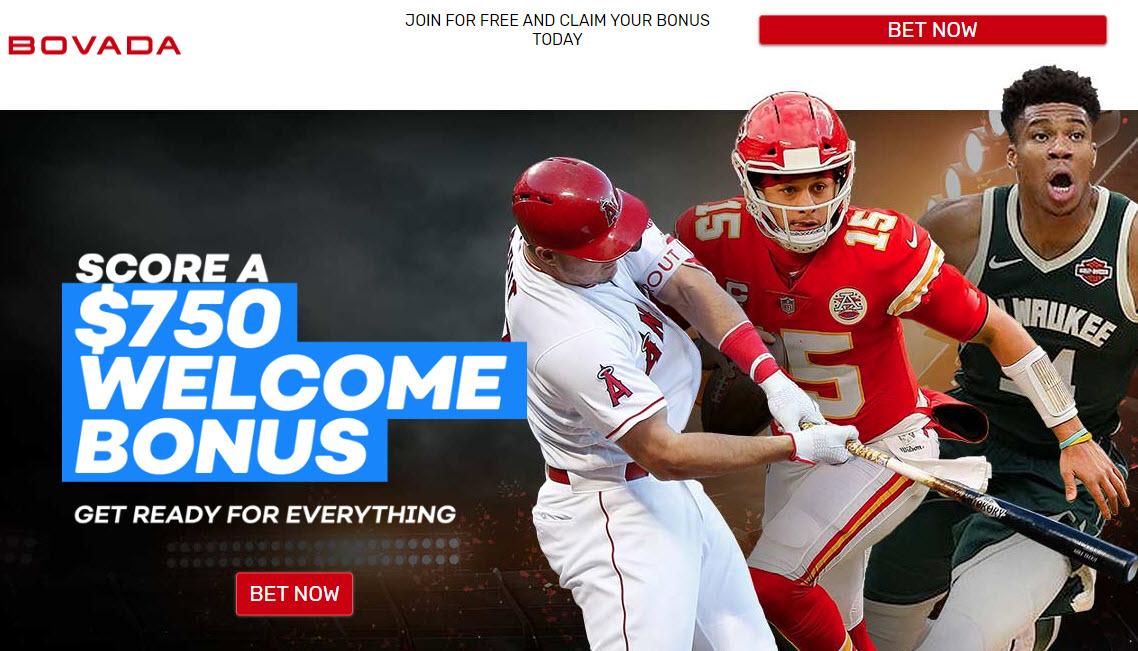 Bovada is a popular Costa Rica-based sportsbook that has an outstanding prop builder that you can use to build parlays or play singles. They also take requests for specials, so if you have something you'd like to bet on, chances are they could satisfy it. Bovada also offers a wide variety of sports markets as well as some entertainment and political betting markets.
Everything is categorized neatly on a site that may be a little bland to look at, but it is highly functional and easy to use, especially on a mobile device. Crypto users will also love it as Bovada boasts some of the best welcome bonuses when you make your first deposits using crypto. You can earn up to $3,750 in bonus funds over your first three crypto deposits, tops in our list. Be sure to read the terms and conditions first as some significant rollover requirements apply, but it is a way to get started big with betting at Bovada.
Poker fans will also be happy to know that Bovada has poker tournaments and runs on the busiest network for online American poker players.
Pros:
Superb prop builder for sports betting
Perfect for poker fans
The most crypto-friendly online casino
One of the easiest racebooks to use
Cons:
Not the fastest at putting out betting lines
Not as many promotions for existing customers as BetOnline
4. BetOnline: Best for Fast Payouts and High Limits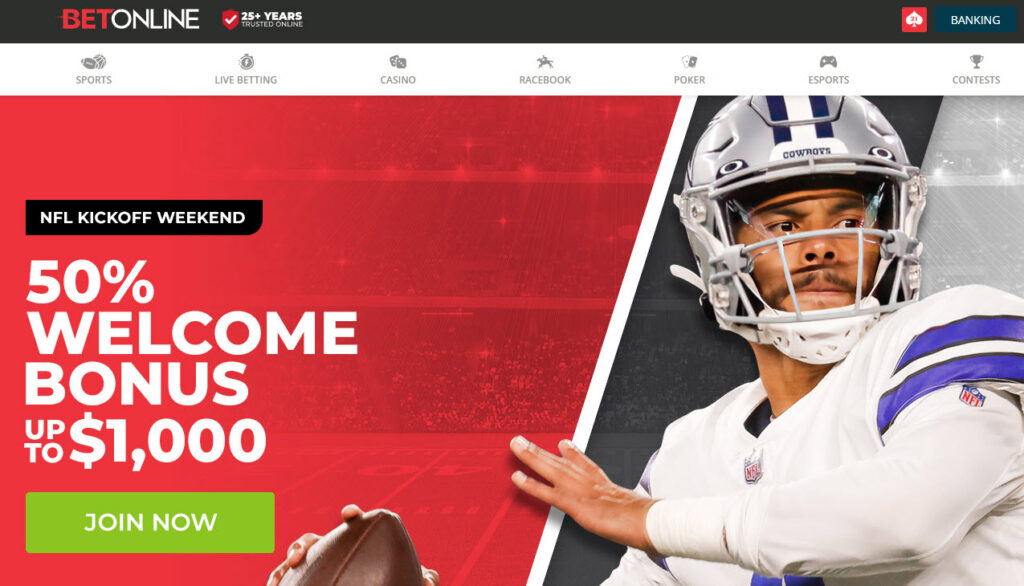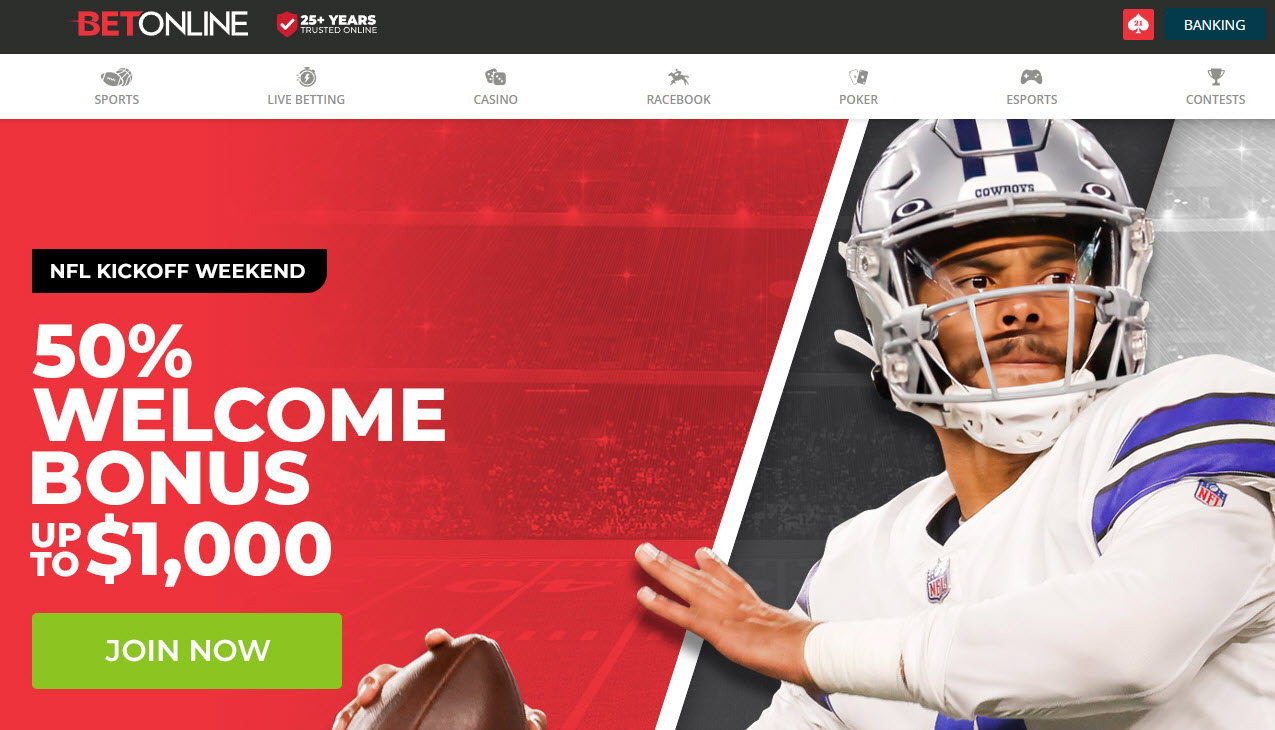 BetOnline is another one of Costa Rica's all-around great sportsbooks with an A+ grade. They offer live betting on a solid site as well as plenty of global sports markets for singles and parlays. The prop builder is not quite as good as Bovada's, but it is one of the best on our list. You can parlay some of their opinionated lines on major markets like football and basketball that you won't see on other sites.
Hockey (NHL) fans will also be happy to see some specials coming their way on BetOnline as you can get reduced juice throughout the entire season. For example, instead of betting odds of -110 on a team's puck line or -115 on the over in a game, you can get lines of -105 and -108 at BetOnline.
While the sportsbook is one of the best, fans of poker tournaments and casino games will also find plenty to offer from BetOnline. There are hundreds of video slots available, and many of them are games the other sites do not have in their library.
With some of the fastest payouts and largest limits in the industry, there is a lot to like about using BetOnline as your primary gambling site.
Pros:
Generous welcome bonuses
Fast payouts guaranteed
Solid prop builder
Plenty of ongoing promotions for existing customers
Suggest your own poker tournament idea or prop bet
Cons:
Needs to add reduced juice to other leagues besides NHL
5. BetAnySports: Best for Reduced Juice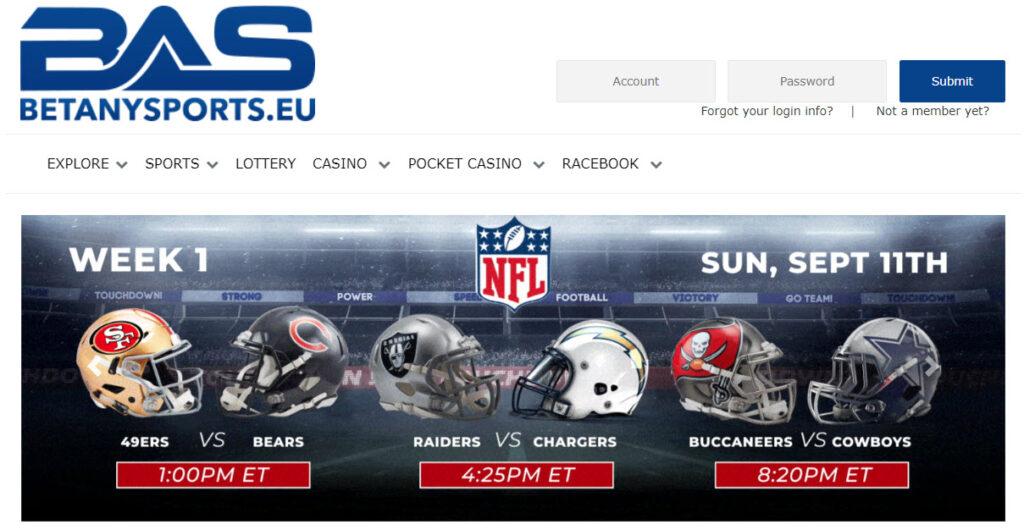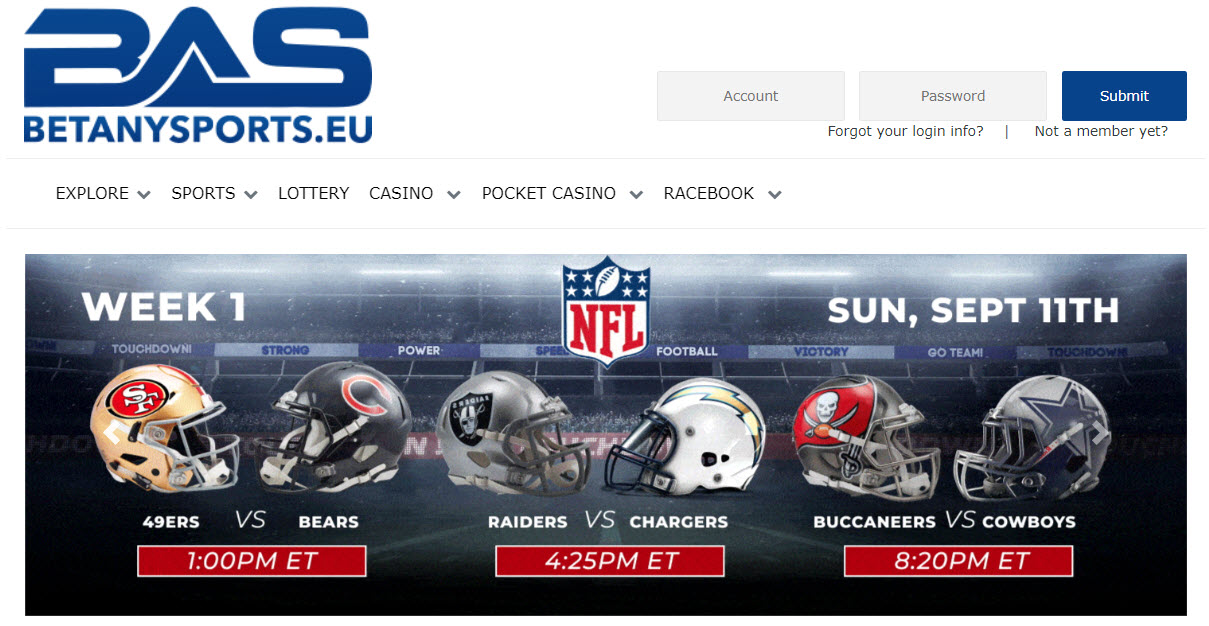 We have graded BetAnySports as another A+ sportsbook from Costa Rica. It may be smaller in stature and popularity than the sites we ranked higher, but it is growing into one of the best experiences for online gambling.
The prop builder is easy to use and arguably right up there with Bovada for the best in the business. They also live up to their name by offering just about every sports market in the world. They also handle live betting with fair lines on a solid mobile site.
There are also seven different casinos to try with your usual mix of table games and video poker (no tournaments). If playing the lottery is your thing, then BetAnySports is the only option on our list that allows you to do that (with better payouts even).
Pros:
The best for reduced juice (lines as low as -105)
Prop builder rivals Bovada's
Play the lottery from home
Great customer service
Cons:
Limits are lower than competition
Sharps and high rollers will prefer rival sites
6. BetUS: Best for Expert Analysis and Original Content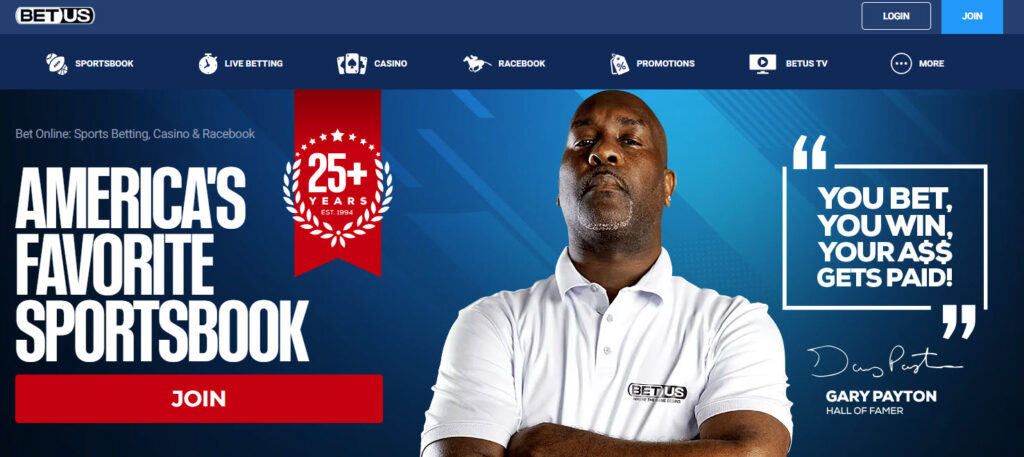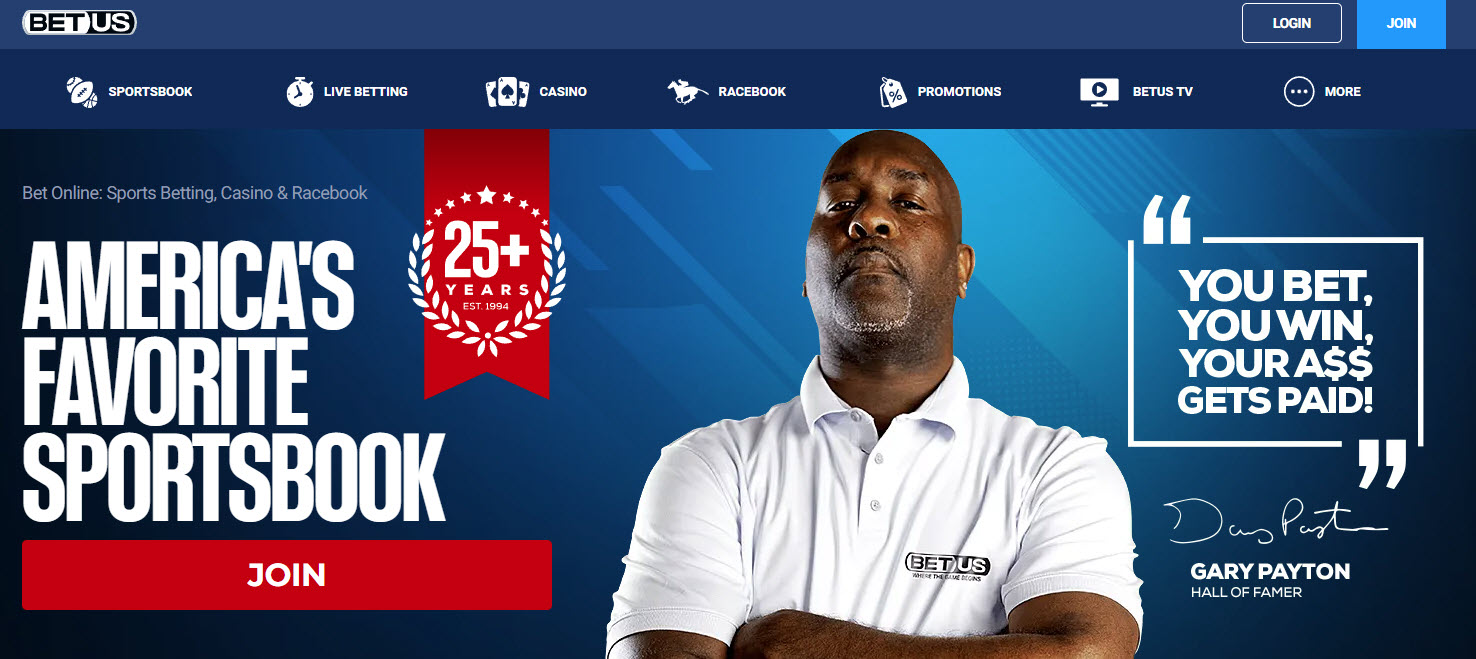 BetUS has been around since 1994 and they dabble in just about everything from sports betting to casino games to horse racing. Everything is done at a quality level at BetUS, though there really isn't a section of the site where we would say it is the best option, hence why we ranked BetUS just outside of our top five.
But the one area where BetUS is blowing away the competition right now is providing original content and expert analysis to help you become a smarter and ultimately better gambler. Whether you want to learn blackjack, or how to use crypto; if you want expert picks and analysis, BetUS delivers on this front better than any other site. With their BetUS TV service, you can watch original programming on a variety of sports to get expert analysis to help inform your picks. That is a nice perk that other sites should look to emulate.
BetUS offers promotions that work differently than the competition in that you'll get bonus funds that are split among the sportsbook and casino. That way you can get a little taste of the best of both worlds.
Pros:
Informative guides
Get access to original TV content (analysis) on YouTube channel
Bonuses are a good split between sports and casino
Demo versions of casino games
One of the best for horse racing
Cons:
The site design could be better for the prop builder
Relatively high rollover requirements
7. Everygame: Best Site Design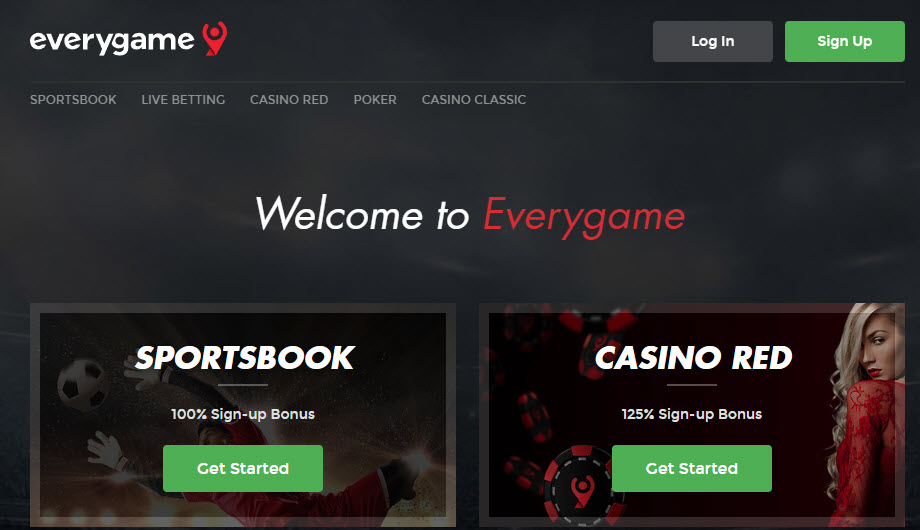 If you guessed Everygame was from Costa Rica, then you would be wrong. Everygame used to be known as Intertops before a 25th-anniversary rebranding, and it is a company based in Antigua where it is legal to gamble online, making it fine for you to join them as a South Carolina resident.
Everygame was a wise choice of name for the rebranding as it really does its best to offer a deep variety of sports markets right up there with Bovada, Bookmaker, and Heritage Sports. There are even some non-sports markets such as the stock market, politics, and Powerball drawings in South Africa.
Is it the best sportsbook or prop builder on our list? No, but it is the best-looking site with the sleekest web design on our list. This really shines when you move into the casino section, which is filled with hundreds of games, or download the free poker software as Everygame is one of your few choices for available poker tournaments.
Pros:
Pretty much "every game" is on Everygame
Bet on snooker or the South African Powerball drawing if you want
The best site design on the list
A top three choice for poker
Cons:
Horse racing is a glaring omission
8. WagerWeb: Best for Crypto Users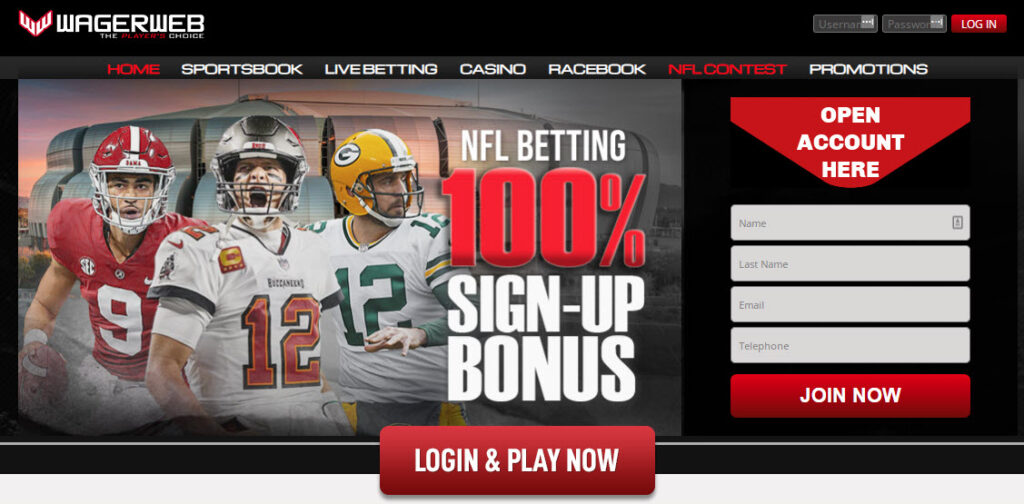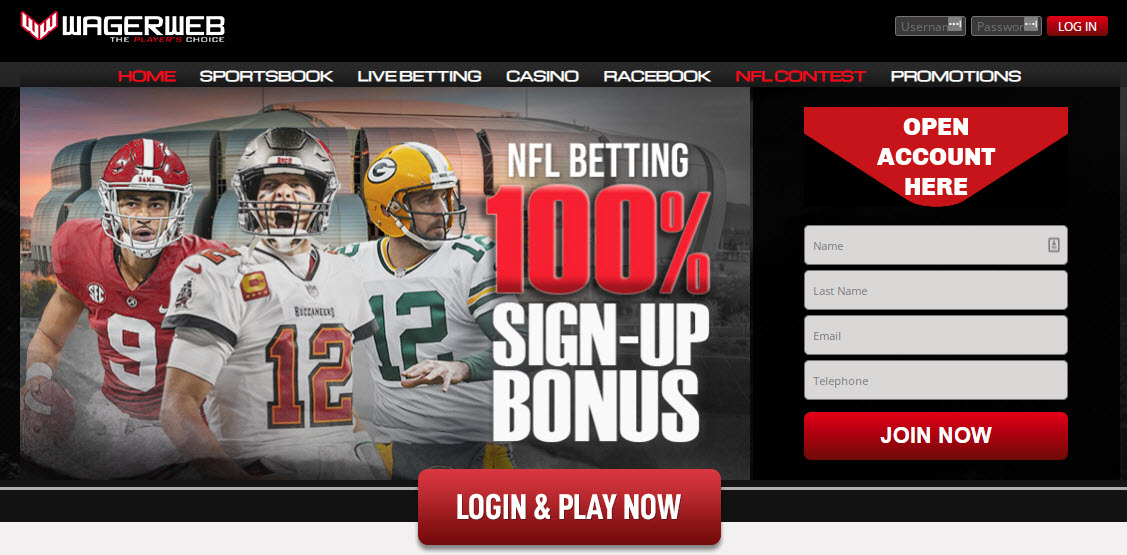 WagerWeb is an online sportsbook from Costa Rica that will remind you of Heritage Sports more than anything else on our list. The sites are very similar with the reduced juice (-108 lines), access to live betting, and dedicated sections for horse racing and e-sports.
They differ in some ways in that you can enter a weekly NFL contest with big prizes at WagerWeb, but most of the ways they differ give Heritage Sports the edge as the better site.
For example, while WagerWeb has some larger welcome bonuses than Heritage Sports, their promotions are largely tailored to people using Bitcoin or MoneyGram. That's great if those are your favorite banking methods, but that may not apply to many people right now, and the people who do not use those methods get significantly less bonus money.
You can also get a 10th deposit for free if you've made nine deposits in the last 90 days without any successful payouts. That is nice, but Heritage Sports has it beat with every eighth deposit being on the house.
Pros:
Dozens of live betting markets

Bitcoin payouts are always free
Enter NFL contests every week
Cons:
Limits vary by sports league, which you don't have to worry about at rivals
Similar to Heritage Sports, but not as good
9. SportsBetting: Best for Fans of BetOnline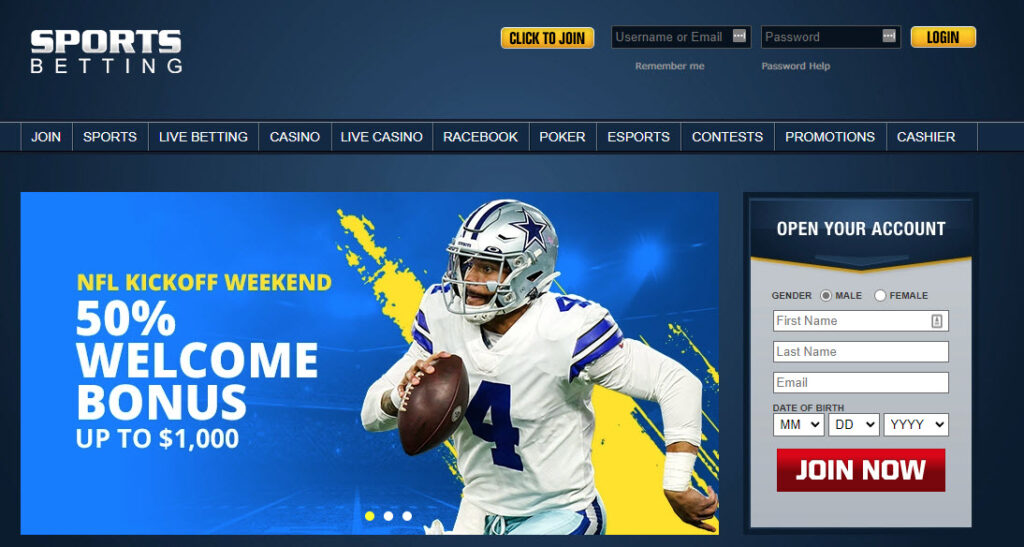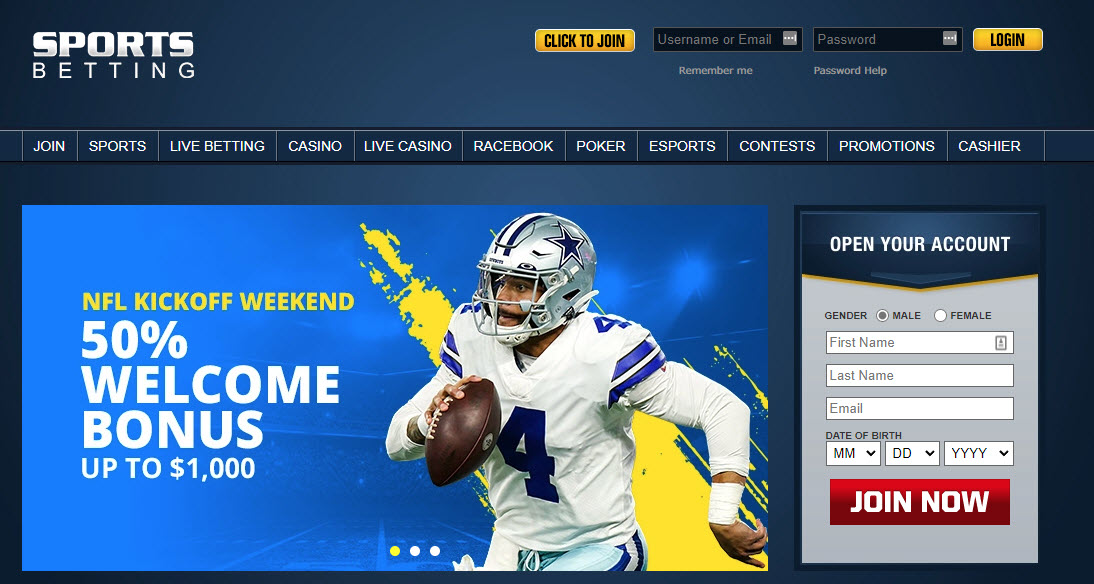 We started seeing it in our No. 8 selection of WagerWeb, but we are at the point in our list where these sites are sister sites of online sportsbooks that we ranked higher.
That means you can still get a quality experience as SportsBetting is going to remind you of BetOnline, our No. 4 sportsbook. But the dilemma is why use both if they are not going to do enough to differentiate from one another?
Like BetOnline, SportsBetting has those unique promotions like bad beat jackpots on poker or getting a refund if your NHL moneyline pick gets shut out or if your NBA pick blows a big lead in the second half. They also run into the same problem of only offering reduced juice on the NHL, the least popular of the four major professional leagues in America.
But if you want to bet on sports and play poker that isn't just video poker, then SportsBetting is one of your best choices.
Pros:
BetOnline is a good site to emulate
Enter fun sports contests to win big prizes
Downloadable poker software
Your first live bet is risk-free up to $25
Cons:
Best to just use BetOnline instead
Why is reduced juice only for the less popular NHL?
10. JustBet: Best for Fans of Bookmaker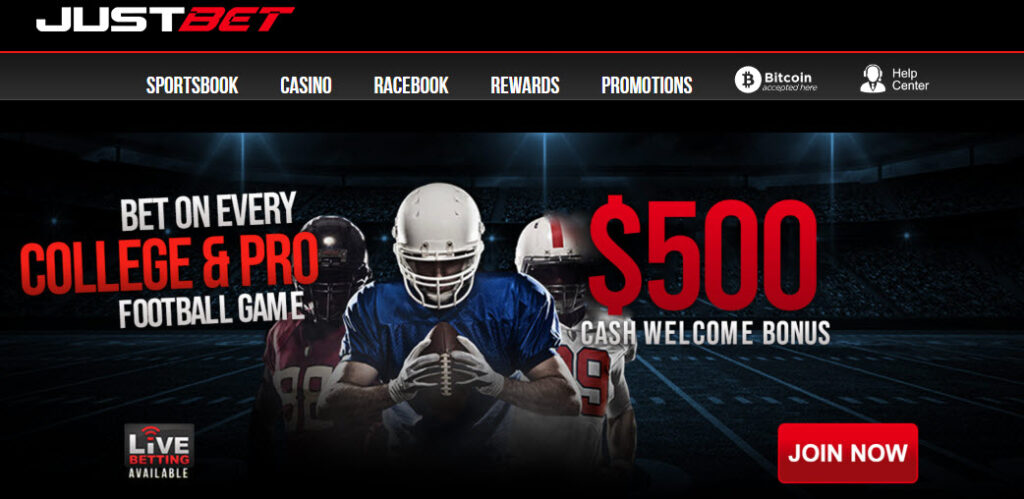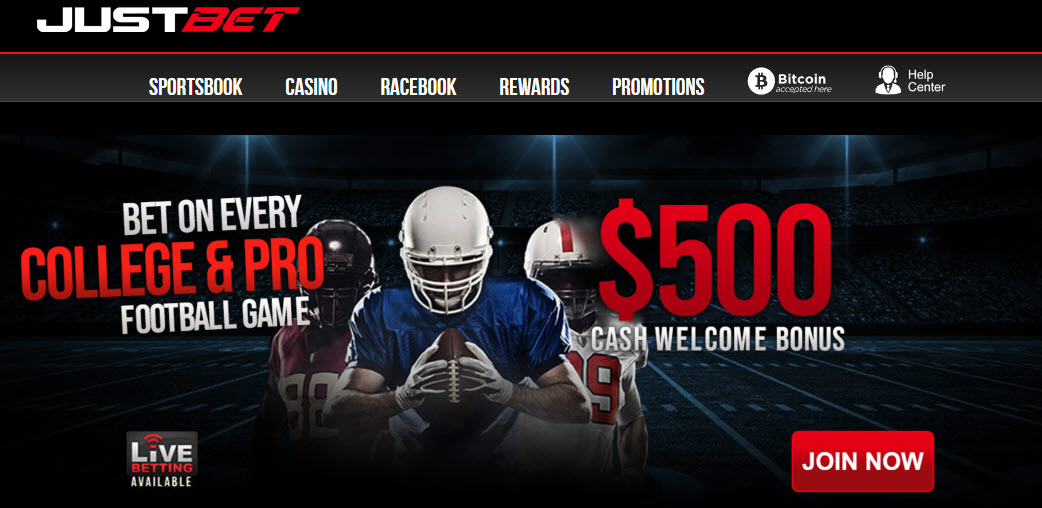 JustBet offers some of the earliest sports lines in the market, casino games with free demo versions, plenty of live betting options, a quality racebook, large limits, and a three-tier reward program.
If all of this sounds very familiar, it is because JustBet is a sister site to Bookmaker, our No. 1 ranked online sportsbook. So, why did we rank JustBet nine spots lower if it's the same thing? Well, that lack of originality was the biggest mark against it. South Carolina users can just use Bookmaker and enjoy a site that looks and runs better than the one at JustBet.
Our suggestion for JustBet would be to add something that Bookmaker lacks like a poker room or reduced juice lines to keep up with the competition at the top from Heritage Sports, Bovada, and BetOnline.
Pros:
Alliance with Bookmaker adds to reputation
Quality customer service
Live betting works well
Cons:
Bookmaker has a better site despite being older
No poker tournaments or reduced juice
Is sports betting legal in South Carolina?
South Carolina residents are free to join DraftKings and FanDuel and play Daily Fantasy Sports (DFS). Those contests are fun, and you can win a million dollars if you're lucky, but traditional sports betting continues to be illegal in the state.
Does that mean you will go to jail or get in trouble if you join an offshore sportsbook to bet on sports? No, not at all. Online gambling sites follow the laws of their country, so you should feel safe when you join one.
Until South Carolina's lawmakers pass successful sports betting bills, the best choice for South Carolinians is to join an offshore sportsbook to enjoy legal sports betting, along with other forms of gambling, conveniently online.
As far as when residents can expect the legalization of sports betting, the forecast is grim. H.B. 5277, which would have brought legal sports betting to South Carolina was not yet ready for a vote in 2022.
The bill seeks to bring not only sports betting legalization but also online and mobile sports betting. Under this bill, 80% of tax revenue would go to education. With college football powerhouse Clemson University calling the state home, sports wagers could bring a lot of money to the state.
South Carolina's next hope for sports betting legislation will come in 2023. However, with Henry McMaster securing re-election, it is unclear what the next legislative session will hold.
South Carolina Sports Betting Teams
There are no major professional sports teams in South Carolina, but maybe sports have it right when they combine the Carolinas into one. The Carolina Panthers (NFL) and Carolina Hurricanes (NHL) are meant to represent both North Carolina and South Carolina, though they are physically located in North Carolina where sports gambling is legal now.
But South Carolina does boast some impressive college teams. Here are some of the most notable ones:
Clemson Tigers -Clemson University
South Carolina Gamecocks – University of South Carolina
Coastal Carolina Chanticleers – Coastal Carolina University
The Citadel Bulldogs – The Citadel
South Carolina State Bulldogs – South Carolina State University
Comparing the Best South Carolina Betting Sites & Sportsbooks
| Sportsbook | Rating | Online Since | Payment Methods | Read Review |
| --- | --- | --- | --- | --- |
| Bookmaker | A+ | 1996 | Credit Card, Bitcoin, P2P, Crypto | Bookmaker Review |
| Heritage Sports | A+ | 2001 | Credit Card, Bitcoin, Cashiers Check, Bank Transfer, P2P | Heritage Sports Review |
| Bovada | A+ | 2011 | Credit Card, Bitcoin | Bovada Review |
| BetOnline | A+ | 2001 | Credit Card, Bitcoin, Crypto, Cashiers Check, Bank Transfer P2P, | BetOnline Review |
| BetAnySports | A+ | 2002 | Credit Card, Bitcoin, Electronic Check | BetAnySports Review |
| BetUS | A | 2000 | Credit Card, Bitcoin, Bank Transfer, P2P | BetUS Review |
| Everygame | A | 1996 | Credit Card, Bitcoin, Skrill, Neteller, Bank Transfer, P2P | Everygame Review |
| WagerWeb | A | 1994 | Credit Card, Bitcoin, Cashiers Check, Bank Transfer, P2P | WagerWeb Review |
| SportsBetting | A | 2002 | Credit Card, Bitcoin, Crypto, Cashiers Check, Bank Transfer P2P, | SportsBetting Review |
| JustBet | A | 2000 | Credit Card, Bitcoin, P2P, Crypto | JustBet Review |
Key Qualities of the Best South Carolina Sportsbooks
We wanted to share some of the criteria we use when grading each sportsbook to find the best online betting sites for South Carolina users.
Wide Variety of Betting Options
The betting options available for any one game these days can be overwhelming. For many years, sports betting was just placing a bet on a spread, a total, or a moneyline. Now, with the rise of online sportsbooks and mobile betting, you could bet on an NFL wide receiver's reception total, his yards, if he scores a touchdown, which half he scores it in, if he scores the first or last touchdown, the over/under on his longest catch in the game, etc. Then you can parlay these picks together with players from other games or even other sports.
The combination of mobile sports betting and same-game parlays has been a real game-changer in the industry. Imagine single-game betting with a bookie over the phone in 1990 about how many points, rebounds, and assists Michael Jordan would have in his next game. Now, you could do that yourself in under a minute with the parlay flexibility offered at sites like Bovada and BetOnline.
Competitive Betting Odds
If you are serious about sports betting, then chances are you will have accounts with multiple sportsbooks. This is smart since you can sometimes find better numbers or better prices for bets you want to play. Some sportsbooks, such as Heritage Sports and BetAnySports, will offer reduced juice where instead of the standard -110 odds, you can get -108 or -105 to earn a little more profit if you win.
Bonuses and Promotions
One thing sports fans in South Carolina will enjoy the most about these online gambling sites is the wide range of bonuses and promotional awards they can get. Sports betting sites that offer these bonuses all come with terms and conditions attached, of course, but they do offer the opportunity for you to earn free bets and other rewards.
Make sure you understand any minimum deposits you need to make or any restrictions on the type of wagering permitted.
The smart sportsbooks know that continuing promotions and perks for you are what will make you want to keep returning to that site. Here are some of those promos that you may see as a returning customer to online sportsbooks:
Reload bonuses on deposits
Risk-free bets
Rebates or cash back
Reduced juice lines
Rewards program for loyal customers
Bonuses for referring a friend
Enhanced or boosted odds for select markets
Fun contests like sports pick 'ems with big prizes
Certain promotions could require an opt-in or the use of sportsbook promo codes.
Mobile-Friendly Interface to Make Bets
A good site design is crucial since people are often making their bets on their phones these days. Fans are also doing a lot of live betting and that means they need to get bets in quickly, so it is important for the site to run well during high-traffic times.
Unfortunately, almost all the sports betting sites we reviewed do not have a native app that you can download from the app store. But their mobile sites are optimized for use on your favorite device, and you can always create a shortcut to them for easy access when you want to engage in live betting.
Trustworthy Reputation
There is something to be said for experience and accountability. We give a higher score to online betting sites that have been around for 20-plus years such as Bookmaker and BetOnline. Their years of service add credibility to their reputation. When you end up sharing very personal information (identity and financial) with these companies, you want that sense of security that your data is safe, and you will get paid on time. If a site had a poor reputation, then we would definitely not rank it in the top 10 or give it a good review.
Quick and Secure Sportsbook Payouts
The ideal sports betting sites have a wide variety of transaction methods from credit cards to crypto, minimal to no fees, a fast processing time to get our money to us, and reasonable limits.
Some gambling websites fare better than others, but for the most part, they all do a good job of giving us options to get our winnings in an appropriate amount of time. If a site has a bad reputation for not paying people, then it is not getting a good review from us.
Helpful Customer Service
Finally, if there is any area of an online betting site where you might need to dispute a wager, it would be on sports. You really can't argue with the outcome of a video slot machine spin, but you might have a legit beef with a player prop not getting voided if the player did not play or was injured on the first play of the game.
So, when it comes time to contact customer service, we are looking for 24/7 availability and as many methods to make contact as possible. Some people still prefer traditional phone calls while others may just want to use email and get a response in a quick fashion. But you may also want to see the ability to do a live chat or if you need to get in touch with someone immediately.
FAQ – Sports Betting in South Carolina
Is sports betting legal in South Carolina?
No, South Carolina has yet to pass any legislation that would legalize sports betting in the state, including both in-person action and online action.
Is online sports betting legal in South Carolina?
No, the closest thing to legal online sports betting in South Carolina would be the ability to play Daily Fantasy Sports (DFS) on DraftKings or FanDuel. That has been allowed for the last several years, but South Carolina is a staunch anti-gambling state that doesn't even allow its residents to wager on horse races, something that most states and U.S. territories are fine with. 
When will online sports betting be available in South Carolina?
When pigs fly? Sadly, it could be quite a while before sports gambling comes to South Carolina, and maybe even longer before there is a regulated online platform for it. The hope would be that neighboring North Carolina shows how successful retail sports betting at casinos is and the Palmetto State decides to follow suit.

Plenty of states are making good progress with their gambling laws. South Carolina is not one of them, but hopefully, the citizens will start to put more pressure on the lawmakers to do something as we know the demand is there.
What are the best sportsbooks in South Carolina?
We are fond of several online sportsbooks, but after putting many options through our grading system, we came up with these as the top five A+ rated sportsbooks:

• Bookmaker
• Heritage Sports
• Bovada
• BetOnline
• BetAnySports
What are the differences between regulated and offshore sportsbooks?
If South Carolina had a regulated sportsbook, that would mean the state passed legislation to make sports betting legal, and the sites are operating under the approval of the local gaming commission. This is not the case at all in 2022.

The offshore sportsbooks we reviewed are mostly located in a place like Costa Rica where it has been legal for quite some time now to make online wagers for sports. These companies are regulated by Costa Rica's laws, which they are abiding by.

Therefore, these online betting sites are operating legally even if they are not technically being regulated by South Carolina. But they do not need South Carolina's approval to operate, and you can feel free to join these sites as a South Carolina resident and gamble for real money today. The only restriction is you must be at least 18 years of age to join such sites.

You'll be able to wager on your favorite sports and you'll find plenty of interesting sports betting markets, as well as online casino gambling like slots and table games.