Online Poker in South Carolina – Is it Legal?
Poker is still one of America's favorite card games. But no matter how much you view poker as a game of skill, there is an element of chance that qualifies it as a gambling activity. In fact, South Carolina sports betting, along with any forms of gambling online for that matter, is not yet regulated as a legal activity within the state.
The Cotton State remains one of the least friendly for gambling enthusiasts in the country thanks to its strict gambling laws. Poker fans looking to visit a land-based casino or card room are out of luck, and the same can be said of players looking to join online poker sites like PokerStars. Your only online poker option is to join an offshore sportsbook that offers poker.
Online sports betting sites that operate offshore are not bound to any of the gambling laws in the United States; instead, these sites operate in their own jurisdictions. This allows them to offer multiple forms of gambling, including online poker games, to South Carolinians.
Fortunately, we have prepared this handy guide to show you the best online betting sites that have online poker tournaments, video poker games, and much more. They are accepting of South Carolina residents, and you can start playing real money poker games today after you sign up.
Best Sportsbooks in SC 2023
South Carolina Betting Guides
If you're looking to familiarize yourself with online sports betting in South Carolina or perhaps other forms of betting like horse racing and online casinos, look no further. Our team is here to provide you with the quick and comprehensive guides you need to begin your wagering journey today. 
The Best South Carolina Online Poker Sites
There are many online gambling sites available for you to join, but for poker players, your options are a bit more limited. Even some of the best sites rated by Bookmakers Review lack a busy poker room or any tournament play. Alas, we have compiled our top five offshore poker sites for you to try out:
South Carolina Online Poker Sites Reviewed
Our top five sites are all located offshore in a place like Costa Rica where online gambling has been legal for several years. These offshore poker sites follow their local jurisdiction's regulations, which is why they are able to run legally. They do not have to follow the laws in South Carolina, which currently do not exist to regulate online poker or online gambling. This is why you can join any of these offshore sites as a South Carolina resident to enjoy their online poker platform and play for real money online.
You can find which of the poker sites suits you best, but here are more detailed reviews of our top five.
1. Bovada: Player Poker Tournaments in Busiest U.S. Rooms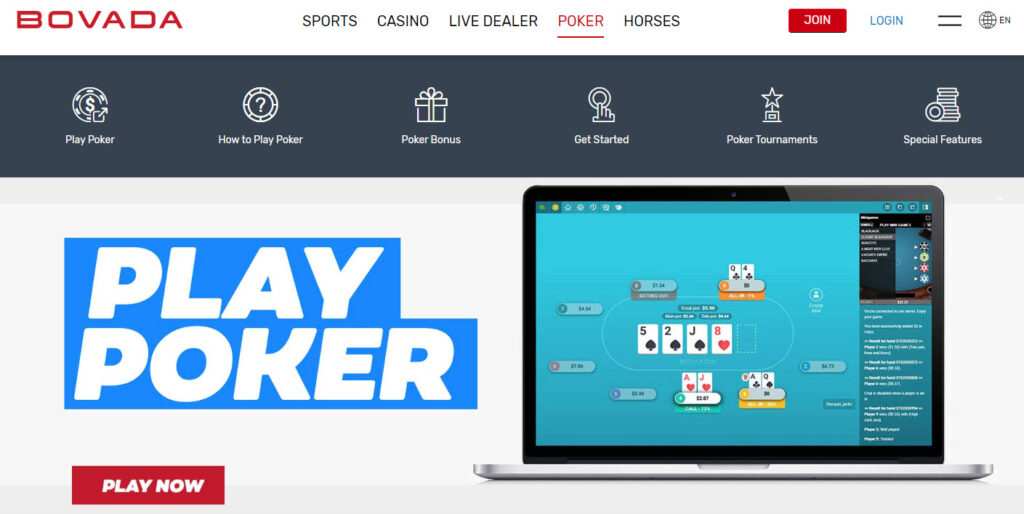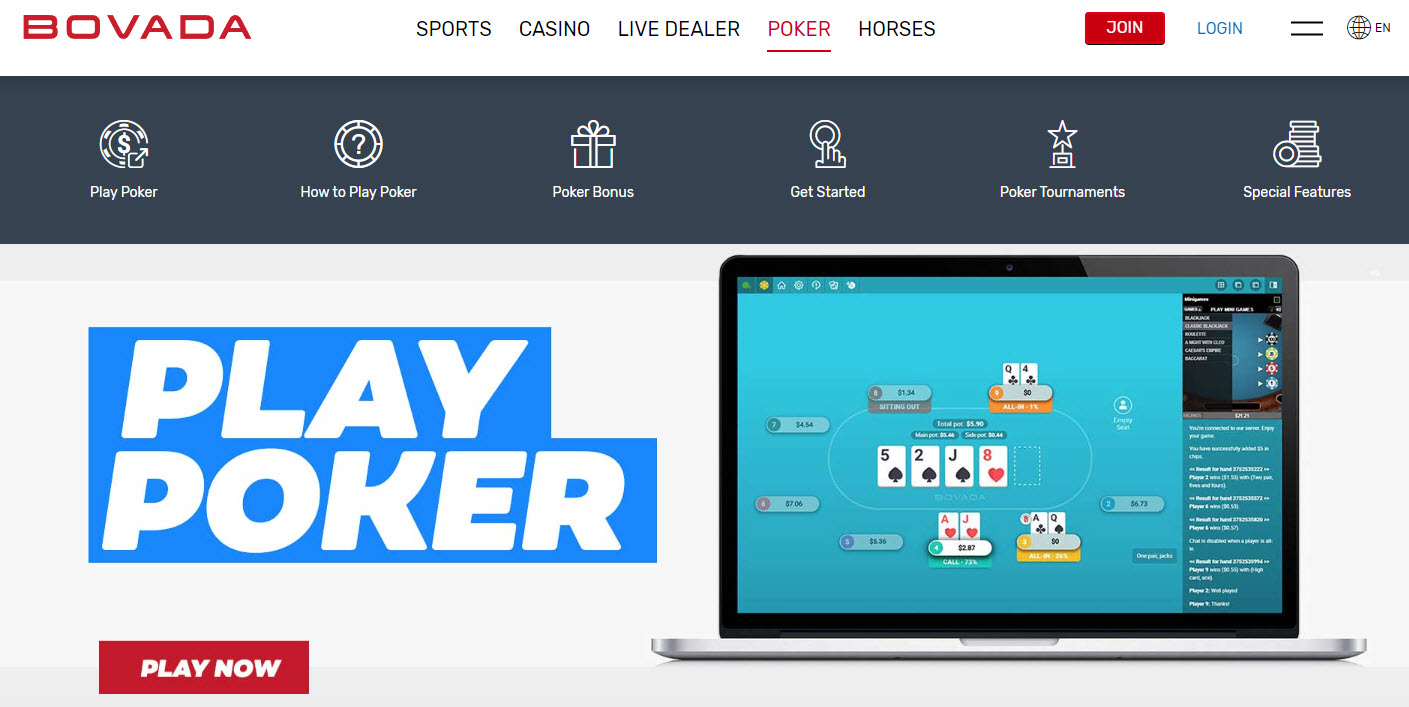 Bovada is one of the most popular offshore poker sites among American players. Once inside, you can enter the poker section that is part of the PaiWangLuo Poker Network, which ranks No. 1 in traffic by American poker players.
Each week, there is no shortage of single-table and multi-table tournaments to join for big prizes. Every Sunday there is a $150K Guaranteed Prize Pool, the largest poker tournament on the site. Bovada Poker is also home to eight video poker games with variations for 1 Hand, 3 Hands, or 10 Hands. Bovada's casino section features tons of online casino games including over 130 slots and seven types of blackjack. You'll also get access to one of the best sportsbooks and racebooks in the business.
The welcome bonuses are generous, especially if you are a crypto user as Bovada is one of the most crypto-friendly online casinos on our list. If you are not into crypto or want to learn how to use it, Bovada offers a great resources page to get you started. Crypto payouts are always the fastest method of getting your winnings to your account.
Pros:
The biggest poker tournaments with the best traffic of U.S. players
Earn up to $500 with the Poker Welcome Bonus
Great for crypto payouts
Play incognito mode with help of anonymous tables to mask your playing style
Cons:
BetOnline has more promotions for existing users
Fans of video poker will be disappointed with small selection
2. BetOnline: $1 Million Sit & Go Tournament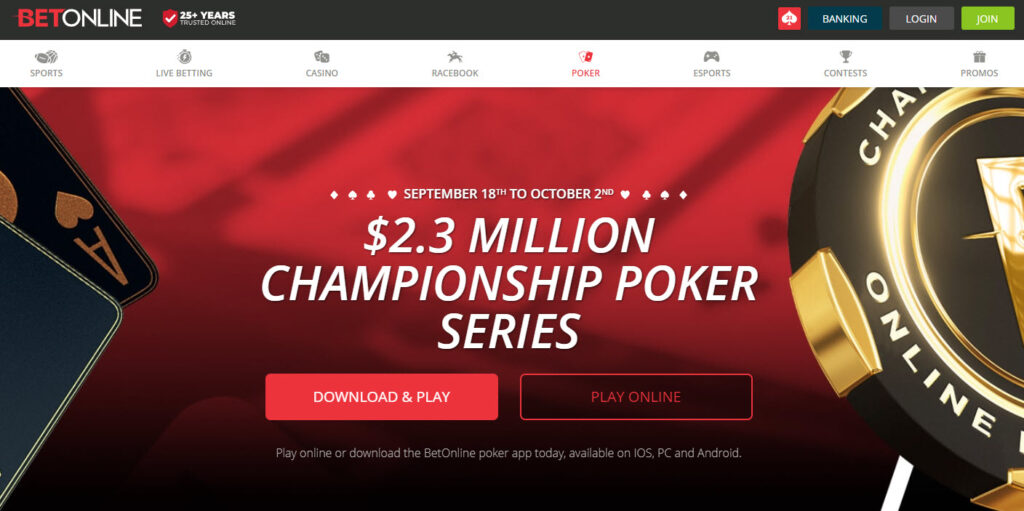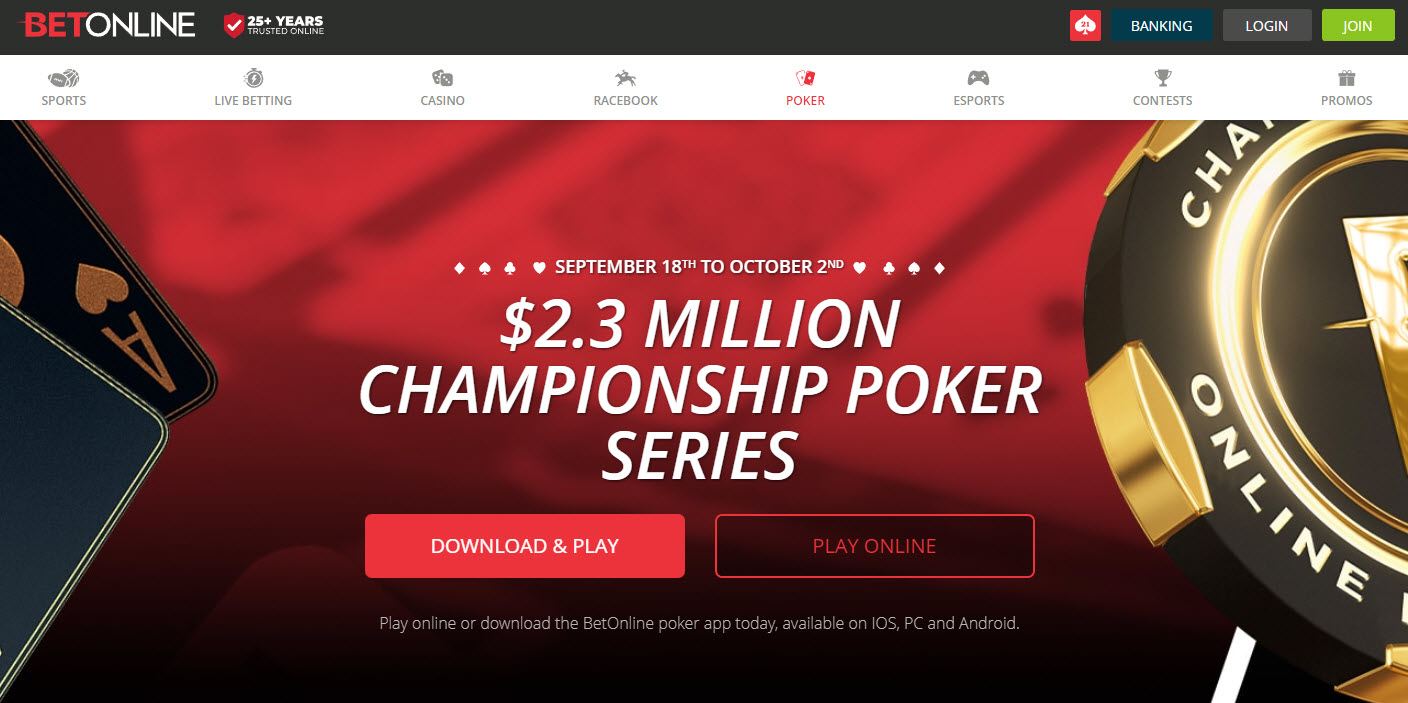 BetOnline is an A+ graded online sportsbook from Costa Rica that offers poker online. It is a member of the Chico Poker Network, the third-ranked network for online poker users in America. Once you quickly download some software to play poker on either your mobile device or desktop, you will be able to enter a variety of tournaments.
BetOnline even takes user suggestions for tournament types, but the site will already have different tournaments for you to enter such as bounties, satellites, re-entry, rebuy, and guaranteed tournaments with a guaranteed minimum prize pool.
The casino section is massive with hundreds of slots, including many that are exclusive to BetOnline. But video poker fans will be happy with the selection here for both single-hand and multi-hand games, including popular titles such as Aces & Faces and Jacks or Better.
BetOnline is famous for large bonuses, high limits, and fast payouts, making it an ideal spot to play poker, video slots, bet on horses and sports, along with a lot more.
Pros:
High limits and generous bonuses
More than triple the video poker options of Bovada
Plenty of promotions, including bad beat jackpot tables
You can submit your own tournament suggestion
Cons:
Not as much traffic as the PaiWangLuo Network
Some deposit methods include a fee
3. Heritage Sports: Practice on Video Poker, Enjoy Other Perks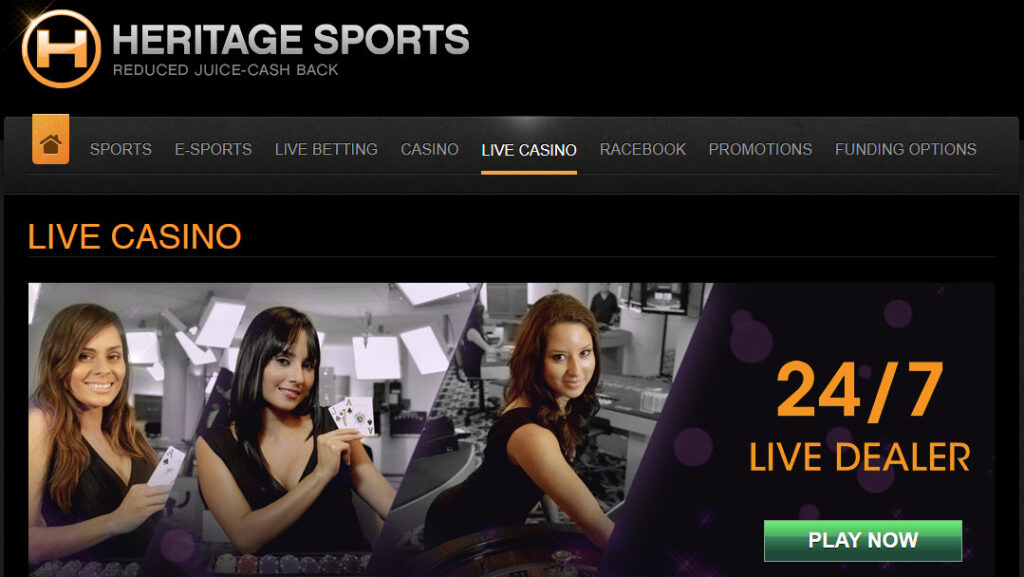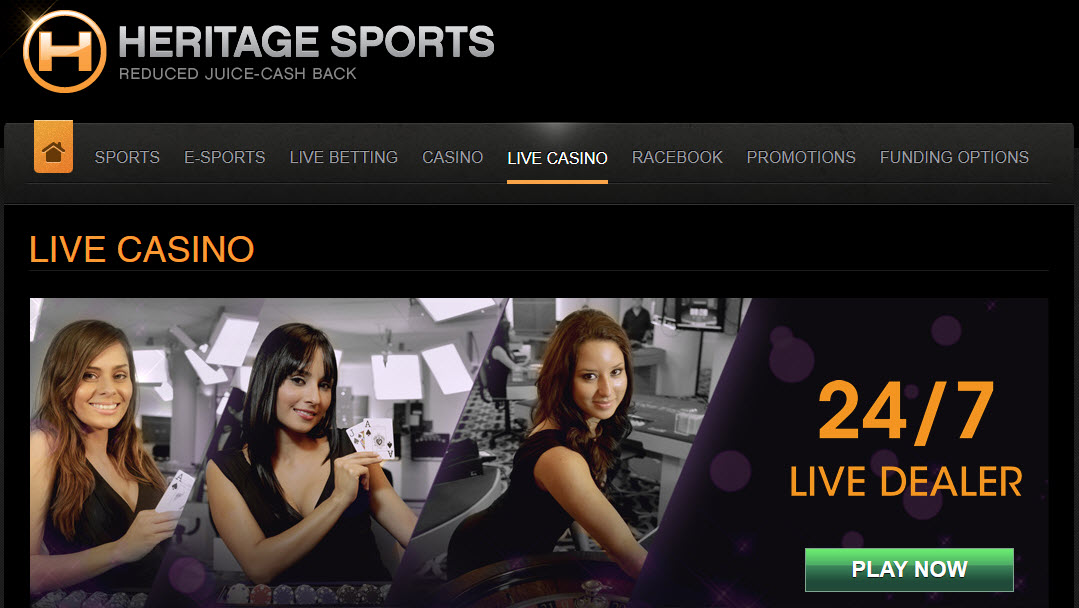 Heritage Sports used to be a site that required new users to be invited to join, but those days are over. All users in South Carolina can join Heritage Sports today and instantly partake in the reduced juice cashback promo and get access to one of the best mobile sites for live betting on sports.
Heritage Sports differs from our first two choices in that it does not host poker tournaments. There is no software to download here. You just enter the site's casino section where you will find free demo versions of every game to try, and that includes a solid selection of video poker titles (Deuces Wild, Aces and Faces, Joker Wild, Pai Gow Poker, Oasis Poker, etc.). The play-for-free option will allow you to get comfortable with how these games work if you are new to them, easily allowing you to become a regular player.
You can expect an all-around solid online gambling experience with Heritage Sports, but if not having poker tournaments is a deal breaker for you, then you'll want to focus on the poker options at Bovada, BetOnline, and Everygame.
Pros:
One of our favorites in mobile site design
Every casino game includes a demo version to try for free
Great site for live sports betting
Cons:
You won't find any poker tournaments here
Small bonuses for new users
4. BetAnySports: Best Site for Video Poker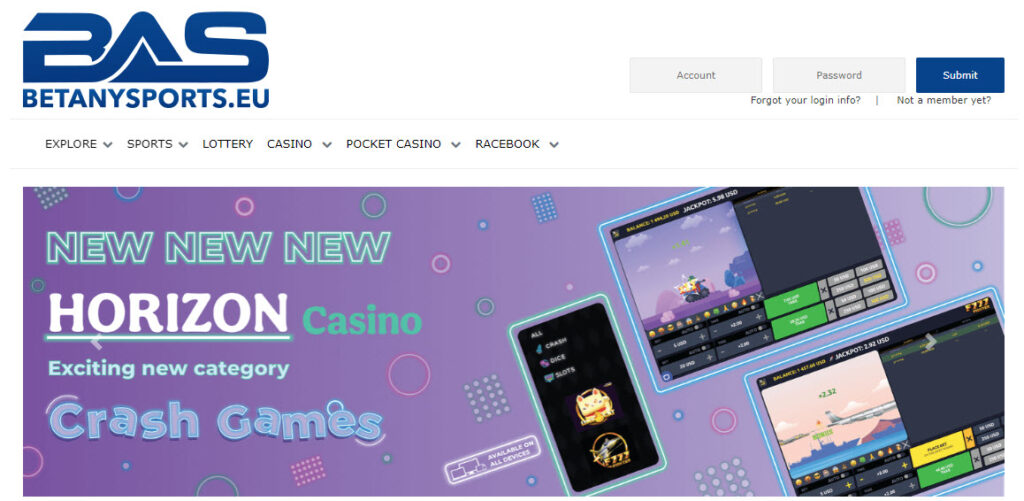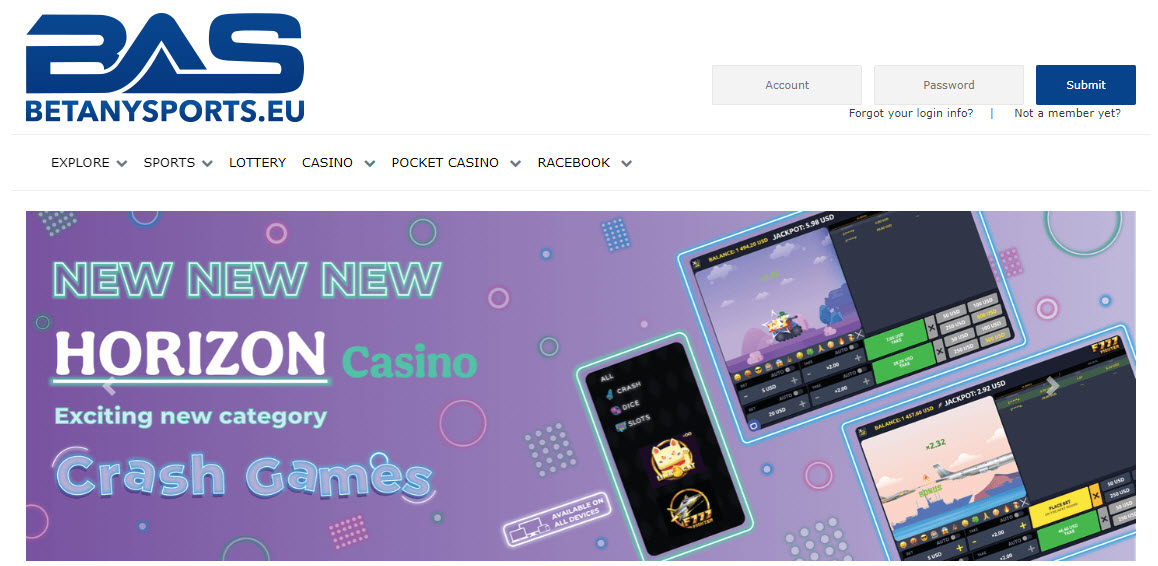 BetAnySports is another well-reviewed online casino that calls Costa Rica home. Running on a smaller budget than the competition, you are still treated to a highly functional site with a great props builder and reduced juice for sports betting. At BetAnySports you can choose from seven different casinos that come with their own library of games, including 3D poker and plenty of other video poker variants.
The video poker is very well done at BetAnySports, but it is another site that lacks tournaments. A nice perk over the competition is the availability of various state lottery drawings, including South Carolina's Pick 3 and Pick 4 drawings. You can play your numbers on the phone with BetAnySports, and the payouts are 80% higher than you'd get from a local retailer.
Pros:
Arguably does video poker better than anyone with deep choices
Play South Carolina's Pick 3 and Pick 4 lottery drawings
Best offering for reduced juice (-105) lines
Cons:
Poker tournaments not included
Bland site design compared to rivals
5. Everygame: The Most Stylish Site Online Casino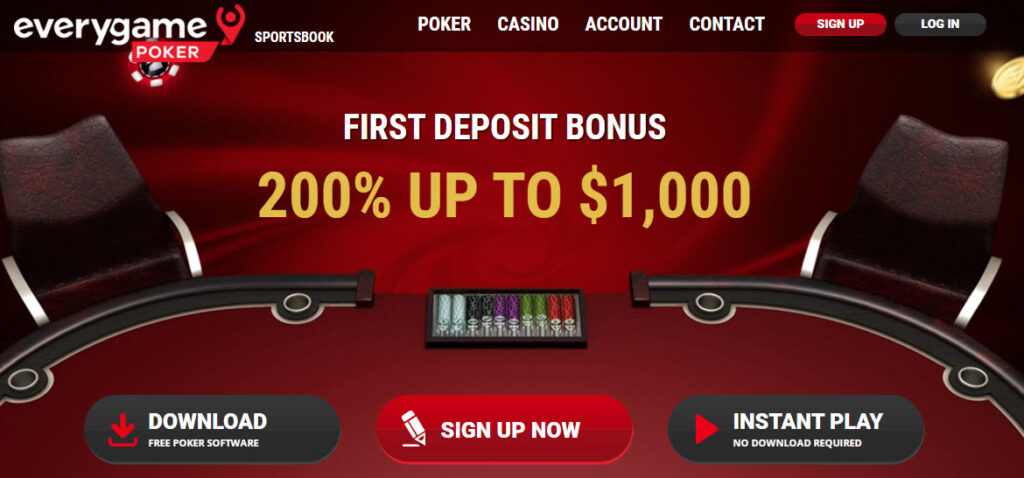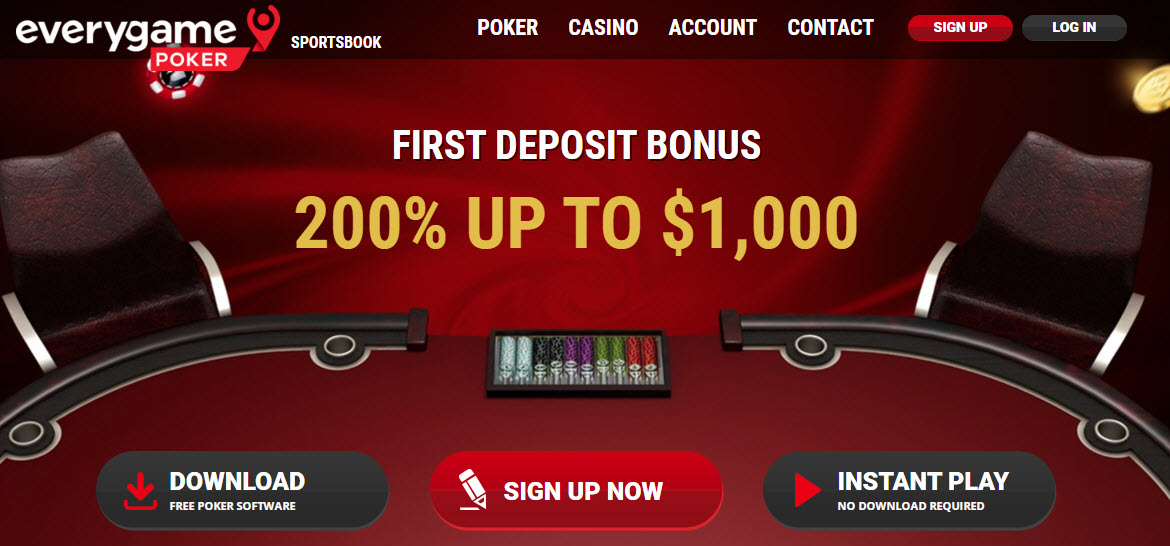 Everygame is an Antigua-based site that used to be called Intertops before a recent rebrand. The site is as good-looking and easy to navigate as any in the business. The online poker platform also runs smoothly and looks good.
You won't see as high a volume of players as what Bovada and BetOnline have to offer, but you still get a quality online poker experience with cash games for Omaha and Texas Hold'Em. Everygame Poker also features tournaments that anyone can join from the grinders to high rollers.
The video poker section is the best on our list as it has more games than anyone and more unique games that the others do not offer. They also have a game like Oasis Poker as well as plenty of other table games and video slot choices.
You will not get a sportsbook quite up to par with the top two on our list, but you can still bet on a ton of global sports markets. The other nice way that Everygame differentiates itself from the competition is that the bonus offer will last for 90 days instead of the standard 30 days at other sites where you must unlock all your bonus by playing more poker. Everygame advertises the best rakeback rate (money you earn back from playing poker) in the industry at 36%.
Pros:
Get free spins on casino after first deposit
The rakeback rate (36%) is best in industry
Sharpest looking site out there
Best library of video poker games
Plenty of unique video slots
Cons:
Not as many big poker tournaments as Bovada and BetOnline
Not the best all-around online casino experience like Bovada and BetOnline
Is online poker legal in South Carolina?
If you haven't gathered already, online poker is not legal in South Carolina. However, that does not mean it is explicitly illegal to play or that you will be prosecuted if you join an offshore sportsbook to play online poker on one of the sites we just reviewed. That is not the case at all.
South Carolina Poker Laws
Now you know that online poker is not legal in South Carolina, but what about other forms of poker such as video poker or a social game among friends in a private residence? We look at what South Carolina has on the lawbooks for those below.
Video Poker
If you dig video slots, then you will probably be a fan of video poker games. They run on a random number generator (RNG) so that the cards drawn are always random, independent events that do not change based on past results or your change in wager amount.
Winning at video poker takes less skill than regular poker, but it is a fun alternative to play. These games are not legal in South Carolina, but you will find plenty of video poker games online at sites such as Bovada, BetOnline, Everygame, Heritage Sports and BetAnySports.
Casual Poker
Many states across America have a list of conditions that must be met to legally hold casual poker games among friends in a private residence. The primary conditions usually involve no one serving as a banker, no one collecting fees for holding the game, all players are equal, and the game is not to be advertised online or open to any Tom, Dick or Harriette passing by. It is supposed to be a fun, low-stakes event played amongst friends.
Having said that, South Carolina takes an archaic view of things as any card or dice games are generally frowned upon in any circumstance. For that matter, it could be considered illegal gambling for South Carolinians to get together and play a board game like Monopoly on Sundays in the state. This is why South Carolina is on a short list of states with no casinos, including tribal casinos.
But if you do choose to hold a small poker game among friends, you should be fine as long as you follow those conditions of not advertising it or collecting fees to run it. If no one knows about the game besides the people playing it, then it is hard to see how you could get in trouble for illegal gambling.
The Future of South Carolina's Poker Laws
There are a lot of states making great progress with legalizing online gambling in the USA, including sports betting and casino games like slots and poker. Unfortunately, South Carolina is not one of those progressive states and seems not to care about catering to players living there. In fact, it may be in the running for the least-friendly gambling state right now.
As of 2023, there is currently no bill on record to advance online gambling in the state despite the landmark decision for the Supreme Court to overturn PASPA. We would advise taking the "never say never" approach to South Carolina legalizing online poker, but it is not likely going to happen any time soon. The support for changing the legal status of the game of poker is just not there in Palmetto State.
South Carolina Poker – Live and In Person
We understand online poker is not everyone's cup of tea, but you are in bad shape if you live in South Carolina and want to play in-person poker without using an online betting site. This is one of the few states in the country that does not have any tribal casinos or open card rooms where you can play table games.
Your poker choices are basically an offshore site like the ones we reviewed, taking a drive up to a casino in neighboring North Carolina, hosting a game at home with friends, or hitting up a nearby cruise ship. If being on a ship is up your alley, then you have one option in South Carolina.
The Big "M" Casino (Little River, SC)
If you are near Myrtle Beach and want to gamble, then you can take a quick drive to The Big "M" Casino, home to two luxury yachts that function as casino cruises. After boarding and getting deep enough out into international waters, you will be able to indulge in casino games such as roulette, blackjack, and 3 card poker. There are slot machines and video poker machines, but you still will not be able to play in any poker tournaments or high-limit cash table games.
How to Play Online Poker in South Carolina
Since we have made it clear that offshore sportsbooks are the best option for online poker players in South Carolina, you should know what to expect when you join one of these poker sites. No matter which site you choose, the process to register is simple and roughly the same each time. We have prepared a quick guide to show you the steps to play online poker today.
Step 1: Go to the Web Site
Pick your offshore site of choice and visit the web page, either on your desktop or your favorite mobile device. You should spot a "join" or "sign up" button near the top of the page. Click it to start making your account.
Step 2: Create Your Account
Enter all the personal information asked of you to create your account. Make sure your password is something unique and hard to crack. You may need further identity verification down the road such as a copy of a picture of your photo identification card, but this is all standard practice, and your info is safe with these trustworthy sites.
Step 3: Add Money to Your Account
You won't win money without putting some in first. You can expect a wide variety of banking methods at each site, including but not limited to credit/debit cards, Person 2 Person apps, money orders, wire transfers, cryptocurrencies, or a voucher.
Before making your first deposit, be sure to read up on the promotions and if there are any bonuses to be had with that first deposit. You may need to enter a special bonus code for the offer to count.
Step 4: Enjoy the Poker and More
Your account is active with funds, so you are ready to gamble. Check out the poker section or go into other casino games, live dealer games, the racebook or bet on sports. For poker, you may need to download some software first before joining any games, but feel free to familiarize yourself with the site as you are ready to start winning real money.
Tips for South Carolina Online Poker Players
Players who may be new to playing poker online could use some tips. Although you may be engaging in the game for gambling purposes, it is important to remember that you should be having fun above anything else here.
Do not bet beyond your means
Set a budget each week or month
Do not chase losses
Learn when to call it a night
Learn how to bluff effectively
Take advantage of free demo versions offered at online poker sites to get better at video poker
Be prepared to lose and understand there will be variance (good and bad luck streaks)
Find which style of poker game is your favorite and preferred choice of play
Study the odds of certain hands hitting to make mathematically informed decisions
FAQs for Online Poker in South Carolina
Is online poker legal in South Carolina?
No, there are no local legal forms of poker in South Carolina. However, South Carolina's poker enthusiasts can still join a site like BetOnline or Bovada and start playing real money poker games online.
Can you play online poker in South Carolina?
Yes, but it is only made possible by joining an offshore site like our reviewed, trustworthy sites above: BetOnline, Bovada, Everygame, Heritage Sports and BetAnySports.
Does South Carolina have video poker?
You will be unable to play video poker from any locally-based gambling operators in South Carolina, but plenty of offshore providers like the ones in the above ranking present video poker options.  
Do I need a VPN for online poker in South Carolina?
A VPN is not required to play online poker in South Carolina as many offshore sites accept residents from this state.