Texas Sports Betting – Which are the Best TX Betting Sites & Sportsbooks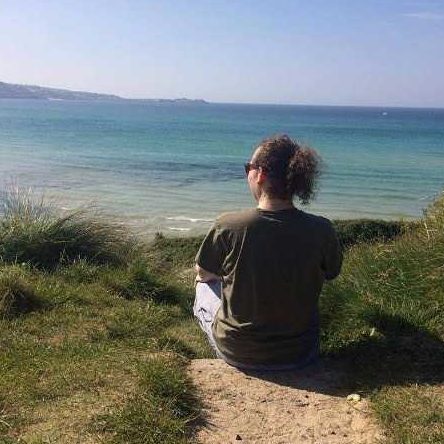 David is a freelance sports journalist who comes from West Midlands. He specializes in sports content, both written and visual. With an impressive record in pre-fight predictions, David is quickly becoming recognized in his field for his in-depth fight analysis and impressive contender & fight history knowledge.
The most reputable online betting sites offer their customers tempting odds, fast payouts, desirable welcome bonuses, and promotional bonuses rewarded to the most loyal bettors. We're here to provide extensive coverage on the top Texas sports betting sites you can find today.
In addition to a wealth of Texas sports betting knowledge we can share, you'll find information on the current laws and regulations for sports betting in TX.
Understanding the importance of utilizing offshore sportsbooks is something that every Texan should know, so, continue reading to unravel the details of betting on the NFL, Major League Baseball, and more in the Lone Star state.
The Best Sportsbooks in TX
Texas Betting Guides
Best Texas Sports Betting Sites 2022
Finding the most reputable sports betting establishments in Texas can be daunting, but our dedicated experts have already done the hard work, so you don't have to. The lack of retail sportsbooks in Texas is nothing to worry about, either.
Below you will find the top 10 sports betting sites in Texas. You can rest assured that our high-level advisers have vigorously tested a wide range of sportsbooks available to compile this list.
The aforementioned sportsbooks are offshore. Because they don't operate in the United States, these sports betting sites can provide services to anybody residing in the state of Texas and beyond. You can bet on college teams, play casino games, and, of course, bet on your favorite professional teams worry-free.
Contrary to popular belief, offshore sportsbooks are wholly legal and open to use for any residents in the United States, and here at Bookmakers Review, we explore a wide range of factors and only suggest online betting sites that pay out on time and treat their customers to a high standard.
The Best Texas Sportsbook Reviews
Save your valuable time searching for the best Texas sports betting site, because we've done most of the work. Below you'll find the Mount Rushmore of sports betting options available in TX, where our experts have put the best to the test and formulated a ranking system to guide you toward the best sportsbooks in Texas.
1. BetOnline: Fast Payouts & The Best Opinionated Lines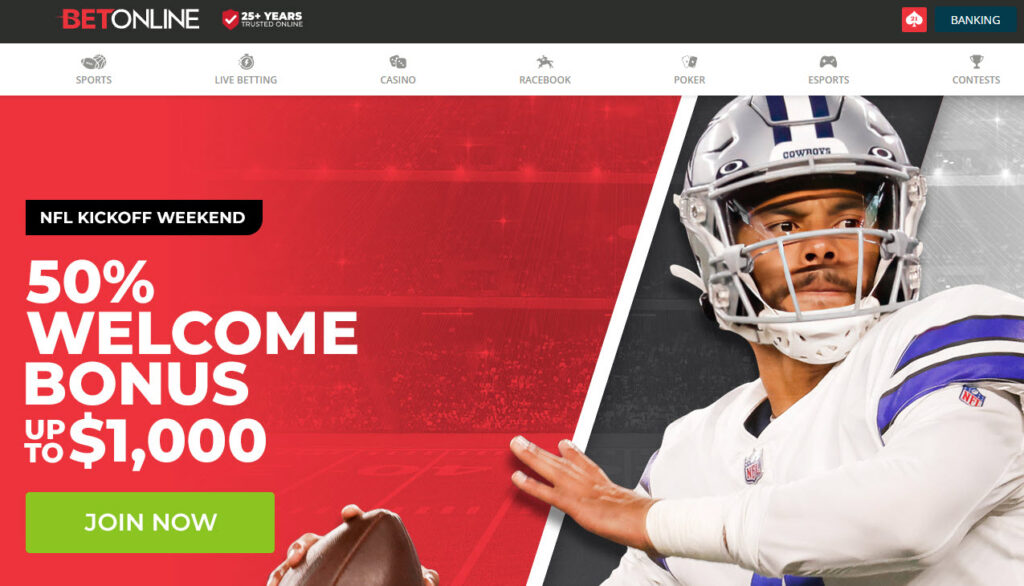 BetOnline is unquestionably one of the business's most renowned offshore online sportsbooks. Supplementing customers with speedier payouts than most of their rivals, they also provide high-value odds across a vast range of sporting events. Most notably, BetOnline has excelled in delivering opinionated lines. Whether you're new to the world of sports betting or a veteran bettor, BetOnline will offer something valuable to everybody involved.
With more than 25 years in the game, BetOnline has become synonymous with its ultra-quick payout system. They give bettors significant betting limits and the opportunity to live stream events. Moneyline odds at BetOnline are supplemented with opinionated lines, which makes finding value for long-term bettors very simplistic due to the positive expected value (EV) it yields.
Initial registrars signing up to BetOnline will notice the glorious welcome bonuses offered. You can choose from a 100% free play bonus (up to $1,000) as a first-time cryptocurrency depositor, or you can receive a 50% free play bonus (up to $1,000) for those wanting to use alternative banking options.
Adding to the enticement, returning customers aren't left in the dark either. A 35% free play bonus ( up to $350) for crypto reload deposits of at least $20 are available, and a 25% free play bonus with the same guidelines is available to alternative banking methods.
Pros
Always pays their customers promptly.
Professional interface & layout.
Opinionated lines & large betting limits.
Cons
A lack of proposition bets compared to rivals.
$50 fee on check withdrawals.
Minor complaints about the poker software.
2. BookMaker: Sharpest Lines and High Wagering Limits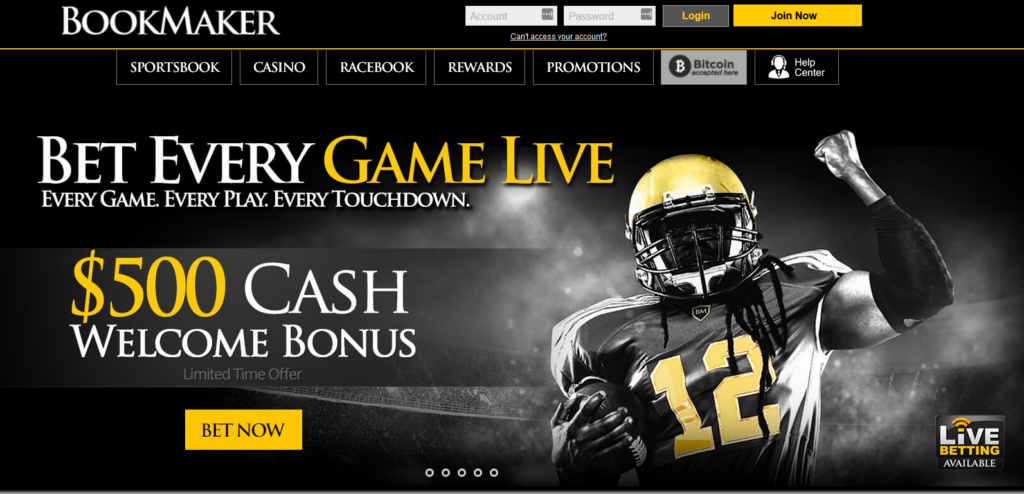 Bookmaker.eu has catered to professional sports bettors and newcomers for decades. Known for their sharp lines and high betting limits that appease veteran gamblers, they additionally provide an easy-to-use interface, low minimum wagering limits, and various bonuses for the newbies. If you're loyal to Bookmaker.eu, you'll be rewarded through their excellent loyalty program that gives customers Betpoints that can be redeemed in multiple ways, such as prizes, bonuses, or continued wagering.
Many of the world's sharpest professional gamblers make great use of Bookmaker because of the company's policy that never removes or limits a winning bettor. With a risk management department that excels in odds-making, the house is always guaranteed its profit no matter how high or low its volume may be.
Pros
Decades of experience in the sports betting business.
Fast releases of NFL and NCAAF betting lines.
Extremely high betting limits can be as high as $50,000 on NFL sides.
Cons
Professional bettors lose their rights to participate in the loyalty program.
No poker rooms.
No reduced lines.
3. Heritage Sports: Impeccable Live Betting Service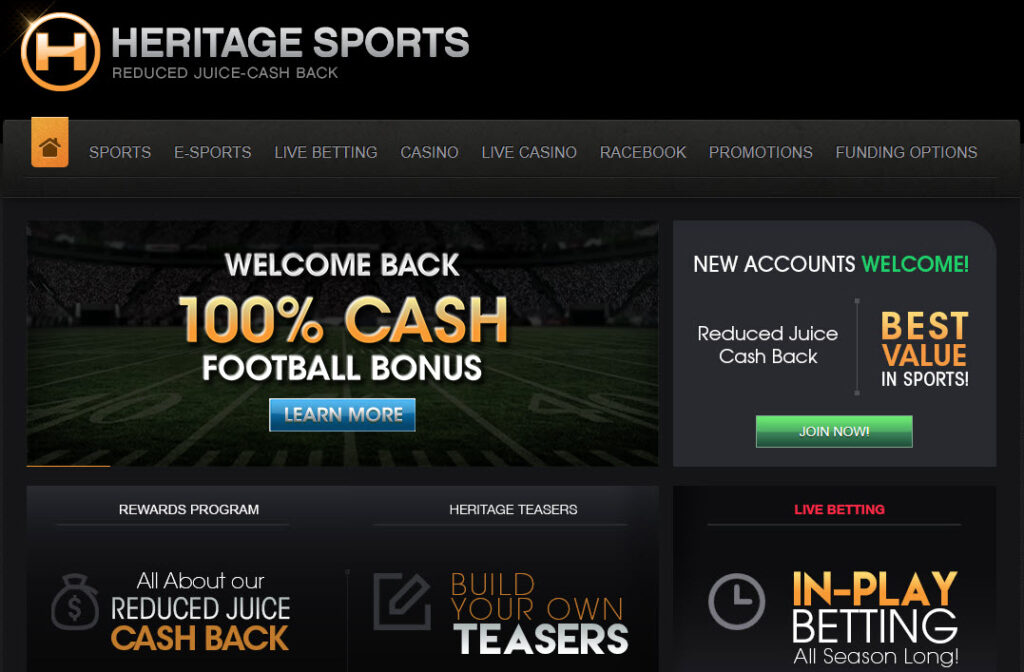 Looking for fantastic live betting options and market-leading odds? Look no further. Heritage Sports has long been a leading player in the sports betting stratosphere, offering an abundance of positive reasons why they're worth becoming a customer.
The website is straightforward to navigate on all devices, and they offer cash back rebates and many alternative promotional options. Regarding customer service, Heritage Sports is often a step above the rest, and sports bettors will be delighted to witness the plethora of proposition wagers made available.
Lastly, Heritage Sports pays their customers in full and on time, which many online sportsbooks can't adhere to. And for those using Bitcoin as a deposit/withdrawal method, your funds can be withdrawn on the same day without any added fees.
Pros
Straightforward to navigate/operate sports betting interface.
Reduced juice on multiple betting lines and unique promotional offers.
Great live betting options.
Cons
No online poker room.
Sign-up bonuses aren't as significant as other sites.
4. Bovada: Vast Selection of Betting Options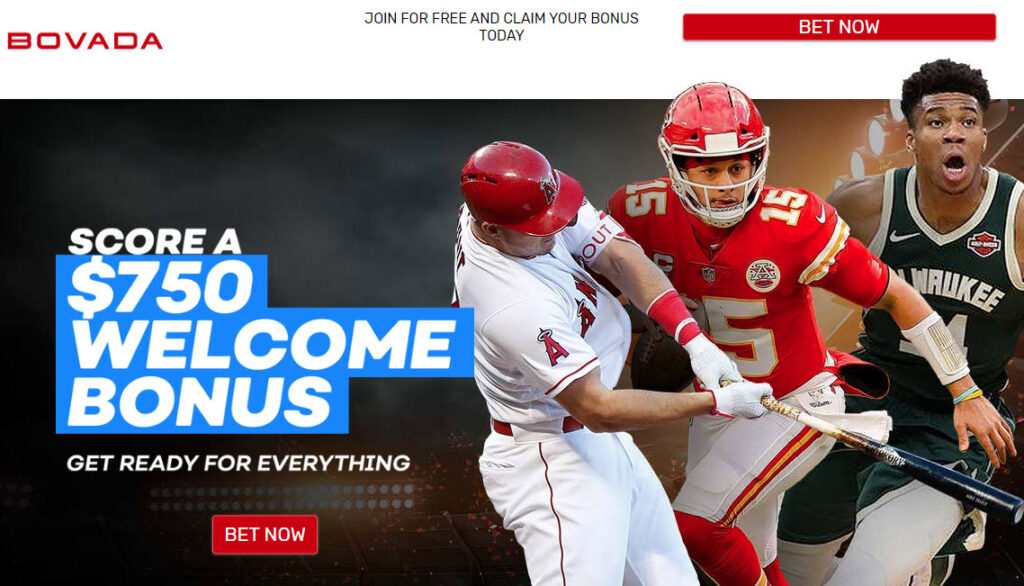 Bovada sets a high standard in the offshore bookmaking world, quickly becoming a favorite for Texas sports betting enthusiasts. With a vast selection of sports available to bet on, it also provides a massive online casino and a racebook. It has also become the most popular online poker room in America.
Bovada is likely the sportsbook you require if you're looking for options. It's built a reputation for providing a wide selection of prop bets, including some of the most obscure categories in entertainment and props that are low-risk and, sometimes, almost guaranteed to cash in.
Pros
A more extensive selection of wagers than most competitors.
The most popular poker room in the US.
Mobile-friendly with smooth optimization.
Small rollover requirements for bonuses.
Cons
Betting limits can sometimes be lower than competitors.
Betting lines may be a bit slower than other sites.
5. Everygame: Plenty of Sports Leagues and Betting Markets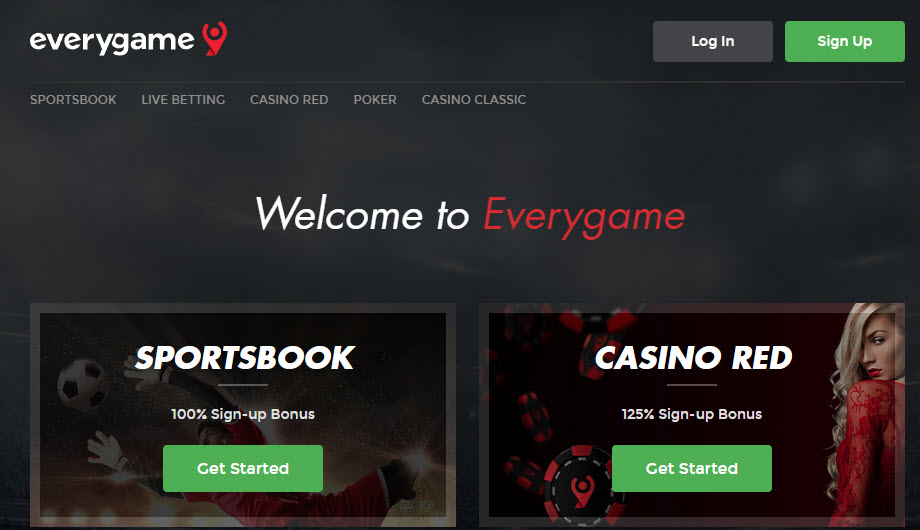 Formerly known as Intertops, EveryGame rebranded its platform in 2021 and hasn't looked back. Despite the noticeable name change, it's difficult to challenge the experience of this company, which is the oldest online sportsbook in history. While they don't cover every game on the planet, it'll be challenging to find a rival that can provide more sporting events than Everygame.
In addition to its excellent sports betting service, Everygame has earned a reputation for its impressive online casino. Bettors can take a break from their sports wagers and enjoy the popular poker rooms that cater to all skill levels.
Pros
Provides betting lines for worldwide sporting events.
A simple-to-use mobile interface.
More sports leagues than most of its competitors.
Cons
Small bonuses.
Customer verification can sometimes be prolonged.
6. BetAnySports: Reduced Juice and Low House Edges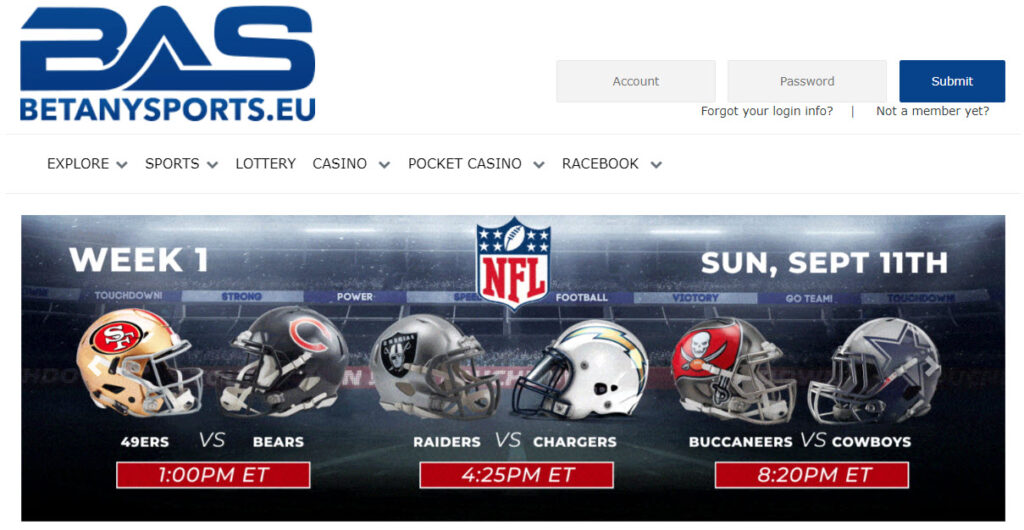 Online sports bettors in Texas hunting for the best value should look closer into BetAnySports. This online sportsbook has some of the best-reduced betting lines in the business, often giving -105 odds on a spread or total instead of the typical -110 you'd see on most competitor sites. This discount on price is huge for long-term bettors, who're technically receiving a 50% discount on odds of -105 that are -110 at most other books.
Value can also be found on BetAnySports moneyline wagers; the house edge is typically lower than other sportsbooks and for the value hunters, look no further. They provide a wide selection of prop bets, and you can put their incredible value to use in parlays if you desire.
To provide such fantastic value for bettors, their reduced juice model does arrive with flaws like their need to operate on low margins. Overall, BetAnySports is an excellent Texas sports betting site for secure and trustworthy withdrawals and, most importantly, incredible betting odds.
Pros
Reduced juice for sides and totals (-105).
Some of the best moneyline, prop, and future betting odds.
Fast payouts and a trustworthy reputation.
Cons
Smaller bonuses in comparison to direct competitors.
Less desirable interface when compared to rival sportsbooks.
7. WagerWeb: Reduced Juice and Speedy Payouts


Sports bettors from Texas have long enjoyed the services of WagerWeb, a company that's been an established online bookmaker since 1994. WagerWeb is an idealistic choice for those seeking well-experienced, high-quality online sports betting in Texas.
Similar to their sister-site Heritage Sports, WagerWeb prides itself on its reduced lines and bonus offerings.
In addition to their impressive sportsbook, you'll also find an in-depth casino and racebook, known as "the player's choice." Customers will receive highly competitive racebook and casino rebates, as well as prompt Bitcoin payouts and a pleasurable Texas online sports betting experience.
Pros
Reduced lines as low as -108.
Various bonus options.
Fast approving payouts.
Cons
Low betting limits.
Feeless fiat-based withdrawals are limited.
8. BetUS: Large Welcome Bonus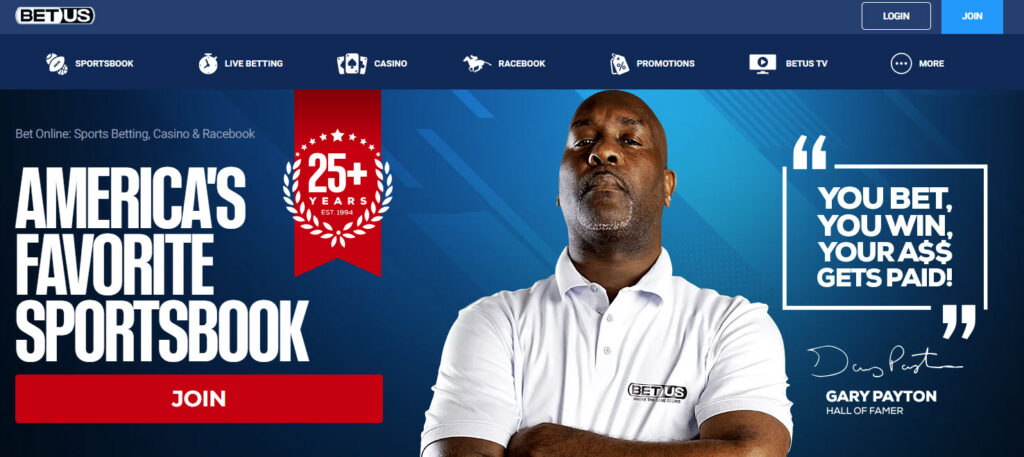 Bonus hunters should pay attention to the offerings at BetUs sportsbooks as they're one of the best bonus providers in the business. The introductory welcome bonus is 125%, which can ultimately gift new customers up to $2,500 in bonus credits and $625 in casino credits.
The bonus fun doesn't stop with welcome promos either; reload bonuses and promotions are regularly offered to customers, and it becomes apparent they're a company willing to go the extra mile. Upon arrival, you'll notice the elegant interface, and their odds are relatively fair. You'll also notice the BetUS TV tab that provides featured video content, analysis, and betting predictions for its visitors.
BetUS once owned a negative reputation, but we've noticed a dramatic change following the arrival of new management. They payout customers promptly and have done for successive years, making them one of the most trusted bookmakers for online sports betting in Texas.
Pros
Large bonuses for new and old customers.
An extensive esports betting hub with live options.
A wide variety of betting options.
Cons
Slower line releases than direct competitors.
High rollover requirements on bonuses.
9. JustBet: Live Betting Experts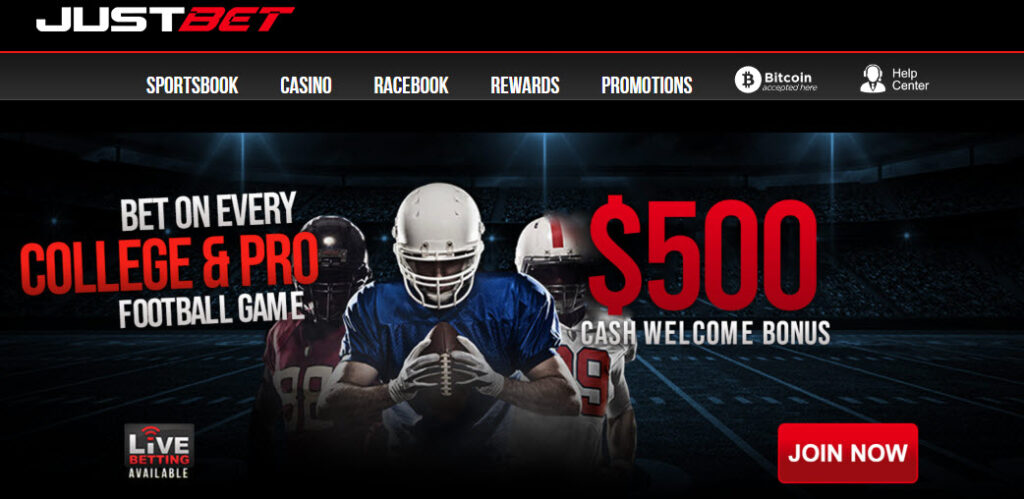 JustBet is the sister site to Bookmaker.eu – the No.2 Texas sports betting operator, so you already know you're in good hands. They offer similar practices to Bookmaker, including simple navigation, early lines, and high betting limits.
Much like its sister, JustBet provides a loyalty program for dedicated customers. Although it's not quite as popular as Bookmaker, they still deserve a position on our list as one of the best sports betting sites Texas bettors can utilize.
Pros
Impressive live betting options.
Betting lines are released earlier than most.
A tempting welcome bonus of up to $500.
Cons
No poker room.
No reduced juice lines.
10. GTBets: The Best Security & Customer Service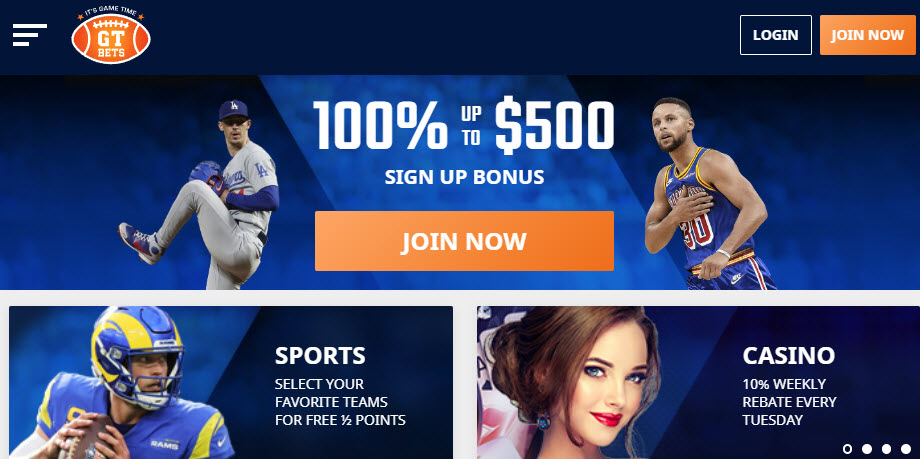 GTBets is an exceptional Texas sports betting site with a huge sign-up bonus, incredible odds, and various promotions to cater to everyone. Originally branded Game Time Bets when they entered the market in 2011, a rebranding to GTBets was a simplistic approach and certainly suited the nature of the company.
Football fans in Texas will be delighted to know the sportsbook provides reduced juice on NFL and NCAAF sides and totals (-109). In addition, specific promotions will give bettors the chance to bet their favorite NFL spread but half a point lower.
Pros
Reduced juice football lines.
24/7 customer service available.
A notable track history in their security record.
Cons
Occurring charges on withdrawal fees.
Large rollovers on bonus points.
Is Sports Betting Legal in Texas?
The simple answer is, no, Texas sports betting is not yet legal. However, optimism has been higher than ever as the chess pieces toward sports betting legality in Texas seem to be moving in the right direction.
Sports betting in Texas made its first step to legalization during the 2021 legislative session. Various bills arose to support the legal sports betting market, but the next opportunity won't arrive until 2023 because of the Texas Legislature's two-yearly meeting schedule.
Legal sports betting in Texas hasn't been short of support, including gubernatorial candidate Beto O'Rourke and a collection of Dallas-based sports teams. The Texas Rangers, the Dallas Cowboys, and the Dallas Mavericks have openly supported legal sports betting in Texas.
Should the state of Texas introduce legalized sports betting in 2023, it would evolve into one of the top competitors in the United States.
With that said, Texas residents don't need to wait for the approval of their state to begin placing sports wagers. Anybody in the United States can make great use of an offshore sportsbook, including the avid sports bettors of Texas. There are no legalities that can prevent you from registering with an offshore sportsbook, but you should always follow our comprehensive guides to find the best online sports Texas sports betting sites as chosen by our experts.
We've done all of the hard work, so you don't have to. You can simply read our expert reviews and ensure a high-quality user experience, prompt payout, and excellent customer service when choosing an offshore bookmaker recommended by ourselves.
Latest Texas Sports Betting News and Developments – A 2022 Timeline of Sports Betting in Texas
September 12, 2022 – In light of the 2022 NFL season-opening week, the Texas Sports Betting Alliance reiterated that sports betting isn't legal in Texas. The Alliance also predicts the Lone Star state could see more than $278 million in its first two years of business.
August 24, 2022 – The Texas Sports Betting Alliance is working vigorously to prepare for the 2023 legislative session. Their primary focus is to translate the importance of legalizing sports betting in Texas.
August 3, 2022 – A marketing deal between Rush Street Interactive and the Frisco Fighters from the Indoor Football League has been established.
July 22, 2022 – Texas businessman Mattress Mack made headlines with a $2 million bet on the Houston Astros to win the World Series.
July 1, 2022 – Opposing groups from Congress – including Texas legislators – came together and collectively sent a letter requesting the Department of Justice take action against offshore sportsbooks.
June 16, 2022 – A ruling from the U.S. Supreme Court prevented Texas from preventing tribal-ran e-bingo. This could be good news for those who wanted more changes to Texas' online gambling rules.
May 11, 2022 – BetMGM partnered with the Houston Astros, one of the first major U.S. sportsbook deals in the Lone Star state.
Texas Sports Betting Teams
As the second most populated U.S. state, it should be no surprise that Texas is the home of several national sports league franchises, among other professional sports.
The most notable professional sports teams in Texas are:
Austin FC – MLS – (Soccer)
Dallas Cowboys – NFL – (Football)
Dallas Mavericks – NBA – (Basketball)
Dallas Stars – NHL – (Ice Hockey)
Dallas Wings – WNBA – (Basketball)
FC Dallas – MLS – (Soccer)
Houston Astros – MLB – (Baseball)
Houston Dash – NWSL – (Soccer)
Houston Dynamo – MLS – (Soccer)
Houston Rockets – NBA – (Basketball)
Houston Texans – NFL – (Football)
San Antonio Spurs – NBA – (Basketball)
Texas Rangers – MLB – (Baseball)
How to Bet on Sports in Texas?
The Lonestar state hasn't legalized sports betting on a regional basis, but that doesn't prevent Texas bettors from getting in on the action. Texans must simply register with an offshore sportsbook to bet on sports in Texas. Offshore bookmakers aren't required to adhere to the legislature of Texas or the federal government, so finding the most reliable and trustworthy sportsbooks is imperative.
Here at Bookmakers Review, we have carefully studied hundreds of offshore betting sites to create our rating guide for the top online betting sites.
Sportsbooks that have gained an A+ rating have served Texas sports bettors for countless years, and our experts highly recommend these providers. An A+ sportsbook will own a reputation for paying out to their customers promptly, so they're the best choice for sports fans in Texas who require a trustworthy source for online sports wagering.
Signing up for an offshore sportsbook usually takes a couple of minutes. You then simply make a deposit, claim your welcome bonus, and proceed to place your first wager.
Compare the Best Texas Betting Sites & Sportsbooks
| Sportsbook | Rating | Online Since | Payment Methods | Read Review |
| --- | --- | --- | --- | --- |
| Bookmaker | A+ | 1996 | Credit Card, Bitcoin, P2P, Crypto | Bookmaker.eu Review |
| Heritage Sports | A+ | 2001 | Credit Card, Bitcoin, Cashiers Check, Bank Transfer, P2P | Heritage Sports Review |
| Bovada | A+ | 2011 | Credit Card, Bitcoin | Bovada Review |
| BetOnline | A+ | 2001 | Credit Card, Bitcoin, Crypto, Cashiers Check, Bank Transfer P2P, | BetOnline Review |
| Everygame | A | 1996 | Credit Card, Bitcoin, Skrill, Neteller, Bank Transfer, P2P | Everygame Review |
| BetAnySports | A | 2002 | Credit Card, Bitcoin, Electronic Check | BetAnySports Review |
| BetUS | A | 2000 | Credit Card, Bitcoin, Bank Transfer, P2P | BetUS Review |
| WagerWeb | A | 1994 | Credit Card, Bitcoin, Cashiers Check, Bank Transfer, P2P | WagerWeb Review |
| JustBet | A | 2000 | Credit Card, Bitcoin, P2P, Crypto | JustBet Review |
| GTBets | A | 2011 | Credit Card, Bitcoin, Crypto | GTBets Review |
Frequently Asked Questions: Legal Sports Betting in Texas
Is sports betting legal in Texas?
Sports betting in Texas is considered illegal gambling. Texas legislature attempted to bring legal sports betting bills to the table in 2021, but they all failed.

However, the Texas legislature will meet again in 2023, and various critics believe the opposition to a gambling expansion will be in for their toughest battle yet.
When will sports betting be legal in Texas?
Because the Texas Legislature meets every two years, and the previous meeting was in 2021, sports betting in TX won't come to fruition until 2023, at the earliest.

The support for sports betting, and other forms of gambling, in Texas, are snowballing, but the political hurdles must be overcome before the topic can be presented to voters. However, analysts expect a considerable shift between now and the next legislature meeting.
What are the best sportsbooks in Texas?
Citizens of Texas wanting to bet on sporting events must sign up with an offshore sportsbook.

Here at Bookmakers Review, you'll find an extensive breakdown of the best available offshore sportsbooks in Texas, and we continue to evaluate and record the progress of each offshore sportsbook brand in the business.

You can read our offshore sportsbook reviews to decide which Texas sports betting sites suits you best, but our top ten offshore sportsbooks for Texas are as follows:

• BetOnline
• Bookmaker.eu  
• Heritage Sports
• Bovada  
• Everygame  
• BetAnySports  
• WagerWeb
• BetUS
• JustBet
• GTBets
Is it safe to play with sportsbooks in Texas?
Customer service and security are two of the utmost important aspects that our experts compile into their reviewing strategies when deciding which offshore sportsbooks are top quality. We've recommended the best sportsbooks to play with in Texas and incorporated the safety measures into these judgments.

Bookmaker.eu, BetOnline, Heritage Sports, and Bovada are perfect examples of top-tier online sportsbooks that provide impeccable security measures for their customers.

With that said, this doesn't discredit the alternative offshore sportsbooks. Be sure to study the BMR reviews to find the most suitable Texas sports betting site that caters to your needs, as you can guarantee a robust level of security with each site on our list.

Each of them provides a variety of betting options to serve customers, including mobile sports betting, and casino gambling, like slots and table games.
What's the difference between regulated and offshore sportsbooks?
There are no regulated sportsbooks in the Lone Star State; as of right now, they are considered illegal gambling. In fact, all forms of gambling are illegal in Texas. There is one operating casino in Texas, that was nearly shut down last year.

Tribal casinos continue to be allowed in the state, but there is only the Kickapoo Lucky Eagle Casino, over an hour west of San Antonio.

Until the legalization of sports betting hits Texas, offshore sites remain the best choice.

Offshore sportsbooks are not subject to any United States gambling laws, but instead, have to answer to the regulatory body where they are located.

Sports bettors stateside can bet on their favorite college sports or professional sports teams, check out online table games, and more at these sites.