Wyoming Online Poker – The Highest-Rated Online Poker Sites in 2023
Shawn West has been involved with college basketball, NFL and college football and MLB since he left his job as bank vice president two decades ago. He lives in North Carolina with his wife, children, two dachshunds and a variety of turtles.
Wyoming's options for poker players looking for a game are fairly limited. There are a few tables at tribal casinos, and the state tends to be lenient on social games, private games and games for charity. But otherwise, real money poker games are prohibited by state law, both in-person and online.
While the state has become more lenient toward gambling, legalizing sports betting in 2021, there are no signs that Wyoming will be taking the same approach toward the poker scene.
Residents can still play poker, casino games and slot machines and they can participate in sports and horse betting at offshore online betting sites in Wyoming. These online casinos are located outside the country, so they are not subject to local state law, which means these online casinos can accept Wyoming players and pay out cash jackpots. But which offshore site should you use? That's where we come in.
The Best Online Wagering Sites for Wyoming
Wyoming's Top-Rated Online Poker Sites for 2023
We assembled our team of gambling experts to evaluate the best live online poker rooms available to Wyoming players. After reviewing dozens, they came up with the following recommendations.
Is online poker legal in Wyoming?
While Wyoming is loosening the reigns on many forms of gambling, including online sports betting, online poker is still illegal and doesn't seem to have a champion in the current state legislature, meaning poker laws aren't likely to change soon and neither is online poker status. According to the definition of gambling, poker is a game of chance, not skill, although many players would disagree.
There are tribal casinos where residents can play in person, but the only way to play poker online is at offshore sites like the ones in our rankings. These online casinos are located outside the reach of Wyoming state law, so they can offer real-money poker games and tournaments.
The Best Online Poker Sites Reviewed
Even the best online poker sites differ from one another on several important factors, and sometimes the differences can be very large. People's individual preferences and priorities when it comes to finding online poker tables are also very different. So, in order to help you find the site that is the best match for your own wants and needs, we asked our experts to go into more detail on each of the sites in our rankings, complete with pro and con lists.
1. Bovada: America's Busiest Online Poker Room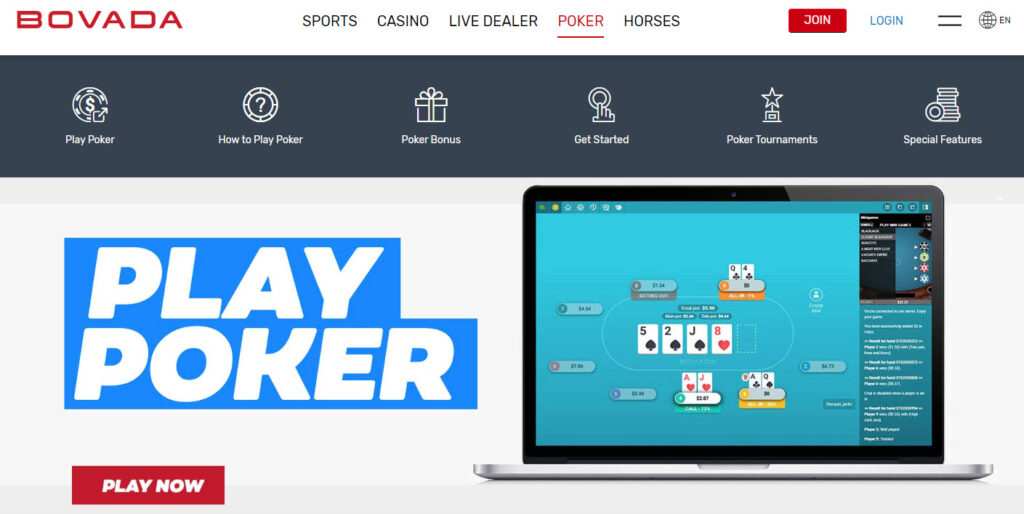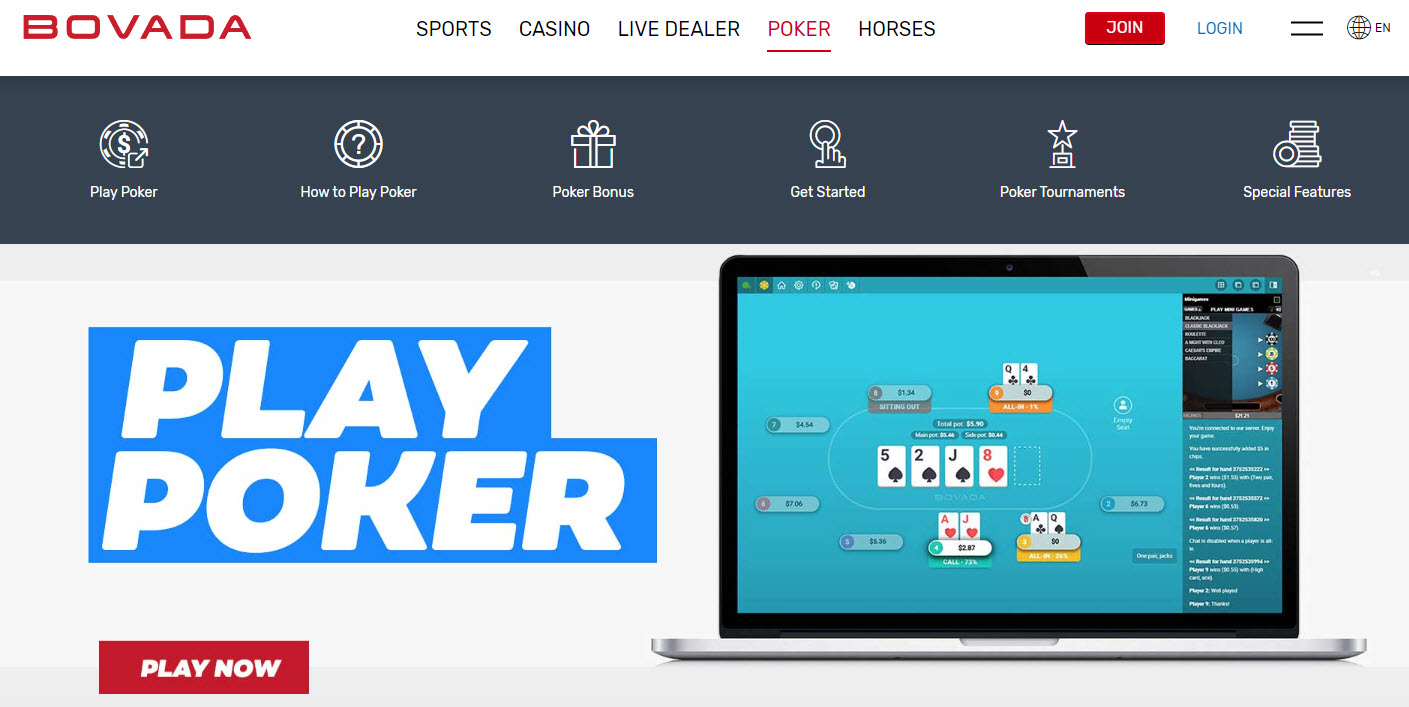 Bovada finished in first place as the best online poker room available in Wyoming. There's no doubt it's the most popular, as Bovada boasts the busiest poker room in the United States. It is part of the PaiWangLuo network, which also includes BoDog and Ignition Poker, among other popular sites. Overall, it's the sixth busiest poker network on earth. The five ranked above it do not accept American players. And, since PaiWangLuo has a global reach, there's always a game about to start, no matter what time of day.
Bovada Poker has the busiest multi-table tournament schedule in the United States as well, with more than 100 different tourneys starting each week. It pays out $2 million in guaranteed prizes each week as well.
Bovada offers a wide variety of poker variations, including no-limit hold 'em, draw poker, Omaha and Omaha Hi-Lo. Their tournament schedule includes sit & go, knockout, turbo and fast fold. Bovada offers a full casino experience with online slots, table games, online sports betting and more.
Pros
America's busiest poker room
Tournaments pay out $2 million in prize money each week
The busiest poker tournament schedule in the country with 100 a week
Poker bonus funds don't have high rollover requirements
Cons
Welcome bonuses are lower than at competing sites
Has a fairly high rake
2. BetOnline: Home to the Highest Welcome Bonuses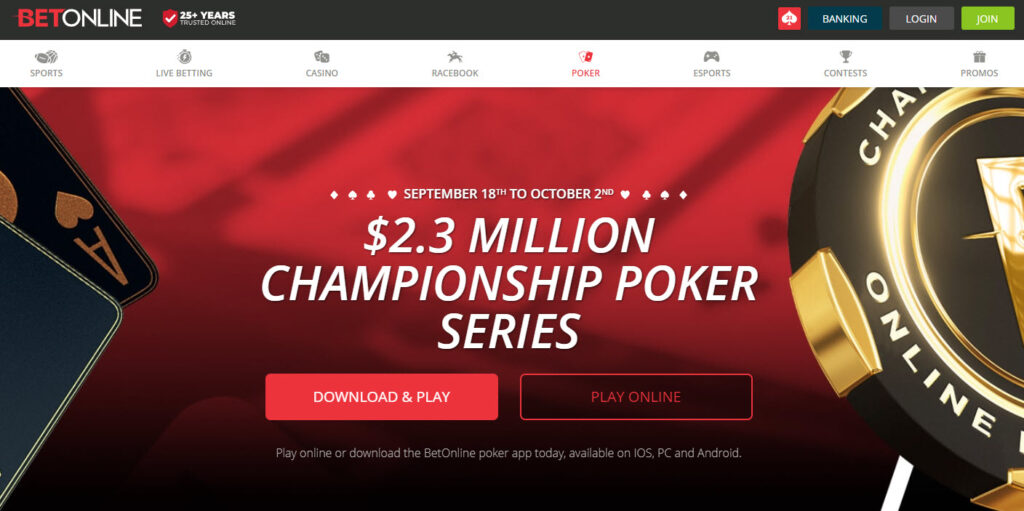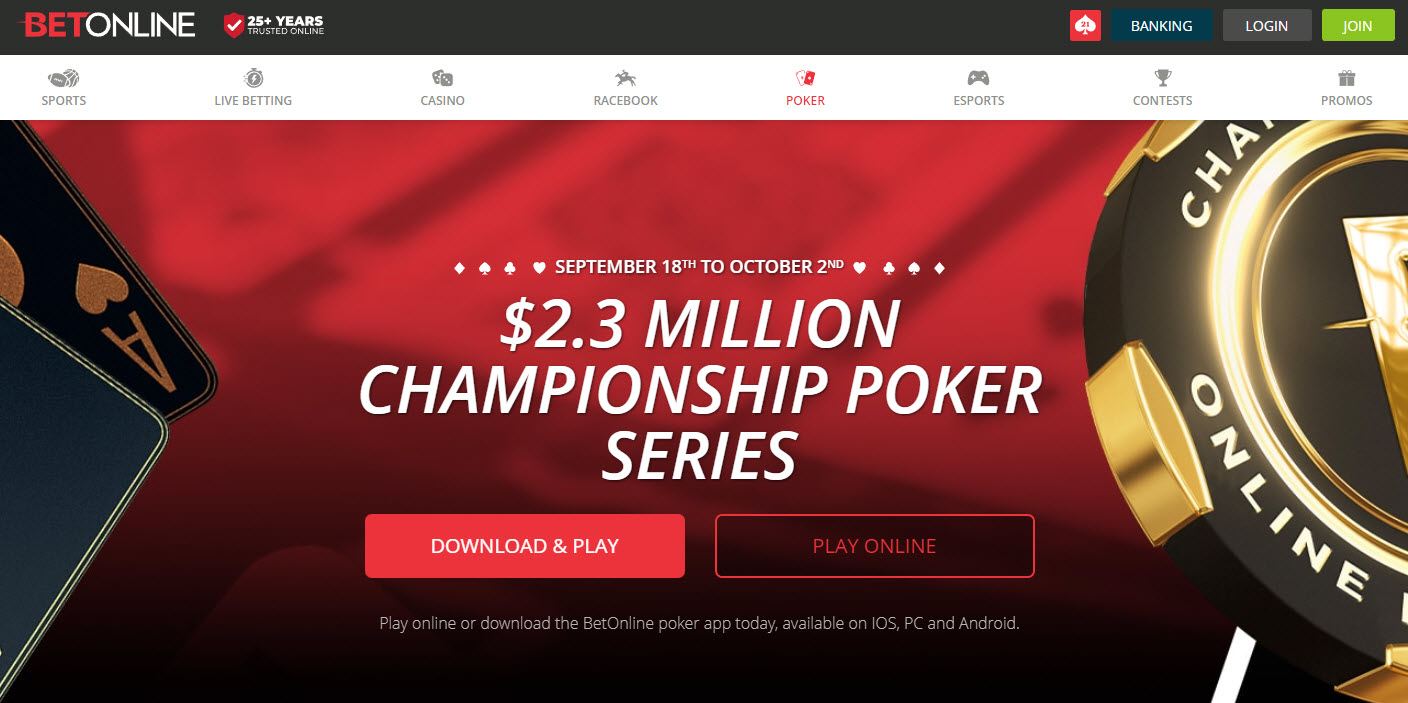 Our experts put BetOnline in second place in our rankings. It's also affiliated with a very busy poker network. BetOnline is part of the Chico Poker Network, along with SportsBetting and Tiger Gaming, among other sites. Chico is the third busiest network that includes American players.
There are plenty of poker rooms available at BetOnline, with a wide range of skill levels, experience levels and table limits. Their low tournament buy-ins are low, and some tourneys offer re-entry. Our experts also pointed out that BetOnline's poker-specific welcome bonus is the highest in the state, matching your first deposit up to $1,000.
There are plenty of different poker tournaments to choose from, including bounty limited tourneys, shootouts, progressive bounties, rebuy frenzies, sit & gos and Omaha tournaments. And individual games include Seven Card Stud, Mississippi Stud and Texas Hold 'Em.
Pros
The highest poker-specific welcome bonuses
Pays out a million dollars a day in tournament prize money
Wide range of poker variations and tournament styles
America's third busiest poker room with one of the highest liquidities
Cons
No demo versions of online games
Does not offer VIP loyalty points program
3. Everygame: The Highest Rakeback You'll Find in WY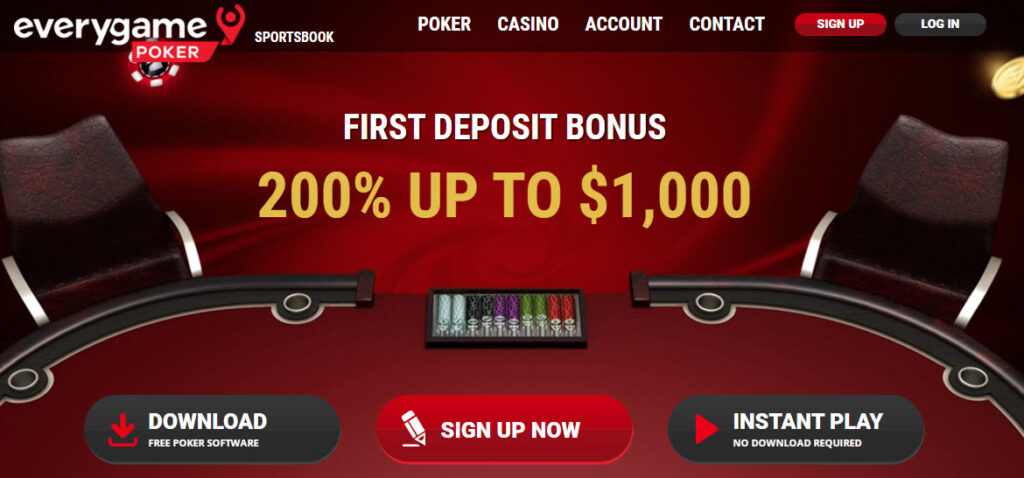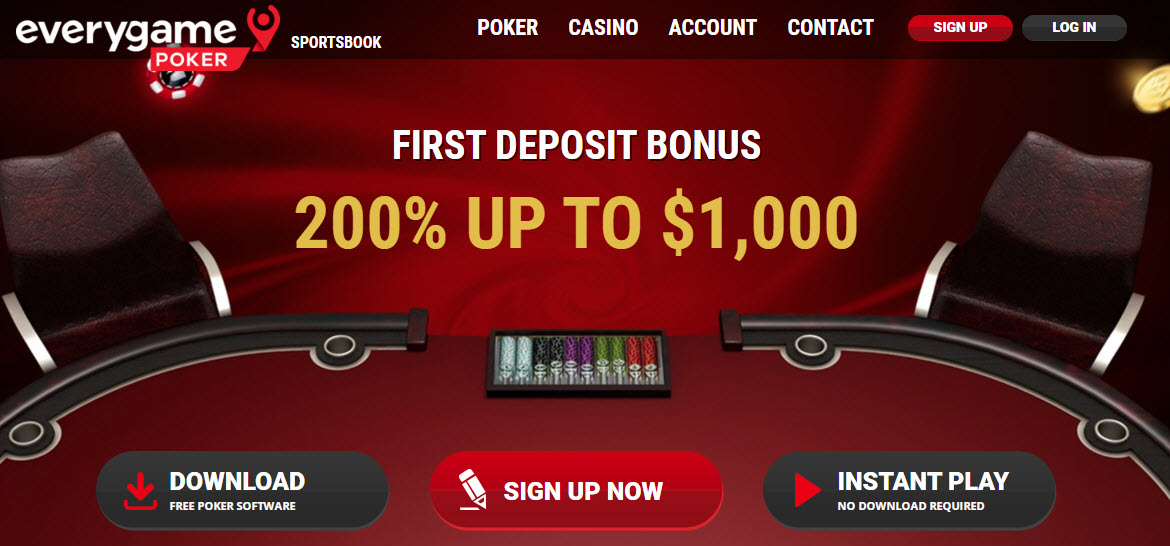 Everygame pays the biggest rakebacks to poker players in Wyoming.
A quick refresher on what that means: Poker players often have to pay an entry fee to play in games or tournaments. That fee is called the rake. Offshore poker sites often rebate some of the fee, giving it back to the players. That is known as a rakeback, i.e. you get some of your rake back. So gamblers are looking for sites with rakes that are low and rakebacks that are high.
Everygame refunds up to 36% of your rake. They also match your first deposit at 200%, up to $1,000. And they also have a cashback rebate program to give you back a percentage of your net poker losses.
Everygame is a member of the Horizon Poker Network, which offers tournaments and individual games with poker variations including sit & go, freerolls and ring games. Everygame also has a sportsbook, racebook, online slot machines and casino games, including slot machines.
Pros
Returns 36% of your rake
Deposit match bonus of 200% for new users
Cashback rebate program on net poker losses
Poker welcome bonus includes 25 free casino plays
Cons
Horizon Network isn't as busy as many of the other online poker networks
Tournament prizes are not as high as other poker sites
4. SportsBetting.ag: Offers Fast Payouts and Low Rakes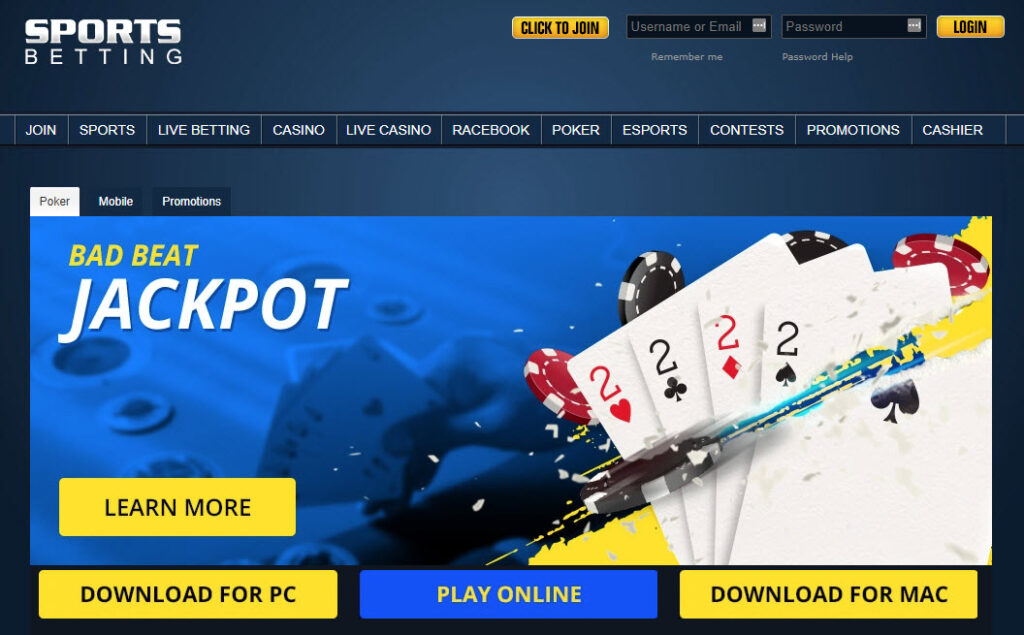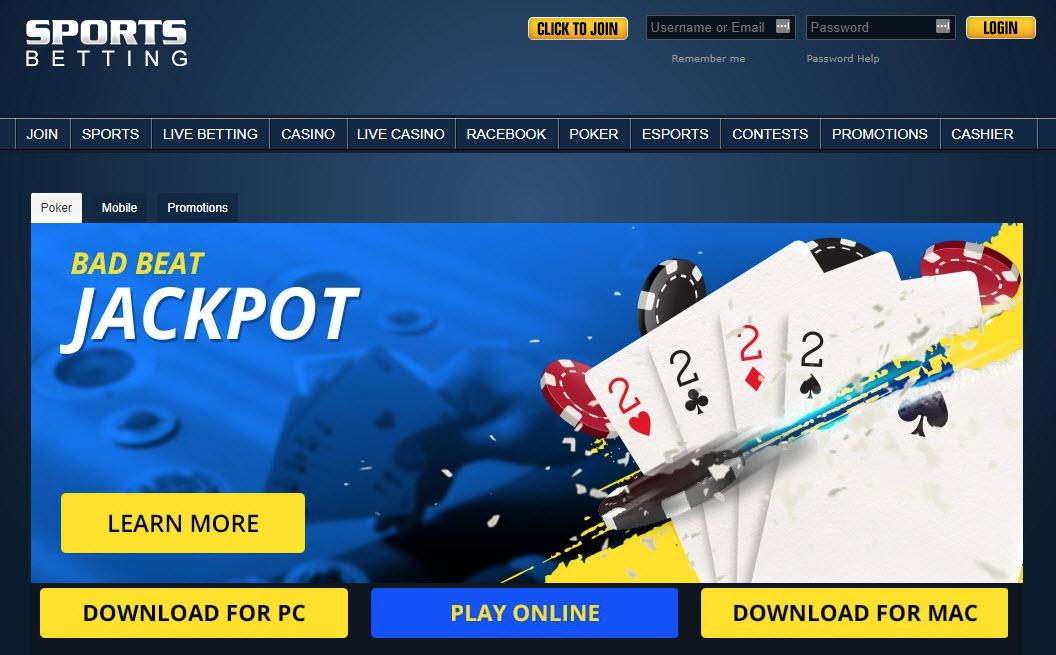 The final offshore poker site in our rankings is SportsBetting.ag, which is a sister site of BetOnline. Both of them are on the Chico Poker Network, which is the third-busiest poker network that includes American players. It's also one of the world's highest liquidity networks.
SportsBetting is known for some of the lowest rakes in Wyoming, meaning the fees to enter tournaments or play at tables are not as high as at other sites.
The poker experience at SportsBetting is similar to partner site BetOnline, which finished second in our rankings. They have a very busy tournament schedule and pay out a million dollars in prize money each day. SportsBetting recently upgraded its software and now has a state-of-the-art user interface that is fast and responsive while also being stylish and slick.
SportsBetting also offers a sportsbook, an online casino with online slots and table games.
Pros
Rakes are among the lowest in Wyoming
Member of America's third busiest poker network
Offers a million dollars in tournament prize money each day
Features bad beat jackpots
Cons
Interface isn't as easy to use as some other sites
Charges fees on some transactions
Our Rating Methodology
Our experts took several characteristics into account while compiling their rankings of the top online poker rooms in Wyoming. The overall gaming experience offered by the site, the variety of online poker games offered, the activity level of the poker room, as well as the quality of each user interface, were all big factors. So was the quality and variety of bonuses and promotions offered, both for new customers and for loyal ones. They also looked at each site's banking options offered, their customer service department and what customers thought of the experience in online reviews.
Wyoming's History of Gambling Laws
Gambling in Wyoming is at least as old as the earliest American settlers, back in the days of the Wild West, when poker games were regularly played in casinos around the state. That changed in the 1900s, however, when gambling history in the state featured a nearly 100-year dead period.
In 1901, the state passed a law declaring all forms of gambling to be evil and making them illegal. That lasted until 1967 when the state legalized pari-mutuel betting on horse races. It was more than 30 years before another crack in the gambling ban appeared when a native American tribe sued for the right to open a tribal casino. Legal battles lasted five years, but eventually, the tribe won and the state is now home to a handful of casinos.
In 2021, the state finally legalized online sports betting. Although there appears to be no momentum in the current legislature to change poker laws or legalize real money casino games online.
Timeline of Gambling
2021: Wyoming passes legislation for the legalization of online sports betting. Regulated sports betting was launched later that year, regulated by the Wyoming Gaming Commission.
2016: The state reviewed online casino gambling and considered bringing legalized online gambling to the state, but no sports betting legislation was proposed at the time.
2014: Two tracks reopen offering horse betting
2013: The state legalizes a lottery, becoming one of the last to do so.
2005: The Northern Arapaho tribe wins an appeal in court, which means they can now open their own casino.
2003: The state passed a law allowing racing terminals, which allows for virtual betting.
2000: The Northern Arapaho tribe files a lawsuit with the state in an effort to gain the right to open a casino.
1967: The Wyoming Pari-Mutuel Commission is formed, which led to betting on horse racing both in person and at off-track parlors.
1901: The McGill Act restricts all forms of gambling in Wyoming
Standout Features of the Best Online Poker Sites
The online poker experience can be very different from one site to another, even between highly rated sites. But there are a few factors that are must-haves, in order to be considered one of the best sites available. Here are some of the non-negotiable characteristics the best sites need to exhibit.
Competitive Gambling Odds
Odds and lines at online betting sites should be fair and reflect actual probabilities of success. In other words, gamblers should have a fair chance to make money
Multiple Betting Markets Offered
The top sites should offer a wide variety of gambling options in a single location, including poker rooms, sportsbooks, racebooks, online casino games, slots and live dealer games.
Deposit & Withdrawal Methods
There should be a variety of ways to conduct financial transactions, including traditional banking methods like credit cards, debit cards or wire transfers, as well as newer methods like e-wallets and crypto options.
Generous Promotions
Sites should offer bonuses for signing up for a new account and for continuing to bet at the site. Many sites have a separate poker bonus in addition to the site's regular welcome bonus options. Ongoing promotions could include VIP points programs, rakebacks, cashback rebates and more.
Availability of Live Dealers
Most sites offer video poker as part of their online casino. We limited our rankings to sites that also had live dealer poker options. The social aspect of the game –bluffs and tells– is critical to poker play and something that video poker can't replicate.
Quality of the User Experience
The overall user experience includes all aspects of the game, from the user interface to the variety of games and tournaments offered, to the quality of play. While many poker players are looking to win money, they also want to have an enjoyable experience while playing.
Mobile Site Quality
More people play online poker on their phones or another mobile device than on a computer, so the quality of the mobile site should be at least as good, as attractive and as responsive as the main site. Many poker rooms offer separate mobile apps or options to play poker in their casino apps.
Customer Support Contact Options
When you need help, it should be easy to get. Customer service should be responsive and available 24/7 in multiple languages. You should be able to contact them several different ways, including phone, email and live chat.
Site's Security Features
When you are sending money online to an offshore site, you have every right to be concerned about safety. This was a non-negotiable factor. If any site had questions about its security or had been a victim of hacks in the past, it was immediately removed from consideration.
Online Poker Varieties in Wyoming
Poker is one of the most popular card games in the world, and one of the most popular online casino gambling activities. There are a huge number of variations on how to play and how to bet on the game. Here's a quick rundown of popular varieties.
Cash Games
Real money poker games that are not part of a tournament are called cash games, or sometimes ring games. They use chips worth real money or real money itself as stakes. There is usually no predetermined end time for the game and it lasts as long as the players are willing and able to play. Players can come and go throughout the game.
Tournaments
Tournaments are poker games with multiple players that can range from a few at one table to hundreds of tables or thousands of players competing via online betting. They play in real money games, and a player is eliminated when they run out of chips. The person who eventually ends up with all the chips is declared the winner.
Sit & Go Games
Sit & Go games have no predetermined start time. They start when a specified number of players –usually six or 10– enter the game. As soon as the last player enters, the game begins. The games are fast-moving and usually, the players all start with an equal number of chips.
Social Games
Social poker games are ones where money is not up for grabs. As the name implies, these free games are done for the pleasure of interacting and competing with other players.
Charitable Poker Games
Churches and non-profit organizations are allowed to hold charitable gaming events to raise money. These charitable gambling activities can include bingo, raffles or casino nights where table games, including poker, can be played.
Live Poker
Live poker refers to a game with an actual dealer and other players, as opposed to simulated opponents and dealers in video poker. Online live games usually have a video hookup between players and the dealer.
Advantages of Playing Online Poker in Wyoming
Since 2005, there have been a handful of tribal casinos in Wyoming that offer table games, including poker. Two of the most popular are Wind River Casino, in Riverton, and Sweetwater Downs, in Rock Springs. Currently, Native American tribes are the only ones allowed to offer Wyoming poker rooms. There are no commercial casinos in the state other than ones on tribal land. The state does allow for social casinos, with free poker games where money is not exchanged, and video poker machines.
Online poker has the advantage of being available anywhere you have a computer or mobile device and internet connection, instead of having to drive to a land-based casino. Online poker rooms also offer a variety of other gambling outlets, including sportsbooks, casino games and racebooks, all in one place.
How to Create an Online Poker Account in Wyoming
It is fast and easy to create a poker account at online gambling sites in Wyoming. You can begin playing real money games in a few minutes.
Step 1. Choose Your Poker Site & Sign-Up
Pick a poker room from the list of offshore sites we recommended and click the "Join Now" or "Create Account" button to create an account.
Step 2. Verify Your Poker Account Details
Enter your registration information. Most sites have you verify your information by responding to a code texted to your phone.
Step 3. Deposit Your Funds
Choose a deposit method from the ones listed on the cashier page on the site. Enter the amount, your bank information and the bonus code to get your welcome bonus.
Step 4. Begin Playing Poker
That's it. Find a table and get dealt into a game. Good luck!
FAQs – Playing Poker Online in Wyoming
Can you play poker online in Wyoming?
You can play real money poker games online in Wyoming, but only at an offshore site like the ones our experts recommended. They are located outside the United States, which means they are outside the jurisdiction of Wyoming state law. 
What gambling is legal in Wyoming?
There is locally-regulated online sports betting and horse race betting in Wyoming. Offshore sites offer a wide range of gambling activities, from sportsbooks to casino games to racebooks to poker. 
Can I gamble online in Wyoming?
There are two options for internet gambling in Wyoming. You can bet on sports online –and nothing else– at state-licensed betting sites. Or you can use offshore sites, which offer real-money poker games and more.
Where do most Americans play poker online?
Americans play poker online in a number of places, but the busiest poker network that includes American players is the PaiWangLuo network. Our top-rated online poker room, Bovada, is a member of that network and home to America's busiest poker room.
Does anyone make a living playing online poker?
Plenty of people make a living in professional gambling, and that includes online poker players. It is possible to win enough cash games or do well enough in tournaments to make a living.
In what can only be described as a seminal pact between adversaries, Governor Newsom has signed a bill into law that both the California Native American tribes, as well as cardroom operators, support – no additional cardrooms in the state for two more decades. In turn, this collaboration between Native American tribes and gambling hall

---