Connecticut Horse Racing Betting in 2023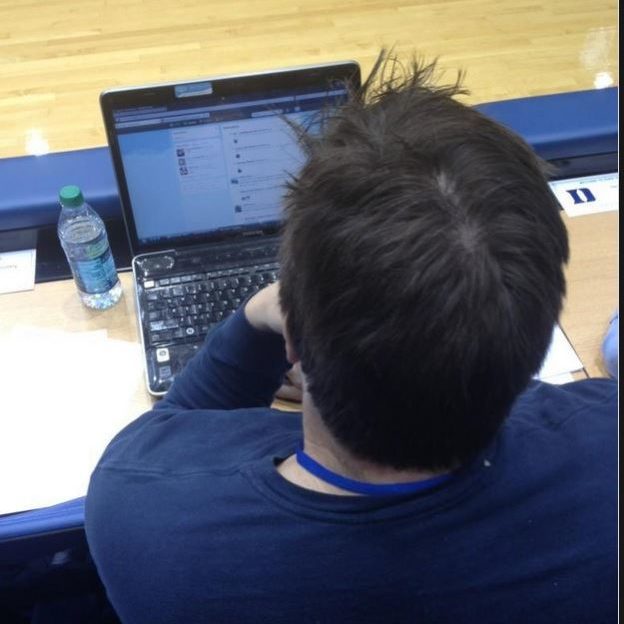 Shawn West has been involved with college basketball, NFL and college football and MLB since he left his job as bank vice president two decades ago. He lives in North Carolina with his wife, children, two dachshunds and a variety of turtles.
Connecticut has a long history of horse racing and betting on races. The first track opened in the state in 1873, and races attracted spectators by the tens of thousands in the 19th century. One of the first photo finishes took place in Connecticut in 1889, and the first harness race on film was in the state in 1897. Connecticut's governor vetoed a bill that would have regulated horse betting in 1935, and betting remained illegal until 1971.
There are currently no operational horse racing tracks in the state, but OTB parlors allow for horse betting, as do several regulated online sites. These horse racing sites don't provide for any other type of gambling, however, such as sports betting, online poker, casino table games or slots. To participate in all those activities in one place, you need to use one of the offshore sports betting sites in Connecticut, which is outside the jurisdiction of local law.  
The Best Online Racebooks for Connecticut Bettors
Our Top-Rated Online Horse Race Betting Sites for 2023
There are hundreds of offshore gambling sites available to Connecticut residents. Some are stable, trustworthy and offer an outstanding gambling experience. Others are not as good a choice. We convened a panel of experts to recommend the best online racebooks available to bettors in the state.
Is horse race betting legal in Connecticut?
Connecticut has been one of the nation's leaders in loosening its gaming laws. Betting on horse racing began in the 1800s, and the state tried to officially legalize it in the 1930s, but the governor vetoed it. Race betting has been legal since the early 1970s, at the state's tribal casinos, at an off-track betting facility and online.
Horse racing sites licensed by the state allow residents to bet on races around the world. However, current online gambling laws in the state don't allow those sites to offer the full casino experience. Connecticut bettors also won't be able to bet on non-racing sporting events or play poker, casino games or slots online. To do all of those activities in one place, Connecticut residents would need to use one of the offshore sportsbooks we recommend in our rankings, which offer all of those gambling markets in one spot.
Connecticut's Best Online Racebooks Compared
Most of the racebooks in our top 10 use the same software to run the horse betting section of their site. That means that the process of placing a bet on a race is similar pretty much across the board. But the sites differ in a number of other important factors, such as odds offered, customer service, bonuses and promotions and quality of their mobile site.
Here's a detailed look at each site in our top 10, so you can find the one that's the best match for your personal needs and preferences when it comes to playing the ponies.
1. BookMaker: The Experts' Choice as Top All-Around Racebook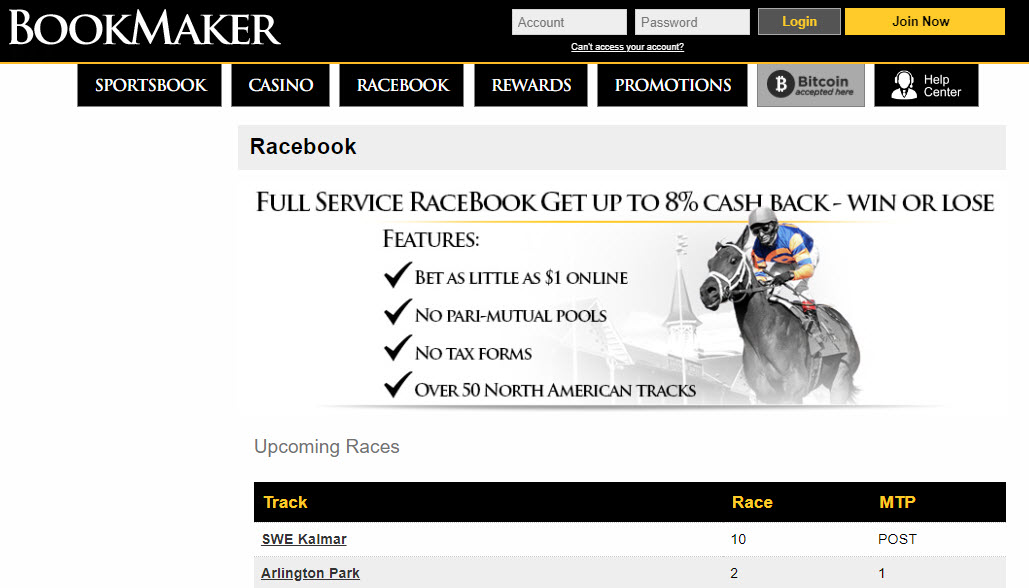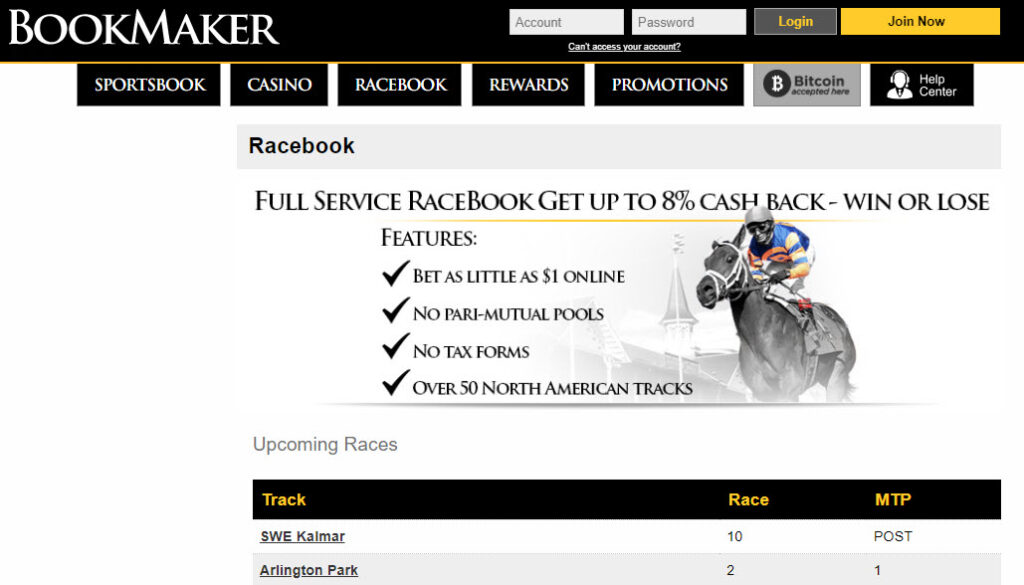 Bookmaker.eu emerged from our expert panel's evaluation as the top all-around racebook in Connecticut. It features action from more than 50 tracks from all across North America, as well as international races from Europe. They offer a cashback rebate program that returns 3% of customers' losses on straight bets (win, place or show) and 8% on exotic bets.
Bookmaker caters to gamblers of all levels. Betting limits are high, and minimum bets go as low as $1, so every risk tolerance will find a bet that suits their needs. The VIP program also welcomes all customers and has rewards tailored to all levels of bankrolls. They publish lines and odds earlier than anyone else, and their user interface makes it easy to navigate the site and find what you need quickly.  
Pros
Cashback rebate program returns 3% of losses on straight bets and 8% of exotics
Lines and odds are posted earlier than other online gambling sites
Offers high betting limits and low minimum bets
Outstanding loyalty program that rewards all customers, regardless of bankroll size
Cons
Welcome bonuses are not as high as other sites
Has limited performance history on horses, making handicapping difficult
2. Bovada: Best Loyalty Program for Horse Bettors in CT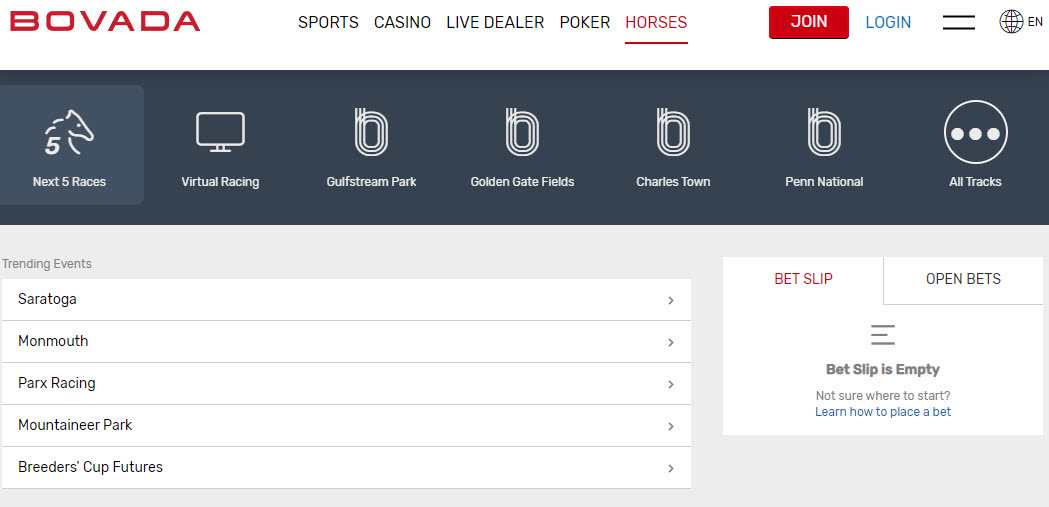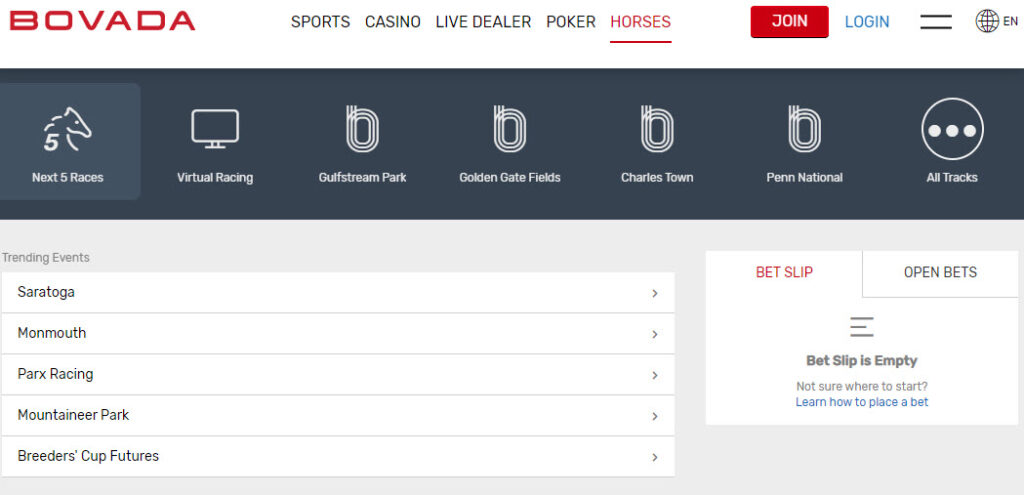 Bovada came in number two in our rankings of the top racebooks for Connecticut bettors, and it may be the most popular offshore gambling site. Bovada believes in providing variety for customers, offering a full casino experience with one of the top online sportsbooks that has Connecticut's largest menu of prop bets. They also have a huge library of slot and table games in their online casino, as well as the busiest poker room in the U.S., in addition to the racebook. There are more different and varied ways to bet in Bovada than anywhere else.
The racebook also embraces the themes of diversity and variety, with a large selection of futures bets available. It also has races from tracks across America, mainland Europe, the U.K. and Ireland, South Africa, Asia and Australia. For the biggest races on the calendar, like the Kentucky Derby, Breeder's Cup, Belmont Stakes and Preakness, Bovada steps things up. It pays up to $100,000 on Triple Crown races and up to $30,000 on other major races on the calendar. Bovada also offers Connecticut's most highly-rated loyalty program for horse bettors. As if all of that wasn't enough, there are numerous Bovada promo codes available for use.
Pros
Connecticut's best loyalty program for race bettors
Pays up to $100,000 for Triple Crown races and $30,000 for other major races
Has larger menu of racing futures than any other site
Offers a full casino experience with slots, table games, sportsbook and America's busiest poker room
Cons
Doesn't have cashback rebate program for race betting losses
No horse performance data for handicapping
3. HeritageSports: Red Carpet VIP Service for All Horse Bettors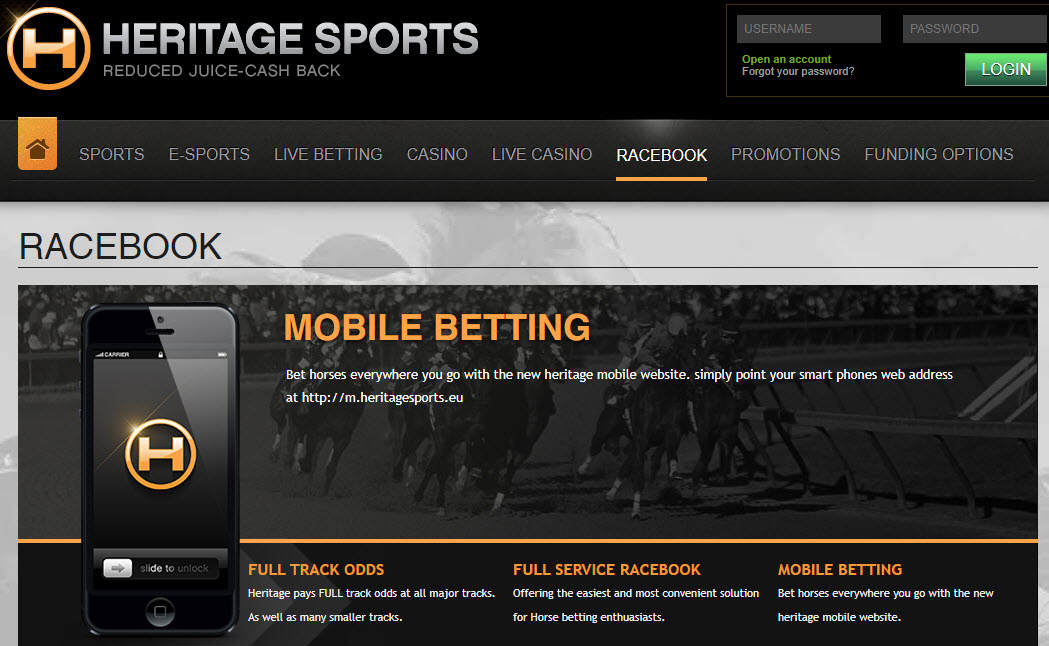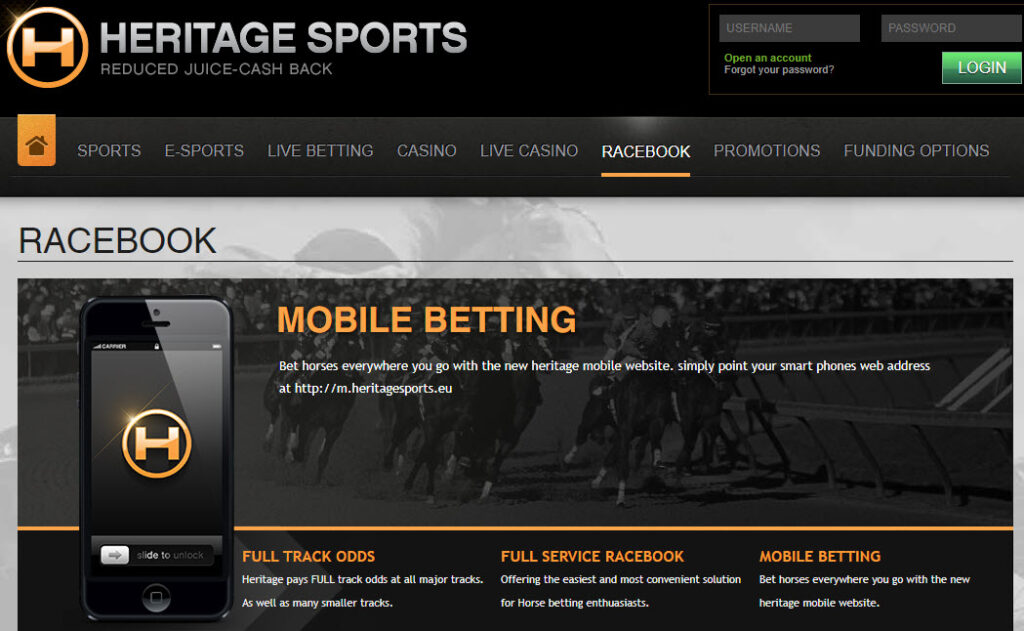 Heritage Sports took second place in our top 10. Its racebook allows you to bet on races from 60 different tracks around the world. Tracks across the U.S. are included, as well as ones located in Ireland, the United Kingdom, mainland Europe, Japan, Australia, Hong Kong and South Africa.
Thirty tracks are singled out and given higher betting limits. Heritage Sports identifies 16 major tracks, which allow betting limits of $1,000 on straight bets and $200 on exotic bets. Another 14 tracks are on the next tier with limits of $500 on straight bets and $100 on exotics. They also offer a daily cashback rebate program returning a portion of your horse betting losses.
As the rebate program shows, Heritage knows how to pamper a customer, with the top VIP red carpet service in Connecticut. It also offers the best mobile horse betting site in the state.  
Pros
The top red carpet service for all gamblers
Pays full track odds for major races and tracks
The best mobile racebook in CT
Limits go up to $1,000 at major tracks, $500 at other top tracks
Cons
Welcome bonuses are not as high as competitors
No live streaming of races
4. BetOnline: The Top Cashback Rebate Programs in CT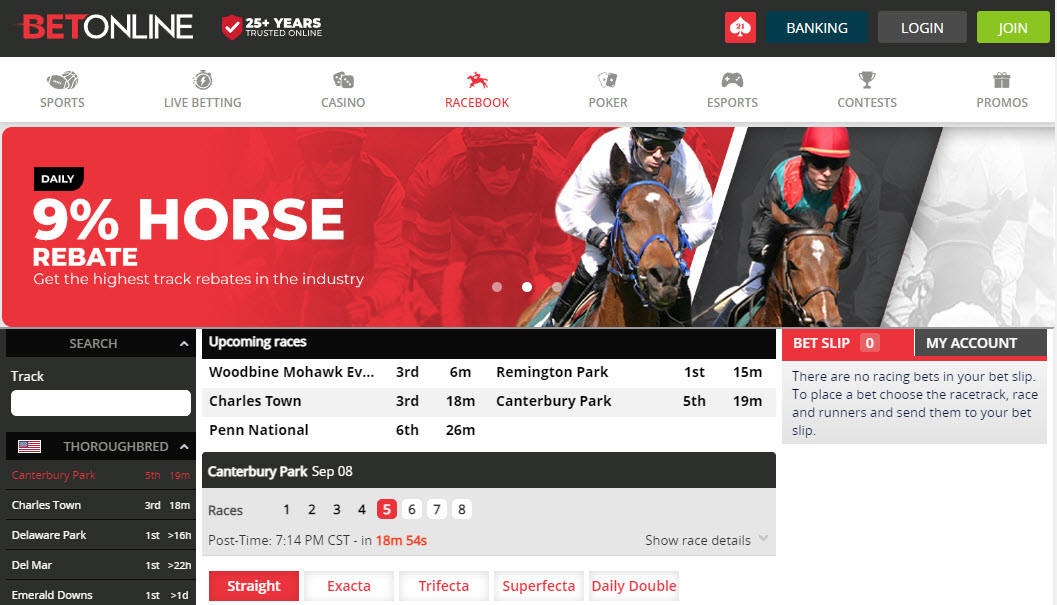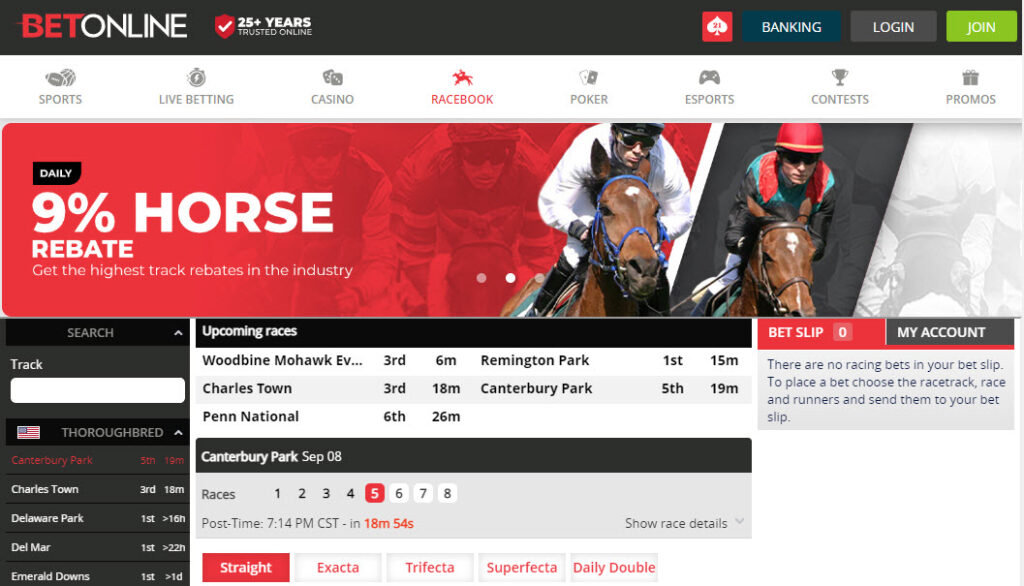 BetOnline comes in at fourth place in our top 10, but it earned special recognition from our blue-ribbon panel of experts for having the best cashback rebate program for racing. 
BetOnline returns 4% of the amount wagered on straight bets (win, lose or show) with a cashback rebate. Unlike many sites, that percentage isn't applied to the amount of your racebook losses. It is applied to the total amount you bet, regardless of whether you win or lose.
So it's a rebate of your losses as well as a profit boost on your winnings. For exotic bets, they return 9%, and that's also on the total amount bet, not the net losses.
You can bet on races from tracks in the United States, Australia, the U.K, Ireland, France, South Africa and Japan at BetOnline. The site also carries some racing events that others don't, such as Swedish harness racing.
For fixed-odds betting, meaning the biggest races on the horse racing calendar, such as the Triple Crown and Breeder's Cup, BetOnline offers very gambler-friendly odds and posts them several weeks ahead of time to allow for plenty of futures betting.
Pros
The best racebook rebate program, with up to 4% of straight bet amounts and 9% of exotic bets returned
Gambler-friendly fixed odds for major races which are posted several weeks early
Betting bonuses include a $25, risk-free, for the racebook as part of the welcome bonus
Offers a full-casino experience with a sportsbook, slot machines, table games and a poker room
Cons
Site's welcome bonus money can only be used at casino and sportsbook, not the racebook
Charges fees on some types of transactions
5. BetAnySports: Horse Racing Promotions and Rebates Add to Gamblers' Profit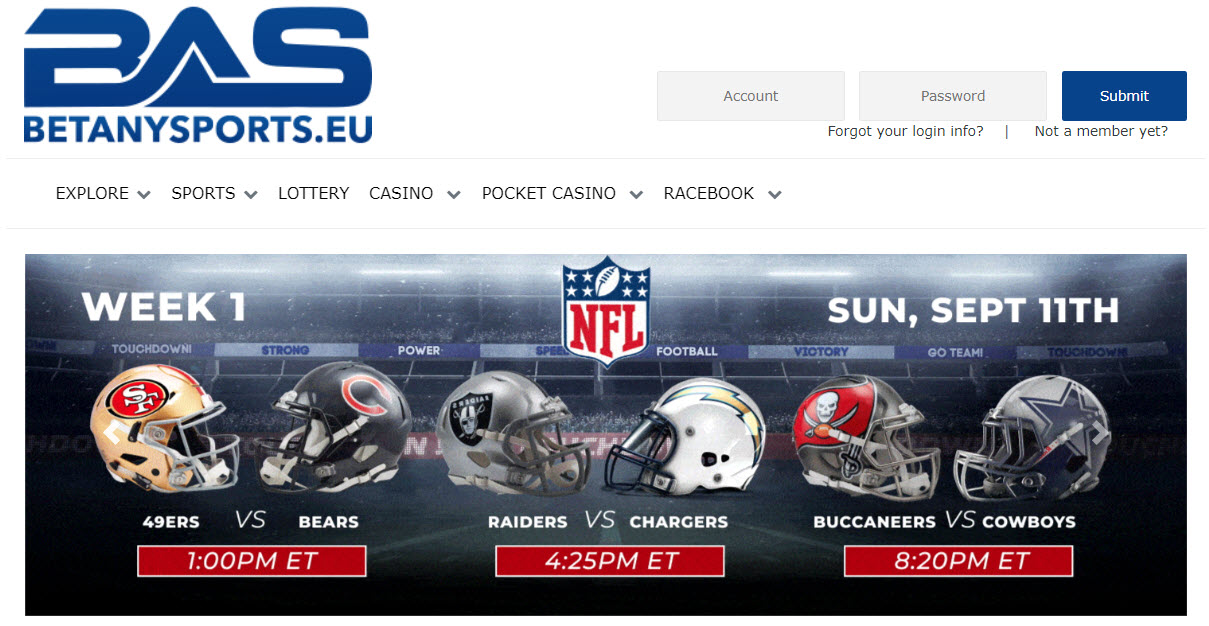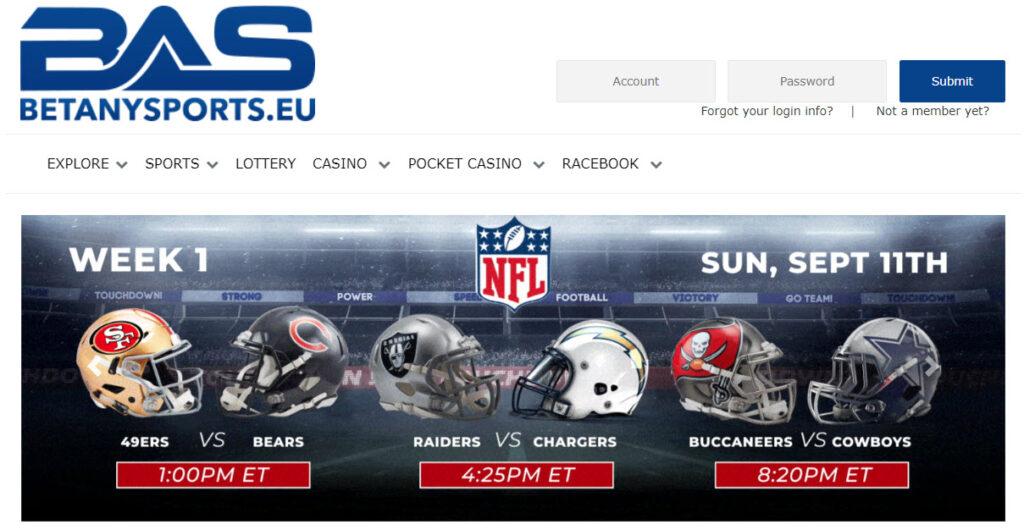 As its name implies, BetAnySports made its name through its sportsbook, which gives more value to gamblers than any other online gambling site, thanks to generously reduced juice and gambler-friendly odds.
The BetAnySports racebook is also on brand with the sportsbook, finding ways to keep money in horse bettors' pockets. Their cashbook rebate program is one of the most generous you'll find. It returns a percentage of all horse race betting activity, regardless of whether the bet wins or loses. BetAnySports returns 3% on straight bets and more on exotic bets. The exotic percentage starts at 6% and increases based on your activity level, going as high as 9%.
They also offer an extremely generous Plus 10% Racebook program that adds an additional 10% profit boost on selected tracks, which is a better deal than you'll find going to the track in person.  
Pros
Cashback rebate returns a percentage of all betting activity, not just losses, at 3% of straight bets, up to 9% on exotics
Has a generous 10% payout boost program
Win limits are higher than any other racebook
Site welcome bonus can be used in the racebook, unlike most competitors
Cons
Has a rollover requirement on not just bonus money but also deposited money
Website is not as polished or user-friendly as other sites.
6. Sportsbetting.ag: Offers Some of the Highest Betting Limits in CT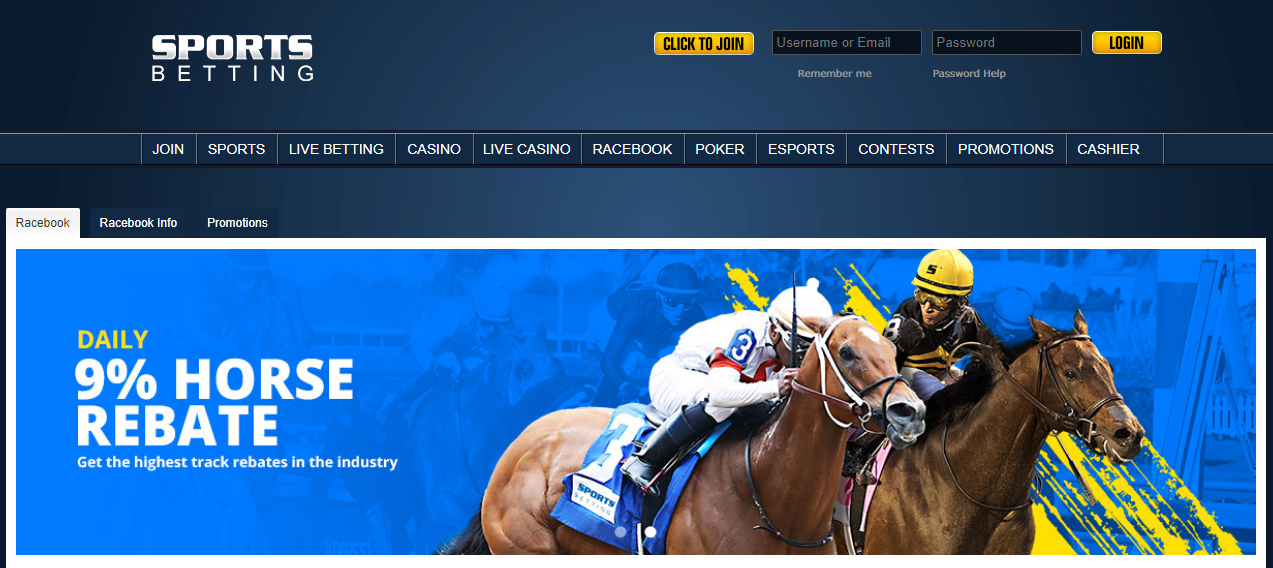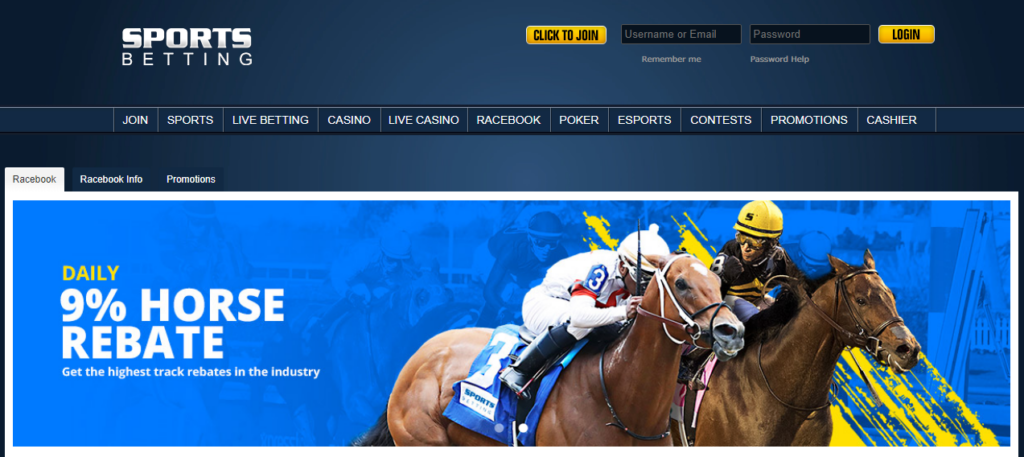 Sportsbetting.ag is a sister site of BetOnline and offers a similar betting experience to the racebook who placed in the top five in our rankings. Horse bettors can bet on races from across America, the UK, Ireland, South Africa, Australia, Japan, Sweden and Canada at Sportsbetting's racebook.
Horse bettors can also take advantage of generous promotions at Sportsbetting. The site offers a cash-back rebate, returning 7% of all daily net losses at the racebook. Their welcome bonus for the site also includes a $25 risk-free bet for the racebook.  
Sportsbetting also features a fast, efficient interface that allows you to place bets in a few seconds, both on the full-blown site and the version for mobile devices. Pages load quickly and the bet slip is very user-friendly. The site puts a premium on performance and speed over appearance.
Pros
Offers a 7% cashback rebate program on daily net racebook losses
User interface is fast, with mobile version allowing bets to be placed within 10 seconds
Deposit limits and betting limits are very high
Welcome bonus for site includes a $25 risk-free racing bet
Cons
Site's appearance is plain, and users older version of BetOnline interface
Fewer titles offered in online casino than at competing sites
7. JustBet: Fast, Efficient User Interface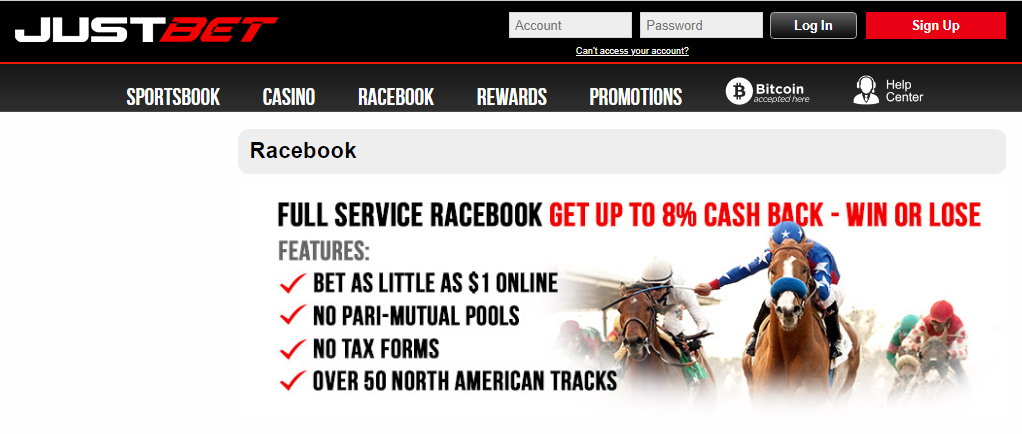 JustBet is in good company. It's the sister site of Bookmaker.eu, which earned the top spot in our rankings of the top racebooks available to Connecticut residents. JustBet offers many of the same benefits that earned Bookmaker the No. 1 ranking and offer a very similar betting experience.
The racebook at JustBet features racing action from 40 tracks across North America and additional tracks in the United Kingdom, mainland Europe and Australia. In addition to thoroughbred racing, they also have betting on harness racing.
Justbet offers a cashback rebate on losses at the racebook, and minimum bets go as low as $1, keeping consistent with Bookmaker and Justbet's priority on catering to all levels of bankroll and risk tolerance in its customers. There are also a number of other bonuses and promos available at JustBet.
Pros
Caters to all levels of gamblers, with high betting limits and low minimum bets
Offers variety of races, from tracks around the world, including thoroughbred and harness races
Racebook offers a cash-back rebate program on losses
Interface is fast and user-friendly
Cons
No live poker room or reduced juice at the sportsbook
Welcome bonuses are not as high as competitors
8. BetUS: Podcasts and Videos Help Break Down Big Races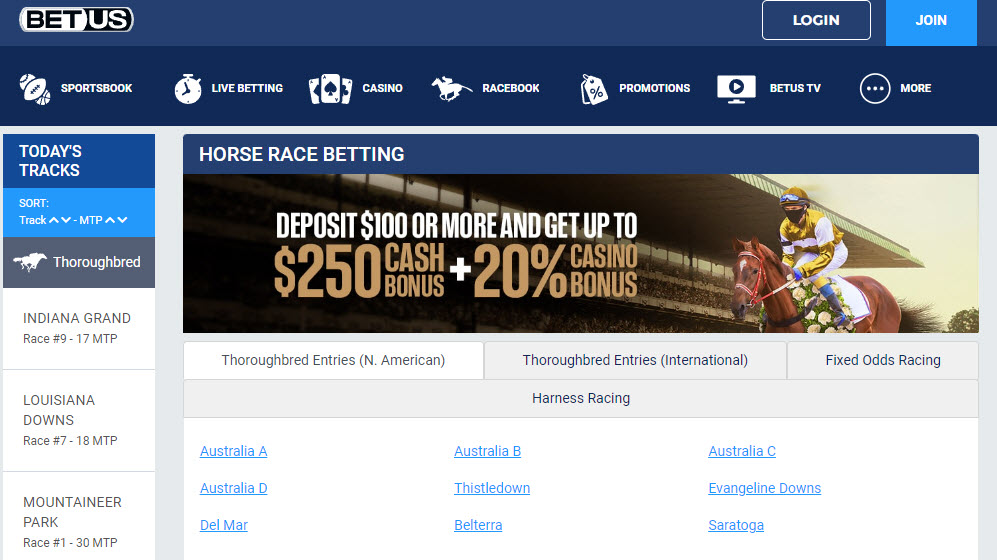 BetUS earned a spot in our top 10 in large part due to offering the highest welcome bonuses to Connecticut horse bettors. They match initial deposits at over 100%, meaning you'll more than double your money before you play your first race. And if you use crypto, the match goes up to 250%, meaning you're more than tripling your money.  
BetUS also adds to the fun of playing horses with creative promotions and the marketing team. They offer podcasts and videos at BetUS TV which break down upcoming big races and offer analysis and tips.
The racebook offers races from across the United States, the United Kingdom, Ireland, France and Australia. They've recently revamped their site and have a brand new cutting-edge user interface
Pros
Home of the highest welcome bonuses in Connecticut, allowing you to more than triple your money on your first deposit
New software upgrade gave it a fast, polished user experience
Videos and podcasts offering analysis of big races like the Belmont Stakes
VIP loyalty program for outstanding
Cons
Bonus money has steep rollover requirements attached
Doesn't post fixed odds as early as other sites
9. WagerWeb: Bitcoin Users Get Same-Day Payouts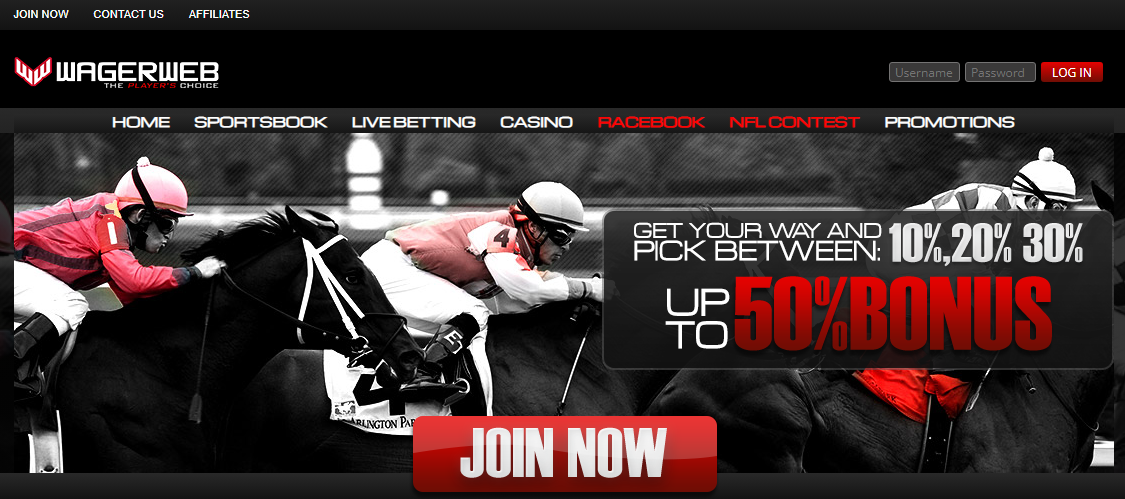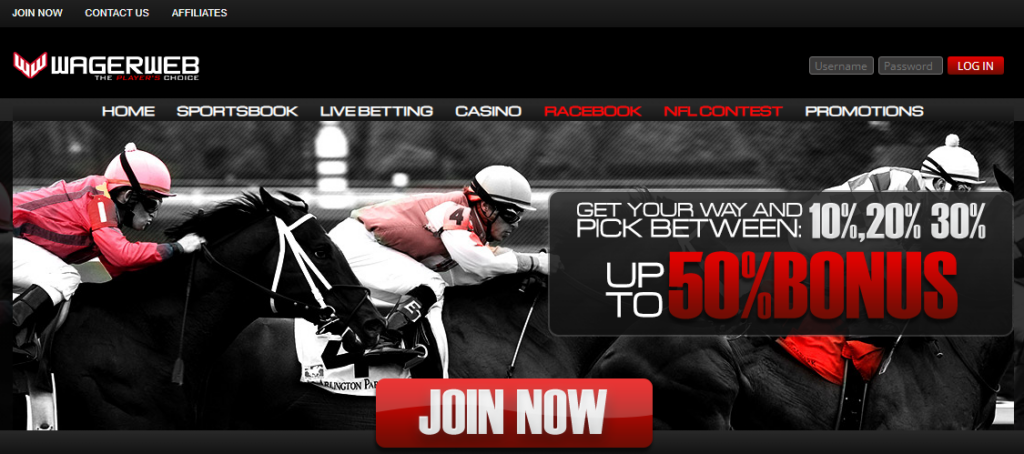 WagerWeb offers races from all the major American tracks as well as many of the smaller ones and also has a selection of international horse racing action. They pay out a cashback rebate on racing losses on a weekly basis. Every Monday, they return 5% of your net losses from the previous week. Customers can also take advantage of one of the platform's excellent promos in order to gain additional bonus funds and other perks.
As a sister site of Heritage Sports, WagerWeb offers many of the same benefits that put the top five site near the top of our rankings. They pamper customers with a red-carpet level of service and have an outstanding mobile site. WagerWeb also has been in operation for nearly three decades, providing a long track record of trust and dependable service. They've kept up with the times, however, offering same-day payouts to crypto users for some forms of crypto.  
Pros
Offers 5% weekly rebate on racebook losses
Similar gambling experience as top five site Heritage Sports
Long history of paying out quickly, easily and in full
Same-day payouts for users of some forms of crypto including Bitcoin
Cons
Free withdrawals limited to one a month
Betting limits are lower than many other sites
10. Everygame: One of the Longest-Running Online Racebooks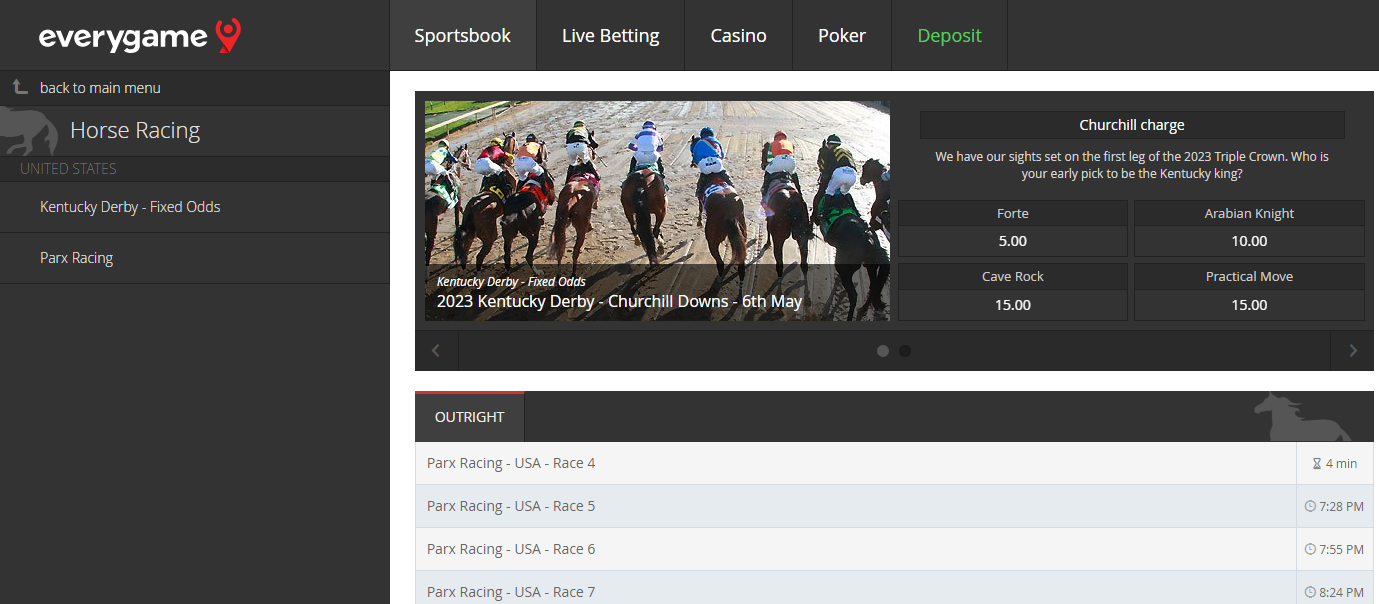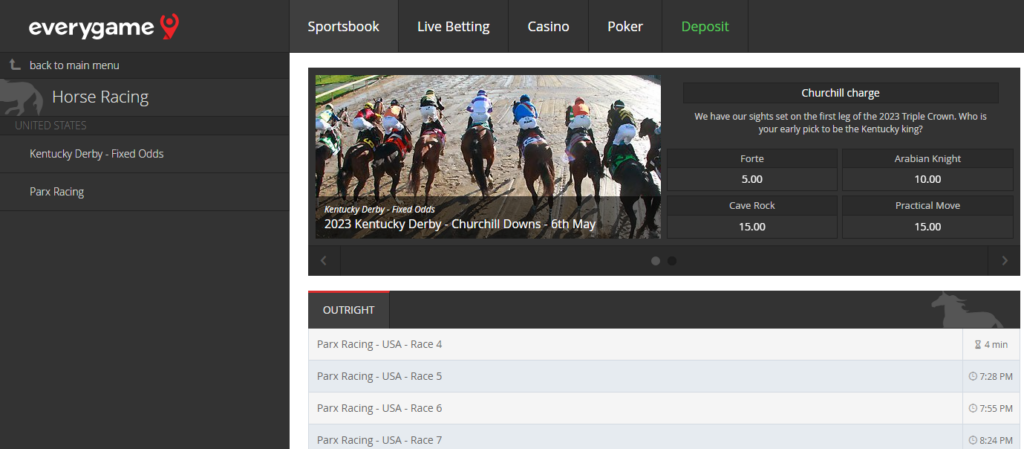 Everygame started in the 1990s and has a nearly three-decade-long history of paying out in full, on time, and treating gamblers fairly. That can't be faked, and it should offer customers a level of comfort in sending their money to an offshore gambling site.
Unlike most other sites in our top 10, Everygame doesn't have a separate, stand-alone racebook. Instead, horse racing is one of the options in their sportsbook. One benefit of that is that the site's welcome bonus can be used to bet on horse races. Some sites prevent bonus money from being used in their racebooks, limiting it to sports bets and casino games. But with an Everygame promo code or other bonus offer, you can use these bonus funds in the racebook.
Everygame focuses on American races and offers major competitions from tracks across the country. They don't offer international races, which is a bit surprising, since one of their strengths is their impressive selection of other sporting events and teams from around the world. Everygame also has brand new user interface software and is now an outstanding option for mobile betting.
Pros
Three decades of trustworthy operation and dependable payouts
New software upgrade gives it an efficient, polished mobile betting interface
Welcome bonuses can be used on racing
The best mobile casino in Connecticut
Cons
Doesn't offer the opportunity to bet on international races
Bonuses are relatively low
Our Racebook Rating Methodology
Our experts rated hundreds of online gambling sites in a number of different categories to compile their list of the 10 best racebooks in Connecticut. Among the factors, they took into consideration were the quality of fixed-odds offered for major races, welcome bonuses and ongoing promotions offered by each site, the quality of customer service, and what other customers thought of the sites in online reviews.
Connecticut's History of Gambling Laws
Connecticut has a long relationship with horse racing that goes back to 1873. And, as is usually the case, the history of horse racing is tied to the state's history of gambling. Betting has continued in Connecticut ever since, and the state is one of the more liberal ones when it comes to legalizing new forms of gambling.
The state attempted to pass a law regulating horse betting as early as 1935, but the governor vetoed it. Still, race betting, as well as betting on dog races and jai alai, have been around for more than a half-century, and some form of gambling has been legal according to state law since 1939.
In the early 1990s, Connecticut became one of the first states to negotiate state-tribal gaming compacts, leading to some of the first tribal casinos on Native American land in the U.S. Two casinos run by tribal gaming operators—Foxwoods and Mohegan Sun—are still two of the most successful tribal casinos around.
More recently, the state has turned its attention to sports betting regulations, passing a law paving the way for it in 2017. A soft launch period began in 2021, and sports betting is now legal online and at retail sportsbooks at the tribal casinos. The practice produces $14 million a month in gaming revenue, which gives the state an additional $2 million in tax revenue each month.
Timeline of Gambling in the State of Connecticut
2023: The combined monthly sports betting handle at Connecticut's brick-and-mortar and online sportsbooks exceeds $165 million. Sports bookmakers generate $14 million in monthly revenue and around $2 million in additional taxes.
2021: Legal sports betting goes live with a soft launch phase in October after sports betting legislation was passed by the state in 2017. The tribal gaming compacts are updated to allow retail betting on sports at the state's native American casinos as well.
2013: The Connecticut Gaming Policy Board is eliminated and the Department of Consumer Protection's Gaming Division takes control of regulating the industry.
2003: The 1972 legalization of Vegas nights for charity is repealed in an effort to block additional tribal casinos from opening.
1996: The Mohegan Tribe of Indians of Connecticut inaugurates Mohegan Sun Casino.
1992: The Mashantucket Pequot Tribe opens what is now known as Foxwoods Casino, expanding upon the bingo hall by adding table games.
1986: The Mashantucket Pequot Tribe develops a high-stakes bingo hall, ushering in the era of tribal gaming.
1976: Off-track betting first appears. Jai alai and greyhound racing wagering are both permitted.
1972: Start of the state lottery. Promotions for Casino Night or Las Vegas Night are included in the definition of non-profit gambling.
1935: The legislature attempts to legalize and regulate horse race gambling across the state, but it is vetoed by the governor, resulting in a ban on race betting.
1889: The Charter Oak Stakes ended in a near tie, resulting in one of the first photo finishes in racing history.
1873: First racetrack, Charter Oak Park, opened in Connecticut.

Top Features of the Best Online Horse Racing Betting Sites
The top horse racing sites in our rankings offer very different experiences when betting on the ponies. However, there are some features that all online sites devoted to betting on races should offer. Here are some of the characteristics common to the best racebooks in Connecticut.
Betting Odds
Odds should be fair and reasonable and reflect the probability of a bet succeeding. Gamblers should be given a fair shot to win their bet and earn money.
Betting Markets
The racebooks in our top 10 offer many forms of gambling outside of horse racing. Gamblers can bet on sports, play casino games, slots and even poker at many. Within the racebook, a variety of races and tracks should be available as well as straight and exotic methods of betting.
Deposit & Withdrawal Methods
There should be a wide variety of banking methods available, from traditional withdrawal and deposit methods like credit or debit cards and wire transfers to newer methods like e-wallets and crypto.
Promotions & Bonuses
Sites should compete for your business with a variety of betting bonuses, available by entering a promo code. A strong deposit bonus, cashback rebates, no-risk bets and other perks should be available. Bonus money should not have an exorbitant rollover requirement attached.
Live Betting
Horse races don't take long, with the Kentucky Derby finishing in about two minutes. Still, most sportsbooks now offer a live betting feature which has exploded in popularity in recent years. The top horse racing sites can now embrace this trend and allow live betting as well.
User Experience
While bettors want to make money, betting on races is also supposed to be fun. The user experience should be a pleasant one, with an interface that makes it easy to find and place bets. Screens should be readable and attractive.
Mobile Interface
More bets are now placed by phone and tablet than a computer, so a racebook's mobile interface should be as functional and attractive as the main site. Screens are smaller but should still be easy to read, with menus that make sense. Pages should load quickly and not crash.
Customer Support
Customer service should be available and competent when there are questions or problems. Ideally, customer service should be 24/7 in multiple languages. Horse racing sites should offer a number of ways to contact them, including phone, email and live chat.
Security Features
Data privacy requirements are one of the top concerns when sending your financial data to an offshore betting site. If we had any questions at all about a site's security, we removed it from consideration for our top 10.
Off-Track Betting (OTB) in Connecticut
Connecticut has allowed betting on horse races at off-track betting facilities since the 1970s. The state also allowed off-track betting locations to provide betting on greyhound racing and jai alai. Currently, there are more than a dozen OTB locations around the state, and, in recent years, Connecticut has pushed to legalize advance deposit wagers at OTB, which paves the way for a push to online and by-phone betting.
In-Person Horse Races in Connecticut
While it is legal to bet on horse races live and in person in Connecticut, it's not currently possible. That's because the state does not currently have any horse racing tracks in operation. The last horse track closed years ago. That means people wanting to bet on horses must do so at an OTB parlor, online, or drive to tracks in a neighboring state.
Virtual Horse Racing Betting in Connecticut
There are horse races starting all over the world, at all hours of the day, but if you can't find a live race you want to bet on, it is also possible to bet on virtual horse racing. Those are simulated horse races using computer-generated "horses" and a random number generator to determine the results. The online casinos at many of the top sites in our rankings offer this form of gambling.
Horse Racing Betting Odds in Connecticut Explained
There are two different ways to bet on horse races: Fixed odds and pari-mutuel odds. Fixed odds are limited to the biggest races, such as the Triple Crown, while the large majority of other races use pari-mutuel.
Fixed-Odds Betting
Fixed-odds betting is similar to a moneyline futures bet in other sports. Each horse in a race gets assigned a dollar amount that can be positive or negative. Negative odds are for heavy favorites and show how much money a bettor would have to risk for the chance to win $100. Positive odds show how much a bettor will win on a $100 bet.
For instance, a horse with -110 odds means a bettor would need to risk $110 to win $100. A horse listed at 500 means that a $100 bet would earn $500 in winnings. (Plus, you get the money your risked back in both cases, so the payouts are $210 and $500 respectively.)
Pari-Mutuel Betting
Pari-mutuel wagering is less familiar to people used to betting on other sports. Multi-state lotteries are about the closest parallel. In a pari-mutuel system, all the money bet on is put into a pool. After expenses and fees are taken out, the remaining money in pari-mutuel pools is then divided up among the winning bets, based on the amount wagered. Since betting continues right up until the start of a race, the size of pari-mutuel pools, and thus the size of a potential payout, isn't known for sure until the race is over.
Pool Betting
Pool betting is a synonym for pari-mutuel wagering, where all bets are put into pari-mutuel pools and then divided amongst winners. The two terms are used interchangeably.
Calculating Horse Race Betting Odds in Connecticut
Fixed odds can be listed as a moneyline or a fraction, and both are directly related to the expected probability of a horse winning. The more negative a moneyline is, the higher the probability the horse will win and the lower the fractional odds will be. The higher the positive moneyline, the bigger a longshot the horse is and the larger the fractional odds will be.
Below is a table comparing fractional and moneyline odds, along with the associated probability of winning and the payout on a $2 wager that wins.
| Horse Racing Odds | $2 Wager Payout | Implied Probability of Winning |
| --- | --- | --- |
| 1/5 (-500) | $2.40 | 83.33% |
| 1/4 (-400) | $2.50 | 80% |
| 1/3 (-300) | $2.60 | 75% |
| 1/2 (-200) | $3.00 | 66.67% |
| 4/6 (-150) | $3.33 | 60% |
| 1/1 (-100) | $4.00 | 50% |
| 2/1 (+200) | $6.00 | 33.33% |
| 3/1 (+300) | $8.00 | 25% |
| 5/1 (+500) | $12 | 16.67% |
| 10/1 (+1000) | $22 | 9.00% |
| 50/1 (+5000) | $102 | 1.96% |
Payout amounts listed include getting back the $2 you originally bet. So, on the first line, you win $0.40 and get back your $2 wager for a total payout of $2.40.
Connecticut's Commonly Placed Horse Racing Bets
There are a number of different ways to bet on horse races. Here are some of the most common bet types:
Win: The most common bet type. You pick the horse you think will win a race.
Place: You win if the horse you choose finishes in the top two.
Show: You win if your horse finishes in the top three.
Exacta: You pick the top two finishers in a race, in order.
Trifecta: Similar to an exacta, but you pick the top three finishers, in order.
Superfecta: Similar to a trifecta, but you pick the top four horses, in order.
Daily Double: You pick the winners of consecutive races.
Pick 3/4/5/6: You pick the winners of 3/4/5/6 consecutive races.
Horse Racing Betting Terms
Horse tracks have their own language. Here are some common terms used in the racing industry:
Ante-Post: A bet placed before a race's betting window opens. Essentially a horse racing futures bet.
Drifter: A horse whose odds get worse (longer) as the race start time gets closer. The opposite of a steamer, whose odds improve.
Dead Heat: A race where multiple horses finish at the same time, in a tie.
Dutch: Betting on multiple horses in the same race. The idea is to hedge against losses and cover multiple outcomes.
Exotic Bet: Opposite of a straight bet. It is a bet involving multiple horses and/or races.
Favorite: The horse believed to have the best chance of winning, with the odds that pay out the least.
Furlong: One-eighth of a mile. It's the unit that races are measured in.
Longshot: A horse believed to be unlikely to win. Offers a large payout relative to other horses in the field.
Morning Line: The odds posted by the track handicapper when the betting window opens on race day. The odds then change based on betting activity.
Odds: The payout that a successful bet will result in. Directly rated to the expected probability of the event occurring.
Pari-Mutuel Wagering: Pari-mutuel pools are used to determine payouts in most races. All money wagered is put into a pool and divided among winners.
Stake: The amount a horse owner needs to pay to enter their horse in a race.
How to Create an Online Racebook Account
Starting an account at online sportsbooks that offer racebooks, like the ones in our top 10, is fast and easy. You just need to know your personal information, financial data for the deposit methods you'll use and the promo code for the bonus you want.
Step 1. Signing-Up
Go to the site of the racebook you choose from our top 10. Click on the button to open a new account.
Step 2. Verifying Your Account
Fill out the registration form. You'll probably have to respond to a code sent to your phone to verify your identity.
Step 3. Depositing Your Funds
Choose a deposit method from the cashier's page on the site. Enter the information and deposit amount. Be sure to enter the promo code for your bonus.
Step 4. Placing Your First Wagers
That's it. Browse the schedule of races and pick a winner.
FAQs – Online Horse Race Betting in Connecticut
What gambling is legal in CT?
In-person gambling is legal at tribal casinos in the state. Residents can place horse racing bets at OTB parlors and online and sports betting is legal at online sportsbooks. However, all this and other gambling activities are available on online gambling sites located offshore.
Can you bet on horse racing in CT?
You can bet on horse racing in CT at OTB parlors, at tribal casinos and at the offshore gambling sites in our rankings. The benefit of using offshore sites is they also provide sportsbooks, online casinos and other gambling methods all in one place.
Is online horse betting legal in Connecticut?
Online horse betting is legal, at sites licensed according to Connecticut online gambling laws. It is also legal at offshore casinos like the ones in our top 10 rankings. The difference between the two is that local online gambling operators cannot also offer other forms of gambling.
How do I place a bet on a horse race?
Simply select the race, bet type and horse to fill out your bet slip. The horse racing betting sites in our review are user-friendly and make it very easy to walk through the process of choosing a race and placing a bet.
Can you bet on TVG in Connecticut?
TVG is an online horse betting site that is approved and licensed to provide racebook services in Connecticut. Unlike offshore online gambling operators, it can't offer other gambling services, like a sportsbook, live poker room, slots or online casino.
Concerns arise as Pennsylvania's online poker market shows signs of stagnation. Operators, including PokerStars and WSOP PA, seek solutions like joining the MSIGA for shared liquidity. Governor Shapiro's decision awaits, impacting the future landscape. Stay informed with Bookmakers Review.

---