Rhode Island Casinos Online – Rhode Island's Best Casino Sites
In Rhode Island, you can legally bet with an online sportsbook, but your options for everyone's favorite games offered at a casino are nonexistent in 2023. This is why Rhode Islanders should consider doing their online betting with an offshore casino.
Fortunately, we have created an in-depth guide to show you the best Rhode Island sports betting sites located offshore where you can win real casino money today. We explain what makes them the best choices, where you can find them, what bonuses you can expect, and we have answers to frequently asked questions about online casino gaming at the bottom of the page.
Our Highest-Rated Online Casinos in the Ocean State
Rhode Island's Top Online Casinos
Our top 10 online casinos for Rhode Island users are located in Costa Rica, Panama, and Antigua, territories where online gambling is perfectly legal. This is why you should feel fine about joining any of these online gambling sites today to win real money.
Are online casinos legal in Rhode Island?
Generally speaking, online casinos are not legal in Rhode Island as of 2023. The gambling laws in place are only for the sports betting markets, including online sports wagers where users just have to be at least 18 years old as the legal gambling age.
This is why you have to use offshore sites to win real money on casino games in Rhode Island. By joining these online gambling sites, you can play roulette, craps, baccarat, poker, slots, and more.
Comparing Our Highest-Rated Online Casino Sites
From our top 10 list, we have included reviews of our top five online casinos for Rhode Island users. Read on in our exclusive guide to discover which site might offer the best gambling options for you.
1. Bookmaker: Great Sportsbook and High Limits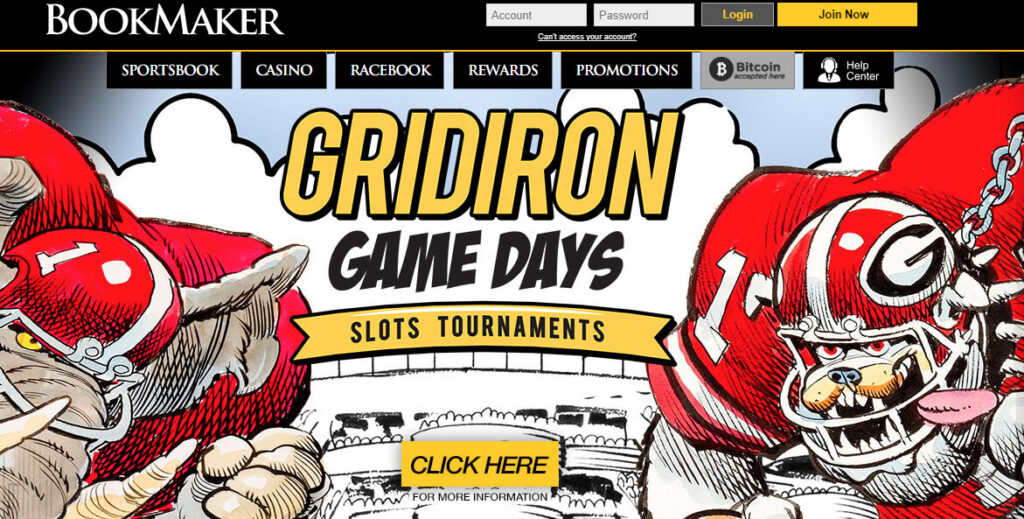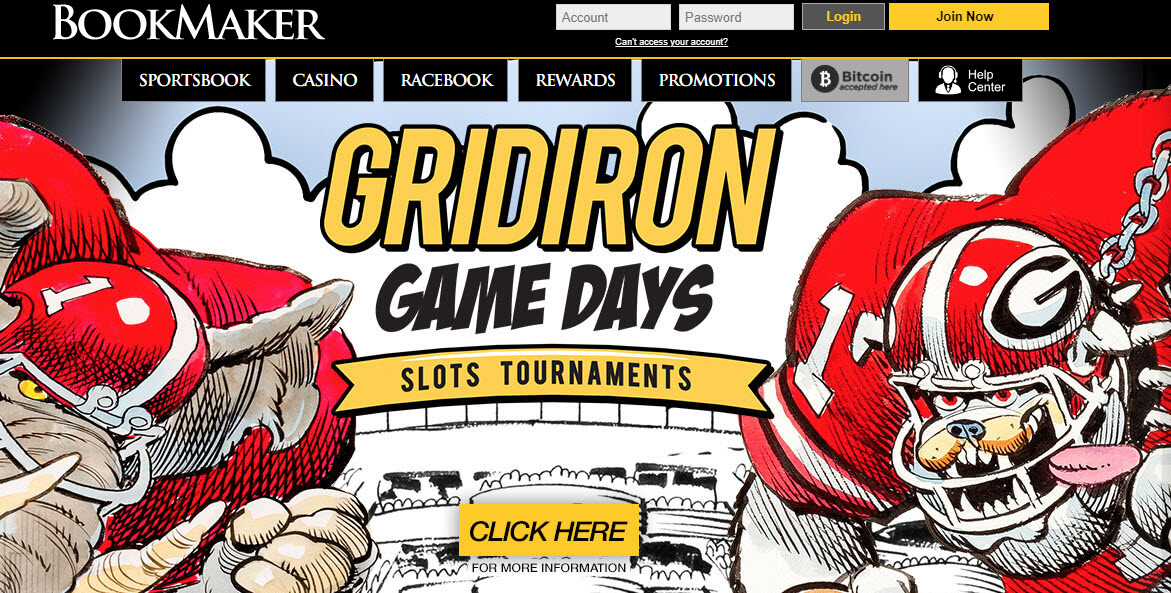 If you want the best sportsbook, you will want to get Costa Rica's Bookmaker.eu for its industry-best early sports betting lines. Bet like a sharp with that sort of value, and you can also do plenty of props and live betting on a wide variety of markets from around the world.
Bookmaker does not host poker tournaments, but video poker fans will enjoy what is offered there along with other video slots and table games. They also do live dealer games. But for the casino games, there is return-to-player (RTP) info available for each game, giving users a rare glimpse at how well each game pays the user back on average. The closer the RTP is to 100%, the better that game will be for winning money. This is valuable information that other sites should consider adding.
If you are huge on sports betting and also like a good taste of casino gaming, then Bookmaker is an ideal online casino to get you going in Rhode Island with your online gambling options.
Pros
Best for betting sides and totals
Does not limit winning players
RTP info for casino games
Great reward program
Cons
Could use an upgrade to casino
Video poker is only poker available
2. Heritage Sports: Live Betting and Cash Back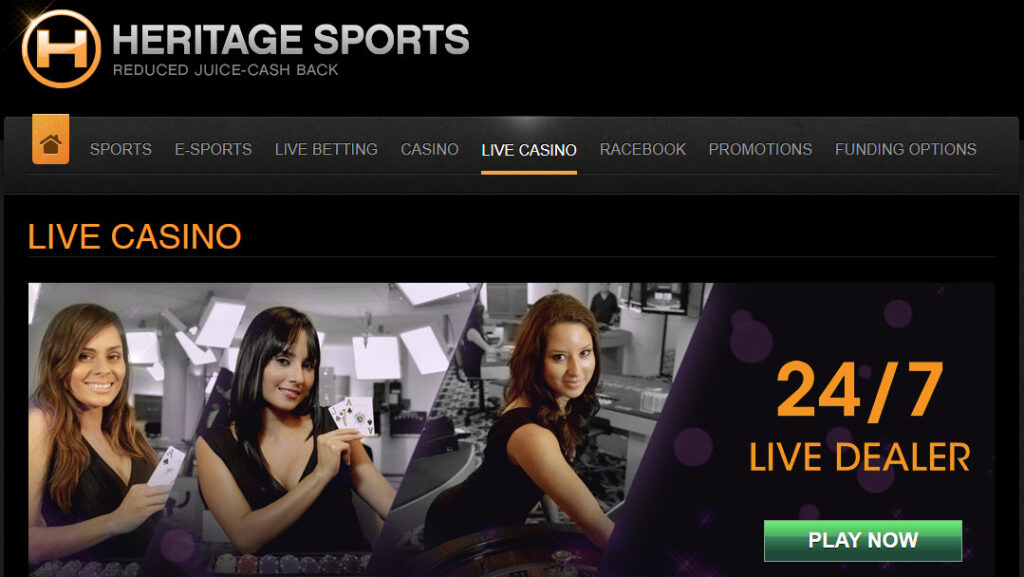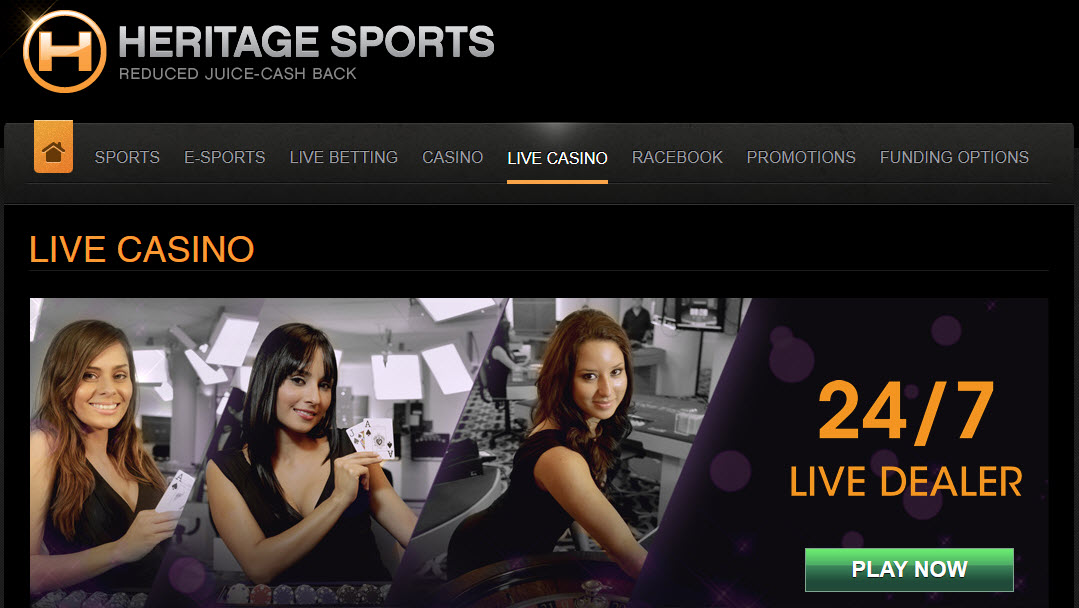 When it comes to casino games, Heritage Sports does not have all the latest and greatest, or even the most casino games of any site on our list. But you do get some classic popular games and a lot of video poker in their offerings. You can also play every casino game for free thanks to demo versions that allow you to test things out and see if you want to play them for real money online. That is a great perk not offered everywhere.
Speaking of other perks, Heritage Sports offers a free birthday parlay worth up to $500. You also can get every eighth deposit on the house as an average of the previous seven deposits. They also have a great cashback program as you can get rebates for your net casino losses each week.
The sportsbook is definitely worth checking out if you like sports betting. They do live betting as well as anyone thanks to a very functional mobile site. Add it to your home screen to make it perform like an app on your phone.
Pros
Rebates for net casino losses
Very good mobile site for playing casino games
Excellent esports markets
Bonus funds can be used anywhere you want
Cons
No luck on poker tournaments 
Sign-up bonus among the smallest in the Ocean State
3. Bovada: Poker Tournaments and Props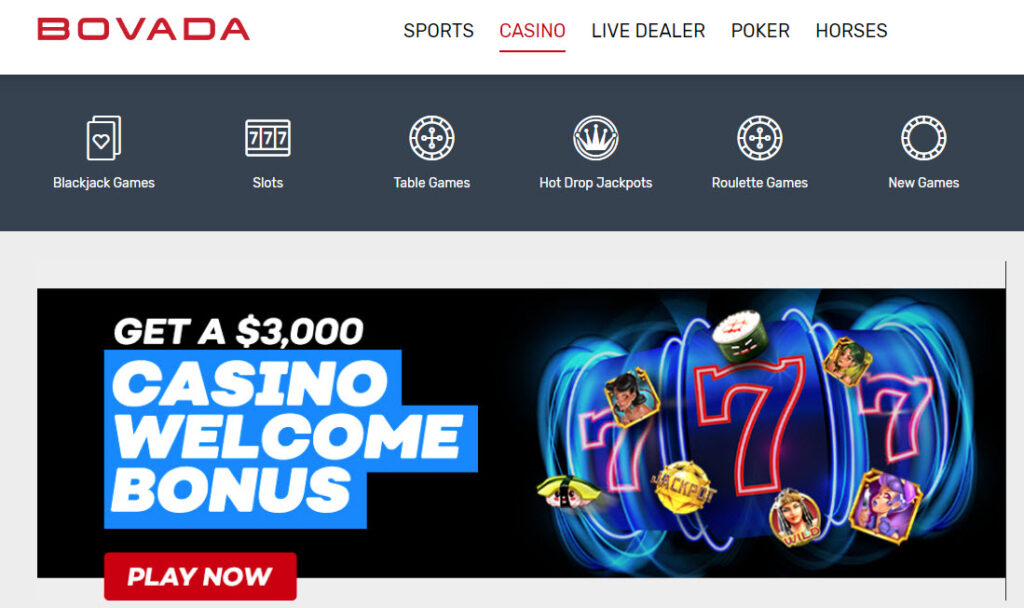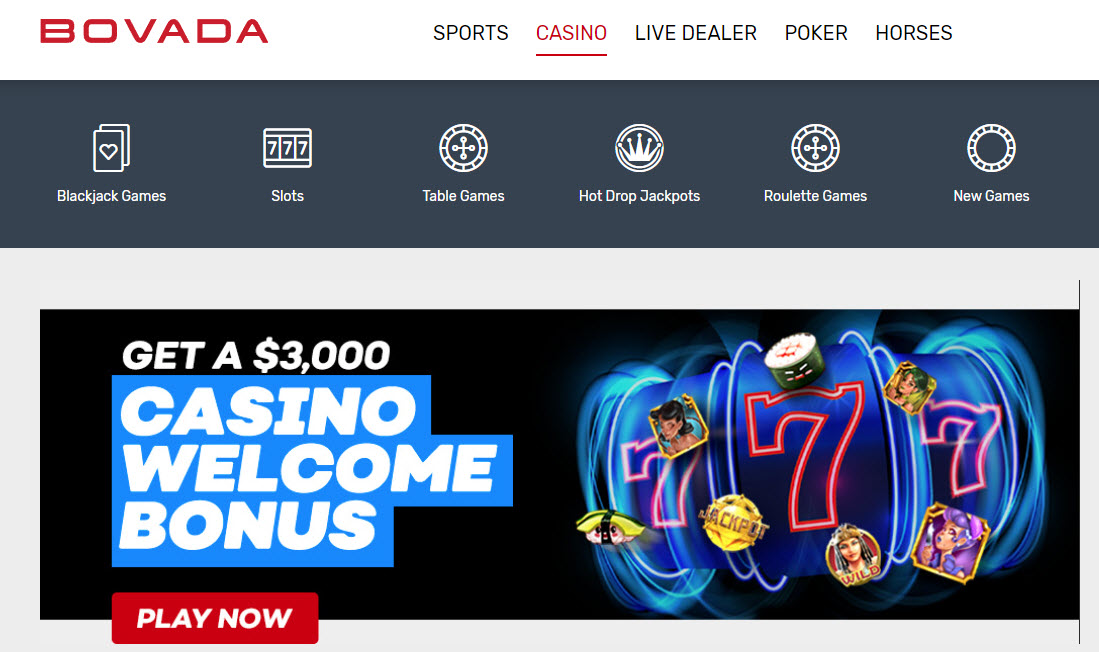 Bovada has an online poker interface that is certainly going to be the main draw for poker fans. Just download some software for free and you will quickly be able to play in cash games and even tournaments. You also can play anonymously at tables, giving you an edge over users who cannot pick up on your strategies.
But Bovada is more than just the online casino running on the No.1 poker network for American players. You get a great sportsbook with an outstanding prop builder and wide array of available markets from around the world.
You also get one of the best racebooks and the best virtual racing games around. The casino has a decent choice of games, including table games and live dealer games. The bonuses for new users are also outstanding at the casino. Crypto users can earn up to $3,750 in bonus funds thanks to a generous deposit match on their first three deposits. 
But our only major criticism of Bovada is that they do not do enough ongoing promotions for existing users as their rivals do. But you can at least join a reward program where you accumulate points with the more you bet to earn bonus cash and other perks. You also do not lose your tier status in the program over time as you maintain a lifetime number of points that do not disappear due to inactivity like at other places.
Pros
Best for poker players
One of the best mobile sites
Solid racebook
Fun lottery-style game available
Cons
Lack of promos after welcome deposit bonus
Needs more casino games 
4. BetOnline: Fast Payouts and Poker Tournaments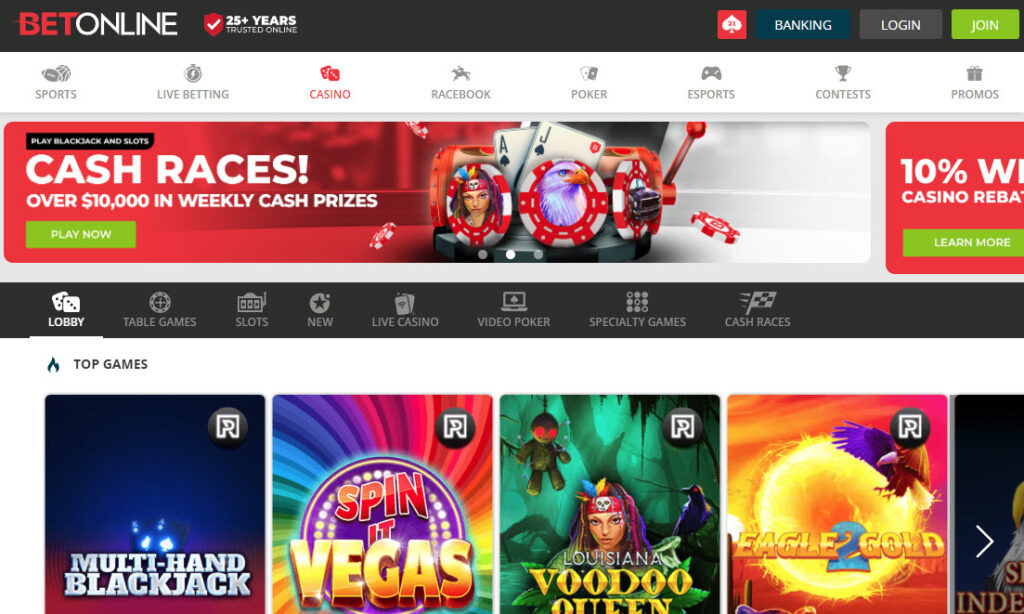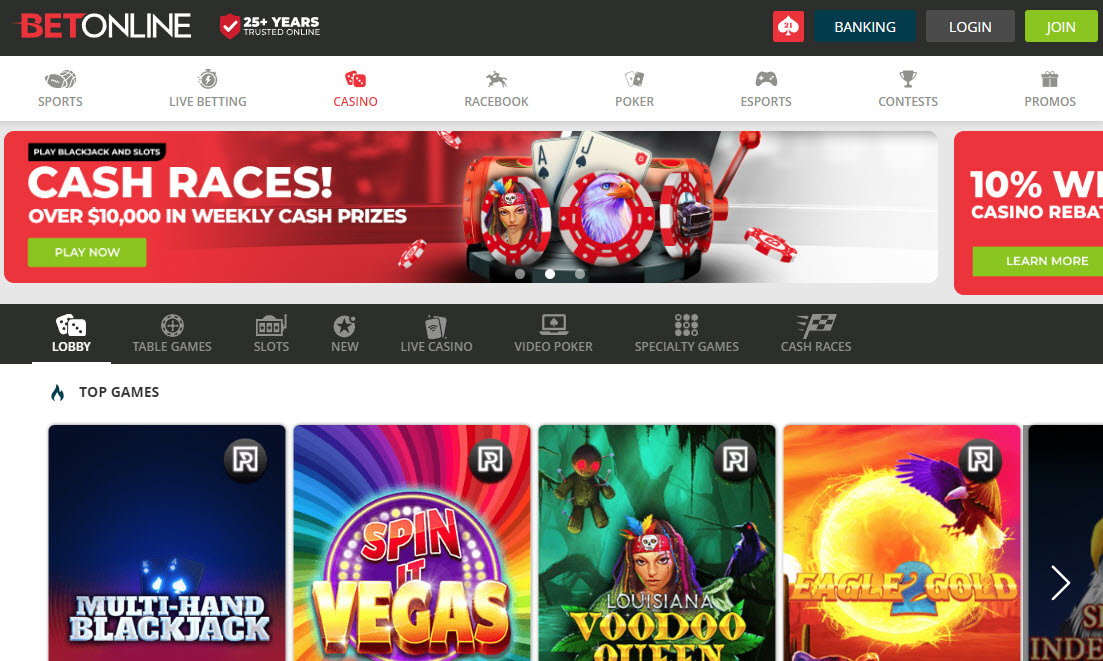 There are more than 500 casino games on BetOnline, including many new ones and exclusive offerings the other rivals do not have. That makes this a top spot for casino gamers, though you also get outstanding poker tournament and cash games options as well. Bovada is the only site that can rival the poker tournaments here.
But beyond poker and slots, there are other table games and live dealer games at BetOnline. The mobile site handles these well as there is no downloadable app for BetOnline. But the mobile site is optimized to run well on a small screen.
The sportsbook is another excellent choice for those new to online casinos. You can get high limits and fast payouts with a strong variety of banking methods at BetOnline. The welcome bonus is very generous and a good way to get started gaming today with one of Panama's best online casinos. Our only major complaint is that the casino is filled with games, but none have a demo version for you to try free first.
Pros
Your favorite casino games and more
More slot machines than anyone
Good for high rollers
Cons
No demos on casino
Bovada gets more poker traffic
5. BetAnySports: Seven Different Casinos and Lottery Drawings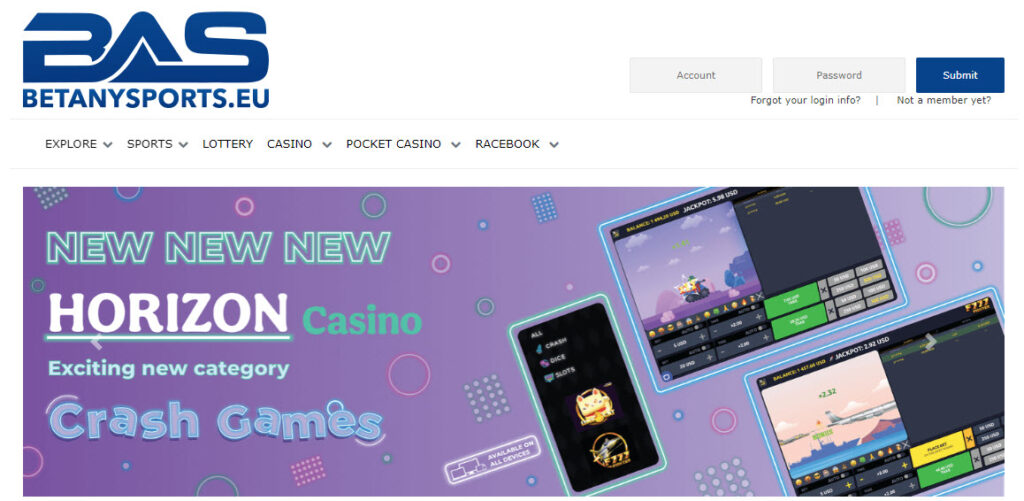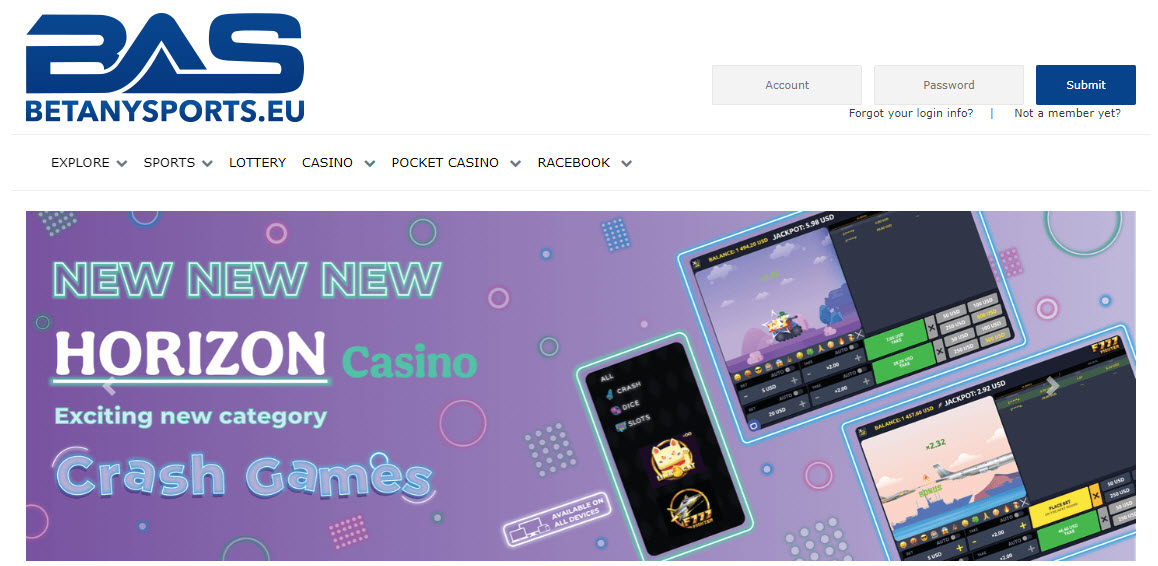 BetAnySports is the last of our top-graded offshore casino sites. They really stand out for offering lottery drawings from many different states, including the ability to play your Pick 4 numbers on the Rhode Island drawing each day. Winners also get 80% better payouts.
There is also a racebook section with decent offerings. The casino has seven different choices, each with its own selection of games (some overlap to be expected). There are no poker tournaments at BetAnySports, but you can play plenty of video poker, live dealer games, table games, and slots.
Sports bettors are also taken care of as the sportsbook is very good with an excellent prop builder and best reduced juice (-105). There is a lot to like at BetAnySports. We just wish the site gets a sharper redesign soon.
Pros
Best reduced juice (-105)
Live dealer games with reasonable limits
Seven different casinos available
Enjoy live betting on solid mobile site
Best pick for lottery fans
Cons
Smaller welcome bonus compared to rivals
Sports line layout can be confusing
No online poker tournaments
Methodology Used to Rate Online Casinos
When judging these offshore casinos, we want to see access to our favorite casino games with a good user interface, good graphics, no lag, and a site that is easy to deposit money into and withdraw the winnings. We also pay attention to things like the customer service quality, the sportsbook offerings, the variety of casino games, and anything else you would expect to see in a top-tier online gambling site.
History of Gambling Regulations in the Ocean State
Rhode Island has a checkered past with gambling as there was not much going on outside of horse racing from 1934-1978. But horses no longer run races in the state, and the decline in interest in them led to the racinos adding slot machines in 1993. That was the beginning of such games being offered in the Ocean State.
By 2003, Lincoln Park would add even more gaming machines to keep up with falling revenue. But in 2007, a big move was made when Lincoln Park became Twin River Casino after a big renovation. It is the first commercial casino in Rhode Island, and it would not be joined by another establishment until 2018 when Tiverton Casino opened.
But Twin River Casino was the first to include live table games (2012) and a poker room (2015). Meanwhile, sports betting was starting to make legal wins in the courts, and in 2018, the Supreme Court ruled that PASPA was unconstitutional, returning state rights to determine if they want to legalize sports betting or not.
Rhode Island was among the first wave of states post-PASPA to approve legal sports betting. Within a month, legislation was passed to legalize retail sports betting. By 2019, online sports betting went live in the Ocean State. The Sportsbook Rhode Island app is still the only licensed operator in the state, and it is an app offered by the Rhode Island lottery in connection with William Hill and IGT.
By 2020, users can remotely register for the app to do their betting from home. Bally's would rename both casinos with their name in 2021, and in early 2023, they expressed their hope that the state of Rhode Island would soon pass laws to offer legal online casino games such as blackjack and poker. But that could take some time to happen as these processes usually move slowly.
Rhode Island's Gambling Timeline
The following timeline shows key events in the history of casino gambling in the state of Rhode Island:
2023: Bally's, the owner of the two retail casinos in Rhode Island, expresses hope in the state legalizing online casino gaming soon.
2021: In a rebranding, Twin River Casino is renamed Bally's Twin River Lincoln Resort and Tiverton Casino Hotel is renamed Bally's Tiverton Casino & Hotel.
2020: Remote registration for the Sportsbook Rhode Island app is permitted, significantly improving the number of accounts ready to legally wager on the app.
2019: Mobile sports betting is passed into law for the state with the launch of the Sportsbook Rhode Island app, which is run by William Hill, IGT, and the state lottery. It initially requires players to register in person at the casinos.
September 2018: Tiverton Casino becomes the state's second casino just in time to offer in-person sports wagers.
May 2018: The Supreme Court strikes down PASPA in May, allowing states to choose if they want including of sports betting in their state legally. Rhode Island passes a bill in June to legalize retail sports betting at the two casinos.
2015: Twin River Casino opens the state's first poker room.
2012: Voters approve the offering of live table games at Twin River Casino.
2007: Lincoln Park is renovated and renamed Twin River Casino, making it the first casino in Rhode Island.
2003: Lincoln Park gets the green light for more gaming machines.
1993: Rhode Island racinos are approved for slot machines.
Features Each Top Online Casino Has
We mentioned our methodology earlier for grading online casinos, but the next sections will look at those criteria and what makes them important for delivering a quality gambling experience online for Rhode Islanders.
Competitive Casino Odds
When it comes to online slots, the game manufacturers use a random number generator to decide those outcomes, so it should be a unique playing experience every time no matter which online casino you play the game at.
But any site with a poker room could offer a higher rakeback rate, which returns more money to the player the more they play poker on the site. You also could get reduced juice on the sportsbook at certain online casinos. These sites have a lot of the same odds as they are very competitive, but opening an account at multiple sites can show you which ones have the best odds for certain markets.
Wide Range of Betting Markets
The more variety in betting markets, the more likely the user is to stick with that one online casino. Online poker is one area where not many of the top sites have a poker room, but most of these sites usually have the same sections with similar offerings of gambling options. If they lack these forms of gambling, they need to consider adding them soon to draw more users:
Sportsbook: singles, parlays, props, teasers, pleasers, round robins, if bets, live bets, etc.
Casino: table games, slots, poker, live dealer games, specialty games (keno), scratchcard games, etc.
Racebook: win/place/show wagers, exotic wagers, etc.
Esports: singles, parlays with boosts
Deposit & Withdrawal Methods
It is very important to get your money into your account and get your winnings out in a timely, hassle-free fashion. These are the types of banking methods we expect top online casinos to have in 2023 for deposits and withdrawal options:
Credit cards (American Express included)
Debit cards
Bank wire transfers
Crypto (Bitcoin, Litecoin, Ethereum, etc.)
eWallets (PayPal, Venmo, Zelle, etc.)
Generous Bonuses & Promotions
Some might argue that generous bonuses are the most important part of joining a certain online casino. The welcome bonuses can certainly draw new users who are seeking a huge deposit match for their initial deposit, which is how those player bonuses usually work.
But you should also be on the lookout for ongoing promos that can lead to bonus bets, free spins, risk-free bets, deposit bonuses, reload bonuses, and other player bonuses. Some promos require a bonus code, and some require you to opt in. But you should always keep up with the latest promos at the online casino you frequent the most.
Live Dealers & Event Streaming
People who may not trust electronic table games will feel safer with a live dealer game where you can play with a real human dealer who you can see via video chat and communicate with using text. This adds to the realism of the online gambling experience, and the table games usually have reasonable limits to bet on live dealer games. Most of the top online casinos feature a variety of live dealers for your gambling needs.
As for event streaming, this is something we are going to see more of, though right now it can be difficult for offshore companies to secure any broadcasting rights for popular leagues like the NFL and NBA. So, you may see some European soccer matches streamed right on the sportsbook site going forward, and some do allow for live streaming of esports events already.
High-Quality User Interface
Whether you are placing bets with an online sportsbook or enjoying online casino gaming like blackjack, a high-quality user interface is very important. This is going to allow you to easily place bets, change bet amounts, switch to different games seamlessly, and adjust your parlays and other bets on the fly. We want a site that is neatly organized too.
High-Quality Mobile Interface
Since the offshore sites lack downloadable casino apps, you will have to settle for the mobile site versions they offer online. This is fine as the sites are optimized to run on a mobile device and smaller screen, and you can even add them to your home screen for quicker access like an app.
But with so many bets placed on the go with mobile sports betting now, it is very important to have a good mobile site that makes live betting easy. Data visualization of the live game is nice to see and aids in your betting. A site that is smooth and lag-free is also crucial in getting your bet in before the next play shifts the odds dramatically.
Customer Service Options
Good customer service is obviously important because sometimes you have issues with your account, a deposit, or want to settle a dispute on how something was judged on the sportsbook. This is why you need as many options to contact these companies as possible, especially if you are in Rhode Island and in a much different time zone than Costa Rica or Panama where these sites are mostly located.
That is why we favor 24/7 customer service availability, and the options to contact the team using emails, messages, phone numbers to call, and live chat.
Security Features
When you log in to an online casino, next to the URL you should see a padlock icon. That means your connection to the site is encrypted and secure with a valid digital certificate. Any data you are sharing with the site like your username and password cannot be intercepted by another party.
You can trust the reputable sites we recommended that you are getting the best security and protection of your personal data with these online casinos.
Land-Based Casino Gambling in Rhode Island
For those who prefer live dealer games and video poker in person, you are in luck as there are two land-based casinos in Rhode Island. Both retail locations are owned by Bally's, which renamed both casino locations in a rebranding effort in 2021.
Bally's Twin River Lincoln Casino Resort
Formerly the Twin River Casino, this casino located on Twin River Rd is the first state-owned casino in Rhode Island. It boasts over 162,000 square feet of gaming space, including 4,100 slot machines, almost 100 table games, and 23 poker tables. It was the first land-based poker room in the state when that feature opened in 2015.
Bally's Tiverton
Formerly the Tiverton Casino & Hotel, it opened in 2018 as the second casino in the state. It is open 24 hours a day and you only have to be at least 18 years old to gamble there. They have a sportsbook, over 1,000 slot machines, and plenty of table games, including blackjack, roulette, craps, Spanish 21, Let It Ride, and Pai Gow Poker.
Banking Methods Available at Rhode Island Casino Sites
There are many options these days to fund your account and receive your winnings. We break it down into the next three sections with crypto options, eWallet options, and your traditional methods of payment. Each has its own strengths and drawbacks.
Crypto Options
Some players love crypto because it is the fastest way to do payments on these online casinos. There is also usually never a fee associated with crypto payments. That is why we see sites boasting big crypto bonuses for users who use Bitcoin, Bitcoin Cash, Litecoin, etc.
If there is a knock on crypto, it would be that not everyone is a believer or user of it. But some of these sites, BetUS included, have helpful guides to get you started on using crypto.
eWallet Options
We have seen a lot of eWallet technology in recent decades with the explosion of apps like PayPal, Venmo, Zelle, Cash App, and more. These are digital wallets that users can load funds into or pay with a variety of methods, including crypto with some eWallets. But this is another option that is offered at many online casino sites these days.
Traditional Payment Methods
For traditional payment methods, you expect to see high credit card acceptance, debit cards, checks, wire transfers, and even cash negotiations for payouts at certain sportsbooks. But some of the traditional methods can take the longest time to get your money. Credit card deposits can also carry annoying fees.
Tips to Stay Safe at Online Casinos in Rhode Island
If you are new to online casino gambling, you should read these safety tips to ensure you are using the sites properly and protecting yourself.
Only Join Reputable Sites
Seems like every week there are new online gambling sites to join, but you want to make sure you are joining only the most reputable ones. You can read reviews online for yourself, and you can also trust that Bookmakers Review has the experience of grading these sites and finding the best that receive A+ or A grades. We prefer sites that have a proven track record in the industry, which is why our top 10 is loaded with sites that have existed for 20 or 30 years. You should always stick to reputable sites.
Track Your Casino Gambling Habits
When doing a lot of online casino gambling, it is a good idea to budget and make sure you are not betting too much. Some sites will even allow you to set limits so that you are not depositing too much money in a day, week, or month. Always remember that you should not bet more than you can afford to lose.
Know the Details of Bonus Offers
A welcome bonus may sound fantastic, but you should always read the fine print in the terms and conditions to see if it is a really good deal or not. You could face a high rollover requirement, making it unlikely you will ever convert that bonus money to withdrawable cash. That is why reading the terms and conditions is always very important.
You also should check to see if there is a bonus code or promo code to enter before claiming a bonus, especially if it involves a deposit. You may also need to opt into a promotion to claim it.
Know How Long it Takes for Withdrawals
Most sites have a help center with the details for how long each withdrawal method takes. This is important to know how long it will take to get your winnings depending on your chosen method. Checks are by far the slowest method. Crypto is the fastest, and eWallets can also be cleared within 24 hours.
Do note that your first withdrawal using that particular method could take longer than usual just because it is the first time your online casino account is interacting with your bank account or credit card company. There could be a delay in confirming the transaction that first time.
Keep Your Information Private
You should be the only person using your account. Do not share it with someone else, do not give out your password, and do not expect a casino to ever text you for your password. That is likely a scam. You also should not log in to an online casino using a device that is publicly owned like a school or library computer.
How to Sign-Up at Online Casinos in RI
Signing up at online gambling sites is a pain-free process. No matter which site you choose to join in Rhode Island, the process should look very similar to the following steps:
Step 1. Pick an Online Casino & Create Your Account
After deciding which online casino you want to join, head to their website. The front page should have a "join now" or "sign-up" button to click to begin the account creation process. One of the first things you will be asked to do is create a password. Make sure you use a strong password that is not in use anywhere else online for your accounts.
Step 2. Verify Your Newly Created Account's Details
Before your account can be verified, you must enter accurate, personal details like your name, address, email address, and mobile number you can be reached at.
Step 3. Fund Your Account
With your account created, log in and head to the deposit or cashier section to make your first deposit. But before placing that first deposit, be sure to read up on the welcome bonus to see what kind of first-deposit bonus you can receive. This is a one-time offer, so be sure to read the full terms and take advantage of that big offer.
Step 4. Enjoy What Online Casinos Have to Offer
Now that your account is verified and funded with money, you are ready to gamble. You can place a bet on the sportsbook, look at the horses on the racebook, or play a variety of casino games, including video poker, slots, blackjack, live dealer games, and more. Remember to enjoy your time and budget your spending.
Does Rhode Island have Advance-deposit Wagering (ADW)?
Advance-deposit wagering (ADW) is a term usually found in horse race betting more than any other form of online casino gambling. With ADW, users must fund their accounts before they can place their bets.
You will find ADW at sites accepting Rhode Island users like the popular horse racing sites TwinSpires and TVG.
FAQs – Playing Online Casino Games in Rhode Island
Can you gamble online in Rhode Island?
Yes, Rhode Island users can legally use online gambling sites to do sports betting, horse race betting, and daily fantasy sports (DFS).
How do I gamble in Rhode Island?
You can visit the Twin River Casino or Tiverton Casino to do in-person gambling. Sports fans can use Sportsbook RI. You also can join offshore casino sites to enjoy gambling of all sorts. The minimum gambling age is 18 years old in Rhode Island.
Does Rhode Island have any casinos?
Yes, Bally's owns the Twin River Casino and Tiverton Casino in Rhode Island. They are the only two land-based casinos offered in the state.
What is the most trusted online casino?
Bookmaker is our top pick as it has been around in Costa Rica since 1996 and has a reputation for being where the line originates in the sportsbook. Sports bettors love the early lines offered at Bookmaker, and you can trust a safe and fun gambling experience there.
Does Rhode Island tax gambling winnings?
Rhode Island will tax any winnings from online sports betting with the Sportsbook RI app. Offshore sites only have to adhere to the online gambling laws in their own jurisdictions, so they do not report to the IRS.