West Virginia Sports Betting – Best Online Sportsbooks in WV
West Virginia was one of the earliest adopters of legal sports betting. It was the fifth state in the U.S. to legalize sports betting and it was the third to legalize online betting a few months later.
For those looking for better online sports betting options, we've found the best offshore sportsbooks. We show you the top sites, what makes them the best and everything else you need to know about West Virginia sports betting.
Our Highest-Rated Online Sportsbooks for 2023
At Bookmakers Review, we come across many online sportsbooks to review. But using our trusted set of grading criteria, we have found what we believe are the 10 best online sports betting options for West Virginian players to join today to win real money.
Bookmaker.eu – Excellent for sports bettors of any skill level
Heritage Sports – Reputable live betting site
Bovada – Top prop builder
BetOnline – Large selection of casino games
BetAnySports – Best reduced juice
BetUS – Outstanding for expert analysis
WagerWeb – Optimal for crypto users
JustBet – Fantastic reward program
Everygame – Attractive mobile sports betting platform
SportsBetting.ag – Sports and poker promotions
Is sports betting legal in West Virginia?
Yes, a West Virginian sports bettor has had plenty of legal sports betting options since 2018 when a sports betting law was passed for both legal wagers at retail sportsbooks and legal wagering with online operators.
The sports betting rules in WV allow for both professional and college sports betting. In West Virginia, you must be at least 21 years old for the legal betting age. You also must be physically located within state lines to place legal wagers, something that's not necessary with offshore sportsbooks.
Reviewing the Best Online Sportsbooks
Our top 10 online sportsbooks for West Virginians are all located in Costa Rica, Panama or Antigua where online gambling is legal. You can feel free to join these sites today from the Mountain State as they are welcoming most American players. We have included an in-depth review of our top 10 sites, including the pros and cons. Keep in mind these top offshore sites also offer casino gaming and horse racing, but our main focus today is on the sports betting aspect.
1. BookMaker: Excellent for Sports Bettors of Any Skill Level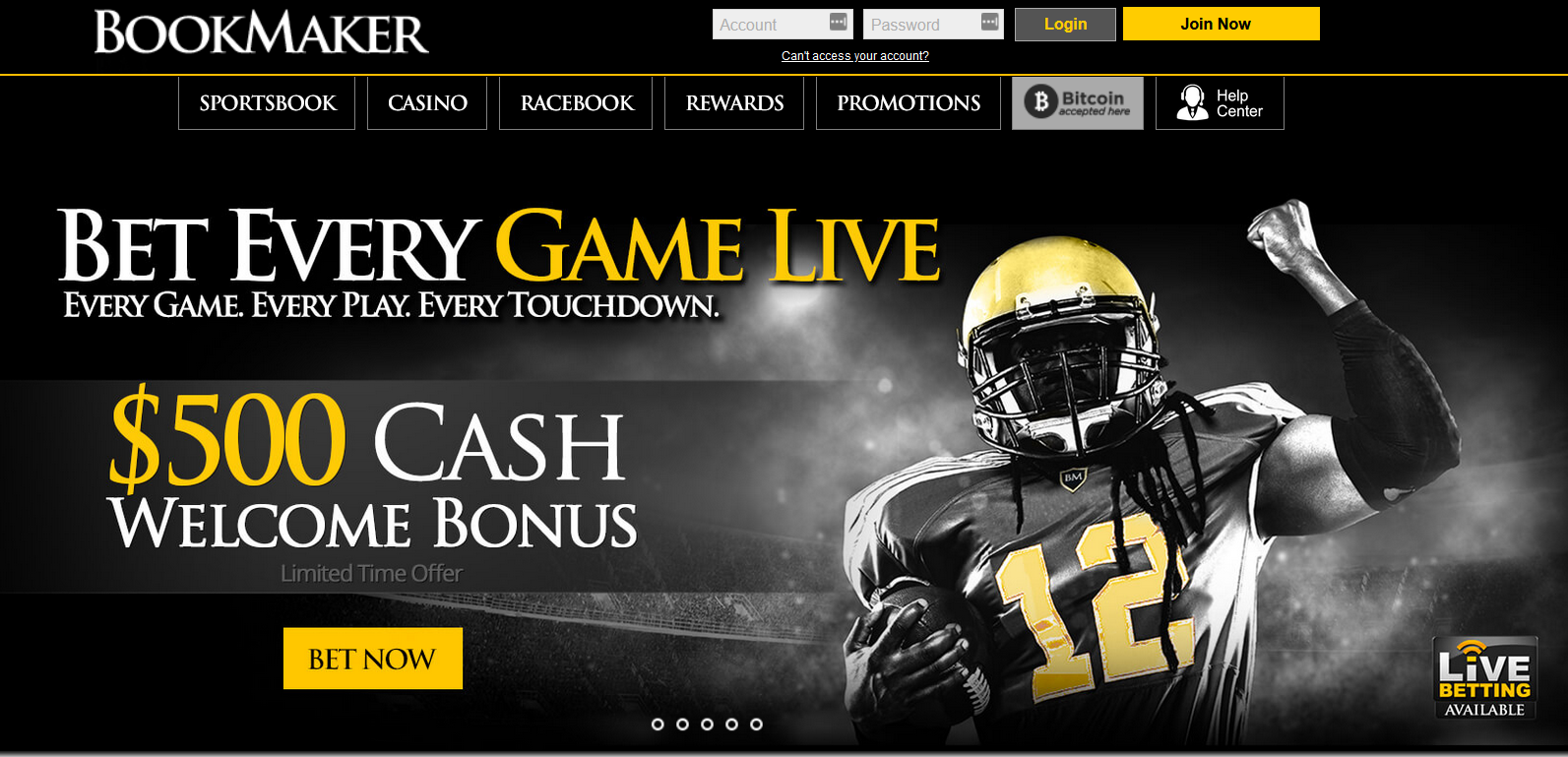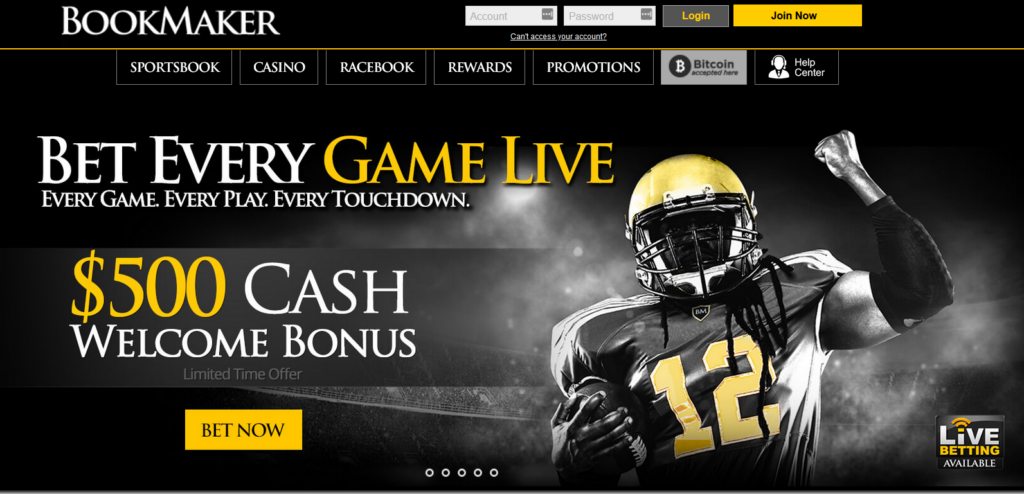 BookMaker is undoubtedly one of the top offshore sportsbooks to consider using in West Virginia. With a long-standing reputation in the industry, it offers a wide range of attractive features and generous bonuses. Players can benefit from BookMaker's sign-up bonuses, reload bonuses and even referral bonuses, enhancing their overall betting experience. Moreover, BookMaker provides an extensive selection of sports to wager on, including popular options like football, basketball, baseball and soccer, among others. This diverse offering ensures that there is something for every sports enthusiast.
In addition to its sportsbook, BookMaker also boasts a comprehensive online casino, making it a one-stop destination for both sports betting and casino gaming. Players can indulge in a variety of thrilling casino games, including slots, table games and live dealer options, providing plenty of entertainment options. With secure and reliable payment methods available, users can easily deposit and withdraw funds, ensuring a seamless and hassle-free betting experience. Overall, BookMaker stands out as a top choice for offshore sports betting in West Virginia, thanks to its impressive bonuses, extensive sports selection, and integrated casino platform.
Pros:
Earliest lines in sports betting
Winning players not limited
Great reward program
Unique props on major sports
Quality racebook available too
Cons:
Does not have a poker room for tournaments
Could use some more same-game parlay flexibility
2. Heritage Sports: Reputable Live Betting Site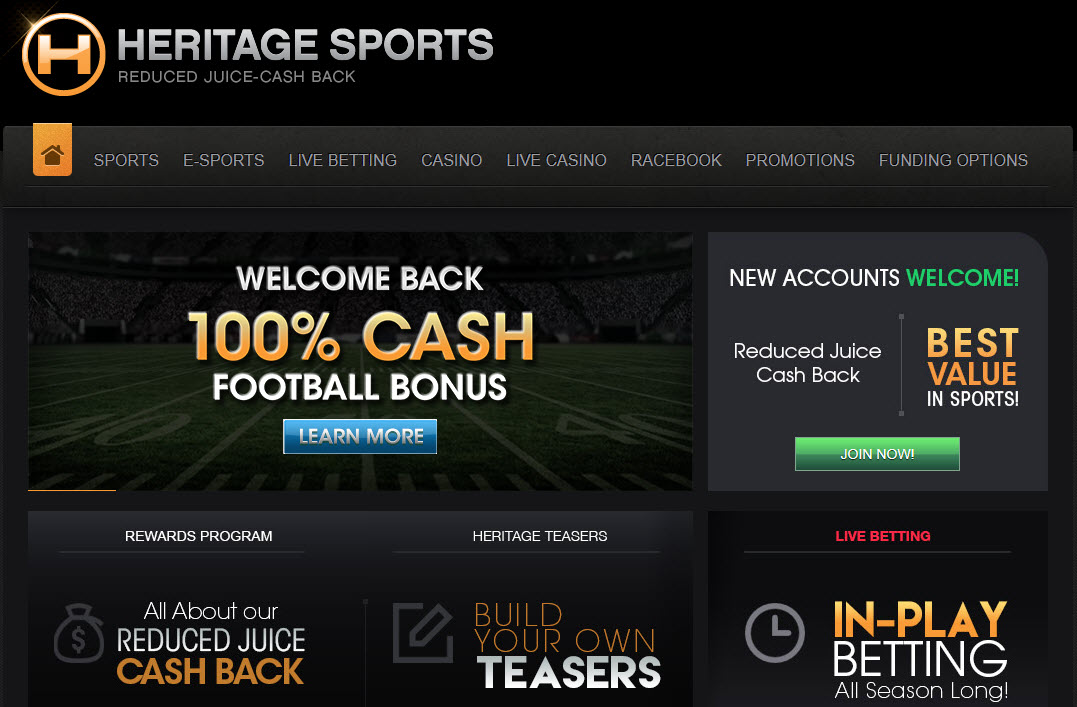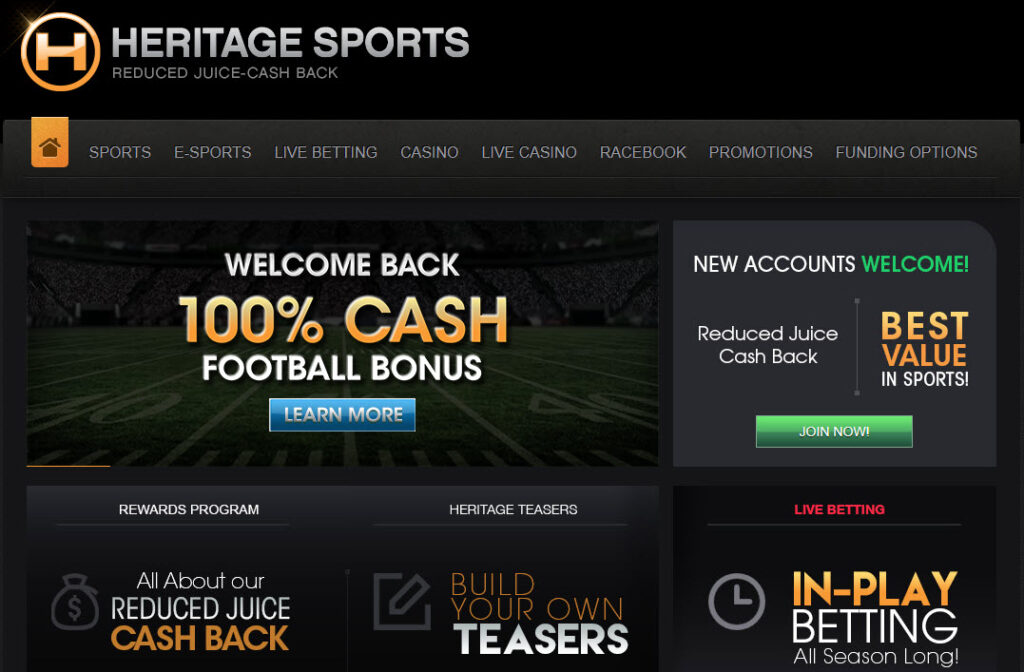 Heritage Sports is one of the top offshore sportsbooks to use in West Virginia due to its wide range of bonuses and incentives. They offer free bets, matched deposits and no-deposit bonuses, providing an added element of excitement for bettors. Additionally, Heritage Sports has a full casino, offering a diverse selection of online casino games and entertainment options for users to enjoy.
One of the standout features of Heritage Sports is its reduced juice offerings. This means that they offer better odds compared to other sportsbooks, allowing bettors to maximize their potential winnings. With reduced juice, bettors can enjoy a higher return on investment and potentially increase their profits. Whether you're a fan of football, basketball, baseball, or any other sport, Heritage Sports provides a comprehensive platform for sports betting enthusiasts in West Virginia, ensuring a thrilling and rewarding experience.
Pros:
Does cashback the best
Good for reduced juice (-108)
Sharp mobile site design
Some markets have early lines
Bonus funds can be used for multiple forms of gambling
Cons:
This site does not do poker tournaments
Smaller welcome bonus
3. Bovada: Top Prop Builder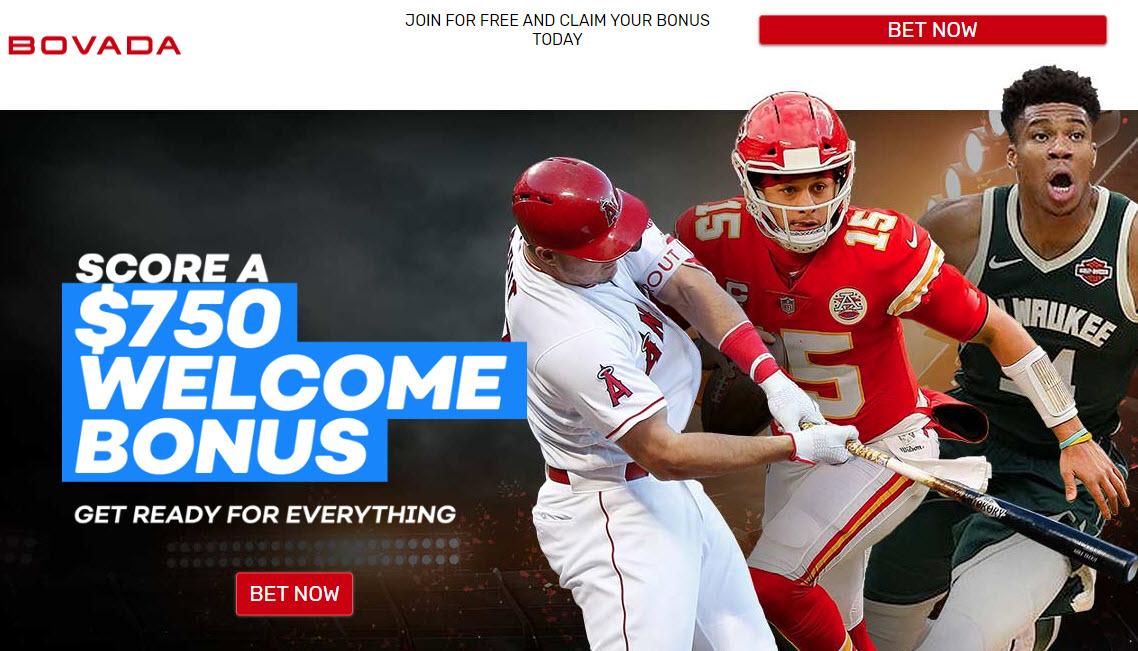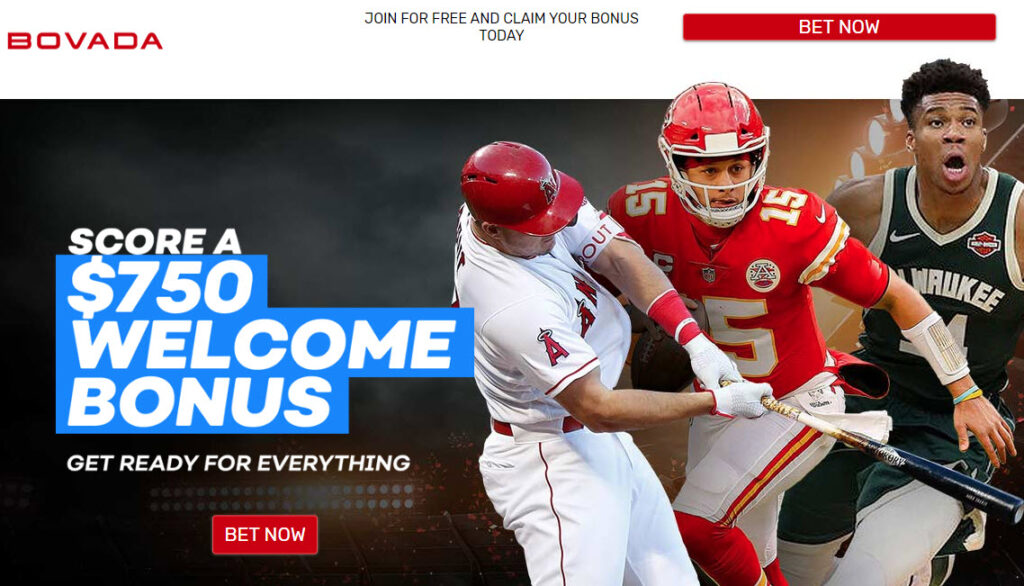 Bovada is widely regarded as one of the top offshore sportsbooks to use in West Virginia. With its extensive range of sports betting options and user-friendly interface, Bovada offers a seamless and enjoyable betting experience. The sportsbook provides attractive bonuses and promotions, including a generous welcome bonus for new users. Additionally, Bovada offers a state-of-the-art online casino with a wide variety of games, ensuring there is something for everyone.
One standout feature of Bovada is its prop builder, which allows users to create custom prop bets. This innovative tool empowers bettors to tailor their wagers to their specific preferences, adding a new level of excitement and personalization to the betting experience. Bovada's prop builder feature is just one example of the sportsbook's commitment to providing a comprehensive and interactive platform for its users in West Virginia and beyond. Whether you're a seasoned bettor or new to the world of offshore sportsbooks, Bovada is a trusted choice for an exceptional betting experience.
Pros:
Top-notch prop builder in West Virginia
Many niche sports offered
Great site design
Reward points never expire
Huge crypto bonuses
Cons:
Needs more ongoing promos
Takes longer than BookMaker to put out betting lines
4. BetOnline: Large Selection of Casino Games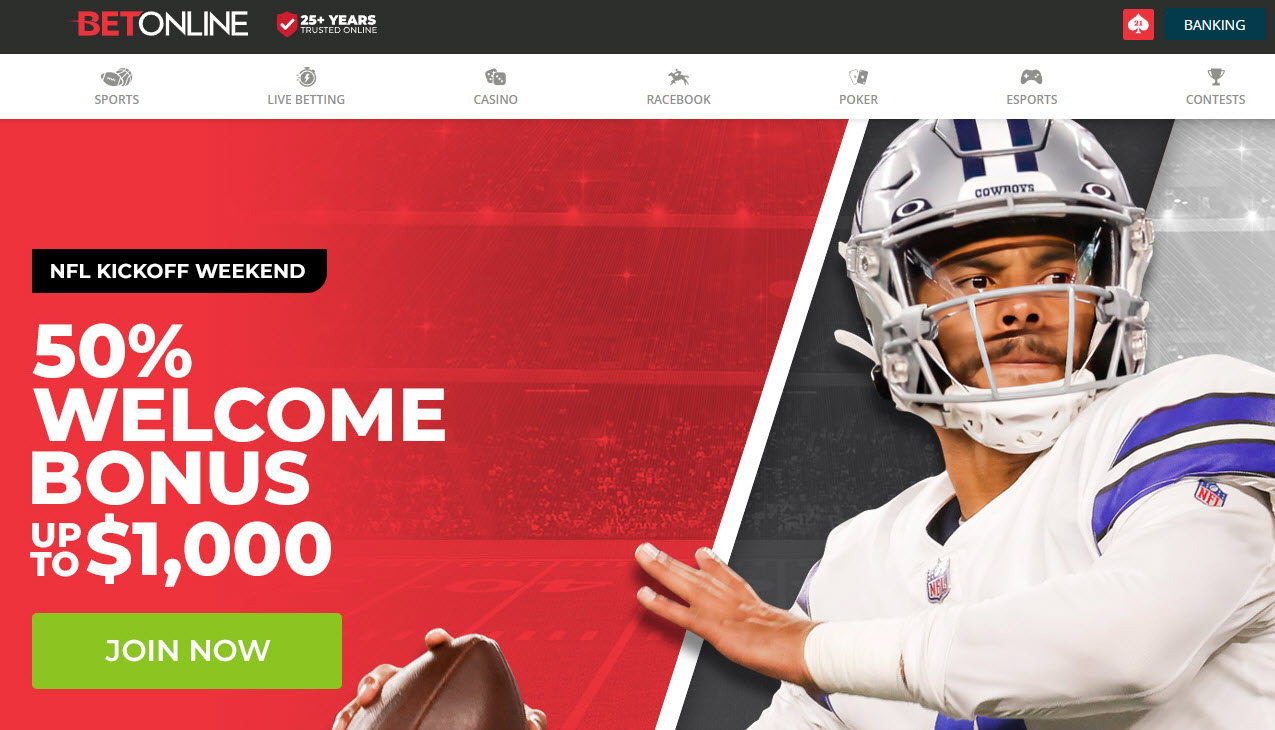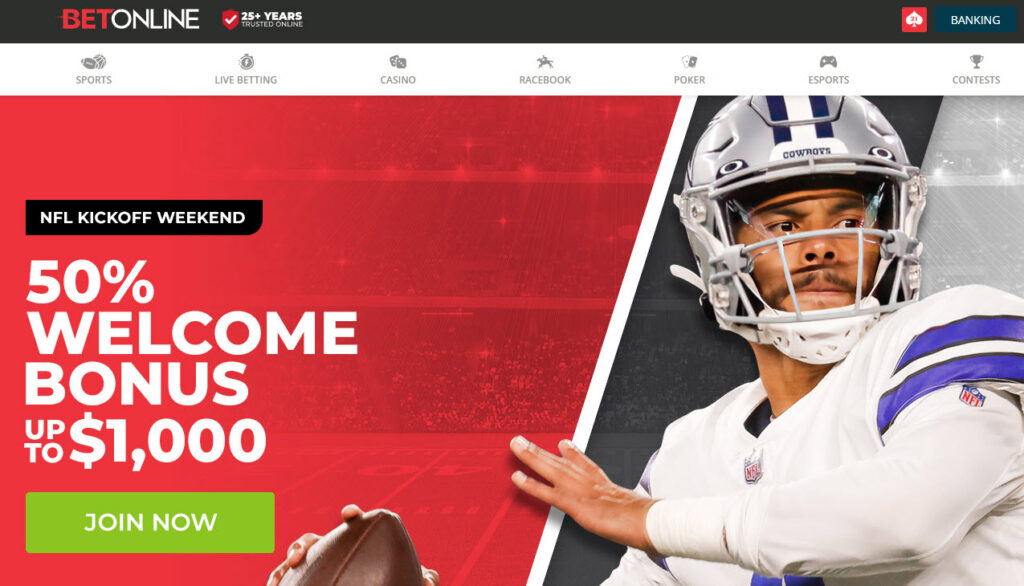 BetOnline has a sportsbook with opinionated lines for popular markets. This means instead of choosing between -110 odds on a spread, you may find -113 vs. -107 odds on a particular pick. The site also offers reduced juice but only for NHL games. The prop builder may not be our favorite in the list, but it is serviceable with good alternate lines on NFL and NBA games that you may not even be able to get at popular American sportsbooks like FanDuel and BetMGM. In addition to the comprehensive sportsbook, the BetOnline Casino features all of the most popular online casino gaming options.
The sports contests at BetOnline are varied and some are even free to enter. They also have many unique promos with bad beat insurance for things like your team getting shut out or blowing a big lead.
New users of the sportsbook can get a 50% sign-up bonus of up to $1,000 in bonus bets. There is also a 25% sports reload bonus of up to $250 for existing users. BetOnline is very good for high rollers as it has high limits and quick payouts to go along with a diverse set of banking methods.
Pros:
Opinionated lines on popular sports markets
Decent mobile site to do your live betting
Plenty of niche sports and international leagues
Generous welcome bonuses
Many ongoing promos and contests for sports
Cons:
Not our favorite prop builder
Reduced juice needs to be for more than just the NHL
5. BetAnySports: Best Reduced Juice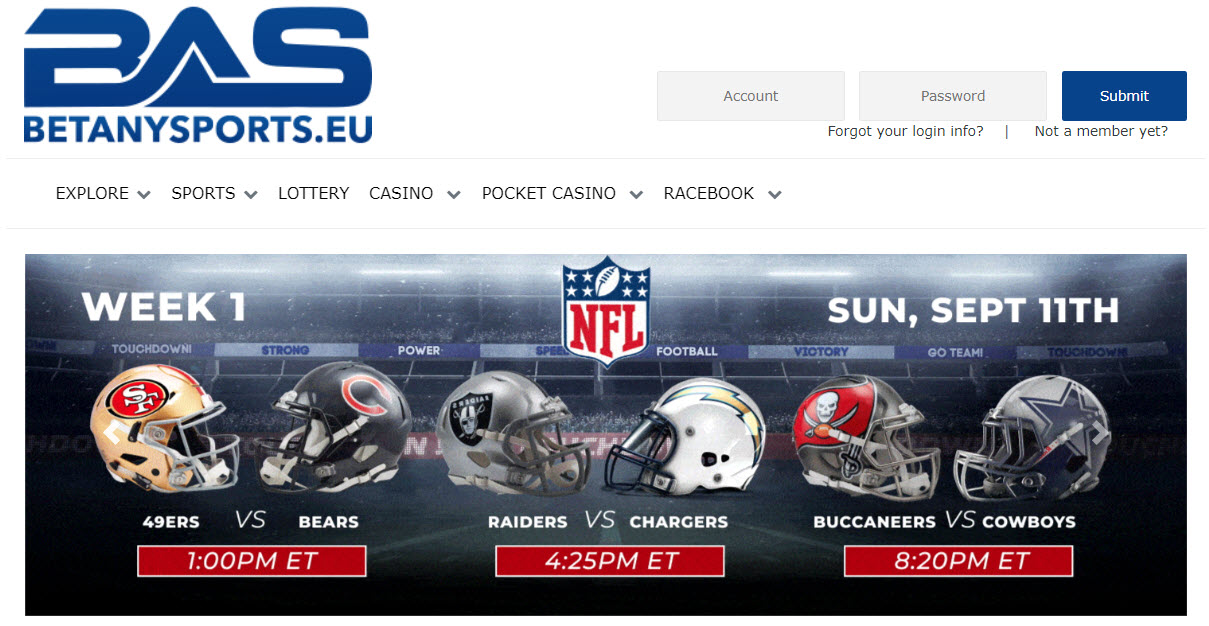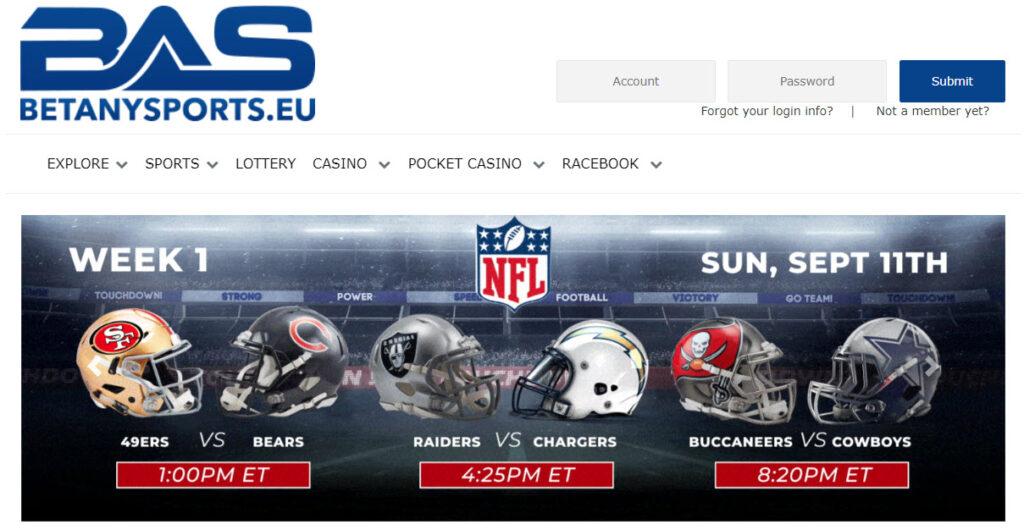 BetAnySports may not be as well known as BookMaker or Bovada, but it is another top-rated online sportsbook from Costa Rica. The reason we like it so much is that their reduced juice is the best around with -105 lines and the prop builder is also one of the best to use. You also get a top in-game betting experience.
The drawback to this site is that the sportsbook has poor design and will require a learning curve to get used to. You will find five different links to sports lines in the sportsbook, which can be confusing since several offer the same games at different odds. You will have to get used to figuring out the differences between the lines offered to make sure you are getting those best reduced juice lines of -105.
But once you get used to it, you will have a top-tier online sportsbook to go along with a great online casino experience. Along with the sportsbook and casino, bettors can enjoy the numerous promotions that BetAnySports frequently has on offer.
Pros:
West Virginia's best for reduced juice (-105)
Great prop builder
Live betting works well
Great for lottery fans
Plenty of casino game options
Cons:
Sportsbook operates differently from most online betting sites
Expect a smaller sign-up bonus
6. BetUS: Outstanding for Expert Analysis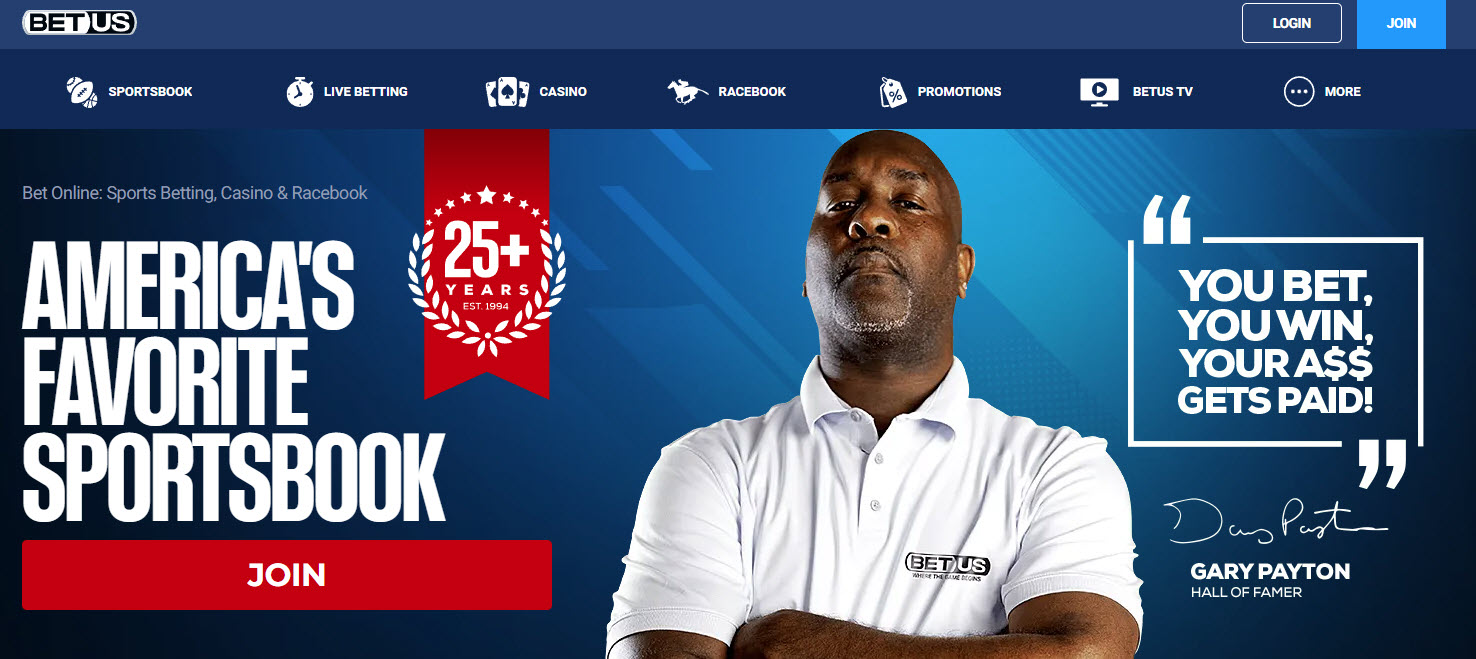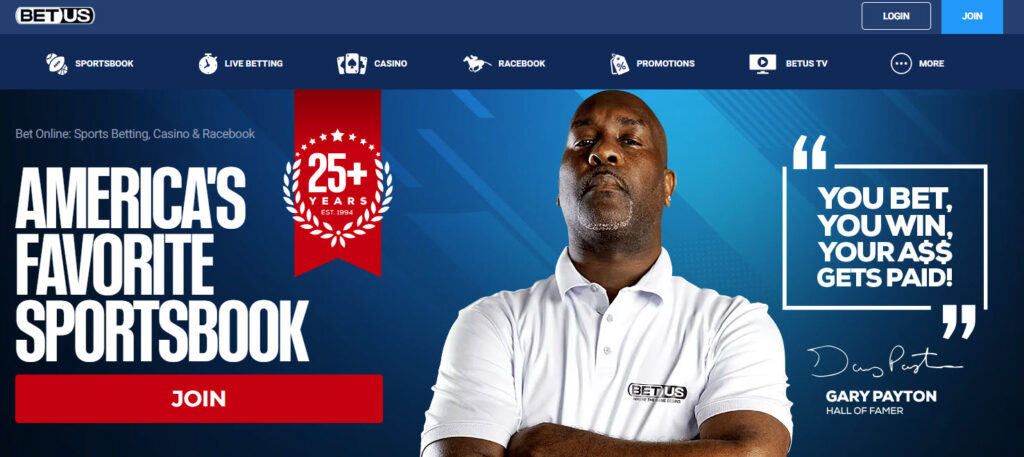 BetUS is advertised as America's favorite sportsbook. It may be someone's favorite, but we ranked it a solid No. 6 on our list with great competition ahead of it. BetUS does do a great job of giving gamblers informative guides on various gambling topics and the original content found with BetUS TV, a YouTube channel with expert analysis and predictions, is something other sites should look to emulate.
We also appreciate how BetUS does welcome bonuses with a split between the sportsbook and casino to give users a taste of both worlds. But the bonuses do come with some of the highest rollover requirements around. The prop builder could also use some work to get up to the level of the top five online sportsbooks.
Pros:
Informative gambling guides to get better
BetUS TV is a unique addition with original content
Generous welcome bonuses for casino and sportsbook
Many markets available in sportsbook
Try demos in loaded casino
Cons:
High rollover requirements
Prop builder needs to be improved
7. WagerWeb: Optimal for Crypto Users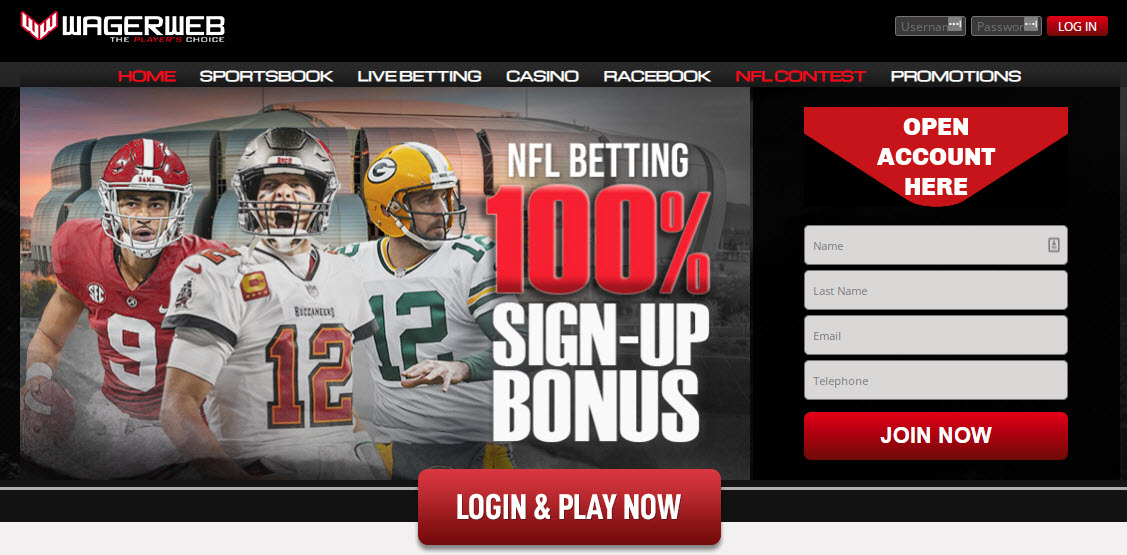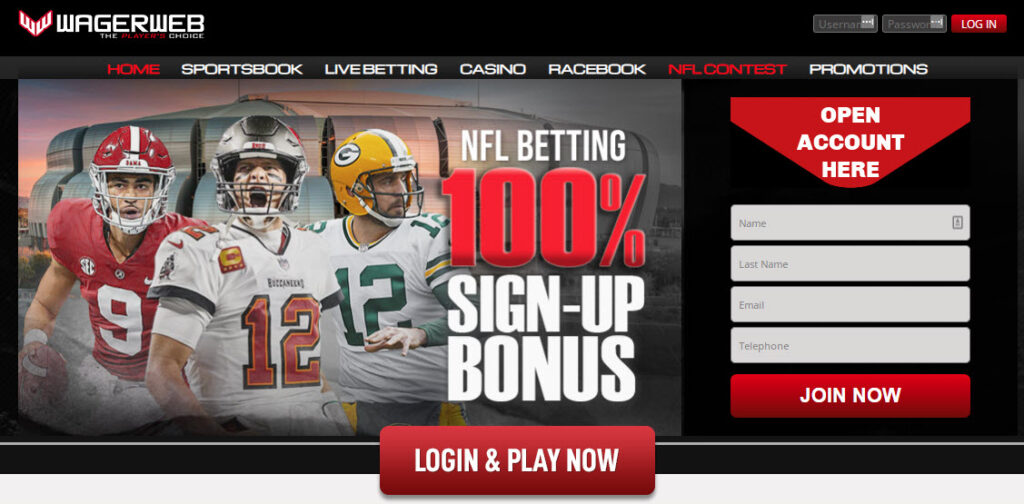 WagerWeb is a top choice for offshore sports betting in West Virginia, offering a range of bonuses and promotions that enhance the betting experience. With their generous sign-up bonus, new players can kickstart their betting journey with extra funds. Additionally, WagerWeb provides enticing deposit bonuses, giving bettors more value for their money. For Bitcoin users, the crypto bonuses add even more value.
Apart from their sports betting offerings, WagerWeb also boasts an impressive online casino where users can enjoy a diverse range of games. Whether you're into classic table games or thrilling slots, the casino section on WagerWeb has it all. This adds an extra layer of entertainment for users looking to switch things up and try their luck in the casino world.
Furthermore, WagerWeb stands out for its comprehensive coverage of esports markets. With a dedicated section for esports betting, users can wager on popular games like League of Legends, Counter-Strike: Global Offensive, Dota 2 and more. This highlights WagerWeb's commitment to catering to the evolving interests of modern sports bettors and providing a platform that encompasses a wide range of sporting events, including the rapidly growing esports market.
Pros:
Crypto users will love bonuses
NFL contests during the regular season
Good for esports fans
Solid mobile site
True parlay odds
Cons:
Does not have a poker room
Non-crypto users get the weakest bonuses
Customer service is not open 24/7
8. JustBet: Fantastic Reward Program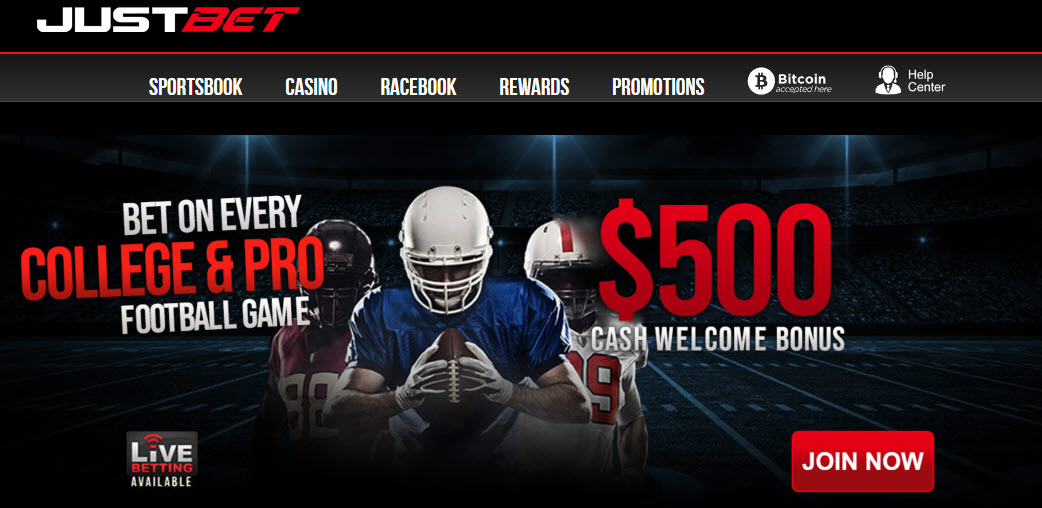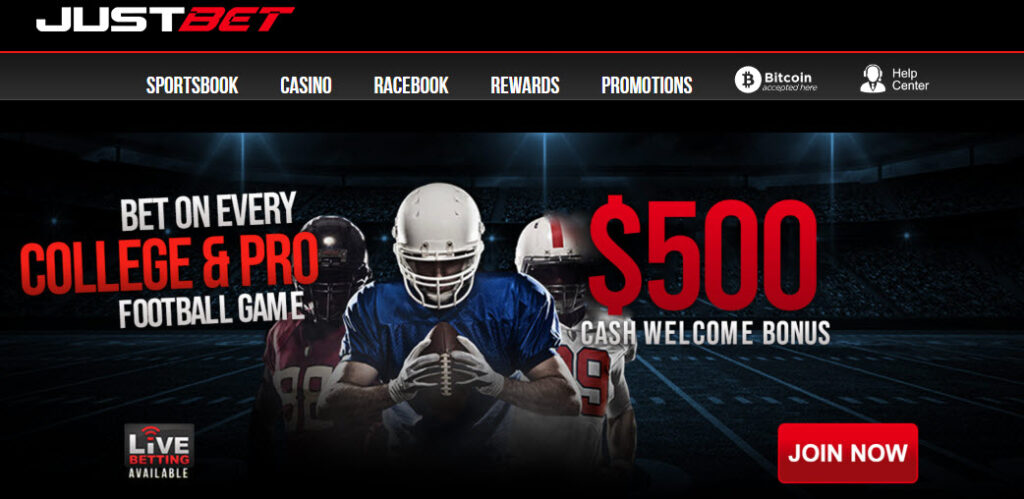 If you like Bookmaker.eu, you will appreciate the guts and heart of its sister site, JustBet. You can expect those early lines for sharp betting value in the sportsbook, high limits for high rollers, winning players to not get limited on their bets and top-tier bonus offers.
But that also means you can expect no poker room for tournaments and cash games and not as many casino games as BetOnline. Even the mobile site is not quite as sharp or greatly designed as BookMaker's.
Pros:
Get those early likes like BookMaker 
Live betting is easy to do on this site
Some solid casino choices
High limits
Decent racebook with fixed odds
Cons:
BookMaker has a higher-quality site 
Does not do poker
9. Everygame: Attractive Mobile Betting Platform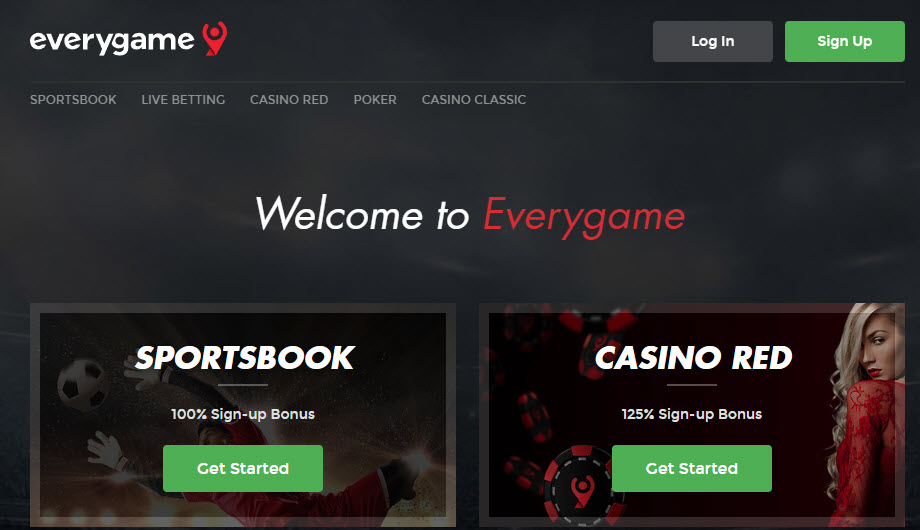 The Antigua-based Everygame does a solid job of living up to its new name (formerly Intertops). In addition to the top sports, you will find Aussie Rules, cricket, darts, handball, rugby and table tennis bets at Everygame. There are non-sports markets available for betting, like the stock market, Powerball and politics. Everygame not only provides great variety but also competitive bonuses and promos that really help the sportsbook to shine.
Everygame was also able to introduce live sports betting in 2021 to bring it up to par with the other sportsbooks on our list. But the heart of the site is the great site design, which shines best when you try the casino games (demos available) and poker room (tournaments and cash games available). You will get a very good experience there, but the sports betting may be a little too casual with limited props and no racebook section.
Pros:
Solid selection of sports betting markets
Great site design
Decent sign-up bonus for new users
Poker tournaments available
Try casino games for free
Bet on the stock market
Cons:
More for casual sports betting
No racebook
10. SportsBetting.ag: Sports and Poker Promotions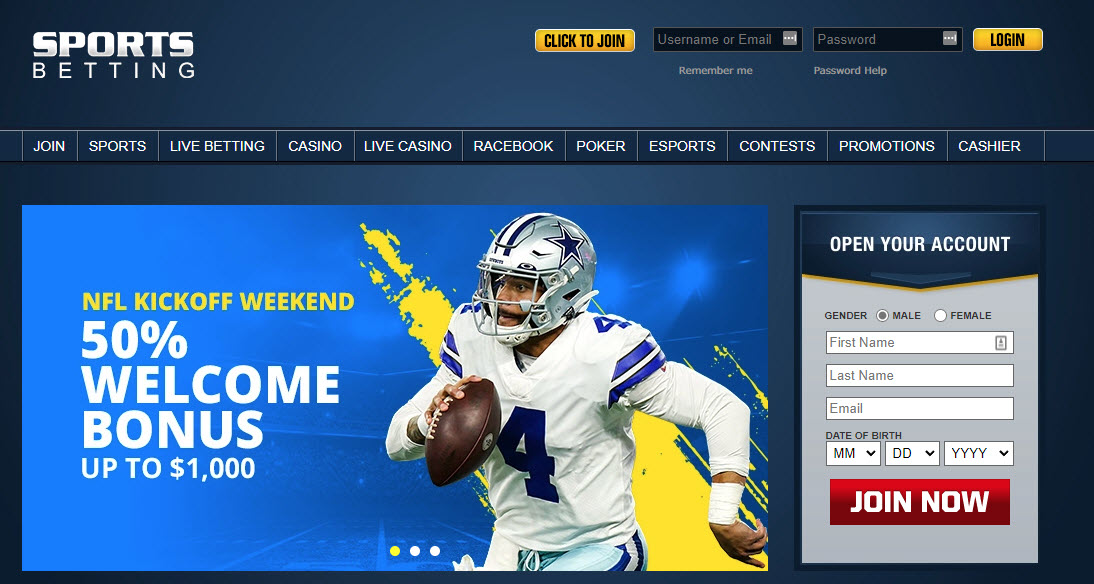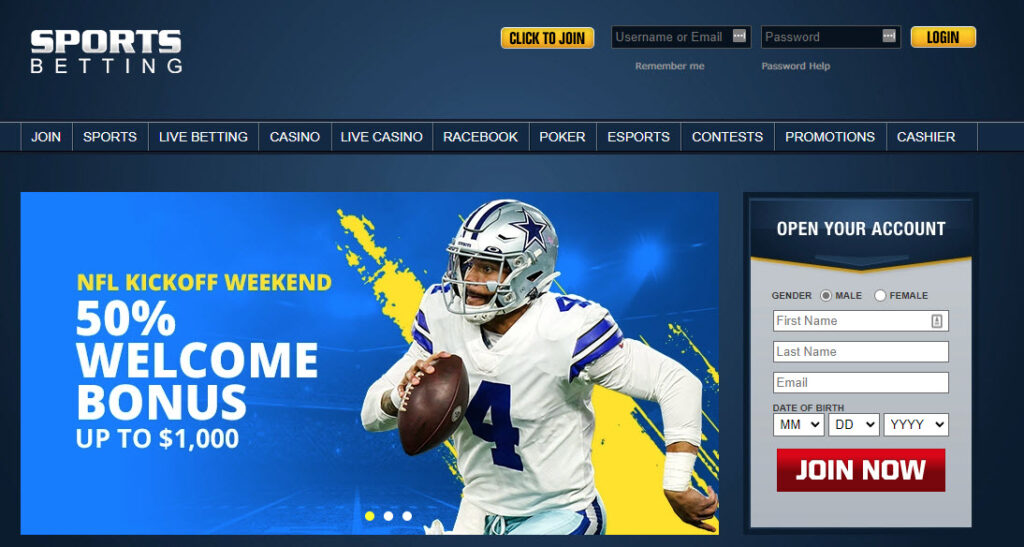 SportsBetting of course has sports betting as the name implies, but is it strange that some of the best parts about the site have nothing to do with sports? This is BetOnline's sister site, so you can get access to poker tournaments and cash games on the same network as BetOnline and you can try the hundreds of newer, flashy casino games, including hundreds of online slots.
You also get fast payouts and high limits like you would at BetOnline and many of the promos for sports are identical right down to getting money back if your moneyline bet on an NBA team fails because the team blows a 15-point lead after halftime.
Pros:
Generous welcome bonuses
Opinionated lines like BetOnline
Some of the most unique sports promos around
Reload bonuses in sportsbook
Poker room available
Cons:
BetOnline has a better design
Mediocre prop builder
Our Sportsbook Rating Methodology
We get into our sportsbook rating methodology in greater detail below, but the main factors in our grades involve competitive odds, the ease of placing your online wagers on the mobile site, generous bonuses, diverse payment methods and good customer service.
| Sportsbook | Rating | Online Since | Payment Methods | Read Review |
| --- | --- | --- | --- | --- |
| Bookmaker.eu | A+ | 1996 | Credit Card, Bitcoin, P2P, Crypto | Bookmaker.eu Review |
| Heritage Sports | A+ | 2001 | Credit Card, Bitcoin, Cashiers Check, Bank Transfer, P2P | Heritage Sports Review |
| Bovada | A+ | 2011 | Credit Card, Bitcoin | Bovada Review |
| BetOnline | A+ | 2001 | Credit Card, Bitcoin, Crypto, Cashiers Check, Bank Transfer, P2P | BetOnline Review |
| BetAnySports | A+ | 2002 | Credit Card, Bitcoin, Electronic Check | BetAnySports Review |
| BetUS | A | 2000 | Credit Card, Bitcoin, Bank Transfer, P2P | BetUS Review |
| WagerWeb | A | 1994 | Credit Card, Bitcoin, Cashiers Check, Bank Transfer, P2P | WagerWeb Review |
| JustBet | A | 2000 | Credit Card, Bitcoin, P2P, Crypto | JustBet Review |
| Everygame | A | 1996 | Credit Card, Bitcoin, Skrill, Neteller, Bank Transfer, P2P | Everygame Review |
| SportsBetting.ag | A | 2002 | Credit Card, Bitcoin, Crypto, Cashiers Check, Bank Transfer, P2P | SportsBetting.ag Review |
Bookmaker.eu, Heritage Sports, Bovada, BetOnline and BetAnySports have each earned an A+ rating from our team of industry experts due to the outstanding online gambling experience that each site provides.
The History of Gambling Laws in West Virginia
West Virginia has done a great job of fast-tracking the sports betting industry in the state. Like most territories in the country, West Virginia was not able to have any sports betting due to the PASPA ruling by Congress in 1992. This essentially outlawed sports betting in most of the country. Fortunately, this ruling was overturned by the Supreme Court in 2018, citing it as being unconstitutional. States once again had the power to vote to legalize sports betting or not.
West Virginia ended up being the fifth state to pass sports betting legislation in 2018, doing so in August. This made it legal for sports betting through licensed operators at retail locations like the state casinos. By the end of 2018, another law was passed to make it legal to do online sports betting with licensed sportsbooks like FanDuel and DraftKings. There are now roughly nine legal sportsbooks in West Virginia, including the big hitters like BetMGM, Caesars, Betly, PointsBet, BetRivers and more.
In March 2019, West Virginia also passed another gambling act to legalize online casino gaming and online poker in the state. However, no poker operator has yet to take on the West Virginia market, though that could change in the future.
All five casinos in the state have teamed up with retail sportsbooks at their physical location for in-person betting. In 2022, another bill was passed to legalize betting on esports in the state. In March 2023, the sports betting handle in West Virginia was reported to hit $39.7 million in February with $2.7 million in revenue.
Timeline of Gambling in West Virginia
The following timeline shows the key events in the sports betting history of West Virginia:
March 2023: West Virginia reports a sports betting handle of $39.7 million with $2.7 million in revenue for the month of February.
2022: A bill is passed to legalize esports betting in the state.
March 2019: The West Virginia Lottery Interactive Wagering Act is passed to legalize online casino gaming and online poker.
December 2018: Another law is passed to legalize online sports betting at licensed operators. Soon, sports betting sites launch across West Virginia as an alternative to in-person sports betting.
August 2018: A bill is passed for the legalization of sports betting in West Virginia. Bettors can do retail sports betting on professional and college teams. Betting on high school sports and betting on games involving minors is prohibited.
2018: PASPA is overturned by the Supreme Court, allowing for each state to have the right to choose to legalize sports betting.
2017: A bill was read to legalize Daily Fantasy Sports (DFS) in West Virginia but was never officially passed at any legislative session. DFS is allowed in the state today.
2007: West Virginia casinos were allowed to offer live table games and poker.
2001: A bill was passed to regulate video poker and slot machine gambling at the racetracks in the state.
1994: Video poker and slot machine terminals were first legalized for use in West Virginia.
1992: PASPA was passed by Congress, effectively banning sports betting in most of the country.
West Virginia's timeline of gambling illustrates the state's responsiveness to the changing dynamics of the gambling industry. From the legalization of video poker and slot machines in 1994 to the more recent expansion into online casino gaming, esports betting, and online sports betting, West Virginia has adapted its gambling laws to meet the evolving interests of its residents and visitors.
Important Features of the Best Online Sportsbooks
For sports betting sites, we wanted to go into more detail on what we believe are the important features to determine the best options for West Virginia bettors.
Betting Odds
These sportsbooks are very competitive, but some offer better odds than others thanks to things like reduced juice, opinionated lines and odds boosts. If you frequently bet on sports, you should have an account with various sportsbooks to make sure you are getting the best price for the bets you want to make. A pick with -110 odds could be -105 at another site, so be sure to shop around.
Betting Markets
In the sports betting market, we expect a wide range of both leagues offered and the types of wagers (singles, parlays, round robins, teasers, pleasers, props, live bets, futures, same-game parlays, etc.).
Deposit & Withdrawal Methods
In 2023, we should have plenty of deposit and withdrawal methods available to us at online sportsbooks. That means everything from traditional methods (debit cards, credit cards, online banking) to modern methods (eWallets, crypto). We also take note of the processing times, limits and fees associated with these different methods at the sites.
Promotional Offers & Bonuses
The welcome bonus can get a player to register for an online sportsbook, but the ongoing promotions can keep them coming back. New users will usually get a deposit match in bonus bets based on their initial deposit. There may be a bonus code that needs to be entered when making that deposit and it is a one-time-only deal.
This is why the ongoing promos matter just as much. We should get a reload bonus option, which works just like a deposit bonus but may only be 20-to-30% of your deposit instead of 100% or higher as a sign-up bonus. There are also odds boosts and risk-free bets offered from time to time at quality online sportsbooks.
The other offers we expect to see are a refer-a-friend program and a loyalty program where you climb to a higher loyalty level the more you bet. The more points you receive, the more perks you can purchase like bonus bets or poker tournament entries.
Live Betting
Live betting is becoming a huge deal as more people use their mobile devices to place bets. This inevitably leads to people following along with the game on their mobile devices. They may want to hedge a pre-game bet or bet on something live after picking up some new insight from watching the game. Live betting can also turn a boring game into an exciting one.
We expect any quality online sportsbook today to have a good live betting platform that is fast at processing bets because speed is everything when you are trying to bet on the outcome of the next play. Even just live betting the winner, spread or total can see the odds drastically change live with one play.
User Experience
A quality user experience at an online sportsbook is when you can easily navigate the site to find the markets you want to bet on with competitive odds and to quickly build parlays and online wagers from a variety of games and sports. Everything should be neatly labeled and organized. The cashier section should make it easy to get our deposits in quickly and request withdrawals just as easily.
Mobile Site Quality
With the offshore sites, we do not get a downloadable sportsbook app like we would using a DraftKings or FanDuel in West Virginia. Instead, we must do our mobile betting using mobile sites, which can be used like mobile betting apps if we add them to our home screen for one-touch access. They will open instantly and we can quickly do our mobile wagering before the next game starts. This is also crucial for live betting where speed is extremely important before the odds change drastically.
Customer Support
Frequent users of the sportsbook may have a day where they have a dispute over a sports bet, whether it be a stat correction or a disputed playing status of an injured player. This is when you really need the customer support team to come through to resolve your dispute or any other question or issue you may encounter.
We consider the best customer support teams to offer 24/7 service and the most varied options for contacting them, including a message on the site, an email address, a phone number and a live chatbot.
Security Features
If you want to win real money online at a sportsbook, you can expect to share your name, address, phone number and email. You may be required to link your credit card or bank account to the site to make payments and receive withdrawals. This is a lot of personal information, so it is more important than ever these sites keep our data secure and safe. Our rationale is to only choose a long-serving sportsbook with plenty of experience in the sports betting industry of dealing with customers and paying them on time. Only use reputable sportsbooks like the ones reviewed in this guide.
West Virginia's Favorite Sports Teams
West Virginia is not home to any professional teams in the major sports leagues in America, but many residents have their favorite teams in nearby states like Pennsylvania and Maryland. In the following sections, we look at the types of sports and teams available for online wagering in West Virginia.
Football
Football is king in West Virginia despite the state not having an NFL team. You can expect fans to split their fandom among some nearby selections like the Baltimore Ravens, Pittsburgh Steelers and Washington Commanders. Fans can enjoy a wide variety of football betting markets, including touchdown scorers, same-game parlays and many more props.
Basketball
Basketball is also popular in the state of West Virginia thanks to some successful runs by the college teams. But there is no NBA team in the state. You could still expect plenty of NBA betting markets, including first-basket scorers, triple-doubles and over/under bets on points, rebounds, assists, three-point makes, steals, blocks and more.
Baseball
Baseball may not be America's No. 1 pastime anymore, but West Virginians can still bet on the Pittsburgh Pirates, the Washington Nationals and the Baltimore Orioles. Or they can just bet on better teams in other markets that spend more money on their franchise's success. Either way, you can expect to find MLB markets for players to record a hit, home run hitters, pitcher strikeouts and over/under for runs in each inning. Make a same-game parlay using a series of those markets if you want at most top-rated sportsbooks.
Ice Hockey
No NHL team plays in West Virginia, but the Pittsburgh Penguins and Washington Capitals have enjoyed some success as nearby teams. With NHL markets, you can get reduced juice at BetOnline and you can expect to find bets for goal scorers, over/under on player points, period total prop picks and futures bets on the Stanley Cup Champion.
Betting on College Teams
West Virginia is free to bet on college teams both in-state and out-of-state. That means you can bet on the two Division I teams in the West Virginia Mountaineers and the Marshall Thundering Herd. The Mountaineers are most popular for their football team in the Big 12 while the basketball team has also had some fun runs in the NCAA tournament this century.
Niche & International Sports
You can expect plenty of other niche and international sports and leagues to bet on in addition to the four most popular American markets at these offshore sportsbooks. Let the following list serve as a small idea of what betting markets you can expect to find at the sites we have reviewed in this guide:
Aussie Rules
Badminton
Chess
Cricket
Curling
Darts
Fighting (UFC)
Handball
Motorsports/Racing
Rugby
Soccer
Snooker
Table Tennis
Volleyball
Creating an Online Sportsbook Account in WV
If you want to start winning by finding your favorite sportsbook, you first have to create your account. We walk you through that simple process below, which should be roughly the same at all online betting sites.
Step 1. Signing-Up
Go to the site you wish to join and begin the sign-up process. You should use a password that you are not using with any other account you have anywhere (gambling or otherwise).
Step 2. Verifying Your Account
Your account must be verified before this process is completed. You do this by providing your name, address, email and phone number. The site may send you an email or text with a code to enter that will verify your account.
Step 3. Funding Your Account
Your account now needs to be funded. But before you do this, read the terms and conditions for the sign-up bonus for new users. This is usually a one-time offer where you receive bonus money as a deposit match for your initial deposit. Once you figure out the amount you want to spend, head to the deposit section and choose from the various payment methods to make that first deposit. Be sure to read the terms and conditions of any bonus offers you want to accept to be sure that they are worth your time. If you aren't able to meet the requirements, the promo could expire before you're able to secure the bonus money.
Step 4. Placing Your First Sports Bets
Now that you have created your account and put real money in it, you are ready to go to the sportsbook and start placing your bets. Remember to bet responsibly and enjoy yourself.
West Virginia Betting Guides
Explore online casinos, racebooks and more with our complete guides to online betting in West Virginia.
FAQs – Sports Betting in West Virginia
Can you bet on sports in West Virginia?
Yes, West Virginia has legal sports betting. There are retail sportsbooks located inside licensed casinos and many of the nation's most popular sports betting apps are available. However, you definitely get more bang for your buck in the Mountain State using offshore sportsbooks.
Does West Virginia allow online sports betting?
Yes, West Virginians can bet on sports online. Offshore online betting sites are a popular option despite locally-regulated sportsbooks being available. Offshore sites offer more opportunities for bonus money and many unique types of wagers and sports to choose from. 
What sportsbooks are legal in WV?
Many of the most popular sportsbooks in the sports betting industry are legal for use in West Virginia. However, it is easier to create an account and start betting on sports at offshore sportsbooks, which also offer the full casino experience and other perks like a racebook.
Is DraftKings sportsbook legal in West Virginia?
Yes, the DraftKings Sportsbook is legal in West Virginia. Daily fantasy sports as well as online sports wagering are available. 
Does West Virginia tax gambling winnings?
Yes, gambling winnings can be considered taxable income if you win a certain amount. Generally, big wins over $5,000 will automatically get hit with a 24% federal tax rate. You should consult a tax expert for more specific tax questions about sports gambling.
The Keystone State remains a thriving gaming hub, with a 7.5% revenue boost in August compared to the previous year, driven by ongoing growth in Pennsylvania sports betting and other gambling activities. Online Gaming Boosts Revenue According to the Pennsylvania Gaming Control Board, the state's gaming companies reaped a whopping $457.2 million in total revenue

---