Washington Horse Race Betting – The Best Racebooks in Washington 2023 Compared
While no one will confuse Washington State for Kentucky or New York when it comes to being a hotspot for horse racing, there is one of the nicest tracks in the country in The Evergreen State at Emerald Downs. Even better, Washington is a state where it is perfectly legal to wager on horse racing, both in person and on your mobile device.
We have compiled this guide that will detail many aspects of Washington horse racing betting. You will get reviews on the top online sportsbooks to join for wagering in addition to learning about the different types of bets available, which land-based venues you can visit to place bets and what advantages you get from using an offshore sportsbook in Washington.
Best Sportsbooks in Washington
There are many opportunities for online wagering at our top offshore sportsbooks for Washington horseplayers. In addition to betting on horse races, you can engage in online sports betting, play online casino games, poker and more.
With such a wide array of betting options, it comes as no surprise to us that Washington horseplayers have been using our offshore betting sites for decades.
Ranking the 10 Best Sportsbooks for Horse Racing in Washington
Our experts have reviewed 10 online racebooks for Washington State bettors with online sports betting markets, casino-style gambling and many other forms of online gambling in addition to their online horse betting options.
All of the top horse betting sites we recommend are offshore sportsbooks, which don't need to be licensed in Washington to offer their services.
What is the legal status of horse racing betting in Washington?
Betting on horse races is totally legal for both in-person track betting and online wagers at offshore horse betting sites in the state of Washington. Depending on where you are betting, you will have to be either at least 18 or 21 years old to legally place bets.
If you'd like to get more acquainted with The Evergreen State's other forms of gambling, we recommend checking out our Washington online betting guide.
Reviewing the Best Washington Horse Racing Betting Sites
We have prepared in-depth reviews of the five best sportsbooks for horse racing in Washington. We look at the pros and cons of each one as well as other factors like banking methods and bonuses available.
1. Bovada: Great Site Design for Horse Races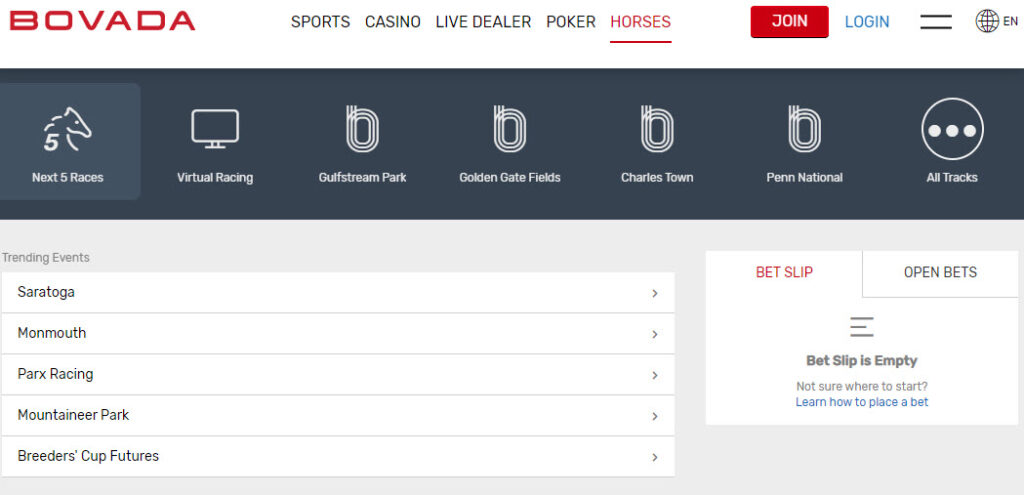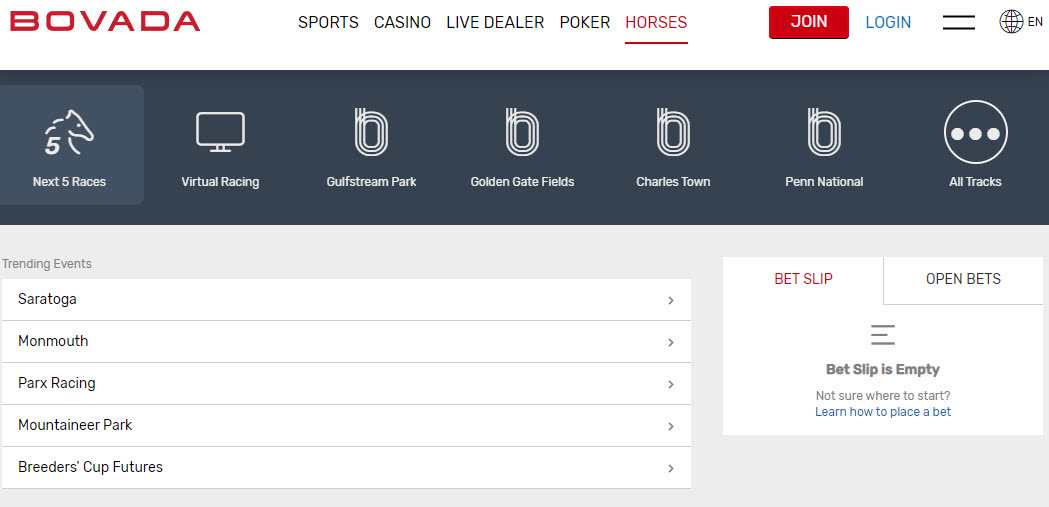 Bovada is one of the most popular offshore sportsbooks for American users, as it also has an extensive racing section. The simplistic site design really bodes well, with drop-down menus that make it easy to choose your type of horse bet, build your bet slip and place your wager.
Bovada offers everything in its racebook from Breeders' Cup futures to races all over the world to virtual races with video, as well as greyhounds, supercars and even camels. Yes, fake camels that you can bet real money on.
The appeal of Bovada goes beyond the racing options as you also get to experience a great sportsbook with a top-notch prop builder, the most popular poker room in the country, a full casino and great bonuses.
Pros:
Drop-down menus make it one of the easiest sites to place racing bets
Generous crypto bonuses can be used on racebook
One of the only competitors offering live streaming of virtual horse races
Great sportsbook for props and busy poker room
Cons:
Limits on the racebook are much lower than those on the sportsbook
No live streaming for real horse races
2. Bookmaker: Trustworthy Racebook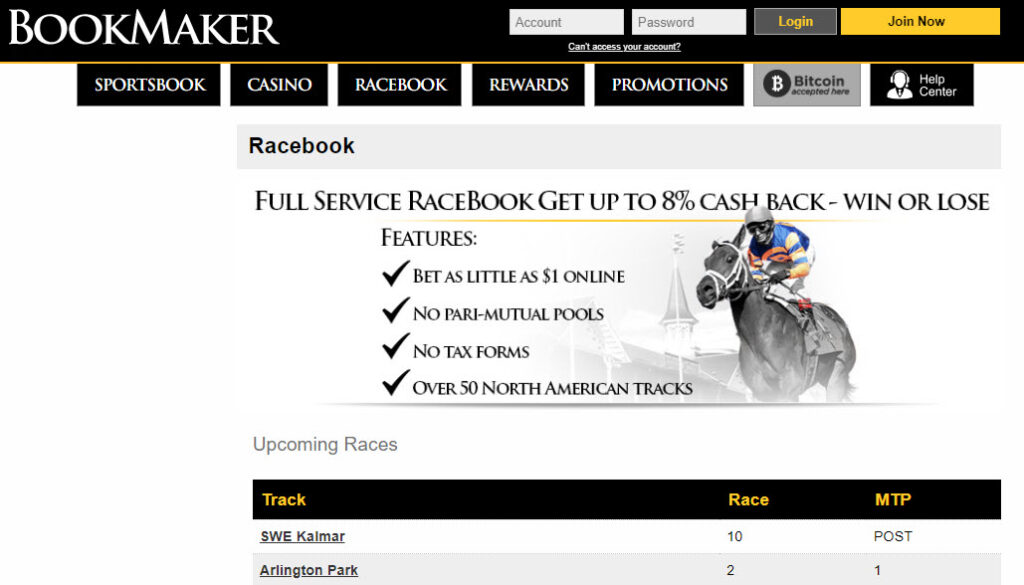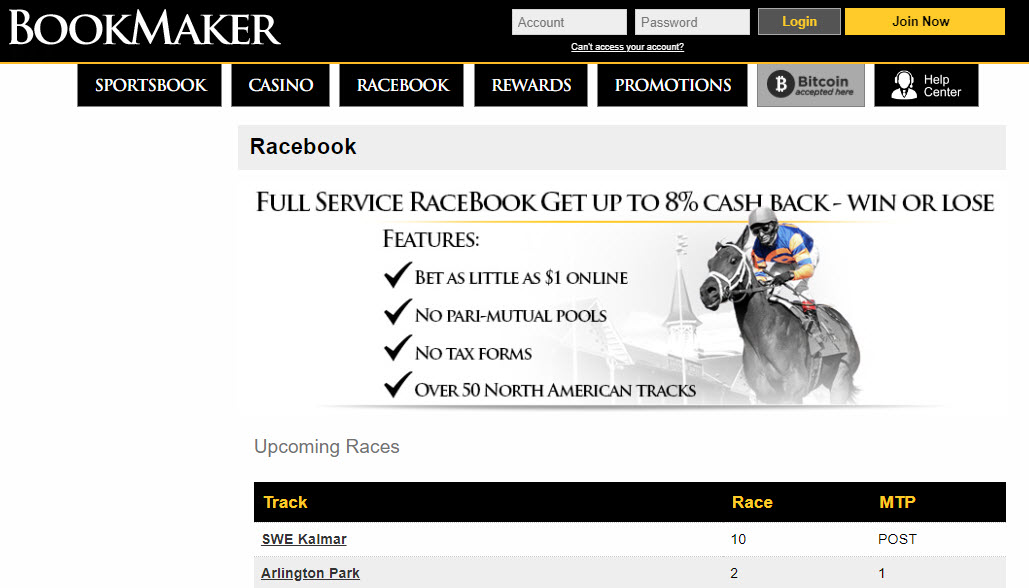 Bookmaker.eu is well known for establishing the earliest lines on sports, but they also are a great place for horse racing enthusiasts. With over 50 North American tracks, you can bet on many races with fixed odds as there are no pari-mutuel pools at Bookmaker.
BeBettors will receive 3% cash back on all win, place and show bets. Do note that phone services are currently unavailable for wagering on horses, but you can always visit the mobile betting site to make these bets.
Regardless of your deposit method, you can expect up to $500 as your sign-up bonus at Bookmaker. There is a 10x rollover requirement before that bonus can be withdrawn as real money. You can also join Bookmaker's well-reviewed loyalty program for more rewards.
Pros: 
Exotic horse wagers get 8% rebate
Winning players will not be limited
Longstanding reputation in business
Some of the highest limits around for horse racing
Cons: 
Certain tracks do not offer rebates
No daily double or Pick 3/4/5/6 betting options on horse races
3. Heritage Sports: Great for Live Betting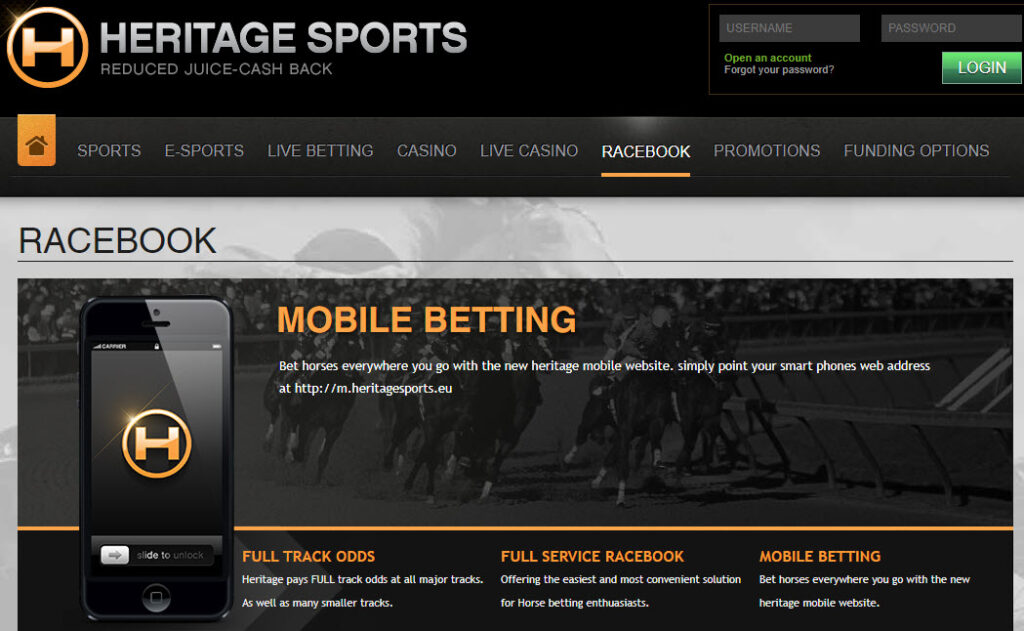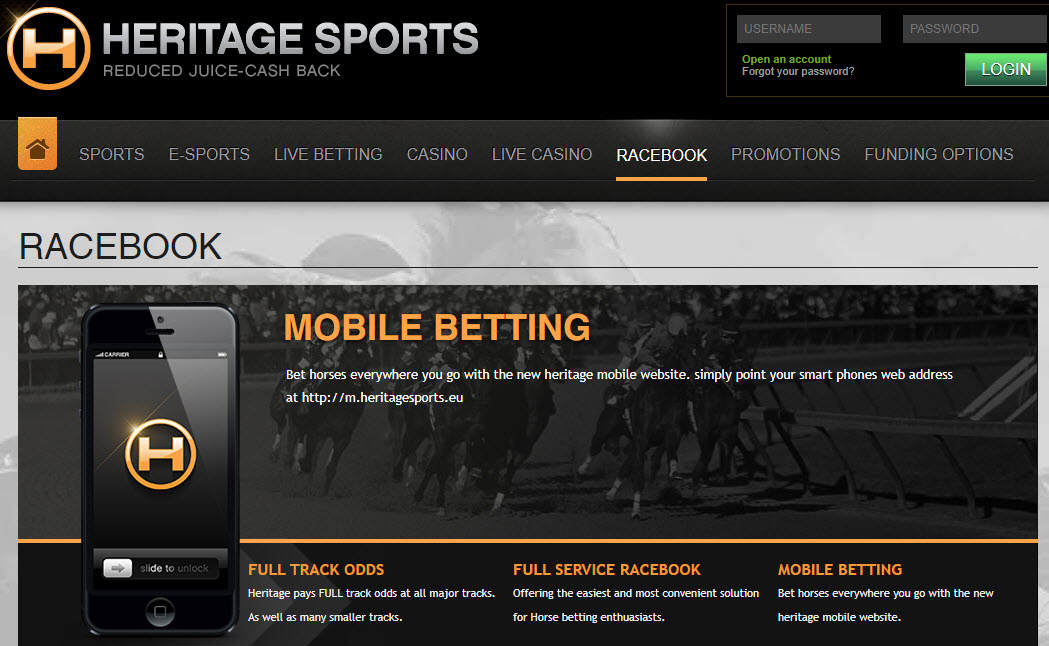 Heritage Sports was once an invite-only sportsbook from Costa Rica that has since opened its pearly gates to all users. Horse racing fans will be happy to see over 60 tracks with races for a variety of bet types, from the standard win, place and show to exotic wagers (exacta, trifecta and superfecta) to daily doubles.
Hardcore horse racing fans will appreciate the detail in the racing information on their platform. Beyond the standard info like the horse's name, the jockey's name and the odds, you will even get the trainer's name and the weight of the jockey. You do not see that info at Bovada or Bookmaker.eu.
Heritage Sports is also proud of its reduced juice (-108 odds) lines for sports betting. They offer a prop builder that is harder to use than Bovada's, but it is a quality one with better options than other competition. You also will get to play live dealer games, online casino games and an esports hub with League of Legends and more.
One of the coolest promotions at Heritage Sports is personalized as you get a free birthday parlay worth up to $500. You also are free to use the bonus money you get through other promotions (non-birthday ones) on any section of the site, which is a nice boost as many sites restrict where the bonuses can be spent.
Finally, every eighth deposit is on the house based on the average of your previous seven deposits.
Pros: 
Reduced juice lines and cashback combo
Provides more race details than rivals
Bet on daily double and Pick 3/4/5 for horses
Free birthday parlay worth up to $500
Spend the bonus money anywhere you want on the site
Cons: 
Lower limits on many straight wagers for horse racing ($100-$1,000)
No live betting market on horses
4. BetOnline: Best Daily Rebate on Horses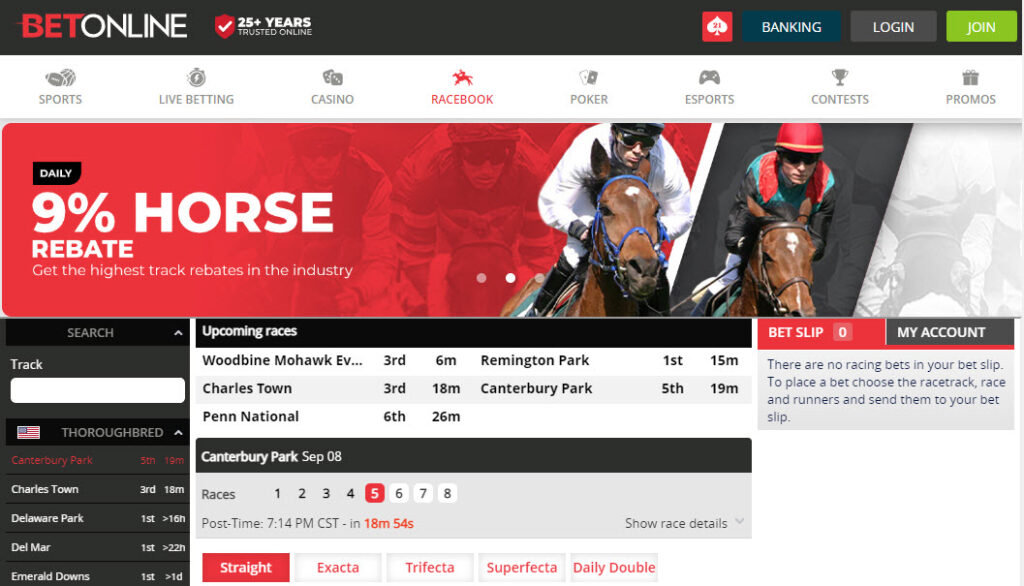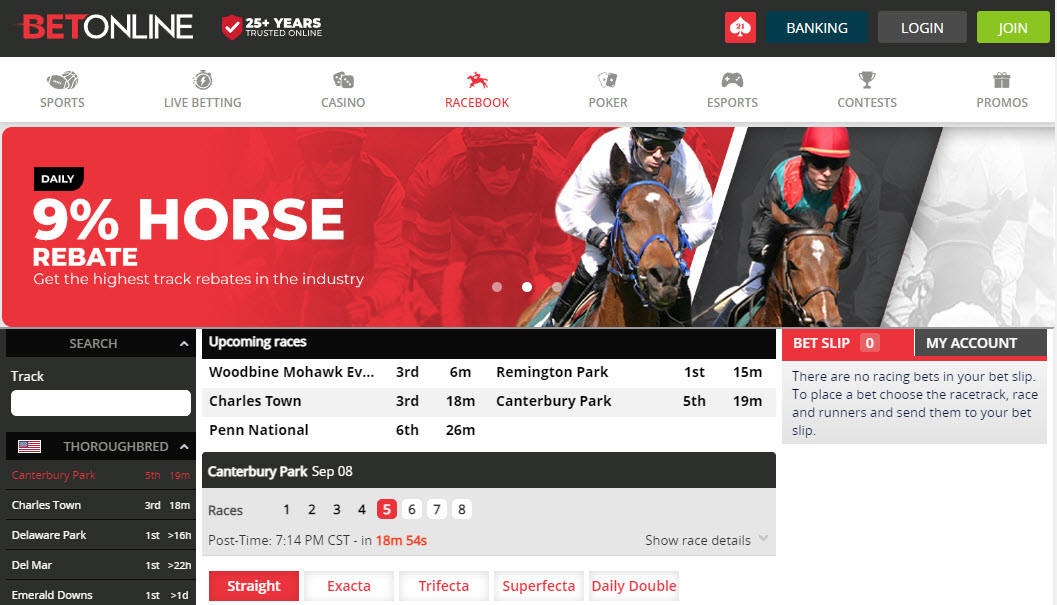 BetOnline is one of Panama's finest A+ rated online sites. It does everything well, but horse racing fans will especially love the 9% daily rebate you can get for exotic wagers using the internet (5% for telephone-placed exotic wagers). Regular wagers (win, show or place) will get a 4% rebate, which is still a point higher than most of the competition. There is also a promotion where your first horse racing bet is on the house ($25 value).
If you are looking for more than horse racing, BetOnline has one of the best sportsbooks with incredibly high limits for high rollers to flex. You also will get opinionated lines on major sports markets that other sites will not offer. There is also a detailed casino with some of the best variety of choices of games in the business.
Users making their first deposit with crypto can expect a 100% bonus up to $1,000 (14x rollover), but just keep in mind this bonus is ineligible for racebook wagers.  
Pros: 
Super-fast payouts and always no fees with crypto
Risk-free $25 horse bet for beginners
9% daily rebate is among the highest in the business for horse races
Race info shows names of jockeys and trainers for savvy bettors
Cons: 
Just a $400 withdrawal limit on P2P transfers (plus $51 fee)
Sign-up bonuses not eligible for racebook bets
Fixed-odds bets and prop bots not eligible for horse rebates
5. BetUS: Top Rated 24/7 Customer Service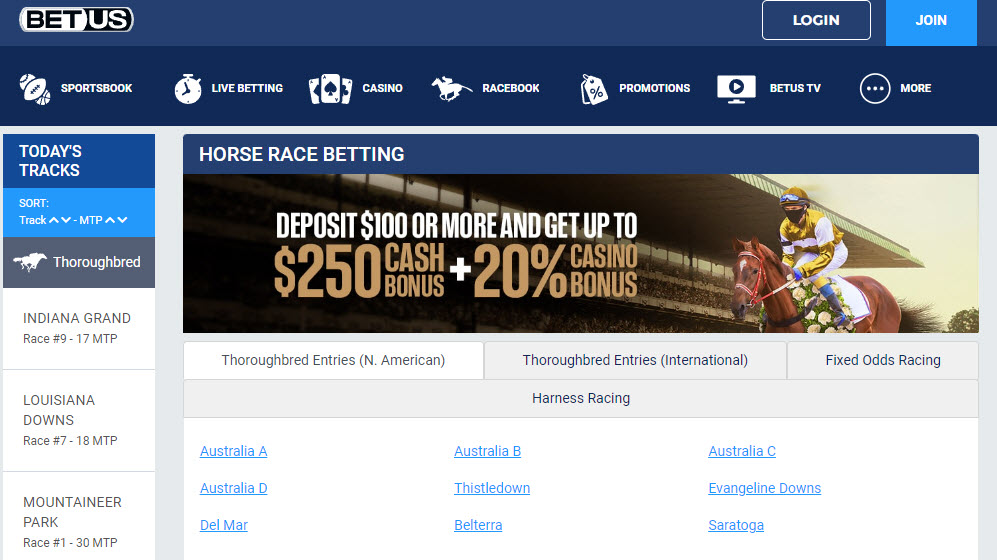 Since 1994, BetUS has been paying winning customers on all major markets that Washington fans love, including the NFL, MLB, NBA, NHL, NCAAF and NCAAB. They also offer more niche markets such as darts, martial arts and handball.
But BetUS also has a great racebook with fixed odds racing and harness racing for races from tracks around the globe from Australia to America. You can also get $10 back when the horse you wagered to win finishes in second or third place. Those bonuses are credited as Free Play Money (10x rollover).
With BetUS, you get access to their own TV service that has expert analysis and picks, including horse racing coverage on their YouTube channel. The website also has helpful guides and predictions to read.
You can also enjoy a very good casino with plenty of blackjack games, video slots and tournaments. The site is one of the best looking around, and the customer service is split into different sections that should make it easier for you to get all the help you need.
Pros:
Offers live horse race betting
$10 back if the horse you bet to win finishes in second or third instead
Unique TV service with shows containing expert analysis and picks
More dedicated to horse racing than most competitors
Customer service is excellent
Cons:
30x rollover requirement on casino bonus
Money back special not eligible for parlay bets on horse races
Comparing the Best Sites Washington Has to Offer for Horse Racing
Your personal preference always matters too, but for context on how we ranked these sites, we wanted to underline some of the features and factors we focused on. For example, one site's strength could be its welcome bonus and its weakness could be the web design.
A competitor may be the exact opposite (weak welcome bonus, strong design), and that is where your personal preference and what matters most to you comes into play. We just want to highlight what we see with each site when it comes to making our list of the best sportsbooks.
Horse Racing Odds
It is a good idea to have accounts with multiple sites so you can shop for the best odds for races. Most will offer the same odds for horse racing, but when there's a long shot you have a good feeling about, you might be able to get a much better price at one site compared to a competitor.
Horse Racing Betting Markets
Certain racebooks offer more exotic options, but here are some of the most common markets any good racebook should have:
Win
Show
Place
Pick 3
Pick 5
Exotic
Trifecta
Superfecta
Super High Five
Double Bet
The industry standard bets are win, place and show, so if you see a site that does not offer anything beyond those three, it is best to find another option for horse race betting.
Live Horse Racing Betting
With so many using their phones to bet now, live betting is a booming market. But not every site has horse racing as an option for live betting since it is an event that does not last long.
For example, BetOnline offers live betting for six sports but not horse racing. BetUS, one of our top racebooks, does promote live horse race betting.
Some sites will offer simulcast races, streaming directly from the racing facility. This is usually only available for more popular races, like the Preakness Stakes or the Belmont Stakes.
Horse Racing Betting Promotions
Most sites will competitively offer sign-up bonuses and first-deposit matches, but for horse racing enthusiasts, you want to see promotions that are tailored to your interest. For instance, BetUS will give you back $10 any time the horse you bet to win finishes in second or third place. Bookmaker.eu will give you 8% cash back on exotic wagers.
Special Features for Horse Racing
Live streaming is slowly being added to online betting sites and being able to watch horse racing would certainly be a big boost to any of them as a go-to destination for betting. But for now, you will mostly have to stick to sites like TVG and TwinSpires if you want to live stream horse races.
You also may like to get expert analysis such as the "More Sports" show on BetUS TV that talks about horse racing among other markets.
User-Friendly Design
Looking at horse race betting odds on some offshore sites can be more intimidating than picking winners in a football or baseball schedule.
This is why we look for sites that have good drop-down menus that make it easy to place a variety of horse racing bets like the ones you will find on Bovada.
We also like a site that is nice to look at, runs smoothly and won't see the server get overwhelmed at peak betting times.
Brand Recognition
Sites that have been around since the mid-1990s, such as Bookmaker and BetOnline, give you the ease of mind that you are dealing with a trustworthy company that will protect your sensitive information and data.
Payment Methods
The more options you have for transactions, the better score the site will receive for its payment methods. Most do a pretty good job of offering major credit cards, cryptocurrencies like Bitcoin, P2P and wire transfers. But it is also important to note the fees associated with different payment methods at these sites.
Customer Service
Just like with payment methods, the more choices for customer service, the better the score will be for the site. Some people prefer a good old-fashioned phone call for help, while others are going to want live chat options. Any site offering these options 24/7 is going to score well in customer service.
Washington Horse Racing Betting Guide – How to Bet on Horse Races in Washington
There are many options for placing horse race bets in Washington:
In-person at the track (Emerald Downs and Sun Downs)
In-person at off-track betting facilities
Online at U.S.-based sites
Online at offshore sportsbooks such as Bovada, BetOnline, Bookmaker.eu and Heritage Sports
How does horse racing betting work in Washington?
Unlike regular sports bets where you are usually betting on a point spread or total number of points, horse racing offers a wide variety of options. You could just bet on which horse will win the race, but if you wanted to bet that a horse will finish in the top three, you can do that too. It is called a "show" wager. If you think you can predict the exact order of the top three horses, that is called a "trifecta" wager.
It is important to familiarize yourself with these terms before you start betting on horse races.
Washington Horse Racing Betting Explained
Whenever you bet online, you can access the names of all of the horses listed in the race. There should be a drop-down menu or set of tabs for choosing the bet type you want to do (win, show, place, exacta, etc.). Then you can start adding your picks to your bet slip, adding your stake and placing your wager.
Understanding the odds is the crucial part. If you bet $2 on a horse with 13/1 odds to win, then you will win 13 times every dollar bet, producing a return of $28 ($26 plus the $2 stake). Just think of betting odds in terms of probability. If a horse has 5/4 odds, that means for every five failures, there are four chances of success or an implied probability of 44.4%.
Horse Racing Betting Odds
Below are the different horse racing betting options.
Fixed Odds for Horse Racing Betting in Washington
Fixed odds betting will lock you into the price you placed your bet on, much like you will see with regular sports betting. The odds on the horse you choose could very well change before the race begins, but your line is fixed and will not change.
Pari-Mutuel Wagering in Washington
A pari-mutuel system is usually used in horse racing or an event where competitors finish in a ranked order. Instead of betting on a fixed line with a known payout based on those odds, your pari-mutuel bet will go into a pool with everyone else's, and the winning bets will be paid out as a share of the pool after the house take (vig) is subtracted.
What are the different types of horse racing bets?
Here are how the different types of horse racing bets work:
Win: It is simply a wager on the horse you think will win the race.
Place: Your horse just has to finish first or second to win the bet.
Show: Making things a little easier, your horse just needs to finish in the top three to win the bet.
Exacta: With an exacta box wager, you pick the top two horses in the exact order to win the bet.
Trifecta: Pick the top three horses in the exact order to win the bet.
Superfecta: Feeling lucky? Pick the top four horses in the exact order to win the bet.
Daily Double (AKA Double Wager): Pick the winning horse of two successive races.
Pick 3/4/5/6: Like with a daily double, you need to pick the correct winning horse for three, four, five or six consecutive races.
Washington Horse Racing Betting Calculator
In a pari-mutuel horse race, you will not know the payout until the race is over. For example, if a pool's total is $100 and there are 20 bettors, you will each get a $5 dividend. If you had 15 units on it, you would win $75.
But with many of your online bets, you will know the payout immediately. You can however estimate any win by hand if you convert the odds and your stake into a probability.
Washington Horse Racing Odds Chart:
The following table shows various odds and the total payout on a $10 wager. For example, on a $10 bet with 3/5 odds, you will win $3 for every $5 wagered. So, the math is ($10*3/5) = $6 in new money plus $10 stake back for a total of $16 payout.
As you can see in the table above, odds of 1/9 have the highest chance of paying out but the lowest payout amount and odds of 16/1 have the highest payout but the lowest chance of actually winning.
Washington Horse Racetracks
There are only a couple of tracks that still offer live racing in The Evergreen State.
Emerald Downs Racetrack (Auburn, Washington)
Washington's best horse-racing track is located in Auburn. It opened in 1996, replacing Longacres Racetrack, which shut down in 1992.
Some of the popular races at the track include the Emerald Express Stakes, U.S. Bank Stakes, Seattle Handicap and WA State Legislators Stakes.
The highlight of the racing season is always the Longacres Mile Handicap, which has been running since 1935.
Sun Downs Racetrack (Kennewick, Washington)
Operating in Kennewick since 1981, Sun Downs is one of the last standing horse racing tracks in the area.
Due to COVID-19 and a shortage of liability insurance, Sun Downs has not been able to host any live races for a significant period of time.
Hopefully, this well-loved raHopefully, this well-loved racing facility will reopen in the future.
The History of Gambling on Horse Races in Washington
The following is a timeline of important events in the history of horse racing in Washington State, one of the premier states on the West Coast for horse racing in the U.S..
2004: Advance-deposit wagering on horse racing is approved by the WHRC in Washington, allowing bettors to place bets from off-track locations.
1996: Emerald Downs opens in Auburn, WA, and becomes the new go-to destination for horse racing in the state.
1992: Longacres racetrack closes for good, bringing an end to the longest-running thoroughbred track on the West Coast.
1935: The first Longacres Mile Handicap is run with a purse of $12,350. Coldwater was the winning horse.
1933: After being built by a 3,000-member crew working around the clock in five months, Longacres Racetrack opens in Renton, WA.
1933: The Washington Horse Racing Commission (WHRC) is established to oversee the legal process of pari-mutuel betting on horses in the state, and to manage the licensing, regulations and supervision of all races held in Washington State.
1909: Washington State Legislature bans gambling, resulting in the demise of Seattle's first racetrack.
1902: Seattle opens The Meadows, its first popular racetrack.
1868: The American Stud Book is established, leading to the start of organized horse racing across the United States.
Virtual Horse Racing Betting in Washington
For those interested in a virtual game that plays much like a video slot with randomly generated outcomes, you can always bet on simulated, virtual horse races on a site such as Bovada.
Washington Horse Racing Betting Apps
It would be great if these offshore sportsbooks had their own native app; however, most of them only offer online betting sites. You can download specific apps for TVG and TwinSpires but not for BetOnline or Bovada.
However, all our top racebooks have good mobile betting sites optimized to run well on a phone, tablet or desktop. Just open your preferred browser and visit the site to start placing bets on horse racing in Washington.
How to Start Betting at Horse Racing Sites in Washington
Any quality online site will have a simple registration process to get you set up and ready to wager. We have prepared a quick guide to get you through the steps to create an account for racing at Bovada. Most online sportsbooks will have a similar, straightforward registration process. Just follow these steps:
Go to the website.
Select one of the red "Bet Now" buttons.
Enter your account details (name, date of birth, mobile number and email) and create a strong password.
Visit your account details at the top right of the page and click "Deposit" to add money with your preferred deposit method. Be sure to meet the minimum deposit requirement.
Choose the "Horses" section at the top right.
Check out the betting odds for the racetrack of your choosing.
Pick your win, place and show selections or something more exotic and add them to your bet slip.
Enter how much you are risking to bet and click "Place Bets" to complete the wager.
Other Types of Gambling in Washington
Currently, in Washington, tribal casinos are legally allowed to operate retail sportsbooks. There is an ongoing battle to expand the gambling laws to include things like collegiate sports betting, and the authorization of online betting sites.
Until these advancements are made, Washington residents can use online sportsbooks at offshore sites instead. These offshore sites are not bound to the same laws as the online sportsbooks that operate in the United States.
When using offshore sportsbooks such as the ones reviewed in our guide, you can expect gambling markets for sports betting, poker, table games, casino games (video slots), live dealer games, lottery-style games and esports betting.
What is the best horse racing betting site in Washington?
We implore you to explore the different sites and find the one that best suits your personal preference. But if we were forced to choose just one, we would pick Bovada for its well-designed racebook that is easy to place wagers for win, show, place, other exotic wagers as well as explore virtual horse races.
You also will be treated to one of the best sportsbooks in the business with a ton of prop picks and different markets. They also have the busiest online poker site in America and lottery-style games to play in the casino.
It also is a safe site to use with great customer service and crypto-friendly transaction methods. Washington players will be impressed with the depth of gambling options provided at Bovada.
FAQs – Legal Status of Online Horse Racing Betting In Washington
Can I bet on sports if I live in Washington State?
Yes, sports betting is legal in Washington State but, it is a little complicated. In-person betting on sports is legal at tribal casinos. Some gambling activities, such as betting on college sports, or mobile sports betting, are not yet legal.
Is horse racing betting legal in Washington?
Yes, you can legally bet on horse races in Washington in person. You can also do it online thanks to the ruling in 2004 by the Washington Horse Racing Commission that legalized advance deposit wagering on horse races.
Where can I go to bet on horse racing?
You simply need to sign up with an offshore gambling site, deposit your funds and place your wagers. We recommend our top picks for the best Washington horse race betting sites for your gambling needs.
Are there horse races in Washington?
Yes, the racetrack at Emerald Downs just concluded its season in mid-September.
What is the major horse race in Washington?
There are not many major races that take place in the state.

The Longacres Mile Handicap has been run each year since 1935 with one exception in 1943 (World War II). From 1935 to 1992, the race took place in Renton at the Longacres Racetrack.

After that closed in 1992, the race was held at Yakima Meadows before moving to its current home at Emerald Downs in 1996. The race is open to Thoroughbreds aged three years or older.
Can I bet on the Kentucky Derby in Washington State?
You can bet on the Kentucky Derby in Washington State with an offshore horse racing site.
A sports betting bill in North Carolina, which had not made any progress for almost two months, will likely be discussed and possibly voted on by the entire Senate this week. Earlier this week, the Senate Committee on Commerce and Insurance reviewed the sports betting bill and gave it a positive assessment, recommending it to

---