Ohio Sports Betting – Which are the best OH betting sites & sportsbooks?
Shawn West has been involved with college basketball, NFL and college football and MLB since he left his job as bank vice president two decades ago. He lives in North Carolina with his wife, children, two dachshunds and a variety of turtles.
As of 12:01 AM EST, on January 1, 2023, residents of Ohio have the possibility of betting with local sportsbook providers. Ohio is now one of the 32 states (plus Washington D.C) that has legalized some form of sports betting with companies licensed by the state.
The success of sports betting in the Buckeye State is evident after looking at the numbers in the first 48 hours of going live. According to GeoComply, a specialized company in geographical compliance, residents in Ohio placed a total of 11.3 million transactions between January 1 and January 2. This placed Ohio as the state with the most wagers during that span, exceeding the figures posted by New York (9.3 million transactions) and Pennsylvania (8.2 million).
Cincinnati Reds legend, Pete Rose, was in charge of placing the first bet. Rose, who's still the all-time MLB hit leader and received a lifetime ban for betting on sports, placed $100 on the Reds to win the 2023 World Series.
If you are a resident of the Buckeye State and want to join in on the action, read our Ohio sports betting guide to find the best sportsbooks available.
Offshore sportsbooks and mobile sportsbook apps have been offering their services to residents of Ohio and elsewhere for years, and they're not going anywhere.
While there are about to be a lot of new faces in Ohio's online sports betting market, you can watch all the chaos sort itself out while relying on what promises to be the most stable and experienced option.
Of course, there are a large number of offshore online sports betting sites out there, and it can be overwhelming to decide which one is best. That's why we've done the legwork. Our team of experts has ranked the top online sportsbooks in Ohio and offers detailed reviews explaining our rankings.
All the information you need to begin betting on sports is below.
The Best Ohio Sportsbooks in 2023
Ohio Betting Guides
Top 10 Ohio Sports Betting Sites 2023
We looked at all the major offshore sportsbooks, evaluating them on a number of factors, and decided on our top 10 rankings for the top sites to bet on sports in Ohio. Every site on our list has been vetted and is a safe, secure operator offering a wide variety of sports betting options, including parlays, teasers, live betting, props, spreads, and moneylines on all major sports:  
These online sportsbooks are all located offshore, which means they're operating now and available for Ohio bettors. You don't have to wait for legal sports betting markets to open locally. That's because offshore online betting sites don't have to abide by state or federal laws regulating online gambling.
The Best Ohio Sportsbooks Reviews 
While the list is a good starting point, one size doesn't fit all. To find the sports betting operator that best fits your needs and preferences, you'll want to know what specifically puts each site in our top 10.
That's why we offer you our reviews of the best sportsbooks so that, when betting in Ohio, you can find the site that's right for you.
1. Bookmaker: Best Overall Sports Betting Site in Ohio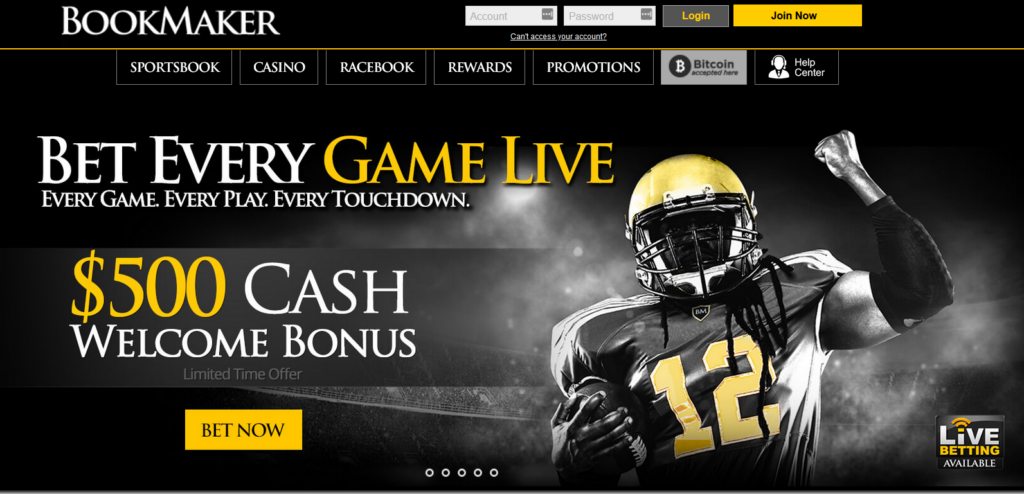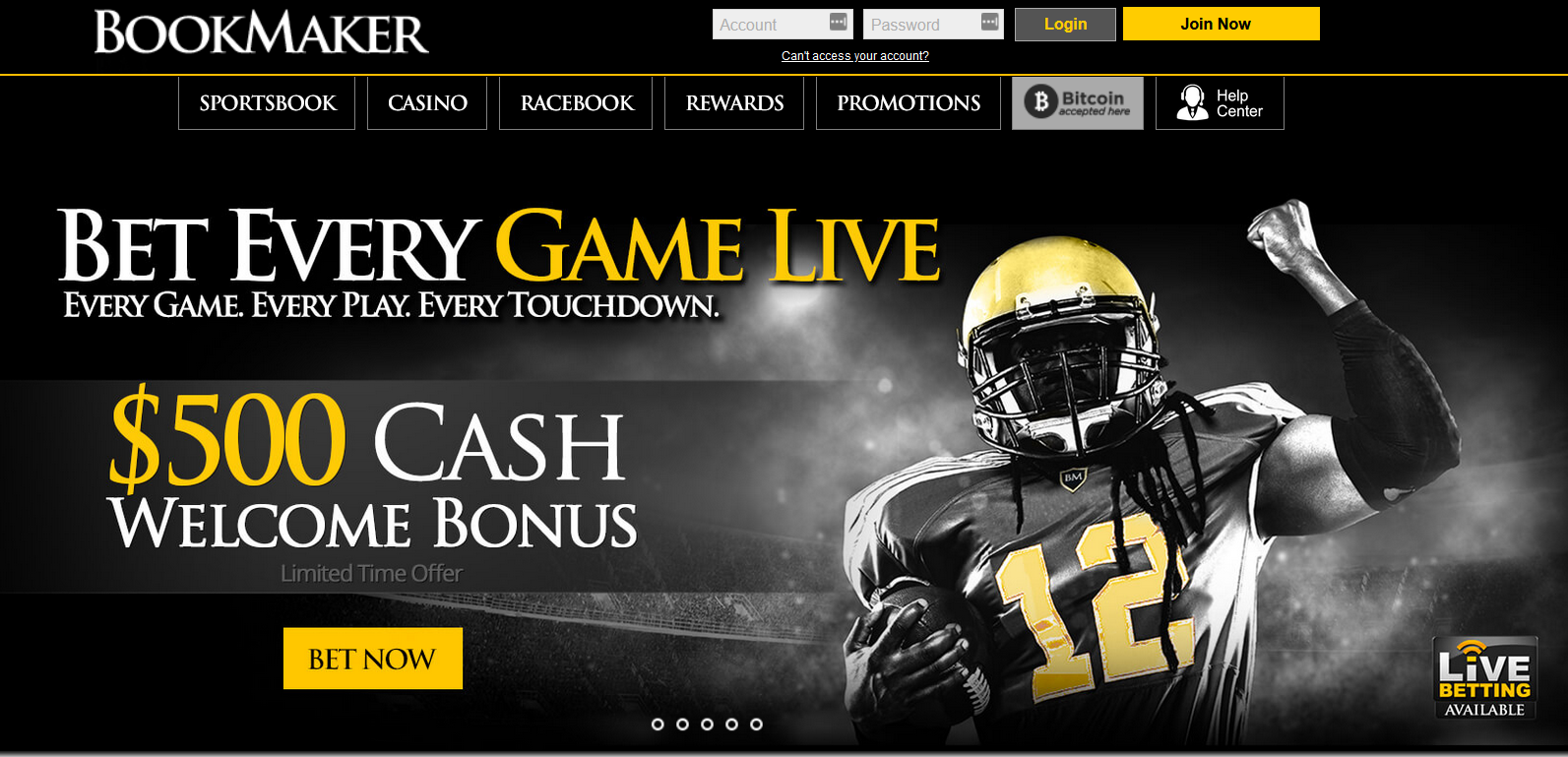 Bookmaker.eu scored the best in our evaluations and tops the list of best sports gambling sites in Ohio. Bookmaker has something for everyone. It caters to both experienced gamblers and first-timers, regardless of their appetite for risk. It has a user-friendly interface, which makes it easy for newcomers to get up to speed, and it has high limits, which is something that big spenders will appreciate.
Bookmaker is also the site with some of the earliest lines out there which is a great advantage when shopping for value. While there is no online poker available, Bookmaker's online casino has hundreds of different options.
They are based in Costa Rica and not subject to Ohio state law or U.S. federal laws. And they've been in business for years and have a long track record of safety and dependability. Bookmaker also has fast payouts so you won't have to wait to get the money you've earned. 
New users to Bookmaker will be greeted with a variety of welcome bonuses, and users of cryptocurrency also get additional perks like payouts on the same day. Existing customers will appreciate taking advantage of the loyalty program which is one of the best in the industry. 
Pros: 
One of the first sites to post lines on events
Caters to all experience levels and bet amounts
Long history of dependable, secure operation
Loyalty program offered
Cons: 
Professional bettors can't participate in the loyalty program. 
No online poker room 
2. Heritage Sports: Best for Live Betting in OH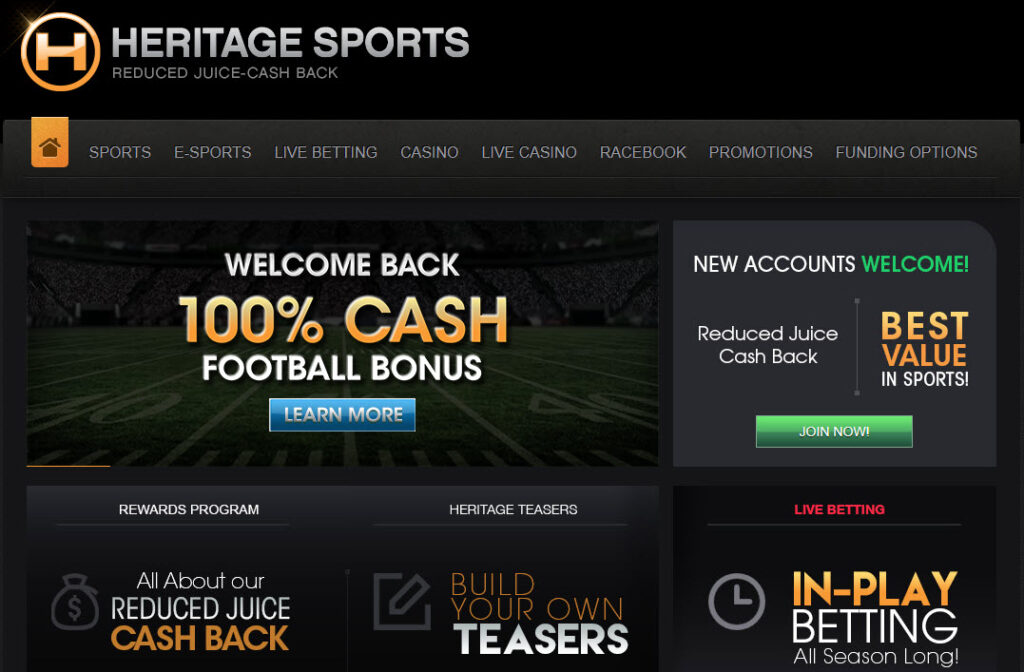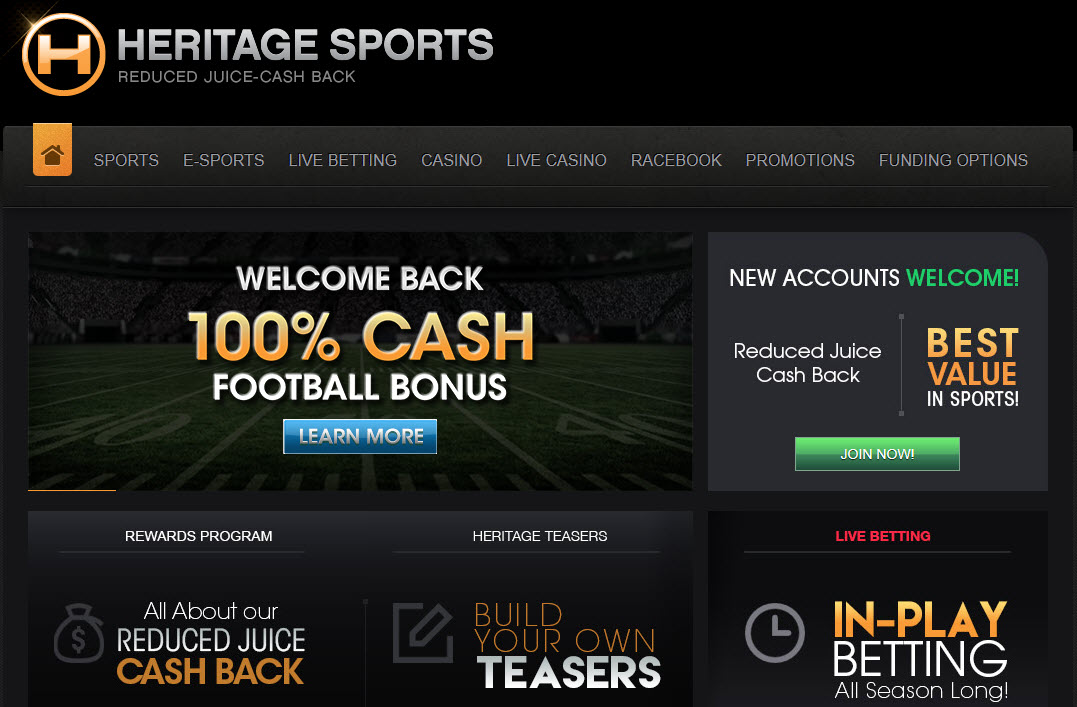 Coming in at a strong number two on our rankings is Heritage Sports. Sports betting is changing, and Heritage has kept pace with the industry. Back in the day, most bets were made before a sporting event began, then decided after the game or match was over.
But technology allows us to monitor events and place bets faster now, allowing live betting to become one of the most popular ways to wager on sports. Heritage Sports was one of the first sites to allow bettors to gamble on events while they were in progress, and it still has one of the top live betting interfaces in the state.
Heritage also offers reduced juice. Instead of offering odds of -110 on either side of a spread or line, as is the standard across the industry, Heritage offers -108. It may not seem like much, but it basically amounts to a 20% discount. Over the long run, it will make it easier for you to turn a profit.
Heritage Sports also offers promos to new customers as well as an outstanding reduced juice cashback offer. The only drawback is that they don't have online poker rooms but their online casino is one of the best in the industry with live dealer games available.
Pros: 
Reduced juice makes it easier to turn a profit 
State-leading live betting section 
Offers cash back and welcome bonuses 
Interface is slick and easy to use 
Cons: 
Sign-up bonuses aren't as high as elsewhere
No live poker room 
3. Bovada: Best Mobile Platform in OH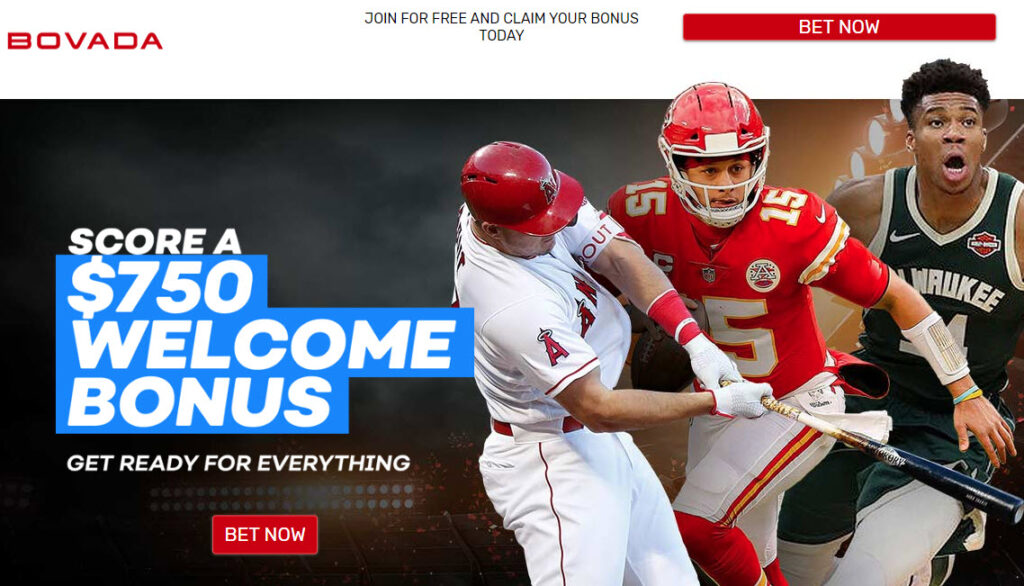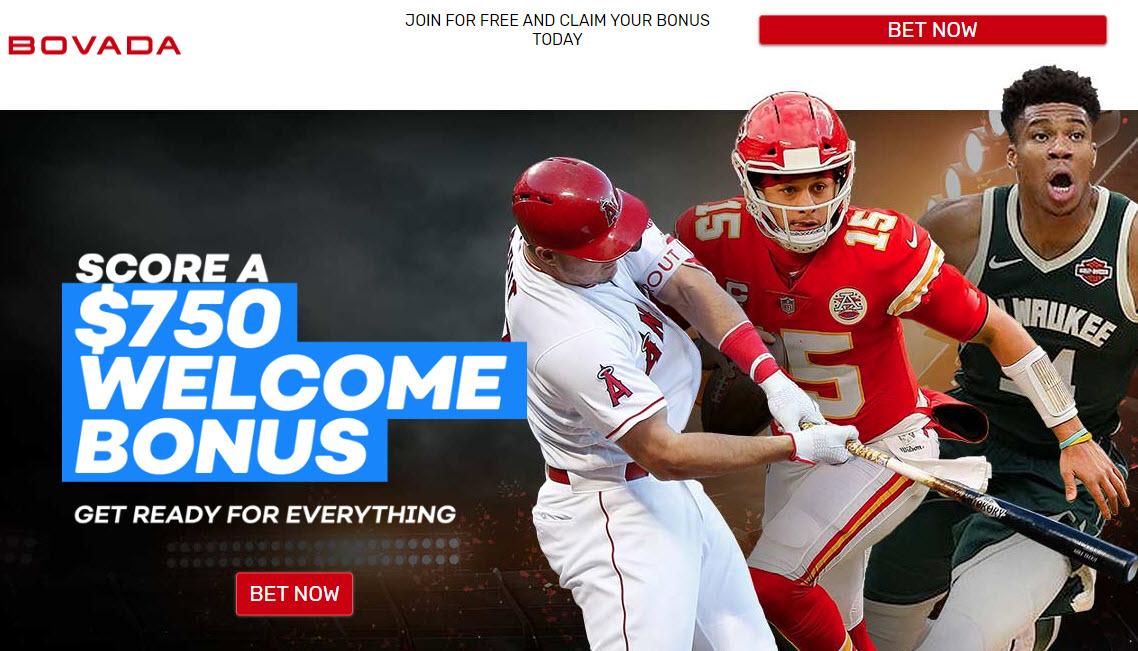 These rankings focus on the top sports betting sites in Ohio, but there are plenty of other ways to gamble. That's why sportsbooks are just a small part of an in-person casino.
Bovada has experience with brick-and-mortar casinos and brought that same experience online. Bovada offers a wide variety of betting options. In addition to the sportsbook, which earns a spot in the top 10 even without the other options, there is a racebook, casino games, and the busiest online poker room in America.
Bovada's sportsbook should be the first stop for anyone looking to place a prop bet. It offers a larger menu of prop options than anyone else, and there's a feature allowing you to suggest prop bets not currently offered.
Bovada also has a top mobile platform, allowing you to bet while on the go. You can also get some of the best welcome promotions when you register at Bovada.
Pros: 
Best menu of prop betting options
The busiest poker room in the U.S. 
Mobile platform is easy to use
Low rollover requirements
Cons: 
Limits are higher at some competitors
Lines aren't released as early as other places
4. BetOnline: Best Opinionated Lines in Ohio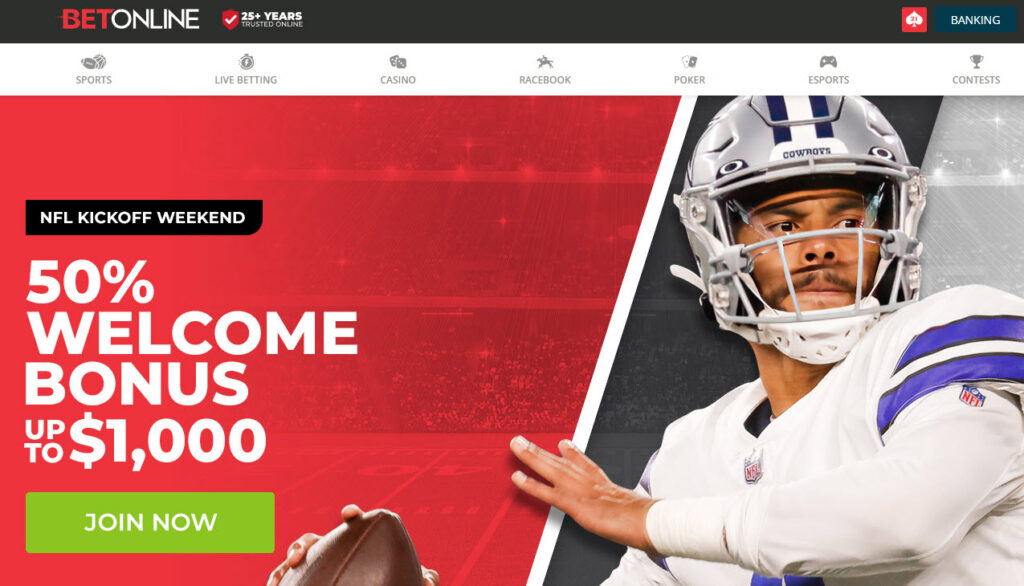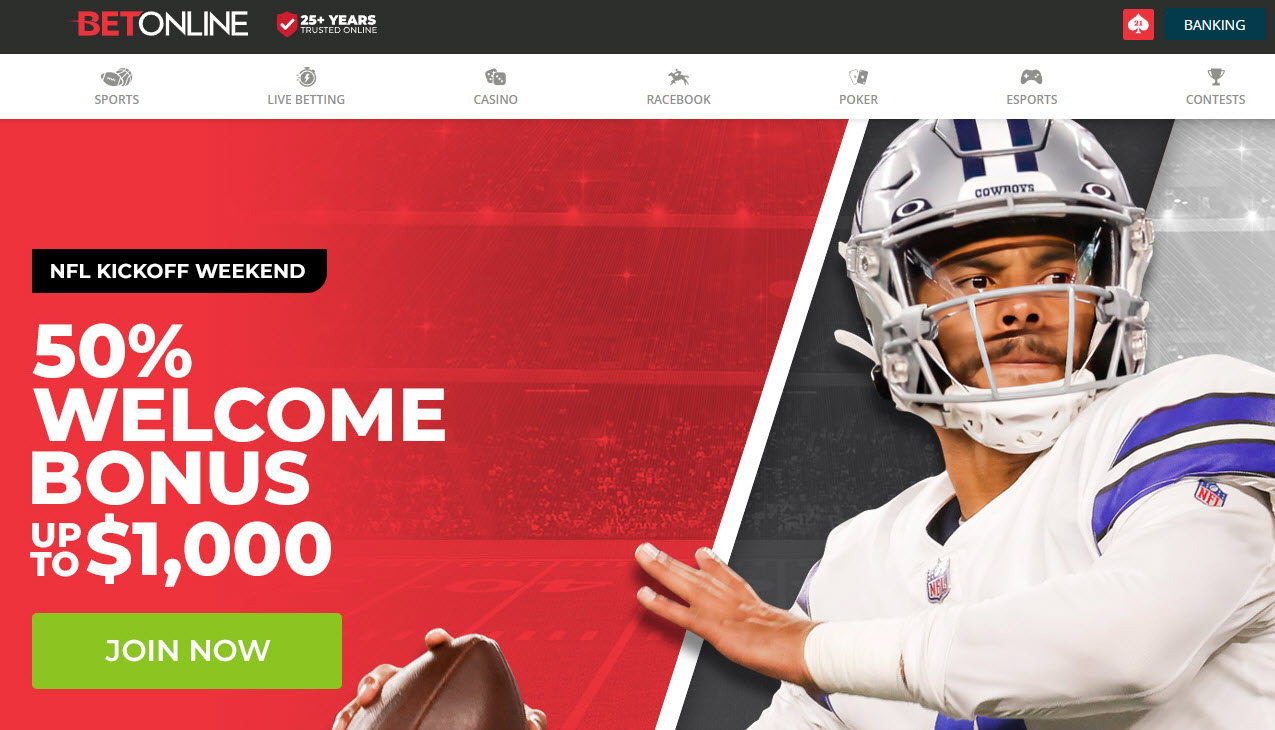 Usually, sportsbooks offer the same odds on both sides of a point spread or an over/under point total, with -110 being the industry standard. Some sites offer reduced juice, setting the line at -108 or even -105, but usually, the odds are the same on both sides of the cutoff.
When that isn't the case, for instance, odds of -113 / -107 it's called an opinionated line, and it gives savvy bettors the chance to get a discount or to boost their winnings if they shop around a bit. BetOnline offers opinionated lines more than any other site in Ohio, giving you a bit of variety, which offers the chance to boost your take.
Another area where BetOnline excels is the online poker section as they are part of the third busiest network in the United States. The best part is that the platform is completely optimized for mobile betting which also includes the online casino.
BetOnline's welcome bonus is also generous at 50%, but crypto users get an additional 50% to raise it to a 100% match offer of up to $1000.
Pros: 
Opinionated lines offer the chance to increase profit margin
Payouts are among the fastest
Very high betting limits
Customer service and user interface are elite 
Cons: 
Reduced juice is only available for NHL games 
Prop betting menu is limited 
5. BetAnySports: Best Reduced Juice in OH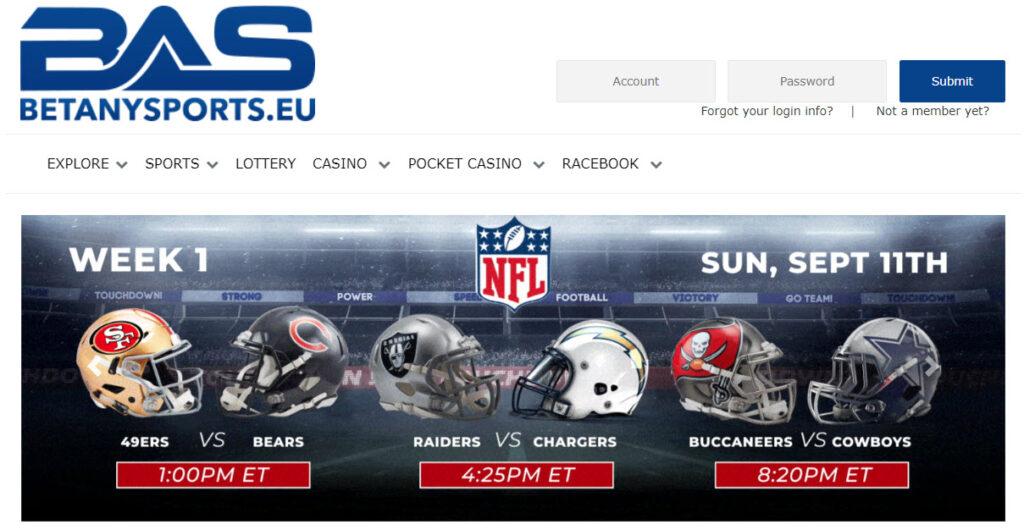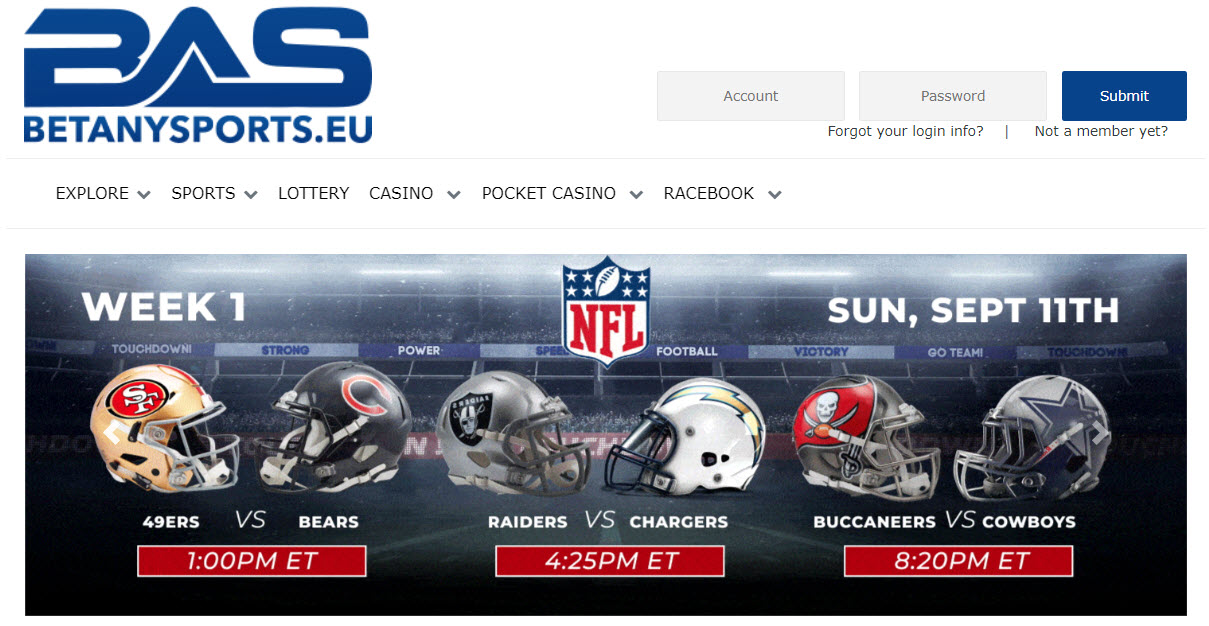 Normally, when betting on point spreads or totals, a bettor needs to win about 53% of the time to finish in the black.
That's the benefit of reduced juice. Lower odds on either side of the cutoff mean you're essentially betting at a discount, and you don't need to win as much in order to turn a profit.
BetAnySports offers the most generous reduced juice betting lines in Ohio. While the standard is -110 on either side, BetAnySports sets the lines at -105, which is basically a 50% discount. In the long run, that means you only need to win about 51.5% of the time to stay above water.
Most sites that offer reduced juice cut costs elsewhere to cover it, and BetAnySports is no exception. Promos are lower than at many competitors, and the software isn't as slick and user-friendly as elsewhere.  
Pros: 
Reduced juice is the best in Ohio 
Odds on moneylines, props, and future bets are also competitive 
Fast payouts
Live betting platform is exceptional 
Cons: 
Interface doesn't have the bells and whistles of other sites 
Bonuses aren't as large 
6. BetUS: Best VIP Service in OH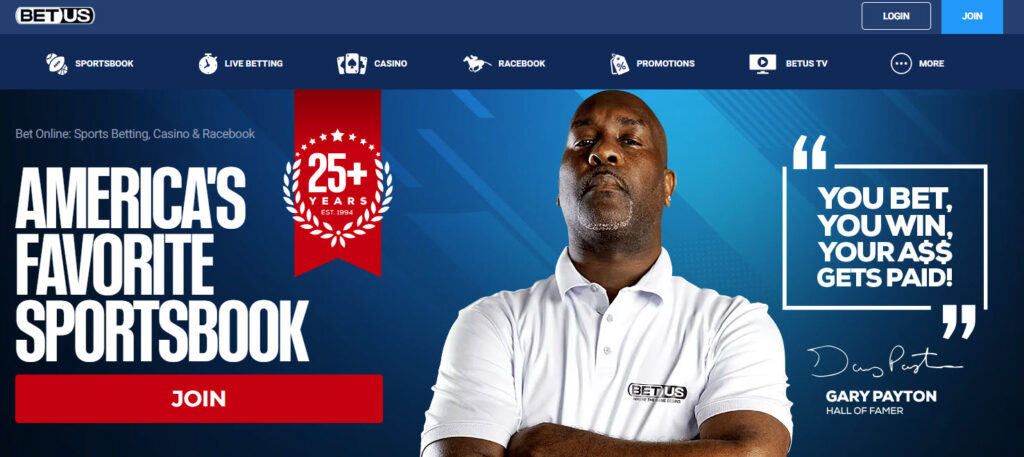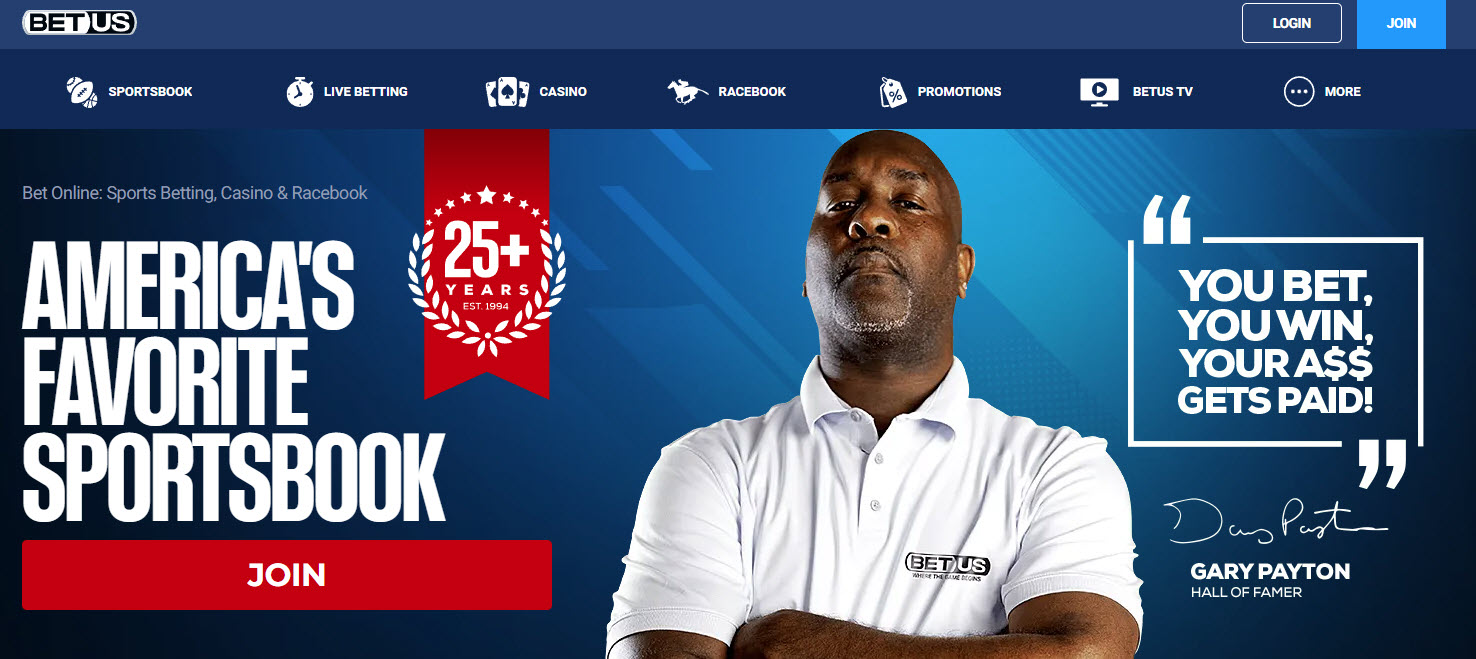 It's tempting to choose a sportsbook based on how generous their sign-up offer is for new users, but you only get that one time. After that, you'll be more concerned with how well the site you chose takes care of loyal customers who remain with them.
BetUS is one of the best sportsbooks in Ohio to ensure its current customers are taken care of. It offers the best VIP service in Ohio.
They also offer bonuses to new users, including free bets at the sportsbook and the casino gaming platform.
There are some other fun perks to going with BetUS. They have a creative marketing department and a very active social media team. Plus, there's BetUS TV, which offers video previews of big games.  
Pros: 
Generous bonuses for both new and existing customers
Video analysis at BetUS TV 
VIP program is the best in the state
Esports betting platform is one of the best 
Cons: 
Lines are not posted early
Withdrawing bonus money is difficult due to play-through requirements
7. WagerWeb: Leader in Ohio Bonuses and Promotions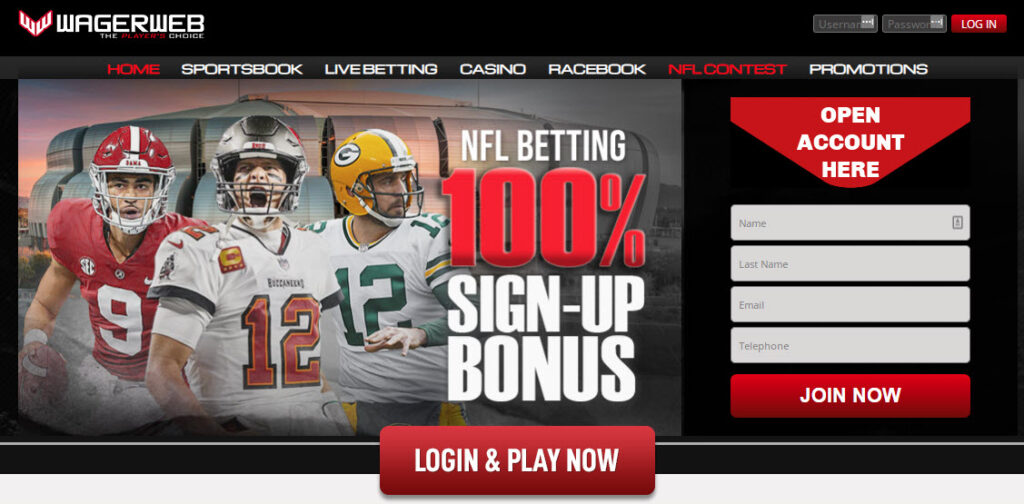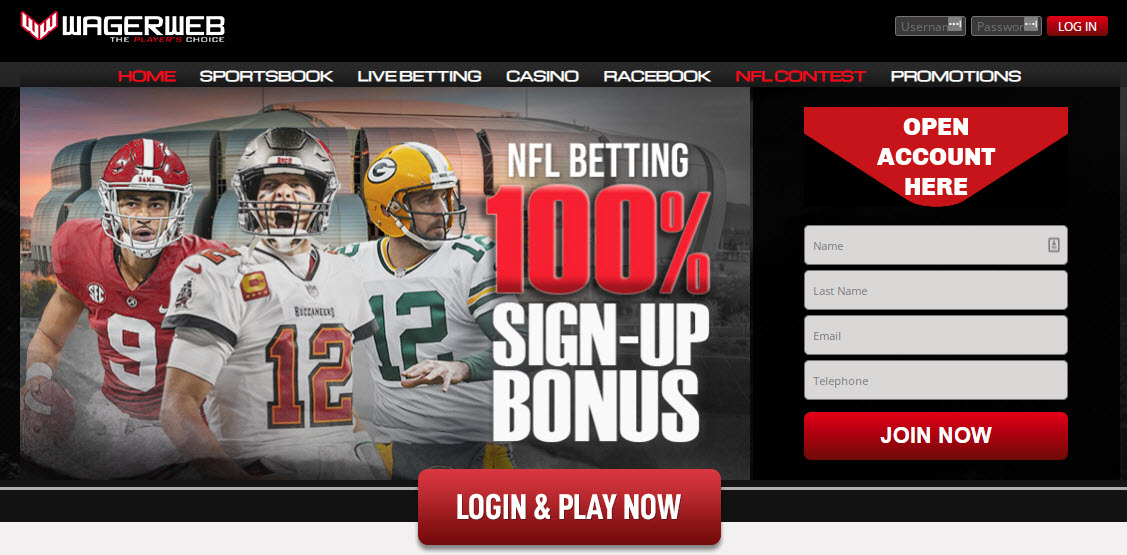 With Ohio soon to be home to dozens of newcomers offering in-state sports betting options, many bettors in the state will quickly place a value on experience and stability in their sportsbook. WagerWeb has been operating since the 1990s, making it one of the oldest books out there and giving it nearly 30 years of dependable, secure service.

The site offers among the best promos available in the state. It also gives reduced juice with -108 lines instead of -110, on either side of a point spread or point total, making it easier to turn a profit.
WagerWeb also has a wide variety of casino games and a racebook, to go with its sports platform.
Pros: 
Reduced juice makes it easier to turn a profit 
The best top bonuses in the state 
Long history of dependability and stability
Cons: 
Can only make one withdrawal per month
Betting limits are relatively low 
8. JustBet: Best at Keeping Up With New Trends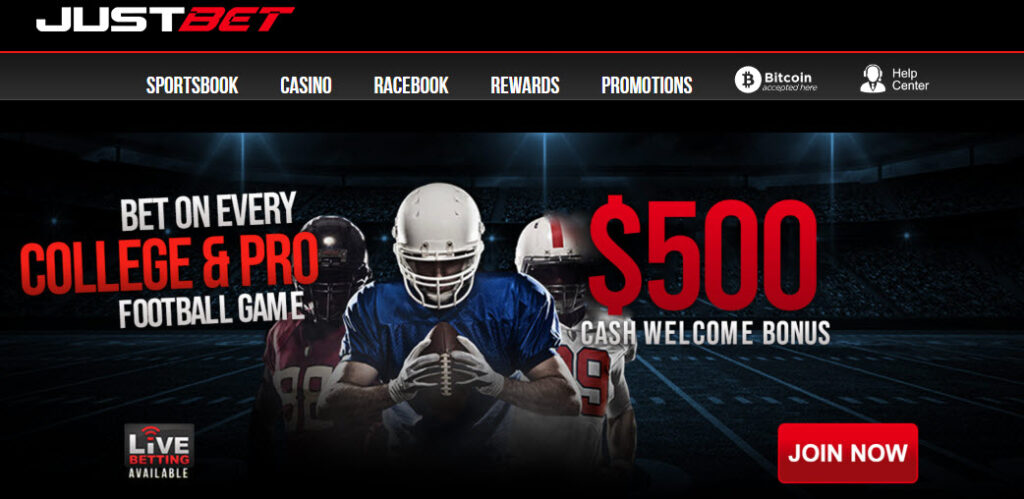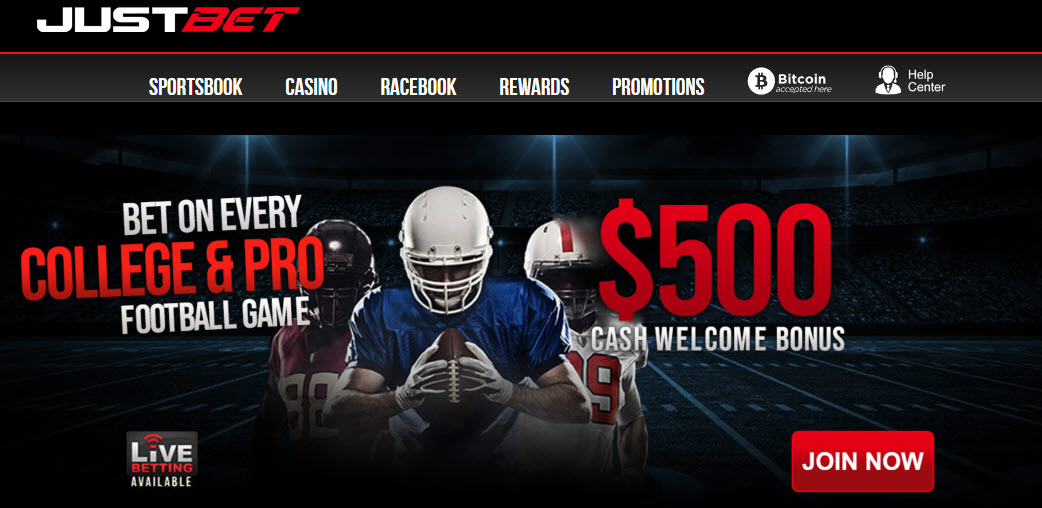 JustBet is a sister site of Bookmaker, which was our choice for the best sports betting site in Ohio. Many of the same things we liked about Bookmaker are also available here, helping to give JustBet its own spot in our top 10.
The user interface is slick and easy to operate, appealing to new users as well as experienced gamblers. It also has early lines and high limits, just like its big sister.
JustBet is also quick to adopt new trends in online sports gambling. It was one of the first to offer a live betting section and is still one of the best places to bet on sporting events in progress.
Pros: 
Lines are posted early
Limits are high
Excellent live betting platform
Generous welcome bonus
Cons: 
Does not offer reduced juice 
No online poker room 
9. Everygame: Best Mobile Casino Gaming in OH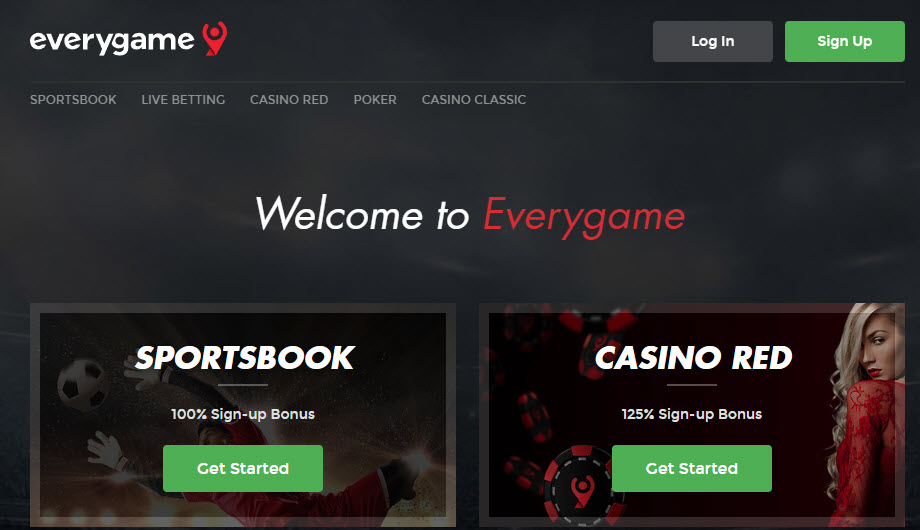 While these rankings are sports-specific, sites that offer a total casino experience are worth noting, in case sports bettors want a little variety.
Everygame offers six different casino gaming networks, all in one place, and their mobile site for playing casino games is one of the best in Ohio. It also has an online poker room.
For pure sports betting, Everygame has you covered as well. It offers more games and sporting events from around the world than any other site, so if you're looking for action on a game or match taking place in Europe or Asia, they're more likely to have it.
Pros: 
Covers more games around the globe than other sites 
Mobile interface is outstanding
Widest variety of casino gaming options
Online poker room 
Cons: 
Account verification takes longer
Bonuses are lower than competing sites 
 10. GTbets: Wide Variety of Promotional Offers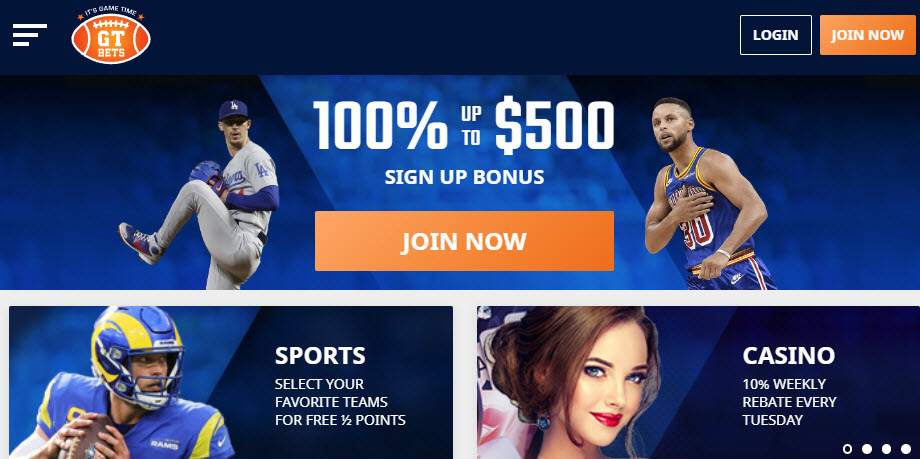 GTbets is one of the best options for new users, because it offers a variety of excellent promotional offers, giving you a head start on your wagering.
GTbets also has a couple of intriguing twists on football betting that appeal to many gamblers. It offers a taste of reduced juice on all football betting. GTbets sets its odds at -109 instead of -110 on either side of NFL and college football point spreads and totals. The moneyline odds for football are considered some of the most generous in the state as well.
GTbets also has a "favorite team" feature. You register your favorite team with the site, and any time you bet on games involving that team, GTbets rewards you with an extra half point. So, if the line is -3 in their favor, you can bet them at -2.5. 
Pros: 
New user bonuses are very generous
Reduced juice on football lines—college and pro
Gives your favorite team an extra half-point
24/7 customer service 
Cons: 
Withdrawal fees are high 
High rollover requirements 
Betting on Sports in Ohio: Is sports betting legal in Ohio? 
Can I bet on sports in Ohio? This is the number one question from sports fans in Ohio. The answer is "yes."
The state has passed a law legalizing sports gambling. As of January 1, 2023, residents can place their first legal sports bet.
Currently, the Ohio Casino Control Commission is still processing licensing applications for at least a dozen sports betting companies. These applications are for both retail sportsbooks locations, as well as online sports betting licenses. Looks like Ohioans will have plenty of options for placing bets on launch day.
Sports bettors that don't want to wait until the official sports betting launch in the state can still wager on professional sports.
Offshore sportsbooks are not in the jurisdiction of the Ohio state government or U.S. federal law. That means they can offer sports betting, horse racing odds, casino games, online poker and even betting markets on entertainment, politics, and esports.
That won't change after 2023, either. While the thousands of Ohio sportsbook operators are learning the ropes of the new in-state industry, offshore sportsbooks will be operating the same as they ever have.
Their long history of dependable wagering explains why offshore books make up our top 10 list.
The move toward legal sports betting in Ohio began in 2018 when the U.S. Supreme Court struck down the PASPA, a 1992 law that prohibited gambling on sports everywhere but Nevada.
A year later, in March 2019, Ohio state senator John Eklund proposed a bill that would legalize gambling on sports in the state.
The legislature went back and forth in negotiations but ultimately let the clock run out on the bill, letting their session expire without voting on it, essentially killing the bill.
In 2021, another bill was proposed and approved. Again, there was plenty of debate and negotiation, and the original approved bill was actually replaced by a second bill that was passed by the state legislature on December 8. Just over two weeks later, governor Mike DeWine signed it into law.
Ohio legislators spent much of 2022 figuring out how sports betting would look in the state, passing a first draft of the regulatory framework over the first few months of the year.
In July, aspiring licensed operators began submitting their applications. Licenses began being distributed in September with eight proprietors getting the green light so far.
The state plans to give out 50 to begin with; although all of them may not be distributed or up and running when sports betting goes live in 2023.
Latest Ohio Sports Betting News and Developments 
Ohio will be giving out 25 retail licenses to sports betting "proprietors," meaning a place with a physical location, like a casino or sports arena. Each proprietor can then partner with up to two mobile services. So far, 20 of them have been announced, including the Cleveland Browns NFL team.
The state will also give out 25 mobile sports betting licenses. Only five mobile licenses have been announced so far.
The state will also give out 40 permits for sports betting kiosks, operated by one of the proprietors but located in places like bars or restaurants. 37 of those have been distributed.
Legal Timeline of Sports Betting in Ohio
1992: PASPA (Professional and Amateur Sports Protection Act), a federal law banning commercial gambling on sports in every state except Nevada, is passed.
2018: In Murphy vs. NCAA, the U.S. Supreme Court ruled that PASPA was unconstitutional, opening the door for states to decide whether to legalize placing bets on sports.
2019: State senator John Eklund proposes SB111, which would regulate sports wagering in Ohio.
2020: The state legislature closes its final session of the year without voting on SB111, essentially leaving it to die without approval.
2021: HB29 is passed after negotiation. The state senate approved one bill, which was then amended and replaced. The law was approved on December 8 and signed by the governor, Mike DeWine, on December 22.
2022: Ohio begins setting rules for sports betting, passing the first set in January, followed by one in March. The state begins accepting applications from companies wishing to offer sports betting. Officials expect to receive 3,000 applications. The first proprietors' licenses are granted. Up to 50 could be approved, 25 in person and 25 mobile, although all are not expected to be ready for Jan. 1, 2023. 
2023: Sports betting is finally live, with the first bets being placed at midnight on the New Year.
Ohio Sports Betting Teams 
Ohio has a long sports history and some of the most recognizable teams among the major sports in the U.S.
In the NFL, the Cleveland Browns have been around since the league was in its infancy. The Cincinnati Bengals aren't quite as old, but they made it to the Super Bowl after the 2021 season.
In the NBA, the Cleveland Cavaliers have been regular visitors to the Finals and won the 2016 title.
The Columbus Blue Jackets joined the NHL in 2000 during the league's expansion that year.
MLB is represented by a pair of teams with long histories. The Cleveland Guardians have a new name but have won two World Series in their history. More recently, they've made the playoffs in five of the last seven years.
The Cincinnati Reds were the first professional MLB team. They've brought five World Series titles back to Ohio.
The six teams have combined for 16 league titles. Ohio is also home to pro soccer and rugby teams, as well as several minor league teams in various sports.
Ohio also has more than a dozen Division I college teams, led by The Ohio State University, which is a perennial challenger for a spot in the College Football Playoff and also has a successful men's basketball program. Cincinnati also made the College Football Playoff last season and has also advanced to the basketball Final Four.
Xavier, Dayton, Kent State, Miami of Ohio, and Toledo are among the other in-state teams with histories of success.
Review  of Sports Betting in Ohio
As of 2023, you can place bets using regulated sportsbooks, but we recommend giving offshore sites strong consideration. In-state proprietors will need to find their way in the newly legal sports betting environment and respond to any changes in how the law is interpreted.
Even after there are in-state options, we recommend giving offshore sites strong consideration. In-state proprietors will need to find their way in the newly legal sports betting environment and respond to any changes in how the law is interpreted.
Meanwhile, online betting sites located offshore have a long history of dependability and stability. Offshore sites are outside the jurisdiction of Ohio state law and federal regulations. Finding dependable offshore sportsbooks may seem difficult, but we're here to help. We have assigned 100+ ratings to the offshore betting sites listed in the BMR Sportsbook Rating Guide. 
A+ rated companies on the BMR Best Sportsbooks page have been serving Ohio sports bettors for years and are recommended for the best experience. 
Registering at a sportsbook usually takes a minute or two, and you can then make a deposit, redeem a sign-up bonus and place your first wager. 
Comparison of the Best Ohio Betting Sites & Sportsbooks
Below you can see how each of our favorite sportsbooks stack up.
| Sportsbook | Rating | Online Since | Payment Methods | Read Review |
| --- | --- | --- | --- | --- |
| Bookmaker | A+ | 1996 | Credit Card, Bitcoin, P2P, Crypto | Bookmaker Review |
| Heritage Sports | A+ | 2001 | Credit Card, Bitcoin, Cashiers Check, Bank Transfer, P2P | Heritage Sports Review |
| Bovada | A+ | 2011 | Credit Card, Bitcoin | Bovada Review |
| BetOnline | A+ | 2001 | Credit Card, Bitcoin, Crypto, Cashiers Check, Bank Transfer, P2P | BetOnline Review |
| BetAnySports | A | 2002 | Credit Card, Bitcoin, Electronic Check | BetAnySports Review |
| BetUS | A | 2000 | Credit Card, Bitcoin, Bank Transfer, P2P | BetUS Review |
| WagerWeb | A | 1994 | Credit Card, Bitcoin, Cashiers Check, Bank Transfer, P2P | WagerWeb Review |
| JustBet | A | 2000 | Credit Card, Bitcoin, P2P, Crypto | JustBet Review |
| Everygame | A | 1996 | Credit Card, Bitcoin, Skrill, Neteller, Bank Transfer, P2P | Everygame Review |
| GTbets | A | 2011 | Credit Card, Bitcoin, Crypto | GTbets Review |
As you can see, Bookmaker, Heritage Sports, Bovada and BetOnline all have earned an A+-rating with us due to the numerous benefits that they offer to their customers.
Key Qualities of the Best Sportsbooks  in Ohio
The best sportsbooks for Ohio share a variety of traits: 
Trust 
Offshore sportsbooks need to show a trustworthy reputation over a long period of time. The best books have a history of treating gamblers fairly and paying out easily, on time, and in full.
Fast Payouts 
The best sportsbooks get you your money quickly. That means the approval and processing don't have hoops to jump through or unnecessary delays. Money should be sent quickly and securely. If you use cryptocurrency, you should expect to receive the funds even faster, ideally on the same day. 
Competitive Betting Odds 
You should be able to find reasonable and fair betting odds on the games or matches you wish to bet. The best sportsbooks provide competitive betting odds. 
Wide Menu of Betting Options 
Every site lets you bet on point spreads, moneylines, and point totals. The best sportsbooks should go above and beyond that, offering other types of sports betting like: 
Game props 
Player props 
Alternate lines 
Same game parlays 
Live Betting 
Futures 
Parlays 
Teasers 
Pleasers 
Progressive parlays 
Reverse bets 
If bets 
Round robins 
The type of bet that you will want to place will depend on personal preference and the betting odds, so be sure to learn how each of these bet types differ from each other.
Mobile Betting Interface
The top Ohio mobile betting sites have fast, dependable user-friendly software that offers the same experience as using the full site on a computer.
It should be easy to find games, browse markets and betting options and make your selections. The sportsbook should be accessible on both smartphones and tablet devices via mobile. Some major sportsbooks may offer native online sports betting apps.
Sportsbook Banking Methods Available
There should be a wide variety of sportsbook banking options available at the state-leading sportsbooks. Operators can be expected to accept credit cards (Visa, Mastercard, American Express), debit cards, bank wire transfers and even crypto. This is one advantage that online sports betting sites have when compared to retail sports betting at brick-and-mortar sportsbooks, which typically requires you to handle cash.
Responsive Customer Service 
The best sportsbooks should offer multilingual customer service 24 hours a day, 365 days a year to their Ohio customers. Support should be available in a wide range of methods, including phone, live chat, or email. 
Competitive Bonuses & Promo Codes
Gamblers can expect a generous new account bonus at the best Ohio sports gambling sites. They should also offer: 
Reload bonuses 
Rebates 
Loyalty programs 
Odds boosts 
Risk-free bets  or other bonus bets
Contests 
What are the differences between Ohio's state-regulated and offshore sportsbooks? 
Regulated sportsbooks are only available in certain states and are prohibited in many parts of the country.

There are still dozens of sportsbooks to choose from for residents that don't have access to retail sportsbooks. Offshore sportsbooks are not under the jurisdiction of state or federal authorities, which allows them to accept players from everywhere. 

They are not subject to the same restrictions as in-state companies, so you will be able to bet on college teams, entertainment, politics, and esports at offshore online betting sites.
FAQs – Legal Online Sports Betting in Ohio
Can I sports bet in Ohio?
Sports betting is now legal in Ohio. The law was been passed and it went live on January 1, 2023.

Retail sports betting and the use of online sports betting sites are now completely legal for Ohio bettors to enjoy.
Can I gamble online if I live in Ohio?
Online sports betting offered by Ohio-licensed operators was made legal on January 1, 2023. Additionally, gamblers can use offshore sportsbooks to place online sports wagers in Ohio prior to then.
What website can I bet on in Ohio?
You can gamble on any regulated sportsbook or offshore sportsbook as a bettor in Ohio, meaning you have hundreds of options to choose from.
Can you bet on NFL games in Ohio?
You can bet on NFL games and any of the other professional leagues in Ohio. GTBets is one of our highest-rated offshore sportsbooks for football betting. All of our top picks for the best options for sports betting in Ohio allow you to bet on both professional sports and collegiate sports, however.
Can I use DraftKings in Ohio?
Once DraftKings Sportsbook gets fully licensed in Ohio, you will be able to use this mobile betting app and other mobile sportsbooks for game betting. Until then, you can use them for Daily Fantasy Sports or use offshore mobile sports betting apps for your legal wagering and other gambling activities. The industry for Ohio sports betting apps will see a lot of growth now that the online sports betting efforts were successful.