Washington D.C. Sports Betting – Which Are the Best D.C. Betting Sites & Sportsbooks?
In 2018, Washington D.C. was one of the first areas to propose a bill to legalize sports betting for both in-person and online wagers. By early 2019, the bill was passed into law, and soon after, bets were live in the nation's capital.
Some of the first sporting venues in the country to pair with a retail sportsbook location have been in D.C., but it has some of the most unique rules for sports betting.
Unfortunately, your location matters, so you are not able to freely bet from anywhere on a mobile device in D.C. unless you want to use the GambetDC app, which has been heavily scrutinized since launching in 2020.
However, you can bet on sports from anywhere you'd like if you use an offshore sportsbook. There are many available these days, but it is our duty at Bookmakers Review to go through each of them and find the ones that provide the best sports betting experience for D.C. users.
Best Washington D.C. Sports Betting Sites 2023
With so many options to choose from, we have compiled our list of the top 10 online sportsbooks available to D.C. residents. You can expect useful sign-up bonuses, good promotions, competitive odds and a wide variety of payment methods and betting markets.
Is sports betting legal in Washington, D.C.?
Yes, it did not take long after PASPA was overturned in 2018 for Washington, D.C. to propose a bill to legalize sports betting. The bill was passed in January 2019, and bets were soon taking place in the district.
There are some restrictions that make sports betting in D.C. unlike anywhere else in the country, though. Online sports betting is legal in D.C., but you have to be physically within two blocks of one of the sports venues where a retail sportsbook is located to place bets using their app. There are four such locations now:
Capital One Arena (Caesars Sportsbook)
Nationals Park (BetMGM)
Audi Field (FanDuel)
FedExField (Fanatics)
Those are considered Class A licensed gambling locations. Class B locations are places like select bars and restaurants, which may have a kiosk or two open for retail sports betting.
The Best Washington, D.C. Sportsbooks Reviews
We have detailed reviews of our top 10 online sportsbooks below, but it is first important to understand the difference between a regulated and offshore sportsbook.
The retail sportsbooks located at the sporting venues in the district are all licensed and regulated by the D.C. Lottery, while the offshore sportsbooks we are about to review are all located in territories like Costa Rica and Antigua, which are not regulated by any U.S. laws.
Offshore betting sites only have to follow the laws of their local jurisdictions, which they do, and online gambling is legal there. There is no law making it illegal for you to join an offshore sportsbook. You just need to be 18 years old.
1. Bookmaker: Welcomes All Sports Bettors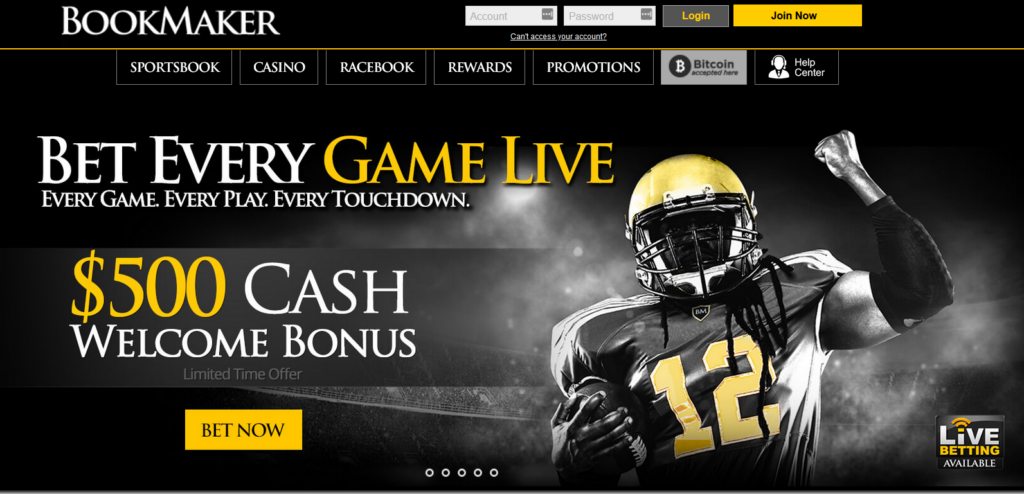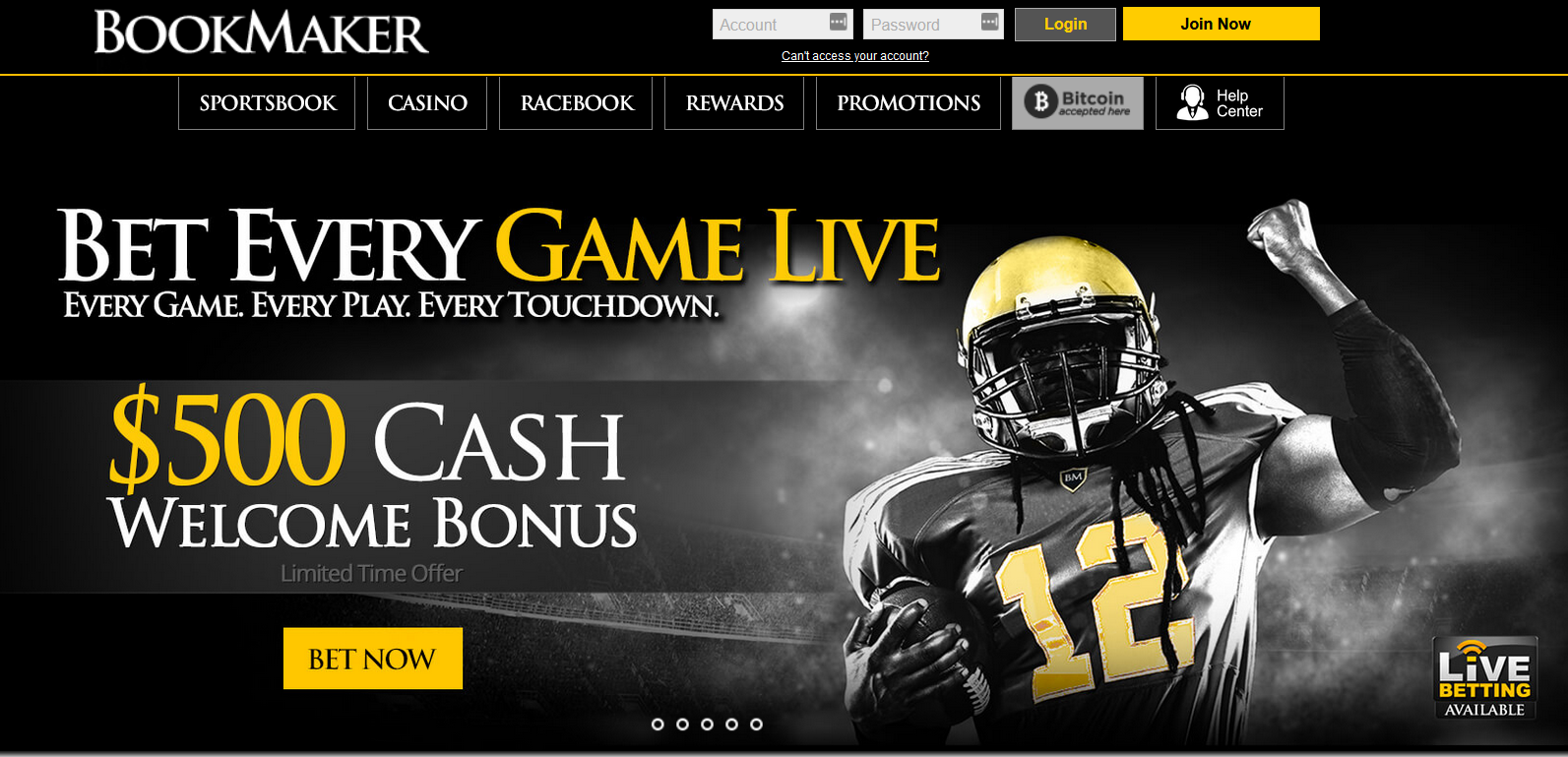 Hailing from Costa Rica, Bookmaker.eu is our No. 1 online sportsbook for both expert sports bettors and those in D.C. looking to place their first bet. The sportsbook is famous for getting the earliest lines in the business, allowing you to get a great value on the betting lines before the general public moves things in another direction.
You can also do live betting using Bookmaker's solid mobile site, and they have some prop picks that not all the competitors have for popular markets like football and basketball.
While there are not any poker tournaments, you can play casino games and get access to one of the best racebooks in the industry if you have an interest in horse racing in addition to sports betting.
Bookmaker has a three-tier loyalty program where you can get excellent reload bonuses. Their customer service is also among the best on our list, and with over 25 years of experience, District of Columbia bettors can expect a safe and rewarding sports betting experience at Bookmaker.
Pros:
Winning players are not limited
Top-tier mobile site
Great reload bonuses in loyalty program
Reasonable limits
Cons:
Bovada has a better prop builder
Only recreational accounts can access the third tier of rewards program
2. Heritage Sports: Cashback and Reduced Juice Program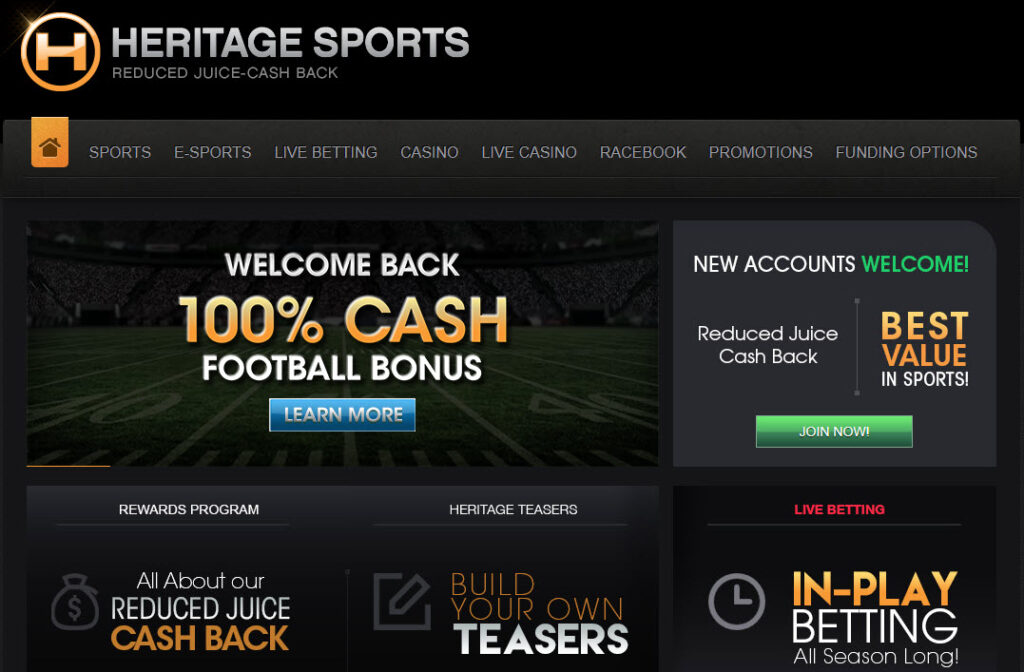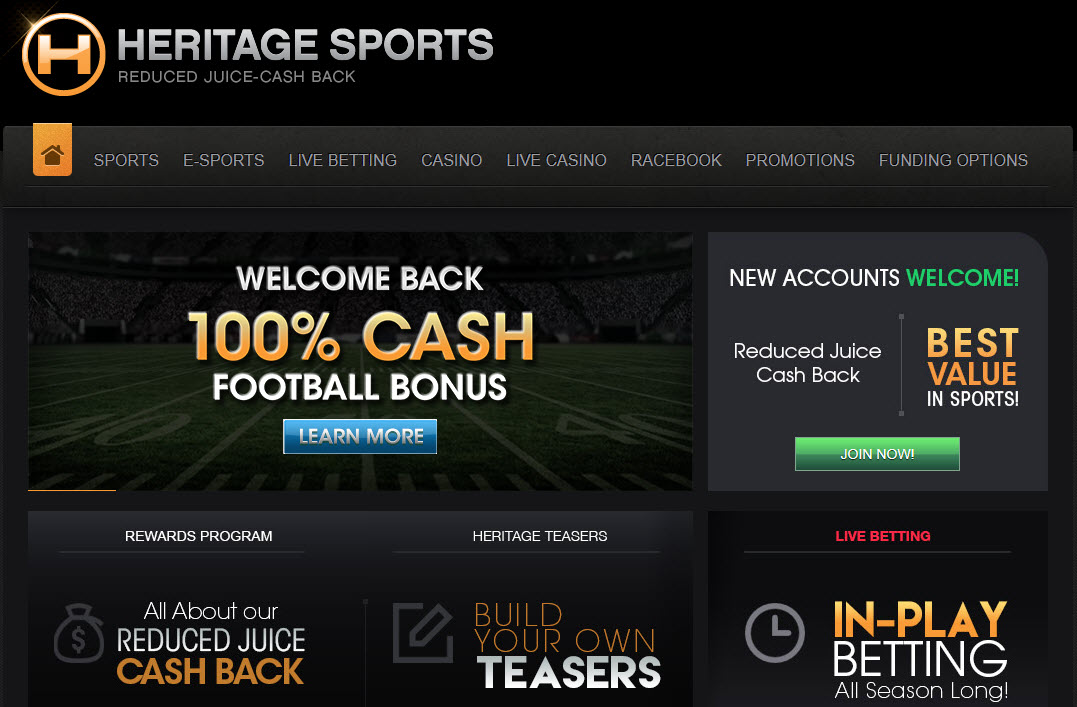 Heritage Sports was once an invite-only site, but anyone in Washington, D.C. can join today. They have over 20 years of experience in the sports betting industry and a reputation for paying out customers in a timely manner, and their mobile site is one of our favorites to do live betting at any time of day.
The sign-up bonus is on the lower side of their competitors, but Heritage Sports does reduced juice (-108) and cashback as well as anyone with quarterly returns on all your sports wagers regardless of the outcome. The cashback funds you accumulate at Heritage Sports can be used on any section of the site and there is no rollover requirement.
There are also other unique perks like getting a free parlay for your birthday, with a max value of $500, and your every eighth deposit is on the house as an average of your previous seven deposits.
Pros:
Offers reduced juice (-108) and cashback
Cashback funds have no rollover requirement
Best choice for esports fans
Live mobile sports betting works smoothly
Personalized perks like free birthday parlay
Cons:
Sign-up bonus could be bigger
Could use more deposit methods
3. Bovada: Great Prop Builder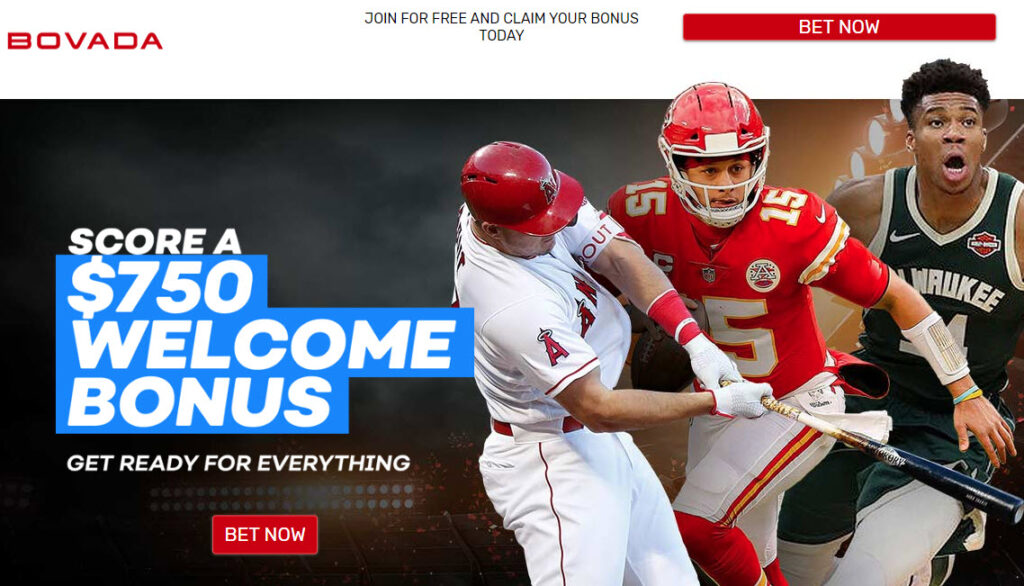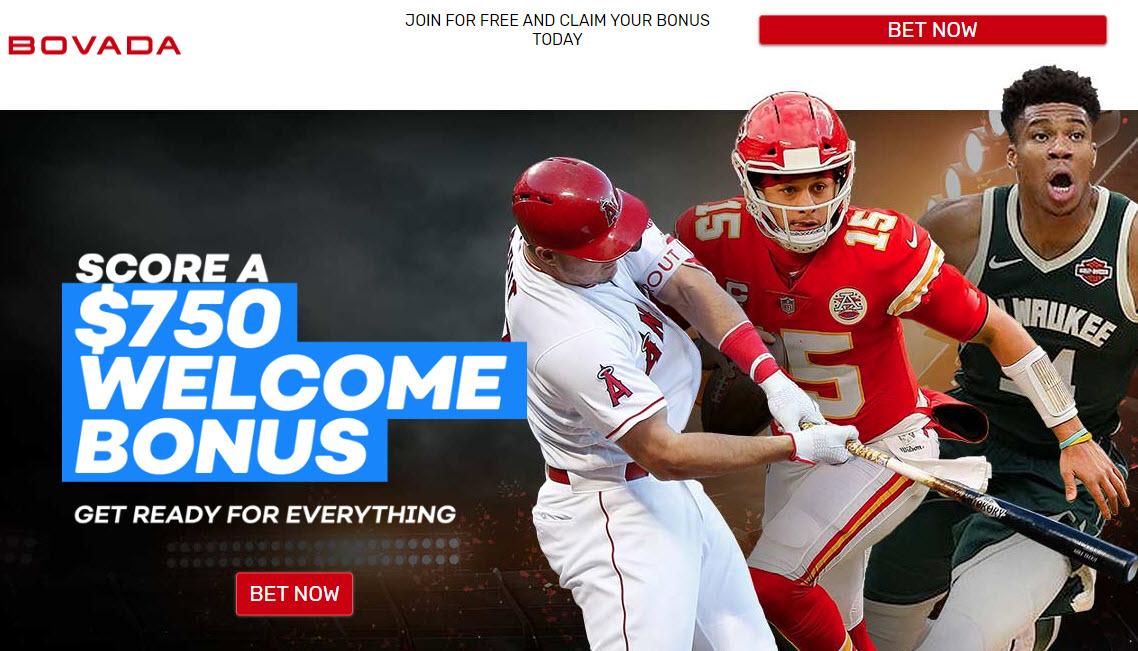 Bovada is an excellent choice from Costa Rica if you like your sportsbook to have a large variety of prop picks, including game specials with betting lines you won't find elsewhere. You can even recommend a prop to be added.
The sportsbook is well designed with a drop-down menu showing all the available sports leagues, which is a huge amount including everything from the popular leagues to more niche sports like cricket and table tennis.
Bovada also does a great job with horse racing and virtual racing. They have a casino with a solid selection of games, and they are one of the most crypto-friendly sportsbooks for District residents signing up for the first time. You can get a massive welcome bonus worth up to $3,750 for your first three deposits using a crypto method.
Pros:
One of the best prop builders
Great choice for fans of poker and crypto
Site is well-designed and organized
Cons:
Ongoing promotions are limited
Fees on credit card deposits can be high
4. BetOnline: Quickest Payouts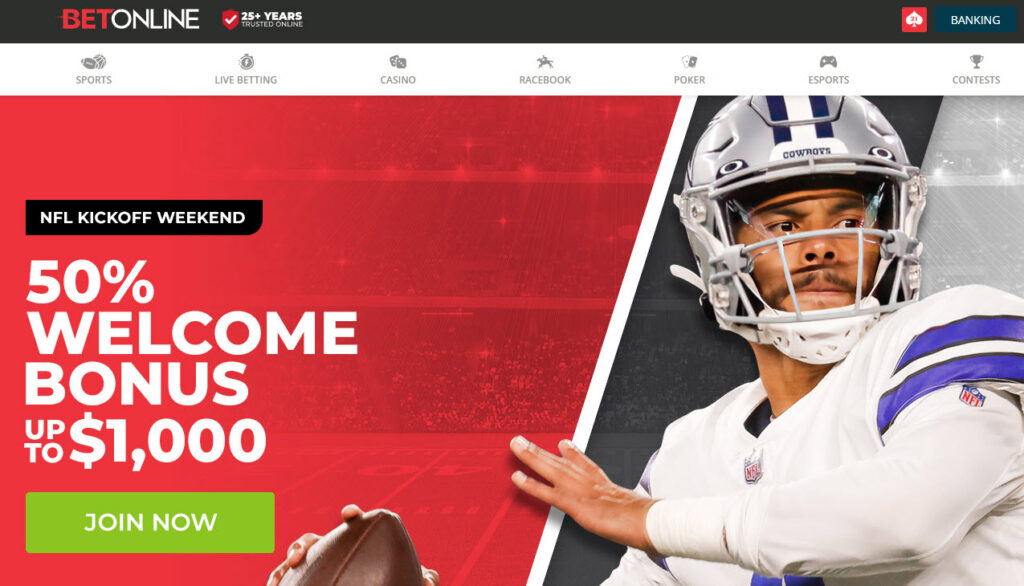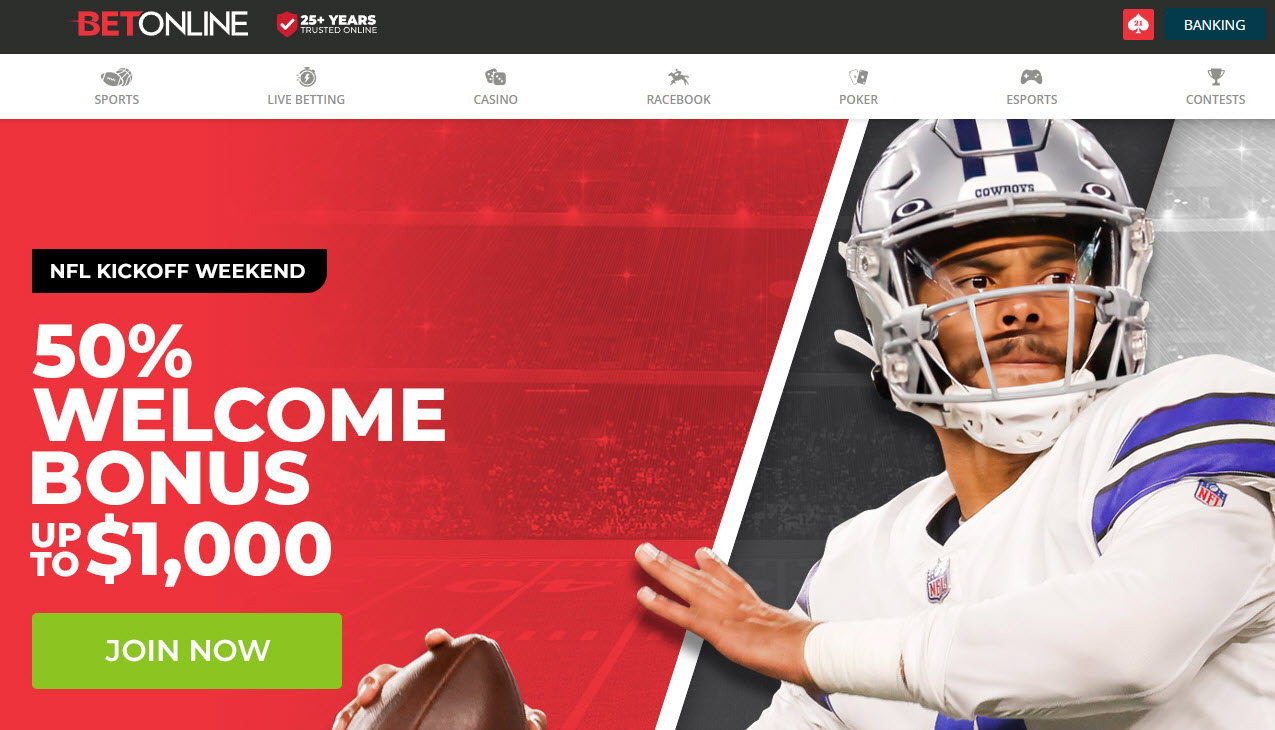 BetOnline does many things very well, including offering a sportsbook with props and opinionated lines, reduced juice on NHL games, fun sports contests (many are free to enter), and many unique sports promotions like bad beat insurance if your team blows a big lead or gets shutout.
BetOnline also has a massive casino library, so if you enjoy casino games along with your sports betting, then it might be an even higher choice for you to check out. They also offer poker tournaments on par with Bovada's offerings.
The Bovada prop builder is better designed, but you'll find plenty of good betting lines at BetOnline that you won't get elsewhere for singles and parlays. They also have an unbeatable combo of high limits and fast payouts.
Pros:
Plenty of live betting markets
Reliably fast payouts
Fun, unique sports promos
Option to recommend your own prop picks
Enter sports contests for free or paid
Cons
Prop builder is not as good as Bovada's
NHL is only market with reduced juice lines
5. BetAnySports: Best Reduced Juice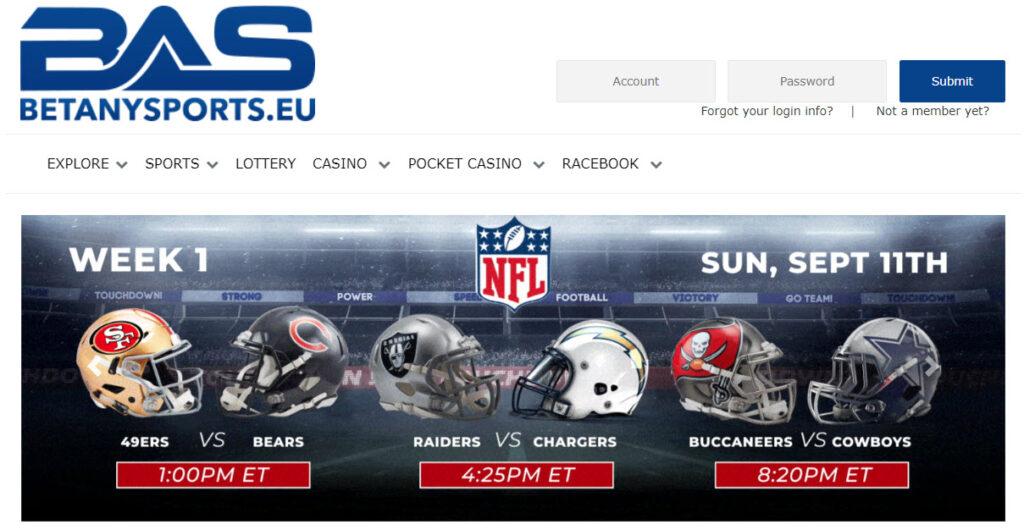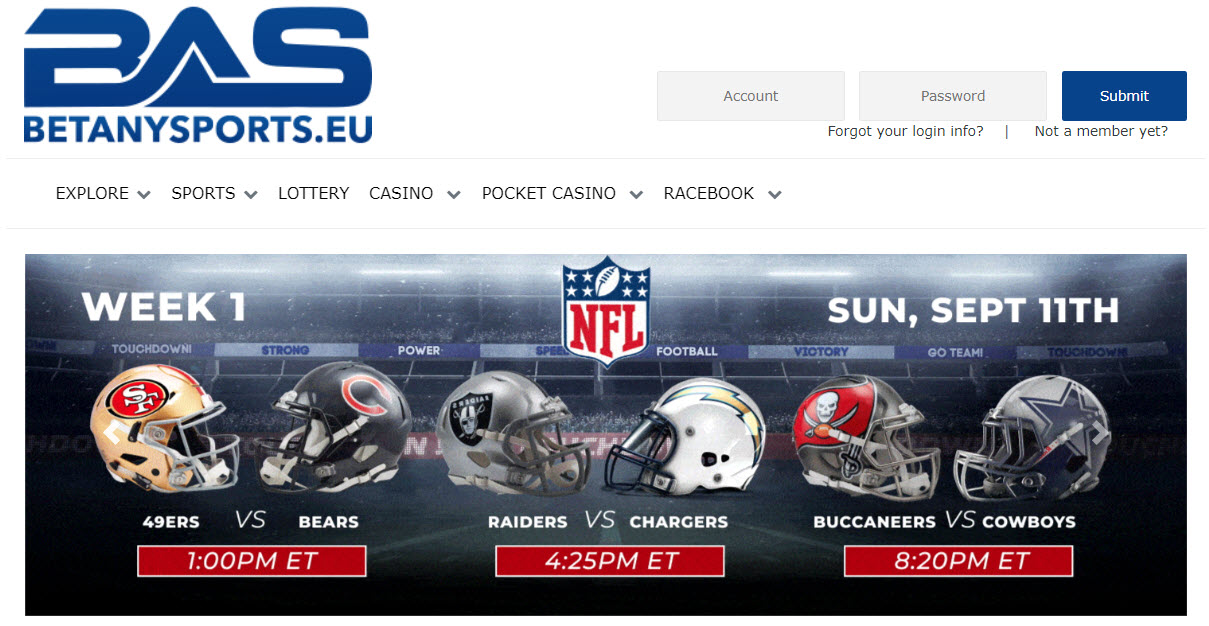 BetAnySports is another top-tier online sportsbook from Costa Rica. They have many different lines available for a wide range of sports, and you can get some of the best reduced juice (-105) in the industry.
Their prop builder is also right up there with Bovada for the best around. They handle live sports betting, and they also offer many casino games, live dealer games and the only site to have lottery drawings where you can play your favorite numbers in many different states.
The site could use a redesign as it is not as flashy as BetOnline or Bovada, but it gets the job done and the user interface should be easy to navigate for D.C. users trying an online sportsbook for the first time.
Pros:
Great for reduced juice (-105 lines)
A favorite prop builder
Play lottery drawings like DC Top 2-5
Cons:
Site layout could use a redesign
Bonus funds can't be used to place prop bets
6. BetUS: Get Expert Predictions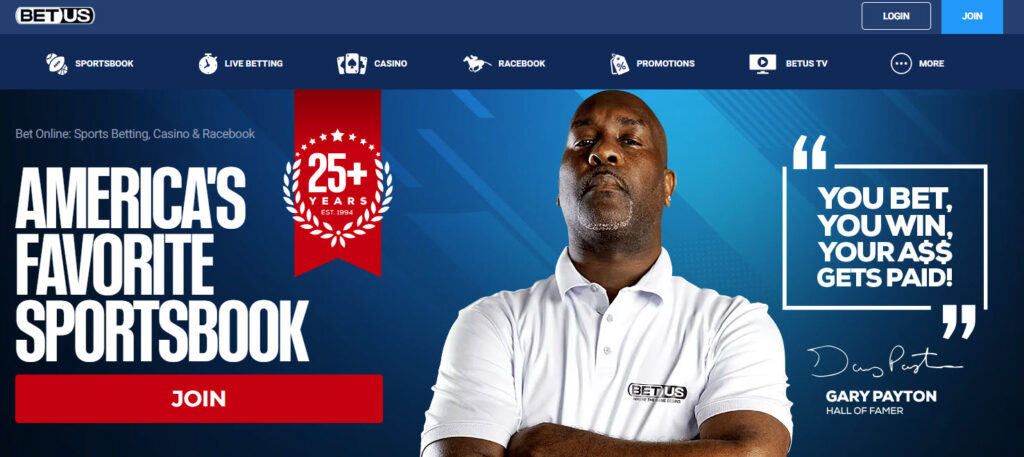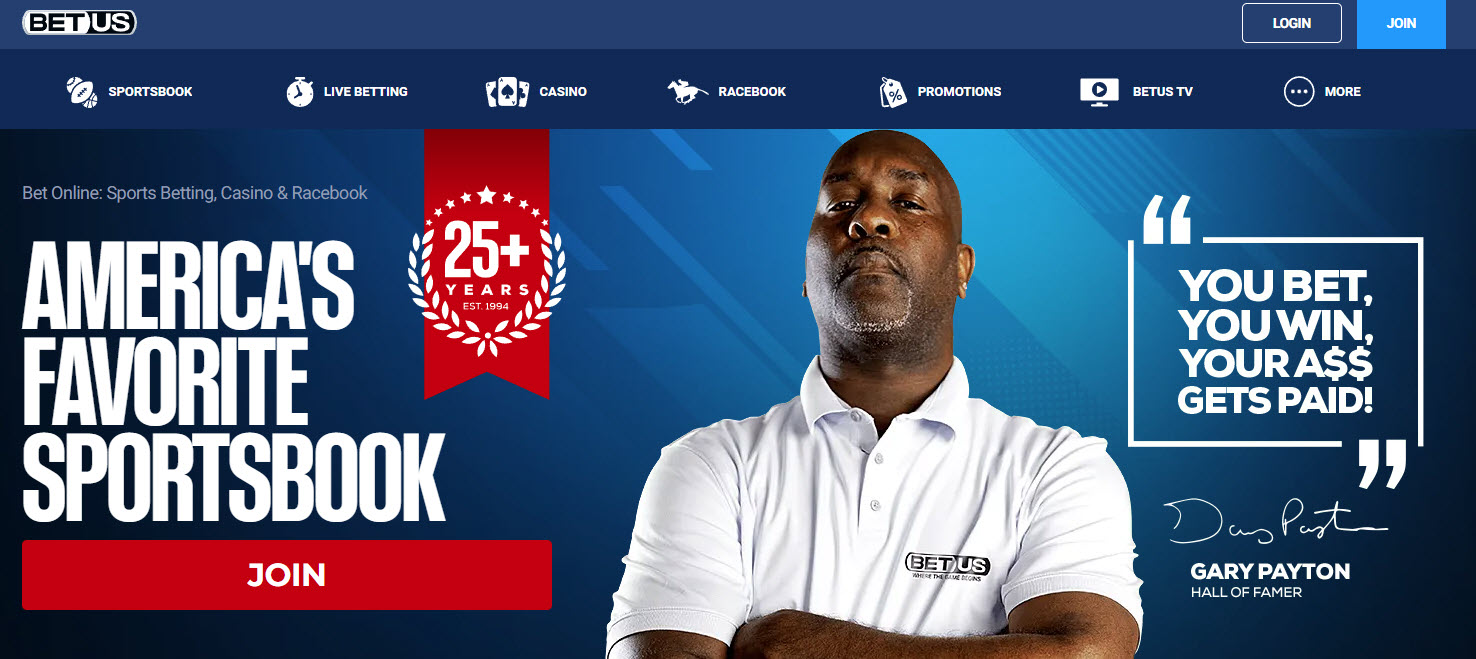 With BetUS, you'll enjoy a solid sportsbook on par with BetOnline with sides and totals, prop builders and parlays, as well as fast payouts. They also do a very good job with horse racing and their casino games are flashy and newer than the likes at Bookmaker and Heritage Sports.
There are a few areas where BetUS stands out among the competition. One of these areas is their promotional offers and the way they split them up among the sportsbook and casino, allowing you to sample both with bonus funds when you sign up as a new user in the District of Columbia.
Users new or old will also be treated to the best online sportsbook for expert analysis and predictions. Watch original content with BetUS TV, a YouTube channel that has shows for betting content on just about every sport you could imagine. The site also has many informative guides on how to get better at gambling.
Pros:
Informative guides
BetUS TV is original touch for expert picks
Unique bonuses are split between sports and casino
Casino games have demo versions
Cons:
Not our favorite prop builder user interface
Some of the highest rollover requirements
7. Everygame: Wide Variety of Sports Markets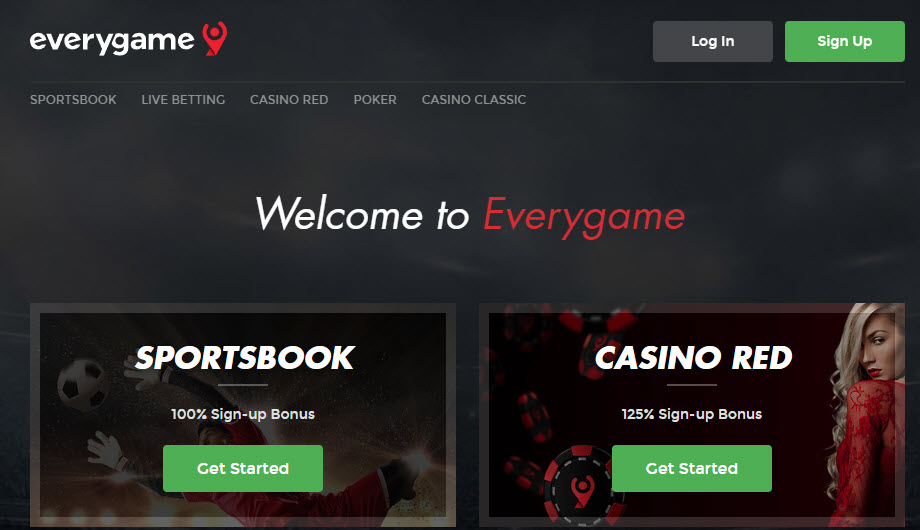 Our top 10 is not a clean sweep for Costa Rica, as Everygame is based in Antigua. It used to be known as Intertops before it rebranded to celebrate 25 years in the business. The site redesign has led to the most polished and best-looking site on our list for D.C. users.
You really get that sense of its stylish design when you play poker and casino games. The sports betting section is also more than adequate as Everygame offers decent promotions like free bets for new users, and they do live up to their new name, offering leagues from all over the world.
They also do plenty of live betting markets. You can even bet on niche markets like the South African Powerball drawing.
Pros:
Wide variety of sports markets available
Great site design
Poker tournaments available
Amazing casino section
Cons:
Does not have separate racebook section
Better suited for casual sports gamblers
8. WagerWeb: Best for Crypto Users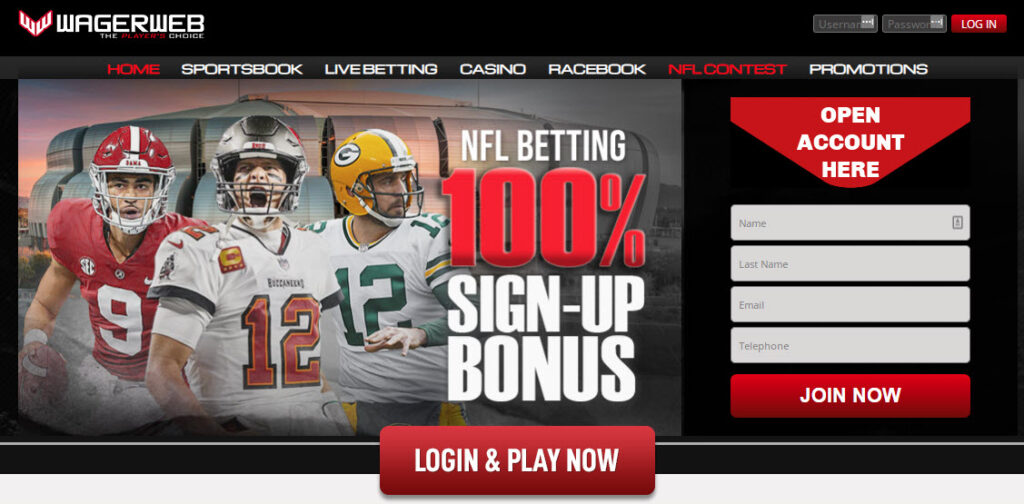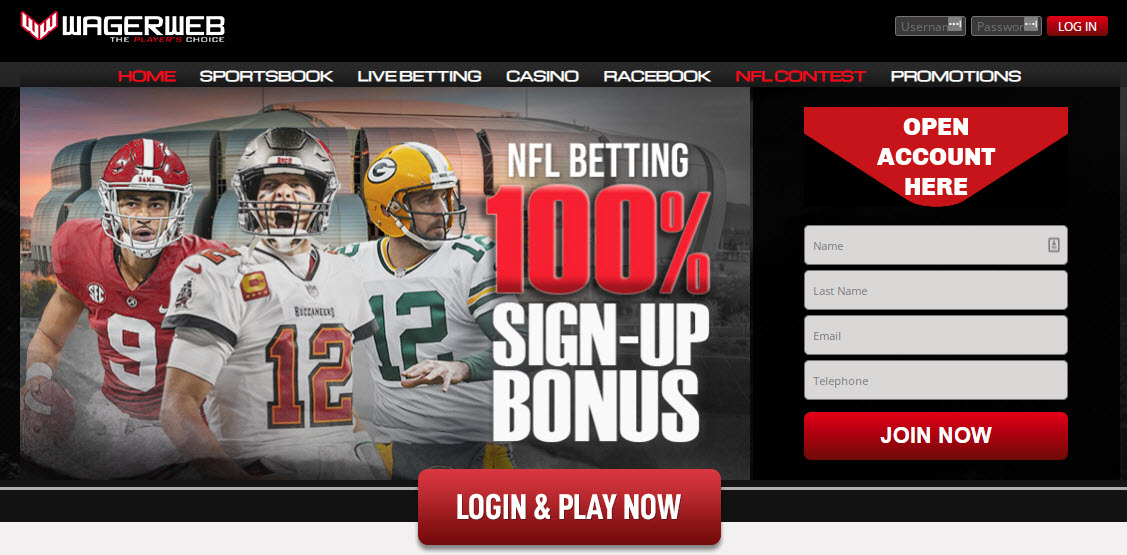 Fans of Heritage Sports will feel at home with WagerWeb's use of reduced juice and a decent mobile site for live betting. But you also get a free NFL contest you can enter weekly at WagerWeb, and their best bonuses are all geared towards D.C. users willing to use Bitcoin or MoneyGram as their preferred deposit method.
This leaves non-crypto users a bit in the dark about getting the best promos, so we would still suggest Heritage Sports instead if that is not your deposit method of choice, but WagerWeb has a lot to offer for crypto fans.
Pros:
Similar to Heritage Sports
No. 1 for crypto fans
Join a weekly NFL contest for free
Free and fast crypto payouts
Cons:
Some sports leagues have higher limits
Better ongoing promos at Heritage Sports
9. SportsBetting: Fun Promos and Contests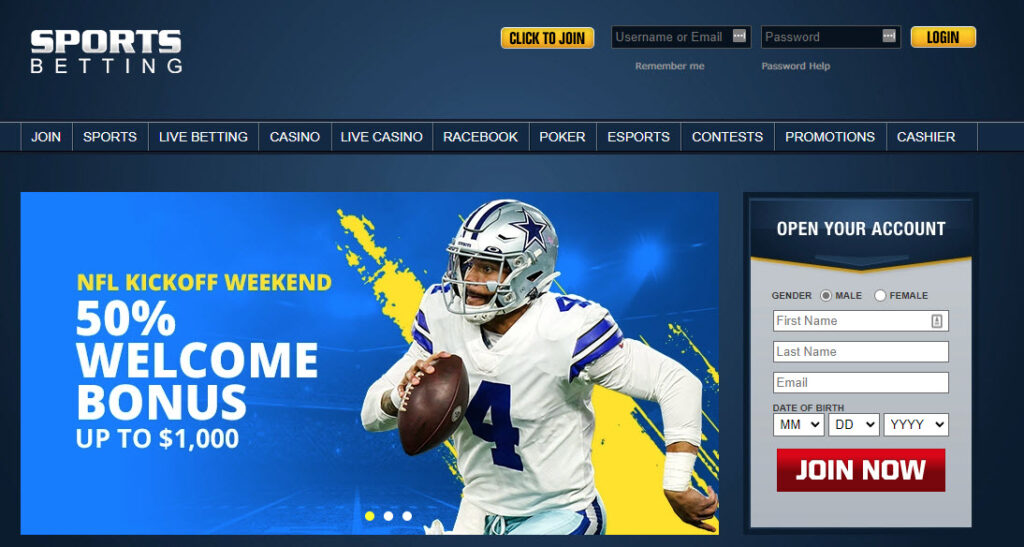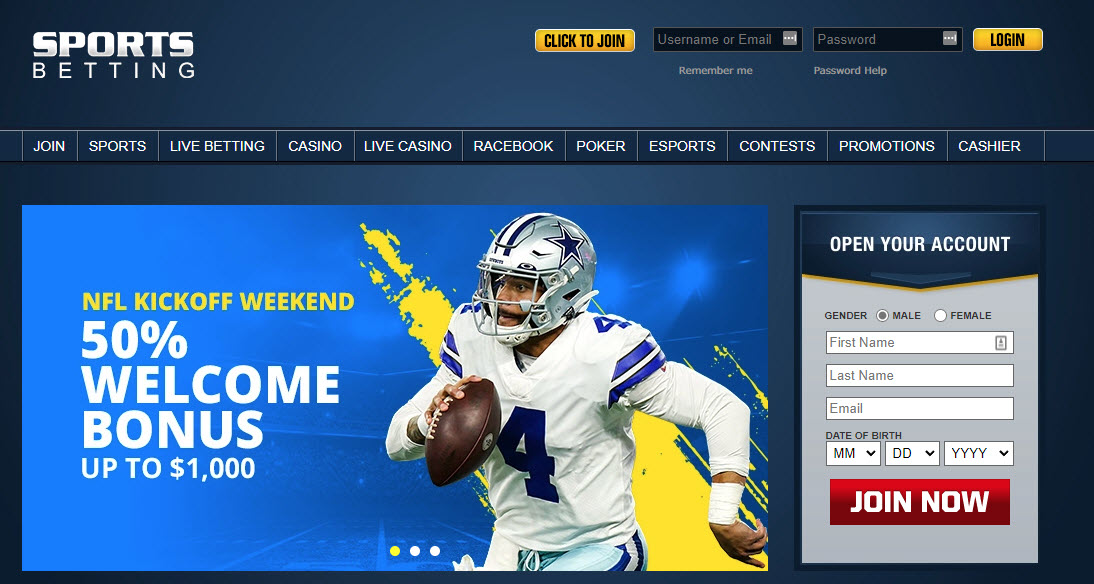 SportsBetting.ag is currently offering new users in Washington, D.C. a 50% welcome bonus of up to $1,000. They also have ongoing sports promotions such as risk-free $25 wagers for your first live bet or player prop bet, a refund if your moneyline pick gets shutout, reduced juice in the NHL, or a refund if the NBA team you bet on blows a 15-point lead after halftime.
If these promos sound familiar, it is because they are also found at BetOnline, the sister site to SportsBetting. BetOnline has been around longer and is more popular, but you get a similar experience if you use SportsBetting, including their poker tournaments.
But it is nice to use a trusted sportsbook that will accept D.C. users and offer generous bonuses, fast payouts and plenty of gambling options.
Pros:
Fans of BetOnline will feel right at home
Plenty of sports contests and promos
Poker tournaments
Quickest payouts
Cons:
BetOnline is more popular
Offers reduced juice only on NHL markets
10. JustBet: Big Reload Bonuses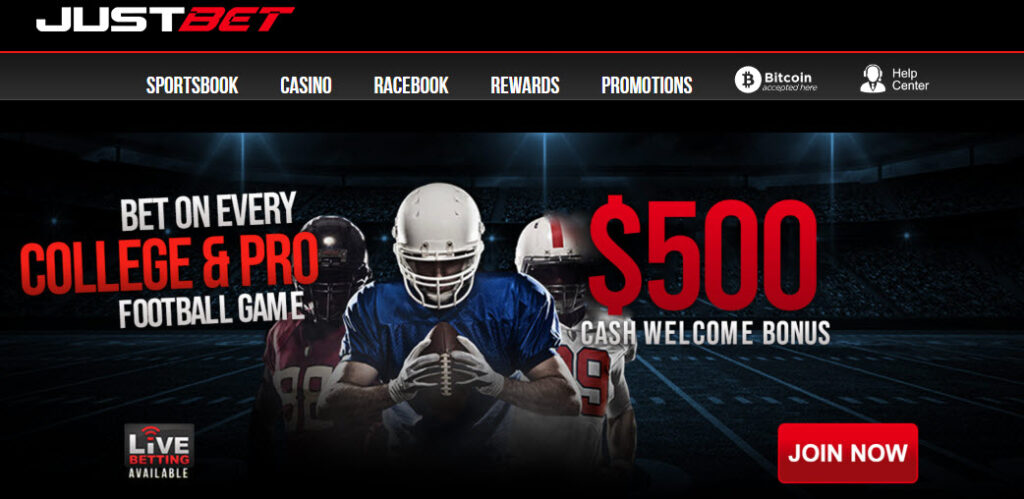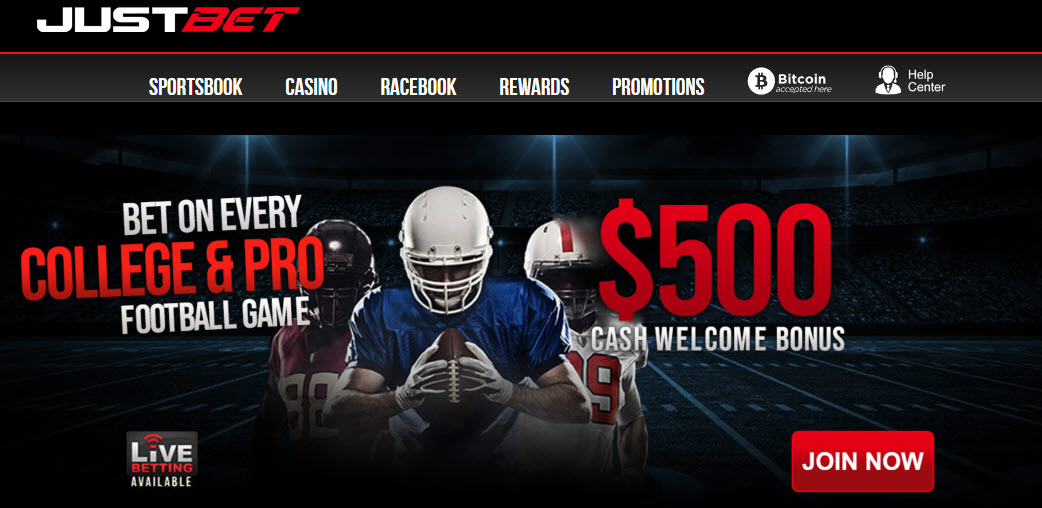 If you like Bookmaker, the online sportsbook we ranked No. 1, then you will enjoy a familiar experience found at JustBet, its sister site for the last decade. This means you will get the earliest lines in sports to bet on for the best opening value, and you will get high limits to do so.
Poker tournaments instead of just video poker would have been a nice addition to give something new over Bookmaker, but even without them, you are largely getting a similar experience here, complete with a reward program that does a great job with reload bonuses for frequent bettors.
Pros:
Sister site of our top site Bookmaker
Loyalty program is top shelf
Great for betting sides and totals
Fast crypto payouts
Cons:
Bookmaker has a better mobile interface
Certain withdrawal methods have high fees
Timeline of Gambling in Washington, D.C.
While a fair share of lawmaking goes down in D.C., the territory's history with gambling is not an expansive one. We have included some of the key moments in the timeline to get to where we are today as far as gambling goes in the District of Columbia.
2023: Fanatics joins the retail sportsbook craze by opening at FedExField, an NFL stadium.
2022: FanDuel opens at Audi Field, becoming the first Major League Soccer stadium to hold a retail sportsbook.
2022: BetMGM opens at Nationals Park, becoming the first retail sportsbook to open at a Major League Baseball stadium.
2021: The D.C. Lottery launches DC iLottery, an online version of its lottery games where users can play the Powerball, Mega Millions and more.
2021: Caesars Sportsbook opens at Capital One Arena, becoming the first sports betting venue to open in a professional sports facility in the United States.
2020: After delays for an app developer lawsuit and COVID-19, the first sportsbook app for D.C. is launched called GambetDC Sportsbook, which is run by the D.C. Lottery. It would allow users anywhere in the district to bet online on sports.
2019: The bill was officially passed into law, legalizing online and in-person sports betting in Washington, D.C..
2018: In D.C., the Sports Wagering Lottery Amendment Act of 2018 is proposed following the overturned PASPA ruling. The bill was approved in December.
2018: The Professional and Amateur Sports Protection Act (PASPA), which banned U.S. sports betting in 1992, is overturned by the Supreme Court, allowing states the right to choose if they want to legalize sports betting.
2011: The gambling bill was not opposed by Congress, allowing the D.C. Lottery to start planning toward offering online poker, blackjack, slots and more. But soon other council members would oppose the plan, and not long after, the 2010 bill was repealed.
2010: A bill is proposed and added to a budget bill to legalize online gambling in the nation's capital.
1982: The D.C. Lottery is formed on August 2, 1982.
Washington, D.C. Sports Betting Teams
While our nation's capital may not have statehood yet, it is home to several major professional sports teams, including one in each of the four major leagues.
Washington is also home to a major American soccer team, a recent WNBA championship team and several notable collegiate teams:
MLB – Washington Nationals
MLS – D.C. United
NBA – Washington Wizards
NCAA Division I – Georgetown University, The George Washington University, America University, George Mason University, Howard University, University of Maryland and Mount St. Mary's University
NHL – Washington Capitals
NFL – Washington Commanders
NWSL – Washington Spirit
WNBA – Washington Mystics
Comparing the Best Washington, D.C. Betting Sites & Sportsbooks
With the legalization of sports betting in D.C. coming with certain restrictions, bettors will want to compare the top offshore sites for unlimited betting opportunities. Below, you will see our top 10 online sportsbooks and their ratings, payment methods and a link to an in-depth review for each.
| Sportsbook | Rating | Online Since | Payment Methods | Read Review |
| --- | --- | --- | --- | --- |
| Bookmaker | A+ | 1996 | Credit Card, Bitcoin, P2P, Crypto | Bookmaker Review |
| Heritage Sports | A+ | 2001 | Credit Card, Bitcoin, Cashiers Check, Bank Transfer, P2P | Heritage Sports Review |
| Bovada | A+ | 2011 | Credit Card, Bitcoin | Bovada Review |
| BetOnline | A+ | 2001 | Credit Card, Bitcoin, Crypto, Cashiers Check, Bank Transfer, P2P | BetOnline Review |
| BetAnySports | A+ | 2002 | Credit Card, Bitcoin, Electronic Check | BetAnySports Review |
| BetUS | A | 2000 | Credit Card, Bitcoin, Bank Transfer, P2P | BetUS Review |
| Everygame | A | 1996 | Credit Card, Bitcoin, Skrill, Neteller, Bank Transfer, P2P | Everygame Review |
| WagerWeb | A | 1994 | Credit Card, Bitcoin, Cashiers Check, Bank Transfer, P2P | WagerWeb Review |
| SportsBetting | A | 2002 | Credit Card, Bitcoin, Crypto, Cashiers Check, Bank Transfer, P2P | SportsBetting Review |
| JustBet | A | 2000 | Credit Card, Bitcoin, P2P, Crypto | JustBet Review |
Bookmaker, Heritage Sports, Bovada, BetOnline and BetAnySports take the cake, however, as they have all been awarded an A+ rating by our team of betting experts.
Key Qualities of the Best Washington, D.C. Sportsbooks
If you are curious about what criteria go into our grades at Bookmakers Review, read on to learn about some of the factors we look at when grading these online sportsbooks.
Wide Variety of Betting Options
More than ever, you need an online sportsbook that is flexible with player prop and parlay options that allow you to combine multiple betting markets together if you wish. The days of just betting on the winner, the spread and the total are over. Some sportsbooks such as Bovada and BetOnline even take suggestions for props or special bets.
The inclusion of same-game parlays, popularized by FanDuel, has brought a real lottery ticket gambling element to sports betting that just wasn't possible decades ago without the use of the internet and modern technology. We can bet on so many different things now.
Competitive Betting Odds
It is good practice to have an account with several sportsbooks just so you can do price shopping and enjoy different bonuses and promotions. But the odds are usually going to be competitive for the same games at these competitive sites. However, some sites do reduced juice better than others, like Heritage Sports (-108) and BetAnySports (-105), which can offer better than the standard lines of -110 and -115.
Bonuses and Promotions
The best way to summarize bonuses and promotions at online sportsbooks is, the sign-up bonus draws you in, but the ongoing promotions will keep you coming back.
Some sites are great at offering huge sign-up bonuses, which can quickly lead to thousands of dollars in bonus funds for new users. But those deals often are not as sweet as they sound once you read the full terms and conditions and see how much you need to wager before any of that money can be withdrawn. That is the rollover requirement at work.
That is why some of the best deals end up being the ones you keep getting on a daily or weekly basis as a returning customer of an online sportsbook. We have a list below of some of the perks and bonuses you can expect to see at many of these sites:
Deposit matches (often to 100%) and reload bonuses
Risk-free bets (losing bets will be credited with free bets)
Cash-back program
Reduced juice lines
Loyalty or rewards programs
Friend referral program
Enhanced or boosted odds on select markets
Contests (some free) with big prizes
Bad beat insurance
Free birthday parlay (available at Heritage Sports)
Free deposit if meeting certain conditions
Mobile-Friendly Interface to Make Bets
It has been estimated by industry experts that more than 90% of sports bets in the U.S. will be made online within the decade. Most of us are using a mobile device like a smartphone to do that now, and it is only going to continue with the rise of live betting.
For that reason alone, a well-designed mobile site is a must for these companies. We need to be able to log in quickly, add money to our account and place our bets easily. We also should be able to look at our bets during the game without worrying about server outages and lag. The companies in our list do a fairly good job of providing sites optimized for a mobile experience.
Trustworthy Reputation
No different from sports themselves, we like someone with experience and a track record of success, so it is not a coincidence that our list is dominated by companies that have been operating since the 1990s and early 2000s. That gives them plenty of time to establish a great reputation, or if they had issues in the past, enough time to correct them and provide users with a trustworthy experience.
Quick and Secure Sportsbook Payouts
The thrill of winning is fully realized when you get paid your winnings. We put a lot of importance on a site to have a good reputation for paying winners on time. Everyone can use Google now to search for bad reviews or stories of a sportsbook not paying a winning bet or settling something incorrectly. We want a site that is good at paying on time and with minimal fees, reasonable limits and a variety of options (traditional and crypto) for both deposits and withdrawals.
Helpful Customer Service
You could argue sports betting would be the main section on a gambling site to have a dispute to settle on how something gets scored or voided. Maybe a player never actually got into the game, or there was a statistical error corrected days after the bet was settled.
Maybe you just need some general help with making a deposit on the site. Whatever it is, you need a good customer service unit to contact. We grade these services by their available hours (24/7 is best) and the variety of contact methods. Some people like live chat, while others would prefer a traditional phone call or to leave an email. The more options, the better for the grade on this element. 
Washington, D.C. Betting Guides
FAQs – Sports Betting in Washington, D.C.
Can you bet on sports in D.C.?
Yes, Washington, D.C. was one of the first parts of the United States that launched a legal sports betting market. You can find a land-based sportsbook inside a few sports arenas, or use your computer for online betting, or your phone or tablet for mobile wagering.
Does Washington, D.C. have online sports betting?
Yes, when Washington, D.C'.s sports betting bills were passed into law, they included all forms of sports gambling, whether that is at a sports arena or using online or mobile sportsbooks.
Can I do DraftKings in D.C.?
DraftKings Sportsbook is not available in Washington, D.C.. District residents can use the platform for daily fantasy sports but this operator has not applied for any sports wagering licenses in the city.
Where can I bet on sports in Washington, D.C.?
You can place wagers in-person on all your favorite teams in D.C.. You can also access mobile betting and online sports betting using some local operators, and offshore sportsbooks if you would like to bet with fewer restrictions.
Does D.C. have mobile sports betting?
Yes, since the operation of sports wagering began in the city, District residents have been able to place mobile sports wagers. The current sports betting law has some stringent rules for doing so, so many residents still turn to offshore sites.