New Mexico Sports Betting – Which Are the Best NM Betting Sites & Sportsbooks?
Legal sports betting in New Mexico is different than in most of the country. New Mexico was the 6th state to legalize sports betting after PASPA was struck down, which allowed states to take the sports betting industry into their own hands rather than relying on federal regulation.
The legal sports betting industry in New Mexico only currently allows in-person sports betting at tribal casinos. At the moment, there are four tribal casinos across the state that offer sports wagering and no local online betting sites or mobile sportsbooks.
The reason the tribes are able to offer legal sports betting without the approval of federal and state regulators is due to the Indian Gaming Regulatory Act of 1998. In that compact, there is a Class III gaming clause that does allow for legal sports betting at Native American casinos. New Mexico doesn't currently have any major league sports teams; residents can bet on college sports, but, not on in-state college sports teams. Retail betting at a tribal casino on another state's college teams is perfectly fine, however.
The big key for New Mexico sports betting fans is the fact that online and mobile sports betting has not yet been legalized. New Mexico is the fifth largest state in terms of area, and with only four tribal casinos operating legal sportsbooks that allow in-person sports betting, the supply isn't quite enough to meet the demand. This is the reason why sports bettors in New Mexico have been using offshore sportsbooks for so many years.
These companies are not located in the U.S. so they do not fall under state and federal jurisdiction. They are able to offer sports betting from the top leagues around the world, including the U.S. and Europe. On top of that, offshore sportsbooks offer several gambling services under one account. You'll be able to bet on casinos, horse racing poker and more.
In this guide, our sports betting experts have put together a list of who they feel are the best sportsbooks in New Mexico. This list was chosen according to a strict set of criteria that we will go over in detail as well. You will be given a brief summary of what each brand has to offer as well as their respective pros and cons. We'll cover a little bit of the local New Mexico betting market as well as give links to additional reviews of the top sports betting sites in New Mexico.
The Best New Mexico Sportsbooks in 2023
New Mexico Betting Guides
Best New Mexico Sports Betting Sites 2023
The best sportsbooks in New Mexico offer online sports betting, which is something that you can't find at a regulated site in the state at the moment. The reason for that is New Mexico has only legalized retail sports betting at four casinos in the state. New Mexico sports bettors have been using offshore sites for decades and will continue to do so with the current circumstances in their betting market.
In this online betting guide, we will give you a quick overview of what each of these brands has to offer including the most popular sports and a variety of bets to choose from. We also have links to a more in-depth guide that ranks these sites from A+ to F. We will include a link so you can get even more information about these ten sportsbooks as well as access to reviews of 100+ brands.
Below are the top ten sites as chosen by our experts:
The Best New Mexico Sportsbooks Reviews
Below, you will find our summaries for each of these brands. We will highlight the services that each of them excels at, as well as tips on how to proceed in specific situations for less experienced players. The best sportsbooks in New Mexico are located offshore because online sports betting is not yet legal.
It does not appear that local tribes are in any hurry to see that change, so unless you are going to drive to one of four sportsbooks spread out across the state, offshore online wagering remains the best option. It isn't just a matter of convenience either; it's about quality. Regulated sportsbooks have a really hard time competing with the one-stop-shop business model of offshore sportsbooks.
1. Bookmaker: Sharp Players Not Turned Away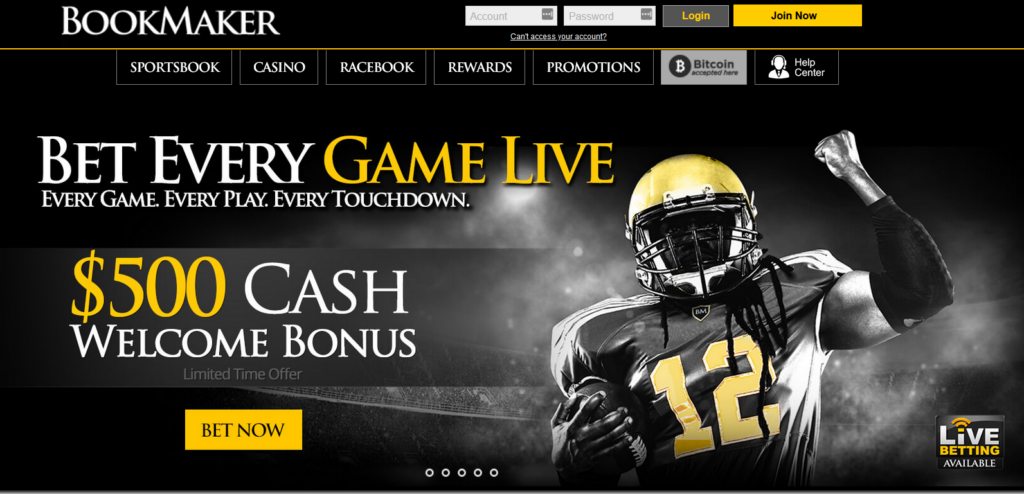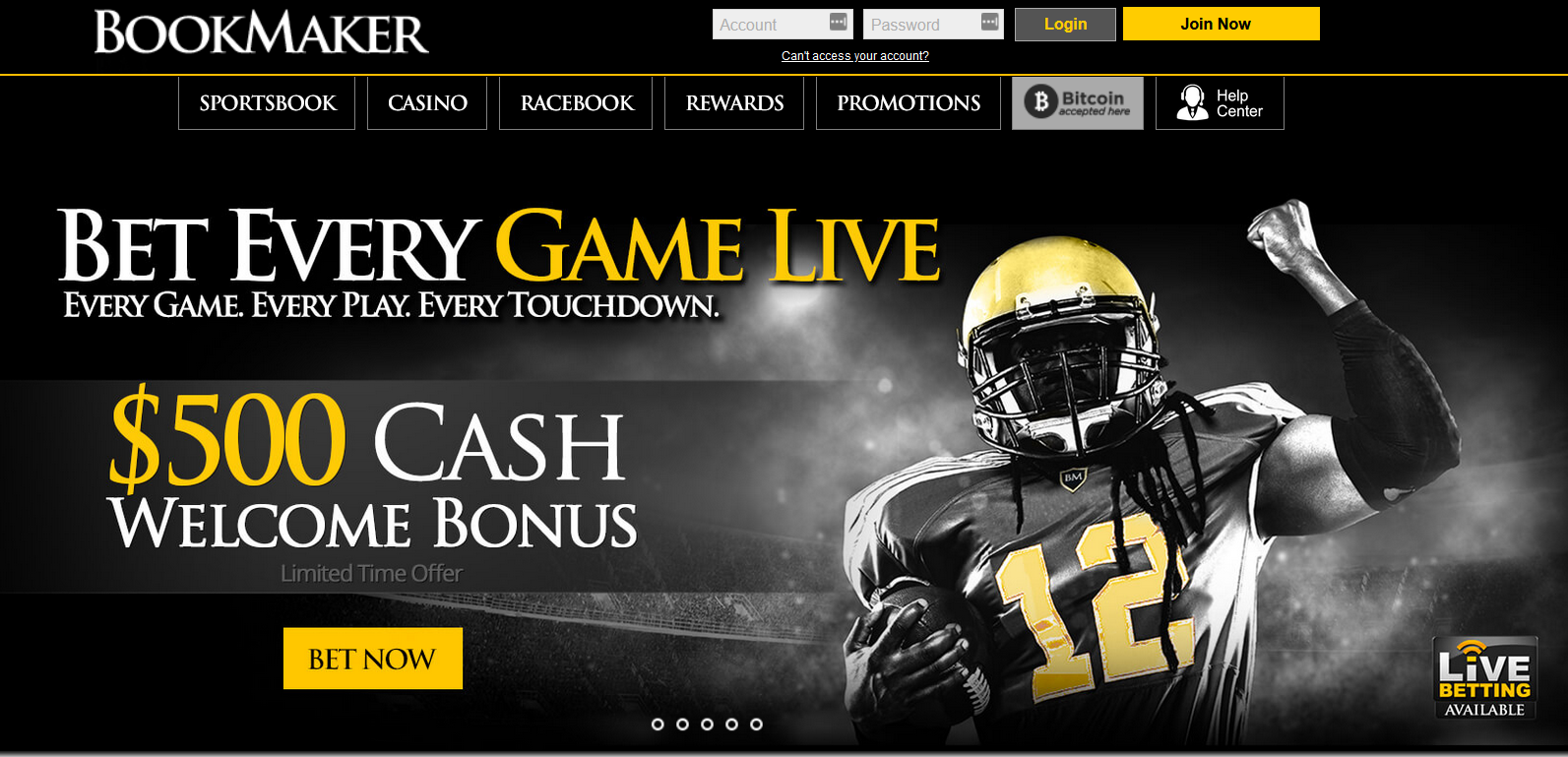 Sharp Players Love Bookmaker
Sharp action is sportsbook lingo for when professional players are betting. The majority of sportsbooks around the world limit sharp players. It's a business model that makes sense after all since sharp players are winners. If a sportsbook has too many winners, it'll go out of business. At the same time, it doesn't exactly seem fair that they'll take money as long as you lose but if you win too many sports wagers, you'll be limited.
This is where brands like Bookmaker.eu stand out from the competition because they welcome sharp action. While the majority reading this are recreational players, there is a ripple effect that you can benefit from. If sharp players are signed up and playing at a sportsbook, it's because they offer top-of-the-line service. After all, if this is what you do for a living, you aren't going to settle for anything less than the very best. When you sign up at Bookmaker, you already know you're getting the best service because the sharp players feel very comfortable playing with them.
Great Bonus Options to Choose From
For those of you who prioritize bonuses, Bookmaker gets you started off with a great selection of welcome bonuses. You can get a 25% cash bonus up to $500. There's also the 100% welcome bonus of up to $300. In case you're wondering, cash bonuses are not common, which is why it's highlighted here.
Under normal circumstances, bonuses are given in the form of free bets, which are very different from betting cash. When you make a wager with cash, when you win, you get the profit plus the amount you risked put back into your account. With free bets, win or lose, the amount you risked is taken away. This makes a massive difference to the number of bets you can ultimately make, so cash bonuses should be treated like gold if bonuses are something you prioritize. On top of this, Bookmaker has one of the best loyalty programs in the industry.
Pros:
One of the most reputable sportsbooks in the industry
Sharp action an indication of the quality of their offerings
Larger bonuses than many competitors
Higher betting limits
Cons:
Cashouts include fees
No online poker offering
2. Heritage Sports: Reduced Juice Saves You Money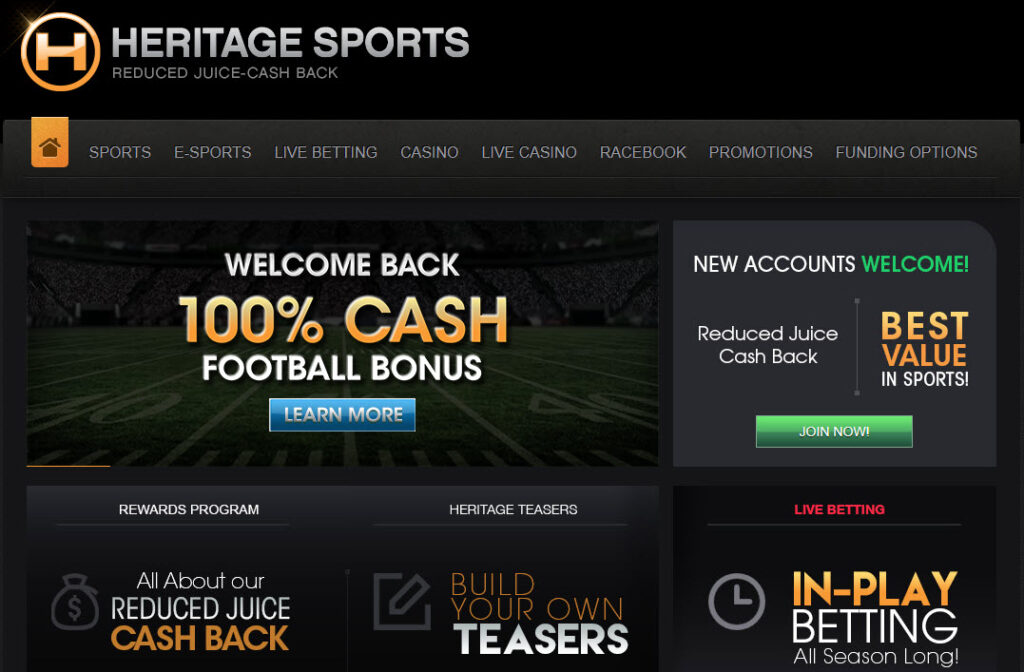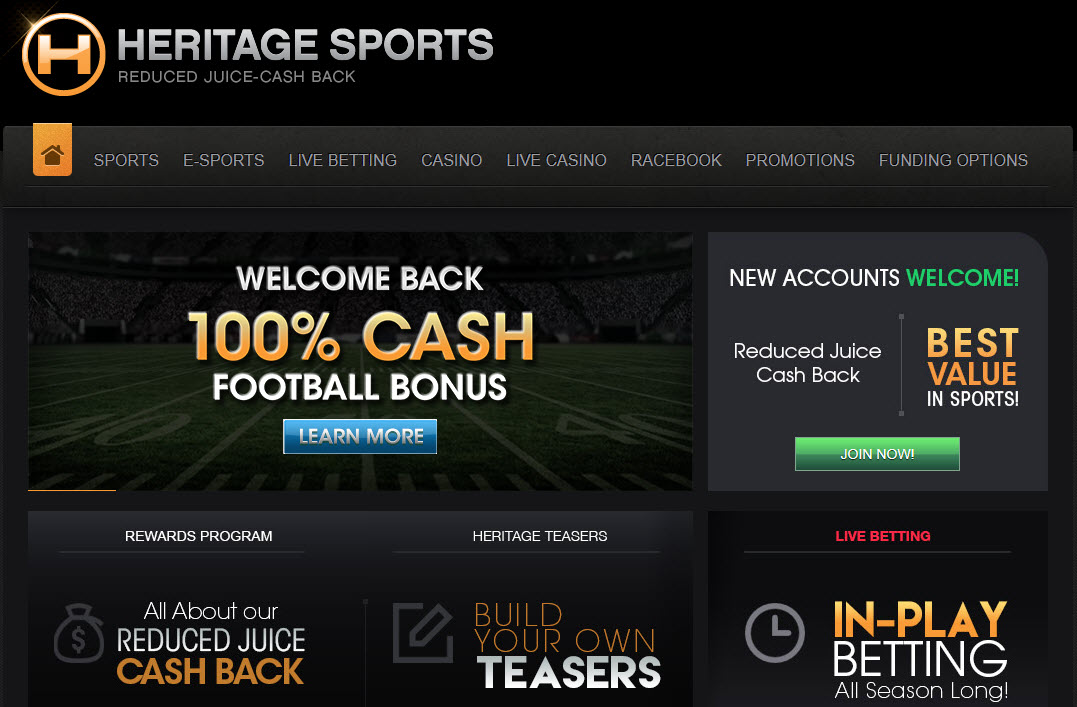 Save 20% on Spreads and Totals
The amount you pay for your wager when betting spreads and totals is referred to as juice in the industry. The normal amount of juice that is charged industry-wide on spreads and totals is -110, which means for every dollar you want to win, you must pay 10 cents juice. Therefore, if you want to win $1, it will cost you $1.10. It's the same if you want to win $100, it will cost you $110 to make the bet.
When you play at Heritage Sports though, you pay reduced juice. The term reduced juice refers to any sportsbook that charges less than -110 on spreads and totals. Heritage charges -108 juice, which is 20% less than the industry standard. If you are looking at it on a per-bet basis, then it might not seem like much savings. Gambling odds are based on huge sample sizes and that's how you should approach reduced juice. Best part? They still count for the cashback promo.
No matter the endeavor, if someone told you that you could save 20% while receiving the same level of quality, that's a decision you wouldn't have to think about. That's the mentality you need to use when it comes to reduced juice. The benefits are seen over the long run and they come in the form of more bets. If you are risking less with every bet you make, then in the long run, you have more money to bet with. Heritage is one of the best sportsbooks in New Mexico and you will not be disappointed with their offerings.
Live Betting Markets Keep Growing
Over time, sports betting fans have begun to see the value of live bets. Not only can you get in on the action after the game has already started, but oftentimes you can get better odds than you would pregame. Heritage Sports has been at the forefront of the live betting market with a lot more options than you'll find at most of its competitors. Most sportsbooks reserve live betting for prime-time games like Monday Night Football or Thursday nights in basketball on TNT, for example.
Heritage Sports has live betting options on a nightly basis on the top professional leagues in the U.S. and around the world. New Mexico sports bettors love the amount of choice they have as well as the easy-to-use layout. Heritage Sports has one of the industry's best mobile platforms, making live betting much more convenient. This also translates to their online casino and their live dealers offering.
Pros:
20% savings on spreads and totals
Live betting market one of the industry's best
Online casino gaming with live dealers
Cons:
Bonus structure limited due to reduced juice model
Doesn't have online poker rooms
3. Bovada: Mobile Platform is a Favorite of New Mexico Players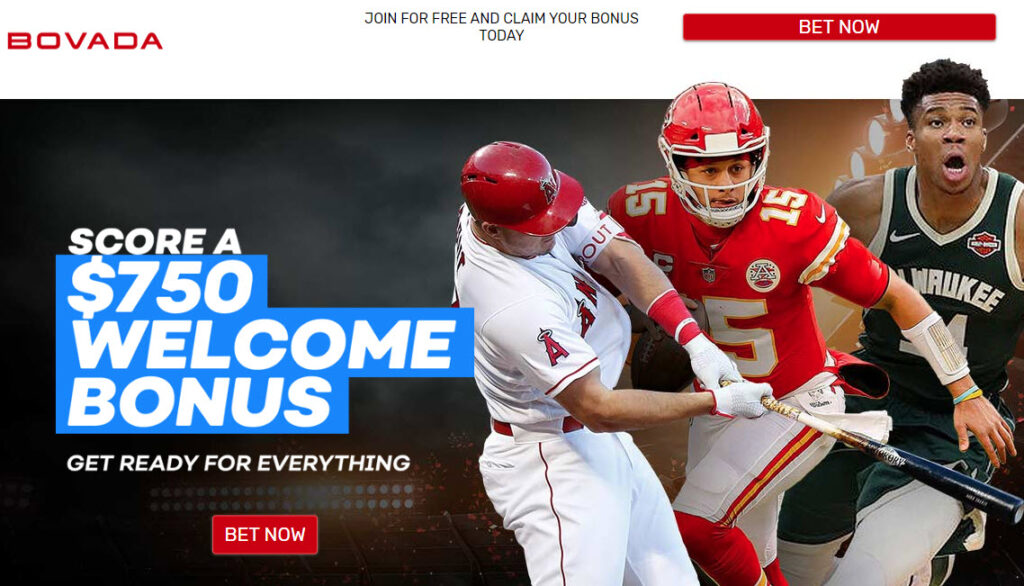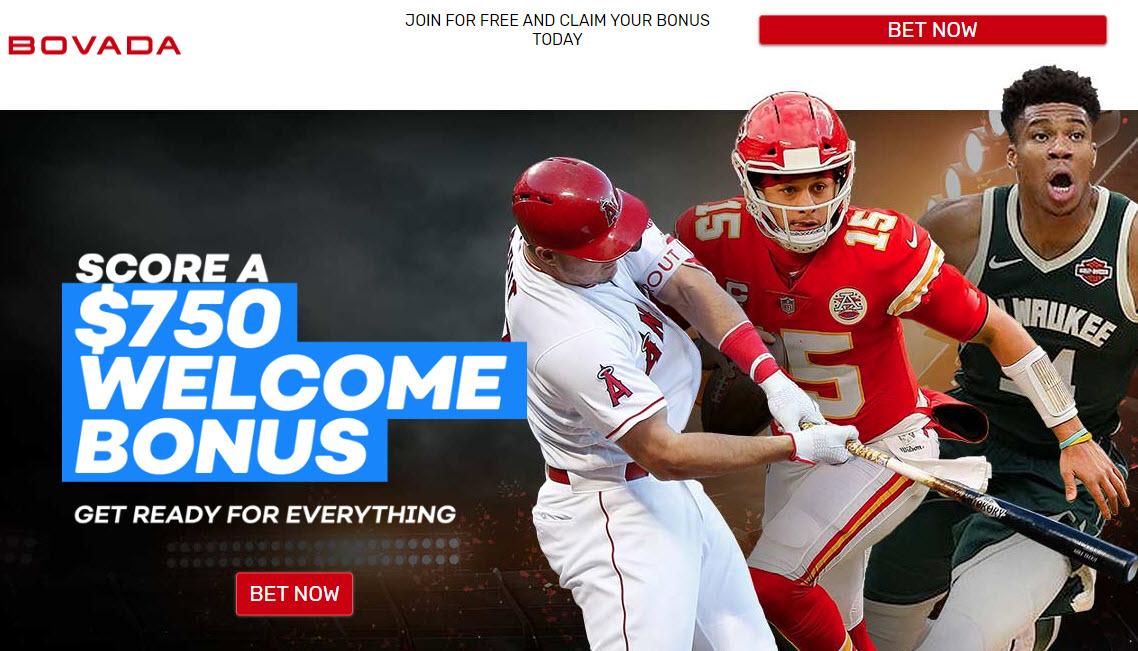 Mobile Platform is User Friendly
More than 80% of sports bets in the U.S. come from mobile wagers, and that's being conservative. If we look at the top ten states in terms of sports betting handle, that number is closer to 90%. Even with those numbers, there are still some states like New Mexico, for example, where online sports betting is not yet legal.
Bovada is known in the industry as an innovator, and its mobile offering is a perfect example of that. Most mobile platforms are judged based on how close they are to the desktop version of a site. In this regard, Bovada has done a superb job with its mobile platform. Due to the limited space on mobile devices, it's very difficult to include everything that you would see on the desktop versions for any type of website.
When it comes to online sports gambling, there are so many sports to choose from, as well as several betting markets like moneylines, spreads, totals and props, to name a few. Bovada has made its mobile offering very easy to navigate and you will be able to find just about everything the desktop site offers on the mobile version.
Reliable Customer Service Team
The best-case scenario for most sports betting fans is that they never speak to customer service. The reason for that is, if everything is going well, you really don't need them. You can deposit, withdraw money, claim bonuses and place your bets all online. The thing is, nothing is perfect and from time to time, you will need assistance from customer service. It doesn't necessarily have to be a problem either, as customer service agents are there to give you advice and help guide you along your betting journey.
In this regard, Bovada's customer service team excels. They provide 24-hour service and are well-versed in all forms of betting. Remember, offshore sportsbooks cater to sports, casino, poker and more. These agents have to have knowledge of all of these gambling services, so there shouldn't be a question that they can't answer. For new players in New Mexico, we recommend that you lean on the customer service team when getting familiar with a new sports betting site.
Pros:
Customer service team is available 24/7
Mobile offering is one of industry's best
Busiest poker room in the U.S.
Cons:
Early betting odds not always available
Betting limits can be lower
4. BetOnline: One of the Industry's Leaders in Competitive Odds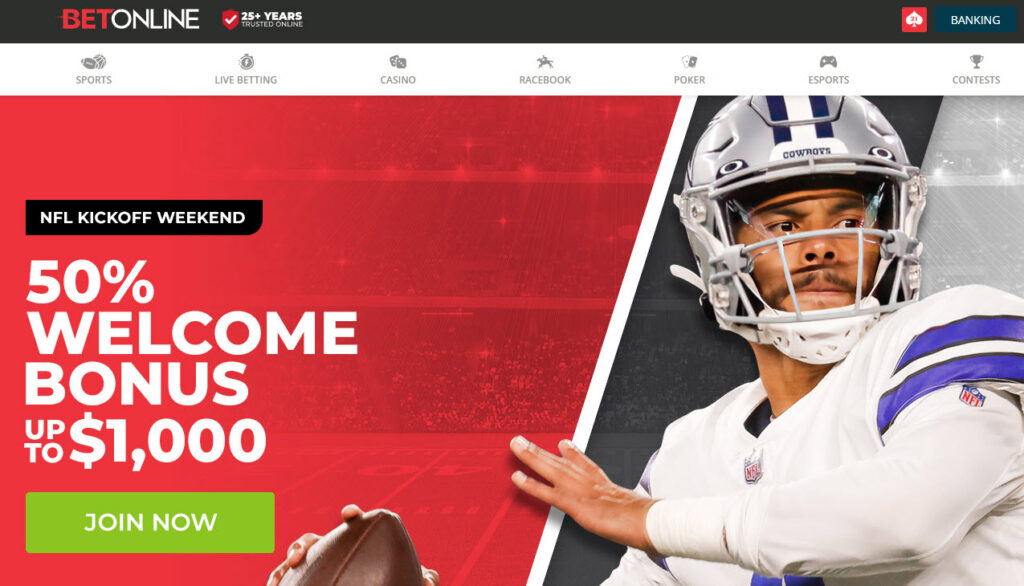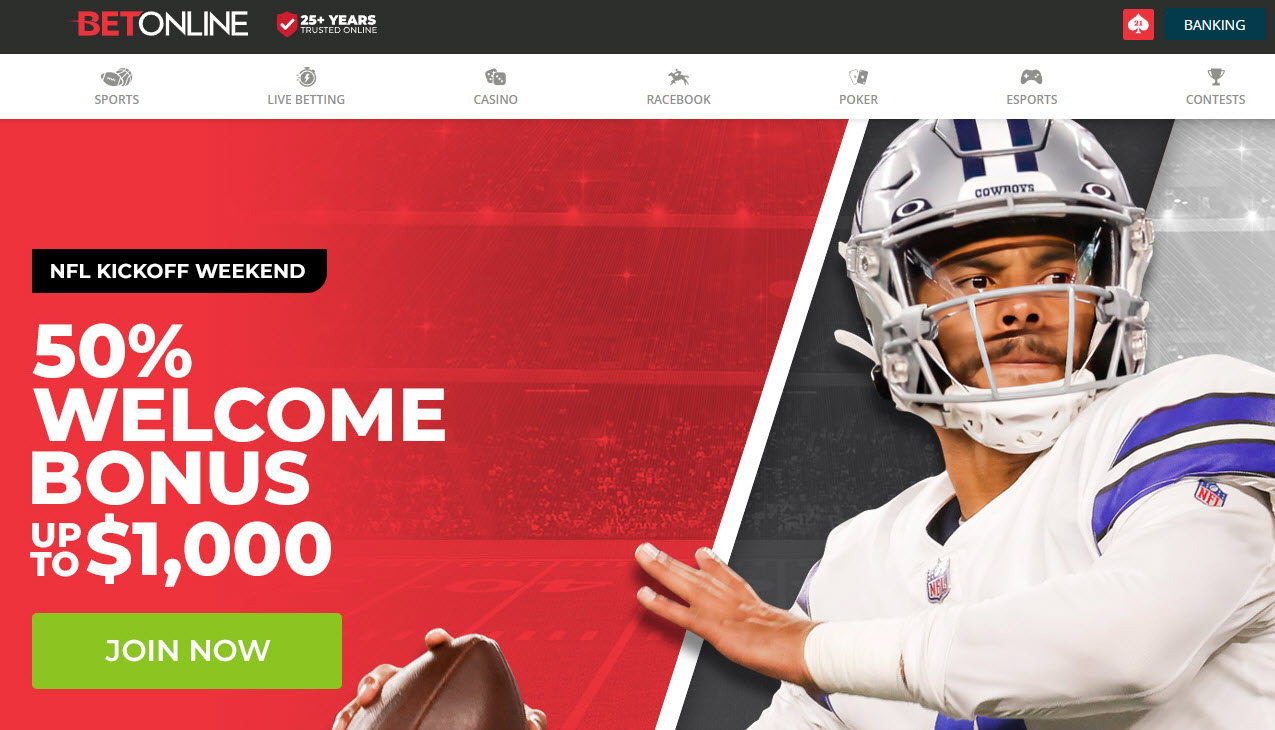 Early Odds Get You Good Prices
The benefit of early odds to you as a customer is access to the best prices. Line shopping is very important to sports bettors. Just like in any market, if you can get the same item at a cheaper price, you'll probably shop at that store. Sports betting is no different in the sense that the earliest lines tend to be the cheapest.
The explanation for that can get a little bit complicated, but we'll simplify it by saying, oddsmakers aren't as good at making lines as the general public thinks. Early lines usually get changed quite a bit before other sportsbooks release them to the general public. Sharp bettors are always the first to jump on these early lines because price shopping is a major part of their business. Once the sharp money bets start coming in, oddsmakers adjust their lines accordingly.
Sites like BetOnline release their odds earlier than most of their competitors. In fact, New Mexico sports betting fans will love the fact that BetOnline is a line-setter for the NFL. There are two types of sportsbooks, the ones that set the line and the rest that copy it. It would be safe to say that over 95% of sportsbooks copy their lines from the line setters. The key piece of information here is they copy the line only after it's been bet into place by sharp action.
A more simple way of looking at that is, you are getting the worst price at 95% of sportsbooks because they only make the line available once they are sure the line has settled. The sportsbooks that are line setters don't have that luxury. They have to take action on the opening line so they can know what the proper number should be. As a BetOnline customer, you will be getting access to the best prices the market has to offer, which means you have a better chance of making a profit
All Around Gambling Services
All of BetOnline's gambling services are top-of-the-line. Of course, being line setters in some of the world's biggest markets is great on the sportsbook side, but they also offer a top-of-the-line casino experience with hundreds of slots to choose from. You can also play poker and bet on horses with your BetOnline account. New Mexico sports betting fans really seem to enjoy all of BetOnline's gambling services across the board.
Pros:
Early odds save you money
Highest betting limits among competitors
Top online poker offering
Cons:
Withdrawals are not free
Reduced juice lines only for NHL
5. BetAnySports: Reduced Juice Gets You More Betting Power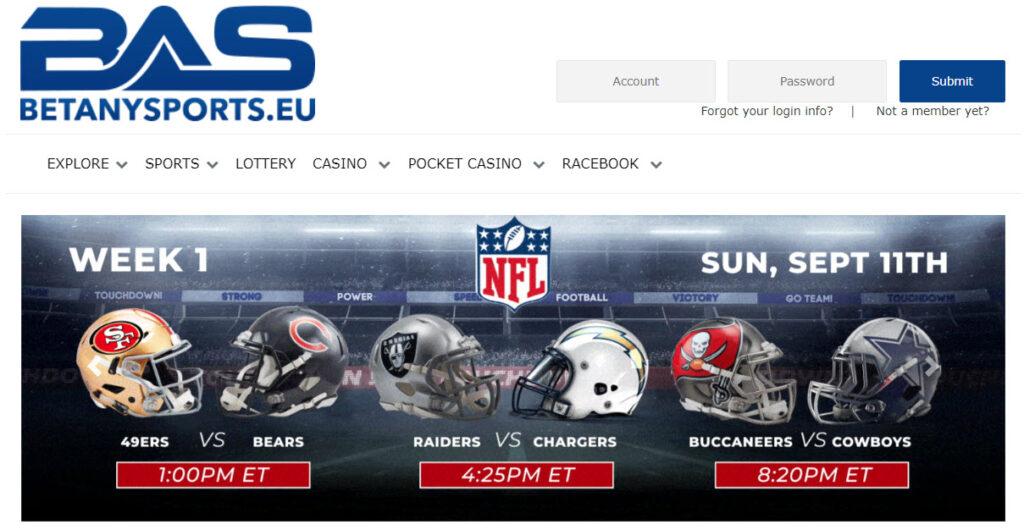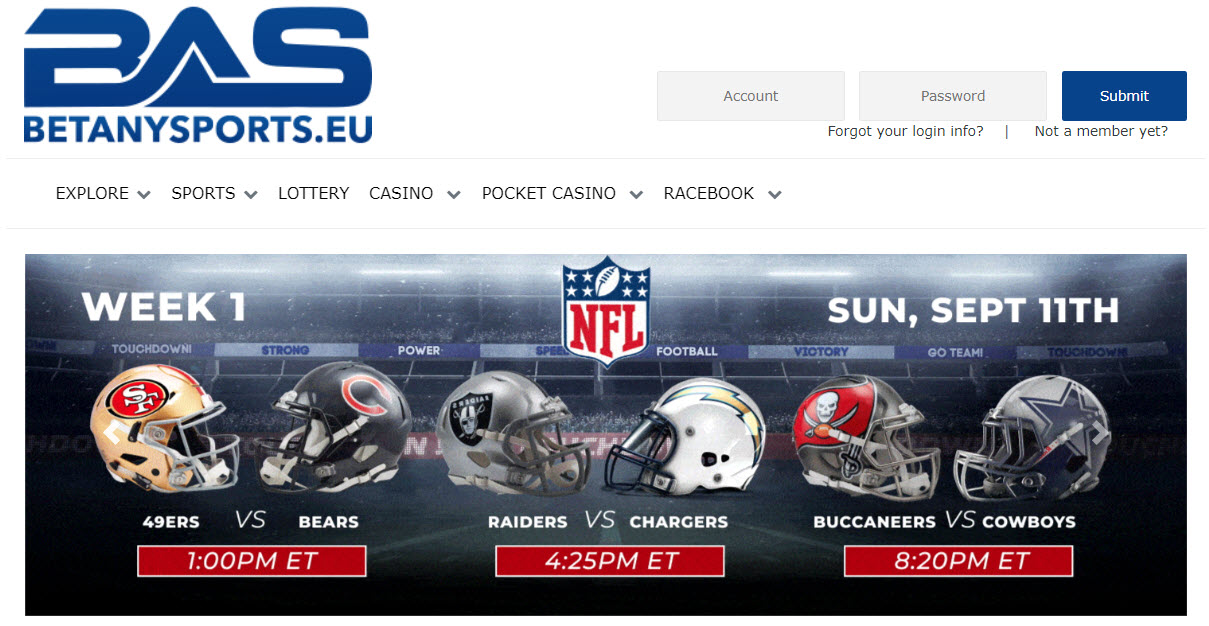 Best Reduced Juice Available
New Mexico sports bettors that are looking for reduced juice will love what BetAnySports has to offer. While the industry standard for juice is -110, BetAnySports is 50% better than that. They offer -105 juice, which means huge overall savings and more money to bet with. One thing about reduced juice betting models is that they are limited when it comes to bonuses.
To understand it from their point of view, bonuses give you more chances to play by giving you more money to bet with than you deposited. The thing is, these bonuses all come with terms and conditions which obligate you to risk a certain amount of money before you can cash out.
Reduced juice offers you the chance to play more by saving you money on every bet you make. The big difference is that reduced juice does not have terms that restrict you from cashing out or force you to have a certain amount of action first. In that sense, reduced juice sportsbooks can't offer the same level of bonus as their counterparts because they are already getting you more betting action with the savings on the juice.
Get Your Money Fast When You Win
Of all the things that customers prioritize when signing up at a sportsbook, fast payouts have to be one of the features that all players can agree on. If it's hard to get paid, then there isn't much sense in making a deposit. BetAnySports is well aware of this fact and has earned a reputation for paying out customers fast. After all, unless you make one deposit and leave, it is usually in a sportsbook's interest to pay you as fast as possible because chances are, you're going to want more action in the future. More action in the future is how these companies stay in business. New Mexico sports bettors playing at BetAnySports enjoy some of the fastest payouts in the industry.
Pros:
Save 50% of spread and total bets
Reputation of speedy payouts
Cons:
Fewer bonuses available due to reduced juice model
Platform not as user-friendly
6. BetUS: Elite Customer Service Available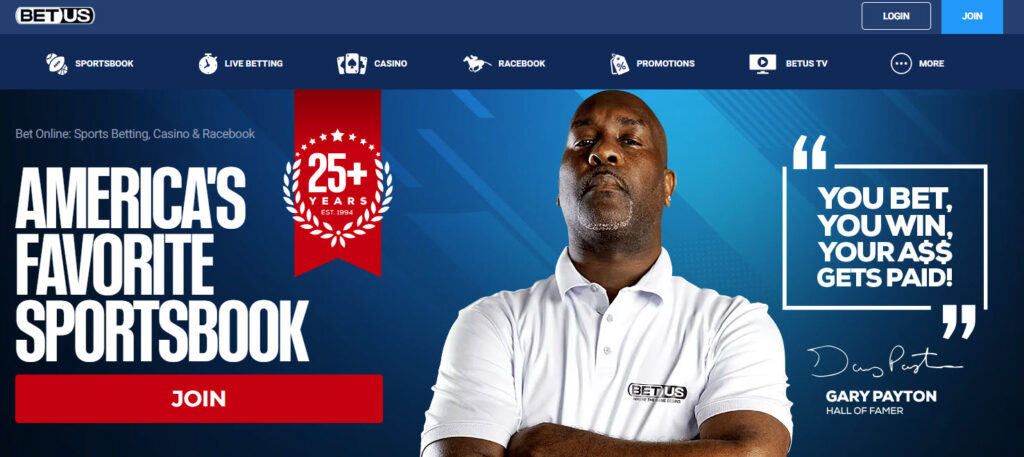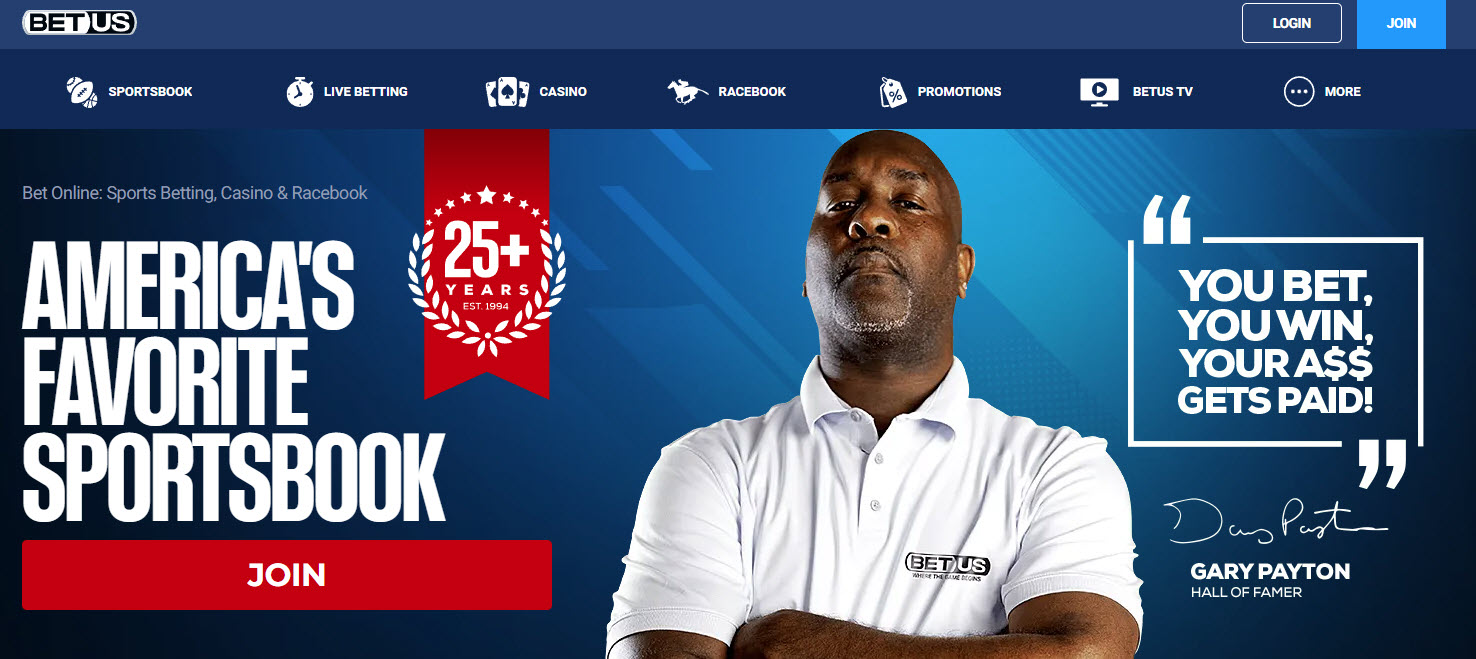 Personalized Customer Service Available
If you are looking for customer service with that extra special touch, BetUS has you covered. As long as you are a regular depositing player, BetUS has a unique feature that allows you to request a personal account manager. What that means is when you call, jump on live chat or send an email, your account will have the name of your personal account manager.
That means whoever answers, will automatically transfer you to that agent. This gives you a sense of consistency and continuity that isn't available at most other brands. With a personal agent taking care of your online sportsbook account, you'll have somebody on the inside that can help you with deposits, withdrawals and bonuses.
On top of that, these agents take pride in delivering the best possible service to you. After all, upper management knows what agents have assigned customers and will regularly expect reports on player progress. This means that they are incentivized to give you the best possible service. It's definitely something New Mexico sports bettors have been taking advantage of for years now.
Pros:
Personalized customer service
Top-of-the-line VIP program
Some of the biggest bonuses in the industry
Cons:
High playthrough requirements
7. WagerWeb: Fast Payouts for Crypto Users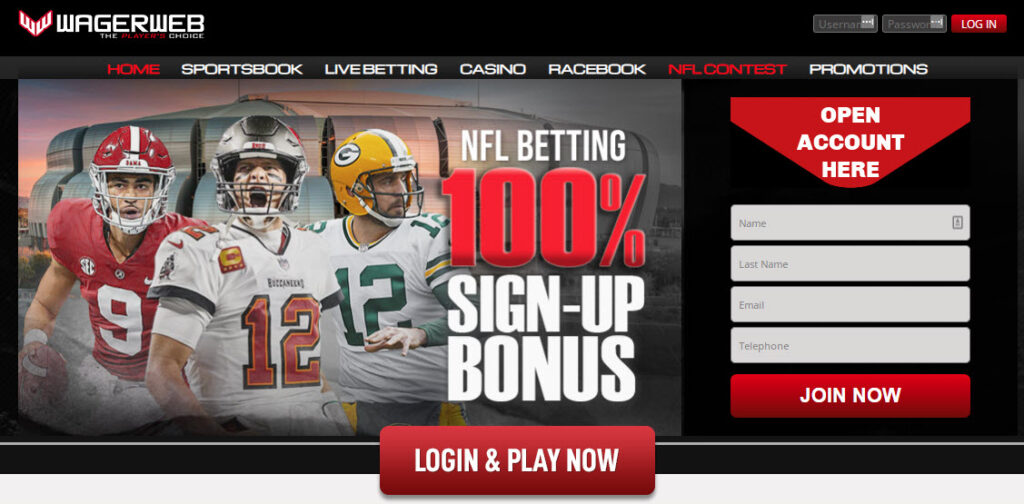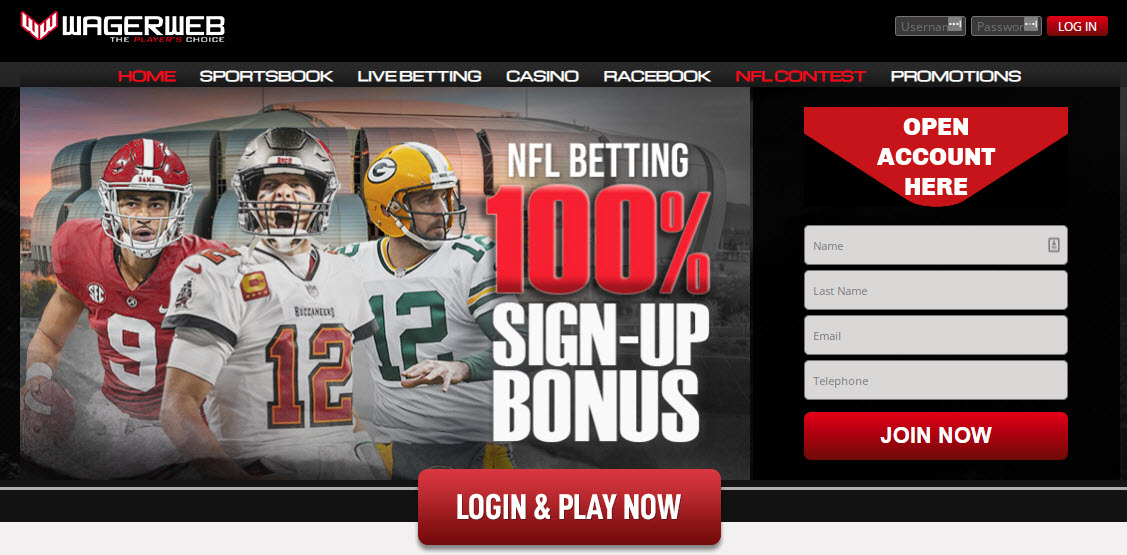 Crypto is the Best Deposit Method
Regardless of your feelings about cryptocurrency, it's hard to dispute that it is the best method for depositing and withdrawing money from your account. The main reason for this is the lack of third-party interference. The most popular way to deposit money is with a credit card. In New Mexico and the rest of the country, you can't make a withdrawal on your credit card, not even in states with regulated online sports betting.
The reason for that is legal gambling is barely five years old while also still being illegal in almost half the country. In Europe, you can get paid out on a card because they've had legal sports gambling for almost half a century. The ability to withdraw from an online sportsbook via credit card may happen one day in the U.S., but it will not be anytime soon. This is the definition of third-party interference in the sense that it's the banks and credit card companies that decide if a transaction is valid or not.
With crypto, there is no third-party interference. If you have the money, the deposit will go through. If you have an active crypto wallet and provide the correct address, your withdrawal will be received with no issue. Credit card deposits that don't go through at an online sportsbook may be due to insufficient funds, though the majority of these cases are due to being denied by the bank or credit card company.
If you are unfamiliar with crypto, sites like WagerWeb will guide you every step of the way to show you how simple it is to get your money in. WagerWeb also incentivizes customers in New Mexico to use crypto by providing better bonuses for crypto users as well as faster payouts.
WagerWeb is not the only sportsbook that is making the push toward crypto use. In fact, all of the brands in this guide are doing the same thing because it is in their best interest as well as yours. WagerWeb offers quality sportsbook services with some really interesting bonuses for New Mexico bettors to choose from.
Pros:
Fast payouts and better bonuses for crypto users
Excellent mobile platform
In business for over 25 years
Cons:
Sharp action may be restricted
Low betting limits
8. GTbets: New Mexico Residents Can Get Cash Bonuses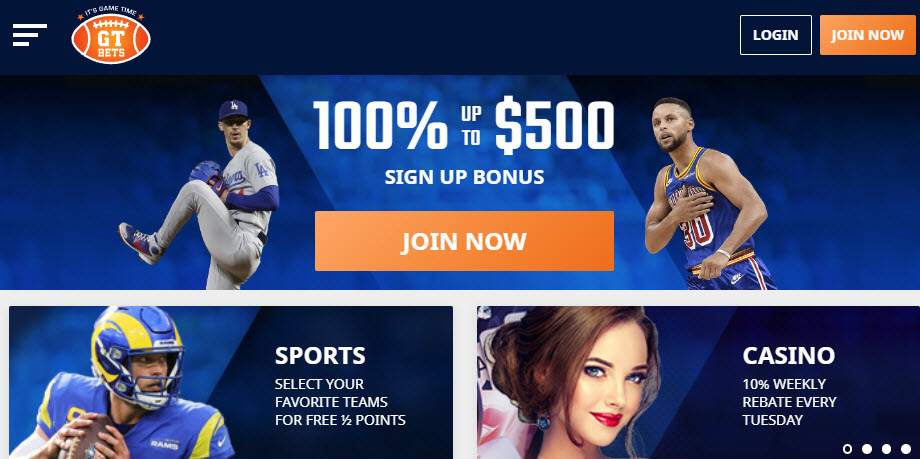 Cash Bonuses Give You More Betting Power
Cash bonuses are certainly better than free-play bonuses so, in this sense, GTbets is already getting New Mexico bettors a more favorable deal than most. If you are a player that prioritizes bonuses, this is something that you will need to strongly consider.
In fact, in any instance where you can get cash bonuses instead of free play, you're most likely getting a better deal. We mention this because any site that offers cash bonuses will give you far less than it will with free play bonuses. This is a trap that most fall for because more money seems like the better choice. In this specific case, it really isn't
Say you make a $110 cash wager to win $10. If you win, you will get $210 put in your balance, while if you make that same bet with free play, you will get $100 in your balance and the $110 you risked is gone. You have less betting power with free play because you have less money to bet with even when you win. We aren't suggesting that free play is bad, we're simply saying that cash bonuses have more value.
GTbets has a strong stable of bonus offers for New Mexico bettors. Their cash bonuses are great, but there are players that will want the bigger bonus percentages, even if it means taking free play. In this case, GTbets has you covered as well, with a nice selection of welcome and reload bonuses to choose from, that keep players in New Mexico coming back for more.
Pros:
Cash bonuses have more value than free bets
Great bonus offering
Reduced juice on major sports
Cons:
Odds not as competitive as some competitors
Live betting platform not as user-friendly
9. JustBet: Bigger Betting Limits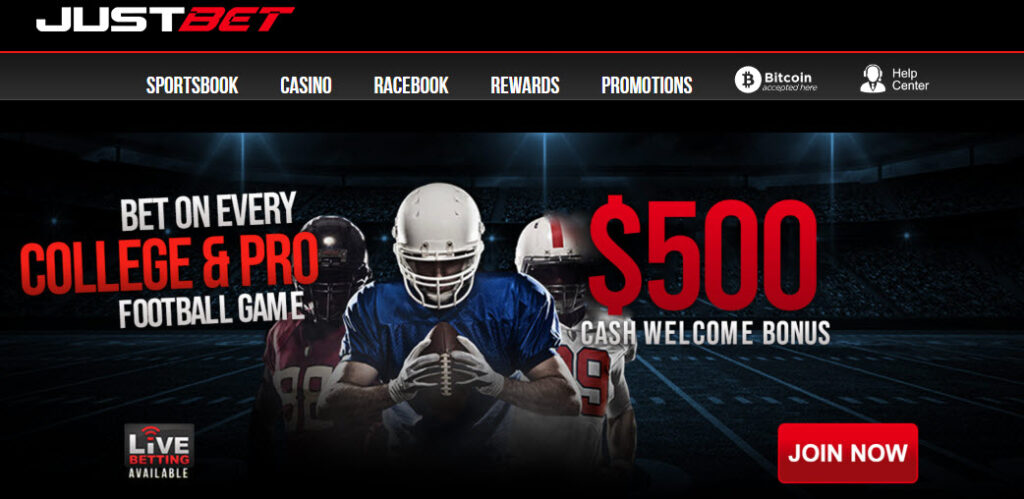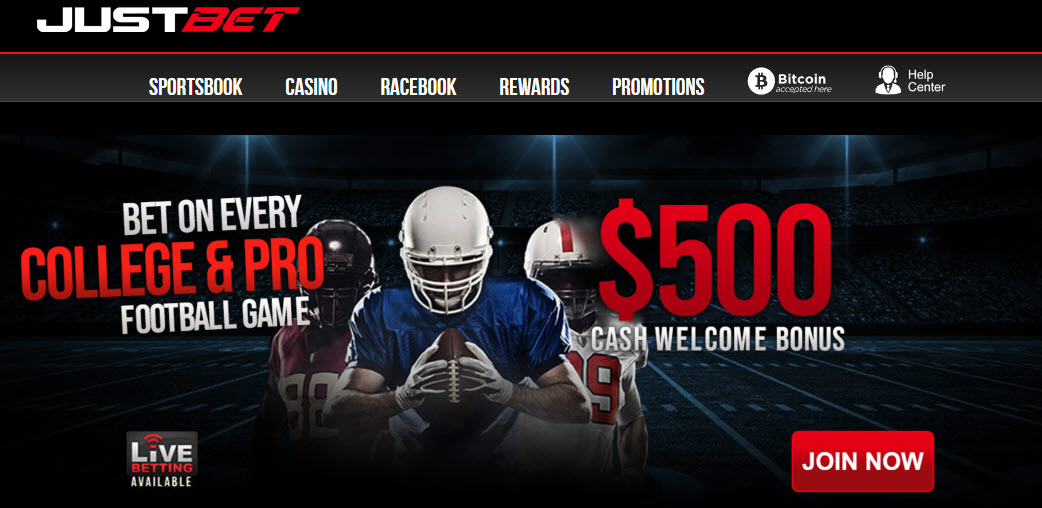 Betting Limits Attract VIP Clientele
Just like early odds attract sharp players, big limits like the ones JustBet offers attract VIP players. There is a difference between VIP and sharp players in the sense that most VIP players are not sharp bettors. While sharp players might be the same type of volume as a VIP, their high winning percentage makes them less valuable to sportsbooks.
VIP players are what online betting sites are always looking for because their action is recreational while having the same type of volume as sharps. For recreational players, you can benefit from the higher level of service that will be expected by these players. VIP players are much more demanding than the sharp ones. Sharp players are usually pros, which means they understand the ins and outs of the business itself and tend to be more understanding than their VIP counterparts.
The average sportsbook limits players to $2500-$5000 in the NFL. For other sports like NBA and MLB, the limits tend to be even lower still. JustBet offers limits that far exceed those amounts on most of the sports they offer. They will review your account to see your deposit and wagering habits and adjust your betting limits accordingly, which is something VIP players love.
Pros:
Big betting limits attract VIP customers
Elite service on overall offerings
Cons:
Bonus terms higher than some competitors
No online poker rooms
10. Everygame: Mobile Betting Experience is Excellent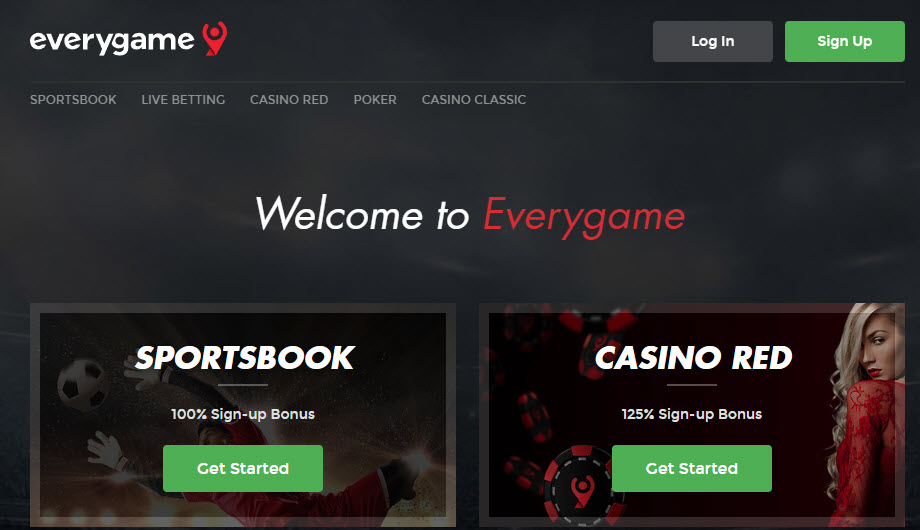 Mobile betting has become the preferred betting method for most customers in the U.S. That option is limited in New Mexico due to the landscape of the sports betting market that is controlled by local tribes. Luckily, offshore sites like Everygame have an amazing mobile offering that is available to use in New Mexico.
Most websites can't offer the same type of experience on mobile as they do with their desktop site, but Everygame is one of the few brands that can actually make that claim. Their mobile offering allows you to have the same quality user experience regardless of what version of the site you are on.
Their casino and racebook offering are very strong as well. They offer great rebates for both on top of the sportsbook bonuses they offer customers in New Mexico. Their great mobile platform gives you access to an equally strong live betting market. Everygame offers live betting odds on the top leagues from around the world.
Pros:
Mobile platform on par with desktop offering
Live wagering market with access to all the best leagues
Best mobile online casino
Cons:
Bonus offerings not as varied as some competitors
Verification process is slower than with other competitors
Is sports betting legal in New Mexico?
Retail sports betting is legal at tribal casinos, but there are no retail casinos offering legal sports betting. There are no mobile sports betting options available in New Mexico.
The situation in New Mexico is unique because New Mexico was the first state to begin taking legal sports bets without state legislature licensing and regulating the market. All legal gambling of any kind is limited to tribal lands in the state. Pari-mutuel wagering is also legal in New Mexico.
Although retail sports betting accounts for over 80% of national sports betting handle in states with a regulated market, there is no timetable for when it might be legalized in New Mexico.
Latest New Mexico Sports Betting News and Developments
There are four retail sportsbooks in New Mexico where residents can get in-person action. Mobile wagering is not legal in New Mexico, so the four in-person sportsbooks located on tribal casino property are the only option. All forms of legal gambling in New Mexico are under tribal control. In fact, because there is no state law forbidding sports gambling, the tribes were able to launch in 2018 without approval from state regulators. All non-tribal gaming of any kind is illegal.
New Mexico Sports Betting Updates
1988: The Indian Gaming Regulatory Act is made law. This allows Native American Tribes across the country to negotiate and form gaming pacts of their own that are outside of state laws and jurisdiction. 
2001: New gaming compacts were approved and signed by all the tribes other than the Mescalero and Pojoaque. 
2003: The Navajo Nation and New Mexico enter into a gaming compact.
2004: The Mescalero Tribe entered the gaming pact originally signed in 2001.
2005: The Pojoaque Tribe entered the gaming pact originally signed in 2001.
2007: The 2001 Tribal-State Class III gaming compact amendments were approved.
2015: An update to the amendment of the Class III gaming compact allows for sports betting. 
2018: New Mexico became the 6th state to legalize sports betting after PASPA was struck down. The first sports bet was taken at Santa Ana Casino shortly after.
New Mexico Sports Betting Teams
New Mexico doesn't have any professional teams in the nation's major sports leagues.
Since there are no in-state pro teams, the most popular teams are usually from neighboring states. With Texas to the east, it should come as no surprise that the Dallas Cowboys are very popular in New Mexico. Most of the teams in Texas across the four major professional sports leagues enjoy quite a bit of support from New Mexico sports fans.
They also share a border with Colorado to the north, and in that part of the state, the Denver Broncos of the NFL are quite popular, as well as the Colorado Rockies of the MLB. Speaking of baseball, it appears that there are a ton of Dodgers fans in New Mexico. A lot of that has to do with the fact that the Dodgers Triple-A team was located in Albuquerque until recently.
How to Bet on Sports in New Mexico
There are two ways to bet on sports in New Mexico.
At one of four tribal casinos in the state that allow retail sports betting.
Via an offshore sportsbook
Option two is the most realistic for most people in New Mexico. While retail betting options are fine, they can hardly be considered convenient. With so much of the nationwide sports betting handle coming from mobile and online wagers, at some point New Mexico will have to rethink their current stance.
It doesn't seem like they have any intention of doing that anytime soon, however. Until that is sorted out, New Mexico sports betting fans can continue to use offshore sites that are located outside of the U.S. and therefore do not fall under state and federal jurisdiction.
Compare the Best New Mexico Betting Sites & Sportsbooks
You can easily compare our top-rated sportsbooks below:
| Sportsbook | Rating | Online Since | Payment Methods | Read Review |
| --- | --- | --- | --- | --- |
| Bookmaker | A+ | 1996 | Credit Card, Bitcoin, P2P, Crypto | Bookmaker Review |
| Heritage Sports | A+ | 2001 | Credit Card, Bitcoin, Cashiers Check, Bank Transfer, P2P | Heritage Sports Review |
| Bovada | A+ | 2011 | Credit Card, Bitcoin | Bovada Review |
| BetOnline | A+ | 2001 | Credit Card, Bitcoin, Crypto, Cashiers Check, Bank Transfer, P2P | BetOnline Review |
| BetAnySports | A | 2002 | Credit Card, Bitcoin, Electronic Check | BetAnySports Review |
| BetUS | A | 2000 | Credit Card, Bitcoin, Bank Transfer, P2P | BetUS Review |
| WagerWeb | A | 1994 | Credit Card, Bitcoin, Cashiers Check, Bank Transfer, P2P | WagerWeb Review |
| GTbets | A | 2011 | Credit Card, Bitcoin, Crypto | GTbets Review |
| JustBet | A | 2000 | Credit Card, Bitcoin, P2P, Crypto | JustBet Review |
| Everygame | A | 1996 | Credit Card, Bitcoin, Skrill, Neteller, Bank Transfer, P2P | Everygame Review |
As you can see in the table above, our industry experts have given Bookmaker.eu, Heritage Sports and BetOnline each an A+ rating.
Key Features of the Best New Mexico Sportsbooks
Next, we will cover some of the standout features that should be looked at when determining which sites are the best in the gambling industry.
Outstanding Reputation
The most important thing for offshore sportsbooks is their reputation. While this might seem obvious, offshore sites have to think differently when it comes to this particular subject. They are not located in the same jurisdiction as the majority of their customers since they take players from all over the world.
Offshore sites need to maintain an immaculate reputation because a lot of the things said about them come from word of mouth. While there are some customers that will take to forums to voice how great a site is, the reality is, we all know that complaints are voiced a lot louder than compliments. All of this guarantees you excellent service because these offshore sites can't afford bad publicity in New Mexico or anywhere else.
Fast and Reliable Payouts
This is a big part of an offshore site's reputation. One of the fastest ways to get poor reviews is to not pay customers on time. Sportsbooks can offer fast payouts if they have options to satisfy all of their customers' needs.
This is especially true for offshore sites because they offer their services in so many different countries. With that in mind, they need to make sure they have enough options to service everybody regardless of jurisdiction. This is one of the criteria that was a deal breaker for our betting experts. Any brand that does not have reliable and timely payouts would have been automatically disqualified from making this list.
Size of Betting Market and Quality of Odds
Another perk of offshore sites for sports betting fans in New Mexico is the size of the betting market. With so many customers from different countries around the world, these brands need to cater to a wider audience.
That means they have the top sports leagues from several countries which come together to form a nice-sized betting market. You can bet on professional sports teams, college games and even a wide variety of niche sports markets. With a large betting market usually comes competitive odds.
Competitive Odds
Due to the amount of competition in the offshore betting market, these brands need to make sure they stay competitive with their odds. One way some of them do this is by releasing odds much earlier than the competition.
Competitive odds are not only about pricing. The odds being offered need to be competitive as well in terms of choices. With odds markets growing in size by the day, it's up to each brand and the creativity of the oddsmakers to make sure they offer unique choices and the most competitive odds.
Mobile-Friendly Sports Betting Interface
With each passing year, mobile sports betting takes up a larger portion of the market share. At present, mobile betting accounts for over 80% of sports betting handled nationally. In fact, mobile use across all internet traffic has reached the point where almost 50% of it comes from mobile.
This means that sportsbooks have had to rethink their business model when it comes to their mobile offerings. In the past, this was a secondary consideration, but that is no longer possible with the way the business keeps growing.
With the increasing popularity of live betting, sportsbooks have had to improve their mobile platforms and apps in order to keep up. Live betting usually takes place on the go, which means the use of a mobile device.
Sportsbook Banking Methods
Much like timely payouts, banking methods fall under the same umbrella. If you can't get money in or money out fast and without headaches, it is enough to ruin your sports betting experience. A lot of sports betting is time sensitive, and missing out on a game you wanted action on because the sportsbook in question did not have adequate deposit options is a very frustrating experience. This is another one of those deal-breakers in the sense that we would not include any sportsbook that didn't have plenty of banking options, and neither should you.
Bonuses and Promotions
While bonuses and promotions are used to attract new players, they aren't for everyone. One of the most important pieces of advice we can give in this guide is to familiarize yourself with the terms and conditions of any bonus you take, before redeeming them.
Our betting experts took their time and looked for brands with various offers. They did this because they understand that not everyone loves the terms and conditions that come with these offers. Be aware that any bonus you take will either have restrictions on when you can cash out, what games you can play, and even the maximum amount you can cash out.
Do not take any bonus without reading and understanding the terms and conditions. We also suggest speaking to a customer service agent to get clarification on a bonus that interests you.
FAQ – Wagering on Sports Online in New Mexico in 2023
Is sports betting legal in New Mexico?
Under the current sports betting laws in the state, betting in person is the only available form of sports betting. Residents have to go to a retail location to place their wagers, all of which are located on tribal casino property.

Offshore sportsbooks are great online options residents can access instead.
What sportsbooks are legal in New Mexico?
The only brick-and-mortar sportsbooks in New Mexico State are operated in tribal casinos. Currently, there are no online state-regulated sportsbooks in the state. There are plenty of options for online betting, but we recommend using one of our top-rated offshore sites for all forms of sports betting and casino-style gaming. These sites offer various types of bets and betting markets, such as team or player props and futures on collegiate teams and professional teams.
Can I gamble in New Mexico?
You can place sports bets or enjoy casino-style gambling (such as slot machines and table games) at one of the state's tribal casinos. You can also participate in the state's lottery by purchasing lottery tickets through a licensed retailer. Finally, you can enjoy Daily Fantasy Sports on your mobile device, despite the fact that there is no state-regulated online or mobile gambling allowed. Outside of these in-person betting options, you will need to use an offshore site.
Does New Mexico allow online gambling?
New Mexico has not yet legalized online gambling of any kind, so there are no locally-regulated online options for betting.

New Mexico sports betting fans have been using offshore sports betting websites for years. They are able to do so because these sites are not located in the U.S. and therefore do not fall under federal and state jurisdiction. As long as you are of the legal gambling age (18), you can use any of these sites to get in on some online action.
 
Does New Mexico tax gambling winnings?
You will need to keep track of all of your gambling winnings, which will need to be reported at the end of the year. You will be taxed on all gambling winnings based on how much you won and your tax bracket.