West Virginia Horse Racing Betting in 2023
West Virginia has a rich history of legal gambling and it is one of the most gambling-friendly places across the United States in 2023. Horse racing has long been legal in the Mountain State, and some of West Virginia's big races are held on an annual basis in August, including the Charles Town Classic and the West Virginia Derby.
Not surprisingly, West Virginians have multiple options for placing bets on horse racing. In this guide, we will detail the wide range of available options, including the best online horse race betting sites that are located offshore that also have online sports betting and casino gaming available. We show you where to find the best West Virginia online betting sites and why we grade them as the best experiences for West Virginia bettors.
WV's Top Online Horse Racing Betting Sites
Our Highest-Rated Online Horse Race Betting Sites
We ranked our top offshore racebooks for West Virginia's residents based on the criteria we will reveal below. These sites are all located in Costa Rica, Panama and Antigua where online gambling is legal. You can feel free to join these horse racing betting sites from West Virginia to win real money today.
Is horse race betting legal in West Virginia?
Yes, horse race betting has been legal in West Virginia for decades in conjunction with the West Virginia Racing Commission. It is also legal with online horse race betting sites that continue to grow in popularity such as TwinSpires, TVG and Xpressbet. West Virginia also has legal sports betting and casino gaming, both in person and with online platforms.
However, if you want to enjoy all of these activities under one roof, you'll have to use one of the offshore sportsbooks mentioned below.
The Top West Virginia Horse Racing Betting Sites Reviewed
From our top 10 racebooks for West Virginia bettors, we have included more detailed reviews of our top five choices. All these sites are from Costa Rica except for BetOnline which is located in Panama, and you will find they have great online sportsbooks and casino gaming to enjoy as well. 
1. BookMaker: Racebook With Fixed Odds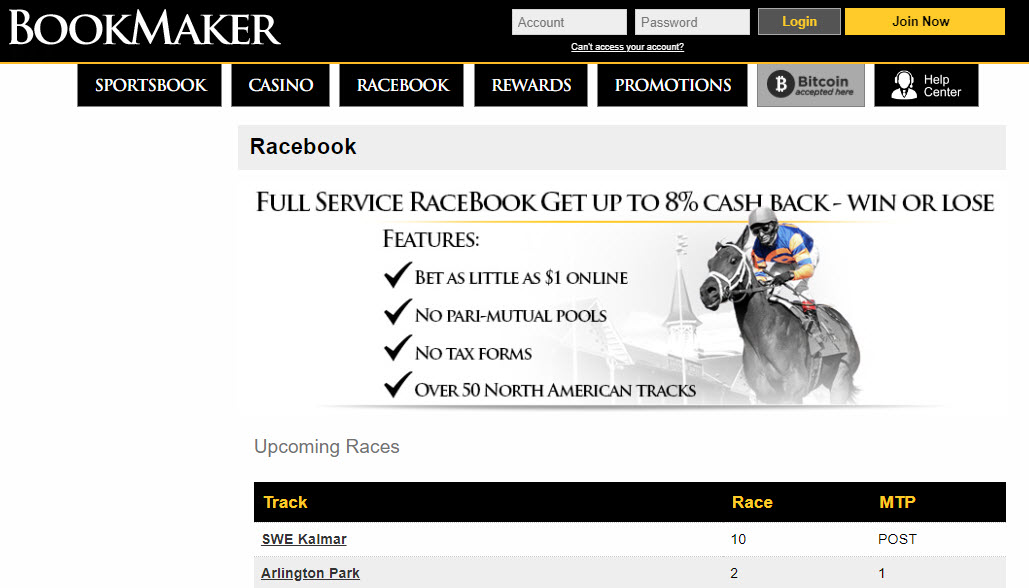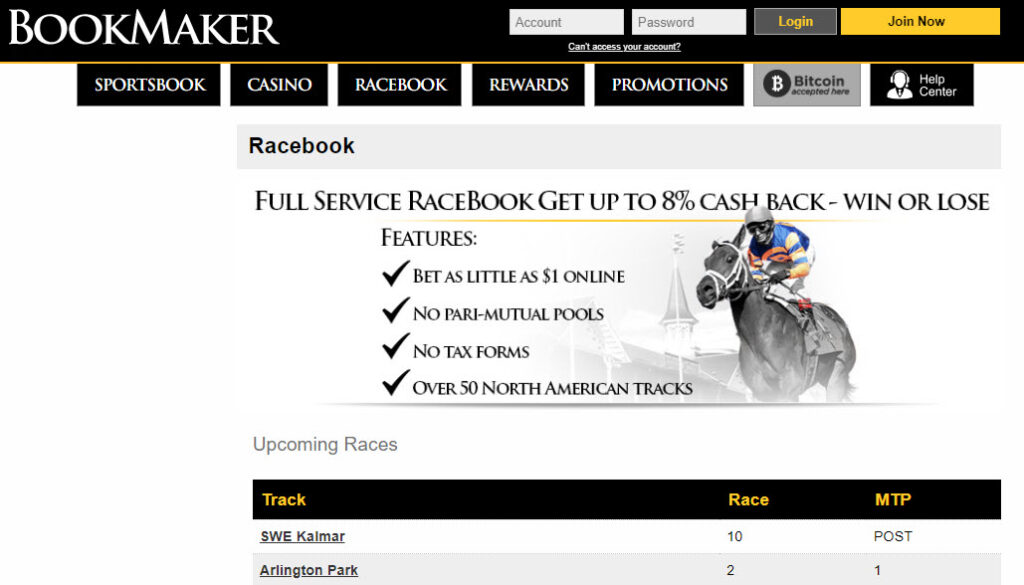 Bookmaker.eu has a well-earned reputation for the earliest sports betting lines in the market, but the racebook is also a quality product. You can bet early on a horse here, and since all horse racing betting is fixed odds rather than using a pari-mutuel system, you will be locked into those odds through the race, knowing exactly how much you stand to make given your wager.
Your wager also can be reasonably high on most tracks as BookMaker has high limits. But if you only want to bet $1 on a race, you can do that too with a low minimum for those interested in starting out small with horse racing.
You get over 50 tracks from North America as well as some popular tracks from the UK and Ireland. Win or lose, you can get 8% daily rebates on exotic wagers and 3% on win/place/show bets. There is no limit on these rebates.
BookMaker is known for a great loyalty program that has three tiers. If you reach the third tier (Diamond level), you can get a 20% cash bonus of up to $2,500 on your deposits. Overall, the generous bonuses at BookMaker can provide a lot of additional value to bettors.
Pros
No pari-mutuel wagering (all fixed odds)
Up to 8% daily rebates on exotic wagers
More than 50 racetracks available
Top-tier sportsbook
Loyalty program offers great deposit match bonus
Cons
Not all tracks are eligible for rebates
Not all users can reach third tier of loyalty program
2. Heritage Sports: Quality Mobile Site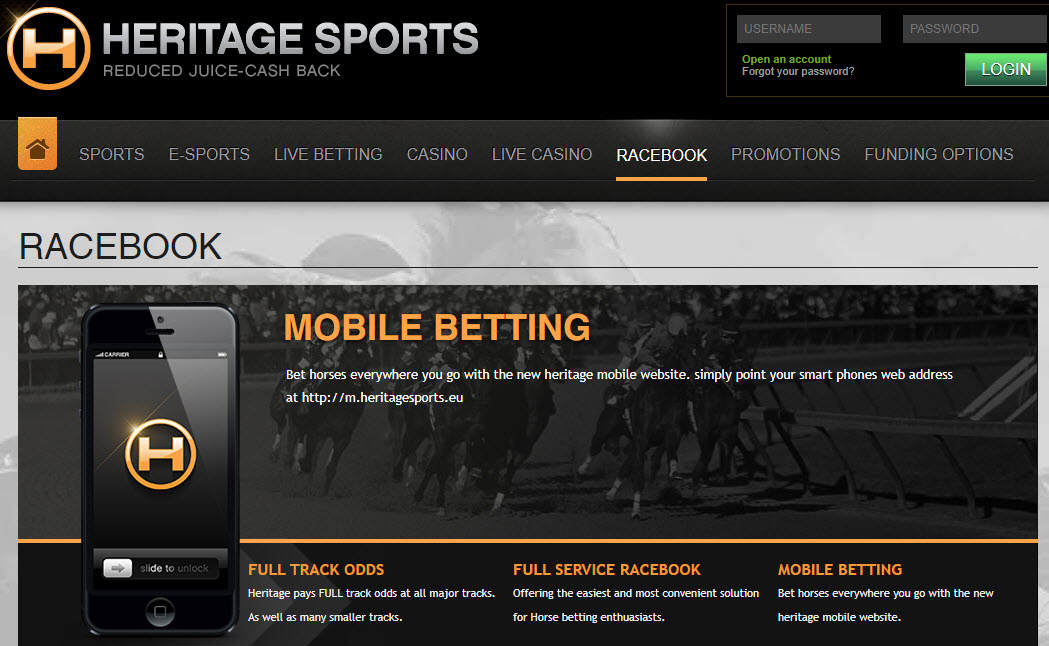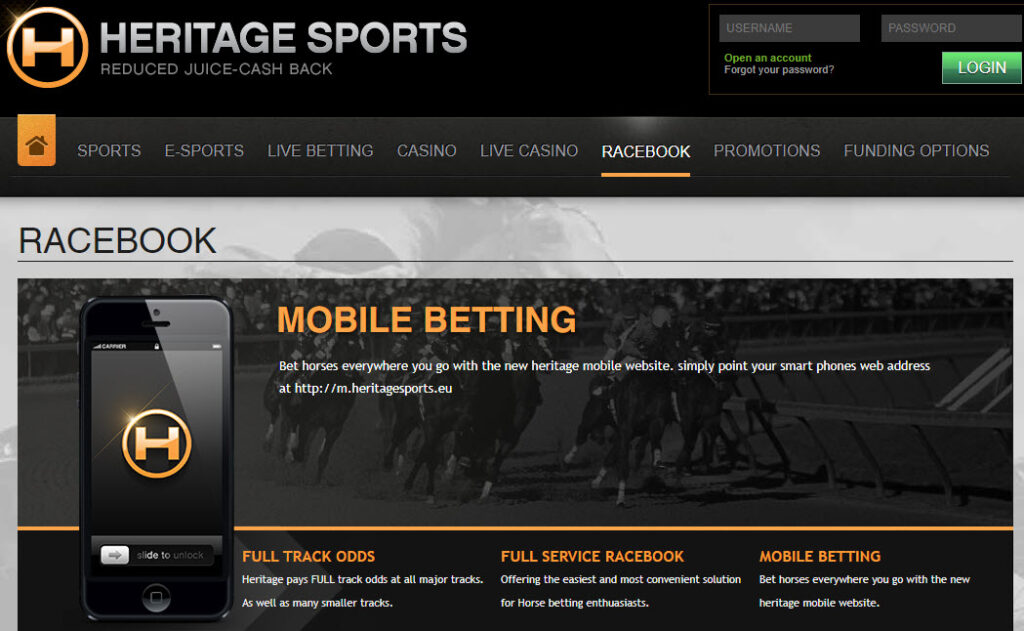 Heritage Sports is a great online gambling site from Costa Rica that specializes in cashback to make up for what are smaller welcome bonuses than most sites offer. But users of the racebook can earn daily rebates with up to 8% cashback on wagers placed at Major Tracks. You get 6% at Other Tracks and 2% for Limited Action or Small Action Tracks.
The maximum daily racebook rebate is $2,000, and it has a 4x rollover requirement. But you can spend the bonus funds on Heritage Sports anywhere you want on the site, a great perk.
There are over 60 tracks available from around the world for Thoroughbred and harness racing. The racebook design is very good with more information than most of the rivals, including the trainer and the jockey's name and weight. This is a big perk for expert horse racing fans who know their jockeys well. This might give you an edge in placing your bets if you really know your stuff.
There are no races streamed live on the site, but in general, Heritage Sports is one of our favorite mobile sites to do live betting on what is a very good sportsbook.
Pros
Solid daily rebates on racebook (8% for exotics)
Excellent mobile site interface
Offers data on jockey and trainer for each race
Bonus funds can be used anywhere on site
Cons
Only major horse racing tracks get the highest rebate
No live streaming of races
3. Bovada: Great for Virtual Racing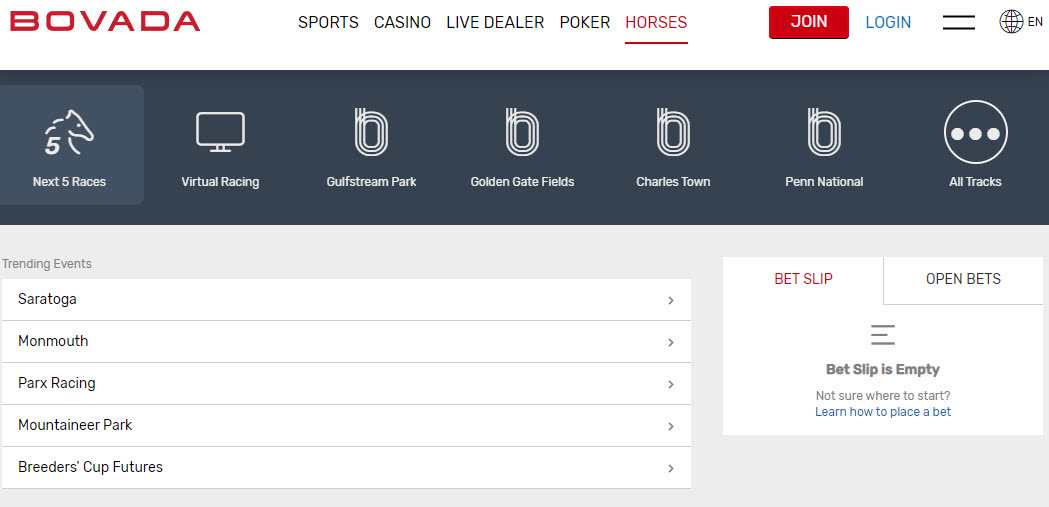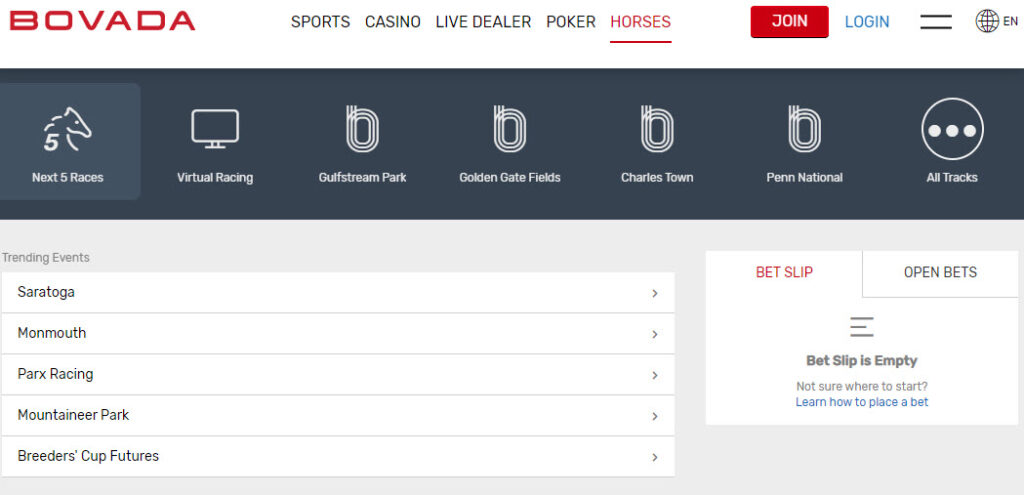 Bovada has a decent racebook product, but some aspects shine brighter than others. The best part is the design as it utilizes drop-down menus to help you easily place the types of wagers you want on the races you want to bet on. They also do the best job of any site with virtual racing where you can bet on virtual greyhounds, horses, supercars and even camels before watching the virtual race stream live to see if your picks win.
For as great as the design is, we wish there was a bit more info on the races for the jockey and trainer. But our biggest gripe with the Bovada racebook is that it does not offer any daily rebates like our other competitors do. However, you continue to rack up rewards points for your wagers and those points will never expire. They can be redeemed for bonus bets. And the promo codes at Bovada can be used to unlock a wide range of different benefits and perks.
Pros
Racebook has excellent design
Huge crypto bonuses for new users
Best markets for virtual racing
Top choice for online poker
Points never expire in reward program
Cons
Racebook has no rebates
Races lack jockey and trainer stats
4. BetOnline: High Daily Rebates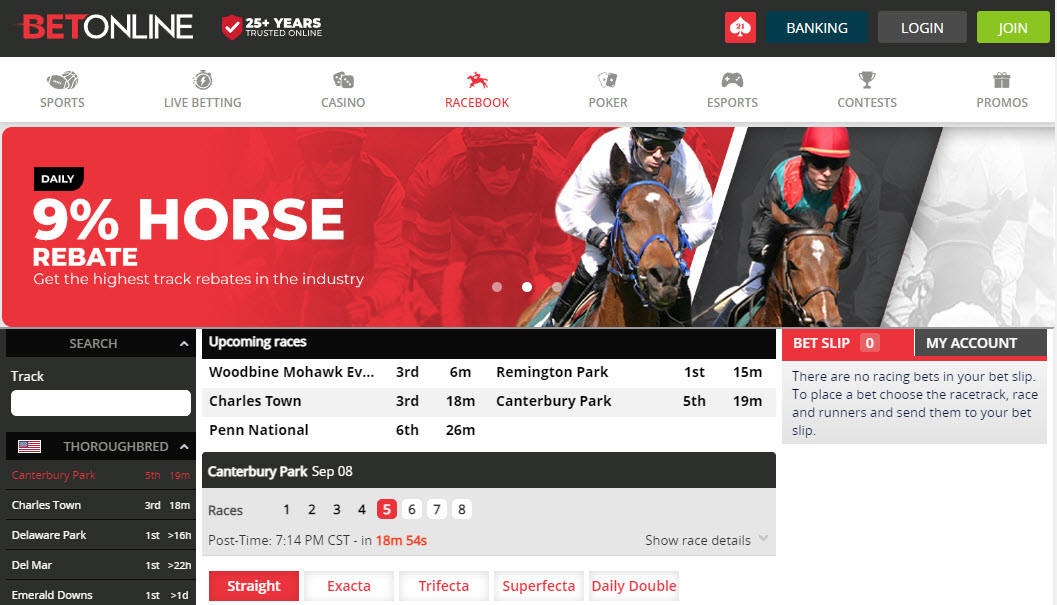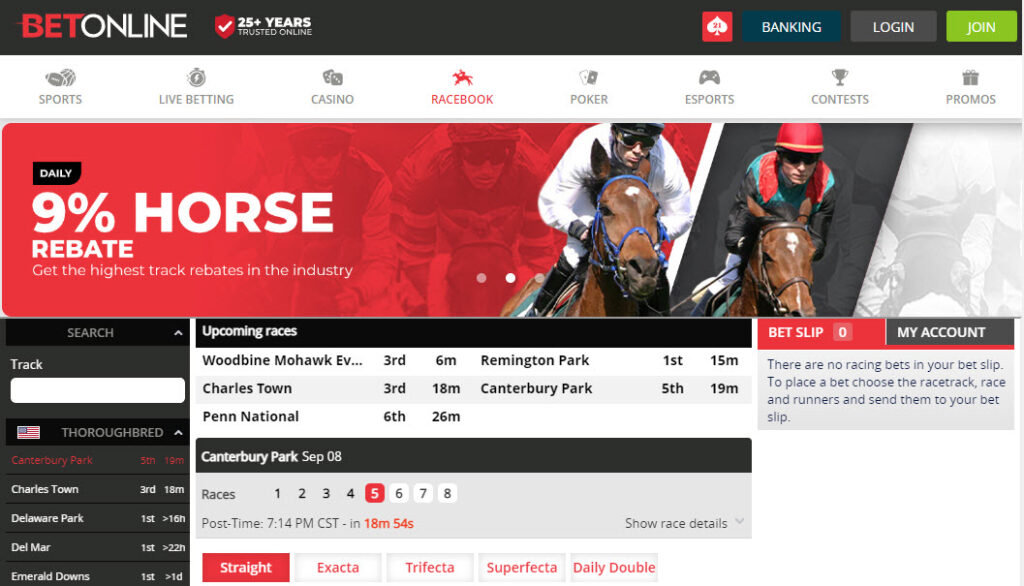 BetOnline has a good racebook with the highest daily rebates in the business at 9% for exotic wagers. Even the win/place/show bets get 4%, putting it ahead of the competition there. Not every race or type of bet qualifies for a rebate, but you can always read the terms and conditions on the site to make sure you know what those restrictions are.
BetOnline offers dozens of races in both Thoroughbred and Harness racing from the U.S., U.K., Ireland, Australia, Italy and more countries. They currently have an ongoing promotion where your first bet on the racebook is risk-free up to $25, which will be paid out in free bets. This promo is surprisingly not eligible for the Breeders' Cup or the Triple Crown races (Kentucky Derby, Preakness Stakes and Belmont Stakes), but users can always try one of the daily races to get their first experience with the racebook at BetOnline.
The site is also known for high limits and fast payouts, so it can be an ideal spot for those Triple Crown races if you are a veteran gambler looking for a quality racebook.
Pros
Risk-free first bet in racebook ($25 value)
Highest daily rebate (9%) for exotic wagers
Popular events have very high limits
Quality racebook design
Cons
Will not offer streaming of horse races
Daily rebates are only for pari-mutuel betting
5. BetAnySports: Fun Racebook and Casino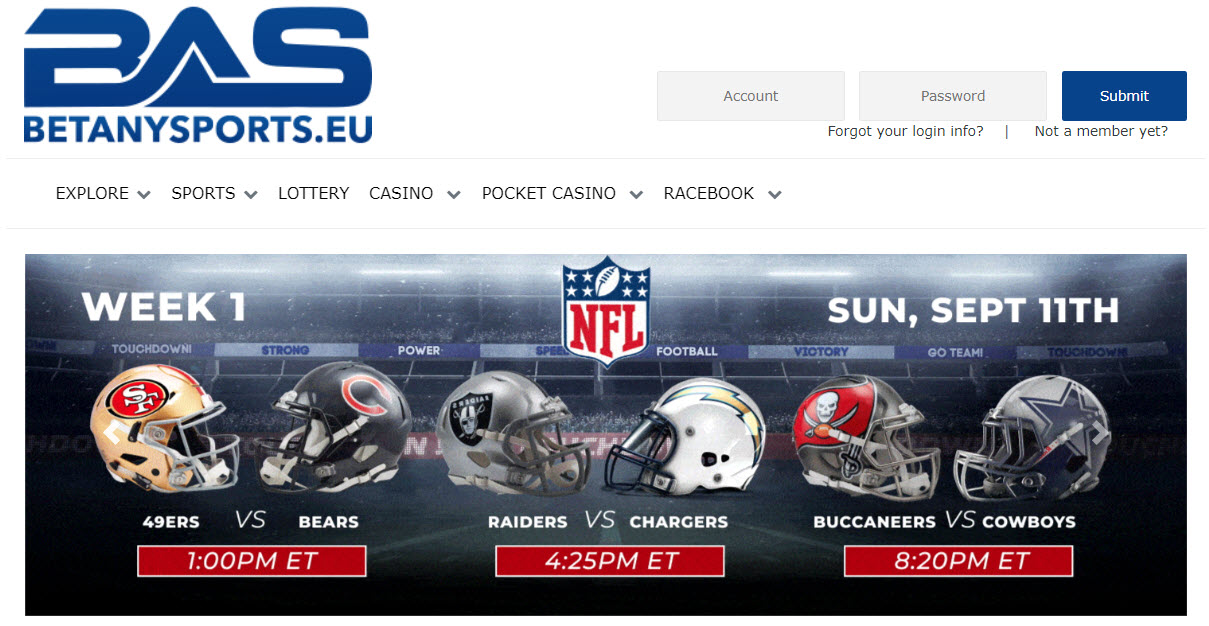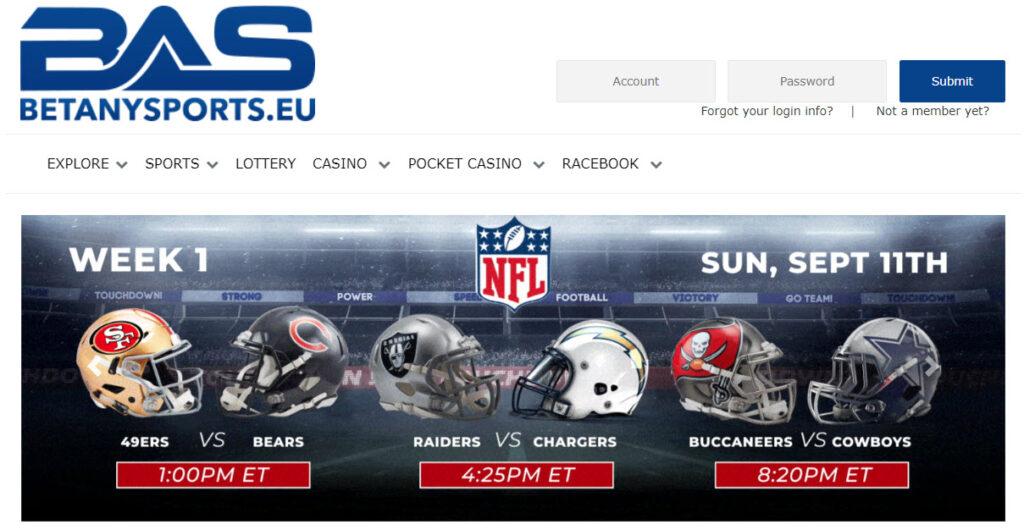 While we are bummed out that Bovada does not have a rebate on the racebook, at least we give BetAnySports credit for offering up to 6% rebates, which is better than nothing. BetAnySports has a quality racebook with dozens of tracks from around the world.
If you are betting on a Triple Crown race or the Breeders' Cup event, you can still expect high limits with up to $100,000 allowed to be won per race. Track A racetracks also pay up to $30,000 per race, Track B has a limit of $15,000 and Track C has a limit of $10,000. The only really low tracks are the Australian Tracks with payouts of $1,000.
BetAnySports is a serviceable racebook that may not be the best choice for high rollers. But if you want a quality sportsbook, great casino game variety, enticing promotions and are a fan of the lottery, then it may be the perfect choice for you.
Pros
Offers 6% daily racebook rebate
Biggest races get higher limits
Dozens of racetracks available
Great sportsbook for sports betting fans
Best choice for lottery fans
Cons
Smaller rebate in racebook
No live betting features for horse racing
Our Racebook Rating Methodology
Online horse race betting sites should strive for greatness in many key categories, including bonuses, banking methods, customer service, competitive odds and betting markets available. We get into detail on these metrics below in determining our grades for the top offshore racebooks.
History of Gambling Laws in West Virginia
In West Virginia, legal horse racing goes back a solid 90 years. The West Virginia Racing Commission was formed in 1931 to oversee the industry for the state. Two years later in 1933, there was pari-mutuel wagering going on with the horse races. Wheeling Downs opened in 1937 to host Thoroughbred racing, which it would do until 1975. It started offering greyhound racing in 1976 and is today better known as the Wheeling Island Hotel-Casino-Racetrack.
In 1951, Waterford Park opens as the state's only one-mile track. It would be renamed Mountaineer Park in 1987 and is today known as the Mountaineer Casino, Racetrack & Resort.
In 1984, voters agreed to a state lottery, through which they would eventually pass a law to allow video poker and slot machines at the racetracks in 1994. But with the terminals spreading to bars and restaurants around the state, there was concern about how well-regulated the gambling was. In 2001, Gov. Bob Wise passed a bill to regulate video poker and slot gambling in the state with the minimum bet on slots going up from $2 to $5 at the four racetracks.
After live poker and table games were allowed to be had in 2007, the state's racetracks converted to full-fledged casinos. But legal sports betting would not hit the state until 2018 after PASPA was overturned by the Supreme Court. Soon, online betting was allowed, and in March 2019, the West Virginia Lottery Interactive Wagering Act brought online casino gaming and online poker to the state. However, none of the top online poker operators are licensed in West Virginia as of 2023.
Timeline of Horse Racing in West Virginia
The following timeline shows the key events regarding horse racing in the Mountain State:
2023: DK HORSE, a DraftKings-owned horse racing app, is approved in West Virginia and hoping to launch before the Kentucky Derby in May.
March 2019: The West Virginia Lottery Interactive Wagering Act is passed to legalize online casino games and online poker.
August 2018: West Virginia is the fifth state to legalize sports wagering after the Supreme Court ruled PASPA as unconstitutional. A few months later, online sports betting is legalized.
2007: Live poker and table games are first legalized at the West Virginia racinos.
2001: After a long legislative session, West Virginia Gov. Bob Wise passes a bill to regulate video poker and raises the minimum slot machine bet from $2 to $5 at the four racetracks.
1994: Racetrack Video Lottery Act is passed to allow video poker and slot machine terminals at the racetracks in the state. These would soon show up in bars and restaurants too.
1984: West Virginians vote in favor of a state lottery.
1975: Horse racing stops at Wheeling Downs.
1951: Waterford Park (renamed Mountaineer Park in 1987) opens as the state's only one-mile track.
1937: Popular track Wheeling Downs opens as a Thoroughbred horse racing track.
1933: Pari-mutuel wagering on horse racing begins in the state.
1931: West Virginia forms the West Virginia Racing Commission to oversee the horse racing industry in the state.
Key Features of the Best Online Racebooks
In the following sections, we are looking at the key betting features that lead to the best experiences at online horse race betting sites. Our emphasis is on the racebook, but we also acknowledge things like good customer service and diverse payment methods are essential for any online gambling site.
Betting Odds
Racebooks are very competitive, but you may find better odds at different sites. This is why it is a good idea to have an account with multiple racebooks to find the best value. The favorites may be roughly the same for the same races, but you may find better prices on a longshot you like at a different site.
Betting Markets
For a quality racebook, we expect to see dozens of racetracks from around the world with higher limits for the biggest races in the calendar year (Triple Crown and Breeders' Cup). We also want the most variety in betting types, including win/place/show and exotic wagers (Exacta, Trifecta, Daily Double, Pick 3/4/5/6, etc.).
Banking Methods
Having diverse banking methods is a big advantage that online racebooks can have over in-person betting sites. You can expect everything from the traditional methods (credit cards, debit cards and bank transfers) to the more modern methods (eWallets, crypto options). We also acknowledge the difference in processing times, fees and limits for each banking method.
Promotional Offers & Bonuses
The promotional offer for new users is a great way to get started with online horse race betting sites. You can expect a deposit bonus for your initial deposit, usually 100% or higher, that will be paid out in bonus funds. Remember to check the minimum deposit when you're claiming this type of bonus.
Beyond the welcome bonus, you should expect other promos as a returning customer, including further deposit match bonuses, risk-free bets and daily rebates on the racebook. You also should see good refer-a-friend and loyalty programs.
Live Betting
Horse racing is a difficult sport to offer live betting features just because of how quickly the races last. But we could see this for the major races in the near future, and more than anything we would like to see more live streaming of races available. At the very least, there are virtual racing markets on a site like Bovada where you can watch the live stream of the race you bet on.
User Interface
For a racebook, we judge a good user interface to be a site that uses tabs or drop-down menus to make it easy to build our bet slips on different races. It should be just as easy to place exotic wagers as it is standard win/place/show bets. We also can place Daily Double or Pick 3/4/5/6 bets by picking the winners in multiple races on the same bet. Finally, we want to see as much racing information as possible, including the names of the trainer and jockey for each horse.
Mobile Site Quality
With so many sports betting apps, casino apps, racebook apps and other mobile apps to choose from these days, we still want to see a quality experience when accessing the mobile site of an online racebook. The offshore racebooks do not have their own downloadable app, but they have mobile sites optimized for use with a small screen. You can add these sites to your home screen for quick access to a similar app. They should help you quickly place bets on upcoming races and check your active bet slips.
Customer Support Team
Whether you need help with a promotion, deposit, or general question, you should be able to receive an answer in a timely manner. The best online horse race betting sites offer 24/7 support with a variety of contact methods, including emails, phone numbers, messages on the site with attachments and live chat.
Safety & Security
To win real money online, we end up sharing a fair amount of personal data with online racebooks. For this reason, we must have trust in a site that will keep our sensitive user data secure. This is why we only recommend reputable sites with a track record of success in the online gambling industry. Our top 10 online horse race betting sites all have 10 to 30 years of experience in the industry.
West Virginia's Racetracks & Off-Track Betting
West Virginia has four racetracks still in operation with half featuring live thoroughbred horses and the other half featuring live greyhound races. You will find simulcast wagering at such a state-authorized gaming facility. You must visit these tracks for in-person, simulcast and virtual horse betting.
Mountaineer Casino, Racetrack & Resort
Live racing returns to the Mountaineer Casino on April 30, 2023. You can find live and simulcast racing at this licensed racetrack with Thoroughbred racing. There is also casino gaming with plenty of slots and table games. The Caesars Sportsbook is also available.
Each August, the West Virginia Derby is run at this track for three-year-old (and older) thoroughbreds with a purse of $500,000.
Hollywood Casino at Charles Town Races
You can find off-track wagering at the Charles Town sportsbook from 11:30 AM to 05:00 PM. Live thoroughbred racing is held on Wednesday-Saturday evenings at the Hollywood Casino at Charles Town Races. There is also a casino with slots, table games and 14 tables in the poker room.
The Charles Town Classic is the big race here with a purse of $1,000,000. It is held every August with three-year-old thoroughbreds and older.
Mardi Gras Casino and Resort
The Mardi Gras Casino and Resort has year-round greyhound racing and simulcast wagering available. Live greyhound races take place every Tuesday-Saturday at 06:00 PM. You can bet with the Betly Sportsbooks. There is also a casino with slot machines, table games and poker (up to 10 tables on weekends).
Wheeling Island Hotel Casino Racetrack
Wheeling Island Hotel Casino Racetrack is the other greyhound track in the state. Simulcast racing is available daily while live greyhound racing is every Wednesday thru Sunday. You can also enjoy slot machines, table games, poker and sports betting through the Betly Sportsbook.
Horse Racing Betting Odds in West Virginia
In this section, we are going to explain the two main types of horse racing betting odds that you will come across.
Fixed-Odds Betting
Sports bettors already know fixed-odds betting very well. When you place that wager on a team with +240 odds to win the game, you know your winnings will be equal to your stake plus the stake multiplied by 2.4. That number is locked in (fixed) the moment you make the bet, and it will not change no matter what happens between now and the time the game starts.
Bookmaker and its sister site JustBet are offshore racebooks that specifically only offer fixed-odds betting. You are betting against the bookmakers' odds, in this case, every time.
Pari-Mutuel Betting
Unlike a fixed-odds system, pari-mutuel betting is when you bet against the other bettors instead of the operator. Also known as pool betting, this is a wagering system where everyone's bets are placed in a pool, the house takes its cut and the remaining money is split among the winners. With pari-mutuel wagering, you only have an approximation of how much you stand to win on your bet as it will depend on the size of the pool and how much money is bet on the race.
Pari-mutuel betting works best in an event like horse racing where it is over quickly and the ranked order matters most to determine winners.
Calculating Horse Race Betting Odds in WV
We have included a chart that shows the $2 wager payout for a variety of odds along with the implied probability of winning each wager.
| Horse Racing Odds | $2 Wager Payout | Implied Probability of Winning |
| --- | --- | --- |
| 1/5 (-500) | $2.40 | 83.33% |
| 1/4 (-400) | $2.50 | 80% |
| 1/3 (-300) | $2.60 | 75% |
| 1/2 (-200) | $3.00 | 66.67% |
| 4/6 (-150) | $3.33 | 60% |
| 1/1 (-100) | $4.00 | 50% |
| 2/1 (+200) | $6.00 | 33.33% |
| 3/1 (+300) | $8.00 | 25% |
| 5/1 (+500) | $12 | 16.67% |
| 10/1 (+1000) | $22 | 9.00% |
| 50/1 (+5000) | $102 | 1.96% |
You can see the importance in an oddsmaker setting good lines. In a true 50/50 proposition, you will win double or nothing your wager. This is why it is up to you to find better value in a horse that you think has a better probability of winning than the operator is giving them odds to win.
Horse Racing Bet Types in West Virginia
There are several types of betting markets available for horse racing at any quality racebook. In this section, we are going to explain what these bet types are.
Win: Simply put, you pick the horse that will win the race.
Place: Your horse must finish first or second to win this bet.
Show: Your horse must finish first, second, or third to win this bet.
Exacta: You must pick the top two horse finishers in a race in order.
Trifecta: You must pick the top three horse finishers in a race in order.
Superfecta: You must pick the top four horse finishers in a race in order.
Daily Double: You must pick the winner in two consecutive races.
Pick 3/4/5/6: As with the Daily Double, you must pick the winner in three, four, five, or six consecutive races to win this bet.
Horse Racing Betting Terms
There is a lot of jargon associated with horse racing, such as furlongs and post positions. We want to get you as ready as possible to have a good race day, so here are some of the terms you should know about before placing your first racebook wagers.
Ante-Post: This is the earliest bet you can make on a race before the final group of horses and odds are even posted or confirmed.
Drifter: A horse not getting much money bet on it to win, so the odds keep getting higher (drifting) to entice more betting action on that horse.
Dead Heat: When multiple horses reach the finishing line at the same time, it is a dead heat.
Dutch: A betting strategy to decrease the risk of losing. You place multiple bets at odds with each other in the same race. Betting on multiple horses to win the same race would be an example since it is impossible for more than one of those bets to win, but you give yourself a better chance overall of winning a bet for that race.
Exotic Bet: A wager that is more than just win/place/show as you will be betting on multiple horses either in the same race or in multiple races. This is akin to parlay betting where multiple outcomes all have to hit to win your bet.
Favorite: A horse with the best odds of winning the race.
Furlong: The unit of distance used in horse racing. One furlong is equal to one-eighth of a mile.
Longshot: A horse with a low probability (i.e. long odds) of winning the race.
Morning Line: These are the odds posted by the track's bookmaker on the morning of the race, giving an expert's view of each horse's value. These odds will differ from the final betting odds on the race.
Odds: This is the mathematical approximation of an outcome happening based on probability and the odds can be adjusted by the oddsmaker based on the amount of money wagered on each side.
Pari-Mutuel: This is a type of betting system for events with a ranked order of finishers where players are betting against each other rather than the bookmaker. All wagers are placed into a pool, the bookmaker takes their cut (the "vig") and the excess funds pay out the winners.
Stake: This is how much money you place on your wager.
Creating an Online Racebook Account in WV
There are many online horse race betting sites to join, but the sign-up process is simple and similar no matter which you choose. We are going to walk you through an average sign-up process in a few steps below.
Step 1. Sign-Up
Once you have determined which site to join, head to it and begin the process of creating a new user account. You will want to make sure you use a password that you are not using anywhere else.
Step 2. Verify Your Details
Your account must be verified before it is complete in the system. This is done by verifying your details, such as your name, phone number, address and email address. The site may also be interested in your social security number for further verification, and you may be sent an email or text code to verify your account.
Step 3. Deposit Your Funds
Your account needs funds to start placing bets. Before you do this, be sure to read about the site's bonus offer for new users, because that is usually a deposit match in bonus funds based on the amount of your initial deposit. This is a one-time bonus for new users, so be sure to understand how much you want to deposit. Once you know, head to the cashier and make your first deposit using the preferred method of your choice.
Step 4. Place Your Wagers
Your account is verified and funded, so you are ready to start placing horse racing bets. Head to the racebook and have fun.
FAQs – Online Horse Race Betting in West Virginia
Does West Virginia allow online gambling?
Yes, West Virginia's choices for in-person gambling are almost all equally available online where you can engage in sports betting, daily fantasy sports, horse racing, casino games and poker. Residents even have the ability to do online purchases of lottery tickets with the Jackpocket app.
Where can I bet on horse racing?
In West Virginia, you can bet on horse racing at the state's four racetracks, locally-licensed horse race betting sites and offshore racebooks. The latter option also offers you the possibility of enjoying sports betting and casino gambling as well as online horse racing betting.
Can you bet on horses at casinos?
No. West Virginia has four racetracks; two that host live thoroughbred races and two that host greyhound races. All four have simulcast horse race betting. West Virginians can also bet on live races in-person at Hollywood Casino at Charles Town Races and Mountaineer Racetrack & Resort.
What is the best way to bet on horse racing?
The win/place/show bets are the easiest to win and tend to be more reliable than exotic bets. You also can try betting on multiple horses to win the same race to increase your chances of victory; for example, betting on a heavy favorite and a long shot on race day.
Does West Virginia tax gambling winnings?
Yes, hang onto those sports wagering receipts because gambling winnings are taxable income in West Virginia. Winnings over $5,000 trigger a 24% federal tax rate for withholdings. Smaller winnings may be subject to a 6.5% state tax rate, but it is best to consult a tax expert for further details. 
Concerns arise as Pennsylvania's online poker market shows signs of stagnation. Operators, including PokerStars and WSOP PA, seek solutions like joining the MSIGA for shared liquidity. Governor Shapiro's decision awaits, impacting the future landscape. Stay informed with Bookmakers Review.

---