South Carolina Horse Racing Betting – Comparing South Carolina's Best Racebooks in 2023
Some of the earliest horse racing events in North America can be traced back to South Carolina in the 18th century. The Cotton State does not host any of today's Triple Crown events, but it does hold the attendance record for any steeplechase race.
Don't let South Carolina's active horse racing schedule fool you, though; while the horse industry in the state is lively, you will not find any forms of brick-and-mortar betting on horse races, or South Carolina sports betting sites with a racebook. You cannot join sites like TwinSpires and TVG to place online horse racing wagers if you are a South Carolina resident.
Fortunately, South Carolinians still have a wide range of legal sports betting options. By using offshore sportsbooks, you can place bets on horse racing today to win real cash.
With this guide, we will direct you to the best racebooks at online betting sites that are trustworthy and that will accept South Carolina users. We will also provide you with all the pertinent information on how to bet on horses and what to look for in good horse racing betting sites.
Best Sportsbooks in SC 2023
South Carolina Betting Guides
If you're a curious South Carolinian who is new to gambling, you've come to the right place. Below are several guides that our team has compiled to get you more acquainted with various forms of betting, such as online sports betting in South Carolina, online poker, gambling sites and more. 
Ranking the Top 10 Racebooks in South Carolina
Later in this guide, we explain some of the criteria we use to grade an online racebook. When judging the online sportsbooks against these criteria, this is the top 10 list we came up with for those in South Carolina who are seeking to bet on the horse racing industry:
Reviewing the Best South Carolina Horse Racing Betting Sites
We have broken down our top 10 list into detailed reviews of our top five online betting sites. But first, you may be wondering how you can join these sites when wagering on horse racing is not legal in South Carolina. The answer is simple. These sites are based across international waters in Costa Rica, where online gambling has been legal for years. They are just following the rules of their local territory. These sites do not need regulation by the state of South Carolina, so it is fine for you to join them and start wagering on horse racing.
1. Bookmaker – Most Trusted Name in Sports Betting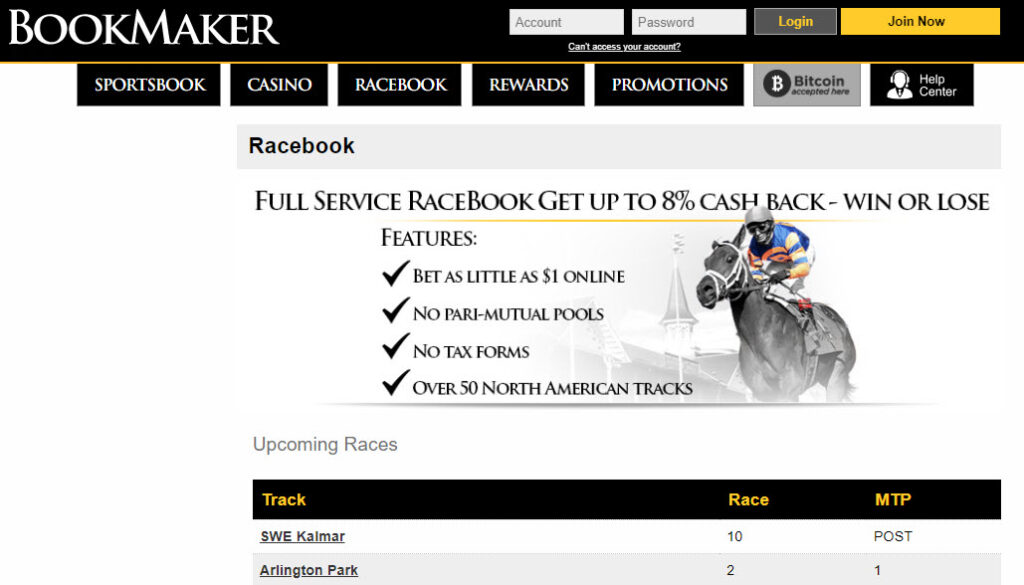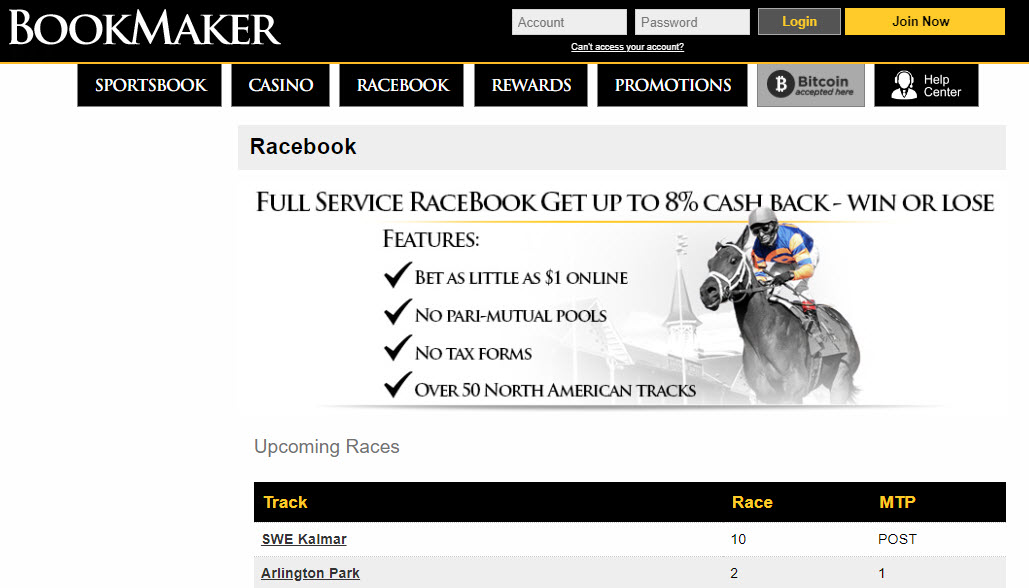 Costa Rica's Bookmaker.eu has the reputation for posting the earliest sports betting lines, and similar remarks could be made about the way they handle their racebook. You can expect early, fixed odds with no pari-mutuel pool betting at Bookmaker.
There are dozens of tracks from North America and Australia to choose from. With the rebate program, bettors receive 3% cash back on win, place and show bets no matter if they won or lost. For exotic wagers, expect 8% rebates. There is no maximum limit on how much you can earn.
If you qualify for Bookmaker's loyalty program, then you could earn a 20% cash bonus of up to $2,500 on your deposits. That is when you reach the Diamond Tier, which is the third level of Bookmaker's rewards program. The site does note that this program is only for recreational accounts, so you may need to inquire about your eligibility.
Pros:
Good rebate program for horse racing with no limits
Impeccable reputation in industry
Perfect for fans of fixed odds (no parimutuel pools)
Cons:
Not all tracks are eligible for rebates
Can't live stream any racing
2. Heritage Sports: Choose from Over 60 Tracks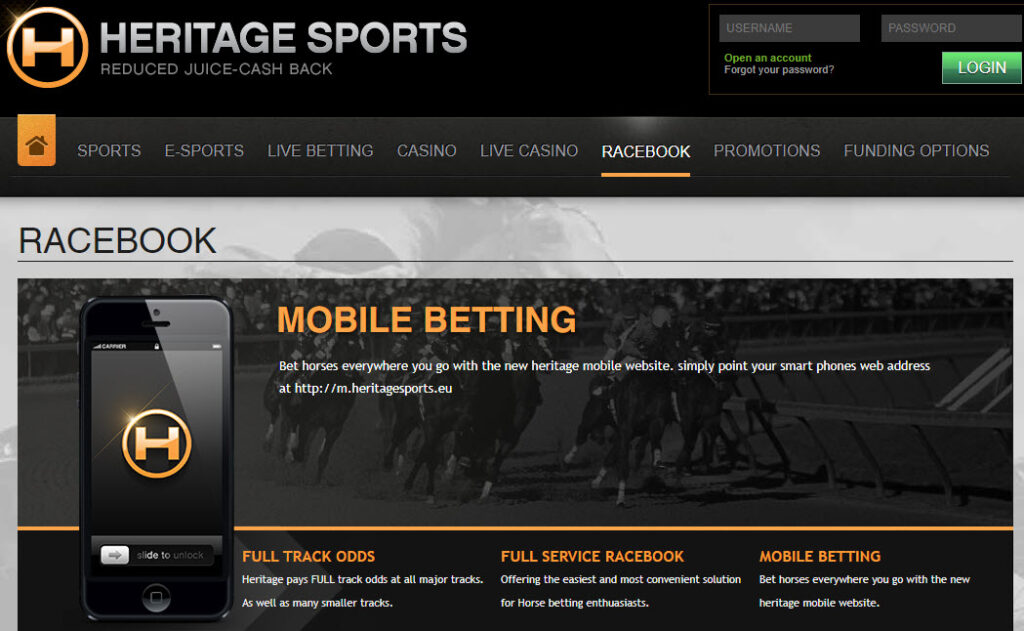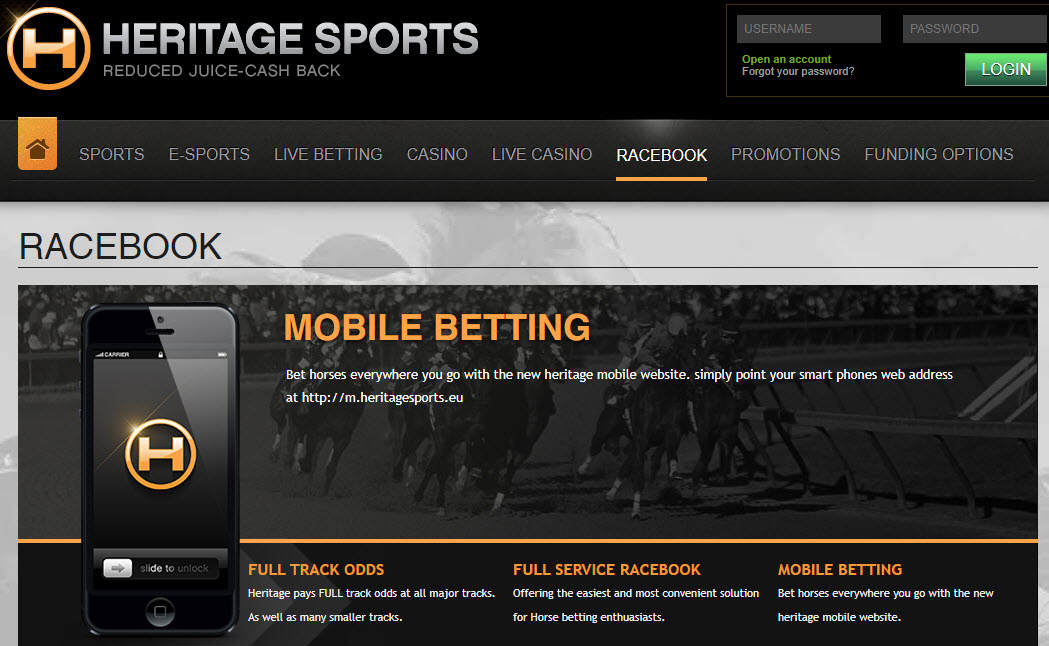 Heritage Sports is one of our favorite online sportsbooks from Costa Rica. Its site is ideal for live betting whether you are accessing it on your desktop, cell phone or tablet for mobile sports wagering. 
Heritage Sports also has a dedicated racebook section that ranks among the best in the business. You can wager on thoroughbred horse racing events from America, Australia, Italy, Canada and Japan. They also have harness racing markets from Sweden and the U.K.. The types of available bets are your standard win, place and show to more exotic wagers (exacta, trifecta and superfecta) to correctly predict multiple races in succession (daily double, Pick 3, etc.).
The bonuses are relatively small at Heritage Sports compared to its competitors, but the racebook cashback program is rewarding. You can get up to 8% daily cash back on your horse race wagers with 4x rollover.
Pros:
Up to 8% daily rebates on horse races
Among the best live betting services
Provides trainer and jockey info for each race
Cons:
Has to be a major track to get 8% rebate
Lacks any live streaming
3. BetOnline: Offers Highest Daily Rebate on Horses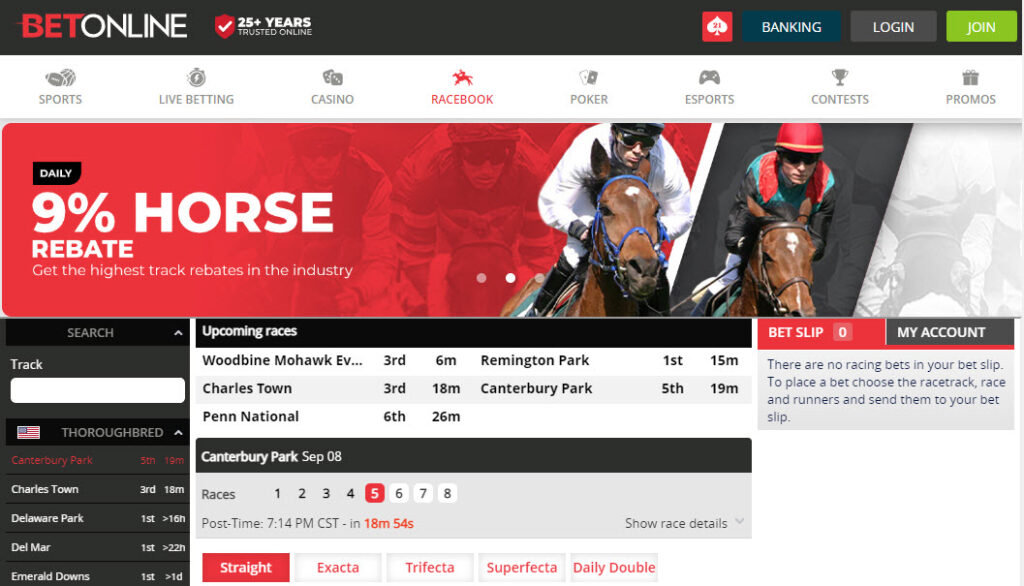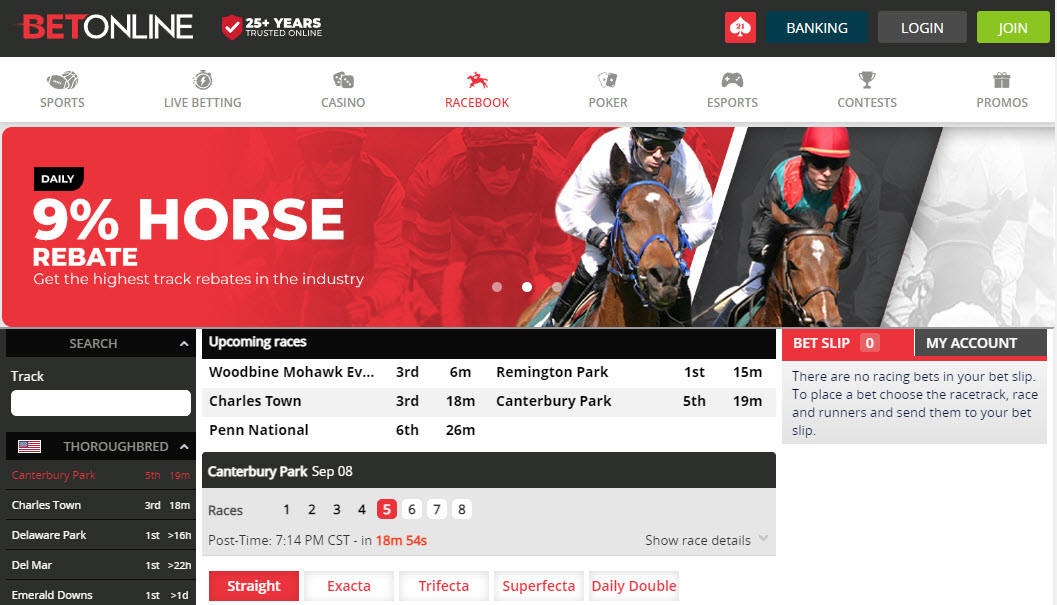 BetOnline is one of the rare all-around online casinos in Costa Rica. It earns its A+ rating for having a top-tier sportsbook, an online casino with many games, poker tournaments, an e-sports hub, and plenty of fun contests.
It also features a quality racebook with the highest daily rebate (9%) of any site in our list. The 9% is for exotic wagers while regular wagers qualify for 4%, which is still better than the usual standard of 3%. Another current promotion at BetOnline is to get your first racebook bet free on the house for up to a $25 value.
One thing to know about BetOnline, if you want to use it for horse racing more than anything else, is that while the welcome bonus is generous, it is not eligible to be used on the racebook.
Pros:
Offers highest daily rebate on horse racing (9%)
First horse bet is risk-free ($25 max value)
Some of the fastest payouts in the industry
Some of the largest limits in the industry
Fun contests for the Breeders Cup and other major events
Cons:
Welcome bonus funds are ineligible for racebook
No virtual racing or live streaming
4. Bovada – Superior Racebook Design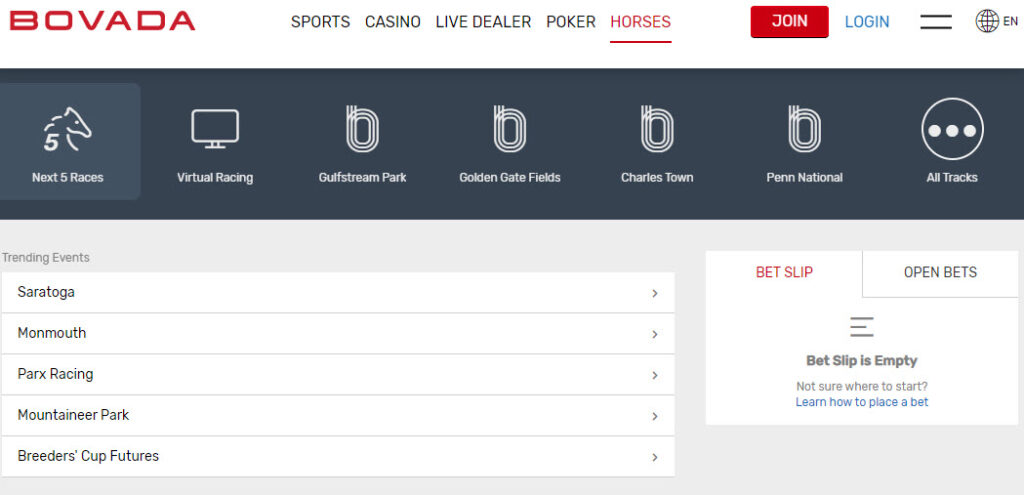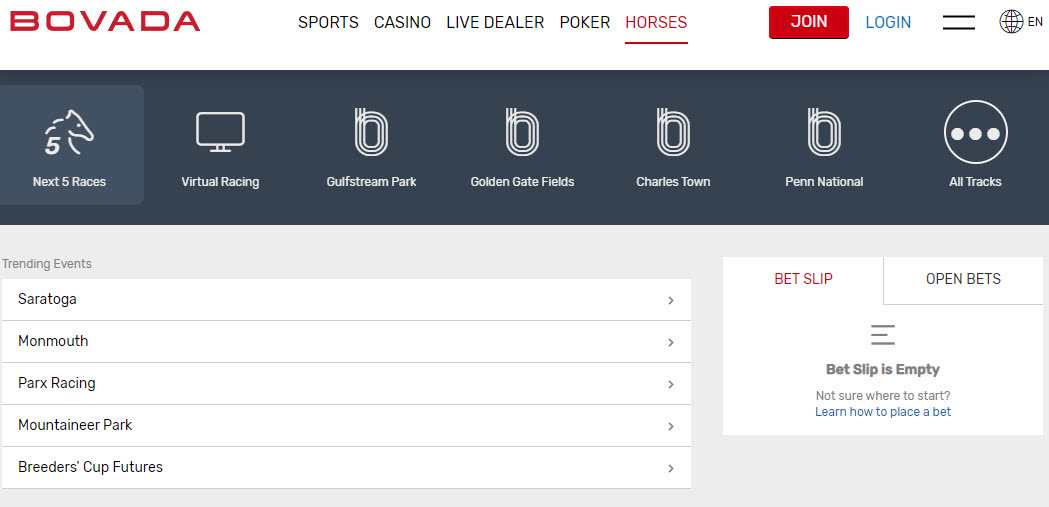 Bovada is one of the most popular offshore gambling sites thanks to its busy poker network and great choice of player props on the sportsbook. However, it also features a devoted racebook section that has arguably the best design of any site for easily making your horse racing wagers. Bovada's design is simplistic and uses drop-down menus to make your bets on races from around the world.
Bovada is also the king of virtual racing. You can watch virtual races between horses, greyhounds, camels or more. There are betting markets for these races, and the results are predetermined by a random number generator.
The only real knock on Bovada's horse racing section is that it doesn't offer daily rebates as we see at Bookmaker, Heritage Sports, and BetOnline.
Pros:
Arguably the best-designed racebook on the list
Great crypto-specific bonuses
Best choice for fans of virtual racing
Cons:
Still doesn't have the live streaming of real races like TwinSpires or TVG
No horse racing rebates
5. BetAnySports – Cash Back Racebook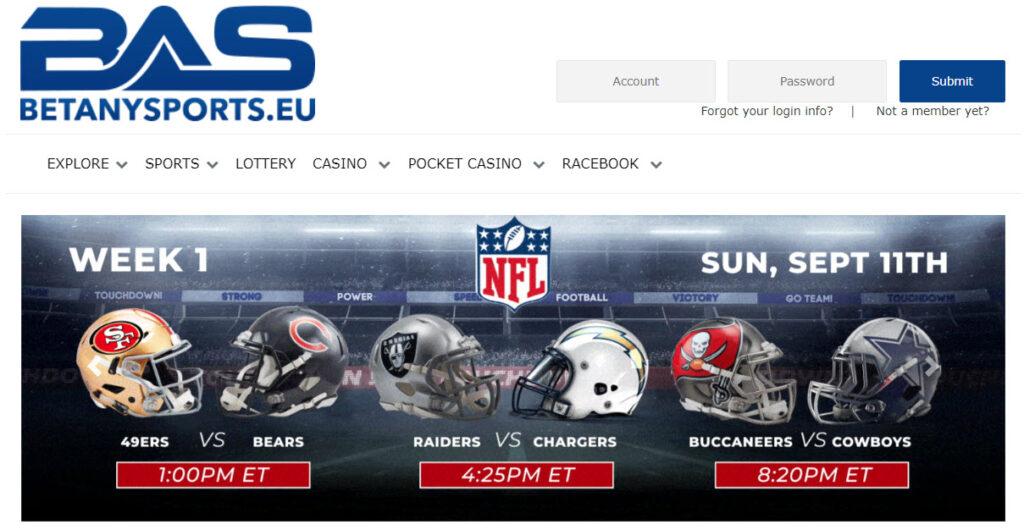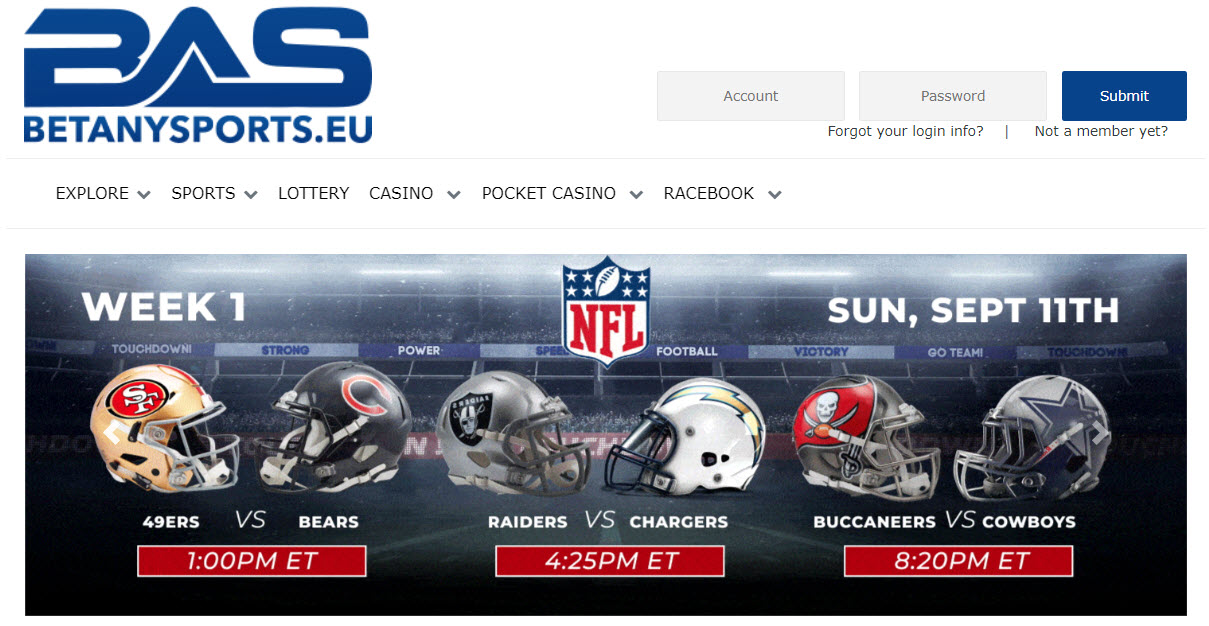 BetAnySports is another one of our favorite online gambling sites from Costa Rica. It has recently received an A+ rating for its excellent prop builder and sportsbook with the best reduced juice, the exclusive lottery drawings for different states, the wide variety of casino games, and a simple site design that is very easy to use on mobile devices.
But BetAnySports also has a racebook section with many tracks from around the world. You can also earn up to 6% daily rebates on your betting volume, win or lose, and with no limit to how much you can get back. To be clear, the following wagers are not eligible for rebates: races with fixed odds, races at minor tracks, harness races or prop bets.
Pros:
Plenty of tracks from around the world to bet on
High limits ($100,000) on Triple Crown races
Top-tier sportsbook and plenty of good casino options
Cons:
Site runs on tighter budget than more popular rivals
Lower rebate (6%) on exotics than rivals (8-9%)
Fixed-odds bets not eligible for cashback program
How We Compared the Best Sites for Horse Racing in South Carolina
At Bookmakers Review, we don't mind transparency with our grading methods. Each site gets graded against a set of performance metrics that we think are important in providing a valuable gambling experience. We are going to focus on horse racing here, but other elements like customer service and bonuses are always on our minds as well.
These are some of the metrics we consider for quality online horse racing betting sites:
Competitive Odds
Most of these sites will be offering fixed odds on the same races, but if you have accounts at different sites, you may find great value in betting on longshots at better prices on certain racebooks.
Variety in Horse Race Betting Markets
Every racebook will have standard win, show and place bets, but a good one will also offer exotic wagers, including trifecta and exactas. You should be able to bet on winners of successive races as well.
Live Betting
This is difficult to do with how quickly a horse race usually ends, but live betting is reportedly offered by BetUS (another one of our top-rated sportsbooks) for horse races.
Live Streaming
More realistically, online horse betting sites should offer live streaming of horses for those who want to watch the horses they bet on and get a feel for the track. This is not a standard inclusion at most offshore sportsbooks, but expect some to follow the lead of TwinSpires and TVG soon as live betting and streaming become more important.
Specific Horse Racing Promotions
Most sites with a racebook will offer promotions like daily rebates in the 6-to-9% range for exotics and 3-to-5% for regular bets. But you also like to see things like BetUS' promotion of getting $10 back if your horse finishes second or third after you picked it to win the race.
Design is Key
You want a racebook that will utilize tabs or drop-down menus to easily build your bet slips for each race.
Other Horse Racing Information
Some horse racing betting sites will show you much more race information, including the owner's name, the jockey's name and weight, and that is a great way for hardcore horse racing fans to research their picks as some jockeys win more consistently than others. The sites that add more info that can give you more of an edge in betting.
Other Elements of a Good Online Gambling Site
Whether you are looking for online horse betting, online sports gambling, or to just play poker and online casino games, these are some of the key features we grade these offshore gambling sites on:
Brand Recognition
Companies with a longstanding reputation in the industry score higher for us. Offshore gambling sites that have been around for two or three decades give you a significantly better sense of security that they will protect your data and pay your winnings on time.
Variety of Transaction Methods
Any good site in 2023 is going to offer a wide variety of deposit and withdrawal methods, including traditional methods (credit cards, wire transfers, checks, gift cards), and more modern methods (P2P apps, e-wallets, cryptocurrency).
Fast and Timely Payouts
Each transaction method is going to have its own processing time and fee when applicable, but we want to be sure winners are getting paid in a timely manner.
Customer Service
As with payments, we want the most options possible, including phone numbers for calls, email, live chat, and even video chat. Most importantly, customer service should be offered 24/7.
Can you bet on horse races in South Carolina?
No, South Carolina has yet to pass any gambling legislation that would legalize and regulate horse race betting in the state. A bill has been proposed to do this for online horse wagering, but it has not yet passed, and it is hard to say when the expansion of gambling will actually happen in the state.
But just because the state has not legalized it, doesn't mean you cannot join an offshore sportsbook and bet on horse racing today in South Carolina. It is your only option as you will not even be allowed to join US-based horse racing betting sites like TwinSpires and TVG to place your bets.
How does horse racing betting work in South Carolina?
Before you dive into horse race betting, you will need to differentiate between the types of bets available for each race, and you must understand how the odds work. Let's go over these different facets as betting on horses is fairly different from betting on sides or totals in regular sports.
Different Types of Horse Racing Bets
Most horse racing betting sites will offer the following types of bets:
Win: Simply pick which horse will win the race.
Place: As long as your horse finishes first or second, you win the wager.
Show: As long as your horse finishes in first, second, or third place, you win the wager.
Exacta: Moving into exotic wagering, you need to pick the horses that finish first and second, in exact order, to win the bet. Like numbers in a lottery drawing, you could also box it, which would result in a win if you got the two horses correct regardless of order.
Trifecta: Pick the horses that finish first, second, and third, in that exact order, to win the wager.
Superfecta: If you're feeling that lucky, then pick the top four horses in the exact order to hit a huge payout.
Daily Double (AKA Double Wager): For this type, you need to choose the winning horse in two consecutive races.
Pick 3/4/5/6: As with the Daily Double, you have to select the winning horse in three, four, five, or six races in a row.
South Carolina Horse Racing Odds Explained
Understanding horse racing odds is crucial to having success with betting. If you bet $10 on a horse with 10/1 odds to win, then you win 10 times every dollar bet, which would be a return of $110 ($100 plus $10 stake).
The best way to understand this is to convert things into probability. If a horse has 7/4 odds, then for every seven failures, there are four chances of success, producing an implied probability of 36.4%. That 10/1 bet above only has a 9.1% implied probability of hitting.
If you want to calculate the implied probability from fractional odds listed as X/Y, simply divide the denominator (Y) by the sum of both numbers (X and Y). For example, 13/4 odds would have a 23.5% implied probability.
If you want to know what the implied probability is for each horse's odds, you can now do the calculation yourself or consult an online resource. Here is a chart showing some American odds lines, their payout on a standard $2 bet, and the implied probability of winning associated with each.
| Horse Racing Odds | Payout from a $2 Wager | Implied Probability of Winning |
| --- | --- | --- |
| 1/5 (-500) | $2.40 | 83.33% |
| 1/4 (-400) | $2.50 | 80% |
| 1/3 (-300) | $2.60 | 75% |
| 1/2 (-200) | $3.00 | 66.67% |
| 4/6 (-150) | $3.33 | 60% |
| 1/1 (-100) | $4.00 | 50% |
| 2/1 (+200) | $6.00 | 33.33% |
| 3/1 (+300) | $8.00 | 25% |
| 5/1 (+500) | $12 | 16.67% |
| 10/1 (+1000) | $22 | 9.00% |
| 50/1 (+5000) | $102 | 1.96% |
Next, we will explain the two ways in which odds are used for horse race bets.
Fixed Odds for Horse Racing Betting in South Carolina
Fans of online sports betting already know what fixed odds betting looks like, even if they aren't aware of what it is called. When you bet on a team's moneyline at -200 odds, that line is going to stay fixed at -200 regardless of any events that happen between now and the game.
You'll also know exactly how much you will win if your bet is a success. If you bet $200 on +100 odds, you are going to win $200 plus your $200 stake back for a total return of $400. That is a lock.
Pari-Mutuel Betting in South Carolina
Differing from fixed odds is the practice of pari-mutuel pool betting, which is the common style used in events like horse racing where the ranked order of competitors matters.
Instead of the line being fixed, your wager enters a pool with all the other bettors. The house takes their cut, the vig, and all the winning bets are paid from the pool. If you and a lot of people are in big on a favorite horse that wins, your payout may not be that high. But if you are in on a longshot that the pool does not respect and you end up winning, then you stand to collect a significant pay cut from that pool.
Bookmaker and its sister site, JustBet, explicitly state that they do not use any pari-mutuel betting pools as they are exclusively using fixed odds. Your bets on those racebooks will have zero impact on that track's odds.
With fixed-odds betting, you are going to know what your return is if you win. Pari-mutuel betting means you won't know the payout until after the race ends, but usually, you can ballpark things by paying attention to your wager and the odds on the horses.
South Carolina Horse Racetracks
There are three noteworthy racing tracks for horses in South Carolina.
Springdale Race Course (Camden, SC)
This has been the site of the famed Carolina Cup since its inception in 1932.
Stono Ferry Racetrack (Hollywood, SC)
This is the host site for the famed Steeplechase of Charleston.
Aiken Training Track (Aiken, SC)
Home to the first leg of the Aiken Triple Crown known as The Aiken Trials.
The History of Horse Racing in South Carolina
South Carolina may not be thought of as the bedrock of the equine industry in America, but it is home to the first jockey club on this continent. Here is a brief timeline of important horse racing events in the Palmetto State:
1734 – The South Carolina Jockey Club is formed in Charleston, and it is considered the first club of its kind in North America.
1783 – After pausing horse racing operations during the Revolutionary War, the Jockey Club adds a lot of new members with increased interest in horse racing again.
1860s – Horse racing took a huge dive in popularity in the state due to the alarming number of horses that died during the Civil War.
1899 – The South Carolina Jockey Club was disbanded after efforts to revive the horse races failed.
1916 – The Aiken Horse Show is established and held for the first time at Hitchcock Woods.
1932 – The Carolina Cup is held for the first time.
2002 – The Carolina Cup sets an attendance record for a steeplechase race with 71,000 people looking on.
2022 – A bipartisan bill to allow online horse betting in South Carolina is introduced, but it has yet to be passed.
Virtual Horse Racing Betting in South Carolina
Fans of video slots may find a lot of fun in virtual racing as it runs on a random number generator where the outcome is predetermined but ultimately random. Bovada does virtual racing better than anyone, and they also feature virtual greyhound, camel and supercar races.
South Carolina Horse Racing Betting Apps
There are dedicated apps for US-based horse racing sites like TwinSpires and TVG, but since you cannot use those in South Carolina, your choices are the offshore sites. None of them have a native app you can download from your phone's app store, so you will just have to visit their mobile sites, which run just fine for placing bets.
How to Start Betting at Horse Racing Sites in South Carolina
Regardless of which site you choose to join, they all follow a rather simple sign-up process. Here is a quick guide to signing up for such a site and betting on horse racing:
Using your desktop or mobile device, go to the website you want to join.
Look for the "Join Now" or similar button to start creating your account.
Enter your personal information (name, email, address, phone number, etc.) and choose a strong password.
Enter the "Deposit" section and add money to your account using the preferred method of choice.
Go to the "Horses" or "Racebook" section.
Browse the available races and start making your picks, either for win, place, show or something exotic.
Add a stake to your bet slip for how much you want to wager on the race.
Place the bet and wait to see if you are a winner.
Other Types of Gambling in South Carolina
When it comes to legalized forms of gambling in South Carolina, you are almost out of luck. The only options in 2023 are daily fantasy sports, the state lottery, raffles, and bingo games. There is no land-based casino to visit in the state. There are no card rooms to play poker. South Carolina is one of the least-friendly states in the country when it comes to gambling laws.
This is why if you're a gambler at heart, you should join an offshore sportsbook and start betting on sports, horses, or playing poker and other casino games to win real money.
What is the best site for horse racing bettors in South Carolina?
We believe our top five options are all worth your attention, but the "best" will simply come down to personal preference.
Some will prefer the simplicity of Bovada's racebook design. Some will prefer the cash-back program at Heritage Sports. Some will like BetOnline for offering the highest rebate rate on horse racing. Check them all out and figure out which site suits you best.
FAQs – Online Horse Racing Betting in South Carolina
Is betting on horse racing legal in South Carolina?
Although the Palmetto State is abuzz with equestrian activities, betting on horse racing is not legal in the state. Until its legalization, South Carolinians can use offshore betting sites like the ones listed in our review.
Can you bet online in South Carolina?
You certainly can bet online in South Carolina, despite the state's lack of sports betting operators. Several options for bettors in the state include Bookmaker and Heritage Sports.
Do you need a VPN to bet on horse racing in South Carolina?
You do not need a VPN to bet on horse racing in South Carolina. The betting providers in our ranking accept South Carolinian bettors, so your IP will not stand in the way of you placing bets on your favorite horses.
Is TVG available in South Carolina?
TVG is unavailable to bettors in South Carolina. Residents in the state should rest assured, however, as there are still many offshore providers waiting for them to wager on their first race.
What are the best horse betting sites in South Carolina?
Our review ranks Bookmaker as the top horse betting site in South Carolina due to its commitment to fixed odds, a limitless rebate program and longstanding reputation.